Secret Underground Cities have Influenced Human Civilization & Religion for Millennia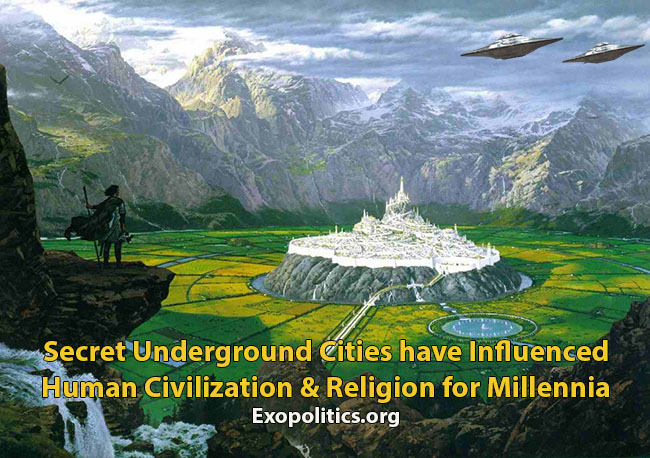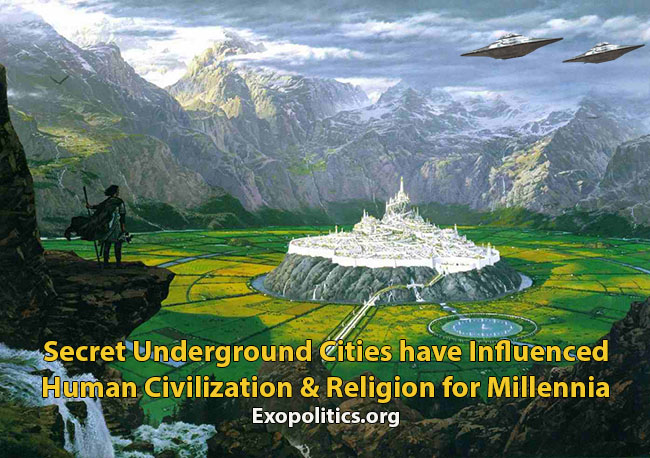 An ancient network of underground cities, tens of thousands of years old, has exerted a powerful influence over human society and religion for millennia according to secret space program whistleblower, Corey Goode. More recently, he claims this network of cities has been negotiating with major nations that have developed secret space programs.  
On September 23, Goode released a report describing a diplomatic meeting with members of seven ancient underground civilizations that recently had to come together to form an alliance due to political and technological changes on the Earth's surface.  In the latest episode of Cosmic Disclosure on GaiamTV, Goode reveals his knowledge of these underground civilizations that are described as the "Agartha Network" – a coalition of underground cities described in "smart glass pads" he had access to during his secret space program service from 1987-2007.
Goode says that the Agartha Network was created over time by successive cataclysms on the Earth's surface that led to different civilizations establishing underground refuges for their elites, along with their most advanced technologies. As the number of ancient underground cities expanded over the ages, many joined to form the Agartha Network, which possessed advanced spacecraft called the "Silver Fleet".
The Agartha Network and the other breakaway ancient civilizations were not alone in establishing refuges in underground locations throughout Earth's turbulent surface history. Non-human races that include 'Raptors' (a hybrid Reptilian and Avian race), were also present, and played significant roles in Earth's cataclysmic history.
Also, a war-like Reptilian race called the 'Draconians' first appeared around 300,000 years ago according to Goode, and began genetic experiments with some the surface inhabitants that survived earlier cataclysms. Other human-like extraterrestrials also began genetic experiments – a total of 22 – with the remnants of surface humanity.
The Draco and the human extraterrestrial visitors had major wars in which the fortunes of one side or the other would wax and wane over the ages. Goode said that Zecharia Sitchin's The Earth Chronicles, is a fairly accurate account of these battles. Meanwhile, the Agartha Network closely monitored conditions on the Earth's surface, and the different extraterrestrial visitors conducting genetic experiments, while fighting amongst each other.
Goode says that the Agartha Network pretended to be gods when they met members of surface humanity, thereby either giving birth to, or, at the very least, influencing ancient pagan religions. Among the Greek 'gods', and similar gods from other religious traditions, many were actually members of the Agartha Network.
In Goode's September 23 report, the Agarthans and other underground civilizations claimed that they did so in order to bring a measure of order and civilization to a turbulent surface humanity, which had been genetically modified by Draconians and other extraterrestrial visitors to be aggressive.
Goode said that it was not only the Agartha Network that pretended to be gods to surface humanity, but also some visiting extraterrestrials who did likewise. These included bird-like extraterrestrials revered by the ancient Egyptians such as Thoth and Horus. According to the "Law of One" material, the RA group says that despite their efforts to be merely teachers to the ancient Egyptians, they were instead revered as gods.
Goode's claims are supported by ancient historians like Manetho (circa 300 BC), who describes pre-dynastic Egypt as being directly ruled by the gods, who walked among surface humans for millennia. These 'gods' intermarried with humanity to produce generations of demi-gods who ruled over humanity for extended periods. A similar scenario is described in the Book of Enoch.
In an interview on Coast to Coast AM on September 14/15, Goode said that the gods (Agarthans and visiting extraterrestrials) walked the Earth's surface until around the fourth century AD.  This approximate date coincides well with the gradual disappearance of the pagan religions and the ascendance of Christianity after the conversion of the Roman Emperor Constantine in 325 AD.
Around 600 AD, Islam was established and rapidly spread throughout the Middle East, North Africa and Asia. The ancient pagan traditions rapidly disappeared as the two major monotheistic faiths spread around the world, often at the point of a sword.
Significantly, both of these monotheistic faiths incorporated significant elements of the Jewish religion ('Old Testament' in Christianity) that referred to an unknown transcendent 'God' called Yahweh or Jehovah. The Old Testament has numerous references to this alleged transcendent God commanding the ancient Hebrews to ruthlessly eradicate the indigenous pagan peoples in what would today be recognized as ethnic cleansing. This suggests that the Hebrew 'God' was more likely another advanced extraterrestrial or subterranean imposter.
If Goode is correct, the Agartha Network's influence over surface humanity, through ancient pagan beliefs, significantly waned with the spread of Christianity and Islam that incorporated the Hebrew belief in an unknown transcendent God. Were these two monotheistic faiths genuinely a result of divine intervention by a transcendent being, or were they likewise influenced by one or more different extraterrestrial civilizations impersonating a transcendent being?
In the modern era, Goode claims that the Agarthans attempted to assert their influence over surface humanity by this time pretending to be extraterrestrials from other worlds. They apparently did so with German Secret Societies, which along with Nazi SS, developed flying saucer technologies in the World War II era.
The Agartha Network negotiated and established treaties with German Secret Societies, accepting some of their members into their underground cities, while giving assistance to others in establishing underground bases  in Antarctica and South America, according to Goode.
The Germans shared a similar Nordic genetics with some members of the Agartha network that they came into contact with in Antarctica and South America. Yet, not all ancient underground civilizations share these racial characteristics as Goode made clear in his September 23 report, which he illustrated with several pictures released on October 7.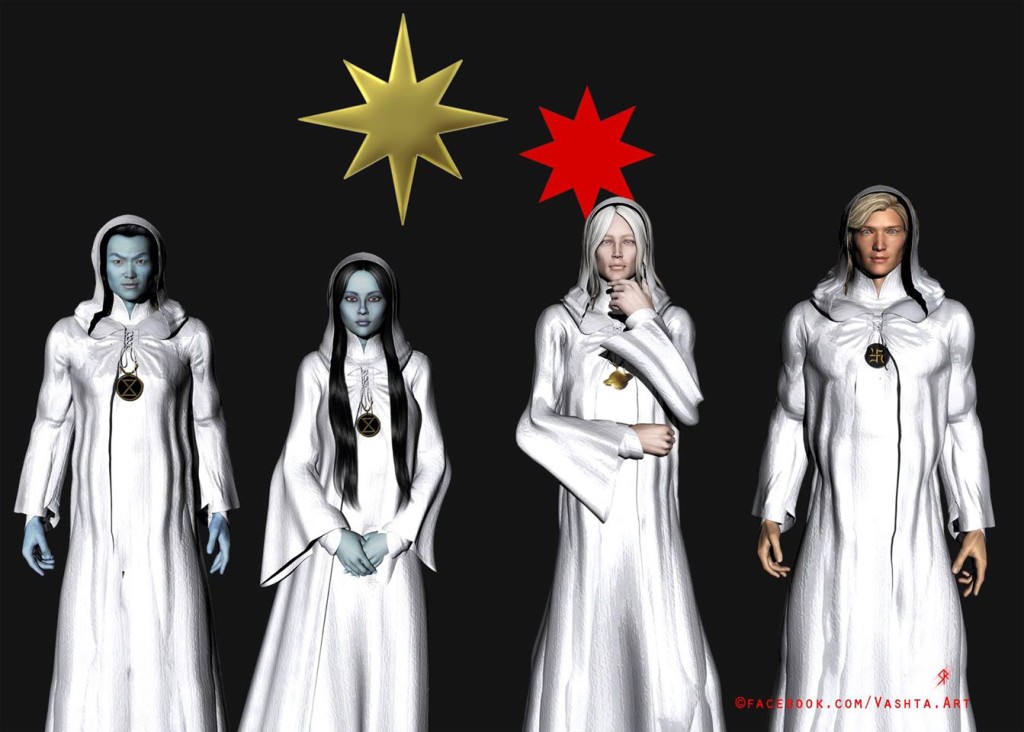 Goode says that the Agartha Network pretended to be extraterrestrials with the U.S. based secret space program, until they were exposed in the 1970's. More recently, there have been negotiations conducted between the Secret Space Programs and the Agartha Network, as Goode revealed in his September 23 report.
If Goode's account of what he read in classified briefing documents in secret space programs is accurate, then his account of the Agartha Network and its history raises many important issues. On the one hand, the Agartha Network and other ancient breakaway civilizations have clearly influenced surface humanity by pretending to be gods, and more recently extraterrestrials.
On the other hand, the Agartha Network represents a repository of ancient knowledge and history that to some extent predates the intervention of extraterrestrials on the Earth's surface. Therefore they can help surface humanity learn much about its origins and potential, despite the bewildering assortment of changes introduced by so many extraterrestrial visitors through long-term genetic experiments.
While critics claim that there is no hard evidence supporting Goode's testimony, there is in fact documentary evidence supporting some of his key claims, which is detailed in the book, Insiders Reveal Secret Space Programs and Extraterrestrial Alliances.  In addition, Goode's sincerity, consistency in his claims, along with compelling circumstantial evidence, all point to his disclosures being genuine rather than contrived.
Goode's latest Cosmic Disclosure interview, together with his September 23 report, outlines a version of history that needs to be seriously considered by all seeking to find the truth about humanity's origins, and its interactions with ancient civilizations and extraterrestrial visitors. If negotiations are currently being conducted with the Agartha Network, as Goode claims, then we may not have to wait too long for future disclosures that turn human history on its head, and reveal many uncomfortable truths about our origins and major religions.
© Michael E. Salla, Ph.D. Copyright Notice
Further Reading
Agartha Network, extraterrestrial life, German Secret Societies, gods, secret space programs, Silver Fleet