Uncensored History Revealed with Secret Space Program Disclosures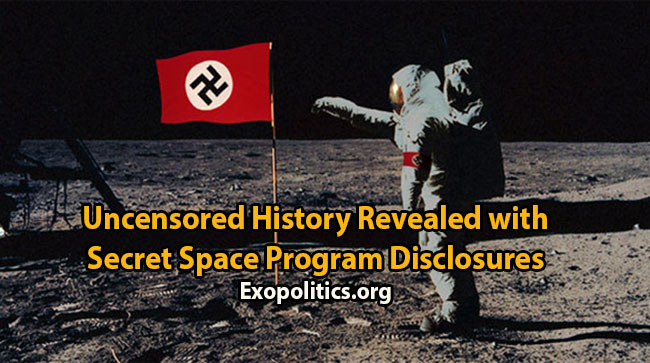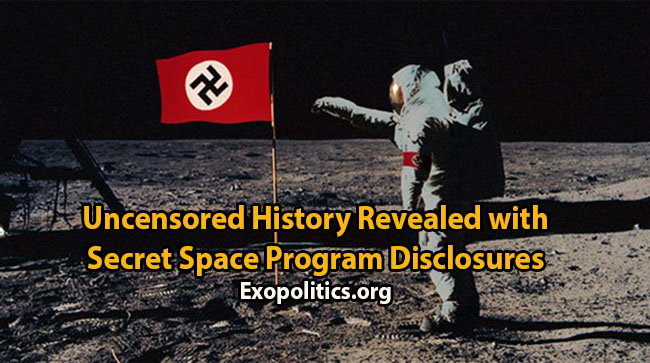 Nazi Germany, and not the United States or Soviet Union, was the first nation to send astronauts into space according to Secret Space Program whistleblower Corey Goode. Goode is not a closet neo-Nazi spouting twisted propaganda, but is simply disclosing what he says he read in classified historical documents he had access to during his 20 year tour-of-duty (1987-2007) with "Solar Warden" and other secret space programs.
In his latest interview on the Cosmic Disclosure Gaiam TV series, Goode elaborated upon his earlier revelations that he was given access to "smart glass pads," similar to iPads, where he read classified information about the origins of secret space programs. Previously he said that he was given this level of access to classified information since his duties involved familiarizing himself with many aspects of secret space program history and activities, in order to better fulfill his responsibilities as an "Intuitive Empath."
He recalls that the "smart glass pads" revealed that channelers, associated with the Vril Society, made contact with a group of Draconian extraterrestrials claiming to be humans from the Aldebaran star system.
Later, during expeditions to the Himalayas, members of the Vril Society and Nazi SS made contact with a group of Nordic-looking humans, who were part of the "Agartha Network". Goode says that the Agartha network had advanced spacecraft, named the "Silver Fleet." The Agarthans held similar beliefs to the Nazis in terms of racial purity and separate development models for humans.
Goode recently elaborated on these belief systems in a September 23 report of a meeting he attended with representatives of seven ancient subterranean breakaway human civilizations. He explained in some detail why racial purity ideals and separate development was important for these breakaway human civilizations.
In the Cosmic Disclosure interview, Goode discussed the development of the first antigravity spacecraft built in the 20th century by the German Vril Society, resulting from the esoteric communications with extraterrestrials and "intra-terrestrials" from the Agartha Network.
Goode explained in detail why German scientists were prepared to combine western empirical scientific investigation with esoteric principles. This gave the German scientists an edge over their Anglo-American rivals, and it would not begin to be bridged until well after the end of the Second World War, when the victorious allies realized just how advanced Nazi technology had become.
This is not the first time Goode has discussed the development of secret space programs in Germany during the 1920s and 1930s under the guidance of secret societies and later the Nazi SS. In a May 20 email interview, Goode went into some detail about the role of German secret societies and the Nazi SS in developing parallel secret space programs.
Goode's stunning revelations have been investigated closely in the newly released book, Insiders Reveal Secret Space Programs and Extraterrestrial Alliances. Findings from available historical documents corroborate many of Goode's key claims regarding the role of German secret societies and the Nazi SS in developing, not one, but two secret space programs! Today, this information explains many puzzling political decisions and military actions.
The policy implications of Goode's disclosures illuminate current events in an astounding way. Not only did German secret societies and the Nazi SS cooperate in their respective space programs, but they collaborated in a joint effort after World War II to successfully infiltrate the infant U.S. secret space program.
Goode's claims that Nazi flying saucers defeated Admiral Byrd's 1947/48 Naval expedition and did overflights of major U.S. cities in the 1950's is supported by historical documents, and other whistleblowers discussed in Insiders Reveals Secret Space Programs. Among them is Clark McClelland who worked as a NASA contractor and employee for 34 years.

These documents and independent testimonies help respond to critical readers seeking evidence to substantiate Goode's claims, and help to gain an understanding of why this information illuminates many truths today withheld.  
It is clear that if Goode is even partially correct in his incredible claims, then history will have to be radically rewritten. This will be deeply disturbing to those believing that Nazism, and all it stood for, was resoundingly defeated at the end of World War II.
Perhaps equally upsetting will be the realization that some extraterrestrial visitors and subterranean human civilizations share similar ideals of racial purity and separate human development. According to Goode's recent interaction in a meeting with some of these subterranean groups, traumatic historical events must be overcome on all sides for us all to understand ourselves better and look toward a brighter future.
© Michael E. Salla, Ph.D. Copyright Notice
Further Reading
Corey Goode, extraterrestrial life, Nazi Germany, secret space programs