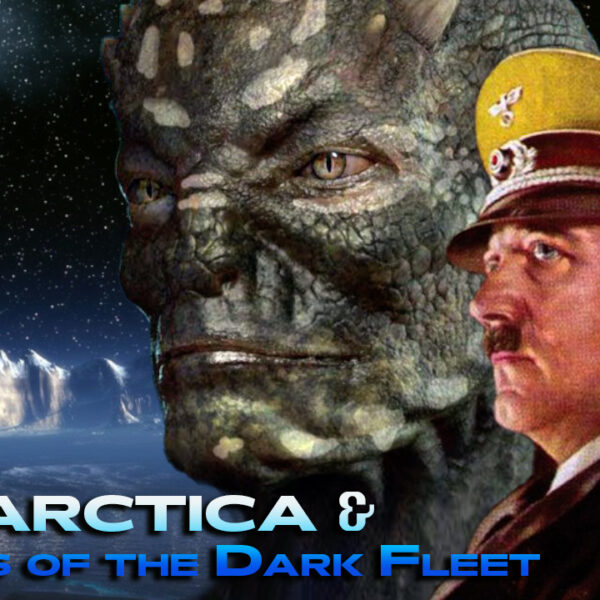 I'm delighted to announce the release of a short film presenting the recent history of Antarctica and how a breakaway German colony established a presence in an extensive underground cavern system, and used it as a base of operations for building a fleet of reverse engineered alien spacecraft. The German "Dark Fleet" has evolved over decades to become a powerful force on Earth and in Deep Space. Learn why the existence of the Dark Fleet is to be exposed as a necessary condition for humanity entering a golden galactic age where we interact with highly advanced extraterrestrial civilizations who share advanced life changing technologies.
Premieres Today at 10 am Pacific, 1 pm East Coast, USA 
 Watch on YouTube, Rumble or Vimeo
I wish to thank my inspired and incredibly talented wife, Angelika Whitecliff, for the many hours she devoted to creating this short film and raising public awareness of these critical issues.
Michael Salla, Ph.D.
Related Articles/Short Films
May 22, 2021 Webinar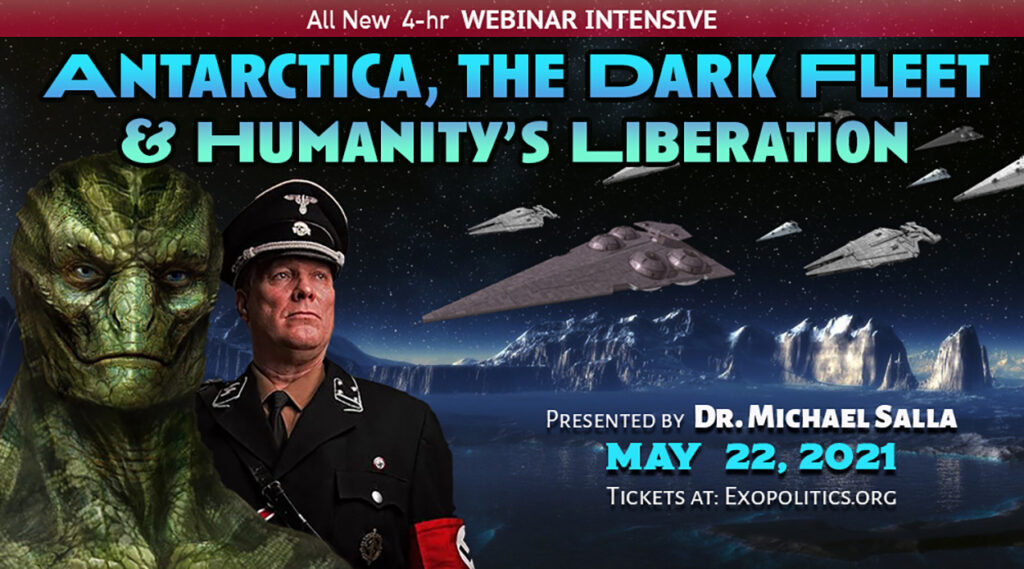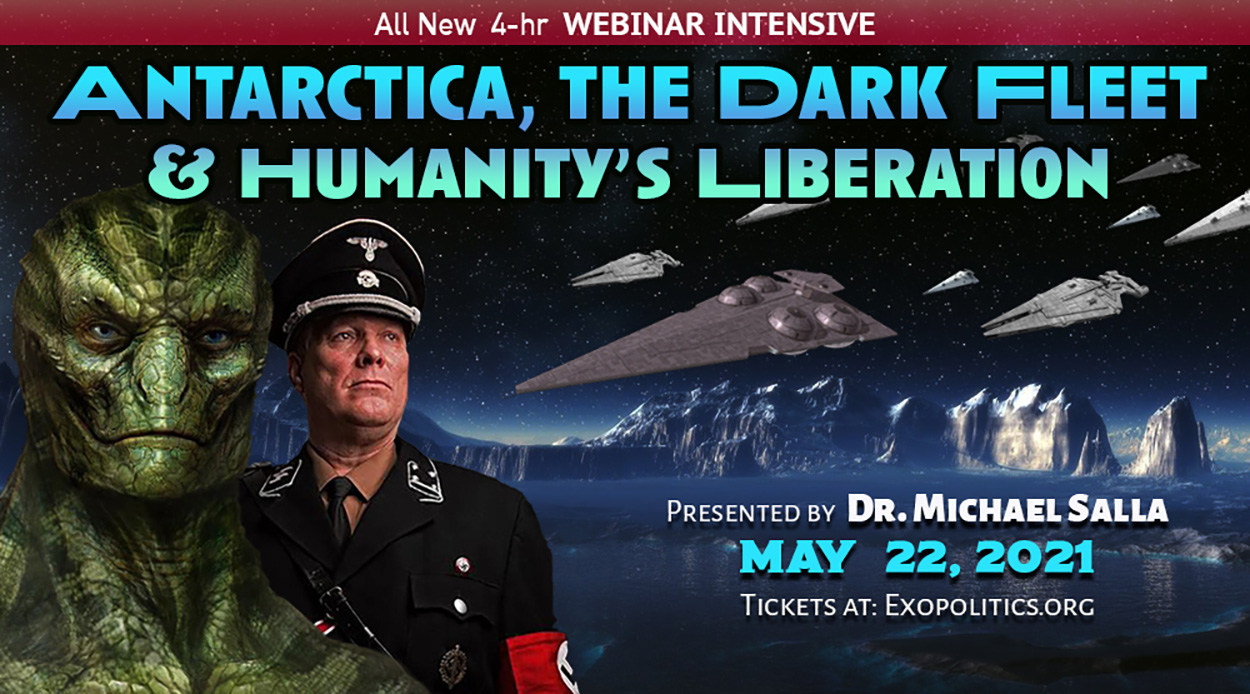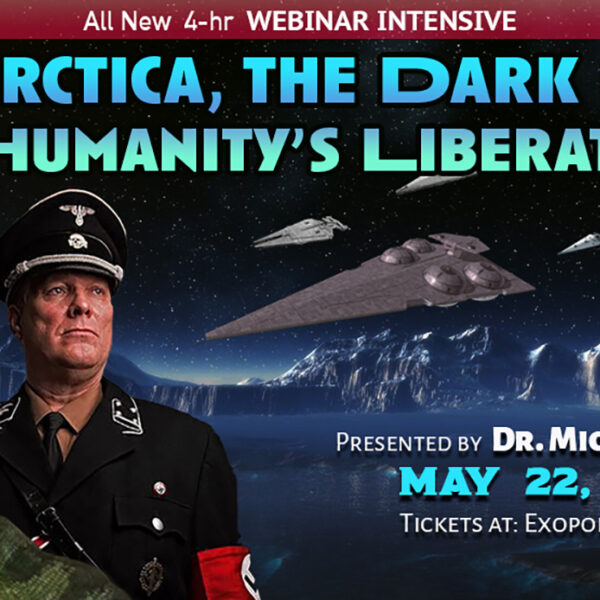 At the end of the Second World War, Antarctica became the hub for a secret alliance between a breakaway German colony and different extraterrestrial groups. With the aid of their alien allies, the Germans were able to develop a powerful Dark Fleet that routed the combined military forces of the US and its allies on the Antarctic continent. In the aftermath of defeat, the German-Extraterrestrial alliance pressured the US into persisting agreements that have spanned successive Presidential administrations.
The Dark Fleet has since grown into a powerful military space force with bases in Antarctica, on the Moon, Mars and elsewhere in our solar system. Furthermore, the Dark Fleet is behind a "galactic slave trade" involving millions of missing people, and regularly conducts interstellar operations against peaceful planetary civilizations. If left alone, the Dark Fleet and its extraterrestrial alliance would grow to become the epicenter of a tyranny that would eventually span the galaxy. However, powerful resistance forces are amassing.
In this 4-hour Webinar Intensive, Dr. Michael Salla will explain the history of Antarctica and the Dark Fleet, and how these have become the hub of this evolving galactic tyranny. He will explain how humanity's liberation from this dark alliance and its web of nefarious activities on Earth and in space are being covertly assisted by multiple extraterrestrial civilizations and higher dimensional forces. Today we at the precipice because of a titanic struggle between opposing forces of light and dark, and every awakened individual is being called to make a difference by learning about the issues and becoming active.
About the Presenter: Dr. Michael Salla is the author of the bestselling Secret Space Programs Book Series & founder of Exopolitics.org
Webinar Date: May 22, 2021

This LIVE event will be recorded, and attendees are able to watch unlimited replays for 60 days.
To view and purchase past webinars click here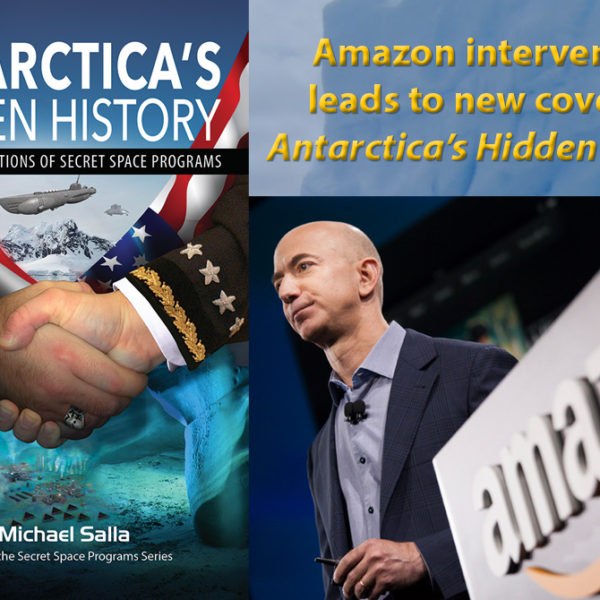 Antarctica's Hidden History: Corporate Foundations of Secret Space Programs was simultaneously released in the United States and Europe through Amazon.com on March 25, 2018. The cover illustrated a handshake between a U.S. military official, and a civilian wearing a Nazi ring and an Iron Cross cuff link. The respective flags of the United States and Nazi Germany appeared behind them. The book quickly attained No.1 best seller status in several Amazon book categories and has gained positive reviews.
On May 29, I received an email from Amazon stating: "During our review process, we found that your book's cover image contains content (i.e. Swastika) that is in violation of our content guidelines for Germany and may infringe German law." This led to the Kindle edition being immediately withdrawn from Amazon's German website.
A few hours later, I received a similar email from Createspace, an Amazon subsidiary, informing me that it was also withdrawing the paperback edition from the entire European market. This meant, for example, that potential readers in the United Kingdom could not purchase the paperback edition since the cover MAY violate German law.
I received legal assistance from Duke Brickhouse, J.D., an attorney in Virginia Beach, who worked for several years as a media attorney in Berlin, Germany. He pointed out the following in replies to Amazon and its subsidiary:
The German Code prohibits a swastika's use where it is used for propaganda.  The code section (1)(3) delineates an exception to this prohibition if it "serves to further civil enlightenment", "promotes… research or teaching", "reporting on… historical events", or "similar purposes". The book and the use of the swastika on the book's cover is in fact created for the purpose of civil and historical enlightenment, and not for the promotion of underlying Nazi propaganda intended to further the aims of the Nazi regime.
Amazon stood by its decision despite repeated attempts to have them reconsider on the basis that the book clearly fit the exemptions specified in the German legal code in the use of Nazi era insignia. Put simply, the book is legitimate historical research delineating the respective roles of Nazi and German nationalist groups in setting up a secret colony in Antarctica, and their respective post-World War II activities.
What makes Amazon's refusal to reconsider its position even more puzzling is that it does include books on its German site which prominently figure Swastikas. Here's four examples of books which are all currently available on the Amazon Germany website.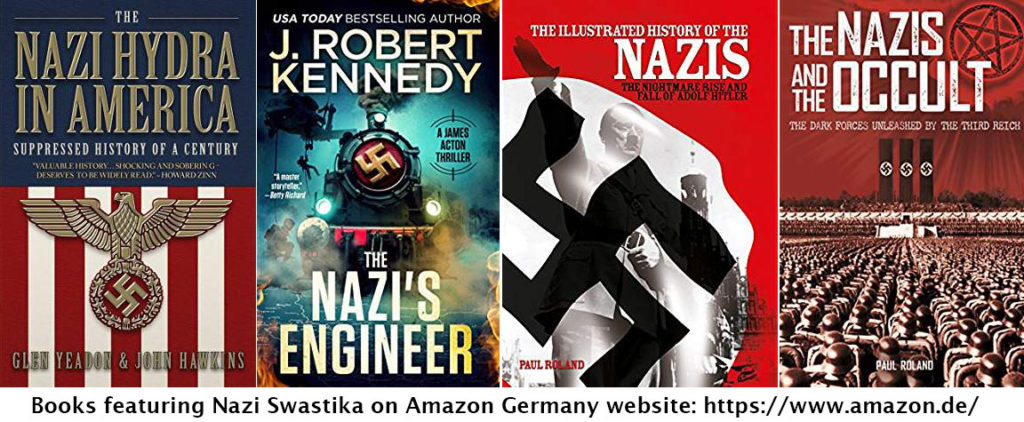 All this raises the question of whether Antarctica's Hidden History was being unfairly targeted; and if so, for what reason?
On February 11, 2018, I wrote an article that Amazon's founder Jeff Bezos traveled to Patagonia, Argentina on February 3, and along with the then U.S. Secretary of State, Rex Tillerson, allegedly negotiated with the Antarctic based Germans. The talks were held at the Patagonian city of San Carlos de Bariloche, with the purpose of reaching an agreement on future official disclosure of their secret space program.
In a future disclosure scenario, the Antarctic Germans would share their advanced space and healing technologies that would help revolutionize the planet. This would naturally require them revealing their historical evolution and cooperation with Hitler's Nazi party.
I analyze all of this in Antarctica's Hidden History, but the core idea is that the German breakaway colony in Antarctica was dominated by the German Navy, secret societies and nationalists, rather than Nazi Party ideologues.
As Nazi Germany's defenses crumbled before the allied military onslaught, Hitler demanded access to the superweapons that his regime had been promised by the Antarctic colony, which the Nazis had funded and materially supported since its inception.
The Antarctic German colony refused to hand over this advanced technology. Instead they chose a long-term strategy of secret negotiations with the U.S. and its allies from a position of strength, after their fleets of weaponized flying saucers were completed and ready for battle if necessary.
If there is a plan to officially disclose what remains of the German Antarctic Space Program, it would make sense that it would be very eager on disassociating itself historically from Hitler's Nazi Party, and the atrocities committed in Europe. I believe that Bezos has played a role in forging such a secret agreement, and perhaps this is a factor in Amazon's problem with the cover of Antarctica's Hidden History.
Consequently, a new cover was designed for the European edition of the book which is now markedly different to the U.S. edition. The swastikas are gone, and the old German Imperial Flag is included to highlight the Navy and nationalist elements, along with a skull and bones ring depicting the German secret societies, all of which were critical in the evolution of the Antarctic colony.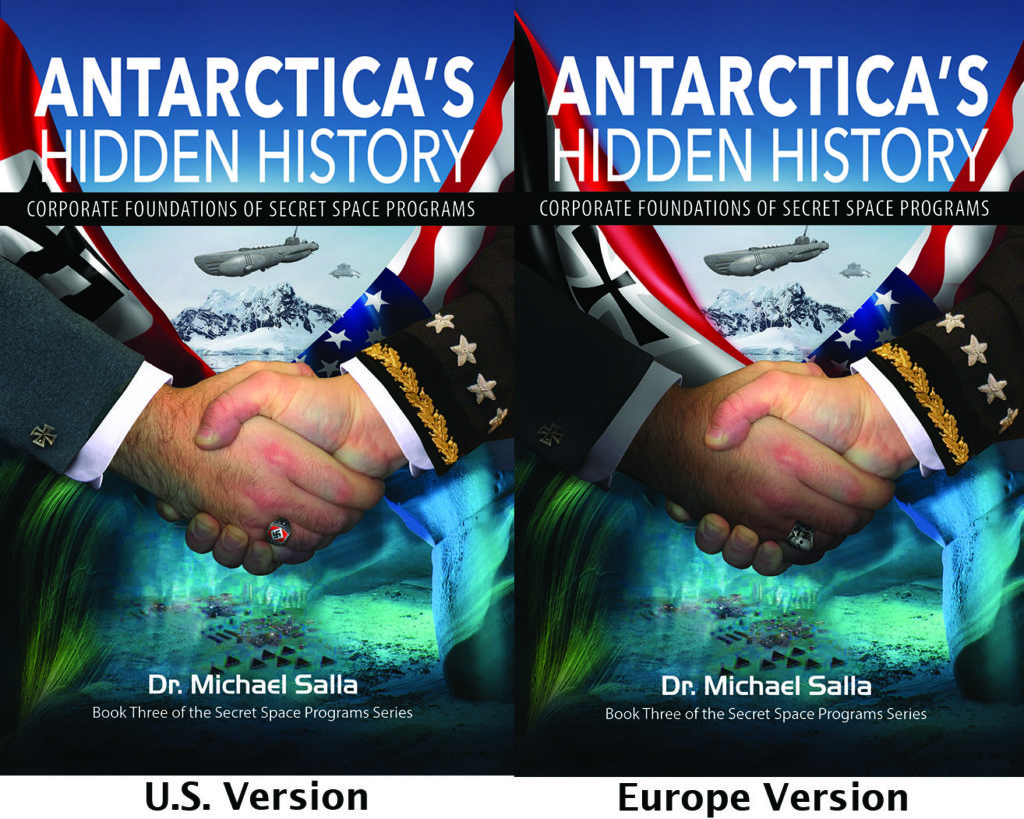 Despite the different covers, the content in the U.S. and European editions of Antarctica's Hidden History are identical. In it, the reader will learn about the history of Antarctica, and the role played by German nationalists who collaborated with the Nazi regime in establishing a breakaway colony there with advanced aerospace technologies.
Together with massive industrial capital being secretly dispersed around the globe prior to the collapse of Nazi Germany, the foundations were laid for creating a Fourth Reich. This shadowy entity has played an enormous role in secretly influencing global affairs ever since agreements were reached with the U.S. Presidential administration of Dwight D. Eisenhower.
After reviewing the historical evidence, documents and testimonies presented in Antarctica's Hidden History, the reader can judge for him/herself the historical connection between Hitler's Nazi Party and the German breakaway Antarctic colony. One thing is clear though, the "Fourth Reich" used Antarctica as a launching pad to establish a nefarious influence over European, U.S. and global institutions, which continues to the present day.
Michael E. Salla, Ph.D.
[Note: Antartica's Hidden History is available in the following formats and Amazon locations for English speaking countries: Kindle USA/Paperback USA/Paperback United Kingdom/Paperback Canada. Autographed copies are available at Exopolitics.org]
Further Reading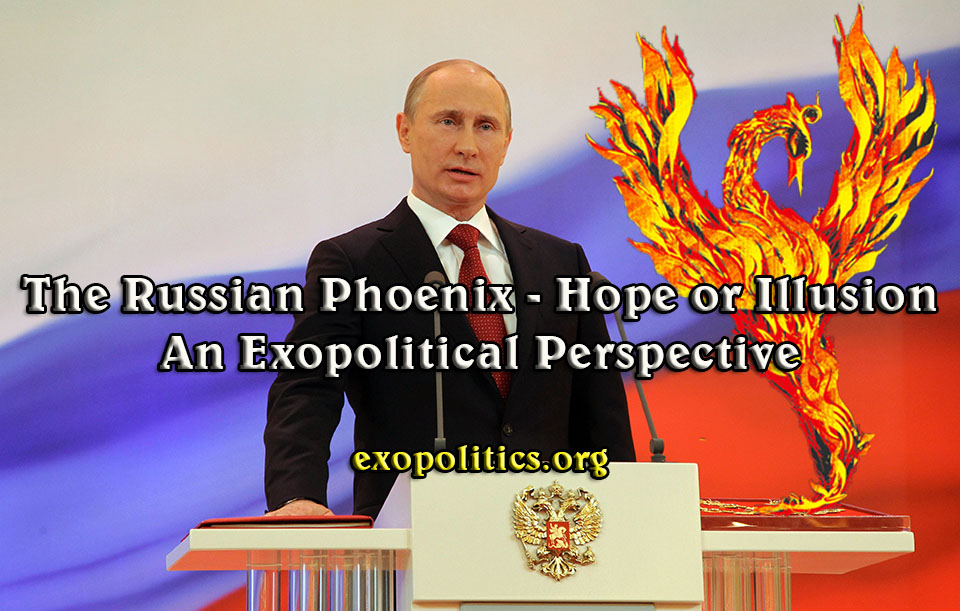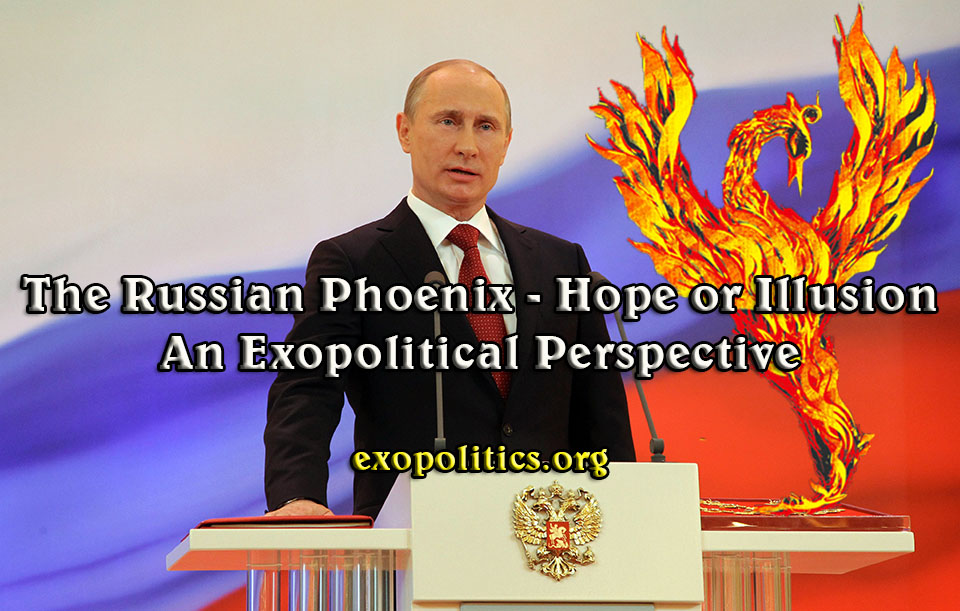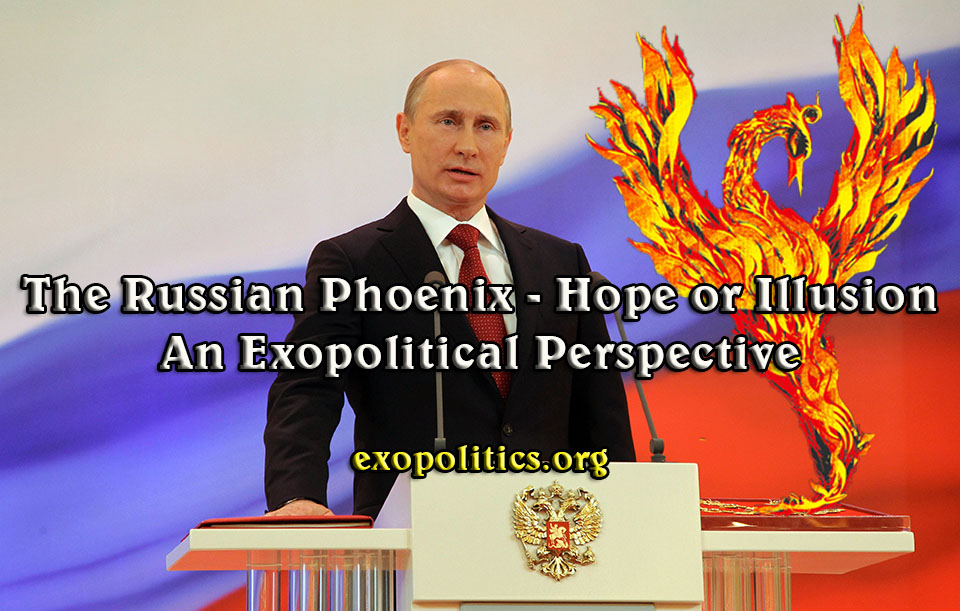 Under President Vladimir Putin, Russia has witnessed a remarkable rise back to becoming a first rate military power capable of challenging U.S. hegemony around the world. More importantly, Russia is a key element of a global alliance (BRICS) in challenging plans for a New World Order contrived by banking elites that form an "Invisible Government".  
This Phoenix-like resurgence of Russia has led to competing narratives about it being either a hope for a better planetary future, or conversely an illusory opposition to U.S. hegemony as part of a contrived power dialectic controlled by the Invisible Government. This has led to competing camps who either champion Russia's policies at a global level, or criticize them as being little more than controlled opposition to the Invisible Government.  
Helping chart a reasonable path through the competing narratives about Russia is a very well thought out article by Dr. Moti Nissani titled "The Russian Phoenix: Hope or Illusion?" Published on February 3, 2016, Nissani examines many of Russia's ambivalent approaches to helping its citizens, global debt bondage, mass media, the environment, etc.  
What Nissani doesn't do, however, is consider the exopolitical element behind the Invisible Government. In short, exopolitics is the study of extraterrestrial life and its political implications. If extraterrestrials secretly influence governments, as many researchers and whistleblowers claim, then a study of Russia's opposition to the Invisible Government needs to consider this possibility. 
Nissani starts his article with an anecdote of widespread perceptions about Russia by many around the world and numerous analysts: 
When I visit a barbershop in Beirut or Amman, and am asked 'where are you from?' (It used to be a painfully confusing and complex question to answer, just a few years ago), I now simply reply: "Russia," and people come and hug me and say, 'Thank you.' 
It is not because Russia is perfect. It is not perfect–as no country on Earth could or should be. But it is because it is standing once more against the Empire, and the Empire has brought so many horrors, so much humiliation, to so many people; to billions of people around the world . . . and to them, to so many of them, anyone who is standing against the Empire, is a hero. This I heard recently, first hand, from people in Eritrea, China, Russia, Palestine, Ecuador, Cuba, Venezuela, and South Africa, to name just a few places.
Nissani contrasts this positive narrative about Russia with another narrative of it being "controlled opposition" to a New World Order, which essentially offers an illusory or false choice. He quotes author Brandon Smith who writes about the false choice between Democratic and Republican parties in the U.S., and how this equally applies to the world arena: 
What truly disturbs me is that our movement can be so awake and aware of the false left/right paradigm while remaining astonishingly naïve and short sighted when it comes to the false East/West paradigm. There are no "sides" in any modern conflict, only proxies fighting on a global chessboard controlled by the same elitist interests…. War is meant to forcefully change the "inertia" of civilization, and thus, forcefully change the direction of civilization in a manner that benefits the engineers of the conflict…." 
 After examining a number of Russian policies that provide fodder for proponents of either narrative, Nissani offers a way out of the dilemma over the correct approach to Russia and its ambivalent policies. 
 He identifies Russia's timidity and caution in providing a full throated challenge to the "Invisible Government" that controls the U.S. and the world. He offers 11 explanations for this timidity, the second of which he appears to find most persuasive:  
2. A second, more convincing explanation for Russian puzzling timidity is again offered by the Saker: 
"I am sure that Putin fully realizes that, at least potentially, his policy of resistance, sovereignization and liberation can lead to an intercontinental nuclear war and that Russia is currently still weaker than the AngloZionist Empire.  Just as in the times of Stolypin, Russia desperately needs a few more years of peace to develop herself and fully stand up." 
This leads to Nissani completing his article by raising two questions over how to respond to Russia:  
The first question is: Should we—humanitarians or revolutionaries—sympathize with Russia in its current half-hearted struggle with the Invisible Government? … 
The second question is: Should we dedicate our meager resources exclusively to our own revolutionary program, or should we also divert some resources to Russia's dubious struggle for building an alternative to the Invisible Government?
He concludes with his final answer to the question of whether Russia presents hope or illusion for the rest of humanity: 
To sum up my own appraisal. Progressives and revolutionaries of every nation on earth ought to sympathize with the Russian government's struggle against the bankers. However, they cannot realistically expect that government to do their work for them. When it comes to the crucial struggle for survival, freedom, peace, and justice, they are on their own.
Nissani's article is impressive in its even handed coverage of issues related to Russia's half-hearted opposition to the Invisible Government. There is, however, a glaring deficiency which is critical for understanding Putin and Russia's apparent timidity here.  
If the "Invisible Government" comprises mere humans from elite banking families, as Nissani and most contemporary geopolitics researchers assume, then Russian timidity is truly an enigma which at best is simply a survival strategy to gain time to confront the international banking elite, or at worst "controlled opposition" at a global level designed to present an illusory choice to humanity.  
If, however, the "Invisible Government" comprises entities who genetically are more extraterrestrial than human, some of whom can live centuries if not thousands of years, then Putin's timidity becomes much more understandable. 
This is where the classic books, The Gods of Eden (1993) by William Bramley, and Rule by Secrecy (2001) by Jim Marrs, become helpful in understanding Putin and Russia. Both depict extraterrestrials as having intervened in human affairs since antiquity, and being directly involved in controlling human societies through hybrid rulers that maintained extraterrestrial influenced bloodlines. 
Direct historical support for Bramley and Marrs's radical thesis comes from the Ancient Egyptian historian Manetho, who wrote about the rule of Gods (extraterrestrials) and Demigods (human-ET hybrids) before the 30 human dynasties began around 3100 BC in Ancient Egypt.
Manetho cited the extremely long lives of the Gods and the Demigods, who first openly ruled human societies, before delegating leadership responsibilities to human elites. This gave birth to the concept of the Divine Right of Kings, who either through direct bloodline and/or extraterrestrial approval, could claim that their crowns were divinely sanctioned. 
Manetho's writings therefore give the first historical reference to the "Invisible Government." At the core of its membership are extraterrestrials and their hybrids who controlled human leaders from behind the scenes, and have done so for over 5000 years! 
This takes us to the modern era and the situation involving extraterrestrials and the Invisible Government. William Tompkins, a retired aerospace engineer, revealed that during World War II, he served on a covert Navy operation that deployed 29 spies in Nazi occupied Europe. The Navy spies not only learned about the secrets behind many advanced Nazi aerospace programs, but also that the Nazis had reached an agreement with a Reptilian extraterrestrial race called the Draconians. 
The Nazi-Draconian alliance led to the establishment of bases in Antarctica in 1939, and after the failed Operation Highjump Navy expedition in 1947, agreements were eventually imposed upon the U.S. Military Industrial Complex. This culminated in multiple secret space programs being developed as described in the book, Insiders Reveal Secret Space Programs and Extraterrestrial Alliances. 
What the testimony of Tompkins and others described in Insiders Reveal Secret Space Programs, is that the Soviet Union was left out of the loop when it came to advanced aerospace technologies acquired through secret agreements with Nazis and Reptilians. Essentially, the Invisible Government had chosen the U.S. and its NATO allies as the principal mechanism for establishing a New World Order that would in essence be a covert Fourth Reich. 
Consequently, the Soviet Union and its Warsaw Pact allies directly opposed the agenda of the Fourth Reich/Invisible Government which ultimately prevailed and orchestrated the collapse of the Soviet Union.  
The Phoenix-like re-emergence of Russia once again has led to the Russian people becoming a powerful opponent to the Invisible Government and its many global tentacles as exemplified in institutions such as NATO, European Union, Bilderberg Group, World Bank, International Monetary Fund, etc.  
However, Russia has lost its former East European allies and now has NATO on its borders, threatening to expand further into former Soviet Republics such as Georgia and Ukraine. This has required Russia taking a far more cautious approach than the former Soviet Union in opposing the NATO/Fourth Reich/Invisible Government agenda.  
Russia has slowly built up a new alliance of nations, the BRICS, in order to oppose the New World Order agenda in the economic sphere. Nevertheless, the Invisible Government through its many tentacles and extraterrestrial elements is a potent adversary, which is highly dangerous.  In his article, Nissani refers to the threat of a nuclear armageddon if Russia directly acts to expose and/or take on the Invisible Government.
In addition to thermonuclear weapons there are even more dangerous "torsion field" weapons developed in compartmentalized programs controlled by the Invisible Government that could be deployed. According to the historian, Dr. Joseph Farrell, these torsion field weapons were first actively developed by Nazi Germany.
If extraterrestrials are indeed a key element in either the composition or conduct of an Invisible Government, then Russia's response to the latter requires a deeper level of analysis than that provided by Nissani and conventional geopolitical analysts.  
This requires that we move from analyzing geopolitics as a two dimensional game of chess with clearly identified international actors and processes impacting one another, to a three dimensional chess game involving hidden extraterrestrial and non-terrestrial elements.
An exopolitical level of analysis to geopolitics is required that adequately identifies the extraterrestrial and other non-human elements influencing the Invisible Government, and how major nations such as Russia respond to these hidden influences. 
© Michael E. Salla, Ph.D. Copyright Notice
Further Reading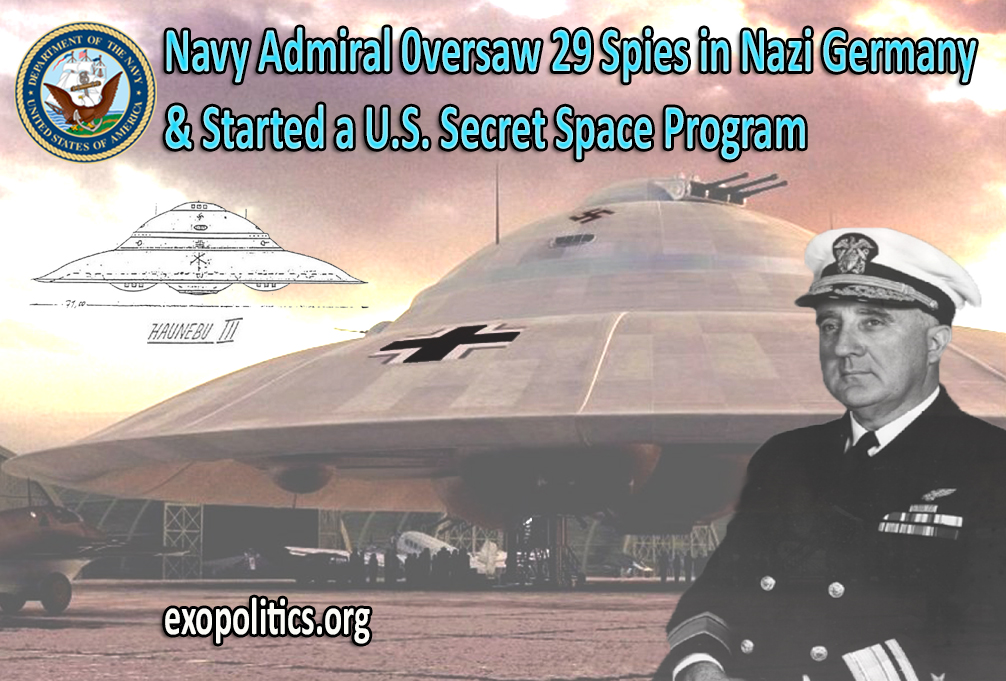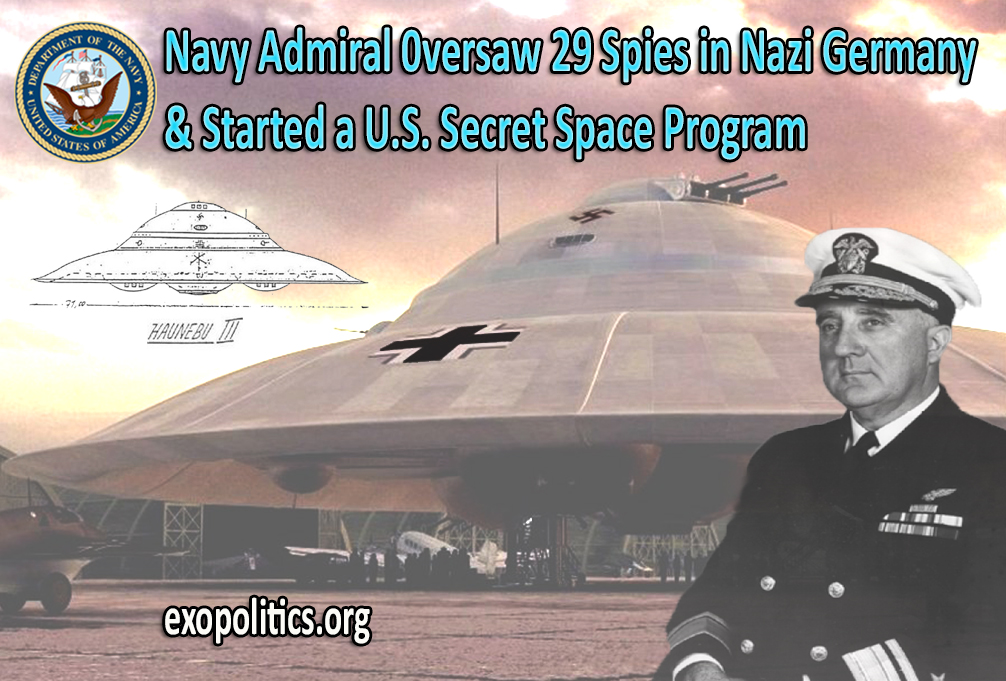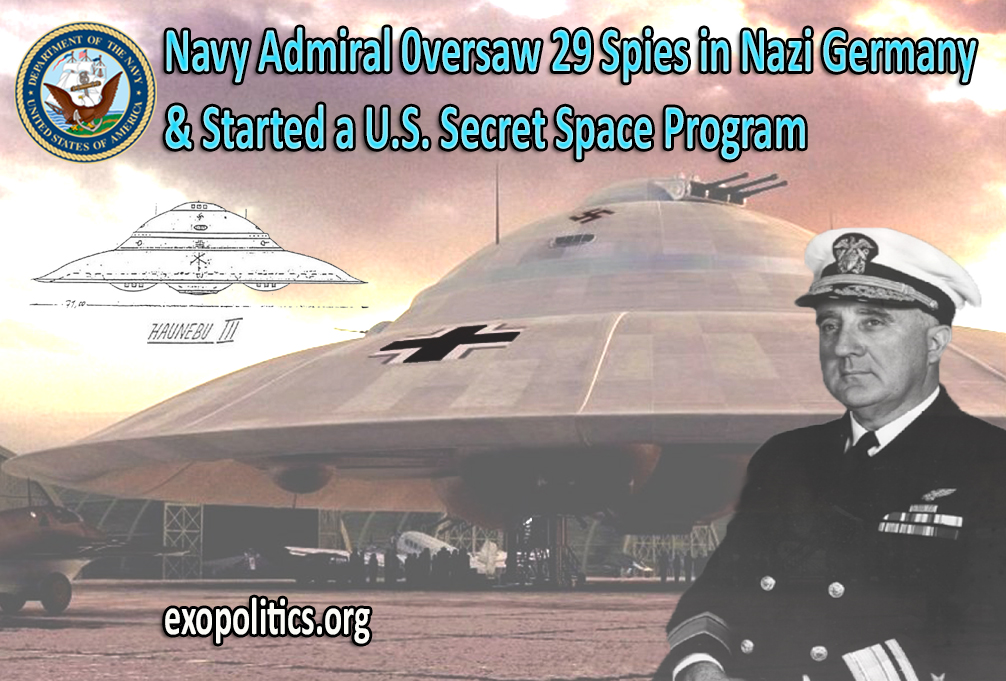 Rear Admiral Rico Botta was an extremely busy man during World War II. In addition to his official daytime naval duty as "Assembly and Repair Officer" at Naval Air Station, San Diego, in the evenings he led a covert Navy program operating with 29 spies embedded in Nazi Germany's most advanced aerospace programs which were developing antigravity flying saucers.
According to retired aerospace engineer, William Tompkins; from 1942 to 1946, Admiral Botta seamlessly performed his official and covert Navy duties. The covert program learned from the Navy operatives (Lieutenants in rank) that the Nazis had developed up to 30 prototypes of antigravity craft, some of which were capable of space flight.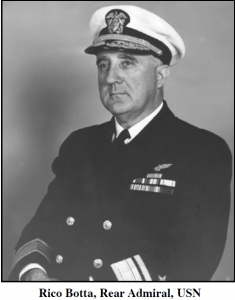 It was Admiral Botta's duty to understand both the war and post-war potential of the Nazi aerospace programs, and disseminate the relevant technical information acquired by the spies to his Navy superiors, and also select U.S. aerospace companies, think tanks and government laboratories.
Tompkins job was to assist Admiral Botta by physically taking the briefing packages created during the covert program to organizations with the technical expertise to understand the Nazi designs and prototypes, assess their feasibility, and incorporate them into the war effort, if possible.
Tompkins did this approximately 1200 times. Each late night debriefing session was run by the Admiral, with one or more out of a pool of three Navy captains in attendance, along with Tompkins and a stenographer to record the sessions.
After the official end of WWII, Botta went on to play a key role in starting a U.S. Navy led secret space program filling a number of positions until his final "official" assignment at Naval Air Material Center, Philadelphia, from 1950 until his retirement in 1952.
Admiral Botta's covert program was first publicly revealed in December 2015 by Tompkins in his book, Selected by Extraterrestrials.
Here Tompkins released a document  revealing his mission orders as a Disseminator of Naval Aircraft Research and Information, and explained how he would deliver briefing packages to various aerospace organizations.
Tompkins also released a document issued by Navy Secretary James Forrestal, which formalized the technology acquisition program headed by Admiral Botta within the newly created Office of Research and Inventions on May 19, 1945.

Yet more documents he released are two exit passes signed by Admiral Botta, which gave Tompkins permission to exit the Naval facility with his "briefing packages."
These two exit passes confirm Admiral Botta's direct role in the covert Navy program. It is hard evidence that Botta was leading a covert program at Naval Air Station, San Diego, which was authorized by Secretary Forrestal, as Tompkins has claimed.
Confirming Botta's role in the covert program described by Tompkins has been elusive up until recently. Botta's background and expertise would remain a mystery until researchers at Rense.com combined their efforts to find an official biography on him. 
Botta's biography was published on the website of the "Golden Eagles," an organization formed by naval aviators back in 1956.  Curiously, Botta's biography was only made available in March 2016, four months after Tompkins' Selected by Extraterrestrials was published and publicly identified Admiral (Rico) Botta (mistakenly spelled in the book as "Rick Obatta").
This occurrence, five years after the Golden Eagles website first appeared in 2011, is oddly coincidental, and suggestive of "official approval" for the release of Botta's biography into the public arena.

Despite the curious timing of its release, there is no reason to question the accuracy of Botta's biographical details as found on the Golden Eagles website.
Evaluating Admiral Botta's various commands and expertise will help considerably in determining whether or not he was capable of running the covert Navy Spy program alleged by Tompkins, and whether Tompkins testimony itself is credible.
One of the first issues to address about Admiral Botta's background is his rank while stationed at Naval Air Station, San Diego. His official position as "Assembly and Repair Officer" in normal circumstances would be filled by a Captain.
This is confirmed in the citation for his award of the "Legion of Merit" after WWII for his time at San Diego:
The President of the United States of America takes pleasure in presenting the Legion of Merit to Captain Rico Botta, United States Navy, for exceptionally meritorious conduct in the performance of outstanding services to the Government of the United States as the Assembly and Repair Officer, U.S. Naval Air Station, San Diego, California from 31 December 1942 to the termination of hostilities in August 1945.

Yet, on January 11, 1946, after the award of his Legion of Merit, Botta was retroactively promoted to Rear Admiral, spanning back to June 30, 1943. The Congressional record refers to the retroactive promotion due to a temporary assignment which meant that his position as 'Assembly and Repair Officer" had aquired flag officer responsibilities.
It's feasible that his temporary appointment as Admiral was due to the wartime responsibility of "Assembly and Repair Officer" expanding significantly beyond the normal command level involved during peacetime operations. This is certainly the view of WWII historians such as Ken McCanliss, who points out that Botta is among "a list of 58 Navy flag officers who were given retroactive promotions reflecting war time rank."
It's also possible that his temporary rank of Rear Admiral was due to him performing additional duties of extreme importance to the Navy, commensurate with the rank of Rear Admiral. This is what Tompkins' two May 1945 documents suggest in terms of a covert technology acquisition program that reported directly to Secretary Forrestal.
According to Tompkins, Forrestal directly intervened in ensuring Botta's temporary promotion to Rear Admiral since that was required for the covert program that Botta would head. It would certainly make a difference for Tompkins' briefing packages to be taken seriously if he was working for a Rear Admiral, rather than a Navy Captain, when he delivered them to leading aerospace companies.
Furthermore, Botta's background as an Australian citizen (he emigrated to the U.S. in 1908 at age 18), and not being a graduate of the U.S. Naval Academy, would likely have created additional hurdles to advancement to flag officer rank.
Botta's promotion supports Tompkins claim that in addition to Botta's official "daytime" duties, he also performed covert duties at night, in running the Navy spy program out of Nazi Germany, which required a flag officer to be in command. It's worth emphasizing that Tompkins recalls that when he began working under Botta in 1942, the latter wore the uniform of an admiral.
We can now examine some of Botta's other Naval assignments to assess whether he was capable of running a covert espionage program out of Germany to learn about its aerospace secrets.
According to his biography, Botta worked for the Bureau of Aeronautics for two periods. First from 1921 to 1924, and the second time from 1937 to 1942. During his second stint, he worked in the Engineering Division Material Branch and later was the head of the Power Plant Design Section.

Here is what we know of the Bureau of Aeronautics from Wikipedia:
The Bureau of Aeronautics (BuAer) was the U.S. Navy's material-support organization for naval aviation from 1921 to 1959. The bureau had "cognizance" (i.e., responsibility) for the design, procurement, and support of Naval aircraft and related systems.
These two assignments confirm that in 1942, Admiral Botta had nearly nine year's experience in a variety of areas associated with aircraft engineering, design and power supply. This had contributed to him developing a "superior and outstanding technical knowledge" as described in his "Legion of Merit" citation:
Captain Botta, by his superior and outstanding technical knowledge and skill, his great administrative ability and his constant devotion to duty enabled this Department to meet the ever increasing demands of the Fleet Air commands for combat aircraft of the latest type and with the latest combat-proved changes installed.

The citation is consistent with what Tompkins claims Botta was doing at the Naval Air Station with the covert operatives in Nazi Germany. It refers to Botta learning about the "latest type" of combat aircraft and changes to improve combat readiness for US Navy aircraft.
Consequently, if the Navy had spies embedded in Nazi Germany, then Admiral Botta would have been an ideal choice as someone who could debrief them, adequately assess the technical information involved, and pass on relevant information to select aerospace companies and think tanks for further study and development, as Tompkins contends.
Admiral Botta's career after WWII took him into positions that were directly involved in the study of antigravity technology that could help start a US Navy secret space program.
One of the Navy research centers that Tompkins says he took his briefing packages to during the war was the Naval Air Material Center, Philadelphia, Pennsylvania. The Naval Air Material Center was located at the Philadelphia Naval Shipyard, and during WWII was responsible for developing new aircraft technologies.
On July 1, 1950, Botta became the commander of the Naval Air Material Center, suggesting that he would be assisting it with developing experimental aerospace technologies, especially with regard to antigravity technologies.
Here is what was publicly known about experimental aviation projects at the Naval Air Material Center in 1944: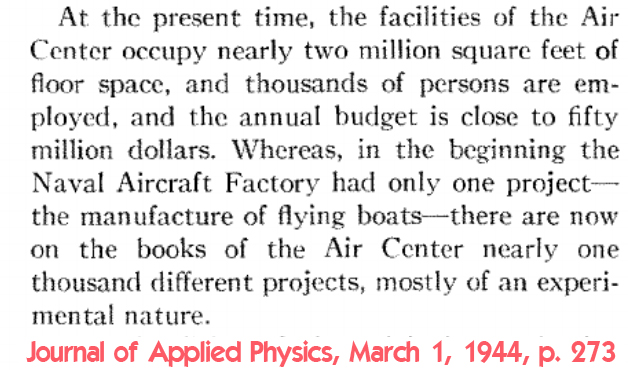 When Admiral Botta took over command of the Naval Air Material Center on July 1, 1950, he was in charge of a facility that was capable of running up to a 1000 experimental aviation projects. Not only is this powerful confirmation that Botta had the expertise to run a covert program with 29 operatives embedded in Nazi Germany's secret aerospace programs, but also that he continued to work on such projects well into the 1950's.
I therefore agree with Major George Filer's [USAF ret.] assessment of the significance of Botta's postwar assignments:
His [Botta's] leadership likely helped the Navy to lead in the development of disk craft and spaceships.

Tompkins claims that while employed at the Advanced Design think tank at Douglas Aircraft Company from 1951 to 1961, he worked on unsolicited proposals sent to the U.S. Navy for kilometers-long antigravity spacecraft. This suggests that Tompkins' proposals were assessed and developed, at least up to 1952, at the Naval Air Material Center run by his former boss, Admiral Botta.
A review of Admiral Botta's expertise, experience and military commands shows that it is very feasible that he ran a covert Navy operation out of Naval Air Station, San Diego, from 1942 to 1946, as Tompkins claims. Furthermore, Botta's post WWII assignments suggest that he continued to work on Navy aerospace projects associated with the antigravity space craft first developed by Nazi Germany.
It can be reasonably concluded that not only did Admiral Botta run a covert espionage program during World War II learning about Nazi Germany's successful development of antigravity space craft, but he also played a leading role in developing similar craft for the U.S. Navy.
Consequently, a review of Admiral Botta's background supports Tompkins claims that he (Tompkins) was directly involved in a covert Navy espionage program that learned about Nazi Germany's antigravity secrets, and passed these on to senior officials and leading aerospace companies, for the development of a secret space program run by the U.S. Navy.
© Michael E. Salla, Ph.D. Copyright Notice
Further Reading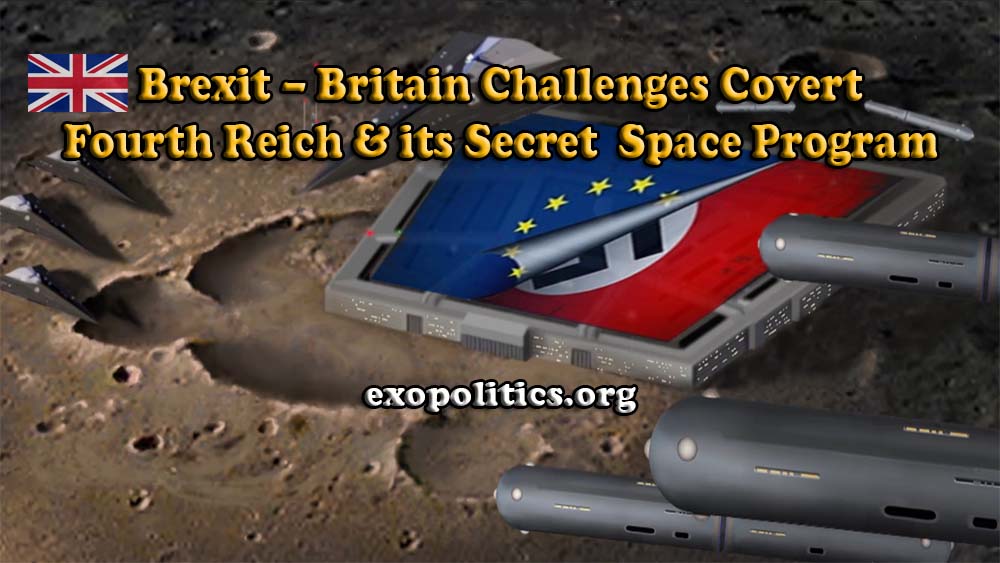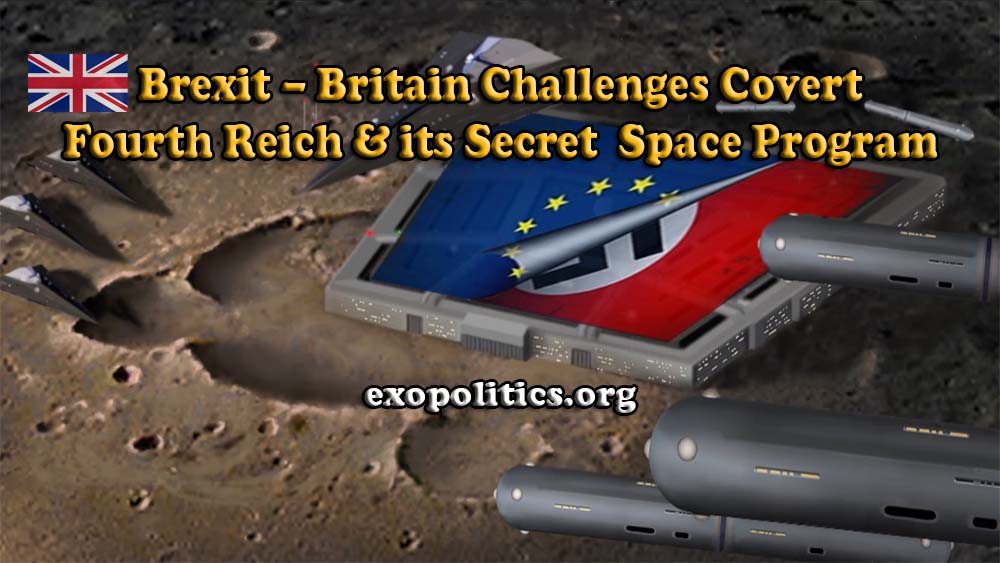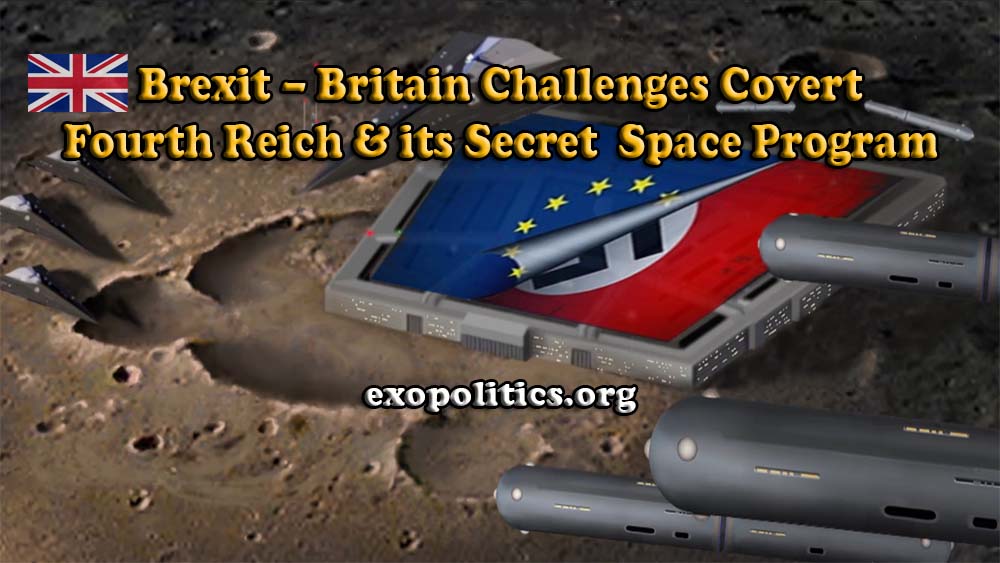 From June 17, 1940 to June 22, 1941, Great Britain stood alone against the Nazi Third Reich which had blitzed mainland Europe and forged an alliance of convenience with the Soviet Union in splitting Poland asunder. Now, 75 years later, with the June 23 decision to leave the European Union, Great Britain has issued a clear challenge to a secret 'Fourth Reich", covertly established by breakaway Nazi groups in South America and Antarctica, who during WWII had established an advanced space program, and later exerted an increasingly powerful hidden influence over the European Union.
The roots of the infiltration of the European Union and its predecessors by breakaway Nazi groups after WWII can be traced to a decision taken by Deputy Fuhrer Martin Bormann on August 10, 1944 soon after the Allied armies landed on the beaches of Normandy. Bormann had secretly brought together leading German industrialists and told them the war was lost.
A U.S. Military Intelligence document called the "Red House Report," dated November 7, 1944, describes how German industrialists were told to evacuate all available assets to neutral countries using thousands of shell companies designed to hide the massive out-flow of Nazi capital and industrial resources.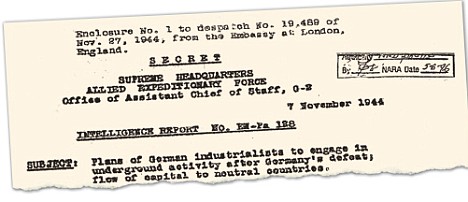 The source of the secret orders, according Paul Manning, author of the book Martin Bormann: Nazi in Exile, was Bormann whose influence over the Nazi Party increasingly grew as Hitler became increasingly despondent over impending defeat.
Bormann was explicit that the financial assets sent out of Germany would be subsequently used to establish a Fourth Reich by covert economic means as relayed through his emissary Dr. Scheid:
From now on also German industry must realize that the war cannot be won and that it must take steps in preparation for a post-war commercial campaign. Each industrialist must make contacts and alliances with foreign firms, but this must be done individually and without attracting any suspicion. Moreover, the ground would have to be laid on the financial level for borrowing considerable sums from foreign countries after the war.

The report went on to describe Bormann's plan for the emergence of a new German Empire, a Fourth Reich:
[I]t was stated that the Nazi Party had informed the industrialists that the war was practically lost but that it would continue until a guarantee of the unity of Germany could be obtained. German industrialists must, it was said, through their exports increase the strength of Germany. They must also prepare themselves to finance the Nazi Party which would be forced to go underground as Maquis (in Gebirgaverteidigungastellen gehen). From now on the government would allocate large sums to industrialists so that each could establish a secure post-war foundation in foreign countries. Existing financial reserves in foreign countries must be placed at the disposal of the Party so that a strong German Empire can be created after the defeat.

What gave significant muscle to the covert project to establish a Fourth Reich by economic means was a secret space program established in Antarctica during World War II.
A number of credible whistleblowers have come forward to describe the building of a Nazi secret space program in Antarctica, which achieved incredible success in launching missions to the moon, Mars and elsewhere in deep space even while hostilities were occurring in mainland Europe.

Many of these whistleblower testimonies are described at length in the book, Insiders Reveal Secret Space Programs and Extraterrestrial Alliances (2015). Since its publication, another witness, William Tompkins, has come forward to describe his participation in a covert US Navy program to penetrate the Nazi's top secret aerospace programs during WWII, discover what they were doing in Antarctica, and to disseminate this information to U.S. think tanks and industry.
Tompkins has supplied documents to confirm his incredible testimony. Furthermore, two retired U.S. Navy officers have come forward to validate his expertise regarding "special projects," which Tompkins ran from 1985 to 1999, involving advanced aerospace technologies related to to both Nazi and U.S. secret space programs that he had acquired during his career in the aerospace industry and covert Navy service.
Tompkins' testimony confirms that the Nazi's secret space program hidden in Antarctica beat back successive attempts by the British and the U.S. to eradicate the Nazi's subterranean bases in both Antarctic and South America. Admiral Byrd's Operation Highjump 1946/47 was the most publicized effort, but the British had also staged their own unsuccessful attempts using special forces in the Antarctic summer of 1945/46.

By 1952, the Nazi secret space program based in Antarctica had developed to the extent that they could now conduct overflights of major U.S. cities, including Washington DC., to pressure the Truman and Eisenhower administrations to negotiate a treaty.
The principal figure in the secret treaty negotiations was the then chief of CIA covert operations, Allen Dulles. In 1950, he was recruited by the CIA Director at the time, General Walter Bedell Smith, to become Deputy Director of Plans and Deputy Director of Central Intelligence – second only to Smith. Dulles was promoted to CIA Director in February 1953 upon Smith's retirement.
During WWII, Dulles was the head of the Office of Strategic Services based in Bern, Switzerland, and specialized in forming secret deals with Nazi German officials for a negotiated end to military hostilities. "Operation Sunrise", where Dulles negotiated with Waffen SS General Karl Wolf over the surrender of German troops in Italy, is the most well known of these secret negotiations.
What is not well known is Dulles' involvement in a number of secret deals, with the approval of British Military Intelligence (MI6), which allowed prominent Nazi officials such as Adolf Hitler, Martin Borman, etc., to leave Europe for refuge in South America. Harry Cooper's, Hitler in Argentina, provides extensive evidence that both Hitler and Bormann had indeed escaped to Argentina. In exchange, the Nazis facilitated the process by which some of their scientific expertise and technologies in Europe would be handed over to the Americans and British.
Surprisingly, Dulles himself hinted at the truth of such claims to Paul Manning regarding his research for Martin Bormann: Nazi in Exile. In his acknowledgements, Manning wrote about his personal meetings with Dulles prior to his death in 1969:
To Allen W. Dulles, for his encouragement and assurance that I was "on the right track and should keep going" after reading my German research notes in preparation for this book, during the afternoons we talked in his house on Q Street in Washington, D.C.
The extraction of 1500 Nazi scientists to the USA after WWII in Project Paperclip, and a similar removal of Nazi scientists to Britain, was merely one aspect of the secret agreements negotiated with the Nazis by Dulles and others.
What the U.S. and British intelligence communities were aware of, however, was that the Nazi's most advanced weapons, scientific expertise and aerospace projects were hidden in Antarctica, and outside the scope of the secret agreements forged by Dulles and British Intelligence with Nazi officials in Europe.
In 1951, six European nations established the European Coal and Steel Community (ECSC), aimed to foster free trade and to prevent a future European war. The ECSC would provide an ideal platform for the Nazis to covertly begin establishing a Fourth Reich through economic means, as Bormann had planned back in 1944.
Nazi capital could now be strategically moved to take over companies both in the U.S. and Europe that would covertly re-establish Nazi influence. According to Tompkins, this was especially the case in the U.S. aerospace industry where Nazi scientific expertise was highly valued by the Military Industrial Complex.
Tompkins has privately confirmed to me that some Project Paperclip scientists were allowed to secretly travel to Antarctica to learn about the latest technologies in the breakaway German space program. He said that the U.S. intelligence community hoped the Project Paperclip scientists would learn things that would help the emerging U.S. space program. Instead, the Project Paperclip scientists helped the breakaway Nazi groups sabotage and slow down U.S. efforts which began in the late 1940's.
In the early 1950's while employed with Douglas Aircraft Company, Tompkins began designing kilometer long spacecraft for a future U.S. Navy space program.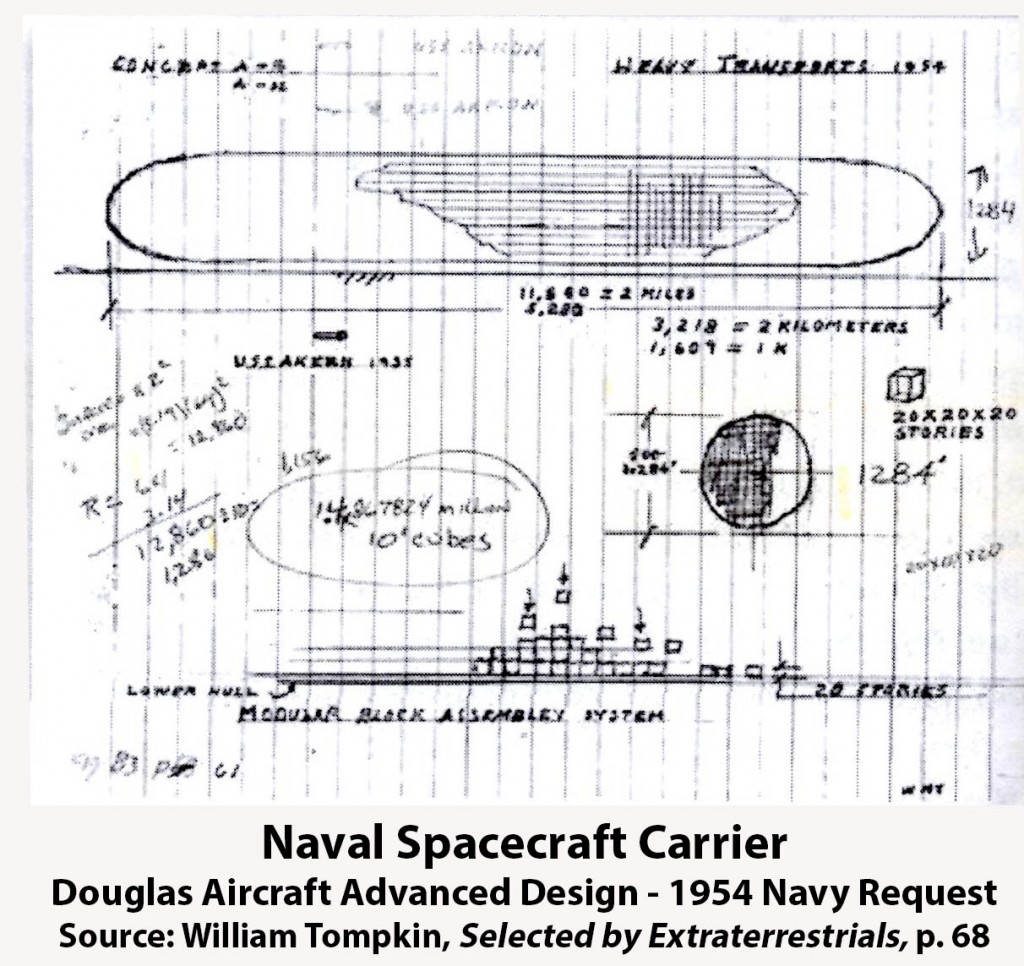 Dulles and the CIA were instrumental in creating the Bilderberg Group, which held its first meeting in May 1954. It would be an important tool for encouraging the development of a European super state, which would be gradually infiltrated and eventually taken over by a covert Fourth Reich.
The European Union was designed to accumulate power behind faceless bureaucrats, who would follow the dictates of leading European industrialists, who were increasingly being influenced by Nazi interests associated with the Fourth Reich. This concentration of power was achieved through the European Commission, which comprises a single representative from each member state – currently 28.
The European Commission website describes the Commission as the "EU's executive body" whose main role is to "propose legislation," and "enforce European law." The European Union Parliament, the only truly democratic institution in the European Union, is described as a "co-legislator" with the authority to adopt or reject proposed laws.
Who then proposes ideas to EU Commissioners for new laws? Robito Chapwin, writing for the popular website Collective Evolution, provides a startling answer:
They come from the The European Round Table of Industrialists. The ERT consists of "around 50 Chief Executives and Chairmen of major multinational companies" and the ERT was formed with the express intention of shaping and furthering EU integration.

Chapwin's answer is supported by what we know about the Red House Report where Bormann explicitly referred to German industrialists as the mechanism by which a covert Fourth Reich would be established after WWII.
Significantly, in 1983, the CEO of Volvo, Pehr Gyllenhammar, initiated the creation of the European Round Table of Industrialists. Volvo and its controllers, were identified by Dr. Steven Greer, head of the UFO Disclosure Project, as part of a shady international system managing advanced technology issues involving extraterrestrial life and secret space programs.
Here is the welcome message to the The European Round Table of Industrialists by its current chairman, Benoît Potier:
The European Round Table of Industrialists (ERT) is a forum bringing together around 50 Chief Executives and Chairmen of major multinational companies of European parentage covering a wide range of industrial and technological sectors.  Companies of ERT Members are widely situated across Europe, with combined revenues exceeding € 2,135 billion, sustaining around 6.8 million jobs in the region. They invest more than € 55 billion annually in R&D, largely in Europe.

Thus the European Union was designed to concentrate power in arcane bureaucracies, rather than the parliamentary institutions created to represent the will of the European population.
Consequently, the European Parliament became at best a rubber stamp that approved decisions taken by European Union bureaucrats placed in power by behind the scenes deal making. The European Parliament became a charade for representing the will of Europeans, but was nevertheless lauded as a model for regional integration in other areas of the world.

Eventually a future World Union, featuring a Parliament and governing institutions modelled on the EU, would have been introduced, heralding the final stage in the covert plan for a 'global' Fourth Reich.  
The decision by Britain to end its participation in the European Union puts an end to the fiction that the EU genuinely represents the will of the European populace. Brexit, furthermore, represents a major setback to the covert plan to establish a global Fourth Reich where the European Union would have been offered as a viable model for a "World Union".
There should be no confusion that Brexit represents a major challenge to a covert Fourth Reich with its own secret space program, significant industrial assets spread around the world, and its long term plans for global dominance through covert economic means.
It does not appear coincidental that the year-long political process leading to the Brexit vote, occurred at roughly the same time a space war is reportedly being waged against the Fourth Reich and its allies, in Antarctica and Deep Space. If such reports are correct, as a May 26 letter by President Barack Obama to the U.S. Congress suggests, then Britain may once again, as it did 75 years ago, be leading the way in confronting a resurgent Nazi Reich as a global threat. 
© Michael E. Salla, Ph.D. Copyright Notice
[Update: 6/28. An earlier version of this article mistakenly identified Volkswagen and Volvo as the same company. The article has been revised to remove the error.]
Further Reading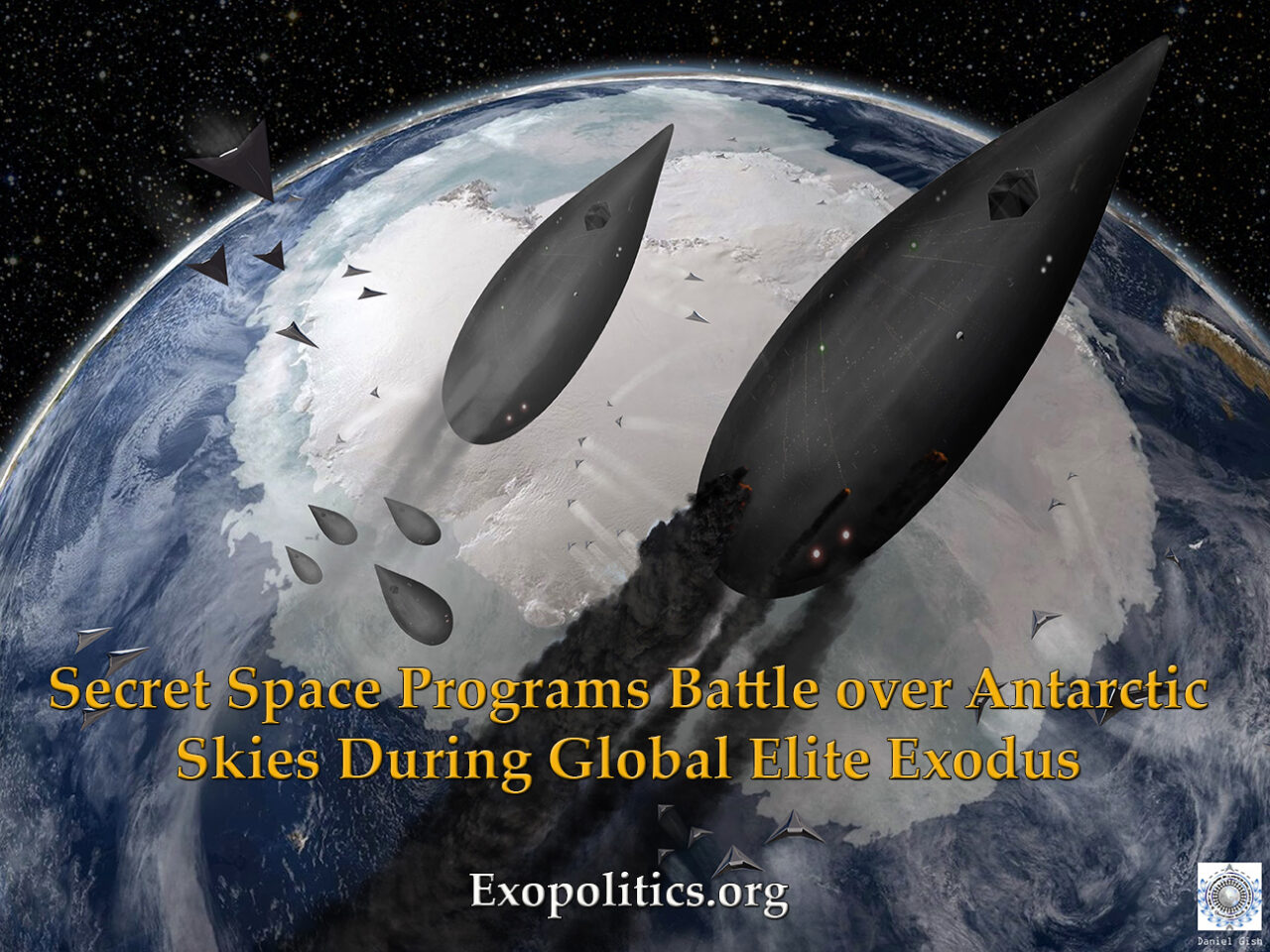 On June 15, I received an informal "briefing" by secret space program whistleblower, Corey Goode, about recent events that include an aerial battle over Antarctica involving various syndicate groups (Cabal/Illuminati) that had over the last six months fled there, and also the current status of negotiations involving different extraterrestrial and "Inner Earth" civilizations over "open contact" with humanity.
What follows will appear fantastic to those new to Goode's revelations, which he has been releasing over the last 18 months. A detailed resource page has been created listing most of Goode's interviews, reports, videos, along with articles about him.
My own detailed investigation of Goode was released in the book, Insiders Reveal Secret Space Programs and Extraterrestrial Alliances (Sept 2015). My conclusion was that Goode is genuine, and so I consider his June 15 'briefing" to be a very significant disclosure of recent events involving secret space programs that have transpired over the last few months.
Goode released a short update of recent events in bullet point form on May 14. In his June 15 briefing with me, he gave more details about this update, answered questions about what had occurred, and provided artist depictions of some of the events he was describing.
The May 14 update by Goode described an exodus of elite groups to South America and Antarctica:
Reports came in for approximately 6 months that high level syndicate groups were moving huge amounts of personal items and supplies to South American underground bases most noted in Brazil. More recent reports stated actual family members and high ranking syndicate members were pouring into these underground bases like ants before a storm.
Goode elaborated in his June 15 briefing that what the syndicate groups (global elites/Cabal/Illuminati) feared was huge solar storms predicted to hit the Earth. The so-called "solar killshot" long predicted by the remote viewer, Ed Dames, was imminent according to him in an interview on March 21, 2016.

The syndicate groups could not easily leave the Earth for refuge on off-planet locations due to a recent lockdown on airspace on and around Earth by what Goode describes as the "lower level SSP" comprising the National Reconnaissance Office (NRO), USAF Space Command, etc. The latter had deployed technology establishing an "Earth Defense Grid" coordinated from an "air (and space) traffic control" established on the Moon (Lunar Operations Command – LOC).
He said the LOC is currently controlled by the Interplanetary Corporate Conglomerate which is coordinating with the lower level SSP's. The latter were instructed not to clear SSP Alliance flights into Earth's air space.

The syndicate groups chose to flee instead to Antarctica/South America where underground locations provided some safety. The following graphic illustrates one of the six industrial areas under the Antarctic ice near the Ross Sea with parked spacecraft.The fumes coming out of the ground is from abundant thermal energy used as a power source.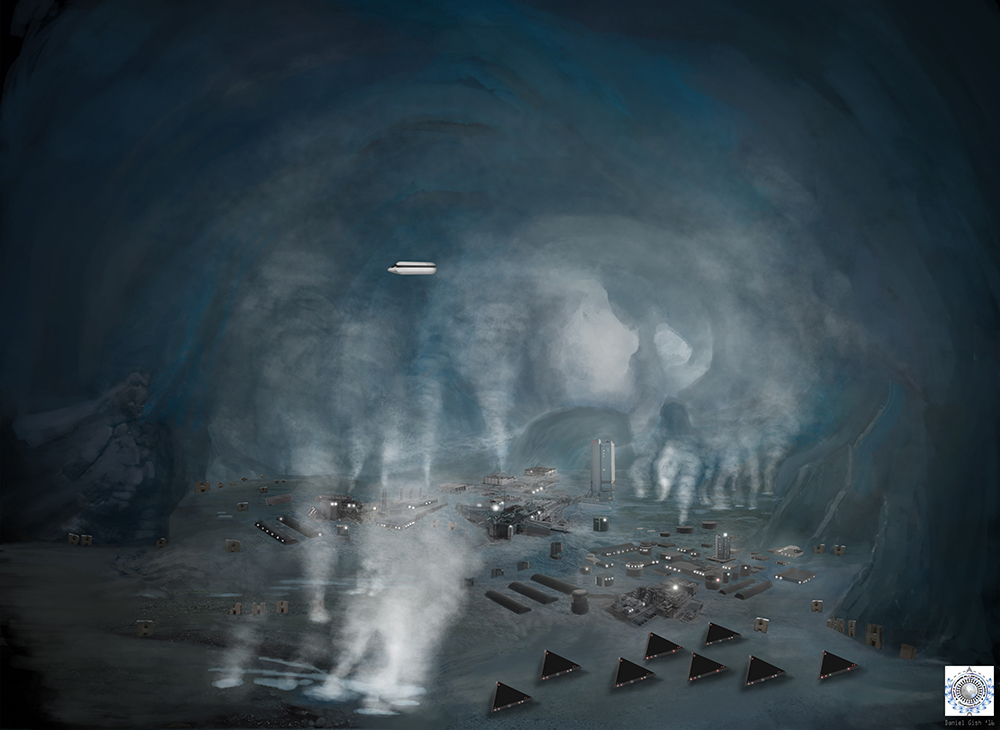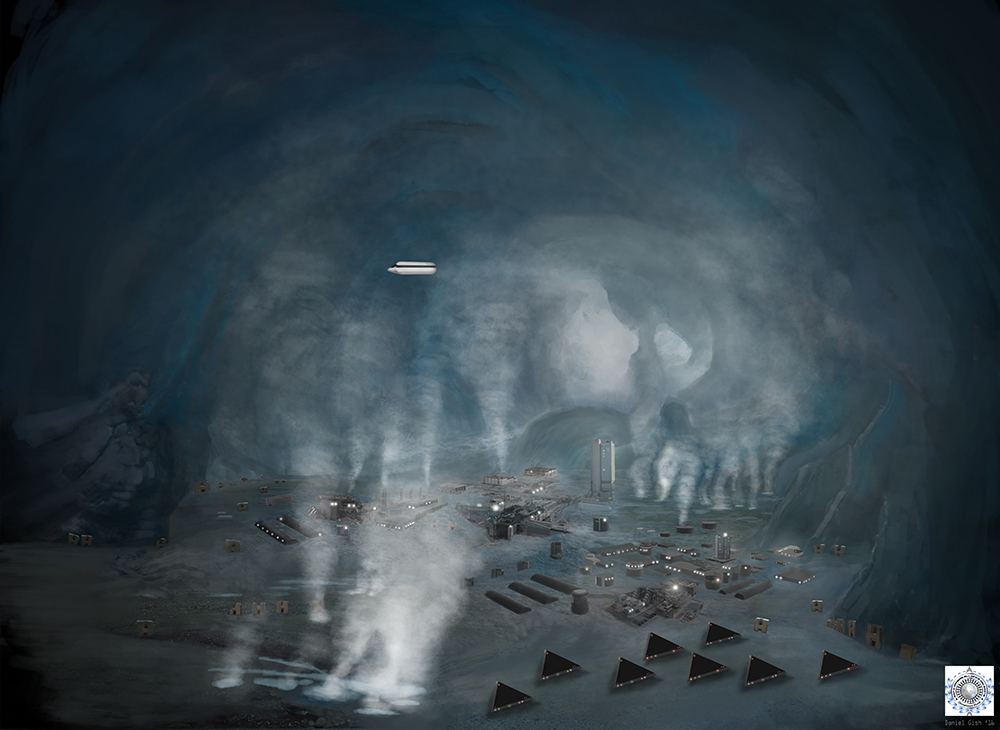 Coincidently, President Obama visited Bariloche, Argentina on March 24, which had become the unofficial headquarters of the "Fourth Reich" when Adolf Hitler fled there after World War II. The Nazi U-boat historian, Harry Cooper, found credible sources establishing Bariloche as Hitler's refuge in his book, Hitler in Argentina.
In February 1960, President Eisenhower traveled to Bariloche where he negotiated the Joint Declaration of Bariloche with the Argentinian President concerning Peace and Freedom in the Americas. The real topic of negotiations, however, allegedly concerned deals which would further put the U.S. Military Industrial Complex firmly under the control of the Fourth Reich.

This alliance led to the emergence of the Interplanetary Corporate Conglomerate (ICC), one of the secret space programs revealed by Goode, which was now in charge of the Nazi bases in Antarctica. Therefore it is more than likely that President Obama's visit to Bariloche, was to finalize new deals with the ICC/Nazis, which would facilitate their desire to move large number of people and cargo to safe locations in South America and Antarctica.
Goode's May 14 update went on to describe huge submarines used to transport people and cargo to Antarctica as revealed to him by a "Lt. Col. Gonzales," who has worked closely with Goode over the last year in secret negotiations and meetings involving different space programs and extraterrestrial alliances:
Gonzales later confirmed that these people and supplies were in many cases being transported to Antarctica via "Black Submarines" that were "EM Driven" and the "size of container ships". The water filled subterranean rift systems are so incredibly enormous that they have no trouble on their journey. Furthermore, the reports stated that the rift caverns had been modified into massive arched tunnels in ancient times.
Goode supplied various artist depictions of one of the doorways into the vast water filled tunnel systems throughout South America and Antarctica used by the elites that extend all the way from Mexico, through South America, and down into Antarctica.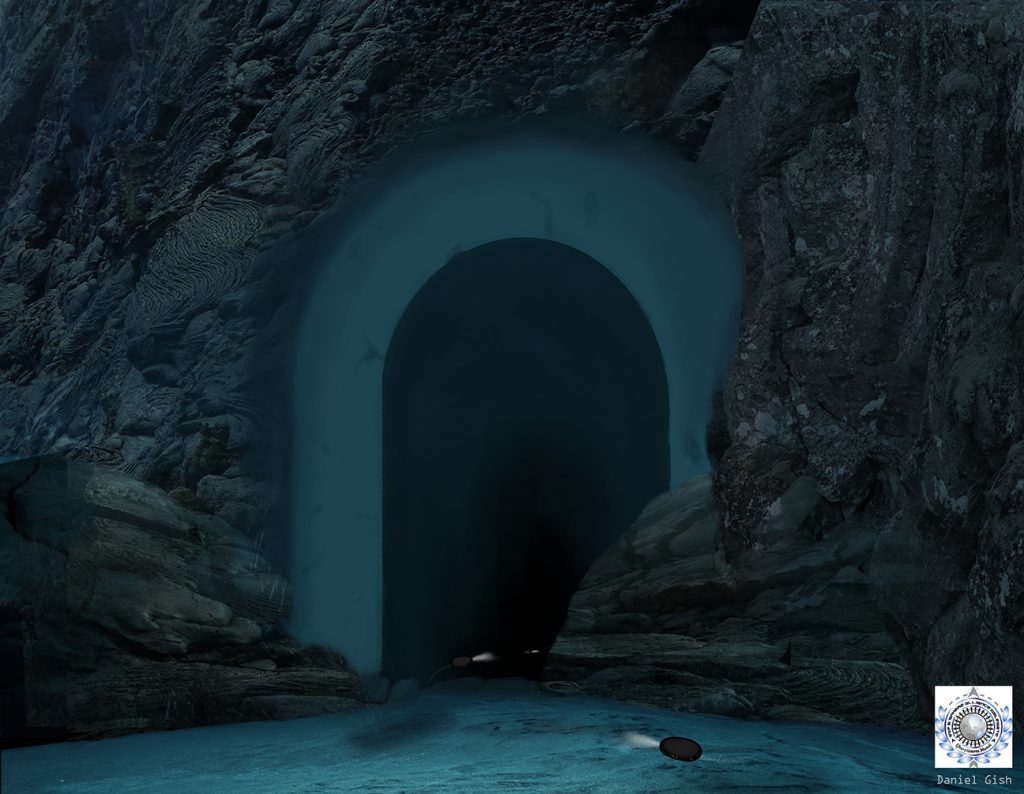 He said that there were six large industrial complexes located in the Western Antarctic region. The two largest complexes were city-sized and about two miles wide.
He provided an illustration for the location of these bases that he was personally taken to visit by the "Anshar" between April 27-30. Goode has previously described the Anshar as the oldest of the Inner Earth civilizations that he has met in secret negotiations – alleged dating as far back as 18 million years.
Further, he stated that he saw the secret Antarctic cities while traveling on an Anshar space craft that flew about 60 feet above the surface of the ocean directly into what looked like an Antarctic ice cliff, but which in reality was a hologram hiding the entrance to one of these cities. Goode saw large buildings, and two huge black submarines used to transport people and cargo to Antarctica being unloaded by giant cranes.
These large industrial complexes had first been established in the 1930's by Nazi Germany, according to Goode, and subsequently expanded in the 1950's and after agreements had been reached with the Eisenhower administration and the U.S. Military Industrial Complex. Currently, these six Antarctica bases are used by the Interplanetary Corporate Conglomerate, one of the secret space programs identified by Goode.
He then described in his May 14 update, a battle that had taken place over Antarctica:
One of the most interesting things that came out of this briefing [by Gonzales now safely located at a secret Kuiper Belt base] was that there had recently been reports of 6 large cruisers (teardrop shaped) were in the process of leaving the atmosphere after breaking the surface of the ocean near the coast of Antarctica. Dozens of "Unknown Chevron Craft" swarmed these cruisers and attacked the leading two craft causing massive and shocking damage. The cruisers broke off their attempts to leave orbit returning to below the surface of the ocean where they came from.
Goode has provided an illustration of the battle that took place. He told me that the teardrop shaped cruisers belonged to the syndicate groups who were aligned with the "Dark Fleet" – a space program first established in Antarctica by Nazi Germany/German Secret Societies – which later allied itself with the U.S. Military Industrial Complex.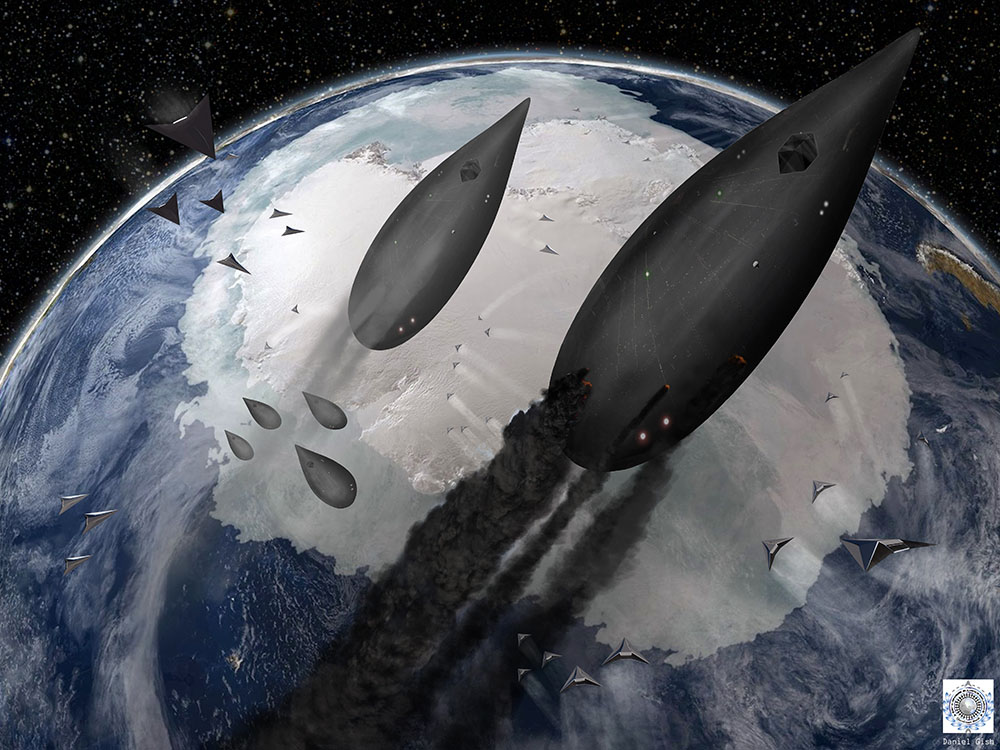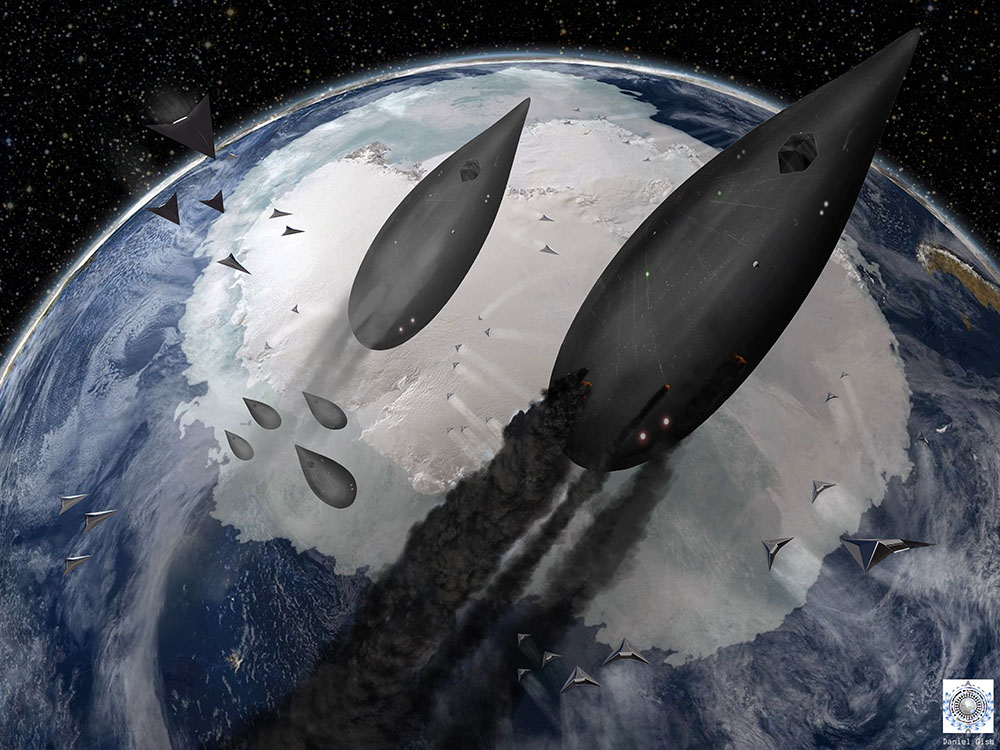 He added that the SSP Alliance were not sure who the chevron shaped spacecraft belonged to, but the speculation was that they were linked to the "Earth Alliance," a consortium of "White Hats" from various national militaries working closely with the BRICS nations.
According to Goode, the Antarctic battle was not an isolated incident:
There has been a major uptick in conflicts just outside and within our atmosphere between craft of various groups that have involved the shoot down of a number of craft.
Gonzales reported dozens of underground/ocean conflicts that have involved the use of exotic weapons as well as an uptick in the use of weather modification weapons by both the various syndicates and elements of the Earth Alliance.
Events in Antarctica were being monitored closely by different nations and/or space programs. Goode described huge spherical craft over Antarctica that appeared to be conducting surveillance operations:
Reports came in for approximately 6 weeks detailing "huge spherical craft" in geostationary orbit above the continent of Antarctica. These reports came from 5 different sources and described the spheres as being huge, metallic, shiny with one row of portholes going around the sphere. One speculated that these craft were of Russian origin.
Goode then explained that the craft were operating over large areas of the Southern Hemisphere, including Australia.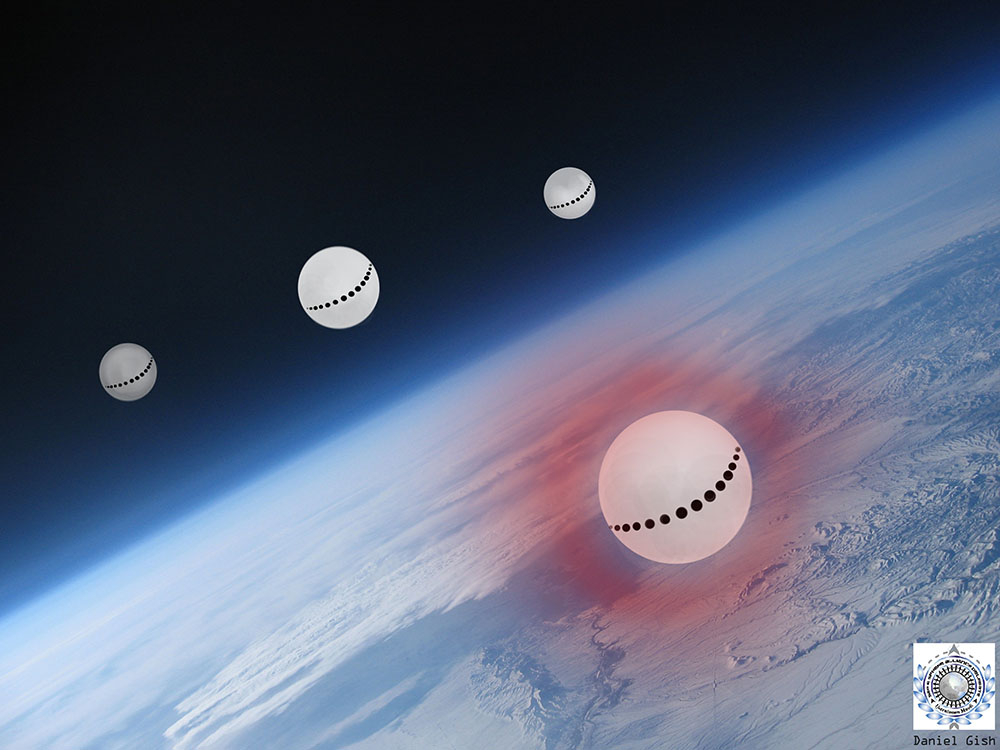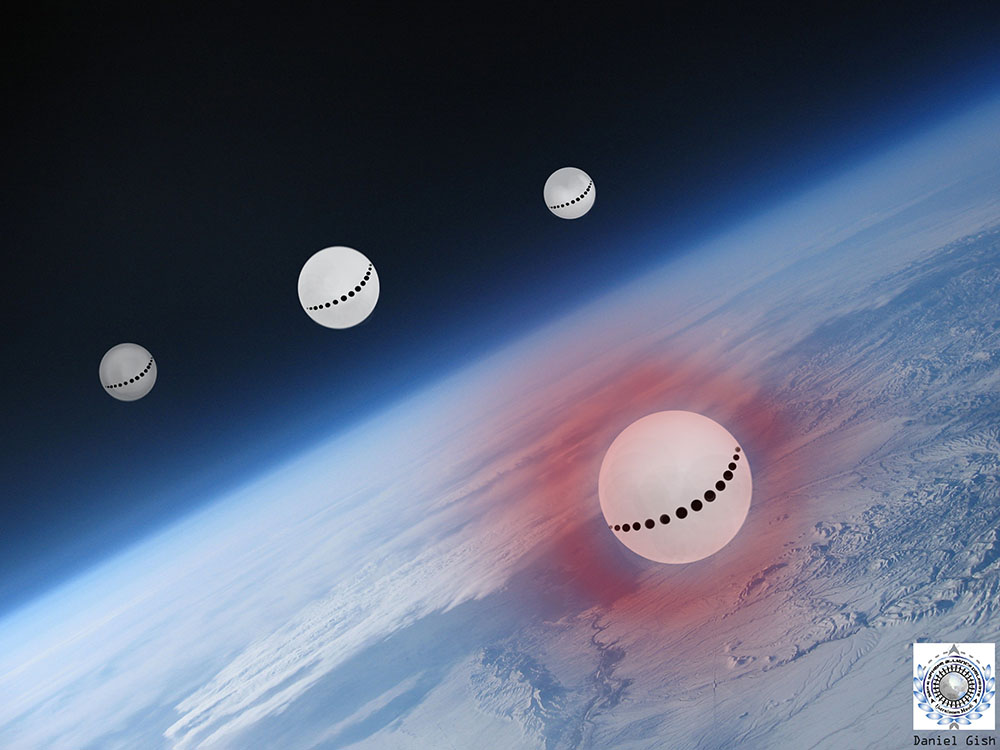 It's possible that the craft are related to the "Cosmospheres" allegedly developed by the Soviet Union, which are described at length in the Peter Beter audio files. Beter was the General Counsel of the Export-Import Bank (1961-67), and had high level sources who confided to him what was happening behind the scenes in space up to the early 1980's.
The Cosmospheres established Soviet weapons dominance in near Earth orbit, where they had military skirmishes with craft belonging to the USAF Space Command and NRO, which according to Goode, operate to about 400 miles above the Earth, and occasionally sent their most advanced craft to the Moon.  
It is therefore very likely that the large spherical objects observing the Antarctic space battles were indeed Cosmospheres now under the control of President Putin and the Russian Federation. It is feasible that they provided intelligence used by the chevron shaped spacecraft that intercepted and turned back the larger teardrop shaped craft leaving with their likely global elite passengers.

Click here for Part II.
Special Note: I wish to thank Corey Goode and associated artists for kindly supplying the graphics illustrating his June 15 personal briefing.
[Update: 6/17/16. The article was revised to clarify that the Lunar Operations Center, under control of the ICCP, had denied clearance for SSP Alliance flights to Earth.]
 © Michael E. Salla, Ph.D. Copyright Notice
Further Reading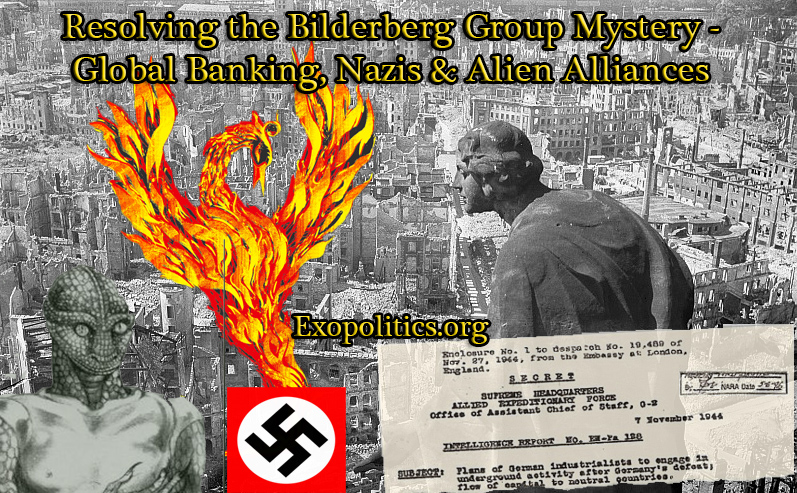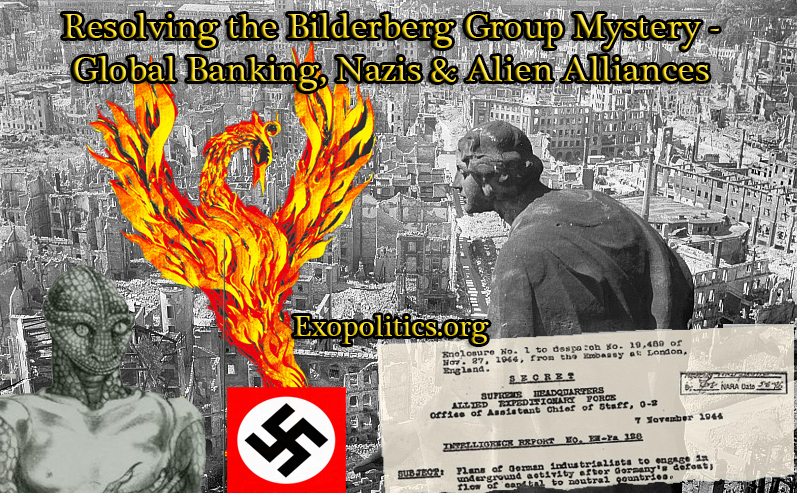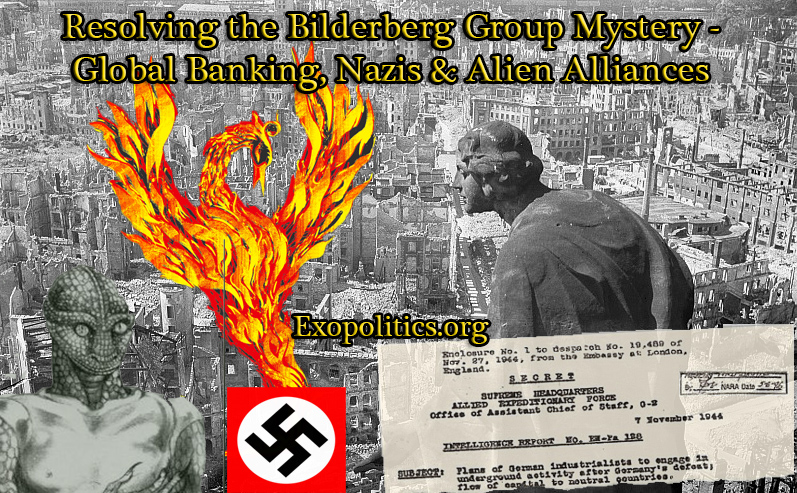 The Bilderberg Group begins its annual meeting today in Dresden, Germany to discuss a range of hot button international issues. The four day meeting (June 9 to 12) has attracted protestors, many of whom believe that the Bilderberg annual meeting serves to expand the interests and influence of international banking cartels. A number of whistleblowers reveal a very different agenda behind the Bilderberg Group – a covert global takeover spearheaded by breakaway Nazi/German groups who allied themselves with extraterrestrials during the Second World War.
To begin unraveling the Bilderberg mystery, a good place to start is with the dominant belief by many current protestors and critics that the Bilderberg meeting is a forum where world policies are secretly decided, and implemented. High among these policies is the creation of a One World Government and Central Bank dominated by corporate cartels.
According to Bilderberg Group critics such as Daniel Estulin, author of The True Story of the Bilderberg Group, the annual meeting serves the interests of an international banking cartel intent on creating a One World Government and a global Central Bank. To achieve these long term goals, the Bilderberg Group meets annually to implement international policies where they secretly manipulate national politics, economics, and global events.
The ultimate goals are all very worldly. The international banking families would provide much of the capital for setting up the World Central Bank thereby creating virtually unlimited wealth for future generations of international bankers. This wealth would be more than sufficient to satisfy the greed, ambitions, and political needs of international banking interests by controlling humanity.
The Bilderberg Group has already become, according to Estulin, a shadow world government:
… they have gathered yearly in a luxurious hotel somewhere in the world to try to decide the future of humanity … the Bilderberg Group has grown beyond its idealistic beginnings to become a shadow world government, which decides in total secrecy at annual meetings how their plans are to be carried out. They threaten to take away our right to direct our own destinies.
So is Estulin and other critics correct? Is the annual Bilderberg meeting merely a front for international banking interests that form the backbone of a shadow world government?
The following story was told to me by a former hotel employee who had worked at a venue where the Bilderberg group had met one year. This was a year where Bill Clinton was in attendance (1991), according to this hotel staff member. I will simply refer to this person as Mr B. Having met Mr B, I found him to be very credible, and he had no reason to fabricate what follows.
While at work during the Bilderberg annual meeting, Mr B was instructed to deliver an important message to a specific person attending a meeting in one of the smaller meeting rooms being used by the Bilderbergers. As is now well known, it is the tradition of the Bilderbergers to hire an entire hotel for its exclusive use during an annual meeting. All hotel staff are basically there to serve the needs of Bilderberg participants during the meeting. So it was not unusual for Mr B to be given such a task which he was now responsible to complete. Initially, Mr B was refused entry and was asked to hand the message over to someone else. Mr B insisted that he was under strict orders to deliver the message personally. After some heated discussion, Mr B was given permission to enter the meeting room. That's when things became very bizarre.
Mr B claimed that upon entering, he saw approximately 24 people seated around a large rectangular table. They were speaking in a cacophony of sounds, none of which was intelligible. It didn't sound like any language Mr B had ever heard before. Mr B couldn't see any faces among those seated around the table. He could see their physical bodies in suits, etc., but the faces were hazy due to some kind of mist or fog. Mr B reported that there was an intense energy field pervading the room – it was definitely very unusual and felt otherworldly to him.
Mr B felt resentment being projected towards him over his unwelcome presence. He was directed towards the person to whom he had to deliver the message. Mr B delivered the message and promptly left the room. He was unaware of the message's contents. Soon after leaving the room, Mr B experienced a massive headache, which lasted several days and he had to take time off.
Mr B's experience suggests that there is an element within the Bilderberg Group that does have an otherworldly composition and agenda. It's very likely that Mr B had viewed the Bilderberg's mysterious Steering Committee in session, and that the people running Bilderberg may be in touch with and/or controlled by an outside otherworldly force.
To understand the Bilderberg connection to an otherworldly element, we need to turn the clock back a decade earlier, to events that occurred during World War II.
A former US Navy Intelligence operative and aerospace engineer, William Tompkins, has revealed that U.S. Navy spies embedded within Nazi Germany's advanced technology projects during the World War II had learned that the Nazi war effort was being assisted by extraterrestrial visitors. The spies had reported to a covert Naval Intelligence operation, located at Naval Air Station San Diego, that Adolf Hitler had signed a secret agreement with representatives of a Reptilian extraterrestrial race.
In an ExoNews TV interview, Tompkins reveals how "Reptilian consultants" were helping the Nazi SS develop advanced aerospace technologies:
They had, if you want to call them, "consultants", who are Reptilian consultants assisting on all of these different things that it takes to design and build these spacecraft carriers, and propulsion systems. So this is an extremely well developed program and documented like crazy. Getting copies of the documents was hard for them, hard for our spies. This was an open program in the upper level of the SS.
The spies learned that the goal of the Reptilian plan was not only to assist the Nazis to win the war and achieve planetary conquest, but to build fleets of antigravity spacecraft carriers that could be used for interplanetary conquest in other star systems:
Holy cats the thing went way beyond that [world conquest]. Again, what we just said about this was the tip of the iceberg of what they were doing. Already Reptilians were doing it to other stars' planets all over this area of the Galaxy…. These young kids, the operatives, they couldn't believe half of what they brought back, what was going on. But some of them were really good people, and they knew how to get into places and listen to what's going on, and finding what that guy he had talked to, or he heard, and going to so and so, because yes they were doing that over there.
Tompkins information is startling, but it is not the first time claims have been made about Nazi Germany receiving extraterrestrial help during the War. The father of German rocket science, the following in response to a question about Nazi Germany's rapid technological development:
We cannot take credit for our record advancement in certain scientific fields alone. We have been helped." When asked by whom, he replied, "the peoples of other worlds."
In a 1998 interview with Linda Moulton Howe, a former CIA agent, who from 1957 to 1960 was given access to highly classified briefing files, said that the documents revealed that the Nazis had indeed been helped by an extraterrestrial race in their advanced aeronautical weapons projects:
When Vril was building that first craft, the Vril had one or two of the aliens that worked with them in Germany where they fired rockets from Peenemunde. The documents I read in Washington said that's where the first Vril vehicle was made…. They [aliens] were helpers to Germany.
More recently, Secret Space Program whistleblower, Corey Goode says that from 1987 to 2007, he read intelligence briefings on smart-glass pads that detailed what had happened during World War II.
He describes how German Secret Societies were helped before and throughout World War II by a group of Reptilian extraterrestrials known as Draconians, who were assisting the Germans in the development of advanced antigravity space battle fleets.
At the same time these [German Secret] Societies had made contact with the Draco Federation and another group that avoided the Draco's. The German Occultists were very busy from the early 1900's, especially in the time just before, during and after World War One. Their major breakthrough's occurred in the late 1930's.
Similar to Tompkins, Goode also said that the ultimate goal of the Reptilians, in helping German Secret Societies and the Nazi SS, was to create advanced space carrier groups that would be capable of interplanetary conquest. The eventual German/Nazi space battle groups became what Goode described as the "Dark Fleet." It operates outside of our solar system, and is described at length in the book, Insiders Reveal Secret Space Programs and Extraterrestrial Alliances.
The first Bilderberg meeting was held in May 1954. The public justification was that it was held to promote political and economic cooperation between Europe and North America as the best defense to what was now perceived as the long term threat of communism. To that end, prominent business and political leaders have been regularly invited to the Bilderberg Group meeting on an annual basis to discuss ways of coordinating national policies and anticipating global trends.
The real reason for the formation of the Bilderberg Group, however, can be traced to waves of flying saucer sightings over key U.S. cities in 1952. The overflights of Washington DC in the summer of 1952 were the most important because according to independent whistleblowers, these involved Nazi flying saucers operating out of hidden bases in Antarctica.
In May 2015, Goode described the Nazi overflights of the U.S. capitol in 1952 with their superior technologies, then hidden in remote Antarctic bases, and how they pressured the Truman and Eisenhower administrations into negotiating a secret agreement:
… after the failed Operation High Jump Mission, the Operation Paperclip Scientists were asked to negotiate meetings… The NAZI's used this to their advantage in some very public sorties over Washington D.C. and highly Secret Atomic Warfare Bases to mention a few. Eisenhower finally relented and signed a treaty with them … "NAZI Occult Societies" therefore infiltrated every single high tech corporation and position of power inside the now "Joint Break Away Civilization/Program". They have been involved in all western space programs and projects ever since.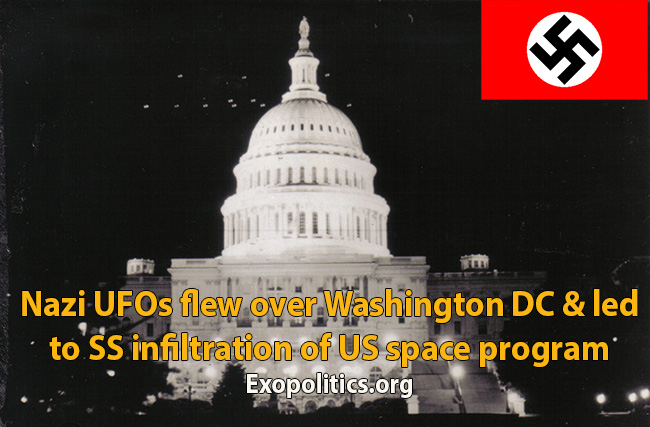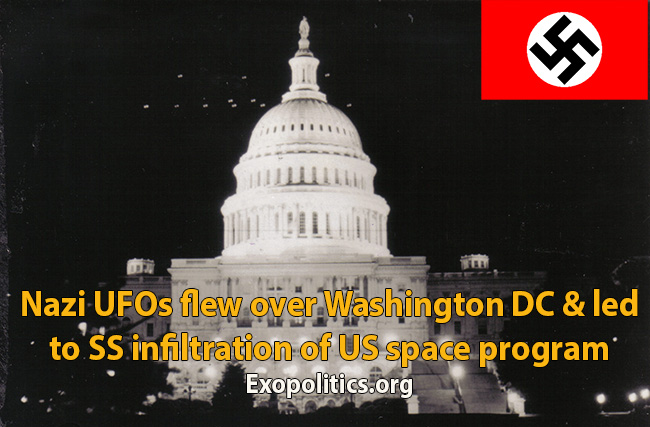 Goode's controversial claims have been corroborated by another whistleblower, Clark McClelland. In last year's August 3 instalment of his book, The Stargate Chronicles, McClelland writes:
The over flights of advance very swift crafts over Washington, DC were these German advanced aircraft that totally out flew American advanced crafts. On July 12, 1952, President Truman observed several of the UFOs and was completely amazed by their capabilities of outmaneuvering the USAF and US Navy advanced Jet fighter, the F-4D. USA jets sent up to bring one down. None could fly the speed of the German Saucers.
Similarly, William Tompkins describes in his book, Selected by Extraterrestrials, infiltration of the U.S. military industrial complex by Nazis and their Reptilian allies.
Secret agreements between the breakaway Nazi/German group in Antarctica and the Truman/Eisenhower administrations allowed the infiltration of the U.S. military industrial complex. The infiltration occurred through scientific, financial, and political processes.
The scientific infiltration occurred through Operation Paperclip where thousands of former Nazi scientists were placed in positions of authority within the military industrial complex. For example, Kurt Debus became the first director of the Kennedy Space Center in 1962, and had regular meetings with senior SS officials such as Hans Kammler who survived the War. Clark McClelland reports having seen Kammler at the Kennedy Space Center during the 1960s.

The financial infiltration would occur through massive amounts of Nazi capital that had been allowed to leave Germany in the summer of 1944. The "Red House Report" is a U.S. Army Intelligence document that confirms that on August 10, 1944, after the Normandy landing, Martin Bormann had given secret orders to leading German industrialists to move their liquid capital to neutral countries in order to help resurrect the Nazi regime after its impending military defeat. In short, the Red House Report is hard evidence of Bormann's plan to set up a covert "Fourth Reich" through economic means after military hostilities had ceased.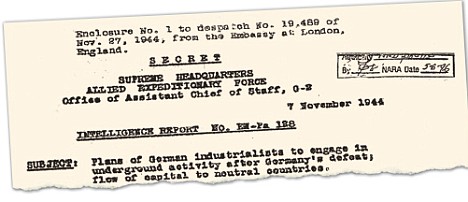 The political process coincided with the May 1954 formation of the Bilderberg Group, which involved key figures from North American and European political, and corporate elite. The Bilderberg Group was either a direct result of the breakaway German/Nazi regime secretly setting it up through pro-Nazi figures such as Prince Bernard of the Netherlands, or was co-opted by the Nazi/German breakaway groups through their extraterrestrial allies who would come to dominate the Steering Committee.
The otherworldly incident described above by Mr B demonstrates how the Steering Committee was at some point taken over by extraterrestrials, very likely the Reptilian group that had allied itself with Hitler and German secret societies. Another incident provides further evidence that it was indeed Reptilians who had powerful influence over the Bilderberg Group.
In a July 2015 briefing received by Goode from a Lt. Col. Gonzales (another secret space program whistleblower who continues to remain anonymous), Goode described that one of the principal architects of the Bilderberg Group, Henry Kissinger, was involved in a meeting involving a 14 foot Draconian extraterrestrial.
In the briefing, Gonzales describes how he was taken to meet the leader of the Draconian Federation Alliance, a 14 ft Royal White Draco. After being taken to a building somewhere in the American Southwest by a classified spacecraft, Gonzales claims he was first met by a very familiar figure:
Gonzales and his Security Team came out into a hall way and it seemed empty and quiet except the Security/IE's motioned down the hall with hand signals where they felt the awaiting delegation. When they were most of the way to the end of the hall Gonzales saw a very familiar person. He said this person had to have seen the look on his face and his gaping open mouth. This person introduced himself with his thick accent, droopy eyes and curly white hair. Gonzales said this guy had created so many think tanks, global organizations and advised more U.S. Presidents than anyone he could think of. This person is very well known as a supporter of the New World Order and Depopulation Programs.
Goode's description is referring to Kissinger, who has long been rumored to be a key figure in classified extraterrestrial related projects. Kissinger attended the 2015 Bilderberg Group meeting, which occurred only two days after Goode and Gonzales had allegedly met approximately 200 human elites that offered a limited disclosure program to begin in November 2015. Kissinger will also be attending the 2016 Bilderberg meeting in Dresden.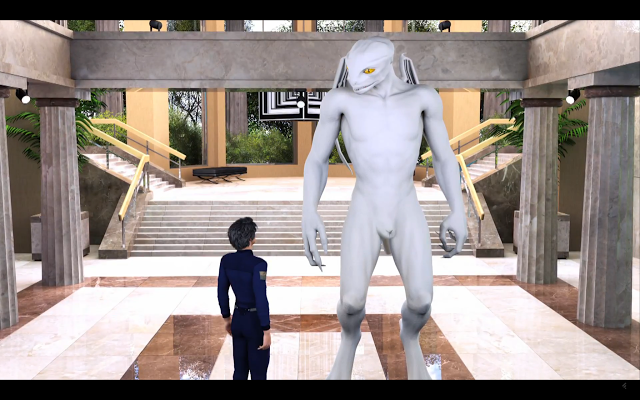 Dresden is very symbolic since it was utterly destroyed during the Second World War. Holding the Bilderberg meeting there represents a Phoenix-like return of key elements of the Third Reich in a reconstituted Fourth Reich. Consequently, the current Bilderberg Group meeting provides a further opportunity for the breakaway Nazi/German group and their Reptilian allies to move forward in their covert plan to dominate global events through a centralized global order.
Kissinger's mentor, David Rockefeller, is a key figure in Bilderberg Group meetings and plans to create a "One World Order", which would in effect be a covert Fourth Reich. Rockefeller claimed in his Memoirs (2003):
Some even believe we are part of a secret cabal working against the best interests of the United States, characterizing my family and me as 'internationalists' and of conspiring with others around the world to build a more integrated global political and economic structure — one world, if you will. If that is the charge, I stand guilty, and I am proud of it.
It's worth emphasizing that elite global interests intimately involved in the Bilderberg Group have very different goals to the global interests of humanity. A centralized system of world governance that Bilderbergers such as Kissinger and Rockefeller support, is little more than a resurrected Fourth Reich.
Casting light on the historic processes that led to the creation of the Bilderberg Group is a step in the right direction for learning about the emergence of a breakaway German/Nazi group in Antarctica, the multiple secret space programs that exist today, and key extraterrestrial alliances that greatly influence humanity's future.
© Michael E. Salla, M.A., Ph.D. Copyright Notice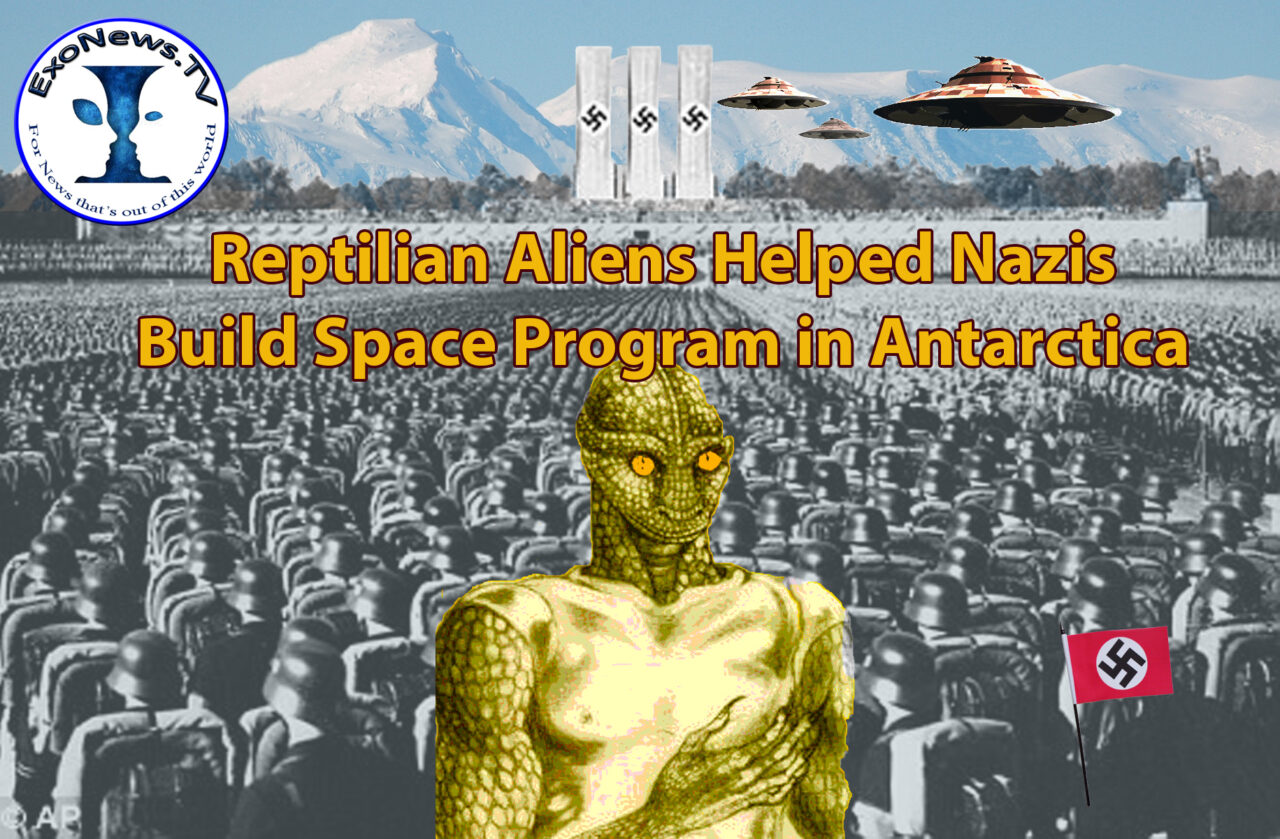 What follows is the transcript of William Tompkins responding to questions on the third ExoNews TV episode (see above) presenting his testimony.
Interview Date: February 25, 2016
Location: San Diego, California
Published on ExoNews TV – 4/14/16
Interview Key:
WT: William Tompkins
RW- Dr. Robert Wood
MS – Dr. Michael Salla
[For introduction and analysis of Tompkins Testimony click here]
…
MS – The following interview extract features Tompkins answering questions from Dr. Robert Wood and myself on Germany's Space program in Antarctica. …
Did the Navy Spies talk about the Nazis landing on the Moon, landing on Mars?
WT – The operatives found this data and they bring it back to the Admiral's secret office at the top of the building. You can see the building from when you land over at North Island. These fellows were all over the occupied areas in Germany, and they found all of this equipment. They found the program for extended life. That wasn't really an extended life. It was a life program that the extraterrestrials were already doing.
RW – Did the Nazis have this technology?
WT – Yes, it was no big deal at all….
The move from Germany to Antarctica was in operation from 1934 [Note: The Third German Antarctic Expedition occurred in 1938-1939] way before the war started. In fact some of the stuff went down in 1913 [Note: The Second German Antarctic Expedition was from 1911-1913]. Large portions of equipment went sent down there. But right next to them were three tremendous size caverns which the Reptilians had. Not Grays, but Reptilians. Germany got two more, about a tenth the size of the big Reptilians [cavern]. They were able to … [go] down, usually by submarine. They built these flat submarines, these regular class, so they could ship all this stuff down. Here they were shipping stuff down, right after the turn of the century.
Whether they had convinced themselves that they didn't care or they weren't interested in the war, whatever it was, like the Vril Society, they had almost 90 percent of everything that it takes to build extraterrestrial vehicles, whether they were saucers or cigars.
They had that down to Antarctica by 1932. Some of it was going down. Not the main programs, but they had copies of everything that was necessary to build these. They were building these, in production, all over the occupied countries. The production facilities were [using] slave labor… The German population didn't know anything about this. It was all classified.
RW – Were the UFOs [built] in Germany or down in Antarctica?
WT – The people in Germany knew nothing about it. In Antarctica they knew everything.
RW – Where were the UFOs, the craft, being built? In Germany?
WT – They built the prototypes in Germany. They built pre-protype, something which is ready for production, in Antarctica. They put this stuff in production in the countries all over Germany [Occupied Europe], and they continued to build similar vehicles in Antarctica…
Now the question was asked whether did we ever get to the Moon? You see it was in some way, it was well known that the Germans had a number of vehicles that flew out and came back. One of the first ones, they got into trouble, they crashed and the whole group died. But that was almost all coming from Antarctica. Way before, four years before, the war ended, they were always moving all of this stuff out. And so the flights, almost everything came from Antarctica with the same people.
MS – So during the war years, from Antarctica the Germans were basically launching these craft, the Moon was one of many destinations they tried [reaching].
WT – Yes, I don't know if it was true or not, but it was stated by some of those fellows [Navy spies] that they had gone to other stars and come back.
MS – So that would be corroboration that the so called Andromeda Device which was based on some principle of teleportation actually was viable that they were able to use the Andromeda Device to get to other star systems like Alderbaran, and come back?
WT – Yes …
MS – In the next episode of ExoNews TV, we will hear from William Tompkins how the Nazis used slave labor in their hidden Antarctic bases, and that the Italian government had also developed a flying saucer program headed by the famous inventor, Gugliemo Marconi that was secretly operating out of hidden South American locations.
END TRANSCRIPT

---
Previous ExoNews TV Interviews with William Tompkins
US Navy Spies Learned of Nazi Alliance with Reptilian Extraterrestrials during WWII (for transcript click here, for introductory article click here )
Navy Disseminated Nazi Antigravity Secrets to Leading U.S. Companies & Think Tanks (for transcript click here, for introductory article click here )
Related Books
William Tompkins autobiography, Selected by Extraterrestrials, is available at Amazon.com
Michael Salla's Insiders Reveal Secret Space Programs and Extraterrestrial Life is available at Amazon.com
Copyright: Permission to freely distribute on Internet. Permission required for print & audiovisual reproduction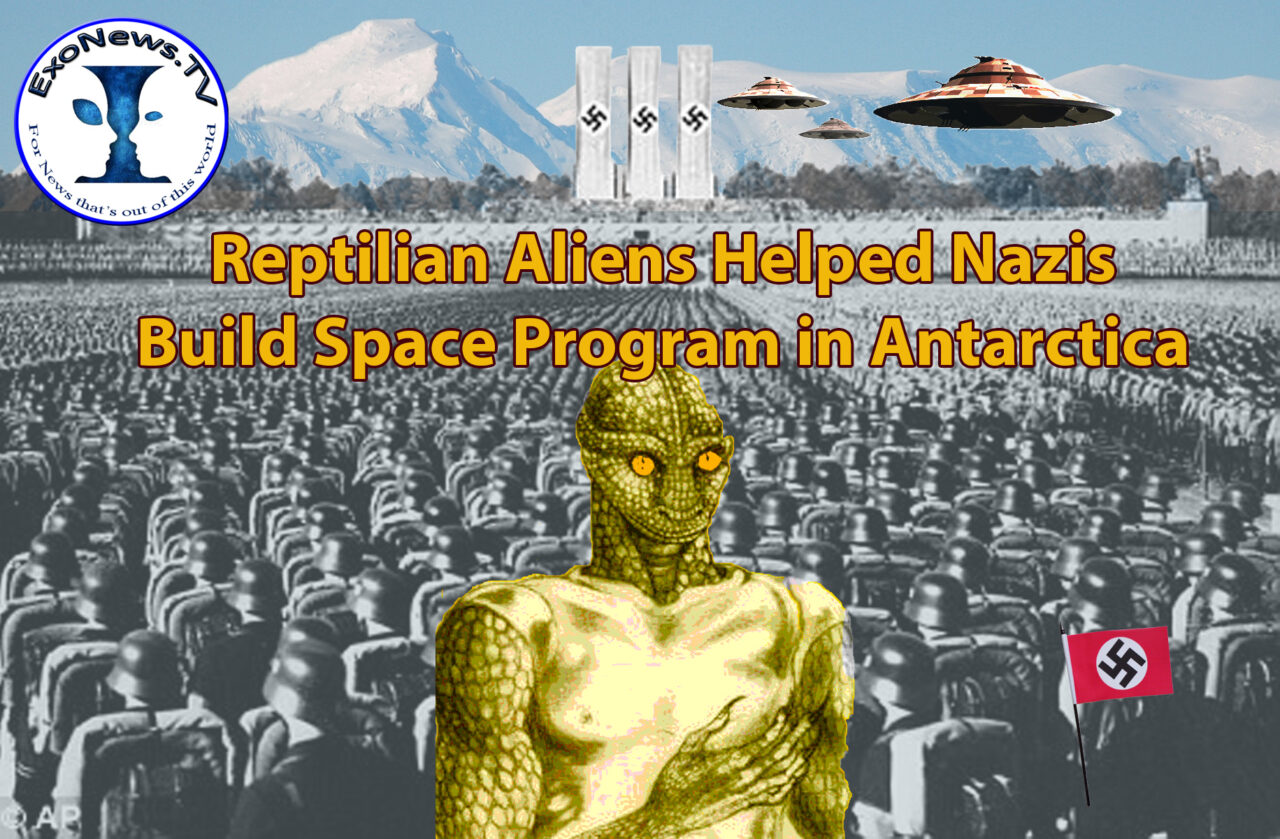 In the run up to World War II, German secret societies and the Nazi SS were guided to three large caverns in Antarctica by Reptilian extraterrestrials, according to former U.S. Navy intelligence operative William Tompkins. In his latest ExoNews TV interview, released today, Tompkins describes how the Reptilians helped the Germans/Nazis build underground bases in remote Antarctic caverns, which were located next to even larger caverns controlled by the Reptilians.
According to Tompkins, the U.S. Navy learned of the existence of these secret Antarctic bases from their spies embedded in Nazi Germany, who found that the Nazis/Germans used these remote bases to launch space missions to the Moon, other planets in our solar system, and, most remarkably, to distant interstellar locations.
Tompkins says that the Germans began moving equipment and supplies to Antarctica as early as 1913, which coincides historically with the Second German Antarctic Expedition from 1911-1913. This period also coincides with the increasing role of German secret societies in exploring remote global locations for occult knowledge.
The movement of equipment accelerated in the lead up to World War II. In his interview, Tompkins cites 1934 as the beginning of this acceleration, even though historical records point to 1938 as the launch of the Third German Antarctic Expedition:
The move from Germany to Antarctica was in operation from 1934 way before the war started. In fact some of the stuff went down in 1913.
In last week's ExoNews TV episode, Tompkins revealed that secret agreements had been reached between Hitler's regime and Draconian Reptilians. In this week's episode he discussed one of the major elements of this agreement:
Large portions of equipment were sent down there. But right next to them were three tremendous size caverns which the Reptilians had. Not Grays, but Reptilians. Germany got two more, about a tenth the size of the big Reptilians [cavern]. They were able to … [go] down, usually by submarine. They built these flat submarines, these regular class, so they could ship all this stuff down.
Tompkins remarkable information is consistent with Grand Admiral Karl Dönitz who referred on three occasions to an impregnable fortress being built for Hitler in a remote location using Germany's advanced submarine fleet. In 1943, Donitz is reported to have stated: 
… the German submarine fleet is proud of having built for the Führer, in another part of the world, a Shangri-La on land, an impregnable fortress.

The second occasion was in 1944, when he revealed how plans were in place to relocate Hitler so he could launch a new effort for his thousand-year Reich:
The German Navy will have to accomplish a great task in the future. The German Navy knows all hiding places in the oceans and therefore it will be very easy to bring the Führer to a safe place should the necessity arise and in which he will have the opportunity to work out his final plans.

Finally, Dönitz's remarks at his Nuremberg war crime trial clearly suggest that it was Antarctica where Germany's most advanced technologies had been secretly relocated by his submarine fleet. At the trial he boasted of "an invulnerable fortress, a paradise-like oasis in the middle of eternal ice."

Donitz's remarks were made plausible in 1966 by cartographer and artist Heinrich C. Berann for the National Geographic Society. In Berann's depiction of an ice-free Antarctica, he shows underwater passageways that run throughout the Antarctic continent. This provided a plausible way in which submarines could travel under the ice for considerable distances to Nazi Germany's "invulnerable fortress".

Donitz's claims are further supported by documents provided by an alleged German submarine crewman after the war, which described the instructions for U-Boat Captains to reach the Antarctica bases through the hidden passage ways. Below is an image of the document with the translated instructions.
In today's interview, Tompkins describes simultaneous flying saucer programs that had been developed by the Nazis. One was in Germany, while the second was in Antarctica. In his response to a question about where Germany's antigravity craft were being built, he said:
They built the prototypes in Germany. They built pre-protype, something which is ready for production, in Antarctica. They put this stuff in production in the countries all over Germany [Occupied Europe], and they continued to build similar vehicles in Antarctica.
Tompkins then shares one of the most astonishing secrets gained by the Navy spies embedded in Germany. With the help of the Reptilians, the Nazi's Antarctica program had successfully launched manned missions to the Moon, planets, and even other star systems.
Now the question was asked whether did we ever get to the Moon? You see it was in some way, it was well known that the Germans had a number of vehicles that flew out and came back. One of the first ones, they got into trouble, they crashed and the whole group died. But that was almost all coming from Antarctica. Way before, four years before, the war ended, they were always moving all of this stuff out. And so the flights, almost everything came from Antarctica with the same people. … I don't know if it was true or not, but it was stated by some of those fellows [Navy spies] that they had gone to other stars and come back.
Tompkins remarkable claims corroborate the testimony of secret space program whistleblower, Corey Goode, who claims that from 1987 to 2007, he had access to smart glass pads, which described the successful Nazi space program that operated out of Antarctica.
Goode said the Antarctica program was controlled by German secret societies rather than the Nazi SS:
As explained, the Nazi remnants that were made up mostly of Secret Societies that created a "Break Away Civilization," kept the most advanced technology secret from even their highest Military and Political leaders, setup enclaves in South America and Antarctica. The locations in Antarctica were some ancient civilization ruins that had remained occupied by certain groups in thermal area's that cause area's similar to lava tubes and domes under the glaciers.

Goode goes on to corroborate Tompkins claim that the Nazi bases were built adjacent to caverns controlled by another advanced civilization, the Reptilians:
There was an underground and under glacier city complex that was already occupied and setup in a couple of locations and the NAZI's renovated an area that was mostly crushed above the surface but had plenty of room under the domed ice, thermal underground energy and caverns (accessible via U-boat under the ice flows and openings that made it ideal for a hidden multipurpose base) that were perfect for them to secretly build out during the entire Second World War

What makes Tompkins claims difficult to dismiss are documents he has published in his book, Selected by Extraterrestrials, supporting his main claim that he participated in a covert Navy Intelligence program that disseminated Germany's advanced aerospace secrets to selected U.S. aerospace companies, think tanks and universities.
Furthermore, documents, and statements by Admiral Donitz, support Tompkins claims that Nazi Germany had succeeded in locating and building underground facilities under the Antarctic continent. The long route under the Antarctic ice sheets, which the German submarine fleet allegedly took to reach these hidden caverns, gives credence to Tompkins claims that Reptilian extraterrestrials had provided the Nazis with the information necessary to locate the hidden Antarctic caverns, and the under-ice passage ways to reach them.
In the next episode of ExoNews TV, we will hear from William Tompkins how the Nazis used slave labor in their hidden Antarctic bases, and that the Italian government had also developed a flying saucer program headed by the famous inventor, Gugliemo Marconi that was secretly operating out of hidden South American locations.
© Michael E. Salla, Ph.D.
Permission to Circulate in Full 
William Tompkin's autobiography. Selected by Extraterrestrials is available at Amazon.com
Further Reading