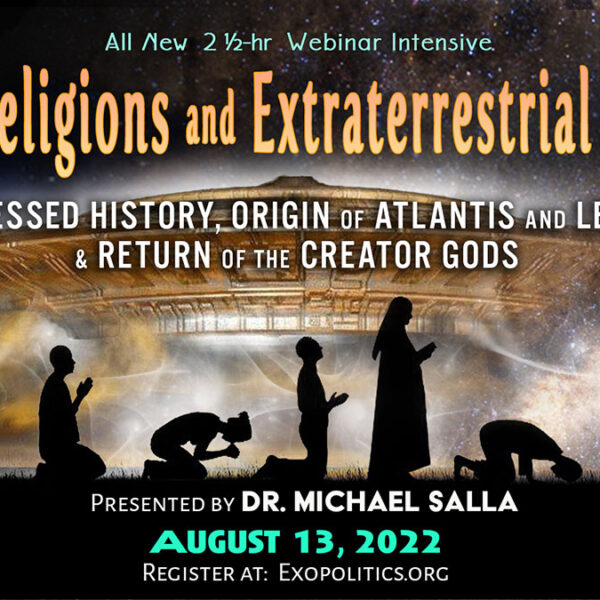 The James Webb Space Telescope has recently captured images of very large extraterrestrial spacecraft, the largest of which are thousands of miles in length, parked in the orbit of Jupiter. Why did these giant motherships arrive in our solar system and what is their connection to space arks hidden on Earth, the Moon and elsewhere? To get answers, we need to begin with the ancient Hebrew apocalyptic Book of Enoch.
The Book of Enoch gives a detailed account of the different angelic groups (aka extraterrestrials) that were involved in a celestial war taking place in space and on Earth that occurred prior to the Great Flood (ca 9600 BCE). Enoch's successors were tasked to preserve humanity's ancient history after the Great Flood and use it to help build a sturdy moral foundation for future human civilizations.
Enoch and his successors, which included his oldest son Methuselah, understood the "Law of One" teaching that was promoted in the Atlantean era. However, this teaching was not sufficiently adopted by enough of the Atlantean citizenry to prevent the coming cataclysm, which was first described by Plato.
The Law of One emphasizes service to others, and advocates compassion and forgiveness as the critical moral foundation necessary for a civilization to flourish.  The Law of One is a major philosophical tenet of one of the major extraterrestrial organizations that have long ago interacted with humanity, the Confederation of Planets.
One of Enoch's distant descendants was the Hebrew Patriarch, Abraham, a native of the ancient city of Ur. It is a documented fact that the Sumerian stories about the creator gods, the Great Flood, and secret texts about the pre-flood world were carried by Abraham to the area of modern-day Israel and Palestine.
Less known, however, is that Abraham also took with him the ancient Law of One philosophy preserved by Enoch, who had worked with the Confederation of Planets and was taken on to their spaceships. The body of ancient texts and information carried by Abraham would become the foundational teachings for the emerging Hebrew faith. In these stories, the creator gods and extraterrestrials were described as the Elohim.
Abraham left his native Ur because he had been commanded to do so by the Elohim, one of whom was called Yahweh. Yahweh promoted a strict interpretation of the ancient texts carried by Abraham and distorted the Law of One philosophy.
The Law of One was re-interpreted by Yahweh into the belief in one absolute God, and he elevated himself to be that undisputed God above all other gods. Several Old Testament texts describe Yahweh as a jealous, vindictive god who commanded the early Israelites to commit genocide against neighboring peoples and cities.
Meanwhile, other Hebrew texts carry remnants of the pre-flood Law of One teaching emphasizing compassion and forgiveness which was supported by other Elohim associated with the Confederation of Planets.
In the 6th century BC, a council of Hebrew scholars convened to sort out the contradictions in the Hebrew texts that spoke of multiple Elohim. Their goal was to create a definitive set of scriptures for Jews.
A monotheistic version of Judaism would henceforth be promoted, which elevated Yahweh to supreme status, and the earlier history of multiple gods or Elohim was officially omitted from the Hebrew canon.
The emergence of Jesus of Nazareth re-introduced the fundamental tenets of the ancient Law of One philosophy, which emphasized compassion and forgiveness in relations with all people, regardless of their ethnicity or belief systems.  Jesus had learned about the Law of One while studying with the Essenes, a Jewish sect who retained the ancient pre-Flood teachings and who were in contact with different extraterrestrial visitors, aka the Elohim.
Jesus' teaching of the Law of One was understood and taught by the Gnostics and other Christian sects during the Roman Empire. However, at the Council of Nicaea in 325 AD, these diverse Christian teachings were consolidated into the Roman Catholic doctrine with the official backing of the Roman Empire.
Once again, the emphasis was placed on developing an orthodox monotheistic faith in a supreme God, rather than putting into practice the Law of One philosophy as lived and taught by Jesus.
Today the Elohim are back. The 24 Seeder extraterrestrial races have returned because human consciousness is in the process of taking a great evolutionary step forward.
The Elohim are here to witness an extraordinary global event – the graduation of Earth's population from a highly manipulated paranoid society cut off from the rest of the galactic community into a self-aware awakened civilization where the truth about our ancient contacts with extraterrestrial life and the true origins of major world religions is fully revealed for the first time.
To learn more about these extraordinary celestial events, you can register for my World Religions and Extraterrestrial Contact Webinar to be held next Saturday (August 13). In it, I will go into more detail about the above historical events and how other major world religions have dealt with different creator gods and the human civilizations they seeded, and how all is about to be revealed in an unprecedented series of global and celestial events that coincide with the return of the Seeders/Elohim. 
Michael Salla, Ph.D.
Now Available on Vimeo
---
Past Webinars by Dr. Michael Salla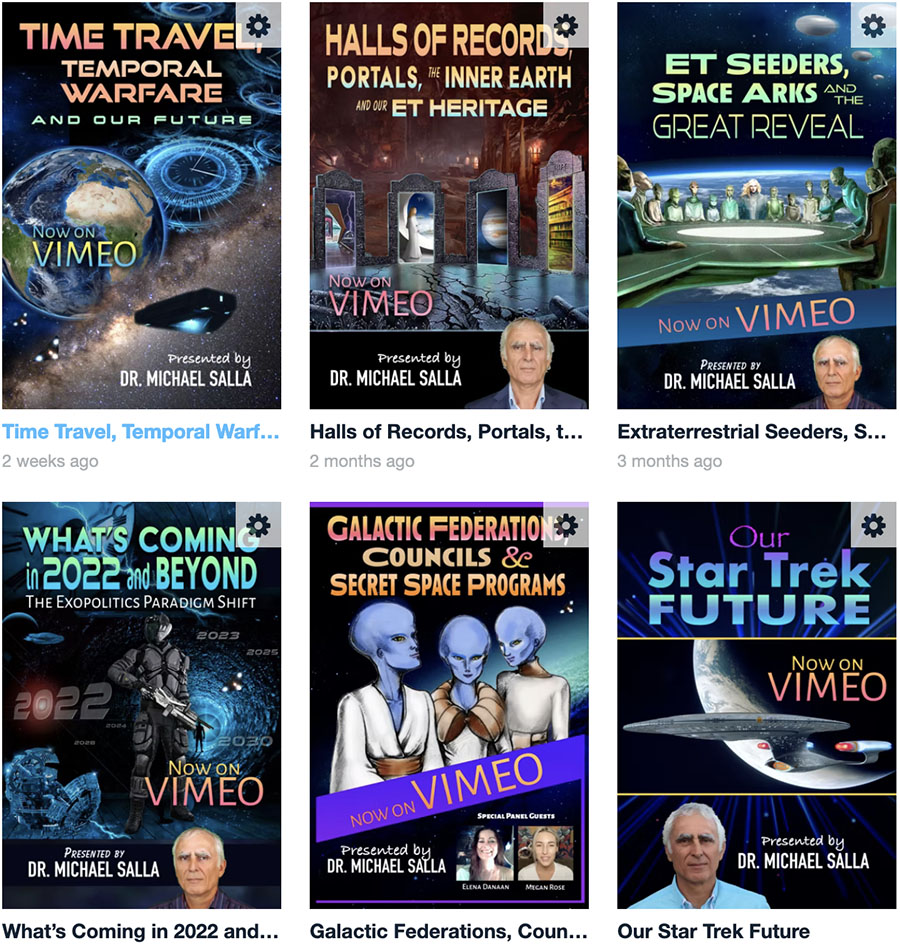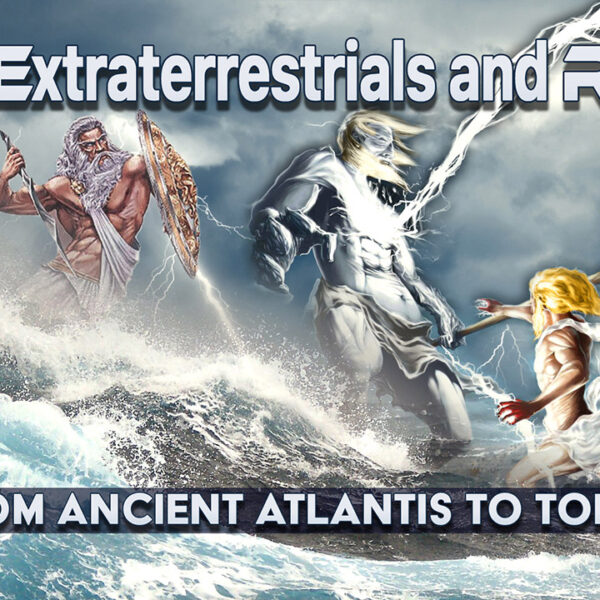 Ancient records and religious texts describe multiple "Gods" (aka extraterrestrials) creating humanity in a series of genetic experiments and warring among themselves over who would be dominant in influencing Earth's future. The world's oldest known creation story, Sumer's Enuma Elish, and other ancient texts introduce the different creator Gods and how they formed grand assemblies to resolve their differences over the destiny of humanity.
This new video is the official trailer/short film for the "World Religions and Extraterrestrial Contact" webinar to be held on August 13. In addition to the above issues, the trailer discusses the rise and fall of Atlantis in relation to creator Gods/extraterrestrials alarmed over humanity's rapid technological development. Finally, this short film covers the return of the creator Gods (Elohim/Anunnaki) to our solar system and what this means for us today.

Available on YouTube and Rumble
Now available on Vimeo – click here.
Heartfelt thanks to my incredibly gifted wife, Angelika Whitecliff, for her many days of work in creating this video and joining me in its narration.
Michael Salla, Ph.D.
---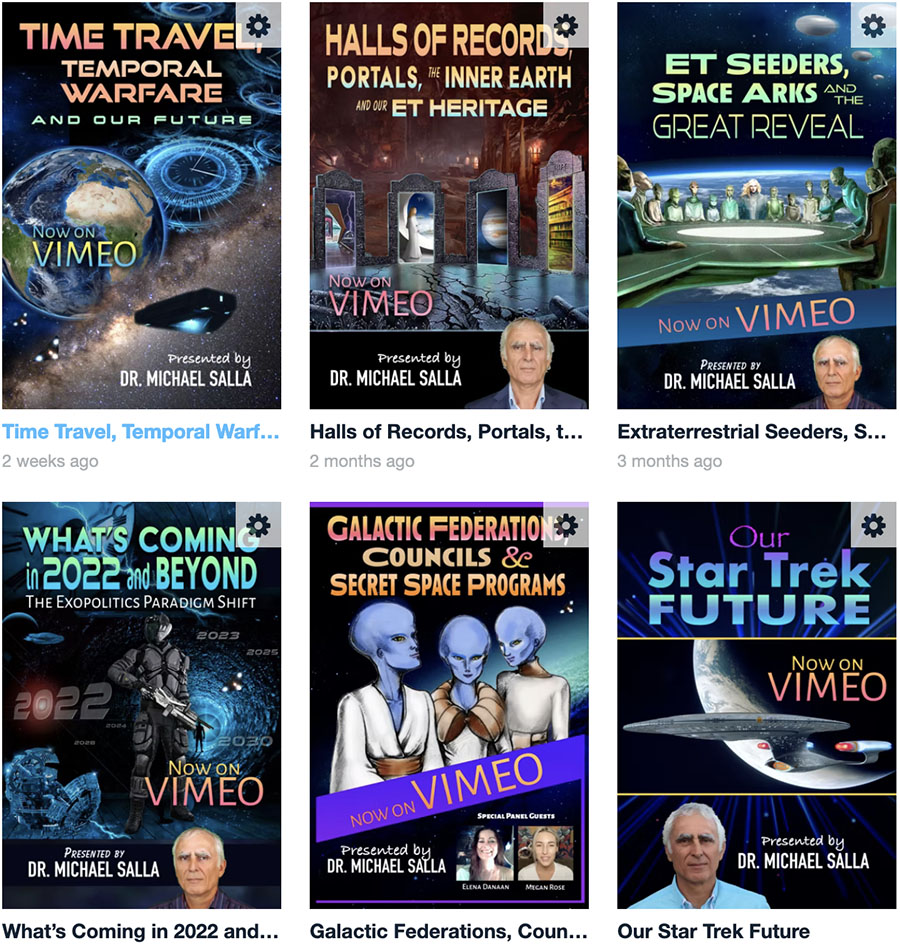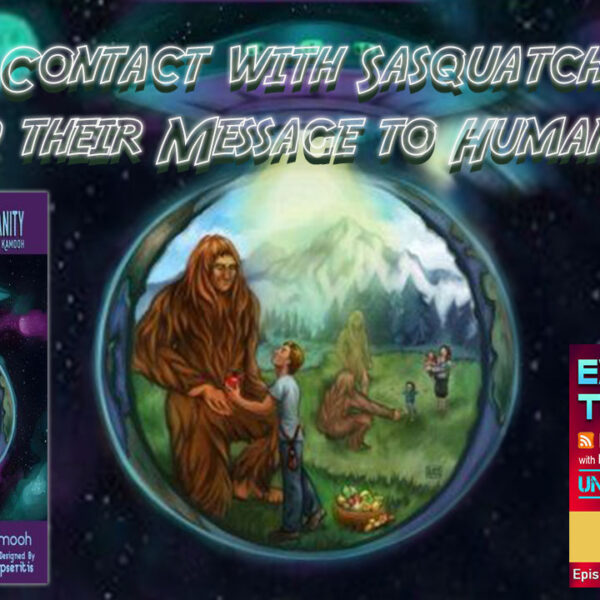 Sunbow Truebrother began having experiences with Sasquatch (aka Big Foot) and UFOs in 1981 at age 17. He says that his great great grandfather was a Sasquatch hybrid and that this predisposed him to find out more about these mysterious beings. He traveled around the world meeting indigenous peoples who all had stories to share about Sasquatch encounters and contact with extraterrestrial life.
Sunbow describes his physical contact experience in 2003 with a Sasquatch Elder, Kamooh, on Vancouver Island, British Columbia. He says that Kamooh subsequently began sharing with him information about the true history of Earth and the different genetic experiments conducted by extraterrestrial visitors with indigenous life forms all over the Earth. The sequence of genetic experiments have led to different forms of intelligent life over millions of years starting with the Fish People, Ant People, Reptilian People, Bird People, Sasquatch and finally humans.
Sunbow explains how Sasquatch have highly developed psychic abilities which helps them evade being captured, but they have nevertheless been hunted to near extinction by humans for centuries. He describes how the genocide against Sasquatch continues today with modern surveillance and capture technologies, and how wildfires have been used to decimate their traditional habitat in North American forests. Despite this dark history of being hunted by humans, the Sasquatch nevertheless regards themselves as humanity's elder brothers and protectors, and are eager to help us awaken to our true spiritual potential and place in a densely populated universe.
Interview Available on YouTube & Rumble
Audio Podcast on Apple, Spotify, or Google
Sunbow Truebrother has written a three volume series called The Sasquatch Message to Humanity which is available on Amazon

Sunbow will be a featured speaker at the October 21-23, 2022, Galactic Spiritual Informers Conference

More information about Sunbow is available at his website: scenicsasquatch.com
---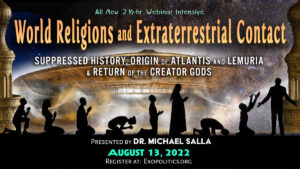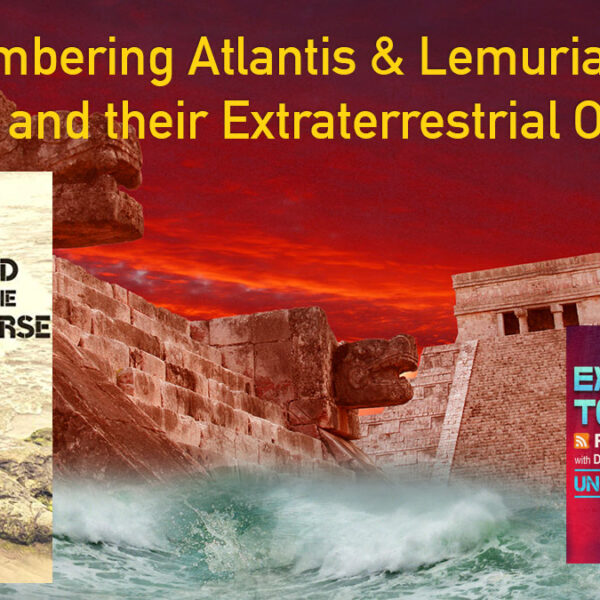 Jen Sullivan is the author of Child of the Universe, a book where she describes her memories of several past lives that were connected to the origins of Atlantis and Lemuria (Lymuria), and their respective destruction. Jen was suffering from a brain tumor when she was asked by her long time friend, Sarah Breskman Cosme, to participate in Quantum Hypnosis Healing Technique (QHHT) sessions to complete Sarah's level 3 certification with Delores Cannon's QHHT program.
After Jen recalled details of her most recent past life where she jumped off a bridge to her death in 1978 after going through a lobotomy as a result of nobody believing her past life recollections at the time, she experienced a remarkable healing. As the QHHT sessions continued, Jen remembered her first past life on Earth as a male when she was part of an extraterrestrial mission that crash landed in a large south Pacific island. She remembers being ultimately successful in creating a hybrid being using the genetics of a primitive local female and her DNA. The hybrid that was born became revered for her wisdom and ability to use red crystals that were retrieved from the spacecraft , and became the first Queen of Lemuria. Her name was Oona.
One of Jen's companions on the crashed extraterrestrial spacecraft traveled through a space time portal to the other side of the planet taking with him some of the red crystals. He was involved in creating a hybrid being that was among the first Atlanteans who gained control over the local population. Ultimately, the Atlanteans followed a path of rapid technological development where the red crystals were used for weapons development and imperial conquest. In contrast the Lemurians lived a more peaceful life in harmony with nature where the red crystals were used to sustain a natural immunity to all disease, and considerably extended their life spans.
In her book, Jen describes the circumstances surrounding the Atlanteans visiting and ultimately destroying Lemuria. In that incarnation, Jen was a princess (Kala) who briefly reigned after her mother, the Queen was killed by the Atlanteans. Shortly after her coronation, Lemuria was destroyed by tidal waves created by undersea detonations caused by the Altanteans, and she was captured. Jen remembered being taken to Atlantis where she was tortured and interrogated for many decades over her knowledge and abilities concerning the red crystals.
In her first interview on Exopolitics Today, Jen describes why she chose to undergo the QHHT sessions with Sarah Cosme, the healing she experienced, and the details of her remarkable past lives as an extraterrestrial and the last Queen of Lemuria/Lymuria. Her memories of captivity in Atlantis over many decades gives a unique perspective on Atlantean culture, politics and science.
Interview Available on YouTube & Rumble
Audio Podcast on Apple, Spotify, or Google
Jen Sullivan's book is available at amazon.com
Her website is www.jlfsullivan.com
Note: During the interview, I encountered an unusual amount of electrical interference, which culminated in all the power in my home going off for a short period. My computer then experienced strange pulses which can be witnessed in the interview after the interruption around the (30 minutes mark). Jen explains how such electrical interference has happened often in her sessions with Sarah Breskman Cosme.
Michael Salla, Ph.D.
---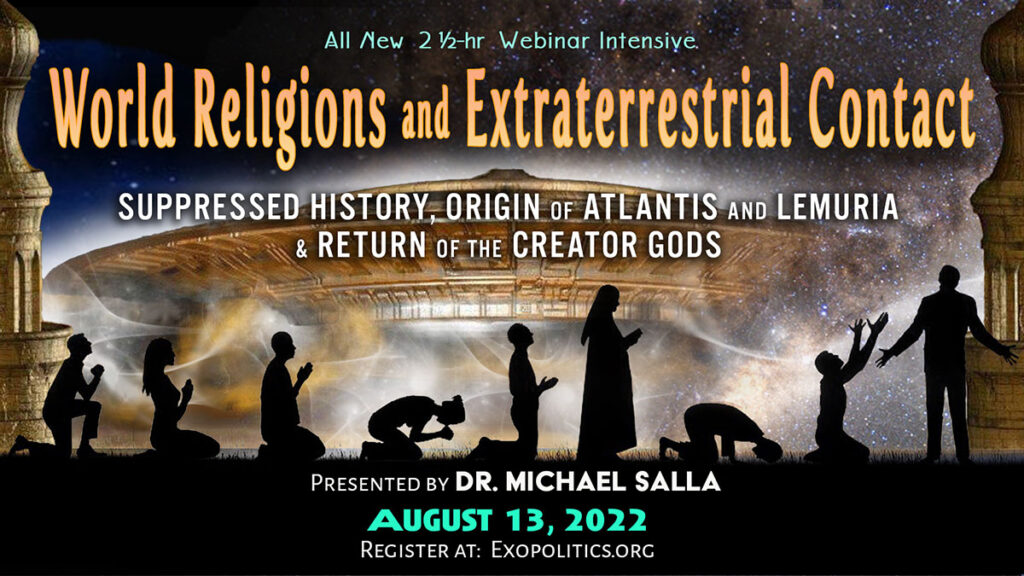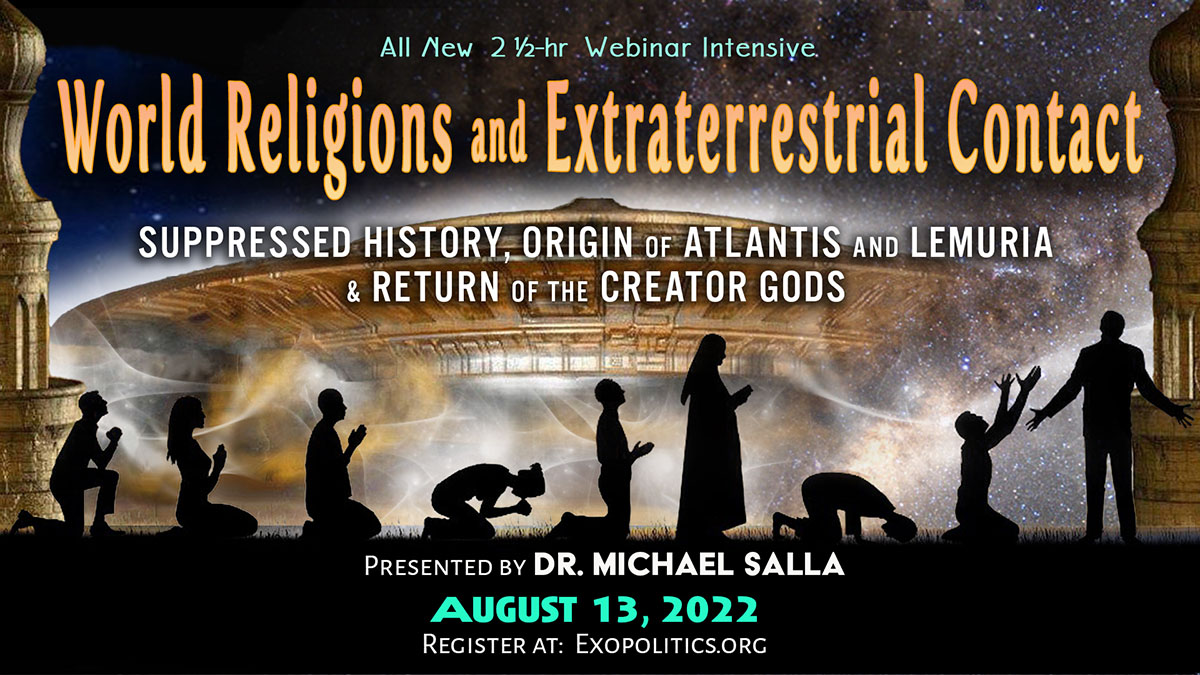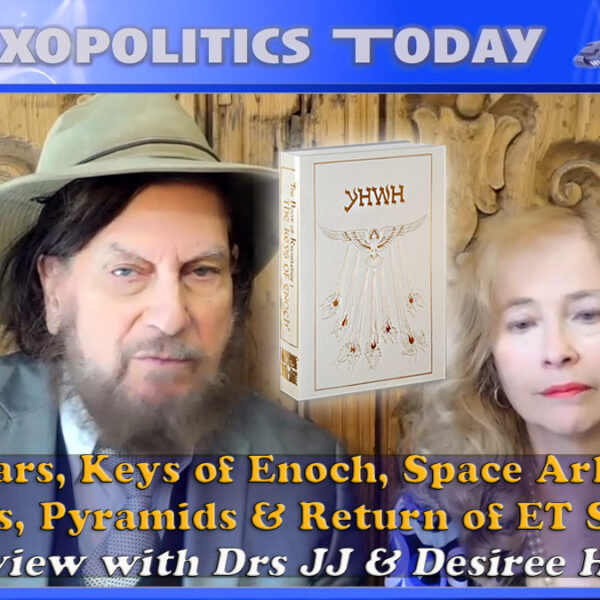 Dr. JJ. Hurtak burst onto the metaphysical and UFO scenes with his 1973 book, The Book of Knowledge: The Keys of Enoch, which contained groundbreaking information about ancient civilizations on Earth and Mars, the origins of UFOs, higher dimensional entities, Merkaba travel, pyramids, and extraterrestrial life and technology. The accuracy of his remote viewing, and extent of his extraterrestrial and higher dimensional encounters, led to him being recognized as a leading authority on esoteric topics being studied by researchers, general public and government officials.
He has spend almost five decades traveling the world with his wife, Dr. Desiree Hurtak, to research ancient artifacts, pyramids and technologies hidden at remote locations such as Giza Egypt; the Yucatan Peninsula; Israel; Chaco Canyon, New Mexico; and Bucegi Mountains, Romania. In 1997, they played an instrumental role in discovering the Tomb of Osiris at Giza, Egypt.
In this Exopolitics Today interview with Dr. Michael Salla, they discuss the implications of their nearly five decades of research into a range of exoarcheology and exopolitics topics, and the prospects of highly evolved extraterrestrial "Seeder" races soon showing up and ushering in a new era for humanity.
Interview Available on YouTube & Rumble
Audio Podcast on Apple, Spotify, or Google
Dr. JJ and Desiree Hurtak are the founders of the Academy for Future Science (website is here) which explores new scientific ideas and contains some of their publicly available research including their most recent co-authored book Giza's Industrial Complex (2019).
The Keys of Enoch and other books are available here.


---
May 21, 2022 Webinar with Dr. Michael Salla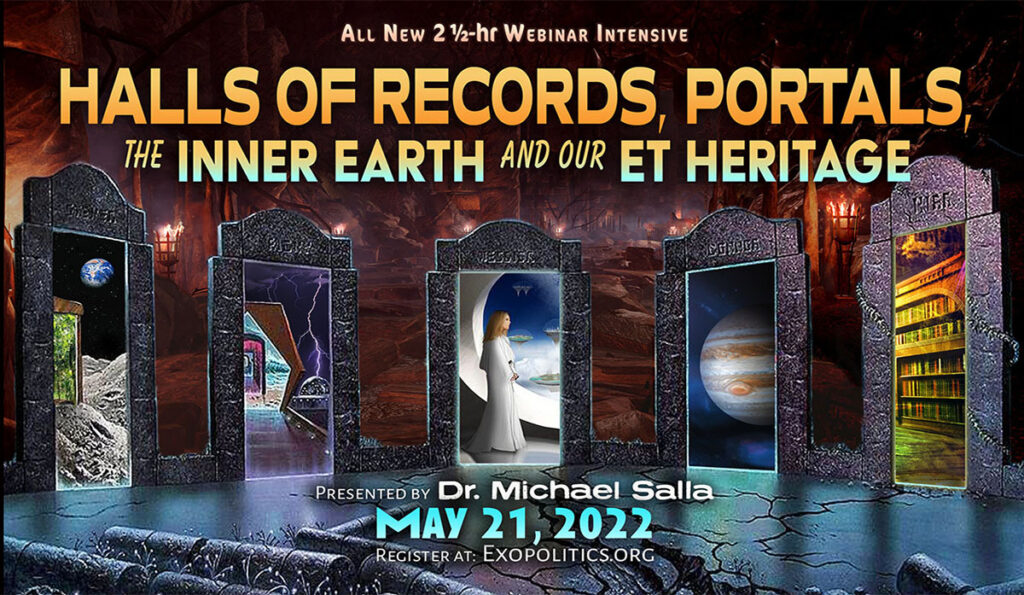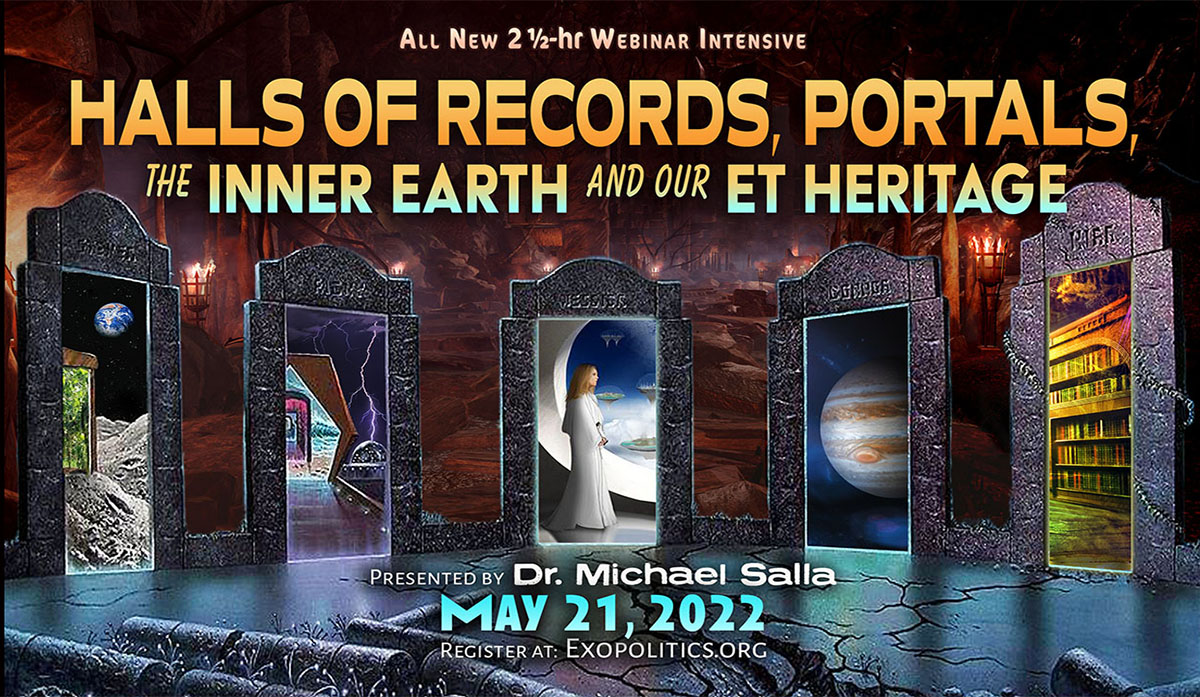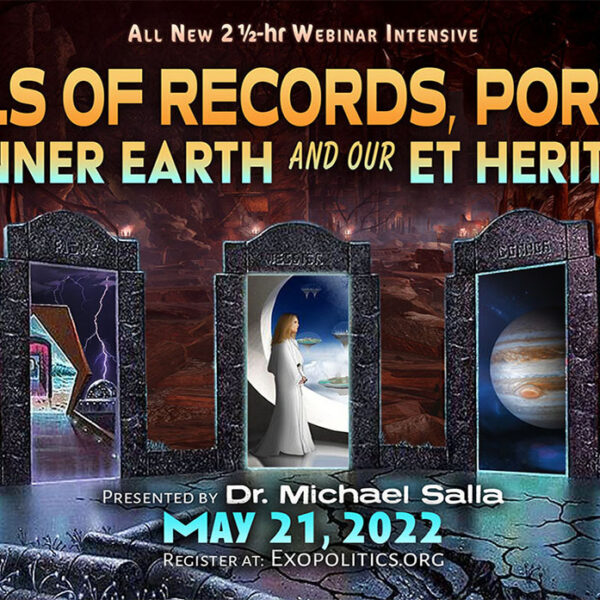 The Storm is upon us. The Deep State is playing its big cards in a final desperate gamble to distract people from the incredible future awaiting us. Food shortages, soaring gas and energy prices, baby food disappearing from shopping shelves, waves of new refugees/illegal immigrants, a new crisis in the US over the abortion issue, all these and other issues are being used to get us to focus on survival as our solar system enters a region of the galaxy which empowers our innate genetic ability to manifest our loftiest desires or deepest fears through our attention—where attention goes, energy flows.
The Deep State comprises high level Freemasons, black magicians, secret societies, Jesuits, and their extraterrestrial allies, who are experts in the art of mass distraction and division. These groups have for centuries played the rest of humanity as fools and steered us into one needless crisis after another. The Ukraine war is the latest example where two peoples united by a shared history, culture, ethnicity, and religion are fighting over national security issues which in normal times would be speedily resolved by diplomatic means.
What's the Deep State's end game here? In addition to preventing us from manifesting a positive future, it is to distract us from benevolent extraterrestrial visitors who have recently arrived in our solar system to help bring about the great awakening that is our destiny. Many of the visitors are "Seeders Races" who played critical roles in establishing civilizations on Earth stretching far back into remote history. They are here to unveil the ancient wisdom and technologies that have been hidden in Halls of Records for millennia waiting for humanity to ready itself. In addition, there are the Inner Earth civilizations, survivors of great historic cataclysms who have been waiting for us so that they can openly reveal themselves and share their incredible wisdom and technologies.
These ancient Halls of Records, inner Earth civilizations, and space arks, are connected through an elaborate system of space-time portals enabling instantaneous travel for those that have the attained a specific level of consciousness, genetic markers, and love frequency.
In my upcoming May 21 webinar I will give attendees a grand tour of different Halls of Records, portals, and inner Earth civilizations that have been revealed by multiple reliable sources over the last century. I'll also explain how knowledge of these has been systematically controlled and repressed, and the occult organization most responsible for doing so.
Attending my webinar will be a great way to prepare yourself for the deep mysteries about to be unveiled. An astonishing future awaits us. All we need to do is steer our attention towards reclaiming our lost history and galactic connections, and accept the aid of powerful friends wanting to help us achieve our fullest potential as a species.
Michael Salla, Ph.D.
Watch on Vimeo – May 24, 2022
Watch Official Webinar Trailer/Short Film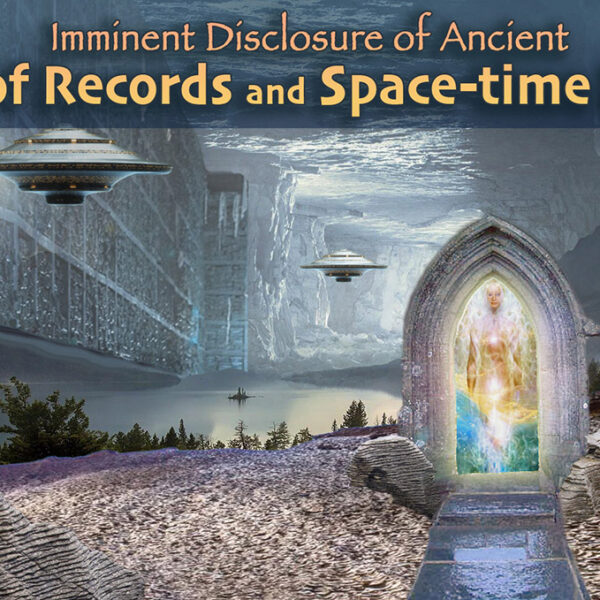 This is the official trailer/short film for the "Halls of Records, Portals, Inner Earth & our ET Heritage" webinar to be held on May 21, 2022. Covers history of Halls of Records & Space Time Portals, the main human organization responsible for covering these up throughout history, and the roles of Inner Earth civilizations and extraterrestrial seeders in protecting and disclosing this ancient information to humanity when the time was right.
Available on YouTube and Rumble
Heartfelt thanks to my incredibly talented wife, Angelika Whitecliff, for her many days of work in creating this video and assisting with its narration.

Michael Salla, Ph.D.
More Webinar information is here

---
Past Webinars Now Available on Vimeo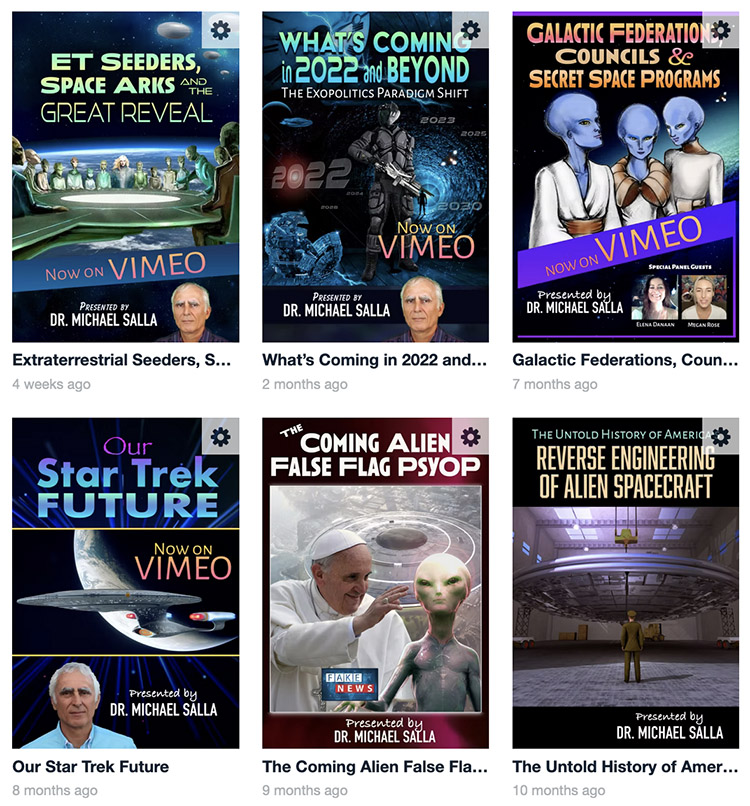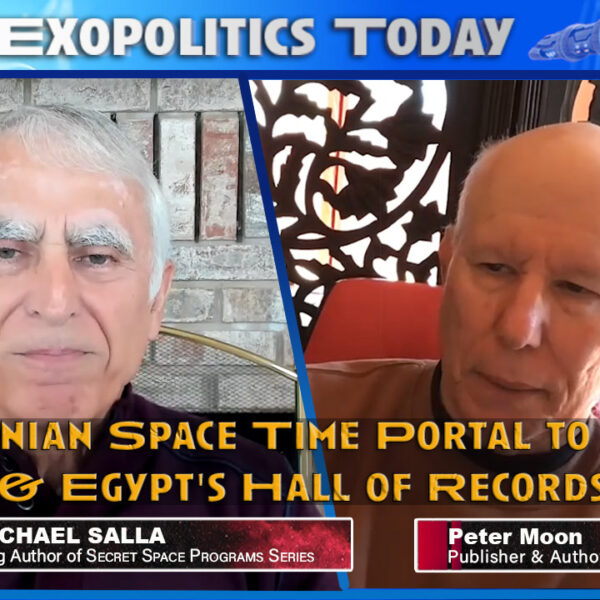 Legendary Montauk Project researcher, Peter Moon, discusses a space time portal from Romania to Tibet and a secret tunnel to Egypt's Hall of Records that are described respectively in books two and three of the Transylvania book series. The popular series contains the revelations of a Romanian insider, Radu Cinamar, who works for Department Zero, a paranormal research division of the Romanian Intelligence service.
In Book 2, Transylvanian Moonrise, Peter Moon discusses several efforts to corroborate Cinamar's information through Romanian news outlets, and why Cinamar was recruited into Department Zero's paranormal divisioin after being taken to Tibet through a space time portal located in Romania's Apuseni Mountains. After his encounters with an alchemist called Elinor who can prolong life through a mysterious geometrical device, Cinamar meets a Tibetan lama who guides him through the portal to meet with 'Machandi' a Dakini/Goddess in Tibet. Upon his return to Romania, Cinimar is formally recruited into Department Zero due to his new contacts and experiences.
In Book 3, Mystery of Egypt, Cinamar travels from an ancient Hall of Records found inside Romania's Bucegi Mountains to a similar structure in Egypt under the Giza pyramid complex. The Egyptian Hall of Records contains tens of thousands of metal disks with holographic information stored in them, as well as a time machine (aka chronovisor) used for viewing past and future events, along with a levitation platform used for aerial travel.
In this Exopolitics Today interview Peter Moon elaborates on these and other fascinating developments in the Transylvania book series.
Audio Podcast on Apple, Spotify, or Google
For a March 25, 2022, interview discussing Book 1, Transylvania Sunrise, click here.
Peter Moon's publishing website is skybooksusa.com
Transylvanian book series is available on Amazon
---
Upcoming Webinar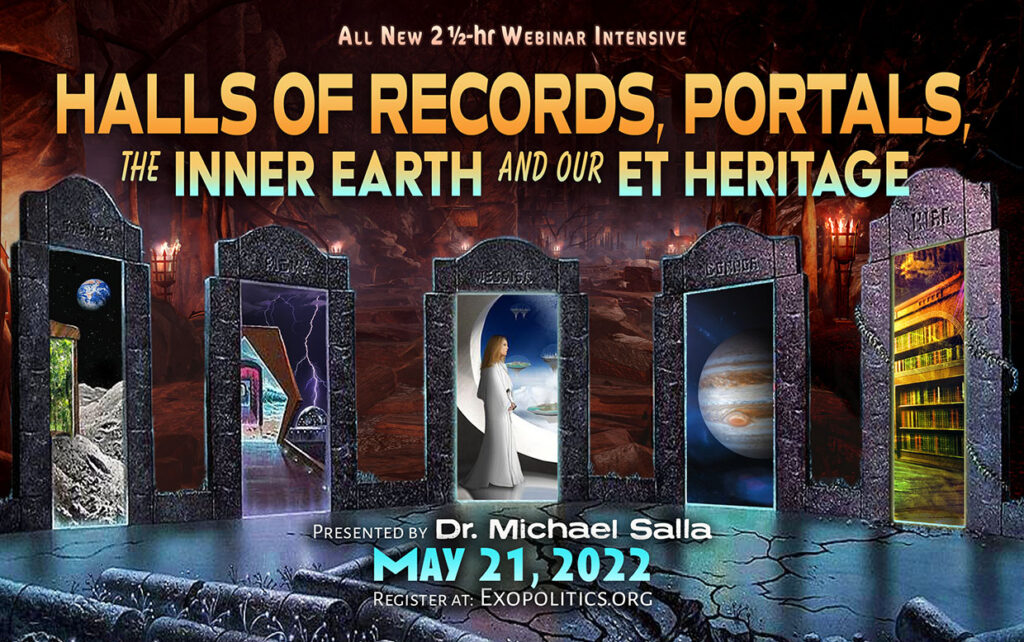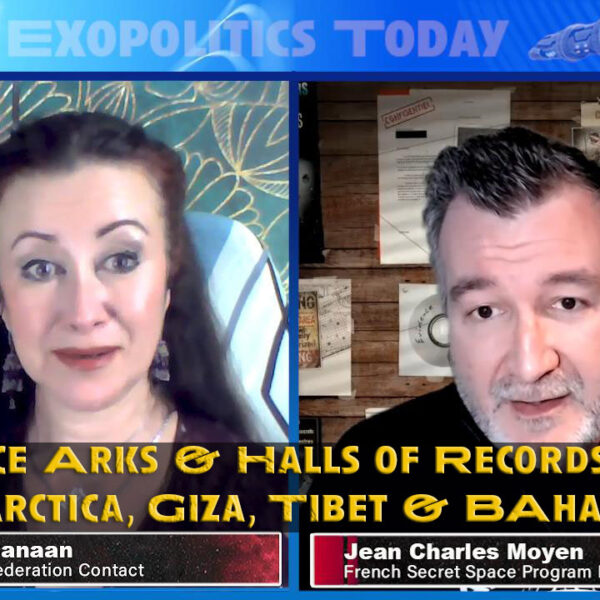 In this Exopolitics Today interview Jean Charles Moyen and Elena Danaan describe trips they both took to a Galactic Federation mothership called the Excelsior, and then to Lake Vostok in Antarctica where they witnessed a space ark with blue giants sleeping in stasis chambers. Elena describes how she was tasked by the Galactic Federation to witness Jean Charles as he toured the Lake Vostok ark. They then describe their respective trips to a Hall of Records/ark under the Sphinx at the Giza Complex in Egypt. Jean Charles next describes visiting space arks under Mt Kailash, Tibet and one off the coast of the Bahamas. Elena also discusses the recent news that an interstellar object crashed in the Pacific Ocean, and that this is a gift from positive extraterrestrials to awaken humanity to their existence.
Audio Podcast on Apple, Spotify, or Google
Links
Jean Charles Moyen's movie "South Shore Origin" is available on Vimeo. His video "Starseed Revelation" which offers more details about his life experiences is also available on Vimeo.
Elena Danaan's website is available here. Her most recent book, We Will Never Let You Down is available on Amazon.
Earlier Interviews with Jean Charles Moyen

Earlier Interviews with Elena Danaan
---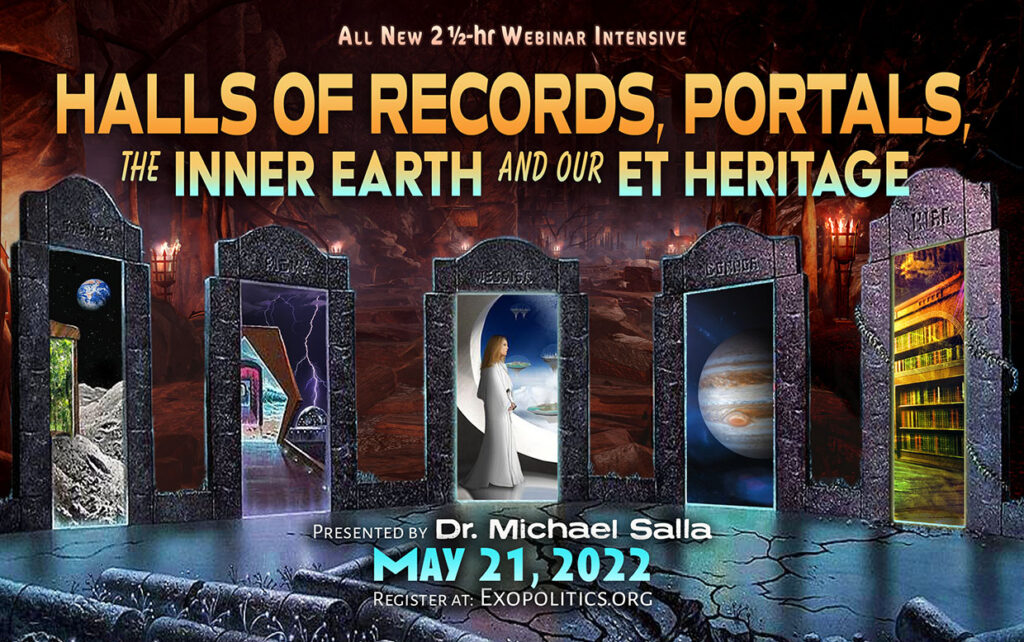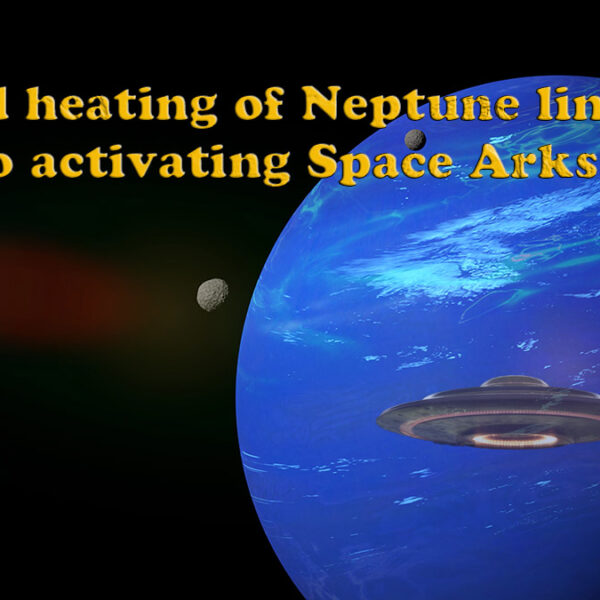 Astronomers are baffled by the rapid heating of the South Pole of the planet Neptune recently detected by ground-based telescopes in Chile and Hawaii. The heating corroborates a recent prediction by Thor Han Eredyon of the Galactic Federation of Worlds that Neptune would soon experience remarkable changes due to the activation of space arks resulting from the arrival of the Intergalactic Federation, aka extraterrestrial Seeders or Guardians.
On April 11, 2022, a team of astronomers discussed a paper published in The Planetary Science Journal that tracked atmospheric temperatures over 17 years on Neptune. An article in Phys.org summarized what had been observed:
[D]ata showed that, despite the onset of southern summer, most of the planet had gradually cooled over the last two decades. The globally averaged temperature of Neptune dropped by 8 °C between 2003 and 2018.
The astronomers were then surprised to discover a dramatic warming of Neptune's south pole during the last two years of their observations, when temperatures rapidly rose 11°C between 2018 and 2020. Although Neptune's warm polar vortex has been known for many years, such rapid polar warming has never been previously observed on the planet.
The telescopes used to monitor Neptune's weather included the European Southern Observatory's Very Large Telescope and the Gemini South Telescope that are both located in Chile; and the Keck, Subaru, Spitzer, and Gemini North telescopes that are all located on Hawaii's Big Island.
Importantly, the astronomers could not explain both the cooling and rapid heating of Neptune:
Because Neptune's temperature variations were so unexpected, the astronomers do not know yet what could have caused them. They could be due to changes in Neptune's stratospheric chemistry, or random weather patterns, or even the solar cycle.
There is, however, another explanation that the team of astronomers did not consider for the rapid heating. The activation of Space Arks that had previously laid dormant in Neptune's icy interior until the arrival of fleets of ships belonging to the Intergalactic Confederation.
On March 28, Elena Danaan received the following message from Thor Han about changes in our solar system caused by the arrival of the Seeders/Guardians that can be traced back to the interstellar object, Oumuamua in October 2017:
The ships are coming, the Guardians are on the outer orbit of Terra, four ships for the moment. They are watching, in time dilation. Suspended in time like the old Oumuamua. It was one of their ships. It has activated. The ones in the ice belt have activated too. And all the others, one by one, on all the planets. Neptune is next. You will see, you will hear about Neptune soon. But don't forget to tell them: They are lucky and privileged to see this.
Thor Han's message clearly links the sudden heating of Neptune's South Pole to one or more activating space arks that began with the October 2017 arrival of Oumuamua and accelerated with the arrival of the Seeder's space fleets in October 2021.

Thor Han's prediction is quite remarkable given that it preceded the results of the astronomer's observations published two weeks later in The Planetary Science Journal.
In addition, Thor Han's reference to space arks activating in the "ice belt" refers to the recent heatwave increase in East Antarctica. Temperatures increased by as much as 70 degrees over a wide area centered around the Vostok region, which I discussed in a previous article.
The results of the long-term atmospheric study of Neptune clearly validate the information received by Elena Danaan from Thor Han Eredyon about activating space arks in our solar system. The results of the Neptune scientific study give great confidence that we are about to witness astounding results as the space arks continue to activate as the extraterrestrial "Seeder" fleets spread out throughout our solar system and arrive around the Earth.
A video version of this article is on YouTube & Rumble
Audio Podcast on Apple, Spotify, or Google
© Michael E. Salla, Ph.D. Copyright Notice
[Update April 15, 2022 – Elena Danaan first publicly revealed Thor Han's prediction about Neptune being affected by activating space arks in a March 29 YouTube announcement. Here's the link and timestamp. She followed up with a YouTube video on April 12 discussing three articles covering the heat increase on Neptune.]
To learn more about Thor Han Eredyon, the Galactic Federation, and other extraterrestrial organizations currently operating in our solar system, I highly recommend Elena Danaan's book, We Will Never Let You Down (2021).
To find out about the history of the Extraterrestrial Seeders and how their recent arrival has activated long dormant Space Arks hidden on Earth and our solar system, I recommend my April 9, 2022, webinar, which is now available on Vimeo.
Related Articles/Podcasts