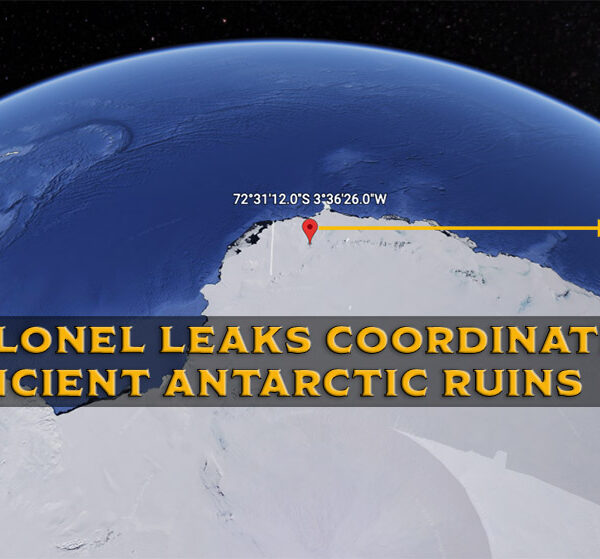 On December 26, 2021, my US Army source, JP, was given a set of geographical coordinates from an unnamed Lt Colonel (USAF) who simply told him to publicly release them. JP had seen the officer at a classified briefing he attended at a military base where he is currently stationed, where he was told about ancient ruins being found on Antarctica, the Moon, Mars, and elsewhere in our solar system.
These were being investigated in joint missions with various Earth nations, including China. JP participated in the Moon mission, which I covered in my previous interview with him, and in an earlier joint mission to Ganymede.
The coordinates given to JP (72°31'12″S 3°36'26″W) appear to show a large building complex located about 150 miles (240 km) from the Antarctic coastline in Queen Maud Land. This is an area that was claimed by Hitler's Third Reich and where an Antarctic Colony, Base 211, was secretly established during World War 2.
The ruins are in an elevated area that is ice-free and appears to have a runway or very long hangars from which aerospace vehicles can take off and land.
It's important to point out that the ruins are many miles away from the two nearby Norwegian bases Troll (72°00′42″S 2°32′06″E) and Tor (71°53′22″S 5°09′34″E). These are the two closest Antarctic research stations to the coordinates given to JP, which shows the structure nearly 8 degrees to the west of Troll, with similar latitude. I've marked the approximate location of the structure in relation to Antarctic Research Stations in the following graphic.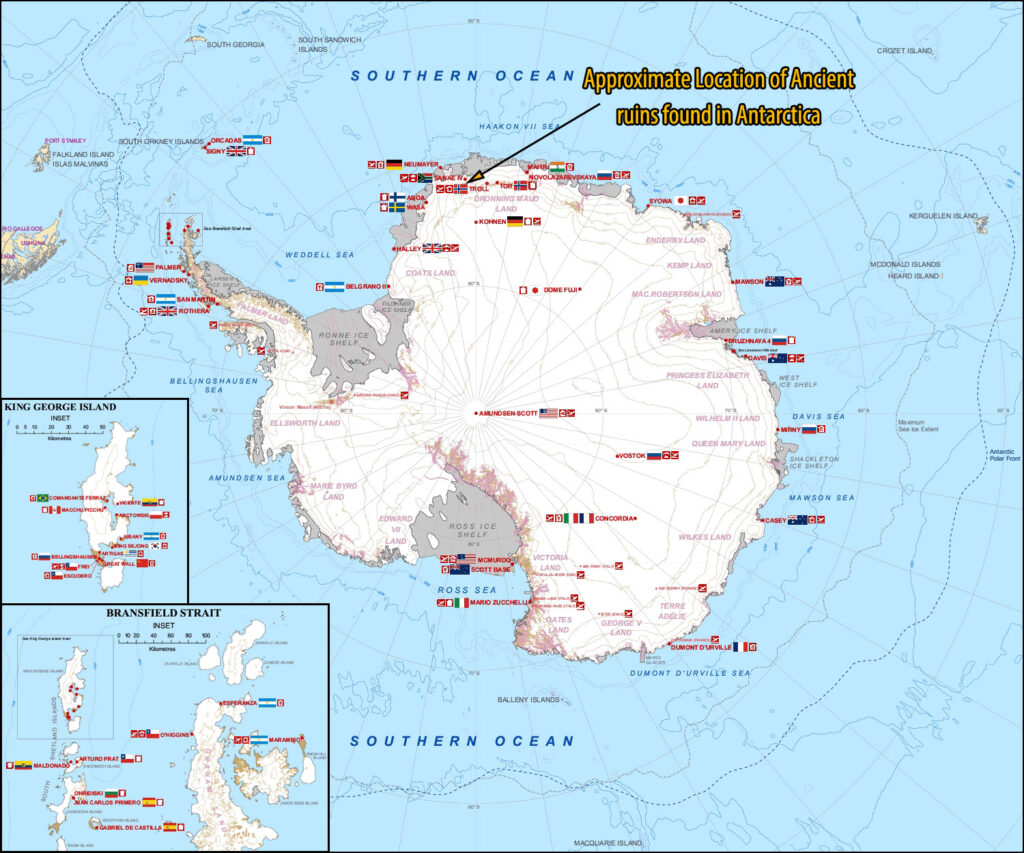 According to JP, the US military is working inside several buildings at the ruins, one of which contains a 'stargate' or a 'portal' that enables instantaneous travel in our solar system. This is JP's skype message to me about the ruins:
These are the ruins where everybody meets up. He is one of the officers.  I only saw him once in the rooms that we do the meetings. Came up to me and said to share the information.   He works in the building where the gates are that takes you to different places in our solar system. [12/26/2021].
Significantly, the USAF Lt Col is said to work in the building where the portal/gate is located. An estimate of the ruin's size, using Google Earth, is roughly 2500 feet (about 830 meters).
JP created a video that shows the structure on Google Earth for the coordinates he was given and compares its size to Machu Picchu (JP's video starts at 3:08 in the audio version of this article).
The location of the ruins suggests that it was found and previously used by the German SSP (Dark Fleet) and was off-limits to the US military. This would have been especially the case if it housed a portal enabling instantaneous travel in our solar system and beyond.
It is possible that the ruins were recently handed over to the US military by China. In previous articles I have examined claims that the German Dark Fleet recently had to evacuate Antarctica due to intervention by an Earth Alliance working with friendly extraterrestrial organizations: the Galactic Federation of Worlds. The Dark Fleet facilities were reportedly handed over to China, which quickly handed them over to US Space Command with the provision that joint scientific research would be conducted at these, as stipulated in agreements reached in July above Jupiter, which I discussed here.
Critics may point to the apparent ruins as merely pixelation due to the low resolution images from the US Geological Survey that Google Earth used for creating the aerial overview. A close examination of the image in comparison to other nearby areas suggests that the object is not due to image pixelation. On Google Earth Pro, a historical review of the coordinates sent by JP show that this is the first time the structure has shown up.
An official graphic from AntarcticGlaciers.org shows that the ice sheet is less than 500 meters thick in the region where the ruins are located. Its location at an elevated ice-free area makes it quite suitable as an airbase that was used by its former occupants—Germans, extraterrestrials, or an ancient civilization.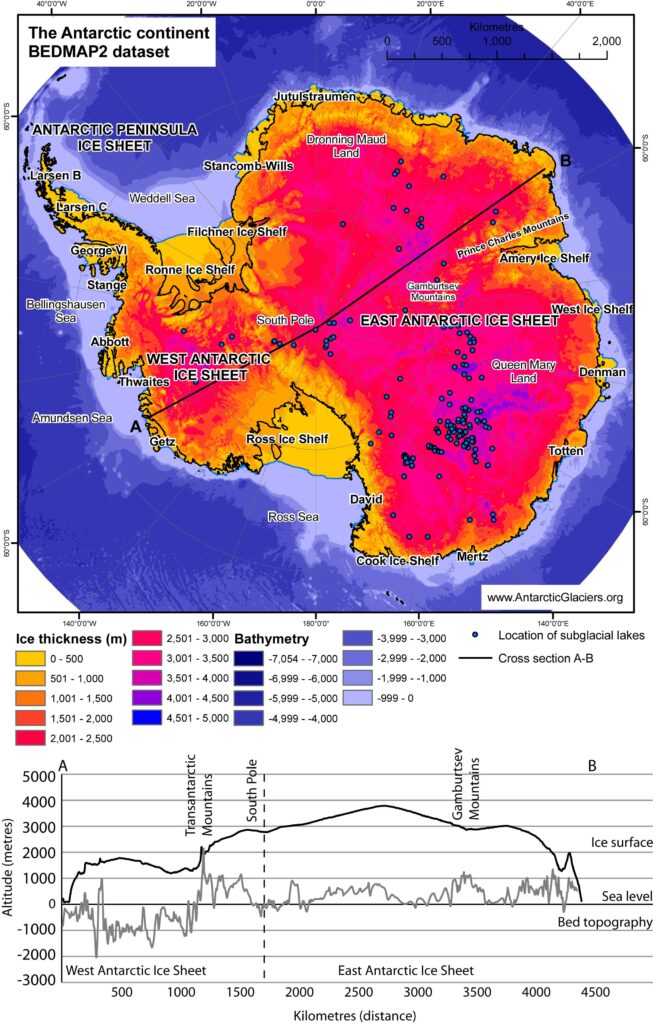 Some may wonder why JP was given the coordinates of these ancient ruins by the USAF officer and told to release it publicly. It is important to point out that in 2017, Air Force operatives, on several occasions, instructed JP on where to look up to the sky to take photographs of flying triangles and rectangles in the vicinity of MacDill Air Force Base. The photos and related articles are available here, here, and more here.
I have high confidence in JP's reliability as a witness and as a conduit of information releases tacitly approved by senior military officials. This leads me to conclude that the structure found in the Google Earth images may well be ancient Antarctic ruins, significantly larger than those found at Machu Pichu, which was previously used by the German Dark Fleet and is now under the control of an Earth Alliance led by US Space Command.
A video version of this article is available on YouTube & Rumble
© Michael E. Salla, Ph.D. Copyright Notice
[Note: on the evening of Dec 31, 2021, JP informed me that he is currently facing disciplinary measures for releasing information about the classified Moon mission into the public arena. There are those in his direct military chain of command that assert the information was not supposed to be publicly released and want to punish him. Despite JP getting into trouble for his releases, and having to do "unpleasant jobs" as punishment, he intends to continue to reveal information, but emphasizes the need for his continued anonymity. He says that he is being protected by a lot of "white hats" that want the information to come out. JP explained to his chain of command that the coordinates given to him about Antarctica are about to be released. He was told by white hats that it was OK to do so. Nevertheless, he will still face disciplinary action for continuing to release this information.]
Related Articles/Podcasts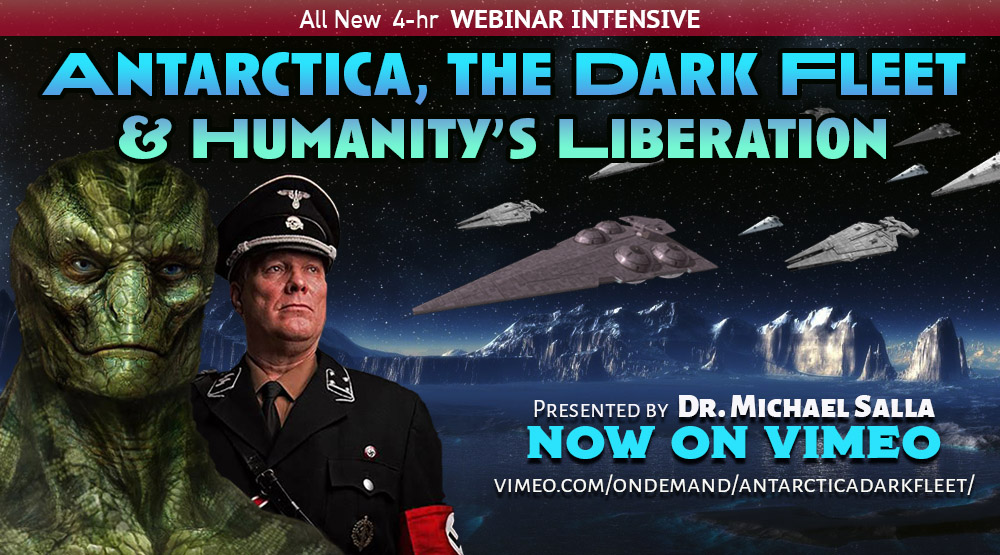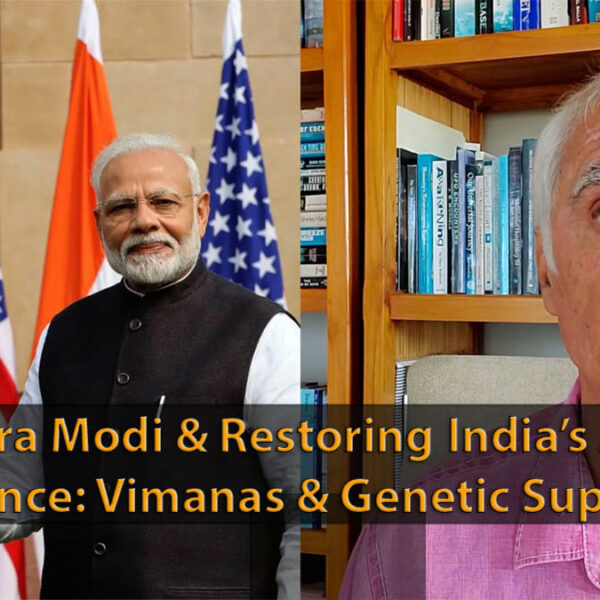 On February 15, Time published an article depicting Indian Prime Minister Narendra Modi as an unreliable democratic ally due to his right wing Hindu Nationalist policies that discriminate against religious minorities. The article is one among many in the mainstream media that increasingly vilify or demonize Modi and his party, the Bharatiya Janata Party (BJP), as violent extremists.
In this Exopolitics Today podcast, I describe the main reason why the Deep State is opposed to Modi – his intent on restoring India's ancient advanced technologies such as Vimanas (antigravity spacecraft) & genetically engineered supersoldiers.
Modi is locked in a ferocious battle with the Indian branch of the "Deep State" that wants to restrict access and knowledge of India's Ancient Vedic Science to a select few. In contrast, Modi wants Indian scientists to be given open access to ancient artifacts detailing the schematics, and operations of these super technologies.
Modi is India's version of Donald Trump who faced similar problems from the Deep State when he attempted to "white world" many of the black projects studied in corporate facilities. Modi and Trump have partnered in an "Earth Alliance", alongside other world leaders such as Russia's Vladimir Putin and China's Xi Jinping in releasing advanced technologies gained from ancient artifacts or crashed extraterrestrial spacecraft.
Podcast is available on Rumble, YouTube and Spotify [TBA].
[Note: Time article is available here]
Michael Salla, Ph.D.
Further Reading/Listening
---
[Note: Info about February 27 Webinar, "Earth Alliance, Full Disclosure and the Coming Global Revolution" is available here or to purchase a copy click the banner]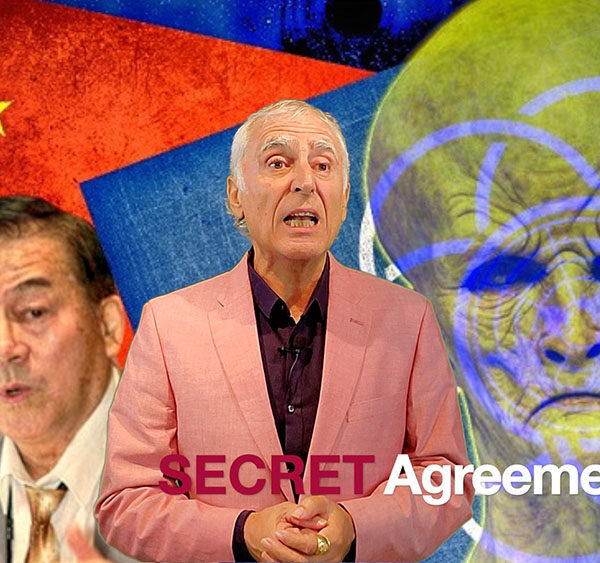 China has a rich ancient history with many legends of advanced flying technologies, mysterious underground civilizations and extraterrestrial contact. What is the truth behind these legends and are China's mysterious pyramids older than contemporary archeologists claim? Do China's pyramids possess hidden repositories of long forgotten technologies that are secretly being studied and reverse engineered by leading Chinese scientists with the help of extraterrestrial visitors? Why did Chinese military forces, with Soviet assistance, invade a large UFO base built by Agartha and did they take away flying saucer technologies? All these questions will be answered with persuasive evidence and facts about China's carefully guarded connections to ancient peoples, artifacts and the stars….
To purchase a recording of this Webinar click here.
More info at: http://exopolitics.org/china-ssp-webinars-july-2020/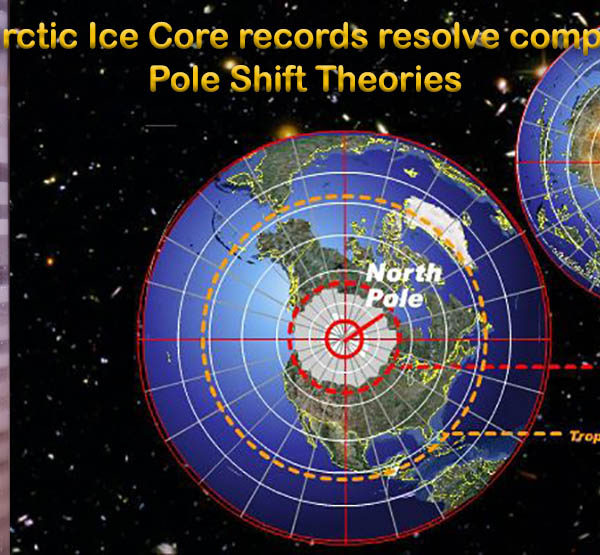 A declassified CIA document called The Adam and Eve Story has generated much controversy over predictions of an upcoming pole shift (aka crustal displacement) and catastrophic events that may sweep the planet in the not distant future. The 57-page document is based on a book authored by Chan Thomas in 1963. In it, Thomas proposed a pole shift scenario that differed in significant ways with what Charles Hapgood had earlier proposed in his pioneering 1958 book, The Earth's Shifting Crust.
Hapgood's theory, which was endorsed at the time by Albert Einstein, proposed that the geophysical poles periodically move by as much as up to 40 degrees through crustal displacements. This phenomenon was brought about by the increasing weight of the polar ice caps which accumulate more and more ice over the millennia until they eventually generate sufficient centrifugal force due to the planet's rotation, to make the crust move over the mantle as Einstein explained in the book's foreword.
In The Adam and Eve Story, Chan proposed that the pole shift was much greater, as much as 90 degrees with the poles shifting into the equatorial zone in less than a day. Chan has proposed the poles would flip back and forth in this way so that Antarctica would eventually return to the South Pole region, and the Arctic would do likewise.
Each time the geographical poles did one of these 90 degree flips, there would be catastrophic winds and tidal waves all over the planet, especially in the equatorial region where the Earth's spin was  1000 mph. Water and wind would continue to move in the westerly direction through the law of inertia, sweeping over the landmasses that traveled over the equatorial region during the shift as Thomas explained:
In ¼ to ½ a day the poles move almost to the equator, and all hell lets loose. The atmosphere and oceans don't shift with the shell – they just keep on rotating West to East – and at the equator that speed is 1000 miles per hour. It has to be, normally, to make one rotation per day. So, while the shell shifts with the poles going toward the equator, the winds and oceans go eastward, blowing across the face of the earth with supersonic speeds, inundating continents with water miles deep….
You can see, then,  that ice ages are not a matter of advancing and retreating ice; it's simply that different areas of the Earth are in polar regions at different times, for different durations of time, with the changes between positions taking place in a fraction of a day. [The Adam and Eve Story, pp.13-14]
The following video illustrates what happens during one of these 90 degree shifts, and what Thomas was proposing for what's to come. One can easily see how devastating such a 90 degree shift could be and why the CIA may have been motivated to suppress such information.
According to Ben Davidson, author of the popular Earth Catastrophe series, this flipping back and forth would address paleomagnetic studies that show that the magnetic poles have been in their present locations for millions of years. Davidson concluded that this made Thomas' pole shift theory much more compelling than Hapgood's. In fact, Davidson believed Hapgood was putting out his theory as a "limited hangout" by the CIA in order to put the truth out in a way that later could be easily discredited.
Unfortunately for Davidson, ice core samples from Antarctica clearly support Hapgood and not Thomas' theory. Ice core samples from East Antarctica date back as much as 1.5 million years. The following diagram illustrates ice core samples taken from different Antarctic regions and show how far back in time the ice sheets date.
The results from the ice core drill sites show that East Antarctica has been covered by ice for hundreds of thousands years, with Lake Vostok having some of the oldest discovered ice (220,000 years). Older ice core samples than those recorded in the above map have subsequently been found both at Lake Vostok (400,000 years), and the Dome C area (800,000 years) as shown in NOAA records.
A subsequent 2013 study asserted that ice core samples of up to 1.5 million years are most likely to be found in the Dome C area of East Antarctica. Put simply, scientists agree that East Antarctica has been covered by ice sheets for at least 1.5 million years, and likely much longer than that.
In contrast, the ice core samples in West Antarctica are only a few centuries old, with only one so far matching the age of many of the East Antarctic sites. This site is in the drilling area designated Boyd whose ice was found to be 70,000 years old as the above map illustrates.
The ice core records show conclusively that much of the Antarctic continent has been located in the polar zone (latitudes greater than 66 degrees) for at least 1.5 million years, and not in the equatorial zone (O-23 degrees latitude) as proposed by Thomas. Hapgood's theory offers a better explanation for why only part of Antarctica has been ice-free for significant periods. But how do we explain the 70,000 year old ice sample found in the Byrd region of West Antarctica?
To find a definitive answer to where the geographical poles have been located and then move via crustal displacements to new positions, preserving some but not all the ice accumulated before the displacement, we can turn to the work of Rand and Rose Flem-Ath, authors of When the Sky Fell.  
In their well-documented book, they used a range of archeological and fossil records to show where ice sheets have been found over the last 100,000 years, and how these positions had changed due to crustal displacements as first proposed by Hapgood. To date, I have found no other authors laying out such a compelling case for using available scientific data to track the respective positions of the geographic poles during the last 100,000 years.
Their findings provide a clear explanation for the varying ages found in the ice core samples extracted from different regions of Antarctica; and why Hapgood, rather than Thomas, provides a more accurate explanation for how the crustal displacement theory works.
First, I begin with Flem-Aths' illustration of the positions of the North and South poles prior to 91,600 BC. It shows how the bulk of East Antarctica was inside the Antarctic circle, while West Antarctic lay in the temperate zone – similar to the present day location of New Zealand. Note the South Pole was located just off the coast of East Antarctica at the time, while the North Pole was located in Alaska.
Importantly, the Dome C area containing some of the oldest ice core samples found to date was located within the Antarctic circle, thereby preserving much of the ancient ice sheets acquired over the previous 1.5 million years or more.
The next diagram shows the Antarctic continent in relation to the South Pole after a crustal displacement led to a pole shift around 91,600 BC. Consequently, during the period from 91,600 BC to 50,600 BC, much of lower region of West Antarctica, along with the Transantarctic mountains, lay within the Antarctic circle, while the Palmer peninsula and significant areas of East Antarctica lay within the temperate zone.
Once again the physical South Pole was located over the ocean, rather than the Antarctic continent – this time off the coast of West Antarctica – adjacent to the Ross Sea. The geophysical pole had moved approximately 40 degrees from off the coast of East Antarctica to just off the West Antarctic coast during the 91,600 BC pole shift.
This is very close to what Hapgood had proposed was the crustal displacement that would occur during a pole shift.  Significantly, it is far less than the 90 degree pole shift claimed by Thomas.
Importantly the Dome C area remained entirely within the Antarctic circle thereby preserving its ancient ice sheet. Furthermore, the Byrd area where the 70,000 year old ice sample was found, had been moved from its prior location in the temperate zone prior to the 91,600 BC pole shift, to deep inside the Antarctic circle. This allowed the accumulation of ice to begin, thereby accounting for its estimated age.
The next pole shift occurred around 50,600 BC, and an illustration provided by the Flem-Aths shows the approximate locations of the poles from 50,600 BC to 9,600 BC.
Around 50,600 BC, the South Pole has flipped back to the other side of the Antarctic continent, where it again lay just off the coast of East Antarctica. An approximate 30 degree pole shift had occurred, which is again consistent with Hapgood's estimate for the cyclic crustal displacements that the Earth undergoes. It's important to emphasize that the 50,600 BC pole shift was far less than the 90 degree shift predicted in Thomas' theory.
Most of East Antarctica was again located inside the Antarctic circle, both preserving its ancient ice sheets and allowing them to expand. The Byrd region, containing the 70,000 year old ice core sample, was now located just outside the Antarctic Circle. Its marginal position marginally inside the temperate zone, which would allow the Byrd region to preserve the bulk of its ice sheets similar to the glaciers of southern New Zealand.
The period from 50,600 BC to 9600 BC is significant since it corresponds to the last time major portions of the Antarctic continent lay outside the polar circle. The bulk of West Antarctic lay in the temperate zone, and its coastal area would therefore have been ice free. Significantly, West Antarctica's coastline and interior would have been navigable, just as the 1513 Piri Reis Map showed.
In the following diagram, the Piri Reis map is superimposed over a map of the globe showing how the Antarctic coastline from the tip of the Palmer Peninsula, all the way down its eastern flank to East Antarctica was known to ancient sea captains.
Also vital to understand is that this period, 50,600 BC to 9600 BC corresponds to the Atlantean civilization that Plato wrote about in his famous dialogues, Critias and Timaeus. Plato explained Atlantis' extensive island system and waterways deep into its interior, and how it was the hub for a mighty empire that ruled over much of Africa, Europe, and Asia.
This finally takes us to the 9600 BC pole shift that led to the entire Antarctic continent, being moved to wholly inside the Antarctic circle. The magnitude of the Earth crustal displacement moving the South Pole from its previous location just off the East Antarctic coast to its present location was approximately 20 degrees. Again, significantly less than what Thomas was proposing in his crustal displacement theory.
The Flem-Aths contend that Atlantis was located in Antarctica and that the remnants of this legendary lost civilization today lie under the West Antarctic ice sheets. This is consistent with what several whistleblowers and insiders have been revealing concerning the discovery of a flash-frozen civilization under the ice sheets.
If the Flem-Aths and others are right that Plato's Atlantis is buried under the Antarctic ice, this gives us a means of estimating the devastation that would be caused by a crustal displacement of approximately 20 degrees. It would be sufficient to wipe out the coastal regions all over the globe such as the low-lying archipelagos such as Atlantis, but allow those living in elevated or mountainous regions to survive the subsequent tsunamis, earthquakes, and hurricanes accompanying a pole shift.
When ice core samples are examined in relation to what we know about Earth crustal displacement theories proposed by Hapgood and Thomas, they lead to a clear conclusion. The examination of ice core samples from different parts of Antarctica support Hapgood's theory that earth crustal displacements happen periodically, and involve Pole Shifts of up to 40 degrees.
The Flem Aths book, When the Sky Fell, gives us a means of tracking the most significant pole shifts over the last 100,000 thousand years, and illustrates how these have occurred in a manner that is consistent with what ice core samples tell us.
Thomas' theory that the Earth regularly experiences 90 degree pole shifts that flip the poles back and forth from equatorial regions is not supported by Antarctic ice core records. While it is comforting to know that the Earth is unlikely to experience anything like the cataclysmic 90 degree pole shift predicted by Thomas, it is sobering to know that even a 20 degree pole shift devastated the worldwide Atlantean civilization 11,600 years ago.
The likelihood that we will soon experience a pole shift due to another crustal displacement caused by solar activity, cosmic rays, collapse of the Earth's magnetic field, activity from the Earth's core, and/or a rapid melt off of the West Antarctic, appears to be quite high as I have suggested in previous articles examining Davidson's Earth Catastrophe series.
This calls for an unprecedented level of transparency by governments in sharing data about Antarctica's history, what is known about prior pole shifts, and the disclosure of suppressed technologies that would enable the bulk to humanity to prepare and escape from impending cataclysmic events.
© Michael E. Salla, Ph.D. Copyright Notice
Further Reading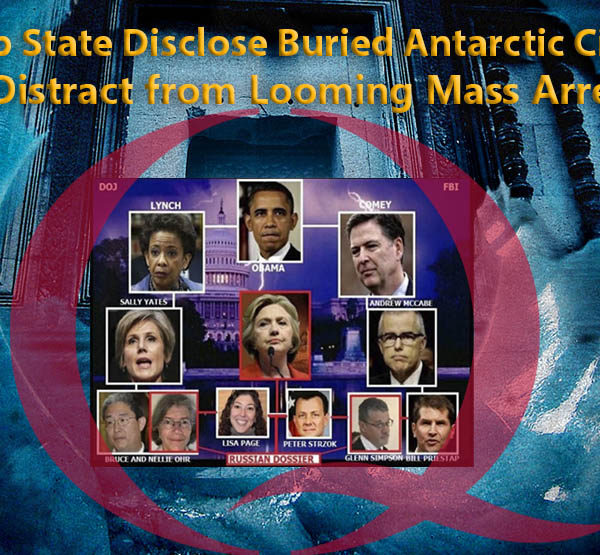 Multiple independent sources have claimed that the Deep State has authorized disclosure of a buried civilization in Antarctica as a means of distracting the mainstream media and general public from looming mass arrests, which will involve charges of subversion, child trafficking and a host of other serious crimes against compromised government officials according to the military intelligence group Q Anon.
A large Octagon shaped structure that is estimated to be 62 acres in size and buried under 50 feet of ice near the Beardsmore Glacier in West Antarctica appears to be the catalyst for such an announcement. Two whistleblowers, a Navy Seal and a US Marine Corps special operator, using the pseudonym Spartan 1 and Spartan 2 have emerged and shared their testimonies with veteran UFO researcher Linda Moulton Howe about the Octagon and the buried technological wonders of Antarctica.
Spartan 1 described entering the Octagon in 2003 to extract a scientist in a video released by Howe on January 23, 2018. Spartan 1's account of the ancient age and advanced technologies found in the structure, which had multiple layers stretching deep down into the two mile ice sheet was covered in an earlier article.
In the live streaming on February 20, where more of Spartan 1's testimony was released, he described how a submarine was used to travel from the coastline under the ice sheet to enter the structure at an entry point approximately two miles beneath the ice. This corroborates historic claims that submarines where initially used by Nazi Germany to travel from the Antarctic coast line deep under the ice sheets to establish hidden bases in naturally formed caverns since the early 1940's.
Howe also released the testimony of Spartan 2 who referred to Antarctica containing "wonders beyond what most can comprehend" with "ties to space and technology beyond belief". [Timestamp 22:06]
New York Times best-selling author David Wilcock released his own video of Howe's stunning interview with Spartan 1 and 2, which quickly amassed over 300,000 views by time of writing. After the release of his video, Wilcock was told by his insider sources that an official announcement about the Antarctic discovery had finally been authorized by the Deep State:
Additionally, just since this video went live, we have gotten additional briefings that the Deep State folks are apparently indeed moving forward with the plan to do the Antarctic Atlantis and undersea ruins disclosure in the near future. We heard for some time that they might do this when they are really in trouble, and that time is now.
In early 2017, secret space program insider Corey Goode says he was taken to Antarctica where he got to see first-hand the flash frozen civilization that had been discovered in Antarctica. Goode said that in 2002, scientists and archeologists were allowed to visit the buried artifacts and begin excavations and study the remains. This is consistent with what Spartan 1 later revealed about his August 2003 mission to go and retrieve a government scientist who had been earlier dropped off at the buried Octagon structure to study it.
Goode was the first to claim that the Antarctic ruins and excavations would be revealed in a partial disclosure initiative in order to distract the mass media from looming mass arrests and criminal cases involving Deep State officials:
The Partial Disclosure plan includes … The unveiling of ancient, high-tech ruins in Antarctica that have been newly excavated. This will prove that "Atlantis" was very real, and far more advanced than we thought….
The rapidly-escalating downfall of high-level elite human trafficking rings is bringing these issues to the immediate forefront. The Cabal has run out of time – and they know it.
For many years they have planned on using a partial disclosure to distract and inspire the public if the full nature of their crimes were to become known.
Another researcher with his own independent insider sources about recent discoveries in Antarctica is author Steve Quayle who told radio host, Dave Hodges about what his sources are telling him about an impending announcement, which was also a political deception contrived by the Deep State. Hodges announced in a February 22 video that:
… there is a great deception coming and it has to do with revelation about aliens, but it's not going to be a real revelation, it's going to be a fake revelation. There is going to be announced fossilized findings, geological findings that connect Antarctica to Mars… It's a political purpose, it's great deception…. I don't know when they are going to release this. Steve got a heads up that it's coming from inside sources.
In sum, Wilcock, Goode and Quayle all claim that an announcement about ruins discovered in Antarctica are impending, and that this is related to a political deception of some kind.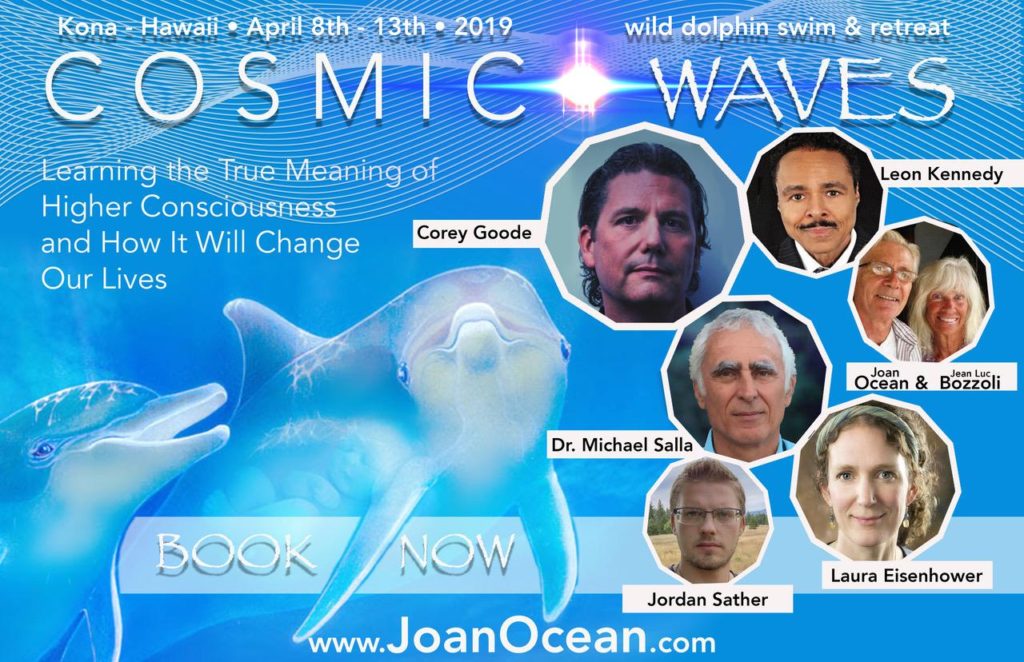 As to the question of why the time appears to have arrived for a political deception involving disclosure of discovered Antarctic ruins, we can turn to Q Anon who has described the great changes that are about to occur.
Q has posted (#2856) that once the Robert Mueller investigation delivers its report of alleged Russian subversion of the 2016 Presidential election, that many long-awaited events will occur:
DO NOT TRUST THE FAKE NEWS MEDIA.
YOU ARE THE MAJORITY.
MUELLER > DECLAS > OIG > TRUTH > JUSTICE
THE GREAT AWAKENING.
YOU ARE THE NEWS NOW.
Q
The Mueller Report is expected to open the door to declassification [DECLAS] of multiple documents including unredacted versions of the FISA applications based on the contrived Steele Dossier which was used to justify surveillance of the Trump Presidential campaign.
This will not only expose Deep State officials involved concocting an "insurance policy" in case Trump won the election, but will also expose the roles of Britain and Australia – not Russia – in subverting the outcome of the 2016 U.S. Presidential election.
Next in Q's sequence of predicted events is the release of the unedited original version of the June 14, 2018, Office of Inspector General (OIG) report on FBI and Department of Justice (DOJ) actions relating to the 2016 election.
The release of these and other documents will lay out the "Truth" about the Deep State's effort to subvert the 2016 election, and the criminal actions taken by compromised officials.  
This in turn will lead to the final stage in Q's predicted sequence of events, "Justice", which will involve the US Attorney for Utah, John Huber, moving forward with the release of up to 60,000 sealed indictments. This is expected to trigger the prosecution of thousands of former officials and Deep State figures involved in a variety of crimes including subversion, human trafficking, and pedophilia in both military and civilian courts.
In a February 18, post (#2803), Q outlined the ramifications of all the information about to be released to the public:
Q !!mG7VJxZNCI ID: 809f7f No.5257078
Feb 18 2019 23:25:17 (EST)
Look for 'Placeholder' updates @ /PatriotsFight
Indictments, arrests, and DECLAS will force WW coverage.
Leaks, bribery, collusion re: media will force resignations w/ follow up criminal prosecution.
Q
On February 26, as President Trump landed in Vietnam for a summit with North Korea's Kim Jung Un, Q posted [#2903] that the next 21 days were going to be historic:
It's going to be HISTORIC!
Planned long ago.
[-21]
Within the next 21 days BIG BIG BIG HAPPENINGS are going to take place.
Q
In conclusion, according to Q Anon, we are on the verge of witnessing the collapse of the Deep State's efforts to subvert the Trump administration, and the exposure of the criminal actions of many former FBI and DOJ officials in these efforts. In addition, the role of British and Australian Deep State officials in the subversion efforts will only serve to accentuate an anticipated world wide media frenzy over what is about to be revealed.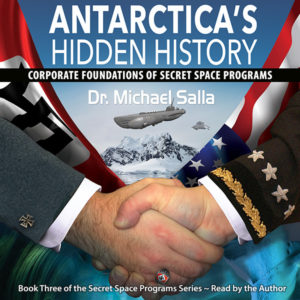 This is an overview of the political context by which we can now better understand why the Deep State has decided to move ahead with disclosure of the discovery of a long-buried civilization in Antarctica. Such announcements will help distract the mass media and the general public from what is about to be revealed in the coming criminal and military trials of former government officials who concocted an "insurance policy" to remove Trump from the Presidency.  
The simultaneous public emergence of two military insiders, Spartan 1 and 2, discussing technological wonders discovered in Antarctica, including a 62 acre Octagon shaped structure lying only fifty feet below the ice, raises the possibility that this may be among the first of the ancient artifacts about to be revealed by the Deep State.
While any official announcement concerning discovery of an advanced ancient civilization buried in Antarctica is to be welcomed, it's always important to be mindful of the political agenda behind such disclosures.  
© Michael E. Salla, Ph.D. Copyright Notice
Further Reading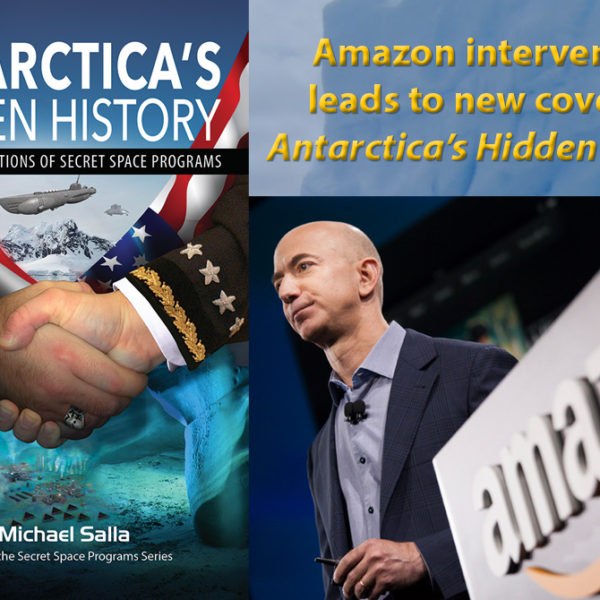 Antarctica's Hidden History: Corporate Foundations of Secret Space Programs was simultaneously released in the United States and Europe through Amazon.com on March 25, 2018. The cover illustrated a handshake between a U.S. military official, and a civilian wearing a Nazi ring and an Iron Cross cuff link. The respective flags of the United States and Nazi Germany appeared behind them. The book quickly attained No.1 best seller status in several Amazon book categories and has gained positive reviews.
On May 29, I received an email from Amazon stating: "During our review process, we found that your book's cover image contains content (i.e. Swastika) that is in violation of our content guidelines for Germany and may infringe German law." This led to the Kindle edition being immediately withdrawn from Amazon's German website.
A few hours later, I received a similar email from Createspace, an Amazon subsidiary, informing me that it was also withdrawing the paperback edition from the entire European market. This meant, for example, that potential readers in the United Kingdom could not purchase the paperback edition since the cover MAY violate German law.
I received legal assistance from Duke Brickhouse, J.D., an attorney in Virginia Beach, who worked for several years as a media attorney in Berlin, Germany. He pointed out the following in replies to Amazon and its subsidiary:
The German Code prohibits a swastika's use where it is used for propaganda.  The code section (1)(3) delineates an exception to this prohibition if it "serves to further civil enlightenment", "promotes… research or teaching", "reporting on… historical events", or "similar purposes". The book and the use of the swastika on the book's cover is in fact created for the purpose of civil and historical enlightenment, and not for the promotion of underlying Nazi propaganda intended to further the aims of the Nazi regime.
Amazon stood by its decision despite repeated attempts to have them reconsider on the basis that the book clearly fit the exemptions specified in the German legal code in the use of Nazi era insignia. Put simply, the book is legitimate historical research delineating the respective roles of Nazi and German nationalist groups in setting up a secret colony in Antarctica, and their respective post-World War II activities.
What makes Amazon's refusal to reconsider its position even more puzzling is that it does include books on its German site which prominently figure Swastikas. Here's four examples of books which are all currently available on the Amazon Germany website.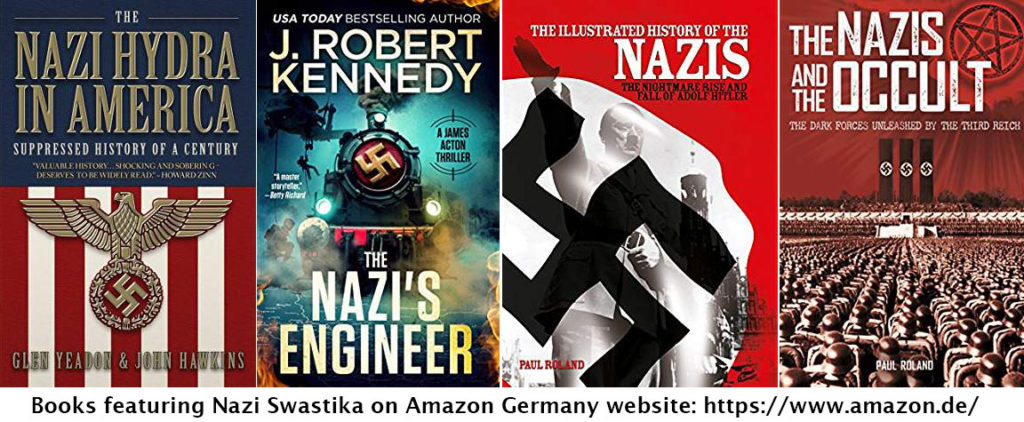 All this raises the question of whether Antarctica's Hidden History was being unfairly targeted; and if so, for what reason?
On February 11, 2018, I wrote an article that Amazon's founder Jeff Bezos traveled to Patagonia, Argentina on February 3, and along with the then U.S. Secretary of State, Rex Tillerson, allegedly negotiated with the Antarctic based Germans. The talks were held at the Patagonian city of San Carlos de Bariloche, with the purpose of reaching an agreement on future official disclosure of their secret space program.
In a future disclosure scenario, the Antarctic Germans would share their advanced space and healing technologies that would help revolutionize the planet. This would naturally require them revealing their historical evolution and cooperation with Hitler's Nazi party.
I analyze all of this in Antarctica's Hidden History, but the core idea is that the German breakaway colony in Antarctica was dominated by the German Navy, secret societies and nationalists, rather than Nazi Party ideologues.
As Nazi Germany's defenses crumbled before the allied military onslaught, Hitler demanded access to the superweapons that his regime had been promised by the Antarctic colony, which the Nazis had funded and materially supported since its inception.
The Antarctic German colony refused to hand over this advanced technology. Instead they chose a long-term strategy of secret negotiations with the U.S. and its allies from a position of strength, after their fleets of weaponized flying saucers were completed and ready for battle if necessary.
If there is a plan to officially disclose what remains of the German Antarctic Space Program, it would make sense that it would be very eager on disassociating itself historically from Hitler's Nazi Party, and the atrocities committed in Europe. I believe that Bezos has played a role in forging such a secret agreement, and perhaps this is a factor in Amazon's problem with the cover of Antarctica's Hidden History.
Consequently, a new cover was designed for the European edition of the book which is now markedly different to the U.S. edition. The swastikas are gone, and the old German Imperial Flag is included to highlight the Navy and nationalist elements, along with a skull and bones ring depicting the German secret societies, all of which were critical in the evolution of the Antarctic colony.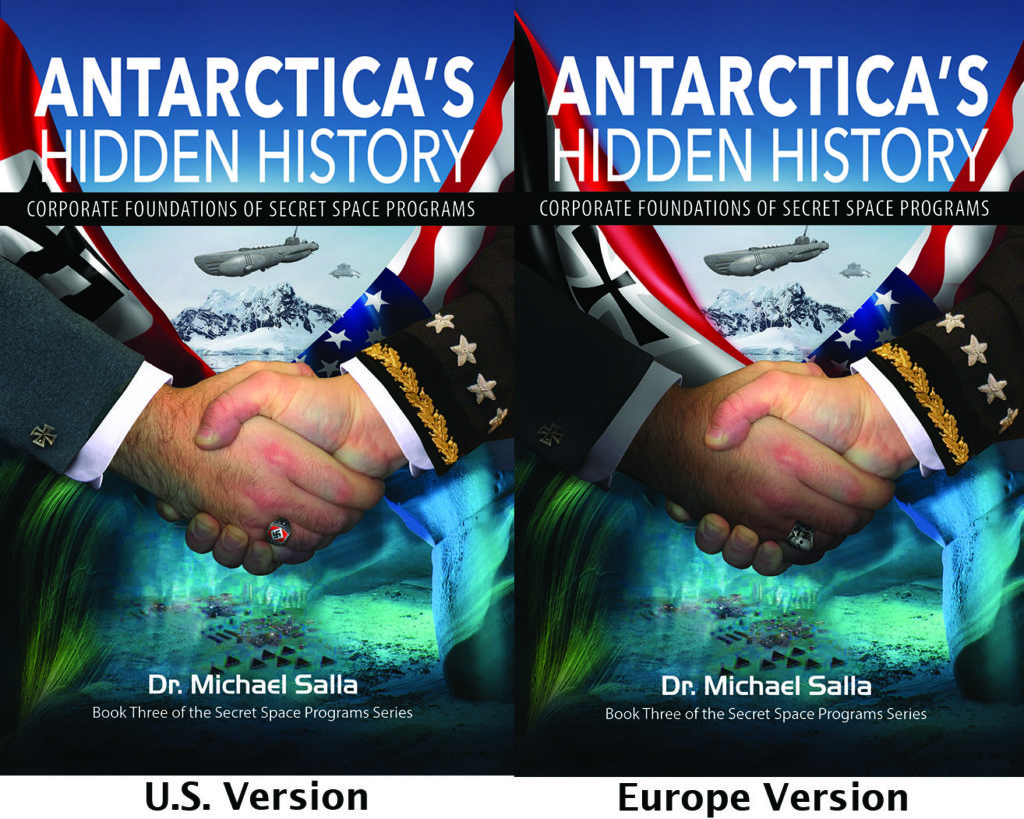 Despite the different covers, the content in the U.S. and European editions of Antarctica's Hidden History are identical. In it, the reader will learn about the history of Antarctica, and the role played by German nationalists who collaborated with the Nazi regime in establishing a breakaway colony there with advanced aerospace technologies.
Together with massive industrial capital being secretly dispersed around the globe prior to the collapse of Nazi Germany, the foundations were laid for creating a Fourth Reich. This shadowy entity has played an enormous role in secretly influencing global affairs ever since agreements were reached with the U.S. Presidential administration of Dwight D. Eisenhower.
After reviewing the historical evidence, documents and testimonies presented in Antarctica's Hidden History, the reader can judge for him/herself the historical connection between Hitler's Nazi Party and the German breakaway Antarctic colony. One thing is clear though, the "Fourth Reich" used Antarctica as a launching pad to establish a nefarious influence over European, U.S. and global institutions, which continues to the present day.
Michael E. Salla, Ph.D.
[Note: Antartica's Hidden History is available in the following formats and Amazon locations for English speaking countries: Kindle USA/Paperback USA/Paperback United Kingdom/Paperback Canada. Autographed copies are available at Exopolitics.org]
Further Reading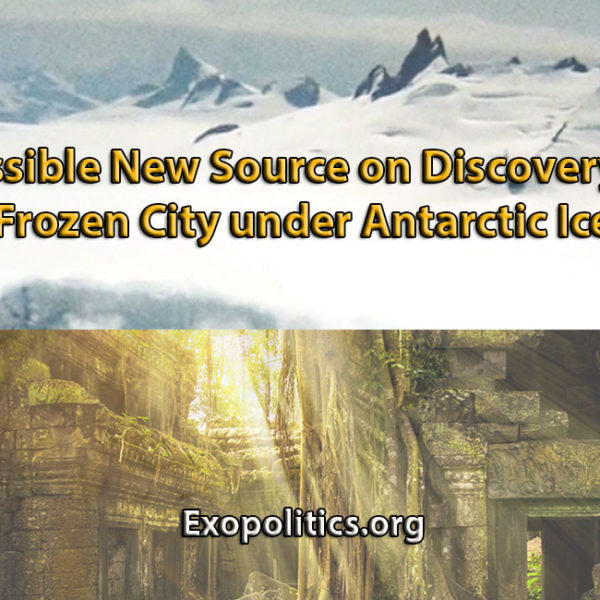 A possible new source has come forward with corroborating information about the discovery of a large frozen city two miles under the Antarctic ice, located roughly 16 miles from the geographic South Pole. The breakthrough to the city occurred in August 2016, according to this latest source, and it was visited a few months later by VIPs such as John Kerry and Buzz Aldrin.
On November 18th, the source's testimony was introduced in a video published by "Pete", host of the Creepy Little Book Youtube channel.  He says that he decided to go forward in releasing the information since he had found a new source five days ago who had corroborated information gleaned from previous sources about events in Antarctica.
In the comments section of his video, Pete says that his sources are from outside the United States, and are not connected to Corey Goode and David Wilcock. Furthermore, when it comes to his latest whistleblower, Pete affirms that he is "confident in the sincerity of the source of this information".
I recommend watching Pete's video first before continuing to read this article, which will analyze and connect key points of his testimony to other important information, and assess the reliability of Pete and his new source.
Using information given to him by his whistleblower sources, Pete begins by referring to the advanced technologies found in the frozen city:
This area is in fact an abandoned city like grouping of various structures that were created long ago with technology that far exceeds our current capabilities.

Among the first to refer to a lost under ice city discovery in Antarctica with advanced technologies is Corey Goode, who says he was taken there in January 2017 by an Inner Earth group of beings called the Anshar. Goode says that the most advanced technologies and evidence of extraterrestrial life are being removed prior to any public announcement about the frozen city.
Pete's sources refer to Lockheed Martin as the military contractor assigned to lead the excavations, while using legitimate science projects as a cover:
Beginning in 2011 Top Secret explorations and excavations were undertaken by the military contractor Lockheed Martin. With the magnitude and scale of this project defying description a legitimate cover story was created.
Legitimate science projects were created to hide the excavations with massive amounts of funding going to Lockheed in excess of 5 billion. Projects provided cover for thousands of military personnel on the continent despite the Antarctica Treaty.

Indeed, Lockheed was awarded the Antarctic Support Contract by the National Science Foundation in 2011 to provide logistical support for open source science projects. As the world's largest defense contractor, Lockheed is very adept in conducting Unacknowledged Special Access Programs whereby cover programs are used to hide compartmentalized projects.

Pete's sources describe the stringent security procedures in place for the secret Antarctic dig to the frozen city, thereby making it clearer why a major defense contractor like Lockheed was given responsibility for the excavation project.
When drilling reached only 300 meters from the site, which ground penetrating radar had previously pinpointed, according to Pete a significant number of injuries and deaths occurred. He describes a mysterious radiation that affected workers:
What was first thought to be some type of radiation which caused these casualties was later discovered to be something now known as nanowaves.
The only mention of nanowaves in open source scientific literature is a brief mention in the October 2011 edition of Science Direct, which refers to them as: "Unexpected undulations produced from deformed nanowires".

It's significant that this mention occurred in 2011, the same year that Lockheed began its covert drilling operations in Antarctica. 
It's also noteworthy that medical evacuations have indeed been reported in Antarctica over the years related to drilling projects. The earliest report dates back to June 2001 when up to 12 Raytheon employees were medically evacuated during a covert digging operation down to Lake Vostok, according to veteran researchers Richard Hoagland and Mike Bara.
[S]ome "Special Project" has, against all scientific and environmental prudence, indeed drilled through the ice into the Lake Vostok eco-system (clandestinely, of course). And, the participants have suddenly found themselves exposed to "something" for which their bodies literally have no immunity — something not extant in the rest of Earth's biosphere for between 13,000 and several million years! After the initial reports of "four emergency extractions," the number changed to five … and now twelve McMurdo personnel are supposedly in need of a dangerous, "emergency medical evacuation" well into the Antarctic winter season.
In June 2016, a National Science Foundation press release says that a Lockheed employee was medically evacuated in the midst of the Antarctic winter. While the plane used was quite small, it's possible that this was used as a cover for a larger evacuation process then underway.
According to Pete's sources, what had afflicted the employees of Lockheed Martin, and likely Raytheon back in 2001, was nanowaves being emitted from the frozen city. This led to major setbacks that proved to be very expensive for Lockheed:
This setback nearly bankrupted the project with cost overruns and safety issues that would have put Lockheed out of business. The financial burden for said cost over runs had to be shifted to the US Taxpayer. Due to the amount of people involved, Lockheed couldn't just pull out of the project, which led to the creation of the Lockheed subsidiary Leidos who was shoehorned into the project in 2015. … Lockheed was saved from financial collapse by shfting operations and all top level personnel to Leidos who received a $5 billion contract to take over from Lockheed who still remains involved in a diminished capacity.
Such massive funding would explain how Leidos, formerly Science Applications International Corporation, was able to purchase Lockheed's division dealing with Antarctica for $5 billion, as reported by the mainstream media.
Next, Pete's sources refer to "a no fly zone over the dig site which is located 14 miles from the geographic South Pole". This is significant since "Brian", a former Navy flight engineer, reports a no fly zone over a site near the geographic South Pole during a medevac mission back in the 1985/1986 Antarctic summer season.
Another unique issue with South Pole station is that our aircraft was not allowed to fly over a certain area designated 5 miles from the [Amundsen-Scott] station… The only thing we saw going over this camp was a very large hole going into the ice. You could fly one of our LC130 into this thing. It was after this medevac mission where we [were] briefed by some spooks (Intelligence Agents I presumed) from Washington DC and told not to speak of the area we overflew.

It is telling that both refer to no fly zones, however there is a discrepancy in terms of the distance from the geographic South Pole. Brian refers to 5 miles, while Pete's sources refer to 14 miles. While relatively close, this may mean we are referring to separate sites or entry points that have developed over a 30 year period.
Pete goes on to explain what he was told about the eventual breakthrough into the frozen city:
In August 2016, the dig crews breached ground zero. The name used to refer to the ground level of the city like structures which workers jokingly refer to as Atlantis…. The crews by this point were wearing special protective suits to safeguard against the illness. The illness induced by the nanowaves…. At ground zero no nanowaves have been detected but the workers still wear safety gear…. The access point from the top of the ice sheet down to the two miles depth of ground zero is an elevator shaft bored into the ice…. The city is said to be an amazing sight to behold and would likely contain a population between 10 and 15 thousand.
What's important here is that the breakthrough to the city happened in August 2016, yet the hole near the South Pole was first sighted in 1985/86, and appeared to be operational at the time of Brian's overflights as he described in his most recent interview with Linda Moulton Howe in November 2017.
According to Goode's sources, excavations of the frozen city began in 2002. This is consistent with information about the magnetic anomaly discovered near Lake Vostok in 2001, and the covert drilling operations which began there. 
Pete finally says that former Secretary John Kerry and Buzz Aldrin were taken to the frozen city, as well as a secondary site which is not known to most workers. He then describes part of what they likely saw:
I'm told to imagine the site as a massive city with as many buildings as a metropolis would contain, all devoid of life at least so far as we know. However, there are protocols in place if life is discovered in stasis or otherwise.

Pete has not disclosed the identity of his latest source, nor gone into detail about other sources he has relied upon to learn about Antarctica. He has provided no documentation or direct quotes from any of his sources. Nor has he explained the need for anonymity for any of them, other than referring to a vague warning he received about going public with this information.
At the moment, we only have Pete's confidence in his sources' credibility. While it's understandable for Pete to protect his sources by not giving away too many details about them, much more can be done to help the public understand why he is so confident in their information.
As far as Pete's own background is concerned, he has not provided any biographical information about himself. While he comes across in his videos as articulate and analytical, more can be done to present information that affirms his ability to vet confidential sources on a sensitive topic such as Antarctica,
In evaluating the information provided by Pete's sources, there are important consistencies with my own research into Antarctica that can be seen in this July 2017 workshop. This information also parallels some of the topics discussed in my upcoming book, tentatively titled: Antarctica: Corporation Foundations of Secret Space Programs (March 2018).
The sale of the Lockheed division handling the Antarctic Support Contract to Leidos in 2015/2016 does explain what appeared to be a puzzling corporate decision at the time. Pete's sources provided him a compelling explanation for why this occurred. 
Also, the reports of recent medical evacuations due to a mystery illness is consistent with earlier reports of a dig near Lake Vostok, which might be another buried city, or a related outpost that also involved medical evacuations.
There are some important differences as to when the breakthrough actually happened and excavations began of the frozen city. Goode suggested that this happened in 2002, while Pete's sources say 2016. It's possible that what Pete's sources are describing is the sanitized version of what Goode says he saw in early 2017, the excavations of which began in 2002.
Indeed, Goode warned that an effort would be made to manipulate scientists conducting excavations by removing evidence of extraterrestrial life and advanced technologies, and instead planting evidence from other archeological sites in an attempt to confuse.
Now, another interesting note, we do have these archaeologists and employees of various universities that are down there excavating and documenting all of this, but what they have done, they being the Cabal, I guess you'll say, they have used these large electromagnetic submarines that I discussed earlier to take a lot of archaeological items that they had found in other digs that they were keeping suppressed from humanity, they had them in huge warehouses.
They were taking some of these artifacts down to Antarctica and seeding them. And this one large dig that these archaeologists are going to make public.
They are also removing any body that does not look human. And a lot of the human bodies, they don't look like they were slaves. They have tunics that have gold thread weaved in the tunics. They look royal.
So they're planning on giving us a sanitized disclosure,
On the other hand, Pete suggests that there is a lot of disinformation out there on Antarctica, without explicitly referring to Goode and Wilcock. The implication is clear however since they have been most responsible for disseminating information about secret excavations in Antarctica over the last year.
Pete's reference to the discovery of an obelisk with Roman numerals in it at the Antarctica excavation site is a red flag and appears to be an example of the kind of manipulation Goode was warning against. One or more of Pete's sources therefore appears suspect either by having fallen for the manipulation, or being complicit in putting out disinformation.
Only by learning more details about Pete's sources can we gain greater clarity about what he was told, and whether there is an attempt to manage public perceptions about Antarctica by manipulating archeological evidence currently being excavated there in a sanitized disclosure initiative.
I have attempted to communicate with Pete and hope to learn more about his sources and evaluate their importance for understanding current operations in Antarctica. Based on the consistency in information he has presented with what I have independently found, there is cause for cautious optimism in the emergence of a possible new source of information about the impending disclosure of an ancient city discovered under two miles of ice.
© Michael E. Salla, Ph.D. Copyright Notice
[Note: I will be visiting Australia in early 2018 to present my research findings on Antarctica in Melbourne (Jan 7) and Sydney (Jan 14).]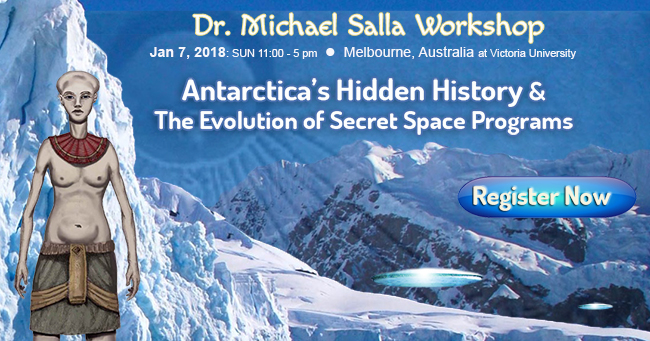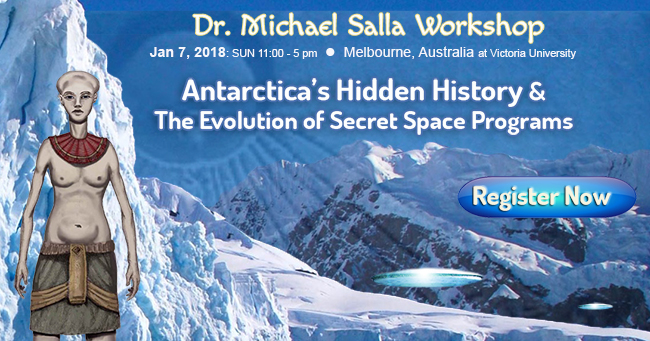 Further Reading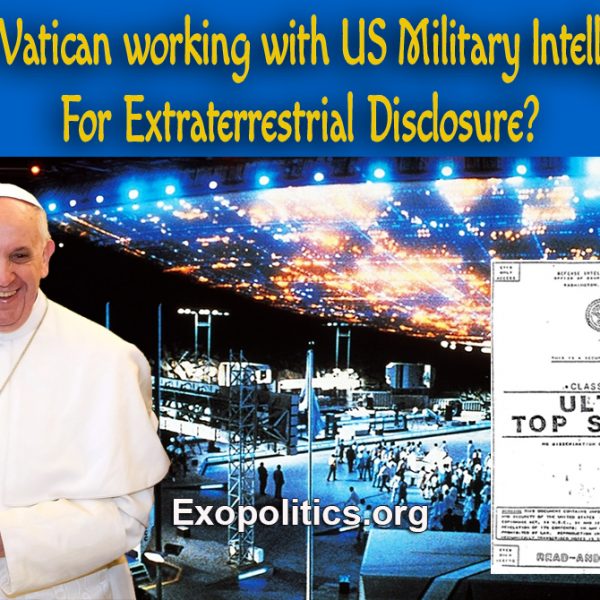 The role of the Vatican in official disclosure of the existence of extraterrestrial life has recently come into renewed focus with two related developments on June 14. The first is an interfaith initiative by multiple world religious leaders, including Pope Francis, to promote friendship and unity across diverse faith communities through a joint statement.
According secret space program whistleblower, Corey Goode, Pope Francis and other world leaders have been contacted by a group of four human-looking extraterrestrial civilizations that are encouraging them to unify as a prelude to the establishment of a new global religion.
The second development was the synchronistic June 14 release of an alleged Majestic-12 Document describing four groups of extraterrestrials known to the military intelligence community, including one that is human-looking and friendly. It states that formal diplomatic relations began with the human-looking group during the Eisenhower administration, and secretly continues to the present day.
When it comes to the role of the Vatican and extraterrestrial life, it is important to point out that the Catholic Church has long played a leading role in secret diplomatic relations with extraterrestrials, dating back at least from the post-World War II era. This has involved high-level cooperation with the U.S. military intelligence community.
In February 1954, Cardinal Francis MacIntyre represented the Catholic Church at the first official meeting with human-looking extraterrestrials [called "Etherians" at the time] that occurred at Edwards Air Force Base. The meeting was described at length by a leading metaphysical teacher at the time, Mead Layne, and is worth repeating in full:
My dear friends: I have just returned from Muroc [Edwards Air Force Base]. The report is true — devastatingly true! I made the journey in company with Franklin Allen of the Hearst papers and Edwin Nourse of Brookings Institute (Truman's erstwhile financial advisor) and Bishop MacIntyre of L.A. (confidential names for the present, please). When we were allowed to enter the restricted section (after about six hours in which we were checked on every possible item, event, incident and aspect of our personal and public lives), I had the distinct feeling that the world had come to an end with fantastic realism. For I have never seen so many human beings in a state of complete collapse and confusion, as they realized that their own world had indeed ended with such finality as to beggar description. The reality of the 'other plane' aeroforms is now and forever removed from the realms of speculation and made a rather painful part of the consciousness of every responsible scientific and political group. During my two days' visit I saw five separate and distinct types of aircraft being studied and handled by our Air Force officials — with the assistance and permission of the Etherians! I have no words to express my reactions. It has finally happened. It is now a matter of history. President Eisenhower, as you may already know, was spirited over to Muroc one night during his visit to Palm Springs recently. And it is my conviction that he will ignore the terrific conflict between the various 'authorities' and go directly to the people via radio and television — if the impasse continues much longer. From what I could gather, an official statement to the country is being prepared for delivery about the middle of May.

Unfortunately, the planned May 1954 disclosure never happened. It would become one of many possible extraterrestrial disclosure announcements that would come and go over the next decades, some of which involved the Vatican in a prominent role, as we will see.
In the United States, disclosure was firmly under the control of the national security establishment who did not view it as helpful to the national interest, which was viewed through the myopic lens of building bigger and more destructive weapons arsenals with the aid of major U.S. military contractors. It is highly doubtful that the Vatican shared these "hard power" goals, given its traditional focus on "soft power" in terms of associating the church with progressive ideas such as social justice, eradicating global poverty, religious tolerance, etc.
Secret diplomatic relations with extraterrestrials continued, according to the recently leaked Majestic 12 Assessment document. A follow-up meeting was held in July 1954, five months after the groundbreaking Edwards AFB meeting. It was here that Eisenhower allegedly established full diplomatic relations with the human-looking extraterrestrial visitors. The MJ-12 document states:
"In so far as no threat, either implied nor expressed and either of a military, civil or societal nature has been forwarded by the visitation of the association of visiting extraterrestrials against the governments and the peoples of these United States of America; and in so far as great and many cultural and technical advances have been derived by such exchange, we hereby grant full, complete diplomatic status and recognition to these individuals from beyond our world. Furthermore, let it be known that we seek to provide shelter, comfort and aid in all their peaceful endeavors so far as these are respective of the laws of our land and the right to self-determination and free will expressed in our national constitution. And until such time as the objectives or methods of either parties in this agreement shall deem otherwise, this bond between our peoples shall remain in effect." [p. E-5-of-6]
The preceding diplomatic treaty was drafted by the directorate of the MAJESTIC-12 operation and a joint committee of extra-terrestrial visitors and representatives of the U.S. Diplomatic Corps, as a statement of intent. It was ratified and signed at Kirtland Air Force Base, Texas on July the eighteenth, 1954 by President Dwight D. Eisenhower and an individual on the behalf of the EBE's. [p. E-6-of-6]
The Majestic document has multiple anomalies, security markings, spelling errors, etc., that has led many UFO researchers to dismiss it as a hoax. Nevertheless, the document has much in it that appears accurate from a historical perspective. This suggests that the document was intended to achieve a specific purpose by releasing factually accurate information together with anomalies that could lead to it being easily dismissed through plausible deniability.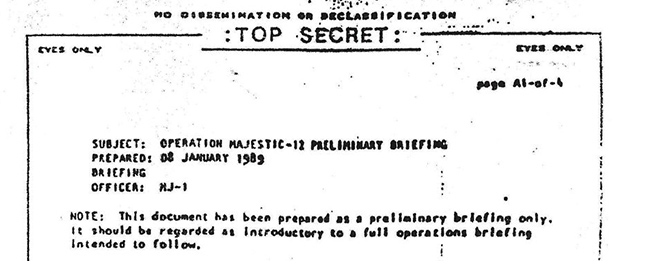 As to what this purpose of the Majestic document is, we need to consider the portion that reviews four types of extraterrestrial life known to the Defense Intelligence Agency in 1989, when the briefing document was allegedly prepared:
There are four basic types of EBEs so-far confirmed. And they are listed here in descending order of their influences on our planet.
A.      Earth-like humanoids. There are several variations more-or-less like ourselves. The majority of these are friendly and are the bulk of our EBE contacts. Most have a high degree of psychic ability and all use science and engineering of an advanced nature.
B.       Small humanoids or "Grays". The Grays, so–called for the hue of their skin possessed by most of this type, are a sort of drone…. They are mostly under the psychic control of the Earth-like humanoids who raise them like pets (or a kind of slave). Assuming the Greys are under benign control, they are harmless.
C.       Non-humaoid EBEs. …. Many of these are dangerous not for organized hostile intentions, but because such creatures do not hold human life as sacred…. Thus far, contact has been minimal with only a handful of unfortunate encounters.
D.      Transmorphic Entities. …. In essence these entities are composed of pure mind energies. … They are said (by other EBEs) to be capable of taking on any physical form that they "channel" their energy … as matter.
What is highly significant is that the document suggests that human-looking extraterrestrials are the most-friendly of the four extraterrestrial groups identified, and are therefore more reliable partners for diplomatic relations and long-term agreements.
The Vatican's history of diplomatic relations with extraterrestrials, conducted secretly while coordinating with the US military, also involved non-official channels. One of these included the famous contactee, George Adamski.
Adamski claims to have been a contactee with a "Nordic" human-looking extraterrestrial group. He regularly briefed Pentagon officials about his contacts that began in 1952. In addition, Adamski says he secretly met with Pope John XXIII in 1963. UFO Researchers such as Desmond Leslie have reviewed Adamski's claims in this regard, and found them to be factually correct.
Apparently, Adamski passed on messages and coordinated one or more secret meetings between Pope John XXIII and the Nordics who wished the Pope to promote a more tolerant and inclusive Catholic religion. This occurred simultaneously with the Pope convening the Second Vatican Council (1962-1965), which is widely acknowledged for modernizing the practice of Catholicism and bringing it into the 20th century.
It is important to keep in mind the significance of this scenario in terms of a reformist Pope being willing to fundamentally alter Catholic practices and theology, as a result of secret diplomatic relations with extraterrestrials.
Decades later, in February 2008, the Catholic Church allegedly played a prominent role in secret United Nations discussions about disclosing the reality of extraterrestrial life. It was claimed that as a result of these discussions, the Catholic Church would lead the way in promoting more openness on the issue of UFOs and extraterrestrial life.
This alleged development at the United Nations coincided with the head of the Vatican Astronomical Observatory, Father Gabriel Funes, giving an interview which was titled, "The Alien is my Brother", which was published by the Vatican's daily newspaper, L'Osservatore Romano on May 13, 2008.
While the existence of the secret UN discussions in 2008 continues to be hotly debated, the timing of the Funes' interview does make it plausible that these events did occur as independent whistleblowers claimed. What boosts the credibility of these whistleblower claims is Goode's recent comments that he was told by his sources that a disclosure initiative did indeed take place in 2008, and the Vatican was a key player.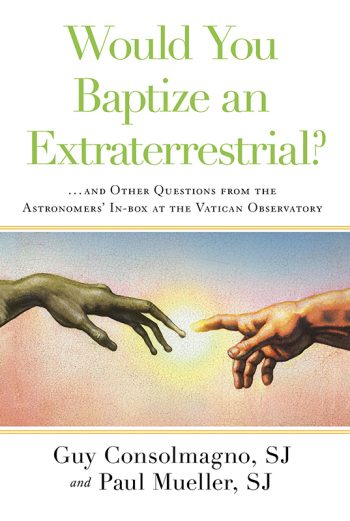 There have been many subsequent developments since 2008 where the Vatican has sponsored Astrobiology conferences, starting from 2009, on the scientific and social implications of extraterrestrial life. Vatican astronomers have also been very active in publicly exploring issues such as "can extraterrestrials be baptized" as exemplified in a 2014 book by Brother Guy Consolmagno titled, Would You Baptize an Extraterrestrial?
All these developments clearly point to the conclusion that prominent officials in the Vatican hierarchy have been laying the foundation for preparing Catholics around the world for startling revelations about extraterrestrial life, and major church reforms that will emerge as a result.
The unprecedented retirement of a sitting Pontiff, Pope Benedict XVI, who was part of a more hardline conservative Catholic Church faction, and his replacement on February 28, 2013 by the more liberal progressive Pope Francis I appears to be part of this covert preparation process.
On October 27, 2014, Pope Francis issued a statement where he referred to extraterrestrials, using the euphemism "beings of the universe", as playing a key role in God's evolutionary plan:
When we read in Genesis the account of creation, we risk imagining God as a magician, with a wand able to make everything. But it is not so…. He created beings and allowed them to develop according to the internal laws that he gave to each one, so that they were able to develop and to arrive at their fullness of being. He gave autonomy to the beings of the universe at the same time at which he assured them of his continuous presence, giving being to every reality. And so creation continued for centuries and centuries, millennia and millennia, until it became which we know today, precisely because God is not a demiurge or a magician, but the creator who gives being to all things. [emphasis added]
Here Pope Francis has laid the foundation for something previously unthinkable to occur in Catholic Church theology. Extraterrestrials may have acted as an intermediary in the evolution of humanity and therefore in the establishment of Christianity and other religious traditions.
This meant that ancient astronaut claims that extraterrestrial visitors had bio-engineered and/or helped human civilizations evolve since ancient times, were views that are now perfectly compatible with Catholic Church theology according to Pope Francis' statement on evolution.
Consequently, it is very feasible that the Vatican is secretly working behind the scenes with one or more extraterrestrial races in laying the groundwork for future disclosures that will facilitate the establishment of a global religion. This will introduce a cosmic perspective based on new information provided by the friendly human-looking extraterrestrials.
The Friendship and Unity statement may therefore be a very tangible prelude to a new global faith emerging in the near future. The almost simultaneous release of the alleged Majestic-12 document on June 14 is very significant in light of its clear endorsement of human-looking extraterrestrials as friends and diplomatic partners.
The timing of the release of the Majestic-12 document suggests a significant degree of "behind the scenes" cooperation between the U.S. military intelligence community and the Vatican in laying the foundation for disclosure and subsequent diplomatic relations with human looking extraterrestrials.
The prospect that Pope Francis and other religious leaders may be collaborating with extraterrestrial visitors to promote a new global religion has predictably led to much concern. Is this something to be welcomed or opposed? Are the extraterrestrials working behind the scenes with religious leaders to be trusted or not? Is this effort to establish a new global religion part of an officially sanctioned effort by the U.S. military intelligence community to disclose some, but not all, information about extraterrestrial life and secret space programs? All these questions are worth serious consideration.
To be continued.
© Michael E. Salla, Ph.D. Copyright Notice
[Update July 21, 2017 – Due to Facebook censorship through its comments plugin, I have installed Disqus which offers a more robust commenting system for readers – unfortunately, prior Facebook comments are no longer visible]
Further Reading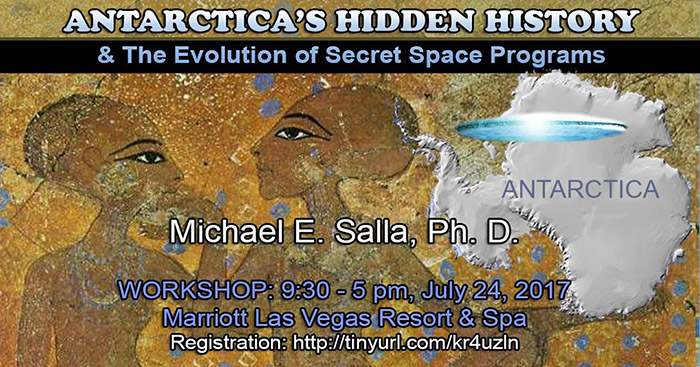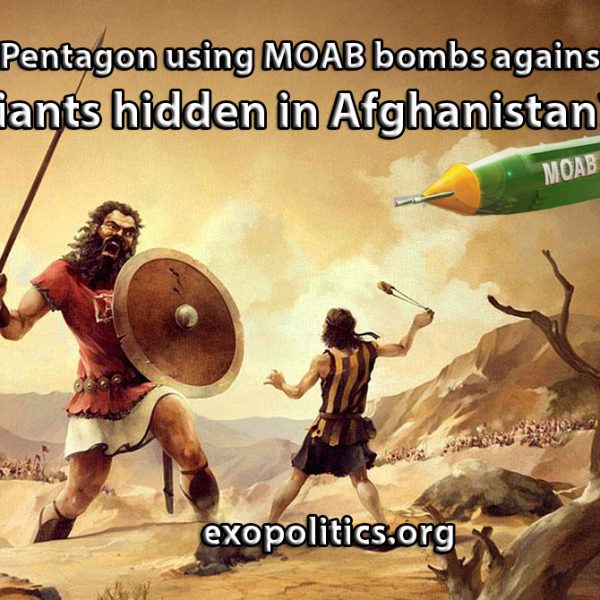 On April 12, the U.S. Air Force dropped the largest conventional bomb in the Pentagon's arsenal to flush out Islamic State terrorists according to official Pentagon reports. However, insider testimony suggests another reason for the use of the MOAB bomb. The undisclosed goal is to flush out, capture or destroy giants hiding in Afghanistan's ancient cavern system who possess technological secrets going back to the origins of human civilization.
The Massive Ordnance Air Blast Bomb (MOAB), aka "Mother Of All Bombs" contains 21,600 pounds of explosives and has a mile-long blast radius. The Intercept reported that the MOAB was not used by the Bush administration back in 2003 due to fears of collateral damage.

President Donald Trump appears to be living up to his pledge to "bomb the shit" out of ISIS. But is he? Are ISIS terrorists the real target or just a cover for an undisclosed enemy? A threat Trump may not have been briefed about, but one locked in the cross-hairs of the "Deep State" that is really behind the Pentagon attack.
A number of whistleblowers have come forward with stories of giants hiding in Afghanistan and other locations, where these giants are currently awakening from "stasis chambers" they have been asleep in for thousands of years.
Secret space program whistleblower, Corey Goode, was among the first to publicly disclose the existence of "stasis chambers" that have been holding perfectly preserved giants for millennia.
In an August 4, 2015 interview, Goode discussed how he had accessed information on "smart-glass pads" during his covert service about these sleeping giants and the technology of the stasis chambers that were preserving them. Goode said:
When I was in the program, the Secret Space Program, when I would have time to sit and look at the smart-glass pad, there was lots of information that I looked at. And one of them was that there were beings that they found underneath the surface of Earth, underneath…usually underneath mountains, burial mountains… Indian burial mounds that were not dead but weren't quite alive. They called them "stasis beings". And it turned out that had used a technology that had been there long prior, from this group they called the "ancient builder race"… So, it didn't put the beings in stasis that a lot of us would think of, as in being frozen. But it just changed the way they experienced time.… they would probably go to sleep for maybe 20 minutes, and 30,000 years or so would pass by.…
Goode described the size of the beings found in the stasis chambers:
And to look down in, they saw these very tall beings, or very large giant humans with reddish beards…. these tall, red-headed, red beard groups were in Europe and South and North America. And apparently, at one time, before the last Ice Age apparently, they had a very large area that they ruled.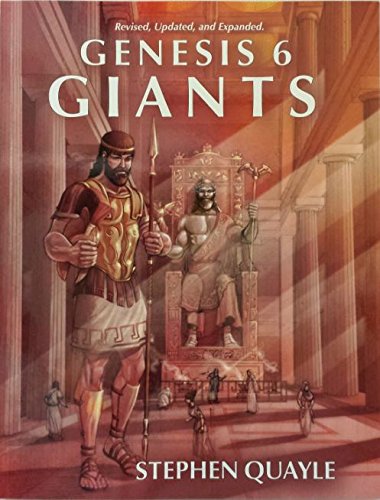 According to Stephen Quayle, who has written several books about giants, elite U.S. military forces have been stationed around the world, including Afghanistan, to locate the giants.  He cites elite military personnel who have spoken to him about battles with the giants.
During one of Quayle's radio interviews on Coast to Coast AM, one of his military informants called in and told the audience about an incident in Afghanistan involving a deadly encounter between a 12 foot giant and U.S. Special Forces. The informant claimed that the giant had killed nine members of an elite team sent to capture it, and it took a second team to arrive and finally kill the giant.
I have heard similar stories from another Special Forces operative stationed at McDill Air Force Base, who has served in Afghanistan and is knowledgeable about the secret war to capture or kill giants. I am presently encouraging the operative to come forward with his testimony through a third party.
Quayle uses biblical sources to support his analysis of giants and what they mean for humanity in the current era. Basically, he views them as the biblical "Nephilim", who are the offspring of "Fallen Angels" who interbred with humanity as mentioned in the Book of Genesis:
The Nephilim were on the earth in those days, and also afterward, when the sons of God came in to the daughters of man and they bore children to them. These were the mighty men who were of old, the men of renown. [Genesis 6:4]
There are multiple biblical passages that refer to giants [Nephilim] and the wars waged against them by the ancient Israelites.
So they brought to the people of Israel a bad report of the land that they had spied out, saying, "The land, through which we have gone to spy it out, is a land that devours its inhabitants, and all the people that we saw in it are of great height. And there we saw the Nephilim (the sons of Anak, who come from the Nephilim), and we seemed to ourselves like grasshoppers, and so we seemed to them." [Numbers 13:31-33]

The Nephilim/giants, according to Quayle, were predicted to re-emerge during the end times, and be restored to power by the corrupt global elite who maintain bloodline connections to the Fallen Angels.
In an earlier article, I described how the "Fallen Angels" described in the Bible were actually extraterrestrial refugees who established a colony in Antarctica approximately 60,000 years ago. The extraterrestrials, originally from Mars, established their Antarctica colony right over "ancient builder race" technology that is millions of years old according to Corey Goode.
The Fallen Angels/extraterrestrial refugees ["Pre-Adamites" according to Goode] established colonies all around the world, including the Middle East. They used genetic engineering to create hybrid off-spring, the Nephilim/giants, who were placed in positions of authority to rule as proxies for the alien refugees in Antarctica.
The ultimate source of power of the Nephilim/giants was the advanced extraterrestrial technologies possessed by their pro-genitors, the Fallen Angels/Martians/Pre-Adamites.
In a strange irony, perhaps intentional, the Bible refers to a tribe descended from Moab – son of Lot, who battled giants called the Emim. The Book of Deuteronomy says:
The Emim lived there formerly, a people as great, numerous, and tall as the Anakim. Like the Anakim, they are also regarded as Rephaim, but the Moabites call them Emim. The Horites formerly lived in Seir, but the sons of Esau [Moabites] dispossessed them and destroyed them from before them and settled in their place, just as Israel did to the land of their possession which the Lord gave to them.

In this passage, the descendants of Moab destroyed the giants in the land that the Moabites wanted to settle. Now, the Pentagon just used a bomb called MOAB, allegedly to destroy giants hiding in Afghanistan's cavern system, if Quayle and other sources are correct. This does not appear to be a mere coincidence.
In addition, the name ISIS refers to an ancient Egyptian Goddess widely worshipped throughout the Ancient Middle East as a benevolent entity. It would not be a stretch to view her as among the Fallen Angels/Extraterrestrial Refugees or Nephilim/giants that influenced human affairs through advanced technologies that made them appear god-like to humanity at the time.  
In an April 2016 article, I described at length that the motivations of the giants are far more complex than what biblical accounts suggest. Some of the giants, according to multiple sources cited in the article, were benevolent and not all bloodthirsty tyrants intent on subjugating humanity.
Isis may have been a benevolent giant or extraterrestrial refugee who had access to advanced technologies and wished to help humanity evolve in a positive direction. This suggests a hidden agenda behind the use of the acronym ISIS to describe Islamic fundamentalist groups behind global terrorism.
Are we currently repeating history where humans are attacking giants to gain control over territory and ancient knowledge? This appears to be the case in Afghanistan with the recent use of MOAB against alleged ISIS terrorists.
If my analysis is correct, then what we are witnessing in the Middle East in terms of the war against ISIS terrorists, is a cover for a covert war against giants, some of whom are followers of the ancient goddess ISIS.
The April 6 Pentagon strikes against Syria might also be part of this covert war being waged against giants. On the border between Syria and Lebanon lies Mt Hermon, which was described as the main base of operations of the Fallen Angels/Extraterrestrial refugees.
And it came to pass, when the sons of men had increased, that in those days there were born to them fair and beautiful daughters. And the Angels, the sons of Heaven, saw them and desired them. And they said to one another: "Come, let us choose for ourselves wives, from the children of men, and let us beget, for ourselves, children." … And they were, in all, two hundred and they came down on Ardis, which is the summit of Mount Hermon. And they called the mountain Hermon because on it they swore and bound one another with curses. [Source]
Mt Hermon is where the Nephilim had their center of power for the Middle East, and where presumably much of their advanced technologies were hidden.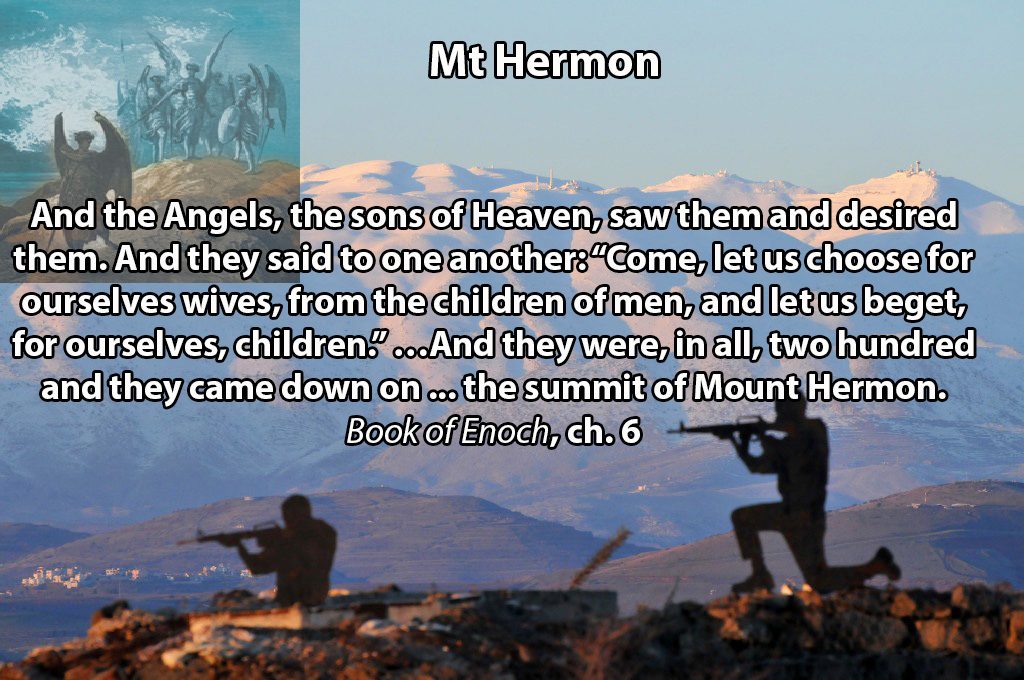 Consequently, the renewed push for the U.S. to enter the Syrian Civil War is not driven by humanitarian concerns at all, as claimed by President Trump. Instead, the real goal is for U.S. military forces to enter Syria and locate the ancient bases used by the Fallen Angels/giants, and gain control over the extraterrestrial technologies that are hidden there.
Clearly, the surge of U.S. military activities in Afghanistan and Syria is a matter of great global concern due to the loss of innocent life. What adds to such concern is evidence that giants, some of whom may be benevolent, are being secretly targeted for capture or destruction.
The information that giants have about ancient human civilizations, advanced technologies and extraterrestrial life deserves to be publicly released as soon as possible, and not withheld to further the interest of the US military and global elites who seek to monopolize information possessed by giants for their own hidden agendas.
© Michael E. Salla, Ph.D. Copyright Notice
Further Reading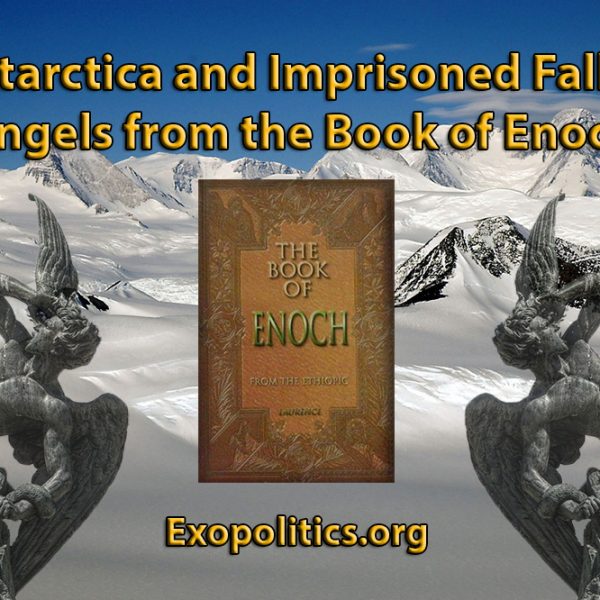 On March 14, Israeli News Live published a provocative story titled "The Fallen Angels Imprisoned in Antarctica and are still Alive." The commentator, Steven Ben-Nun, analyzed the apocryphal Book of Enoch, which describes the experiences of Enoch, a pre-deluvian biblical figure, who was taken into the heavens to witness and play a key role in a major celestial conflict.
Enoch became the principal intermediary between two sides of the conflict between the "Fallen Angels", and the "Righteous Angels" serving an all knowing deity referred to as "the Lord". There were multiple issues in the conflict such as Fallen Angels interbreeding and/or performing genetic experiments with humanity, and passing on forbidden knowledge and technologies to the still developing human civilization.
The Book of Enoch begins with the arrival of 200 Fallen Angels in the area of Mount Hermon, which borders modern-day Lebanon and Syria. The Fallen Angels began interbreeding and/or genetically modifying the local inhabitants.
6.1 And it came to pass, when the sons of men had increased, that in those days there were born to them fair and beautiful daughters.
6.2 And the Angels, the sons of Heaven, saw them and desired them. And they said to one another: "Come, let us choose for ourselves wives, from the children of men, and let us beget, for ourselves, children." …
6.6 And they were, in all, two hundred and they came down on Ardis, which is the summit of Mount Hermon. And they called the mountain Hermon because on it they swore and bound one another with curses. [Source]

While the Fallen Angels had established an outpost on Mt Hermon, it was Antarctica that they would be removed to ultimately after losing the heavenly battle with the righteous angels, according to Ben-Nun's analysis of the Book of Enoch.
Ben-Nun cites passages from the Book of Enoch which are very suggestive of Antarctica as indeed the location where Enoch was taken to witness celestial events:
18.5 And I saw the winds on the Earth which support the clouds and I saw the paths of the Angels. I saw at the end of the Earth; the firmament of Heaven above.
18.6 And I went towards the south, and it was burning day and night, where there were seven mountains of precious stones, three towards the east and three towards the south.
18.7 And those towards the east were of coloured stone, and one was of pearl, and one of healing stone; and those towards the south, of red stone.
18.8 And the middle one reached to Heaven, like the throne of the Lord, of stibium, and the top of the throne was of sapphire.
What's interesting in the above passage is that Enoch refers to a location that "was burning day and night". Ben-Nun believes that this fits the description of Antarctica during the Southern Hemisphere summer season when there is 24 hour sunlight.
Regarding the seven mountains, this appears to refer to Mt Vinson in the Sentinel Range of Antarctica, according to Ben-Nun. He also refers to six nearby mountains in the range that might qualify as the mountains described in the Book of Enoch.
Mt Vinson is the highest mountain in Antarctica, and is located towards the middle of the Sentinel Range. It would have stood out just as spectacularly with its snowcapped peaks in ancient times, as it does today.
Regarding the southern and eastern alignment of the six adjacent mountains to Mt Vinson described in the Book of Enoch, Ben-Nun speculates that this was their alignment prior to the catastrophic flood event, which coincided with a shifting of the Earth's axis of rotation.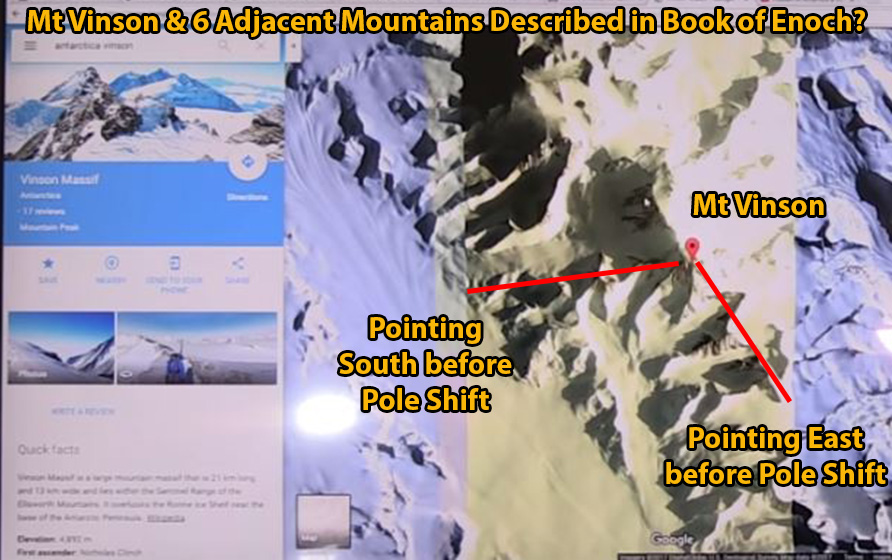 This corresponds to the research conducted by Sir Charles Hapgood who asserts that pole shifts have been a regular occurrence in Earth's history. In his 1958 book, Earth's Shifting Crust, Hapgood proposes that a pole shift had happened at the end of the last ice age, about 11,000 BC.
Ben-Nun's conjecture is interesting, but as one can see from the map showing the Sentinel Range where Mt Vinson is situated, there are far more than seven mountains in the range. Ben-Nun's conjecture is not conclusive as he himself points out. Nevertheless, he gives us a possible location of the imprisoned Fallen Angels, Mt Vinson and/or six other mountains in the Sentinel Range.
Ben-Nun goes on to discuss the Book of Enoch and its reference to imprisoned Fallen Angels that were removed from Mt Hermon to Antarctica (Mt Vinson/Sentinel Range):
18.14  And  like  a  spirit  questioning  me,  the Angel said:  "This is the place of the end  of  Heaven  and  Earth;  this  is  the  prison  for  the  Stars  of  Heaven  and  the  Host of Heaven.
18.15  And  the  stars  which  roll  over  the  fire,     these     are     the     ones     which transgressed  the  command  of  the  Lord,  from   the   beginning   of   their   rising, because  they  did  not  come  out  at  their  proper times.
18.16 And He was angry with them, and bound   them   until   the   time   of   the  consummation  of  their  sin,  in  the  Year  of Mystery."

Ben-Nun's reference to the Fallen Angels still being alive in their Antarctica prison raises an intriguing possibility. The Book of Enoch describes a future "Year of Mystery" when they are liberated. Is this an event we will shortly witness?

For an answer, we can begin by analyzing some intriguing parallels between Ben-Nun's analysis of the Book of Enoch, and the recent disclosures of secret space program whistleblower Corey Goode concerning Antarctica.
Like the pre-deluvian biblical figure Enoch, Goode says he has also been taken to witness celestial events by a recently arrived group of highly evolved extraterrestrials called the "Sphere Being Alliance". Like Enoch, Goode has also been asked to act as an intermediary for both sides in a "heavenly" or solar system-wide conflict.
Goode said this began in March 2015 when he accepted the role as the delegate for the Sphere Being Alliance in on-going negotiations between different factions and groups from both Earth and off-world civilizations. 

Goode said that he has been taken to Antarctica twice to witness events. The most recent in January 2017 involved him viewing the remains of a Pre-Adamite civilization that had flourished until a major global catastrophe corresponding with the great flood that destroyed coastal cities and low-lying land all over the world around 12-13 thousand years ago.
Goode said that the Pre-Adamites survived by entering stasis chambers in the largest of three miles long motherships that crash landed on Earth around 60,000 years ago, after the pre-Adamites were expelled from the Moon due to a conflict with the dominant extraterrestrial factions there.
The Pre-Adamites set up their major base of operations in Antarctica, and established outposts in Asia, Europe and the Americas, according to Goode. Conflict soon emerged between the Pre-Adamites and other human-looking extraterrestrial groups, who had been conducting 22 genetic experiments with surface humanity for nearly 500,000 years.
This is where Goode's historical account resonates with Ben-Nun's analysis of the Book of Enoch. Goode's Pre-Adamites appear to be the same "Fallen Angels" described in Book of Enoch in terms of their interbreeding and/or genetic experiments with the local human population.
In the case of the Mt Hermon landing of the 200 Fallen Angels, this is consistent with Goode's claim that the Pre-Adamites established colonies all over the Earth where they genetically altered the local humans and installed hybrids into leadership positions.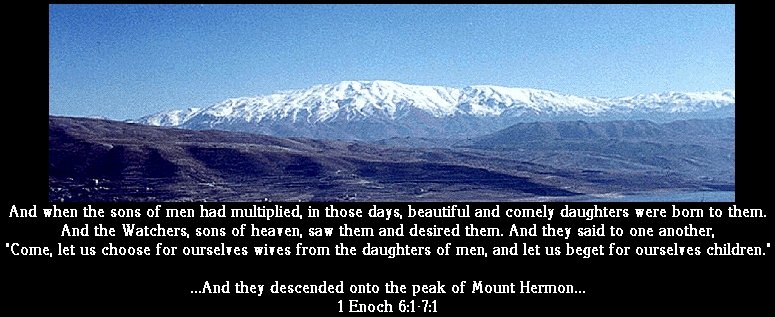 Regarding the Righteous Angels described in the Book of Enoch, these appeared to be the extraterrestrial groups that had been conducting 22 long term genetic experiments which were being interfered with by the Pre-Adamites.
The Sphere Being Alliance, insofar as they have leveled the playing field for constructive negotiations between different space programs and extraterrestrial factions, the modern-day Fallen and Righteous Angels, appear to be playing a similar role to the all knowing Lord mentioned in the Book of Enoch.
Ben-Nun's analysis that the Fallen Angels were imprisoned in Antarctica, and are still alive, corresponds with Goode's claim that the Pre-Adamites are in statis-chambers on one of their massive Motherships buried deep below the Antarctic Ice Shelf.
Finally, Goode has revealed that excavations in Antarctica are underway, and that the stasis chambers containing the pre-Adamites have been found. The hybrid descendants of the Pre-Adamites, which are among the elite bloodline families that secretly have ruled humanity, are eager to gain access to the stasis chambers and to reawaken their ancient ancestors.
The goal of doing so appears to be to have the Pre-Adamites re-assume once again their former dominance in planetary affairs, thereby allowing their hybrid off-spring to step out of the shadows and directly rule over humanity. This suggests that the "Year of Mystery" mentioned in the Book of Enoch, when the "Fallen Angels" are liberated, may be very close.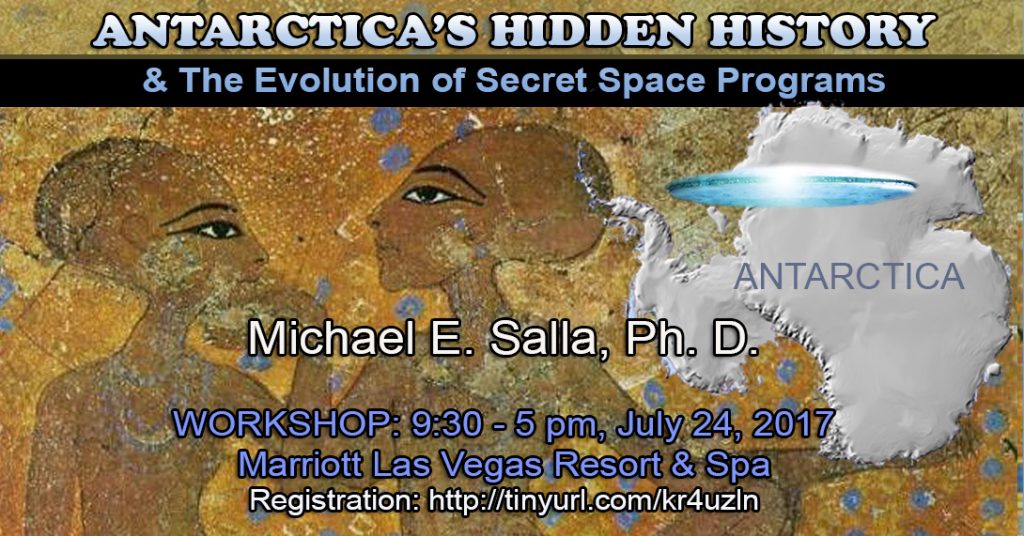 All this leads to an intriguing question. Is Goode himself a modern-day Enoch being given key roles in witnessing and mediating between different human and extraterrestrial factions as the delegate of the Sphere Being Alliance, which appears to be functionally identical to the all-knowing deity described in the Book of Enoch? If so, this would suggest that Enoch himself was an extraterrestrial contactee of the Sphere Being Alliance or a similar group, 13,000 years ago.

If the Pre-Adamites/Fallen Angels are awakened/liberated, then there will certainly be a need to deal with them and their hybrid off-spring about what roles they are to play as humanity awakens to the truth of its history, and manipulation by multiple extraterrestrial groups and elite bloodline families.
© Michael E. Salla, Ph.D. Copyright Notice 
Further Reading