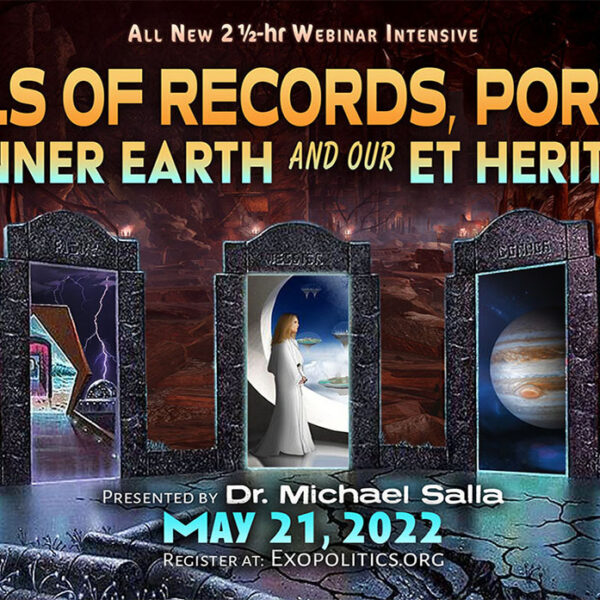 The Storm is upon us. The Deep State is playing its big cards in a final desperate gamble to distract people from the incredible future awaiting us. Food shortages, soaring gas and energy prices, baby food disappearing from shopping shelves, waves of new refugees/illegal immigrants, a new crisis in the US over the abortion issue, all these and other issues are being used to get us to focus on survival as our solar system enters a region of the galaxy which empowers our innate genetic ability to manifest our loftiest desires or deepest fears through our attention—where attention goes, energy flows.
The Deep State comprises high level Freemasons, black magicians, secret societies, Jesuits, and their extraterrestrial allies, who are experts in the art of mass distraction and division. These groups have for centuries played the rest of humanity as fools and steered us into one needless crisis after another. The Ukraine war is the latest example where two peoples united by a shared history, culture, ethnicity, and religion are fighting over national security issues which in normal times would be speedily resolved by diplomatic means.
What's the Deep State's end game here? In addition to preventing us from manifesting a positive future, it is to distract us from benevolent extraterrestrial visitors who have recently arrived in our solar system to help bring about the great awakening that is our destiny. Many of the visitors are "Seeders Races" who played critical roles in establishing civilizations on Earth stretching far back into remote history. They are here to unveil the ancient wisdom and technologies that have been hidden in Halls of Records for millennia waiting for humanity to ready itself. In addition, there are the Inner Earth civilizations, survivors of great historic cataclysms who have been waiting for us so that they can openly reveal themselves and share their incredible wisdom and technologies.
These ancient Halls of Records, inner Earth civilizations, and space arks, are connected through an elaborate system of space-time portals enabling instantaneous travel for those that have the attained a specific level of consciousness, genetic markers, and love frequency.
In my upcoming May 21 webinar I will give attendees a grand tour of different Halls of Records, portals, and inner Earth civilizations that have been revealed by multiple reliable sources over the last century. I'll also explain how knowledge of these has been systematically controlled and repressed, and the occult organization most responsible for doing so.
Attending my webinar will be a great way to prepare yourself for the deep mysteries about to be unveiled. An astonishing future awaits us. All we need to do is steer our attention towards reclaiming our lost history and galactic connections, and accept the aid of powerful friends wanting to help us achieve our fullest potential as a species.
Michael Salla, Ph.D.
Watch on Vimeo – May 24, 2022
Watch Official Webinar Trailer/Short Film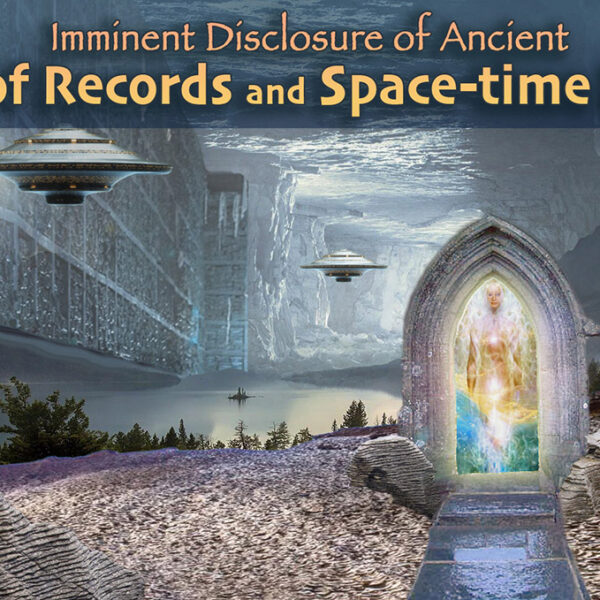 This is the official trailer/short film for the "Halls of Records, Portals, Inner Earth & our ET Heritage" webinar to be held on May 21, 2022. Covers history of Halls of Records & Space Time Portals, the main human organization responsible for covering these up throughout history, and the roles of Inner Earth civilizations and extraterrestrial seeders in protecting and disclosing this ancient information to humanity when the time was right.
Available on YouTube and Rumble
Heartfelt thanks to my incredibly talented wife, Angelika Whitecliff, for her many days of work in creating this video and assisting with its narration.

Michael Salla, Ph.D.
More Webinar information is here

---
Past Webinars Now Available on Vimeo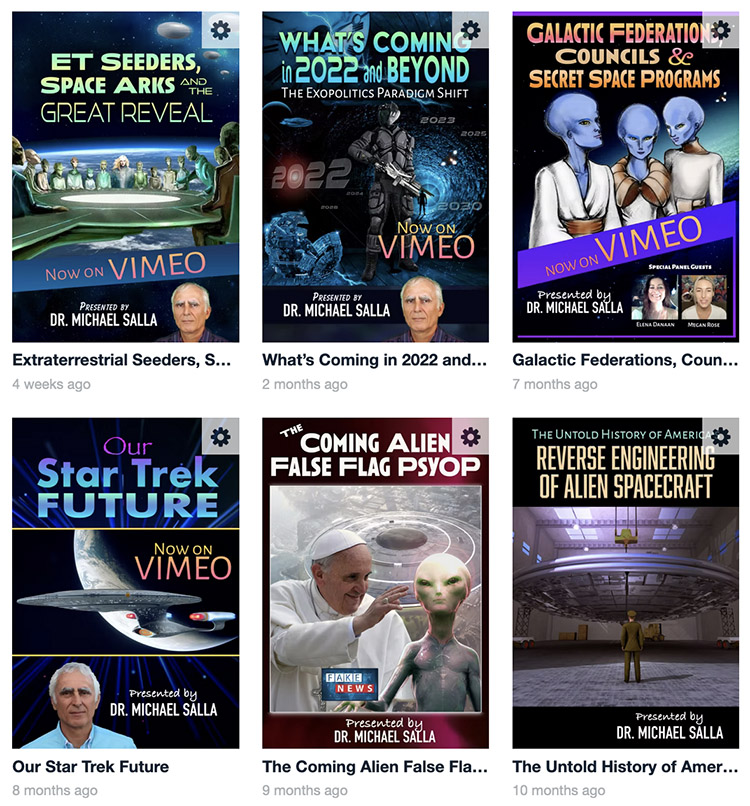 In 2008, the Svalbard Global Seed Vault was built by tunneling nearly 500 feet into the side of a Norwegian archipelago mountain located in the Arctic Ocean. Known as the "doomsday vault", it is meant to ensure humanity has a chance to reseed after a catastrophic worldwide event. Other similar repositories exist today underground storing books, historical and scientific data, and much more. However, we are not the first civilization to store our knowledge in case colossal disaster strikes.
Many historical sources cite "Halls of Records" that were created by ancient civilizations to preserve their most advanced technologies and records prior to cataclysmic Earth changes. In addition to their long forgotten contents, these ubiquitous Halls of Records are interconnected through advanced space-time portals and act as gateways to mysterious Inner Earth civilizations who are the custodians of our true ancient wisdom.
Extraterrestrial civilizations have played crucial roles in helping to create, protect, and keep secret these ancient Halls of Records for a time when surface humanity would be once again ready to understand and gain access to these secrets, and peacefully reunite with our Inner Earth brethren.
Today, awakening starseeds are critical to the fulfillment of this long-term project. However, many still do not consciously realize the energy, light codes, and abilities they carry within to assist humanity as global events reach a crescendo. Comprehending our ET heritage begins with individuals recognizing and accepting the reality of their own star lineages to bridge humankind back to our ET family. Simultaneously, starseeds will activate ancient technologies, step up as healers, pilots, architects, and visionaries, all to help skillfully guide us to rejoin our galactic community.
In this all new 2.5-hour webinar with Q & A, Dr. Michael Salla will present an impressive array of historical sources, ancient records, and riveting witness testimony detailing ancient Halls of Records, how Portal's work and who can use them, the latest from the Inner Earth, how starseeds can open up more fully to their own unique potentials, and finally, startling revelations about humanity's extraterrestrial heritage.
Watch on Vimeo – May 24, 2022
Watch Official Webinar Trailer/Short Film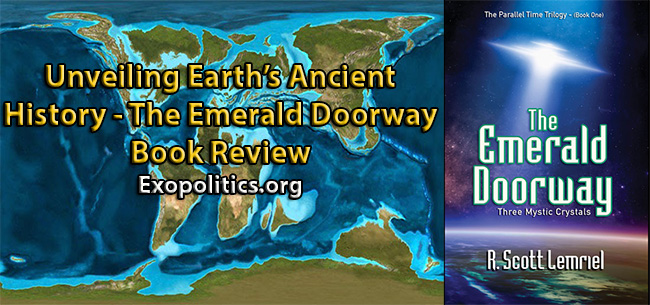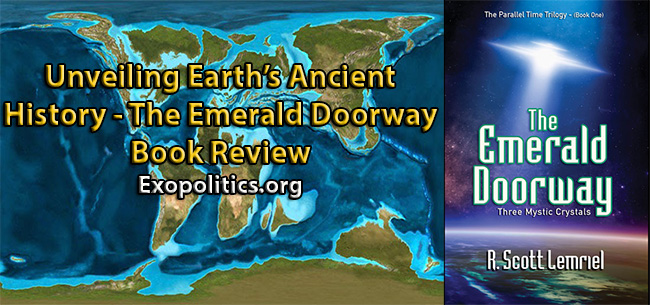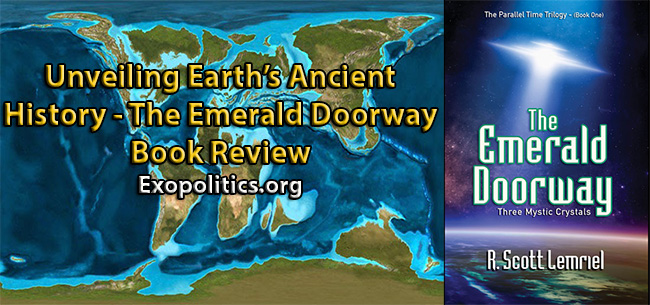 Scott Lemriel's latest book, The Emerald Doorway: Three Mystic Crystals is a fiction based on fact exploration of Earth's ancient history. Lemriel claims he has had extraterrestrial contact, out of body of experiences and telepathic communications with a number of higher dimensional beings who have provided him with information about exopolitical events dating from the distant past to the present. He has used this information as the factual backdrop for what reads as a highly entertaining Sci-Fi novel.
Lemriel begins his novel with a four star U.S. Air Force General, who is also the President's National Security Advisor, flying over the Bermuda triangle in a 747 passenger jet, which is nearly shot down by a spacecraft piloted by a hostile alien. The General is rescued by another group of aliens, and he demands answers to what had just happened.
The General subsequently meets with the same friendly aliens who take him through a hidden doorway at Mount Shasta to a parallel time dimension. The General is the introduced to advanced psychic technologies by a mysterious "Adept of the Ancient One," which allows him to holographically experience historical events to find his answers.
The General learns of the role of the hostile alien who 100,000 years ago came into possession of a powerful crystal which he used to hypnotically control others in his search for two more crystals that would give him absolute power. In his quest for power, the hostile alien foments galactic warfare, and brings about the destruction of the planet Maldek, whose remains form the current asteroid belt.
The alien also attempts to foment war between Atlantis and its mother colony, Lemuria, 100,000 years ago. However, a pole shift occurs that leads to the almost complete destruction of the Lemurian and Atlantean civilizations. The only survivors are those residing at an Atlantean outpost on an extinct volcano, and individuals who in the final moments before the cataclysm were able to ascend into a parallel time dimension.
As a result of the chaotic energies unleashed through the ancient pole shift, the hostile alien time travels 100,000 years into the Earth's present history. The story ends with the General learning about the nefarious alien's plans to create havoc on Earth, and he travels to Washington DC to warn the President. We will learn what happens in two future books that Lemriel plans to write to complete his trilogy.
Lemriel is a gifted writer and has produced a gripping story, which provides the reader with much historical information that may be substantially based on fact. Lemriel's extraterrestrial and higher dimensional contacts, which include the Seres that he described in his previous book, The Seres Agenda, have provided him with tantalizing historical information.
Click here for Part 2 of Video
The Emerald Doorway's version of Earth and Galactic history is entirely plausible, though the fiction based on fact writing style makes it very difficult to compare it with other accounts of humanity's ancient relationship with interstellar visitors.
For example, secret space program whistleblower Corey Goode, has revealed that he learned on "smart glass pads" he had access to during his 20 year covert service (1987 -2007) that human civilizations on Earth go back as far as 18 million years, and that major cataclysms have indeed wiped out entire civilizations on the surface, and survivors have escaped into Inner Earth locations.
Goode claims that he recently met with representatives of seven ancient civilizations in ongoing negotiations between them and a secret space program alliance. Could any of these seven civilizations be related to ancient Lemurian and Atlantean survivors from a major cataclysm approximately 100,000 years ago?  
Could the parallel time dimensions described by Lemriel, correspond to the inner Earth caverns where futuristic civilizations exist according to Goode? Finally, are the mysterious Adepts described by Lemriel, related to these ancient "Inner Earth" civilizations in some way? According to Goode, the Inner Earth beings are masters of remotely influencing surface humanity by telepathic communication to promote their own agendas.

To be fair to Lemriel, the comparison of historical information is not the chief purpose in writing his book. His goal is one of producing a highly entertaining novel that is a primer for those not yet ready to accept controversial information from whistleblowers and contactees about ancient historical events on Earth, galactic politics and its relevance to contemporary global affairs. In that sense, Lemriel's book succeeds admirably, and is a suitable gift for even the most ardent skeptic who will appreciate a good story.
The Emerald Doorway is available at Amazon. For further information visit Scott Lemriel's Website
© Michael E. Salla, Ph.D. Copyright Notice
This article is copyright © and should not be added in its entirety on other websites or email lists. Permission is granted to include an extract (e.g., introductory paragraph) of this article on website or email lists with a link to the original.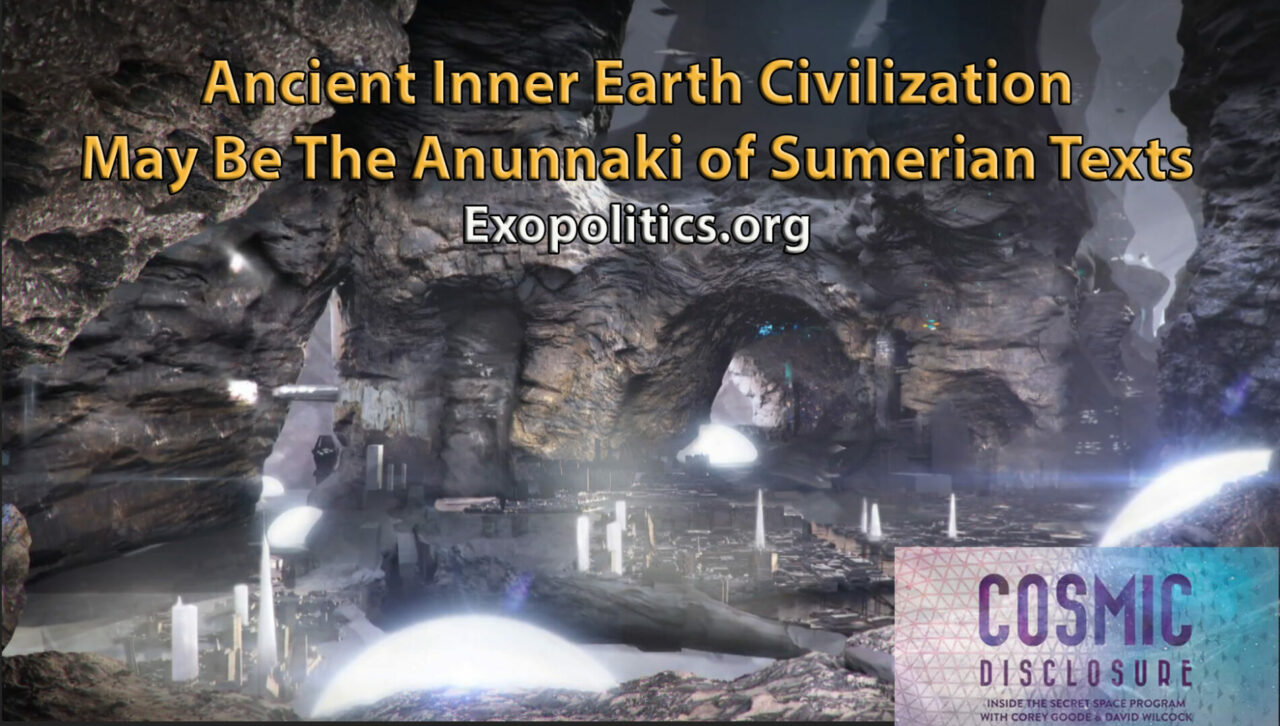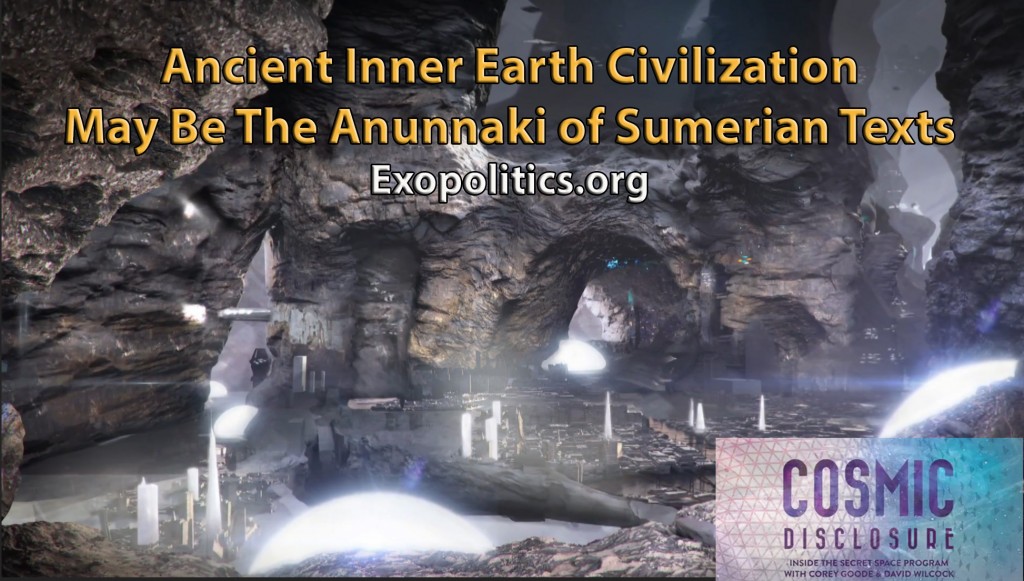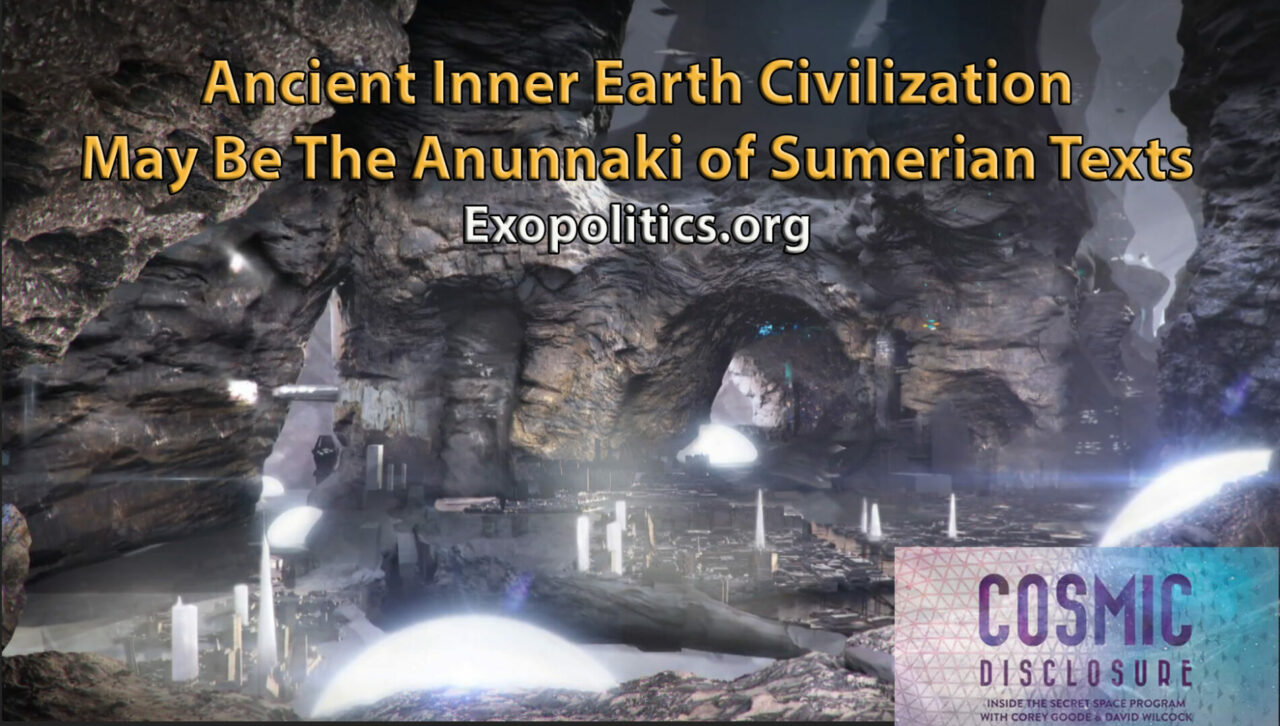 Secret Space Program whistleblower Corey Goode made an astonishing revelation in yesterday's episode of Cosmic Disclosure in which he described his extensive tour of a massive underground cavern system belonging to an Inner Earth Civilization dating back millions of years. These people of the Inner Earth had helped the Ancient Sumerians rebuild civilization after a minor cataclysm on the surface. In whole or in part, the representatives of the Inner Earth were suggesting they were the Anunnaki, who Zecharia Sitchin described in his famed Earth Chronicles series of books.
This and the previous episode of Cosmic Disclosure have focused on a Goode's meeting with select members of up to seven ancient Earth civilizations, and his subsequent tour of underground facilities, which took place in September 2015. Goode had earlier released a written report of this meeting on September 23. 
Last week, in the January 26 episode, Goode described key points in this meeting with the representatives, whose civilizations ranged in age from the youngest dating from approximately four ice ages ago, to the oldest enduring a staggering 17-18 million years.
Goode further described their various racial characteristics and pendant amulets (a form of technology), with specific symbols uniquely meaningful to each of the civilizations. In appearance, they seemed to represent all the major racial groups present on the Earth's surface. The oldest of the civilizations wore a Saturn-like amulet, while the youngest used an Omega symbol.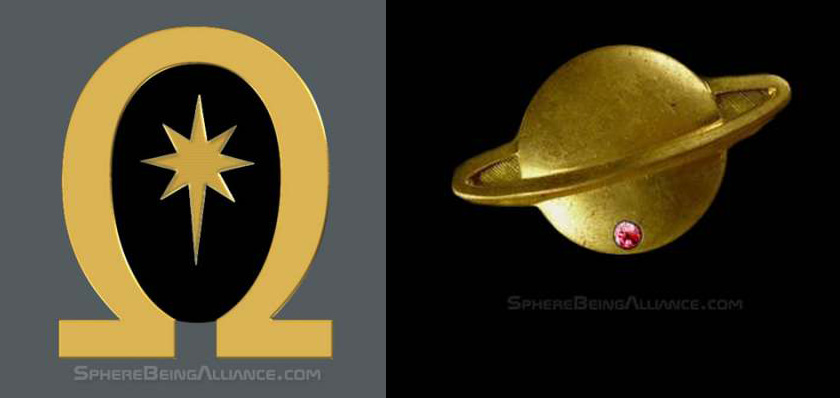 Detailing a private encounter he had after the meeting with a priestess from the hosting civilization, Goode told of accepting her request to link their minds together, because she wanted to experience a visit he had to a crystal cave while a child participant in the MILAB program that indoctrinated him.
After the "mind meld", the Priestess, "Kaaree" (Car-ee), offered to give Goode and his companion, Lt. Col. Gonzales (a pseudonym), a tour of three large caverns belonging to the oldest of the inner Earth civilizations.
The first cavern Goode and Gonzalez visited was massive in size, encompassing an area similar in size to the U.S. state of Texas, and it contained a futuristic looking city. Here huge buildings loomed along with, light domes, and people were walking about, with flying saucers and cigar shaped vehicles flying overhead. Remarkably, their craft could easily fly through the cavern walls. Goode's narration was accompanied by a number of illustrations in this latest Cosmic Disclosure episode.
Next, Goode and Gonzalez were then taken to a large garden-like agricultural area where they viewed crops being grown. The crops could feed an approximate population of millions, according to Goode's estimate.
Finally, they were taken to a large wildlife sanctuary with birds and other animals. There sky here was pale blue and a large obelisk stood in the center, which had a large energy source above it. This appeared to eminate the famed Vril force that Edward Bulwer Lyton wrote about in his 1871 novel, Vril, The Power of the Coming Race. Goode was told that this particular cavern had been terra-formed.
Towards the end of this tour, led by the priestess Kaaree, she told Goode how her people had helped the ancient Sumerians after a minor cataclysm on the Earth's surface. Kaaree revealed that the Sumerians had been taught agriculture and writing by the Inner Earth Civilization whose spoken language was a form of Akkadian/Sumerian.
This stands out as a paradigm shifting revelation from Goode given the literature produced by authors such as Zecharia Sitchin. After translating Sumerian cuneiform texts, Sitchin's interpretation convinced him that the Sumerians were helped in starting their remarkable civilization in 3800 BC by the Anunnaki, highly advanced beings who came from a planet called Nibiru, orbiting in the far reaches of our solar system.
The History Channel's Ancient Aliens series has widely popularized this view that alien visitors had helped the Sumerians build their civilization. When Goode explained this contradiction to our own historical understanding, Kaaree told him that he would need to visit their ancient library to get the answers he sought.
Goode will cover the library visit in the next episode of Cosmic Disclosure, and soon release the long awaited second installment on his written report of the inner Earth encounter first released on September 23, 2015.
For the moment, it is clear that one of the representatives from the Inner Earth civilization was plainly stating that they had brought civilization to the Sumerians. In addition, Kaaree was suggesting that her people had deceived the Sumerians into believing that they were gods from a planet, real or not, called Nibiru, which had a long period orbit around our sun– 3,600 years according to Sitchin's translations.
The February 2 episode of Cosmic Disclosure, and next week's, are likely to be very controversial due to the widely promoted belief that the Anunnaki were ancient aliens who visited the Earth, according to Sitchin's respected translations. It will be fascinating to learn the perspective of the oldest of the inner Earth Civilizations about the true history of our planet, and what happened in particular with the ancient Sumerians.
At this point, many readers may ask, can Goode's account be possibly true?
According to my own research and investigation, which I detailed in the book, Insiders Reveal Secret Space Programs and Extraterrestrial Alliances, there is much evidence and documentation to support Goode's testimony. More recently, another whistleblower has emerged, William Tompkins, who has provided documents in his autobiography, Selected By Extraterrestrials,  that corroborate major elements of Goode's claims.
Tompkins testimony is especially relevant when it comes to the Germany's pioneering role in the development of Secret Space Programs, and how they were helped by an alleged extraterrestrial race from Aldebaran that used the Sumerian language. If Goode's claims are accurate, then the alleged extraterrestrial race may in fact have been an inner Earth civilization masquerading as aliens.
Just as the Sumerians were possibly deceived into believing that the Annunaki were extraterrestrials from Nibiru, so too the Germans may have been deceived into believing that Nordic looking aliens from Alderbaran had made psychic contact. In reality, both the Sumerians and Germans had more likely made contact with one or more of the multiple Inner Earth civilizations that Goode recently encountered in September 2015. In conclusion, Sitchin's Anunnaki may have a very terrestrial explanation after all!
© Michael E. Salla, Ph.D. Copyright Notice
Further Reading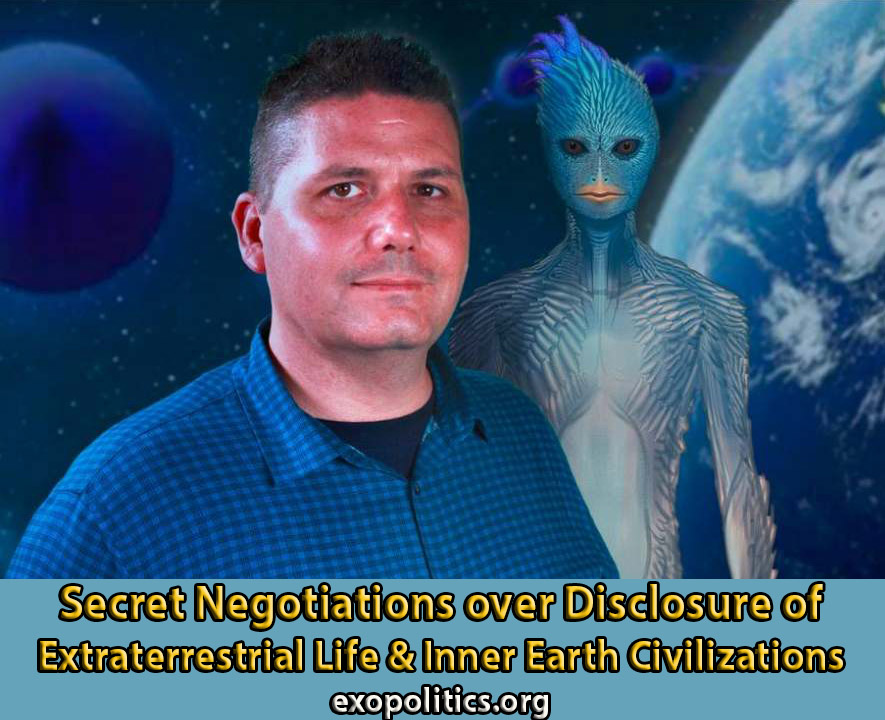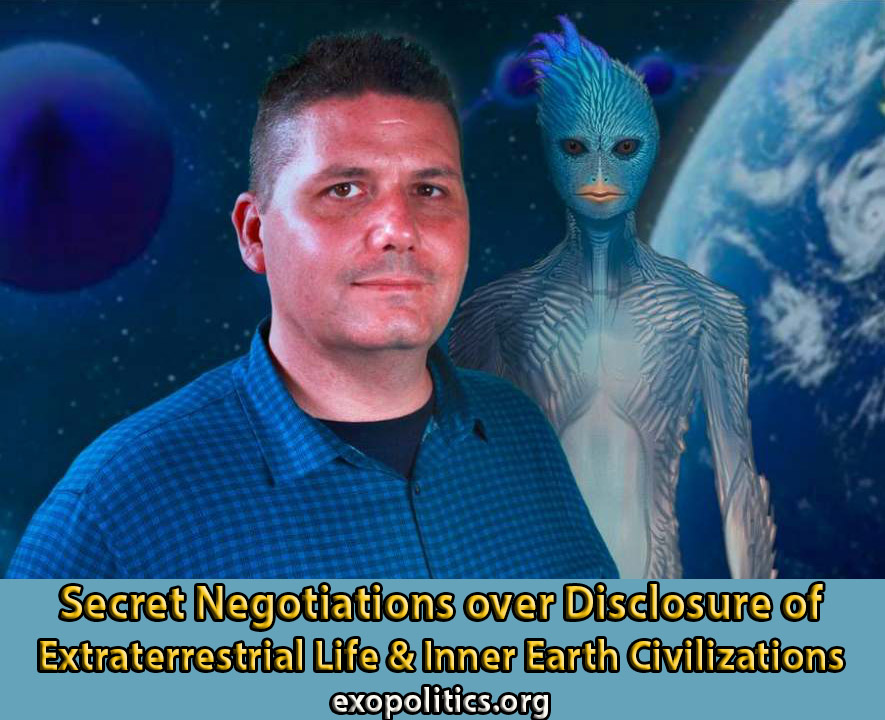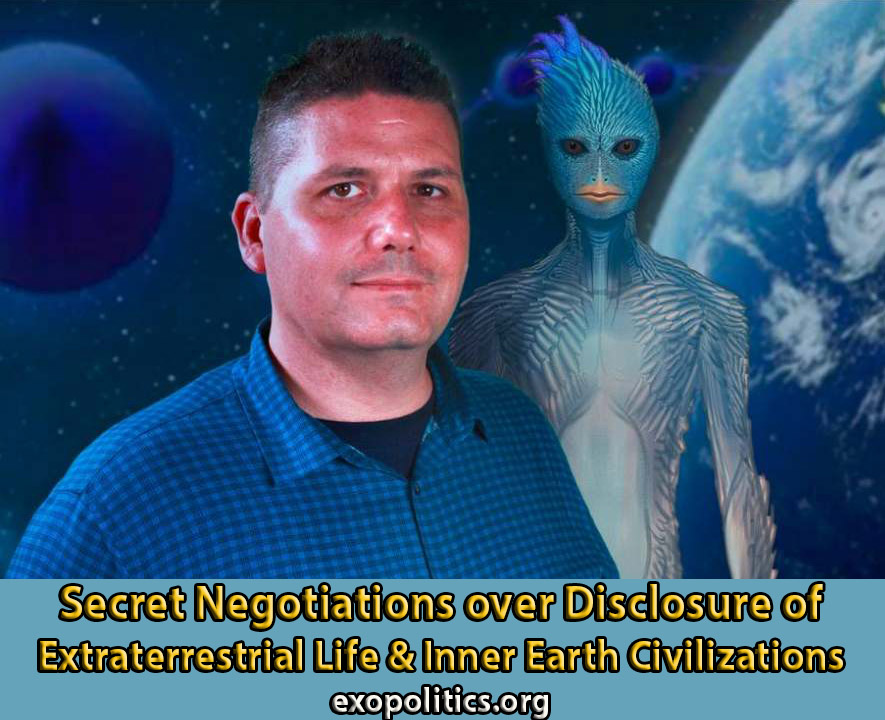 Different elite groups, secret space programs and ancient "Inner Earth" civilizations are currently negotiating over how much of the truth they are willing to reveal to humanity about their respective existence and the reality of extraterrestrial life. This is according to the latest startling update by Secret Space Program whistleblower, Corey Goode.
Goode claims that he was recently taken to the Kuiper Asteroid Belt where he witnessed a historic meeting between representatives of seven ancient Inner Earth civilizations, and a highly advanced group of extraterrestrials which Goode has previously referred to as the "Sphere Being Alliance". The Inner Earth groups venerate members of the Sphere Being Alliance – whom they refer to as the "Guardians" – because they have been the ancient protectors of human civilizations on Earth going as far back as 18 million years.
In his January 14 update, Goode refers to the Kuiper Belt meeting as the third in series of meetings that began in early September 2015, which he discussed in a report released on September 23.
I have had 3 meetings where the "Inner Earth Breakaway Civilizations" were present. In one such meeting we met at a base in the Kuiper Belt where representatives of these breakaway groups finally had their chance to meet with the "Guardians"… Gonzales and I stood there for the entire meeting exchanging perplexed glances as the "Guardians" and the breakaway civilization representatives interfaced. They stood there silent and motionless accept for the slight waving of arms and legs of the "Guardian".
In Goode's September 23 report, he described a very intense emotional "mind meld" he had with "Kaaree" (Car-ee), a priestess from one of the Inner Earth groups. She was also present at the Kuiper Belt meeting. He said that the Kuiper Belt meeting with the "Guardians" had similar emotional effect on the Inner Earth representatives:
Once the exchange was over the members of the breakaway civilization were visibly shaken and overcome with excitement at the same time. I felt much of the same emotions coming from them as I did after the "mind meld" I had with Kaaree where I shared experiences and information from my adolescence. I was able to speak briefly with Kaaree as they were leaving. She was a little flustered and only made a few comments on her way down the hall.
Goode went on to assert:
I asked her how it went and she replied that her group and some of the more negative groups that had formed this ancient breakaway council had "not been proper stewards" of this planetary sphere. She was in an extreme hurry to get back to the meeting where the rest of the ancient breakaway groups were gathered.
Goode's revelation that the "Guardians" told the Inner Earth beings that they have "not been proper stewards" is very significant. It suggests that the Inner Earth beings were being taken to task for one or more of their long standing policies dating back millennia. According to Goode's September 23 report, these could well include collaborating with elites from Secret Societies manipulating surface humanity, yet maintaining strict separation from the rest of humanity, and their emphasis on maintaining genetic purity by isolating themselves.
This kind of chastisement from the Guardians/Sphere Being Alliances apparently led to dissension among the representatives of the seven Inner Earth Groups attending this unprecedented Kuiper Belt meeting.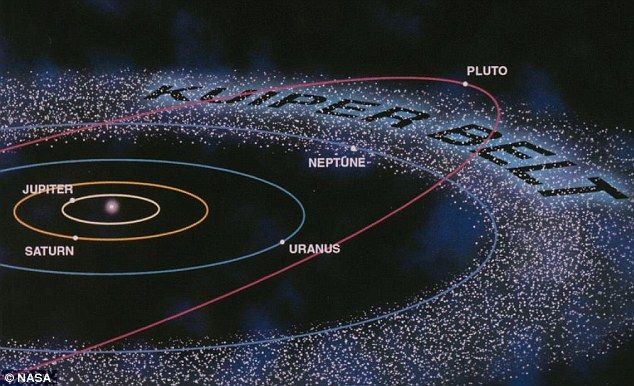 Goode describes what happened next:
It wasn't until later that Lt. Col. Gonzales told me that this was the last meeting these 7 groups had together before a few groups split away soon after this historic meeting.
According to Goode, the Inner Earth group that Kaaree belonged to has decided to change their isolationist policy and begin revealing themselves to surface humanity:
I met with Kaaree again not long after I was briefed on the above information. She made it clear that some of the ancient breakaway groups had decided to take a slow approach to revealing their true identity to those they are in contact with on the surface. They will visit the ones they visit in craft and reach out ethereally to those they are in remote contact with. They are starting with a test group to see how they respond to the news.
Goode went on to describe how humanity is at a critical juncture as negotiations between different secret space programs, ancient breakaway civilizations and elite groups controlling surface humanity, move towards their final conclusion:
The SSP Alliance and the Sphere Being Alliance has made it clear that we as a collective consciousness are choosing a path or future timeline. We are at a critical juncture to where our future could be one of a NWO 2.0 with some debt forgiveness, a bit of free currency and a new Babylonian Money Magic Slave System OR we have a full disclosure event during this time of social catalyst.
Goode made the following appeal in his January 14 update to help bring about "full disclosure," or otherwise the "Syndicates" (aka Cabal/Illuminati in control of surface humanity) will succeed in implementing a partial disclosure plan:
We are putting out the call for everyone to come together and get involved in whatever way they can. We need to stop focusing on our differences and focus on our common goal… The Full Truth! If we do not, we are giving "silent consent" to the negotiations between the Alliance and these Syndicates and their outcomes.
Goode says that he will soon release a long awaited conclusion to his September 23 report along with reports about more recent meetings he has attended.
While there is a great need to continue efforts to substantiate Goode's incredible claims, there is also a need to be open to the possibility that his revelations about secret negotiations over full or partial disclosure of alien life, classified space programs and ancient breakaway civilizations are genuine.
Given current global events, it's not hard to agree with Goode that humanity appears to be at an important cross roads – we are about to collectively decide how much of the truth we can handle about a great number of issues that have been previously withheld from us all.
© Michael E. Salla, Ph.D. Copyright Notice
Further Reading