[See Update below] On May 6, a formation of more than 30 UFOs was captured by one of the live cameras of the International Space Station (ISS). The ISS HD Earth Viewing Experiment gives a spectacular high altitude live feed of Earth as the ISS orbits at an altitude of approximately 250 miles (400 km) at over 17,000 mph (27,600 km/h).
During the live feed a large formation of disk-shaped UFOs appeared and moved across the full visual field of the camera before disappearing. According to information received by Elena Danaan, a former professional French archeologist, the UFOs belong to cooperating extraterrestrial organizations that are part of an officially sanctioned disclosure plan being conducted with an Earth Alliance.
The founder of the UFO Sightings Daily website, Scott Warring, discovered the UFO fleet when he examined a newly indexed archive from the ISS HD Earth Viewing camera. He saw a fleet of over 30 disks in the ISS live cam and consequently made a video of it on May 8. The video clearly shows disk-shaped UFOs flying in formation not far below the ISS altitude.

When I saw the UFO formation, I first checked the NASA website to confirm that it was legitimate ISS footage taken by the HD Earth Viewing Experiment. The UFO fleet appears at the 1 hr 12 min mark of an official video archive maintained by the IBM corporation. The UFO fleet moved from right to left at a similar speed to the Earth's rotation as typically seen from the ISS during daylight hours. This suggests the UFO formation was either stationary or traveling much slower than the ISS as both orbit around the Earth at differing altitudes.
The UFO formation is not a Starlink satellite convoy that follows a linear flight path similar to a train with carriages. In contrast, the UFO fleet flew in a rough arrow-head formation. More importantly, Starlink satellites orbit Earth at an altitude of 340 miles (550 km), meaning they would be orbiting above the ISS and could not be seen by the HD Earth Viewing camera, which is pointed downwards towards the Earth.
I asked Elena Danaan if her primary Galactic Federation of Worlds contact, Thor Han Eredyon, knew anything about the UFO formation. This was her answer:
Yes Michael, this is part of the disclosure plan with the GFW. Thor Han confirms it is one of their fleets, performing this in collaboration with the ISS. He asks to pay attention to the pattern. Remember, as I told you a few months ago, consequent to the arrival of the Intergalactic Confederation near Jupiter, it was decided that a disclosure plan would be put into action: the Earth Alliance in charge of disclosing documents, and the GFW & IC showing their ships increasingly to get civilians progressively used to the ET presence without causing chaos. He also says that the enemy will try everything they can to discredit this plan of action but will not manage to stop it.  
I've discussed in previous articles information supplied by Elena Danaan and other credible sources, such as my US Army source, JP; Alex Collier; and James Gilliland, about fleets of spacecraft recently entering our solar system and parking themselves in the vicinity of Jupiter.
It was indeed revealed by Elena back on October 10, 2021, that spacecraft belonging to the Intergalactic Confederation would soon start moving towards Earth's orbit. She quoted Thor Han who said:
The fleet from the Intergalactic Confederation has arrived in this star system. Their ships will be stationed around Jupiter for a while, until further notice to move nearer to Earth's orbit.
The ISS live camera footage appears to corroborate that spacecraft belonging either to the Intergalactic Confederation or the Galactic Federation of Worlds have moved into Earth's orbit and have begun revealing themselves.
Importantly, the craft are not being shot at by ground-based Directed Energy Weapons, which happened back in the infamous STS-48 incident in 1991. A live camera feed showed a UFO taking evasive action from what appeared to be a laser weapon shot from Earth.

The fact that such a formation could be photographed near the ISS and not be shot at suggests that the flying saucer formation is part of an officially sanctioned disclosure plan by an Earth Alliance.
Elena relayed more details from Thor Han about the disclosure plan currently underway:
Thor Han adds that the Earth Alliance will soon disclose information about TR-3b and retro-engineered technology. He adds that they will present it first as "defense secret programs" developed to protect the US from other nations' attacks. The off-world programs will be revealed in a second part, later, at an unknown date, depending on when this first information will be "digested" by civilians.
It makes sense that the TR-3B would be the first antigravity spacecraft to be revealed to the general public as it is built using indigenous Earth technologies and can be easily explained as a product of human engineering. Measuring 600 feet in width, the equilateral triangle shaped TR-3B is a huge and impressive classified antigravity spacecraft that would shock the aerospace industry, which has not been informed of its existence over the last four decades.
The US Space Force and Space Command could officially unveil their TR-3B spacecraft to assure the public that the GPS satellite grid is protected from foreign attack at a time of great uncertainty caused by the Ukraine war. In addition, UAPs/UFOs have been categorized as a national security threat by the Office of the Director of National Intelligence leading to much speculation of a false flag alien attack being planned by the Deep State.
The unveiling of the TR-3B would set the stage for future disclosures of reverse engineered extraterrestrial spacecraft used in secret space programs belonging to members of the Earth Alliance.
While many fear a nuclear war may emerge due to NATO members increasing arm shipments into the Ukraine conflict, it is reassuring to know that there is secret cooperation by members of the Earth Alliance for disclosure of antigravity and off-world technologies. In addition, extraterrestrial civilizations are doing their part to awaken humanity by revealing their spacecraft through the ISS and other available means.
Video version of this article is on YouTube & Rumble
Audio Podcast on Apple, Spotify, or Google
© Michael E. Salla, Ph.D. Copyright Notice
[May 12, 2022 Update – I found a plausible explanation for the above UFO fleet. Similar ISS video footage of UFO fleets prior to 2020 were analyzed in a video from May 2020 (click here). The analysis concluded the light formations are fleets of squid fishing boats using high powered lamps. While the 2020 video obviously didn't cover the May 6, 2022, ISS footage, the similarity with early footage does raise the possibility that it is a fleet of squid fishing boats rather than UFOs/ET spacecraft]

Related Articles/Podcasts
[Note: My next webinar will be held on May 21 and is titled "Halls of Records, Space Portals, Inner Earth and our ET Heritage". Please take a look at Webinar Trailer below which has just been released for more information.]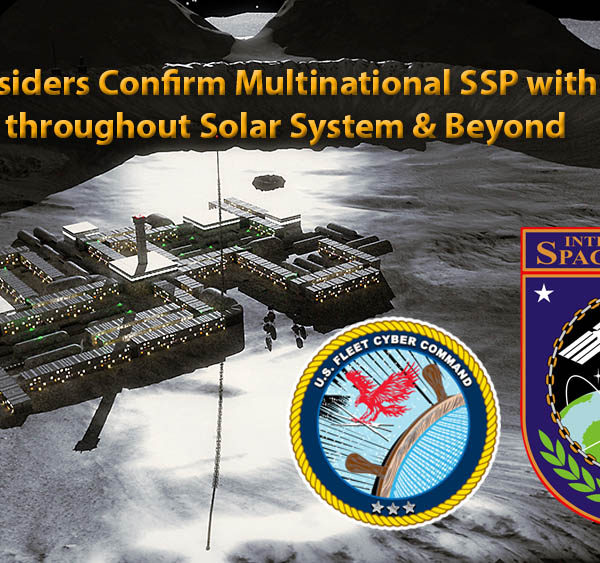 In the third instalment of a remarkable Earthfiles Youtube series on Antarctica, Emmy Award Winning Investigative Journalist, Linda Moulton Howe, has released more stunning video testimony from two anonymous Navy insiders/whistleblowers about a multinational coalition that has a secret space program with bases in Antarctica, on the Moon, Mars and even beyond our solar system.
In accord with their wishes, Howe has not disclosed their identities and has instead used the pseudonyms Spartan 1 and 2, and featured backlighting and voice altering technologies in their interviews. Howe has confirmed through official documentation they have supplied her that Spartan 1 served as a US Navy Seal from 1984 to 2004, when he retired with the rank of Commander. Spartan 2 served with the US Marine Corps (which falls under the Department of the Navy) and as an intelligence specialist from 1992 to 2016.  
Spartan 1 claims he visited Antarctica in August 2003 where he witnessed a large octagon shaped structure buried 50 feet under the Beardmore Glacier, which extended down deep into the interior of Antarctica, as discussed in part 1 of Howe's series.
Spartan 2 appeared for the first time in part 2, and discussed covert activities run out of the 8th floor of the NSA headquarters in Fort Meade, home of US Cybercommand, both of which are involved in running the space operations of a multinational alliance and the interstellar trade it conducts.
One of these multinational missions involved a trip to the interstellar object Oumuamua, which was discovered to be an ancient derelict spacecraft, as discussed in my previous article.
Spartan 1 described a secret base on the far side of the Moon used by a multinational alliance:
From my understanding, it's both above and below ground. It's a multi-structured facility that goes deep into the planet's [Moon's] crust. [Timestamp 6:16]
Spartan 2 also explained what he knew of the Moon base:  
I was told that the dark [far] side of the Moon there's not just above ground structures, there's also an operation going. They're building a mothership up there. They're mining materials. [Timestamp 9:02]
He went on to assert that there are 2500 individuals working on the Moon on such operations, statements Spartan 1 agreed with.
The moon base statements by both Spartan 1 and 2 suggest that neither has actually visited the Moon base themselves, but they know about it from documentation, briefings and/or through a first-hand source they encountered during classified missions or intelligence work.
Spartan 2 has repeatedly referred to his primary contact as a senior official in U.S. Cyber Command called Kim (or Ken) who has briefed him on the classified operations of the multinational space force.
In response to questions about when the building of the Moon base began and which countries were using it, Spartan 1 responded:
It goes back to the coalition, it's been happening for years. A lot of the times when stuff was going up, and we were told it was going up to the International Space Station, it wasn't. It was going up to this moon… I would have to say it's a multinational group… Great Britain, France, Germany, United States, Canada [Timestamp 7:04]

There were 15 countries that signed the International Space Station Intergovernmental Agreement on January 29, 1998. In addition to those named by Spartan 1, other nations that signed the founding documents are: Russia,  Norway, Spain, Sweden, Italy, the Netherlands, Brazil, Denmark, Japan, and Belgium.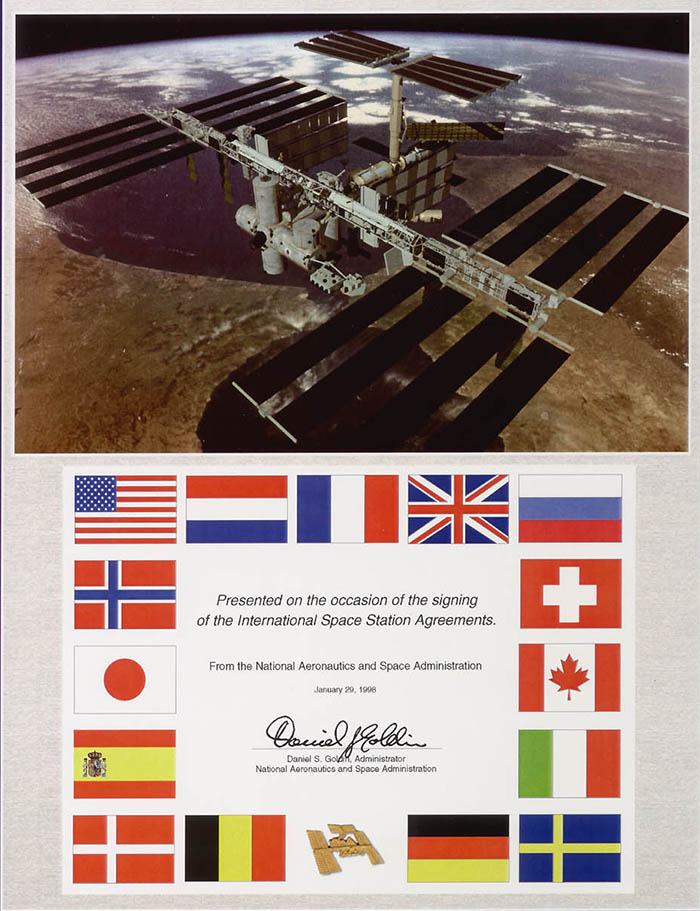 In part 2 of Howe's video series, Spartan 2 said that the multinational collation has had "a space fleet in existence for the last 25 years" [Timestamp 9:01] This dates back to 1994,  just four years before the formal signing of the agreement establishing the International Space Station, and just three years after the formal dissolution of the Warsaw Pact and the Soviet Union.
Remarkably, this corroborates what secret space program insider Corey Goode has been publicly asserting since 2015. He was the first to reveal the existence of a multinational alliance that operates interstellar missions. Goode called this multinational alliance the "Global Galactic League of Nations", and he claims to have visited one of their interstellar bases on an exomoon during his 20 year and back service (1987-2007).

An entire chapter in my 2015 book, Insiders Reveal Secret Space Programs and Extraterrestrial Alliances analyzed Goode's claims about the multinational alliance, its operations, and how it was formed as result of a covert agreement reached that ended the Cold War.
Spartan 1 went on to explain the activities occurring at the secret moon base:
I think they're training, and as far as where they go…. I know it's many light years away. [Timestamp 8:02]

His statement that operations are conducted "many light years away" is very significant given Goode's earlier claims of having visited an Exomoon in an unknown solar system run by the multinational alliance.
The testimonies of Spartan 1 and 2 furthermore corroborates what Goode and other secret space program insiders have been saying about a secret base on the Moon called Lunar Operations Command (LOC). Goode says he has been taken multiple times to the LOC, and in January 2018 was given an extensive tour of much of the facility that exists deep underground. 

Also, Spartan 1 and 2 discussed portals, or stargate technology found in Antarctica. One of these portals is located in the vicinity of the Wilkes Land magnetic anomaly, which Spartan 1 elaborated on:
What I've heard is that it's a portal. A portal takes you from one structure to another vessel outside of our atmosphere. Like an invisible elevator. This particular portal was underground inside a structure… It had a frame. It had hieroglyphics… The frame of this portal acted like a wormhole from point A to point B. [Timestamp 15:45]

He described the portal as very similar to the surface of a Moon Pool, where rather than moving through it into water, one walks through the vertically aligned portal. He described it as follows: "I'm sure you've seen the movie Stargate…. Exactly same thing except the frame is square." [Timestamp 17:48].
Similarly, Emery Smith, a former US Air Force Surgical Assistant, says that he performed portal missions for a multinational corporate alliance, and described the portals as rectangle shaped.
Spartan 1 and 2 also discussed coming Earth changes and the widespread destruction this is expected to create, and how the multinational coalition has created many staging posts around the planet in case of an emergency situation requiring the immediate planetary evacuation of personnel and resources, not unlike that depicted in the movie, 2012.
The dire scenario described by Spartan 1 and 2 is similar to earlier revelations of Goode and others who disclosed foreknowledge possessed by secret space program leaders about a coming Solar Flash event and/or pole shifts, both geomagnetic and geophysical.  
Many of the revelations of Spartan 1 and 2 corroborate earlier claims by Goode, William Tompkins, Pete Peterson, Emery Smith and other insiders who have bravely come forward to share their knowledge of secret space programs and the role of Antarctica in these operations.
The testimonies of Spartan 1 and 2 shed a lot of light on the multinational coalition behind these secret space programs, which can be traced to signatories of major international treaties such as the Antarctic Treaty and the International Space Station Intergovernmental Agreement.
In Antarctica's Hidden History (2018), evidence was presented that the signing of the Antarctic Treaty was used as a cover for secret agreements reached between the Eisenhower administration and a breakaway German nationalist group in Antarctica. This led to the start of extensive cooperation between US and European companies, especially German companies linked to the breakaway Antarctic group.
Both Spartan 1 and 2's testimonies corroborate that such a coalition had indeed been established and that Antarctica was a hub for its subsequent operations, which culminated decades later with the emergence of a multinational space fleet emerging from the end of the Cold War and the signing of the International Space Station Intergovernmental Agreement.
Linda Moulton Howe's interview series of Spartan 1 and 2 cast is vitally important in understanding the major nations and governmental agencies involved in secret space programs, off-world activity and what may lie in the future for our planet itself.
© Michael E. Salla, Ph.D. Copyright Notice
Further Reading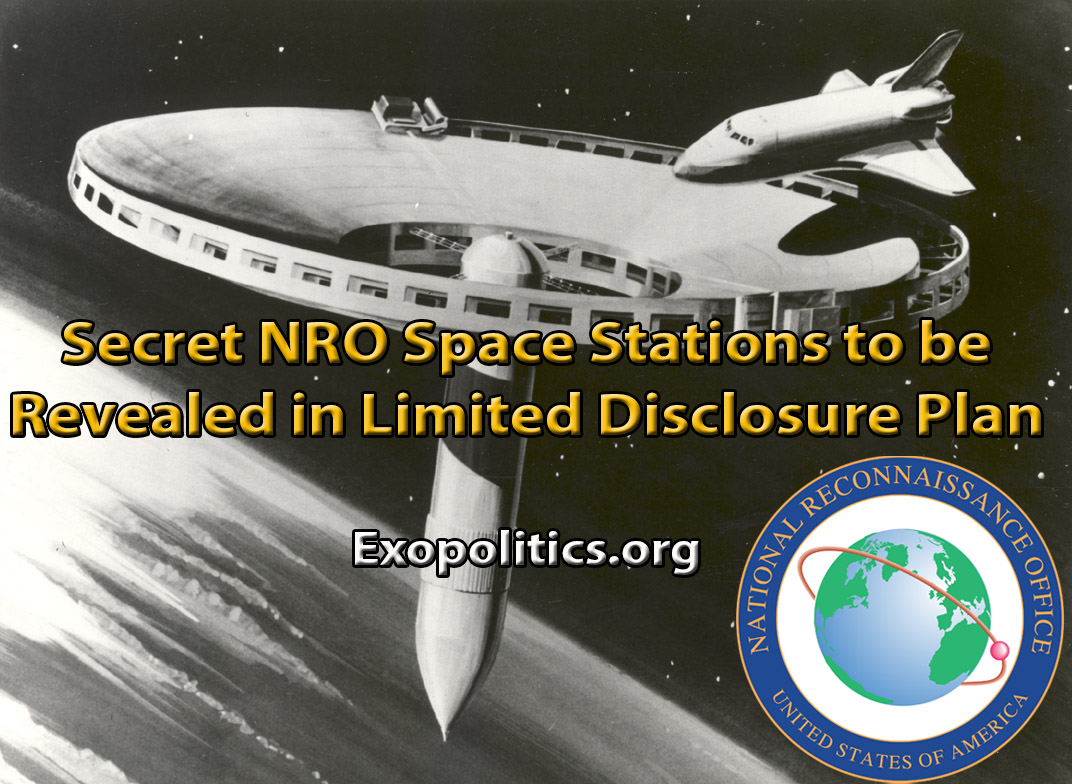 The National Reconnaissance Office (NRO) controls cloaked space stations in near Earth orbit that use technologies as much as 50 years ahead of what is found on the International Space Station, according to secret space program whistleblower, Corey Goode. There are plans to publicly announce the existence of these large orbiting space stations as part of limited disclosure scenario to hide the existence of even more advanced space programs that Goode and other whistleblowers claim to have directly participated in.
In the most recent episode of Cosmic Disclosure, Goode reveals what he learned about the NRO's involvement in running classified space stations that conduct surveillance of both the Earth and the Solar System.
The NRO was recently in the news with its declassification of its involvement in an attempt to set up a manned space station for espionage purposes in 1963. The Manned Orbiting Laboratory, which was to use a Gemini space capsule and a secret corps of military astronauts, would have housed NRO spying equipment.
The U.S. Air Force (USAF) was ostensibly in charge of the Manned Orbiting Laboratory program, but it was really run by the NRO which had been officially created in September 1961 due to an unsuccessful USAF satellite program. From its inception, the NRO's purpose was to conduct high altitude and near Earth orbit surveillance. The USAF/NRO claimed that the Manned Orbiting Laboratory was cancelled in 1969 because unmanned satellites were far cheaper.
In contrast, the Soviet Union decided to merge plans for military space stations dedicated to espionage with its civilian space program. It placed the first manned station in space with Salyut 1 in 1971. The U.S. would follow soon after with Skylab in 1973; a civilian NASA program, which officially was the first manned U.S. space station according to conventional historians. 
Skylab ran until 1979 and was dedicated to scientific research. The world was left believing that the NRO and U.S. military relied solely on spy satellites for conducting surveillance from near Earth orbit.
The U.S. Space Shuttle program began in 1981, and conducted a variety of low Earth orbit missions such as placing satellites in space. From 1979, up until the arrival of the first U.S. astronauts at the International Space Station in 2000, the U.S. did not have a manned station in space according to the official public record. Yet, a passage in the diaries of President Ronald Reagan indicated that there was indeed a permanent U.S. presence in near Earth orbit.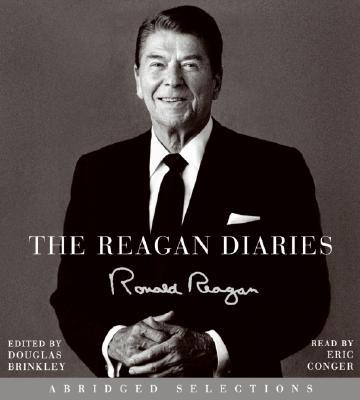 On June 11, 1985, Reagan wrote:
Lunch with 5 top space scientists. It was fascinating. Space truly is the last frontier and some of the developments there in astronomy etc. are like science fiction, except they are real. I learned that our shuttle capacity is such that we could orbit 300 people [p.334].
NASA's Space Shuttle program at the time held a maximum of eleven people per shuttle, and only five were built for space flight. Even if all five took off fully loaded, it would be impossible to place and maintain 300 astronauts in orbit. Reagan had publicly revealed that the U.S. had a secret fleet of military spacecraft that could send up to 300 people to one or more secret space stations in near Earth orbit.
Reagan's admission is striking evidence that the NRO and USAF had secretly gone ahead in building permanent manned platforms in space that could conduct intelligence gathering and other military tasks. While the public was notified about the cancellation of the Manned Orbiting Laboratory in 1969, it was not informed that the NRO and USAF had secretly gone ahead with plans for a replacement program.
The NRO is formally part of the Department of Defense, and has been traditionally directed by the Under Secretary of the USAF. In 1982, the USAF Space Command was created, and it became the new institutional cover for secret space stations built in collaboration with the NRO.
Information about the NRO and its surveillance activities in Earth orbit is notoriously sparse. It wasn't until 1992 that the existence of the NRO itself was even publicly acknowledged. Its association with military spy satellites was initially revealed, but not its association with the aborted Manned Orbiting Laboratory program until the recent declassification.
Goode's testimony in Cosmic Disclosure sheds much light on what the NRO has been really doing in space. He discussed in some detail the NRO's role in maintaining manned space platforms in Earth orbit.
In contrast to more classified space programs which Goode and other whistleblowers claim to have worked with that maintain bases on the Moon, Mars, and deep space fleets, the NRO run space program is primarily limited to near Earth orbit missions. Goode said:
There are space stations that are in near-Earth orbit, upper near-Earth orbit, that are a little bit more advanced than the ISS that they're flying to and from,
Goode insists that personnel involved in the NRO-run space program genuinely believe that it uses the most advanced technologies available to the military industrial complex. He claims that the manned orbital space stations manned by the NRO are effectively a cover program for more highly classified programs that he worked on from 1987 to 2007 that maintain off-world bases and interplanetary fleets.
Goode revealed earlier that the more advanced and highly classified space program called Solar Warden, which maintains interplanetary fleets for solar system wide duties, was set up by the U.S. Navy. In contrast, the less advanced manned orbital spy platforms used by the NRO, were set up by the USAF.
This makes a lot of institutional sense since the USAF is the newest among the U.S. military services. It would be the Navy that would have the institutional history, infrastructure and clout to run the most advanced space program – Solar Warden.
Goode claims that in recent secretive meetings he attended comprising members of a Secret Space Program [SSP] Alliance, there is a plan for the NRO and USAF Space Command to reveal the existence of manned orbital space platforms that are capable of maintaining hundreds in space.
If they were to do some sort of disclosure and say, this is our secret space program, as a way to trick us and show these craft, these space planes and these space stations, yeah. We would think they're pretty advanced. But they're probably up to 50 years more advanced in the International Space Station.
The goal of the partial disclosure plan is to distract the public from the more damaging revelations by Goode and other space program whistleblowers about off-planet bases, space fleets, and trade with extraterrestrial races. The public will be told that all UFOs are in fact spacecraft belonging to the NRO and USAF Space Command.
The following is a short Q and A, which I conducted with Goode by email on December 18, which elaborates on the NRO's role in a limited disclosure initiative:
Q: 1. Has the NRO been designated as the point organization for a limited disclosure initiative by the Cabal/Illuminati/Earth Syndicates? 2. I recall you saying that the lower level military intelligence types walked away from the SSP Alliance. Did that include the NRO and is indicative that they plan to move forward with their own disclosure scenario?
A: Yes, the "Black Op's Military"/"Intelligence" SSP which is under the control of the NRO, DIA and other agencies that have removed their few representative members from the SSP Alliance.
It is said that their SSP's vessels, space stations and platforms/bases may become a part of a partial disclosure narrative which may also include more "accidental" images being captured from NASA's live feed video.
Whichever partial disclosure narrative that is finally negotiated will be spoon fed to the public.
This "pre-disclosure preparation process" was said to already be underway through possible new whistle blowers (that are currently being "prepped") as well as mass media (more MSM News stories, Movies, TV Series, Commercials, Video Games etc…) that will mirror more and more of the "Ufology Lore" most of us are familiar with.
If Goode is correct, secret space stations controlled by the USAF Space Command and the NRO are likely to soon be revealed to the world in a partial disclosure initiative. Such an announcement will predictably shock mainstream media and the scientific community over the advanced space technologies secretly used for decades.
It is important to keep in mind, however, that such a disclosure is designed to hide the existence of even more highly classified space programs. These more advanced programs, which date back as far as the Second World War era, have fleets of interstellar space craft and conduct extensive diplomatic relations and trade with extraterrestrial civilizations.
© Michael E. Salla, Ph.D. Copyright Notice
Further Reading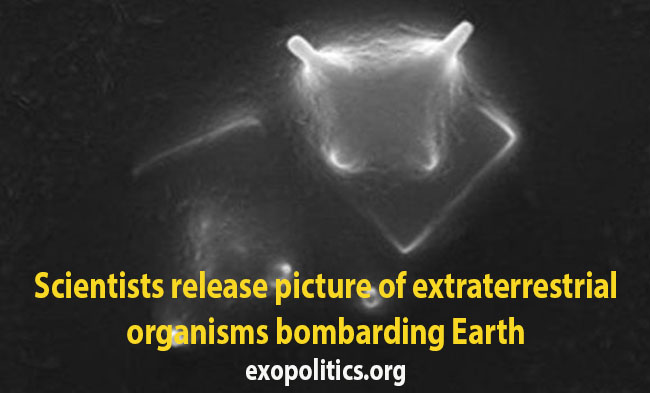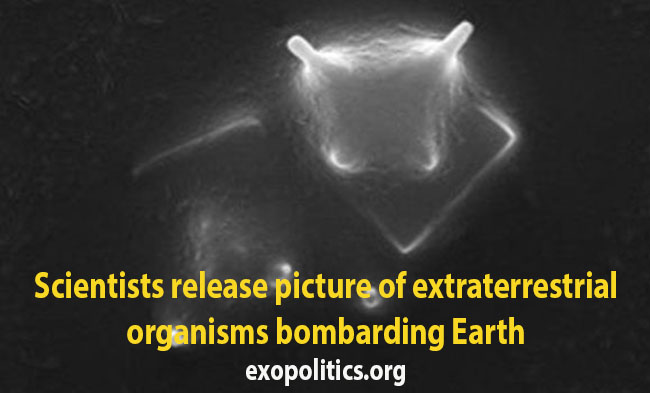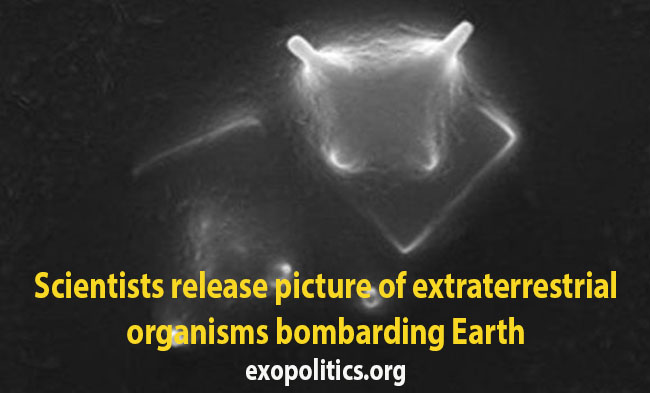 Scientists from the University of Buckingham have released a picture of an extraterrestrial from deep space that is bombarding the Earth. No, it's not part of an extraterrestrial invasion. Rather, it is evidence supporting the theory of panspermia, in which microscopic life forms exist in the vacuum of space, and can seed life by arriving in great numbers on habitable planets like the Earth.
A team of scientists, including Professor Milton Wainwright, from the University of Buckingham Centre for Astrobiology, have conducted scientific tests in the stratosphere. These show that organisms not found on the Earth are arriving from outer space.
Professor Wainwright claims the results prove that life exists outside the Earth. In an interview with Britain's Express newspaper, he said:
Our team has caused quite a stir over the last couple of two years by claiming these microbes are continually arriving to Earth from space. Our critics have been vocal in dismissing our work but, as yet, no one has provided a viable alternative explanation for our peer reviewed work…. As far as we can tell the particle has no relation to anything found on Earth.
In addition to the microbial life arriving from outer space, Professor Wainwright also revealed that heavy elements were found in the stratosphere. This suggests that these are extraterrestrial arrivals, as well, rather than material being carried up into the stratosphere by winds:
This latest launch is also exciting because the team has found particles containing, so-called, rare earth elements at a height close to 30 kilometres in the stratosphere. These particle masses are too big to have been carried up from Earth and, like the alien life forms we find, must be incoming to Earth from space.
The pictures of extraterrestrial microbes released by Wainwright's scientific team supports an earlier finding by Russian scientists.
On Aug 19, 2014, ITAR-TASS reported that Russian scientists had found microbial life, similar to sea plankton, on the surface of the International Space Station (ISS). The Russians first detected the microbes over a year earlier and confirmed that these organisms can live in zero gravity within the extremely low temperatures and cosmic radiation. Despite the harsh conditions, the scientists reported that the bacteria were thriving on the surface of ISS and could live there for years.
The Russian discovery is startling since it confirms that extraterrestrial microbes can flourish in deep space. Vladimir Solovyev, chief of the Russian ISS orbital mission said:
Results of the experiment are absolutely unique. We have found traces of sea plankton and microscopic particles on the illuminator surface. This should be studied further.
NASA's reaction to the startling Russian discovery was silence. This lack of reaction supports the claims of Richard Hoover, a veteran 46 year NASA astrobiologist, who says the civilian U.S. space agency is willfully ignoring clear evidence of extraterrestrial life.
The findings of the University of Buckingham scientists, along with the earlier Russian discovery of a form of sea plankton growing on ISS windows, is powerful evidence that microbial extraterrestrial life is very common throughout our solar system and the galaxy.
The picture of a microscopic space organism arriving on Earth may not be quite what people were expecting for their first glimpse of an extraterrestrial visitor. If these tiny space visitors have been arriving for a very long time – as panspermia advocates suggest – who else might be arriving that is awaiting the right scientific detection tools to discover them? 
© Michael E. Salla, Ph.D. Copyright Notice
FURTHER READING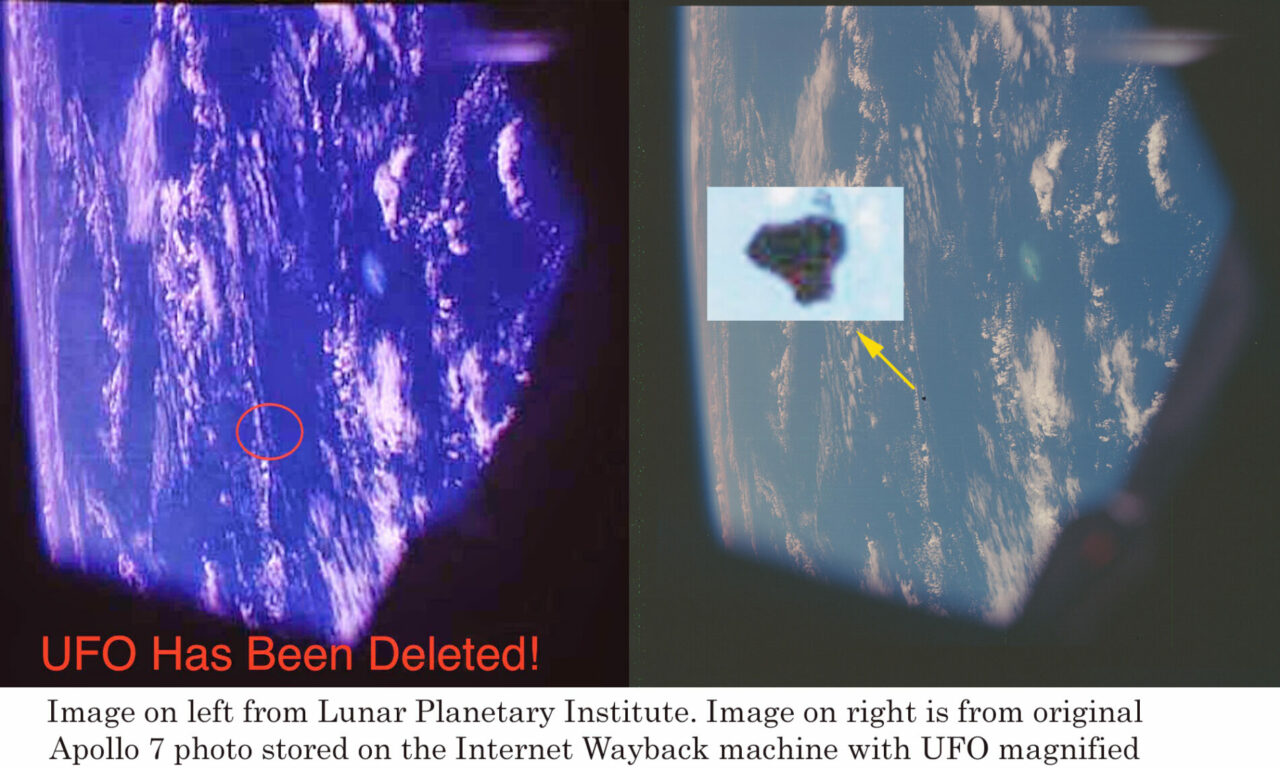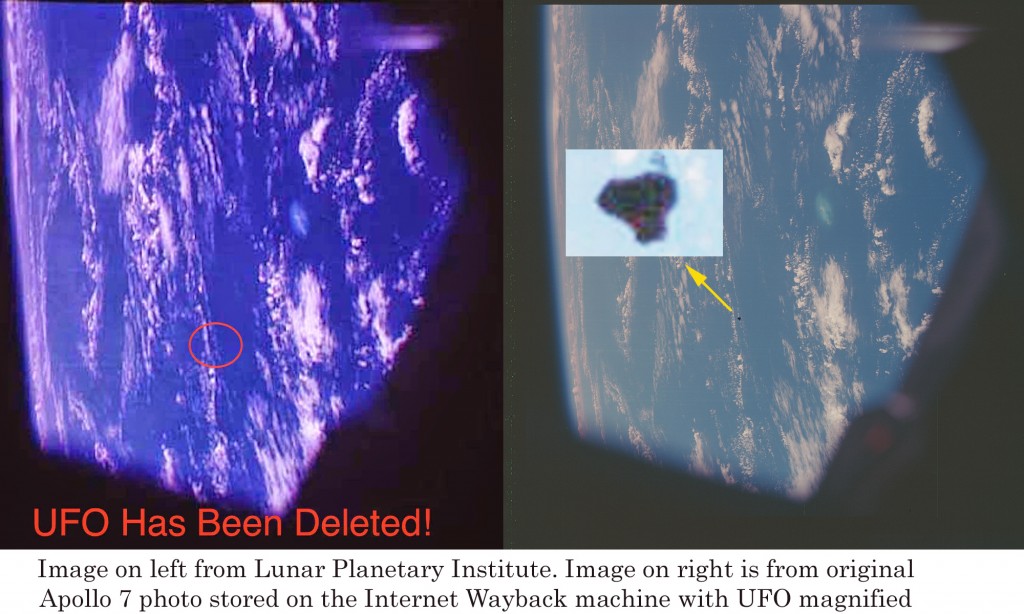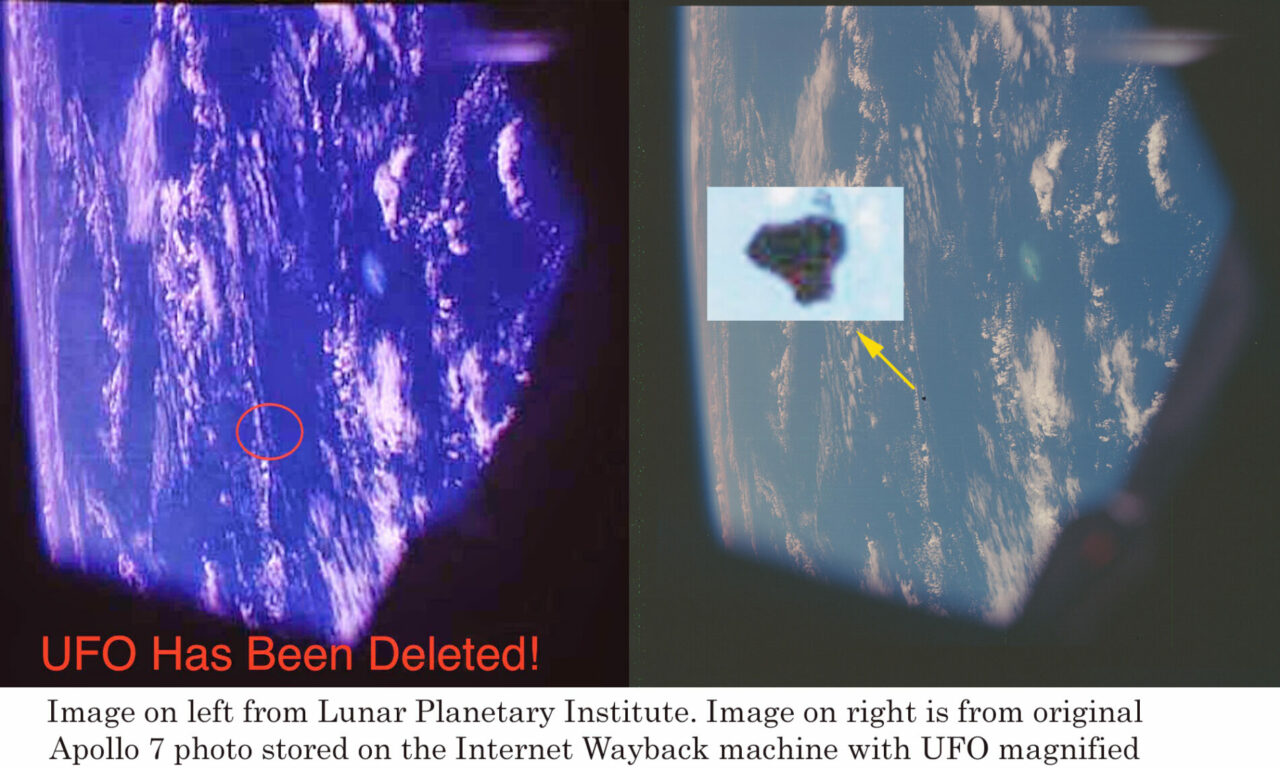 UFO investigators are up in arms after it was discovered that NASA had removed an Apollo 7 photo showing a triangular UFO from its archive, and that the original had been altered on a NASA affiliate website. It was today claimed that NASA is yet again deliberately covering up UFO evidence. Only a day earlier, NASA was accused of covering up evidence of another UFO being filmed by the International Space Station (ISS).
Scott Waring from UFO Sightings, who made the discovery about the missing Apollo 7 photo, says this is another blatant example of NASA deleting or altering data.
I have found that NASA has taken down one individual photo that has an odd shaped UFO. The UFO is in orbit around Earth and has good detail to it. I clicked on the link and it gave me error message. NASA not only deleted the photo above, but also went to their old photo indexes and deleted it from there.
The Apollo 7 photo in question (AS07-07-1738) was originally available on NASA's Gateway to Astronaut Photography of Earth series on the website of the Johnson Space Center. Now all one gets is a 404 error message. Fortunately, the deleted original photo is still available on the Internet Archive Wayback Machine.
When Waring found the same photo (AS07-07-1738) in another NASA affiliate site, the Lunar and Planetary Institute, the UFO had been removed!
The photo below was found at a different site and shows that the UFO is gone. Not only that, but the photo itself has added contrast making everything hard to make out. Deliberate efforts have been put in by NASA to hide this UFO from the public. I just wanted to let the public know, NASA does delete UFOs and here is the proof.
The original Apollo 7 photo was featured in a Youtube video uploaded on April 3, 2013, that zooms in on the UFO which is very clear.
This is not the first time that NASA has been accused of altering UFO data. A former NASA employee, Donna Hare, says that she had a job of airbrushing UFOs out of NASA photos. Donna Hare worked for NASA contractor Philco Ford, had a "Secret" security clearance, and was shown a picture of a UFO flying over the moon's surface captured during an Apollo mission by one of her colleagues. She recalled the following conversation:
I said, is this a UFO? And he's smiling at me and he says, I can't tell you that. I can't tell you that. What I knew he meant was, it was [a UFO] but he couldn't tell me. So I said, what are you going to do with this information? And he said, well, we always have to airbrush them out before we sell them to the public. And I was just amazed that they had a protocol in place for getting rid of UFO pictures on these things…
Hare decided to go public in November 2000 with her whistleblower testimony released through the Disclosure Project.
The evidence is conclusive. NASA has been caught red-handed covering up UFO evidence by deleting and altering original Apollo images. Was NASA trying to hide a classified military spacecraft or is it an extraterrestrial vehicle visiting Earth?
© Michael E. Salla, Ph.D. Copyright Notice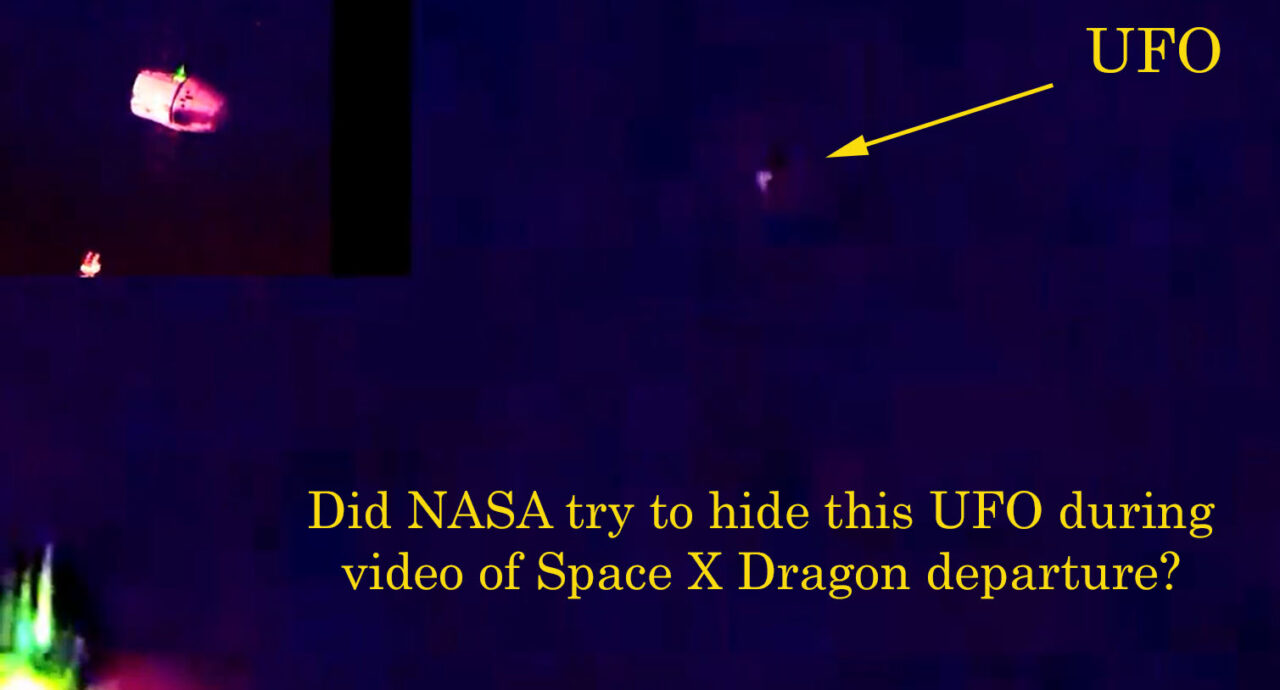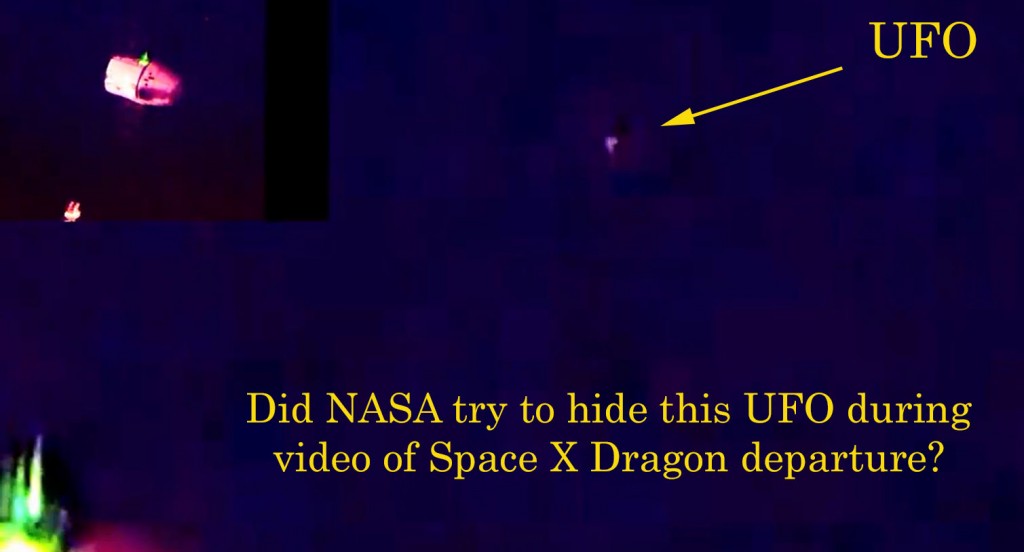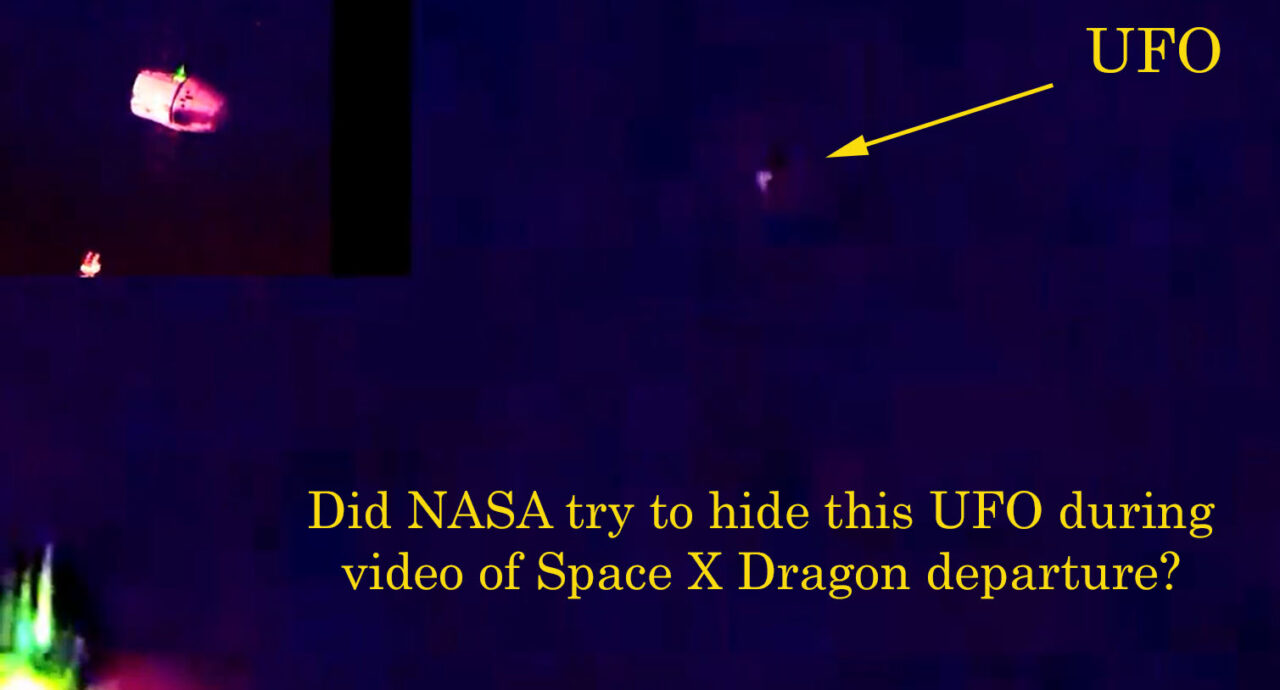 On Saturday morning, October 25, the Space X Dragon detached from the International Space Station (ISS) as it began its return mission to Earth carrying various cargo items. In NASA's video footage of the Dragon departure, uploaded the same day to Youtube, a small luminous UFO is apparently monitoring the detachment and start of Dragon spacecraft's return which conducts three burning maneuvers near the ISS. Video analysis of NASA's coverage of the incident was conducted by Third Phase of Moon that clearly identified the UFO. Furthermore, Third Phase of Moon makes the remarkable claim that NASA deliberately tried to hide the UFO as it monitored Space X Dragon's departure.
In the raw footage of the incident provided by NASA, it is hard to identify the UFO which is a small light just above and to the right of the Dragon spacecraft. According to Third Phase of Moon, this is because NASA zoomed out from the Dragon craft as soon as the UFO appeared nearby. After NASA's raw footage is subjected to video analysis through zooming and light contrasts, the UFO becomes clear. Was NASA's zooming out at the moment the UFO first appeared merely coincidental; or, as Third Phase of Moon claims, a deliberate attempt to cover up the UFO?
The Space X Dragon incident follows only three days after another small luminous UFO appeared near the ISS, this time during a spacewalk by two Russian astronauts. The UFO was very clear and appeared to maneuver near an object jettisoned by the astronauts. A day before, on October 21, two cigar shaped UFOs appeared near the ISS. In another incident on October 7, an elliptical UFO appears nearby another spacewalk by two astronauts.
The October 25 incident suggests that once again, a UFO has been filmed apparently monitoring ISS activities. If NASA was trying to cover up the latest UFO incident, this may be part of a deliberate policy of countering the frequent appearance of UFOs near the ISS that might lead the public to conclude that we are not alone.
© Michael E. Salla, Ph.D. Copyright Notice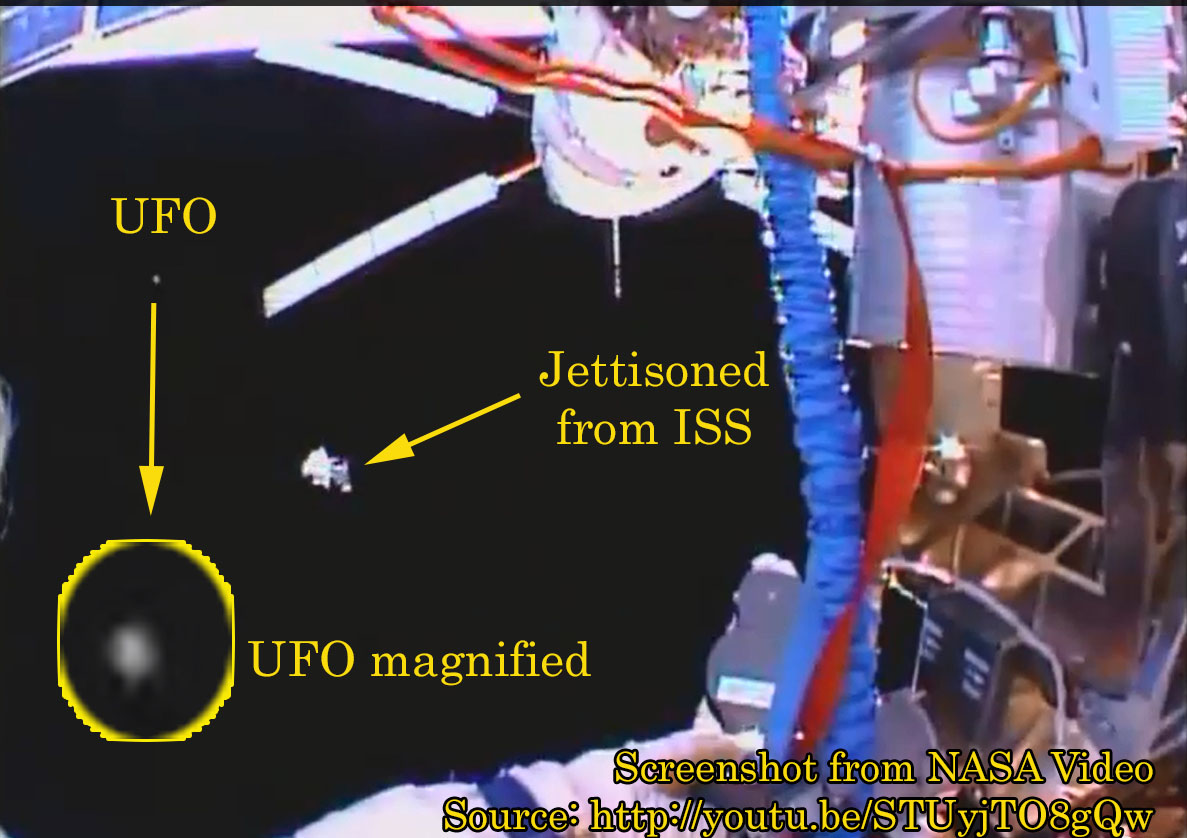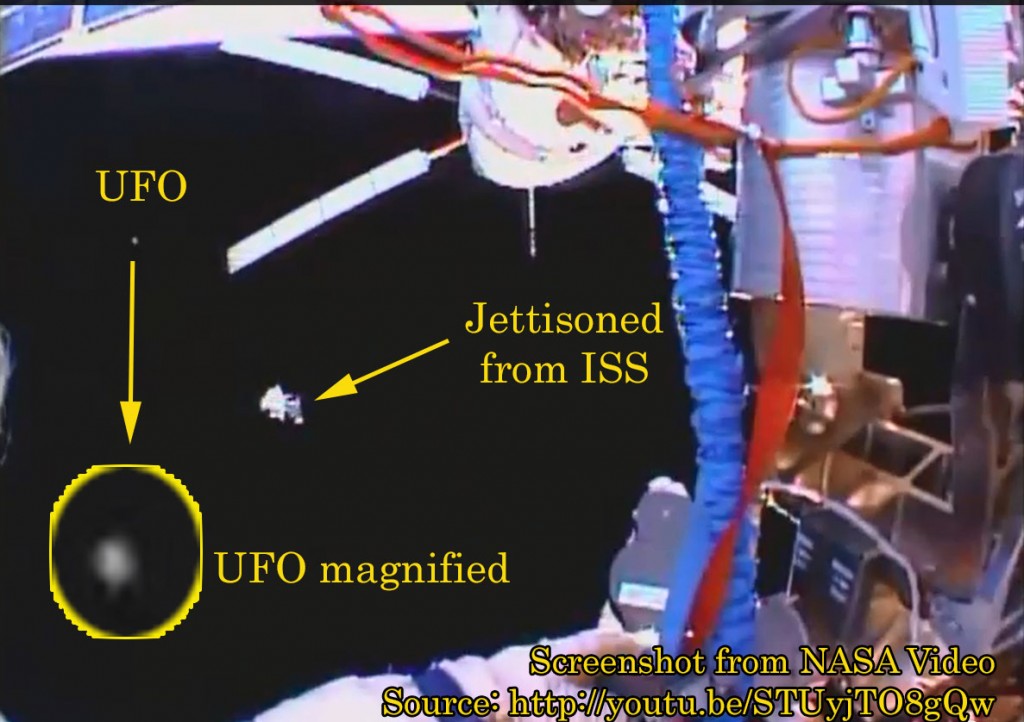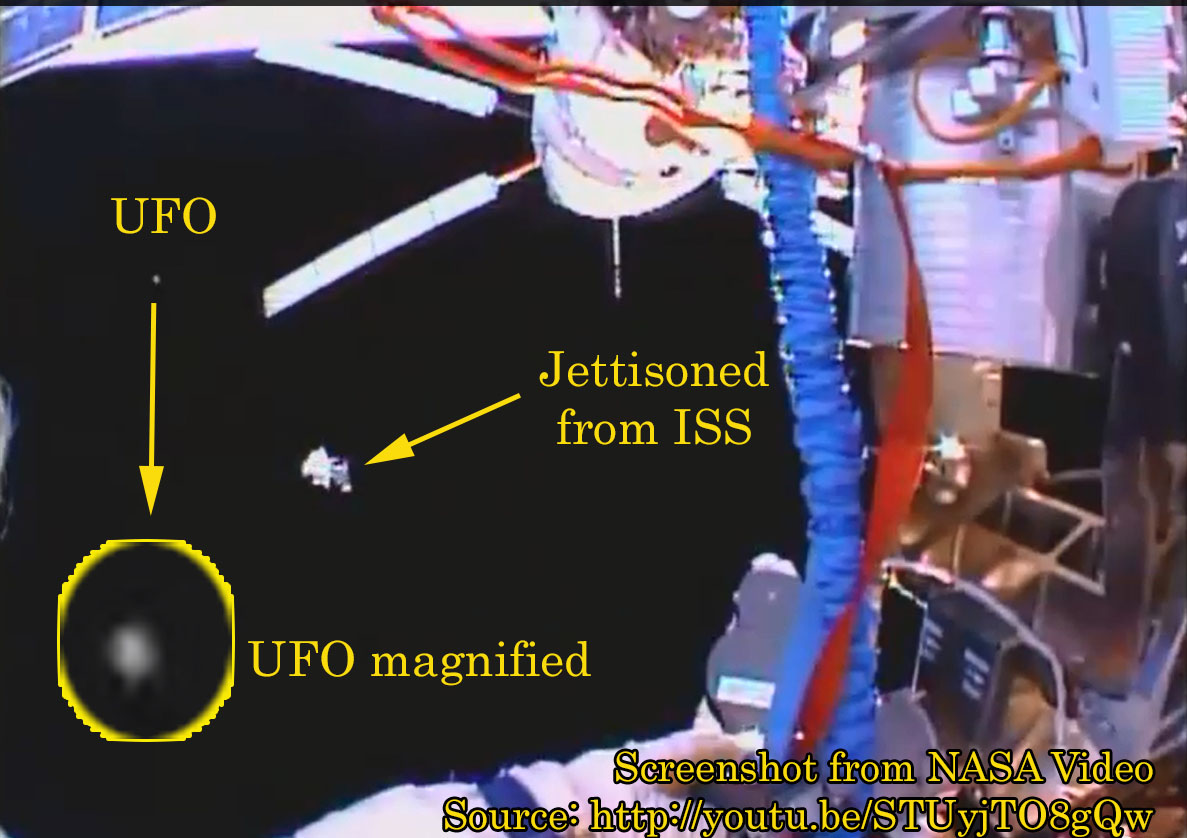 On October 22 during a spacewalk by two Russian astronauts, the International Space Station (ISS) live feed showed a luminescent UFO briefly fly nearby. The astronauts had just jettisoned two parts of the ISS that had been removed, and the live feed showed the objects slowing falling towards the earth. As the second object is jettisoned, the UFO appears and briefly maneuvers near it. The luminescent UFO does not appear to be space debris as it clearly changes direction several times. It appears to be under intelligent control suggesting either a luminescent life form indigenous to outer space, or an extraterrestrial vehicle of some kind.
The first possibility of an extraterrestrial life form that can survive in outer space was suggested in a brief video analysis of the UFO conducted by Third Phase of Moon. It was proposed that the UFO was some kind of insect. The idea of space bugs existing in outer space received a boost on August 19, 2014 after Russians scientists announced the results of a yearlong study of a strange substance that had been obscuring the windows of the ISS that had been collected by astronauts during a prior spacewalk. Russian scientists announced that the substance was a form of sea plankton growing on the windows of the ISS. Flying at an approximate altitude of 200 miles, it is extremely unlikely that sea plankton could be carried so high by air currents. Nevertheless, the sea plankton on the ISS was growing, suggesting that it was a form of plankton indigenous to outer space rather than carried into space from the Earth's surface.
Another possibility is that the luminescent object is an extraterrestrial spacecraft. If so, it would be yet another incident of spacewalking astronauts being monitored by extraterrestrial craft. October 7 was another incident of spacewalking astronauts being captured on the ISS live feed with a UFO nearby that appeared to be observing ISS activities. The UFO was elliptical in shape and stationary relative to the ISS.
The ISS live feed is clear evidence that something other than space debris was briefly captured on video during a spacewalking mission. The video is very suggestive of some form of indigenous space life, or an extraterrestrial vehicle, closely monitoring the ISS and the spacewalking astronauts.
© Michael E. Salla, Ph.D. Copyright Notice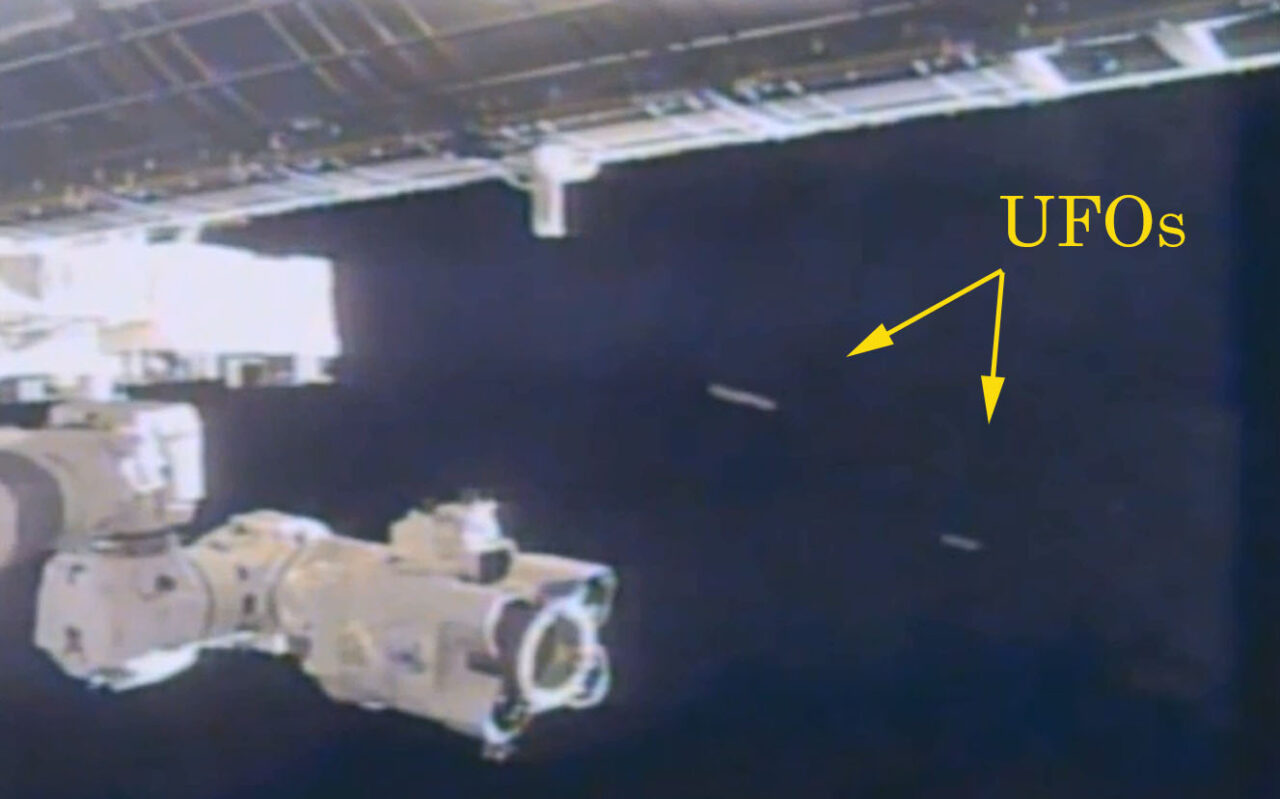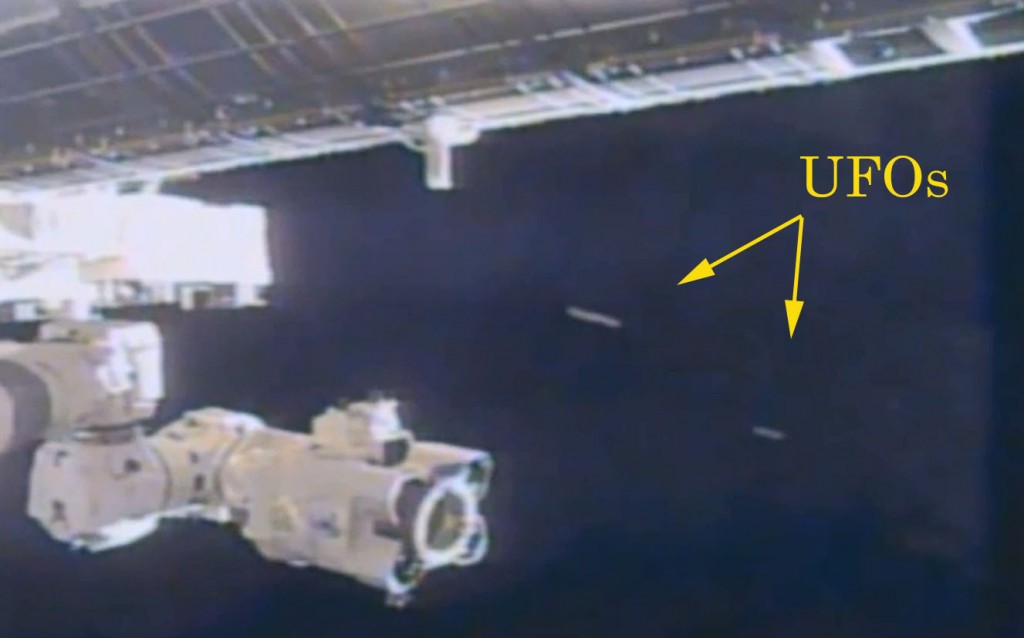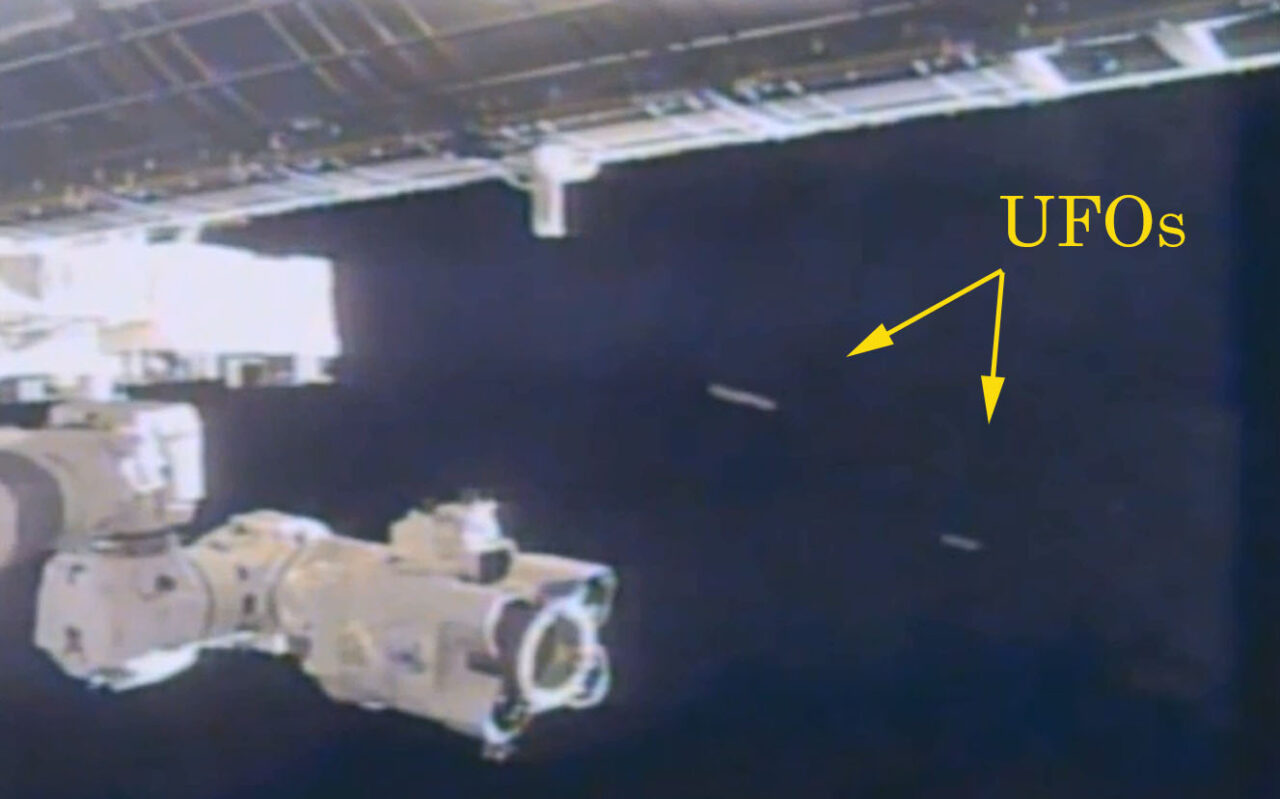 Newly released video from the International Space Station's (ISS) Live Stream shows what appears to be two cigar shaped UFOs near the ISS. The UFOs briefly appear in the video stream before there is a signal interruption. When the live stream resumes the UFOs are gone. The incident was uploaded to Youtube on October 21 and has already begun generating much discussion. It is difficult to estimate the size of the UFOs but previous sightings of similar cigar shaped objects have been estimated to be aircraft carrier sized, big enough to host smaller UFO craft. Leading astronomers and astrobiologists are now telling us that the cosmos is teeming with exoplanets capable of hosting intelligent life, and we need to prepare for its discovery. This leads to the question, are extraterrestrial ships monitoring the ISS?
The latest video incident follows a string of UFOs being captured by the ISS live stream. On October 7, a UFO appeared near two space walking astronauts. The object was also elliptical or cigar shaped, and appeared to be monitoring the ISS. On January 29, 2014 the live stream showed a yellow elliptical UFO that appeared to actually have docked with the ISS. This raised remarkable possibility that the ISS was being visited by unknown astronauts from a classified military program, or even extraterrestrials.
The main objection against past UFO sightings captured on the ISS live camera feed is that these are lensflares caused by the sun or a strong light source nearby as it hits the camera lens. In the live video feed of the two cigar shaped UFOs, there is no significant change in the ambient light as the UFOs slowly appear in the video. If the UFOs were caused by a lensflare, then their appearance would be marked by a clear change in the ambient light. Nor do the UFO appear to be natural phenomena occurring in the Earth's atmosphere or surface.
If the two UFOs are not caused by a lensflare, camera malfunction or other natural phenomena, what are they? The UFOs may be intelligently guided cigar shaped spacecraft that have been reported by military and government whistleblowers to be very large in size.
One possible explanation is that they belong to a secret space fleet. Another explanation is that the UFOs are extraterrestrial in origin. As far back as the early 1950s, cigar shaped UFO have been regularly sighted and photographed. The most famous photographs were taken by George Adamski who filmed smaller scout ships emerging from larger cigar shaped UFOs near the moon. In a related 1952 incident, Adamski and six witnesses claimed to have sighted a large cigar shaped UFO fly overhead. It was soon followed by a smaller "scoutcraft" that landed near Adamski, who met the extraterrestrial pilot.
The International Space Station's live camera feed continues to capture strange nearby objects through its various external camera systems. Some of these objects might be explained away as lens flares or natural phenomena. Not so however for all other incidents that likely include the two cigar shaped UFOs captured  on October 21. If these two UFOs are under intelligent control, they could be spacecraft from a secret space program or from an extraterrestrial intelligence. If extraterrestrials are indeed monitoring the ISS, they may be allowing their spacecraft to be captured on video in a First Contact scenario.
© Michael E. Salla, Ph.D. Copyright Notice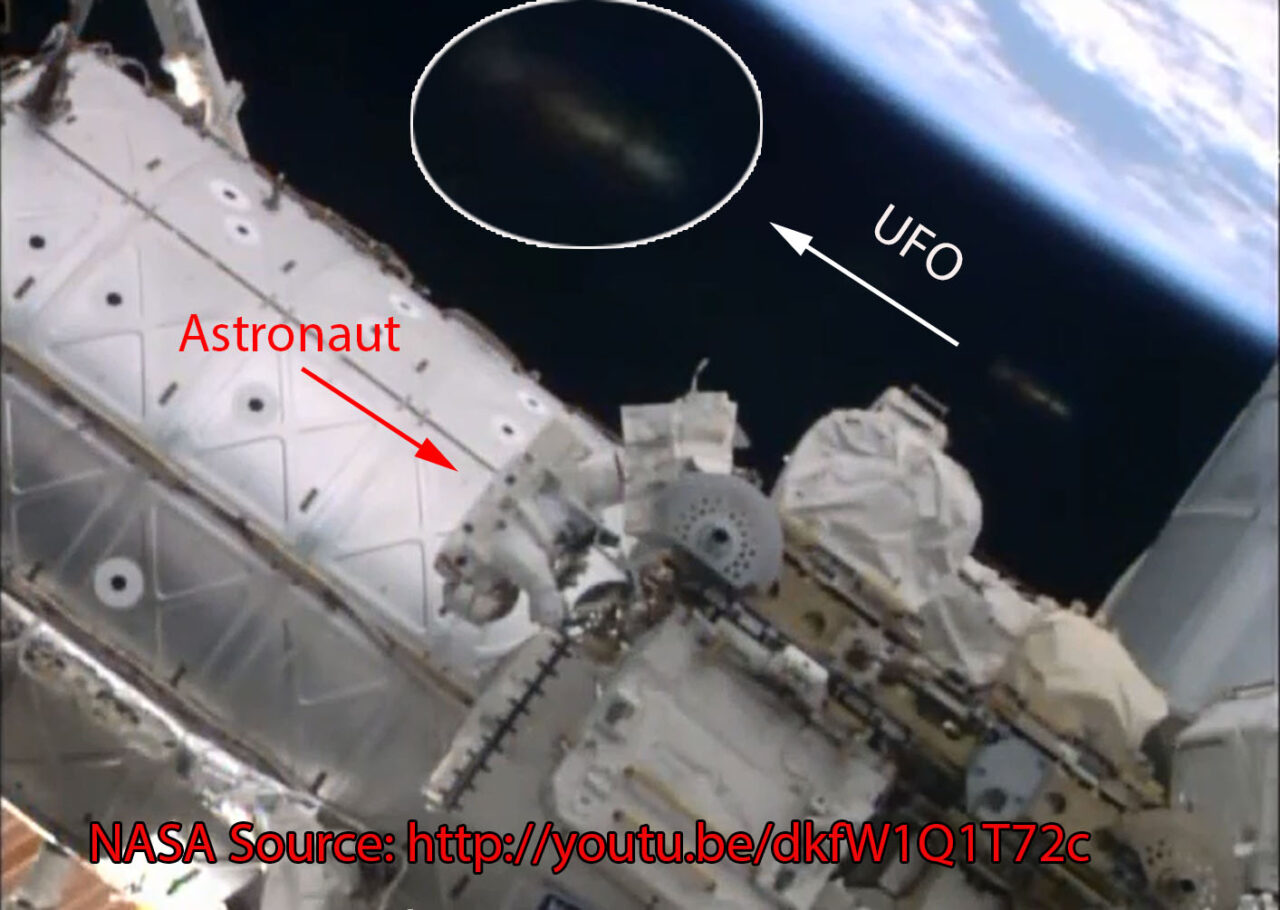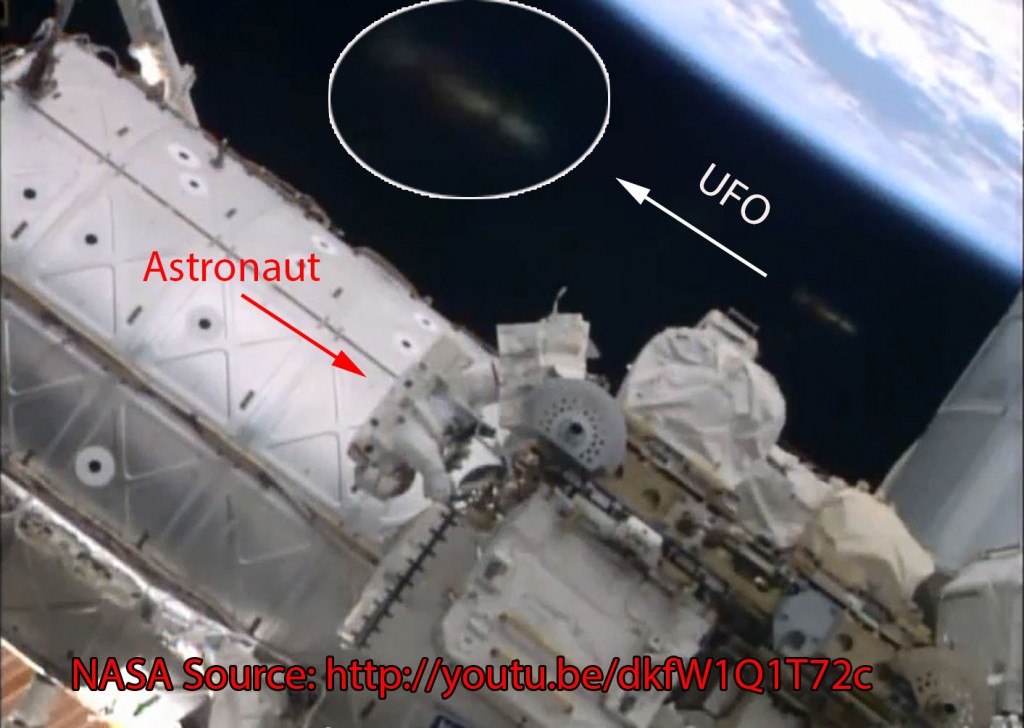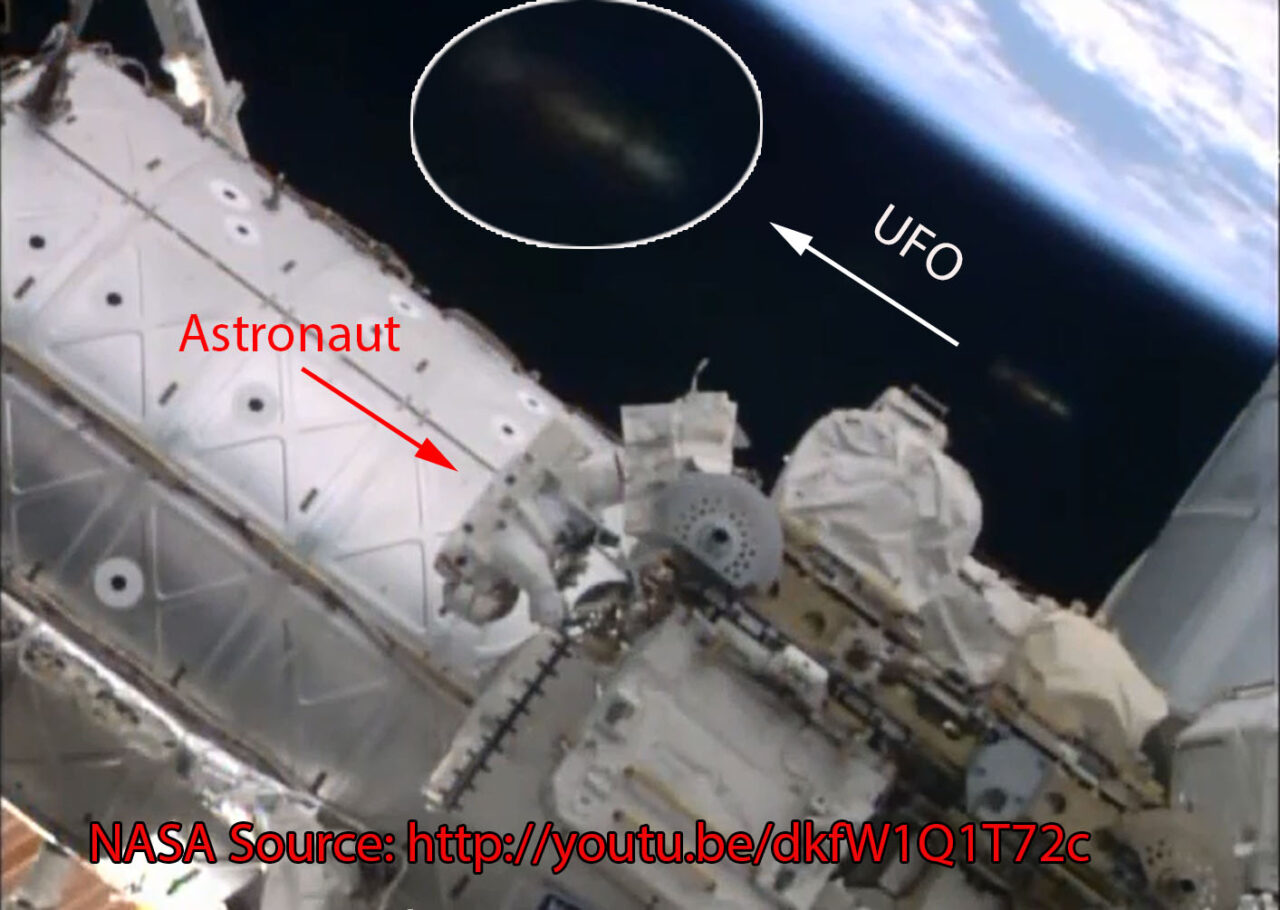 On October 7, the live camera feed from the International Space Station (ISS) captured video of a UFO near by astronauts during a spacewalk. In a Youtube video uploaded today by NASA of the spacewalk, an unknown craft is clearly visible as one of the spacewalking astronauts performs his mission. The UFO appears for 12 seconds beginning at the 1:40 minute mark (see embedded video extract). It has an elliptical metallic shape and is of unknown size. It appears to be close by and monitoring the astronauts.
One possible explanation is that the UFO could be one of two resupply ships currently visiting the ISS. On September 23, a Space X Dragon cargo ship arrived at the ISS. It was followed two days later by the Soyuz TMA-14M carrying three additional crew members. The two craft are respectively scheduled to return to Earth on October 18 and November 10. However, both craft are docked, and not floating near the ISS as the unknown object appears to doing in the October 7 video.
Another explanation is that it could be a lensflare or camera reflection of part of the ISS itself. However, lensflares and reflections typically happen as sunlight or a strong light source reflects off the sides of a camera lens and/or nearby objects. However, there does not appear to be any strong source of light near the astronauts or camera during the video segment when the UFO appears. The even light in the background of the video during the critical period appears to rule out a lensflare/camera reflection explanation.
The video footage follows incidents earlier in 2014 which showed what appeared to be UFOs visiting the ISS. The most revealing occurred on January 29 and involved live video feed of a yellow elliptically shaped UFO that appeared to actually have docked with the ISS. This raised remarkable possibility that the ISS was being visited by unknown astronauts or even extraterrestrials. To date, no satisfactory answer has been given by NASA for the unknown spacecraft captured on video docking with the ISS.
The October 7 incident cannot be video of either the Dragon X or Soyuz spacecraft which are docked. Nor does it appear to be caused by a lensflare/camera reflection. The elliptical shape of the object is consistent with earlier incidents at the ISS involving UFOs close by or even docking with the ISS. Is it possible that once again, a spacecraft of unknown origin has been captured on video visiting the ISS, this time monitoring a spacewalk by two astronauts?
© Michael E. Salla, Ph.D. Copyright Notice
Further Reading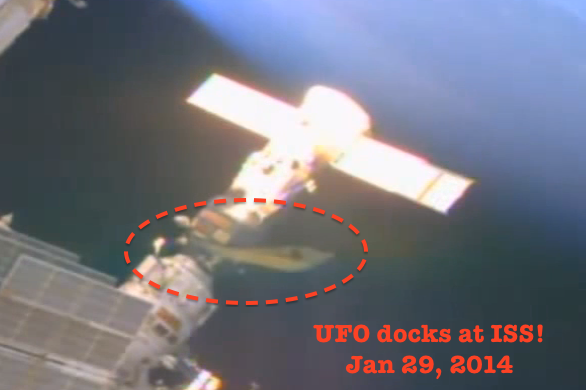 On January 29, 2014 the live camera feed of the International Space Station (ISS) showed what appeared to be a strange yellow elliptical object docked with the hull of the ISS. The live camera feed was quickly recorded and uploaded to Youtube, and is generating much interest as possible evidence of a UFO interacting with the ISS. This has led to claims that the UFO was docked so that extraterrestrials could meet with NASA astronauts. The idea that alien ships could dock with the ISS and have meetings with its occupants is supported by the claims of a former NASA employee who during his 34 year service worked on numerous NASA missions and finally as a Space Craft Operator. He claims to have witnessed a similar alien rendezvous during a U.S. Space Shuttle mission just before his security clearance was revoked by NASA in 1992.
The Youtube video "What is this please NASA?" was uploaded by a user Streetcap1 who has a reliable track record of posting authentic videos recorded from NASA and other national space programs. According to Scott Waring from UFO Sightings Daily: "This was caught by Streetcap1 of Youtube and yes its 100% real. I have followed this guy and his research for two years and he has never tried deceive anyone."
Waring goes on to describe the UFO and his belief that the video is evidence of an alien meeting with ISS occupants:
Here before us we see a long light yellow UFO parked alongside the ISS hull. There is no intent to hide itself or partly cloak, so we know the aliens and the astronauts on ISS know of this which makes us conclude…aliens and NASA had a meeting. I am sure this is just one of many that they have had, but to actually catch it on video is mind-blowing. This is not a glare…notice how the light changes and the UFO is a solid object near the ISS. It looks small, but it is about 10 meters across or more.
If extraterrestrials did dock their vehicle with the ISS to conduct a meeting with NASA astronauts, it would not be the first time according to the claims of Clark McClelland.
I, Clark C. McClelland, former ScO [Spacecraft Operator], Space Shuttle Fleet, personally observed an 8 to 9 foot tall ET on his 27 inch video monitors while on duty in the Kennedy Space Center, Launch Control Center (LCC). The ET was standing upright in the Space Shuttle Payload Bay having a discussion with TWO tethered US NASA Astronauts! I also observed on my monitors, the spacecraft of the ET as it was in a stabilized, safe orbit to the rear of the Space Shuttle main engine pods. I observed this incident for about one minute and seven seconds. Plenty of time to memorize all that I was observing. IT WAS AN ET and Alien Star Ship!
Furthermore, McClelland wrote that he was not the only NASA official who witnessed the incident:
A friend of mine later contacted me and said that this person had also observed an 8 to 9 foot tall ET INSIDE the SPACE SHUTTLE CREW COMPARTMENT! Yes, inside OUR Shuttle! BOTH missions were DoD (Pentagon) TOP SECRET (TS) encounters!
McClelland's testimony is significant due to his credentials gained over a 34 year career working for NASA contractors, and eventually NASA itself as a SpaceCraft Operator, before being forced to retire in 1992 due to his UFO beliefs. His website has a number of documents he has released to the public confirming some among the long list of achievements and testimonials arising out of his long NASA career. His claims of directly having witnessed events involving extraterrestrial life and technology while at NASA is first hand witness testimony that would be admissable in a court of law or Congressional Inquiry.
McClelland's testimony supports claims that NASA space missions have directly interacted with extraterrestrial vehicles and resulted in meetings between astronauts and aliens. The video recording of what appears to be a UFO docked at the ISS on January 29, 2014, may be yet another instance when aliens have met with NASA astronauts during a space mission.
© Copyright 2014. Michael E. Salla, Ph.D. Exopolitics.org
This article is copyright © and should not be added in its entirety on other websites or email lists. Permission is granted to include an extract (e.g., introductory paragraph) of this article on website or email lists with a link to the original.