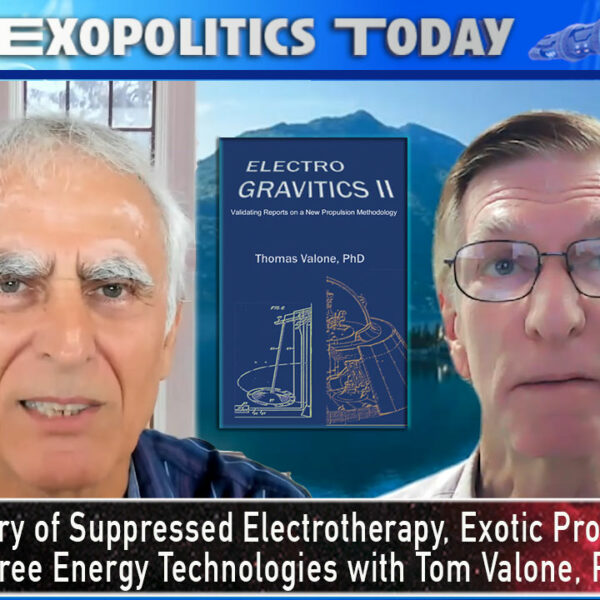 Tom Valone, Ph.D., P.E., is a retired Patent Examiner who has specialized in Future Energy technologies developed by Nikola Tesla and other inventors since 1984 when he gained his Masters Degree in Engineering Physics. He worked as a College Instructor in Physics, Robotics and Engineering Physics and earned his Professional Engineer (P.E.) license in 1990. He began working as a Patent Examiner at the US Patent and Trademark Office (USPTO) in 1996.
In 1999, Dr. Valone organized his first Conferences on Future Energy that was scheduled to be held at the US State Department, but led to media controversy when one of the scheduled presenters was to speak about the viability of Cold Fusion technology. The resulting Cold Fusion controversy led to the State Department officially withdrawing its support, forcing the Conference to be relocated to another venue, and his sacking by the USPTO. This led to a six year legal battle, which resulted in him being eventually reinstated in 2005, after gaining his Ph.D. in General Engineering.
Dr Valone retired in 2017 after a 20 year career at the USPTO as a federal employee, and began working full time at his non-government organization, the Integrity Research Institute. He has written or edited multiple books dealing with Nikola Tesla, electrogravitic propulsion, electrotherapy, and zero point energy. He has personally invented or assisted in the invention of many breakthrough technologies, which are available at the Integrity Research Institute.
In this interview with Dr. Michael Salla, Dr. Valone discusses how he became interested in Future Energy, Nikola Tesla, a century of suppression of breakthrough technologies, the role of the USPTO in this suppression, the controversy over his 1999 Conferences on Future Energy, the creation of his Integrity Research Institute, and some of the breakthrough electrogravitic propulsion, electrotherapy, and zero point energy inventions he has personally worked on or whose development he has supported.
Interview Available on YouTube & Rumble
Audio Podcast on Apple, Spotify, or Google
The Integrity Research Institute's website is integrity-research.org
Bioenergy devices are available at bioenergydevice.org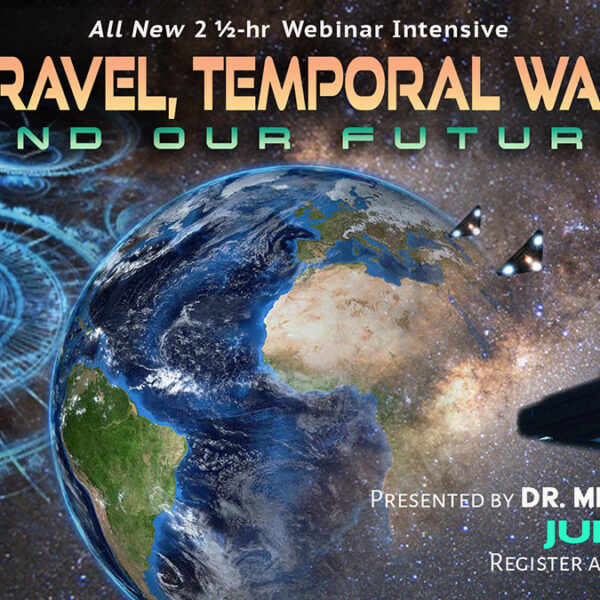 Many have accurately described humanity's present situation as very similar to a Dark Night of the Soul. As we fathom the extent of the situation confronting us all politically, economically, socially, medically, etc., around the planet, it's very easy to sink into despair and lethargy. This is precisely what the Deep State wants. It doesn't want us contemplating a marvelous future with incredible life changing technologies where we unite with our cosmic friends, because if humanity were allowed to do so, then it would quickly manifest the disclosure of technologies that have been suppressed for well over a century.
One only has to consult with the US Patent and Trademarks Office to see that almost 6000 patents have been held up under national security orders to understand what has been happening for a very long time. The bulk of these suppressed inventions deal with free energy, exotic propulsion systems, electromagnetic healing, and more. Ever since the time of Nikola Tesla, these advanced technologies have been suppressed by a Deep State led by secret societies and their negative extraterrestrial allies. Among these suppressed technologies is one that would conclusively show us the light at the end of the tunnel and conclude our collective Dark Night of the Soul—Time Travel.
Time travel technology has been around for a very long time. It can be dated as far back as 1895  when Nikola Tesla claimed that he saw the past and future when he opened a temporal doorway while conducting high voltage electrostatic experiments with his newly created Tesla coils. Those early experiments with Tesla coils led to the disastrous 1943 Philadelphia Experiment by the US Navy.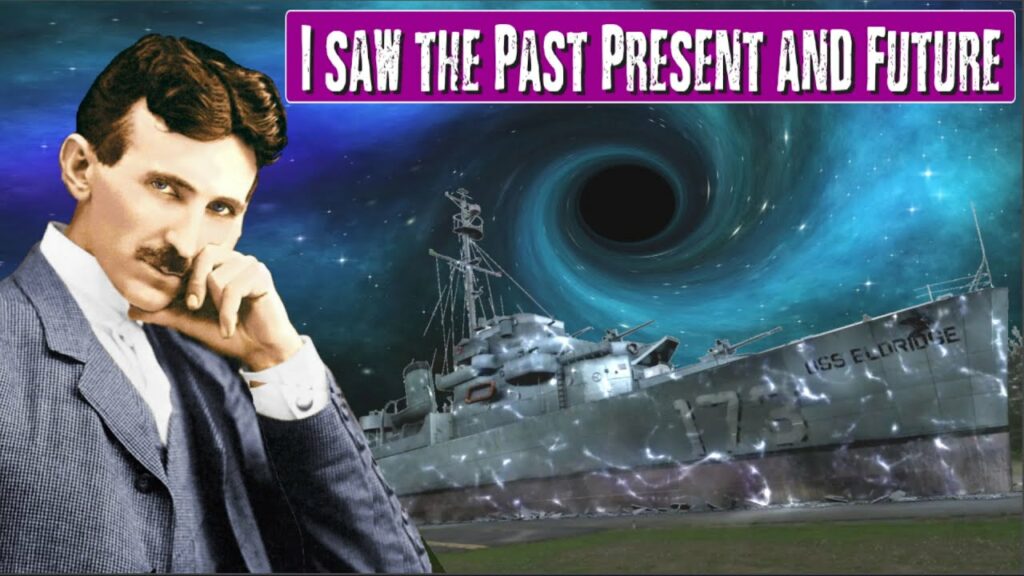 It was in continental Europe, however, that the biggest breakthroughs in time travel research happened—German secret societies led the way in their covert development. This enabled groups such as the Black Sun to foresee the crushing military defeat of Nazi Germany and move all the resources they needed to Antarctica and South America well before the end of World War II. Time travel was subsequently used by this German breakaway colony to outmaneuver the US and USSR, and bring about a Fourth Reich.
This brings me to the present day. Both sides in the behind the scenes "temporal war" being fought by the Deep State against the Earth Alliance, along with each of their respective extraterrestrial allies, have been using time travel technology. As we better understand how time travel technology was developed, put into operation, and used for the surveillance of future operations, we better understand how we got to the situation we face today. Once we appreciate how everything happening around us has been foreseen by both sides while engaged in an elaborate temporal war, we can appreciate the key role we can play in bringing about our desired future. All we need to do is to conceptually grasp how we got into this present day exopolitical situation and then something truly magical happens, which allows us to see the way forward out of this global situation we are in.
In my July 2 webinar, I will be presenting an elaborate road map of the historical development and use of time travel technologies. The big surprise, however, is not that such technology has been secretly developed and used, but that we possess within us our own innate time travel abilities. As we grasp the essentials of time travel, that innate ability within will kick into gear and we will be able to see the future and manifest it. That is what the Deep State doesn't want and why I hope you join me in next Saturday's webinar.
Michael E. Salla, Ph.D.
Now Available on Vimeo –

Order Now

Watch Official Webinar Trailer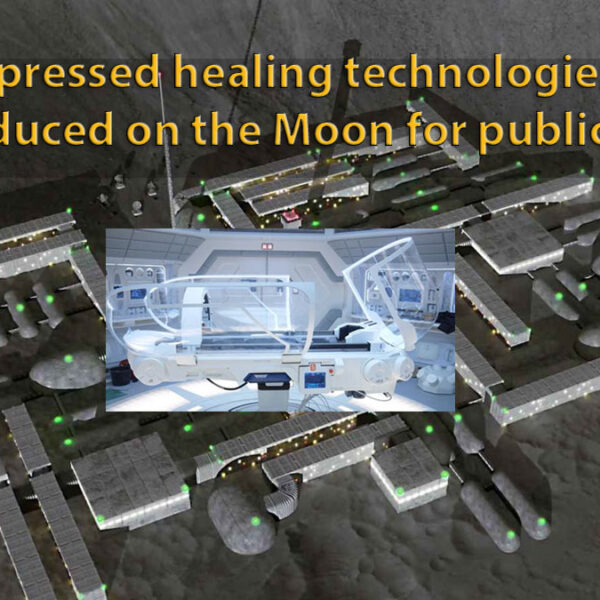 On September 11, I received an important update concerning the impending public release of advanced healing technologies that are being mass produced on the Moon, as a result of the Jupiter Agreements involving military and space program officials from 14 nations and cutting-edge aerospace companies that occurred back in July. The update was given by Val Nek, a High Commander of the Galactic Federation of Worlds who took part in the Jupiter Agreements, according to Megan Rose who relayed Val Nek's intel.
Val Nek's update involves Lunar Operations Command (LOC), a former German/Nazi base on the Moon that initially was handed over by the Dark Fleet to US authorities including the Air Force Secret Space Program, NASA, CIA, National Reconnaissance Office, National Security Agency, and a consortium of corporations in the 1970s, as a result of secret agreements. This corporate consortium became more dominant over the subsequent years in managing the LOC and has been called the Interplanetary Corporate Conglomerate.
The first Secret Space Program insider to discuss LOC was Randy Cramer who came forward in April 2014 with his revelations. He says he was taken to LOC for induction and training, before being sent to Mars for a 17-year period as a supersoldier to fight indigenous Reptilians and Insectoids to protect Mars corporate colonies, before serving in the Solar Warden program for a further three years in deep space operations. He described being returned to the LOC at the end of his "20 and back" program in 2007, when he was put through age regression technologies that reversed his age back to 17. He was then returned back in time to when he began his service in 1987.
Randy's experiences on Lunar Operations were very similar to what was later described by Corey Goode in early 2015 when he came forward with his experiences. I compared Randy and Corey's experiences in an article published in April 2015, and also incorporated them along with another insider, Michael Relf, with information about events on Mars in a chapter of Insiders Reveal Secret Space Programs (2015). Other insiders have since come forward describing their own experiences at LOC and the advanced medical technologies that exist there.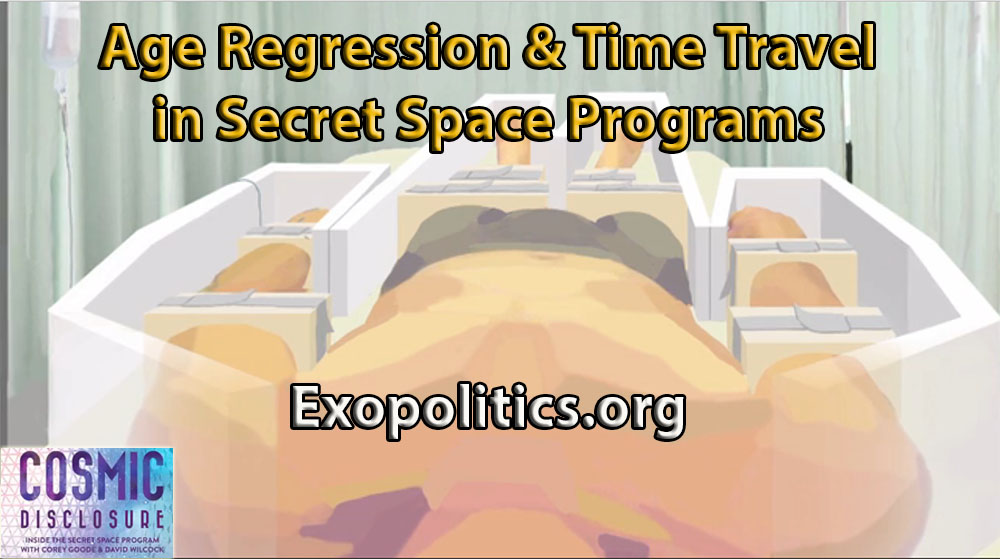 Consequently, Val Nek's information that LOC will be repurposed for the mass production and release of advanced healing technologies to humanity is very important news. This is what Val Nek (VN) said:
VN: I can now report that Lunar Operations Command is in the process of being remodeled into a medical facility for the Terran military. There are technologies, as you know, being manufactured. I repeat again, that these technologies are advanced technologies from the Federation and are being manufactured by the Terran people. The technology that will be present in Lunar Operations Command are medical technologies. It will be used as a medical base for the Terran military.
It is necessary to point out that until this time, real healing technologies have not been available to the Terran people. It was and is important to the Federation that these technologies be released in the proper way, through us (the Federation) and the [Earth] Alliance. Thus, these medical technologies and the release of such, is also outlined in the Jupiter agreements. The Terran military is to help manufacture these technologies as well. Their scientists and medical personnel are being retrained and educated by the Federation.
Lunar Operations Command was chosen as the medical facility because of its vast space and also its location on the moon. The location on the Moon makes it very accessible. The Alliance is in charge of Lunar Operations Command and organizing the Terran military there. The facility is being renovated with special technology. This technology is very interesting to the Terran people as it has never been used before.
Val Nek's information here is that the Earth Alliance has assumed control over the LOC, thereby replacing the Interplanetary Corporate Conglomerate that was closely aligned with the Dark Fleet.
Furthermore, whatever age regression and healing technologies that existed at LOC for secret space programs are now being augmented by healing technologies provided by the Galactic Federation that will be mass produced by the Earth Alliance. These healing technologies will be used by the multinational space alliance being assembled under the Artemis Accords and Combined Space Commands under US leadership, as stipulated in the Jupiter Agreements, which was covered in a previous article.
What's most crucial is that these advanced healing technologies will be released to the rest of humanity, which is a very welcome break from past practices where such technologies were only available in highly classified programs to a select number of participants. Presumably such technologies will be very helpful in dealing with many chronic diseases, life threatening injuries, and global pandemics.
Val Nek continued his update as follows:  
There are healing frequencies that are blasted in certain sections of the medical bay at this facility. We are using this technology to heal the super soldiers and slaves that we have rescued from Mars. As these people are victims of our enemy, it is the Federation's responsibility, once they were evacuated, to give them proper medical attention. The technology is frequency based … I cannot be too specific, however, I can explain that when the body comes in contact with these frequencies, it rearranges the atoms to its original structure, completely healing the DNA and returning it to its original sequence.
This process is especially beneficial for the super soldiers who have undergone trauma based mind control. The trauma in their brains has caused the neurons to form strong links between each other, in a pattern that usually cannot be undone naturally or without intervention. While nothing is impossible, the best form of healing we can offer is through medical intervention. The high frequency retrains the brainwaves to behave in a normal pattern very quickly instead of the soldier doing years of therapy or psychotropic medications to retrain the brain tissue. I am happy to report that this process is ongoing and will report more when the time is right.
Upon hearing Val Nek's information about healing frequencies being blasted through the medical bay of LOC, I immediately thought of Nikola Tesla's electromagnetic frequencies that he believed could be used to both heal people and to enhance their mental capacities. I asked Val Nek about Tesla and his inventions, and his reply appears below after the completion of his September 11 update.
The September 11 update continued with Megan (M) and Val Nek (VN) having a Q and A:
M: So has Lunar Operations Command already been refurbished or is it in the process of being refurbished, is it functional as a medical facility?
VN: There are sections of it that are operational. It is a very large facility, it has not been completely refurbished. There are other sections of the facility that will also be used for other things that will be reported at a later date. The operational sections are being used to recover the human soldiers from Mars.
M: Are you talking about med beds?
VN: We do not call them med beds…. the concept of med beds, yes this medical technology is similar to what you call med beds. Because of the potential for this technology to be misused or sold for profit, and not for the benefit of Terra, the Federation is very strict on how it will be administered as outlined in the Jupiter Agreements.
It's worth pointing out that med bed technology was part of the pioneering space medicine that was being developed by a major aerospace company, TRW, from 1967 to 1971, according to William Tompkins, who worked there at the time.
Age regression, and other advanced medical technologies for the aerospace industry were developed at TRW, which was later acquired by Northrup Grumman in 2002. I asked Val Nek about this Grumman connection and his answer also appears below in response to my questions.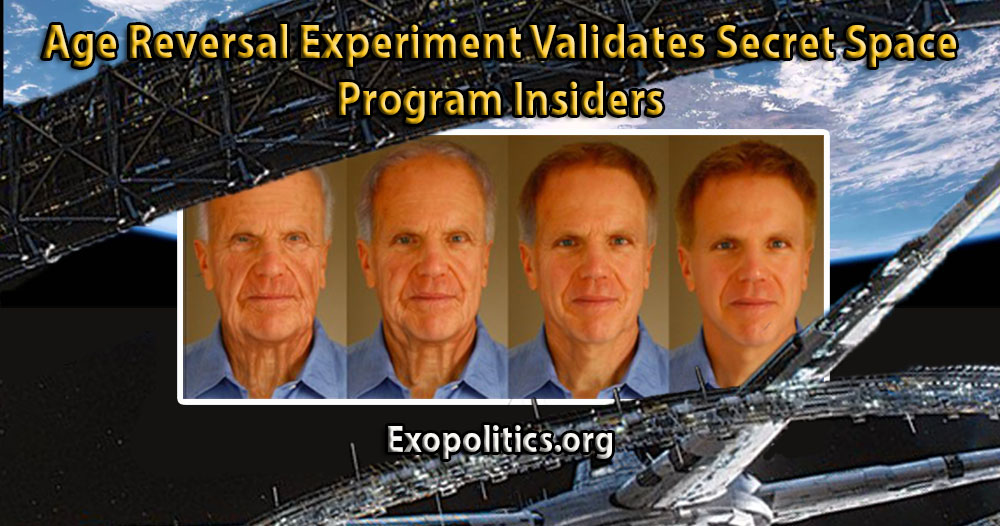 Megan and Val Nek's Q & A continued as follows:
M: So some of these technologies have already been manufactured for use?
VN: Yes in preparation for the liberation of Mars and the Dark Fleet leaving, agreements were made on a smaller scale than the Jupiter agreements to manufacture some of these technologies by the [Earth] Alliance. As I said, Lunar Operations Command is in the hands of the Alliance and so are their manufactured technologies. The medical technologies, the same ones manufactured on a smaller scale by the Alliance, will be manufactured on a larger scale, mass produced by corporations that participated in the Jupiter Agreements.
[M] Val Nek gave me an image of this technology being used: I was shown a person lying down with a frequency around and running through their body. Val Nek's explanation of the image.
[VN] The frequency is a higher frequency and has an inter dimensional component. It goes between the matter and uses magnetic force to rearrange the DNA to its original pattern. In each strand of DNA, there are sequences that are held together by a magnetic pattern. This pattern is identified by the technology and then rearranged to form that pattern. It is very advanced.
M: What is the technology made out of?
VN: It is made out of precious metals and other elements…some of it natural to Terra and some of it is not natural to Terra.
M: Is there a reason why you have been giving so much intel recently?
VN: Because I think it's important to notify the Terran people of our ongoing operations. They need hope.
It is very helpful to know that the Galactic Federation is being proactive in encouraging the Earth Alliance to release suppressed and newly acquired advanced health technologies in order to give the rest of humanity hope. It is indeed a challenging time for humanity as individuals have to deal with lockdowns, job losses, depression, suicides, etc., as the Deep State plays its final cards to ward off their inevitable defeat by the Earth Alliance and their Galactic Federation partners.
After receiving Megan's update, I [MS] asked Val Nek five questions and what follows are his answers:
[MS]. 1. Val Nek said that the release of medical technologies is part of the Jupiter Agreements. Does he know how many of the 5,915 suppressed patent applications in the US Patents and Trademarks Office for the year 2020 involve medical technologies?
VN: I am not sure about the exact calculation for the year 2020….I can say, I know, about half of those patents include suppressed medical technologies. The reason the Federation is involved with the suppressed patents is because they involve extra-terrestrial technology that was suppressed by our enemies and we are in accordance by Federation laws, righting a wrong. We are also helping to improve upon these plans, the schematics for the technology so that it is the most up to date.
At the end of 2020, the US Patents and Trademarks Office reported 5,915 patents being withheld due to secrecy orders being placed by one or more Federal government agencies. Such orders effectively put the patents in limbo where they can't be developed for commercial release, but may be incorporated into classified programs.

[MS]. 2. Also, do the Jupiter Agreements refer to the release of new energy and propulsion technologies that are also part of the 5,915 suppressed patent applications in the US?
VN: I am very happy to report that free energy is part of the Jupiter Agreements. I can report that a corporation run by one of the men that was speculated to be in attendance at the Jupiter Agreements, and later confirmed, by Thor Han and myself, will be manufacturing some of the free energy and releasing it within the decade. Of course, you can speculate who this might be, but I am unable to name the person or corporation specifically.
My speculation is that it is either Elon Musk's SpaceX or Jeff Bezos' Blue Origins that will manufacture free energy technologies for commercial release. Musk's SpaceX is planning ambitious missions to Mars later this decade to set up colonies. The development of free energy technologies would make such an endeavor feasible so I would lean towards SpaceX as the company Val Nek is alluding to.
[MS]. 3. Val Nek refers to healing frequencies that are used to heal supersoldiers and others suffering brain trauma and/or mind control. This sounds very similar to the kind of EM frequencies that Nikola Tesla promoted for healing and brain enhancement in the early 1900s. Is it correct to say that these kinds of EM healing technologies have been suppressed for more than a century by the Deep State?
VN: I am very amused by this man, his is very sharp (referencing Dr. Salla). Yes exactly, these ideas and technologies were given to Nikola Tesla over 100 years ago by the Federation. Since these ideas and technologies, the ideas and schematics, were interfered with by our enemy, we have the right in accordance with our law, to intervene and right a wrong. It shall be noted that these improvements will benefit all of humanity, not one specific country, and administered as such, as they were originally intended. The Nazi-Reptilian alliance (the Dark Fleet) and the Cabal, as you call it, interfered with the evolution of society by suppressing these advancements. So in the interest of balance, we are involved with releasing to humanity what is rightfully theirs.
Tesla's inventions in this regard actually began to be implemented in Sweden for school classrooms in 1912, just before the events of World War 1 swept aside these pioneering efforts. A story appeared in Popular Electricity Magazine on Dec 1, 1912, titled "Tesla's Plan of Electrically Treating School Children," which explained how finely calibrated electromagnetic baths had special healing and brain enhancement properties.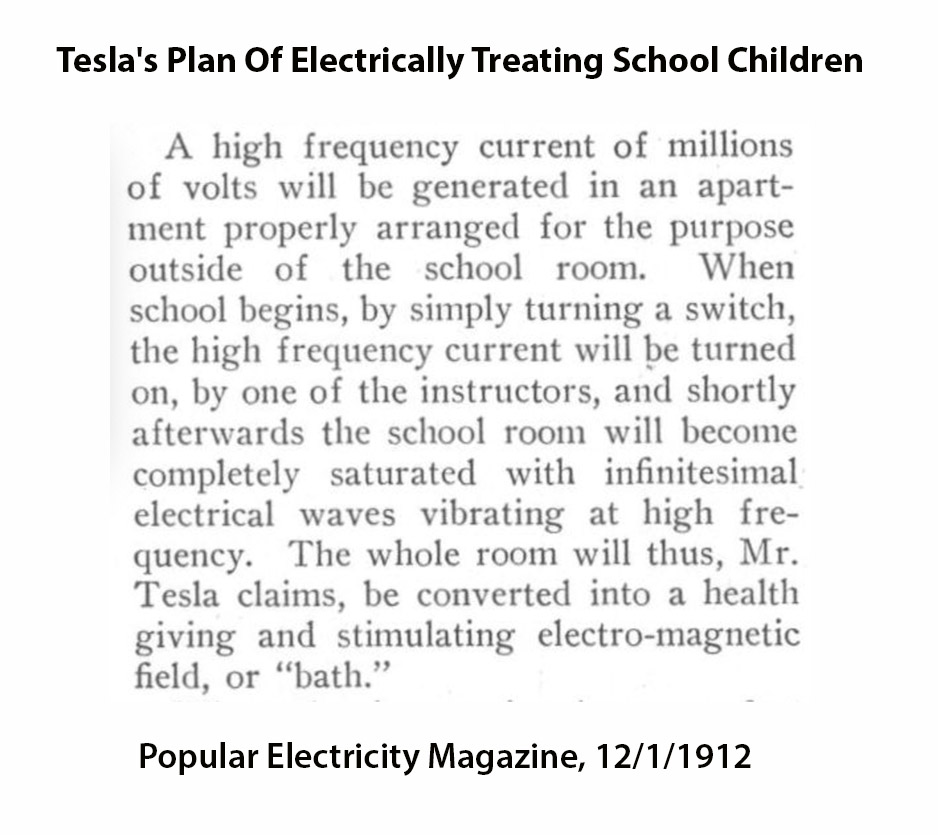 My questions to Val Nek continued thus:
[MS] 4. Regarding the healing technologies that are about to be mass produced by corporations, does this include companies such as SpaceX, Blue Origin, Virgin Galactic, Bigelow Aerospace that have an interest in such technologies for prolonged space travel?
VN: Because this involves parties that are working with, but are also separate from the Federation, I cannot completely answer this question in the interest of the companies privacy, but also Megan's safety. You can speculate if you wish, but I cannot confirm.
This is not the first time Val Nek has referred to the need to protect Megan from repercussions for releasing intel. The home of Megan's mother was visited by four Men in Black a few days ago making inquiries about a young lady, Megan. It's clear that the visit was meant to send a message and intimidate Megan's mother, and thereby influence Megan not to continue releasing updates.
My final question was thus:
[MS] 5. Finally, William Tompkins said that from 1967 to 1971 he worked at TRW and they were working on age regression technologies that were later incorporated into the US Navy Secret Space Program. TRW was acquired by Northrup Grumman in 2002. Therefore is Northrup one of the companies that participated in the Jupiter Agreements and will be involved in the mass production of healing technologies to be soon released to the Terran population?
VN:  I cannot say much because these companies are separate from the Federation, but you can speculate if you wish. I am aware of the schematics given and incorporated into the US Navy at that time. I can also confirm that I am aware of the Federation being in touch with the Navy during this time period. The healing technologies given at that time were very advanced and will be similar to those being released. The new technologies being released are over sighted by the Federation to ensure they are the absolute safest and most effective. It is important to note that these technologies will be in accordance with the evolution of humanity. By this I mean everything has a potential to be misused for nefarious reasons, which is why the Federation and the Council of Five is involved with overseeing these projects while working with the Alliance.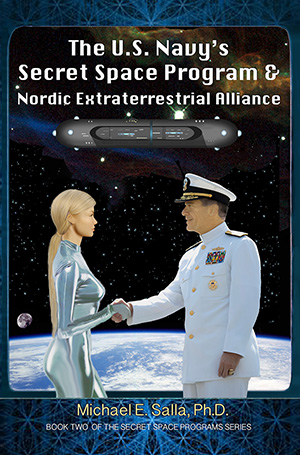 Val Nek is here confirming that the US Navy did acquire such advanced technologies at the time, and further that it was working with the Galactic Federation. In short, the Nordic extraterrestrials that William Tompkins repeatedly referred to in his books and interviews, were members of the Galactic Federation.
What is also clear is that Val Nek will neither give nor confirm specifics, but invites speculation about the companies and individuals involved in implementing the Jupiter agreements. My best guess consequently is that Northrup Grumman continues to be associated with the production of advanced healing technologies, and will be among the companies setting up mass production facilities at the LOC.
In conclusion, it is clear that the Galactic Federation is taking action to rectify the wrong done to humanity due to the repression of many advanced healing technologies over the period of the last century dating back to the pioneering work of Nikola Tesla. Under their Prime Directive, the Galactic Federation is permitted under Article IX and X to take action when wrongs are perpetuated by off-planet species such as the Draco Empire and the Orion Alliance, who began intervening in human affairs in the 1930s, as a result of secret agreements reached with Nazi Germany.
The early agreements with Nazi Germany and subsequent agreements with Draconian and Orion extraterrestrials involving the US and other nations led to the suppression of thousands of free energy, exotic propulsion, and healing technologies. This is best evidenced today with the 5,915 patents that have not been publicly released due to secrecy orders being placed upon them. What Val Nek is effectively saying is that many of these suppressed technologies, along with newer contributions from the Galactic Federation, are currently being mass produced on the Moon and will be soon released into the public arena. That indeed is a prospect worth looking forward to in these dark times on our planet.
I wish to thank Megan Rose for relaying Val Nek's information and answers to me. Megan's website is here.
© Michael E. Salla, Ph.D. Copyright Notice
[Video version of this article is available on YouTube & Rumble]
Further Reading/Podcasts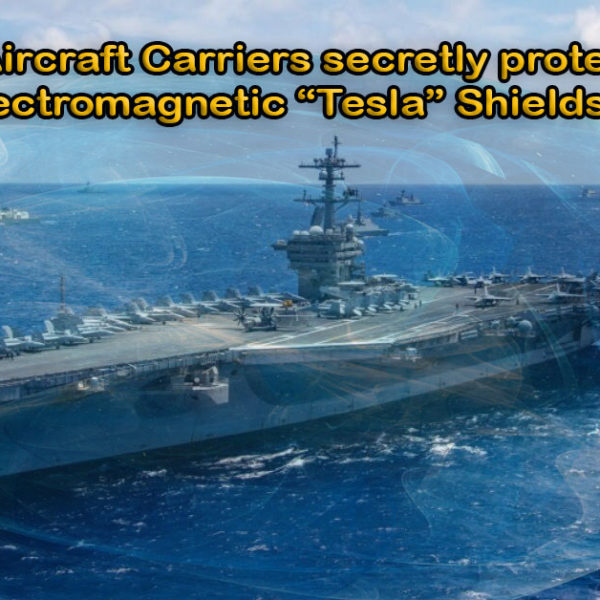 In January 2017, all U.S. aircraft carriers were recalled to their home ports for unknown upgrades. There has been much speculation about what the carriers had been secretly equipped with given the growing threats posed by hypersonic cruise missiles against which the carriers appeared defenseless. The 2018 release of a Navy patent provides a compelling answer to what had happened during the recall. The carriers were secretly equipped with powerful electromagnetic "Tesla" shields that could neutralize all hypersonic and ballistic missile threats.
In January 2017, several news reports appeared describing the recall of all US aircraft carriers to home ports and how for the first time none were actively serving anywhere in the world. On December 30, 2016, a Fox News report explained:
For the next week, not only will there be no U.S. Navy aircraft carrier in the Middle East, but there will be no American aircraft carriers deployed at sea anywhere else in the world, despite a host of worldwide threats facing the United States… the absence of a deployed U.S. Navy aircraft carrier, long seen as a symbol of American power projection, is noteworthy. It is believed to be the first time since World War II that at least one U.S. aircraft carrier has not been deployed.
When the Navy was questioned by Fox News about the recall of all its aircraft carriers in the Middle East, a Navy spokesperson said:
"We are not going to discuss the timing of operational movements of carrier strike groups into and out of the U.S. Central Command area of responsibility," said Capt. Terry Shannon, a U.S. Naval Forces Central Command spokesman, in a statement to Fox News. Centcom is tasked with control over all U.S. forces in the Middle East and Afghanistan.
The lack of explanation for the recall led to much speculation including some concluding that the recall was done to set up the US for a major false flag attack:
In what can only be described as a disproportionate appropriation of U.S. Navy assets, a blatant breach of standard protocol, and a possible set up for a false flag operation — the entire U.S. Navy aircraft carrier group, 10 active carriers, have returned to port and are now all sitting ducks.   
By the end of January 2017, the Navy began redeploying its aircraft carriers and the recall was quickly forgotten. In order to understand why the aircraft carriers were recalled and what they may have been upgraded with, we need to consider the growing threat posed by cruise missiles capable of hypersonic speeds.
I first wrote about cruise missiles developed by Russia and China and sold to countries like Iran that could threaten aircraft carrier battle groups back in November 19, 2007. In an article titled: "The Neoconservative Agenda to Sacrifice the Fifth Fleet – The New Pearl Harbor," I explained:
Iran has sufficient quantities of cruise missiles to destroy much or all of the Fifth Fleet which is within range of Iran's mobile missile launchers strategically located along its mountainous terrain overlooking the Persian Gulf. The Bush administration is deliberately downplaying the vulnerability of the Fifth Fleet to Iran's advanced missile technology which has been purchased from Russia and China since the late 1990's. The most sophisticated of Iran's cruise missiles are the 'Sunburn' and 'Yakhonts'. These are missiles against which U.S. military experts conclude modern warships have no effective defense.
I further described the capabilities of the cruise missiles sold to Iran as follows:
The SS-N-22 or 'Sunburn" has a speed of Mach 2.5 or 1500 miles an hour, uses stealth technology and has a range up to 130 miles. It contains a conventional warhead of 750 lbs that can destroy most ships. Of even greater concern is Russia's SSN-X-26 or 'Yakhonts' cruise missile which has a range of 185 miles which makes all US Navy ships in the Persian Gulf vulnerable to attack. More importantly, the Yakhonts has been specifically developed for use against Carrier groups and has been sold by Russia on the international arms trade.
Over the subsequent decade, cruise missile payloads and speeds have increased to the extent that Russia has now developed missiles that can travel over five times the speed of sound. At his February 20, 2019 State of the Nation address, President Vladimir Putin public announced the existence of the first hypersonic cruise missiles, which the Pentagon determined had been under development and testing since 2015:
 "This is a hypersonic missile called Tsirkon. It will have the speed of Mach 9, it has a range of 1,000 kilometers (620 miles) and can hit navy or land targets."
In December, CNBC learned that a U.S. Intelligence report had highlighted testing of the Tsirkon hypersonic system, noting that five tests had been carried out by the Russian military since 2015.
Putin has previously described Russia's hypersonic prowess as "invincible" and accused "those who have fueled the arms race over the last 15 years" of failing to contain Russia.
China is not far beyond Russia in developing cruise missiles capable of hypersonic speeds, and currently has a number of hypersonic ballistic missiles that can be deployed against aircraft carriers. On January 2019, Elizabeth Shim from UPI reported:
China plans to deploy midrange ballistic missiles capable of destroying U.S. aircraft carriers by 2020, according to multiple state media reports.
China Times and others reported Tuesday the Dongfeng-17 is a midrange rocket that could be used to sink an entire U.S. aircraft carrier, if it is fired eight times.
The threat posed by hypersonic cruise and ballistic missiles to aircraft carriers and their support ships is well understood by senior Navy leaders and researchers. According to a March 6, 2018 news story published in The Examiner:
The era of the American aircraft carrier as the premier embodiment of military might could be ending unless the U.S. develops defenses for the next generation of highly maneuverable, super-fast hypersonic weapons under development by Russia and China, the Pentagon's top weapons researcher said Tuesday.
Michael Griffin, undersecretary of defense for research and engineering, said China is spending billions to develop a non-nuclear version of the weapons that could render U.S. aircraft carriers vulnerable to attack.
Despite the threat posed by increasingly sophisticated and powerful hypersonic missile systems under development by major geopolitical rivals, the US Navy has nevertheless gone ahead with building and deploying a new generation of aircraft carriers beginning with the USS Gerald Ford, which is scheduled to formally begin active service in 2022.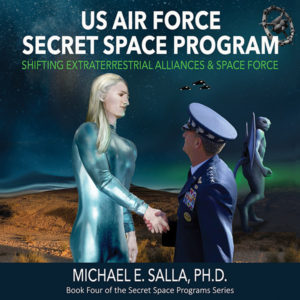 This brings us back to the question of why did the US Navy recall all its aircraft carriers in early 2017, and forge ahead with plans to build the larger and more expensive Ford-class carriers?
For an answer, we need to review a 2018 patent awarded to a Navy scientist, Salvatore Cezar Pai, which is titled: "The High Energy Electromagnetic Field Generator" (HEEMFG). In a previous article, I briefly described his patent as an electromagnetic shield. The patent's summary describes one of the goals of the HEEMFG is to protect the Earth from potential asteroid impacts:
It is a feature of the present invention to provide a method and apparatus for deflecting or destroying a large asteroid and preventing a possible collision with earth. The present invention may also deflect or destroy any other type of object.
It is the HEEMFG's ability to "deflect or destroy" fast traveling objects which directly pertains the question of why the Navy recalled all its aircraft carriers and is moving ahead with building more Ford-class carriers:
It is a feature of the present invention to provide a method and apparatus for generating an impenetrable defensive shield to Sea and Land as well as Space-based military and civilian assets, protecting these assets from such threats as Anti-Ship Ballistic Missiles, Radar Evading Cruise Missiles, Top Attack for Main Battle Tanks (land and sea based systems), as well as counteracting the effects of solar-induced Coronal Mass Ejections or defending critical military satellites in an ASAT role (space based system). [Source]
The development of an impenetrable electromagnetic shield to defend a target from fast traveling objects such as asteroids and missiles is very similar to ideas first proposed by the Serbian inventor Nikola Tesla back in the 1930's, Tesla proposed an electromagnetic shield based on scalar wave principle which has been explained as follows:
Scalar Waves can be warped into a dome around objects, such as cities or houses… Such a Scalar Wave force field is generally known as a Tesla Shield, and it would be analogous to the "shields" referred to in the popular "Star Trek" series. Tesla Shields have a definite defensive application, and could not in any way be used for offensive purposes (although a platoon of soldiers charging into a Tesla Shield would be instantly disintegrated). The only defense from a blast of a Scalar Wave Howitzer would be a Tesla Shield.
The scientist behind the HEEMFG is no rogue inventor but works at the Naval Air Warfare Center Aircraft Division (NAWCAD) on advanced technology concepts. On two occasions, Dr. James Sheehy, the Chief Technology Officer of the Naval Aviation Enterprise, a US Navy affiliated organization, has intervened on behalf of Dr. Pais' patent applications deeming them "operable" to skeptical patent examiners. 
Brett Tingley, writing for The Drive, has given detailed commentaries on Pais' patents, and has speculated about why the Navy wanted to make public what appeared to be technologies that would be highly classified if they worked. He speculated that the patent applications may be disinformation intended to deceive China and Russia:
[I]t's certainly possible that these patents are part of some ongoing information campaign designed to make America's competitors question what types of black budget research is currently underway at NAWCAD and other research organizations. With so many revolutionary new aerospace technologies on the brink of deployment, perhaps this is an attempt to essentially "weaponize" patents and sow doubt among our adversaries and even inject confusion among the American populous. 
An alternative explanation offered by Tingley is that the patents are feasible and the Navy is seriously contemplating developing them based on UFO sightings such as the 2004 Tic Tac incident tracked by Navy pilots:
[M]aybe this is the Pentagon's grasping attempt to try to make sense of and emulate mysterious and seemingly highly advanced craft that are supposedly being increasingly observed near its own aircraft, vessels, and installations. Maybe the Chinese competition claim is just a placeholder for the unknown. 
There is yet another, even more compelling, explanation that Tingley did not consider. The patents are based on technologies that have already been successfully developed by the Navy in a classified program to protect current and future aircraft carriers from hypersonic weapons. After all, the Navy has a long track record in studying electromagnetic means for protecting its ships as evidenced by the 1943 Philadelphia Experiment.  
Even more intriguing is recent insider and documentary evidence that the Navy has developed a secret space program that deploys kilometer long spacecraft that would almost certainly have needed such electromagnetic protection from space debris and asteroids encountered during deep space travel. It's plausible that Tesla shields that have long been used on the Navy's secret space program which were deployed in the early 1980's, and this technology has recently been made available for the Navy's conventional aircraft carriers given recent advances in hypersonic weapons development.
If Tesla shields have already been developed in a highly classified Navy space program, then it is reasonable to conclude that the HEEMG patent is based on electromagnetic shield concepts that Drs. Pais and Sheehy have been officially briefed about. The existence of Tesla shield technology provides a cogent explanation for why all aircraft carriers were mysteriously recalled in January 2017, the secret upgrades they received, and why Ford-class supercarriers are going to be built.
All this leads to the startling conclusion that U.S. Navy can protect all its aircraft carriers from hypersonic cruise and ballistic missiles using electromagnetic Tesla shields. Even more significant is the potential of such electromagnetic shields to protect entire cities and even the Earth as mentioned in the HEEMFG patent. The HEEMFG patent is cogent evidence that we are about to witness a profound military revolution from the development of offensive to defensive weapons systems where civilian populations are protected rather than sacrificed in strategic military planning.
© Michael E. Salla, Ph.D. Copyright Notice
Further Reading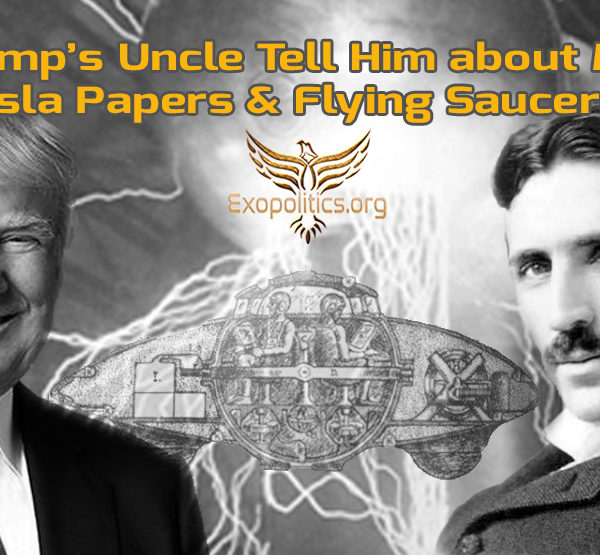 President Donald Trump's uncle, John G. Trump, was a Professor of Electrical Engineering at the Massachusetts Institute of Technology (MIT) from 1936 until his retirement in 1973. It is well known that declassified documents confirm that in January 1943 Professor Trump was called upon by the FBI to evaluate the personal papers of Nikola Tesla just over a week after his death. What is not well known is that there is also a leaked classified document that also connects Professor Trump to another famous event in US history – the crash of a flying saucer at Roswell in 1947.

According to a memorial tribute published by the National Academy of Engineering, John Trump joined MIT to work with Professor Robert J. Van de Graaff, who was a pioneer in "the new field of super-high voltage generation and applications." After gaining a Doctorate under Van de Graaff in 1933, Trump went on to become an assistant professor in 1936, and a full professor in 1952 at MIT.
According to the memorial tribute:
John Trump had two main interests: the insulation of super-high voltages in vacuum and compressed gases and the biological applications of high voltage radiation.
During World War II, Trump worked on microwave radar at MIT's Radiation Lab, where he served as "field services director", and also was posted to the British branch of the Radiation Lab where he worked directly with General Dwight D. Eisenhower: 
In 1944, he was named director of the lab and given the responsibility of working directly with the Eisenhower Military Command. At the liberation of Paris, Trump rode into the city with General Eisenhower and immediately began to set up the Paris branch of the Radiation Lab.
Trump's expertise with high voltages and radiation was widely acknowledged by U.S. authorities, and he also was very familiar with the requirements for working in classified government programs.
In 1943, he played a major role in the examination of Nikola Tesla's personal papers that were acquired by the FBI/Office Alien Property Custodian soon after Tesla's January 13 death. An FBI document included Trump among the scientists and experts investigating Tesla's papers: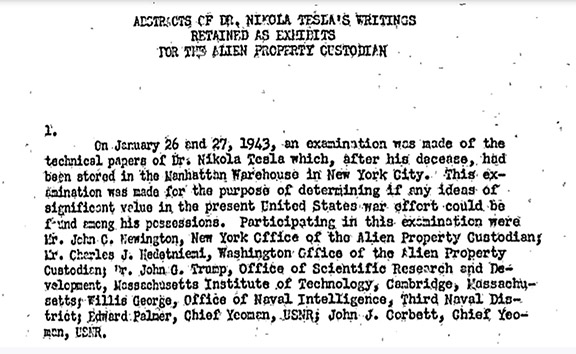 Tesla was the author of over 200 patents granted worldwide, and made numerous claims about building death rays and electrostatic walls of energy that could protect any country from attack.
Among Tesla's inventions was a revolutionary disc shaped aircraft – a flying saucer – which he allegedly filed a patent application for in the early 1900's, but it was not granted on national security grounds. Apparently, Tesla planned for his flying saucer to be remotely powered by a "world wireless system" which he first discussed in a March 5, 1904 paper titled: "The Transmission of Electric Energy Without Wires". Tesla wrote:
Not only was it practicable to send telegraphic messages to any distance without wires, as I recognized long ago, but also to impress upon the entire globe the faint modulations of the human voice, far more still, to transmit power, in unlimited amounts, to any terrestrial distance and almost without loss… 
Tesla went on to describe how his "world wireless system" would be powered by devices similar to his legendary Wardenclyff Tower, which would be eventually capable of generating huge electrostatic charges that surpassed that found in lightning bolts: 
It is difficult to form an adequate idea of the marvelous power of this unique appliance, by the aid of which the globe will be transformed.  The electromagnetic radiations being reduced to an insignificant quantity, and proper conditions of resonance maintained, the circuit acts like an immense pendulum, storing indefinitely the energy of the primary exciting impulses and impressions upon the earth of the primary exciting impulses and impressions upon the earth and its conducting atmosphere uniform harmonic oscillations of intensities which, as actual tests have shown, may be pushed so far as to surpass those attained in the natural displays of static electricity.
Tesla's proposal of building a "world wireless system" that could power any remote device, including his proposed flying saucer, was certainly revolutionary. What is critical here is that his proposal for building devices capable of generating huge electrostatic charges was the precise topic that Professor Trump had specialized in at MIT with his work on Van de Graaff generators!
So did Tesla really design a flying saucer that would be powered by a some kind of Van de Graaff generator?
A New York inventor, Otis Carr, claims that he befriended Tesla in 1937 while Tesla was living at the New Yorker Hotel, and was instructed by Tesla on how to build a flying saucer that would be powered by an electrical generator.
Over a decade later, Carr succeeded in getting a patent for his revolutionary flying saucer craft, which he called an amusement park device in order to get it approved by the US Trade and Patent Office. After raising private funding to build his OTC-XI, he successfully tested his flying saucer in 1961. According to one of Carr's former employees, Ralph Ring, the saucer incorporated high voltage machines for its propulsion and navigation systems.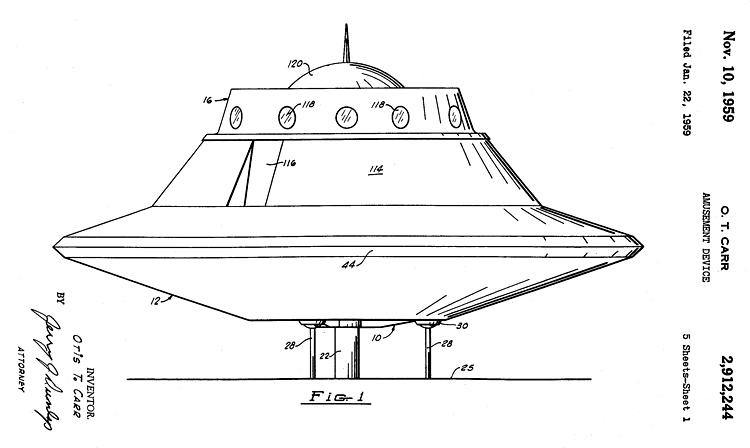 Unfortunately, Ring also told of how Carr's manufacturing facility was raided and closed down by Federal agents on bogus charges of securities fraud.
If Carr and Ring are to be believed, a civilian spacecraft based on Nikola Tesla's ideas and inventions was successfully built and tested in 1961. Were any of Tesla's ideas on building a flying saucer device found in his personal papers after his death?
An article in the New Yorker, described Trump's role in evaluating Tesla's papers:
Trump was involved in radar research for the Allies in the Second World War, and in 1943 the F.B.I. had enough faith in his technical ability and his discretion to call him in when Nikola Tesla died in his room at the New Yorker Hotel, in Manhattan, raising the question of whether enemy agents might have had a chance to learn some of his secrets before the body was found. (One fear was that Tesla was working on a "death ray.") As Margaret Cheney and Robert Uth recount in "Tesla, Master of Lightning,"
Professor Trump examined Tesla's papers and equipment, and wrote a report for the FBI stating nothing of national security significance was found within them:
As a result of this examination, it is my considered opinion that there exist among Dr. Tesla's papers and possessions no scientific notes, descriptions of hitherto unrevealed methods or devices, or actual apparatus which could be of significant value to this country or which constitute a hazard in unfriendly hands. I can therefore see no technical or military reason why further custody of the property should be retained.
Professor Trump went on to give his conclusion about the importance of Tesla's work over the prior 15 years:
It should be no discredit to this distinguished engineer and scientists whose solid contributions to the electrical art were made at the beginning of the present century to report that his thoughts and efforts during at least the past fifteen years were primarily of a speculative, philosophical, and somewhat promotional character – often concerned with the production and wireless transmission of power – but did not include new sound, workable principles or methods for realizing such results.
Trump did not appear to be impressed by Tesla's background or what had been found in the latter's papers when it came to its potential war application.
Given Tesla's claims and what numerous researchers have discovered about his revolutionary ideas, this appears odd. Either Trump found nothing of importance as he reported to the FBI, or he was instructed by higher military authorities to cover up the true significance of Tesla's papers in his report to the FBI.
According to Margaret Cheney, author of Tesla: Man Out of Time, some of Tesla's documents, inventions and patents applications were seized by FBI agents and never released into the public arena. If Cheney is correct, then John Trump did find items of importance among Tesla's collection that were taken and have been kept secret from the public to the present day.
Despite the controversy over what was retrieved from Tesla's collection, it is clear that he worked on developing revolutionary technologies, some of which are relevant to flying saucer propulsion systems. Otis Carr's claims directly connect Tesla to such exotic propulsion technologies.
The relevance of all this is that John Trump was the man the FBI wanted to help them decide whether Tesla's personal papers contained revolutionary technologies that were vital to national security or not. Essentially, the FBI viewed Trump as the expert who could make the necessary recommendations on the revolutionary technologies, some of which concerned flying saucers, which the FBI and the US military was secretly studying from what had been retrieved at Roswell and other crash sites.
A little known historical fact is that Van de Graaff generators, which Professor John Trump specialized in at MIT, were a key component of flying saucer research being secretly conducted in Nazi Germany. According to Vladimir Terziski, an electrical engineer who was a member of the Bulgarian Academy of Sciences before emigrating to the US, Van de Graaff machines were part of the propulsion system for different flying saucer prototypes being developed by Nazi Germany.
Terziski explained that Vril and Haunebu models possessed an electro-gravitics propulsion system called Thule-Tachyonator drives. These were first developed in 1939 by a Nazi SS development unit which incorporated Van de Graaff generators, as learned from SS documents acquired and released by Terziski after the collapse of the Warsaw Pact:
This group developed by 1939 a revolutionary electro-magnetic-gravitic engine which improved Hans Coler's free energy machine into an energy Konverter coupled to a Van De Graaff band generator and Marconi vortex dynamo [a spherical tank of mercury] to create powerful rotating electromagnetic fields that affected gravity and reduced mass. It was designated the Thule … [Tachyonator-7 drive] and was to be installed into a Thule designed disc.
If Trump's expertise on Van de Graaff generators led to him learning about the propulsion systems used in flying saucer research, is there any documentary evidence linking Professor Trump to US government's research and development in this regard?
Indeed, there is. A Majestic document called the "White Hot Report" was given a "High Level of Authenticity" rating by Dr Robert Wood and Ryan Wood, who specialize in researching and authenticating leaked government and military documents given MAJIC and similar level security classifications.
The leaked Majestic document concerns a report by then Major General Nathan Twining about the need to set up a permanent committee to evaluate the Roswell UFO Crash given the many vital national security issues surrounding the visitation of extraterrestrial life and their advanced technologies. The White Hot Report describes a list of scientific institutions involved in the study of such extraterrestrial artifacts. Prominently listed among them is MIT.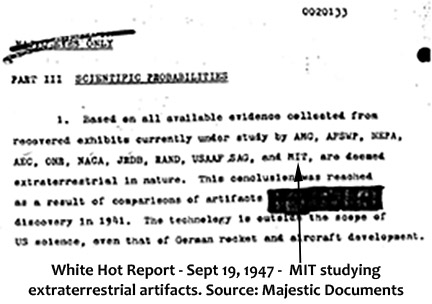 This is a stunning discovery since it directly links the institution where Professor Trump worked, with secret government studies of the Roswell UFO Crash. Given Trump's expertise in high voltage radiation and Van de Graaff generators, his 1943 role in evaluating Tesla's personal papers and work for classified US government programs during World War II, it is reasonable to conclude that Trump was almost certainly among the MIT experts consulted about the revolutionary technologies found at Roswell.
Trump was likely also very familiar with top secret research and development efforts by US authorities to develop flying saucer technologies for a future space program due to his expertise on Van de Graff generators – a vital component of flying saucer propulsion systems.  
The big question is, did Professor Trump pass any of this amazing information to his nephew, Donald?
John Trump died in 1985, at age 78, when Donald was 39, and at the time a successful real estate magnate who was often giving interviews to major media outlets.
Trump first mentioned his uncle in a 1984 New York Times profile where he said that they first began to talk about physics and nuclear disarmament 15 years earlier. Donald was around 23 at the time and had a year earlier (May 1968) graduated from Wharton School of the University of Pennsylvania, with a Bachelor of Science in economics.
The New York Times explained the influence his uncle had on Trump about nuclear disarmament:
[Donald Trump] says that his concern for nuclear holocaust is not one that popped into his mind during any recent made-of-television movie. He says that it has been troubling him since his uncle, a nuclear physicist, began talking to him about it 15 years ago.
At a June 12 2018 press conference, after his meeting with North Korean's leader, Kim Jong-Un, President Trump spoke about his uncle and how he had helped shape his views on the importance of nuclear disarmament:
I used to discuss nuclear with him all the time … He was a great expert, he was a great brilliant genius.
Trump's references to his uncle John, shows how influential he had been in shaping his views on nuclear disarmament and other advanced science topics. Could some of these discussions have covered inventions developed by Nikola Tesla and technologies retrieved from the Roswell UFO crash?
There are two actions taken by Trump during and after his Presidential inauguration that suggest that Tesla's inventions and the Roswell UFO crash were among the subjects he and his uncle had privately discussed.
During his inauguration speech, Trump said:
We stand at the birth of a new millennium, ready to unlock the mysteries of space, to free the earth from the miseries of disease, and to harness the energies, industries and technologies of tomorrow.
Trump is here clearly alluding to some revolutionary technologies that his administration plans to release, which will transform the health, transportation and space industries.
Trump issued a Top Secret Memorandum a day or so after his inauguration speech dealing with such revolutionary technologies, according to secret space program insider Corey Goode whose testimony has featured in the best selling documentary, Above Majestic. Essentially, Trump demanded that the intelligence community revoke their secrecy orders on a thousand of the then 5,680 patent applications that were being held up. He allegedly told them to do so within a two-year period.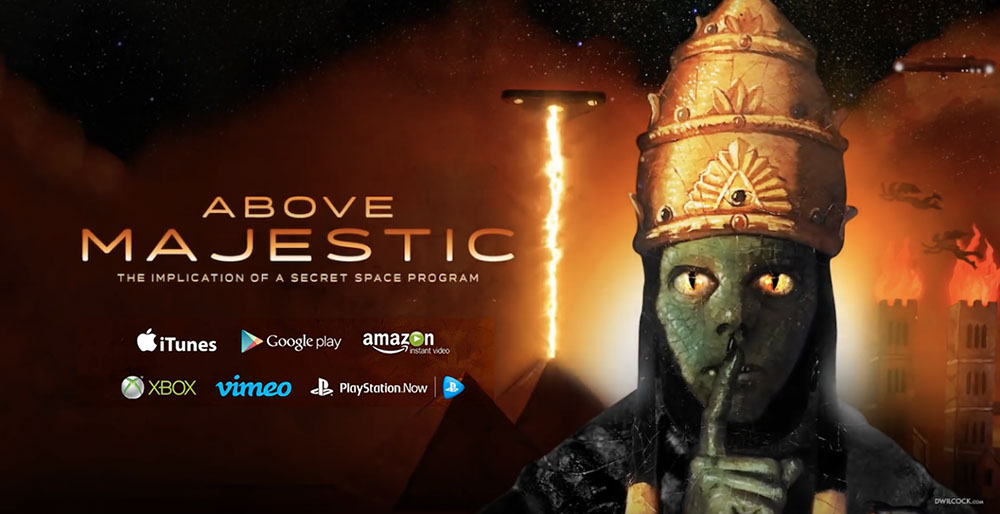 It's quite possible that some of the confiscated Tesla's papers included patent applications that would be among those that had been held up by the intelligence community, and perhaps even include his alleged flying saucer device that would be remotely powered by a worldwide wireless system. According to the Federation of American Scientists, the number of patent applications held up by secrecy orders had increased to 5,784 by the end of 2017.
If Trump had issued such a Memorandum, there is yet no sign it is being put into practice by the intelligence community. This may be due to the intense behind the scenes battle between the Trump administration and the Deep State as I have covered in previous articles.
The second action suggesting his uncle had told him about Tesla's inventions and the Roswell crash concerns President Trump's proposal for a Space Force, despite objections by Congress and even the US military. His proposal may well be driven by his knowledge that flying saucer technologies incorporating high voltage radiation and Van de Graaff machines found at Roswell, which his Uncle John had confidentially told him about, had been secretly developed and built decades ago for one or more secret space programs.
The idea that Trump knows of secret space programs and extraterrestrial life is strengthened by recent posts by the military intelligence group working with his administration, Q Anon, confirming their reality. Most importantly, QAnon was signaling that the Trump administration has a full disclosure agenda.
Trump's desire for a Space Force appears to be part of a plan to wrest control of information concerning secret space programs and extraterrestrial life, away from the Deep State and transnational corporations. If Trump succeeds in his plan to empower the Office of the President of United States to run such highly classified programs, then the revolutionary changes promised in his inauguration speech, may not be too far away at all.
If so, we may ultimately have John Trump to thank for inspiring his nephew at an early age about the existence of life changing health and transportation technologies connected to classified research of flying saucers, some of which originate dates back to the pioneering research of Nikola Tesla conducted over a century ago.
© Michael E. Salla, Ph.D. Copyright Notice
Further Reading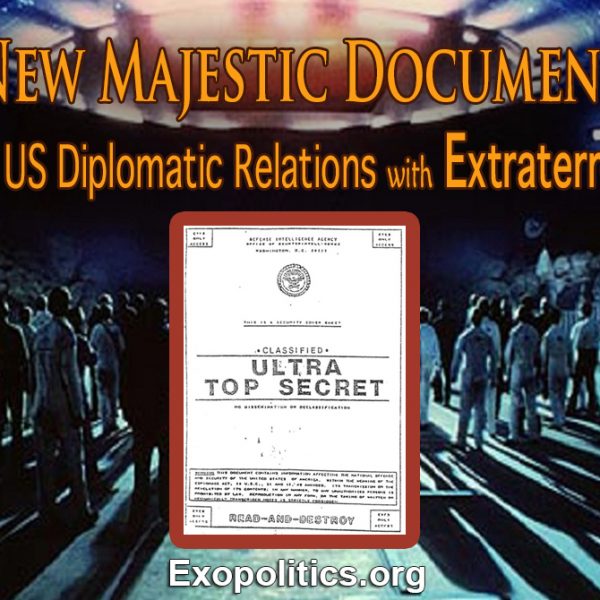 A new leaked Majestic-12 document was released on June 14 which describes a variety of extraterrestrial related encounters with humanity. This document includes claims that Nikola Tesla's pioneering radio broadcasts into outer space in the late 1800's alerted distant extraterrestrials to humanity's existence, which led to them traveling to our planet, and later President Eisenhower established full diplomatic relations with these visiting extraterrestrials in 1954.
The 47 page document is currently being reviewed by a number of document authentication researchers, but the preliminary conclusion drawn by veteran researcher Stanton Friedman is that there is no evidence of forgery according to Heather Wade, host of the radio show Midnight in the Desert.

Heather Wade received documents last night from a trusted source. She immediately had Stanton Friedman take a look at these documents who said, "I have never seen anything like this, this is new MJ12 information." Stanton Friedman is going to continue examining these documents for authenticity, but at this time we can find no evidence of forgery.

Similarly, Dr. Robert Wood, another leading Majestic documents researcher, has also shared his preliminary view in an email that the "Stamps, markings, style, content, names" look genuine.
The documents was sent by an anonymous whistleblower source to Wade who revealed its existence during her June 14 show, along with details about the document's background. Wade asserts that the whistleblower is known to her and is a reliable source, but she is not going to release the person's identity.
Additional information was provided to Linda Moulton Howe at Earthfiles.com that there are in fact two sources, both of whom are retired military personnel. Wade plans to interview Howe and other UFO researchers to help ascertain the document's legitimacy and significance.
In the meantime, readers are encouraged to read the document for themselves, which Wade has made freely available on her website.
What follows is a description of the key points made in the document, and their significance. An extensive analysis of the document will be provided in part 2 of this series.
According to a cover page, the documents is a "preliminary briefing" created by the Defense Intelligence Agency's Office of Counter Intelligence, on January 8, 1989. The full title of the briefing package is "Assessment of the Situation/Statement of Position on Unidentified Flying Objects", and it is addressed to the Office of the President.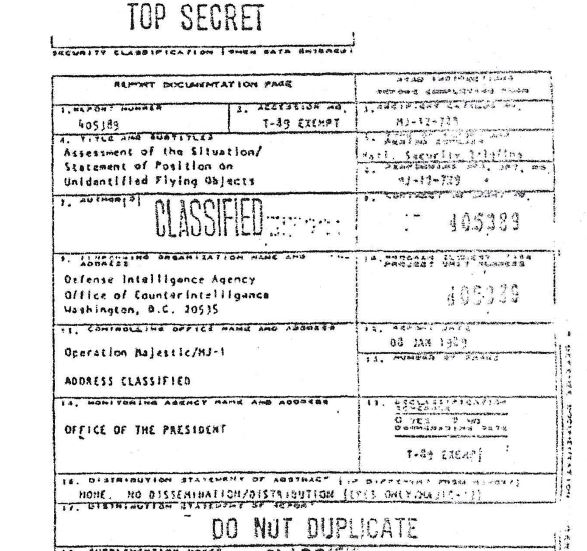 The briefing officer is described as "MJ-1″ who, based on historical precedent, has been the sitting CIA Director.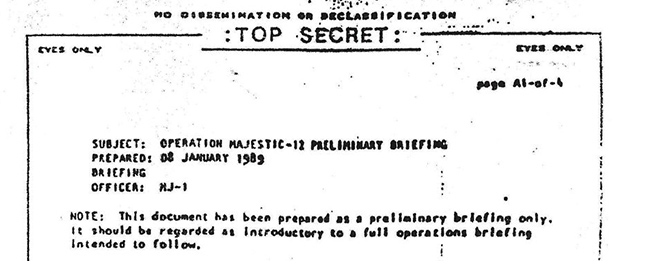 The CIA Director at the time of the 1989 briefing was William Webster, who served as Director from May 26, 1987 to August 31, 1991. Previously, he was FBI Director from February 23, 1978 before heading the CIA under President Reagan. His Wikipedia entry mentions that he is the only person ever to have held both of these positions.

The briefing document refers to four groups of extraterrestrial visitors which are listed in order of importance to our planet, and cites whether they are friendly or not:
There are four basic types of EBEs so-far confirmed. And they are listed here in descending order of their influences on our planet.
A.    Earth-like humanoids. There are several variations more-or-less like ourselves. The majority of these are friendly and are the bulk of our EBE contacts. Most have a high degree of psychic ability and all use science and engineering of an advanced nature.
B.    Small humanoids or "Grays". The Grays, so–called for the hue of their skin possessed by most of this type, are a sort of drone. They are not unlike the worker ants or bees…. They are mostly under the psychic control of the Earth-like humanoids who raise them like pets (or a kind of slave). Assuming the Greys are under benign control, they are harmless.
C.    Non-humaoid EBEs. These are in several classes and come from worlds where dominatnt morphology took a different evolutionary course. Many of these are dangerous not for organized hostile intentions, but because such creatures do not hold human life as sacred…. Thus far, contact has been minimal with only a handful of unfortunate encounters.
D.    Transmorphic Entities. Of all the forms of EBE studied so far by Operation  Majestic, these are the most difficult to understand or even to give a description of. Essentially, such entities are not "beings" or "creatures" … exist in some either dimension or plane which is to say not in our space or time. They do not use devices or travel in space…. In essence these entities are composed of pure mind energies. … They are said (by other EBEs) to be capable of taking on any physical form that they "channel" their energy … as matter.
As the above description suggests, most extraterrestrial interactions are depicted as friendly, particularly those involving the human looking entities. They have engaged in a number of non-hostile interactions with humanity that date back to Nikola Teslas' pioneering radio and energy broadcasts in the late 1800's. The briefing document continues:
In 1899, the Yugoslavic electrical scientist, Nikola Tesla, most noted for his introduction of alternating current to electrical power transmission and a laboratory device named after him (the Tesla coil) embarked on a number of researches that have made this the saucer century. Tesla had long proposed that it was possible to directly broadcast pure electrical energies at a distance without loss of power and without wires. By 1899, and with … government and private scientific backing, Tesla had chosen a site near Colorado Springs, Colorado to conduct a massive and never repeated experiment…. Tesla's purpose to gather the Earth's own magnetic field and to use the Earth as a huge transmitter to send signals to outer space in an attempt to contact whoever might be living there. Tesla had no idea that the specific type of power he had generated was coursing through space and caused great havoc many light years away.
Without realizing it, Tesla's use of the Earth's magnetic field to direct radio transmissions into space had created a disruptive energy weapon – essentially the world's first Directed Energy Weapon, but at a planetary scale! The effect of doing this was analogous to the development of Warp Drive in the fictional Star Trek series, and humanity was now on the Galactic radar for the first time.
The briefing document describes what happened as a result of Tesla's experiments:
The extraterrestrial intelligence (EI's) attempted to respond to his transmissions in a form of binary code that they routinely use for long range communications (evidently these energies act instantly at a distance and are not limited to the speed of light) and ask that he cease sending. Of course, Tesla had no way of understanding the message he received back from space. Fortunately, the anger of local residents at the side-effects of his research forced him to shut down the Colorado Springs experiments in the same year he began them.
Significantly, the briefing document is acknowledging that communications were instantaneous, and that the speed of light is not an absolute limit, at least for the kind of communications used by the aliens.
Critically, it was Tesla's experiments, according to the briefing document, which ushered in the flying saucer age due to the powerful effect of his energy transmissions which had used the Earth's magnetic field:
This, then, was the actual start of the so-called "flying saucer age" in our times. As it became clear that our people were on the verge of an explosion of technical progress, the EI's decided on a long term program of carefully calculated and seemingly random contact with the eventual goal of raising our awareness of our place in the galactic community. With the advent of the Atomic Age, this program was escalated to included eventual diplomatic contact with many of Earth's governments. The same approach of staging apparent "accidental" contact was chosen for its low psychological impact on the human race. This was the situation in the case of the United States of America (re: Roswell and Aztec, New Mexico files, this briefing).
The briefing document refers to the famed 1947 Roswell UFO Crash, and the national security mechanism that had been developed to investigate it, and maintain a secrecy system. While the Roswell Crash is well known, the next case described in the document is not.
There was a "controlled landing" of a flying saucer on March 25, 1948 in Aztec, New Mexico, which the briefing document describes:
The controlled landing occurred in a small desert canyon on the private grazing land of a local farmer and rancher… about 12.2 miles northeast of Aztec New Mexico. The ship was determined to be 99.983 feet in diameter. Inside the upper cabin .. the team found the bodies of two (2) small humanoids about four feet in height strapped into seats like those in a jet cockpit… The extraterrestrials were dead. 

The briefing document reported that the extraterrestrials had died because of an atmospheric leak caused by impact with a nearby cliff face. The report then described the discovery of cryogenic tubes with human-looking bodies in the lower level, four of which were successfully resuscitated:
A closer look at the sealed tubes which looked like the doors of clothes dryers at a laundromat revealed that they were a complex form of refrigeration system. Two were empty and twelve contained the bodies of what looked like human adults and small children as well as infants, all frozen as if preserved for specimens…. Eventually the medical team was able to resuscitate one adult Earth-like humanoid male and three (3) Earth-like humanoid infants, all about six (6) months of age: two male and one female. The rest of the infants and one more short, gray-skinned, large-headed EBE, perished.
The adult survivor, according to the briefing document, looked human but was clearly an extraterrestrial who though human looking, had physiological differences, which included having two livers. The document describes how diplomatic negotiations began the surviving adult extraterrestrial:
After a hasty tele-conference with President Truman, it was explained to the visitor that if his intentions proved to be non-hostile and he cooperated in an information exchange, he would be granted diplomatic status and soon be repatriated to his own kind when the arrangement could be made. To this he readily agreed, provided he was not asked to give away any scientific secrets that could alter the course of our natural cultural development.
What comes next details the year-long diplomatic exchanges between the extraterrestrial visitor and the Truman administration, before he was returned to his people:
Altogether, the Aztec EBE lived under our protective custody on the Los Alamos complex for nearly a full year, from late April 1948 – until March of 1949. After that, he was sequestered at a private safehouse set-up by Army Intelligence … during which time he met with the President and other top government and military administrators, prior to his being returned to his people in August of 1949. He gave the scientists and military debriefers a great deal of mostly non-technical information about his civilization and it's motives for being on our Earth; a total of six hundred and eighty-three (683) pages of transcripts were made of recorded conversations.
The briefing document goes on to explain how technology given to US military authorities would be given to the Soviet Union also by the extraterrestrials:
The EBE saw little harm in allowing us to keep the remains of his spacecraft for study, since he felt our understanding of it would only gradually develop. He did suggest that his people would "probably have to drop one in similar condition in the laps of the Soviet Union – just for the balance of things to be sustained," and "You are welcome to take this up with any higher authority you can find willing to listen to you, if you do not approve of this …."
In 1948, the US and USSR were the world's only known nuclear powers and leaders of the two most powerful political blocs, so it makes sense why they were specifically helped in this way. Yet more startling is what the extraterrestrials said about the alien infants:
The team of scientists were told that the human-like infants were destined for our world anyway, and we were welcome to keep them. On 21 August 1949, the Aztec EBE was returned to his own kind at a meeting site southwest of Kirtland Air Force Base, … and arrangement were made for a future meeting at the same location, to open diplomatic relations.
In gifting three human-looking extraterrestrial infants to US authorities, the apparent intent was that the aliens would be raised in human society and in the future help establish friendly relations between our two worlds. Presumably, the same thing happened in the USSR. By 1989, when the briefing document was prepared,the alien children would be 40+ year old adults.
Were there alien children residing in the US and USSR, and were they a factor in the end of the Cold War?

In 1954, the briefing document refers to President Eisenhower traveling to Kirtland Air Force Base where he established full diplomatic relations with the human looking extraterrestrials:
The preceding diplomatic treaty was drafted by the director of the Majestic-12 operation and a joint committee of extra-terrestrial visitors and representatives of the U.S. Diplomatic Corps, as a statement of intent. It was ratified and signed at Kirtland Air Force Base … on July the eighteenth, 1954 by President Dwight D. Eisenhower and an individual on the behalf of the EBEs.
As mentioned earlier, authenticating the briefing document has only just begun but so far experts have spotted no sign of fraud.
The weight of this document's significance is particularly extraordinary because a number of senior officials are named. If William Webster was MJ-1 at the time of the briefing then this would be highly significant.
He is currently Chairman of the Homeland Security Advisory Council, and is in a position to go on the official record about the genuineness of the briefing document. 
If Webster does confirm or hints at its legitimacy, and/or his direct involvement, this will have a powerful effect on the prospects of official disclosure.

In part two of this series, I will provide an exopolitical analysis of the alleged MJ-12 document's contents, how it compares to information disclosed by a number of secret space program witnesses, and its potential impact on world events.
© Michael E. Salla, Ph.D. Copyright Notice
Further Reading