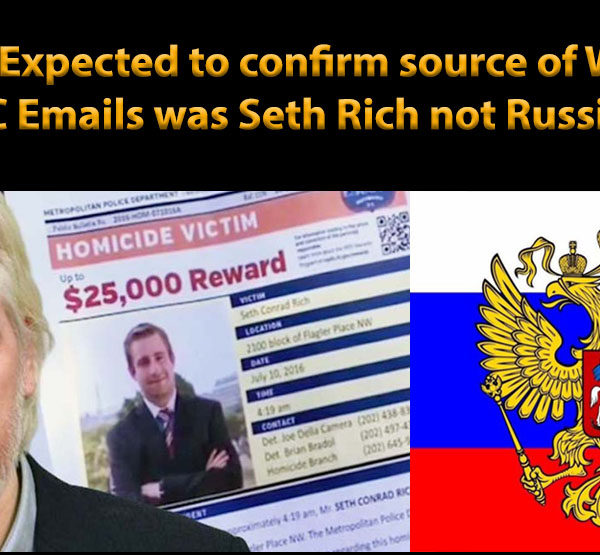 The April 11 arrest of Julian Assange has resurrected the narrative that emails stored on the Democratic National Committee (DNC) were not hacked by Russia, but leaked by a disenchanted employee, Seth Rich, who wanted to expose how Bernie Sanders was systematically undermined during the 2016 primaries by the DNC. According to this narrative, Rich communicated with Assange and handed over the DNC emails through Wikileaks' secure online drop box.
Assange first stated in a June 12, 2016, interview that Wikileaks had more of the missing emails from Hillary Clinton's private email server during her time as Secretary of State: "We have upcoming leaks in relation to Hillary Clinton … We have emails pending publication, that is correct."
Two days later, the computer security company "Crowdstrike" published a report that the DNC email servers had been hacked by Russia. The mainstream media quickly embraced the Russia hacking narrative to explain why Clinton and DNC emails were in the hands of Wikileaks.
Here's what the Washington Post's Ellen Nakashima had to say on June 14, 2016:
Russian government hackers penetrated the computer network of the Democratic National Committee and gained access to the entire database of opposition research on GOP presidential candidate Donald Trump, according to committee officials and security experts who responded to the breach.
However, multiple sources pointed out major problems with Crowdstrike as a competent and impartial investigator into the alleged Russian hacking:
The Nakamura [Nakashima] piece marked the first salvo in the Russian hacking meme. But the claim was not backed up by independently verified forensic evidence—it rested solely on the conclusions of a computer security company—Crowdstrike. The pro-Ukrainian politics of Crowdstrike's founder, Dmitri Alperovitch, and his strident opposition to Russia cast a pall of bias over the findings of Crowdstrike. No U.S. Federal Law Enforcement official or agency was given access to the DNC servers. Neither the FBI nor Homeland Security were permitted to examine the servers and the alleged evidence of a hack. 
In his 2019 best-selling book, Spygate: The Attempted Sabotage of Donald J. Trump, Dan Bongino, a former Secret Service officer, detailed the multiple flaws in the Crowdstrike investigation and the puzzling decision to deny the FBI access to the allegedly hacked DNC email server.
Almost a month after Assange's interview that Wikileaks had more Clinton emails and was vetting them for eventual release, Rich was murdered on July 10, 2016, in very strange circumstances. Nearly two weeks later, on July 22, Wikileaks dumped 20,000 DNC emails on its website.
A July 25, 2016, story published in Vox by Timothy Lee covered the Wikileaks DNC dump and found that many showed the DNC favored the Clinton campaign over Bernie Sanders. In November 2017, Donna Brazile, the former chair of the DNC, confirmed that the DNC had systematically supported Clinton over Sanders. Brazile's admission provides a solid foundation for understanding what motivated Rich to leak to DNC emails to Wikileaks in the first place.  
In an August 2016 Dutch television interview, Assange firmly hinted that Rich's murder was related to his leaking of DNC emails to Wikileaks:
Assange: Whistleblowers go to significant efforts to get us material and often significant risks. There was a 27-year old that works for the DNC who was shot in the back… murdered.. for unknown reasons as he was walking down the street in Washington.
Host: That was just a robbery wasn't it?
Assange: No. There's no finding.
Host: What are you suggesting?
Assange: I am suggesting that our sources take risks and they become concerned to see things occurring like that.
Wikileaks then offered a $20,000 reward for information leading to the conviction of those responsible, fueling the rumors that Rich was Wikileaks source.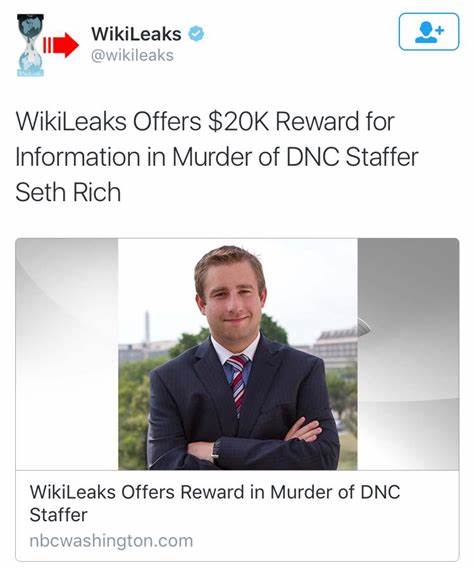 Those who claimed that Rich was responsible for the release of the DNC emails were vilified and forced to backtrack on their claims. Here's how Wikipedia summarized the situation:
Fact-checking websites like PolitiFact.com,[5][8] Snopes.com,[9] and FactCheck.org stated that these theories were false and unfounded.[4] The New York Times, Los Angeles Times, and The Washington Post wrote that the promotion of these conspiracy theories was an example of fake news. [10][11][12]
Influential figures such as Fox News and Sean Hannity were forced through litigation to abandon their investigations into Rich's murder due to his parents leading the charge condemning "conspiracy theories".
Rich's parents condemned the conspiracy theorists and said that these individuals were exploiting their son's death for political gain, and their spokesperson called the conspiracy theorists "disgusting sociopaths".
A story published by two Fox News reporters, Malia Zimmerman and Ed Butowsky, in May 2017 was subsequently pulled from the news site and Hannity also stopped covering the story.
Even Bongino's book, Spygate, failed to mention the Rich connection and what this meant to the whole Russia hacking narrative, which he uncritically endorsed as valid.
After Fox News reporters and Hannity suspended their investigations into Rich leaking the DNC emails, only alternative news sources were willing to investigate the available evidence. Most prominent among them was National Security Agency (NSA) whistleblower, William Binney, who was among the first to conclude that Rich was responsible for the leaking and that Russia was being framed by the Deep State.
Binney, a former Technical Director at the NSA, together with Ray McGovern, a 27 year CIA analyst, wrote on September 20, 2017:
We stand by our main conclusion that the data from the intrusion of July 5, 2016, into the Democratic National Committee's computers, an intrusion blamed on "Russian hacking," was not a hack but rather a download/copy onto an external storage device by someone with physical access to the DNC.
After Q Anon publicly emerged in late October 2017, Seth Rich was soon mentioned in several posts alluding to his role as the true source for the Wikileaks DNC email leaks, and that he was murdered as a result by hitmen tied to the MS-13 criminal gang and the Clintons.
The alternative news investigation into Rich's role in leaking the DNC emails subsequently languished but gained renewed life a year later on October 4, 2018, when the NSA responded to a Freedom of Information request that showed Rich had indeed been communicating with Assange. In their response to a FOIA request filed by attorney Ty Clevenger about information concerning Seth Rich and Julian Assange, the NSA wrote:
Your request has been processed under the provisions of the FOIA. Fifteen documents (32 pages) responsive to your request have been reviewed by this Agency as required by the FOIA and have found to be currently and properly classified in accordance with Executive Order 13526. These documents meet the criteria for classification as set forth in Subparagraph © of Section 1.4 and remains classified TOP SECRET and SECRET.
Since the FOIA request and the NSA response were not released, the NSA's startling admission received no attention by the mainstream media, and only a few alternative media sources picked up the story. One of these was an April 19, 2019, article by Mark McCarty who cited a blog post published six months earlier (October 23, 2018) that first discussed the NSA FOIA response.
McCarty raised important questions over the precise language used in Clevenger's FOIA request and what this meant in terms of documents being withheld. In his April 19, 2019, article he pointed out that many of these questions were resolved by Binney in an April 17 interview:
"Ty Clevenger has FOIAed information from NSA asking for any data that involved both Seth Rich and also Julian Assange.
And they responded by saying we've got 15 files, 32 pages, but they're all classified in accordance with executive order 13526 covering classification, and therefore you can't have them.
That says that NSA has records of communications between Seth Rich and Julian Assange. I mean, that's the only business that NSA is in — copying communications between people and devices."
Binney's interpretation of what the NSA had admitted through FOIA is astounding in its implications. The single issue that has come to dominate analyses of the 2016 election is that Russia hacked the DNC and interfered with the integrity of the US Presidential election by passing this on to Wikileaks.
This spawned the nearly two-year Mueller investigation into Trump's collusion with Russia, which generated reams of anti-Trump and anti-Russia stories in the mainstream media. Both Trump and Russia were vilified by a hostile media that was anxious to promote the Russia hacking narrative, and ridiculing anyone suggesting that Rich was the true source of the DNC info being released to Wikileaks, not Russia.
The NSA's admission is the first concrete sign that the Deep State and the mainstream media are about to be exposed for willfully lying and misrepresenting the truth. Assange is all but certain to be extradited to the USA, and will reveal what he knows about Rich and his connection to the DNC email dumps.
While the questioning and extradition of Assange are likely to take an extended period of time, it's worth emphasizing that the truth is already known to the NSA, which is keeping this classified for the moment. It is not known when and how this information will be released, and whether it will be done through Assange, the NSA or some other process.
Despite knowledge of the Rich and Assange connection, the NSA and its two directors since the DNC hacking – Admiral Mike Rogers (2014-2018) and General Paul Nakasone (2018-) – have done very little to publicly alter the mainstream news narrative that Russia had hacked the DNC servers; and that Rich's murder was unrelated to the DNC documents that Wikileaks released less than two weeks after his murder.
Why did the NSA stand by and allow the accusations of Russian hacking to grow to the extent that relations with Russia have been severely damaged, economic sanctions imposed, and a two-year long investigation was established into potential collusion between the Trump Presidential Campaign and the Russians?
One answer worth exploring is that the Deep State had much to fear about a potential collaboration between Trump and Putin in revealing many advanced technology secrets possessed by their respective intelligence services; secrets which President John F. Kennedy and Soviet Premier Nikita Khrushchev unsuccessfully attempted to unlock 56 years ago, with tragic consequences for both.
© Michael E. Salla, Ph.D. Copyright Notice
[Note: An expanded audio version of the above article is available on YouTube.]
[Update 4/25/2019 – A May 16, 2017 article published by the Free Thought Project discussed reports about alleged email communications between Julian Assange and Seth Rich provided by a former homicide detective, Rod Wheeler, from confidential FBI sources. A week later, Wheeler's comments were retracted. It's important to note that the 2018 NSA FOIA release confirms that the email correspondence did take place and was being tracked by the NSA]
Further Reading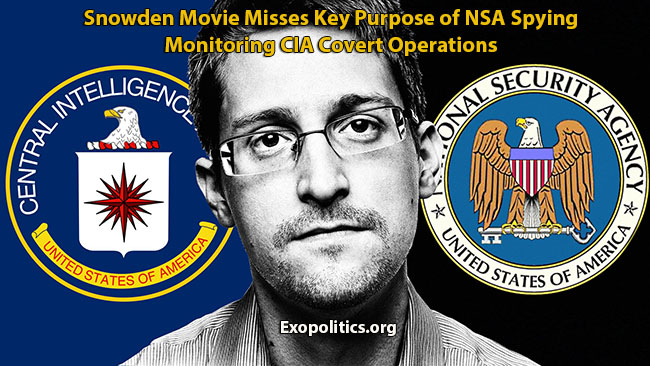 The movie Snowden by Oliver Stone performs a masterful job in depicting efforts by the National Security Agency (NSA) in comprehensively gathering up electronic communications between people and organizations in the U.S. and all over the world. Stone correctly displays the routine violation of U.S. constitutional rights such practices entail, and why Edward Snowden was motivated to become a whistleblower and leak official state secrets to journalists in order to reveal what was happening.
The movie frames the core issue raised by Snowden as personal privacy being a right protected by the US Constitution, except in cases where courts grant exceptions due to criminal activities or national security. In the case of the NSA, the Foreign Intelligence Surveillance Court (FISA) had become a judicial rubber stamp for NSA spying. Snowden, however, revealed that personal privacy is routinely violated without any FISA court rulings, and with no transparency and accountability in the process used by the NSA and the intelligence community more generally.

Subsequently, journalists such as Glenn Greenwald and Laura Poitras have seen their careers skyrocket as a result of their coverage of Snowden's releases, and the need to curtail state sanctioned violations of personal privacy on spurious national security grounds. In short, the NSA and intelligence community should not be allowed to spy on private citizens without solid legal justification.
This raises the question of why is the NSA and the intelligence community spying on private citizens, and violating U.S. constitutional norms in the process? What Snowden the movie suggests is that the "war on terror", which is used to justify individual surveillance, is a mere figleaf for more long-term cyber threats posed by China and Russia, and the need to give U.S. corporations a competitive edge against international rivals.
This is where Snowden and the journalists covering his revelations fail to see the big picture emerging from deeper forces at play when it comes to NSA spying on private citizens. First, we need to separate the military intelligence community comprising the NSA, Defense Intelligence Agency (DIA), etc., from civilian controlled organizations such as the Central Intelligence Agency.
While the chief purpose of the NSA, DIA and other military intelligence organizations is to conduct intelligence and counter-intelligence operations, it is the CIA which is uniquely tasked by the U.S. Congress to conduct covert operations. This is where the CIA will send its operatives into countries and organizations not merely to gather intelligence or perform counter-intelligence, but to conduct covert operations including sabotage, blackmail, coups, false flag operations, assassination, etc.
What further needs to be considered is that the CIA since its inception in 1947 under President Harry Truman, has conducted its covert operations without genuine oversight or transparency. There is literally no mechanism within the U.S. bureaucracy by which CIA covert operations can be understood, let alone accounted for. This led to Truman famously regretting his decision to enable the CIA to go beyond mere "human intelligence"  gathering. He said on December 22, 1963:
I think it has become necessary to take another look at the purpose and operations of our Central Intelligence Agency — CIA . . . For some time I have been disturbed by the way the CIA has been diverted from its original assignment. It has become an operational and at times a policy-making arm of the Government. This has led to trouble and may have compounded our difficulties in several explosive areas. . . . We have grown up as a nation, respected for our free institutions and for our ability to maintain a free and open society. There is something about the way the CIA has been functioning that is casting a shadow over our historic position and I feel that we need to correct it.

Coming one month after President Kennedy's assassination, Truman was ominously hinting at a CIA link to the national tragedy
In contrast to the CIA, military intelligence operations are conducted in conformity with the Uniform Code of Military Justice, and run according to a strict chain of command. Basically, at the apex of the NSA, and other military intelligence organizations, the officials running these agencies can be held accountable for their actions.
What further compounds the problem with CIA covert operations is who does the CIA work for? On the surface, the CIA works for the U.S. Congress and Executive Branch of Government including the U.S. President. That is largely correct when it comes to the CIA analytical division, what Truman pointed to as its "original assignment", but what about its covert operations division which has been known over the years by a number of names, the current one being the "National Clandestine Service"?
There is abundant evidence that CIA covert operations are controlled by a "Shadow Government," which has its own agenda, entirely separate to the "Representative Government," periodically elected. This "Shadow Government" involves elite groups and other mysterious forces who are presently accountable to no one, and want to keep things that way.
Deceased US Senator Daniel Inouye famously said:
There exists a shadowy Government with its own Air Force, its own Navy, its own fundraising mechanism, and the ability to pursue its own ideas of the national interest, free from all checks and balances, and free from the law itself.
When President John F. Kennedy attempted to gain access to the CIA's most closely guarded secrets about UFOs, he was assassinated in a covert action led by the chief of CIA counterintelligence, James Jesus Angleton. My book, Kennedy's Last Stand, documents how Angleton was following a set of directives given to him by a mysterious control group known as Majestic 12 to respond to Kennedy and any future President who might become a problem concerning control over the UFO topic.
Consequently, when it comes to answering the question, "why is the NSA spying on private citizens", the answer is more complex than the NSA simply wanting to know about citizens' private affairs in order to more effectively deal with global terrorism. The NSA and the military intelligence community is more interested in learning about covert CIA activities, and how this impacts U.S. national security.

This then adds a new layer of complexity to the Snowdon movie. Prior to becoming an NASA operative, Snowden was a CIA analyst who allegedly became disenchanted with its covert operations, and resigned. After resuming his work with the CIA, Snowden was transferred to the Hawaii branch of Booz Allen Hamilton, an NSA contractor, ostensibly for healthier working conditions.

This raises the questions, was Snowdon a CIA mole whose job was to expose NSA spying, or was he alternatively set up by the CIA so that he would eventually reveal the truth about the NSA data collection operations as a whistleblower?
The true goal of such a CIA covert operation then was not to reveal the NSA's spying activities in order to protect American civil liberties, but to curtail the effectiveness of the NSA's intelligence gathering on CIA covert operations. This was done in order to keep hidden not just CIA operatives, but the puppet masters behind the CIA covert operations whose power and influence extends to sitting U.S. Presidents. This was a lesson President Kennedy learned the hard way, and President-Elect Trump is already learning with the CIA's covert operations to undermine his incoming administration.
In this regard, former NSA employee and investigative reporter, Wayne Madsen, said:
The CIA's effort to deny Trump the presidency is being supported by a cavalcade of retired CIA officials, including former director Michael Hayden, former acting director Michael Morell, and former clandestine services officer Robert Baer. These and other former CIA officials would not be attacking Trump's credentials to serve as president without a wink and a nod from current CIA director John Brennan.

If the above analysis is correct, what this suggests is that Snowden is at best an unwitting dupe manipulated by the CIA, or at worst a CIA mole whose real mission was to impact NSA intelligence gathering operations which pose a threat to CIA covert operations.
It is understandable that if the U.S. military intelligence community was aware of the full extent of CIA operations involving sabotage, blackmail, false flag events, assassination, in the U.S. and around the world, that some of these operations would be neutralized. This is especially significant when it comes to the incoming inauguration ceremony of President Trump.
On the very day and time that Trump is to be inaugurated, news has emerged that the Army General commanding the D.C. National Guard is to be relieved of duty at 12:01 pm in the midst of the inauguration ceremony.
The U.S. Army general who heads the D.C. National Guard and is an integral part of overseeing the inauguration said Friday he has been ordered removed from command effective Jan. 20, 12:01 p.m., just as Donald Trump is sworn in as president. Maj. Gen. Errol R. Schwartz's departure will come in the midst of the presidential ceremony, classified as a national special security event — and while thousands of his troops are deployed to help protect the nation's capital during an inauguration he has spent months helping to plan.

The Washington Post interviewed Schwartz on Friday January 13, and reported his answers to his puzzling dismissal orders from an unknown Pentagon source:
"The timing is extremely unusual," Schwartz said in an interview Friday morning, confirming a memo announcing his ouster that was obtained by The Washington Post. During the inauguration, Schwartz would command not only the members of the D.C. guard but also an additional 5,000 unarmed troops sent in from across the country to help. He also would oversee military air support protecting the nation's capital during the inauguration. "My troops will be on the street," said Schwartz, who turned 65 in October. "I'll see them off, but I won't be able to welcome them back to the armory." He said he would "never plan to leave a mission in the middle of a battle."

The confusion already caused by this mysterious order received by Schwartz is a tell-tale sign of a CIA covert operation in the making.
While Snowden, Greenwald and Poitras are to be commended for their forceful advocacy of civil liberties, and unaccountable national security state encroachments upon these liberties, they fail to take into account the deeper layers of the global control system, whereby the CIA's covert operations are ultimately directed by a Shadow Government.
The CIA's covert operations have long been a rogue element in the U.S. national security system, one that the military intelligence community has attempted to monitor and curtail when appropriate. That is especially important with the incoming Trump administration and CIA covert actions already underway against it.
© Michael E. Salla, Ph.D. Copyright Notice
Further Reading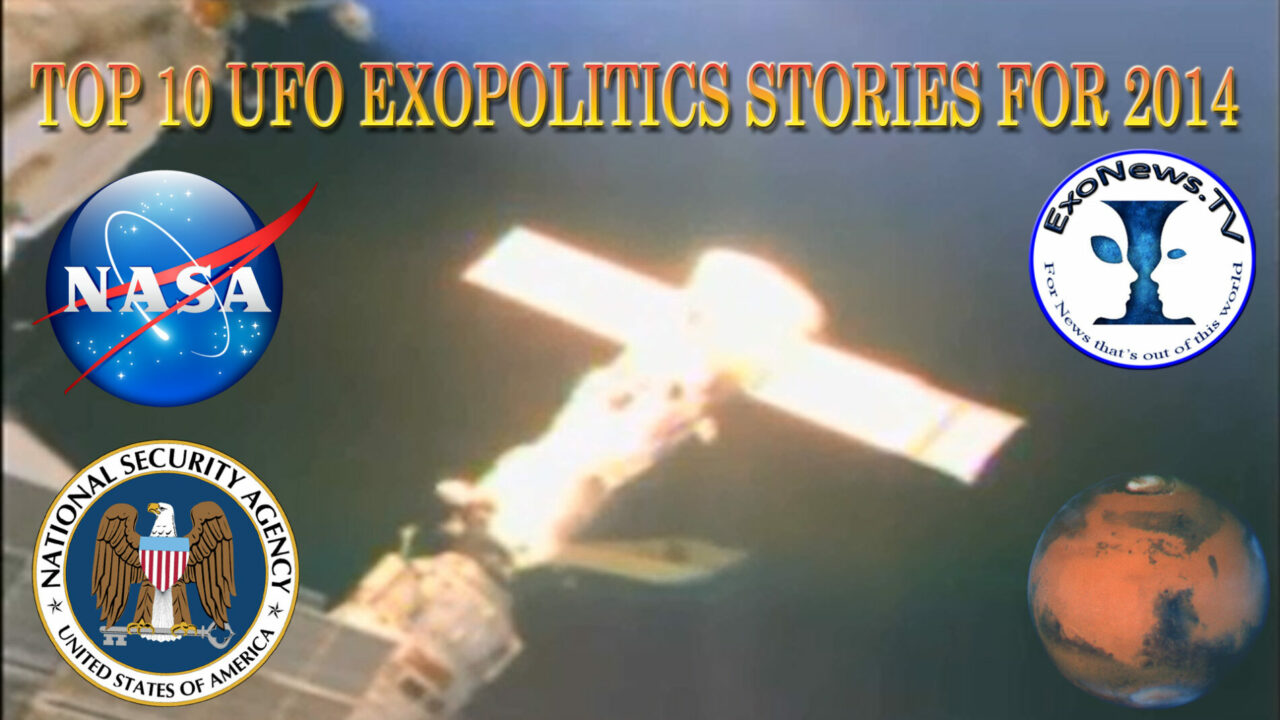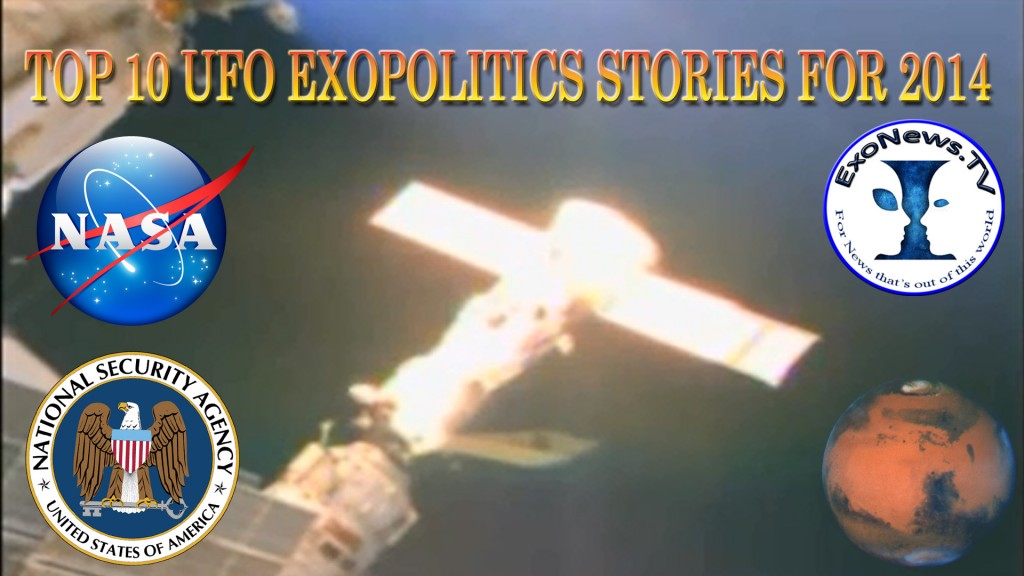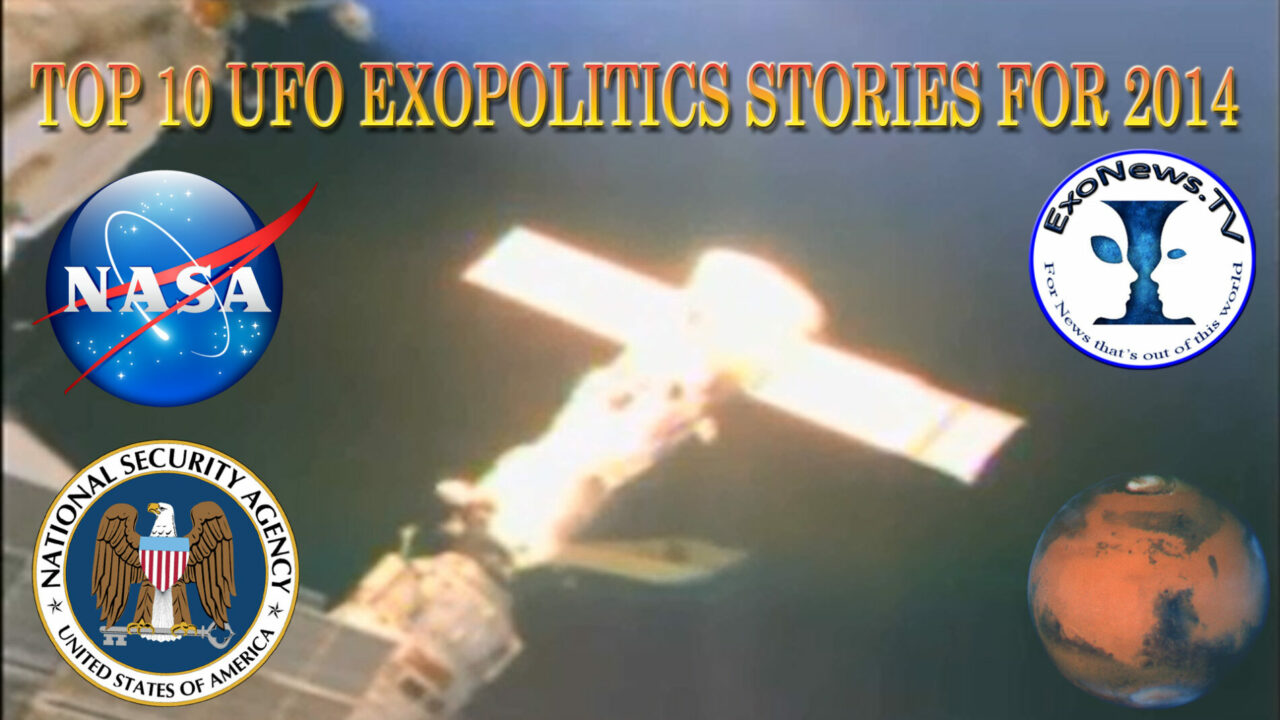 2014 was a big year for the field of exopolitics – the nascent science of understanding the political implications of UFOs and extraterrestrial life. There were many exopolitics developments that figured prominently in news articles and videos from around the world. These developments point to two complementary processes that are likely to continue in 2015 and lead to very different outcomes. The first is a decades-long top secret policy of covering up evidence of extraterrestrial life that appears to be slowly unraveling due to an ongoing disclosure movement. Second, there is an official effort to prepare the general public for the impending discovery of extraterrestrial life. These processes can lead to either a "post-disclosure world" where the alien UFO cover-up has been exposed; or a "post-discovery world" where humanity learns that we are not alone. Here are my top ten exopolitics stories (listed in reverse order) based on a combination of popularity, persuasiveness and significance to either a "post-disclosure" or "post-discovery" world in the near future.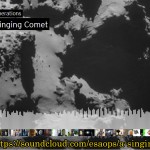 # 10.  On Nov. 11, the European Space Agency (ESA) confirmed that it was receiving a mysterious signal from Comet 67P/Churyumov-Gerasimenko. The ESA described the signal as a "mystery song" and uploaded a recording with the caption: "Hear our comet sing." The confirmation follows months of rumors that the Rosetta mission was originally sent to explore a radio signal from the comet first detected 20 years ago.
#9. On Feb. 24, a leaked NSA document was released that explicitly reveals a clear connection between online covert operations by the "Five Eyes" intelligence community (US, UK, Canada, Australia, and New Zealand) on the UFO issue. Titled, "The Art of Deception: Training for a New Generation of Online Covert Operations," the document is smoking gun evidence that the intelligence community is training its covert operatives to deceive the public on a range of sensitive national security issues including UFOs.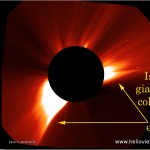 #8. Over a four day period up to Nov. 9, NASA's Solar and Heliospheric Observatory (SOHO) detected a strange area near the sun where solar activity was apparently being absorbed by an invisible object. The immense spherical lens shaped field was claimed to be part of an advanced technology based on the principle of a "Dyson Sphere." NASA's SOHO images appear to be evidence of the sun's energy being absorbed by a gigantic lens shaped solar collector whose approximate size was larger than the sun itself!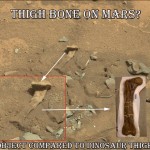 #7. On Aug. 14, the Mars Curiosity Rover photographed an object that appears to be a thigh bone on the Martian surface. When the photo was released by NASA's JPL affiliate a few days later, initial observers claimed that the object was a fossilized bone fragment. The first thigh fossil claims generated much media attention and public controversy with coverage by major media outlets such as the Huffington Post and Britain's Daily Mirror. In an unusually quick response, NASA replied to the growing controversy on August 21 by claiming that the object was a rock. Not so according to a growing number of independent researchers that have uncovered past Curiosity Rover images of what appear to be different life forms on the Mars surface.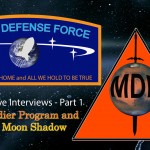 #6. On April 8, an alleged USMC whistleblower came forward to claim that he spent 17 years on Mars serving at a secret military base whose main mission was to protect five civilian space colonies. In exclusive testimony released on ExoNews TV, Randy Cramer, who used the pseudonym, Captain Kaye, said that the Mars Defense Force recruits personnel from different military services. He claims that he was recruited from a covert branch of the U.S. Marine Corps called "Special Section," and also served in a secret space fleet for nearly three years.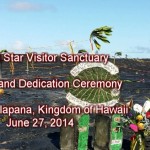 #5. On June 27, the Hawaii Star Visitor Sanctuary was officially launched in a dedication ceremony on the Big Island of Hawaii aimed at welcoming extraterrestrial visitors to Earth. The extraterrestrial sanctuary was first promulgated in a declaration by official representatives of the reinstated Kingdom of Hawaii. The "Declaration for Creating Hawaii Star Visitor Sanctuary" makes it possible for extraterrestrials to land on sovereign land claimed by the reinstated Kingdom of Hawaii.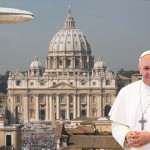 #4. On Oct. 27, Pope Francis I endorsed the view that extraterrestrial life – which he referred to as "beings of the universe" – has evolved in ways that is consistent with the plans of "God the creator." The Pope's statement was a surprising endorsement of the view that the activities of intelligent extraterrestrial life in the universe can be part of a universal plan. Consequently, Pope Francis's statement is preparing the Catholic world for the discovery of extraterrestrial life visiting our world in UFOs may be part of "the plan of the creator."
#3. On Aug. 19, ITAR-TASS reported that Russian scientists have found microbial life on the surface of the International Space Station (ISS). The Russians first detected the microbes over a year ago and confirmed that the organisms can live in zero gravity, extremely low temperatures and with cosmic radiation. Despite the harsh conditions, the scientists reported that the bacteria were thriving on the surface of ISS and could live there for years. The Russian discovery is startling since it confirms that extraterrestrial microbes can flourish in deep space. Read more.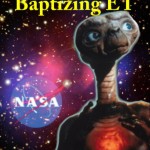 #2. From Sept. 18-19, 2014, NASA and the Library of Congress hosted a symposium on how society can prepare for the discovery of extraterrestrial life. Leading astrobiologists from around the world convened at the Library of Congress in Washington DC., to discuss the latest scientific theories and developments in the search for extraterrestrial life. Presenters discussed the implications from recent scientific breakthroughs in discovering the existence of exoplanets, new theories of the conditions under which extraterrestrial life can flourish, and how to communicate with them. The symposium took the position that the discovery of extraterrestrial life is imminent and the public needs to be prepared.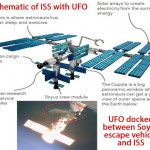 #1. On Jan 29 the live camera feed of the International Space Station (ISS) showed what appeared to be a strange yellow elliptical object docked with the hull of the ISS. The video shows the sleek looking yellow UFO docked at the ISS for just over two minutes with the Earth slowly rotating in the background. The video ends with ISS live feed going into blue screen mode. This suggested that NASA cut the ISS live feed once it was realized that the video of the UFO docked at the ISS was going live to the world. The docking positioning of the UFO suggests that it is not the result of a camera anomaly but a genuine spacecraft of unknown origin. This led to much speculation that the UFO was docked so that extraterrestrials could meet with NASA astronauts as has allegedly occurred in the past.
© Michael E. Salla, Ph.D. Copyright Notice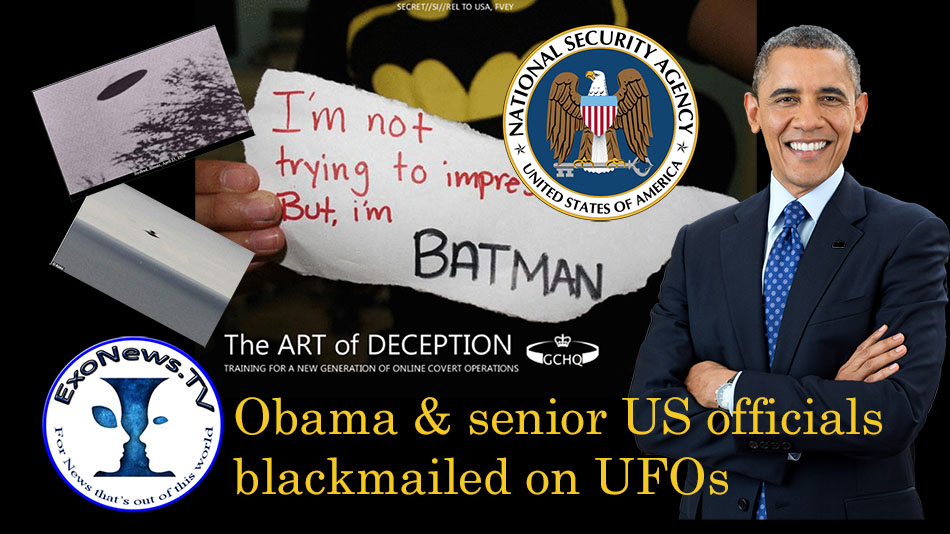 Edward Snowden has released official documents that show the extent of NSA surveillance of foreign political leaders. According to another NSA whistleblower, Russell Tice, the NSA does the same in the U.S. It conducts regular surveillance of senior U.S. officials including military officers, members of Congress, Supreme Court justices and even members of the executive branch. The goal, Tice claims, is to gain sensitive personal material on such senior U.S. officials for the purpose of blackmailing them into supporting policies favorable to the recipients of the NSA surveillance information. One of the policies is maintaining secrecy about UFOs and their extraterrestrial origins.
In December 2005, Tice came forward to publicly reveal how the NSA and the Defense Intelligence Agency were conducing unlawful wiretaps of U.S. citizens. He revealed to various media sources that among the targets were senior U.S. officials:
They went after high-ranking military officers; they went after members of congress — Senate and the House — especially on the intelligence committees and the armed services committees, lawyers, law firms, judges, State Department officials, part of the White House, multinational companies, financial firms, NGOs, civil rights groups …"
In June 2013, Tice was asked about the potential for blackmail of senior U.S. officials from NSA surveillance files:
Collins: Now Russ, the targeting of the people that you just mentioned, top military leaders, members of Congress, … intelligence committees, … and then executive branch appointees. This creates the basis, and the potential for massive blackmail. Tice: Absolutely! And remember we talked about that before, that I was worried that the intelligence community now has sway over what is going on.
While Tice was not widely believed at the time, the Snowden NSA document leaks have confirmed many of his claims.
In a June 2014 interview with the Washington Blog about forthcoming Snowden based stories of NSA surveillance of U.S. citizens, Tice explained that the Snowden documents belong to a database called the Joint Worldwide Intelligence Communications System.
These documents are accessible to all within the NSA with the necessary Top Secret and Sensitive Compartmented Information clearance levels. However, Tice claims that there are more restricted NSA information networks based on higher security levels. He describes two of these as Exceptionally Controlled Information (ECI) and Very Restricted Knowledge (VRK). It is in these more secretive networks that Tice found information concerning the surveillance of senior U.S. officials going back as far as the 1970s and the surveillance of Senator Frank Church who led a Senate investigation of the U.S. intelligence community.
Tice revealed that one of the recipients of the NSA's secret surveillance files of U.S. leaders was former Vice President Dick Cheney:
… the whole thing was being directed and was coming from the vice president's office … Cheney, through his lawyer David Addington…. all "sneaky pete" under the table, in the evening when most NSA employees are gone for the day. This is all being done in the evenings … between like 7 [at night] and midnight.
According to another whistleblower, Derek Hennessy, Cheney had direct knowledge of a secret UFO program based on extraterrestrial technologies at the highly secret S-4 facility at Area 51. Cheney was therefore well placed to use NSA information to find out who among U.S. officials had received information about UFOs and extraterrestrial technologies. He could use this NSA information to blackmail senior U.S. officials in order to maintain UFO secrecy.
Among the U.S. officials that have been monitored and blackmailed, according to Tice, is President Barack Obama who first came under the radar of the NSA when he became a candidate for the U.S. Senate.
In the summer of 2004, one of the papers that I held in my hand was to wiretap a bunch of numbers associated with a forty-some-year-old senator from Illinois …. That's who the NSA went after. That's the President of the United States now.
This helps explains why Obama backtracked on many campaign pledges, including that of the most open and transparent U.S. government in history. Obama's pledges and choice of administration officials fueled speculation that was being prepared to disclose the truth of UFOs and their extraterrestrial origins.
The Art of Deception is a 50 page powerpoint presentation released by Snowden that confirms deception involving UFOs is part of online covert operations maintained by the NSA and its global intelligence partners.  Blackmailing senior U.S. officials into silence would be critical for the success of covert programs aimed at deceiving the public about UFOs. Based on documents released by Snowden and Tice's earlier revelations, one can conclude that President Obama and senior U.S. officials are blackmailed by recipients of NSA surveillance information on a number of issues, including maintaining secrecy about UFOs and extraterrestrial life.
© Michael E. Salla, Ph.D. Copyright Notice
Further Reading: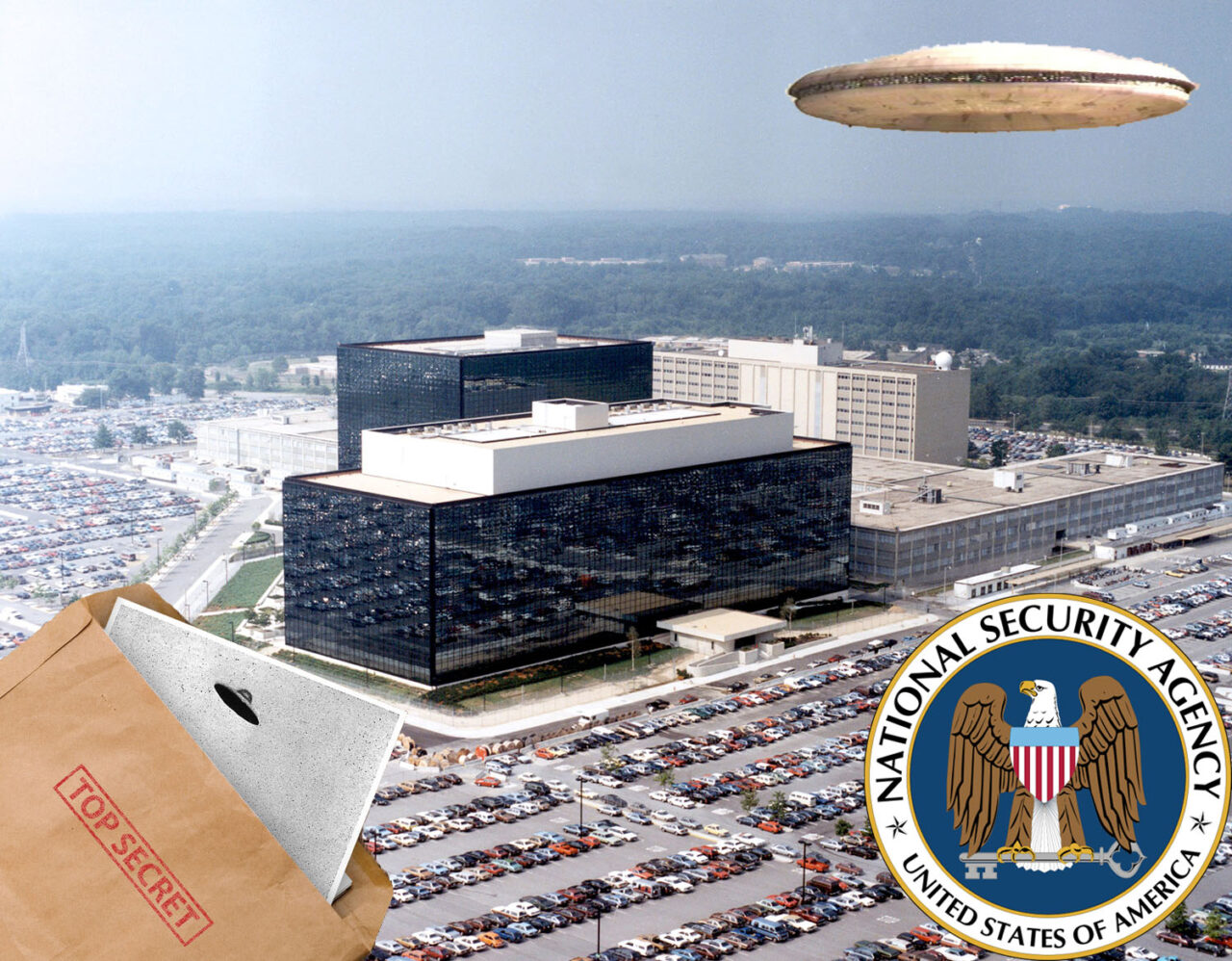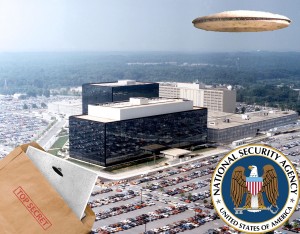 The use of a faked Facebook server by the NSA to spread malware is the latest in a string of leaks from the Edward Snowden cache of NSA files that has led to senior Intelligence officials scrambling for ways to defuse another troubling revelation. As documents continue to emerge at a steady rate, a pattern is now becoming clearer. While much of the general public and international media accept the authenticity of the leaked documents, NSA officials and their national intelligence partners refuse to directly acknowledge their authenticity. Yesterday, according to an article in The Intercept by Ryan Gallagher, one of the journalists working with the Snowden NSA files, public authorities again issued evasive responses not acknowledging any wrong doing. Earlier, on February 24, The Intercept released a document from the NSA's British equivalent that contained slides of UFOs used for training covert operatives in on-line operations. No explanation was given for why and how the UFO images were being used. Was this clear evidence that UFOs were known to be real interplanetary objects, or simply a convenient way of obfuscating other issues being discussed online? This suggests that among NSA files yet to be released, there may be more relating to UFOs. This raises the intriguing possibility that one or more of the upcoming NASA file releases may make public official knowledge of extraterrestrial life, and a cover-up approved by senior national security officials in the U.S. and elsewhere. This would lead to an indefinite period where the existence of alien life becomes widespread public knowledge, while senior officials give evasive responses that neither negate nor confirm the authenticity of the documents in question.
Here is how Gallagher summarized the NSA's response to the latest leak:
In response, the NSA has attempted to quell the backlash by putting out a public statement dismissing what it called "inaccurate" media reports. The agency denied that it was "impersonating U.S. social media or other websites" and said that it had not "infected millions of computers around the world with malware." The statement follows a trend that has repeatedly been seen in the aftermath of major disclosures from documents turned over by NSA whistleblower Edward Snowden, in which the NSA or one of its implicated allies issues a carefully worded non-denial denial that on the face of it seems to refute an allegation but on closer inspection does not refute it at all.
Essentially, the strategy being pursued by the NSA and its partners to leaks identifying its policies and practices is to respond with a "carefully worded non-denial denial." In NSA or its partner responses – intelligence doublespeak to put it simply – there is neither direct acknowledgement nor disavowal of the authenticity of the leaked document. It is then left to the public and mass media to draw their own conclusions and analyses from the documents.
The practice of not acknowledging leaked classified files is not surprising. Senior Intelligence Community officials in the U.S.A. generally take the position that until documents have been officially declassified, viewing or discussing them by any public official is a violation of standard security protocols that could lead to the revocation of one's security clearance and even criminal charges. This creates problems for intelligence community workers who are officially not allowed to read classified material to which they have not been approved for access, even though it is appearing in the mass media.
When it comes to the issue of extraterrestrial life, there are other reasons why public officials would be reticent to publicly acknowledge the authenticity of any leaked NSA files. If a government agency or corporation was to go on the record to being part of a decades long cover-up of extraterrestrial life, then they would be open to class action law suits to parties injured by such a cover up. In particular, individuals that have been directly involved in the UFO abduction phenomenon – hundreds of thousands according to some estimates – could now sue agencies, corporations and officials involved in such activities. The threat of class action law suits is the Sword of Damocles hanging over the head of official extraterrestrial disclosure. That is probably the biggest reason why official disclosure won't be happening any time soon. However, there may still be "public disclosure" in the form of "a non-denial denial" as Gallagher describes the now familiar response by the NSA and its partners to the Snowden document leaks.
Consequently, we may very soon witness the following scenario. Future document releases from the Snowden cache of NSA files, or some other whistleblower source, reveal unambiguously that extraterrestrial life exists and that official agencies have been cooperating in covering this up. The NSA and its partner agencies issue the now familiar response to past leaks that neither acknowledges a document's authenticity nor refutes it. To put it simply, we would have public disclosure of alien life through leaked official documents, yet there would be no "official disclosure" acknowledging this. An intriguing possibility by all means, but certainly something that may well happen, and could last for an indefinite period of time.
© Copyright 2014. Michael E. Salla, Ph.D.
This article is copyright © and should not be added in its entirety on other websites or email lists. Permission is granted to include an extract (e.g., introductory paragraph) of this article on website or email lists with a link to the original.Leaked NSA document confirms online covert deception involves UFOs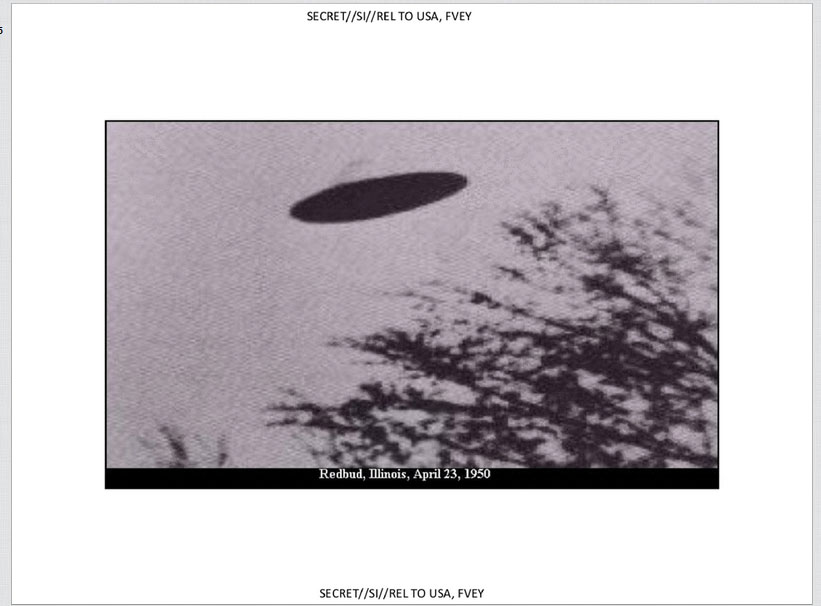 Among the leaked Snowden National Security Agency (NSA) documents, the first to explicitly involve the UFO issue has just been released and is currently generating much media scrutiny. The 50 page document is a powerpoint presentation titled "The Art of Deception: Training for a New Generation of Online Covert Operations," and was authored by the British equivalent of the NSA, the Government Communications Headquarters (GCHQ). The document was the subject to an in-depth story released this week by Glenn Greenwald, the journalist who first worked with Edward Snowden to release to the world official NSA surveillance of the general public, and foreign government officials.
The leaked document details how the NSA is working with its "Five Eyes" partners in Britain, Canada, Australia and New Zealand to train its operatives in online covert operations. Greenwald's article exposes how the NSA and its Five Eyes intelligence partners encourage a range of psychological warfare tools to discredit any targets discussing sensitive national security information. In the "Art of Deception" document three of the 50 slides show images of UFOs – one of which dates from 1950.
The leaked document reveals a clear connection between online covert operations by the GCHQ and its intelligence partners on the UFO issue. It is smoking gun evidence that the international intelligence community is training its covert operatives to deceive the public on a range of sensitive national security issues including UFOs.
Greenwald released the GCHQ authored document in a story titled, How Covert Agents Infiltrate the Internet to Manipulate, Deceive, and Destroy Reputations." He begins his story:
One of the many pressing stories that remains to be told from the Snowden archive is how western intelligence agencies are attempting to manipulate and control online discourse with extreme tactics of deception and reputation-destruction. It's time to tell a chunk of that story, complete with the relevant documents.
Greenwald goes on to summarize the contents of "The Art of Deception" document, authored by a previously secret unit of the GCHQ called the "Joint Threat Research Intelligence Group" (JTRIG):
Among the core self-identified purposes of JTRIG are two tactics: (1) to inject all sorts of false material onto the internet in order to destroy the reputation of its targets; and (2) to use social sciences and other techniques to manipulate online discourse and activism to generate outcomes it considers desirable. To see how extremist these programs are, just consider the tactics they boast of using to achieve those ends: "false flag operations" (posting material to the internet and falsely attributing it to someone else), fake victim blog posts (pretending to be a victim of the individual whose reputation they want to destroy), and posting "negative information" on various forums.
Greenwald concludes:
… these GCHQ documents are the first to prove that a major western government is using some of the most controversial techniques to disseminate deception online and harm the reputations of targets. Under the tactics they use, the state is deliberately spreading lies on the internet about whichever individuals it targets, including the use of what GCHQ itself calls "false flag operations."
The "The Art of Deception" document is now available online and reveals the wide array of psychological warfare tools used by the NSA and its Five Eyes partners for covert online operations.
The "Art of Deception" has three powerpoint slides that show UFO photos dating as far back as 1950. Greenwald did not discuss the three UFO photos in his story. The fact that the photos take up three of the 50 slides of the "Art of Deception" document indicates that the UFO issue is covered in some detail in the training of online covert operatives in the use of psychological warfare techniques.
This is not a surprise to any familiar with a 1953 report issued by a CIA convened panel investigating reports of flying saucers, as UFOs were widely known at the time. The Robertson Panel delivered a report, the Durant Report, that recommended debunking the flying saucer phenomenon and the possibility of extraterrestrial life, for national security reasons. The Report stated:
The "debunking" aim would result in reduction in public interest in "flying saucers" which today evokes a strong psychological reaction. This education could be accomplished by mass media such as television, motion pictures, and popular articles.… Such a program should tend to reduce the current gullibility of the public and consequently their susceptibility to clever hostile propaganda.
The references to a "strong psychological reaction" and "gullibility of the public" when it comes to UFOs show the emphasis on conducting psychological warfare operations to deceive the public when it comes to the UFO issue. A national security policy that continues to the present day as is clearly reflected in "The Art of Deception" document.
The first of the three UFO images dates from Redbud Illinois in April 23, 1950 (see top). It was taken by a part-time photographer who took the photo while traveling through the area. It is included in a list of the best UFO photos ever taken. Despite its clarity, it was not included in the list of photos examined by the Robertson Panel that met less than three years later. The second image is screenshot of a video taken by Arturo Robles Gil in Mexico in 2005.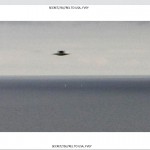 The third image was taken near St Austell, Cornwall, England by a holidaymaker.
While there is no text accompanying each of the three images, they appear in a section titled "Strand 3: Influence and Information Operations." This indicates that the training of intelligence operatives involves sophisticated tools of psychological warfare when it comes to shaping public perceptions on issues such as UFOs. The Art of Deception is smoking gun evidence that the UFO issue is covered in the training of covert intelligence operatives in how to discredit internet authors and articles discussing sensitive national security information.
© Copyright 2014. Michael E. Salla, Ph.D.
This article is copyright © and should not be added in its entirety on other websites or email lists. Permission is granted to include an extract (e.g., introductory paragraph) of this article on website or email lists with a link to the original.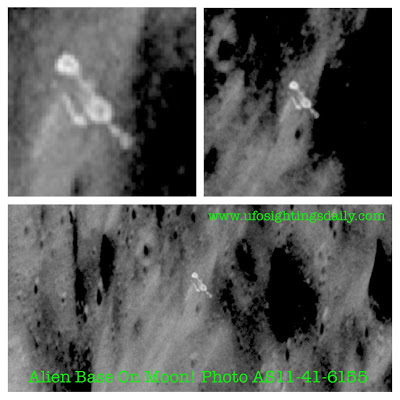 A photo from the online archive of the Apollo 11 mission reveals what appears to be a base on the far side of the moon. The object appears to be on the moon's surface and is well illuminated. It is symmetrical with a long shaft separated at each end by a small sphere with another in the center. The spheres appear to be living quarters with connecting corridors. The object was recently discovered by an observer and announced today on UFO Sightings Daily. The photo, AS11-41-6155, is significant since whistleblowers have claimed that NASA regularly scrubs or destroys photos with any evidence of alien life or artificial structures. The Apollo 11 photo does not appear to have been digitally altered in any way, and may be stunning visual evidence of alien life on the far side of the moon.
Here is what the observer who first discovered the photo had to say in an email sent to Scott Waring from UFO Sightings Daily:
I need to let you know about my discovery of what seems to be some kind of UTO (unknown Terrain Object) or UFO, that appears on one of the pictures from an Apollo mission which I don't remember which one (Apollo 11) it was…I took some screenshots so that you can see the object in very good detail.

To me it looks like some kind of crystal tube with something that appears like an antenna or some kind of special weapon…not sure what it is, but we can figure it out. The first image is the original one which has lots and lots of unknown objects on the surface of the moon! J.M.
The object is well illuminated and symmetrical. It appears to be artificial structure of some kind.
Significantly, whistleblowers have come forward to claim that NASA and affiliated government agencies have a policy of destroying or altering photos that reveal artificial structures on the moon or in space. Karl Wolfe, for example, claims that he witnessed NASA, the NSA and the US Air Force cooperating to remove such structures from Apollo and satellite imagery when detected. The Washington Times had this to say of Wolf's whistleblower testimony:
Karl Wolf, an Air Force sergeant who was assigned to the National Security Agency, said that mysterious structures were discovered on the far side of the moon when the United States was mapping its surface before the 1969 lunar landing. Those photos too were culled out of the public record.
Another whistleblower is Dr Ken Johnston who was a manager of NASA's Data and Photo Control Department. Johnston claims that he also witnessed moon photos showing artificial structures and was asked to destroy the photos. He refused and was fired by NASA.
If tampering of Apollo and satellite imagery of the moon's surface is a regular policy implemented by various NASA and other US government agencies as Wolf and Johnston claim, then Apollo imago AS11-41-6155 may have remained unaltered since the object it depicts escaped detection (see above image). The photo is very large (40 megabytes) and it takes close scrutiny to discover the anomalous object. In conclusion, Apollo 11 image AS11-41-6155 may be smoking gun proof of an alien base on the far side of the moon.
© Copyright 2013. Michael E. Salla, Ph.D. Exopolitics.org
This article is copyright © and should not be added in its entirety on other websites or email lists. Permission is granted to include an extract (e.g., introductory paragraph) of this article on website or email lists with a link to the original.