Assange Expected to confirm Wikileaks source of DNC Emails was Seth Rich not Russians
The April 11 arrest of Julian Assange has resurrected the narrative that emails stored on the Democratic National Committee (DNC) were not hacked by Russia, but leaked by a disenchanted employee, Seth Rich, who wanted to expose how Bernie Sanders was systematically undermined during the 2016 primaries by the DNC. According to this narrative, Rich communicated with Assange and handed over the DNC emails through Wikileaks' secure online drop box.
Assange first stated in a June 12, 2016, interview that Wikileaks had more of the missing emails from Hillary Clinton's private email server during her time as Secretary of State: "We have upcoming leaks in relation to Hillary Clinton … We have emails pending publication, that is correct."
Two days later, the computer security company "Crowdstrike" published a report that the DNC email servers had been hacked by Russia. The mainstream media quickly embraced the Russia hacking narrative to explain why Clinton and DNC emails were in the hands of Wikileaks.
Here's what the Washington Post's Ellen Nakashima had to say on June 14, 2016:
Russian government hackers penetrated the computer network of the Democratic National Committee and gained access to the entire database of opposition research on GOP presidential candidate Donald Trump, according to committee officials and security experts who responded to the breach.
However, multiple sources pointed out major problems with Crowdstrike as a competent and impartial investigator into the alleged Russian hacking:
The Nakamura [Nakashima] piece marked the first salvo in the Russian hacking meme. But the claim was not backed up by independently verified forensic evidence—it rested solely on the conclusions of a computer security company—Crowdstrike. The pro-Ukrainian politics of Crowdstrike's founder, Dmitri Alperovitch, and his strident opposition to Russia cast a pall of bias over the findings of Crowdstrike. No U.S. Federal Law Enforcement official or agency was given access to the DNC servers. Neither the FBI nor Homeland Security were permitted to examine the servers and the alleged evidence of a hack. 
In his 2019 best-selling book, Spygate: The Attempted Sabotage of Donald J. Trump, Dan Bongino, a former Secret Service officer, detailed the multiple flaws in the Crowdstrike investigation and the puzzling decision to deny the FBI access to the allegedly hacked DNC email server.
Almost a month after Assange's interview that Wikileaks had more Clinton emails and was vetting them for eventual release, Rich was murdered on July 10, 2016, in very strange circumstances. Nearly two weeks later, on July 22, Wikileaks dumped 20,000 DNC emails on its website.
A July 25, 2016, story published in Vox by Timothy Lee covered the Wikileaks DNC dump and found that many showed the DNC favored the Clinton campaign over Bernie Sanders. In November 2017, Donna Brazile, the former chair of the DNC, confirmed that the DNC had systematically supported Clinton over Sanders. Brazile's admission provides a solid foundation for understanding what motivated Rich to leak to DNC emails to Wikileaks in the first place.  
In an August 2016 Dutch television interview, Assange firmly hinted that Rich's murder was related to his leaking of DNC emails to Wikileaks:
Assange: Whistleblowers go to significant efforts to get us material and often significant risks. There was a 27-year old that works for the DNC who was shot in the back… murdered.. for unknown reasons as he was walking down the street in Washington.
Host: That was just a robbery wasn't it?
Assange: No. There's no finding.
Host: What are you suggesting?
Assange: I am suggesting that our sources take risks and they become concerned to see things occurring like that.
Wikileaks then offered a $20,000 reward for information leading to the conviction of those responsible, fueling the rumors that Rich was Wikileaks source.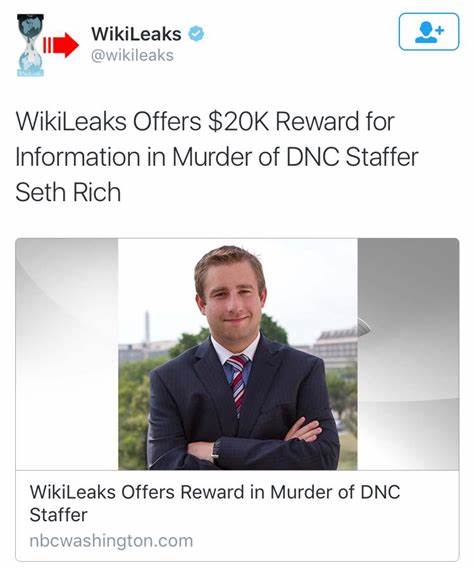 Those who claimed that Rich was responsible for the release of the DNC emails were vilified and forced to backtrack on their claims. Here's how Wikipedia summarized the situation:
Fact-checking websites like PolitiFact.com,[5][8] Snopes.com,[9] and FactCheck.org stated that these theories were false and unfounded.[4] The New York Times, Los Angeles Times, and The Washington Post wrote that the promotion of these conspiracy theories was an example of fake news. [10][11][12]
Influential figures such as Fox News and Sean Hannity were forced through litigation to abandon their investigations into Rich's murder due to his parents leading the charge condemning "conspiracy theories".
Rich's parents condemned the conspiracy theorists and said that these individuals were exploiting their son's death for political gain, and their spokesperson called the conspiracy theorists "disgusting sociopaths".
A story published by two Fox News reporters, Malia Zimmerman and Ed Butowsky, in May 2017 was subsequently pulled from the news site and Hannity also stopped covering the story.
Even Bongino's book, Spygate, failed to mention the Rich connection and what this meant to the whole Russia hacking narrative, which he uncritically endorsed as valid.
After Fox News reporters and Hannity suspended their investigations into Rich leaking the DNC emails, only alternative news sources were willing to investigate the available evidence. Most prominent among them was National Security Agency (NSA) whistleblower, William Binney, who was among the first to conclude that Rich was responsible for the leaking and that Russia was being framed by the Deep State.
Binney, a former Technical Director at the NSA, together with Ray McGovern, a 27 year CIA analyst, wrote on September 20, 2017:
We stand by our main conclusion that the data from the intrusion of July 5, 2016, into the Democratic National Committee's computers, an intrusion blamed on "Russian hacking," was not a hack but rather a download/copy onto an external storage device by someone with physical access to the DNC.
After Q Anon publicly emerged in late October 2017, Seth Rich was soon mentioned in several posts alluding to his role as the true source for the Wikileaks DNC email leaks, and that he was murdered as a result by hitmen tied to the MS-13 criminal gang and the Clintons.
The alternative news investigation into Rich's role in leaking the DNC emails subsequently languished but gained renewed life a year later on October 4, 2018, when the NSA responded to a Freedom of Information request that showed Rich had indeed been communicating with Assange. In their response to a FOIA request filed by attorney Ty Clevenger about information concerning Seth Rich and Julian Assange, the NSA wrote:
Your request has been processed under the provisions of the FOIA. Fifteen documents (32 pages) responsive to your request have been reviewed by this Agency as required by the FOIA and have found to be currently and properly classified in accordance with Executive Order 13526. These documents meet the criteria for classification as set forth in Subparagraph © of Section 1.4 and remains classified TOP SECRET and SECRET.
Since the FOIA request and the NSA response were not released, the NSA's startling admission received no attention by the mainstream media, and only a few alternative media sources picked up the story. One of these was an April 19, 2019, article by Mark McCarty who cited a blog post published six months earlier (October 23, 2018) that first discussed the NSA FOIA response.
McCarty raised important questions over the precise language used in Clevenger's FOIA request and what this meant in terms of documents being withheld. In his April 19, 2019, article he pointed out that many of these questions were resolved by Binney in an April 17 interview:
"Ty Clevenger has FOIAed information from NSA asking for any data that involved both Seth Rich and also Julian Assange.
And they responded by saying we've got 15 files, 32 pages, but they're all classified in accordance with executive order 13526 covering classification, and therefore you can't have them.
That says that NSA has records of communications between Seth Rich and Julian Assange. I mean, that's the only business that NSA is in — copying communications between people and devices."
Binney's interpretation of what the NSA had admitted through FOIA is astounding in its implications. The single issue that has come to dominate analyses of the 2016 election is that Russia hacked the DNC and interfered with the integrity of the US Presidential election by passing this on to Wikileaks.
This spawned the nearly two-year Mueller investigation into Trump's collusion with Russia, which generated reams of anti-Trump and anti-Russia stories in the mainstream media. Both Trump and Russia were vilified by a hostile media that was anxious to promote the Russia hacking narrative, and ridiculing anyone suggesting that Rich was the true source of the DNC info being released to Wikileaks, not Russia.
The NSA's admission is the first concrete sign that the Deep State and the mainstream media are about to be exposed for willfully lying and misrepresenting the truth. Assange is all but certain to be extradited to the USA, and will reveal what he knows about Rich and his connection to the DNC email dumps.
While the questioning and extradition of Assange are likely to take an extended period of time, it's worth emphasizing that the truth is already known to the NSA, which is keeping this classified for the moment. It is not known when and how this information will be released, and whether it will be done through Assange, the NSA or some other process.
Despite knowledge of the Rich and Assange connection, the NSA and its two directors since the DNC hacking – Admiral Mike Rogers (2014-2018) and General Paul Nakasone (2018-) – have done very little to publicly alter the mainstream news narrative that Russia had hacked the DNC servers; and that Rich's murder was unrelated to the DNC documents that Wikileaks released less than two weeks after his murder.
Why did the NSA stand by and allow the accusations of Russian hacking to grow to the extent that relations with Russia have been severely damaged, economic sanctions imposed, and a two-year long investigation was established into potential collusion between the Trump Presidential Campaign and the Russians?
One answer worth exploring is that the Deep State had much to fear about a potential collaboration between Trump and Putin in revealing many advanced technology secrets possessed by their respective intelligence services; secrets which President John F. Kennedy and Soviet Premier Nikita Khrushchev unsuccessfully attempted to unlock 56 years ago, with tragic consequences for both.
© Michael E. Salla, Ph.D. Copyright Notice
[Note: An expanded audio version of the above article is available on YouTube.]
[Update 4/25/2019 – A May 16, 2017 article published by the Free Thought Project discussed reports about alleged email communications between Julian Assange and Seth Rich provided by a former homicide detective, Rod Wheeler, from confidential FBI sources. A week later, Wheeler's comments were retracted. It's important to note that the 2018 NSA FOIA release confirms that the email correspondence did take place and was being tracked by the NSA]
Further Reading