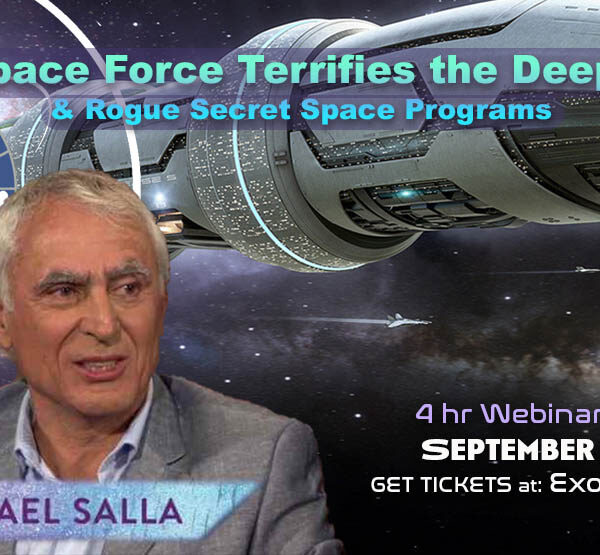 Space has for decades been used by the Deep State and rogue Secret Space Programs (SSPs) to manipulate humanity through false flag operations, staged "alien abductions", targeted satellite-based behavioral alteration and genetic modification, a galactic slave trade, and generating an enormous black budget for funding highly classified corporate technology projects. The recent creation of the US Space Force terrifies the Deep State and rogue SSPs since Space Force threatens to upend these egregious practices.
In this webinar you will learn:
• The true intention behind the creation of Space Force.
• How the Deep State delayed the creation of Space Force for nearly two decades.
• The significance of Space Force's plan to dominate Earth-Moon orbital environments.
• How the Deep State's ability to stage false flag events will be ended by Space Force.
• How Space Force will thwart a planned Space Pearl Harbor event to be launched by China with Deep State backing.
• Why Space Force threatens the space operations of transnational corporations & their plans for dominance on Earth and in space.
• The Deep State's behavioral alteration and genetic modification plans using new generation satellite networks & how Space Force threatens these.
• How Space Force is destined to put an end to the Galactic Slave Trade.
• How Space Force will eventually incorporate a US Navy-run SSP to form a multinational "Star Fleet"
September 26, 2020 (Saturday)
12 noon –  4.30 pm PDT/ 3 – 7.30 pm EDT USA  (Includes Q&A at the end)
Cost: $55. To Register click here
*This LIVE event will be recorded, and attendees are able to watch unlimited replays for 60 days.
To view and purchase past webinars click here
Webinar Trailer
---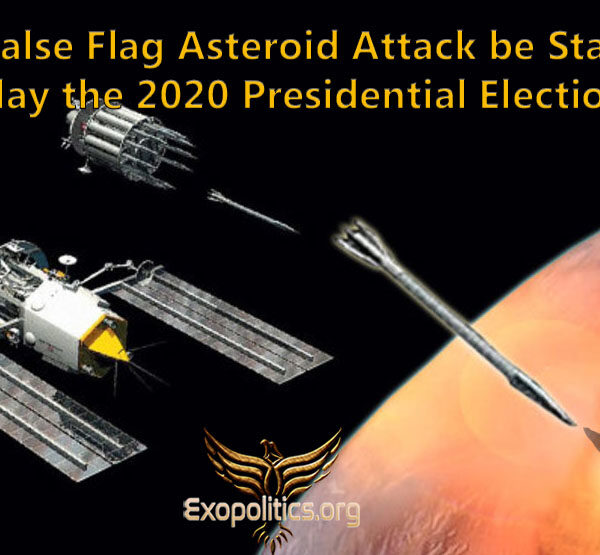 On November 4, 2016, NASA, FEMA, the Department of Energy, Jet Propulsion Laboratory (JPL), U.S. Air Force, and the California Governor's Office of Emergency Services collaborated in a planning exercise simulating a destructive asteroid impact set for September 20, 2020. The exercise planners envisaged that the asteroid, up to 800 feet (250 meters) in size, would hit somewhere along a narrow band across Southern California or just off the Pacific Coast.
Here's what the NASA/JPL news release had to say about the simulated asteroid impact hypothesized to take place in three weeks time:
The exercise simulated a possible impact four years from now — a fictitious asteroid imagined to have been discovered this fall with a 2 percent probability of impact with Earth on September 20, 2020. The simulated asteroid was initially estimated to be between 300 and 800 feet (100 and 250 meters) in size, with a possibility of making impact anywhere along a long swath of Earth, including a narrow band of area that crossed the entire United States.
In the fictitious scenario, observers continued to track the asteroid for three months using ground-based telescope observations, and the probability of impact climbed to 65 percent. Then the next observations had to wait until four months later, due to the asteroid's position relative to the sun. Once observations could resume in May of 2017, the impact probability jumped to 100 percent. By November of 2017, it was simulated that the predicted impact would occur somewhere in a narrow band across Southern California or just off the coast in the Pacific Ocean.
This is not the first or only simulated asteroid impact exercise designed by scientists and government agencies. A more recent asteroid impact exercise occurred in 2019 and hypothesized an asteroid impact for New York City on April 29, 2027. An asteroid similar in size to that envisaged earlier back in November 2016, would hit with a destructive force ranging from 100 to 800 megatons.
It's worth noting that the largest hydrogen bomb test in history, the 1961 Tsar Bomba, had a destructive force of 50 megatons. "Coincidentally", Russia just released classified footage of the Tsar Bomba showing its destructive effects in the remote Arctic region of Novaya Zemlya. Clearly, if an asteroid were to hit the continental U.S. or just off the Pacific Coast with anywhere near an 800 megaton destructive yield, an entire region would be devastated with an extremely high death toll.

What gives the September 20, 2020 asteroid impact simulation great relevance today is not the approaching target date for a  hypothetical asteroid impact, but a series of worrying scientific and political developments. These developments firmly point to a major false flag attack that is about to be unleashed by the Deep State in a last-ditch effort to prevent the 2020 Presidential election from occurring.
In evaluating the possibility that an asteroid impact is about to be staged in real life for a political agenda, it's worth pointing out that Dr. Werner von Braun, former head of NASA's Marshall Flight Center, was the first to reveal that a false flag asteroid attack would one day be staged by the Deep State.
In 1974, he confided in Carol Rosin, a former executive to Fairchild Industries, about a sequence of false flag events that would be orchestrated by the Deep State in order to promote their agenda for the weaponization of space. [link to earlier article]
Von Braun said that an asteroid attack would be orchestrated once the Deep State had exhausted earlier contrived threats posed in turn by the Russians, terrorists, and nations of concern. When such threats no longer carried the political justification for massive military spending, a new scenario would be thrust upon the American public in order to maintain and even increase military spending further. This would ultimately lead to the weaponization of space, according to Von Braun.
What makes Von Braun's warning particularly important given the September 20 date set in the 2016 asteroid impact exercise is the closing of over 100 of the Earth's largest observatories due to the COVID-19 crisis. There appears to be no real health justification for such unprecedented closures. After all, night-time telescopes are largely automated involving relatively few astronomers.
What makes this situation even more remarkable is the recent "accidental damage" to the Arecibo telescope in Puerto Rico. On August 11, 2020, a large cable snapped, making the observatory unusable for the foreseeable future. This means that at this critical time, when asteroids are regularly being reported to be just missing the Earth, there are currently very few astronomers observing the night sky.
According to Steven Jonowieck of the McDonald Observatory in Texas:
If everybody in the world stops observing, then we have a gap in our data that you can't recover … This will be a period that we in the astronomy community have no data on what happened.
Jonowieck's comment is critical since it confirms that there is no independent astronomical data on what is currently happening in space.  What makes this even more telling is that in the 2016 Asteroid Impact exercize set for September 2020, observatories played the key role in identifying and tracking the asteroid before its destructive impact.
Here's what Shepard Ambellas, from Intellihub, had to say about the recent closing of observatories:
Defying all logic, a number of telescopes and observatories around the world remain closed amid the coronavirus pandemic while the impact risk of near-earth Earthbound objects remains at an all-time high. Over 100 telescopes have been reported to have been shut down in a move that virtually makes no sense and now one of the world's largest radio telescopes named the Arecibo Observatory has been rendered inoperable after sustaining damage after cable unexpectedly snapped creating about a 100-foot long gash in the dish itself, furthering fueling the problem…
To make matters worse, the Puerto Rico-based telescope was tracking a near-Earth object when it went offline. Withal, there has never been a more perfect time for an asteroid to strike and the Department of Defense, the White House, and other agencies are aware.
With the closure of so many observatories, if the Deep State was planning to stage a false flag asteroid attack, this would be the perfect time for it. There would be relatively few professional astronomers with data that could refute the narrative put out by government agencies and mainstream news sources if a false flag event were to occur.
For example, if covert space weapons such as "Rods of God", were used to simulate an asteroid strike, there would be few astronomers with data to challenge a contrived official narrative orchestrated by the Deep State using their worldwide media assets.
Why now? One powerful reason is the Deep State's assessment through internal polling that Donald Trump is going to easily win the 2020 Presidential election. This is supported by multiple polls showing that Trump is making major inroads among independent and minority voters with his law and order approach. Joe Biden is also showing no real desire to get out to meet with voters, seriously tackle Trump head-on, and there are even calls now for him to abandon the debates.
Even impartial left-leaning observers, such as Dr. Jonathan Turley, a Georgetown University Professor, are mystified by the Democratic Party's lack of desire to condemn the riots and violence that has affected major urban areas and led to social chaos. This is leading to a massive swing to Trump as the law and order President.
It's as though Democratic leaders have abandoned any hope of winning the election and are promoting widespread social chaos in the hope of pinning the blame on Trump in a desperate Hail Mary move.
What the above circumstantial evidence suggests is that rather than have Trump win another election, the Deep State is instead about to unleash a major false flag operation to prevent the 2020 election from occurring.
This would create even more chaos since the U.S. Constitution has no provision for President Trump remaining in office beyond January 20, 2021. This would also impact the House of Representatives and 1/3 of Senators who are facing reelection on November 3, and whose terms expire on January 3, 2021.
This is how Alan Dershowitz, a retired Harvard University Professor, who has Deep State ties through his close association with the convicted pedophile, Jeffery Epstein, frames the issue:
What does the Constitution provide in the event that an emergency precludes an election before the end of a term of the president? … We begin, of course, with the words of the Constitution…. the 20th Amendment says "the terms of the president and vice president shall end at noon" on January 20. Nothing could seem clearer…
But if there is no election, there is no president elect nor vice president elect. Congress does provide for a line of succession to the White House "if by reason of death, resignation, removal from office, inability, or failure to qualify," there is neither a president nor a vice president…. However, even if Congress has the authority to fill this gap in the Constitution, it is unclear that it has done so with the existing law, because the line of succession begins with the House speaker.
But there would be no House speaker if there were no election, because there would be no House, all of whose members would be up for election in November. The terms of all members of the House would end, as stated in the Constitution, on January 3…
There would, however, be a Senate, with a majority of its members not up for election in November and, therefore, still serving their terms. This is important as the next in line would be the president pro tempore of the Senate, which is Charles Grassley. However, if there were no election, there may be a Democratic majority among the remaining senators not up for reelection, unless sitting governors or state legislators were allowed to fill vacant seats, which is another issue.

Dershowitz is pointing out that without an election, it would be up to the rump of U.S. Senate to select the next U.S. President. The two-thirds of the Senators that would still be serving until their terms ended either on January 3, 2023 or 2025, would make the necessary choices.
Out of the 65 sitting U.S. Senators who are not up for reelection in 2020, 33 are Democrats, 30 are Republicans, and 2 are Independents – Bernie Sanders and Angus King. Both Sanders and King caucus with the Democrats. This means that in the scenario of an abandoned 2020 Presidential election, after January 3, the current Majority Leader, Mitch McConnel, and President Pro-Tempore, Chuck Grassley, would be replaced by Democrats who would now be the majority party with a voting advantage of 35 to 30.
The new President Pro-Tempore of the U.S. Senate would be either Chuck Schumer (current Senate Minority Leader) or the replacement to the current Democratic Whip since Richard Durbin is among those who would lose his current position (Senate Minority Whip).  Being fourth in the Presidential line of succession, after the positions of President, Vice President, and House Majority Leader positions all become vacate on January 3 and 20, 2021, Schumer or Durbin's replacement would  become the new President. New federal elections would then be scheduled according to the timetable and agenda of the now Democratic-controlled Senate.
What strengthens such an alarming scenario, which would nullify President Trump's reelection campaign, is Nancy Pelosi's recent strange claims about the Presidential chain of succession and Continuity of Government, which were made in a recent interview on MSNBC:
"Whether he [Donald Trump] knows it or not he will be leaving ,.. Just because he might not want to move out of the White House doesn't mean we won't have an inauguration ceremony to inaugurate a duly elected President of the United States."… Pelosi's statements were made after she had attended last month's Continuity of Government meeting in which the Pentagon had revealed to top officials in the chain of succession to the presidency that there is a chance for a potential disaster to strike before the elections which could cripple the U.S and other countries.

Pelosi appears to be alluding to some Continuity of Government crisis that leads to Trump's removal from office and the installation of a "duly elected" President after some natural disaster.
In sum, Von Braun's warning of a future false flag asteroid impact, the closure of over 100 major observatories, swarms of recent asteroid near misses, the self-defeating electoral strategy of the Democratic Party in encouraging riots and social chaos, Joe Biden's bizarre absence from serious politicking, Nancy Pelosi's strange reference to Continuity of Government and Presidential succession rules, and finally Alan Dershowitz's description of how the abandonment of the 2020 election would force Trump to leave office on January 20, 2021, all point to a Deep State plan to prevent Trump from being re-elected.
A contrived asteroid strike on the U.S. using covertly deployed space weapons controlled by the Deep State would lead to catastrophic destruction and almost certainly the abandonment of the November 3 federal elections.
The Deep State strategy would then be to run out the clock so that on January 20, Trump's position as President is vacated as required by the Constitution. There would also no longer be a serving House of Representatives, and all that would be left is a rump U.S. Senate that would be controlled by the Democratic Party.
Could such a diabolical plan actually succeed in both deceiving the American public through a false flag asteroid attack and preventing President Trump's all but inevitable reelection?
Currently, the U.S. Space Force is in the process of integrating all space assets from the different military services in a comprehensive way that would prevent such a false fIag event from occurring. Historically, the Deep State has used assets from the U.S. military, intelligence community, and major aerospace corporations for false flag attacks such as the September 11, 2001 "terrorist attack", and the failed January 13, 2018, Hawaii ballistic missile attack.
Space Force will eventually end that practice as far as military space assets are concerned. Space Force's rapid integration process is something that greatly worries the Deep State as I will explain in my upcoming September 26 webinar, "Why Space Force Terrifies the Deep State and Rogue Secret Space Programs".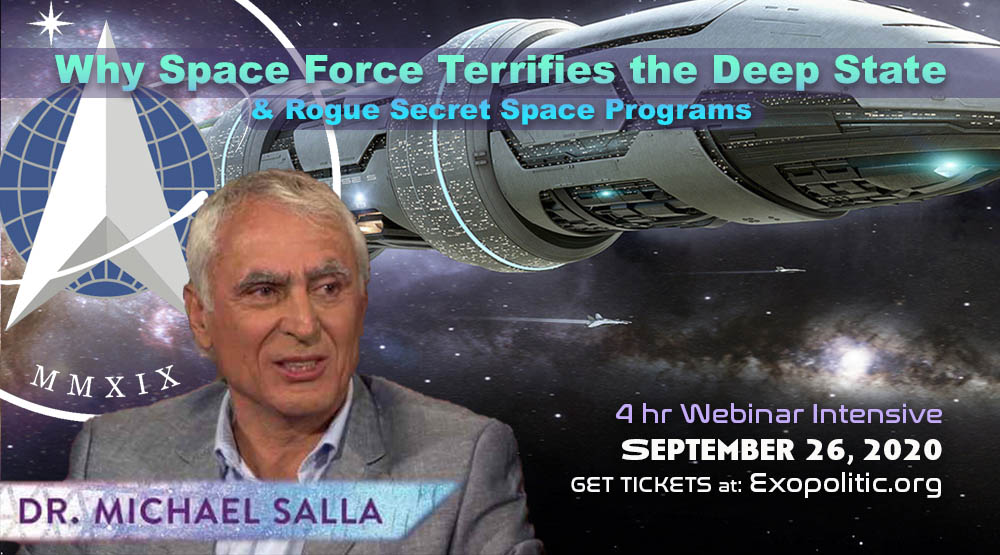 However, the Deep State still has significant space assets from the U.S. intelligence community, major aerospace corporations, and even foreign powers (China), that it could co-opt for a false flag asteroid impact event. Space Force and "White Hats" in the U.S. Military Industrial Complex will have to closely monitor these "rogue" space assets to ensure they would not be coopted into such a false flag event.
There is compelling circumstantial evidence pointing to a Deep State plan to launch a false flag asteroid attack, or some other contrived "natural disaster", sometime between September 20 and the November 3, 2020, federal elections. However, widespread public awareness of such a diabolical plan and proactive intervention by Space Force or White Hats can prevent such a plan from being successful.
© Michael E. Salla, Ph.D. Copyright Notice
[Note: Audio version of the above article is available here]
Further Reading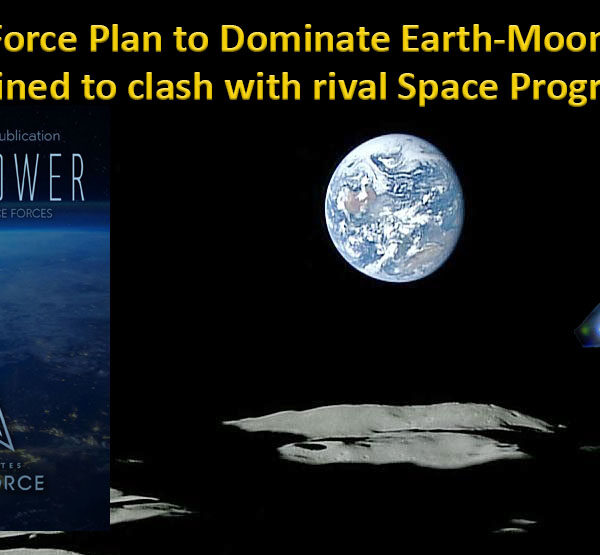 On August 10, the newly created U.S. Space Force released its "Spacepower Doctrine," defining its core identity and missions in space. Space Force will consider outer space to be a warfighting domain wherein military force will be projected into the Earth-Moon orbital environments to protect U.S. national interests and security.
In the short term, this means Space Force will compete with the rival aerospace forces established by China and Russia for space superiority. In the long term, Space Force is destined to clash with secret space programs run by a shadowy consortium of transnational corporations, and an even more elusive "Dark Fleet".
The latter is claimed by multiple insiders to belong to a German breakaway colony that transferred from Antarctica to Mars, taking with it, millions of people recruited by false inducements or forced into a life of slave labor.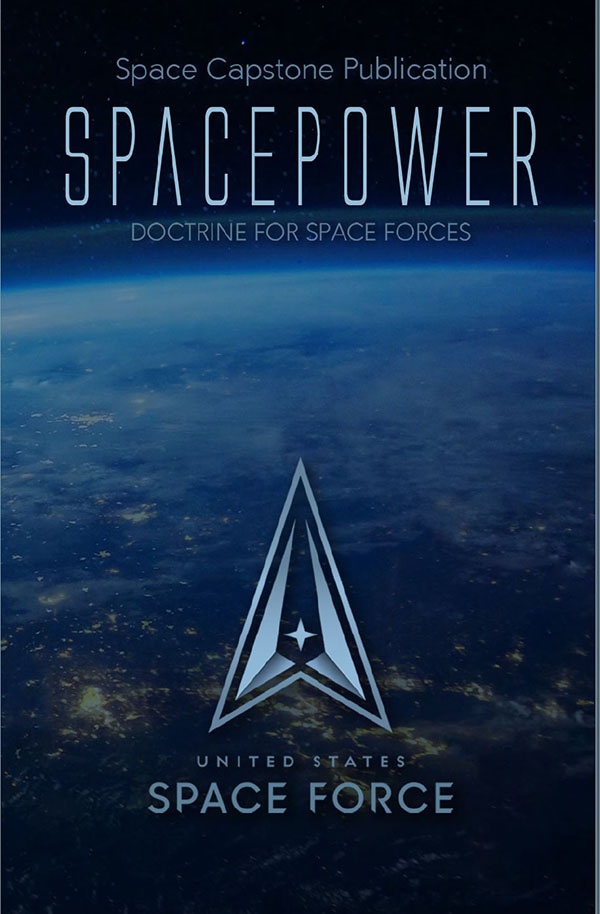 The 40-page document titled "Space Capstone Publication: Spacepower Doctrine for Space Forces" sets the tone for what follows with a 1962 statement by former President John F. Kennedy:
The eyes of the world now look into space, to the moon and to the planets beyond, and we have vowed that we shall not see it governed by a hostile flag of conquest, but by a banner of freedom and peace. [p. xiv]
The primary purpose of the document is described as follows:
The Space Capstone Publication is the inaugural doctrine manual for the United States Space Force, providing a basis for training and education, and informs decision-making, mission analysis, objectives, and the development of military space strategy in support of national security, national defense, and national military strategies. [p. xiv]
The document describes how space has dramatically changed from a domain involving peaceful cooperation and scientific exploration by the international community:
Space was once a sanctuary from attack, but the emergence, advanced development, and proliferation of a wide range of demonstrated counterspace weapons by potential adversaries has reversed this paradigm. Today, space, like all other domains, is realized to be contested due to the increasing threat to orbiting assets by adversary weapons systems. There is no forward edge of the battle area behind which military spacecraft can reconstitute and recover. Spacecraft remain in orbit through peace and war where they are potentially at risk from adversary counterspace capabilities and the hostile space environment. [p. 7]
The document goes on to explain how Space Force plans to integrate other nations sharing common interests similar to how the NATO Alliance was formed around the U.S. as the driving force to prevent aggression from the Warsaw Pact:
Military space forces are the warfighters who protect, defend, and project spacepower. They provide support, security, stability, and strategic effects by employing spacepower in, from, and to the space domain. This necessitates close collaboration and  cooperation with the U.S. Government, Allies, and partners and in accordance with domestic and international law. [p. xiii]
Space Force, however, plans to be far more than merely a multinational military operation:
Spacepower requires explorers, diplomats, entrepreneurs, scientists, developers, and warfighters. Military space forces — protectors of America's space interests — are first and foremost the warfighters who protect, defend, and project U.S. spacepower. These professionals must simultaneously commit themselves to two demanding professions: warfighting and the mastery of space. [p. xiv]
Space Force's overall mission is stated to be vital to long term U.S. national interest:
Access to space is essential to U.S. prosperity and security — it is a national imperative. The many benefits our Nation derives from space include mass communications, financial and economic information networks, public safety, weather monitoring, and military technology. Like any source of national power, the United States must cultivate, develop, and protect these benefits in order to secure continued prosperity. [p. 12]
Space is considered to be the future of economic growth and entrepreneurial activity, which is high among Space Force's core goals:
Today, the entirety of economic and military space activities is confined to the geocentric regime; however, commercial investments and new technologies have the potential to expand the reach of vital National space interests to the cislunar regime and beyond in the near future. As technology marches forward, U.S. military spacepower must harmonize with the other instruments of power to protect, defend, and maintain the Nation's strategic interests in space. [p. 14]
As far as future military conflict in space is concerned and the role of international law, this is what Space Force's capstone document has to say:
Military spacepower is inextricably linked to war. Military space forces must operate in this new warfighting domain to contribute to winning our Nation's wars. Thus, war's enduring nature and modern character shape and define military spacepower… [p. 16]
In keeping with international law, the United States acknowledges that the use of space is for peaceful purposes, while preparing for the reality that space must be defended from those who will seek to undermine our goals in space. [p. 17]
The capstone document provides an expansive view of potential enemies in space, and what Space Force needs to be prepared to do to protect U.S. interests:
Space warfare targets the mind of an adversary and seeks to neutralize their capability and will to resist. Military space forces compete against thinking actors who threaten our Nation's prosperity, security, or political aims. Thus, military space forces must prepare to outwit, outmaneuver, and dominate thinking, competent, and lethal aggressors who are attempting to thwart U.S. actions…
Military spacepower cannot unilaterally win wars, but like landpower, seapower, airpower, or cyberpower, its success, absence, or failure could prove catastrophically decisive in war. Because military spacepower has the potential to be the difference between victory and defeat, it must be viewed with equal importance as military power in any other domain. This observation is the strategic imperative for creating the United States Space Force as an independent military Service capable of maximizing military spacepower as a distinct and vital formulation of military power. [p. 21]
Evaluating the full significance of the capstone document requires appreciating both the near and long term challenges that Space Force has to face. In the short term, Space Force has to deal with the aerospace forces of both China and Russia, which have been modernizing rapidly with the growth in their respective economies.
China's economy, measured in Purchasing Power Parity, has already overtaken the U.S., and it is steadily increasing its military expenditures, especially in space which it considers to be the strategic high ground and the U.S. military's Achilles Heel.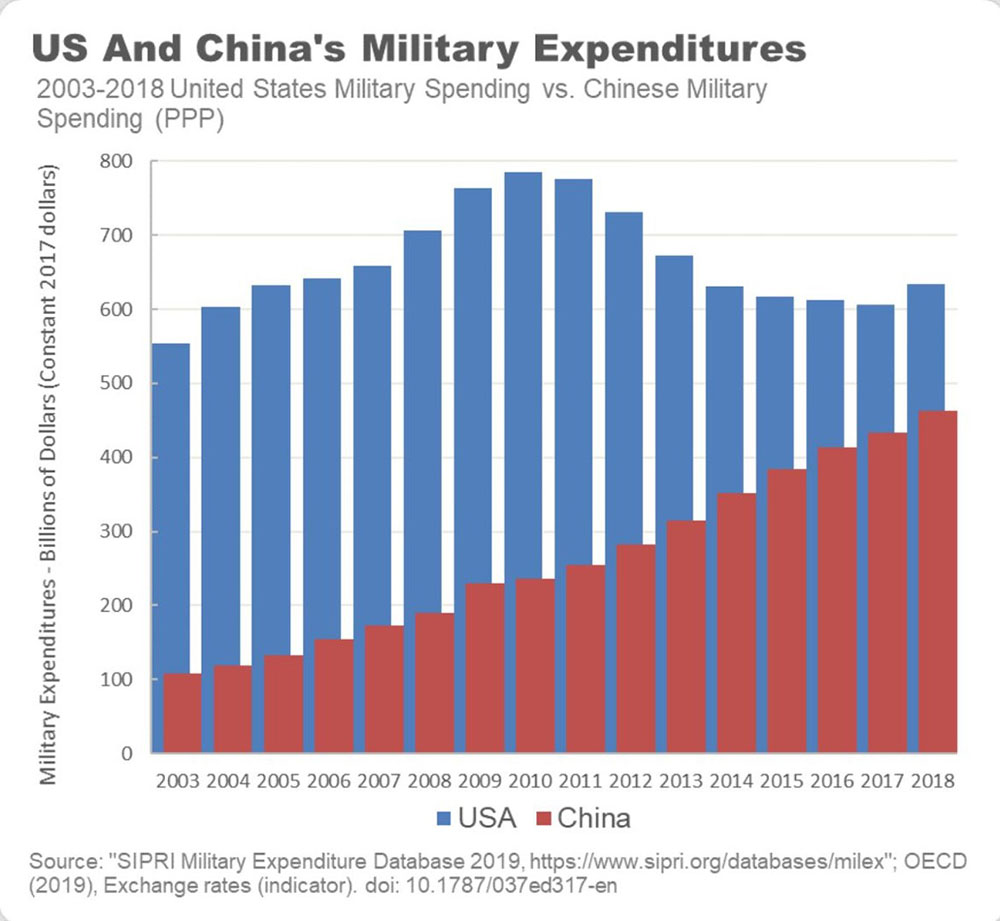 The possibility of China launching a "Space Pearl Harbor" is something that weighs heavily on the minds of U.S. military strategists, as I discuss at length in Rise of the Red Dragon (2020). Space Force's immediate goal will be to protect the U.S. satellite grid from a surprise Chinese attack, which would otherwise incapacitate the U.S. military all over the planet.
However, it is the long-term challenges to Space Force that are the most intriguing, and require considering a much wider scope of covert activities that have been occurring in space that date back to the World War II era.
It is crucial to keep in mind that Space Force will be covertly absorbing a Secret Space Program (SSP) established by the U.S. Air Force. The USAF SSP, which I described at length in the U.S. Air Force Secret Space Program and Shifting Extraterrestrial Alliances (2019), has covertly deployed squadrons of spacecraft using advanced antigravity propulsion, new energy technologies, and electromagnetic weapons systems.
These craft were reverse engineered from captured German and extraterrestrial spacecraft acquired after the end of World War II. Major US aerospace corporations collaborated with a transnational corporate consortium to secretly build these advanced craft for the USAF. The most advanced craft, however, were built for other customers, including a corporate-run SSP called the Interplanetary Corporate Conglomerate.
For much of its history, the USAF SSP operated covertly, performed ad hoc missions, had dubious legal standing, was funded by a CIA controlled black budget, and worked closely with the Deep State, a transnational corporate space program, and breakaway German colony in Antarctica.
All that changed in 2017, when the USAF learned about a far more powerful and better equipped US Navy SSP deploying battle groups led by kilometer long space carriers. Leaders of the USAF SSP realized that they had been deceived by the Deep State and their corporate/German allies who had not provided the most advanced technologies to them, as promised. See my 2019 book for more details on why the USAF SSP shifted its allegiance.
The emergence of Space Force will eventually end the chaotic and ad hoc operations of the USAF SSP, and transfer all of the latter's space assets into the control of a highly disciplined, transparent and lawfully established military space service working for U.S. national interests.
The ramifications of the Space Capstone Publication are therefore vitally important when considered in the context of how the assets of the USAF SSP were historically used to aid rogue operations contrived and controlled by the Deep State.
The long-term challenges faced by Space Force are fivefold. First, it will have to deal with nation-state peers such as China and Russia, which have the capability of launching a Space Pearl Harbor.
Second, Space Force will need to manage the more technologically advanced space programs of rogue non-state entities, the Interplanetary Corporate Conglomerate and the Dark Fleet, which possess fleets of more advanced and powerful spacecraft.  
Third, Space Force is destined to eventually merge with the US Navy SSP, whereby it becomes fully capable of handling threats posed by national rivals, rogue space entities, and aggressive extraterrestrial civilizations.
Fourth, Space Force will eventually have to confront an illicit galactic slave trade where millions of humans are taken off-planet each year and traded into a life of slavery. Will history repeat itself whereby Space Force emerges as a modern day Royal Navy whose 19th century West Africa Squadron intercepted slave ships on the high seas, but now ends the slave trade in Deep Space?
Finally, how much and when will Space Force leaders disclose to the American and World publics the truth about the dire situation confronting humanity with multiple secret space programs and extraterrestrial civilizations interacting with one another, and humanity?  Will Space Force be a conduit for full disclosure or limited hangouts that deceive humanity for years to come?
© Michael E. Salla, Ph.D. Copyright Notice
[Note: for audio version of this article, click here]
Further Reading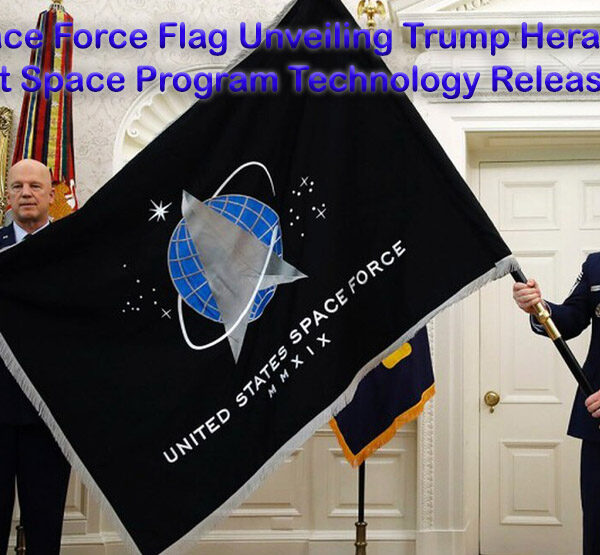 At the unveiling of the Space Force's new flag on May 15, President Donald Trump delivered remarks claiming that Space Force is the first attempt by the US to deploy weapons and military forces in space, and the US is merely reacting to what China and Russia have previously done with their own respective space forces. Trump referred to fantastic new weapons systems that are being developed for Space Force, which are far more powerful than anything possessed by China and Russia.
Trump's remarks are highly significant. They reveal a covert strategy of transferring weapons systems acquired secretly by a decades-long US Air Force led secret space program to Space Force, and proclaiming these as new weapons designed to counter recent Chinese and Russian advances in space technology.
Here's what Trump said at the flag unveiling ceremony:
Well, thank you very much.  This is a very special moment because this is the presentation of the Space Force flag.  So we've worked very hard on this.  And it's so important from a defensive standpoint, from an offensive standpoint, from every standpoint there is.
As you know, China and Russia, perhaps others, started off a lot sooner than us.  We should have started this a long time ago, but we've made up for it in spades.  We have developed some of the most incredible weapons anyone has ever seen, and it's moving along very rapidly.  And we have tremendous people in charge.
After saying China and Russia got the early jump on the US, Trump went on to assert that "we have developed some of the most incredible weapons anyone has ever seen." This is a very revealing statement which I will soon return to after briefly reviewing the respective conventional space forces developed by the US, Russia, and China.
Trump's statement that China and Russia "started off a lot sooner than us" is a reference to the creation of new military branches exclusively dedicated to space operations and the deployment of advanced space weapons.
In the case of the US Space Force, the first call for its creation occurred during the Bill Clinton Administration (1993-2001). A Congressional Commission headed by Congressman Donald Rumsfeld (before he was appointed Secretary of Defense) advocated the creation of a Space Corps as a separate military branch back in a March 2001 report.
The September 11, 2001 (false flag) terrorist attacks and the subsequent "war on terror" delayed the creation of a Space Corps until it was revived by Republican Congressman Mike Rogers in 2017, and eventually endorsed by Donald Trump in March 2018 as Space Force. After Congress approved the 2020 National Defense Authorization Act that incorporated the "Space Force Act", Trump signed it into law on December 20, 2019, formally creating the sixth branch of the US military.
Four years earlier, however, both Russia and China created Space Forces as new subordinate branches in their respective military services, which is why Trump is claiming the US is catching up to these major space adversaries in his speech.
On August 1, 2015, Russia re-established its Space Force under the newly reorganized and renamed Russian Aerospace Forces that combined the Russian Air Force with its former strategic missile defense forces. As a subordinate military branch dedicated exclusively to space operations, the Russian Space Forces focuses on a range of missions as described by the website of the Ministry of Defense of the Russian Federation:
Monitoring space objects and identification of potential threats to the Russian Federation in space and from space, prevention of attacks as needed;
Carrying out spacecraft launches and placing into orbit, controlling satellite systems, including Integrated ones (intended to be used for both military and civilian purposes) in flight, and using separate ones towards providing the Russian Federation Armed Forces with the necessary information;
Maintaining both military and integrated satellite systems with launching installations and assets of control in the workable order, and a number of other tasks.
Only a few months later, in December 2015, China developed a subordinate branch of its People's Liberation Army (PLA) called the "Strategic Support Force", which integrated space operations that were previously widely dispersed. Here is how Elysa Kanta, writing for Defense One, described the PLA's Strategic Support Force (PLASSF):
[T]the PLASSF's Space Systems Department (航天系统部), evidently a de facto 'Space Force' for the Chinese military, has consolidated control over a critical mass of China's space-based and space-related capabilities. The establishment of a unified structure through the Space Systems Department seems to reflect a response to organizational challenges that resulted from the prior dispersal of these forces, systems, and authorities across the former General Armament Department and General Staff Department.
Consequently, while it is true that Russia and China's respective Space Forces predate the creation of the US Space Force by four years, it's wrong to believe that the US is playing catch up to military resources that Russia and China have previously developed and deployed in space.
The formation of the US Space Force is indeed proceeding slowly and lags behind its rival military branches in Russia and China. Currently, the number of Space Force personnel only includes its Chief of Space Operations, General John Raymond, the senior enlisted officer, CMS Roger Towberman, and 86 recent graduates from the US Air Force Academy. While 16,000 personnel are temporarily assigned to Space Force, these are all USAF airmen until they are formally reassigned, which may take up to early 2021 due to the complex bureaucratic process in transferring thousands of personnel from one military branch to another.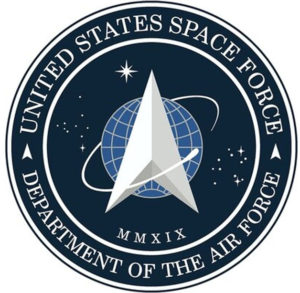 Also, Space Force is still in the process of having Air Force bases reassigned and renamed, after having had new uniforms designed on January 17, its seal approved on January 24, and now an official flag. All this indeed gives the impression that the US Space Force is still a few years off from matching what China and Russia have achieved in space, just as Trump described.
However, what Trump didn't mention is that the USAF has developed and deployed a secret space program that includes squadrons of electromagnetically propelled spacecraft that utilize antigravity principles, along with powerful space-based weapons systems.
In the US Air Force Secret Space Program (2019), I provided extensive documentation and insider testimonies detailing the history of reverse-engineered spacecraft that were first deployed in the 1970s. I described how the USAF had deployed various designs such as saucer, triangle, and even rectangle-shaped craft that are weapons platforms.
Recently, it was learned that the cigar-shaped "Tic Tac" craft recorded by Navy pilots in 2004 were in fact USAF spacecraft being tested against the Navy's most advanced radar and aircraft intercept technologies. The Tic Tac craft was built by a major US aerospace contractor located at Plant 42, which is adjacent to Edwards Air Force Base.
As described in the US Air Force Secret Space Program, these advanced space assets are in the process of being transferred over to Space Force. The process will take several years and will require public disclosure by the Trump Administration of these newly acquired technologies, and how they were developed.
In his Space Force flag ceremony speech, Trump is clearly laying the foundation for disclosing the "most incredible weapons anyone has ever seen", and asserting these were only recently developed for Space Force in order to counter the advanced space weapons produced by the Russians and Chinese. The truth is that Space Force is inheriting such weapons from a decades-long USAF secret space program that long ago weaponized space.
Rather than playing catch up to Russia and China, the US has been the clear leader when it comes to the development and deployment of advanced weapons technology in space. This is why China has been hacking, spying on and stealing US advanced space technology secrets for the last three decades to bridge the technology gap, as I described in great detail in Rise of the Red Dragon (2020).
Space Force provides a convenient means of disclosing advanced space technologies that the US has secretly used for decades, without revealing too much about their historical development and deployment. President Trump's remarks lay the foundation for declassifying advanced electromagnetic technologies that have bewildered Navy pilots and the public for decades in countless UFO sightings.
© Michael E. Salla, Ph.D. Copyright Notice
[Note: An audio version of the above article is available on YouTube]
Further Reading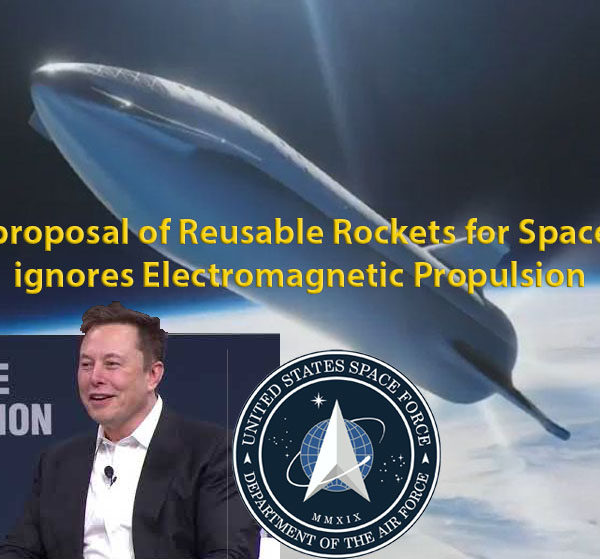 On February 27, at the US Air Force Association's "Air Warfare Symposium", Space X founder Elon Musk posed the question, "How do we make Starfleet real?" and he proposed reusable rockets as "absolutely fundamental" for the newly created Space Force.
Musk's aggressive lobbying of reusable rocket propulsion technologies for future space exploration ignores increasing evidence that electromagnetic propulsion systems are not only scientifically feasible, but have been developed for classified spacecraft, many of which have been predicted to be soon transferred to Space Force.
Musk has undoubtedly shaken the conventional space industry with his pioneering work in developing reusable Falcon rockets for launching Dragon spacecraft that are used to deploy satellites and ferry supplies to the International Space Station. Many were thrilled to watch videos of the Falcon rockets safely returning either on land or on ocean-going barges, after some spectacular early failures.
The reusable Falcon rocket landings were followed later by Dragon spacecraft descending to Earth by first deploying parachutes to slow their descent through the atmosphere before performing an ocean splashdown. The manned version called Dragon 2 is designed to carry up to seven crew and will also perform a splashdown after completing its space mission. This effectively duplicates the Apollo era process for the return of manned space capsules.  
Currently, Musk is developing a reusable Starship which again relies on rocket propulsion to take astronauts to the Moon and Mars. Measuring 160 feet (50 meters) in length, the Starship is significantly larger than the Dragon 2 and will sit atop a super heavy Falcon launch rocket. The Starship is designed to carry sufficient rocket fuel to make it possible to maneuver in space, land on the Moon, and return safely back to Earth.
At a February 28 test, a prototype Starship collapsed at the SpaceX facility in Boca Chia, Texas, showing similar development challenges to that previously faced with the Falcon rockets. Musk is confident that Space X will overcome these developmental problems and come up with a reusable spacecraft with similar capabilities to the abandoned Space Shuttle.
There is little doubt that the idea of reusable rockets is currently very helpful in transforming the space industry and moving things in the direction of multi-use space launch vehicles that will be much cheaper, reliable and safer. This has been predicted to kickstart a civilian space industry making it possible for space tourism to take off later this decade.
Musk's ambitious plans to use reusable rockets for manned flights to service the International Space Station, trips to the Moon, and eventually establishing colonies on Mars does indeed raise important questions for the newly created Space Force. Are reusable rockets "absolutely fundamental" to Space Force as Musk contends?
There is little question, when one reviews the available evidence and whistleblower/insider testimonies that the US Air Force, like the Navy, has for decades been developing electromagnetic propulsion systems in multiple highly classified programs. I have presented the best available evidence in successive books on the secret space programs developed by the US Navy and USAF.
Very recently, the Navy has had one of its most innovative scientists, Dr. Salvator Pais, apply for patents showing the feasibility of an electromagnetically propelled hybrid spacecraft capable of traveling underwater, in the air and space. After the patent examiner rejected the application for the "Hybrid Aerospace Underwater Craft" as not scientifically feasible since it lacked an adequate power supply, the Navy intervened by having another scientist write a letter in support of Pais.
Dr. James Sheehy, the Chief Technology Officer for the Naval Aviation Enterprise pointed out that Pais' patent application was scientifically feasible and was being experimented on. In his letter, Dr. Sheehy wrote about the electromagnetic propulsion systems making rocket engines obsolete:
If successful the realization of this result demonstrates that this patent documents the future state of the possible and moves propulsion technology beyond gas dynamic systems to field-induced propulsion based hybrid aerospace-undersea craft…
Importantly, Sheehy went on in his letter to point out that China was working on similar electromagnetic propulsion systems. Not granting the patent would lead to China gaining the intellectual property rights on such innovative technology, which had been originally conceived in the US, and very likely acquired by China through industrial espionage.
Sheehy's warning was correct, China has indeed acquired classified US aerospace technologies and is in the midst of a rapid development process for fleets of electromagnetically propelled vehicles that are part of a secret space program that is far more powerful than its public space program using rocket propulsion systems.
China aims to overtake the US as a leading space power by 2030 through advances in Artificial Intelligence and deployment of 5G systems that are at the core of its asymmetric military strategy dubbed "Assassin's Mace". In my new book, Rise of the Red Dragon: Origins and Threat of China's Secret Space Program, the full extent of China's technological advances and how it plans to use AI and 5G to achieve space dominance are laid out in detail.
Recently, a number of former servicemen from the USAF and Navy have come forward with their testimonies that the Tic Tac UFOs captured on infrared video by Navy pilots, had an important USAF connection. One of them, Mike Turber, says that he was told by a reliable source that the Tic Tac craft belonged to the USAF and had been built at its secretive Plant 42 facility in Palmdale, California, by leading aerospace contractors.
Given the abundant evidence that the USAF and Navy have secretly developed electromagnetic propulsion systems, why would the newly created Space Force be interested in Musk's reusable rocket propulsion systems?
Sure, reusable rockets are superior to the expensive single-use rocket launch vehicles that have been dominant since the 2011 retirement of the Space Shuttle. However, both single-use and reusable rocket systems are dramatically inferior to electromagnetically propelled spacecraft capable of traveling at speeds that defy conventional physics, as spectacularly demonstrated by the Tic Tac UFO craft.
Musk made his comments in a fireside chat with Lieutenant General John Thomson, Commander of the USAF Space and Missiles Systems Center, Los Angeles Air Force Base, which was only a few months ago transferred over to Space Force. Was General Thomson genuinely interested in reusable rockets for Space Force or did he have another agenda in mind?
There are three possibilities that come to mind that help explain why General Thompson and Space Force may be interested in hearing Musk's views about reusable rocket propulsion systems.
First, reusable rockets are a useful stepping-stone to the far more effective and powerful electromagnetic propulsion technologies that Space Force is in the process of receiving from the US Air Force's secret space program, as I have discussed elsewhere. I find this possibility highly unlikely given the unnecessary expense of building reusable rocket technologies that Space Force leaders would deem vastly inferior to electromagnetically propelled spacecraft.
A second possibility is that Musk's advocacy of reusable rockets might be a convenient smokescreen for Space Force deploying electromagnetically propelled spacecraft, without revealing the true propulsion system being used until the right time. Put simply, there may be a need for Space Force leaders to hide from the public the true origins and development history of its reusable spacecraft.
A third possibility is that General Thompson and Space Force intends to partner with Musk since he has shown with his innovative Tesla electric car company a sustained interest in moving the car industry away from fossil fuels to electrical energy. Musk can therefore in the future play a leading role in moving the space industry away from rockets towards electromagnetic propulsion systems.
Therefore, in responding to Musk's question, "How do we make Starfleet real?",  the answer is definitely not through reusable rockets as proposed by Musk. However, reusable rockets may be a convenient stepping stone or smokescreen for electromagnetic propulsion systems that Space Force will be deploying in the near future. Indeed, Musk may ultimately prove to be a pivotal figure in helping introduce electromagnetic propulsion systems to the general public as he learns about the classified technologies Space Force plans to release to the public.
© Michael E. Salla, Ph.D. Copyright Notice
Further Reading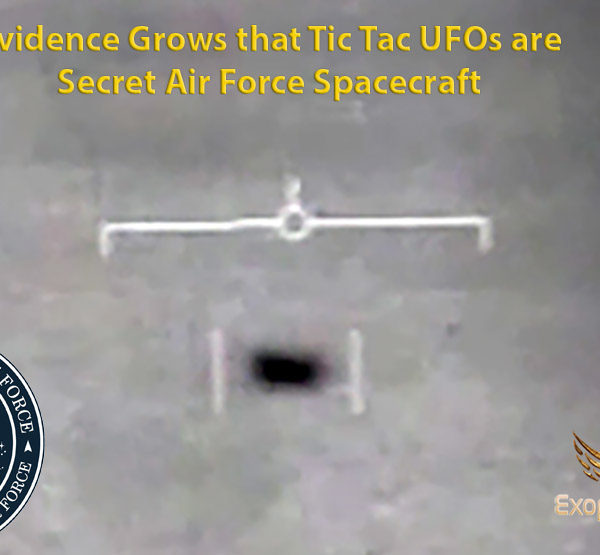 After the November 4, 2019 emergence of a former USAF Intelligence Specialist, Mike Turber, claiming that the 2004 Tic Tac sightings recorded by Navy pilots were antigravity spacecraft belonging to the USAF, three Navy witnesses have come forward confirming key parts of Turber's ground-breaking testimony. Turber and the Navy witnesses testimonies are important since the US Navy has confirmed the authenticity of the video showing the Tic Tac incident, and given an official briefing to Congress and President Trump about what transpired.

Turber says the fleets of Tic Tac shaped craft recorded by ships and aircraft belonging to the Nimitz Aircraft Carrier group between November 10 to 14, 2004, were being flight-tested by the USAF against the Navy's best radar recording technologies and intercept aircraft. Turber asserted that Air Force personnel boarded different Navy ships to confiscate the flight recordings of the UFOs that attained speeds of 24,000 mph in the air and over 500 mph under the water.
Turber claimed that there were five Tic Tac craft that had been sighted and recorded by the carrier group, but Navy commanders were not too perturbed. He said senior Navy officers were aware that the Tic Tac craft were highly classified USAF craft being tested against the Navy's best surveillance, tracking and intercept technologies at the time.
Corroboration of Turber's key claims emerged on January 20, 2020, when Patrick "PJ" Hughes, a Petty Officer on the aircraft carrier, USS Nimitz, was interviewed by Jim Breslo, who was the first to interview Turber back on November 4, and again on December 2, 2019.
Hughes says that he was responsible for preparing the electronic recording and communications systems for the E-2C Hawkeye aircraft based on the Nimitz, which provide eye-in-the-sky command and control functions for air traffic near the battle group. Hughes explained how all radar and other electronic surveillance data, some of which remains classified even today, was accumulated by the Hawkeye for subsequent analysis by Navy intelligence specialists.
The Hawkeye recorded all the radar and other electronic data acquired by the F/A-18 Super Hornets intercepting the Tic Tac craft, as well as its own data recordings.
Hughes says that after the Hawkeye landed with all the radar and other intelligence data accumulated of the flight behavior of the Tic Tac shaped craft, two USAF personnel were accompanied by his commander, and took the two bricks (hard drives) from the Hawkeye that Hughes had placed in a safe. Hughes added that when he began to sign out the two bricks as part of his standard operating procedure, his commanding officer told him to stop and made it clear that the bricks were to be taken by the Air Force personnel without any record being kept.
This incident is key evidence that senior Navy officials were aware that the Tic Tac craft were involved in some classified project, and that there was high-level cooperation between the USAF and Navy over the course of the week when the Tic Tacs were sighted and recorded.
Hughes' testimony confirms Turber's account that two Air Force officials took all the data of the Tic Tac craft, and that over the course of the week-long sightings, USAF officials were working closely with the Navy in controlling information about the UFO sightings.
This is important corroboration for Turber and his confidential sources on the true origins of the Tic Tac craft seen near the Nimitz carrier group, and the related January 16, 2015 UFO incidents off the coast of Florida Coast that were witnessed and recorded by military personnel from another carrier group led by the USS Roosevelt.
Hughes also confirmed that the two pilots and three crew members of the Hawkeye visually sighted the Tic Tac craft which flew only a mile away from them before speeding off. They gave similar descriptions of it being a white Tic Tac shaped craft that was about 40 feet long, and capable of fantastic flight maneuvers.
Hughes explained that all five crew members were debriefed after the incident and had to sign Non-Disclosure Agreements (NDA). This again helps corroborate what Turber revealed in his November 4, 2019 interview. Fortunately, Hughes was not required to an NDA on the Tic Tac incident, even though signing NDA's was a regular occurrence during his Navy career.
In addition, Gary Voorhis, another Navy whistleblower has come forward to say that something similar happened on the USS Princeton, where two men in plain clothes confiscated all the ship's sophisticated Aegis and other electronic tracking data recorded of the Tic Tac craft.
These technologies included the newly installed SPY-1 radar according to Paco Chierici, a former Navy pilot who wrote the first article on the Tic Tac incident based on a classified Naval Intelligence study he was given. In his March 14, 2005, article, Chierici said the SPY-1 radar tracked the Tic Tacs from as high as 80,000 feet to 50 feet above sea level in a few seconds, a capability that was not possible with previous Navy radar systems.
Voorhis was also interviewed by Breslo as part of an in-depth series of interviews casting new light on the true origins of the Tic Tac craft, and the mounting evidence that these were secret USAF craft being tested against the Navy's best recording devices and pilots.
While Voorhis was unable to verify that the two officials were USAF personnel, he pointed out that the Princeton carried state of the art electronics surveillance equipment, which would be the logical place for testing prototype aircraft. Precisely what Turber had pointed out in his first interview.
Similarly, Hughes pointed out that the 2015 UFO incidents captured on video and generally known as the Gimbal and GoFast videos also involved the Navy's latest generation of electronic surveillance and intercept craft.
Finally, Breslo interviewed another Navy witness to the Tic Tac events, Kevin Day, who was stationed on the USS Princeton and was in charge of the newly installed SPY-1 radar that was monitoring all air traffic. Day described the radar tracking of the Tic Tac's dropping from 28,000 feet to only 50 feet above sea level in a matter of seconds, which in his opinion defied the known laws of physics.
Day described both the Captain of the USS Nimitz and the Admiral in charge of the Nimitz battle group showing a surprising "lack of curiosity" over the UFO sightings. This corroborates what Turber had to say about senior Navy officials having been briefed about the Tic Tacs.
Additionally, Day said that when he tried to find the radar tracking of the Tic Tac craft and the Navy interceptors to file an after-action-report, all data was gone. This corroborates what Voorhis claims happened after two unknown persons confiscated all the recorded data.
Consequently, Mike Turber's testimony that the Tic Tac sightings in 2004 involved the testing of classified hybrid aerospace vehicles capable of traveling underwater and into space is supported to significant degrees by three Navy personnel who were eyewitnesses to events that transpired during the November 2004 Tic Tac sightings.
Hughes, Voorhis and Day's respective testimonies adds to growing confidence that the Tic Tac shaped craft will be among the first declassified aerospace platforms to be revealed by the newly formed Space Force as predicted by Turber. Given the rapid advances in the setting up of Space Force, we may not have to wait too long to discover the official truth behind the Navy UFO sightings in 2004 and 2015.

© Michael E. Salla, Ph.D. Copyright Notice
Further Reading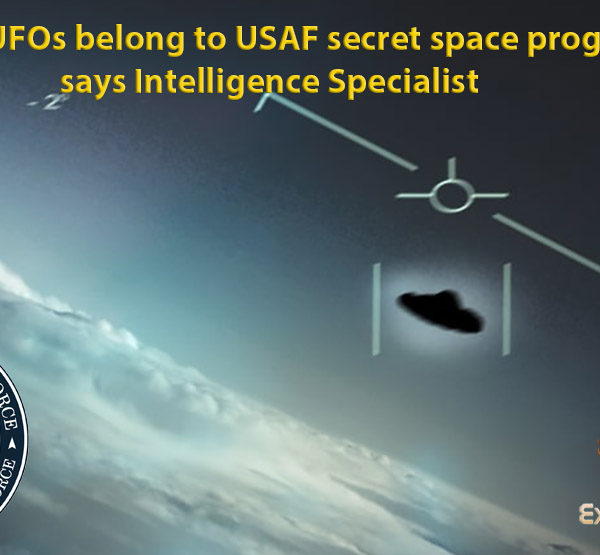 The famed Tic Tac shaped craft captured on video and sighted by multiple US Navy pilots beginning in 2004 are advanced US Air Force spacecraft capable of traveling at 500 mph underwater and 24,000 mph into space according to a former intelligence specialist in electronic communications.
Mike Turber claims that he served with the USAF as an intelligence specialist and later with various defense contractors where he had Top Secret security clearance and access to various Special Access Programs (SAP's) and Sensitive Compartmented Information (SCI) projects.
Turber came forward in two interviews he gave on November 4 and December 2, 2019, where he presented information he has received from "official government" sources that the Tic Tac sightings are USAF hybrid aerospace craft capable of traveling underwater, in the air and into outer space.
He says that the incredible speeds the USAF craft can achieve both in the atmosphere and underwater is due to its ability to utilize the principle of supercavitation [timestamp 39:40], where a cavitation bubble is created around a craft moving water molecules out of the craft's flight path and eliminating friction as explained by Wikipedia:
A supercavitating object is a high-speed submerged object that is designed to initiate a cavitation bubble at its nose. The bubble extends (either naturally or augmented with internally generated gas) past the aft end of the object and prevents contact between the sides of the object and the liquid. This separation substantially reduces the skin friction drag on the supercavitating object.  
According to Turber, the Tic Tac craft were assembled in Palmdale, California at a highly classified Air Force facility called "Plant 42". According to Global Security, a number of major aerospace companies operate out of this enormous facility:
Air Force Plant 42 is at Palmdale, CA, north of Pasadena in Los Angeles County. It is operated by Lockheed, Rockwell International, Northrop, and Nero. AFP 42 is located in the northeastern portion of Los Angeles County, California, within the Antelope Valley of the Mojave Desert, approximately 80 miles north of Los Angeles. It has over 6,600 acres (the government owns 85%) and includes approximately 4.2 million square feet of floor space (the government owns 45%). The site includes multiple high bay buildings and airfield access with flyaway capability. The facility also has one of the heaviest load-bearing runways in the world.
The most well-known corporation is Lockheed Martin's famed Skunk Works which moved to Plant 42 from Burbank, California, in 1989.
According to Turber, he worked at Plant 42 after his Air Force career and realized that some of the craft being secretly constructed there were related to the Tic Tac sightings which he first learned about in 2005. He says that at the time he worked with the Air Force and was analyzing radio communications from Navy pilots discussing their sightings of UFOs that could maneuver both in the air and sea.
Turber says that he knows of at least three models of hybrid air, sea and space vehicles that have been built at Plant 42. He asserts that at least 20 of these had been built and deployed during the time he worked at Plant 42. The largest is 46 feet long which allows it to be easily loaded onto trucks for easy transportation along California's highway system.

He asserts that the USAF Tic Tac craft use advanced stealth and invisibility technology, and that the USAF deployed them near Navy ships to test pilot reactions, and to essentially "mess with the Navy".
Turber says that the Navy has now developed similar craft, and that major nations such as China and Russia have developed the exact same craft [timestamp 17:50]. China's hybrid spacecraft are more evolved than Russia's and quickly catching up to the USAF craft.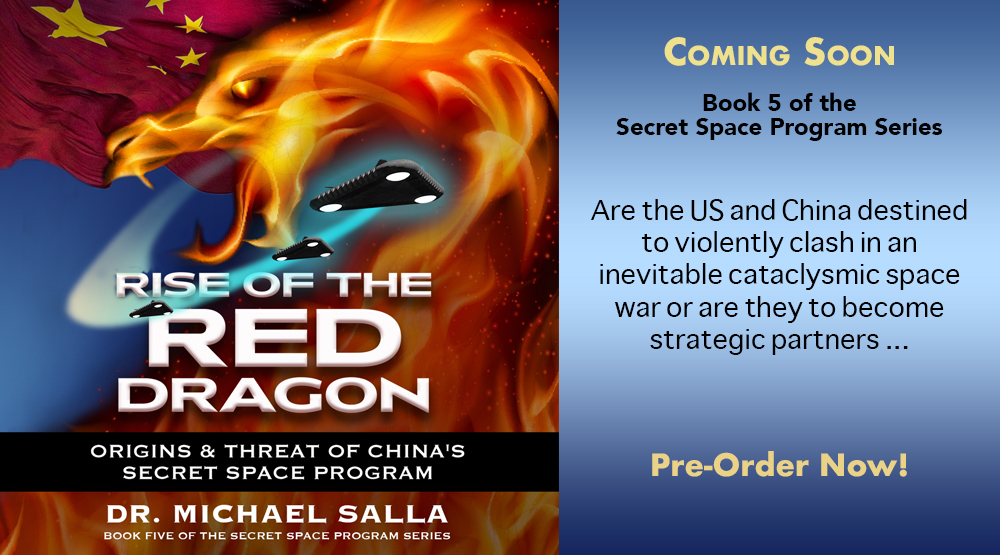 The Tic Tac craft are not reverse engineered from extraterrestrial spacecraft, according to Turber. Instead they were first developed in the 1950s from civilian sources such as Dundee University, before finding their way to institutions such as the Defense Advanced Research Projects Agency (timestamp 32:25). In contrast, multiple insiders claim that advanced aerospace technologies were reverse engineered from captured extraterrestrial spacecraft.
Turber says that several of the Tic Tac shaped hybrid craft were deployed over North Korea in November 2017, to intimidate its paramount leader, Kim Jung-Un, and President Donald Trump was informed of the craft's deployment and purpose.  
Turber's testimony is important since it explains the origins and performance of the Tic Tac UFOs that major media outlets began to report in detail back on December 16, 2017, after the New York Times and Politico covered the issue in major stories.
According to Turber, the media's tepid response to the revelation was a major factor in him coming forward. He insists that rather than being a whistleblower, he has been encouraged to come forward by official sources to reveal his testimony and prepare the public for the major revelations that lie ahead.
Unfortunately, Turber has not shared any official documents confirming his Air Force career and work with different military contractors. This is puzzling since other former USAF personnel and corporate employees, such as Edgar Fouche, have publicly released such documentation when they have come forward to reveal their insider knowledge of the TR-3B and Aurora Project without suffering any repercussions.
What Turber did share with his interviewer, Jim Breslo, was data from the Google Maps timeline feature that showed that on November 18, 2017, his phone recorded a flight from Ontario, California to the US East Coast that lasted one hour and 24 minutes [timestamp 1:17:40]. Turber alluded to the incident as objective evidence that he was involved in a highly classified aerospace project at the time but was not able to reveal more details.
The phone data timeline indeed does corroborate his core claim of having worked on classified aerospace projects since it is difficult to explain how anyone using a conventional aviation transport can travel from the West to East coast in 84 minutes. Nevertheless, the Google Maps travel timeline isn't sufficient to corroborate what his "official" sources told him, so hopefully Turber will share some of his documentation to substantiate his military and aerospace career.

Breslo brought up the remarkable similarity between the flight performance of the Tic Tac craft and a Navy patent for a Hybrid Aerospace Underwater Craft (HAUC) which I have previously discussed, and which Brett Tingley and Tyler Rogoway, writing for The Drive, have connected to the Tic Tac incidents.
The Navy patent explains how the craft is able to travel without friction under water and through the air by creating a quantum vacuum bubble around it: as explained by Tingley:  
In the Navy's patent application for the HAUC, it's claimed that the radical abilities of propulsion and maneuverability are made possible thanks to an incredibly powerful electromagnetic field that essentially creates a quantum vacuum around itself that allows it to ignore aerodynamic or hydrodynamic forces and remove its own inertial mass from the equation. Thus, the ability to generate such high-frequency electromagnetic waves is key to the alleged abilities of this theoretical hybrid craft that can soar near effortlessly through air and water at incredible speeds with little to no resistance or inertia.
Turber dismissed the Navy patent as bogus [timestamp 36:18], yet the principle of a quantum vacuum around the craft being generated by electromagnetic energy makes for a compelling explanation for how such craft could achieve supercavitation when traveling through different mediums such as water, air, and space.
Turber's testimony is very helpful since it directly points to the Tic Tac craft being part of a USAF secret space program, and that these assets are now in the process of being handed over to the new Space Force, just as predicted in the US Air Secret Space Program: Shifting Extraterrestrial Alliances and Space Force. That means exciting times lie ahead as Space Force unveils the secret space program it has inherited from the USAF.
© Michael E. Salla, Ph.D. Copyright Notice
[Special Note: I will be presenting the revolutionary Navy patents and their relevance to Secret Space Program disclosure at my upcoming Webinar with Portal to Ascension on March 21, 2020. You can register here.]
Further Reading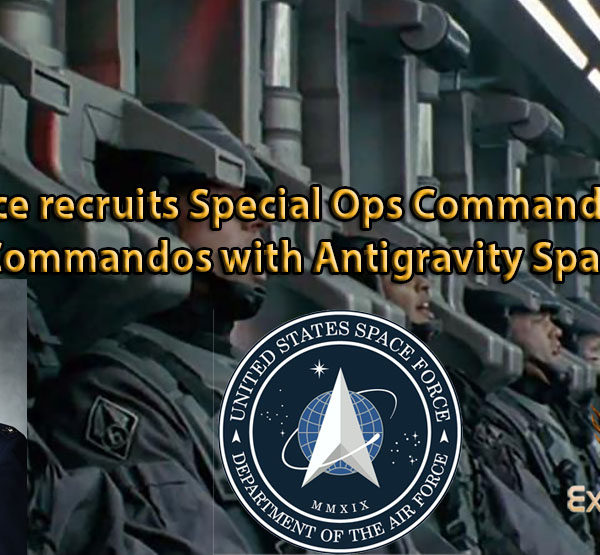 The United States Space Force has just recruited and promoted the Commander of the Air Force's 1st Special Operations Wing who had led covert operations around the world and in space. This clears the way for antigravity vehicles that were secretly deployed out of select Air Force bases to be transferred over to Space Force and for many "Air Commandos" to be renamed as "Space Commandos".
Colonel Michael Conley who headed the Air Force's 1st Special Operations Wing was promoted to Brigadier General in his new assignment as second in charge of Space Operations Command that currently makes up the bulk of the newly created Space Force with nearly 16,000 personnel.
The personnel are distributed over five Air Force bases – Vandenberg, Peterson, Patrick, Schriever, and Buckley – which according to the head of Space Force, General Jay Raymond, are soon to be renamed space bases.  
In his previous assignment at Air Forces Special Operations Command (AFSOC), as head of one of the Air Force's eight special operations wings, Conley led covert personnel known as "Air Commandos" which the AFSOC website describes as follows:
We are America's Air Commandos
We are Air Commandos, quiet professionals, Airmen personally committed to our craft. As the air component of U.S. Special Operations Command, we are capable and ready to conduct special operations anytime, anyplace. We are disciplined professionals dedicated to continuous improvement. Innovative and adaptable, our rigorous and realistic training helps us manage uncertainty and mitigate risk. By training smarter and harder than others, we define our limits, and learn when and where to push them. Inherently joint, we build credibility through habitual relationships that sustain us in the fight. We believe that one person makes a difference. And as our Air Commando heritage demands, we remain culturally bound to get the mission done, or find a way where none exists.
Conley led the 1st Special Operations Wing, from 2018 to 2020 at Hurlburt Field, in Florida. It was during his leadership that a number of triangle and rectangle-shaped antigravity vehicles were photographed near MacDill Air Force Base, home of Pentagon's Special Operations Command.
The photographer, who uses the pseudonym JP and currently serves with the US Army, says that he was taken aboard several of these vehicles, which he photographed on several occasions with the active encouragement of covert Air Force personnel.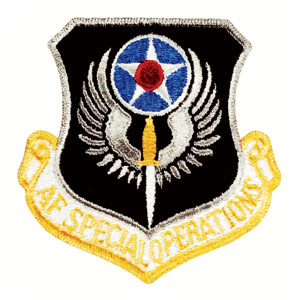 JP witnessed personnel on a rectangle-shaped antigravity vehicle who wore patches of Air Force Special Operations. The same patches are worn by the special operations wing that was led by Conley at Hurlburt Field, which worked closely with MacDill's Special Operations Command in covert operations around the world and in space.
This raises the distinct possibility that Conley was involved in the decision to allow antigravity vehicles manned by Air Force Commandos flying near MacDill AFB to be photographed by JP.
If so, then Conley was actively part of the covert disclosure initiative by the USAF to reveal its arsenal of antigravity vehicles to the general public, which I described in detail in the book, US Air Force Secret Space Program (2019).
This possibility gives added significance to Conley's appointment and promotion to Space Force, and strengthens claims that the Space Force was created with the intent of revealing the Air Force's secret space program (SSP).
Regardless of the question of whether Conley was part of an Air Force initiative to publicly begin acclimating the public to its secret space program in 2018, his new position as deputy commander of Space Force's "Space Operations Command" means that he is in charge of transferring relevant Air Force covert aerospace operations over to Space Force.
General Conley will now oversee the reassignment of "Air Commandos" to "Space Commandos", and transfer covert space assets used by the Air Force's "1st Special Operations Wing" – some of which were photographed in 2017-2018 near MacDill AFB – to Space Force.
As Space Force continues to develop with the acquisition of personnel and resources, it is expected that more of the bureaucratic structures that supported the Air Force's SSP, will be increasingly made transparent as it is transferred over to Space Force.
General Conley and the transition of "air commandos" to "space commandos" is merely one step in a transition process, which ultimately aims to have decades-old technologies deployed by the USAF SSP to be declassified as recent acquisitions by the new Space Force. This process will simultaneously inspire the American public with the impressive technologies deployed by Space Force, boost recruitment interest in the new military service, while deflecting away from troubling questions of why such technologies were not declassified decades earlier.

© Michael E. Salla, Ph.D. Copyright Notice
Further Reading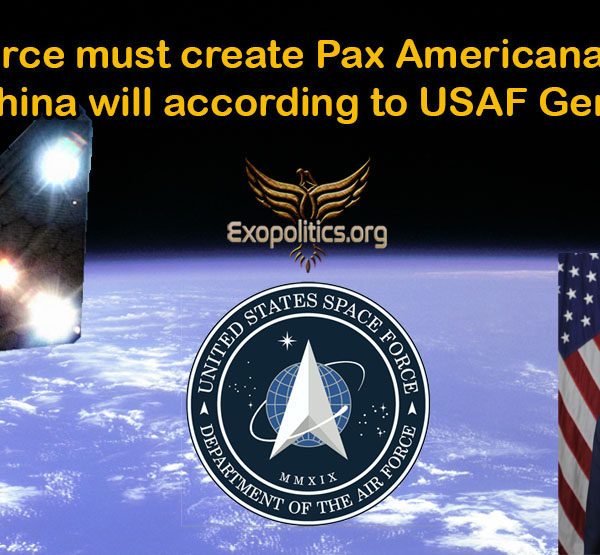 On January 17, 2019, newly retired US Air Force Lieutenant General Steven Kwast wrote an article in Politico about the need for Space Force to quickly break free of USAF strategic doctrine to create a "Pax Americana" in space otherwise China will quickly step into that role and take the strategic high ground. He explains that China is building a space navy with the equivalent of destroyers and cruisers, and that America must do the same. Is Kwast unaware that the USAF has already built a secret space program or is he laying the foundations for its future disclosure to the public?
Kwast retired from the USAF in September 2019 and gave a lecture two months later at Hillsdale College where he first presented his thinking about Space Force. In his Politico article, Kwast elaborates on many of the ideas he presented in his Hillsdale lecture.
Kwast begins his article by focusing on the future economy of space:
Space is so powerful and so full of resources that it will change the way humanity consumes energy, information, goods and services. It will also transform the way we travel more profoundly than the invention of the automobile and airplane combined. The newly established Space Force is imperative if we want to avoid war and manage this journey into the future of a new trillion-dollar space economy with the power to peacefully protect our people and values.
He warns that the USAF does not appreciate the strategic importance of protecting the future "trillion-dollar space economy", but China is:
The problem is that the Air Force is proposing a Space Force that will not protect the marketplace of space beyond earth's orbit. But China is.
Kwast is very critical of the Air Force approach to space and asserts that it doesn't have the right mindset for utilizing the full potential of space:
First, the Air Force is trapped in an industrial-age mindset. It is projecting power through air, space, and cyber yet does not properly consider the space geography beyond earth's orbit… In short, the current Air Force plan for the Space Force will lose the race to dominant the strategic high ground.
Kwast goes on to warn about the danger posed by China which is building a "guardian force" to protect its interests in the future "marketplace of space":
If America wants peace in space, it must supply some form of guardian force with the power to hold participants accountable to international law and American values. China is already building its guardian force. China is building a navy in space, with the equivalent of battleships and destroyers that can move fast and kill. America's satellites will be helpless to win against the superior speed and firepower in China's force.
He describes China's ability to destroy America's satellite communications system and the superior strategy it has developed for space:
China is winning the space race not because it builds better space equipment but because it has a superior strategy. For example, if China stays on its current path, it will deploy nuclear propulsion and solar power stations in space within 10 years. While China will claim that power stations in space can beam clean energy to anyone on Earth, the alarming fact is that the same capability can be used to turn off any portion of the American power grid, and has the ability to paralyze our military might anywhere on the planet.
Kwast concludes his article by asserting that Space Force needs to become independent of the Air Force thinking:
There is one simple action that can propel America to win. Congress must take steps to make the Space Force independent of the Air Force and give it the mission to defend the economy of space. If not it will evolve too slowly and lose this strategic high ground. There may not be time to recover.
Kwast's proposal that the US Space Force takes on the role of establishing a Pax Americana in space where US interests in the future "trillion-dollar space economy" has much support within the Trump administration.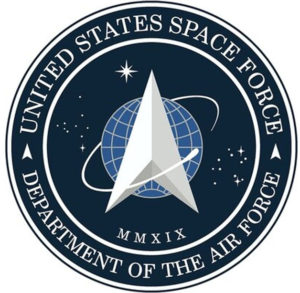 After the passage of the 2020 National Defense Authorization Act establishing the creation of Space Force, its newly created Chief of Space Operations, General Jay Raymond, has transferred 16,000 USAF personnel into Space Force, is converting USAF bases to "space bases", and approved a seal for the new service.
While Kwast lays out the need for a strategic doctrine of a Pax Americana in space involving the development of space cruisers and battleships, he does not appear aware that such a military force already exists. Is Kwast simply out of the loop about the antigravity vehicles of the USAF's secret space program or is he laying the foundation for the Air Force to disclose its existence?
In the US Air Force Secret Space Program, I lay out the historical documents and insider testimonies showing how the Air Force began deploying spacecraft using exotic antigravity propulsion systems in the 1970s. Since that time, the USAF's space arsenal has steadily grown into fleets of triangle, rectangle and saucer shaped space vehicles that dominate near-earth operations.
In short, the Pax Americana that Kwast forcefully argues needs to be established has existed for over four decades and China does not lead the way in establishing a "guardian force", but is instead quickly catching up to what the USAF did decades earlier. In fact, China is so quickly bridging the technology gap thanks to its huge economy and industrial espionage, that its military strategists are planning for China to become the new global and space hegemon by 2030, thanks to the unrestricted embrace of Artificial Intelligence.
A case can be made that Kwast was simply out of the loop of the existence of a USAF secret space program since his career assignments did not involve positions where he had a "need to know" of such a highly classified program. His last assignment was Commander of Air Education and Training Command in San Antonio, Texas.
It's also very possible that his justification of Space Force is designed to have the American public give uncritical support for the creation of a Pax Americana in space while covering up the fact that it was established decades ago, without the American public being informed. An inconvenient fact that is sure to make many angry over the decades-long delay in sharing the revolutionary advances in electromagnetic propulsion technologies, new energy systems and healing modalities that have been kept hidden from the general public.
© Michael E. Salla, Ph.D. Copyright Notice
Further Reading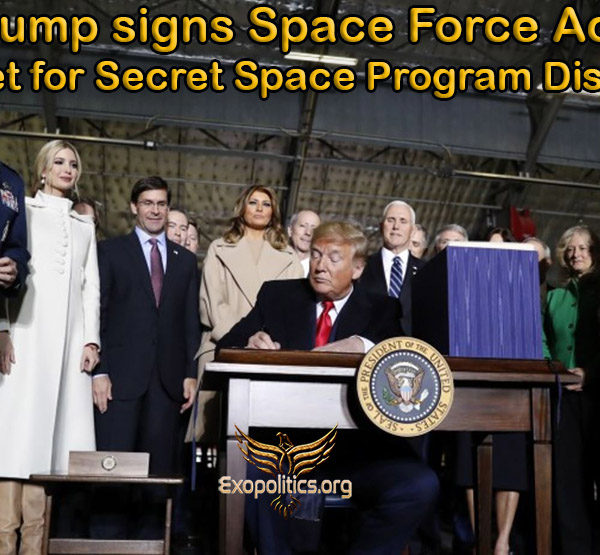 President Donald Trump signed the Space Force Act into law yesterday night. It was included in the omnibus 2020 National Defense Authorization Act (NDAA) funding Pentagon operations for another year, and officially creates a sixth branch of the military – US Space Force (USSF). Trump's signing sets the stage for some amazing disclosures of what the USAF has secretly deployed in space for decades.
The budget allocated to Space Force is a paltry $40 million for its first year of operations, which effectively covers little more than the costs of hiring 200 new personnel and changing signs for personnel transferring from Air Force Space Command to the new Space Force. Approximately 16,000  civilian and military personnel will transfer from Air Force Space Command, which currently hosts 26,000 personnel, to the new Space Force.
On the surface, there appears to be little to be excited about with the creation of Space Force, which will continue to operate with largely the same personal and commander of the current Air Force Space Command – General John "Jay" Raymond.
Space Force will operate under the authority of the Department of the Air Force as an independent military branch, a temporary compromise, according to President Trump who would like to see the creation of a Department of Space Force eventually.
Critically, General Raymond is also in charge of US Space Command, the Pentagon's newly created combatant command, which integrates the aerospace resources of the USAF, Army, Navy and USMC in combat operations around the world and outer space.
For the first year of Space Force's existence, General Raymond will be dual-hatted as Chief of Space Operations and Commander of Space Command. This will allow Space Force to closely coordinate with other branches of the US military that have assets in space.
The big change that lies ahead is what the USAF plans to do with the highly classified space program it has secretly developed and deployed with futuristic aerospace technologies dating back to the 1970s. Lieutenant General Steven Kwast (USAF ret.) recently mentioned some of the cutting edge technologies developed in classified Air Force laboratories in a November 2019 lecture:  
The technology is on the engineering benches today. But most Americans and most members of Congress have not had time to really look deeply at what is going on here. But I've had the benefit of 33 years of studying and becoming friends with these scientists. This technology can be built today with technology that is not developmental to deliver any human being from any place on planet Earth to any other place in less than an hour.
Less than a week before Trump signed the Space Force Act, the Secretary of the Air Force, Barbara Barrett, and Mike Rogers, one of the Congressman who co-sponsored the original bill for Space Force, both called for the USAF to declassify the advanced space technologies it has developed. Barrett said:
Declassifying some of what is currently held in secure vaults would be a good idea… You would have to be careful about what we declassify, but there is much more classified than what needs to be.
All the assets and personnel that clandestinely operate within the USAF secret space program will be transferred over to Space Force and the authority of General Raymond.
This will be welcomed by the commanders and personnel in the secret space program whose space activities have been classified so highly that it has negatively impacted career advancements and benefits when compared to their peers in more conventional Air Force programs.
The creation of Space Force sets the stage for the official disclosure of major components of the Air Force's secret space program which I have discussed in detail in the US Air Force Secret Space Program. Disclosure is likely to begin with antigravity vehicles such as the legendary TR-3B, a flying triangle that was first sighted in the late 1980s, and newer rectangle-shaped flying platforms, which were photographed near McDill Air Force base in 2018.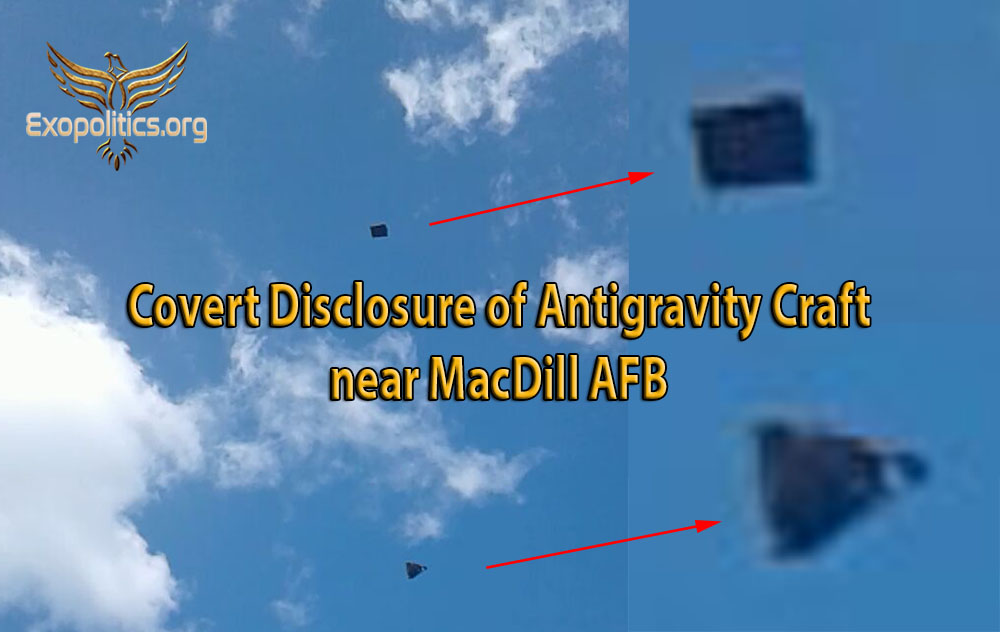 There are also disk-shaped flying saucer craft and stealth space stations that were jointly developed with the National Reconnaissance Office. More incredible are the "stargates" or traversable wormholes that have been secretly developed and used for decades according to multiple insiders.
The disclosure of these and other advanced technologies will be mind-boggling and revolutionize the aerospace industry. More importantly, for the Trump administration, they will help re-industrialize America and establish Space Force as the leading military power in space for decades to come.
© Michael E. Salla, Ph.D. Copyright Notice
Further Reading