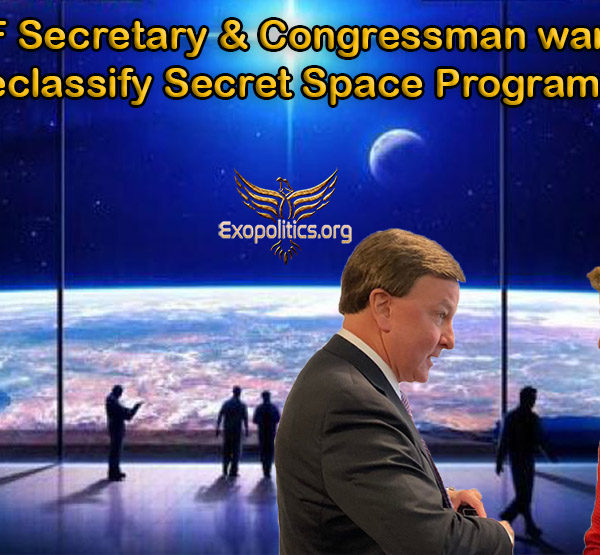 On December 7, attendees at the Reagan National Defense Forum held at the Reagan Presidential Library were told by the Secretary of the Air Force, Barbara Barrett, and US Congressman Mike Rogers, that they are in favor of declassifying information about the Air Force's secret space program in order to get the public to support a US Space Force. Their comments confirm that the US Air Force is on the verge of disclosing the truth behind rumors of a secret space program and that the Space Force is a vital part of a series of stunning disclosures that lie ahead.
Barrett and Rogers' comments were published by Defense News in an article by reporter Nathan Strout with the eye-catching title, "Barrett, Rogers consider declassifying secretive space programs". Barrett and Rogers were speaking at a panel on "Next Steps in Space: Launching America's Sixth Military Branch". In the panel Barrett said:
Declassifying some of what is currently held in secure vaults would be a good idea… You would have to be careful about what we declassify, but there is much more classified than what needs to be.
Rogers, a co-sponsor of the original House of Representatives Bill to create a Space Force/Corps, agreed and said that information about space programs was "overwhelmingly classified".
Rogers elaborated further on the need to declassify the Air Force's secret infrastructure in space in order to win public support for Space Force:
As members of the Armed Services Committee and the defense appropriators, we get it. But we have to have our other colleagues in the Congress to be supportive of us making the changes we need and the resources we need into this… It's not going to happen until they understand the threat and the dependence we have. And I don't think that can happen until we see significant declassification of what we're doing in space and what China and Russia are doing, and how space is in their day-to-day lives.
Rogers' comment that the US, China and Russia have secret space programs, and that the public needs to know more about these in order to support the creation of Space Force is stunning acknowledgment of the existence of rival military programs with space technologies far more advanced than the rocket-propelled technologies used by NASA and other national space programs.
This echoes comments by a recently retired USAF Lieutenant General Steven Kwast in a lecture where he described China developing a space navy:
They are building a navy in space with the equivalent of battleships and destroyers that will be able to maneuver and kill and communicate with dominance.

China's future space navy will be able to decimate America's satellite systems and space assets overnight.
In his Defense News article covering Barrett and Rogers' comments, Strout said:
The two declined to say how much of the black space portfolio could move into the public, nor when changes would start happening. But Barrett pledged that it would be a focus for her office moving forward, a sign that progress could come during 2020.
Two days later, it was announced that the Congressional Conference Committee set up to resolve competing Space Force proposals from the House and Senate had reached an agreement.
The National Defense Authorization Act (NDAA) for Fiscal Year 2020 would contain the Space Force Act that would officially launch Space Force in early 2020. I explained the key provisions of the Space Force Act in an earlier article available here.
On Wednesday, December 11, the House of Representatives passed the bipartisan agreement reached for the NDAA/Space Force Act and the Senate is scheduled to vote on it next week. President Donald Trump has already tweeted that he will immediately sign it into law making the creation of Space Force official.
The comments made by Barrett and Rogers about the need to declassify more of the space activities secretly conducted by the USAF followed only one day after the December 6 news of an agreement being reached in Congress for the passage of the Space Force Act. This is not coincidental.
In fact, this sequence of events is stunning confirmation that Space Force is being used as a means for declassifying key elements of a USAF secret space program that possesses advanced propulsion and energy systems that will revolutionize the aerospace industry.
The linkage between the creation of the Space Force and the declassification of advanced space technologies process is precisely what I predicted in the US Air Force Secret Space Program. Put simply, the rollout of Space Force provides the means for disclosing futuristic technologies used by the Air Force in a way the boosts public confidence, setting the stage for even more remarkable disclosures.
The creation of Space Force marks the beginning of an official disclosure process that will confirm the source of many UFO sightings were, in fact, advanced space technologies developed by the USAF, or the aerospace forces of major nations such as Russia and China.  
Recently, the US Navy authorized the release of five patents of revolutionary electromagnetic propulsion and energy systems that one of its scientists acknowledged are being actively developed by China. China has a secret space program that is greatly worrying US national security analysts such as Lt. General Kwast, and this is a key factor behind Space Force's launch.
After Space Force deploys in 2020, the stage will be set for further disclosures about revolutionary aerospace technologies. It can be expected that explanations for the origins of such technologies will be initially said to be talented scientists such as the US Navy's Dr. Salvator Pais, the inventor of the five Navy patents, and similar breakthroughs by scientists in other national space programs. It will nevertheless be much harder to hide the truth of their real origins.
Many of the technologies used in secret space programs developed by the US, China and Russia have been reverse engineered from artifacts retrieved from the ruins of ancient civilizations and from crashed extraterrestrial vehicles, as a number of insiders have recently claimed. Among these is a former Director of the Defense Intelligence Agency, Vice Admiral Tom Wilson, who learned that a major defense contractor was actively reverse engineering such technology back in 1997.
Eventually, the disclosure of technologically advanced extraterrestrial life will be announced, but only after the creation and deployment of Space Force has reached the point that public confidence is such that the societal collapse predicted in the 1961 Brookings Report would not occur.
The Brookings Report, titled "Proposed Studies on the Implications of Peaceful Space Activities for Human Affairs," described an alarming scenario of what might happen to society if humanity was not sufficiently prepared for the discovery of technologically advanced extraterrestrial civilizations:
Evidences of its [extraterrestrial] existence might also be found in artifacts left on the moon or other planets. The consequences for attitudes and values are unpredictable, but would vary profoundly in different cultures and between groups within complex societies; a crucial factor would be the nature of the communication between us and the other beings…. Anthropological files contain many examples of societies, sure of their place in the universe, which have disintegrated when they had to associate with previously unfamiliar societies espousing different ideas and different life ways; others that survived such an experience usually did so by paying the price of changes in values and attitudes and behavior.
The major takeaways from the Air Force Secretary promising future disclosures of a classified military space program and the launch of Space Force is that an official disclosure process is now firmly underway. 2020 promises to be an exciting year for all wanting to learn about secret space programs created by the US, China and Russia, and eventually learn the true origins of these technologies.

© Michael E. Salla, Ph.D. Copyright Notice
Further Reading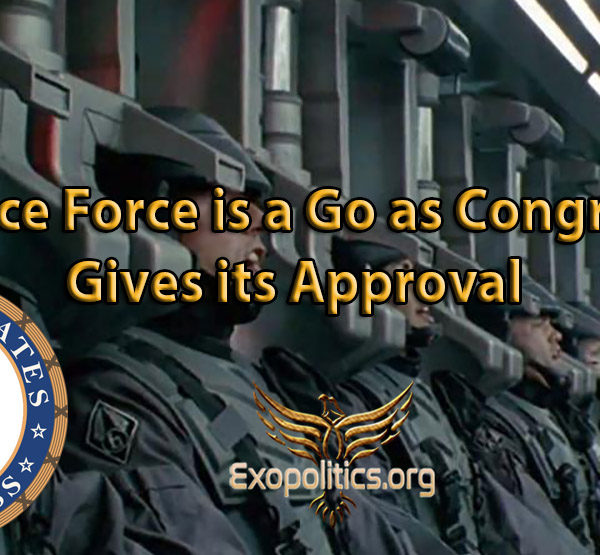 A major hurdle was passed in the creation of a United States Space Force when a Congressional conference committee comprising members of both branches of Congress, meeting to resolve conflicting congressional bills, agreed to the legislative language authorizing its creation. The "National Defense Authorization Act for Fiscal Year 2020", contains the agreed language for Space Force's creation, which will be voted on by both houses of Congress, and then signed by President Donald Trump.
The Secretary of the Air Force, Barbara Barrett, issued a statement after the Congressional conference committee gave its approval and said:
We certainly appreciate the hard work and bipartisan support of the Congress and the administration that is bringing a separate service for space closer to reality. We are reviewing the draft legislation and look forward to moving out smartly once legislation is passed by the Congress and signed by the President.
President Trump tweeted his approval of the agreement that had been reached and said he was ready to sign the National Defense Authorization Act (NDAA) that will formally create Space Force.
Wow! All of our priorities have made it into the final NDAA: Pay Raise for our Troops, Rebuilding our Military, Paid Parental Leave, Border Security, and Space Force! Congress – don't delay this anymore! I will sign this historic defense legislation immediately!

— Donald J. Trump (@realDonaldTrump) December 11, 2019
The House of Representatives was scheduled to vote on the NDAA today, and will be quickly followed by the Senate before being sent to President Trump for his signature to enact it into federal law.
In the NDAA, which is nearly 3500 pages long, the agreed-upon language for Space Force appears under Title IX – Department of Defense Organization and Management.
Subtitle D discusses how Space Force will be set up and run. It asserts that the relevant sections in the NDAA (Title IX, Subtitle D) authorizing Space Force's creation will be known in the future as the United States Space Force Act. (sec.951).
The Space Force Act re-designates "Air Force Space Command" as the United States Space Force (USSF). Space Force will be located with the Department of the Air Force. This will mirror how the US Marine Corps is embedded within the Department of the Navy but remains a separate military branch to the US Navy.
The composition of Space Force is described as follows:
(b) COMPOSITION.—The Space Force shall be composed of the following:
(1) The Chief of Space Operations.
(2) The space forces and such assets as may be organic therein.
The Chief of Space Operations (CSO) will report directly to the Air Force Secretary and one year after the passage of the Space Force Act will become a member of the Joint Chiefs of Staff.
The present head of the U.S. Space Command, General John Raymond, will also be allowed to serve as the CSO of Space Force for the first year of its operations. This will enable Raymond to oversee the smooth transition of Air Force Space Command, which he also currently heads, into the new Space Force.
The reference to "assets as may be organic therein" as part of the initial composition of Space Force is intentionally vague.  This will give Raymond broad authority to transfer assets from the Air Force into Space Force, and also transfer relevant space assets from the Navy, Army and Marine Corps. There is also another arguably more compelling reason why the assets language was left vague, as I will explain later.
The Space Act outlines the functions and duties of the Space Force as follows:
(c) FUNCTIONS.—The Space Force shall be organized, trained, and equipped to provide—
(1) freedom of operation for the United States in, from, and to space; and
(2) prompt and sustained space operations.
(d) DUTIES.—It shall be the duty of the Space Force to—
(1) protect the interests of the United States in space;
(2) deter aggression in, from, and to space; and
(3) conduct space operations.
The above functions and duties will give Space Force direct responsibility for protecting the civilian and military satellites that are the backbone of the Global Positioning Satellite (GPS) system that the Pentagon relies upon for its modern weapons. These have recently come under direct threat by China which has developed the antisatellite capacity to destroy all US satellites as part of its asymmetric military strategy called  "Assassin's Mace".
Back in 2015, General Raymond warned: "Soon every satellite in every orbit will be able to be held at risk". More recently, in January 2018, a "Top Secret" report by the Pentagon Joint Staff intelligence directorate "revealed China and Russia have built anti-satellite missiles and other weapons and will soon be capable of damaging or destroying every US satellite in low earth orbit" [source].
The defense of the US military and civilian satellite infrastructure will be among the most important responsibilities of the Space Force for decades to come. But what space assets will Space Force use to achieve its functions and duties as outlined in the Space Act?
This is where the topic of a secret space program run by the Air Force for decades becomes relevant, and why the Space Force Act contained a vague reference to "assets as may be organic therein". This vague reference was intentionally used so the assets belonging to the Air Force's secret space program comprising advanced aerospace technologies using exotic propulsion systems, some of which were reverse-engineered from captured extraterrestrial spacecraft, can be 'organically' incorporated into Space Force.
In the US Air Force Secret Space Program: Shifting Extraterrestrial Alliances and Space Force (2019), I described the different space assets possessed by the Air Force's secret space program. These include disk-shaped "alien reproduction vehicles"; different models of the TR-3B/flying triangle craft; flying rectangle-shaped weapons platforms; and finally ring-shaped stealth space stations.
I have previously provided photos taken of some of the classified flying triangles and rectangles operating out of MacDill Air Force Base, and how this had been orchestrated by leaders of the Air Force's secret space program. Indeed, the photographer identified personnel from Air Force Special Operations, as part of this covert space program.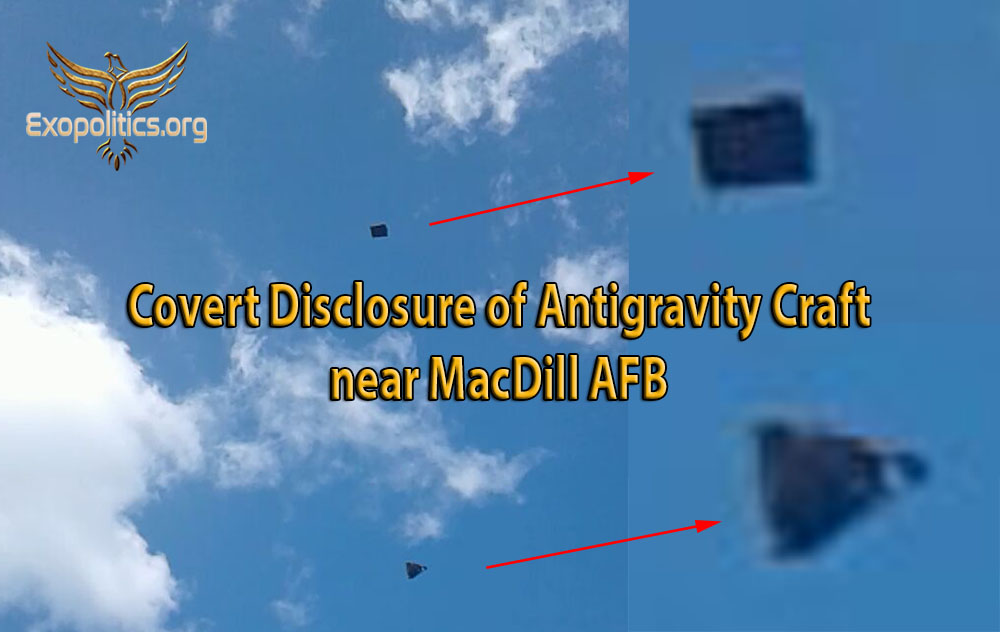 All the assets belonging to the Air Force's secret space program will be placed under the direct authority of the incoming Chief of Space Operations, General Raymond, who will ensure these are used to protect the sensitive satellite infrastructure that China is directly threatening with its asymmetric "Assassin's Mace" military strategy.
The official creation and launch of Space Force in 2020 will be a momentous event. It will enable the official disclosure of many advanced aerospace technologies that use exotic propulsion and energy systems based on electromagnetic principles not thought viable or possible by conventional scientists. Some of these exotic propulsion and energy systems were recently disclosed in a series of US Navy patents showing their feasibility, and how they can be applied in ways that revolutionalize the aerospace industry.
Space Force will not only open the door to the release of many highly classified technologies and the aerospace craft that have been secretly built as a result, but will also pave the way to future official disclosures about advanced subterranean civilizations and extraterrestrial life residing on, or visiting our planet.
© Michael E. Salla, Ph.D. Copyright Notice
Further Reading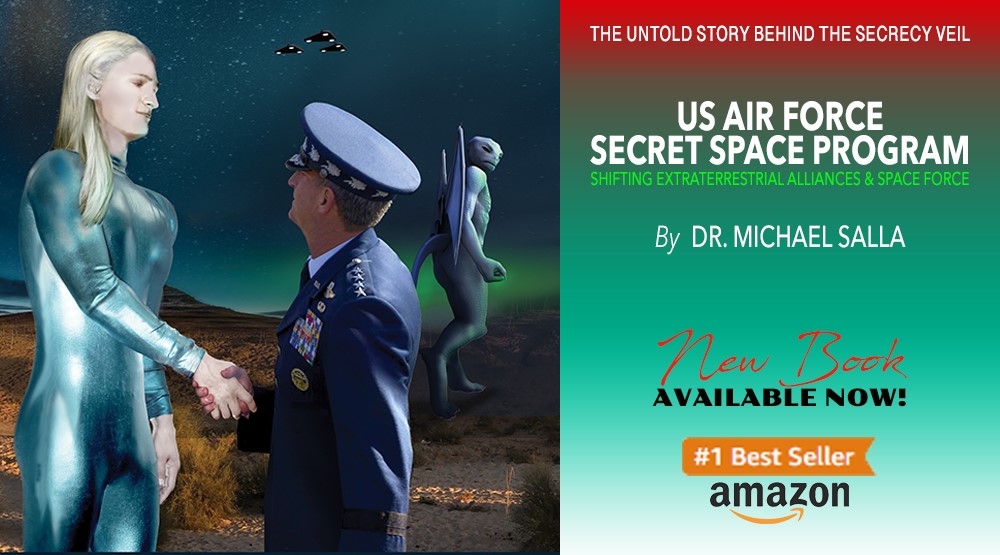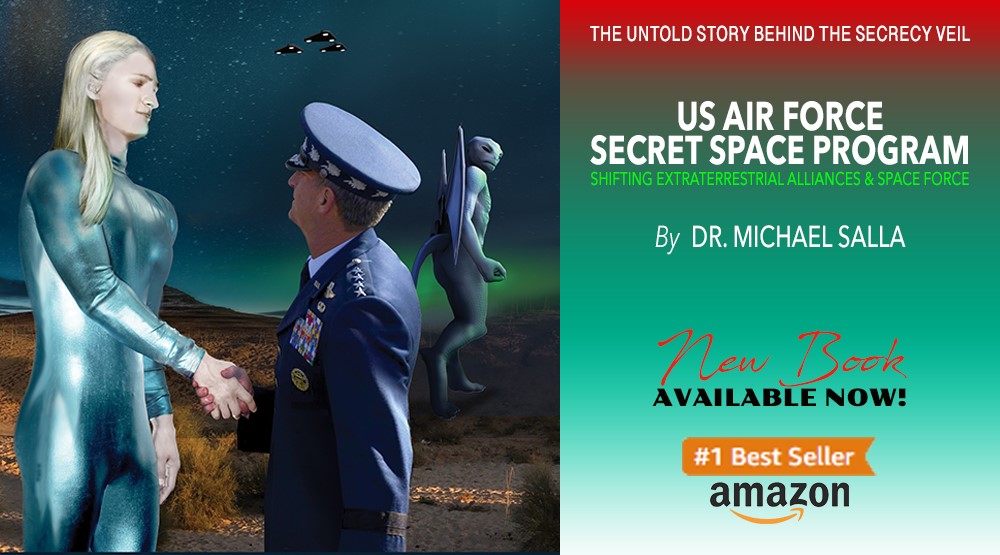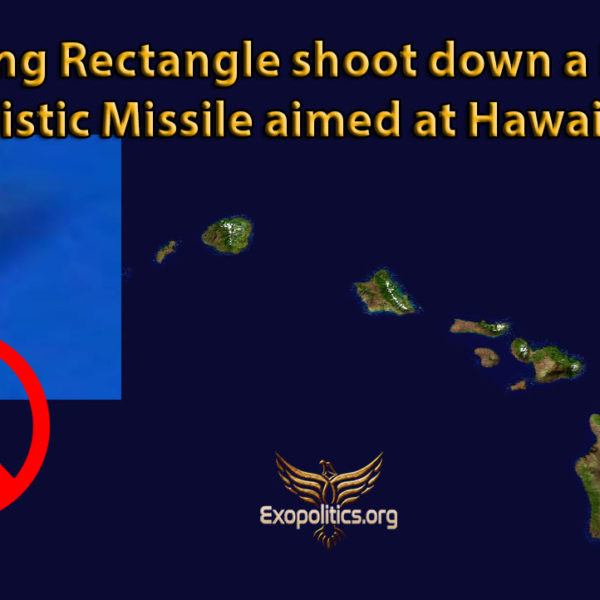 On July 3, 2019, a photo was released of a flying rectangle shaped UFO near the island of Maui that was taken over a year earlier, and only recently discovered by the photographer. What is remarkable about the photo is that it shows what appears to be a craft very similar to one photographed near MacDill Air Force base in October 2017, which was revealed by my Florida source, JP, to be a weapons platform used by U.S. Air Force Special Operations.
The similarity of the craft seen in the respective photos raises the intriguing possibility that the flying rectangle photographed near Maui may have been involved in the shooting down of a nuclear ballistic missile aimed at Hawaii on January 13, 2018, widely thought to have been a false missile alert.
First, here is the photo of the Maui rectangle along with an insert showing a close-up.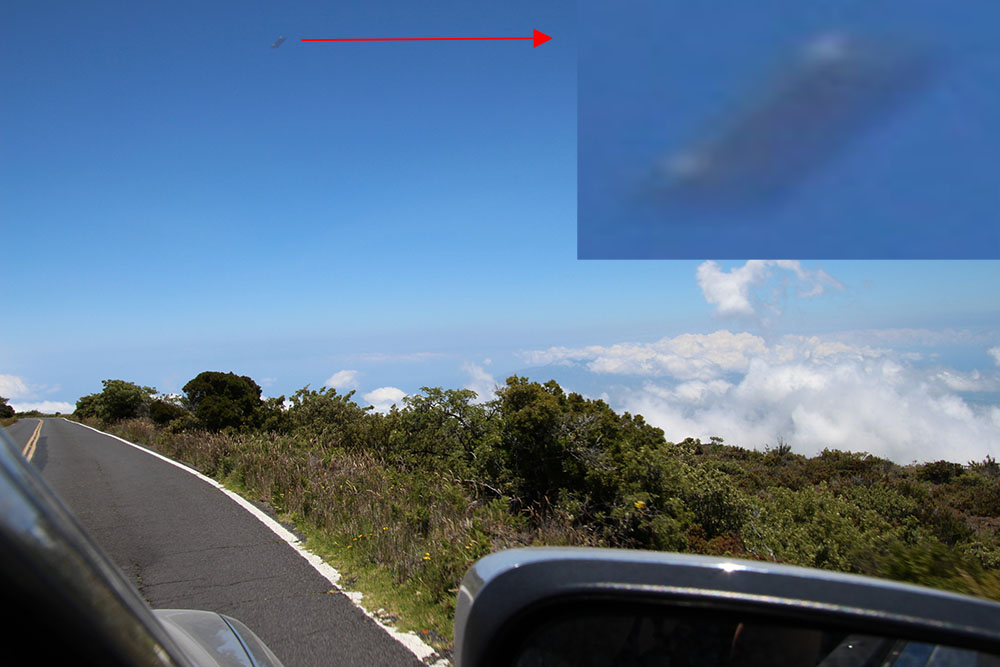 According to the photographer:
While driving up mount haleakala in maui i took this picture and didnt notice anything until weeks later when i was going over my vacation photos. the object was not seen live. the object was in only one frame, nothing before or after. unkown altitude but as you can see it was above the cloud line [sic].
The photo was taken on May 24, 2018, but the flying rectangle only discovered and reported by the photographer on July 3, 2019, to MUFON.
Now here is some important background for understanding the deep significance behind the 2018 Maui rectangle UFO sighting in terms of photos previously sent to me by JP.
I have known JP since 2008, and he has regularly given me updates on his multiple contact experiences with human looking extraterrestrials, along with his experiences with covert Air Force operatives who have abducted and interrogated him at classified facilities or in their antigravity spacecraft. My evaluation of him is that he is a reliable and credible source, and I have created a webpage with my articles about the photos he regularly sends me.
In October 2017, JP sent me a series of photos of a rectangle shaped UFO that he witnessed near MacDill Air Force Base, home of US Special Operations Command. He took the photos after being prompted to do so by two mysterious men he believes were covert Air Force operatives.
One set of nine photos taken on October 19, 2017, shows a rectangle shaped UFO flying together with a triangle shaped craft.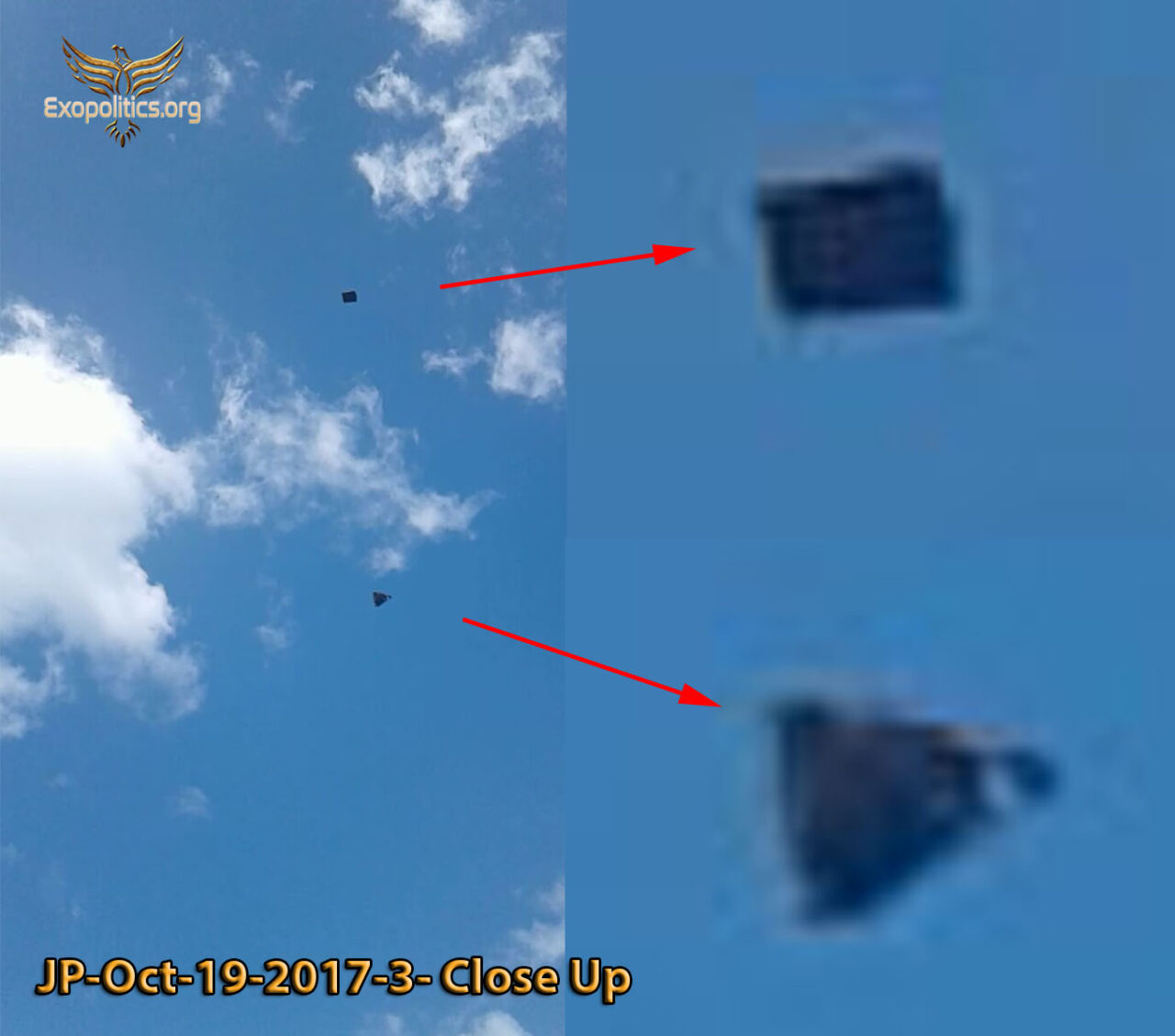 In another set of five photos taken on October 23, 2017, JP witnessed a rectangle UFO flying alone near MacDill. Both incidents involved covert operatives encouraging JP to take the photos. What follows is a short video featuring the October 23 photos and with some close-ups.
In one of the October 2017 incidents, JP recalls having been taken aboard the flying rectangle where he saw personnel wearing the patches of Air Force Special Operations.  He says that during his visit to the flying rectangle, he was in a corridor where he could peer outside and saw many instrument panels. He later speculated that these were part the craft's weapons control system.
JP's experience matched other insider accounts that flying rectangles are heavily armed weapons platforms used by a secret space program run by the Air Force, Defense Intelligence Agency, the National Security Agency and the National Reconnaissance Office. Corey Goode, a prominent Secret Space Program insider, had the following to say about the weapons systems of flying rectangles:
I think similar platforms or UFOs have been reported in the 80s and 90s as they were first building out of these platforms that have modular weapons and personnel delivery systems or configurations. They were built up on that superstructure type frame a long time ago and they been on improved upon since but these are pretty old technologies both the TR 3B and the square platform.
JP recalled his experience aboard the rectangle craft only after he photographed it as a result of being prompted by the two Air Force covert operatives. After being prompted and taking the photos, he then remembered being just taken aboard the craft as his head gradually cleared from a daze after receiving an injection during the abduction.
In my earlier analysis of JP's photos and his eyewitness testimony, I concluded that the flying rectangle is a weapons platform used by Air Force Special Operations that can be deployed in the upper atmosphere and in Earth orbit.
The similarity between the flying rectangles photographed by JP in October 2017, with the UFO photographed near Maui on May 24, 2018, is remarkable. Here is a side by side comparison of the Maui photo with what was photographed by JP on October 19 and 23.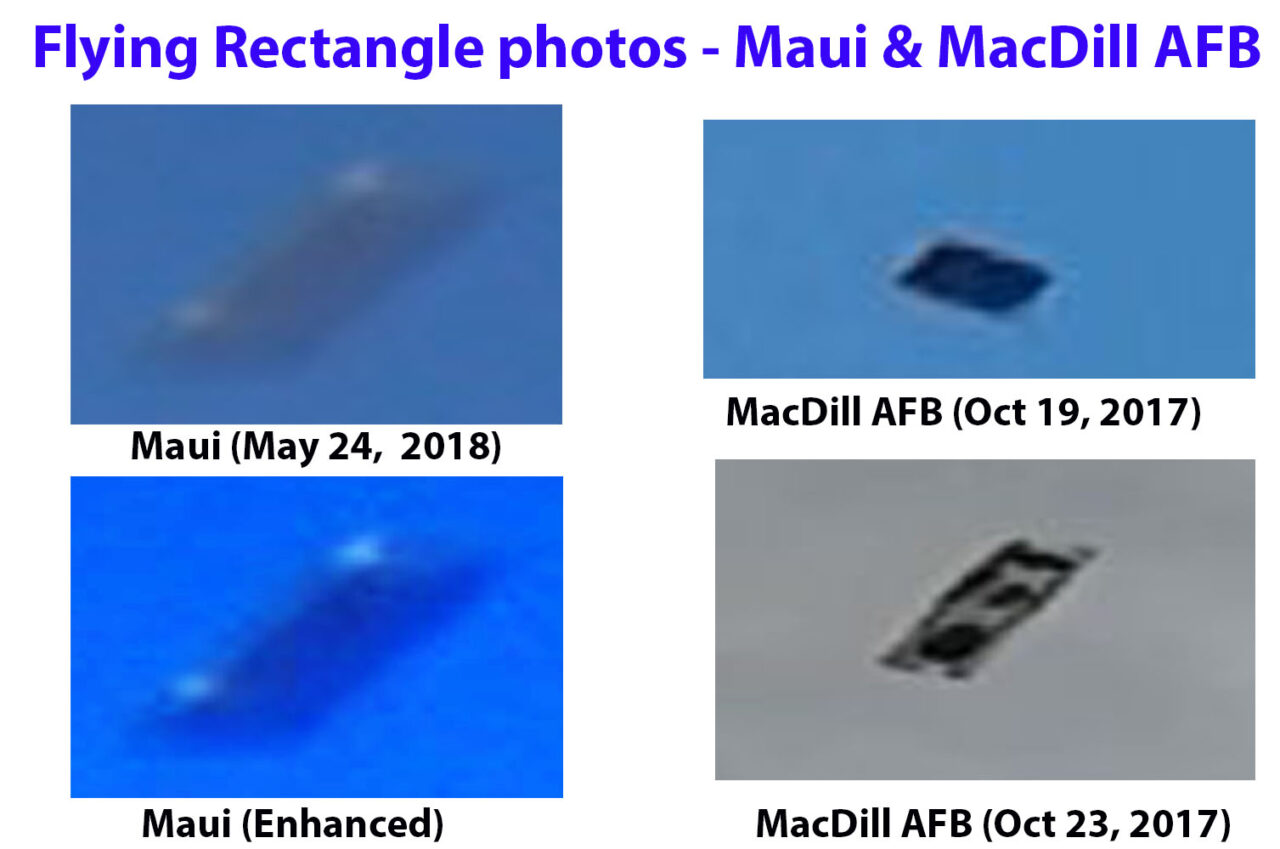 What lends great significance to the Maui photo is that it was taken four months after the alleged "false ballistic missile alert" for Hawaii issued on January 13, 2018.
I covered the alleged false missile alert in a series of online articles (see here, here & here), and more recently in an extensive chapter in my 2019 book, the U.S. Air Force Secret Space Program: Shifting Extraterrestrial Alliances and Space Force.
Remarkably, the military intelligence group QAnon, appeared to have given a warning of an impending false flag attack involving a "Defcon 1" scenario in a series of posts beginning on January 7, 2018, only six days before the Hawaii alert.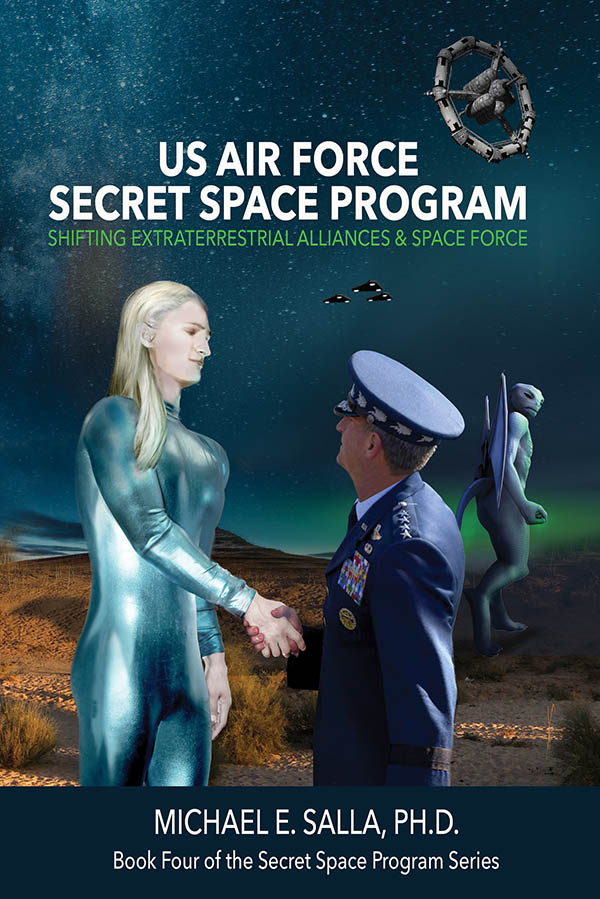 What my research revealed was that the ballistic missile alert was not a false alarm at all, but was instead a false flag attack intended to start World War III by framing North Korea. What stopped the false flag attack was the US Air Force Secret Space Program (SSP), which had recently undergone a dramatic change in attitude, policies, and leadership, the genesis of which I discuss in great detail in my 2019 book.
There were multiple witnesses of something being shot down on the morning of January 13, 2018, near Maui. The US Coast Guard subsequently spent the next week scouring the ocean for debris of what had been shot down as Maui boat captains have confidentially reported to me and others.
These witness reports, along with the testimonies of multiple whistleblowers all support the conclusion that a nuclear ballistic missile was shot down by White Hats within the US military opposed to a Deep State effort to covertly start another world war.
The false flag attack occurred in January 2018, and four months later a flying rectangle is accidentally photographed near the island of Maui. Given the photos and testimony of JP, it appears that a flying rectangle used as a weapons platform by Air Force Special Operations was being secretly deployed near the Hawaiian islands during the critical months after the attack. If so, it may have been also directly involved in neutralizing the January 13 false flag attack on Hawaii.
Synchronistically, a day after the release of the Maui flying rectangle photo, President Donald Trump declared at the July 4 Independence Day celebration that Space Force was soon to be created as the sixth branch of the US military.
It is highly likely that soon after the formal inauguration of Space Force, and its incorporation of classified space units manned by Air Force Special Operations, that some of its secret arsenal of antigravity vehicles will be revealed to the general public.
In a future July 4 celebration, perhaps as early 2020, flying rectangles may be among the highlights of the air show as they drop down from space directly over the Washington Mall. Included among the flying rectangle craft may be the one that was photographed near Maui in 2018, and which may have also been involved in shooting down a ballistic nuclear missile attack on Hawaii that was intended to start World War III.
© Michael E. Salla, Ph.D. Copyright Notice
Further Reading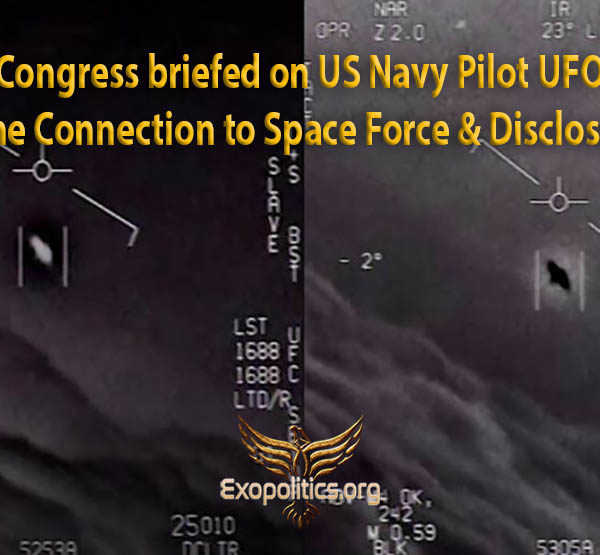 President Trump and members of the US Congress have recently received briefings about US Navy pilot sightings of UFOs. When combined with the Pentagon acknowledging that it had created a classified program to study the UFOs from 2007 to 2012 with Congressional funding, the briefings are leading to increasing speculation on whether we are on the verge of official disclosure on UFOs and their true origin.
Furthermore, the briefings are occurring at the same time as legislation for the creation of a Space Force is making steady progress through Congress. This raises the intriguing question of whether Trump and members of Congress have been told Space Force is necessary to deal with UFOs being sighted by the Navy pilots which are being viewed by the Pentagon as a potential threat.
In an interview with ABC TV host, George Stephanopoulos, President Donald Trump admitted that he received a briefing about UFO sightings by US Navy pilots that occurred in 2004 and 2015. In a June 15 story titled: "Trump briefed on Navy UFO sightings," Politico's Matthew Choi wrote about what Trump told Stephanopoulos: 
"I want them to think whatever they think," Trump said of the Navy pilots. "I did have one very brief meeting on it. But people are saying they're seeing UFOs. Do I believe it? Not particularly."
Trump was here acknowledging that he doesn't believe in UFOs, which has the connotation of being an extraterrestrial piloted spacecraft. Reading between the lines here, Trump is hinting that what the Navy pilots saw were not UFOs but something else that he and the Pentagon knew the answer to.
When asked the question of whether he knew of an extraterrestrial connection to the sightings, he told Stephanopoulos:
"I think our great pilots would know. And some of them see things a little bit different from the past. … We're watching, and you'll be the first to know."
Trump appeared to be deflecting from what he really knew about the alien connection, but one thing he emphasized was that his administration is paying attention to what the Navy pilots have been reporting. Again, reading between the lines, Trump is saying that his administration is actively seeking answers to the UFO phenomenon, and when he finds out, he will relay this to Stephanopoulos and the general public.
A few days later on June 19, Politico ran a story where it discussed three US Senators that had also received classified briefings on the UFO sightings by Navy pilots. In "Senators briefed on Navy UFO sightings", Bryan Bender wrote:
Three more U.S. senators received a classified Pentagon briefing on Wednesday about a series of reported encounters by the Navy with unidentified aircraft, according to congressional and military officials — part of a growing number of requests from members of key oversight committees.
One of them was Sen. Mark Warner (D-Va.), the vice chairman of the Senate Intelligence Committee, whose office confirmed the briefing to POLITICO.
 "If naval pilots are running into unexplained interference in the air, that's a safety concern Senator Warner believes we need to get to the bottom of," his spokesperson, Rachel Cohen, said in a statement.
Justifying their interest in the Navy pilot sightings as a "safety concern" is a convenient way for members of Congress to take an active interest in UFO reports, which have been officially dismissed and ridiculed for decades. This official policy goes back to 1953 when a CIA sponsored panel of scientists gave a damming report on UFO sightings that recommended a public education program to dismiss and ridicule UFO (aka flying saucer) sightings on national security grounds.
Ever since then UFO sightings have been reported by the mainstream press in a way that often mocks and ridicules the subject matter. What is very unusual today is that serving Navy pilots are given permission to talk about their sightings, and the press is giving their accounts serious attention in articles without any ridicule factor.
This is amply demonstrated in the many mainstream news stories that appeared after the New York Times and Politico ran simultaneous articles about the Navy pilot UFO sightings back on December 16, 2017. Both newspapers discussed the pilots' UFO sightings, leaked videos of the UFOs recorded by their planes instruments, and the connection of the sightings to the establishment of the Advanced Aerospace Threat Identification Program (AATIP) back in 2007 with Congressional funding of $22 million.
All this coincides with the formation of Space Force as a sixth branch of the US military, which is currently being debated by both houses of Congress. In the last few weeks, two Congressional defense committees have approved the passage of bills authorizing the creation of Space Force. It will take another month or two for both the House of Representatives and Senate to pass their respective bills, and to then resolve differences in language and priorities between the two versions for their inclusion into the National Defense Authorization Act for 2020.
One thing is becoming very clear, Space Force enjoys genuine bipartisan support in Congress, and this appears to be a result of the current media and Congressional interest in UFOs generated by Navy pilot reports and Pentagon disclosures about its AATIP program. Was Senator Warner, a Democrat, told by his Pentagon briefers that the UFOs sighted by the pilots were an unknown threat, and this is why Space Force is necessary?
A few weeks earlier, Senator Ted Cruz spoke about Space Force being necessary to deal with space pirates. He was not talking about extraterrestrial visitors, but rogue elements from different countries or corporations that could challenge US supremacy in space.
It's not coincidental that members of Congress are being briefed about Navy pilot reports of UFOs that led to the Pentagon setting up its AATIP program in 2007. They are being told that UFOs are an unknown threat, at the same time as the Trump Administration and the Pentagon are pushing for the establishment of Space Force.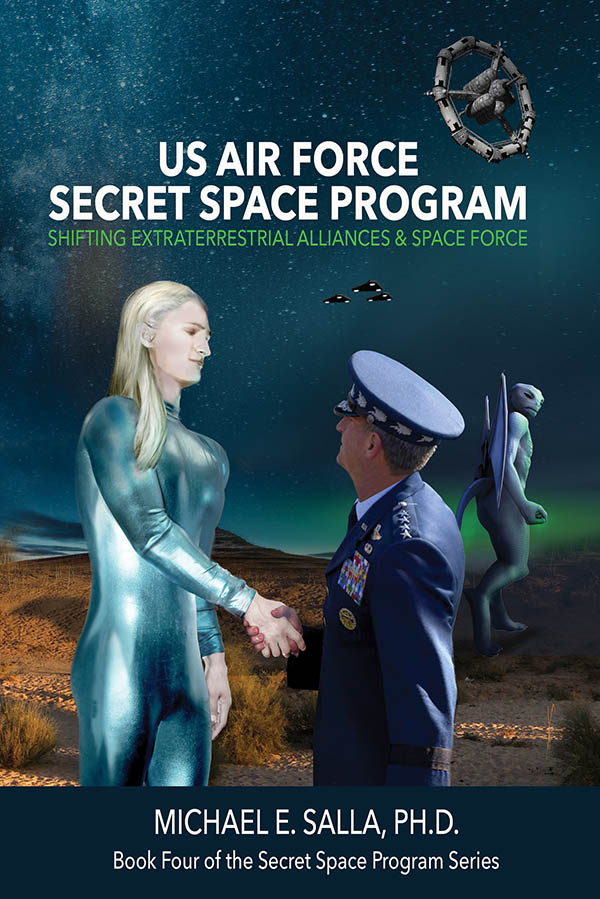 It's widely expected that Space Force will be officially created and set up under the Department of Air Force in 2020, mirroring the relationship between the Department of the Navy and the US Marine Corps. After its official launch, the stage will be set for the Air Force to unveil the classified space technologies it has been covertly developing for decades in a secret space program, which is described in detail in my newly released book, US Air Force Secret Space Program: Extraterrestrial Alliances and Space Force.
Official disclosure is likely to unfold in different stages. The first will be that many UFO sightings involve classified technologies developed by the USAF, along with similar aerospace technologies developed by Russia and China. Disclosure of an Air Force secret space program will be an optimal way of surprising the US public with news about the different sized and shaped antigravity vehicles that have been deployed for several decades now.
The second stage of disclosure likely involves future announcements involving the capture and reverse engineering of non-terrestrial technologies that date back to the 1940s, as also described in the US Air Force Secret Space Program.
A sure sign of what lies ahead is a leaked document about Vice Admiral Tom Wilson, former Director of the Defense Intelligence Agency, being denied access back in 1997 to a classified corporate program involving the reverse engineering of non-human made advanced technologies.
The leaked document identifies several scientists and former military officials who could be summoned before Congress to testify about their knowledge of such a reverse engineering program. Indeed the Pentagon official in charge of the AATIP program from 2007 to 2017, Luis Elizondo, gave an interview on Tucker Carlson on May 31 admitting that some UFO technologies had been retrieved and were being studied by the US government.
Carlson: Do you believe, based on your decade of serving in the US government on this question that the US government has in its possession any material from one of these aircraft?
Elizondo: I do. Yes.
Carlson: Do you think the US government has debris from a UFO in its possession right now?
Elizondo: Unfortunately Tucker I really have to be careful of my NDA [Non-Disclosure Agreement], I really can't go into a lot of more detail than that …
Carlson: Okay.
Elizondo: But, ah, simply put, yes.
This would set in place a means by which the Pentagon and the Trump Administration could reveal how retrieved non-terrestrial technologies were used for the USAF for the research and development of advanced aerospace technologies using antigravity, torsion field and other exotic propulsion systems.
Finally, after Space Force has been created and its arsenal of antigravity spacecraft inherited from the USAF is publicly revealed, the truth about some of the extraterrestrials currently visiting our world can be announced. Extraterrestrial disclosure can be done in a way that does not undermine public confidence over the US and other national governments being able to defend their populations against any possible hostile extraterrestrial actions.
The widespread media attention given to US Navy pilot reports, the association of the UFOs with the AATIP program, and Congressional passage of legislation establishing Space Force are all sure signs of major disclosures that lie ahead.
© Michael E. Salla, Ph.D. Copyright Notice
Further Reading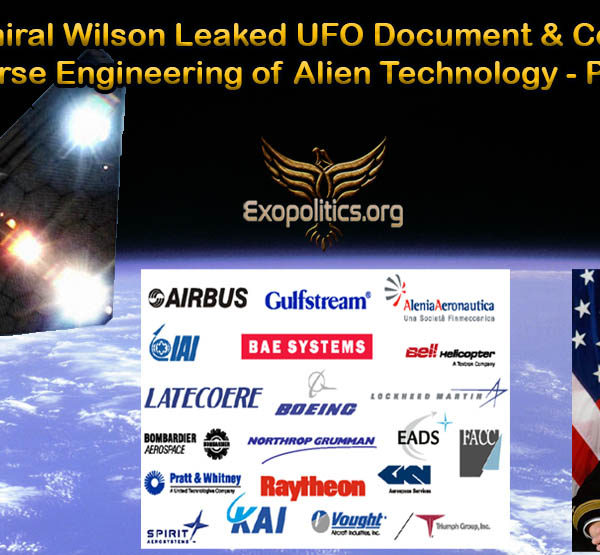 There are several important conclusions from Admiral Thomas Wilson's failed efforts to learn about and gain access to a classified UFO program that involved a clandestine corporate effort to reverse engineering a retrieved extraterrestrial spacecraft as described in the leaked 15 page document received by Canadian UFO research Grant Cameron in November 2018, and uploaded to the internet on April 19, 2019.
First, Wilson's failure to gain access to the classified UFO program described in parts one & two of this series confirms one of Dr. Steven Greer's major contentions that senior military officials are out of the loop when it comes to UFOs, despite the obvious national security implications they carry. The "bigot list" mentioned by Wilson in his conversation with Dr. Eric Davis about who was granted "need to know" access to the program, was dominated by corporate employees, with only a few Pentagon officials being briefed, and no one from the Executive and Legislative branches of government.
This is very surprising given the clear national security implications about UFOs due to the advanced technologies they possess, and the possibility that these could be or had been weaponized by foreign nations. A few years later this was the rationale for the creation of the Advanced Aerospace Threat Identification Program (AATIP) in 2007 with Congressional funding of $22 milliion. Significantly, some of the principal figures involved in the Wilson UFO briefing, e.g., Dr. Eric Davis, were also involved in the AATIP program.
A second conclusion is that corporations have been given an inordinate amount of power when it comes to deciding who gains access to the category of unacknowledged/waived SAPs that involved the study of retrieved extraterrestrial technologies. The corporate "watch committee" described in part two, bluntly turned down Wilson's request for access.
What really surprised Admiral Wilson, however, was that the Pentagon's Senior Review Group running the Special Access Program Oversight Committee (SAPOC) also turned his request for access down, despite him being DIA Deputy Director, and Vice Director for Intelligence (V-J2) for the Joint Chiefs of Staff. All this is very telling about the power of corporations when it comes to who is really in charge of the research and development of extraterrestrial related technologies.
Another conclusion is that Wilson's testimony provides powerful support for the existence of a UFO cabal/control group running extraterrestrial related projects in a way that escapes conventional government and military oversight. Leaked documents going back to September 1947 have referred to this control group as Operation Majestic 12/MAJIC 12/MJ-12.

Admiral Wilson's experiences is telling us that the UFO control group is very real and exercises great power through its ability to restrict "need to know" access to whom it chooses regardless of an official's constitutionally backed duties and positions. While it has long been known that US presidents and members of Congress were routinely cut out of the loop of such UFO related projects, it is was not known that this was occurring to senior Pentagon officials until the 1997 Wilson briefing.
Fourth, who leaked the 15 page document to UFO researcher Grant Cameron in November 2018? Was it one or more "white hats" wanting the disclosure process to move forward by leaking one of the most important UFO documents ever to publicly emerge as contended by UFO historian Richard Dolan describing it as the "UFO leak of the century"? Alternatively, was the leaking part of a limited hangout promoting Tom DeLonge's To The Stars Academy through the involvement of figures such as Dr. Eric Davis as contended by Kerry Cassidy from Project Camelot?
Dolan addressed these questions in a blog post (insert video) published on June 15. He pointed out that Cameron's source for the document is an Australian space/UFO enthusiast, James Rigney. In a Q and A with Dolan, Rigby wrote:
It is unlikely that these documents would ever have found their way to anyone within the UFO community were in not that for the fact that for number of years I was very active in the 'Space' community, belonging to an organization in Australia and making frequent trips to the US to attend conferences and other events. Along the way I was fortunate to make acquaintance in the US with several people in the US who knew of my interest in, knowledge of, and credible approach to the UFO/UAP phenomena, as well as my passive and occasional involvement in the UFO community.
The events that lead me to obtaining the documents were strangely the result of this strange and unlikely intersection between the usually incompatible Space & UFO fields….
Over a period of a couple of years, I gained [the] trust of these people to a point where I was invited to look over some documents, copy what I wanted, and get them into the right hands if I thought that was appropriate. Certainly there was no intrigue or 'smoking gun' type discussions at the time.
Digby was here confirming that the document's original source was an individual connected to the US Space community who provided the document to him a few years ago. There is growing speculation that the leaked 15 page document came from the files of the deceased Apollo astronaut Edgar Mitchell. If so, who gave the document to Mitchell? The most likely source is Dr. Davis given his direct role in recording/summarizing the meeting with Admiral Wilson, but as mentioned in part 1, Davis had no comment on the 15 page document when I contacted him by email.
Tracking the ultimate source for the leaked document is very relevant given present circumstances surrounding topics concerning space and UFOs. The fact that the 15 page document was publicly uploaded on April 19 is significant given recent public interest over Navy pilots reporting UFO incidents, and the creation of a Space Force, as a new branch of the US military, which takes me to my last conclusion.
Finally, the three corporate officials in the "watch committee" that denied access to the classified program, claimed that the reverse engineering of the extraterrestrial vehicle was very slow, and little progress had been made over the years. Were they telling the truth or providing a cover story for successfully reverse engineered extraterrestrial technologies, which had been covertly deployed in a corporate run secret space program that was kept away from the prying eyes of the DIA and Joint Chiefs of Staff?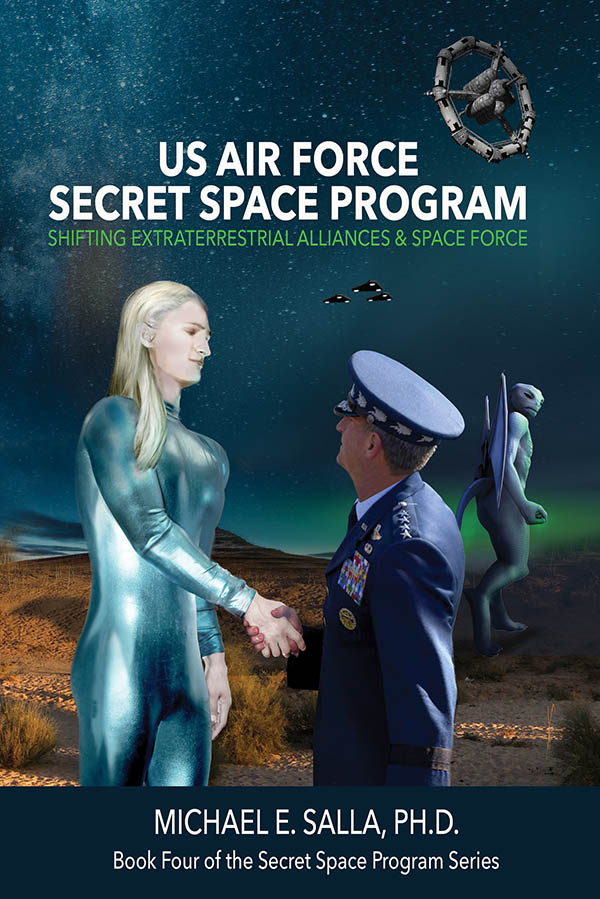 In the US Air Force Secret Space Program, I describe how differently sized and shaped antigravity vehicles were successfully reverse engineered by corporate contractors, including Lockheed Martin's Skunkworks division, and began to be deployed in the 1970s and 1980s by the USAF. This suggests that there are many Unacknowledged SAPs that involve the research, development, and deployment of antigravity spacecraft by different military services and corporate contractors.
There is no indication in the leaked 15-page document over whether Admiral Wilson was aware of secret space programs runs by the USAF and the US Navy. He merely expressed his surprise that the UFO program that Steven Greer and Edgar Mitchell pointed out to him, which he was unaware of, involved a retrieved extraterrestrial spacecraft.
It's quite possible that Wilson was aware of military-run space programs but simply had not been briefed about the specific reverse engineering program that was being run by the corporate contractor for unknown purposes, one of which involved a corporate run secret space program.
It's perhaps not coincidental that the leaked transcript and summary of Admiral Wilson and Dr. Davis 2002 conversation emerges as Space Force is about to be formally launched. The US Congress is poised to pass legislation authorizing the creation of Space Force as a separate branch of the US military under the authority of the Department of the US Air Force.
The emergence of Space Force will ultimately address many of the questions and issues raised by Admiral Wilson's investigation of the corporate reverse engineering program back in 1997, and the secret construction of antigravity spacecraft by multiple corporate contractors for the US military or other unknown customers.
Space Force will also provide a powerful institutional foundation for disclosing many secrets concerning antigravity technology, alien life, the reverse engineering of extraterrestrial technologies, and secret space programs. The leak of the Wilson Davis conversation comes at a propitious time for the disclosure process to move forward, and Space Force is the most likely institutional catalyst for all to be revealed.
© Michael E. Salla, Ph.D. Copyright Notice
[Note: The 15 page leaked Document is available here]
Further Reading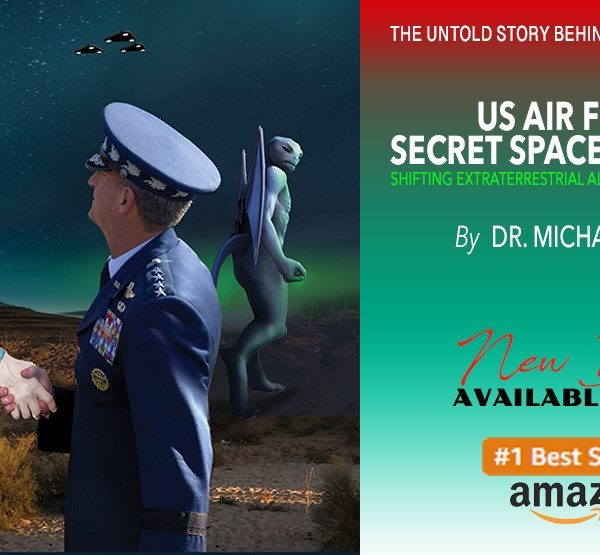 The US Air Force is experiencing a profound shift! In order to aggregate the military's major space assets under one authority, they are being moved into a new branch under the purview of the Air Force. This new branch is to be called "Space Force".
The true purpose of Space Force will be to publicly unveil the most well-guarded secrets in the Air Force's stunning arsenal of exotic spacecraft, unconventional weapons and mind-blowing technologies assembled over the more than seventy years since its official emergence in 1947. 
This book lays out the history of the Air Force Secret Space Program:
Ushering in a new era with the recovery of several extraterrestrial craft in the 1940's.

Secret agreements with a breakaway German colony in Antarctica (the Fourth Reich) & different extraterrestrial groups in the 1950's.

Its complicity in the German infiltration of NASA & the Military-Industrial Complex in the 1960's.

Development of stealth space stations beginning from the 1970's.

Deployment of squadrons of disk, triangle and rectangular-shaped craft in the 1980's & 1990's.
After its 2016 discovery that it had been deceived by the Deep State and their shadowy Fourth Reich allies, Air Force leaders made the momentous decision to shift alliances and realigned their covert space program with human-looking extraterrestrials. This has led to bold steps being taken by the Air Force to reveal the existence of its arsenal of spacecraft to the US public.
About the Author: Dr Michael Salla is a former university professor in international relations, and is the author of Insiders Reveal Secret Space Programs and Extraterrestrial Alliances (Book 1 in Secret Space Program Series, 2015); The US Navy's Secret Space Program and Nordic Extraterrestrial Alliance (Book 2 in the Series); Antarctica's Hidden History (Book 3 in the Series) all of which became #1 Amazon Best Sellers. He is also the author/editor of nine other books dealing with 'Exopolitics', International Conflict, U.S. Foreign Policy  and Global Peace.
US Air Force Secret Space Program: Shifting Extraterrestrial Alliances and Space Force is 494 pages in length, and is Book 4 in the Secret Space Programs Series. Cost $25.95.

Released on May 21, 2019!
Kindle Edition now available at Amazon.com .[#1 Best Seller in UFO category]
Paperback edition now available at Amazon or Barnes and Noble.
Audible edition will be available mid-June.

To order your autographed paperback edition from Exopolitics.org click Add to Cart, and follow instructions.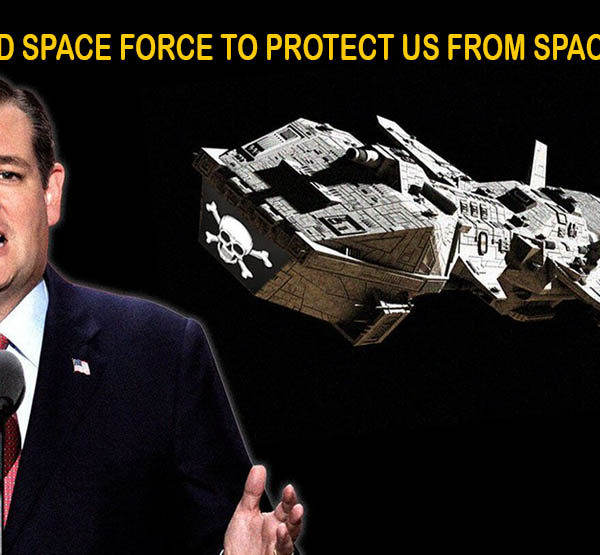 On May 14, Senator Ted Cruz (R-TX) gave a speech in support of Congress moving forward with the creation of Space Force as a new branch of the US military. Cruz gave an intriguing perspective on what the proposed new military branch would protect the country from – space pirates!
Cruz said the following in his Space Force speech at a hearing of the Senate Subcommittee on Aviation and Space, which he chairs:
Since the ancient Greeks first put to sea, nations have recognized the necessity of naval forces and maintaining a superior capability to protect waterborne travel and commerce from bad actors. Pirates threaten the open seas, and the same is possible in space. In this same way, I believe we, too, must now recognize the necessity of a space force to defend the nation and to protect space commerce and civil space exploration. 
Cruz's implicit reference to "space pirates" quickly garnered much internet attention, particularly on Twitter's "moments" news thread, where tweets of multiple people mocking him appeared. Cruz fired back at Jack Dorsey, creator of Twitter, for not giving equal coverage to his responses:
Hey @jack how come Twitter's "moment" quotes all the snarky leftists making fun of my comments, but doesn't include my tweets in response explaining the real point that NATIONS like China have already developed & tested weapons to destroy satellites? https://t.co/dwkM5ndXj3

— Ted Cruz (@tedcruz) May 16, 2019
President Donald's Trump's proposed Space Force is currently being debated in the US Congress which is considering legislation officially creating it as a new military branch under the US Air Force.
The Pentagon has come out in support of Space Force being created, despite initial opposition by the Secretary of the Air Force, Heather Wilson, and its Chief of Staff, David Goldfein. Patrick Shanahan, the Acting Secretary of Defense, has been the driving force behind the Pentagon getting behind Trump's proposal.
A two stage process was outlined by the Pentagon on August 9, 2018, for realizing Trump's goal. One of the four components in the first stage was was the elevation of the Air Force's current Space Command into one of the Pentagon's unified combatant commands. Currently there are ten combatant commands that are at the apex for command and control of different geographical regions and specific functions performed by all branches of the US military.  
On March 27, 2019, John William "Jay" Raymond, a four-star general who is the current head of Air Force Space Command (2016-), was proposed by President Trump to head up the new Space Command.
In his February 19, 2019, Space Policy Directive 4, Trump proposed that legislation be created for the formal establishment of a Space Force as a separate military branch initially placed under the Department of the Air Force. Trump's desire for a separate Department of the Space Force, would be revisited at a later stage.
Legislation for Space Force was submitted to Congress in February by Secretary Shanahan and is currently being debated in various congressional committees, including Cruz's. The Space Force legislation is a major test for whether or not the new military branch has enough Congressional support to have its creation passed into law.
While the partisan nature of the current Congress makes any passage of policies proposed by Trump challenging, there is still strong bipartisan support for policies supported by the Pentagon. A letter of support from 43 former Pentagon officials is proving to be very influential in overcoming doubts expressed by members of Congress. The letter states that Space Force will:
… develop military space culture and ethos; recruit, train, educate, promote, and retain scientists, engineers, and warriors with world-class space skills and talent; advocate for space requirements and resources; develop space doctrine and operational art; develop, field, and deliver advanced space capabilities; and steward resources to sustain America's strategic advantage and preeminence in national security space activities.
Consequently, because Shanahan and other Pentagon officials are committed to the creation of Space Force, it's very likely that Congress will pass the proposed legislation and authorize its creation.
This finally brings us to Cruz's indirect reference to "space pirates". Was this just hyperbole for why Space Force is needed?
In his tweet to Dorsey, Cruz tried to walk back his comment by referring to the capability of major nations such as China to destroy satellites as his real point. However, according to multiple insider sources, the idea of the US having to defend itself against space pirates is not as ridiculous as it appears. There are a number of non-state actors secretly operating in space that do threaten US national interests, and the planet more generally.
One of these sources is rogue special access programs, which operate outside of lawful government control. Former Apollo astronaut Dr. Edgar Mitchell confirmed that the sitting head of intelligence for the Joint Chiefs of Staff, Vice Admiral Tom Wilson, was denied access in 1997 to an Unacknowledged Special Access Program (USAP) involving UFOs.
This incident and many others point to rogue USAPs conducting various advanced aerospace projects that can impact US space operations and Earth installations. These USAPs are loosely controlled by shadowy entities such as the Deep State, which have their own distinct globalist agendas that conflict with nationalist policies.
An example of existing rogue operations is given in my new book, the US Air Force Secret Space Program: Shifting Extraterrestrial Alliances and Space Force a chapter discusses how the Deep State used its MASER equipped satellites to steer Hurricane Irma against MacDill Air Force Base in retaliation for Air Force Special Ops openly displaying some of its antigravity craft to members of the general public in support of disclosure. The conclusion is that rogue USAPs are a modern day form of space pirates.
We also have the idea of Space Nazis which was proposed by insiders such as William Tompkins who worked for the US Navy during World War II, and said he was part of a Navy espionage program that monitored the Nazi's flying saucer program. Tompkins asserted that the Germans successfully established a breakaway colony in Antarctica which became a space power over the succeeding decades.
According to Tompkins and other insiders, the Germans have established colonies on Mars, Ceres, and elsewhere in Deep Space, and have developed some of the most advanced aerospace technologies known to humanity. Given their non-state status, the breakaway German Antarctic/Mars colonies may also be considered a modern form of space pirates.
Finally, we have the idea of a transnational corporate network that has developed its own space fleet that operates outside of any national or global institutional authority. According to insiders such as Corey Goode, the Interplanetary Corporate Conglomerate has the most advanced spacecraft in existence as a result of their long-time cooperation with the breakaway German group in Antarctica.
Given their official non-state status, transnational corporate entities such as the Interplanetary Corporate Conglomerate may also be included in the category of space pirates that Cruz was warning the public about.
As the head of a key Congressional subcommittee dealing with space affairs, Cruz may have acquired some inside knowledge of these different non-state actors operating in space outside of any recognized lawful national or global authority.
The problem of "space pirates" is very real and not just hyperbole. Whether by design or accident, Cruz has just pointed out a major reason why Space Force is being created, and is being fast-tracked into existence by the Trump administration.
© Michael E. Salla, Ph.D. Copyright Notice
Further Reading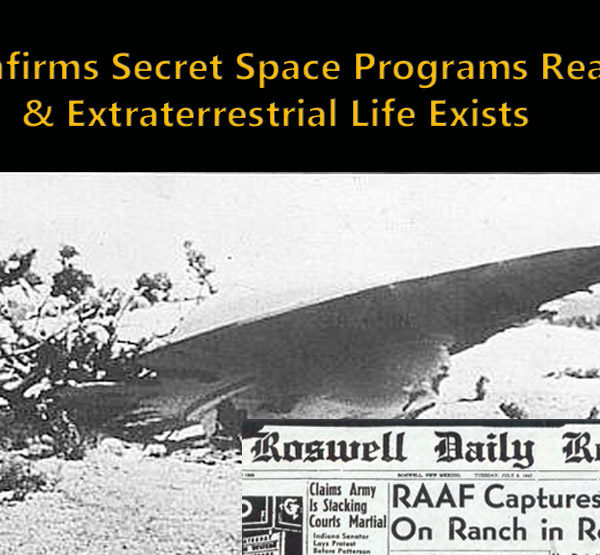 On September 19, Q Anon dropped two bombshell posts affirming the existence of secret space programs and extraterrestrial life. The two posts open a big door for the millions who have been following the Q information, to learn about secret space programs and extraterrestrial life, and how these have been hidden from the general public.
In the first post, Q responds to questions about whether extraterrestrial life exists and whether the Roswell UFO crash really happened, and replies as follows: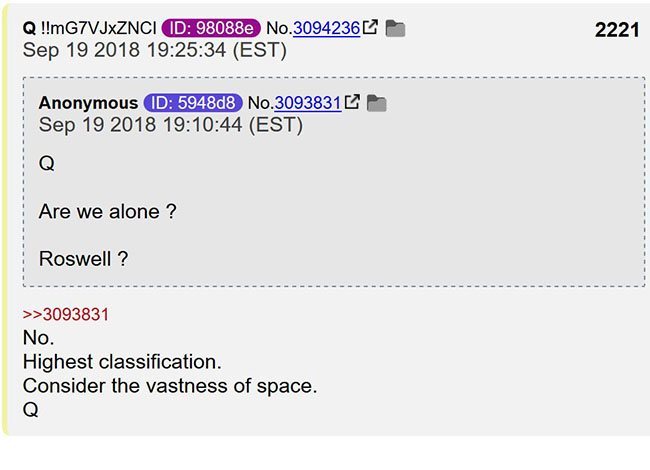 Q's response makes clear that we are not alone and that the truth about the Roswell flying saucer crash has the "highest classification".  The response is significant since it affirms what a senior official with the Canadian Government's Department of Communications reported back in 1950 when he inquired about the Roswell crash among senior U.S. government scientists.
Wilbert Smith's official report was eventually released through the Freedom of Information Act:
The matter is the most highly classified subject in the United States government, rating higher even than the H-bomb.
Perhaps anticipating skepticism, Q further advocates that readers consider the vastness of space to realize that our galaxy, and the universe more generally, is certain to be teeming with life, some of which has technologically evolved sufficiently to travel through our galaxy and visit the Earth as occurred with the Roswell incident.
In the second bombshell post from September 19, Q responded to a number of questions about secret space programs, and replied: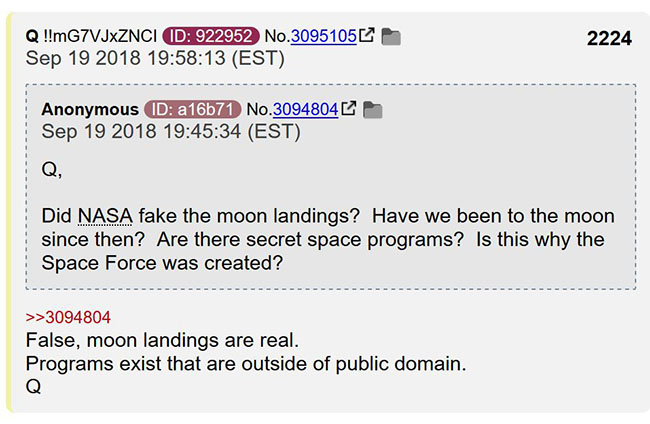 In stating that the "moon landings are real" Q is refuting conspiracy theories that the moon landings were hoaxed. This removes an impediment to the general public learning the truth about what has been really happening on the moon subsequent to the Apollo moon landings.
In the next statement, Q affirms the existence of space programs that "are outside of public domain". This means that Q wants readers to understand that the information on these non-public domain" space programs is highly classified and restricted to those with need to know access.
Furthermore, Q is alerting readers to the fact that much information about these secret space programs is found in the private corporate domain, and not necessarily in the hands of the US government and the military services.
Two insiders, Emery Smith and Corey Goode have recently spoken about how corporations are in charge of secret space related programs run out of military installations such as Kirtland Air Force Base. In the book, Antarctica's Hidden History and the Corporate Foundations of Secret Space Programs, the historical genesis of corporate control over space programs is described in detail.
While Q did not explicitly refer to President Donald Trump's Space Force initiative, it can be inferred from Q's reply that this is related to the existence of secret space programs.
This is the first time that Q has explicitly referred to secret space programs. Previously, Q posts have alluded to a secret space program being involved in intercepting a ballistic missile attack on Hawaii.
It can be expected that Q will reveal much more as the general public becomes open to the possibility that the truth about secret space programs and extraterrestrial life has been hidden, and the Space Force initiative becomes a means of wresting control away from corporations and put back into Presidential Executive control.
© Michael E. Salla, Ph.D. Copyright Notice
Further Reading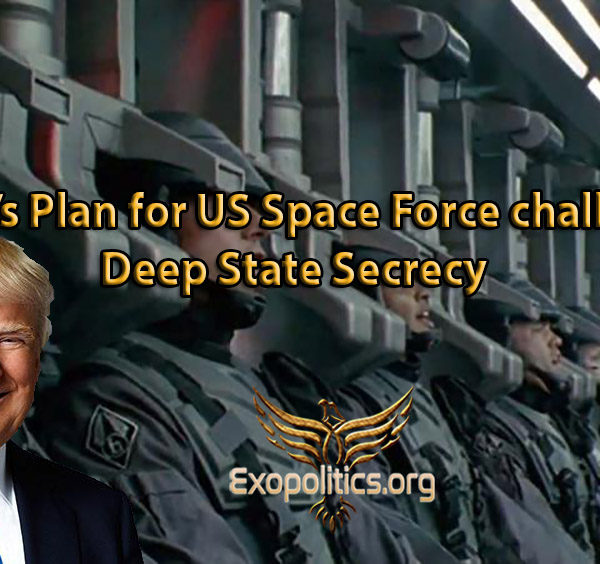 On June 18, President Donald Trump gave a speech where he called for the development of a United States Space Force that takes over current space functions of the U.S. Air Force. The proposed Space Force would become the sixth branch of the U.S. military, and would have equal authority to the USAF.
At the National Space Council meeting held at the White House, Trump said:
We must have American dominance in space… I'm hereby directing the Department of Defense and Pentagon to immediately begin the process necessary to establish a space force as the sixth branch of the armed forces…. We are going to have the Air Force, and we are going to have the space force. Separate, but equal. It is going to be something so important.
Trump then commanded General Joseph Dunford, Chairman of the Joint Chiefs of Staff, to "carry that assignment out."
Trump's stance is at odds with previous statements by the U.S. Air Force Secretary, Air Force Chief of Staff, and James Mattis, Secretary of Defense, who all came out in opposition to a Congressional initiative in 2017 to establish a Space Corps. Mattis wrote in a letter:
I oppose the creation of a new military service and additional organizational layers at a time when we are focused on reducing overhead and integrating joint warfighting efforts.
Trump's initiative thereby stands out since he has gone against the recommendations of his most senior military advisors.
As pointed out by one military analyst, Trump does not have the authority to create a new military service, only the U.S. Congress can do so. Trump does have, however, the authority to start planning for the creation of such a service as he demonstrated by ordering General Dunford to start the process.

There are multiple questions that arise from Trump's initiative. Why is he going forward on a plan that is opposed by his senior military advisors? How does the proposed Space Force mesh with whistleblower/insider claims that the Air Force already has a secret space program? Finally, what of additional claims that the U.S. Navy has a much more advanced Deep Space program with kilometers long space carriers that uses Space Marines as a fighting force?
In finding answers to such questions, it is important to understand that by ordering the creation of a Space Force, Trump is shaking the bureaucratic and corporate tree that hides the Secret Space Program that the Air Force runs along with the National Reconnaissance Office, the Defense Intelligence Agency and the National Security Agency.
Large aerospace companies such as Lockheed Martin, Northrup Grumman, Raytheon, General Dynamics, etc., supply the technologies and components for the Air Force's Secret Space Program. Consequently, the Military Industrial Complex/Deep State has played a major role in setting space policy due to its ability to manipulate Air Force officials through the supply and acquisition process.
In earlier articles, I've described a "limited disclosure" plan to reveal the existence of two or more space stations along with antigravity flying triangles (TR-3B) and other exotic spacecraft built by these corporations. Tom DeLonge's To the Stars Academy, also appears to be a limited disclosure initiative as previously explained.
The US Navy's secret space program is allegedly the most highly classified and advanced secret space program, and compartmentalization has been so successful that few Air Force officials believe that the Navy possesses such a program. One thing that has become clear though, is that the truth about the Navy's program will only be revealed after the USAF first discloses its Secret Space Program.
Based on my analyses of photographs of craft taken near MacDill Air Force Base, and the experiences of the photographer who interacted with the craft's occupants, it has become evident that US Air Force Special Operations Command provides the personnel for the USAF Secret Space Program.
Air Force Special Operations Command is one of the ten Major Commands that make up the USAF. Another Command central to space operations is Air Force Space Command. While Air Force Space Command handles logistics and technologies for space operations, AF Special Operations Command handles personnel.
Therefore, the real purpose in Trump proposing the Space Force is that he wants to accelerate the disclosure process by which the technologies and know-how that are used in the Air Force's Secret Space Program, are taken away from the multiple bureaucracies and corporations that secretly run it – the Military Industrial Complex/Deep State.
Trump wants the office of the chief executive, the White House, to play a direct role in setting the policy agenda for future space operations, which for decades have been set without any real oversight by the White House.
In the planning and creation of a U.S. Space Force, Trump has initiated a process by which he and the White House will play a more influential role in future space policy, which hitherto have been controlled by the USAF Secret Space Program and the Military Industrial Complex/Deep State.
The last President to confront the Military Industrial Complex/Deep State in such a brazen way over advanced aerospace technologies (UFOs) was John F. Kennedy with his twin memoranda on November 12, 1963, initiating joint space and lunar operations with the Soviet Union. The tragic outcome for President Kennedy is well known, I predict that Trump is likely to have more success with his Space Force initiative.
© Michael E. Salla, Ph.D. Copyright Notice
[Note: Audio Version of above article is available here or see below]
Further Reading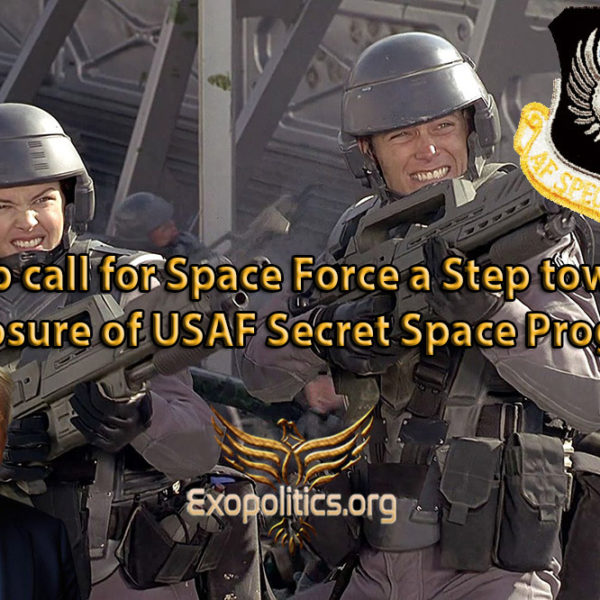 On March 13, President Donald Trump gave a speech where he said the creation of a U.S. space force was a good idea. This gave new life to a recently defeated Congressional bill to create a space force out of the United States Air Force (USAF) despite strong Pentagon opposition. Why has the Pentagon and the USAF been so firmly opposed to the creation of a separate space force?
The conventional explanation is that it would add an unnecessary and expensive layer of bureaucracy at a time when the Pentagon and USAF budgets are stretched thin to meet global military needs. The real reason, however, is one that takes us a big step closer to disclosure of a USAF run secret space program.
Here is what Trump had to say about the creation of a space force in a speech at the U.S. Marines Corps Air Station Miramar, in San Diego:
In space, the United States is going to do Colonel [John] Glenn [the former astronaut] proud. We are finally going to lead again. … Very soon we are going to Mars… My new national strategy for space recognizes that space is a war-fighting domain, just like the land, air, and sea. We may even have a Space Force. We have the Air Force. We'll have the Space Force. We have the Army, the Navy. 
Trump did not appear aware of an attempt by a subcommittee of the House Armed Services Committee to create such a force in the 2018 National Defense Authorization Act. The proposal passed in the House of Representative on July 14, 2017, but failed to get the necessary votes in the Senate due to fierce opposition by the Air Force and the Pentagon. Even the White House was opposed saying: "the creation of a separate Space Corps, however, is premature at this time."
According to House members proposing the creation of the space force, the USAF has been negligent in its responsibilities for "short-changing space programs."
What the House members did not realize is that the USAF already has established a highly capable space force that has been operating secretly for at least two decades.
One might assume that such a space force would be located within the Air Force's Space Command, which is  among the USAF's ten major commands. USAF Space Command has as its primary mission the "development and operation of military space and cyberspace technologies".
However, while Space Command provides the advanced technologies for space operations, it is from another of the Air Force's ten major commands that personnel for a secret space force is trained and deployed.
According to eyewitness testimonies it is Air Force Special Operations Command (AFSOC) that provides personnel for a USAF run secret space program. Before examining these testimonies, it's worth pointing out that AFSOC has been active since May 22, 1990.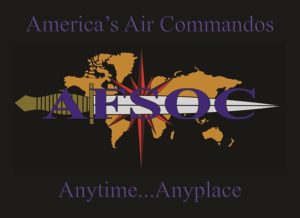 It is headed by a three star USAF General (currently Lt. Gen. Marshall B. Webb) and its headquarters is Hurlburt Field, Florida. Currently almost 16,000 airmen are deployed with AFSOC, their nickname is "Air Commandos" and their motto is "Any place. Any time. Anywhere".
In short, Air Force Special Operations provides the trained combat personnel for special operations using advanced aerospace technologies and infrastructure developed by the USAF generally, and Space Command in particular. This is analogous to how the US Navy provides the ships and technologies, which deploy Marines as a specialized combat force anywhere around the world.
The primary mission of Air Force Special Operations Command is to provide Air Force units for U.S. Special Operations Command (USSOCOM), which is one of the Pentagon's nine unified combatant commands. These combatant commands are organized into six regions covering the entire planet, and three functional areas of responsibility such as Special Operations and strategic nuclear weapons.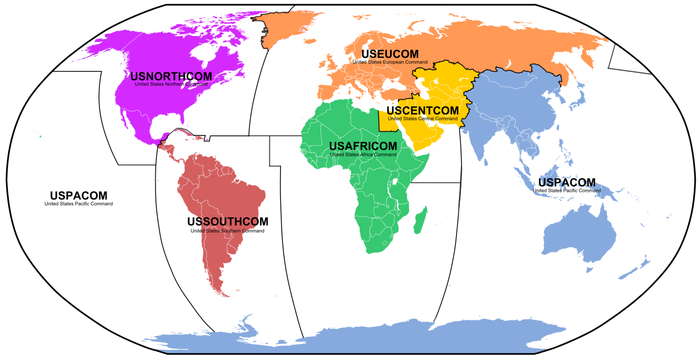 USSOCOM is headed by a Four Star General or Admiral, and integrates special operations forces from all four U.S. military services: US Army, US Navy, USMC and USAF.  
It is the only one of the Pentagon's unified combatant commands that was legislated into existence by the U.S. Congress. The National Defense Authorization Act of 1987 led to the Pentagon establishing USSOCOM on April 16, 1987.
What all this means is that while USAF Space Command provides the necessary aerospace technology and information for AF Special Operations personnel to pilot space fighters, other military services provide their own special operations forces that augment and serve alongside the Air Force's space commandos.
MacDill Air Force Base, Tampa, Florida. MacDill is the headquarters of U.S. Special Operations Command, and where AF Special Operations personnel have a primary base of operations for joint programs.  This takes me to eyewitness testimony that Air Force Special Operations deploys one or more of its secret space squadrons from MacDill Air Force base.
In the months of September and October 2017, an anonymous whistleblower JP I have known since 2008, took photos of both triangle and rectangle shaped antigravity craft flying in the vicinity of MacDill Air Force base. JP says that on several occasions he was prompted by covert personnel to look up into the sky to take the photos, but warned against taking video of the craft he witnessed.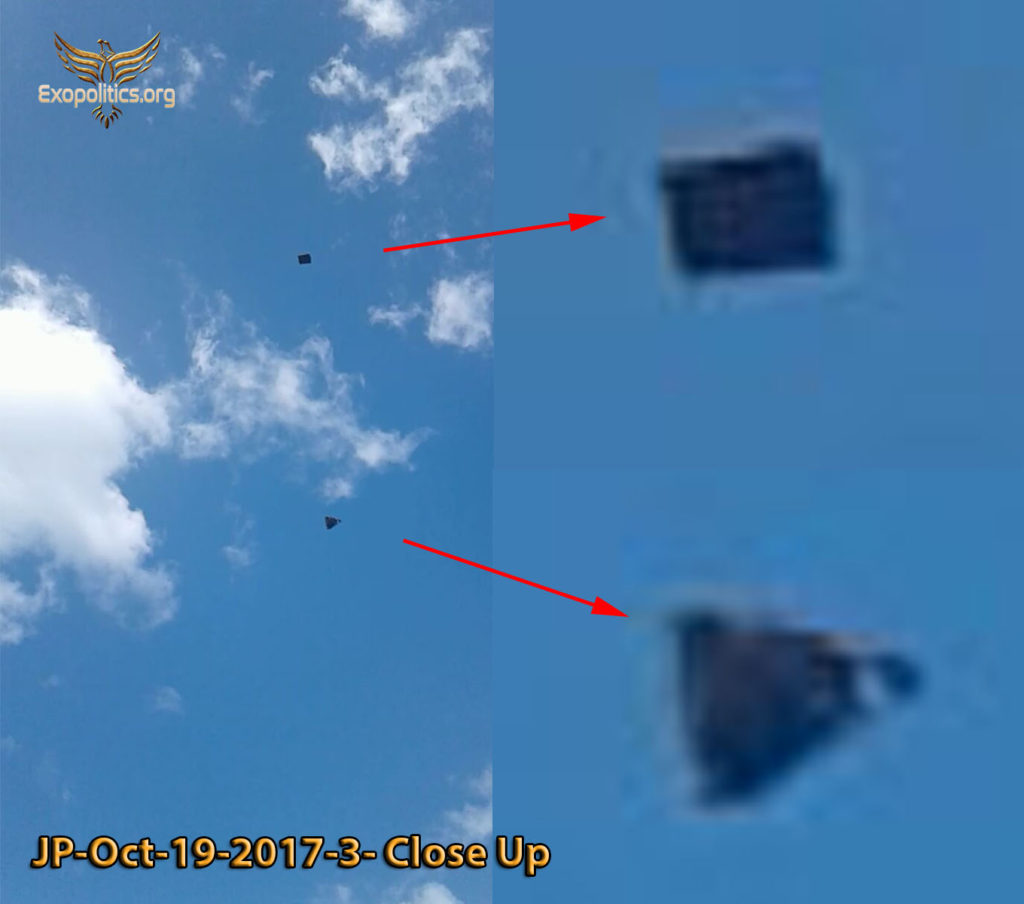 More importantly, JP says that he was physically taken on board both the triangle and rectangle shaped craft which he later photographed. It was on the rectangle shaped craft that he witnessed personnel wearing a military patch which he did not at first recognize.
Later he was able to confirm that the patch belonged to Air Force Special Operations Command. In a skype communication on March 14, he said that the patch was located in a similar place as on the airman in this photo.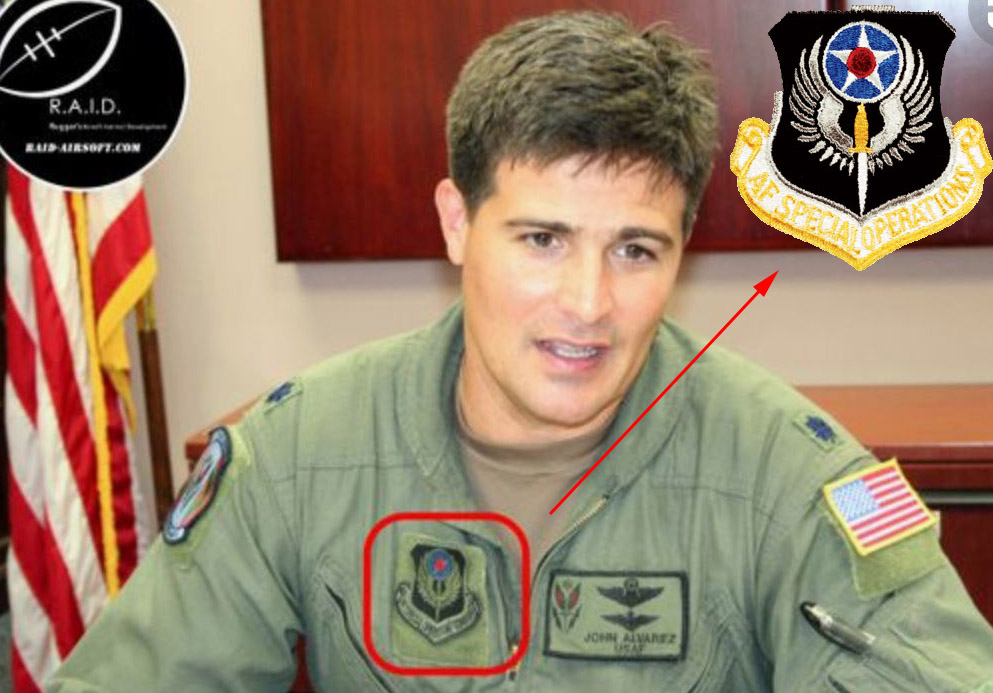 Corey Goode, who says he served for 20 years in a navy run secret space program called Solar Warden, also asserts that he was abducted by airmen belonging to a USAF run secret space program. He says that in early 2016 he was taken on board a triangle shaped antigravity craft by two airmen, where they and their superior interrogated Goode about his knowledge of their highly classified program.
Goode has provided artistic sketches of the triangle shaped spacecraft that was used to abduct him on several occasions. On March 14, in response to a skype question, he says that he witnessed a variation of the Special Operations Command patch during his interactions with AF personnel in space.
Based on the testimony and photos provided by JP, and Goode's testimony and artistic depictions, it can be concluded that the USAF does operate a secret space program, and it uses personnel from Air Force Special Operations Command to operate space craft developed, supplied and monitored by Air Force Space Command.
All this takes us back to Trump's speech that the creation of a space force is a good idea. There are three possible explanations which need to be considered for why he did so.
First, Trump has been officially briefed that such a force already exists, and his proposal is part of an official disclosure process for revealing the existence of the USAF run secret space program. A powerful motivation for doing so may be to gain public support and additional funding for the program.
Second, Trump has not been officially briefed about the existence of such a space force but has acquired knowledge of it through unofficial channels. Goode claims that he has been told through his own sources that Trump has indeed been informally told about multiple secret space programs.
Trump's speech was therefore intended to pressure Air Force officials to officially brief him about the existence of its space force, in order to prevent the creation of a duplicate space program authorized by Congress, which would take funding away from existing USAF programs. This explanation effectively lays the foundation for the Air Force secret space program being publicly revealed via Trump after he is officially briefed about its existence.
Third, Trump has neither official nor unofficial knowledge of a secret space force and simply believes that the creation of such a force is a good idea worth pursuing. This explanation appears least likely of the three given what he said in his inaugural speech on January 20, 2017, which indicated he had already received some information about secret space programs:
We stand at the birth of a new millennium, ready to unlock the mysteries of space, to free the earth from the miseries of disease, and to harness the energies, industries and technologies of tomorrow.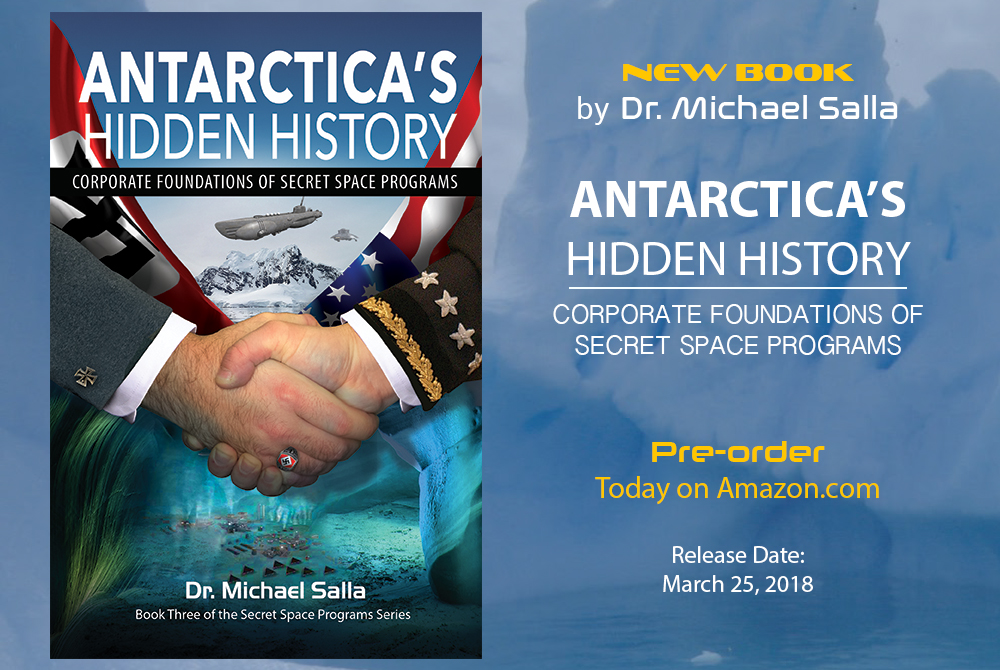 Consequently, there is grounds for optimism that President Trump's speech will result in him eventually disclosing the existence of an Air Force run space force in order to gain public support for its expansion and additional funding.
© Michael E. Salla, Ph.D. Copyright Notice
FURTHER READING