Do We Need Space Force to Protect us from Space Pirates?
On May 14, Senator Ted Cruz (R-TX) gave a speech in support of Congress moving forward with the creation of Space Force as a new branch of the US military. Cruz gave an intriguing perspective on what the proposed new military branch would protect the country from – space pirates!
Cruz said the following in his Space Force speech at a hearing of the Senate Subcommittee on Aviation and Space, which he chairs:
Since the ancient Greeks first put to sea, nations have recognized the necessity of naval forces and maintaining a superior capability to protect waterborne travel and commerce from bad actors. Pirates threaten the open seas, and the same is possible in space. In this same way, I believe we, too, must now recognize the necessity of a space force to defend the nation and to protect space commerce and civil space exploration. 
Cruz's implicit reference to "space pirates" quickly garnered much internet attention, particularly on Twitter's "moments" news thread, where tweets of multiple people mocking him appeared. Cruz fired back at Jack Dorsey, creator of Twitter, for not giving equal coverage to his responses:
Hey @jack how come Twitter's "moment" quotes all the snarky leftists making fun of my comments, but doesn't include my tweets in response explaining the real point that NATIONS like China have already developed & tested weapons to destroy satellites? https://t.co/dwkM5ndXj3

— Ted Cruz (@tedcruz) May 16, 2019
President Donald's Trump's proposed Space Force is currently being debated in the US Congress which is considering legislation officially creating it as a new military branch under the US Air Force.
The Pentagon has come out in support of Space Force being created, despite initial opposition by the Secretary of the Air Force, Heather Wilson, and its Chief of Staff, David Goldfein. Patrick Shanahan, the Acting Secretary of Defense, has been the driving force behind the Pentagon getting behind Trump's proposal.
A two stage process was outlined by the Pentagon on August 9, 2018, for realizing Trump's goal. One of the four components in the first stage was was the elevation of the Air Force's current Space Command into one of the Pentagon's unified combatant commands. Currently there are ten combatant commands that are at the apex for command and control of different geographical regions and specific functions performed by all branches of the US military.  
On March 27, 2019, John William "Jay" Raymond, a four-star general who is the current head of Air Force Space Command (2016-), was proposed by President Trump to head up the new Space Command.
In his February 19, 2019, Space Policy Directive 4, Trump proposed that legislation be created for the formal establishment of a Space Force as a separate military branch initially placed under the Department of the Air Force. Trump's desire for a separate Department of the Space Force, would be revisited at a later stage.
Legislation for Space Force was submitted to Congress in February by Secretary Shanahan and is currently being debated in various congressional committees, including Cruz's. The Space Force legislation is a major test for whether or not the new military branch has enough Congressional support to have its creation passed into law.
While the partisan nature of the current Congress makes any passage of policies proposed by Trump challenging, there is still strong bipartisan support for policies supported by the Pentagon. A letter of support from 43 former Pentagon officials is proving to be very influential in overcoming doubts expressed by members of Congress. The letter states that Space Force will:
… develop military space culture and ethos; recruit, train, educate, promote, and retain scientists, engineers, and warriors with world-class space skills and talent; advocate for space requirements and resources; develop space doctrine and operational art; develop, field, and deliver advanced space capabilities; and steward resources to sustain America's strategic advantage and preeminence in national security space activities.
Consequently, because Shanahan and other Pentagon officials are committed to the creation of Space Force, it's very likely that Congress will pass the proposed legislation and authorize its creation.
This finally brings us to Cruz's indirect reference to "space pirates". Was this just hyperbole for why Space Force is needed?
In his tweet to Dorsey, Cruz tried to walk back his comment by referring to the capability of major nations such as China to destroy satellites as his real point. However, according to multiple insider sources, the idea of the US having to defend itself against space pirates is not as ridiculous as it appears. There are a number of non-state actors secretly operating in space that do threaten US national interests, and the planet more generally.
One of these sources is rogue special access programs, which operate outside of lawful government control. Former Apollo astronaut Dr. Edgar Mitchell confirmed that the sitting head of intelligence for the Joint Chiefs of Staff, Vice Admiral Tom Wilson, was denied access in 1997 to an Unacknowledged Special Access Program (USAP) involving UFOs.
This incident and many others point to rogue USAPs conducting various advanced aerospace projects that can impact US space operations and Earth installations. These USAPs are loosely controlled by shadowy entities such as the Deep State, which have their own distinct globalist agendas that conflict with nationalist policies.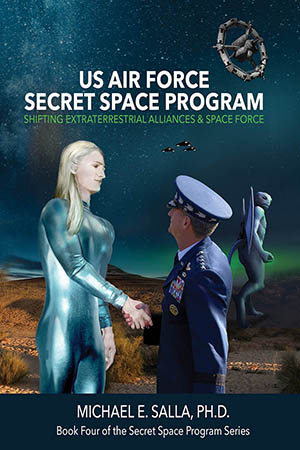 An example of existing rogue operations is given in my new book, the US Air Force Secret Space Program: Shifting Extraterrestrial Alliances and Space Force a chapter discusses how the Deep State used its MASER equipped satellites to steer Hurricane Irma against MacDill Air Force Base in retaliation for Air Force Special Ops openly displaying some of its antigravity craft to members of the general public in support of disclosure. The conclusion is that rogue USAPs are a modern day form of space pirates.
We also have the idea of Space Nazis which was proposed by insiders such as William Tompkins who worked for the US Navy during World War II, and said he was part of a Navy espionage program that monitored the Nazi's flying saucer program. Tompkins asserted that the Germans successfully established a breakaway colony in Antarctica which became a space power over the succeeding decades.
According to Tompkins and other insiders, the Germans have established colonies on Mars, Ceres, and elsewhere in Deep Space, and have developed some of the most advanced aerospace technologies known to humanity. Given their non-state status, the breakaway German Antarctic/Mars colonies may also be considered a modern form of space pirates.
Finally, we have the idea of a transnational corporate network that has developed its own space fleet that operates outside of any national or global institutional authority. According to insiders such as Corey Goode, the Interplanetary Corporate Conglomerate has the most advanced spacecraft in existence as a result of their long-time cooperation with the breakaway German group in Antarctica.
Given their official non-state status, transnational corporate entities such as the Interplanetary Corporate Conglomerate may also be included in the category of space pirates that Cruz was warning the public about.
As the head of a key Congressional subcommittee dealing with space affairs, Cruz may have acquired some inside knowledge of these different non-state actors operating in space outside of any recognized lawful national or global authority.
The problem of "space pirates" is very real and not just hyperbole. Whether by design or accident, Cruz has just pointed out a major reason why Space Force is being created, and is being fast-tracked into existence by the Trump administration.
© Michael E. Salla, Ph.D. Copyright Notice
Further Reading
secret space programs, Space Force, space Nazis, space pirates, Ted Cruz