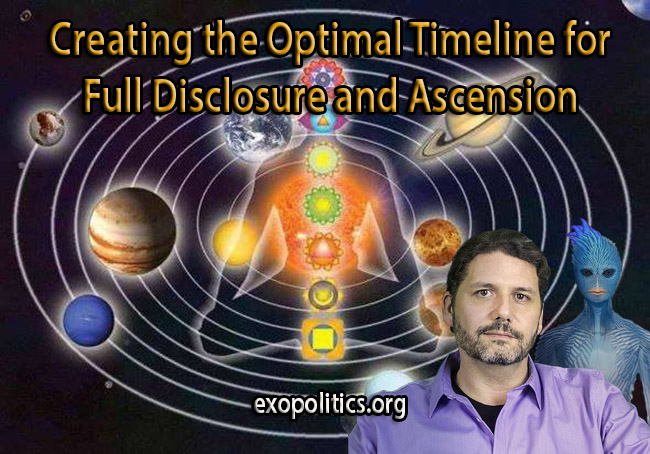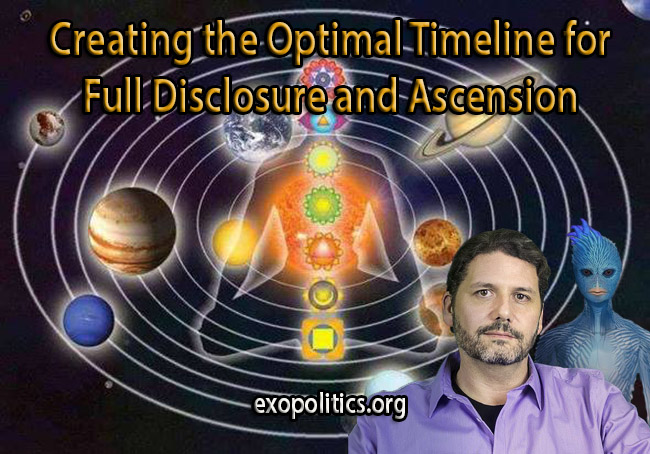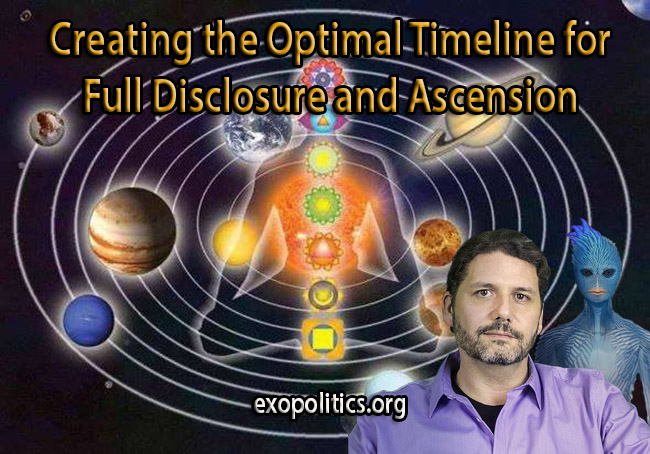 Whistleblower, Corey Goode, today released the second part of an extensive report about what he claims are a series of recent meetings he has had with representatives from different extraterrestrial groups, an "Inner Earth" civilization and a secret space program alliance. He provides additional information to what was presented in part one about the possibility of massive solar activity, which global elites (aka Syndicates/Cabal) are convinced will have devastating effects on the planet.
Goode's claims, which are quite rich in detail and scope, can at times be very disturbing. Those new to his information may be tempted to dismiss it as sheer fantasy. However, after more than a year of closely investigating Goode's claims, much of which was presented in the book, Insiders Reveal Secret Space Programs and Extraterrestrial Alliances, I have yet to find anything that makes me suspect that he is being untruthful in any way.
Goode's revelations provide a framework for understanding what may well be the most the most important diplomatic meetings and negotiations currently underway that directly effect all of humanity.
Due to the amount of material in part two of his report, I have decided to present my analysis of his information in three separate articles. This is due to the importance of the issues he discusses, and the need to comprehensively evaluate these before moving on to his description of other meetings and events he attended or witnessed.
Therefore, in this article, I analyze Goode's discussion of predicted solar activity, the likelihood this will impact humanity, and what can be done to personally prepare for it.
In his report, Goode describes being taken by a blue sphere on July 10 to a meeting with representatives of the Sphere Being Alliance – a group of very highly evolved sixth to ninth density extraterrestrials. He described his communication with an eight foot tall "Blue Avian" called Raw Teir-Eir.
In our current meeting, I was standing before Tear-Eir and he began to communicate. My attention was directed back to the cosmic scene that was unfolding all around us. I was watching the spheres slowly moving in the direction of Venus and Earth on their way to the outer solar system. They were looking more and more as if they were fading away.
This is consistent with an earlier report by Goode that planet sized spheres, strategically placed throughout our solar system to buffer cosmic energies, had almost completed their mission.
Goode describes what happened next:
I then saw the energy waves hitting the Earth's magnetic field and wrapping around it. The energy was directed into the Earth's core via the north and south poles and then emerged outward from the Earth's surface.
Goode has previously described efforts by many global elites, who he describes as criminal syndicates, to escape to safe underground locations in Antarctica and South America in early 2016. Based on what he had just witnessed he believed this would be unsuccessful:
I was thinking to myself that it would be impossible to hide underground from this energetic wave, no matter how deep below the surface or shielded by advanced technology you were.
Apparently many of the global elite thought the same since earlier in 2016 many of them tried to flee their underground facilities. This led to a battle between opposing space programs over Antarctica when some elites attempted to escape in tear drop shaped ships belonging to the space program described as the Dark Fleet, which emerged out of a Nazi Germany and Draconian extraterrestrial alliance from the World War II era.
Goode next relayed how Raw Teir-Eir stated that the effect of the cosmological events currently underway would impact humanity:
I expected the next communication to be about the scene I had just witnessed. Tear-Eir then communicated that our co-creative mass consciousness was playing a part in what was and soon will unfold. Tear-Eir then communicated that the increased energetic waves were causing behavioral changes on Earth, as well as on various bases and vessels that resided within our star system.
Among the effects Goode was told about, was that the energy waves were impacting a "mind control" or "behavioral modification" grid that has been used to control humanity for thousands of years. The result was that it was becoming harder to influence humanity to take desired collective actions:
This also was interfering with the "behavioral modification" grid that has influenced the thoughts and behavior of people on this planet for many thousands of years. As a result, this grid had to be turned up to its maximum power level to have the desired effects on the population, which I was told would also increase its side effects.
The energetic changes and increased power to the mind control grid were causing people to begin to behave erratically, and become apathetic and ineffective.
It is well known that World Wars have been sparked in the past by xenophobic nationalism, religious fanaticism or other forms of extreme collective human behavior. While such behavior appears to be happening today in many areas of the planet such as the Middle East, Goode is telling us that the side-effects of the mind control grid being impacted by cosmic energy waves, is mitigating what the global elite have intended. This suggests that elite plans for a World War III will not happen.
Goode was next told about a small time period humanity has to co-create the optimal timeline:
He stated that our co-creative consciousness was directing us toward a choice of which temporal reality we will ultimately experience. We have a small window to push ourselves through in order to jointly experience the optimal temporal reality.
What Goode was told next is going to be very disturbing for many concerned about a possible "Ascension Event" that impacts all humanity:
Among the topics we discussed was the shockingly low percentage of humanity that would be ready for Ascension if it occurred at the current time. It would only be approximately 0.042 percent – less than one out of every 2300 people. It was apparent that time was short for all of us to process our karma and increase our own service-to-others polarity.
Indeed, it is shocking to hear what percentage of humanity is ready for what the Sphere Being Alliance views as a defining event for our planet and humanity in general.
Goode elaborated further on what was needed to create the optimal time line and better prepare for an Ascension Event:
I asked if there would be a way to tell if we had directed ourselves to the optimal temporal reality. Tear-Eir simply replied that "if the world is shaken" around David and I, we would then know that our mass-consciousness had chosen an "other than optimal temporal reality."… It is important to note here that we do have the ability to steer our future into the "optimal temporal reality." It involves pushing for Full Disclosure and doing our part to increase our own positive polarity and Ascension.
It is worth spending time understanding how one can increase the "service-to-other" polarity to both create the optimal temporal reality and be ready for the Ascension Event, according to the literature recommended to Goode by the Secret Space Program Alliance.
While the concept of a service-to-other polarity comes from the "Law of One" or "Ra" material, this was not the only literature recommended to Goode for understanding current cosmological events and the evolution of consciousness. In August 2015, in his response to a question, Goode said:
I knew that some groups were ordered to read the "RA" and "SETH" Data while in the programs at the same time I knew many groups were working to discredit both works.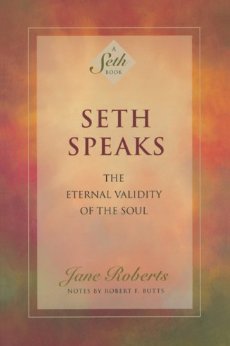 The Seth Material (1963-1984) preceded the Law of One material (1981-1984) by almost two decades and is widely regarded as among the finest and most influential channeled material ever to be released.
While the Law of One/Ra focused on presenting a comprehensive conceptual framework for understanding how consciousness evolves, Seth in contrast focused on concrete steps an individual could take to change their personal and collective reality, by altering their conscious belief system.
The approach taken by the Seth material is therefore very helpful in understanding how one can create a service-to-other polarity recommended in the Law of One material, which Goode has been told is essential for humanity at this point in our personal and collective evolution.
According to Seth:
When you are having fun, you are helping others. When you are not having fun, and telling yourself that you are helping others, you are not helping them or yourself.
So when you think in terms of responsibility, and when you make a division in your mind between responsibility and joyful fulfillment, then you are denying yourself and the world much pleasure, and hiding … from yourself and the world the great joyful symphony that is yourself.
When you are fulfilling the joyful nature of your being, you are helping yourself and you are helping others. When you help others because you think you must, but it goes against the grain, then they know it, and you inflict upon them the obligation that you have no right to inflict…(Susan M. Watkins, Conversations with Seth, p. 179)
Seth provides clarity on how one can achieve a service-to-other polarity, and feel connected to the needs of others. It does not come from sacrificing one's own joy or needs to make others happy, but by following one's own life path:
When you follow your own nature, you automatically and naturally feel for the needs of others … When you are joyful and free, and when you are having fun, you automatically feel … your oneness with all other creatures of the universe, and you know your place in All That Is. (Susan M. Watkins, Conversations with Seth, p. 179)
While it is disturbing to learn that only 0.042 percent of humanity has attained the necessary service-to-other polarity necessary for a possible Ascension Event at this time, the Seth material clarifies the steps we individually need to take to prepare ourselves.
In short, we need to follow the advice of the famed mythologist Joseph Campbell, author of The Hero's Journey:
I say, follow your bliss and don't be afraid, and doors will open where you didn't know they were going to be. If you follow your bliss, doors will open for you that wouldn't have opened for anyone else.
Consequently, creating the optimal timeline for full disclosure and Ascension by becoming more service-to-other does not need to be a stressful and intimidating task, but means having the courage to have fun by following one's true calling in life.
© Michael E. Salla, Ph.D. Copyright Notice
[Click here for next article in this series]
Further Reading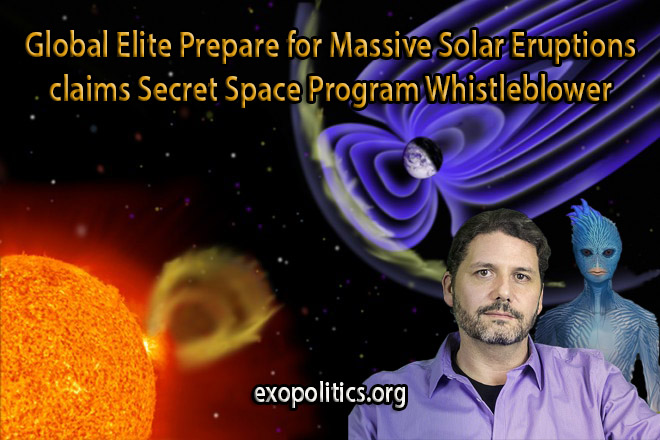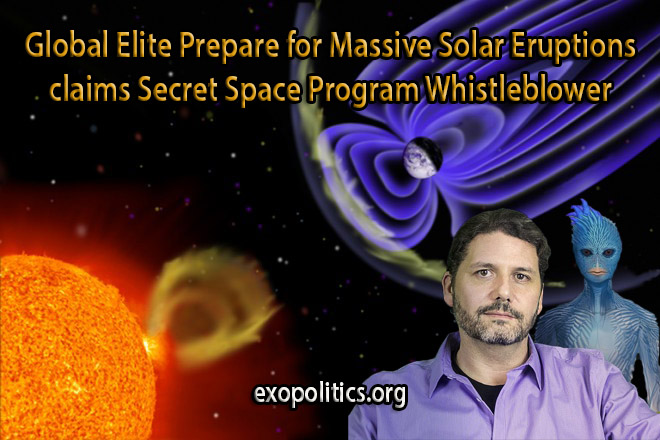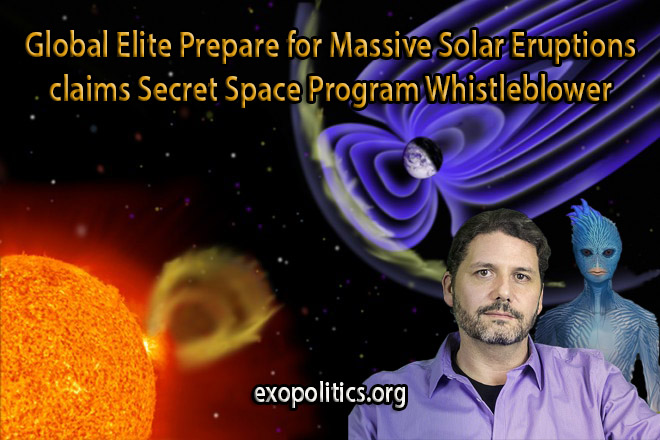 Corey Goode yesterday released the first of a two-part report discussing his latest alleged meetings with different extraterrestrial civilizations and representatives of secret space programs. In it, he discusses some disturbing information about elite preparations for upcoming solar events that they believe will have devastating planet-wide effects.
In his report, Goode begins by filling in the details of what has taken place since a resumption of meetings after a lengthy hiatus, which he briefly discussed on August 1. He also discussed some of the ramifications of his personal briefings and a Cosmic Disclosure interview concerning a covert aerial tour he was given of six hidden Antarctica facilities belonging to the Interplanetary Corporate Conglomerate (ICC) – one of five space programs he has previously disclosed information about.
For those unfamiliar with Goode's revelations and interviews, his latest report appears fantastic. There is, however, compelling whistleblower, documentary and circumstantial evidence supporting his claims. Much of this was presented in the book, Insiders Reveal Secret Space Programs and Extraterrestrial Alliances. Since its September 2015 publication, William Tompkins, a highly respected aerospace engineer, has come forward to reveal his own testimony, supported by official documents, which corroborate many of Goode's claims.
In his August 16 report, Goode said that Kaaree, a representative of the Inner Earth Civilization called the Anshar had given him, via a telepathic etheric link, some updates about recent events after his return from a June trip to Boulder, Colorado:
In these briefings she learned that our recent reconnaissance flight into the icy caverns of Antarctica had highly disturbed the individuals who are responsible for security at these installations. They were most shocked that their advanced technology did not detect the presence of the Anshar-Bus Craft. This not only had a psychological impact on those who work at these facilities but it was communicated to me that specific areas under the ice were made public – ancient sites that are fairly significant on a number of levels.
The Sphere Being Alliance had helped the Solar Warden/Secret Space Program Alliance upgrade their defensive weapons technologies. It's not clear if the Anshaar had likewise benefited, but their secret surveillance of Antarctica facilities clearly caught the ICC off-guard.
This information shared by Kaaree appeared to be part of a new trend. Previously, the two space programs working with Draconian extraterrestrials according to Goode, the Dark Fleet and the Interplanetary Corporate Conglomerate, had the most advanced weapons technologies. Now they longer held this advantage due to the Sphere Being Alliance.
Goode next describes the impact the hiatus of information about the SSP programs was having on him over a period of several weeks during the months of June and July:
Over the following weeks I was contacted by Kaaree for short exchanges with very little information from her meetings with the SSP Alliance trickling down to me. I was feeling very disconnected and not really of any use.
Karee assured Goode about the relationship they would continue to have as a result of the mind meld they had experienced. Significantly, she said that it would continue well after the Sphere Being Alliance had completed their work in our solar system and would depart: "You and I will be in contact far after the Guardians go out of phase".
On July 10, Goode had a physical encounter with the Sphere Being Alliance via a blue orb that transported him to a location in the vicinity of the Sun:
When I arrived I could see the silhouette of Raw-Tier-Eir and a much shorter figure standing to the left. They appeared to be standing quite a distance away. My attention was suddenly drawn to the outside of the giant energetic sphere we were in. I noticed other spheres of various sizes moving away from the Sun.
He described how the giant energetic spheres appeared to be playing a filtering role in terms of solar energy:
These spheres were more lit up than I had seen before – from the perspective inside the sphere we were in. They seemed to be shimmering and then were becoming more translucent. They were moving towards the orbit of Venus and Earth in a slow steady fashion. I then looked over at our sun. The wall of the sphere I was inside were behaving like some sort of filter for the way we would normally view the Sun. I perceived what appeared to be crackles of electricity radiating from the corona.
This is consistent with what Goode has previously described as one of the main function of the giant Jupiter sized spheres that began appearing in our solar system in 2011. Their purpose was to buffer cosmic energies coming into our solar system so humanity could better integrate these and make necessary changes.
Goode's report suggests that the Sphere Being Alliance is currently focusing on the sun, and has giant spheres around it to help buffer incoming Cosmic Energies that could trigger enormous solar eruptions.
On August 8, two cameras belonging to NASA's Solar and Heliospheric Observatory (SOHO), EIT 195 and EIT 171, revealed giant cubes in the vicinity of the sun. Some speculated that the cubes were a result of photo manipulation designed to remove evidence of large bodies around the sun, possibly spheres.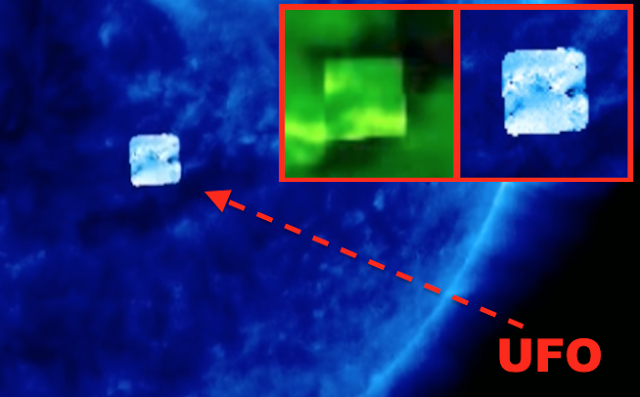 Goode went on to describe a meeting he had with a being from an adjacent star system whose planet had recently undergone a similar liberation struggle as currently taking place on Earth.
He introduced himself as "Micca". He stated that his planet resides in our local star cluster and that his people are our "stellar-cousins" sharing about 94% of the same genetics. He claimed that he was an Ambassador from his system of planets to Earth. Micca then went on stating that his people have been enamored by our cultures and arts but have always been disturbed by our capacity for violence. He further stated that in the past that his people had resided on Earth as refugees during his own peoples battle for freedom. He stated that it had only been a few generations since his people had overcome the tyrannical beings that had enslaved them.
Then Goode described the important role played by the Sphere Being Alliance in helping Micca's planet achieve liberation from its own elite controllers:
Micca further stated that he had worked closely with Raw-Tear-Eir during his own peoples struggles, and that they had recently gone through a process very similar to what we are undergoing. He stated that his people didn't have as many challenges as are found on the Earth, but that there were numerous similarities.
The information from Ambassador Micca correlates with previous information from Goode that our solar system is closely linked with others in a local cluster of solar systems. He has said that there once existed a powerful defensive weapons grid for our local star systems cluster, built by an Ancient Builder Race. It was destroyed about 500,000 years ago during a war between the planet Maldek and Mars, that created the asteroid belt.
Significantly, William Tompkins says that Stage 4 of the Apollo Program was for the U.S. Navy to build a defensive grid in 12 adjacent star systems using Space Battle groups. It does not appear coincidental that the Navy envisaged a defensive role for its space battle groups that would include a ring of adjacent solar systems.
Six days after meeting Ambassador Mica, on July 16, Goode says he was once again transported by a blue orb to another meeting with the Sphere Being Alliance. Here he was met by three Blue Avians and a Triangle Headed being who was accompanied by a familiar figure:
Once more I looked down to see Raw-Tear-Eir and another person standing before me. I then saw the silhouettes of Raw-Mare-Eir, Raw-Rain-Eir and a "Triangle Headed Being" standing off in the distance. I greeted Tear-Eir and then focused on his companion. It took a moment for me to realize that the person standing before me was Gonzales…. The last I had heard of Gonzales was that he was off with the Mayan group receiving emotional "healing".
Gonzales explained to Goode what had happened since the last time they had met in May 2016.
After a short greeting he explained that from his point of view and experience of time, he had been away for almost 6 months. He said that the Mayan technology is simply magical. I kept thinking about how "blissed-out" he was acting and the remarkable change in his overall energy. He stated that he now knew himself and had found a real purpose in life.
Gonzales said that in future, rather than resume his former duties with the Secret Space Program Alliance, he would be a liaison with the Mayan group:
He then informed me that he had met with a few people in the SSP Alliance. He could not slide back into his old post after disappearing, but was able to remain in contact with certain assets. He was going to stay with the Mayan group and be a liaison of sorts between them and some other groups waiting to assist humanity.
Gonzales then gave Goode some fresh intel about events in the Southern Hemisphere, and the upcoming solar events the elite/cabal were preparing for:
The most scientific and pragmatic of these "secret syndicates" believe the entire surface area of the Sun's corona is about to mass eject. They believe the Sun will then go almost completely dark for a number of days before it re-awakens into a new state of equilibrium. These syndicate "egg heads" believe that the proceeding energetic shock wave and then the impact of this Mega CME would take out all communications, electronics and sources of electricity on Earth… Some of these syndicates further believe this will cause a flip in polarity of the Earth's magnetic field, having a dramatic effect on every living creature on the planet. The neurology and magnetic fields of our bodies would be effected as would our Consciousness.
Goode's description of the Sun going completely dark for several days, along with a flip in the polarity of the Earth's magnetic field is very similar to what Greg Braden described in his 1997 book, Awakening to Zero Point: The Collective Initiation. This raises the question of whether Braden's ideas have influenced elite/cabal preparations.
Goode went on to describe two scenarios that the elite thought most applicable to humanity:
There is a divergence between these various syndicates beliefs as to how powerful of an effect this "solar sneeze" will have to the atmosphere and the surface of the Earth. Some believe that it will be a minor event that will take a few decades to recover from, while others are expecting dramatic increases in volcano eruptions and large scale earthquakes across the world. This particular syndicate group believes it will cause a planetary winter that will repeat the downfall of the previous advanced civilization, which occurred just prior to our last ice-age.
Gonzales, responding to Goode's concern over what the elites were preparing for, explained:
"This event isn't imminent and this is only what some of these syndicates are expecting". He said that the more esoteric of these syndicates believe, as many do in our community, that this will be a spiritual harvest… They think they can escape or hide from it while deep under-ground and beneath icecaps, such as in Antarctica.
At this point, it became clear that Raw Teir-Eir wanted to explain some things to Goode about the present Earth situation, and Gonzales took his leave. Goode planned to present what Raw Teir-Eir had told him in Part 2 of his report.
The next instalment in Goode's meetings promises to provide significant information about how humanity as a collective entity can face the many challenges confronting it, while the global elite prepare for a planet wide contingency that may or may not occur as they envisage.
If what Goode was told is an accurate description of the global elites plans and thinking, it is very telling that many have quietly fled to safe areas in the Southern Hemisphere, without taking even the most minimal of steps to protect the national electrical grids of developed countries, which are most at risk, from predicted massive solar eruptions.
© Michael E. Salla, Ph.D. Copyright Notice
Further Reading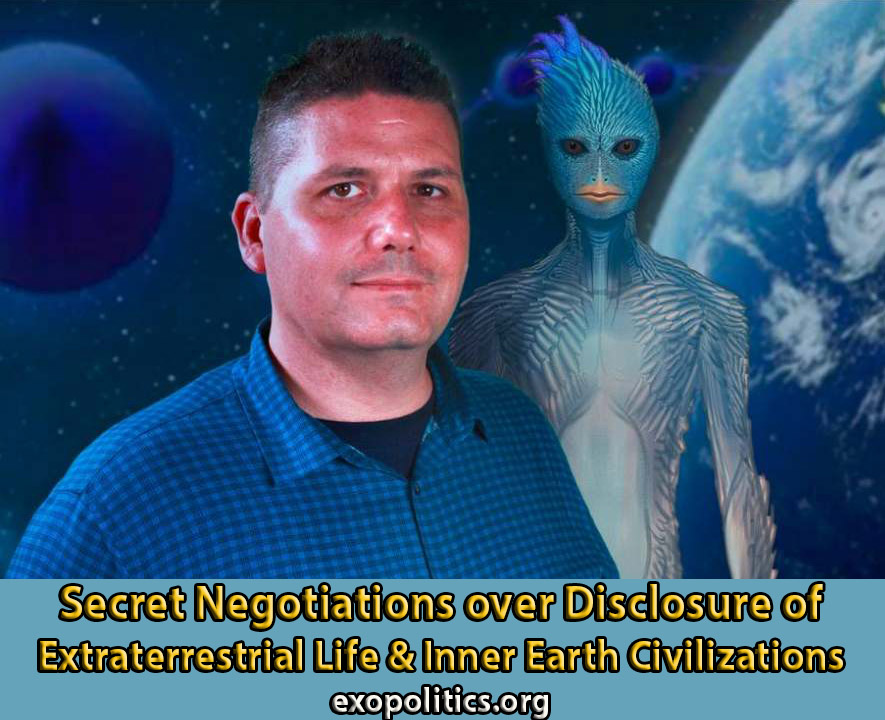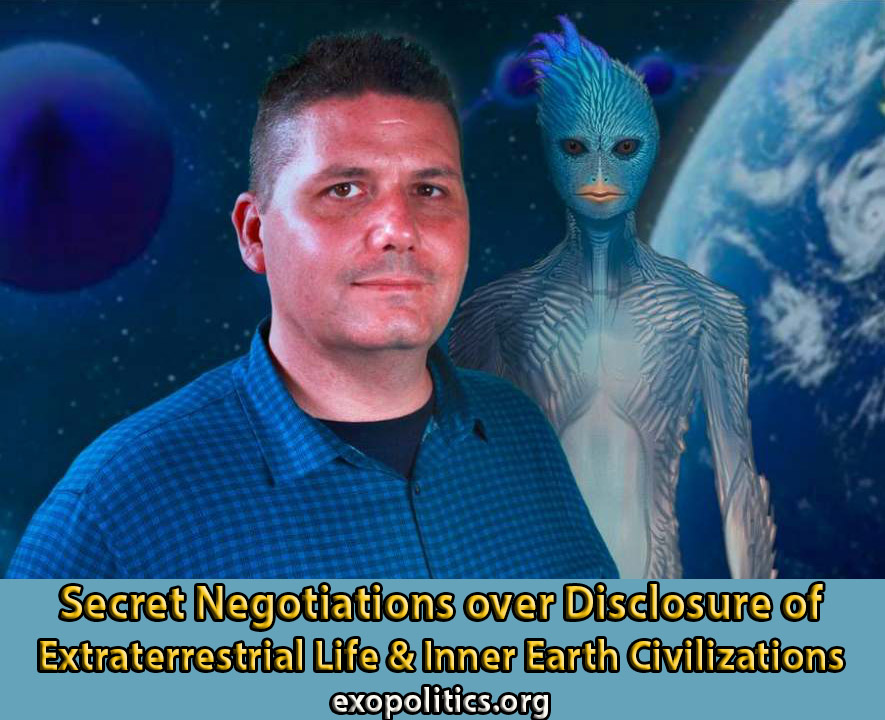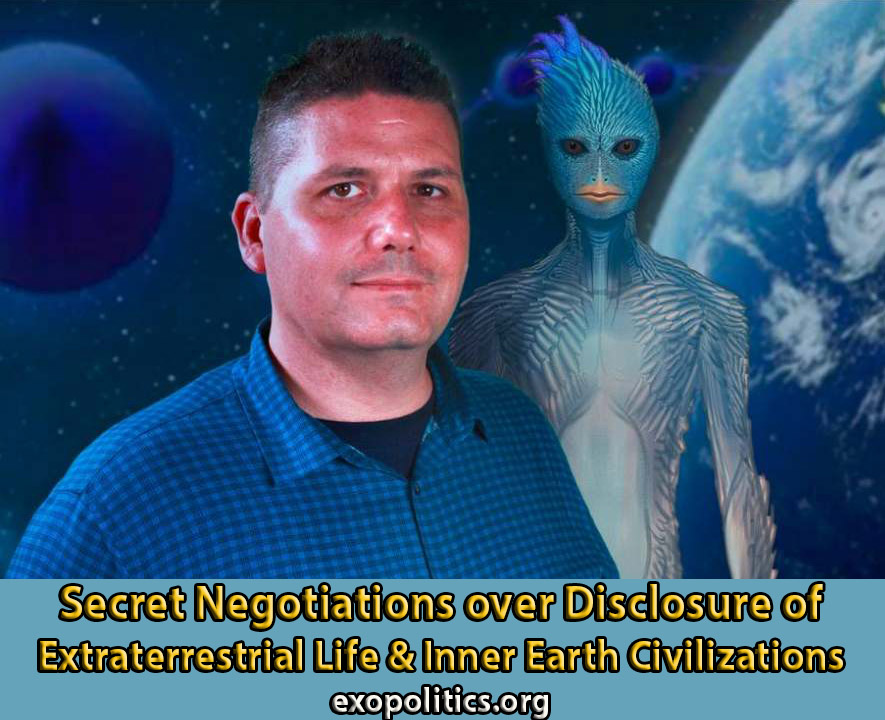 Different elite groups, secret space programs and ancient "Inner Earth" civilizations are currently negotiating over how much of the truth they are willing to reveal to humanity about their respective existence and the reality of extraterrestrial life. This is according to the latest startling update by Secret Space Program whistleblower, Corey Goode.
Goode claims that he was recently taken to the Kuiper Asteroid Belt where he witnessed a historic meeting between representatives of seven ancient Inner Earth civilizations, and a highly advanced group of extraterrestrials which Goode has previously referred to as the "Sphere Being Alliance". The Inner Earth groups venerate members of the Sphere Being Alliance – whom they refer to as the "Guardians" – because they have been the ancient protectors of human civilizations on Earth going as far back as 18 million years.
In his January 14 update, Goode refers to the Kuiper Belt meeting as the third in series of meetings that began in early September 2015, which he discussed in a report released on September 23.
I have had 3 meetings where the "Inner Earth Breakaway Civilizations" were present. In one such meeting we met at a base in the Kuiper Belt where representatives of these breakaway groups finally had their chance to meet with the "Guardians"… Gonzales and I stood there for the entire meeting exchanging perplexed glances as the "Guardians" and the breakaway civilization representatives interfaced. They stood there silent and motionless accept for the slight waving of arms and legs of the "Guardian".
In Goode's September 23 report, he described a very intense emotional "mind meld" he had with "Kaaree" (Car-ee), a priestess from one of the Inner Earth groups. She was also present at the Kuiper Belt meeting. He said that the Kuiper Belt meeting with the "Guardians" had similar emotional effect on the Inner Earth representatives:
Once the exchange was over the members of the breakaway civilization were visibly shaken and overcome with excitement at the same time. I felt much of the same emotions coming from them as I did after the "mind meld" I had with Kaaree where I shared experiences and information from my adolescence. I was able to speak briefly with Kaaree as they were leaving. She was a little flustered and only made a few comments on her way down the hall.
Goode went on to assert:
I asked her how it went and she replied that her group and some of the more negative groups that had formed this ancient breakaway council had "not been proper stewards" of this planetary sphere. She was in an extreme hurry to get back to the meeting where the rest of the ancient breakaway groups were gathered.
Goode's revelation that the "Guardians" told the Inner Earth beings that they have "not been proper stewards" is very significant. It suggests that the Inner Earth beings were being taken to task for one or more of their long standing policies dating back millennia. According to Goode's September 23 report, these could well include collaborating with elites from Secret Societies manipulating surface humanity, yet maintaining strict separation from the rest of humanity, and their emphasis on maintaining genetic purity by isolating themselves.
This kind of chastisement from the Guardians/Sphere Being Alliances apparently led to dissension among the representatives of the seven Inner Earth Groups attending this unprecedented Kuiper Belt meeting.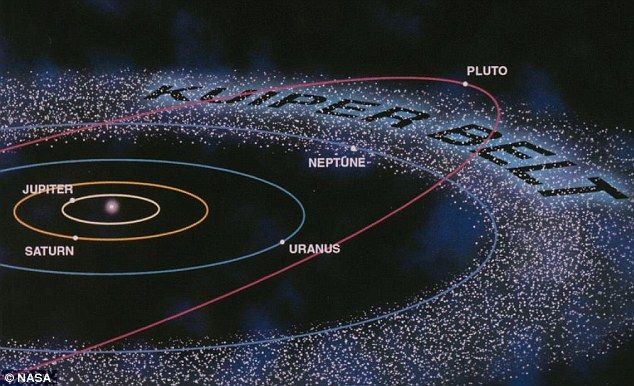 Goode describes what happened next:
It wasn't until later that Lt. Col. Gonzales told me that this was the last meeting these 7 groups had together before a few groups split away soon after this historic meeting.
According to Goode, the Inner Earth group that Kaaree belonged to has decided to change their isolationist policy and begin revealing themselves to surface humanity:
I met with Kaaree again not long after I was briefed on the above information. She made it clear that some of the ancient breakaway groups had decided to take a slow approach to revealing their true identity to those they are in contact with on the surface. They will visit the ones they visit in craft and reach out ethereally to those they are in remote contact with. They are starting with a test group to see how they respond to the news.
Goode went on to describe how humanity is at a critical juncture as negotiations between different secret space programs, ancient breakaway civilizations and elite groups controlling surface humanity, move towards their final conclusion:
The SSP Alliance and the Sphere Being Alliance has made it clear that we as a collective consciousness are choosing a path or future timeline. We are at a critical juncture to where our future could be one of a NWO 2.0 with some debt forgiveness, a bit of free currency and a new Babylonian Money Magic Slave System OR we have a full disclosure event during this time of social catalyst.
Goode made the following appeal in his January 14 update to help bring about "full disclosure," or otherwise the "Syndicates" (aka Cabal/Illuminati in control of surface humanity) will succeed in implementing a partial disclosure plan:
We are putting out the call for everyone to come together and get involved in whatever way they can. We need to stop focusing on our differences and focus on our common goal… The Full Truth! If we do not, we are giving "silent consent" to the negotiations between the Alliance and these Syndicates and their outcomes.
Goode says that he will soon release a long awaited conclusion to his September 23 report along with reports about more recent meetings he has attended.
While there is a great need to continue efforts to substantiate Goode's incredible claims, there is also a need to be open to the possibility that his revelations about secret negotiations over full or partial disclosure of alien life, classified space programs and ancient breakaway civilizations are genuine.
Given current global events, it's not hard to agree with Goode that humanity appears to be at an important cross roads – we are about to collectively decide how much of the truth we can handle about a great number of issues that have been previously withheld from us all.
© Michael E. Salla, Ph.D. Copyright Notice
Further Reading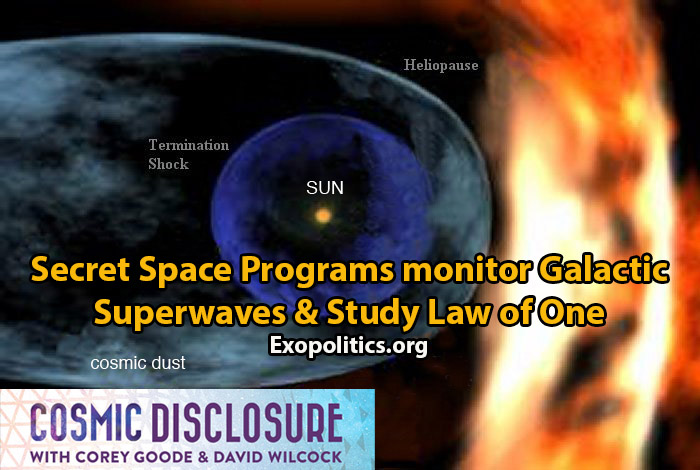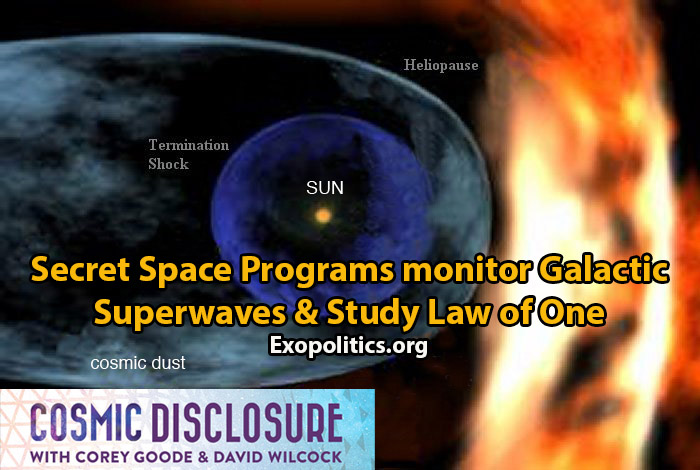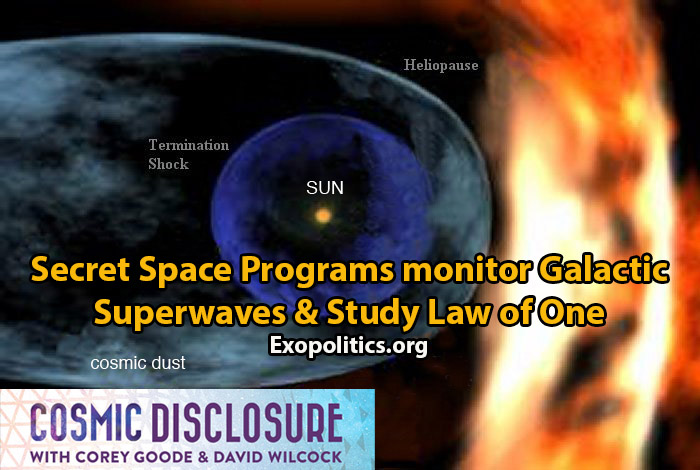 In the fifth instalment of the Cosmic Disclosure Gaia TV series, whistleblower Corey Goode reveals how secret space programs he worked with from 1987-2007 had become aware of regions of the galaxy with "superwaves" that would eventually be encountered by our solar system. It was discovered that the superwaves were made up of clouds of "vibrating energy particles" that would impact the sun, earth and humanity in ways leading to profound changes. Human consciousness itself would be directly impacted and would lead either to our rapid evolution into an advanced global society, or global self-destruction as apparently had happened in the past.
Goode says that in the late 1980's giant spheres first began appearing in our solar system that were also interested in the superwave phenomenon. These spheres remained in an observational mode until 2011 when they became operational. The spheres ranged in size from the diameter of the moon to that of Jupiter. They were strategically placed to act as "resonance buffers" of galactic superwaves so the sun, and humanity, would not be overwhelmed as our solar system progressively entered into the affected region of the galaxy.
Goode's revelation that galactic superwaves were secretly discovered and studied is stunning confirmation for the work of astrophysicist Dr Paul LaViolette who has predicted galactic superwaves eventually impacting our solar system. In his 2006 book Decoding the Message of the Pulsars, Dr LaViolette describes pulsars strategically placed in the galaxy that transmitted warnings about these superwaves that are generated out of the galactic core in cycles spanning from 10,000 to 16,000 years. LaViolette speculates that these pulsars were built by a very advanced Type III extraterrestrial civilization – one that understood how galactic superwaves operated, and their potential impact on solar systems and worlds.
A type III civilization on the Kardashev scale is one that works with galactic scale levels of energy, while a Type II civilization can do the same at a stellar level, while a Type I civilization can do similarly at a planetary level. This suggests that those responsible for the giant spheres in our solar system – the Sphere Being Alliance – are at the very least a Type III civilization.
In the rest of the Gaiam TV interview with David Wilcock, Goode described the evolution of consciousness and how the "Law of One Material" is essentially correct in affirming the underlying unity of consciousness and all life. Goode has previously revealed that the Law of One Material is required reading for a many groups in the secret space programs:
It was … a fact that certain groups in the SSP's and Secret Earth Government Syndicates (Cabal/Illuminati) were required to read the Law of One and Seth Material while trying to discredit it to the public with the many "PsyOp Channelings" (which says a lot in itself) [FAQ48].
Goode reveals that President Eisenhower did indeed meet with extraterrestrial delegations in the mid-1950s concerned about nuclear weapons development as a number of other whistleblowers have claimed. Goode goes on to describe his own personal connection to the Blue Avian beings that have been cooperating with the Secret Space Program Alliance in creating a "full disclosure event."
Goode's explanation for how humanity's co-creative consciousness is used against itself by ruling elites is well worth listening to, as well as the importance of core message delivered by the Sphere Being Alliance.
What I found most valuable in this Cosmic Disclosure episode was Goode's revelation about superwaves and how both secret space programs and the Sphere Being Alliance became aware of these decades ago. According to a July 18 statement by Goode, the giant spheres belonging to the Sphere Being Alliance have nearly completed their primary purpose and will soon leave.
This suggests that we will very soon be experiencing the full force of these superwaves that will bring out the best or worst in all humanity depending on how well prepared we are. This new episode will help the viewer appreciate the importance of taking firm steps to prepare for superwave related events that secret space programs have themselves been silently preparing for over several decades now.
© Michael E. Salla, Ph.D. Copyright Notice
Further Reading
[Note: The first two episodes of Cosmic Disclosure are available for free on the Gaia TV website. The first episode is on Youtube (see below). To watch the whole season of Cosmic Disclosure, you need to subscribe to Gaiam TV. If you subscribe using this link, then a portion of your monthly subscription will go towards supporting Corey Goode as he continues his disclosures. His website is here.]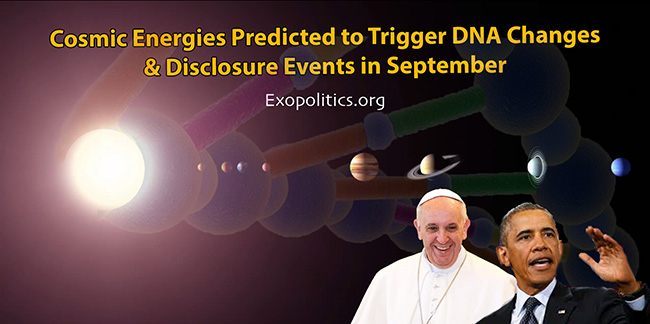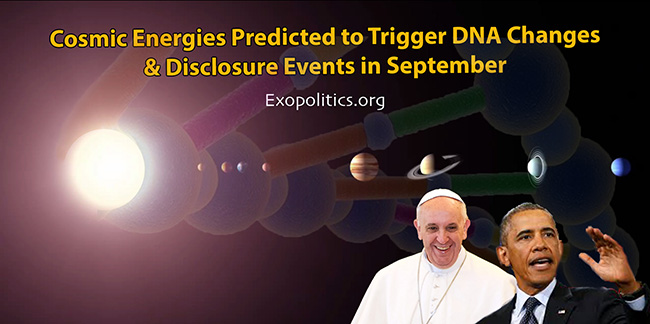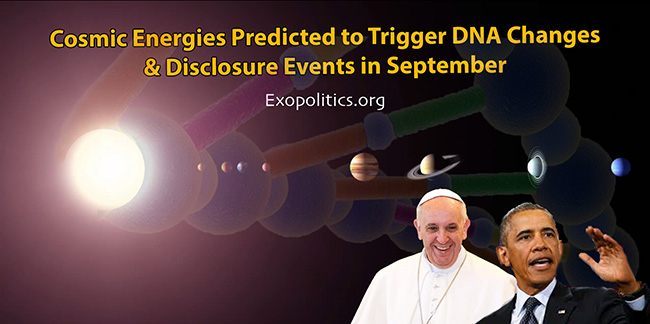 According to independent sources, the Earth is moving into a region of the galaxy that is leading to increasing cosmic energies impacting our sun and altering human DNA. It is predicted this will lead to many changes in human society including major disclosures of advanced technologies, secret space programs and extraterrestrial life.
Dr Simon Atkens is the CEO of Advanced Forecasting Corporation and has made startling predictions about incoming cosmic energies and their impact. Among them is:
… an acceleration and heightening of electromagnetic energy from the sun and other cosmic energies that will build especially from late August into late September that will cause, circa 23rd-24th September, what he describes as a 'frequency shift' in consciousness.
He refers to evolutionary changes emerging from world shaking disclosures as a result of the incoming cosmic energy he describes as a 'Wave X':
.. a "wave of evolution. What we're about to find out on a major level, unheard of in history at a mass scale is the true answer of 'Who are we?', 'Where do we come from?', and 'What is our purpose?'. The planet is going to take off in such an incredible ways."
According to Dr Atkins, the Jade Helm exercise that began on July 15 and runs to September 15, is really aimed at gaining intelligence about the effects of the incoming cosmic energies in order to better manage the changes it triggers in humanity:
Simon states that this exercise is very much connected to the frequency shift whereby the lower states where the exercises are being carried out will be experiencing a higher frequency field in July and August – the purpose being of learning from and managing the resultant effects on the population there before it heightens further in the upper states into September.
If Dr Atkins is correct, then the U.S. intelligence community is aware of the potential effects of the incoming cosmic energies and is taking steps to manage this. The U.S. intelligence community is very likely not the only global entity aware of the incoming cosmic energies that is taking steps to manage this.
Dr Atken's prediction that a frequency shift will occur in the 23-24 September time frame is very significant. This is also the time that Pope Francis will be meeting with President Obama at the White House (Sept 23) and speaking before the U.S. Congress (Sept 24). To cap it all off, Pope Francis will address a gathering of world political leaders at the UN General Assembly on Sept 25. The Vatican's own intelligence service is also very likely aware of these incoming cosmic energies. It's more than coincidental that at the same time that incoming cosmic energies are predicted to peak on the planet, that the world's most powerful religious and political leaders meet. The Vatican appears to be aware of incoming cosmic energy and the powerful transformative effect it will have on humanity, and is placing itself to ride the cosmic wave so to speak.
For a number of years now, Vatican astronomers have been at the forefront of scientific speculation about the discovery of extraterrestrial life. Astronomers such as Guy Consolmagno (a Jesuit like Pope Francis) have been preparing the way with bold statements about baptizing extraterrestrials and its compatibility with Catholic theology. Consolmagno has been working closely with the U.S. scientific establishment such as NASA and the Library of Congress where he discussed baptism of extraterrestrial life. On Oct 27, 2014, Pope Francis released a statement where he referred to "beings of the universe" (extraterrestrials) as a major part of God's evolutionary plan. If it was disclosed that extraterrestrials, rather than an all-powerful God, were the creators of humanity through advanced genetics, the Pope could now simply claim that this is part of God's plan and not a major concern for the religious community.
Another independent source is also claiming that incoming cosmic energies are having profound effects on human DNA and will trigger major disclosures. Corey Goode claims to have worked for secret space programs from 1987-2007, and more recently having been appointed as a delegate to a group of extraterrestrials called the Sphere Being Alliance. According to Goode, the Sphere Being Alliance showed up some time around 2012-2013 with huge Neptune sized spheres that formed frequency shields around the solar system and the sun. One of the major functions of these spheres was to regulate the amount of cosmic energy coming into our solar system and the Earth so humanity could better integrate it and prepare for major changes:
The Sphere Alliance has been mostly focused on the energetic changes occurring in our local star cluster because of the area of the Galaxy they are entering. They have been using the many thousands of cloaked spheres that are equidistantly spread out across our Sol System and neighboring Sol Systems (Electrically Connected in the "Cosmic Web" and Natural Portal System) to buffer and diffuse incoming tsunami waves of highly charged energy that changed the vibratory state of space/time, energy and matter to cause it to raise to a higher state in the "Density Spectrum".
Among the changes that will be triggered by incoming cosmic energies is the release of information concerning advanced technologies, secret space programs and extraterrestrial life in what Goode has described as a "full disclosure event." Goode announced on Saturday that these Neptune sized spheres are about to leave our Solar System since they have achieved their primary function:
The "Spheres" seem to nearing the end of their purpose as they are also beginning to buffer less and less of the energy thus allowing more and more to enter into the inner Sol System and directly effect the Sun, Planets and HUMAN BEINGS that are so easily put into trigger mode by these energies. At some point the Spheres will be gone and we will fully be considered a 4/5th Density Transition Civilization. There are of course quite a few other EVENTS that will be occurring before this last EVENT leaves us standing on our own finally.
Goode has not given any specific dates for these events and claims that it is due to the collective consciousness of humanity to manifest how the changes will play out.   Yet his claim that cosmic energies are peaking and that the "Spheres" are buffering these less and less supports Atkin's startling prediction. All this suggests that late September may well be a time where a cosmic energy spike causes significant changes in human physiology, thereby triggering disclosure events coinciding with the Papal U.S. visit. Any disclosure events concerning secret space programs and extraterrestrial life will be revolutionary, and thrust all humanity forward to become citizens of a galactic community.
 © Michael E. Salla, Ph.D. Copyright Notice
Further Reading
[Note: A Resource Page listing interviews, articles and more reports about Corey Goode's testimony is available here].