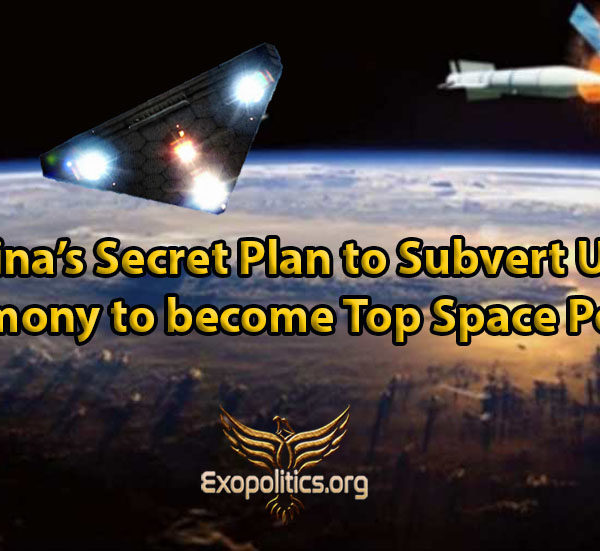 China is painstakingly implementing a 100-year strategic plan aimed at overtaking the United States as the world's dominant superpower or hegemon by 2049 according to Michael Pillsbury's authoritative 2015 national best seller, The Hundred Year Marathon. Pillsbury's keen insights not only provide a foundation for understanding how China plans to supplant the US, but how it is covertly responding to the existence of secret space programs developed by the US military industrial complex, and what China plans to do in response in order to achieve dominance both on Earth and in space.
Pillsbury is a China expert who has worked with the US Department of Defense, State Department, and Congress for over four decades, since 1975. A fluent Mandarin speaker, he has had unrivaled access to top Chinese military and political leaders during his professional career and is very familiar with the policies and plans of China's ruling Communist Party elite, especially the military hawks who exert great influence behind the scenes. Currently, Pillsbury is a top advisor to President Donald Trump on US-China relations.
Pillsbury begins his highly detailed book by describing how top Chinese leaders cunningly use the historical period of the Warring States (475-221 BC) to develop their strategic planning for engaging with the US. In short, the Warring States period was a time when up to seven ethnic Chinese kingdoms competed amongst themselves for hegemony and dominance over their rivals.
Pillsbury explains how a ruling hegemon (the US in contemporary times) would be undermined by an aspiring hegemon (China), by means of stealth, cunning, and deception as practiced by different kingdoms during the Warring States period. He cogently explains how such goals require long term thinking by China as the aspiring hegemon that lacks the political and military power to directly confront the ruling US hegemon until it has been sufficiently weakened by internal and external strife.
Chinese military and political leaders began their 100-year marathon in 1949, Pillsbury explains, after the victory of the Communist Party and the establishment of the People's Republic of China. Initially, China relied on the Soviet Union to help it industrialize and to modernize its vast military. After their political falling out in the 1960's and military clashes along their shared borders, China's Communist Party began secret overtures to the West.
It was Chairman Mao who covertly reached out to President Nixon, Pillsbury points out, and not the other way around as many erroneously believe. Initial relations between China and the US were genuinely positive since both had much to fear from the Soviet Union. All that changed with the 1989 Tiananmen Square protests and the collapse of the Soviet Union in 1991.
Chinese school textbooks changed dramatically. Previously positive descriptions of US history and democratic ideals, which had been extensively cited by Chinese students at the Tiananmen protests, were now overwhelmingly negative. Future generations of Chinese students were indoctrinated to believe that the US has been humiliating and abusing China since the mid-1800s.
Previously positive descriptions of President Lincoln (1861-1865), for example, were now overwhelmingly negative. Pillsbury explained how Chinese students came to be taught the ridiculous proposition that Lincoln was busy undermining China's sovereignty, during the US Civil War. Essentially, China's Communist Party was ensuring that there would be no repeat of the Tiananmen Square protest were the youth were citing positive US democratic ideals and personalities, which had been deeply embarrassing to Party elders.    
Pillsbury then explains how China opened its doors to western industries and economic innovation as part of its modernization effort. Using strategies taken directly from the Warring States period, the Communist Party feigned openness to democratic political ideals, while ruthlessly clamping down on ethnic minorities and political dissidents, and blocking genuine democratic reforms.
The goal was to lure Western nations into a false sense of complacency where the common assumption was that China would inevitably change in the future as its huge economy opened to Western influence. Pillsbury emphasized that such future democratic changes were a chimera since the Chinese military and political elite were driven not by Western ideals, but by their understanding of what history revealed about how an aspiring hegemon needed first to undermine and then supplant a ruling hegemon.
He points out that China had no intention of helping the US and its allies establish a stable world order, but instead aimed at undermining it so as to usher in a world order where China would be the dominant power.
Pillsbury provides many examples of how China has assisted various rogue states and groups around the world, such as Afghanistan's Taliban. Just as the U.S. secretly used extremist groups to weaken the Soviet Union during the Cold War, now China was covertly doing the same through economic development and arms supplies to nations that challenged US policies.
As far as economic development is concerned, Pillsbury explains how China is at the forefront of industrial espionage, counterfeiting efforts, theft of intellectual property, hacking and other unscrupulous practices. The goal is to help China's state-owned enterprises (which numbered over 140,000 companies in 2011), cheat, steal, manipulate, and outmaneuver Western companies that establish a commercial presence in mainland China.
When it comes to outer space, Pillsbury explains how China has been using these unscrupulous practices to develop its own conventional space program, with the goal of projecting a military presence into space. While the Trump administration is in the midst of creating of Space Force as the sixth branch of the US military, China has had an "Aerospace Force" up and running since 2014.
China's Aerospace Force was created as the fifth branch of Peoples Liberation Army (PLA) as explained in an article titled "China's Military Creates New Space Force" published in The Diplomat by Zachary Keck on September 10, 2014. A speech by President Xi was summarized by a Chinese space expert cited by Keck as a clear endorsement of Chinese militarization of space in response to US and other nations already having done so:
The United States has paid considerable attention and resources to the integration of capabilities in both air and space, and other powers have also moved progressively toward space militarization… Though China has stated that it sticks to the peaceful use of space, we must make sure that we have the ability to cope with others' operations in space.
The problem is that Pillsbury, and the US public more generally, is largely unaware of the extent of the US military's true presence in outer space, and mistakenly assume that Space Force will be the official start of US militarization of space. However, as I have extensively documented in my Secret Space Program Book series, both the US Air Force and the US Navy have independent secret space programs that have projected their respective military power deep into space.
These two parallel US military-run space programs have been in operation since the 1970s, while the general public was hoodwinked into believing that the only US presence in space was through NASA's civilian-run space program.
China, however, is well aware of the truth behind covert US military space operations once it began sending satellites into Earth orbit in the 1970s. China's growing space surveillance capacities allowed it to track US military space operations, especially the construction of secret military space stations operated by the USAF and the National Reconnaissance Office (NRO).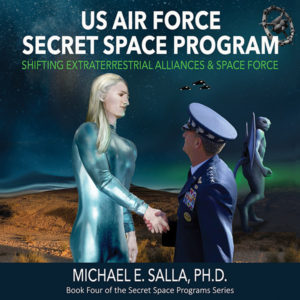 In Book Four of my series, the USAF Secret Space Program, I discuss 825 declassified NRO documents that show how the USAF and NRO used the allegedly discontinued Manned Orbiting Laboratory project as the cover for sending laboratory modules into space that could be configured to establish Von Braun type space stations, i.e., modules assembled into a circular configuration.
These secret USAF/NRO space stations provide ideal weapons platforms capable of extending US military force all over the planet from the high ground of space. China, like other major nations with satellite surveillance capacities, is well aware of the USAF/NRO space stations and their potential military capabilities.
China insists that it is only attempting to match the US militarization of space, but given the gap between the development of the US military's presence in space, and China's more recent efforts, it will take China many years to catch up. This is why Pillsbury's book is important since it outlines the unscrupulous practices China is willing to adopt in order to bridge the gap in space technologies.
For example, the real scandal behind the hacking of the Hillary Clinton email servers during her tenure as Secretary of State (2009-2013), is the role played by China,  and the likelihood that it was all part of an elaborate pay-to-play scheme to leak classified space technologies. As I have written previously, Clinton had security access to Talent Keyhole space technologies classified within Special Access Programs (SAPs) and discussed these in emails stored on her servers.
This was corroborated by no less than the Inspector General for the US Intelligence Community who identified the various security levels of emails stored on Clinton's hacked servers:
To date, I have received two sworn declarations from one [intelligence community] element. These declarations cover several dozen emails containing classified information determined by the IC element to be at the CONFIDENTIAL, SECRET, and TOP SECRET/SAP levels. According to the declarant, these documents contain information derived from classified IC element sources.
According to the anonymous military intelligence group  QAnon, Clinton was indeed involved in a pay-to-play scheme with China to leak advanced technology secrets.
Conclusion
Pillsbury's conclusions dictate the different steps the US needs to take to stop China from achieving its goals and appear very sensible given what he has outlined. His influence can be seen in President Trump's increasingly tough policies on China, which have ushered in a new era in US-China relations.
Despite the incisive analysis provided by Pillsbury, there are a number of deficiencies in his book which largely reflect a conventional world view that nation-state behaviors are driven by public officials nominally in charge of major political, military and economic institutions.
Pillsbury shows no understanding or recognition of the existence of a Deep State and how it manipulates public officials to pass policies that promote a hidden agenda. A good example is how President Trump's first two years in office were hamstrung by Russia collusion claims that poisoned prospects of Trump and Putin collaborating to solve major world problems. The Deep State had no intention of the US and Russia collaborating on the world scene and used compromised public officials to promote a false narrative that was aided and abetted by the mainstream media.
Most disturbing is growing evidence that the Deep State is actively assisting China in its covert efforts to lie, steal and cheat its way to technological parity with the US both on Earth and in outer space. It's no accident that Clinton and other leading US politicians such as Joe Biden and Diane Feinstein have been accused of helping China gain access to sensitive technologies, which is precisely what the Deep State wants as QAnon has been revealing for well over a year.
Is it a good or bad thing if China continues to use unscrupulous practices to catch up to what the US military has secretly developed and deployed in space? From a Chinese national security perspective, it is entirely understandable why China is doing whatever it can to bridge a technological gap in outer space since this gap makes China vulnerable to US political and military pressure.
From the US national security perspective, China is a totalitarian communist state that is profiting from the West's naivety in opening their economies in the forlorn hope that China will usher in democratic reforms. The danger is that as China grows into the world's largest economy, it will use its economic clout to prop up repressive political systems that will be natural allies to its one-party totalitarian system.
China's totalitarian system is something that the Deep State desperately wants to expand onto the world stage since a concentration of political power will be far easier to infiltrate and take over than democratic political systems with their complex system of checks and balances,  as exemplified in the US.
That is why the Deep State is currently helping China bridge the technology gap with the US, and helping them develop a secret space program that rivals what the US Air Force and Navy have secretly developed. Space is where the real battle between the ruling hegemon (US) and the aspiring hegemon (China) will be determined, and where China's plans to supplant the US as the ruling hegemon will be ultimately resolved.
© Michael E. Salla, Ph.D. Copyright Notice
Further Reading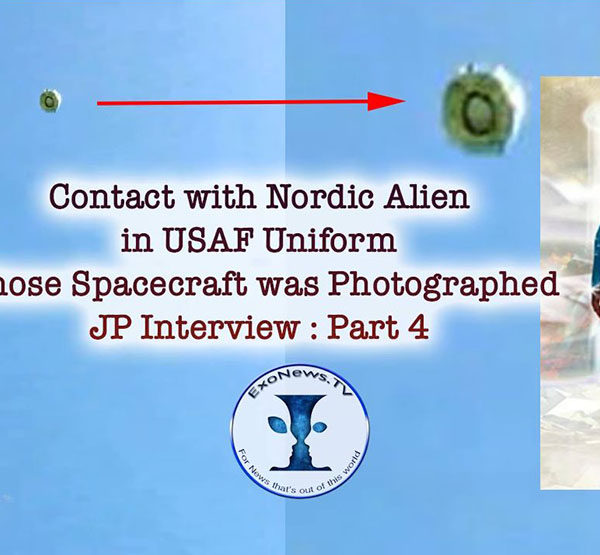 In the final installment of this four part interview series we discuss photos JP took of spacecraft belonging to human looking "Nordic" extraterrestrials over MacDill AFB, Tampa, and also near his new home in Orlando, Florida. He describes an encounter he had with a Nordic in a USAF uniform who says they are helping the Air Force with advanced technology projects. JP described the Nordic's uniform and a distinct patch he wore, before taking photos of the departing craft.
For Part 3 go to: https://youtu.be/6NZgP3ClR0Y
For Part 2 go to: https://youtu.be/LQjU_5FTPq8
For Part 1 go to: https://youtu.be/_6-fz6uRW3c
To learn more about JP and the photos he has taken of antigravity craft go to: http://exopolitics.org/jp-articles-photos-videos/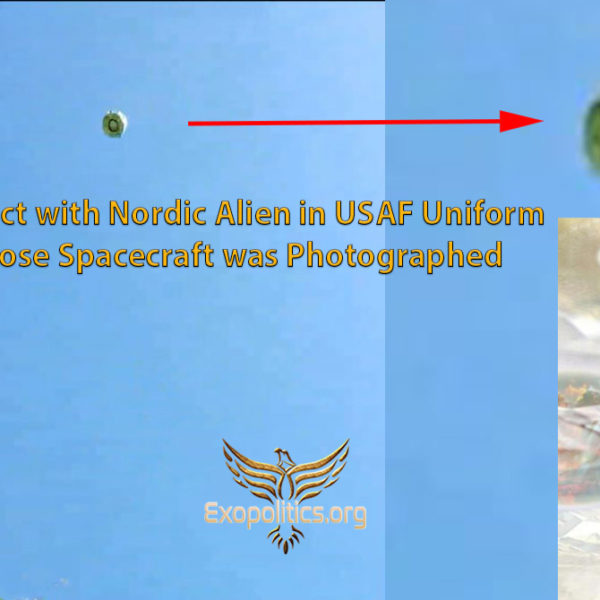 On May 24, my anonymous source, JP, who has provided dozens of photos of different types of craft belonging to a United States Air Force (USAF) secret space program says he encountered a human looking "Nordic" extraterrestrial. He claims the Nordic was wearing a USAF uniform and invited him to go for a ride in a landed saucer-shaped craft in a secluded wooded area of Orlando, Florida.
JP declined the offer but took photos of the spacecraft after it departed (attached below).  His recollection of the conversation with the Nordic reveals that they are directly cooperating with the USAF and abiding by the terms of an agreement concerning their interaction with the general public.
What follows is the Skype conversation I had with JP along with some commentary. I have created a page where earlier articles and videos featuring his photos, along with originals, can be found for independent analysis.
The conversation began at 10:32 Eastern Daylight Time. I have removed grammatical errors and added extra text in square brackets to clarify what JP is saying:
JP: 9am. Nice contact today.
Michael Salla: What happened?
JP: I went Into the Woods. I was hearing a ringing in my ear. I'm thinking it was like a calling. Like I got from the last Contact. I met up with this man. Wearing a United States Air Force suit. Dark blue. His face was different. Possibly a Nordic.
JP: Light blue eyes, blond hair, wearing a United States Air Force Jumpsuit. He was really kind. He said a lot of these craft are going to be seen all over. He invited me to go to the craft. I said no. Yes [he asked] me again if I was sure….  
JP: I told him that we're gonna start needing video evidence. He told me [that] because [of] a deal they have with the United States and other countries, they can't.
This is consistent with what contactees such as George Adamski, Howard Menger and others have said about human looking extraterrestrials they each helped blend into local communities to evade recognition by the general public, and even national authorities.
It's worth noting that the current Russian Prime Minister, Dimitry Medvedev, revealed in December 2012 that when he became President, he was given a highly classified file about how Russian and global authorities register and track extraterrestrials secretly living among the human population.
This all suggests that secret agreements have indeed been reached between public authorities and Nordic extraterrestrials, where any kind of video recording of their existence is not allowed by those they contacted.
I return now to my skype conversation with JP where I queried him on his decision not to accept the Nordic offer to go into his craft:
Michael Salla: Surprised you said no. Did you get a bad feeling at any point?
JP: No, I actually felt happiness, but I was kind of mad because of not getting video.
Michael Salla: Hmmm, would you have been allowed to take photos?
JP: He told me. This kind of ship gonna be seen all over. After he talked to me. He touched me. I had a Flash that I was inside the ship. Floating around. It was a split second. Then he told me you're back.
Here, JP is suggesting that the "Nordic" had arranged for him to view the interior of the craft without physically going inside. Perhaps astral projection or some other kind of non-physical encounter had occurred.
JP then goes on to ask about the cooperation between the Nordics and the USAF:
JP: I ask him what's going on with you guys and the United States Air Force. He told me that they're working on a big project together. A couple of projects in the Gulf of Mexico Involving a couple of MacDill Air Force personnel.
Michael Salla: Why was he wearing a US Air Force uniform?
JP: All these sonic booms are part of the project that they're doing
Michael Salla: Did it have the USAF Special Operations patch?
In earlier incidents, JP has described being taken on board rectangle shaped spacecraft where he saw occupants in USAF uniforms with the patch of Air Force Special Operations. The incidents occurred next to MacDill Air Force Base, home of US Special Operations Command.
JP said the patch worn by the Nordic was different and contained symbols of a star and crescent.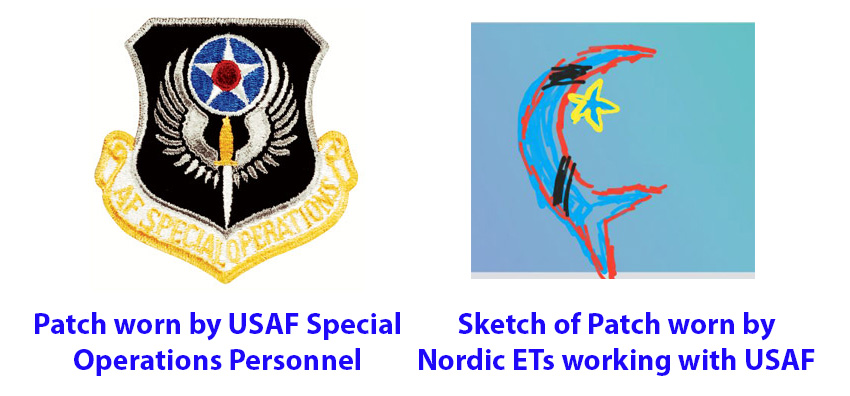 He later explained to me that the uniform itself featured the acronym, USAF, with the acronym also spelled out in a foreign language he did not immediately recognize, but after he did some internet research he found it appeared to be ancient Sumerian. Apparently, this enabled the Nordic to walk undisturbed inside USAF bases:
JP: Another type of space insignia.
Michael Salla: What made you think it was a USAF uniform and not a Nordic uniform?
JP: To camouflage [himself] in the [USAF] base when they're walking. It [the patch] had United States Air Force.
Michael Salla: Did he tell you he walks around on USAF bases, MacDill?
JP: … Yes, in other bases around the world
Michael Salla: That makes sense. Did he say how long his group has been working with the USAF in joint projects? When did it start?
JP: We never got far in that conversation. I'm thinking a long time Michael. When he left… I ran to my truck.
Michael Salla: Was the conversation done in English or telepathically?
JP: English. European type. Like people talk in England. The perfect English. Not American.
Michael Salla: Were you able to take any photos?
JP: Yes.
JP said that he was able to take photos of the craft once it took off, but not while it was on the ground. The original photos of the departing craft are located below. The following video contains all the photos he sent, along with zooms of two of the photos.
JP says that while the craft was on the ground, he was about 25 meters from it, but his cell phone didn't work. He estimated the size of the craft to be about 20 meters in diameter, and it had three window panes which he could see through.
I next asked JP about what the Nordic had told him of the cooperation with the USAF:
Michael Salla: What kind of projects were the Nordics working on with the USAF?
JP: Training how to maneuver the ships. Invasive maneuvers all around United States, in Europe, in  Middle East, Russia, Asia.
Michael Salla: The Nordics were teaching the USAF invasive maneuvers? Can you explain more?
JP How another craft chasing another craft. Is not the same as a jet chasing a jet.
Michael Salla: Were the Nordics sharing technology with the USAF or just know how?
JP: The United States Air Force has the technology but does not know how to correctly use it. Is [like] the comparison of dropping a smartphone to an Indian in the Amazon. The Indian would not know how to charge [the] phone, will not know how to search through …
So basically they're teaching the technology the physics.  When to use the weapons because the weapons sometimes affect the ability of the craft when it's flying.
The weapon that the craft has is a pulsing weapon energy superheated.  Beams of light Radioactive, how to interact with thunderstorms to conserve and gain energy.
It's worth pointing out here that based on the testimonies of William Tompkins, Corey Goode and many others, that the US military industrial complex needed to work with German scientists after World War II, to learn about the technology of crashed extraterrestrial spacecraft that had been recovered from Roswell and elsewhere. I discuss this in detail in my latest book, Antarctica's Hidden History: Corporate Foundations of Secret Space Programs. 
Based on JP's testimony, the USAF in particular is still in need of assistance to understand Nordic extraterrestrial technology, which is more advanced than the recovered spacecraft belonging to small Gray extraterrestrials whose bodies have often been found  inside the crashed vehicles.
It's worth noting that in previous incidents involving his sightings of USAF aerospace vehicles and Nordic spacecraft, he has been prompted by covert operatives to look in the direction of the craft. This suggests that he is part of a sanctioned disclosure initiative where he is being helped in revealing the existence of an Air Force Secret space program, and their alliance with a human looking group of Nordic extraterrestrials.
JP has said on previous occasions that he has been told that he is not allowed to take videos of the craft, but that photos are OK. He says that when he tries to take videos of the spacecraft he is witnessing, his cell phone stops operating.
I have known JP since 2008 and believe he is accurately revealing events as they have occurred. The photographs provide hard evidence that the incredible events he has witnessed are genuine.
| | | |
| --- | --- | --- |
| | | |
| Image 2 in sequence | Image 3 in sequence | Image 5 in sequence |
Michael Salla, Ph.D. Copyright Notice 
Further Reading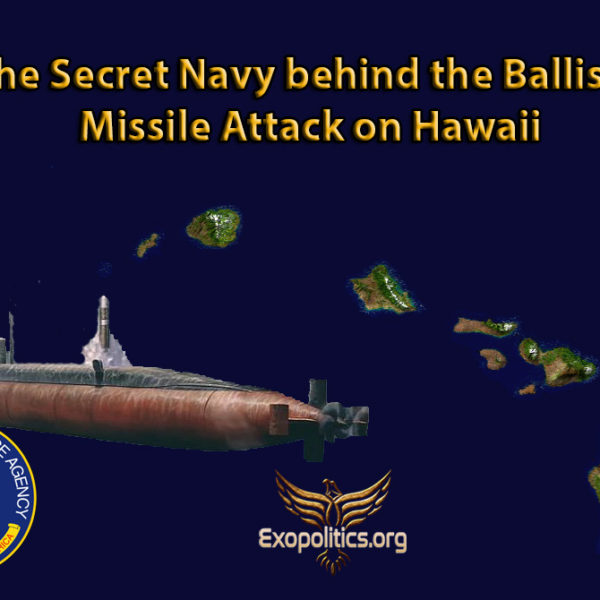 As information continues to emerge confirming that there was a ballistic missile attack against Hawaii that was intercepted on January 13, the investigation begins to shift from what happened, to who was responsible. In this article, I analyze various sources describing the attack, and identify the mysterious naval force that was most likely responsible for launching the ballistic missile, which presumably was nuclear armed.
In my January 17 article, I listed three alternative news sites referring to sources that all said that a ballistic missile was launched against Hawaii by a stealth submarine. The alternative news sources were radio host Dr. Dave Janda, Operation Disclosure (RV/Intelligence Alert), and the Public Intelligence Blog. The Operation Disclosure and Public Intelligence blog sites point to an Israeli submarine as responsible, while Dr. Janda said it was a submarine belonging to a rogue Chinese Navy faction.
Further corroboration for the ballistic missile attack explanation comes from former Forbes Magazine writer, Benjamin Fulford, who says that according to his insider sources, there was a submarine based attack:
One sign of this extreme tension came last week when "a missile from a cabal submarine was stopped from hitting Hawaii and the submarine was sunk," Pentagon sources say.  Media outlets around the world have reported that Hawaiian residents all received the following warning on their mobile phones:  "BALLISTIC MISSILE THREAT INBOUND TO HAWAII, SEEK IMMEDIATE SHELTER, THIS IS NOT A DRILL," but later this was reported to be a false alarm.  It was not—it was an attempt by "the cabal" to blame the attack on North Korea and use it as a trigger for their long-desired World War III, CIA sources say.
Both Fulford and the Public Intelligence claim that the ballistic missile was intended to simulate a North Korean attack suggesting the responsible submarine was in the vicinity of North Korea, either in the Sea of Japan or off the Japanese coastline.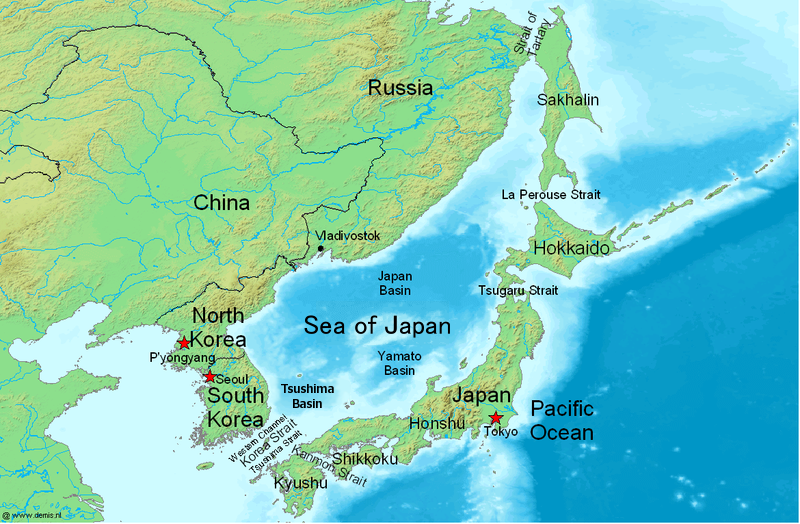 In determining the type of missile attack against Hawaii, yet another source refers to a Hawaii tourist boat about 100 miles out at sea that saw what appeared to be a meteorite exploding in the air shortly before the Hawaii Emergency alert went out Saturday morning, January 13. The additional source appeared as an update to the original Public Intelligence blogsite article about the Hawaii missile attack:
Word here in Hawaii is that a group of tourists and tour guides were on a boat 100 miles off shore Saturday morning around 8 AM when they witnessed what they thought to be a meteor blowing up over the ocean. It was reported on Hawaiian channel 2 but then removed from their website. Rumor is the launch came from an Israel Dolphin 2 submarine. Some college basketball games had a red alert across the screen from US Pacific Command declaring a missile launch in the Pacific near Hawaii.

This additional Hawaii source is vital in understanding what happened since it reveals that the missile was coming down from the upper atmosphere following a ballistic trajectory similar to a meteor. This helps confirm that a ballistic missile was involved rather than another type of nuclear delivery system such as a cruise missile which fly much closer to ground and have a far more limited range.
Of the sources cited so far, aside from Dr. Janda, all believe a faction of the Israeli Navy was behind the attack using a dolphin class submarine supplied by Germany. The USS Liberty attack during the 1967 Arab Israeli war is often cited as an example of Israel launching a false flag attack against the U.S. to embroil it in wars against Israel's regional enemies.
In a private email received on January 19, former CIA covert operative and Marine Intelligence Officer, Robert David Steele, says that the attack was a "Zionist submarine doing a USS Liberty on Hawaii".
In considering the possibility of a rogue Israeli submarine being responsible, it's important to review the armaments possessed by the class of submarines belonging to the Israeli Navy. In a news story describing Israel's possession of Dolphin class submarines purchased from Germany, its armaments are described as follows:
The Dolphin boats are equipped with six 533mm standard torpedo tubes and four 650mm jumbo tubes and can carry 16 weapons. The smaller tubes can fire torpedoes and Harpoon anti-ship missiles as well as other conventional weaponry, but its larger tubes are what makes the Dolphin class so special. From them, frogmen, remotely operated vehicles and especially large cruise missiles capable of carrying nuclear payloads can be deployed.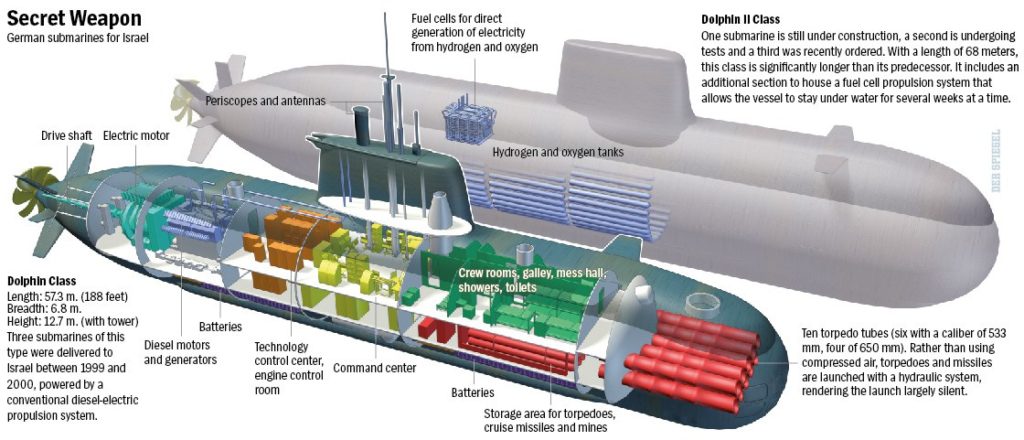 Israel's Dolphin Class submarines can carry cruise missiles which are well suited for Middle East operations, rather than ballistic missiles which are better suited for long distance targets thousands of miles away. Ballistic missiles require much larger "boomer submarines" to launch them, rather than the smaller Dolphin class submarines possessed by Israel.
The Dolphin 2 submarine is 69 meters (225 feet) in length, which is less than half the size of the Ohio class boomer submarines (170 meters/560 feet long) used by the US Navy to carry Trident ballistic nuclear missiles. Sea Launched Ballistic Missiles need vertical missile tubes as opposed to the more traditional horizontal torpedo tubes used for Sea Launched Cruise Missiles located at the front of the smaller Dolphin class submarine.


Consequently, it's unlikely that a renegade faction of the Israeli Navy launched the ballistic missile attack since their Dolphin class submarines simply don't have the capacity.
Furthermore, it's hard to imagine how a U.S. war against North Korea and/or China would advance Israel's national security interests, which are far more concerned about threats posed by major regional rivals such as Iran.
Dr. Janda describes a rogue faction of the Chinese Navy being responsible, and that after the missile had been intercepted and destroyed by the US. Missile defense system, the regular Chinese Navy destroyed the submarine.
This explanation is perhaps the scariest to consider since the US national security apparatus would almost certainly hold China responsible for such an attack despite any genuine factional divisions within the Chinese Navy.
The immediate U.S. response would have been, at the very least, a direct retaliatory nuclear attack against China's main regional ally North Korea, which would have been scapegoated for a Hawaii attack. After destroying North Korea's military infrastructure, the country would have then been subsequently overrun and occupied by the U.S. Military and its South Korean ally in an analogous way to Afghanistan after the 9/11 attack. 
China's strategic interests would have been severely setback in such a scenario. It's hard to imagine any Chinese military commander, rogue Navy faction or not, would risk a nuclear retaliatory strike by the U.S. that would set back China's steady emergence into a global superpower over the next decade or so. Patience is a characteristic that China's political leaders possess in abundance.
Consequently, I find it unlikely that a rogue faction of the Chinese Navy was behind the ballistic missile attack.
So who then launched the attack against Hawaii?
For an answer we need to consider legendary Hawaii Senator Daniel Inouye who in 1987 described the existence of a shadowy government within the U.S. with its own separate military assets.
There exists a shadowy Government with its own Air Force, its own Navy, its own fundraising mechanism, and the ability to pursue its own ideas of the national interest, free from all checks and balances, and free from the law itself.

Inouye was clearly convinced of a very highly classified U.S. agency that had the independent funding and wherewithal to develop its own Air Force and Navy outside the regular chain of military command.
In contrast to the assets of the regular U.S. Air Force and Navy, this covert fleet of ships and aircraft would be "dark", in terms of its security classification. It would therefore be appropriate to call it the "Dark Fleet" which is what secret space program insider Corey Goode says it is called by the U.S. military according to his confidential sources [Skype Communication Jan 18). He says that it is separate to another "Dark Fleet" which is a Secret Space Program that operates in Deep Space.
I need to point out that in 2017, I personally met some of Goode's confidential Earth Alliance sources. They provided many documents to prove they are deeply connected to NATO security operations and the European intelligence community. They have continued to provide Goode intelligence information since they consider him to be a genuine extraterrestrial contactee, and asset of a Secret Space Program Alliance known to exist by NATO officials.
What U.S. Government agency would have the ability to raise its own "Dark Fleet" outside the regular chain of military command and Presidential executive authority? The only U.S. agency capable of doing so is the Central Intelligence Agency (CIA). More specifically, we are talking about the CIA's Directorate of Operations (formally Clandestine Service) which runs all its global covert operations, where a Dark Fleet would have been developed to meet operational requirements.
The 1949 CIA Act comprised additions to those sections of the 1947 National Security Act that dealt with the creation of CIA. The 1949 CIA Act gave a Congressional stamp of approval to the creation of a 'black budget' it could spend without recourse to U.S. law as the following section make clear:
… any other Government agency is authorized to transfer to or receive from the Agency such sums without regard to any provisions of law limiting or prohibiting transfers between appropriations [emphasis added]. Sums transferred to the Agency in accordance with this paragraph may be expended for the purposes and under the authority of sections 403a to 403s of this title without regard to limitations of appropriations from which transferred. [50 U.S.C. 403f(a)]
Essentially, this gave the CIA the power to generate large amounts of money through covert means and launder it however it wished through the Pentagon and the U.S. bureaucracy. The funding was used for an unofficial "black budget" that by 2001 was estimated to be as high as $1.7 trillion annually.
In addition to having the financial means, the CIA has long been developing its own covert Air Force. This began in the mid-1950's when the CIA established Area 51, as the location to develop future fleets of spy planes with the aid of companies such as Lockheed, which today is the world's largest defense contractor.

In the 1960's the CIA began training personnel to develop skills necessary to operate its spy planes on U.S. aircraft carriers. CIA documents confirm that the U.S. Navy was training the CIA on how to operate spy planes on their carriers:
The above document went on to discuss how Kelly Johnson, Director of Lockheed's Skunkworks, helped the CIA launch its U-2 spy plane from the USS Kitty Hawk

Another CIA document shows the Navy's reluctance to allow the CIA to use its aircraft carriers to carry spy planes in trouble spots like the Mediterranean, thereby creating the operational necessity for the CIA to eventually acquire its own aircraft carrier to carry fleets of spy planes around the world.

These official CIA documents support the conclusion that by the 1970's the CIA's Directorate of Operations had its own squadrons of spy planes, and would have acquired its own aircraft carrier out of operational necessity that it could operate anywhere around the world without any kind of government oversight.
As far as the CIA having its own submarines, a Washington Times article from January 3, 1985 shows that two ballistic missile submarines, USS John Marshall and Sam Houston were handed over to a 2000 man Special Operations Force.

It can be guaranteed that the CIA's Directorate of Operations would have similarly justified the acquisition of ballistic missile capable submarines for its own covert operations around the world.
With the CIA's role in generating multiple black budgets, it could easily have diverted some of these funds to defense contractors for building ballistic missile capable submarines for exclusive use in clandestine operations. It's worth noting that Lockheed Martin builds the Trident II ballistic missiles for the Ohio class submarines currently possessed for by U.S. Navy.
As noted earlier, the CIA and Lockheed have developed a long and close relationship since their joint efforts to develop Area 51 for spy planes and other advanced technologies in the 1950's. Therefore it is very possible that the CIA's Dark Fleet possesses Trident II ballistic nuclear missiles developed by Lockheed Martin.
Consequently, Inouye's claims of a shadowy government possessing its own Air Force and Navy is very feasible given what we know about the CIA's history, and official documents showing its military assets, training and close relationship with defense contractors such as Lockheed Martin.
The CIA had the independent funding to create squadrons of spy planes that could operate from an aircraft carrier with the necessary support craft that altogether constituted a CIA controlled aircraft carrier battle group that included nuclear submarines.
So was the CIA's Dark Fleet behind the ballistic missile attack on Hawaii? I put this question to Corey Goode and he responded:
Yes, They DO have an Air Craft Carrier and destroyers and support vessels, a whole fleet….This stuff has been a part of recent briefings in the form of informed speculation as to what occurred in Hawaii/Japan. All are pretty convinced that rogue CIA sub fired missiles and MIC SSP [USAF/NRO/DIA Secret Space Program] took the missiles out. We are all waiting for specifics and confirmation but these are "read in" General/Colonel types doing the speculating.[Skype Communication 1/19/18)
The CIA's Directorate of Operations has long been the primary asset of what Inouye called the Shadow Government, but today is referred to as the "Deep State". Due to President Trump's December 21, 2017, Executive Order freezing the financial assets of all involved in human rights abuses and corruption,  Trump was not only declaring war against U.S. global elites involved, but also against the funding sources for the CIA's covert operations.
The CIA's black budget is made possible by human rights abuses and corruption around the planet that provides almost unlimited funds for its covert operations, including its Dark Fleet. Consequently, the CIA's Dark Fleet had the means, motive and opportunity to attack Hawaii with a ballistic nuclear missile that would embroil the Trump administration in a major regional war with North Korea and possibly China.
Significantly, on January 16, Japan's major public broadcaster also warned the public about an incoming ballistic missile attack. Once again, a false alarm was issued shortly after by government authorities.
It's quite possible that the same submarine responsible for the Hawaii attack, launched another missile attack, this time against Japan, presumably Tokyo. It was also brought down, probably by the same defense forces that tracked and destroyed the Hawaii bound missile. Again, the purpose would have been to simulate a North Korean attack thereby triggering a major regional war.
Such a war would distract the Trump administration and U.S. military from going after Deep State assets, and tie down the U.S. in a serious regional confrontation. Thankfully, the U.S. Navy and Air Force, along with the USAF run secret space program, were able to neutralize the attacks on Hawaii and Japan.
The multiple sources and documents cited above lead to a remarkable conclusion. A CIA created secret Navy launched ballistic missile attacks against Hawaii and Japan using a Dark Fleet created in the 1970's to support covert operations around the world.
Consequently, neutralizing the "Dark Fleet" and reigning in the CIA's Directorate of Operations must become a high priority goal for the Trump Administration and the Pentagon. A major step in doing so is for the truth to be officially released about ballistic missile attacks against Hawaii and Japan.

© Michael E. Salla, Ph.D. Copyright Notice
[Note: My thanks to Corey Goode for reading an earlier draft of this article and his helpful suggestions.]
Further Reading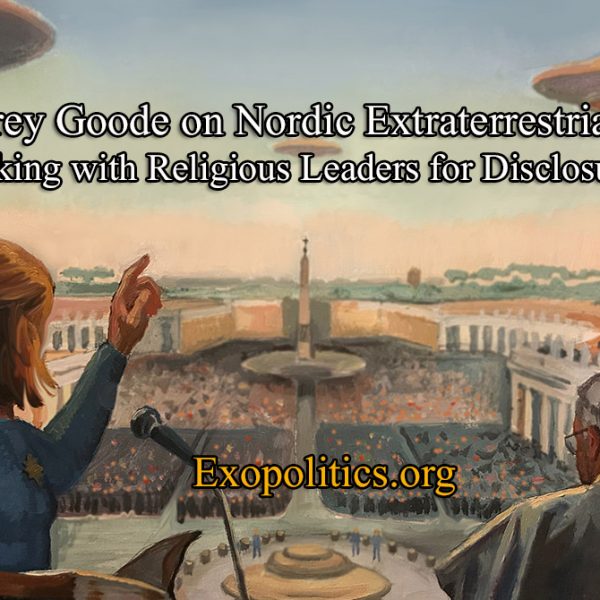 The following answers were received from Corey Goode on June 26 in response to questions I sent to him about information he shared recently in an article about the Vatican being involved in an extraterrestrial disclosure initiative. In his responses, he provides further details about what he has been told by multiple sources about ongoing events involving the Vatican, Nordic extraterrestrials and a US Air Force run secret space program.
For those still questioning the credibility of Goode and his disclosures, I recommend an article published on June 11 where documents and professional references are provided that prove two prominent UFO investigators were conducting a hoax investigation into Goode. The investigators clearly attempted to tarnish Goode's credibility by saying his former career as a well-respected and highly paid Information Technology consultant was wholly contrived, and therefore he is a "pathological liar".
I have to date communicated with three Information Technology experts who have corroborated Goode's professional IT background, and they added that he continues to be highly regarded. In all, five IT professionals have vouched for Goode, four of whom have provided recommendations listed in Goode's LinkedIn account. What this information clearly shows is that Goode was indeed a highly respected IT professional before going public in 2014 with his extraordinary whistleblower claims.
This does not prove any of Goode's remarkable statements about secret space programs, but it does establish his credibility as a whistleblower whose information deserves serious scrutiny. Since coming forward, irreparable damage has been done to his prospects of working in the IT industry again. What follows adds important information about the role of the Vatican and the U.S. Air Force in impending disclosure initiatives involving Nordic (human looking) extraterrestrials.
Questions and Responses
Q1. Can you explain who told you about a group of extraterrestrials working with the Vatican and other religious leaders about alien disclosure?
I had heard this info in various forms for at least the last 6 months. I think I first heard it from Gonzales. Most recently "Sigmund" and his 2 Airmen Escorts have mentioned it as well. On June 15th, while discussing a number of topics Ka Aree mentioned it in the same conversation of the M.[Muhammad] Accords now being ignored by up to 4 Non-Human Groups.
Q2. What do you know of the Nordic extraterrestrials working with the religious community and why does Ka Aree consider them "brothers and sisters in the Confederation?
Ka Aree stated that the Nordics have worked with Humanity for a very long time. They have mostly worked quietly in the background, but do pop up in historical documents referenced as "Angels". They would directly interact with certain groups within the Military and Government (including the founding fathers of the United States) as well as with various religious leaders. They have been heavily involved in developing Humanity in a number of ways.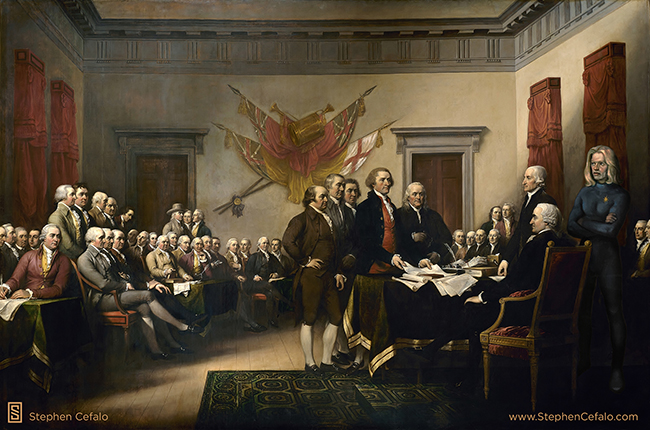 First they (& other races) began to manipulate our DNA to assist in the ability to use speech and to have higher cognitive abilities. Then they developed civilization and base religions with humanity. During this time, Humanity began another important stage of our evolution. The Industrial and Technological Booms were assisted by a number of races including the Nordics. From the beginning these groups were manicuring our consciousness through belief systems and religions.
New belief systems and religions have been crafted by these groups (the Nordics in particular) up until the present day. In fact, The Airforce General we call "Sigmund" had just completed a report prior to his disappearance. In the report he concluded that the experiences I am having are all created and controlled by the Nordics. Further, his report stated that he and his superiors were convinced that this same Nordic group had created the Law of One information as well. He was convinced from the moment I met him that the Nordics were behind this.
The report stated there is no evidence of a NAVY SSP or credible reports from within the Airforce Space Command of there being a barrier around the solar system or a new group of ET's arriving in Planet Sized Spheres.  This is very interesting knowing that Sigmund did indeed make contact with members of the Navy SSP and even arrested and interrogated a few of them. This report was dated in April 2017, just prior to his disappearance. I'm not at all sure that he wrote the report that was filed under his name.
Q3. What were you told about the contents of an extraterrestrial disclosure announcement in terms of why it would become the basis for a new world religion?
After these beings are introduced, they expect the public will have a lot of questions about the ET's. The ET's beliefs and knowledge of the Universe and God would be among the top questions. At this point these beings are expected to share a newly crafted belief system that is based on the ET's true belief system. These beings will be doing this to help Humanity from the ET perspective.
Q4. You say 90% of people will adopt the new religion quickly. Were you told why it would happen so quickly?
It is expected that most will question their belief systems in the first few years of an introduction to ET's. Humanity will understand how little we know and will be reaching out to these new "friends" for assistance and answers. This sets up a situation for the majority of people on the planet to adopt a similar belief system that gets them away from the current division.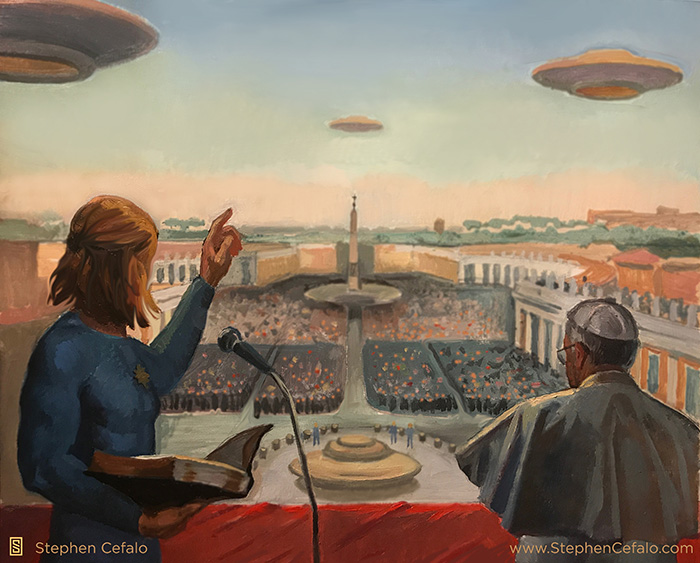 Q5. What do you know of such an extraterrestrial disclosure announcement being preceded by disclosure of a Military Industrial Complex Secret Space Program?
The MIC SSP (Air Force/NSA etc…) have been preparing for the disclosure of their program. I have not heard of them doing this in tandem with an ET announcement other than the Antarctic ruins being disclosed along with more "Ancient Alien" artifacts around the Solar System. This narrative was supposed to first disclose ET's, but only that the ET's were here thousands of years ago only.
The MIC SSP disclosure was originally going to be done among the Project Blue Beam scenario. It has most recently been talked about in the context of revealing an ancient alien presence in our Solar System. The meeting of the ET's could occur after the SSP Disclosure.
If up to 4 groups are no longer abiding by the M. [Muhammad]Accords, then the Powers That Be may not have time to roll out the Antarctica, Ancient Aliens and MIC SSP disclosures first. Things could be drastically sped up if these beings do indeed start communicating with the public in an open way.
Q6. Is the recently leaked Majestic-12 Assessment Briefing Document related to these upcoming announcements?
I cannot verify those documents at the current time. They do have interesting info that is similar to what I had observed. The Nordic race that has the drone ant-like Gray Aliens that do a lot of their physical labor is one example.
Q7 What role is President Donald Trump to play in this sequence of announcements given his recent visit to three major religious centers: Vatican, Saudi Arabia and Israel?
Unknown, from what we have heard Trump is getting some briefings from the Alliance via one of his White House sources. The amount of intel in his current Intel Agency and DOD briefings is very limited by design. It appears he has a small area of operation that he is responsible for and is not privy to the details of other operational domains.
Q8. If Nordic ETs and their allies reveal their existence, and the MIC SSP cooperates, does this mean that the Navy SSP will soon after be revealed or will it continue to be kept secret for some reason?
Unknown, too many variables at this point.
Q9. Do you have an idea of how the four Nordic ET groups plan to circumvent the Muhammad Accords, more physical contacts, dreams, fly overs, etc.?
Nordics plus up to 3 other non Earth-Human types, plan using dreams and altered states to communicate, acclimate the people and prepare them for face to face contact. This may be how disclosure actually occurs, and then the religious leaders need to explain it from a spiritual perspective, in come the new ET friends w/their beliefs etc. This would indeed interrupt the long term roll out that is currently underway. Using Antarctica/Under ocean ruins, Ruins on Mars to sell the ancient aliens only model along with the release of the MIC SSP (Not sure about the Navy SSP).
Exopolitical Analysis
It is highly significant that the disclosure scenario outlined above heavily features human-looking Nordic extraterrestrials. This will certainly allay the fears of some concerned about the influence exercised by non-human groups such as the Draconian Reptilians, whose close relationship with the current power structure (Cabal/Illuminati) has proved to be very harmful to humanity in recent history. There have been two world wars, thousands of smaller scale wars, and the covert influence of the Fourth Reich, all of which can be traced to the Reptilians and their relationship with human elites over the last century.
On the other hand, Corey Goode and others (Alex Collier) have spoken about Nordic and other human-looking extraterrestrial groups running 22 long term genetic experiments involving humanity. While humanity shares similar genetics with our galactic cousins, does this automatically mean we can trust them?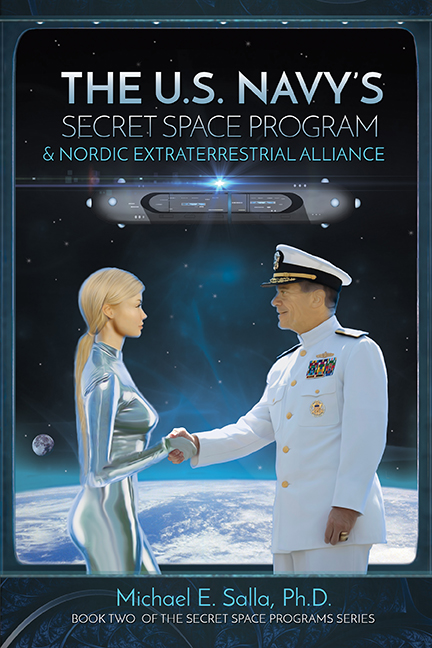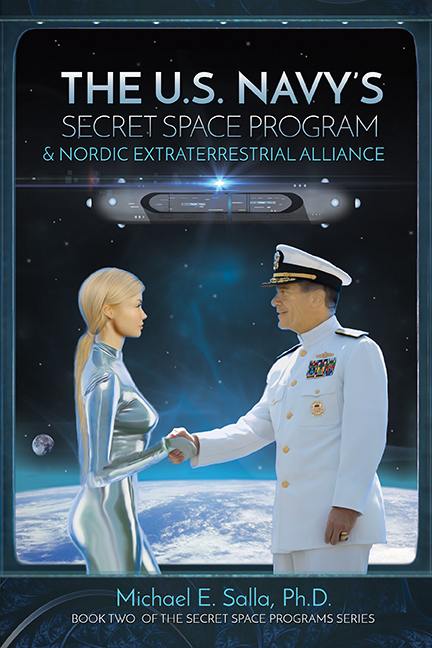 Certainly, from Goode's responses, the MIC SSP does not fully trust the Nordics who they believe are hoodwinking Goode into believing stories about 8-foot tall Blue Avians, and the existence of a Navy run secret space program. This is despite, as Goode points out, the MIC SSP picking up and interrogating other members of the Navy created Solar Warden Program.
Furthermore, what has happened to the high-ranking USAF general, "Sigmund", who allegedly wrote the report claiming that Goode is being controlled by the Nordics. Why his disappearance after a report bearing his name appeared? Does he really agree with its findings?
Nevertheless, at this stage it appears that the USAF/MIC SSP is prepared to run with the Nordic extraterrestrial disclosure scenario described by Goode. This is certainly what the recently leaked MJ-12 document suggests with its favorable description of the role played by Nordics in diplomatic relations:
Earth-like humanoids. There are several variations more-or-less like ourselves. The majority of these are friendly and are the bulk of our EBE contacts. Most have a high degree of psychic ability and all use science and engineering of an advanced nature.
Similarly, the Vatican also appears ready to accept human-looking extraterrestrials who can be accepted as "brothers in Christ", and lay the foundation for a deepening understanding of universal forces and life. This has been exemplified in a series of Vatican related statements dating back to 2008 when Father Gabriel Funes had an interview released titled "The Alien is my brother".
More recently, on June 14, the Vatican succeeded in having a diverse collection of world religious leaders come together in an extraordinary appeal for friendship and unity. This, as described in my June 22 article, "World Religions Unite as Prelude to Extraterrestrial Disclosure", is something to be welcomed.
As such, a new cosmic religion with the Vatican and all other major religious traditions cooperating with Nordic extraterrestrials does appear very plausible. Indeed, the very rapid adoption of up to 90% of humanity into the new faith described by Goode appears very possible. There would certainly be a collapse of traditional belief systems with the open appearance of the Nordics, and the revelation of how much humanity was lied to over the last century by the global elite.
Should the Nordics be trusted however in the impending disclosure scenario described above?
For those that have been following the Corey Goode's disclosures, what emerges from the above information is the minimal role to be played by the Sphere Being Alliance and the Navy's secret space program in the upcoming disclosure scenario. That is a cause for concern. However, that can quickly change, as Goode points out, given the unknown variables involved.
It's worth pointing out that Goode himself is not sure whether the role of Nordics in disclosure will be a positive thing or not. In a follow up to an early draft of this article, he wished to emphasize that he does not support the idea of "Nordics as angels of a new religion people should adopt."
Goode's caution here is well worth heeding. Nordic and other human-looking extraterrestrials need to be regarded as galactic cousins who are once again openly revealing themselves, as they once did in our past as historical records clearly reveal, as the work of Erich Von Daniken has so cogently demonstrated.
In this regard, Goode points out that the Nordics worked with the Founding Fathers in establishing the American Republic, thereby suggesting the Nordics are capable of playing a very constructive role in shaping human history.

In the past, the extraterrestrials were regarded as angels revealing profound information that became the basis of major world religions. Today, after three centuries of secularism in the "Age of Enlightenment", humanity has progressed beyond a distinctly religious world view.
Nevertheless, as the "Friendship and Unity" statement suggests, many billions still embrace diverse religious faiths, and religious leaders can play a positive role in overcoming global differences. A new global religion which emphasizes friendship and unity, and recognizes extraterrestrial life as very real is something to be welcomed.
The role of Nordic extraterrestrials in helping humanity better understand the galactic community and the greater cosmic reality is also to be welcomed. In providing such information they should be regarded as our galactic cousins, rather than angels intent on establishing a new global religion.
While the idea of a new global religion embraced by up to 90% of humanity might concern some, I'm optimistic that the information provided by Nordics will open the door to many hidden truths being revealed, and help humanity rapidly evolve as full partners in the galactic community.
© Michael E. Salla, Ph.D. Copyright Notice
[Many thanks to Stephen Cefalo and the Sphere Being Alliance for permission to use the graphic images of Nordic ETs in this article.]
Addendum – 10 am (PDT) June 27, 2017 – The following questions and answers with Corey Goode were added to help clarify some questions raised by readers to the above article.

Q. Do you have more intel on the four ET groups involved in this initiative that can be shared?
No, only that they are very human like. Of different race types other than Nordic. Ka Aree stated that up to 4 groups, including the Anshar (their race types) were now ignoring the accords. No further details on w/races. The Nordic/Religion thing is also something the programs have discussed so we don't know if it is a cabal op working w/an ET group or what at this point. The info is popping up that the UN is also ready to respond at the same time the religions do. So there is chatter about this and variations of this scenario coming out from several sources. This information has slight variations, depending on who the source was, but after a few correlations I thought it was worth reporting in our most recent briefing.
Q. When you say, "Of different race types other than Nordic", do you mean that one of the groups is Nordics and three not?
As I have mentioned on Cosmic Disclosure, there are a number of non-Earth Human types of beings that get lumped in with the "Nordic ET" label. There is even a 6 fingered "Nordic" looking race that works closely with the Reptilians. We have even had confirmation within the programs that German Breakaway Groups were appearing to people as Nordic ET's. At this point we don't know which group of "Nordic-like ET's" are reported to be considering this type of revelation to humanity while working in concert with various governments, Military organizations and Religious Leaders. This type of thing was indeed planned in 2008, but never occurred. The main point is that this is among the scenarios that are being planned for us. We need to be informed and prepared for how we will react to which ever scenario or combination of scenarios may end up playing out. It is obvious that Project Blue Beam is not viable unless used in concert with the revelation of positive ET friends. This is speculation based on what I have observed and been told.
Up to 4 groups that are Human Like, one of which is Nordic Looking. Some of Ka Aree's people are very Nordic looking as well.

Q. Many have been really hoping that full disclosure would lead to a world without established religious faiths. That seems very naïve to me. What do you think?
It is a bit naive to think people will abandon religion and spiritual belief systems all together when we are programmed to do so. That is the reason the positive ET's, until this point, have not appeared before the pubic. In the past they were worshiped and want us to focus on ourselves instead of outside forces to save them. I think that is all I have to clarify. TY
Further Reading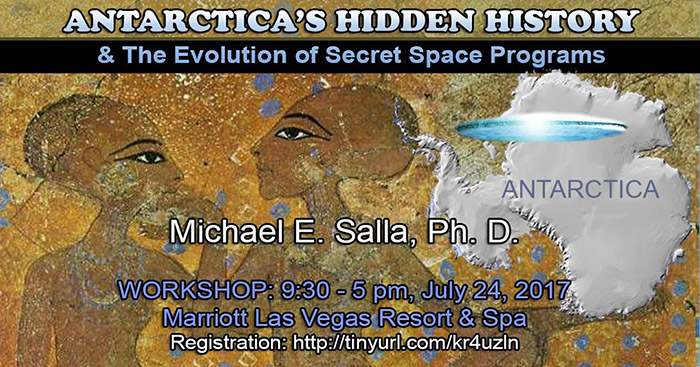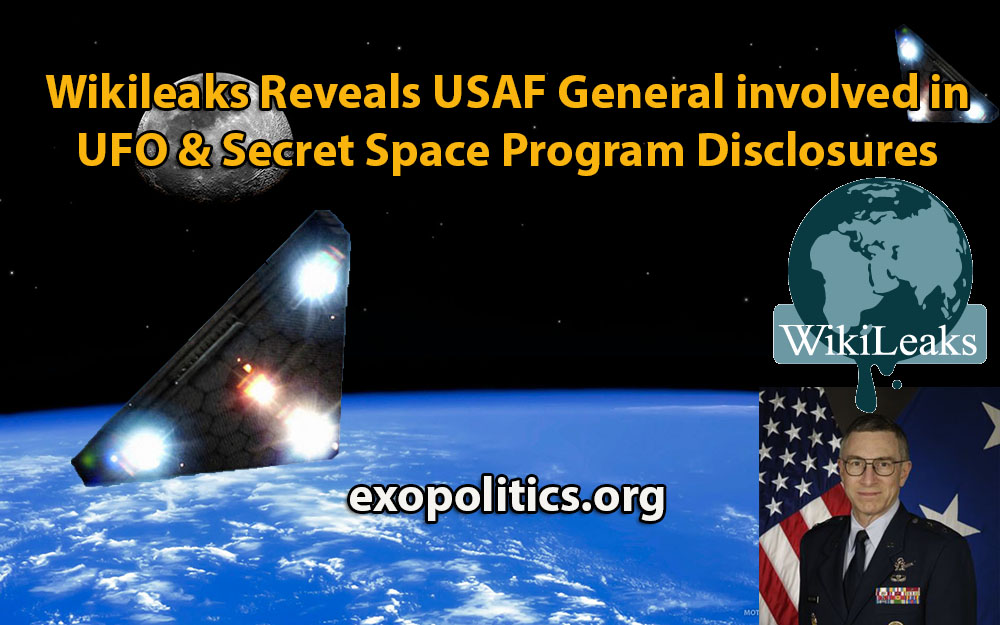 Among the latest Wikileaks email releases is one revealing the name of a US Air Force General involved in an initiative led by rockstar, Tom DeLonge, to reveal the truth about UFOs and secret space programs. This General ran a top USAF research facility out of Wright Patterson Air Force base up until 2013, and has been secretly helping DeLonge to put together a team of ten advisors to tackle the issue of how to reveal to the world the truth about UFOs and a secret space program run by the USAF using antigravity technologies.
The hacked email is addressed to John Podesta, chairman of the Hillary Clinton Presidential Campaign, and dated January 25th, 2016, with the subject header "General McCasland":
He mentioned he's a "skeptic", he's not. I've been working with him for four months. I just got done giving him a four hour presentation on the entire project a few weeks ago. Trust me, the advice is already been happening on how to do all this. He just has to say that out loud, but he is very, very aware – as he was in charge of all of the stuff. When Roswell crashed, they shipped it to the laboratory at Wright Patterson Air Force Base. General McCasland was in charge of that exact laboratory up to a couple years ago. He not only knows what I'm trying to achieve, he helped assemble my advisory team. He's a very important man.
Best, Tom DeLonge

Podesta had previously been named by DeLonge as an official working with him to reveal the truth about UFOs. Podesta's involvement in UFO disclosure initiatives is well documented, and involves his service in both the Clinton and Obama Presidential administrations.
Arguably, the most significant among Podesta's many statements about UFOs and government secrecy was his tweet, on the final day of his appointment as a Senior Advisor to President Obama, where he revealed:

In early 2016, DeLonge co-authored the book, Sekret Machines: Chasing Shadows, which is the first in a planned multimedia series of books and documentaries promising to blow the lid off of a cover up of secret space programs and the UFO phenomenon.
In Sekret Machines, DeLonge describes an unnamed General who had helped him to put together a team of advisors to promote disclosure:  
I've had meetings in mysterious rooms far out in the desert. I've had meetings at the highest levels of NASA. I have had conversations at research centers, think tanks, and even on the phone connected to secret facilities. I've been introduced to a man whom I call "the Scientist," and another whom I call "the General." And there are many more of whom I cannot say much about, but some have become true friends, and all have become close counselors. Each of these men has all held, or currently holds, the highest offices of the military and scientific elite. The point is, I have done it. I have assembled a team of men and women "in the know." And they all believe I am doing something of value, something worth their time and yours.[Sekret Machines – Kindle Locations 95-100]
With the Wikileaks release, we now know that the unnamed general is Major General William N. McCasland, who up until 2013 was the Commander of a top Air Force Research Laboratory.
Here is a brief biography of McCasland prior to his retirement:
Maj. Gen. William N. McCasland is the Commander, Air Force Research Laboratory, Wright-Patterson Air Force Base, Ohio. He is responsible for managing the Air Force's $2.2 billion science and technology program as well as additional customer funded research and development of $2.2 billion. He is also responsible for a global workforce of approximately 10,800 people in the laboratory's component technology directorates, 711th Human Performance Wing and the Air Force Office of Scientific Research.

McCasland's biography clearly establishes that he had the necessary scientific and technical background to be very familiar with the topic of advanced aerospace technologies related to the UFO phenomenon.
McCasland, however, is not the only USAF General supporting DeLonge.  On the back cover of Sekret Machines, an endorsement appears from another retired US Air Force General whose last military assignment was Special Assistant to the Commander, Air Force Space Command. Here is what Maj. General Michael Carey had to say:
Sekret Machines scratches at the surface of "who do" we trust with our classified technology – certainly our adversaries are aware of our undertakings, as they are doing the same, but what of our citizens, our politicians, even our own military. Tom DeLonge and A.J. Hartley create a convincing narrative describing the "cat and mouse" game that is timeless between strategic adversaries. It has existed under the sea, on the surface of the earth and in its skies, why wouldn't we believe it occurs in space. Our military leaders have been saying space is a contested environment for years now, perhaps we should believe them! -Maj. Gen. Michael J. Carey
With the Wikileaks release, we now know the name and background of the USAF General directly involved in DeLonge's disclosure initiative. The endorsement by Carey for Delonge's Sekret Machines confirms that at least two, and possibly more senior USAF officials are covertly supporting DeLonge's disclosure initiative.
In Sekret Machines, Tom DeLonge spends much time describing corporate involvement in developing a secret space program involving the USAF. According to him, a global consortium of corporations secretly funded the development of TR-3B 'flying triangles' using antigravity and torsion field principles adopted from experiments conducted by Nazi Germany, and later reverse engineered by the USAF.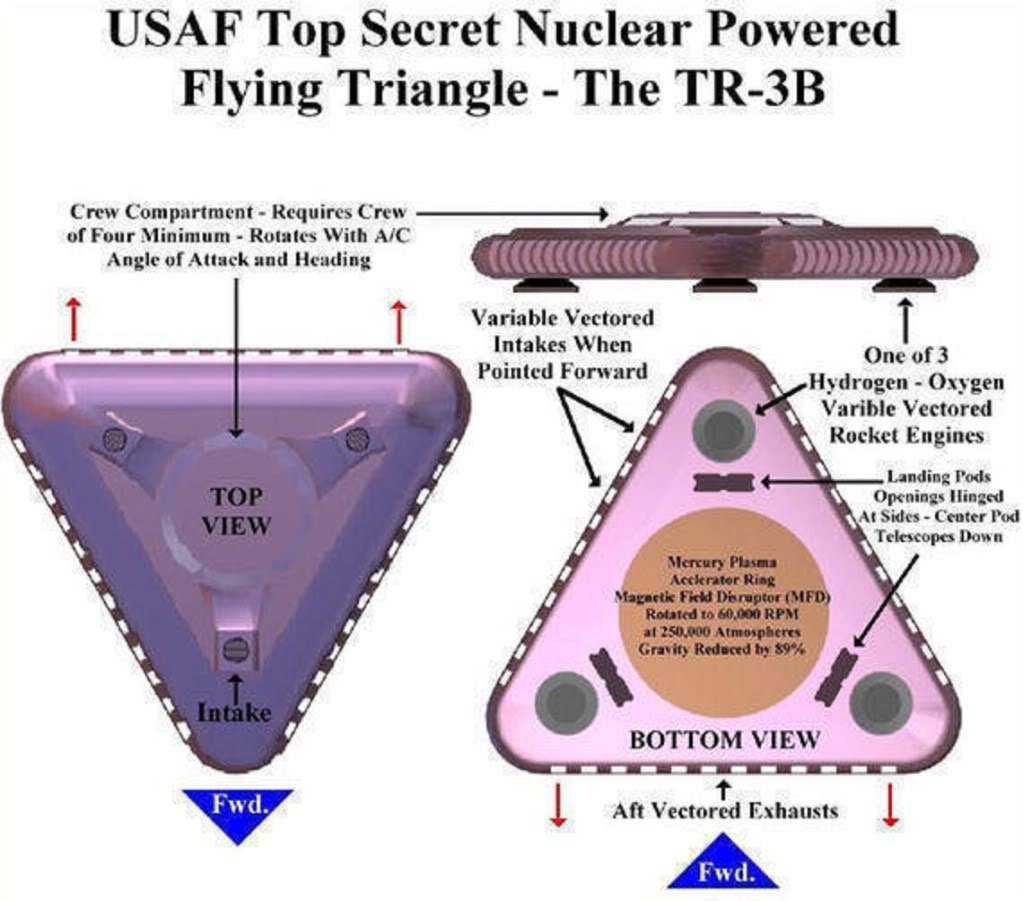 This resulted in the development of a squadron of TR-3B's based out of Area 51's highly secretive S-4 facility at Papoose Lake. The US Air Force Space Command and Defense Intelligence Agency is in charge of the TR-3B or 'Locust', operating out of S-4, according to Delonge, as relayed by his advisory team, which we now know includes McCasland.
Delonge went on to explain in Sekret Machines that the TR-3B is a combined U.S. military and corporate made aerospace vehicle capable of operating both near the Earth's surface as a conventional aircraft, and in near Earth orbit as a spacecraft. He described different sized Locust vehicles, with the largest being several hundred feet across.
In a prior article, the possibility was discussed of DeLonge being part of a "limited hangout" initiative where some, but not all aspects of multiple secret space programs are publicly revealed. It is plausible that McCasland, and the rest of the advisory team of ten senior corporate and military personnel advising DeLonge, may be part of a limited hangout operation to spill the beans on what has been happening at Area 51, in order to keep hidden even more important secret programs happening elsewhere.
© Michael E. Salla, Ph.D. Copyright Notice
Further Reading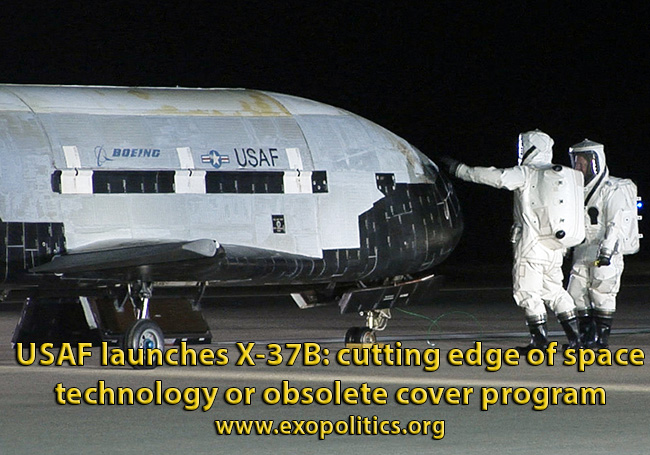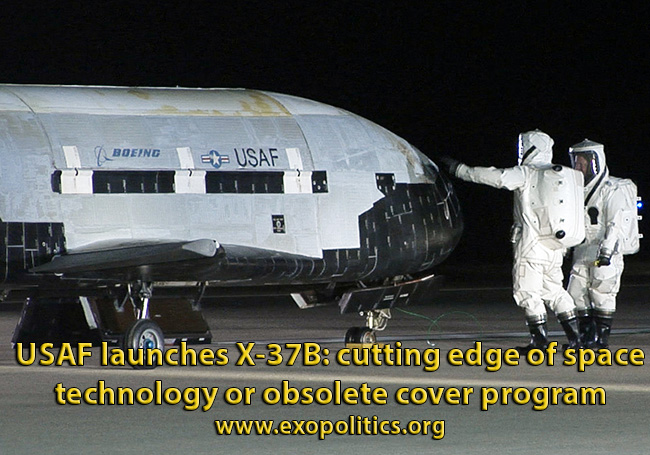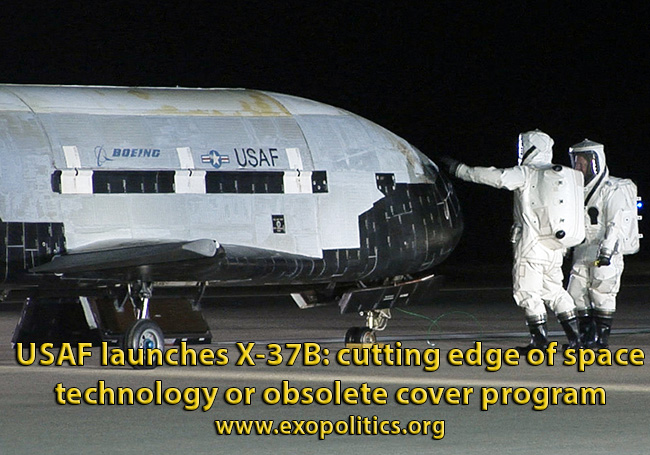 Yesterday, the USAF launched the fourth mission of its unmanned X-37B, which looks like a miniature space shuttle, from the Cape Canaveral Air Force Station. During the X-37B's last mission it stayed in orbit for a record 674 days performing a number of classified projects. According to the Washington Post, among the projects of the current X-37B mission that the USAF has revealed is the testing of new thruster technologies that will help keep U.S. satellites safe from potential enemies.
Also included in what is known about the X-37B mission is that it will deploy tiny solar-sailing spacecraft on behalf of the Planetary Society. Space.com reports that most of the mission's activities, however, are classified, including where it will be orbiting and how much time the X-37B will actually spend in space.
According to a NASA news release, the X-37B is at the cutting edge of developing and testing new thruster technology:
Also known as Orbital Test Vehicle 4 (OTV-4), the mission is believed to be demonstrating technology for future programs. One of the experiments aboard the spacecraft which has been publicised by the US Air Force consists of a Hall effect thruster for the AEHF series of communications satellites, allowing performance-enhancing modifications to be tested before they are introduced on operational missions.
Basically the X-37B will help develop improved propulsion systems that can be used in communication satellites, and eventually other spacecraft. If the USAF and NASA is correct, then the X-37B is at the cutting edge of helping develop new propulsion technologies.
Not so according to Corey Goode, who claims to be a whistleblower revealing his experiences with several highly classified space programs that he served in over a 20 year period from 1987 to 2007. He claims that programs such as the X-37B are merely covers for more secretive programs that use far more advanced propulsion technologies such as antigravity, than the obsolete thruster rocket systems used in the X-37B, military satellites and other classified space vehicles.
Goode's responses to a series of questions about the X-37B and other classified military space programs were published on May 20. According to Goode:
Those that are in the National Military Black Op's Programs are not read into the full picture of what is going on. They are given various cover stories and told that the things they track are our technologies from other black programs. They are spending trillions of dollars on lower technology that has its roots in the 19th/20th centuries with mainly advances in electronics and material sciences.
Goode goes on to explain how members of classified military space programs are recruited into more highly classified space programs when they stay silent about the more advanced propulsion systems they have observed during space missions:
Those who fly manned space planes that sometimes dock with the ISS and other secret space stations of lower tech programs sometimes observe craft that they are not supposed to and they are debriefed and sworn to secrecy usually knowing more about what is going on in outer orbit than their commanding officers. These personnel are often pulled into the Advanced Secret Space Programs once they reach a certain amount of first hand experiences.
On Oct 10, 2014, Peter Maass and Laura Poitras writing for The Intercept, released powerpoint slides from leaked NSA documents concerning highly classified programs that are hidden from public scrutiny. The documents, originally leaked by Edward Snowden, reveal that "Sentry Eagle" is used as an umbrella term for hiding the NSA's most sensitive programs that are classified "Exceptionally Controlled Information" (ECI). Several powerpoint slides show how ECI programs are hidden beneath less classified programs as a cover. If Goode is correct, then spacecraft such as the X-37B using conventional propulsion technologies may indeed be cover programs.
While Goode has not yet supplied any documentation to support his remarkable claims, a number of independent researchers have cited confidential insiders that support his credibility. Among them is David Wilcock author of a number of New York Times best sellers.
If the USAF is to be believed, the X-37B is at the cutting edge of developing new thruster propulsion technologies for vulnerable military space satellites. If on the other hand, Goode is to be believed, the X-37B and other military spacecraft using similar propulsion technologies are obsolete covers for more highly classified space programs using antigravity and other exotic propulsion systems.
© Michael E. Salla, Ph.D. Copyright Notice
Further Reading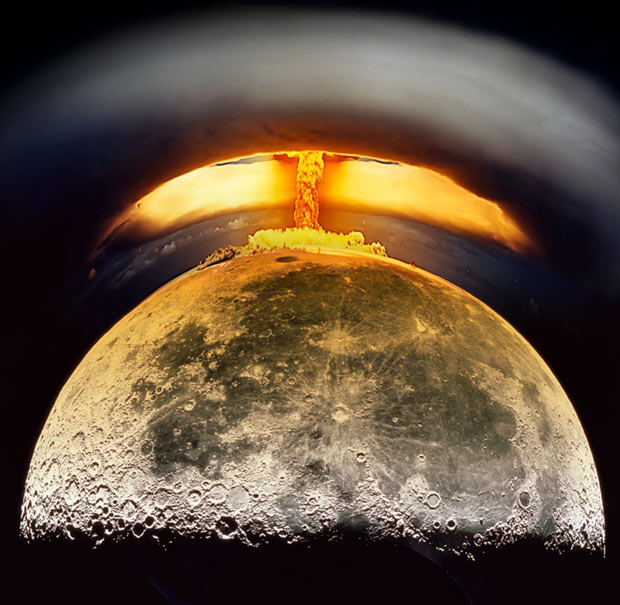 It's official – the US Air Force had a plan to nuke the moon. According to a declassified report obtained by CNN in a story that aired on November 28, the Air Force plan involved sending a nuclear missile that would detonate on impact with the lunar surface. The aim was apparently to respond to Soviet success in launching Sputnik I, and showing that the US had a capacity to send rockets to, and eventually from the moon. The project was titled "A Study of Lunar Research Flights" (aka "Project A-119") and was planned in 1958. According to the declassified report, the plan was never implemented, and was abandoned one year later due to concerns over the effect of nuclear radiation on the moon, and a public backlash. According to one senior US Air Force officer, however, not only was an attempt made to detonate a nuclear bomb on the moon decades later, but there was an external intervention to destroy the missile.
CNN was able to track down and interview the physicist who led Project A-119. Leonard Reiffel told CNN:
People were worried very much by (first human in space Soviet cosmonaut Yuri) Gagarin and Sputnik and the very great accomplishments of the Soviet Union in those days, and in comparison, the United States was feared to be looking puny. So this was a concept to sort of reassure people that the United States could maintain a mutually-assured deterrence, and therefore avoid any huge conflagration on the Earth,"
"The basic plan," according to Reiffel, "was for an intercontinental ballistic missile to be launched from an undisclosed location, travel some 240,000 miles to the moon, and detonate on impact." Information from the impact, according to Report, would yield information "concerning the capability of nuclear weapons for space warfare." Reiffel explained:
The thinking … was that if the Soviets hit the United States with nuclear weapons first and wiped out the U.S. ability to strike back, the U.S. could launch warheads from the moon.
Reiffel claims that Project A-119 was quickly abandoned because:
We didn't want to clutter up the natural radioactivities of the moon with additional bits of radioactivity from the Earth,.. Project planners also weren't sure of the reliability of the weapons, and feared the public backlash in the U.S. would be significant.
So if Reiffel and the 1959 report is accurate, then the plan to nuke the moon was never attempted. Or was it? According to a retired USAF Colonel, not only was an attempt made to nuke the moon, but there was UFO intervention to destroy the missile soon after its launch.
Colonel Ross Dedrickson explained his background in nuclear weapons security in an interview with Dr Steven Greer of the Disclosure Project:
I was a staff officer for the military liaison committee between the chairman of the AEC [Atomic Energy Commission] and the Secretary of Defense…. During that period of time [early 1950s] one of my functions was to accompany a security team which visited all of the nuclear facilities to check on the security of weapons…. I was assigned to the Unified Command under Admiral Felt during the '60s. I was the officer in charge of the Alternate command post involved with nuclear weapons operation planning. During that period of time, I maintained contacts with NORAD, with the SAC operations, and was involved with operational plans for the use of nuclear weapons.
Colonel Dedrickson then explained:
I finally retired from the Air Force and joined the Boeing Company where I was assigned to the Minute Man program where I was responsible for the accounting of all the nuclear fleet, the Minute Man One, Two, and Three. And during that period of time, I also learned about incidents involving nuclear weapons. And among these incidents were those where a couple of nuclear weapons that were sent into space were destroyed …
Dedrickson claims that one of these nuclear weapons fired into space was aimed at the moon:
It was my understanding that in either the very end of the '70s or the early '80s that we attempted to put a nuclear weapon on the Moon and explode it for scientific measurements and other things…
Who was it that destroyed the nuclear missile aimed at the moon, and interfered with other nuclear weapons tests by the USA? According to Dedrickson, the missiles were destroyed by UFOs that he believed were manned by an extraterrestrial intelligence. Dedrickson's remarkable claims are backed by other retired USAF officials that state that US and Soviet nuclear missiles were regularly interfered with by UFOs since the dawn of the nuclear era.
In conclusion, we know that the USAF did officially conceive a plan in 1958 to launch and detonate a nuclear missile on the moon. Apparently, "Project A-119" was abandoned one year later. If Colonel Dedrickson is accurate, however, then Project A-119 was either resurrected decades later or a new project was conceived with a similar goal. The timing of the later project, in the late 1970s/early 1980s, suggests the nuclear missile attempt may have been related to circumstances surrounding the end of the Apollo lunar missions. According to some whistleblowers the USA was not "allowed" to return to the moon by an extraterrestrial intelligence based on the moon. It appears that there was indeed an attempt to send a nuclear missile to the moon by the USAF, and that it was destroyed by some external agency – UFOs and/or extraterrestrial intelligence – closely monitoring nuclear weapons testing on Earth, outer space and the moon.
© Copyright 2012. Michael E. Salla, Ph.D.. Exopolitics.org
Permission is granted to include extracts of this article on websites and email lists with a link to the original. This article is copyright © and should not be added in its entirety on other websites or email lists without author's permission.
Further Reading