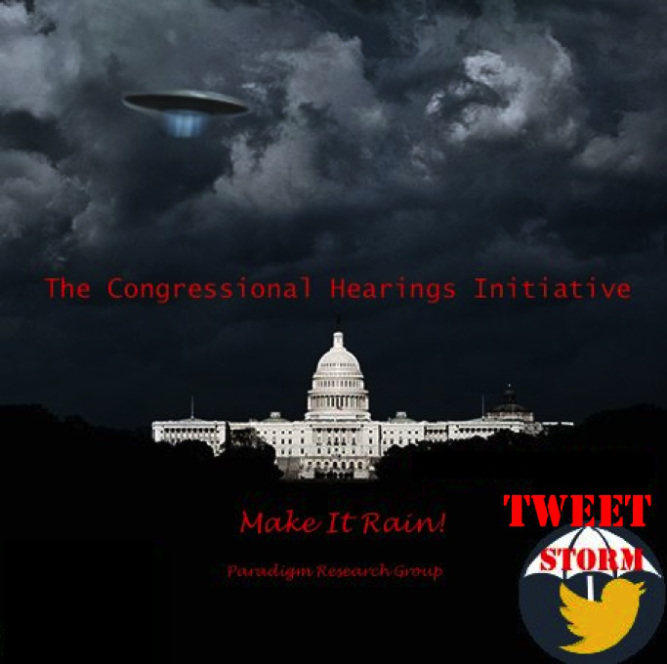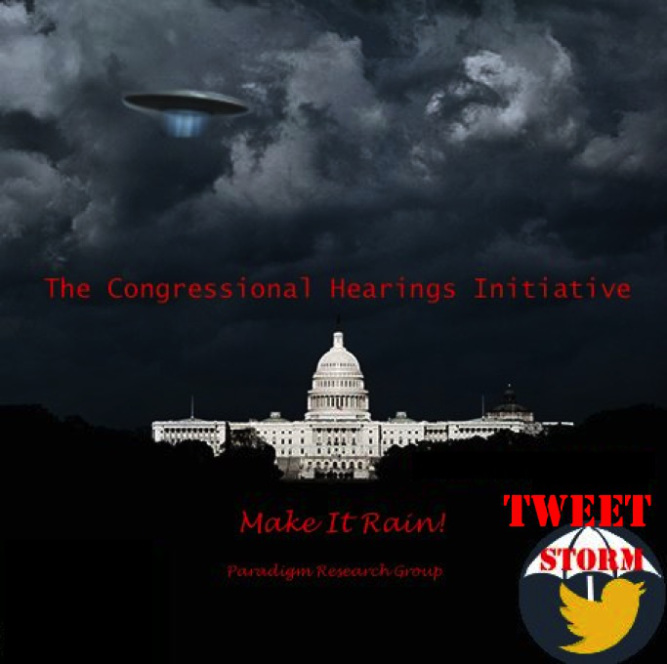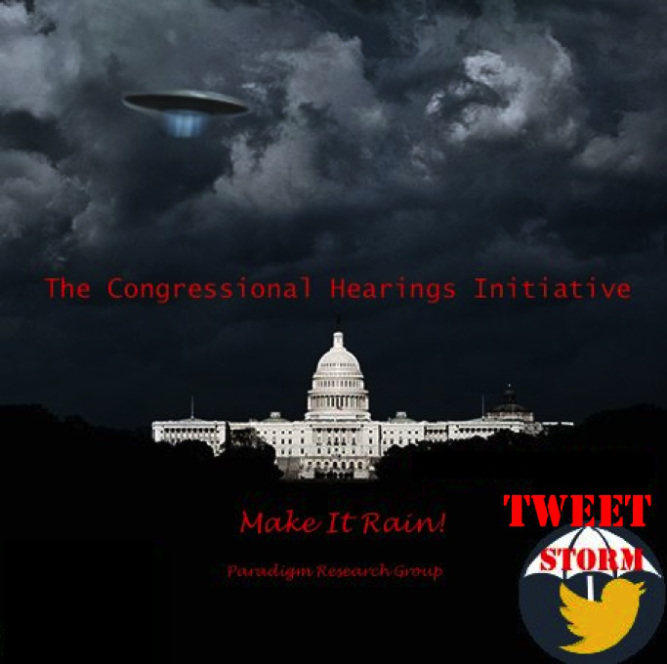 Stephen Bassett is a modern day Sisyphus when it comes to getting the U.S. Congress to launch a congressional inquiry into UFOs. Today he succeeded in getting Roll Call, a major newspaper covering the U.S. Congress, do a story on his most recent initiative to get the now Republican dominated Congress to take action. To this end, Bassett sent a 10-disk DVD set detailing documentary evidence about the seriousness of the UFO issue to all members of Congress, including the legislative aides on committees most likely to move the issue forward.
After the Feb 13 admission by Obama White House counselor John Podesta that his biggest failure for 2014 was to get UFO files disclosed, Basset's chances look pretty slim. Yet Bassett is fiercely determined to again roll the boulder of a serious UFO investigation up Capitol Hill despite a skeptical Congress.
Bassett's latest congressional initiative stemmed from his successful Citizen Hearing on Disclosure when six former members of the U.S. Congress heard 27 UFO experts and witnesses present the available evidence that UFOs are real, and are most likely interplanetary in origin. Held over five days from April 29 to May 3, 2013, the Citizen Hearing was quite a success in converting some skeptics, if not into true believers, to at least view the UFO issue as a serious one for Congress to investigate.
The purpose of his current initiative is to get the US Congress to conduct a comprehensive investigation, not the half day public relations exercise done the last time hearings were held in 1968, as he described in an interview with Roll Call's Warren Rojas:
"The goal is to get one of the committees to commit for comprehensive hearings," he said of his endgame. "Not three witnesses, come up [to] the Hill for half a day and give 'em a spiel. I'm talking about 25, 30, 35 witnesses, at least, testifying over a week, two weeks if possible. The reason is we've got those witnesses and the issue is not an issue that you can dispense with something trivial."
To achieve his goal, Basset is leading a public campaign to flood the offices of key congressional committees that would be the likely venues for a UFO hearing. Rojas explains:
The highest-value targets in this advocacy dragnet are the Republican leaders Bassett believes have jurisdiction over this particular issue: Senate Intelligence Chairman Richard M. Burr; House Intelligence Chairman Devin Nunes; Senate Commerce, Science and Transportation Chairman John Thune; House Science, Space and Technology Chairman Lamar Smith; Senate Homeland Security and Governmental Affairs Chairman Ron Johnson; House Homeland Security Chairman Michael McCaul and House Oversight and Government Reform Chairman Jason Chaffetz.
In his requests for meetings with legislative aides and key committee figures, Bassett describes two key UFO issues identified by the Citizen Hearings that have firm documentary support. The first is the relationship between nuclear weapons shutdowns and UFO sightings which is clearly a major national security issue. The second involves an effort by the now deceased billionaire Laurence Rockefeller, to get the Clinton White House to declassify UFO files. This is widely known as the Rockefeller Initiative.
What are Bassett's chances of success? Rojas made some inquiries:
None of the committee aides HOH [Heard On the Hill is Rojas' Roll Call blog]  probed about Bassett's info dump responded to inquiries about whether they'd received (much less reviewed) the Citizen Hearing materials.
That's not very promising, but Bassett is undaunted. He believes that Podesta's Feb 13 UFO tweet was a sign of a sea change in official attitudes:
There is no doubt in my mind Podesta posted that tweet because of the faxes sent to the 70 congressional offices. He knows the Rockefeller Initiative is about to come into play,
Bassett's reasoning here is overly optimistic. Podesta's tweet is more likely a frank admission that the forces in favor of not releasing classified UFO files were too powerful even for the White House. If the Office of the President with all the power available to the Executive Branch of the U.S. Government was unable to get UFO disclosure, what chances does a congressional committee have?
Podesta's decision to move over to the Presidential campaign of Hillary Clinton reveals his assessment that there is little chance UFO disclosure will occur during the final two years of the Obama White House. A new Clinton administration may be the next opportunity to have a crack against the shadowy forces ensuring UFO silence, at least in the USA.
No cigar awaits Bassett as he once more rolls the UFO congressional investigation boulder up Capitol Hill. In the meantime, it may be better to look to wildcards like Russia's Vladimir Putin to break through the opposition and disclose the truth. UFO disclosure would be Putin's revenge against the shadowy forces behind the Ukraine crisis.
© Michael E. Salla, Ph.D. Copyright Notice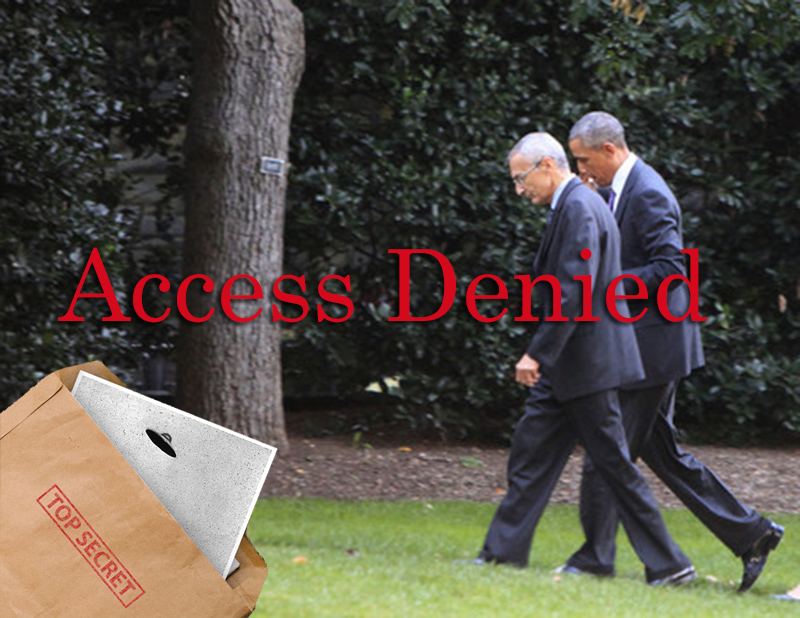 John Podesta's candid admission on Feb 13, his last day as Counselor to President Obama, that his biggest failure was to secure disclosure of UFO files raises many questions. The dominant response by the mainstream media has been to ignore questions of who, what, why a senior White House advisor was denied access to UFO files, and focus instead on Podesta's long history of a fascination with the X-Files TV series. The Washington Post, UPI, The Hill, etc., have all made Podesta's admission on Twitter a personal issue about his X-Files fascination, rather a serious policy issue concerning information denied to the White House.
For those that missed it, here's what Podesta said on Friday: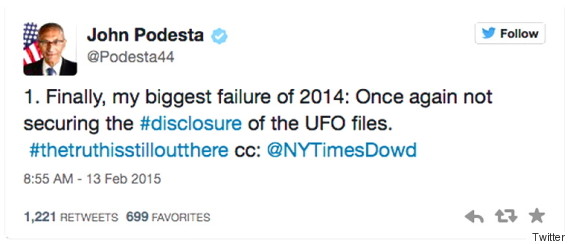 The Washington Post's Al Kamen wrote in response:
Podesta was a major fan of the "X-Files" television show. Our colleague Karen Tumulty asked him in 2007 about the FOIA jam at the library, and Podesta, through a spokesman, replied: "The truth is out there." That's the show's tag­ line.
Amy Connolly of UPI writes: "In a nod to the long-running television show The X-Files, Podesta, who has had a longtime fascination with all things extraterrestrial, tweeted using hashtag #thetruthisstilloutthere."
The Hill's Julian Hattem writes:
John Podesta's biggest regret on leaving the White House is not proving Fox Mulder right… The humorous tweet about his time in office came in a list of his top 10 moments over the last year,
Here are just a few who, what, why questions the above writers didn't bother asking.
Podesta's admission came on his White House Twitter feed while he was discussing initiatives related to his official responsibility of overseeing climate change and energy policy for the White House. Did Podesta attempt to gain access to classified UFO files possessed by one or more government entities due to its relevance to his official duties?
His admission suggests that UFO information has relevance to climate change and/or energy policy. If so, does that mean that UFOs are indeed interplanetary spacecraft that use energy sources far more advanced than anything offered by the fossil fuel industry?
If UFO information has relevance to energy policy, then why wasn't Podesta able to gain access despite having all the power of the White House behind him? What government entity can deny access to information requested by a senior advisor to a sitting President in the performance of his official duties?
Thankfully, there are some in mainstream media willing to explore such questions. CNET writer Chris Matyszczyk asks:
Is it possible that both the president and Podesta know more than they (are allowed to) let on? If your answer is yes, that leaves us to speculate on why they're not revealing it. Is it because we'd be frightened? Or is it because our belief systems would become so displaced that what remains of our social cohesion would dissolve?
These are just a few of the more obvious who, what, why questions raised by Podesta's admission. Unfortunately, much of the mainstream media isn't asking them because it is treating his admission as wry X-Files humor. We are basically being told that the Twitter revelation of a senior White House advisor is not something to take seriously.
Podesta's involvement in a number of earlier attempts to learn the truth about classified UFO files points to a different conclusion. He was very serious. As a counselor to President Obama, with all the power that position conveys, he was still unable to pierce the veil of secrecy surrounding classified UFO files.
Podesta's earlier involvement in a failed attempt by the Clinton administration to gain access to classified UFO files is well documented. FOIA documents gained by Canadian UFO researcher Grant Cameron detail a timeline involving President Clinton and Hillary Clinton seeking information from deceased billionaire Laurence Rockefeller on the topic. Strategies were developed for how the Clinton White House could gain access.
Podesta was involved in one of these strategies. The passage of Executive Order 12958 aimed at streamlining declassification of thousands of national security files, and involving the White House in the process. The goal was to shake loose some of the classified files hidden away in the national security archives of various U.S. government entities and corporate contractors and see if any could cast light on the UFO phenomenon. Podesta became Chief of Staff to Clinton, yet despite all the power available to him then, and to the President himself, access to UFO files was denied.
If a sitting President and his most senior advisors can't access UFO related information relevant to policies being developed, then who is the real power behind the throne? Surely that's a question worth a serious investigation by the Fourth Estate.
© Michael E. Salla, Ph.D. Copyright Notice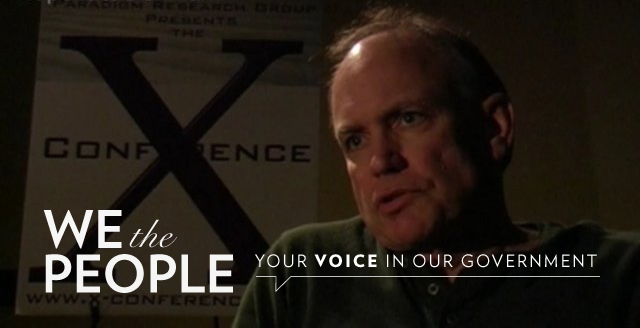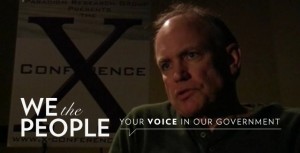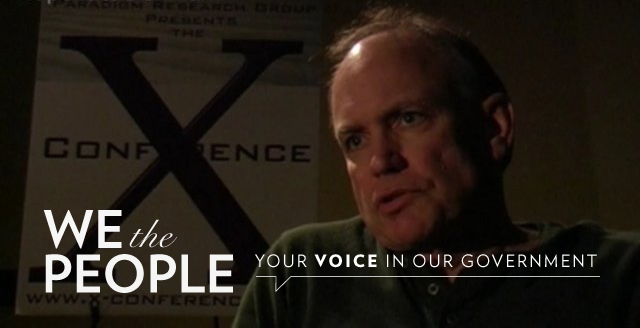 The White House has once again launched "We the People," an online platform designed to hear from the American public about their key issues. In the midst of a highly competitive election season, President Obama is once more reaching out to the public to show he cares about their issues. The White House website declares: "We the People provides a new way to petition the Obama Administration to take action on a range of important issues facing our country. We created We the People because we want to hear from you. If a petition gets enough support, White House staff will review it, ensure it's sent to the appropriate policy experts, and issue an official response." Among the many petitions being launched, and hoping to pass the lofty 25,000 threshold, is one dealing with the famous Roswell UFO incident and the possibility that it was extraterrestrial in origin.
Steve Bassett from the Paradigm Research Group (PRG) has formally petitioned the Obama Administration to: "reinvestigate an alleged extraterrestrial vehicle crash near Roswell, NM in 1947 and an Air Force cover-up of the facts." In support of his petition, which he titled, "Disclosure Petition V – Roswell," Bassett cites a former astronaut, military officers and a retired CIA officer who all believe that something out of this world really did happen at Roswell:
Lt Col. Philip Corso (USA) "I came into possession of the Roswell File. This file contained field reports, medical autopsy reports and technological debris from the crash of an extraterrestrial vehicle."
Capt. Edgar Mitchell (USAF/NASA) "Roswell was a real incident, and that indeed an alien craft did crash, and that material was recovered from that crash site."
Chase Brandon (CIA) "It was a craft that clearly did not come from this planet."
Lt. Col. Richard French (USAF) "There were actually two crashes at Roswell."
Bassett even cites Gov. Bill Richardson to support his petition for a new investigation: "The mystery surrounding this crash has never been adequately explained – not by independent investigators, and not by the U.S. government."
I contacted Steve Bassett and asked him a few questions about his current petition which is the fifth in a series of White House petitions launched by him
Q1. Why is this petition important?
Disclosure Petition V focuses on Roswell and is aimed to point back to the White House response to Disclosure Petition – I claiming there was no evidence for extraterrestrial engagement of the human race or for government suppression of any evidence for such.
The immediate effect of the White House "We the People" project was to permit the ET issue to be posted to the White House website for the first time. This was a milestone. As it happened the first Disclosure petition received the necessary 5,000 signatures triggering a formal written response from the Obama administration – also a first. It remained up on the White House website for two months. The subsequent Disclosure petitions were posted for 30 days each. This is not just any website, it is the Internet presence for the President of the United States, and since September 22, 2011 the ET issue has been addressed on that website with regularity.
I expect the "We the People" section to be closed after the election, regardless of the outcome. Until then, PRG will continue to post Disclosure petitions to the site.
Q2. What was the White House response to your earlier petitions on UFO disclosure? Do you expect a different response this time? Why?
There will be no White House response to Disclosure Petition V – Roswell as there is little chance it will acquire the necessary 25,000 signatures. The "We the People" project is fading out, largely due to actions by the White House. There is an upside as the number of posted petitions has shrunk to about 30 providing the Disclosure petitions more visibility.
Q3. What do you think will happen if you achieve the 25,000 threshold?
Under their own rules 25,000 signatures would generate a White House response. It would be quite interesting to see how the White House would maneuver around the statements of Col. Corso, Capt. Mitchell, Gov. Richardson, Agent Brandon and Col. French. Essentially, these men have called the U. S. Air Force a liar. Awkward. Such contradictions are rife throughout the truth embargo. However, as long as the public and the media are willing to live with these contradictions, the truth embargo will continue.
After the first successful petition, Phil Larson from the White House Office of Science & Technology Policy, officially responded:
The U.S. government has no evidence that any life exists outside our planet, or that an extraterrestrial presence has contacted or engaged any member of the human race. In addition, there is no credible information to suggest that any evidence is being hidden from the public's eye. However, that doesn't mean the subject of life outside our planet isn't being discussed or explored. In fact, there are a number of projects working toward the goal of understanding if life can or does exist off Earth.
Larson went on to discuss the Search for Extraterrestrial Life Initiative (SETI); the Kepler Space Telescope seeking Earth-like exoplanets; and the Mars Science Laboratory, as examples of government projects focused on possible extraterrestrial life.
If "Disclosure Petition V – Roswell" does reach the 25,000 threshold it would be helpful to know if Mr Larson or the White House Office of Science and Technology Policy could give a different response this time. The official Obama Presidential Campaign slogan is Forward – it would be good if we could move forward on a genuine investigation of the Roswell UFO Crash and possible cover up of extraterrestrial life.
You can sign Disclosure Petition V here: http://wh.gov/WiQk