Obama White House denied access to UFO files
John Podesta's candid admission on Feb 13, his last day as Counselor to President Obama, that his biggest failure was to secure disclosure of UFO files raises many questions. The dominant response by the mainstream media has been to ignore questions of who, what, why a senior White House advisor was denied access to UFO files, and focus instead on Podesta's long history of a fascination with the X-Files TV series. The Washington Post, UPI, The Hill, etc., have all made Podesta's admission on Twitter a personal issue about his X-Files fascination, rather a serious policy issue concerning information denied to the White House.
For those that missed it, here's what Podesta said on Friday: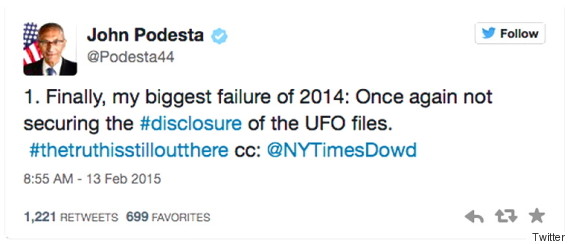 The Washington Post's Al Kamen wrote in response:
Podesta was a major fan of the "X-Files" television show. Our colleague Karen Tumulty asked him in 2007 about the FOIA jam at the library, and Podesta, through a spokesman, replied: "The truth is out there." That's the show's tag­ line.
Amy Connolly of UPI writes: "In a nod to the long-running television show The X-Files, Podesta, who has had a longtime fascination with all things extraterrestrial, tweeted using hashtag #thetruthisstilloutthere."
The Hill's Julian Hattem writes:
John Podesta's biggest regret on leaving the White House is not proving Fox Mulder right… The humorous tweet about his time in office came in a list of his top 10 moments over the last year,
Here are just a few who, what, why questions the above writers didn't bother asking.
Podesta's admission came on his White House Twitter feed while he was discussing initiatives related to his official responsibility of overseeing climate change and energy policy for the White House. Did Podesta attempt to gain access to classified UFO files possessed by one or more government entities due to its relevance to his official duties?
His admission suggests that UFO information has relevance to climate change and/or energy policy. If so, does that mean that UFOs are indeed interplanetary spacecraft that use energy sources far more advanced than anything offered by the fossil fuel industry?
If UFO information has relevance to energy policy, then why wasn't Podesta able to gain access despite having all the power of the White House behind him? What government entity can deny access to information requested by a senior advisor to a sitting President in the performance of his official duties?
Thankfully, there are some in mainstream media willing to explore such questions. CNET writer Chris Matyszczyk asks:
Is it possible that both the president and Podesta know more than they (are allowed to) let on? If your answer is yes, that leaves us to speculate on why they're not revealing it. Is it because we'd be frightened? Or is it because our belief systems would become so displaced that what remains of our social cohesion would dissolve?
These are just a few of the more obvious who, what, why questions raised by Podesta's admission. Unfortunately, much of the mainstream media isn't asking them because it is treating his admission as wry X-Files humor. We are basically being told that the Twitter revelation of a senior White House advisor is not something to take seriously.
Podesta's involvement in a number of earlier attempts to learn the truth about classified UFO files points to a different conclusion. He was very serious. As a counselor to President Obama, with all the power that position conveys, he was still unable to pierce the veil of secrecy surrounding classified UFO files.
Podesta's earlier involvement in a failed attempt by the Clinton administration to gain access to classified UFO files is well documented. FOIA documents gained by Canadian UFO researcher Grant Cameron detail a timeline involving President Clinton and Hillary Clinton seeking information from deceased billionaire Laurence Rockefeller on the topic. Strategies were developed for how the Clinton White House could gain access.
Podesta was involved in one of these strategies. The passage of Executive Order 12958 aimed at streamlining declassification of thousands of national security files, and involving the White House in the process. The goal was to shake loose some of the classified files hidden away in the national security archives of various U.S. government entities and corporate contractors and see if any could cast light on the UFO phenomenon. Podesta became Chief of Staff to Clinton, yet despite all the power available to him then, and to the President himself, access to UFO files was denied.
If a sitting President and his most senior advisors can't access UFO related information relevant to policies being developed, then who is the real power behind the throne? Surely that's a question worth a serious investigation by the Fourth Estate.
© Michael E. Salla, Ph.D. Copyright Notice