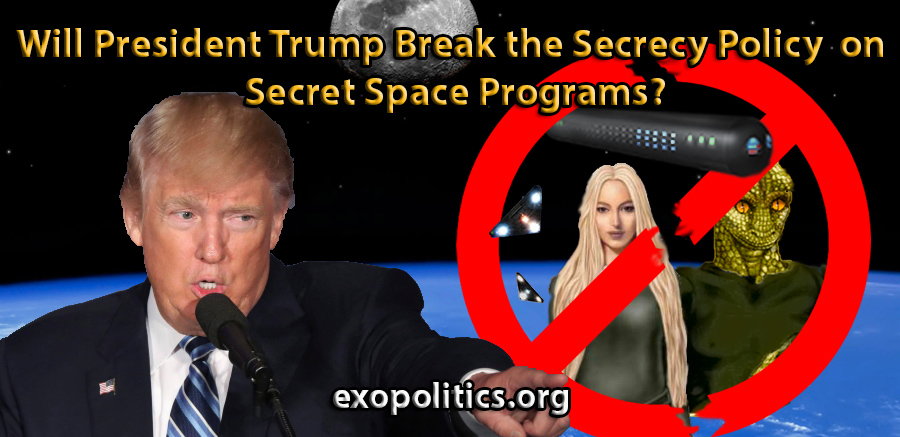 On January 20, 2017, Donald Trump will be inaugurated as the 45th President of the United States. Among the most important policy questions he will be facing is how to respond to classified briefings about secret space programs and extraterrestrial life. Will President Trump maintain the status quo of secrecy on the grounds of national security, or will he support official disclosure as complimentary to his vision to "Make America Great Again"?
One of the perennial questions confronting UFO and exopolitics researchers is, "how much are U.S. Presidents briefed about classified programs concerning secret space programs and extraterrestrial life?" According to some experts, U.S. Presidents are told relatively little, and run into institutional roadblocks when they explore alternative routes to the truth.
It is well known for example that President Bill Clinton asked his close personal friend, Webster Hubbell to get answers to two questions:
If I put you over there in justice I want you to find the answer to two questions for me: One, who killed JFK. And two, are there UFOs.
There is no reason to doubt the accuracy of Hubbell's recollections. This suggests that soon after being elected President in November 1992, Clinton had concluded he was being given the institutional run-around in learning the truth.
In contrast, Canadian researcher, Grant Cameron, states that U.S. Presidents are told quite a lot. If so, this might explain references by President Obama during an interview on Jimmy Kimmel Live, apparently in jest, that aliens would not allow him to disclose the truth.

The aliens won't let it happen. You'd reveal all their secrets. They exercise strict control over us.

According to Andy Basiago and three other purported first-hand witnesses, Obama had learned as early as 1980 about a covert CIA program involving jump room teleportation technologies that allowed covert missions to Mars. If true, that would mean that Obama, upon becoming President, already knew about one secret space program, but chose not to reveal this either out of national security concerns, or alien threats.
Sometime after his January 20 inauguration, President Trump will receive a classified briefing on the extraterrestrial topic. Regardless of how extensive the briefing(s) will be, he will have to make a decision about what to do with the information. Will he decide that national security arguments used to maintain the decades-long secrecy policy are compelling and worth preserving, or will he adopt a new approach based on his desire to restore high paying manufacturing jobs to the American people.
According to secret Space Program whistleblower, Corey Goode, Trump was quietly backed by a consortium of institutional actors, the "Alliance", wanting to disclose the truth about secret space programs and extraterrestrial life.
Donald Trump is indeed being backed by the Alliance. Trump is certainly not entering into this battle free from his own baggage. He has said and done a variety of things that are upsetting to people. He does not, however, represent a group that actively seeks to kill billions of people by starting World War III as soon as possible.

Goode's information suggests that key figures and leaders in the Alliance have decided that Trump will back disclosure initiatives since he is unlikely to submit to being pressured or blackmailed into remaining silent. Trump's background in large scale real estate construction projects predisposes him to supporting disclosure of classified technologies that help restore the industrial manufacturing capacity of the U.S.
Trump's desire to create American jobs through resurrecting its latent manufacturing capacity, is going to find a perfect outlet when he is briefed about the advanced technologies used in secret space programs. Arguments to continue keeping these technologies hidden due to national security concerns are unlikely to persuade him. Threats made against him are also doubtful to succeed given his success in warding off all kinds of negative publicity and attacks during the Presidential campaign.
Consequently, this leads to the question of what kind of disclosure will Trump support. Will it be "full disclosure" or a form of "limited disclosure"?
Goode states that in late 2016, agreements had been reached to go forward with a limited disclosure initiative which would reveal the existence of the U.S. Air Force based secret space program involving two Earth orbiting stealth space stations, and antigravity vehicles used to service these such as the TR-3B.

During the 2016 Presidential campaign, Wikileaks released emails by John Podesta, Hillary Clinton's Campaign Chair, which revealed that two retired U.S. Air Force Generals and the head of Lockheed's Skunkworks, are part of a group of ten senior advisors working directly with Rock Star, Tom DeLonge. They are backing DeLonge's disclosure initiative which he describes in his co-authored book, Sekret Machines.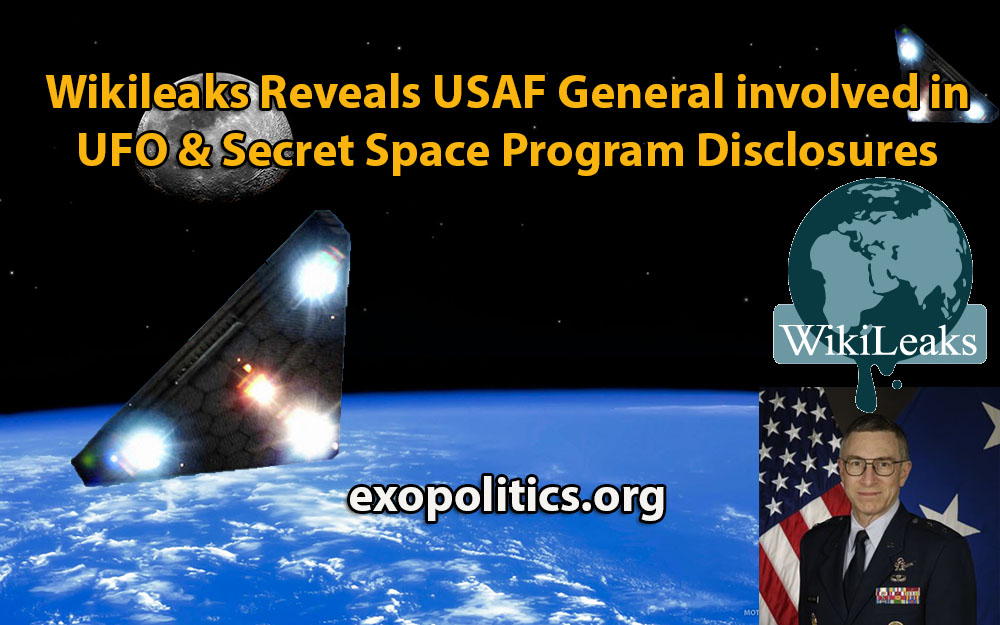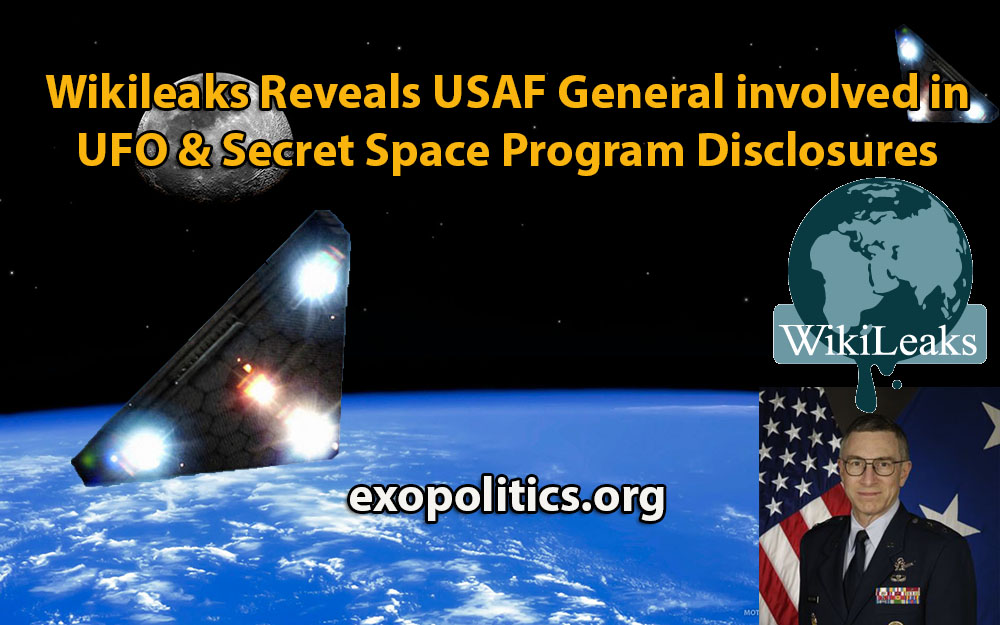 In an extensive two part book review of Sekret Machines (see here and here), I have shown that the information DeLonge has received is part of a limited disclosure initiative backed by the USAF. In short, DeLonge provides a sanitized version of the history of secret space programs in which the main national security threat from Russia, which possesses its own fleet of destructive antigravity spacecraft responsible for abductions, interference with U.S. nuclear weapons facilities, and UFO sightings.
I contrasted DeLonge's "limited disclosure" initiative with a "full disclosure" initiative backed by the U.S. Navy, which is far more revealing of the full range of space assets secretly developed and deployed over the last six decades. Importantly, full disclosure covers nefarious activities, such as a space slave trade and the key individuals that made this trade possible.
In December 2015, retired aerospace engineer, William Tompkins, came forward to disclose how the U.S. Navy developed eight space battle groups, which were first deployed in the 1980's as part of a covert program called "Solar Warden".
According to Tompkins, a number of top Aerospace corporations played key roles in designing and developing kilometers long antigravity spacecraft used in Solar Warden. He says that the Navy's eight battlegroups are now antiquated and a new generation of 12 space battle groups is currently under development, and is expected to be deployed in the 2030's.
Upon learning the full extent of the USAF and US Navy secret space programs, and the existence of multiple extraterrestrial visitors, some of whom have reached agreements with elements of the Military Industrial Complex, Trump will be confronted with highly significant policy choices about how much and when to disclose. What can be predicted with certainty is that Trump will seek to strike a deal of some sort, and then move forward with his final policy.

Trump is a man with huge ambitions and has a reputation for getting his way, as is well illustrated through his successful Presidential campaign despite great opposition. On the other hand, there is a seven decades long secrecy policy that is deeply entrenched in the national security system.
This brings us to the paradox of what happens when an unstoppable force [Trump] meets an immovable object [secrecy]? There are certainly going to be fireworks, as we are already witnessing in the run to Trump's January 20 inauguration. My best guess is that Trump will stamp his name on an official disclosure policy on secret space programs and extraterrestrial life that results in massive scale industrial projects designed to "Make America Great Again".
© Michael E. Salla, Ph.D. Copyright Notice
Further Reading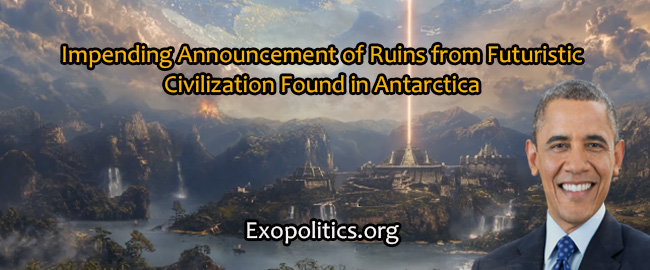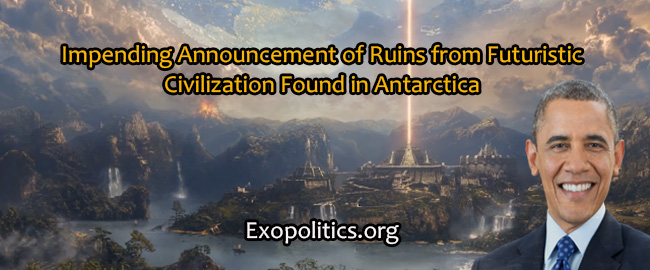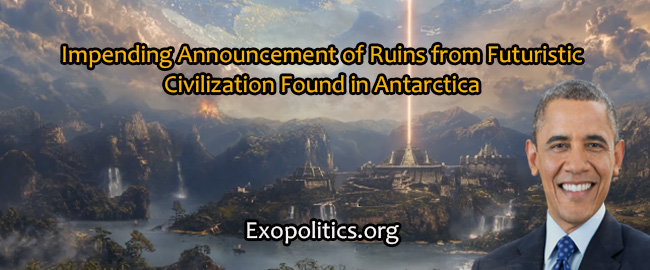 Many have been pondering the significance of recent visits to Antarctica by prominent officials and individuals offering puzzling explanations for their travel there. On November 9, U.S. Secretary of State, John Kerry, landed in Antarctica, during the peak of the U.S. Presidential Election. Why would the serving Secretary of State leave the U.S. at such a critical time just to observe global warming patterns in Antarctica?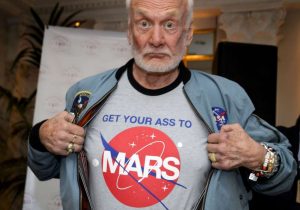 Even more mysterious was the December 1 medical evacuation of astronaut Buzz Aldrin out of Antarctica, after a surprise visit there, apparently to become "the oldest person to reach the South Pole at the age of 86."  He was seen along with companions wearing shirts with "Get Your Ass to Mars" logos. Was he there because he wanted to personally see the discovery of something that would make his dream of Mars colonization a reality?
Earlier on February 18, 2016, Russian Patriarch Kirill visited a Russian outpost in Antarctica, reportedly to see penguins. Just over a month later, on March 23, President Obama visited the southern Argentinian resort town of Bariloche, which is claimed to have been the secret hideaway of Adolf Hitler after World War II.  Bariloche became the unofficial capital of a breakaway German civilization based in Antarctica, and it is claimed that there is a hidden tunnel system from there to Antarctica. Also noteworthy, Presidents Eisenhower and Clinton have visited Bariloche.

The real reason for all these mysterious visits to Antarctica, and nearby locations such as Bariloche, is about to be revealed according to Secret Space Program whistleblower, Corey Goode. He says he was given time sensitive intelligence about an impending official announcement of the discovery of ruins from a futuristic civilization found in Antarctica.
Goode's data is about to be released according to a December 6 update by David Wilcock who conducts a highly popular interview series on Gaia TV with Goode titled Cosmic Disclosure. In an article titled, "ENDGAME: Disclosure and the Final Defeat of the Cabal," Wilcock writes:
Imagine if you woke up one day to see hyper-futuristic ruins being revealed in Antarctica. You're not seeing this on Ancient Aliens or on alternative news sites, but everywhere… on every major media platform there is.
Imagine journalists and military officials revealing these incredible findings—in videos shot on location. An event of this magnitude could be far more distracting than any 9/11-style catastrophe.
The power elite may well be hoping that such a civilization-defining "game changer" could make any and all preceding news stories irrelevant and forgotten.

Wilcock goes on to discuss what he believes is the ulterior motive for announcing such a monumental discovery at this time. He asserts it is designed to distract the mass public from recent Wikileaks revelations concerning "Pizzagate", and the involvement of high level officials in both the Clinton and Obama administrations in pedophilia rings which involve child sacrifice. Bill Clinton's former chief of staff, John Podesta, who was also Obama's Counselor and senior advisor, as well as heading the Hillary Clinton campaign, figures prominently in the Pizzagate scandal.
Wilcock's article, which is a prelude to an upcoming article about the impending Antarctica announcement, is quite detailed and well worth reading.
Wilcock says that the upcoming article was co-written with Goode. He describes what Goode's sources have revealed to him about the discovery in Antarctica, and plans to officially disclose this. Wilcock writes:
Corey Goode was made aware of the discovery of epic new Antarctic ruins approximately three months ago, and wasn't even authorized to tell David what was going on.  We have only just now been cleared to release this critical, time-sensitive data to the public.
While we await the release of the upcoming update by Goode and Wilcock to provide more details of what was discovered in Antarctica, it is worth pondering the implications of Secretary Kerry's recent visit there, if he did indeed witness such an incredible discovery.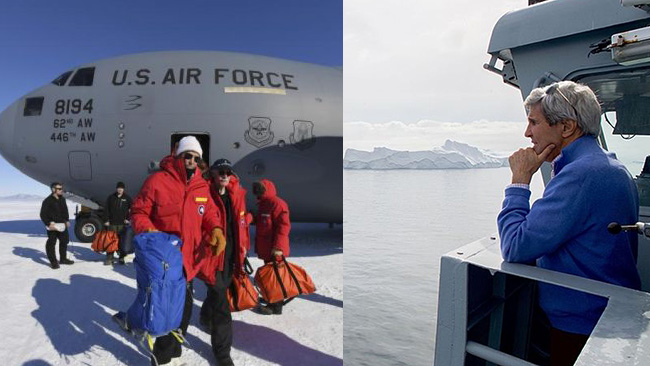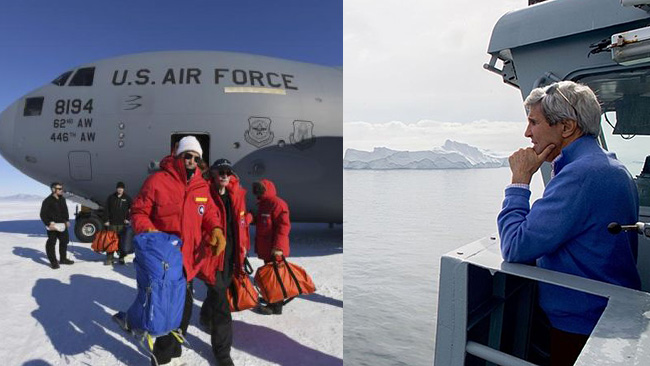 As the outgoing Secretary of State, Kerry is sure to want to release the full portent of what he saw in Antarctica before his term officially ends in January 20, 2016. President Obama will likewise want to move forward with such a world shattering announcement to put the icing on his legacy as the first African American U.S. President, whose policies ushered in a new era of prosperity.
Alternatively, as Wilcock suggests, the goal is to distract the American press and public away from damaging evidence of the Clinton and Obama administrations' involvement in pedophilia rings. This suggests that Podesta's involvement in a US Air Force initiative to promote "limited disclosure" about UFOs and extraterrestrial life, was likewise designed to serve as a distraction from even more damaging "full disclosure" revelations provided by Corey Goode, William Tompkins and others.
Positive economic trends continue to emerge in the U.S. in terms of dropping unemployment, rising stock markets, and renewed optimism about the state of the economy. When combined with an official announcement of a discovery of the ruins of an advanced civilization in Antarctica, Obama will give a tremendous boost to his legacy. This information is likely to be given wall-to-wall coverage by the mainstream news, thereby distracting the public from alternative media reports about information that tarnishes Obama's legacy.
Perhaps a further motivation for President Obama releasing news about such an Antarctica discovery would be to upstage the incoming Trump administration in terms of future bragging rights for who is to be ultimately credited for "Making America Great Again."
© Michael E. Salla, Ph.D. Copyright Notice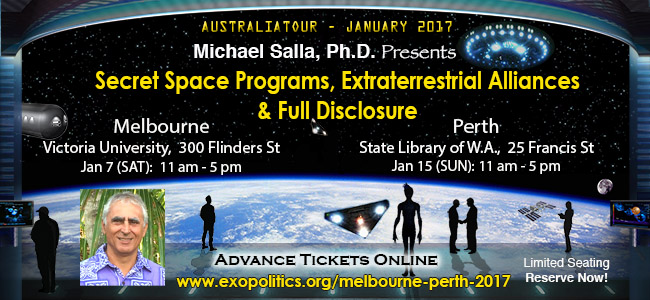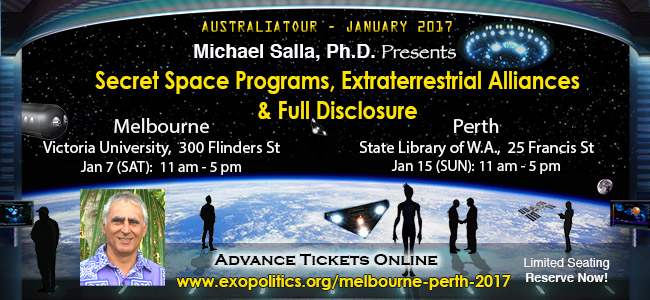 Further Reading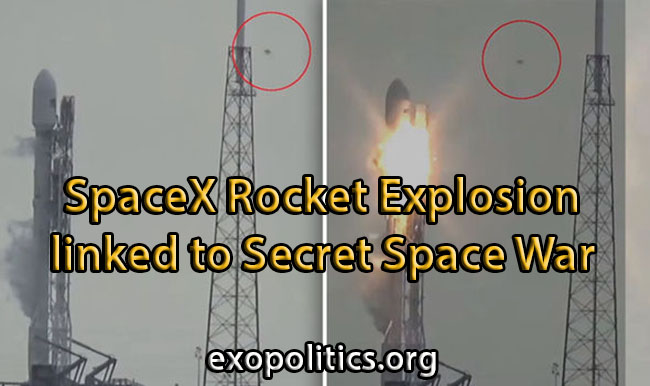 A series of video frames taken of the SpaceX Falcon 9 rocket explosion on September 1 show two UFOs in the vicinity, just before and during the failed pre-launch test. The video frames are hard evidence linking the SpaceX explosion to an alleged space war being fought between rival secret space programs according to whistleblower Corey Goode.
The SpaceX rocket was carrying a $150 million satellite belonging to Facebook's Mark Zuckerberg who was quick to tweet his disappointment:

Elon Musk tweeted an initial analysis that only identified where the explosion took place:

According to investigative reporter, Jim Stone, the way in which one of the UFOs interacted with the rocket just as it exploded suggests it was an attack, and not a case of a fuel tank breach in the upper stage:
This explosion started at the top of the rocket, right where the UFO was, and not near the bottom, where virtually all rocket explosions start. No malfunction caused this, if this started at the top of the rocket only a fuel tank breach in an upper stage that was not being tested could have caused this, and that means the rocket was most likely shot with something.

The attack was intended to prevent the satellite reaching Earth orbit to perform a nefarious purpose, Stone stated:
Before it blew up, a UFO showed up, fired something at the rocket, and then quickly flew away. The image here shows the UFO quite clearly. If Spacex can't explain what this UFO is, then I am going to say that either off world help arrived to keep Facebook grounded or white hats in American intelligence destroyed this rocket to keep something evil from being launched.

An analysis of 10 frames from the video of the explosion (see BBC video below) show two UFOs appearing just before the rocket test, and one flying just above the rocket as it explodes.
The author, who conducted the frame by frame analysis, concludes:
You will see a small looking ufo/object buzz by the rocket as it explodes!  The ufo buzzes by the head of the rocket coming from the right side and moving to the left side of the screen at incredible speed.  This is definitely some type of secret space program weapon technology being used.  The secret space program war is in full affect and this time in full view.

The alleged attack follows earlier claims by Secret Space Program whistleblower, Corey Goode, that space battles have recently intensified between rival secret space programs. Goode provided an artist's depiction of one of these battles fought over Antarctic skies space in early 2016.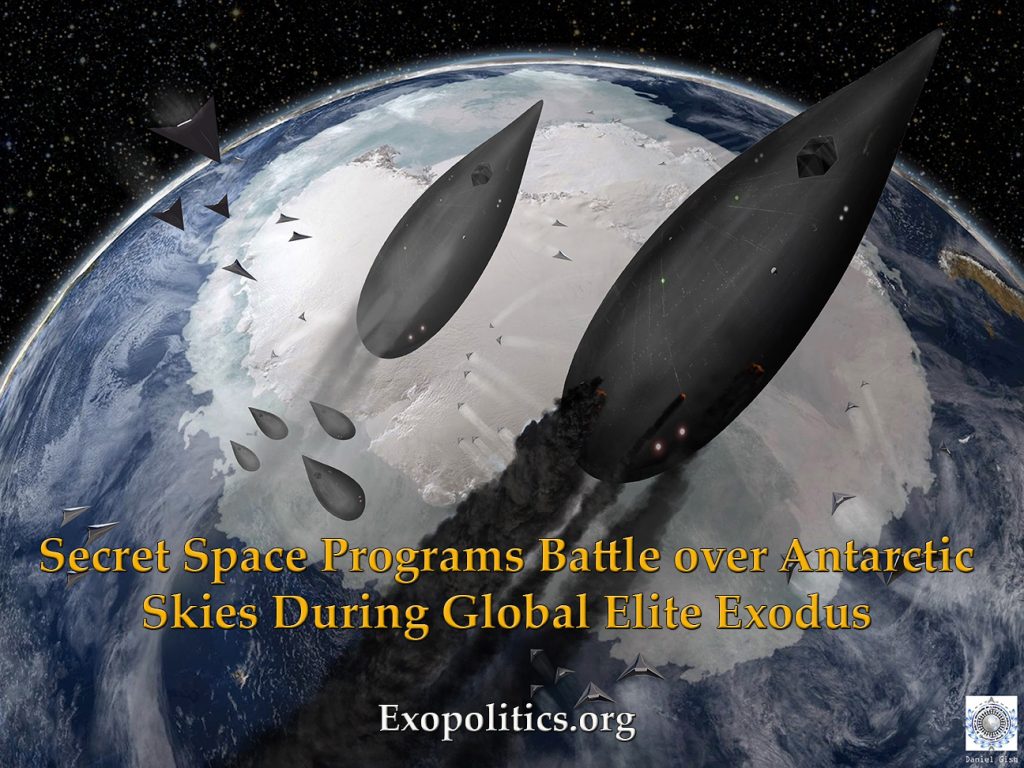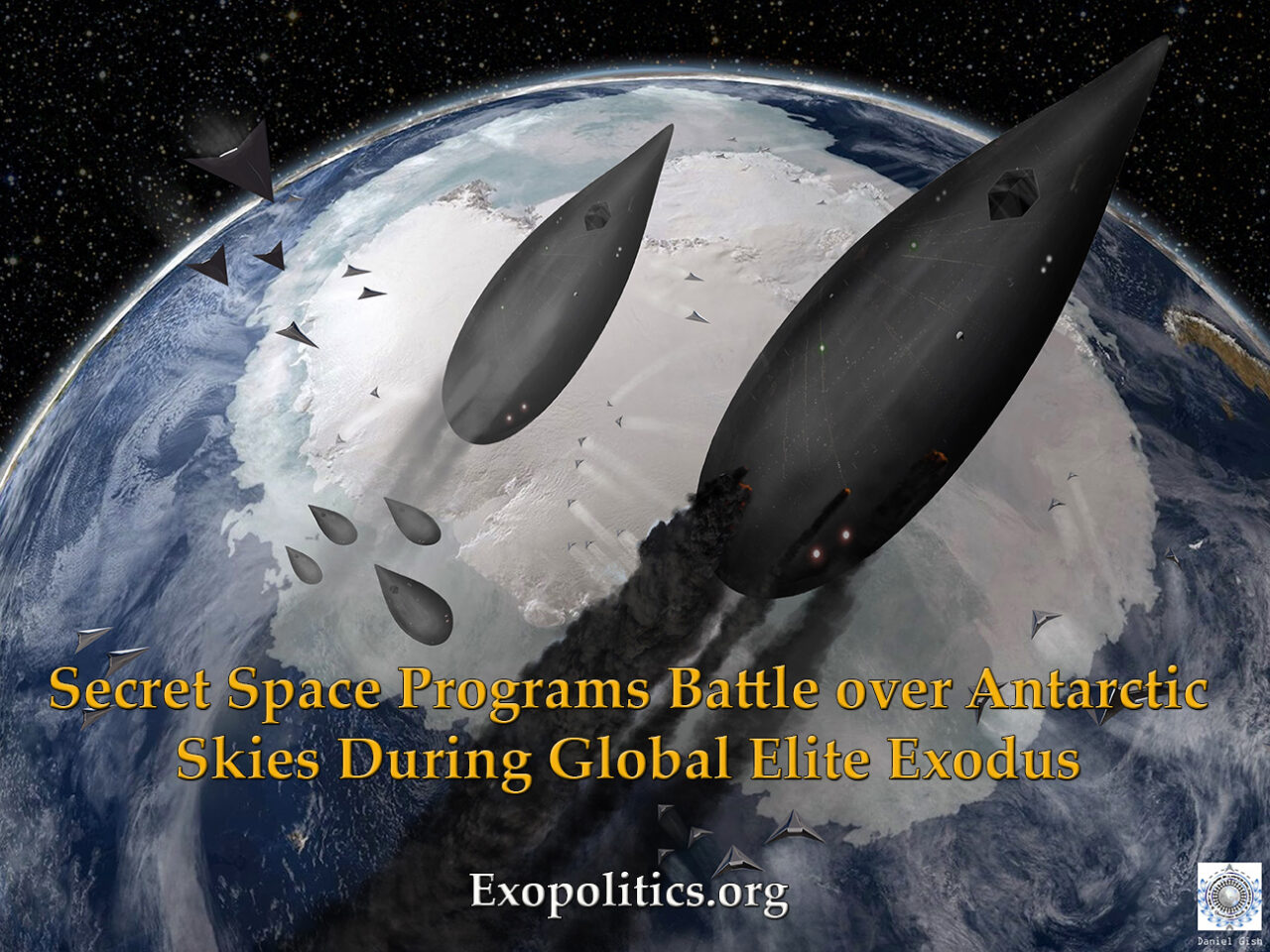 Circumstantial support for Goode's claims emerged with President Barack Obama delivering a report to the U.S. Congress on May 26 proposing an "integrated policy" to deter potential enemies in space. In a letter released through the White House Press Secretary discussing the report along with a classified Annex, Obama said:
The report is the result of an interagency process with the objectives to reduce risks to the United States and our allies in space; and to protect and preserve the rights, access, capabilities, use, and freedom of action of the United States in space.  Success will require a multi-year effort and commitment across all departments and agencies, and I look forward to your continued support. 

Obama's "multi-year effort and commitment across all departments and agencies" was clearly intended to create and fight space wars as soon as possible.
It appears that Obama's proposed interagency space defense policy was really intended to help what Goode describes as a lower level secret space program comprising the USAF Space Command, the National Reconnaissance Office (NRO) and Defense Intelligence Agency (DIA).
Goode claims that in February this year, he was abducted by operatives from this lower level space program who wanted to find out where he was getting his information from, because he has been accurately revealing details of highly classified space activities.
Apparently, the USAF/NRO/DIA is wanting to beef up its own space assets during a time of increasing military hostilities between spacecraft that are of unknown origin to them. Goode, however, identified these the warring spacecraft as belonging to differing factions of secret space programs allied with rival alliances comprising humans and extraterrestrials.
What adds significant support to Goode's incredible claims of warring space alliances is a recently published paper by an astrophysist, Duncan H. Forgan, in the prepublication science website, arXive.org. Forgan claims that rival alliances, what he describes as 'cliques', may disagree over the extent to which contact is allowed to happen on more primitive planets such as Earth:
One clique attempting to place an interdict on contacting 'primitive' civilizations is likely to encounter significant problems if another clique disagrees … It may well still be the case that the Earth resides in a region of space occupied by a conservative clique bent on non-contact.

UFOs captured on camera just as the Space X experienced an upper stage explosion while conducting its pre-flight rocket testing is further evidence that a secret space war is indeed occurring between rival space programs and alliances.
© Michael E. Salla, Ph.D. Copyright Notice
Further Reading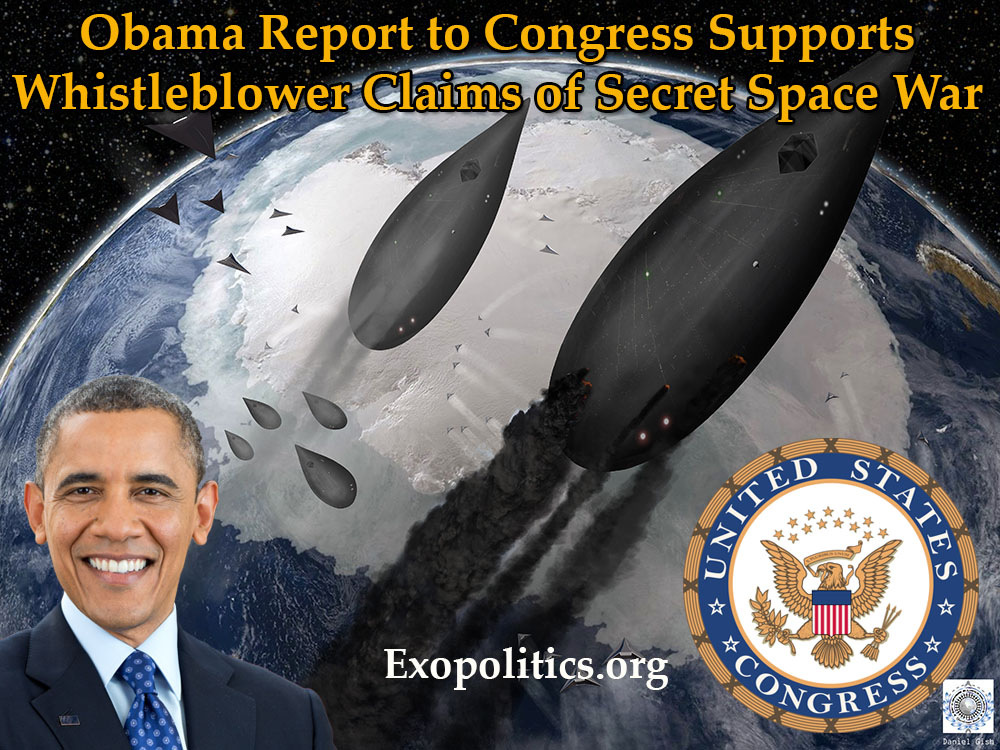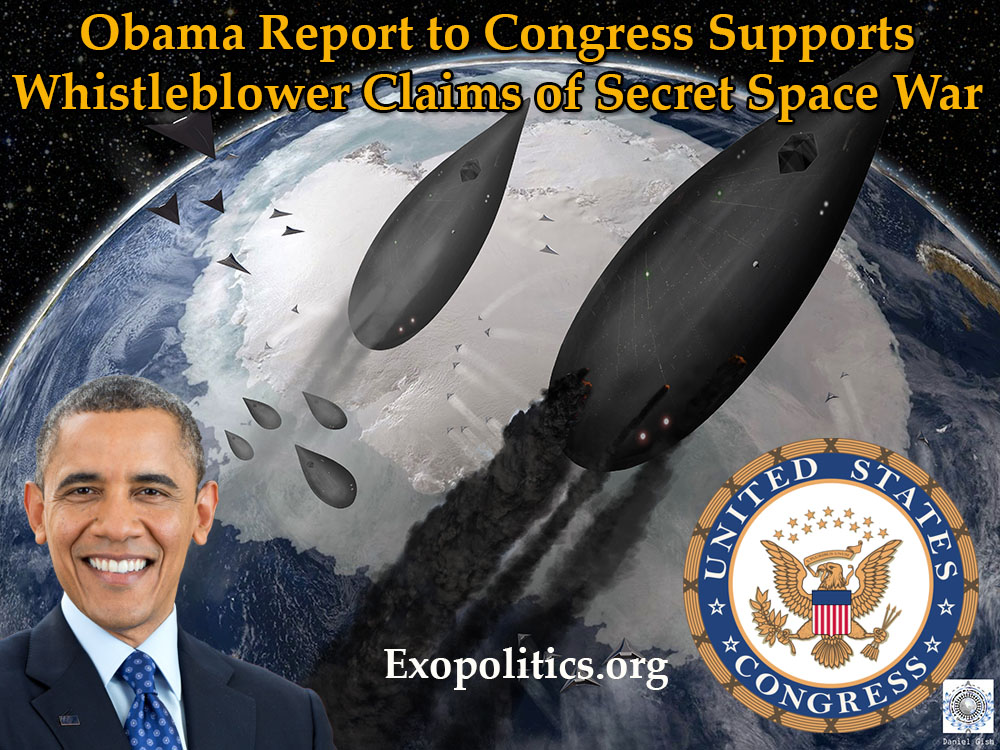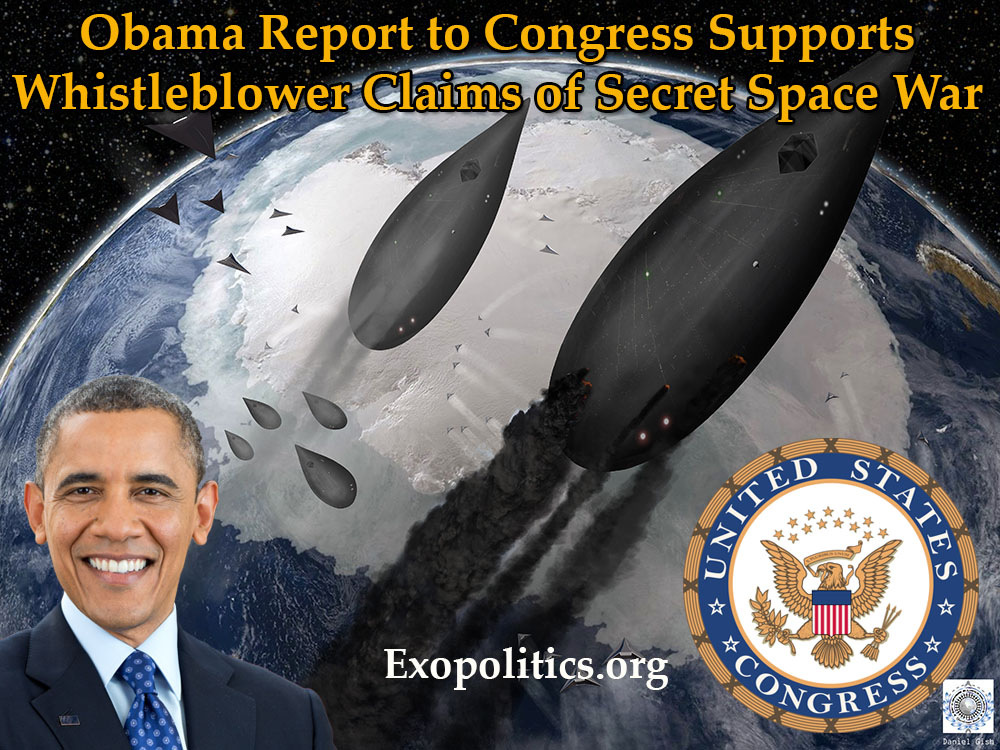 On May 26, President Barack Obama issued a report to the U.S. Congress about an interagency effort to develop an "integrated policy" to deter potential enemies in Space. Obama's "Space Report" gives credence to secret space program whistleblowers such as Corey Goode, who claim that battles have been fought between rival secret space programs in 2015, with the most recent occurring over Antarctica in April 2016.
In a letter released through the White House Press Secretary discussing the report along with a classified Annex, Obama said:
The report is the result of an interagency process with the objectives to reduce risks to the United States and our allies in space; and to protect and preserve the rights, access, capabilities, use, and freedom of action of the United States in space.  Success will require a multi-year effort and commitment across all departments and agencies, and I look forward to your continued support. 

Obama's letter said the report was issued to comply with "section 1613 of the National Defense Authorization Act for Fiscal Year 2016″, which he signed into law on November 25, 2015.

The Act was first submitted as a Bill on May 14, 2015, and had the following section to which Obama was directly responding in his May 26, 2016, letter:
Requires the President to establish an interagency process to develop a policy to deter adversaries in space.

Obama's letter refers to "a multi-year effort and commitment across all departments and agencies." What provides important context for his letter are reports of alleged battles in space between different secret space programs, which began in early 2015 according to Goode.
Goode's first public reference to battles in space was in an email interview released on May 30, 2015 where he discussed recent military conflict between different secret space programs [SSP] and their respective extraterrestrial allies both on Earth and in deep space:
Before the breakdown in the overall relations between the factions that were once united through the "Secret Earth Governments" (and their "Syndicates" known as the Cabal/Illuminati and various other Secret Societies), their Controllers (Draco Federation Royals and Ancient Earth/Human Break Away Civilizations that have deceived many and presented themselves as ET's from various Star Systems) there has been quite a lot of chaos among these groups which has resulted in them turning on each other. This has led to conflict in various underground/undersea networked facilities that have been responsible for some of the Earth Quakes in recent months that have been occurring across the Planet Earth as well as some incidents on Mars and other bodies in the Sol System…

Goode went on to describe the result of defections to a SSP Alliance formed with the U.S. Navy's Solar Warden program, which led to a surge in military battles, especially on Mars leading to many deaths at secret colonies:
Over the last 6 months there have also been some defections of assets from the Cabal controlled ICC [Interplanetary Corporate Conglomerate] Secret Space Program, remnants of the Dark Fleet (which is not a Draco Fleet but a Human SSP Fleet that serves alongside the Draco Alliance) that were not caught outside of the Outer Barrier as well as various other Military Black Ops SSP Program Members. Some of them brought with them time critical and actionable intelligence that was acted on by some of the SSP Alliance Leadership and their new allies without bringing it to the SSP Alliance Council. This resulted in Two Massive Attacks that caused large numbers of innocent deaths. Those who took part in what the Blue Avians called "Atrocities" were unapologetic and stated that it was the cost of war but the collateral damage was regrettable.

It is very significant that Goode's May 30, 2015 revelations of recent space battles overlapped with the introduction into the U.S. Congress of the original bill for the National Defense Authorization Act for Fiscal Year 2016, which requested Obama to: "establish an interagency process to develop a policy to deter adversaries in space."

It's worth emphasizing here that at the same time Goode was revealing the military hostilities that had just occurred both on Earth and in Space between different secret space programs, the U.S. Congress was authorizing President Obama to respond to future scenarios not dissimilar to what Goode was saying had already occurred in early 2015.
More recently, Goode claims that he received a briefing about a battle fought over Antarctic skies in April 2016, involving an attack on six large "teardrop shaped" cruisers by dozens of smaller "chevron shaped" space craft. He has provided graphic illustrations of both the Antarctic space battle, and of the location of the six bases from which the alleged cruisers launched.
Goode was uncertain over the origin of the chevron shaped space craft, and referred to speculation among his contacts that they belonged to an "Earth Alliance", comprising "White Hats" from different national militaries such as the BRICS nations of Russia, India, China and Brazil.
Goode also said that he was physically taken on a tour of these hidden Antarctic facilities, which he says are jointly run by the Interplanetary Corporate Conglomerate (ICC) and the Dark Fleet. He stated that the six space cruisers belonged to Dark Fleet, which dates its origin to breakaway Nazi groups in Antarctica and South America.
They were carrying Nazi-aligned global elites that had fled to South America and Antarctica over the last six months, as Goode explained in a personal briefing to me on June 15.
On June 18 – 19, David Wilcock gave his analysis of the informal briefings he had received earlier from Goode, and speculated that the attacking chevron craft belonged to members of the U.S. Military Industrial Complex (MIC):
Corey's people in the SSP Alliance did not know who built the "chevrons". It appeared to be one of the Earth-based "lower level SSP" groups. In order to give them honor and respect, I will refer to these Earth-based space program groups as the military-industrial complex, or MIC.

Wilcock says that he spoke with another whistleblower, Dr. Pete Peterson, who said that the US based MIC was given these advanced technologies by defectors from corporate controlled secret space programs:
Peterson knew all about these triangle-shaped craft when I discussed it with him on the phone. The MIC are very proud of their new weapon. It is very likely that the MIC got this technology from Alliance defectors from the space-based ICC, or Interplanetary Corporate Conglomerate.
The ICC is a faction of the SSP that started out as a part of the MIC. The ICC then became far more powerful and splintered off in various off-planet colonies. This group is completely self-sufficient, never needs money or supplies of any kind from Earth, and is effectively a breakaway civilization. The craft piloted by the earth-based MIC were nowhere near as advanced as those of the ICC or Dark Fleet, but all of that has changed now.

In June 2009, Petersen had first shared his testimony on a leading whistleblower site Project Camelot, and has continued to privately brief Wilcock.

If Goode and Petersen are correct, then it would appear that Obama's letter referring to a "multi-year effort and commitment across all departments and agencies," to deal with space adversaries, is not referring to a hypothetical future scenario, but is dealing with present real time contingencies involving one or more secret space programs and their extraterrestrial allies.
Furthermore, Goode claims that he was abducted on three occasions over a six week period during the months of January and February by an interagency military group with its own secret space assets, which was intent on gathering intelligence on the accuracy of Goode's earlier revelations.
In a previous article, I discussed Goode's June 15 personal briefing where he said that the National Reconnaissance Office, USAF Space Command and Defense Intelligence Agency (DIA) were agencies very likely involved in his military abductions.
They are part of what Goode has previously described as a "lower level" secret space program, largely unaware of the more highly classified space programs operating in deep space with kilometers long space carriers and cruisers as confirmed by former aerospace engineer William Tompkins.
While at a Douglas Aviation Company think tank called Advanced Design, Tompkins says that he personally designed the first space battle groups in the 1950's, which eventually began deployment in 1984 as the Navy's Solar Warden Space program.
The significance of Goode's January/February military abductions by the NRO, USAF Space Command and DIA is that these are currently gaining intelligence on the operations and technologies used in more advanced space programs, which are completely independent of the regular chain of military command, and Presidential oversight. These are almost certainly the same agencies involved in Obama's "interagency process to develop a policy to deter adversaries in space."

Consequently, if Goode is correctly reporting his experiences, then it would appear that his military abductions were part of President Obama's new interagency initiative to prepare for future space battles involving unnamed adversaries.
Obama's Space Report, and section 1613 of the National Defense Authorization Act of 2016, provide important circumstantial support to Goode's claims that military hostilities between rival secret space programs are currently occurring. These hostilities have stimulated a coordinated response by select military departments, agencies and corporations within the US Military Industrial Complex, and their international allies – what Goode loosely describes as the "Earth Alliance", to deal with "adversaries" who will likely be revealed in what has been predicted to be a limited disclosure announcement.
 © Michael E. Salla, Ph.D. Copyright Notice
Further Reading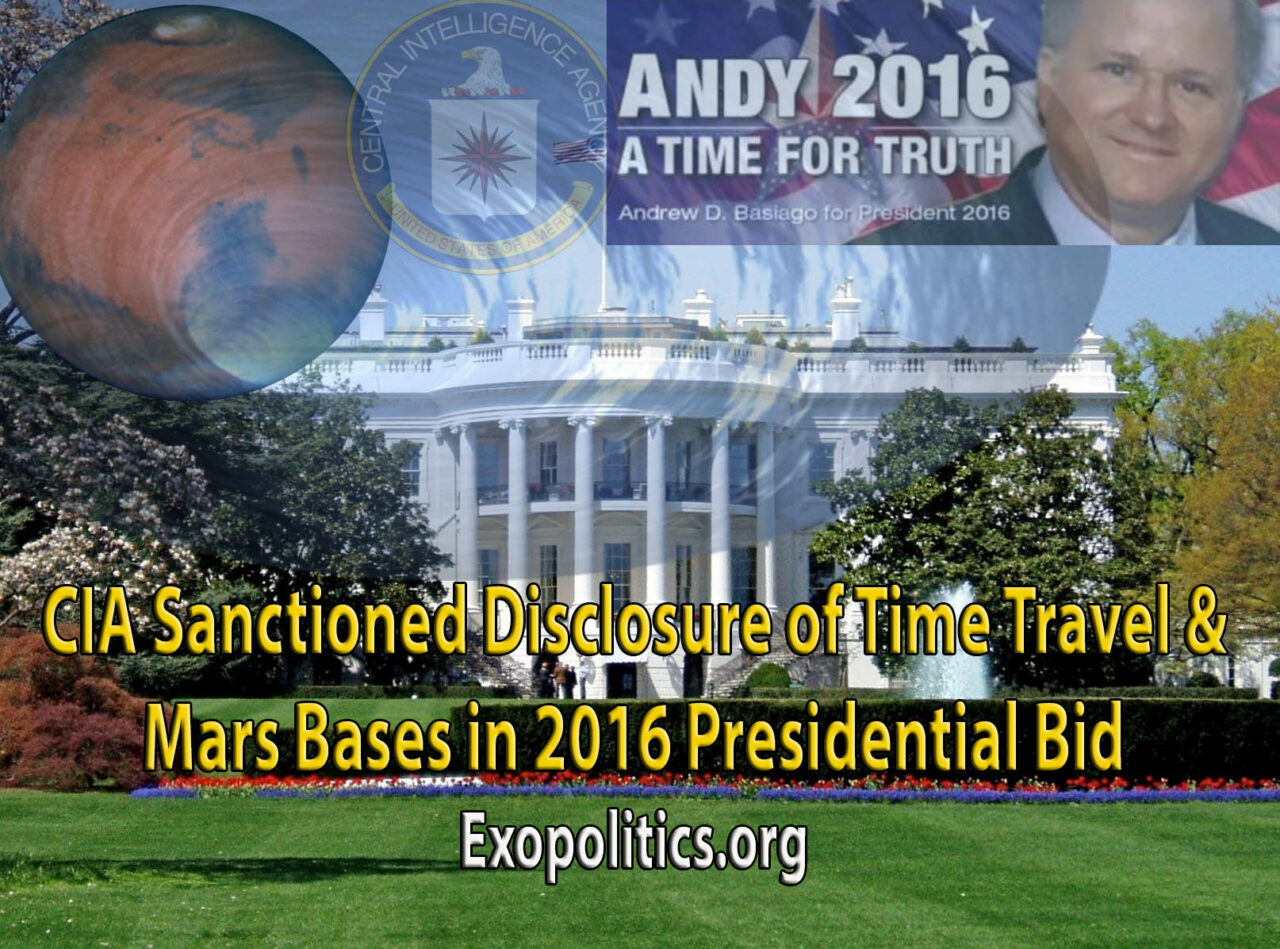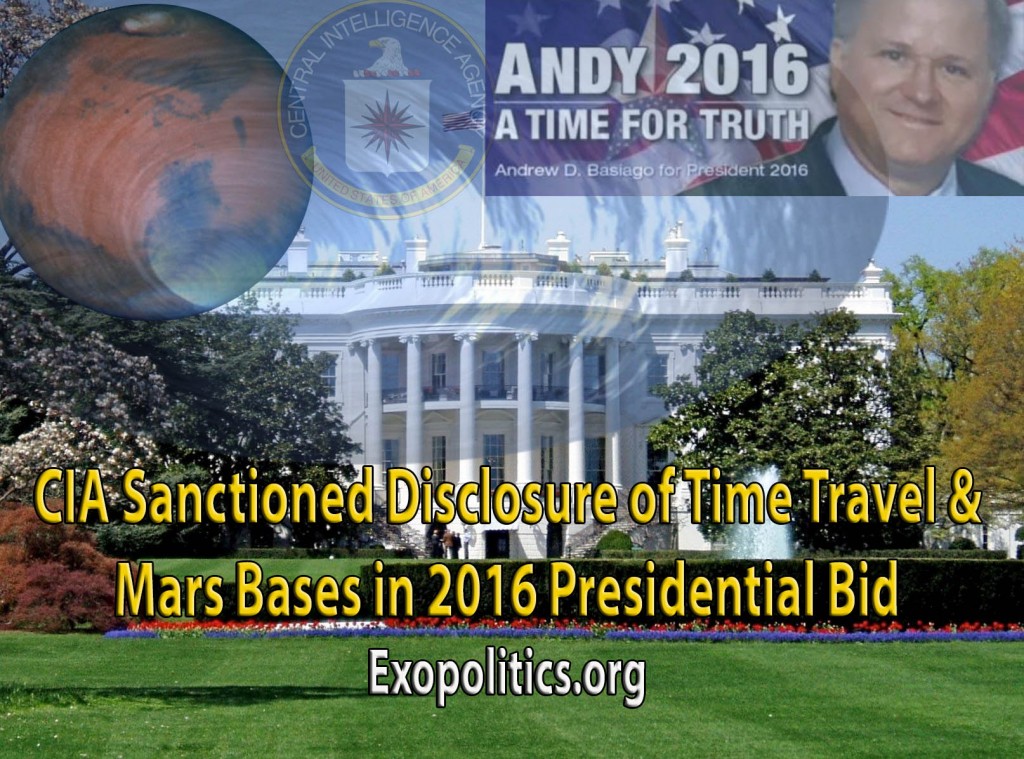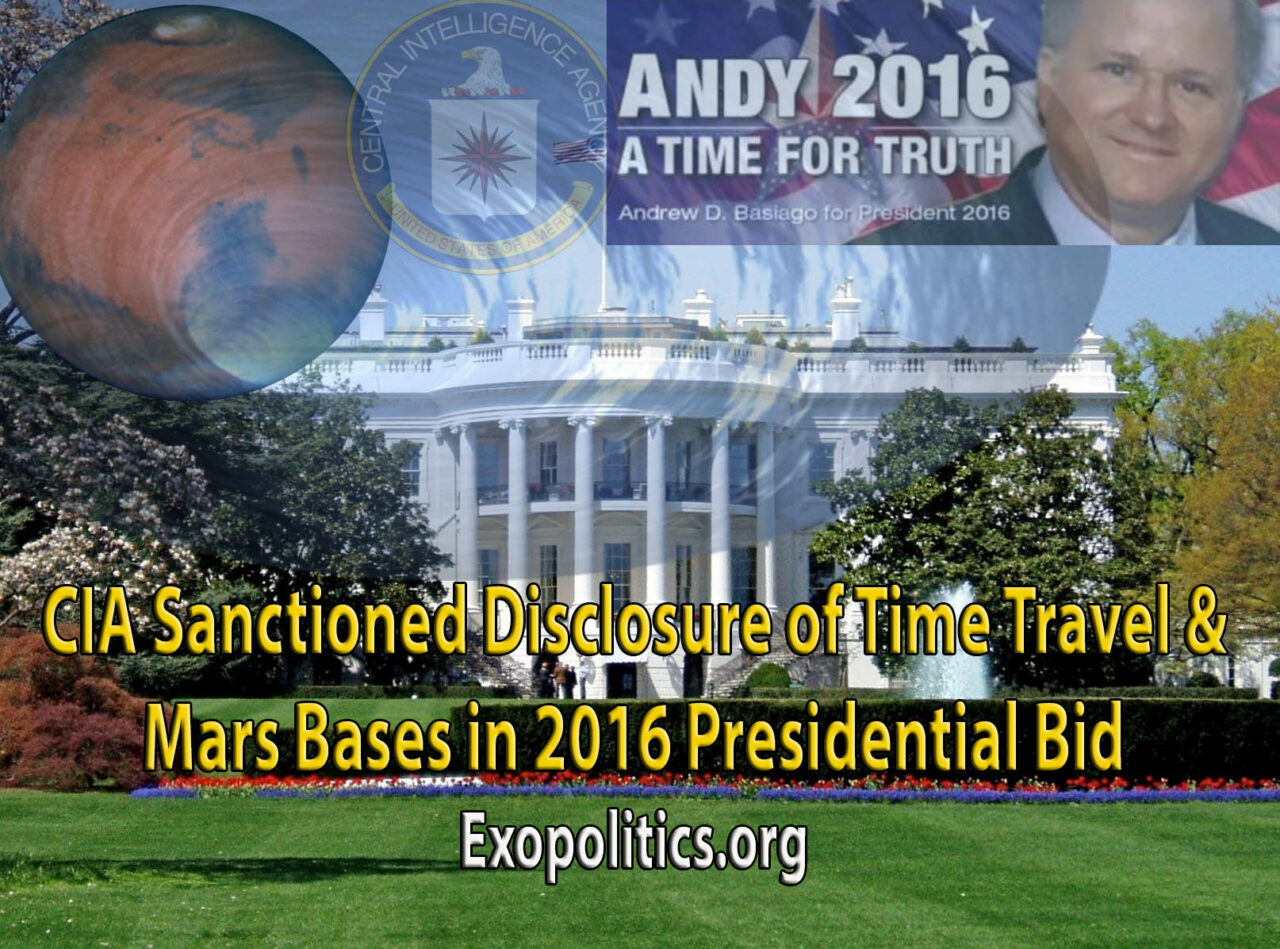 In part two of this series, it was claimed that CIA "White Hats" had begun in 1980 to groom Barack Obama as a future U.S. President, while simultaneously grooming Andrew Basiago to follow him some time after into the White House.
Basiago's path to the Presidency would follow a different trajectory than Obama's more traditional grass roots political career in one of the two major U.S. political parties. Basiago would instead become a whistleblower and disclose his involvement in two classified programs – Project Pegasus and a CIA Jump Room Program to Mars. Basiago's disclosure testimony would subsequently underpin his "Truth Campaign" to become U.S. President.
If Basiago's claims are accurate about he and Obama being groomed as future Presidents, which includes what the CIA "White Hats" exposed Basiago to during his childhood and early adulthood, then what is the ultimate agenda of these alleged "White Hats"?
For an answer, we need to return to Basiago's core claim that one of the purposes of the time travel technologies was to identify future U.S. Presidents. In part one, it was pointed out that during Project Pegasus, a number of U.S. Presidents and Vice Presidents were "pre-identified" and then briefed by CIA/DARPA personnel, after which Basiago met them during informal lunches.
Later, during the Mars Jump Room training, Basiago claims that he and Obama were also pre-identified as future Presidents. This is a perplexing scenario given Basiago's claim that he and Barack Obama were sent to Mars to basically only maintain a specified threshold of humans physically present, while escaping life threatening situations from marauding Martian predators. They were told:
"Simply put, your task is to be seen and not eaten."

Why would two allegedly pre-identified U.S. Presidents to come, be treated in such a dangerous and callous way?
One answer is that such experiences were part of the "grooming" of Obama and Basiago for their future roles. Both would be taught to fear the power of their CIA handlers, who had the power of life and death over them. Arguably, such experiences would make them more amenable to CIA influence if they succeeded in being voted into high political office.
Yet such an answer doesn't satisfactorily explain why some pre-identified future Presidents would be exposed to a classified space program involving Mars, when other Presidents like Kennedy, Carter and Clinton, were denied access to similar information.
In the case of President Kennedy, his efforts to get access to classified UFO files were a direct factor in his assassination through the direct complicity of the CIA as discussed in the book, Kennedy's Last Stand.

There is also credible testimony that President Carter was flatly denied access to classified UFO files by the outgoing Director of the CIA, George H.W. Bush.

In the case of President Clinton, he appointed a close friend, Webster Hubbell, to the third most senior Department of Justice position, in order to find answers to two questions: "One, who killed JFK? And two, are there UFOs?"

Why would Barack Obama, for example, have been given access to such highly classified information, when it was denied to Kennedy, Carter and Clinton?
Was Basiago subjected to mind control to make him believe events concerning Obama and teleportation to Mars occurred as he recalled, or was being told? In this regard, he does acknowledge "that people were brainwashed when they entered these kinds of projects and when they left."

Did such brainwashing happen with Basiago? If so, it is possible that Basiago's recollections of Barack Obama's participation in the Mars Jump Room Project was contrived by his CIA handlers.
In part two, it was pointed out that investigative reporter Wayne Madsen, in 2010, was the first to raise the possibility that Obama was groomed by the CIA to become a future President. Was Basiago brainwashed to include the Mars teleportation element to Obama's background to muddy the waters so Madsen's earlier claim could be more easily discredited?
While possible, there is significant evidence supporting Basiago's version of events here.
Obama did attend Occidental College in Los Angeles at the time Basiago claims that he, Obama and others were traveling to a secret jump room facility at 999 N. Sepulveda Boulevard in El Segundo, California in 1980. The distance between Occidental College and El Segundo is approximately 25 miles.
Also, according to Basiago, Obama used the name Barry Soetoro during his participation in the CIA Mars Jump Room Program. This is supported by researchers who have found college transcripts showing Obama did use that name in the past, including his time at Occidental College.

Finally, two other whistleblowers, Brett Stillings and Bernard Mendez have come forward to confirm their participation in the Mars Jump Room program, and Barack Obama's involvement. They support Basiago's claim that Obama used the name Barry Soetaro during the covert program.
Incredibly, Basiago may have been right all along that Obama, aka Barry Soetoro, was a participant in a classified CIA project where participants were led to believe they were secretly traveling to Mars through classified teleportation technologies. Whether they actually travelled to Mars or not, it's possible that Obama was recruited and trained as a CIA asset during his time at Occidental College. This is consistent with what Madsen had earlier claimed about the Obama CIA link.

One thing is clear from Basiago's narration of events recalled from his youth during Project Pegasus, and later from the CIA Mars Jump Room program. Principal CIA figures, including his father (Raymond Basiago), were in favor of disclosure of the time travel and jump room technologies, and encouraged Basiago down a path towards that end.
The picture that emerges of the CIA clandestine services branch is very benign, to say the least. The CIA is involved in the development of time travel and jump room technologies for intelligence gathering purposes, and has key officials encouraging Basiago to believe he will be a future President with the power to one day disclose such technologies to the world.
Andrew Basiago for U.S. President
This takes us back to the December 19 announcement of Andrew Basiago running for U.S. President. He is running as a write-in candidate in those 43 states that allow this. The cost of being on the ballot for all 50 states is estimated to be $5 million, and Basiago rightly objects to paying such an exorbitant amount to simply present an alternative choice to the U.S public.

Basiago clearly believes his 2016 candidacy is a serious bid. This is based on his insider knowledge about his foreseen future role, discovered within a number of classified programs run by the CIA and DARPA of which he was a participant.
While Basiago's 2016 Presidential campaign appears quixotic at the moment, even a partial disclosure of an extraterrestrial cover-up by government authorities would lead to a powerful public reaction against major political parties.
Such a reaction could give momentum to Basiago's candidacy for 2016, or perhaps 2020, potentially raising it to a more serious level, given the public's desire for the truth to be revealed. The detailed testimony of Basiago would reveal some of this desired truth.
What is worth keeping in mind in contemplating these future possibilities is that the CIA, according to Basiago, has gathered intelligence on such scenarios through time-travel technologies. Just as the CIA allegedly groomed Obama to be President, similarly, "White Hats" in the CIA have groomed Basiago to play the whistleblower role he is currently playing.
Basiago has declared that he is leading a "Truth campaign" in his 2016 Presidential bid. Yet another powerful force appears to be a covert CIA operation, which according to Basiago's testimony, pre-identified him decades ago as a future President promoting an extraterrestrial and secret space program disclosure platform.
While Basiago clearly believes he was, and perhaps still is, supported by "White Hats" in the CIA, there are good reasons why even alleged CIA White Hats should not be trusted. While as a child and young adult, Basiago clearly believed that his father and other alleged CIA White Hats were telling him the truth, there is no reason why the general public should accept this belief. He may very likely have been subjected to mind control to alter his memories of past or future events.
Basiago's detailed testimony about his involvement in two classified programs run by the CIA does reveal important and significant information about key personnel, events and institutions involved in these programs. The sheer volume of details and information he has released is very impressive, while his subsequent investigations, along with supporting witnesses, suggests that a significant portion of it is accurate.
Consequently, Basiago appears to be a genuine whistleblower and understandably believes that his 2016 Presidential run is the real deal. Yet, Basiago, by his own testimony, was pre-identified and groomed as a future whistleblower by the CIA to reveal information about classified projects. His disclosures appear to be part of a psychological operation with a big long term agenda, which of course includes depicting the CIA in very favorable terms.
Basiago's 2016 Presidential campaign is therefore very likely a part of a CIA sanctioned "limited disclosure" program concerning extraterrestrial life and secret space programs. There is a vast amount additional information about secret space programs and extraterrestrial life that his disclosures omit.
For example, Basiago does not discuss the role of German Secret Societies and the Nazi SS in pioneering the first space and time travel technologies, and infiltrating the U.S. military industrial complex in the 1950's. There are significant differences between "limited" and "full disclosure" scenarios, as discussed at length in the book Insiders Reveal Secret Space Programs and Extraterrestrial Alliances.
While evidence suggests Basiago has released valuable information about the development and use of time travel, and teleportation technologies, there is good reason to be very cautious about supporting his "Truth campaign" with its "limited disclosure" scenario influenced by CIA "White Hats."
Andrew Basiago's 2016 Presidential campaign opens the door to illuminating a covert world of secret space programs and extraterrestrial life. We should all be thankful for his public disclosures and attempt to bring these issues into the 2016 Presidential race as a serious topic. Ultimately, this can aid the much bigger "full disclosure" scenario as truth breaks free from its CIA shackles.
Michael E. Salla, Ph.D. Copyright Notice
Further Reading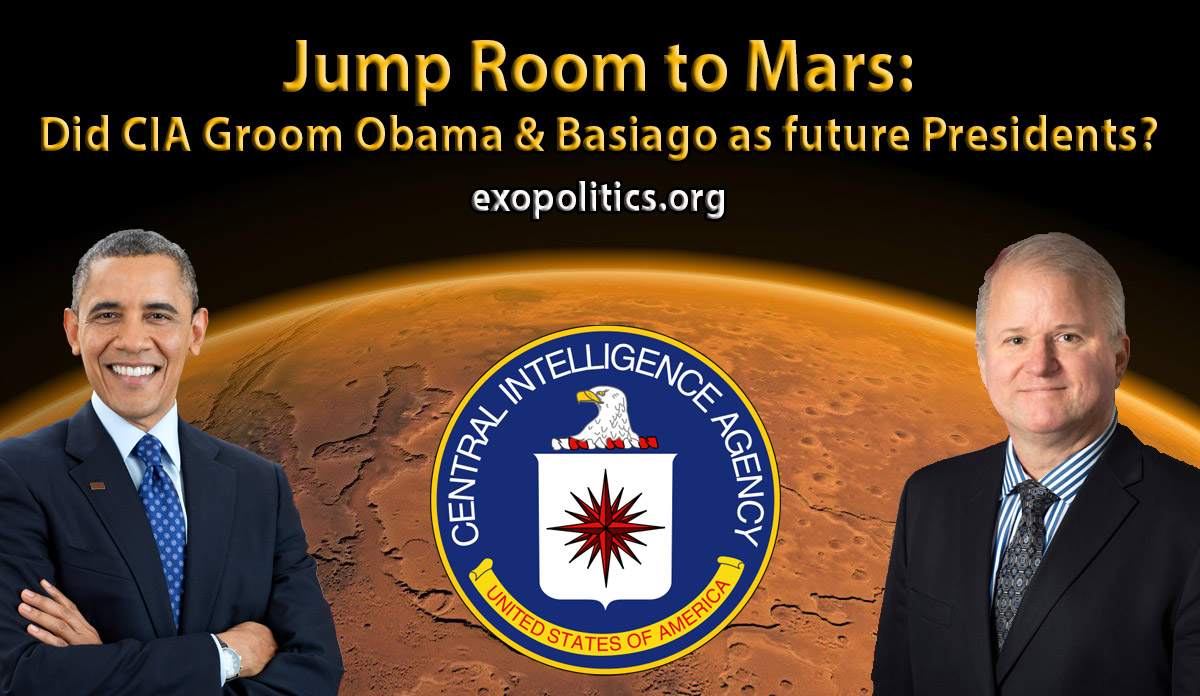 In Part One of this series, it was shown that Andrew Basiago's run for the 2016 Presidential election is partly based on his belief that he was pre-identified as a future U.S. President in a CIA/DARPA run time travel program called "Project Pegasus." The Project's main purpose was to gather intelligence from past and future world events, including the election of upcoming Presidents.
Subsequent to his involvement in Project Pegasus (1969-72), Basiago claims that from 1980 to 1984, he was recruited into a second CIA-led project that involved the use of teleportation technology for travel to Mars. These "Jump Rooms" led to him and others traveling to the Red Planet on multiple occasions witnessing indigenous life on Mars, as well as secret bases there.
In 1980, at the start of the CIA Mars Jump Room project, Basiago claims that he learned that Barack Obama had also been pre-identified as a future President and even Basiago himself was destined to become a U.S. President:
Barack Obama also was told; because when he and I were serving in the Mars Jump Room Program, we were being trained under Ed Dames in the summer of 1980, at College of the Siskiyous, in Weed, California. His Presidency and mine were being openly discussed by who was present …

Basiago further claimed that in 1980, he and Barack Obama actually were roommates while being briefed about upcoming jump room teleportation to Mars:
So, Barack Obama was not only aware of his Presidency when we were being trained in 1980, when he was 19 years old – and just turned 19 in August of '80 – but when we were rooming together briefly, a couple of days – at the College of the Siskiyous. He was reading briefing documents that they were giving him to groom him for the Presidency. [emphasis added]

Importantly, Basiago is here declaring that the CIA was actively grooming Obama for the Presidency by giving him access to briefing documents. In other words, according to Basiago, Obama is a CIA sanctioned U.S. President.
Basiago is not alone in claiming that Obama was groomed by the CIA to become a future President. Investigative reporter Wayne Madsen was the first to make such a claim in August 2010 in a three part series of articles. He followed this up in  a 2012 book titled, Manufacturing a President: The CIA's Insertion of Barack H. Obama, Jr. into the White House.
Basiago added an unexpected twist to the Obama CIA relationship, Obama's Presidential grooming began during a covert program involving teleportation to Mars. This predictably has resulted in much controversy over Basiago's claims, and has led to him being ridiculed as evidenced by a Colbert Report on October 11, 2012 examining his Mars Jump room testimony.

However, there have been other whistleblowers that have made similar claims of teleportation technologies that enable travel to Mars. Whistleblowers such as Michael Relfe and Henry Deacon (aka Arthur Neumann) have gone on the public record to claim that they used similar teleportation technologies for travel to Mars.
Another whistleblower, Corey Goode, claims that teleportation technologies were first developed by Germany and used as early as the 1940s for transporting equipment to secret bases on Mars. He says that these German bases were later greatly expanded in collaboration with the U.S. military industrial complex.
Basiago's claims about participating in a classified CIA teleportation project to Mars in 1980, is plausible given what other independent whistleblowers have claimed.
If Basiago is correct in his core claims about the two classified projects he participated in, is it possible that he is also correct that Obama was groomed by the CIA to be President during a Mars Jump Room project? If so, has Basiago also been groomed by the CIA to be a future President, and his 2016 election bid is part of a CIA sanctioned disclosure program?
Has the CIA Groomed Andrew Basiago to be the U.S. Disclosure President?
Basiago's claims have led to much close scrutiny and criticism by veteran UFO and exopolitics researchers. I have critiqued claims by Basiago of being himself the discoverer of life on Mars, which he based on his analysis of Mars Rover images in a paper he published in December 2008.

I found his claims to be both unconvincing and unprofessional for a practicing attorney, because he refused to consult independent image analysis experts to corroborate his paper's findings. His refusal led to me criticizing him as a "crackpot by design."

After his initial public emergence in 2008, Basiago came forward again to reveal his involvement in the CIA and DARPA run Project Pegasus in November 2009.  He followed this up with his revelations about the Mars Jump Room program in August 2011.  To his credit, Basiago has done a lot of subsequent work in finding additional whistleblowers, witnesses and documents to support his controversial claims.
There have been a number of individuals who have come forward to claim that they were also part of the CIA's teleportation program to Mars. Brett Stillings and Bernard Mendez attest that they were part of this program. They have corroborated Basiago's claim that in addition to Obama, other prominent public individuals such as Regina E. Dugan, Mary Jean Eisenhower and Admiral Stansfield Turner were also part of these programs.

Basiago has conducted numerous independent investigations to corroborate his testimony, and has given details of additional evidence he has discovered in interviews. Included here are comments by David Baker, a former engineer from the Parsons company.
Baker corroborated Basiago's account of the different engineers that Basiago claimed to have met who worked at Parsons. This makes for powerful corroboration that Basiago was indeed present during his father's dealings with other Parsons company engineers in "special projects" that were highly classified.
In reviewing the extensive details and evidence supplied by Basiago over his participation in Project Pegasus and Mars Jump-room projects, I have found little to cast doubt on Basiago's version of events as he has narrated them. Indeed, the evidence he has supplied to corroborate his testimony is impressive in its scope, and leads to the conclusion that Basiago is sincerely telling the truth about events he personally witnessed and experienced in great detail.
Basiago, therefore, does not appear to be lying when he claims to have worked in classified joint CIA and DARPA run projects dealing with time travel and Mars teleportation technologies.
However, there is an important caveat here which needs to be considered when evaluating his reliability as a whistleblower and Presidential candidate. Basiago is on the record as saying that he and Barack Obama were pre-identified by the CIA as future Presidents. He has said that Obama was subsequently groomed by the CIA to be President. This suggests that Basiago has similarly been groomed, and is part of a CIA sanctioned disclosure program.
Is Basiago part of a CIA Sanctioned Disclosure Program?
It is natural to assume that the time travel technologies used by Basiago, to provide intelligence for the CIA, would also be used for operational security purposes. Among these would be determining Basiago's reliability, as far as maintaining secrecy in the future was concerned.
Basiago's later decision, as an adult, to become a whistleblower was almost certainly anticipated very early through psychological profiling. This would have very likely led to the same CIA operated time travel technologies being used to identify him as a future whistleblower.
Basiago says that he heard Donald Rumsfeld reveal plans that he and other Project Pegasus participants would, after completing High School, go the Naval Academy in Annapolis. As a Navy officer, Basiago was to continue working in covert programs as he recalls Rumsfeld saying:

Secretary Rumsfeld was explaining to my father – he literally said: "What we plan to do with the kids is in high school, we're going to admit them to the Naval Academy, as first-year plebes, when they graduate from high school; and we'll use that as a pretext for involving them in future project activities." So there, in 1971/72, they were already planning for what our destiny was going to be in the fall of 1979. And Rumsfeld was aware of what the major plan was.

However, Basiago states that he rebelled against this plan, which he was expected to follow, and chose a civilian life instead:
… my Dad sat me down in high school and told me I was going to the Naval Academy – which I ultimately rejected as an option …

It's important to keep in mind here that as a 17/18 year old in 1979, Basiago had refused to follow the advice of not only his father, but also a former Secretary of Defense – Rumsfeld held this position during the Ford Administration from 1975 to 1977.  
Due to his refusal to pursue a Naval career, psychological profiling would have revealed that Basiago was a future security threat for the Project Pegasus program. This predictably would have led to additional security screening using the time travel technologies, which would have revealed Basiago's role as a future whistleblower.
Yet during his undergraduate study at UCLA, Basiago says he was recruited into another CIA project. The leads to a troubling question. Why would the CIA ignore the red flag raised by Basiago's refusal to follow a DARPA/CIA sanctioned career path, and instead reward his rebellion with access to yet another CIA project, this time involving jump-room technologies to Mars?
From his time as a participant in this second CIA classified program, Basiago describes an incident that provides an answer. He says that in 1983, as a 22 year old, he was asked by his CIA handler, Courtney Hunt, to travel to an elementary school to meet with a 10 year girl called Hesper Natalie. Hunt was aware that 27 years later, in 2010, she would help publicly confirm that Basiago had participated in Project Pegasus, and was a genuine whistleblower.
We also have other theories, possibly of what Hunt was doing. Hunt may have had… may have taken Hesper's name from my Montauk Chair writings – my file that pertained to travelling to the future in the Montauk Chair as a child – and then decided to have me meet her as a child; because then when we met in real time, that would basically improve my involvement in the program.

This is where Basiago reasons that Hunt, along with his father, were in fact "White Hats" in the CIA wanting to publicly disclose the truth about teleportation technologies in the future:
So it may have been actually something basically positively serepetitious [sic] that Hunt was doing to undermine the secrecy of the project. But nonetheless, we not only have one of the Montauk girls here, but we have somebody from my past who knows I'm telling the truth – because the CIA had me go and meet her – what was it, Hesper, 27 years before we met in real time [2010]?
The above quotes need to be carefully considered in evaluating Basiago's testimony. What they reveal is that Basiago's handler, Hunt, and therefore the CIA, was well aware of the possibility that Basiago would become a whistleblower and disclose classified programs that he was involved with.
Rather than take steps to prevent this, the CIA would instead actively help him by arranging for meetings to occur, such as meeting Hesper in 1983, so that later in 2010, she would meet him again and therefore support him as a bona fide whistleblower.
This leads to the conclusion that Basiago was identified as a future whistleblower by the CIA, and was therefore exposed to events, people and circumstances that would shape and influence his later testimony. This suggests that Basiago's whistleblowing activities are part of a long-term CIA sanctioned disclosure program, which is based on pre-identifying and grooming future Presidents.
Michael E. Salla, Ph.D. Copyright Notice
Further Reading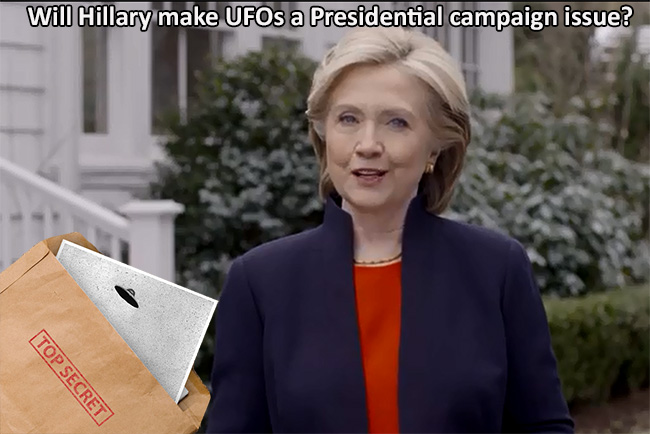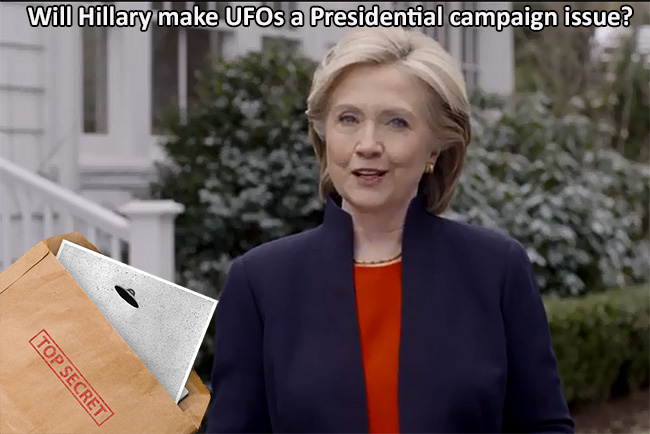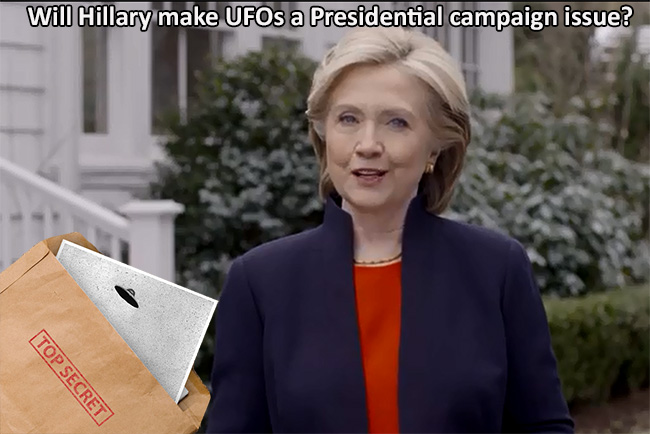 Yesterday Hillary Clinton released a two minute video where she officially announced her candidacy for U.S. President in 2016. The video was quickly analyzed by the New York Times, Fox News and other media outlets for signs of the issues she will make the core of her campaign. One of the issues that wasn't mentioned, but is almost certainly to emerge at some stage in the Presidential campaign is her historic interest in the release of classified UFO files.
Thanks to a recent Mother Jones' article, it is widely known that Hillary Clinton was involved in an initiative during the Clinton Presidency to have classified information about UFOs officially disclosed.   Laurence Rockefeller, the billionaire philanthropist, strongly lobbied the Clintons and gave them an informal briefing about UFOs and extraterrestrial life during a summer vacation in 1995. One of the key figures in the Clinton administration UFO disclosure efforts was John Podesta.
Podesta was Chief of Staff to former President Clinton, a Counselor to President Obama, and is now Hillary's 2016 Campaign Chairman. Clinton and Podesta share a long-term political connection, and also share an interest in having classified UFO files released to the general public. Significantly, the first public notice of Hillary's video announcement was made in a tweet by Podesta.

Podesta created firestorm of media interest on Feb 13 with his twitter announcement that his biggest failure for 2014 was in not securing disclosure of classified UFO files.
Significantly, he made his UFO tweet on his last day working with the Obama administration, before leaving to become the unofficial chairman of Hillary's 2016 Presidential campaign.
Podesta's Feb 13 tweet suggested he had attempted to gain access to UFO files based on his official responsibility as Counselor to the President on the Environment and Energy. Presumably, classified UFO files have great significance in the search for alternative energy sources. Podesta had been informally briefed by UFO disclosure advocate Steven Greer back in Jan 2009 that classified UFO files hold the key to developing new energy technologies.
Podesta's Feb UFO tweet raised obvious questions of whether Obama was aware of or supported Podesta's UFO disclosure efforts. If so, the corollary is what government agency or non-governmental entity could deny access to such classified UFO files? More intriguingly it raised the question of whether a non-human factor could be involved.
A possible answer emerged a month later when Obama appeared on Jimmy Kimmel live. Kimmel said that if were President, he would try to get to the bottom of the "UFO files" and Area 51. Obama replied: "The aliens won't let it happen, You'd reveal all their secrets. They exercise strict control over us."
Most media sources assumed that Obama was joking and his comments were not true. Not so according to former FBI special agent Ben Hansen who conducted a forensic analysis of Obama's body language during the UFO segment. According to Hansen in a video released on YouTube, Obama's body language indicated he had elevated breathing at the time of the UFO questions, and was under stress.
Hansen explains that in such situations it is not unusual to use hyperbole to evade a difficult question whereby the truth is stretched in order to hide it. By using the hyperbole aliens "exercise strict control over us," Obama was in fact revealing that there is some truth to the alien control issue. The implications of Hansen's forensic analysis is striking. Not only do extraterrestrials exist, but they are involved to some extent in controlling U.S. officials!
Furthermore, when Kimmel said that former President Clinton had looked into the UFO issue and Area 51 and had found nothing, Obama replied: "That's what we're instructed to say." Hansen's analysis concluded that Obama was being truthful while appearing to make a joke. The clear implication is that President Clinton knew that extraterrestrial life is real and UFO technologies were being secretly studied in places like Area 51.
If President Clinton learned early on that extraterrestrial life is real, and that the information is being tightly controlled by national security entities and possibly even involved extraterrestrials themselves, then it's almost certain that Hillary also learned the truth.
By hiring John Podesta to be her Campaign Chairman despite his history of public comments about UFOs, Hillary is signaling that she is sympathetic to Podesta's pro-UFO disclosure efforts. Indeed, it may be a factor in why she selected Podesta to be her Campaign Chairman.
Podesta and Clinton may have a strategy for raising the issue of UFOs and extraterrestrial life during the 2016 campaign as something worth serious discussion. At the very least, the campaign will certainly be asked questions about Hillary's prior involvement in a behind-the-scenes effort to declassify UFO files during her husband's administration. The UFO extraterrestrial issue promises to make the 2016 Presidential campaign one unlike anything before it.
© Michael E. Salla, Ph.D. Copyright Notice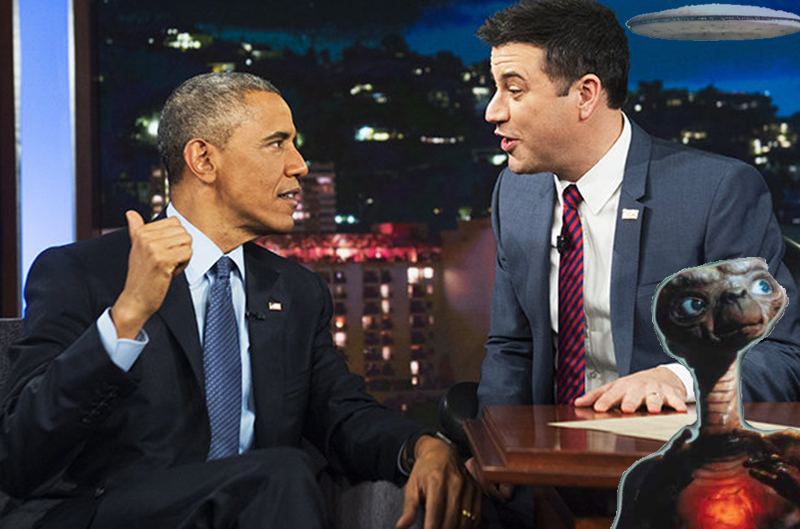 On last night's Jimmy Kimmel Live, President Barack Obama made a strange UFO admission. He said space aliens control the USA, and they are responsible for government secrecy about UFOs. According to the LA Times and New York Magazine, Obama's admission was nothing more than a joke made in a late night comedy show highlighting his dry sense of humor. But was it? A recent disclosure about UFO secrecy by John Podesta, Obama's former White House Counselor for Climate Change and Energy Policy, suggests that Obama was serious about a situation he had no control over.
Here is what Obama said in response to Kimmel according to the LA Times:
[Kimmel] wanted to know whether Obama had tried to get to the bottom of the "UFO files" about the mysterious desert region known as Area 51.
"The aliens won't let it happen," Obama joked. "You'd reveal all their secrets. They exercise strict control over us."
But President Clinton once said he'd checked on the matter and found nothing, Kimmel protested. "That's what we're instructed to say," Obama responded.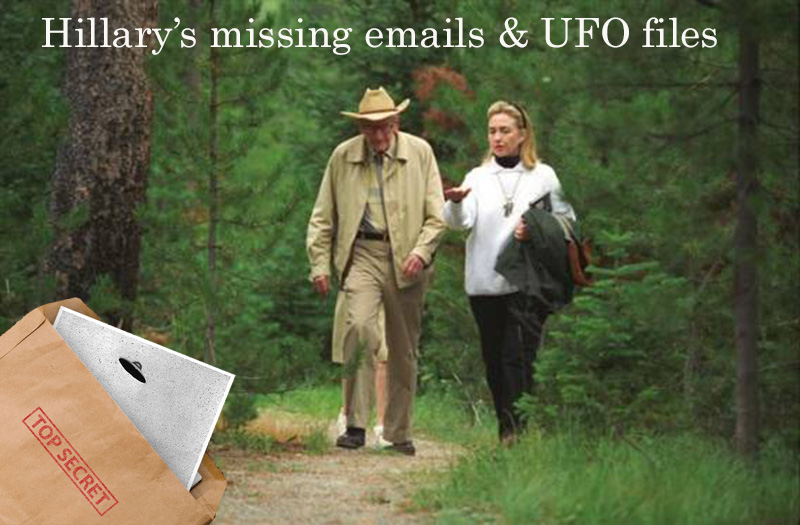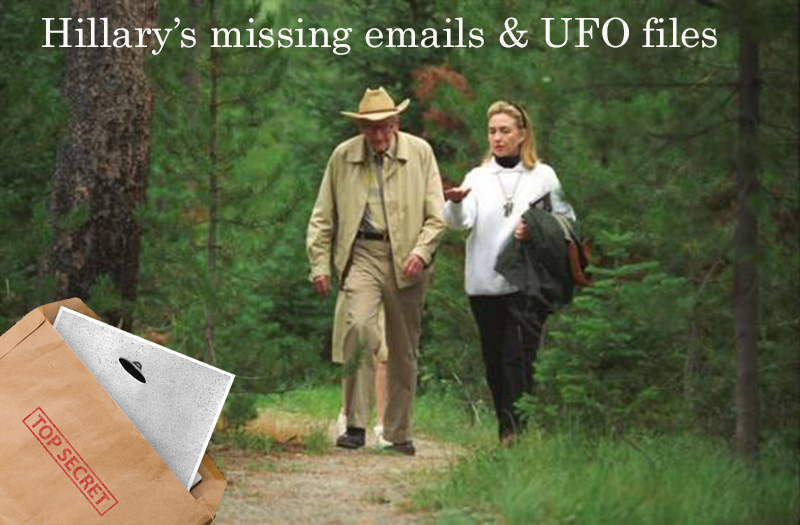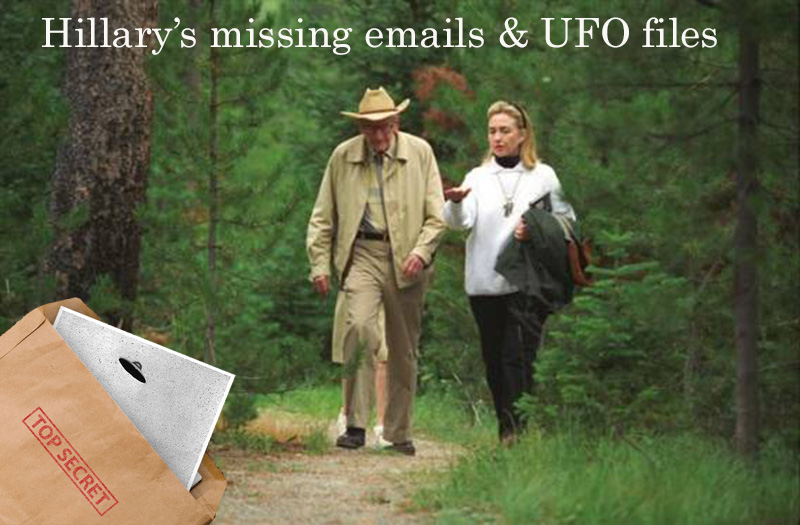 Hillary Clinton's admission at a March 10 Press Conference that she used her private email account for official State Department business has created a firestorm of criticism. Republican critics are asking whether the missing emails have anything to do with the Benghazi incident involving the deaths of State Department personnel. Much of the mainstream media is speculating about the content of 31,830 'personal' emails she claims to have destroyed since they did not involve State Department business. What is not being asked is whether the missing emails involved references to classified UFO files which Hillary had attempted, during the Clinton administration, to gain access to.
Back in August 1995 Hillary was given an informal briefing by billionaire philanthropist Laurence Rockefeller, on the best available UFO evidence. An August 4, 1995, memo by President Clinton's Science Advisor, Dr Jack Gibbons, confirmed that the Clintons would be vacationing with Rockefeller at his Teton Ranch in Wyoming that summer, and they would discuss UFOs:
You will probably see Mr Rockefeller on your vacation in the Tetons. He will want to talk with you about his interest in extrasensory perception, paranormal phenomenon, and UFOs.
In the memo, Gibbons attempted to dissuade the Clintons from pursuing Rockefeller's agenda to disclose classified national security files concerning UFOs:
He knows that we are trying to be helpful in responding to his concerns about UFO's and human potential … but I've made no secret about my conviction that we must not be too diverted from more earthly imperatives.
FOIA documents confirm the key role played by Hillary Clinton in the Clinton administration's interest in UFOs. In a Nov 1, 1995 letter to Clinton's Science advisor, Dr John Gibbons, Rockefeller's attorney, Henry Diamond, revealed that Hillary Clinton was actually involved in helping draft a letter to the President. Another letter by Rockefeller himself to Gibbons on Feb 5, 1996, revealed that the Office of Science and Technology was keeping Hillary Clinton informed about the UFO discussions.
Grant Cameron, the Canadian UFO researcher responsible for requesting the release of the Clinton UFO files through FOIA, confirmed that Hillary Clinton was the Clinton administration's point person for UFO discussions. He wrote: "Hillary time and again spoke of UFOs, UFO sightings, and the concept of the "alien invasion," in her speeches, and in her statements to the press."
It's important to point out that one of the figures involved in the unsuccessful Clinton administration effort to gain access to classified UFO was John Podesta, who ultimately became Bill Clinton's Chief of Staff. Podesta subsequently became co-chair of the Presidential transition team for the Obama administration in 2008/2009 – a position where he played a key role in the selection of White House staff.
More recently, John Podesta admitted that he was involved in a secretive attempt by the Obama White House in 2014 to gain access to classified UFO files from unknown government agencies. On his final day as Counselor to President Obama on Energy and the Environment, Podesta said:
… my biggest failure of 2014: Once again not securing the #disclosure of the UFO files.
Podesta's admission raises three important issues. First. in 2014, a new White House effort to secure disclosure of classified UFO files had been attempted but ultimately failed. Second, there had been earlier unsuccessful efforts by Podesta to secure the release of such files spanning the years of the Clinton, Bush and Obama administrations. Finally, there is an unknown government and/or corporate entity with the power to deny sitting Presidents and their staffs access to classified UFO files.
On the topic of Hillary's 38,830 missing emails, we know that Hillary has had a keen interest in classified UFO files, and was the key figure in the Clinton administration's efforts to have them either declassified or made available to senior White House staff. We also know that the Obama administration was involved in one or more secretive efforts to have classified UFO files released.
As Obama's first Secretary of State, an important question that arises is whether Clinton was involved in any way in a secretive effort to have classified UFO files made available to senior White House officials. Unfortunately, the mainstream media is not asking Hillary whether any of her missing emails involved references to classified UFO files and Obama administration efforts to gain access to them. Perhaps in the next two years as Hillary campaigns for President, along with Podesta who moved from the Obama White House to assist her, she will be more forthcoming about her secretive efforts to gain access to classified UFO files.
© Michael E. Salla, Ph.D. Copyright Notice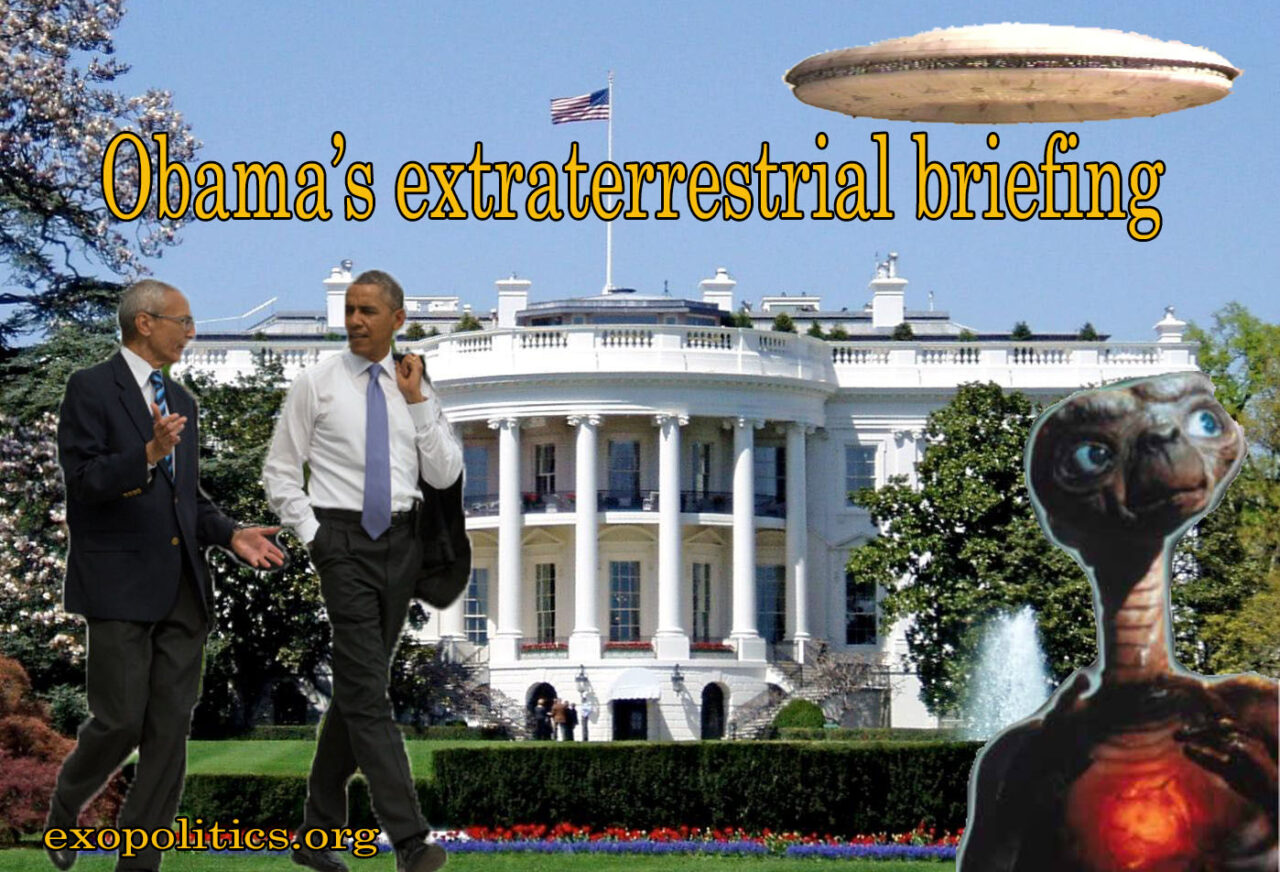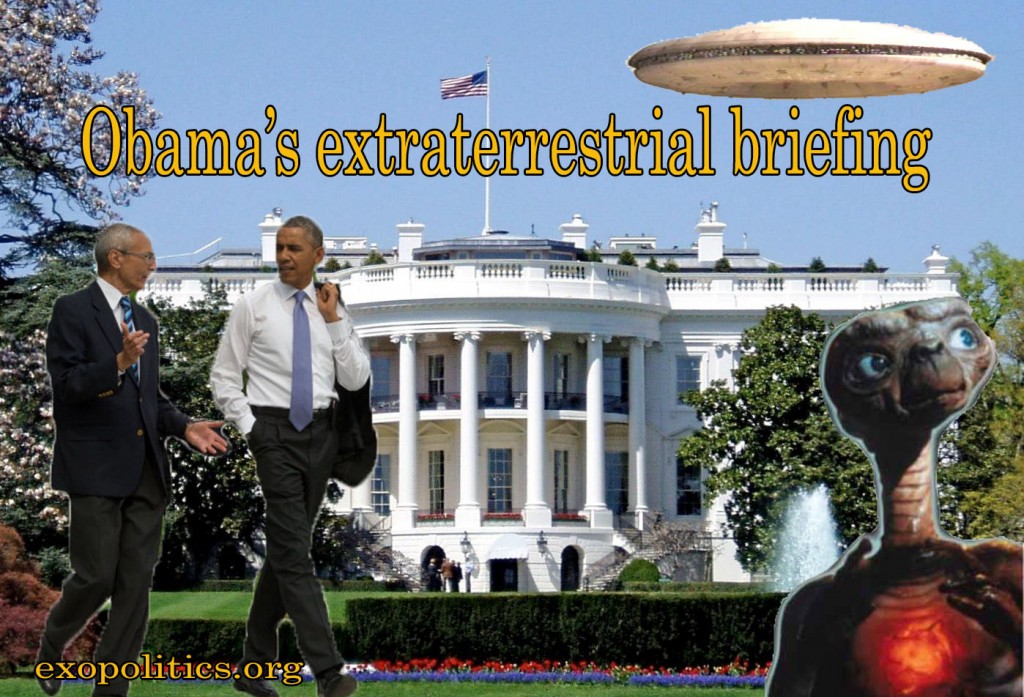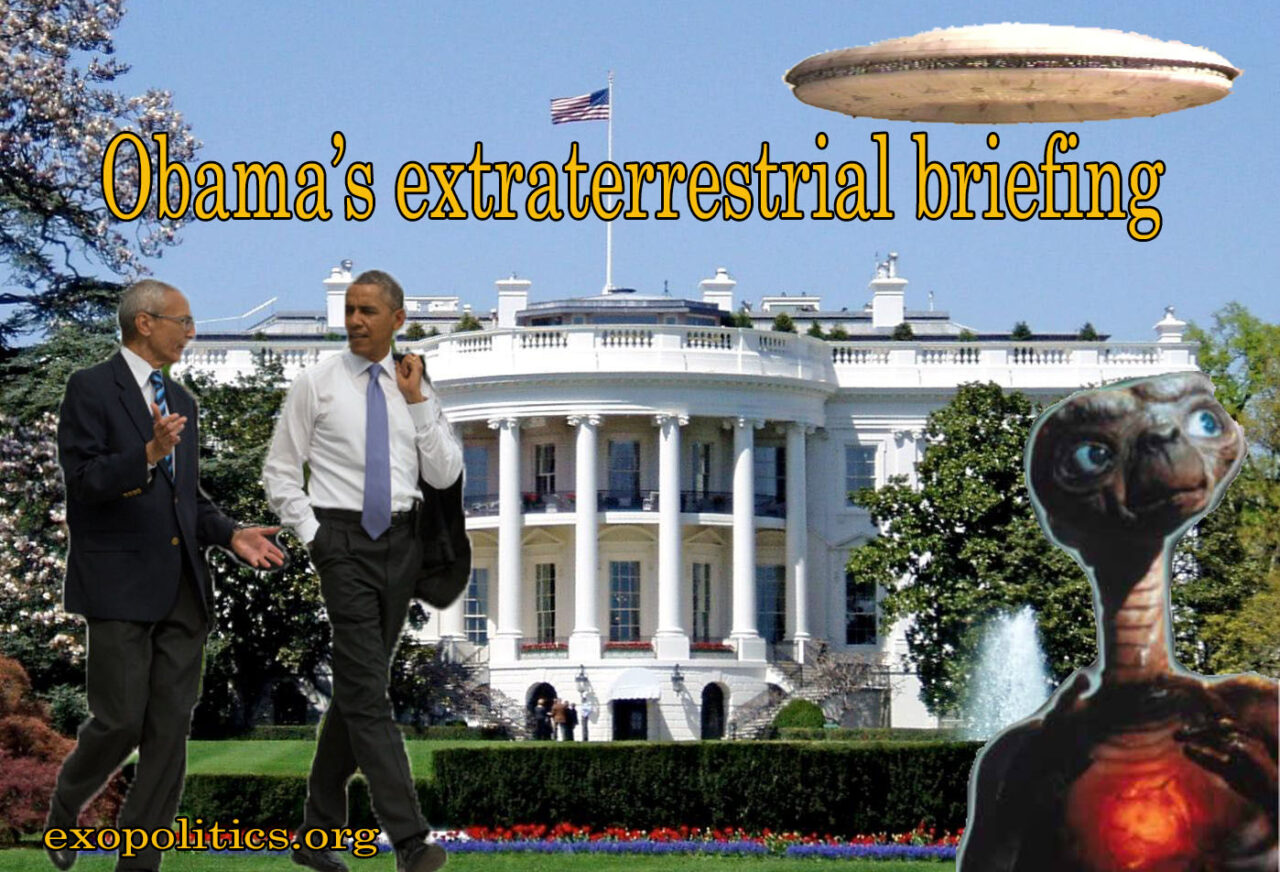 After White House Counselor John Podesta went public on Feb 13 with his failed efforts to have classified UFO files disclosed, it has been learned that one of his unofficial sources for the existence of such files is Disclosure Project advocate Dr Steven Greer. Greer announced on Feb 14 that he had unofficially "briefed" Podesta about an extraterrestrial cover-up in early 2009, soon after President Obama took office. Podesta at the time was in the process of completing his work as co-chair of Obama's Presidential transition team. Greer's briefing documents were to be passed on to President Obama himself, and to his then-CIA Director Leon Panetta.
Greer explained the background to his unofficial briefing:
An attorney working with Mr. Podesta requested the briefing and we assembled an extensive file for Mr. Podesta to provide to the newly- elected President Obama. There was also support for this process from a senior CIA official who is friendly to Disclosure and the briefing was also provided to then-CIA Director Leon Panetta.
The cover letter to the extensive briefing documents provided to Podesta is six pages long and is titled "Special Presidential Briefing for President Barack Obama." Dated Jan 23, 2009, the cover letter was publicly released by Greer in Dec 2012. The cover letter contains references to some of the material provided to Podesta, including how Presidential administrations have been systemically denied access to information concerning extraterrestrial life and technology on the grounds of "misguided secrecy". Greer wrote:
Because of this misguided secrecy, the wondrous new sciences related to advanced energy generation, propulsion and transportation have been withheld from the people. These advances include the generation of limitless clean energy from the so-called zero point energy field and quantum vacuum flux field from the space around us, and propulsion that has been termed (incorrectly) anti-gravity. The field of electromagnetic energy that is teeming all around us and which is embedded within the fabric of space/time can easily run all of the energy needs of the Earth – without pollution, oil, gas, coal, centralized utilities or nuclear power.
It's significant that when Podesta was appointed Counselor to President Obama, his duties as described on the White House website "include overseeing climate change and energy policy." This firmly suggests that the UFO files that Podesta requested involved some of the classified information on free energy technologies that were described in Greer's briefing.
It's important to emphasize that Podesta almost certainly had Obama's support in accessing UFO files that could revolutionize the energy industry, and end U.S. dependence on fossil fuels and nuclear energy. Podesta's Feb 13 twitter message signaled his frustration at being unable to access such classified files which he clearly believed existed. Podesta was undoubtedly taking one final swing at secretly appointed national security officials that had denied him and the President access out of "misguided secrecy." Thankfully Greer's disclosure of his secret briefing of Podesta in 2009 and the cover letter that accompanied the briefing documents is now a matter of the public record.
© Michael E. Salla, Ph.D. Copyright Notice
Further Reading