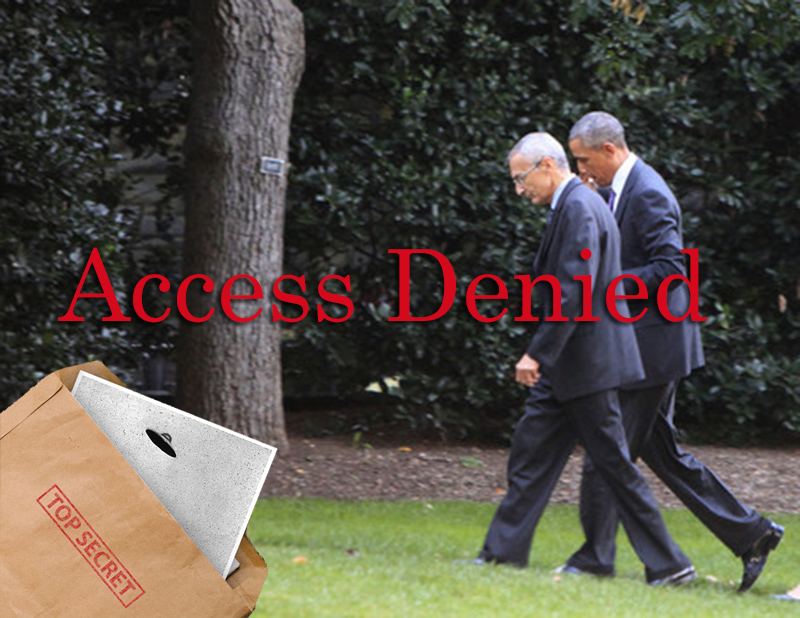 John Podesta's candid admission on Feb 13, his last day as Counselor to President Obama, that his biggest failure was to secure disclosure of UFO files raises many questions. The dominant response by the mainstream media has been to ignore questions of who, what, why a senior White House advisor was denied access to UFO files, and focus instead on Podesta's long history of a fascination with the X-Files TV series. The Washington Post, UPI, The Hill, etc., have all made Podesta's admission on Twitter a personal issue about his X-Files fascination, rather a serious policy issue concerning information denied to the White House.
For those that missed it, here's what Podesta said on Friday: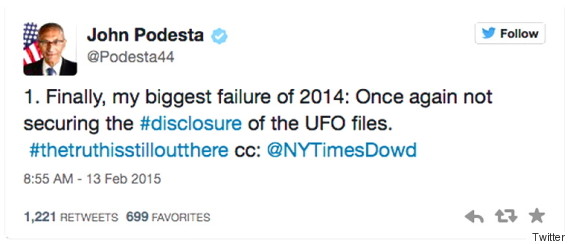 The Washington Post's Al Kamen wrote in response:
Podesta was a major fan of the "X-Files" television show. Our colleague Karen Tumulty asked him in 2007 about the FOIA jam at the library, and Podesta, through a spokesman, replied: "The truth is out there." That's the show's tag­ line.
Amy Connolly of UPI writes: "In a nod to the long-running television show The X-Files, Podesta, who has had a longtime fascination with all things extraterrestrial, tweeted using hashtag #thetruthisstilloutthere."
The Hill's Julian Hattem writes:
John Podesta's biggest regret on leaving the White House is not proving Fox Mulder right… The humorous tweet about his time in office came in a list of his top 10 moments over the last year,
Here are just a few who, what, why questions the above writers didn't bother asking.
Podesta's admission came on his White House Twitter feed while he was discussing initiatives related to his official responsibility of overseeing climate change and energy policy for the White House. Did Podesta attempt to gain access to classified UFO files possessed by one or more government entities due to its relevance to his official duties?
His admission suggests that UFO information has relevance to climate change and/or energy policy. If so, does that mean that UFOs are indeed interplanetary spacecraft that use energy sources far more advanced than anything offered by the fossil fuel industry?
If UFO information has relevance to energy policy, then why wasn't Podesta able to gain access despite having all the power of the White House behind him? What government entity can deny access to information requested by a senior advisor to a sitting President in the performance of his official duties?
Thankfully, there are some in mainstream media willing to explore such questions. CNET writer Chris Matyszczyk asks:
Is it possible that both the president and Podesta know more than they (are allowed to) let on? If your answer is yes, that leaves us to speculate on why they're not revealing it. Is it because we'd be frightened? Or is it because our belief systems would become so displaced that what remains of our social cohesion would dissolve?
These are just a few of the more obvious who, what, why questions raised by Podesta's admission. Unfortunately, much of the mainstream media isn't asking them because it is treating his admission as wry X-Files humor. We are basically being told that the Twitter revelation of a senior White House advisor is not something to take seriously.
Podesta's involvement in a number of earlier attempts to learn the truth about classified UFO files points to a different conclusion. He was very serious. As a counselor to President Obama, with all the power that position conveys, he was still unable to pierce the veil of secrecy surrounding classified UFO files.
Podesta's earlier involvement in a failed attempt by the Clinton administration to gain access to classified UFO files is well documented. FOIA documents gained by Canadian UFO researcher Grant Cameron detail a timeline involving President Clinton and Hillary Clinton seeking information from deceased billionaire Laurence Rockefeller on the topic. Strategies were developed for how the Clinton White House could gain access.
Podesta was involved in one of these strategies. The passage of Executive Order 12958 aimed at streamlining declassification of thousands of national security files, and involving the White House in the process. The goal was to shake loose some of the classified files hidden away in the national security archives of various U.S. government entities and corporate contractors and see if any could cast light on the UFO phenomenon. Podesta became Chief of Staff to Clinton, yet despite all the power available to him then, and to the President himself, access to UFO files was denied.
If a sitting President and his most senior advisors can't access UFO related information relevant to policies being developed, then who is the real power behind the throne? Surely that's a question worth a serious investigation by the Fourth Estate.
© Michael E. Salla, Ph.D. Copyright Notice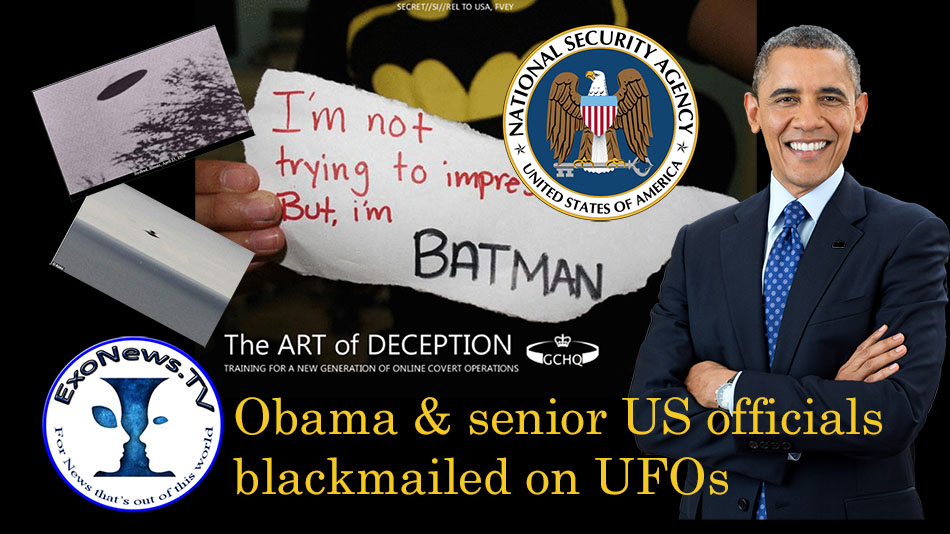 Edward Snowden has released official documents that show the extent of NSA surveillance of foreign political leaders. According to another NSA whistleblower, Russell Tice, the NSA does the same in the U.S. It conducts regular surveillance of senior U.S. officials including military officers, members of Congress, Supreme Court justices and even members of the executive branch. The goal, Tice claims, is to gain sensitive personal material on such senior U.S. officials for the purpose of blackmailing them into supporting policies favorable to the recipients of the NSA surveillance information. One of the policies is maintaining secrecy about UFOs and their extraterrestrial origins.
In December 2005, Tice came forward to publicly reveal how the NSA and the Defense Intelligence Agency were conducing unlawful wiretaps of U.S. citizens. He revealed to various media sources that among the targets were senior U.S. officials:
They went after high-ranking military officers; they went after members of congress — Senate and the House — especially on the intelligence committees and the armed services committees, lawyers, law firms, judges, State Department officials, part of the White House, multinational companies, financial firms, NGOs, civil rights groups …"
In June 2013, Tice was asked about the potential for blackmail of senior U.S. officials from NSA surveillance files:
Collins: Now Russ, the targeting of the people that you just mentioned, top military leaders, members of Congress, … intelligence committees, … and then executive branch appointees. This creates the basis, and the potential for massive blackmail. Tice: Absolutely! And remember we talked about that before, that I was worried that the intelligence community now has sway over what is going on.
While Tice was not widely believed at the time, the Snowden NSA document leaks have confirmed many of his claims.
In a June 2014 interview with the Washington Blog about forthcoming Snowden based stories of NSA surveillance of U.S. citizens, Tice explained that the Snowden documents belong to a database called the Joint Worldwide Intelligence Communications System.
These documents are accessible to all within the NSA with the necessary Top Secret and Sensitive Compartmented Information clearance levels. However, Tice claims that there are more restricted NSA information networks based on higher security levels. He describes two of these as Exceptionally Controlled Information (ECI) and Very Restricted Knowledge (VRK). It is in these more secretive networks that Tice found information concerning the surveillance of senior U.S. officials going back as far as the 1970s and the surveillance of Senator Frank Church who led a Senate investigation of the U.S. intelligence community.
Tice revealed that one of the recipients of the NSA's secret surveillance files of U.S. leaders was former Vice President Dick Cheney:
… the whole thing was being directed and was coming from the vice president's office … Cheney, through his lawyer David Addington…. all "sneaky pete" under the table, in the evening when most NSA employees are gone for the day. This is all being done in the evenings … between like 7 [at night] and midnight.
According to another whistleblower, Derek Hennessy, Cheney had direct knowledge of a secret UFO program based on extraterrestrial technologies at the highly secret S-4 facility at Area 51. Cheney was therefore well placed to use NSA information to find out who among U.S. officials had received information about UFOs and extraterrestrial technologies. He could use this NSA information to blackmail senior U.S. officials in order to maintain UFO secrecy.
Among the U.S. officials that have been monitored and blackmailed, according to Tice, is President Barack Obama who first came under the radar of the NSA when he became a candidate for the U.S. Senate.
In the summer of 2004, one of the papers that I held in my hand was to wiretap a bunch of numbers associated with a forty-some-year-old senator from Illinois …. That's who the NSA went after. That's the President of the United States now.
This helps explains why Obama backtracked on many campaign pledges, including that of the most open and transparent U.S. government in history. Obama's pledges and choice of administration officials fueled speculation that was being prepared to disclose the truth of UFOs and their extraterrestrial origins.
The Art of Deception is a 50 page powerpoint presentation released by Snowden that confirms deception involving UFOs is part of online covert operations maintained by the NSA and its global intelligence partners.  Blackmailing senior U.S. officials into silence would be critical for the success of covert programs aimed at deceiving the public about UFOs. Based on documents released by Snowden and Tice's earlier revelations, one can conclude that President Obama and senior U.S. officials are blackmailed by recipients of NSA surveillance information on a number of issues, including maintaining secrecy about UFOs and extraterrestrial life.
© Michael E. Salla, Ph.D. Copyright Notice
Further Reading: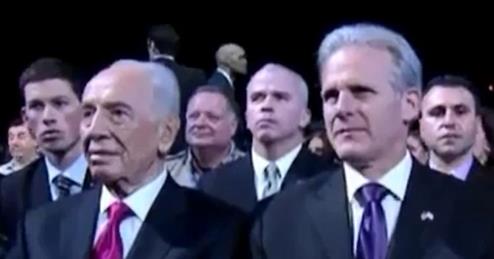 A video recording from President Obama's address at the 2012 AIPAC conference at the Washington Convention Center shows a mysterious looking figure among the Secret Service agents protecting him. From one camera angle, the figure looks uncannily like a tall Gray alien; with no noticeable ear, mouth or facial hair. From most other camera angles, the figure appears as a bald Secret Service agent who looks human enough. Not so according to a popular Youtube video that has over 330,000 hits since its March 13, 2013 release. The bald Secret Service agent is a shape shifting humanoid alien, and the video provides detailed analysis supporting its remarkable claim. So was it all just a trick a light, or did the camera capture something we weren't supposed to see? In the 1988 science fiction movie classic, They Live, extraterrestrials live among humanity using advanced technology to hide their physical differences. Is it possible that the Secret Service employs aliens to protect President Obama, and uses some kind of advanced technology to hide them from the public eye?
The idea of the U.S. Secret Service employing aliens appears far-fetched, but it was only back on December 7, 2012 that Prime Minister Medvedev said in candid off-air comments that Russian Presidents are briefed on aliens living among us. He went on to add that a highly classified national security agency monitors aliens residing on Earth. Major media thought it was a case of Medvedev's dry humor, and that he gave the joke away when he referred to the Hollywood Blockbuster, Men in Black. Yet Medvedev appeared to be referring to a Russian documentary instead, one produced by the same network that the female reporter who asked him the alien question worked for. In fact, the reporter asked the question because the network was working on another extraterrestrial related documentary. A disturbing possibility is that the meteor strike on Russia on February 15, 2013 was related to Medevedev's candid off-air comments about aliens among us. A Russian Parliamentarian claimed that the meteor strike was a warning to the Russian government. Was it a warning that Russian needs to maintain secrecy about alien visitors? If Medvedev wasn't joking, it is possible that aliens secretly living on Earth aren't just monitored, but also employed in sensitive security positions like the U.S. Secret Service.
It's a fact that advanced technologies such as invisibility have been developed for use in classified military projects for some time now. Proof-of-concept demonstrations in the open source literature are available for funding and development purposes by military contractors. Classified versions would predictably be far more advanced, and very likely have been operational for some time now. It's reasonable to conclude that invisibility or related technologies are used by the Secret Service to make agents disappear, and/or alter their physical appearance. Consequently, Secret Service agents very likely use invisibility technology when protecting the President and other VIPs. Such technologies may also be used by any extraterrestrial aliens recruited into the Secret Service. Is President Obama being guarded by aliens, or was it all just a trick of light? You decide!
© Copyright 2013. Michael E. Salla, Ph.D. Exopolitics.org
This article is copyright © and should not be added in its entirety on other websites or email lists. Permission is granted to include an extract (e.g., introductory paragraph) of this article on website or email lists with a link to the original.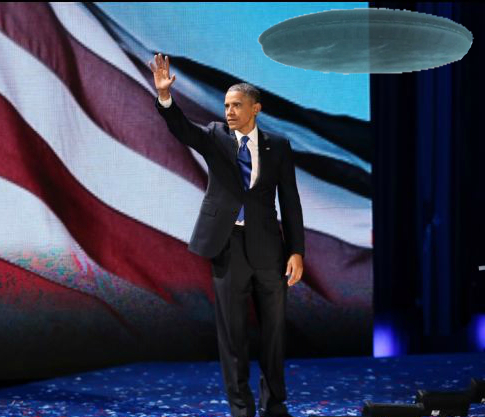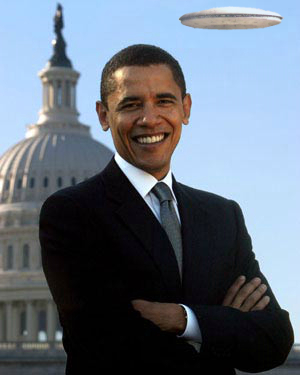 In Tuesday's U.S. Presidential election, Barack Obama won a narrow but clear victory over his Republican opponent. Democrats held on to their Senate majority, and Republicans maintained control over the House of Representatives. The next twelve months or so will be when Obama moves forward with his most ambitious re-election policies before the 2014 mid-term elections return the United States again to the hyper-partisan politics that produced gridlock for the last two years. Republican control over the House will ensure that there is plenty of opposition to much of Obama's legislative agenda. This will not be the case though with immigration reform to finally deal with the question of illegal aliens. Severely punished by the Latino vote, Republicans are sure to give bipartisan support to Obama in passing a new DREAM Act to legalize the status of young illegal aliens raised in the USA. What however of another type of illegal alien claimed to be visiting the USA? Does UFO extraterrestrial disclosure figure at all in Obama's political agenda?
When Obama first became President there were many hopeful signs that his push for more transparent and accountable government would translate into greater openness where the truth would finally come out about UFOs and extraterrestrial life. His appointment of Hillary Clinton to Secretary of State fueled rumors that her documented interest in UFOs in the Clinton administration would lead to some startling disclosures. Whistleblowers were ready to come forward to testify about a host of illegal government activities if they were given protection to reveal their secrets. This culminated in the belief that disclosure of extraterrestrial life was imminent early in the Obama administration. Four years later, those early hopes look positively naïve. Government transparency did not open up national security archives to researchers, and whistleblower protection did not happen after all. The Obama administration went on the record to disavow any interest in investigating claims that the Roswell crash really involved otherworldly UFOs. There was no disclosure of extraterrestrial life visiting our world.
What has changed, four years after Obama's first Presidential election, is that the world is better prepared for accepting that extraterrestrial life exists. Here are three scenarios of how Obama might announce the existence of alien life during his second term of office.
Scenario 1 – Alien life found on exoplanets. The deployment of advanced space telescopes such as NASA's Kepler Mission, has led to the discovery of hundreds of exoplanets. This has revolutionized the scientific community. The question, "do habitable conditions for life exist elsewhere in the galaxy?" has been decisively answered in the affirmative. Statistics tell us that some, if not many, of the billions of exoplanets projected to exist in our galaxy alone, are sure to host some form of life. The world's foremost scientists are now openly discussing the scientific and social consequences of extraterrestrial life being discovered. The question is now "when" rather than "if" extraterrestrial life will be discovered by the next generation of space telescopes used to scan the galaxy. The new Obama administration will continue to fund NASA scientific missions, making it possible that at some point in his second term, he can announce that we are not alone in the galaxy.
Scenario 2 – Roswell Crash really did happen. This scenario concerns claims that extraterrestrials are visiting us now and select government agencies have been covering this up since at least July, 1947, when the famous Roswell crash incident occurred. As most are aware, the US Army Air Corps released a statement on July 8 that a flying saucer had crashed, but retracted it hours later. Chase Brandon, a former CIA clandestine officer and public relations representative has claimed that he saw a file in the CIA historical archive that settled any personal doubt he had that the Roswell flying saucer crash really did involve extraterrestrial life and technology. Chase's claims echo those of Lt. Col. Philip Corso, who led the Foreign Technology Desk at the US Army Research and Development department. Corso claims the U.S. Army had a filing cabinet with material from the Roswell crash that was leaked to private industry to spark technological development. During Obama's second term, more material/evidence from the Roswell crash may leak, and/or witnesses come forward to reveal that extraterrestrial technology was indeed recovered. Several petitions have been launched with the Obama White House to achieve this goal.
Scenario 3 – (Contrived) War of the Worlds. There have been claims by Gordon Duff, a senior editor of Veterans Today, John Kettler and others of secret battles in the Pacific Ocean and Antarctica between a coalition of US-led Naval forces and extraterrestrials based in undersea bases. So far, there has not been any hard evidence to support such claims, only anonymous sources that are not revealed by Duff, et al. A Stalin era intelligence file released in 1991 revealed that the Admiral Byrd's Antarctic expedition, Operation Highjump, did encounter and battle with a mysterious UFO force in early 1947. A succession of Hollywood blockbusters, Battleship, Battle Los Angeles, and the Avengers all focus on an extraterrestrial invasion theme. Is the public being conditioned to accept the possibility of an extraterrestrial invasion for a contrived national security crisis? According to former chief Apollo scientist, Werner Von Braun, a contrived alien invasion has been planned for several decades. Could President Obama one day find himself publicly responding to a national security crisis where US and allied military forces are under (a contrived) attack from an alien presence?
Any of the above or alternative scenarios might occur in the next year, or before the end of Obama's second term of office in January 2017 – so what would happen? Obama's award of the Nobel Peace Prize; mixed racial heritage; and an eclectic religious upbringing with a Christian mother, a Muslim father and stepfather, and six years spent in Muslim Indonesia as a youth, make him ideally suited to become a highly popular world leader.If it was decided that the existence of extraterrestrial life – due to scientific discovery and/or political necessity – was to be announced to the world, then President Obama would be the ideal candidate for the job.
Extraterrestrial disclosure would very likely overcome national differences and lead to rapid political unification at a planetary level, as President Reagan speculated in a General Assembly speech at the United Nations in 1987. We could very quickly expect world-wide planetary elections for national citizens to be represented in direct dealings with Galactic civilizations. This could be achieved either through significant reform of the United Nations (which currently represents "states" and not "people"), or through the creation of a "United Earth" sovereign body representing the people of Earth. In either case, any formal announcement by President Obama of the existence of extraterrestrial life would start a series of events where he would predictably take a more global leadership role in representing the people of Earth in negotiations with galactic visitors. So when President Obama and his bipartisan Republican allies pass a revamped DREAM act for illegal aliens, let's dream of what would happen if the existence of off-planet aliens were also to announced by the White House sometime in the next four years.
© Copyright 2012. Michael E. Salla. Exopolitics.org
Permission is granted to include extracts of this article on websites and email lists with a link to the original. This article is copyright © and should not be added in its entirety on other websites or email lists without author's permission.
Further Reading