Jump Room to Mars: Did CIA Groom Obama & Basiago as future Presidents?
In Part One of this series, it was shown that Andrew Basiago's run for the 2016 Presidential election is partly based on his belief that he was pre-identified as a future U.S. President in a CIA/DARPA run time travel program called "Project Pegasus." The Project's main purpose was to gather intelligence from past and future world events, including the election of upcoming Presidents.
Subsequent to his involvement in Project Pegasus (1969-72), Basiago claims that from 1980 to 1984, he was recruited into a second CIA-led project that involved the use of teleportation technology for travel to Mars. These "Jump Rooms" led to him and others traveling to the Red Planet on multiple occasions witnessing indigenous life on Mars, as well as secret bases there.
In 1980, at the start of the CIA Mars Jump Room project, Basiago claims that he learned that Barack Obama had also been pre-identified as a future President and even Basiago himself was destined to become a U.S. President:
Barack Obama also was told; because when he and I were serving in the Mars Jump Room Program, we were being trained under Ed Dames in the summer of 1980, at College of the Siskiyous, in Weed, California. His Presidency and mine were being openly discussed by who was present …

Basiago further claimed that in 1980, he and Barack Obama actually were roommates while being briefed about upcoming jump room teleportation to Mars:
So, Barack Obama was not only aware of his Presidency when we were being trained in 1980, when he was 19 years old – and just turned 19 in August of '80 – but when we were rooming together briefly, a couple of days – at the College of the Siskiyous. He was reading briefing documents that they were giving him to groom him for the Presidency. [emphasis added]

Importantly, Basiago is here declaring that the CIA was actively grooming Obama for the Presidency by giving him access to briefing documents. In other words, according to Basiago, Obama is a CIA sanctioned U.S. President.
Basiago is not alone in claiming that Obama was groomed by the CIA to become a future President. Investigative reporter Wayne Madsen was the first to make such a claim in August 2010 in a three part series of articles. He followed this up in  a 2012 book titled, Manufacturing a President: The CIA's Insertion of Barack H. Obama, Jr. into the White House.
Basiago added an unexpected twist to the Obama CIA relationship, Obama's Presidential grooming began during a covert program involving teleportation to Mars. This predictably has resulted in much controversy over Basiago's claims, and has led to him being ridiculed as evidenced by a Colbert Report on October 11, 2012 examining his Mars Jump room testimony.

However, there have been other whistleblowers that have made similar claims of teleportation technologies that enable travel to Mars. Whistleblowers such as Michael Relfe and Henry Deacon (aka Arthur Neumann) have gone on the public record to claim that they used similar teleportation technologies for travel to Mars.
Another whistleblower, Corey Goode, claims that teleportation technologies were first developed by Germany and used as early as the 1940s for transporting equipment to secret bases on Mars. He says that these German bases were later greatly expanded in collaboration with the U.S. military industrial complex.
Basiago's claims about participating in a classified CIA teleportation project to Mars in 1980, is plausible given what other independent whistleblowers have claimed.
If Basiago is correct in his core claims about the two classified projects he participated in, is it possible that he is also correct that Obama was groomed by the CIA to be President during a Mars Jump Room project? If so, has Basiago also been groomed by the CIA to be a future President, and his 2016 election bid is part of a CIA sanctioned disclosure program?
Has the CIA Groomed Andrew Basiago to be the U.S. Disclosure President?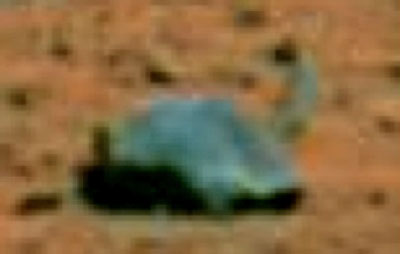 Basiago's claims have led to much close scrutiny and criticism by veteran UFO and exopolitics researchers. I have critiqued claims by Basiago of being himself the discoverer of life on Mars, which he based on his analysis of Mars Rover images in a paper he published in December 2008.

I found his claims to be both unconvincing and unprofessional for a practicing attorney, because he refused to consult independent image analysis experts to corroborate his paper's findings. His refusal led to me criticizing him as a "crackpot by design."

After his initial public emergence in 2008, Basiago came forward again to reveal his involvement in the CIA and DARPA run Project Pegasus in November 2009.  He followed this up with his revelations about the Mars Jump Room program in August 2011.  To his credit, Basiago has done a lot of subsequent work in finding additional whistleblowers, witnesses and documents to support his controversial claims.
There have been a number of individuals who have come forward to claim that they were also part of the CIA's teleportation program to Mars. Brett Stillings and Bernard Mendez attest that they were part of this program. They have corroborated Basiago's claim that in addition to Obama, other prominent public individuals such as Regina E. Dugan, Mary Jean Eisenhower and Admiral Stansfield Turner were also part of these programs.

Basiago has conducted numerous independent investigations to corroborate his testimony, and has given details of additional evidence he has discovered in interviews. Included here are comments by David Baker, a former engineer from the Parsons company.
Baker corroborated Basiago's account of the different engineers that Basiago claimed to have met who worked at Parsons. This makes for powerful corroboration that Basiago was indeed present during his father's dealings with other Parsons company engineers in "special projects" that were highly classified.
In reviewing the extensive details and evidence supplied by Basiago over his participation in Project Pegasus and Mars Jump-room projects, I have found little to cast doubt on Basiago's version of events as he has narrated them. Indeed, the evidence he has supplied to corroborate his testimony is impressive in its scope, and leads to the conclusion that Basiago is sincerely telling the truth about events he personally witnessed and experienced in great detail.
Basiago, therefore, does not appear to be lying when he claims to have worked in classified joint CIA and DARPA run projects dealing with time travel and Mars teleportation technologies.
However, there is an important caveat here which needs to be considered when evaluating his reliability as a whistleblower and Presidential candidate. Basiago is on the record as saying that he and Barack Obama were pre-identified by the CIA as future Presidents. He has said that Obama was subsequently groomed by the CIA to be President. This suggests that Basiago has similarly been groomed, and is part of a CIA sanctioned disclosure program.
Is Basiago part of a CIA Sanctioned Disclosure Program?
It is natural to assume that the time travel technologies used by Basiago, to provide intelligence for the CIA, would also be used for operational security purposes. Among these would be determining Basiago's reliability, as far as maintaining secrecy in the future was concerned.
Basiago's later decision, as an adult, to become a whistleblower was almost certainly anticipated very early through psychological profiling. This would have very likely led to the same CIA operated time travel technologies being used to identify him as a future whistleblower.
Basiago says that he heard Donald Rumsfeld reveal plans that he and other Project Pegasus participants would, after completing High School, go the Naval Academy in Annapolis. As a Navy officer, Basiago was to continue working in covert programs as he recalls Rumsfeld saying:

Secretary Rumsfeld was explaining to my father – he literally said: "What we plan to do with the kids is in high school, we're going to admit them to the Naval Academy, as first-year plebes, when they graduate from high school; and we'll use that as a pretext for involving them in future project activities." So there, in 1971/72, they were already planning for what our destiny was going to be in the fall of 1979. And Rumsfeld was aware of what the major plan was.

However, Basiago states that he rebelled against this plan, which he was expected to follow, and chose a civilian life instead:
… my Dad sat me down in high school and told me I was going to the Naval Academy – which I ultimately rejected as an option …

It's important to keep in mind here that as a 17/18 year old in 1979, Basiago had refused to follow the advice of not only his father, but also a former Secretary of Defense – Rumsfeld held this position during the Ford Administration from 1975 to 1977.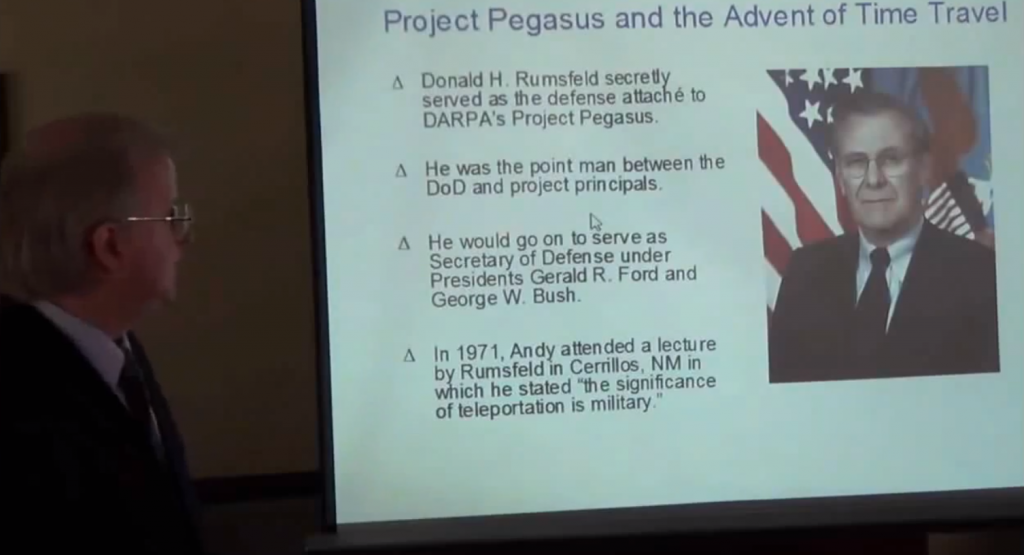 Due to his refusal to pursue a Naval career, psychological profiling would have revealed that Basiago was a future security threat for the Project Pegasus program. This predictably would have led to additional security screening using the time travel technologies, which would have revealed Basiago's role as a future whistleblower.
Yet during his undergraduate study at UCLA, Basiago says he was recruited into another CIA project. The leads to a troubling question. Why would the CIA ignore the red flag raised by Basiago's refusal to follow a DARPA/CIA sanctioned career path, and instead reward his rebellion with access to yet another CIA project, this time involving jump-room technologies to Mars?
From his time as a participant in this second CIA classified program, Basiago describes an incident that provides an answer. He says that in 1983, as a 22 year old, he was asked by his CIA handler, Courtney Hunt, to travel to an elementary school to meet with a 10 year girl called Hesper Natalie. Hunt was aware that 27 years later, in 2010, she would help publicly confirm that Basiago had participated in Project Pegasus, and was a genuine whistleblower.
We also have other theories, possibly of what Hunt was doing. Hunt may have had… may have taken Hesper's name from my Montauk Chair writings – my file that pertained to travelling to the future in the Montauk Chair as a child – and then decided to have me meet her as a child; because then when we met in real time, that would basically improve my involvement in the program.

This is where Basiago reasons that Hunt, along with his father, were in fact "White Hats" in the CIA wanting to publicly disclose the truth about teleportation technologies in the future:
So it may have been actually something basically positively serepetitious [sic] that Hunt was doing to undermine the secrecy of the project. But nonetheless, we not only have one of the Montauk girls here, but we have somebody from my past who knows I'm telling the truth – because the CIA had me go and meet her – what was it, Hesper, 27 years before we met in real time [2010]?
The above quotes need to be carefully considered in evaluating Basiago's testimony. What they reveal is that Basiago's handler, Hunt, and therefore the CIA, was well aware of the possibility that Basiago would become a whistleblower and disclose classified programs that he was involved with.
Rather than take steps to prevent this, the CIA would instead actively help him by arranging for meetings to occur, such as meeting Hesper in 1983, so that later in 2010, she would meet him again and therefore support him as a bona fide whistleblower.
This leads to the conclusion that Basiago was identified as a future whistleblower by the CIA, and was therefore exposed to events, people and circumstances that would shape and influence his later testimony. This suggests that Basiago's whistleblowing activities are part of a long-term CIA sanctioned disclosure program, which is based on pre-identifying and grooming future Presidents.
Michael E. Salla, Ph.D. Copyright Notice
Further Reading
Andrew Basiago, Barack Obama, Bernard Mendez, Brett Stillings, Donald Rumsfeld, Jump rooms, Marj Jean Eisenhower, Mars, Regina Dugan, teleportation, time travel