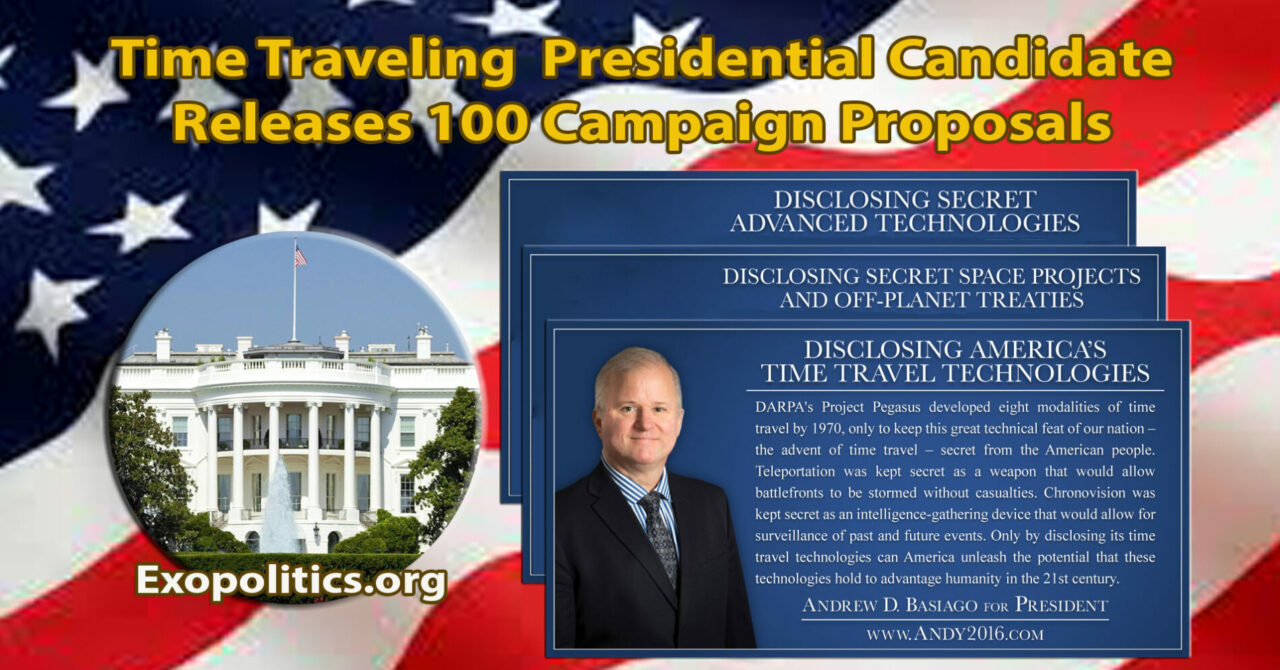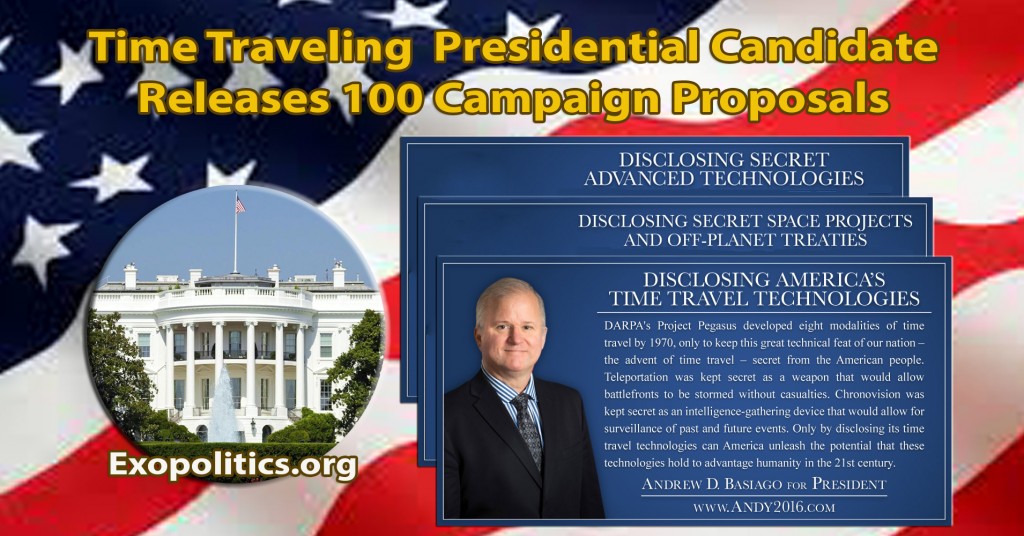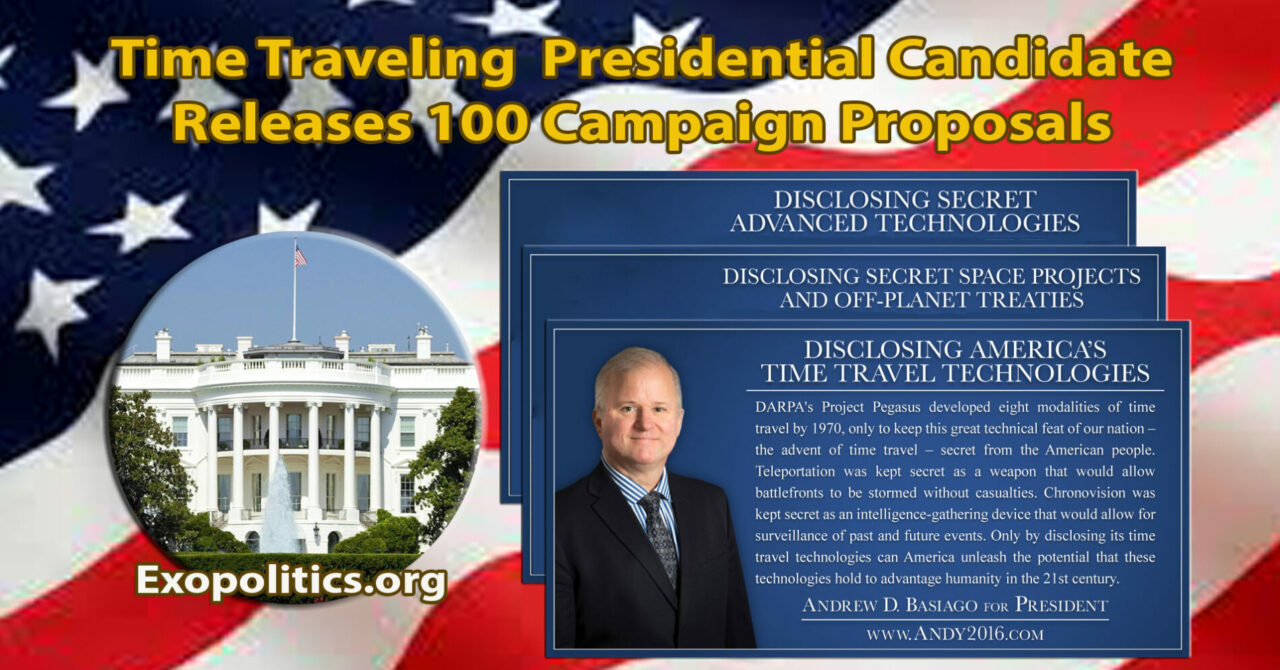 Andrew Basiago, who claims to have participated in two DARPA/CIA classified programs involving time travel and teleportation to Mars, has released 100 proposals on highly alternative issues for his 2016 Write-In Presidential campaign. In putting forth a policy platform based on his alleged experiences, he is offering a template for a future post-disclosure Presidential campaign to include public policy debates over the uses of highly advanced technologies and the existence of extraterrestrial life.
Basiago's proposals contain many positive and progressive insights regarding classified programs that deserve widespread public support. His proposals concerning the disclosure of extraterrestrial life, classified technologies, secret space programs and the truth about Bush administration foreknowledge of the 911 attacks, make for refreshing reading given the more mundane public policy proposals of mainstream political candidates.
It is therefore worthwhile to examine a few of his key proposals in light of what other independent whistleblower sources and documents have revealed about classified space programs and exotic travel technologies.
First, it is important to point out that there are many who are still not convinced that Basiago is a genuine whistleblower and/or is part of a sophisticated psychological operation by the CIA and other agencies. In a series of articles (see here, here and here) investigating documentary and other whistleblower testimonies, I found impressive evidence to support his key claims of being a participant in two CIA/DARPA run classified programs.
My main reservation was that Basiagio, by his own admission, is part of a CIA sanctioned disclosure initiative to reveal classified time travel, teleportation and space program activities. His "grooming" as a predicted future President by CIA 'White Hats', who included his deceased father, Raymond Basiago, raises specific concerns about his 2016, and future, Presidential campaigns.
In particular, does Basiago's perspective about the CIA's historic role in classified advanced technology programs reflect an agenda to skew public perception in order to preserve the CIA's existence in a post-disclosure world? By focusing on our volatile world's intrinsic need for the CIA's intelligence gathering using classified technology programs, he believes this makes it indispensable and worth reforming as a "super-university," despite its nefarious history in covert operations and the abuses that occurred, as his following proposal advocates.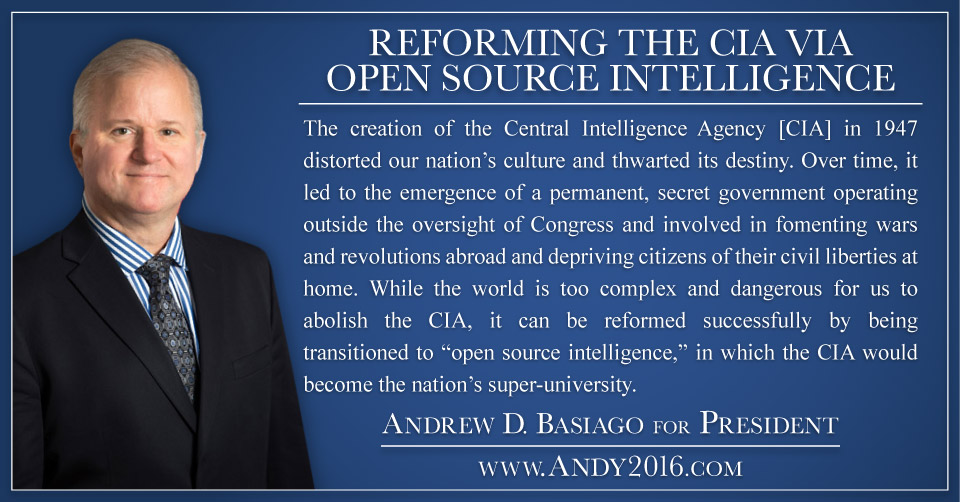 I have to disagree with Basiago. A more suitable policy would be to abolish the covert operations branch of the CIA (National Clandestine Service) and have its functions taken over by the U.S. military. Military officers, who swear allegiance to the U.S. Constitution, are more likely to maintain constitutional principles in covert operations than CIA operatives. The latter have participated in illicit activities including the drug trade, as documented by Garry Webb in his book, Dark Alliance.
Basiago's major contention is that the CIA used time travel technologies for intelligence gathering purposes in a variety of scenarios, including predicting and influencing future Presidents. In this regard Basiago proposes: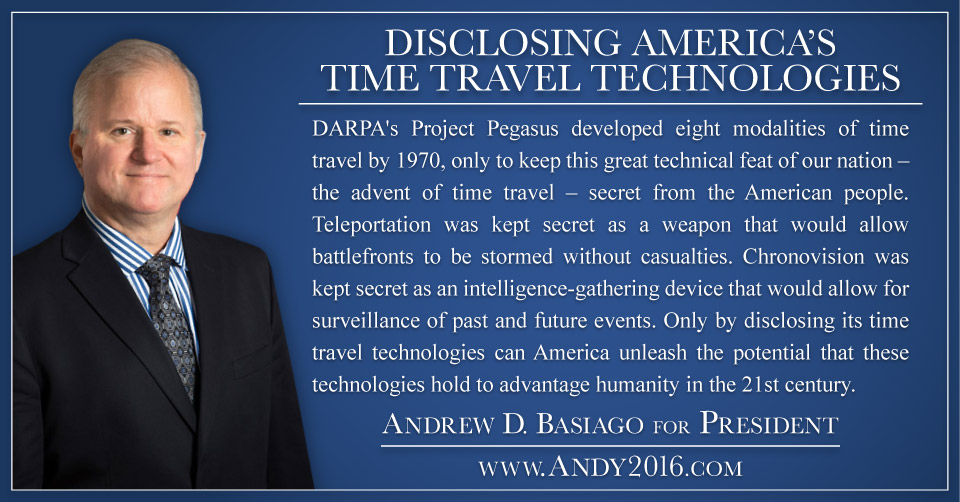 Basiago's proposal to disclose classified time travel technologies has much merit, and could lead to many benefits. In particular, his description of "Chronovision" technology – based on holographic interaction with possible future events – would bring in a predictive element into ordinary people's lives that could help them make better career and personal choices. On the other hand, such technology could also be easily abused by a police state that decides to use it as a tool for law enforcement; to preemptively act against perpetrators of predicted crimes as depicted in the popular movie, The Minority Report.
Another of Basiago's proposals elaborates on teleportation technologies. He says: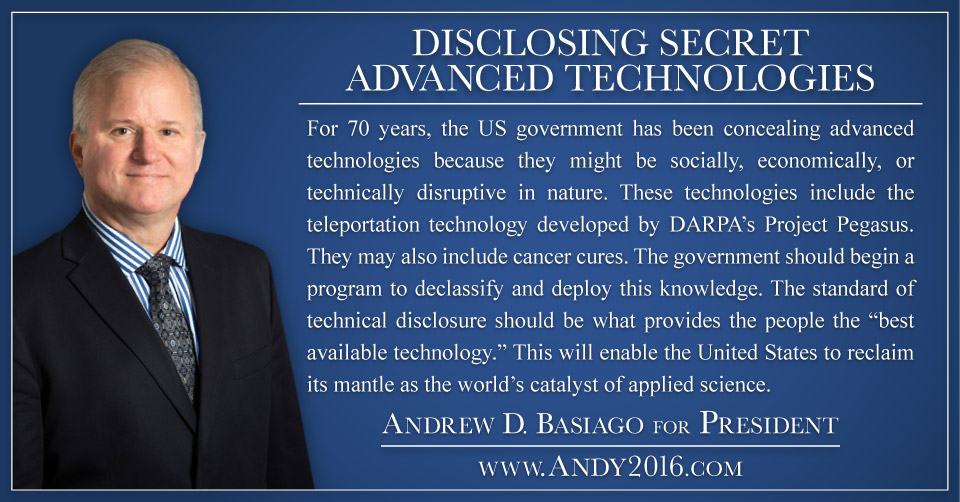 Basiago dates these secret teleportation technologies to the 1940's, more specifically to the 1943 Philadelphia Experiment. This is consistent with other whistleblower and researcher claims regarding how the U.S. Navy accidentally discovered teleportation allegedly during the development of a radar invisibility program.
In Basiago's version of the historical development of teleportation technology, it was too dangerous to develop at the time and was shelved until better understood. It was roughly 25 years later that teleportation was operationalized as a safe means of transportation for personnel in classified programs.
Basiago claims that the breakthrough in developing teleportation technology for operational purposes came through the Ralph M. Parsons company that cooperated with the Advanced Research Projects Agency (later renamed DARPA) and the CIA. In an affidavit, he asserted that in 1967-68, teleportation became "fully operational in the secret realms of the US defense-technical community." Basiago says that in 1967-68, he was the first American child to be teleported when his father, Raymond, inducted him into the Project Pegasus program.
According to Basiago, Mars soon became an important teleportation destination, and this allowed the development of colonies there whose existence ought to be disclosed as his following proposal advocates: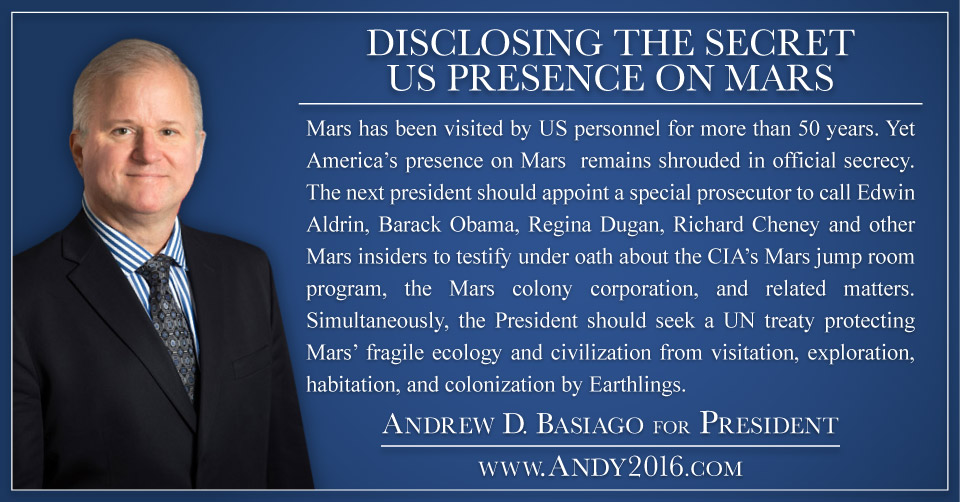 Basiago cites, as independent support for the development of teleportation as a means of space travel used in classified programs, the testimony of Michael Relfe. Relfe has claimed that in 1976, he was teleported to Mars in a 20 year and back program, which was documented in the two volume book, The Mars Records. Later, in 1980, Basiago claims that he was part of a CIA run teleportation program to Mars. Basically, Basiago's version of teleportation technology as an operational program dates to 1967/68 when Project Pegasus began.
More recently, other whistleblowers have emerged that provide an alternative historical version of the development of teleportation technology and its operational use for traveling to Mars and elsewhere. Corey Goode claims that teleportation was first developed by scientists working for the Nazi SS and/or German Secret Societies during the Second World War. Subsequently, from hidden bases in Antarctica and South America, the Nazis used teleportation technologies to travel to the Moon, Mars and other distant locations.

Goode described in some detail how the Germans relied heavily on the use of teleportation for transporting equipment before it could be safely used for personnel. After secret agreements had been reached between the Eisenhower Administration and the Nazi/German Secret Societies in the 1950's, Goode describes extensive cooperation in the colonization of Mars through teleportation:
It wasn't until the '50s that they were able to start transporting people consistently without them suffering. I believe they called it temporal dementia. People would teleport intact from here to Mars. They would look fine, but then after a number of days, they would suffer some sort of dementia, they would call temporal dementia. And the Germans did a lot of work in this field that helped us figure out how to do this properly– them working alongside their ET allies.
Another more recent whistleblower, William Tompkins, publicly emerged in December 2015 with impressive documents to support his claims that Nazi Germany had achieved numerous technological breakthroughs. In a February 25 interview with the writer, Tompkins revealed that these breakthroughs included the development and use of teleportation technology.
Tompkins learned of Germany's scientific achievements through Navy spies embedded in advanced technology programs run by the Nazis during World War II. In his book, Selected by Extraterrestrials, Tompkins describes his attendance at debriefings of the spies at the Naval Air Station in San Diego from 1942 to 1945. Tompkins job was to subsequently disseminate the information in these debriefings to any U.S. industries, and think tanks capable of understanding and reverse engineering these Nazi programs.
If we accept Goode and Tompkins testimonies as accurate, then teleportation technology was successfully developed and operationalized in the 1940's by the Nazi regime, 25 years before the onset of the CIA/DARPA run Project Pegasus program in 1967-1968. Getting the history right when it comes to the successful development and use of teleportation technology becomes relevant when another of Basiago's proposals is examined. He says: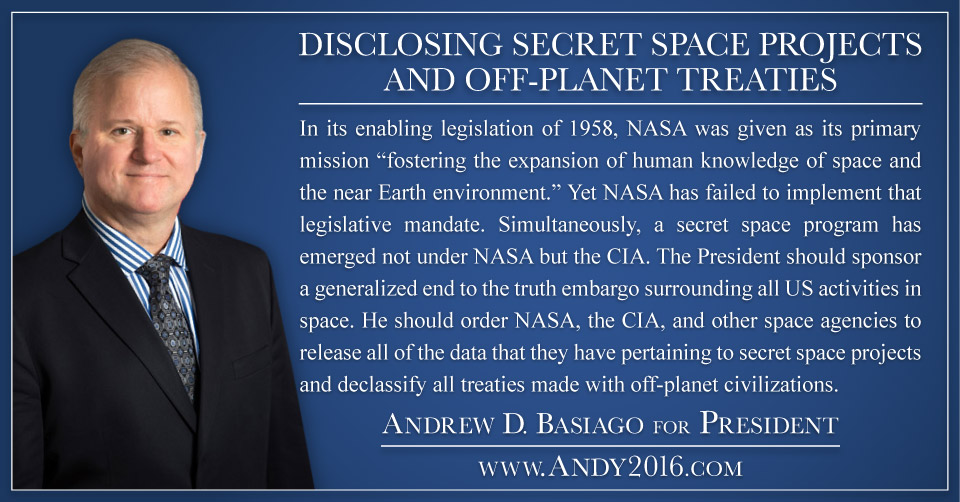 Here, Basiago is claiming that the CIA's classified development and use of teleportation technology for off-planet travel occurred at the same time that NASA began operations in the 1960's. He is suggesting that the real "secret space program" is run by the CIA and not NASA.
This claim raises a number of problems when it comes to genuine "Disclosure of Secret Space Projects" as Basiago's above proposal is asserting. According to Goode and Tompkins, the era of secret space programs began with the Nazis/German Secret Societies in the 1930's/1940's, and then involved different branches of the U.S. military setting out to replicate these German technological achievements.
According to Goode, the U.S. Military Industrial Complex began cooperating with the German Breakaway space program in the 1950's. In a similar vein, Tompkins says the Douglas Aircraft Company and other corporations and think tanks began working in the 1950's on antigravity space craft, while being fully aware of the rival secret German space program operating out of Antarctica and South America.
Indeed, Tompkins describes in his book, Selected by Extraterrestrials, how the Nazis were sabotaging the Apollo program. Support for Tompkin's claim comes from another veteran aerospace whistleblower, Clark McClelland, who says he personally witnessed Nazi SS general Hans Kammler at the Kennedy Space Center, and that Operation Paperclip scientists were being intimidated by the Nazi SS even during the 1960's!
Despite Nazi infiltration and sabotage, the first U.S. Navy space battle groups would finally be deployed in the mid-1980's according to Goode and Tompkins. They each say the Navy's secret space program was called Solar Warden. Prior to the deployment of the Navy space battle groups, the Navy and U.S.A.F had successfully developed antigravity prototype spacecraft that could achieve short range space missions.
It is very likely that Basiago was simply not briefed about the real history of secret space programs and the role of the Nazis/German Secret Societies in pioneering teleportation and antigravity space craft, and of the U.S. military industrial complex playing catch up ever since World War II.
It is very concerning, however, that Basiago is making a case that the CIA was running the real "secret space program" via teleportation technologies since 1960's. The truth is much more likely that the CIA program was an intelligence gathering operation that was also a useful cover for secret space programs associated either with the Nazi/German breakaway space program, or the Solar Warden program being developed by the U.S. Navy.
Basiago's run for President evokes mixed responses from the UFO and exopolitical community. There are legitimate concerns about the role of CIA in grooming Basiago to run as a predicted future President, as allegedly also occurred with Barack Obama. This raises the possibility that Basiago's experiences have been shaped over a long term period in a very sophisticated psychological operation designed to make him an advocate of a disclosure agenda supported by CIA 'White Hats'.
On the other hand, Basiago is very sincere, educationally highly qualified, and an articulate spokesperson for the Disclosure movement, who very likely has genuinely been involved in classified CIA/DARPA programs for close to 50 years. Andrew Basiago's 100 proposals for his 2016 Presidential campaign, therefore, deserve serious scrutiny and debate by all seeking the truth about the history of advanced time travel and teleportation technologies, and the origins of secret space programs.
Michael E. Salla, Ph.D. Copyright Notice
Further Reading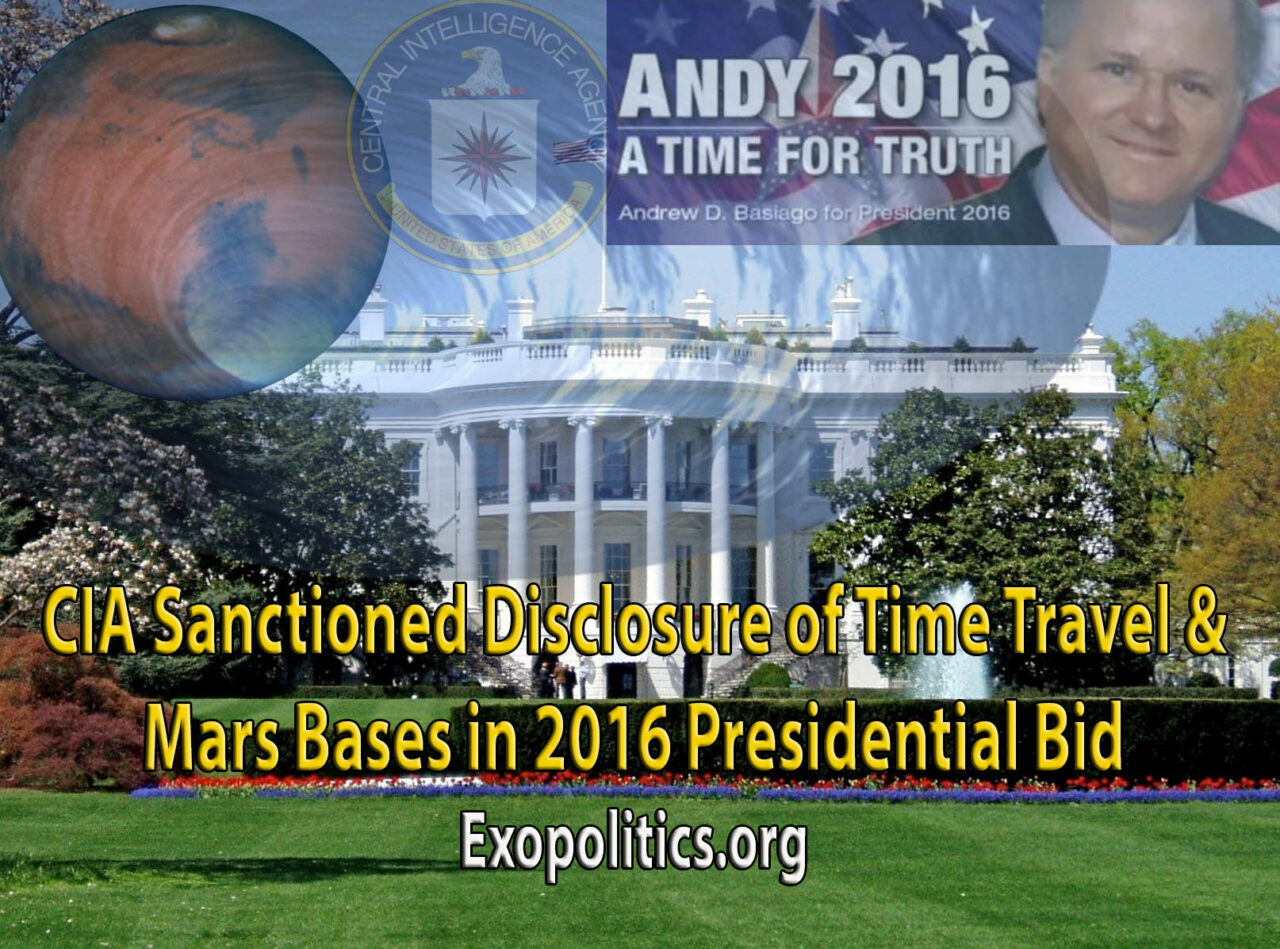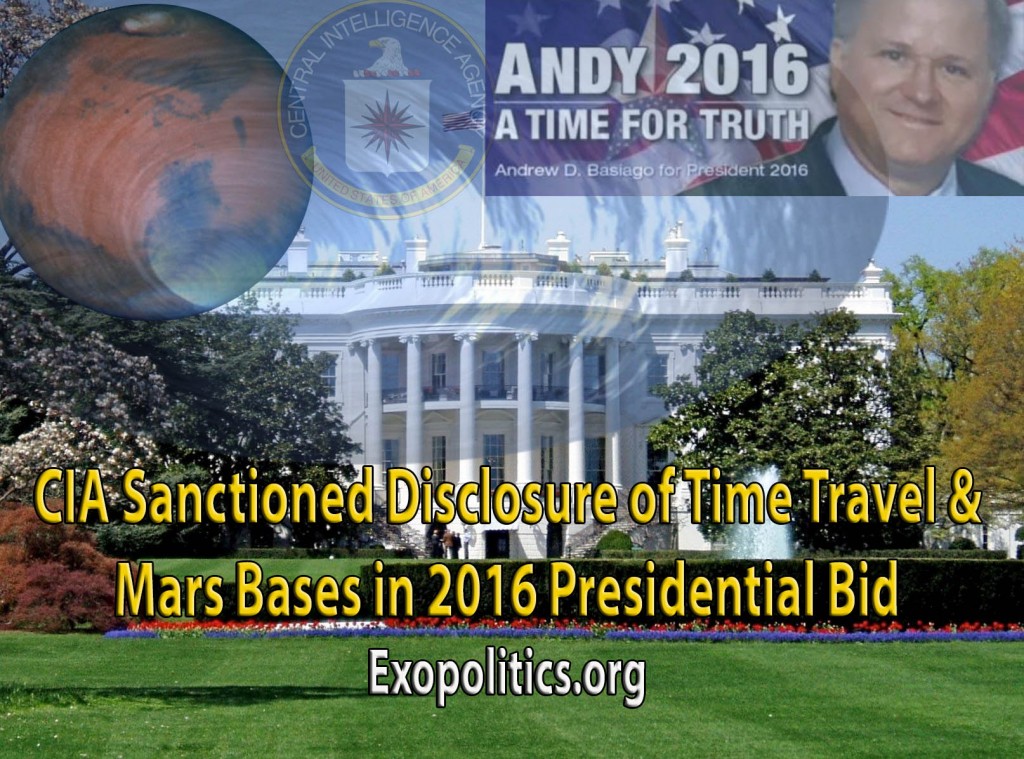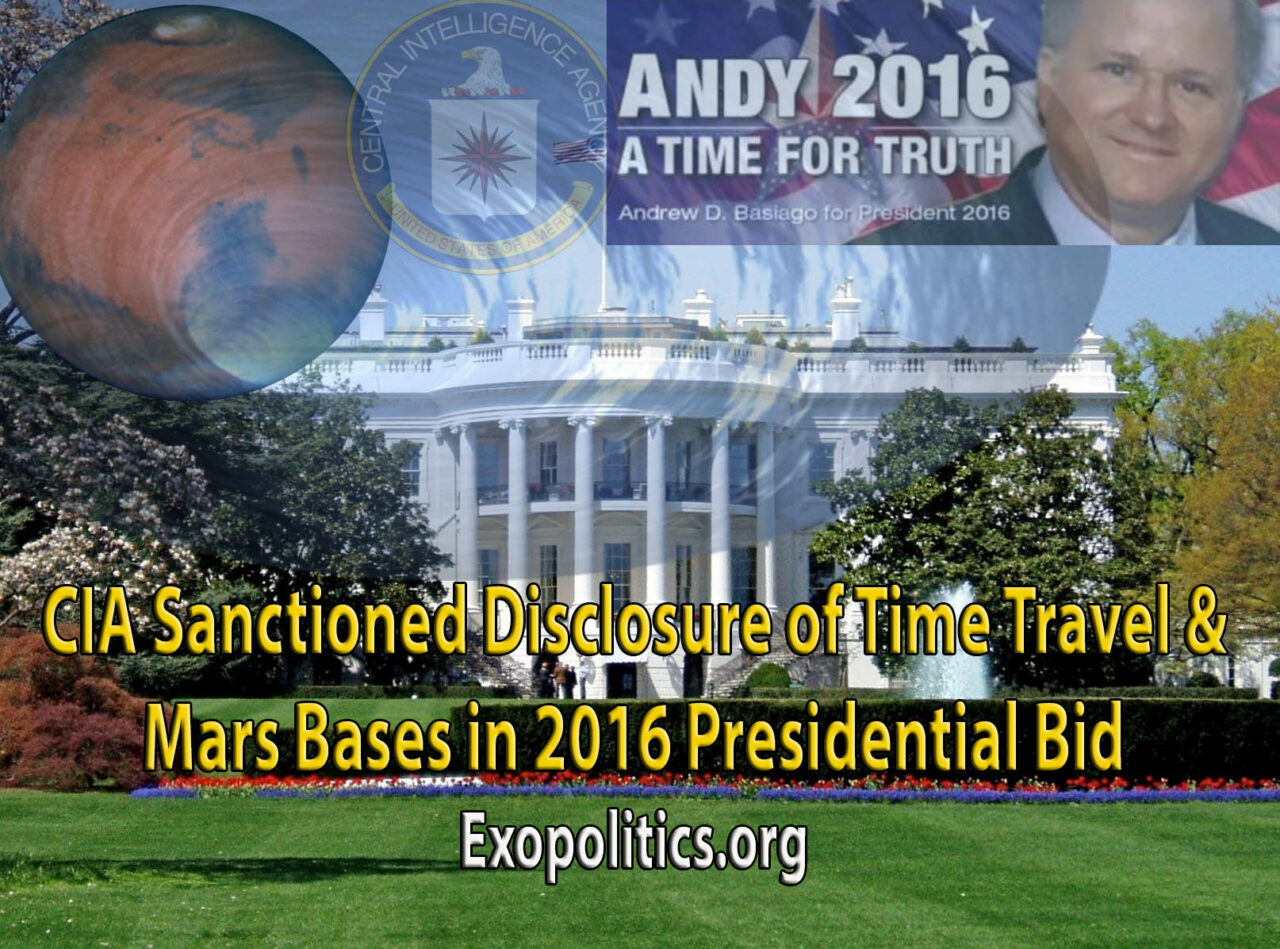 In part two of this series, it was claimed that CIA "White Hats" had begun in 1980 to groom Barack Obama as a future U.S. President, while simultaneously grooming Andrew Basiago to follow him some time after into the White House.
Basiago's path to the Presidency would follow a different trajectory than Obama's more traditional grass roots political career in one of the two major U.S. political parties. Basiago would instead become a whistleblower and disclose his involvement in two classified programs – Project Pegasus and a CIA Jump Room Program to Mars. Basiago's disclosure testimony would subsequently underpin his "Truth Campaign" to become U.S. President.
If Basiago's claims are accurate about he and Obama being groomed as future Presidents, which includes what the CIA "White Hats" exposed Basiago to during his childhood and early adulthood, then what is the ultimate agenda of these alleged "White Hats"?
For an answer, we need to return to Basiago's core claim that one of the purposes of the time travel technologies was to identify future U.S. Presidents. In part one, it was pointed out that during Project Pegasus, a number of U.S. Presidents and Vice Presidents were "pre-identified" and then briefed by CIA/DARPA personnel, after which Basiago met them during informal lunches.
Later, during the Mars Jump Room training, Basiago claims that he and Obama were also pre-identified as future Presidents. This is a perplexing scenario given Basiago's claim that he and Barack Obama were sent to Mars to basically only maintain a specified threshold of humans physically present, while escaping life threatening situations from marauding Martian predators. They were told:
"Simply put, your task is to be seen and not eaten."

Why would two allegedly pre-identified U.S. Presidents to come, be treated in such a dangerous and callous way?
One answer is that such experiences were part of the "grooming" of Obama and Basiago for their future roles. Both would be taught to fear the power of their CIA handlers, who had the power of life and death over them. Arguably, such experiences would make them more amenable to CIA influence if they succeeded in being voted into high political office.
Yet such an answer doesn't satisfactorily explain why some pre-identified future Presidents would be exposed to a classified space program involving Mars, when other Presidents like Kennedy, Carter and Clinton, were denied access to similar information.
In the case of President Kennedy, his efforts to get access to classified UFO files were a direct factor in his assassination through the direct complicity of the CIA as discussed in the book, Kennedy's Last Stand.

There is also credible testimony that President Carter was flatly denied access to classified UFO files by the outgoing Director of the CIA, George H.W. Bush.

In the case of President Clinton, he appointed a close friend, Webster Hubbell, to the third most senior Department of Justice position, in order to find answers to two questions: "One, who killed JFK? And two, are there UFOs?"

Why would Barack Obama, for example, have been given access to such highly classified information, when it was denied to Kennedy, Carter and Clinton?
Was Basiago subjected to mind control to make him believe events concerning Obama and teleportation to Mars occurred as he recalled, or was being told? In this regard, he does acknowledge "that people were brainwashed when they entered these kinds of projects and when they left."

Did such brainwashing happen with Basiago? If so, it is possible that Basiago's recollections of Barack Obama's participation in the Mars Jump Room Project was contrived by his CIA handlers.
In part two, it was pointed out that investigative reporter Wayne Madsen, in 2010, was the first to raise the possibility that Obama was groomed by the CIA to become a future President. Was Basiago brainwashed to include the Mars teleportation element to Obama's background to muddy the waters so Madsen's earlier claim could be more easily discredited?
While possible, there is significant evidence supporting Basiago's version of events here.
Obama did attend Occidental College in Los Angeles at the time Basiago claims that he, Obama and others were traveling to a secret jump room facility at 999 N. Sepulveda Boulevard in El Segundo, California in 1980. The distance between Occidental College and El Segundo is approximately 25 miles.
Also, according to Basiago, Obama used the name Barry Soetoro during his participation in the CIA Mars Jump Room Program. This is supported by researchers who have found college transcripts showing Obama did use that name in the past, including his time at Occidental College.

Finally, two other whistleblowers, Brett Stillings and Bernard Mendez have come forward to confirm their participation in the Mars Jump Room program, and Barack Obama's involvement. They support Basiago's claim that Obama used the name Barry Soetaro during the covert program.
Incredibly, Basiago may have been right all along that Obama, aka Barry Soetoro, was a participant in a classified CIA project where participants were led to believe they were secretly traveling to Mars through classified teleportation technologies. Whether they actually travelled to Mars or not, it's possible that Obama was recruited and trained as a CIA asset during his time at Occidental College. This is consistent with what Madsen had earlier claimed about the Obama CIA link.

One thing is clear from Basiago's narration of events recalled from his youth during Project Pegasus, and later from the CIA Mars Jump Room program. Principal CIA figures, including his father (Raymond Basiago), were in favor of disclosure of the time travel and jump room technologies, and encouraged Basiago down a path towards that end.
The picture that emerges of the CIA clandestine services branch is very benign, to say the least. The CIA is involved in the development of time travel and jump room technologies for intelligence gathering purposes, and has key officials encouraging Basiago to believe he will be a future President with the power to one day disclose such technologies to the world.
Andrew Basiago for U.S. President
This takes us back to the December 19 announcement of Andrew Basiago running for U.S. President. He is running as a write-in candidate in those 43 states that allow this. The cost of being on the ballot for all 50 states is estimated to be $5 million, and Basiago rightly objects to paying such an exorbitant amount to simply present an alternative choice to the U.S public.

Basiago clearly believes his 2016 candidacy is a serious bid. This is based on his insider knowledge about his foreseen future role, discovered within a number of classified programs run by the CIA and DARPA of which he was a participant.
While Basiago's 2016 Presidential campaign appears quixotic at the moment, even a partial disclosure of an extraterrestrial cover-up by government authorities would lead to a powerful public reaction against major political parties.
Such a reaction could give momentum to Basiago's candidacy for 2016, or perhaps 2020, potentially raising it to a more serious level, given the public's desire for the truth to be revealed. The detailed testimony of Basiago would reveal some of this desired truth.
What is worth keeping in mind in contemplating these future possibilities is that the CIA, according to Basiago, has gathered intelligence on such scenarios through time-travel technologies. Just as the CIA allegedly groomed Obama to be President, similarly, "White Hats" in the CIA have groomed Basiago to play the whistleblower role he is currently playing.
Basiago has declared that he is leading a "Truth campaign" in his 2016 Presidential bid. Yet another powerful force appears to be a covert CIA operation, which according to Basiago's testimony, pre-identified him decades ago as a future President promoting an extraterrestrial and secret space program disclosure platform.
While Basiago clearly believes he was, and perhaps still is, supported by "White Hats" in the CIA, there are good reasons why even alleged CIA White Hats should not be trusted. While as a child and young adult, Basiago clearly believed that his father and other alleged CIA White Hats were telling him the truth, there is no reason why the general public should accept this belief. He may very likely have been subjected to mind control to alter his memories of past or future events.
Basiago's detailed testimony about his involvement in two classified programs run by the CIA does reveal important and significant information about key personnel, events and institutions involved in these programs. The sheer volume of details and information he has released is very impressive, while his subsequent investigations, along with supporting witnesses, suggests that a significant portion of it is accurate.
Consequently, Basiago appears to be a genuine whistleblower and understandably believes that his 2016 Presidential run is the real deal. Yet, Basiago, by his own testimony, was pre-identified and groomed as a future whistleblower by the CIA to reveal information about classified projects. His disclosures appear to be part of a psychological operation with a big long term agenda, which of course includes depicting the CIA in very favorable terms.
Basiago's 2016 Presidential campaign is therefore very likely a part of a CIA sanctioned "limited disclosure" program concerning extraterrestrial life and secret space programs. There is a vast amount additional information about secret space programs and extraterrestrial life that his disclosures omit.
For example, Basiago does not discuss the role of German Secret Societies and the Nazi SS in pioneering the first space and time travel technologies, and infiltrating the U.S. military industrial complex in the 1950's. There are significant differences between "limited" and "full disclosure" scenarios, as discussed at length in the book Insiders Reveal Secret Space Programs and Extraterrestrial Alliances.
While evidence suggests Basiago has released valuable information about the development and use of time travel, and teleportation technologies, there is good reason to be very cautious about supporting his "Truth campaign" with its "limited disclosure" scenario influenced by CIA "White Hats."
Andrew Basiago's 2016 Presidential campaign opens the door to illuminating a covert world of secret space programs and extraterrestrial life. We should all be thankful for his public disclosures and attempt to bring these issues into the 2016 Presidential race as a serious topic. Ultimately, this can aid the much bigger "full disclosure" scenario as truth breaks free from its CIA shackles.
Michael E. Salla, Ph.D. Copyright Notice
Further Reading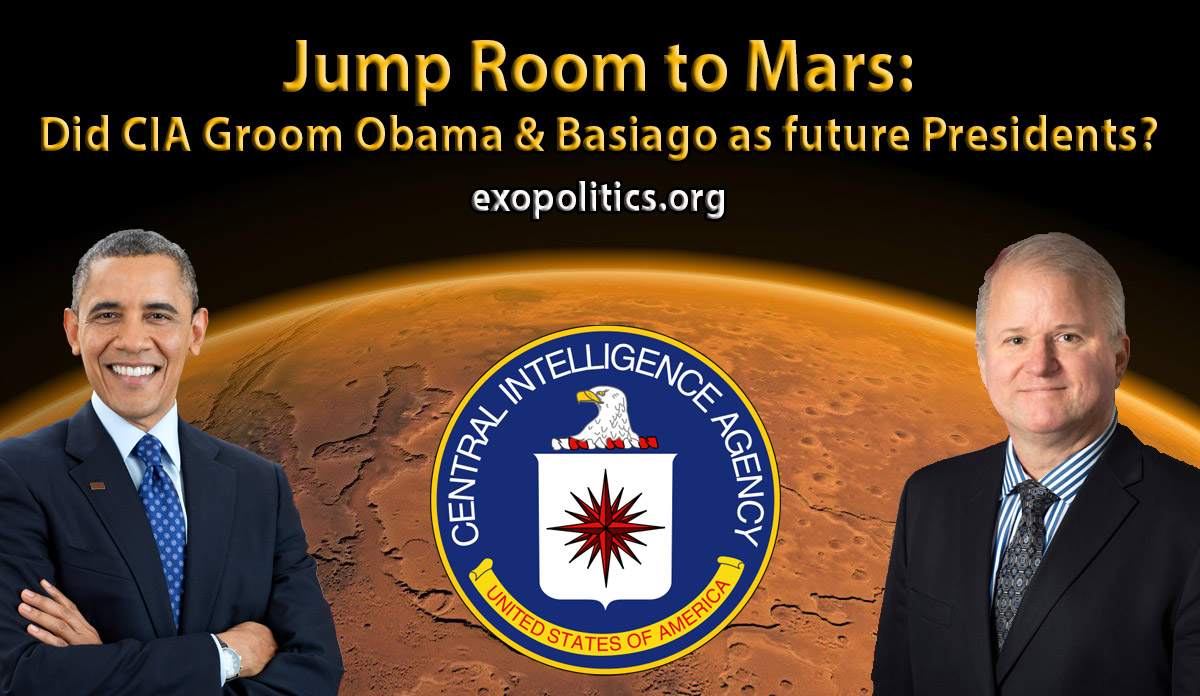 In Part One of this series, it was shown that Andrew Basiago's run for the 2016 Presidential election is partly based on his belief that he was pre-identified as a future U.S. President in a CIA/DARPA run time travel program called "Project Pegasus." The Project's main purpose was to gather intelligence from past and future world events, including the election of upcoming Presidents.
Subsequent to his involvement in Project Pegasus (1969-72), Basiago claims that from 1980 to 1984, he was recruited into a second CIA-led project that involved the use of teleportation technology for travel to Mars. These "Jump Rooms" led to him and others traveling to the Red Planet on multiple occasions witnessing indigenous life on Mars, as well as secret bases there.
In 1980, at the start of the CIA Mars Jump Room project, Basiago claims that he learned that Barack Obama had also been pre-identified as a future President and even Basiago himself was destined to become a U.S. President:
Barack Obama also was told; because when he and I were serving in the Mars Jump Room Program, we were being trained under Ed Dames in the summer of 1980, at College of the Siskiyous, in Weed, California. His Presidency and mine were being openly discussed by who was present …

Basiago further claimed that in 1980, he and Barack Obama actually were roommates while being briefed about upcoming jump room teleportation to Mars:
So, Barack Obama was not only aware of his Presidency when we were being trained in 1980, when he was 19 years old – and just turned 19 in August of '80 – but when we were rooming together briefly, a couple of days – at the College of the Siskiyous. He was reading briefing documents that they were giving him to groom him for the Presidency. [emphasis added]

Importantly, Basiago is here declaring that the CIA was actively grooming Obama for the Presidency by giving him access to briefing documents. In other words, according to Basiago, Obama is a CIA sanctioned U.S. President.
Basiago is not alone in claiming that Obama was groomed by the CIA to become a future President. Investigative reporter Wayne Madsen was the first to make such a claim in August 2010 in a three part series of articles. He followed this up in  a 2012 book titled, Manufacturing a President: The CIA's Insertion of Barack H. Obama, Jr. into the White House.
Basiago added an unexpected twist to the Obama CIA relationship, Obama's Presidential grooming began during a covert program involving teleportation to Mars. This predictably has resulted in much controversy over Basiago's claims, and has led to him being ridiculed as evidenced by a Colbert Report on October 11, 2012 examining his Mars Jump room testimony.

However, there have been other whistleblowers that have made similar claims of teleportation technologies that enable travel to Mars. Whistleblowers such as Michael Relfe and Henry Deacon (aka Arthur Neumann) have gone on the public record to claim that they used similar teleportation technologies for travel to Mars.
Another whistleblower, Corey Goode, claims that teleportation technologies were first developed by Germany and used as early as the 1940s for transporting equipment to secret bases on Mars. He says that these German bases were later greatly expanded in collaboration with the U.S. military industrial complex.
Basiago's claims about participating in a classified CIA teleportation project to Mars in 1980, is plausible given what other independent whistleblowers have claimed.
If Basiago is correct in his core claims about the two classified projects he participated in, is it possible that he is also correct that Obama was groomed by the CIA to be President during a Mars Jump Room project? If so, has Basiago also been groomed by the CIA to be a future President, and his 2016 election bid is part of a CIA sanctioned disclosure program?
Has the CIA Groomed Andrew Basiago to be the U.S. Disclosure President?
Basiago's claims have led to much close scrutiny and criticism by veteran UFO and exopolitics researchers. I have critiqued claims by Basiago of being himself the discoverer of life on Mars, which he based on his analysis of Mars Rover images in a paper he published in December 2008.

I found his claims to be both unconvincing and unprofessional for a practicing attorney, because he refused to consult independent image analysis experts to corroborate his paper's findings. His refusal led to me criticizing him as a "crackpot by design."

After his initial public emergence in 2008, Basiago came forward again to reveal his involvement in the CIA and DARPA run Project Pegasus in November 2009.  He followed this up with his revelations about the Mars Jump Room program in August 2011.  To his credit, Basiago has done a lot of subsequent work in finding additional whistleblowers, witnesses and documents to support his controversial claims.
There have been a number of individuals who have come forward to claim that they were also part of the CIA's teleportation program to Mars. Brett Stillings and Bernard Mendez attest that they were part of this program. They have corroborated Basiago's claim that in addition to Obama, other prominent public individuals such as Regina E. Dugan, Mary Jean Eisenhower and Admiral Stansfield Turner were also part of these programs.

Basiago has conducted numerous independent investigations to corroborate his testimony, and has given details of additional evidence he has discovered in interviews. Included here are comments by David Baker, a former engineer from the Parsons company.
Baker corroborated Basiago's account of the different engineers that Basiago claimed to have met who worked at Parsons. This makes for powerful corroboration that Basiago was indeed present during his father's dealings with other Parsons company engineers in "special projects" that were highly classified.
In reviewing the extensive details and evidence supplied by Basiago over his participation in Project Pegasus and Mars Jump-room projects, I have found little to cast doubt on Basiago's version of events as he has narrated them. Indeed, the evidence he has supplied to corroborate his testimony is impressive in its scope, and leads to the conclusion that Basiago is sincerely telling the truth about events he personally witnessed and experienced in great detail.
Basiago, therefore, does not appear to be lying when he claims to have worked in classified joint CIA and DARPA run projects dealing with time travel and Mars teleportation technologies.
However, there is an important caveat here which needs to be considered when evaluating his reliability as a whistleblower and Presidential candidate. Basiago is on the record as saying that he and Barack Obama were pre-identified by the CIA as future Presidents. He has said that Obama was subsequently groomed by the CIA to be President. This suggests that Basiago has similarly been groomed, and is part of a CIA sanctioned disclosure program.
Is Basiago part of a CIA Sanctioned Disclosure Program?
It is natural to assume that the time travel technologies used by Basiago, to provide intelligence for the CIA, would also be used for operational security purposes. Among these would be determining Basiago's reliability, as far as maintaining secrecy in the future was concerned.
Basiago's later decision, as an adult, to become a whistleblower was almost certainly anticipated very early through psychological profiling. This would have very likely led to the same CIA operated time travel technologies being used to identify him as a future whistleblower.
Basiago says that he heard Donald Rumsfeld reveal plans that he and other Project Pegasus participants would, after completing High School, go the Naval Academy in Annapolis. As a Navy officer, Basiago was to continue working in covert programs as he recalls Rumsfeld saying:

Secretary Rumsfeld was explaining to my father – he literally said: "What we plan to do with the kids is in high school, we're going to admit them to the Naval Academy, as first-year plebes, when they graduate from high school; and we'll use that as a pretext for involving them in future project activities." So there, in 1971/72, they were already planning for what our destiny was going to be in the fall of 1979. And Rumsfeld was aware of what the major plan was.

However, Basiago states that he rebelled against this plan, which he was expected to follow, and chose a civilian life instead:
… my Dad sat me down in high school and told me I was going to the Naval Academy – which I ultimately rejected as an option …

It's important to keep in mind here that as a 17/18 year old in 1979, Basiago had refused to follow the advice of not only his father, but also a former Secretary of Defense – Rumsfeld held this position during the Ford Administration from 1975 to 1977.  
Due to his refusal to pursue a Naval career, psychological profiling would have revealed that Basiago was a future security threat for the Project Pegasus program. This predictably would have led to additional security screening using the time travel technologies, which would have revealed Basiago's role as a future whistleblower.
Yet during his undergraduate study at UCLA, Basiago says he was recruited into another CIA project. The leads to a troubling question. Why would the CIA ignore the red flag raised by Basiago's refusal to follow a DARPA/CIA sanctioned career path, and instead reward his rebellion with access to yet another CIA project, this time involving jump-room technologies to Mars?
From his time as a participant in this second CIA classified program, Basiago describes an incident that provides an answer. He says that in 1983, as a 22 year old, he was asked by his CIA handler, Courtney Hunt, to travel to an elementary school to meet with a 10 year girl called Hesper Natalie. Hunt was aware that 27 years later, in 2010, she would help publicly confirm that Basiago had participated in Project Pegasus, and was a genuine whistleblower.
We also have other theories, possibly of what Hunt was doing. Hunt may have had… may have taken Hesper's name from my Montauk Chair writings – my file that pertained to travelling to the future in the Montauk Chair as a child – and then decided to have me meet her as a child; because then when we met in real time, that would basically improve my involvement in the program.

This is where Basiago reasons that Hunt, along with his father, were in fact "White Hats" in the CIA wanting to publicly disclose the truth about teleportation technologies in the future:
So it may have been actually something basically positively serepetitious [sic] that Hunt was doing to undermine the secrecy of the project. But nonetheless, we not only have one of the Montauk girls here, but we have somebody from my past who knows I'm telling the truth – because the CIA had me go and meet her – what was it, Hesper, 27 years before we met in real time [2010]?
The above quotes need to be carefully considered in evaluating Basiago's testimony. What they reveal is that Basiago's handler, Hunt, and therefore the CIA, was well aware of the possibility that Basiago would become a whistleblower and disclose classified programs that he was involved with.
Rather than take steps to prevent this, the CIA would instead actively help him by arranging for meetings to occur, such as meeting Hesper in 1983, so that later in 2010, she would meet him again and therefore support him as a bona fide whistleblower.
This leads to the conclusion that Basiago was identified as a future whistleblower by the CIA, and was therefore exposed to events, people and circumstances that would shape and influence his later testimony. This suggests that Basiago's whistleblowing activities are part of a long-term CIA sanctioned disclosure program, which is based on pre-identifying and grooming future Presidents.
Michael E. Salla, Ph.D. Copyright Notice
Further Reading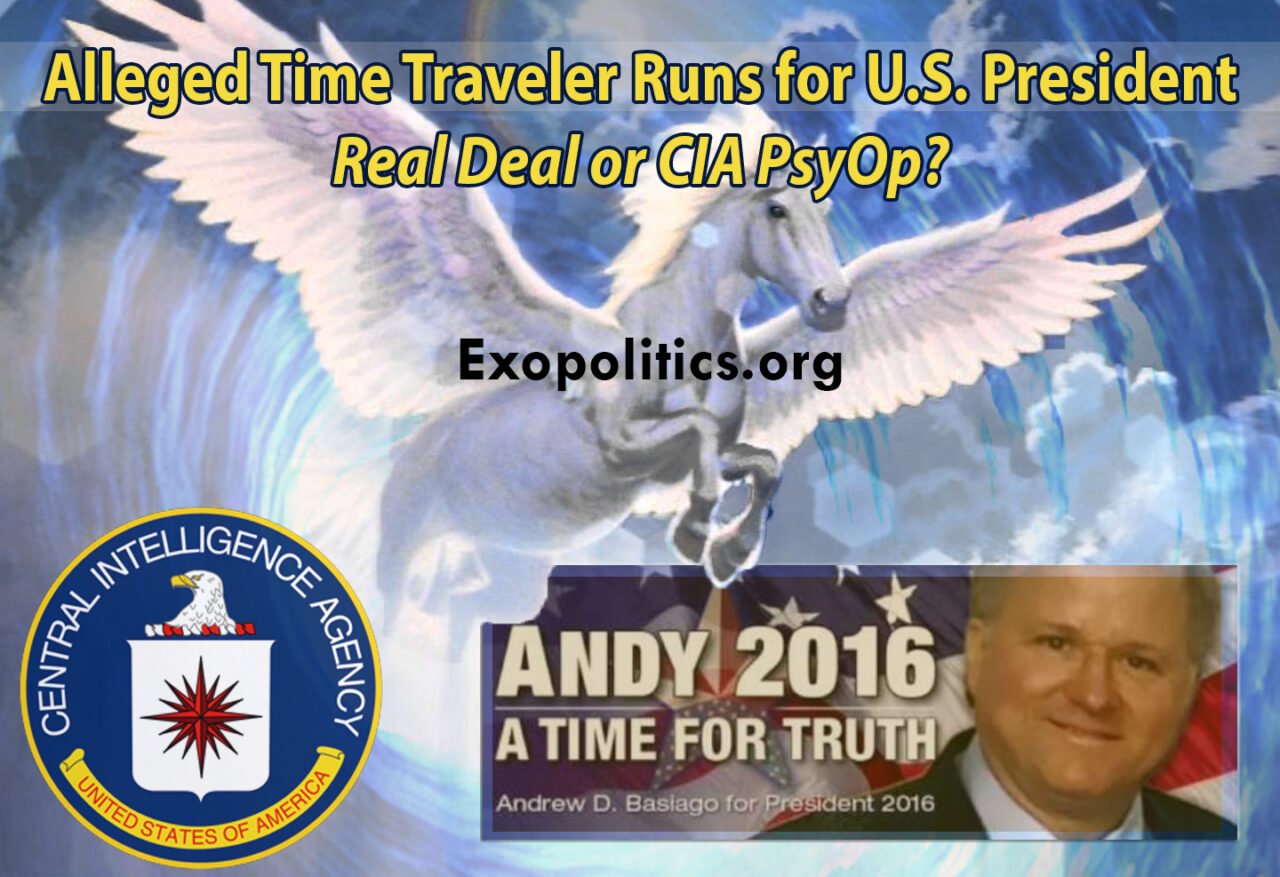 On December 19, Andrew Basiago, J.D., officially declared on the nationally syndicated Coast to Coast radio show that he is running as a candidate for the 2016 U.S. Presidential election. He announced that he would soon release 100 proposals, which would include telling the truth about classified projects run by the CIA that he claims to have directly participated in involving time travel and trips to Mars.
According to Basiago, these classified CIA programs pre-identified him as a future U.S. President. Is Basiago a heroic whistleblower disclosing the existence of extraterrestrial life and secret space programs, or part of a CIA sanctioned psychological operation to manipulate the disclosure process?
Basiago's campaign will be based on the three pillars, "Truth; Reform; and Innovation in a New Agenda for a New America." He has explained the goals of his Presidential Truth campaign bid as follows:
My plan, basically, is to sustain my Truth campaign about secret US achievements of time travel and Mars visitation; [to] continue to share my experiences in Project Pegasus [a classified time travel program] and on Mars in mainstream and alternative media.
And then, as part of my recommendations of what I would bring about as President – a major one is what I would do with these two technical capabilities when I run for president in 2016.
Alfred Webre, a prominent futurist and legal scholar, pointed out a key element of Basiago's past participation in classified CIA programs, and why he has declared himself as a U.S. Presidential candidate:
… career CIA officers associated with DARPA's-secret time travel program confirmed that U.S. government secret time travel pre-identified him as a future U.S. President — as it did U.S. Presidents George H.W. Bush, Bill Clinton, George W. Bush, and Barack Obama.

The role of the CIA in pre-identifying Basiago as a future President leads to an important question. Was Basiago groomed by the CIA, since childhood, to eventually run for the U.S. Presidency on a CIA sanctioned "disclosure program?" Answering this question requires some examination of Basiago's claims concerning teleportation, time travel, trips to Mars; and the CIA's role in preparing him for an eventual Presidential run.
CIA, DARPA and Project Pegasus
Basiago claims that in 1967/1968, when he was age six, his father Raymond Basiago introduced him to a teleportation device by which he was physically transported from New Jersey to New Mexico, as "the first American child to teleport."
I was first brought into Project Pegasus by my father in 1967-68, when at age six I teleported with him from New Jersey to New Mexico via a teleporter located in Building 68 at the "old" Curtiss-Wright Aeronautical Company facility formerly at 1 Passaic Avenue in Wood Ridge, New Jersey. This "jump" resulted in me becoming the first American child to teleport.

Basiago said that his father soon after recruited him into a CIA-run intelligence gathering operation called "Project Pegasus" in which he served until 1972. Basiago states: "Project Pegasus at the time that I joined it in 1969 was not primarily a time travel project – it was an intelligence program for the CIA."
Project Pegasus involved children testing up to a total of eight different time-travel and teleportation related technologies, and revealing what they had experienced in subsequent debriefings:
Project Pegasus was debriefing the teleportees and the other forms of time travelling – time travelers – including myself, having gone to the past and future using different methodologies and different technologies – so we were being interviewed to derive when we were going forward in time … information with which the US government could create reports that were promulgated by the CIA, and then sent around the project in other areas of the government to people with a 'need to know' status, to know of certain events.
Project Pegasus was alleged to be a vital national security program and was administratively placed under the control of the Defense Advanced Research Projects Agency (DARPA –named ARPA at the time.).
In a signed affidavit released on September 11, 2012, Basiago says:
The mission of Project Pegasus was to use quantum access to develop a "remote sensing in time" capability pertaining to non-local events on behalf of the Executive Branch of the United States government.
It was hoped that by developing better intelligence about past and future events, Project Pegasus would enable the US president, intelligence community, and military to engage in better contingency planning for future events.
Project Pegasus was trying to accomplish this by developing different time travel technologies in a research and development program under the aegis of DARPA.

Basiago claimed that the Ralph M. Parsons company, was directly involved in developing some of these time travel technologies of interest to the CIA and DARPA. Basiago's father, Raymond, was a "special projects engineer" for the company and its liaison with the CIA.
In investigating the precise nature of his father's relationship with the CIA, Basiago states in his signed affidavit that to all intents and purposes, Raymond was a CIA agent:
During his 18 years of employment with the Parsons Corporation ostensibly working on conventional engineering projects, my father was secretly employed as the technical liaison between Parsons and the CIA on the theory and practice of teleportation.
While it is not clear whether Raymond F. Basiago was ever a CIA officer per se, his work with DARPA, the CIA, and other US military and intelligence agencies was extensive enough for him to be in the CIA employee database.
When I inquired of my father's employment status with the CIA through an intermediary ten years ago, I was told by the CIA that they could not release information to the family members of living or deceased CIA personnel.
Basiago has described the extensive connections between the CIA and the Ralph Parsons company which included a former CIA Director, John McCone, in its leadership team.
Basiago believes that his father and other CIA personnel in Project Pegasus were "White Hats" in favor of public disclosure ,and release of the teleportation technologies:
So he [Raymond Basiago] was CIA – as were many other people. But I'm proud of my dad and I think you can say that he was a 'White Hat' inside the intelligence community; because among other things, he was actively urging the public adoption – the declassification and deployment of Tesla teleportation – for civilian functions, for civilian transport, when he was serving on this project.
This admission is vitally important for understanding Basiago's disclosure testimony, and involvement in CIA run projects. As far as he was concerned, his father and others were "White Hats" fighting the good fight within the CIA to release these advanced technologies to the world.
Basiago's Time Travel Expeditions
Basiago has described a number of time travel expeditions he has undertaken during his time in Project Pegasus. This included time travel back to Gettysburg in 1863, to hear Lincoln address the Union troops, using a wormhole technology called "plasma confinement." The effects of this mode of time travel wore off after a period, thereby returning him to the present:
The Plasma Confinement Chamber. In Spring 1972, my father took me to a time lab in East Hanover, NJ where, under the direction of Dr. Stirling Colgate, I entered a Lucite chamber where plasma was emitted, and while immersed in the plasma, I worm-holed to Gettysburg, PA on November 19, 1863, where I was depicted in the famous Josephine Cobb photograph of Abraham Lincoln at Gettysburg.
In support of his claim, Basiago has shown in public lectures the Cobb photograph of the Gettysburg address with a child in the foreground. He claims that he was told by Project Pegasus leaders that he was the child, and that it happened just before he returned back to 1972.

Basiago claims that he undertook other journeys into the past, using a different time-travel technology called "the Chronovisor" (aka "Looking Glass"). This enabled past and future events to be experienced holographically, without physically traveling there as he explains:
A "chronovisor" is an electro-optical device that by driving an electro-magnetic signature through a crystal array propagates a hologram that lenses a non-local event into the laboratory. Chronovisors were fully operation in the secret realms of the US defense-technical community by 1967-69.

In 1970, Basiago claims that he and other Project Pegasus child participants visited various classified facilities hosting chronovisors:
In Fall 1970, the children in my group first began accessing past and future events via third and fourth-dimensional Ernetti-Gemelli chronovisors situated at the General Manufacturing Company in Convent Station, New Jersey; a public auditorium under construction in Morristown, New Jersey; and the ITT Defense Communications facility in Nutley, New Jersey.

Basiago's assertion of visiting a classified facility run by ITT in Nutley, New Jersey in 1970 received surprising corroboration by no less a personage than famed radio host Art Bell, who was at the time employed by ITT in a classified NATO communication project. This was information Bell had never before publicly revealed. He was clearly shocked as Basiago revealed during a live radio interview on August 14, 2015, how he encountered Bell working on a classified project at the Nutley facility in 1970 when Basiago was only 8/9 years old.

Basiago says that through the chronovisor technology a highly classified film was made of the crucifixation and resurrection of Jesus Christ. Basiago claims to have seen the 20 minute film and said it matched what is depicted in biblical accounts of the life of Jesus.

Basiago further claims that the 9/11 twin tower attacks involving Arab terrorists that hijacked two planes was foreseen by his father and other Project Pegasus participants. He says that Donald Rumsfeld was the liaison at the time between Project Pegasus and the Pentagon, and therefore knew about the 9/11 attacks in advance. This led to Basiago putting together a detailed affidavit that he publicly released on September 11, 2012, as a submission to a non-official investigation called the Vancouver 9/11 Tribunal.
I am filing this affidavit with the tribunal because I have direct, personal knowledge of the fact that a secret time travel project for which he served as defense attache gave Donald H. Rumsfeld, who served as US Secretary of Defense during 9/11, prior knowledge of 9/11 thirty years before 9/11.

Basiago's affidavit became a contentious issue for the Vancouver Tribunal and ultimately led to an acrimonious split between Alfred Webre, who wanted to submit it, and Jim Fetzer and others who believed it would subvert the 9/11 Truth Movement.

At this stage, it is worth examining Basiago's credibility as a whistleblower. In his signed 2012 affidavit, Basiago affirms:
This affidavit is accurate to the best of my ability to remember and tell the true life experiences that I testify to in it and is made without any motive to deceive or purpose of evasion.
Basiago has an impressive educational resume with degrees from UCLA and Cambridge University, which has culminated in him having a private law practice in Washington State. As such, he is professionally required to adhere to high ethical standards in order to continue being an officer of the court. Among these is telling the truth when it comes to public activities.
This is a fact that Basiago has emphasized again and again when it comes to his disclosures that, if proven to be untrue, would lead to his disbarment and effectively end his professional career.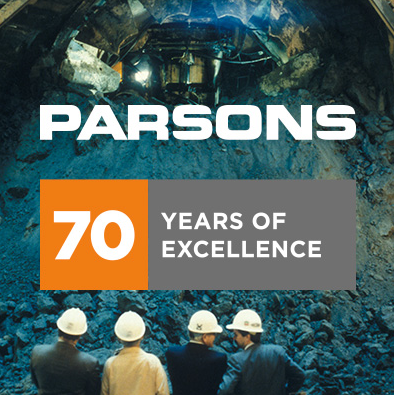 There is little debate over his father's professional background as an engineer, and the possibility that the Ralph Parsons company was directly involved in classified time-travel projects. The Parsons company had been involved, since its formation, in a number of highly classified programs run by the Department of Defense. This included developing silos for the placement of U.S. strategic nuclear missiles.

It is very plausible that the Parsons company would have been chosen to spearhead research and development of a classified program such as Pegasus, as Basiago claimed. Indeed, he describes an intriguing incident involving a luxury yacht purchased by the company founder, Ralph Parsons, from the arms trader, Adnan Kashoggi. Parsons renamed the yacht Pegasus II, in an indirect reference to the Pegasus program that his company had been entrusted with by the CIA and ARPA. A local newspaper covered the event in February 1973:


In his choice of name for his newly acquired luxury yacht, Parsons clearly associated the name 'Pegasus' with success and achieving the impossible. Was it mere coincidence, or was the naming due to his company's success in doing the impossible: developing time travel technologies that provided the CIA a unique intelligence gathering capacity? If so, would the CIA use such technology to determine who future U.S. Presidents would be, and attempt to influence them prior to the events leading to their Presidencies?
Project Pegasus and Pre-identifying Future Presidents
Basiago says a number of U.S. Presidents and Vice-Presidents were "pre-identified" through time traveling by other Project Pegasus participants. These pre-identified (Vice-) Presidents were met by Basiago's father and other CIA/DARPA personnel in informal lunches which Basiago also attended as a pre-teen:
I also met several future national leaders of the United States at lunches that were held in Albuquerque, NM with project principals shortly after they were apprised of the fact that using its quantum access capability DARPA had determined that they were destined to serve as President or Vice President of the United States. These individuals included President George H.W.Bush, Vice President Richard B. Cheney, President George W. Bush, and President William J. Clinton.
Less than a decade after completing his participation in Project Pegasus in 1972, Basiago claims that he learned that Barack Obama, and Basiago himself, had been pre-identified as future Presidents during another classified program run by the CIA. This raises the question, is Basiago's 2016 Presidential run the "real deal" or is it part of a CIA psychological operation?
Continued in Part 2
© Michael E. Salla, Ph.D. Copyright Notice
Further Reading