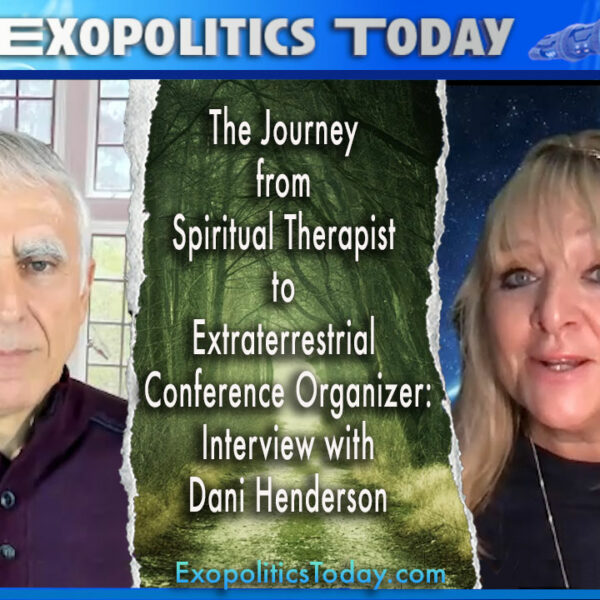 Dani Henderson has had a lifetime of paranormal experiences, psychic/intuitive revelations, and extraterrestrial contacts. She has worked as a "spiritual therapist" in England for several decades, and in 2010 was tested by the British media who blindfolded her and took her to secret locations, one being the Old Vic Theater, to successfully confirm her psychic/intuitive abilities. Dani has had direct contact experiences with extraterrestrials associated with the Galactic Federation of Worlds. These contacts include Annax and Thor Han Eredyon, thereby corroborating Elena Danaan's own contacts and communications with these galactic entities.
In October 2022, Dani organized a major international conference highlighting extraterrestrial contact called "Galactic Spiritual Informers Connection" that was attended by well over 900 people. Dani announced that she plans to host a similar event in Orlando in October 2023. In this interview, Dani discusses her childhood, her training as a hypnotherapist, psychic/intuitive work, ET contact experiences, and why she decided to host a major international conference on galactic civilizations.
Interview available on Rumble, YouTube & Odysee

Audio Podcast on Apple, Spotify, or Google
Dani Henderson's website is here.
Recordings of the Galactic Spiritual Informers Connection are now available here.
Her blindfold experience at the Old Vic is available here.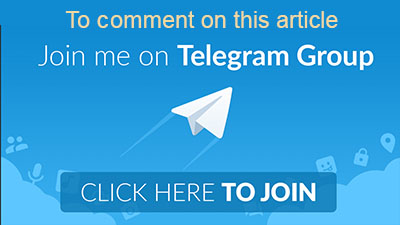 ---
Webinars with Dr. Michael Salla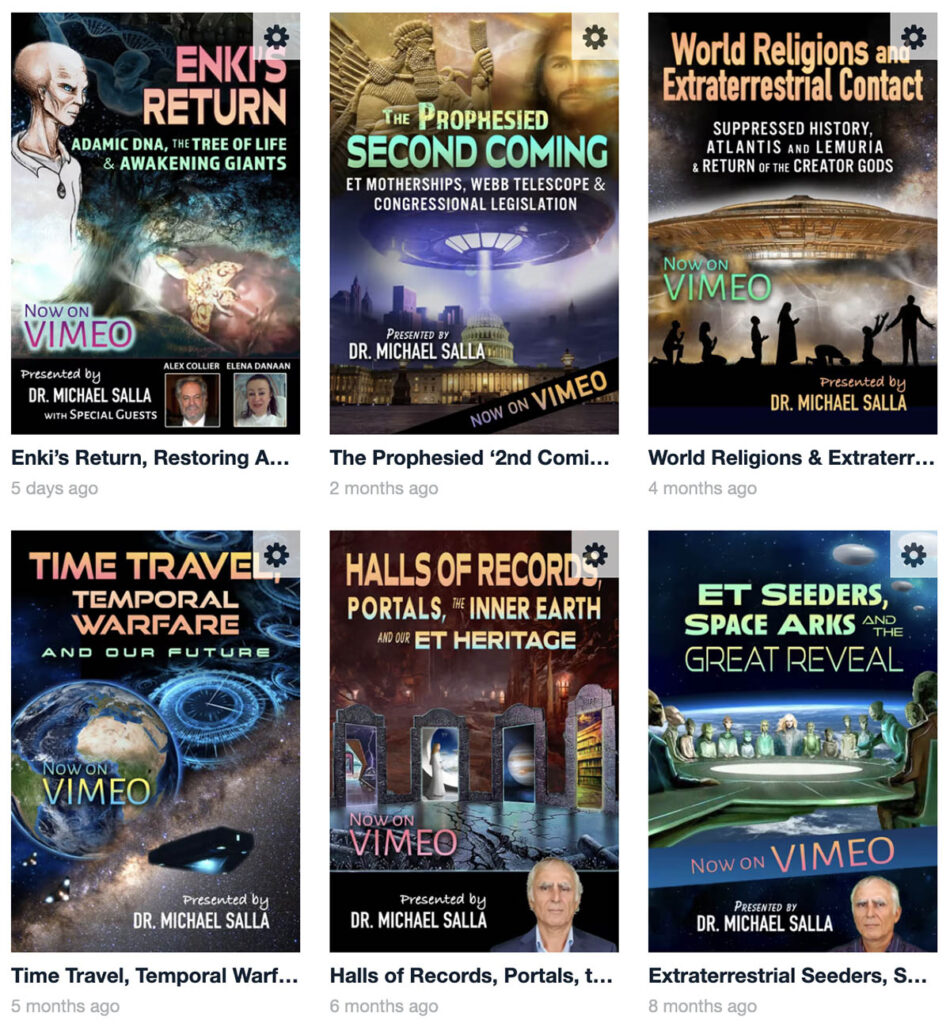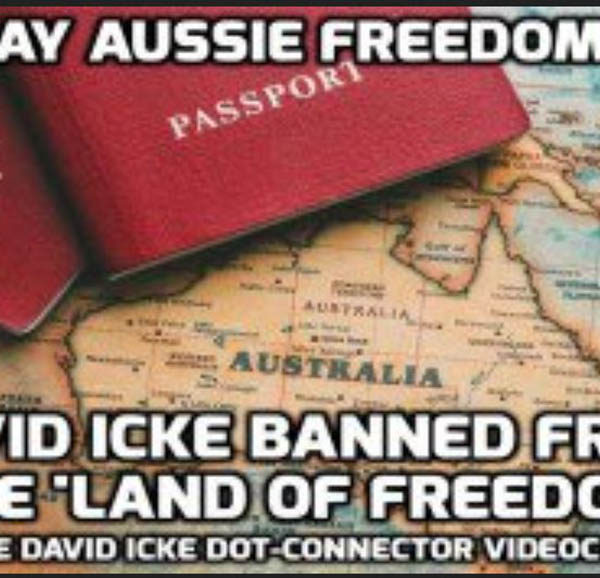 On February 20, 2019, David Icke was banned from entering Australia to start a five city speaking tour. His banning occurred fours hours before his departure from Los Angeles to Melbourne, despite being previously granted a visa in September 2018. He has previously visited Australia 10 times to give lecture tours where he has spoken about a range of geopolitical topics, including the role of Reptilian entities in controlling the planet.
You can read about the reasons given by the Australian Government in this news story here: https://tinyurl.com/y3ux8uwq
For Icke's response see: https://www.davidicke.com/article/522…
As an Australian citizen, I wish to express my strong opposition to this banning and hope Icke succeeds in having the ban overturned ASAP. The following video statement has been created to support Icke's freedom of speech rights and outrage over what the Australian Government has done.
Michael E. Salla, Ph.D. exopolitics.org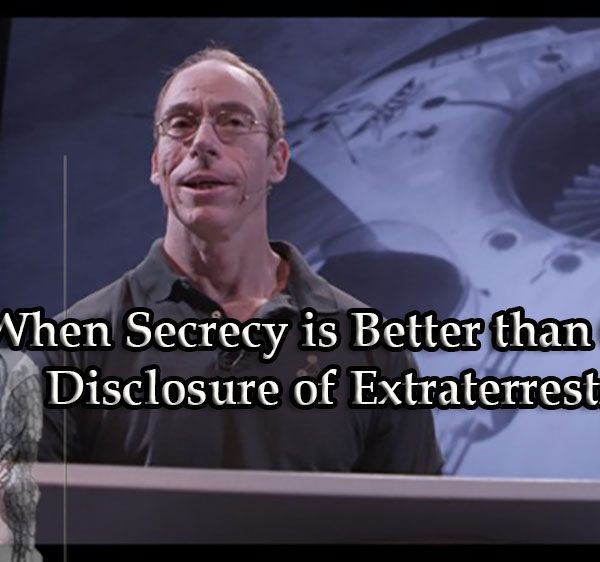 Dr. Steven Greer, a leading figure in the UFO disclosure movement, has just proposed an audacious idea concerning official disclosure of extraterrestrial life. In his expert opinion, acquired over more than 25 years of disclosure advocacy, continued secrecy is better than disclosing the truth about visiting aliens if they are depicted in any other way than peaceful nonviolent beings attempting to advance the evolution of human life on Earth.
In the February 5 installment of Gaia TV's Disclosure series, Greer was interviewed on the topic of the "Architecture of Secrecy" and explained his view about how official disclosure should be handled. He asserted his controversial idea that continued secrecy is better than any disclosure scenario that depicts extraterrestrials as in any way constituting a threat:
My biggest concern is that there's a hijacking of disclosure around a narrative of a threat, of an us versus them scenario. That is the sort of thing that can lead to the worst possible outcome.  I wrote a paper called "When Disclosure Serves Secrecy". Disclosure that would serve the secret agenda is not something that we need. I'd rather have the secrecy continue, frankly. But a disclosure that would be truthful and would be forward looking, and that would have an interplanetary peace initiative, and communication and contact initiative, and that would have the release of these technologies for peaceful energy generation, transportation and what have you, that would transform the planet very quickly  (Video: 9:45)
Greer explicitly referred to Luiz Elizondo and Dr. Hal Puthoff, who are senior figures in Tom DeLonge's To The Stars Academy, as a major part of the threat scenario that is being currently put out into the public arena through the major news media. On that score, I would agree with Greer that the "Advanced Aerospace Threat Identification Program" (AATIP) which was created within the Defense Intelligence Agency in 2007, and headed by Elizondo up to 2017, was unnecessarily framing the UFO issue in terms of it being a threat to national security.
If Greer only limited himself to critiquing depictions of UFOs and all extraterrestrial visitors as a threat, which AATIP appeared to be doing, he would be on solid ground. However, Greer in the Disclosure interview, as well as in past public statements, made it clear that he is against researcher that depict any extraterrestrials, even if only a small percentage, as a threat in any way.
On May 2, 2006, Greer launched an extraordinary public attack on my exopolitics research for having committed the egregious sin of proposing that extraterrestrials could in any way behave similarly to humans in terms of a wide range of motivations. My research dividing extraterrestrials into different motivational categories, e.g., the good, the bad and the indifferent, was lambasted by Greer as fueled by disinformation.
Greer is no doubt correct that elements of the Military Industrial Complex are exaggerating the threat narrative when it comes to UFOs and extraterrestrial visitation, which AATIP appeared to be currently doing and which I acknowledged back in my 2006 response to Greer. In it, however, I also pointed out that Greer's bold assertion that there is no evidence of hostile extraterrestrial behavior, can be easily shown to be wrong by examining multiple sources revealing the egregious behavior of some extraterrestrial visitors.
On July 26, 2010, Greer was confronted by Project Camelot founders, Kerry Cassidy and Bill Ryan, over the same issue, and they presented their own evidentiary sources that some extraterrestrial visitors were behaving unethically and maliciously.
In 2018, Greer attacked two of the insider sources I have cited extensively in my secret space program book series, Corey Goode and William Tompkins, as putting out disinformation about aggressive extraterrestrials, Draconian Reptilians, who are described as a prominent part of the planetary control system. In this case, he speculated that both Goode and Tompkins were implanted with false memories and were unwittingly spreading disinformation.
Again, I responded to Greer by pointing out the abundant evidence refuting his audacious assertion that no extraterrestrials behave in ways that are unethical or malicious. Indeed, I showed how his dismissal of Tompkins claims, in particular, ignored the impressive documentation substantiating his information.
With that brief background on Greer's past public statements on the issue of some, not all, extraterrestrials being unethical and malicious, the context has been set for better understanding the implications of what Greer had to say next in the February 5 interview.
Greer repeated his assertion that continued secrecy is preferable to any official disclosure announcement describing aliens as a threat, even if only partially or a subset of the entire alien visitation scenario:
The disclosure of this subject is the most important announcement in the history of the human race. How it's handled, it has to be handled with great wisdom and great care. If it is handled with the kind of buffoonery and clumsiness that is evolving, or with partial truths, mixed in with disinformation, with frightening scenarios that scare the hell out of the public, I actually prefer the secrecy. (17:34)
What makes Greer's views significant is that he claims to be in touch with members of the oversight group of up to 200 members commonly referred to as the MAJIC committee. Greer asserts that he is providing them with an expert civilian perspective on disclosure, where, incredibly, he appears to be advocating continued secrecy if an official disclosure statement is not framed in the way he prescribes.
In short, what is widely regarded as "full disclosure", where all the facts and evidence of visiting extraterrestrials – good and bad – along with the truth about secret space programs is publicly revealed in an official announcement, is not supported by Greer. On the contrary, he only supports a "limited disclosure" statement where all references to unethical or malicious aliens is sanitized.
It's hard to envisage that a leading figure in the disclosure advocacy movement could support continued secrecy on any grounds, let alone the dubious grounds Greer asserts, which I and others have shown ignores a large body of evidence. As to why Greer is taking such an extreme position, there are a number of explanations that come to mind. One is that he is personally invested in a secret Vatican initiative to establish a "New Cosmic Esoteric World Religion" through a "false flag alien savior event" as described elsewhere. Another is that Greer has been co-opted or compromised by the MAJIC Committee in charge of extraterrestrial related projects and is sabotaging the disclosure movement by imposing unreasonable demands for a future official disclosure announcement.

Greer's position that continued secrecy is better than an official disclosure announcement which contains reference to any extraterrestrial visitors as a threat, is a position that he will find increasingly difficult to defend given the public's growing awareness of all the available evidence of visiting aliens, and the diverse motivations behind their activities. Full disclosure is already well underway through multiple public initiatives  disclosing all aspects of visiting extraterrestrial life and secret space programs, and any effort to filter or curtail such information in ways favored by Greer, are certain to fail.
© Michael E. Salla, Ph.D. Copyright Notice
Further Reading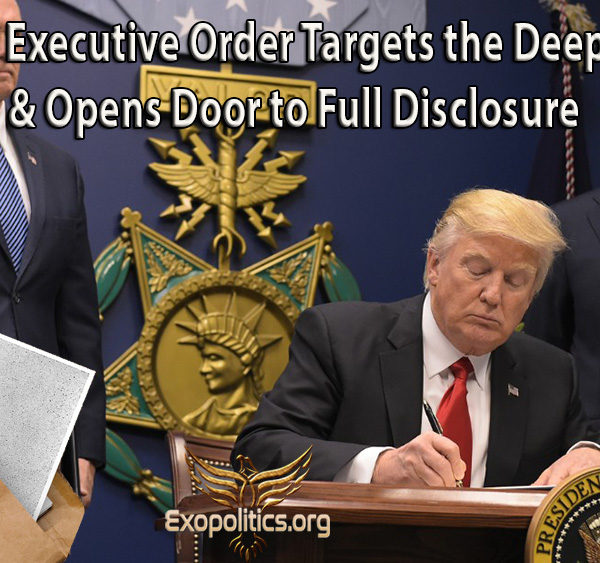 Something very profound happened in the U.S. on December 21 with the passage of President Donald Trump's "Executive Order Blocking the Property of Persons Involved in Serious Human Rights Abuse or Corruption".  The order declared a state of national emergency concerning human rights and corruption, and named specific individuals and organizations that would have their bank accounts and assets frozen regardless of where in the world the abuses had occurred.

While the mainstream media has largely ignored Trump's Executive Order, the alternative media has been paying close attention. Many have noted the Executive Order is far more significant than what it appears to be on the surface. Rather than just freezing the financial resources of foreign citizens linked to the Russian sphere of influence, as it superficially appears to do, it is really targeted at members of the "Deep State" (aka Cabal or Illuminati)  that have been involved in human trafficking, pedophilia and systemic corruption all over the planet.
The language of the Executive Order is very open ended in terms of how international corruption and human rights abuses threaten US national security:
I, DONALD J. TRUMP, President of the United States of America, find that the prevalence and severity of human rights abuse and corruption that have their source, in whole or in substantial part, outside the United States, such as those committed or directed by persons listed in the Annex to this order, have reached such scope and gravity that they threaten the stability of international political and economic systems…The United States seeks to impose tangible and significant consequences on those who commit serious human rights abuse or engage in corruption, as well as to protect the financial system of the United States from abuse by these same persons.
I therefore determine that serious human rights abuse and corruption around the world constitute an unusual and extraordinary threat to the national security, foreign policy, and economy of the United States, and I hereby declare a national emergency to deal with that threat.

Its annex identifies key individuals and organizations, several of whom are clearly associated with Russia. The Executive Order is linked to the Global Magnitsky Human Rights Accountability Act that emerged from the murder of a prominent dissident exposing human rights abuses and corruption in Russia.

This linkage can easily lead readers into falsely believing that the Executive Order is solely intended to target corrupt Russian officials, and corruption and human rights abuses by countries in Russia's sphere of influence.
Yet, as a number of alternative media sources point out, Trump's Executive Order goes well beyond the Russian sphere of influence. It is really targeting the Deep State, and fulfilling his 2016 campaign pledge to "drain the swamp" .

For example, Jim Stone, a freelance journalist, writes:
The executive order is presented as a national emergency up front, right in the beginning. At first it reads like he's going after foreigners which are named directly in an annex at the end. That's not what this is. The first part of the order only cements the second part of the order, to prevent American criminals from running away to foreign countries and being supported by foreigners.
To sum this up:
No swamp critter can accept help from another swamp critter in getting away … Child traffickers and other human rights abuses are covered, the stealing of and misuse of government funds is covered, all items are covered for foreigners and U.S. citizens, any foreigners who have assets in the U.S. that have done anything against the U.S. for the purpose of supporting the American swamp will have those assets seized, anyone in violation of anything in this executive order will have their assets seized… .

An anonymous whistleblower using the pseudonym MegaAnon says that the Executive Order has led to many powerful members of the Deep State waking up with no financial resources.
Guess what? The Swamp's financials FROZE OVER while they all slept last night, y'all.
It's gonna be a LOOOOOONG Christmas break for them… they were all broke before sunrise …
This covers kids/humans, drugs, arms/guns, WMD's/chemicals/Uranium, organs, etc.
Now if you want to know who in our swamp woke up with frozen accounts, foundations, "charities", side businesses and shell orgs/LLC's, etc. dig into the annex list…

The Executive Order and the language it uses really does mark a momentous event. Quite simply, it marks a transfer of political power from the Deep State to the U.S. military in terms of who is really in control of the U.S. Republic.
It's no secret that Donald Trump has surrounded himself with senior military officers who share his desire to "drain the swamp". His Chief of Staff, John Kelly, is a retired four star USMC general; his Secretary of Defense, James Mattis, is also a retired four star USMC general; his National Security Advisor, James McMaster, is an active duty three star US Army general; his head of the National Security Agency, Mike Rogers, is an active duty four star Navy Admiral; the head of the Secret Service, Randolph Alles is a retired two star Marine General; and the list goes on.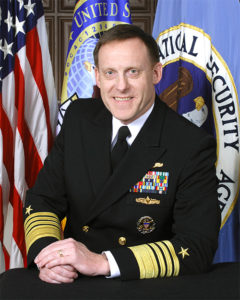 The role of Admiral Mike Rogers is particularly significant since he broke ranks with the US intelligence community back in late 2016 to warn Trump about a Deep State effort to undermine and even prevent him from coming into power by spying on his transition team. While Trump was President-elect, Rogers traveled to Trump Tower on November 17, 2016 to warn him of the Deep State plans.

The next day, the Washington Post reported on a recommendation by the Intelligence Community and Pentagon in October 2016 to sack Rogers. President Obama's Director of National Intelligence, James Clapper, and the Secretary of Defense, Ashton Carter, reportedly were dissatisfied with Rogers performance, including his visit to Trump:
In a move apparently unprecedented for a military officer, Rogers, without notifying superiors, traveled to New York to meet with Trump on Thursday at Trump Tower. That caused consternation at senior levels of the administration, according to the officials, who spoke on the condition of anonymity to discuss internal personnel matters.

CIA Director John Brennon was a key player in the effort to remove Rogers as illustrated by the Washington Post story which is the traditional official news outlet promoting CIA interests. To his credit, President Obama did not take action against Rogers.

Now more than a year after these back stage maneuverings, Rogers remains at the helm of the NSA closely monitoring the global activities of the Deep State and advising Trump and his National Security team.

This has been especially significant when it came to the Central Intelligence Agency which has long been the key U.S. institution in funding and enforcing the will of the Deep State.
In particular, the CIA's Clandestine Services and Counterintelligence divisions were instrumental in creating an unofficial "black budget" for funding highly classified projects and operations ever since the CIA's creation in 1947.
These two branches of the CIA have long been the secret enforcers of Deep State as best illustrated in the Kennedy Assassination. James Jesus Angleton, chief of the CIA's Counterintelligence office, played a direct role, while Richard Helms (Deputy Director of Plans) provided covert support for the operation.

Trump's elevation of former congressman, Mike Pompeo, to become CIA Director was intended to bring the CIA under direct Presidential authority. Pompeo was, however, effectively sidelined from exercizing any real power over the CIA's covert operations. It was Pompeo's more balanced approach to US-Russia relations that earned him the enmity of shadowy CIA groups.

The situation dramatically changed on Saturday November 18, when a number of USMC helicopters flew over the CIA's Headquarters in Langley, Virginia. A former FBI agent, Hal Turner confirmed through credible sources that the helicopters had "buzzed" the CIA HQ for roughly 30 minutes.
The intent was clear, the USMC was threatening the CIA's clandestine services division to get on board with the Trump administration or else. This is not the first time that the CIA has been intimidated by a US President threatening to unleash the US military against it.
In 1958, President Eisenhower threatened the CIA's Area 51 facilities in Nevada with invasion by the US First Army stationed at Colorado if the CIA did not fully disclose all its classified programs there. In a May 2013 video interview, a former CIA operative revealed what he heard Eisenhower tell his boss to relay to the mysterious MJ-12 Committee in charge of the Area 51 facility, for which the CIA provided operational security.
The clearest sign that the CIA is now firmly under Trump's control is President Putin thanking President Trump and Pompeo for thwarting a planned terrorist attack against a prominent St Petersberg cathedral. A December 17 Kremlin Press Release stated:
Vladimir Putin thanked Donald Trump for the information passed on by the United States' Central Intelligence Agency (CIA) that helped detain the terrorists who plotted to set off explosions at Kazan Cathedral in St Petersburg and other public places in the city. The information received from the CIA was enough to locate and detain the criminals.
The Russian President asked the US President to convey his appreciation to the Central Intelligence Agency director and the operatives of US intelligence services who received this information.

It is unprecedented for a Russian Head of State to publicly thank the CIA. The underlying message was clear, the CIA was now under the control of White Hats in the U.S. national security system and Putin was very grateful.
What we are witnessing with Trump's December 21 Executive Order is the final act of a well thought out plan to sideline the Deep State, "drain the swamp" , and reinstate direct Presidential authority over the U.S. national security system. Effectively, we are witnessing a handover of real power from the Deep State to the U.S. military via Donald Trump as Commander in Chief.
What is particularly noteworthy in the Executive Order is that this transfer of power is being done quietly behind the scenes with little mainstream attention. Key figures in the Deep State are finding their global financial resources frozen, and are being secretly detained via sealed indictments that now have worldwide impact due to Trump's Executive Order.
By late November, there were over four thousand sealed federal indictments being tracked by alternative news journalists such as Hal Turner. Many of these are being enforced by Special Operations Command personnel that are going around the planet arresting key Deep State figures.
All this leads to the question, what does all this mean for a seven decades-long suppression of the truth regarding extraterrestrial life and technology, the existence of a breakaway German colony in Antarctica, and the existence of multiple secret space programs?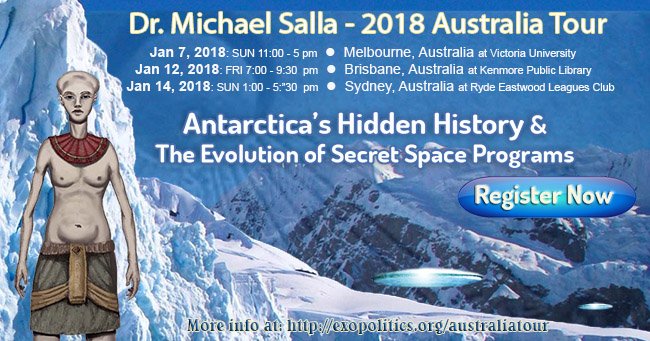 The way in which the Executive Order has been crafted for a specific target, and quietly enforced is that the U.S. military is wanting to keep much of what is occurring off the public radar. The primary reason for doing so is clearly to minimize disruption to the U.S. political system while the transfer of power takes place.
Once the transfer process is complete, we can expect some of the sealed indictments being publicly revealed, and Trump publicly declaring victory in his effort to "drain the swamp". We can expect a lot of unexpected retirements by indicted individuals who are currently making plea deals to escape imprisonment. Individuals involved in the most egregious human rights abuses such as child trafficking, will very likely be publicly exposed and tried.
As the transfer of power process moves forward, we can expect that more of the truth about secret space programs, Antarctica and extraterrestrial life will be disclosed. Based on how the U.S. military is dealing with key figures from the Deep State, it can be predicted that disclosure will take place in a gradual manner that does not disrupt the social fabric of US and stability of the global community.
Disclosure is inevitable, but with the U.S. military now increasingly in charge of the American end of the process, disclosure is likely to happen in a series of gradual steps that culminate in sweeping changes all across the planet as advanced technologies involving zero-point energy, antigravity propulsion and holographic healing are strategically released.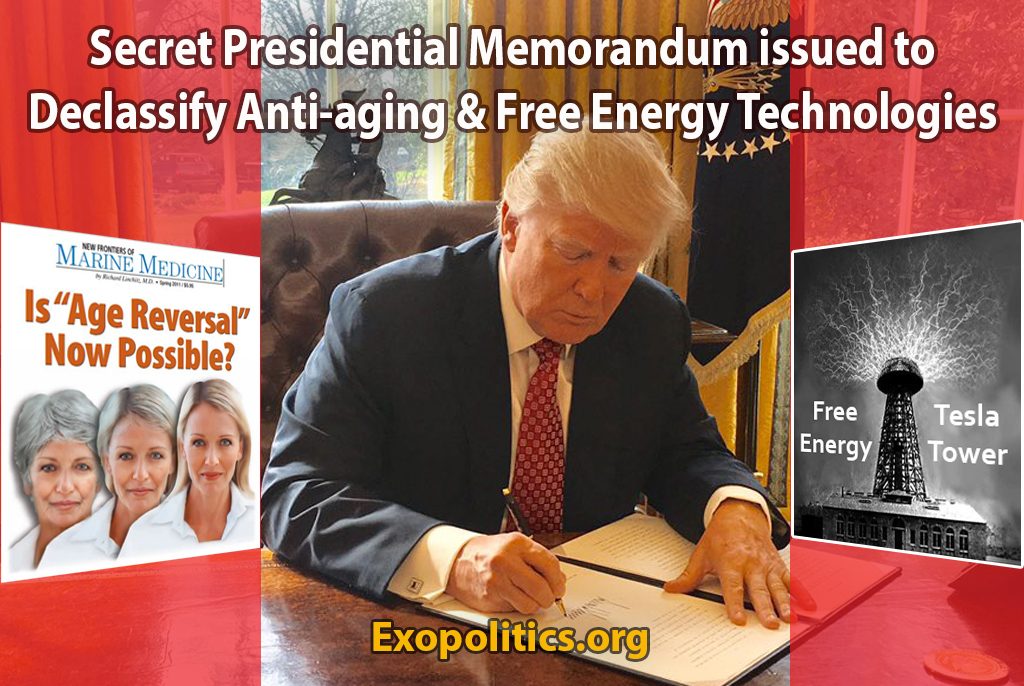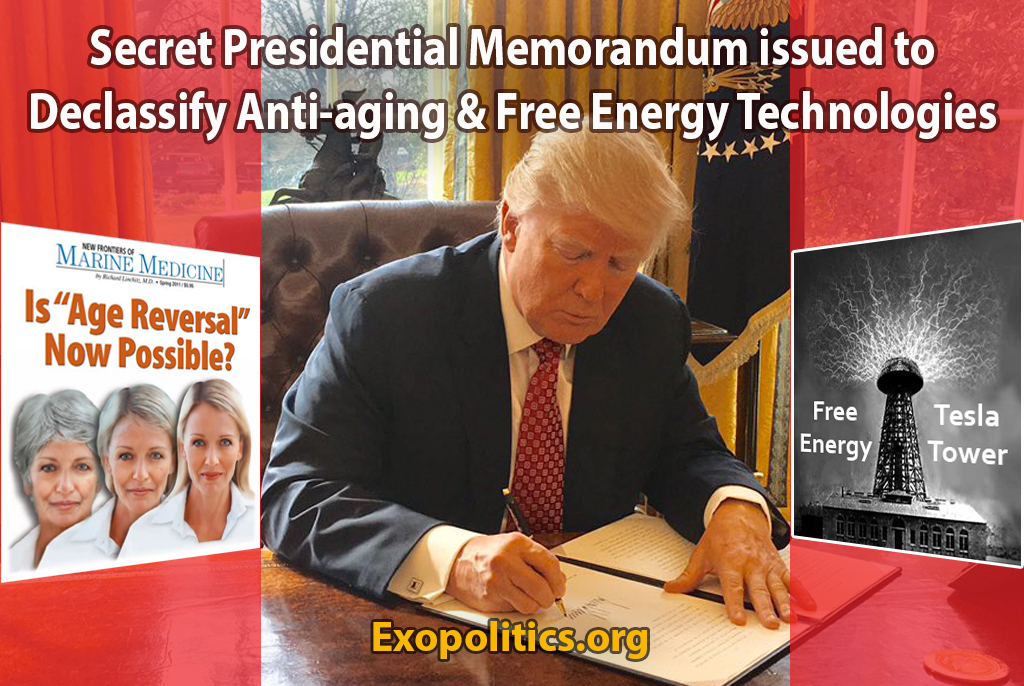 While removal of the Deep State and its corrosive global influence through human rights abuses and corruption is a welcome development, the outsized behind-the-scenes influence of the U.S. military in the Trump administration is a cause for concern in the long term. Predictably, disclosures that will occur throughout the remainder of the Trump administration will promote US national security interests largely defined through a military mindset.
President Eisenhower's greatest lament over the way classified projects involving advanced technologies were being managed in the U.S. was that excessive secrecy cut out the best people from the decision making process. Only full disclosure will prevent a similar problem from arising in the future where a new Deep State emerges, one dominated by military interests, with control over advanced technologies, which it uses to dominate the rest of humanity.
Full disclosure is essential for humanity transitioning from an insular planet dominated either by criminal syndicates or a military mindset, into to a more informed peaceful planetary society worthy of becoming a full member of a galactic community.
© Michael E. Salla, Ph.D. Copyright Notice
Further Reading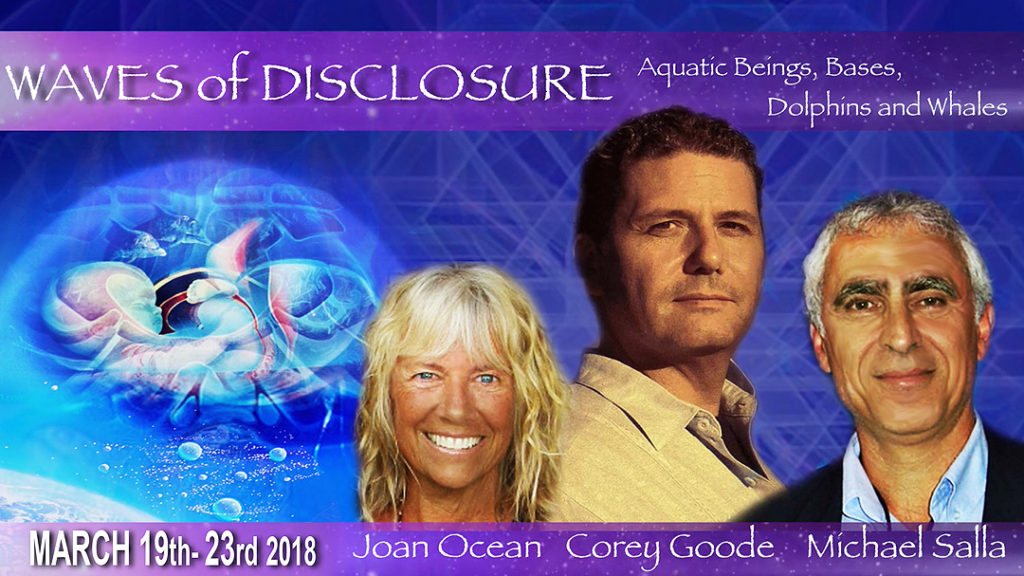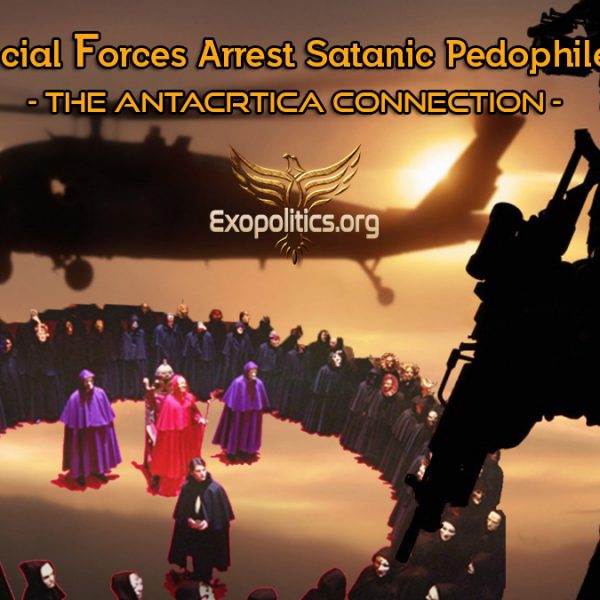 According to a retired FBI and career military source, US Special Forces acting under the authority of the Department of Defense and with other global military authorities have been arresting members of a Satanic pedophile group that has infiltrated multiple levels of government in the United States, European Union, and other national governments. The numbers of individuals associated with the global pedophile group according to the source, who chooses to remain anonymous, has greatly exceeded what the military had expected.
The retired FBI/military source shared a six page report of what the Special Forces had discovered with secret space program whistleblower, Corey Goode. Goode says that he has known the source since 2008 when they met in several courses organized by the Department of Homeland Security.
In a personal skype communication, Goode shared certificates of two courses he says he attended with the source who sat by him, and where they had "a conversation about conspiracies, ET/UFO/SSP." Goode's long association with the source and his military/law enforcement background supports the reliability of the information he passed on to Goode.

| | |
| --- | --- |
| | |
| Course completed by Corey Goode & FBI/Military Source | Course attended by Corey Goode & FBI/Military Source |
On August 9, Goode released an update about what his FBI/military source had told him. He begins by describing the history of his relationship with his FBI/Military source:
I have recently had meetings with a highly placed contact. I met him in the FEMA Mass Casualties response course when I was still in the Texas State Guard. He stopped talking to me when I began Cosmic Disclosure. He suddenly contacted me again right after the elections had concluded. He shared a cluster of Intel with me before going dark again… Until now.
Goode's secret space program disclosures through his Cosmic Disclosure show with David Wilcock beginning in July 2015, led to his FBI/military source backing away from Goode, presumably for him sharing highly sensitive military information about secret space programs.
For those who have followed Goode's information, he says that in early 2016, he was abducted multiple times by personnel from a US Air Force run secret space program that were trying to find the sources that were leaking him sensitive military information.
Apparently, the USAF run program determined that Goode's information was accurate and coming from off-planet sources. The senior USAF officer running Goode's interrogations, "Sigmund" then began sharing sensitive information with Goode about Antarctica, and arranged for him to give briefings to select aerospace officials. In return, the USAF space program wanted to learn what Goode's off planet sources were telling him.
Shortly after the positive change in his relationship with the USAF Secret Space Program, Goode's FBI/military source began sharing information again. Goode wrote about what his source had told him immediately after the election of President Donald Trump:
I had reported that there were teams of US Special Forces that were conducting domestic surveillance and investigations of a Satanic group that had infiltrated all aspects of government agencies and the military. These Special Forces teams have been in place since the middle of the election cycle.
Apparently, a week ago, a new level had been reached in these Special Forces arrests whereby what was occurring needed to be publicly shared. Goode had a six page report read to him by his FBI/military source and wrote:
He gave me this report about a week ago and contacted me again stating it was important to get some of it out to the public. I was informed that a secret report on how pervasive these infiltrations are is more shocking than what was expected. Strangely, this report also had notes from several secret grand juries that are active right now in D.C.
The report states that the conspiracy involves the majority of powerful people in within the UN, EU, US, State and local (City) power structures. These government organization are completely complicit in what is going on. All the way down to local Post Offices and Police Offices. I have to tell you, this was a very creepy report.
These military investigators have expressed their shock and anger to their superiors as well as their desire to take them down. They report that it is so systemic that they are at a loss of how to counter and defeat these people without a military coup, which would involve US Special Forces and trusted "Military Contractors" that come from Alliance countries (And are already in place in the US).
Goode goes on to reveal that some Special Forces have been summarily executing some of these Satanic pedophiles, and have been taken off the investigation:
Some of these Special Forces Investigators have been removed from the investigation because they are HIGHLY suspected as being involved in torturing and killing some of these low level "Pedo-Gate" suspects. The scope of this cult takeover of government is shocking to even the people that think they have seen it all. They can't figure out how the government was infiltrated to such a degree.
In our skype communication, Goode added:
Most of these SF teams have been directly involved in investigations of crimes against humanity in places we would all recognize…. They have "seen it all" in other countries and are shocked at what is occurring in the West under their noses."
Goode's information is well supported by the research of authors such as John DeCamp who wrote about the Franklin Cover-up, which detailed pedophile rings abusing children that compromised senior politicians in federal and state governments. More recently, Robert David Steele, a retired CIA/USMC official has also been speaking about the high level pedophile groups that have infiltrated many governments.
In a related development, Goode shared in our skype conversation that he has also been warned to back off his disclosures about military research and development activities in Antarctica:
I received ANOTHER warning for US (Everyone I work with) to NOT report on the R&D or Space Port facilities in Antarctica…. Info on Ancient Civilizations is fair game, info on the R&D Facilities is deemed too sensitive to report. If we continue to report on this topic they will attack us relentlessly and make it impossible to get any of the other information out.
Goode also shared that the R&D facilities on Antarctica are massive in scale and activity. He was told that "the 'Dulce Base' stories are nursery rhymes compared to what is going on there". Most disturbing is the extensive collaboration with a Reptilian extraterrestrial group called the Draconians in Antarctica. He said:
Dracos work with people on the base and oversee the operations of the bases. They work along with humans in the lower levels while people on the upper levels never see or hear about them.
In a detailed 18,000 word report on the Dulce Base written on September 25, 2003, I covered the extensive human rights abuses occurring there, and the involvement of Draconian Reptilians. It is therefore not that surprising that the same thing, albeit on a much larger scale, is occurring in Antarctica.
The extensive collaboration occurring in Antarctica at secret industrial bases with Draconians underscores the importance of dealing with global pedophile rings. These rings have been claimed to be the means by which children are covertly taken to these Draconian controlled bases and abused.
In his August 9 update, Goode emphasizes the importance of a global meditation scheduled for August 21 at 11:11 am Pacific Coast Time.The meditation will coincide with a conference being organized at Mount Shasta where Goode and I will be speaking.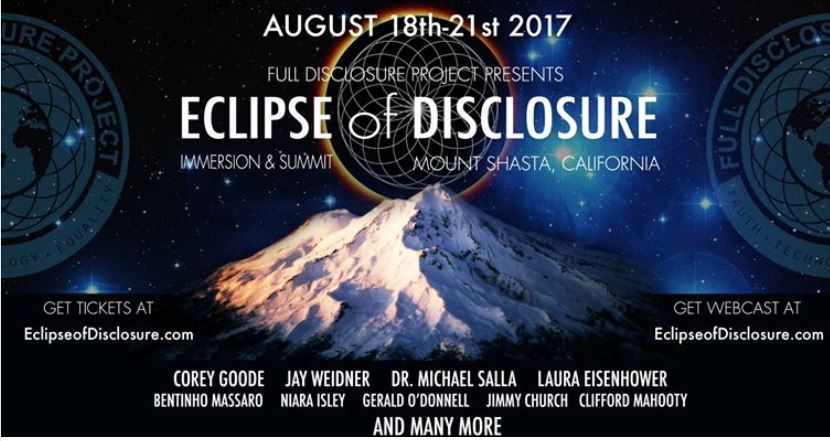 The meditation is a very good way to begin mobilizing global support for what US Special Forces are doing to help remove heavily compromised individuals from positions of authority, and stop the systematic abuse of children.
© Michael E. Salla, Ph.D. Copyright Notice
Click for Corey Goode Aug 9 Website Update
[Update 8/10/17 – Note that the Posse Comitatus Act which bars the US military from performing domestic law enforcement has several exceptions. "An exception exists for military personal engaged in support roles for the Joint Special Operations Command." http://legalbeagle.com/6663678-definition-military-arrest.html This exception confirms that US Special Forces can indeed arrest US citizens in domestic operations sanctioned by JSOC, just as Corey Goode's source has claimed].
Further Reading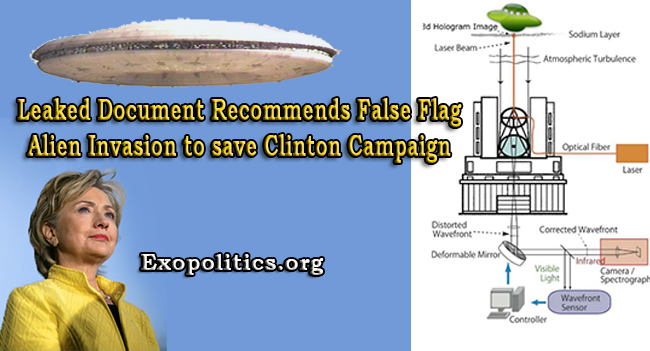 A document released by the Benenson Strategy Group on behalf of the Clinton Foundation reveals that Hillary's Presidential Campaign is in dire straits due to mistrust over mainstream media coverage and polling. The document analyses a number of salvage scenarios and recommends one called FIRESIGN which is a false flag extraterrestrial invasion using advanced holographic technology.
The seven page document is titled "Salvage Program" was written less than a week ago, and was leaked by Anonymous on October 18, in a video, and later made available through the Before Its News website which has a questionable reputation for releasing accurate information. So is the document genuine?
The Benenson Strategy Group website describes itself as a "strategic research consultancy that marries language expertise with innovative research to frame choices so that your brand is the only answer."

The document is headed by logos for both the Benenson Strategy Group and the Clinton Foundation.



Benenson Strategy Group has worked with the Clinton Foundation in the past to conduct internal polling, as Fox News reported in an October 16 story about Wikileaks. Joel Benenson, founder of the Group, is "currently the chief strategist for Hillary Clinton's 2016 presidential campaign." Here is what is further known about him:

the CEO of Benenson Strategy Group, a strategic consulting firm, and serves as a communications and polling advisor to the [Obama] White House. He has been a strategist for U.S. senators, governors and mayors, as well as Fortune 500 companies. He was a pollster for the DCCC in 2006, when the Democrats won back the majority in the House of Representatives. […] Benenson is also the Co-Founder of iModerate Research Technologies. In January 2015, Hillary Clinton hired Benenson and Robby Mook as strategists.
The Salvage Program document uses internal polling data from a survey of 2,021 adult Americans. It goes over the respective strengths and weaknesses of the Clinton and Trump Presidential Campaigns and paints a dire scenario for the Clinton campaign despite mainstream media fixation on allegations of Trump groping women.
The document begins its executive overview with the following:
At this point Donald Trump has both momentum and enthusiasm. Distrust in the mainstream media is blunting the impact of the collective polling narrative. As Election Day approaches, Hillary Clinton's favorable ratings have crashed to historic lows (12%) in non-partisans and Donald Trump is consolidating support (97% of LV Republican-identifying respondents are either enthusiastic or very enthusiastic about voting for Trump).
One of the most damming statements in the document is the following:
On a disturbing note, some 70% of Republican-leaning voters are aware bussed-in voting, false-face operations, and dead-man's-party registration drives. This may necessitate severe strategy changes for November.
This is supported by alternative media reports that Hillary's campaign rallies are poorly attended, and that its plausible that large numbers need to be bussed in order to provide the illusion of popular enthusiasm.
The document goes on to analyze a number of aspects of the internal polling data, most of which is bad news for the Clinton campaign. It concludes that "Trump Voters are Virtually Unstoppable," and that "The Public Has Lost Faith In Polling" which is viewed as a propaganda tool as the following extract shows: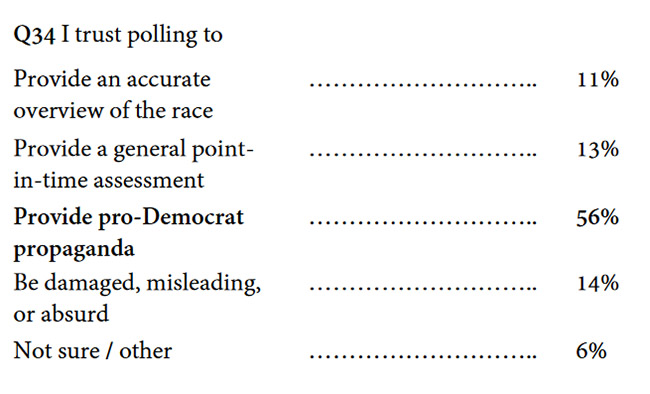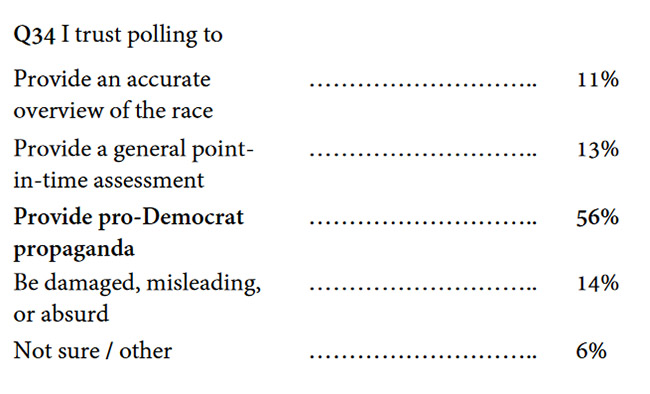 The Benenson document further reveals that mainstream liberal media has lost much legitimacy and that people are increasingly turning to social media for their information as the following diagram reveals: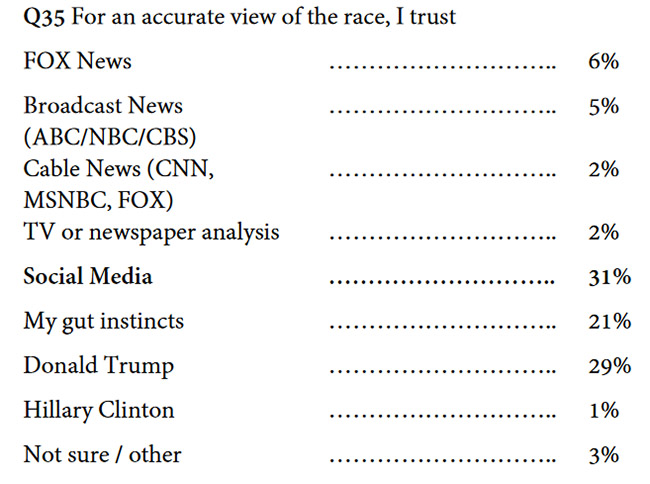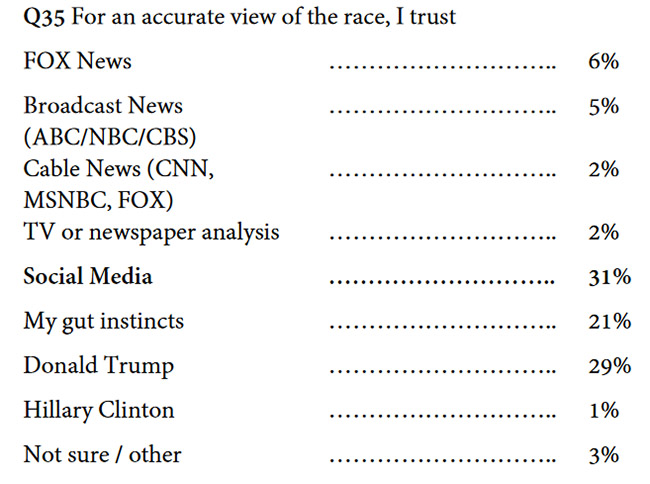 To remedy the situation the document analyses a number of "Salvage Options." It begins with a "non-recommended list" which contains a number of very alarming false flag scenarios involving a "Red Dawn" foreign invasion, a "Cobalt Rain" radiological attack, civil unrest, ZIKA virus, etc.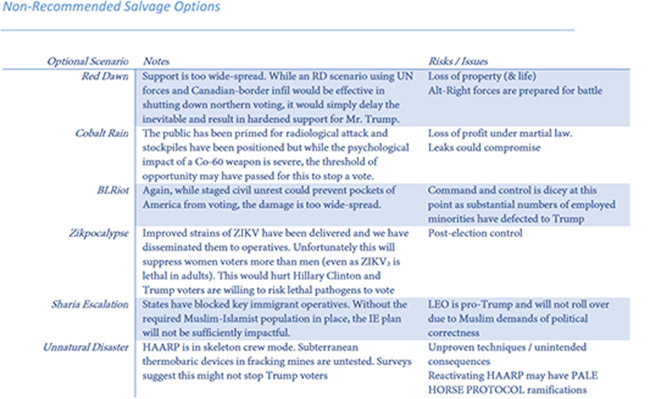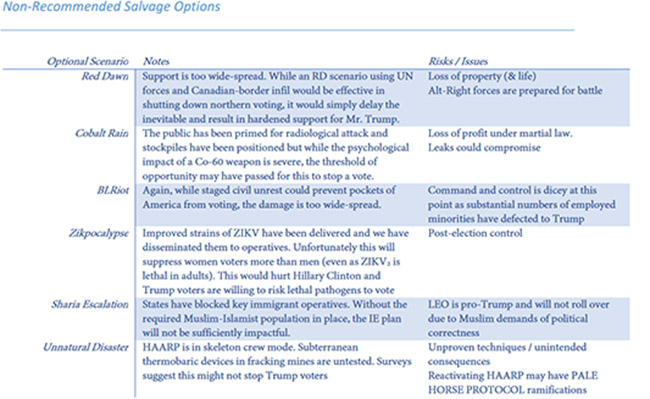 The recommended salvage option is FIRESIGN which uses holographic technology to create a religious "awe effect" as the following extract illustrates.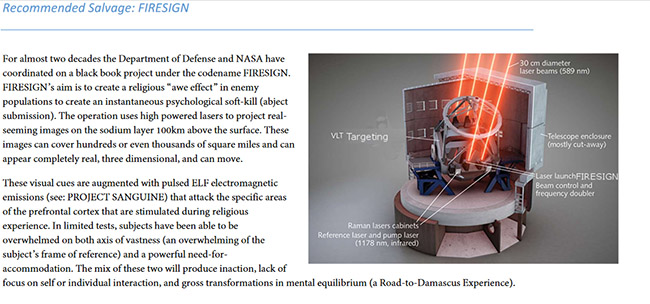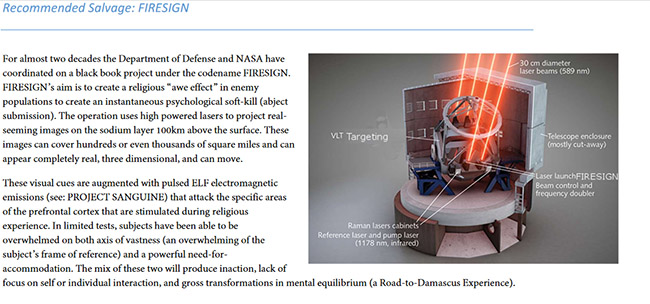 The recommended use of the FIRESIGN technology is to create the illusion of an extraterrestrial invasion which would allow the creation of an emergency situation that leads to a cancelation of the Presidential election. President Obama would subsequently hand power directly over to Hillary Clinton once the invasion is put to a stop.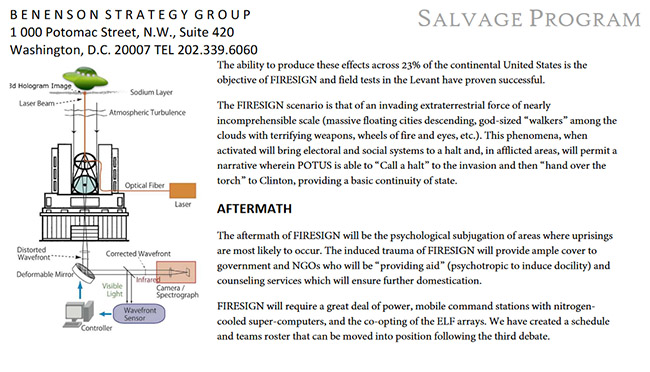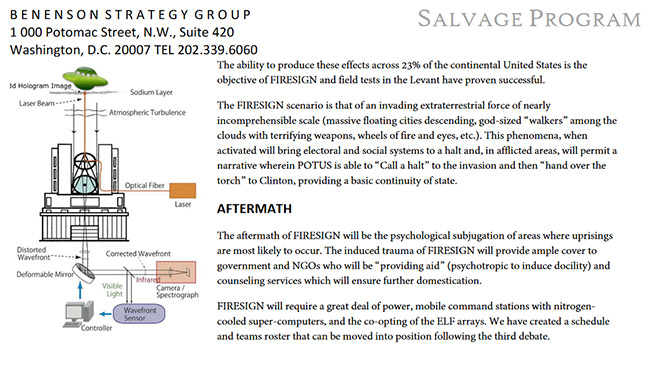 Many elements in the Salvage Program document appear to be based on an accurate analysis of prospects of the Clinton campaign succeeding as distrust in mainstream media and polling reaches unprecedented heights. The FIRESIGN technology has been well known to many UFO/exopolitics researchers who over several decades have described it as Project Blue Beam.
Nevertheless, there are a number of issues from the document that raise doubt about its authenticity according to the popular blog author, Kauilapele. These include the document using an old 2012 logo for the Berenson Strategic Group, and an incorrect street address being used for its Washington Office.These discrepancies may be indicative of a hoax, or included in order to introduce plausible deniability in case of any unintended leak.

While it is possible that the Salvage Program document is an elaborate hoax, it is also very possible that a majority of the information in it is genuine. If so, then Clinton's Presidential campaign may ultimately rely on a false flag extraterrestrial invasion, which might be a factor in why she and her campaign chair, John Podesta, have repeatedly raised the UFO issue during the election campaign.
© Michael E. Salla, Ph.D. Copyright Notice
[Update 10/22/16. The article was updated with the Youtube video of the original Anonymous release of the document with commentary, more information about the founder of the Benenson Strategy Group and a response to an article by the author Kauilapele where he expresses several doubts about the Salvage Program document]
Further Reading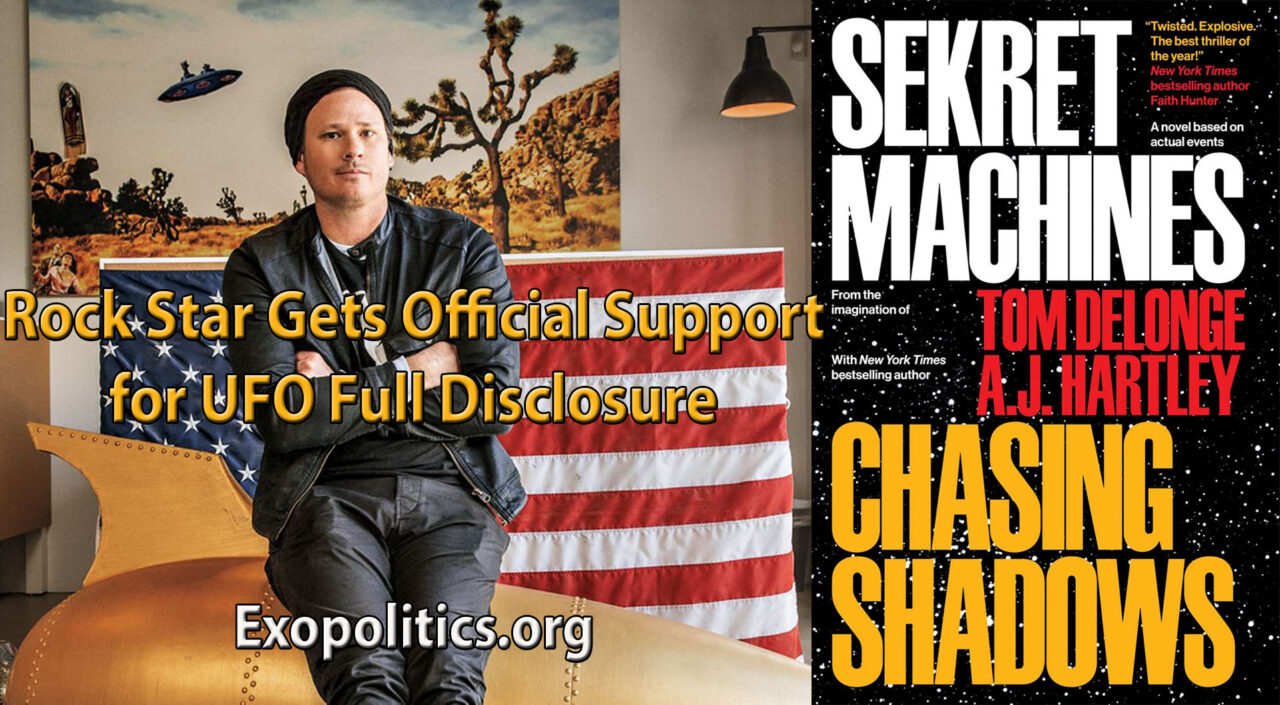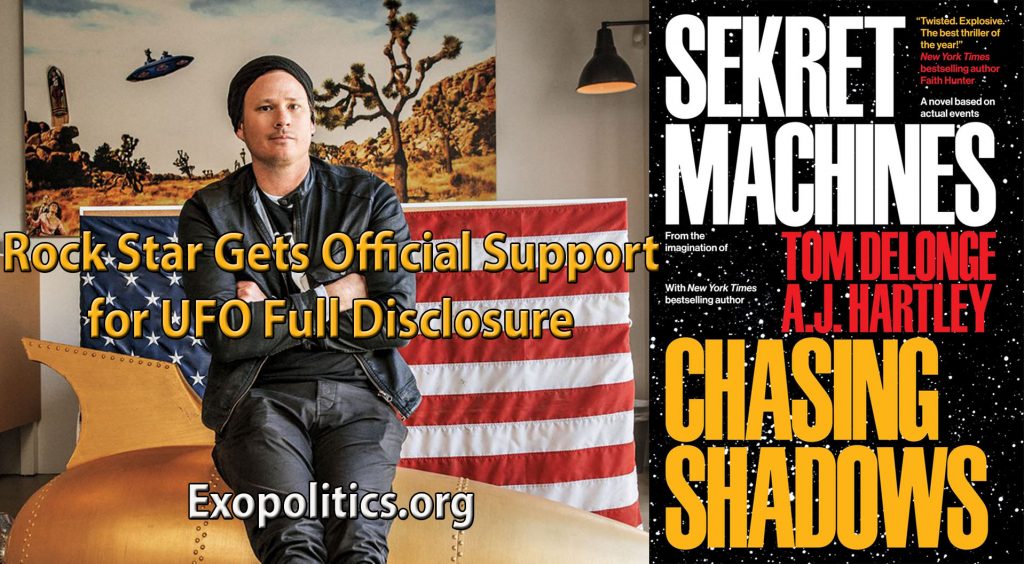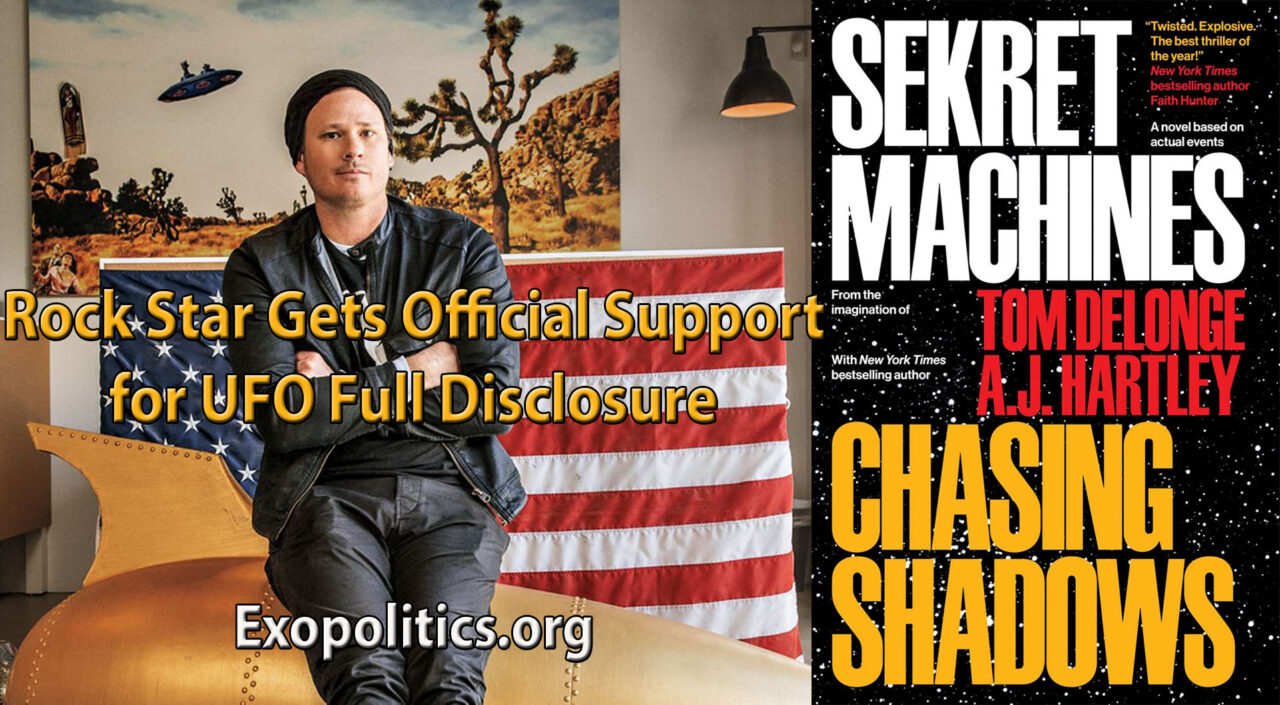 Tom DeLonge, former lead vocalist for Blink-182, recently came forward to publicly announce that he is receiving covert support from senior officials in the U.S. military industrial complex to reveal the truth about UFOs to the world's youth. DeLonge says that he has assembled a team of ten advisors who have leadership positions in various U.S. military services, corporations and government bodies, who are giving him information about the "deep black" world of highly compartmentalized advanced technology projects.
During his musical career with Blink-182 (1992 – 2015) and Angels & Airwaves, DeLonge has produced hit albums whose total sales number nearly 30 million. His Twitter page, which currently features a Nazi UFO, has over 650,000 followers.  It is DeLonge's broad appeal to the Millennial generation that allowed him to successfully pitch his transmedia proposal for cooperation with leaders of "deep black" projects related to UFOs and antigravity technologies.
On March 27, DeLonge appeared on Coast to Coast Radio where he first publicly disclosed his involvement in the initiative. This was followed by the April 5 release of Sekret Machines, a fiction based on fact book co-authored with A.J. Hartley. A non-fiction book describing the technologies and historical events is scheduled to be released soon. In all, DeLonge plans to release three fiction and three non-fiction books which will reveal all in his "full disclosure" initiative.
In his radio interview and book, De Longe described how the extraordinary cooperation between U.S. military, corporate and government officials, and himself began in early 2015. This opportunity emerged by chance after DeLonge was approached and agreed to speak at a corporate event honoring the head of a major aerospace company, where he made it a condition that he could privately talk with this industry leader for five minutes afterwards, which was agreed upon.
DeLonge made a pitch for the corporate official to help in an initiative to disclose to the world's youth the truth about classified UFO technology projects. Citing the readily available version of the history of UFOs, DeLonge said that many conspiracy websites had unfairly demonized the U.S. military industrial complex. In his view, the pioneering "secret machines" being secretly developed were ground breaking, and those involved in developing antigravity and other advanced technologies were unsung American heroes. Their stories and contributions, according to DeLonge, needed to be told, so as to restore public confidence in government after "full disclosure".
The corporate official was so impressed by DeLonge's pitch that he initiated an extraordinary set of meetings with other senior officials, who eventually decided to support his "full disclosure" project. In Sekret Machines, DeLonge describes what happened next:  
I've had meetings in mysterious rooms far out in the desert. I've had meetings at the highest levels of NASA. I have had conversations at research centers, think tanks, and even on the phone connected to secret facilities. I've been introduced to a man whom I call "the Scientist," and another whom I call "the General." And there are many more of whom I cannot say much about, but some have become true friends, and all have become close counselors. Each of these men has all held, or currently holds, the highest offices of the military and scientific elite. The point is, I have done it. I have assembled a team of men and women "in the know." And they all believe I am doing something of value, something worth their time and yours.[Sekret Machines – Kindle Locations 95-100]
DeLonge has staked his professional reputation and career in coming forward to reveal his participation in the officially backed UFO disclosure initiative. So far, he has said he can't name the officials, even though it has emerged that John Podesta, Hillary Clinton's campaign manager was interviewed for a follow-up video, which will be released as part of his UFO disclosure initiative.
Podesta has held very senior positions with the Democratic Party, including Chief of Staff for the Clinton White House. Podesta is on the record with multiple attempts made during the Obama, Bush and Clinton administrations to promote UFO disclosure.
However, Podesta is notoriously out of reach to most UFO researchers who have repeatedly tried to interview him over the years, aside from a select few who have the necessary gravitas meriting his cooperation. Now DeLonge has been added to that select list, making plausible his key claim of having received official blessing for UFO "full disclosure".
It is therefore significant that at the same time that DeLonge has come forward with his claims, Hillary Clinton has publicly stated that she will look seriously into the UFO issue, and that in doing so she is fulfilling a pledge made to Podesta.
Clinton and Podesta's efforts in promoting UFO disclosure go back to the first Clinton administration (1993-2001), suggesting that DeLonge's efforts, if successful, will make Clinton and Podesta heroes in the eyes of the youth. That will certainly help her Presidential campaign, which, to date, has not inspired the youth vote.
What lends even more plausibility to DeLonge's story is that on the back cover of Sekret Machines, an endorsement appears from a retired U.S. Air Force General whose last military assignment was Special Assistant to the Commander, Air Force Space Command. Here is what Maj. General Michael Carey had to say:
Sekret Machines scratches at the surface of "who do" we trust with our classified technology – certainly our adversaries are aware of our undertakings, as they are doing the same, but what of our citizens, our politicians, even our own military. Tom DeLonge and A.J. Hartley create a convincing narrative describing the "cat and mouse" game that is timeless between strategic adversaries. It has existed under the sea, on the surface of the earth and in its skies, why wouldn't we believe it occurs in space. Our military leaders have been saying space is a contested environment for years now, perhaps we should believe them! -Maj. Gen. Michael J. Carey
Why would a former Major General of the U.S. Air Force publicly support the UFO disclosure initiative of a Rock Star? For an answer, we need to examine the events surrounding Carey's penultimate position of authority.
In October 2013, while in command of the 20th Air Force, which was responsible for a total of 450 nuclear missiles spread across three bases, Carey became embroiled in controversy. According to mainstream news reports, Carey was sacked because of personal misbehavior stemming from a June 2013 trip to Russia.  
Subsequently, in October 2013, Carey was reassigned to his final position as Special Assistant to the Commander of the Air Force Space Command. He retired on June 1, 2014, after being officially reprimanded with a demotion to the rank of Brigadier General. Quite a fall from grace for someone who had served with distinction for 35 years, and appeared headed for even more senior military positions!
However, the circumstances surrounding Carey's dismissal were far more complex than what mainstream media had reported. Here is how an article from the Parapolitics Journal summarizes what occurred behind the scenes:
In the November 2013 edition of InfoWars Magazine, Anthony Gucciardi wrote an article entitled "Top Nuke Commanders Terminated Following Missing Nuclear Warheads Report" after he had already broken the story on Alex Jones' website in October. He goes on to relate how Navy Vice Admiral Tim Giardina and Major General Michael Carey were both fired following a secret nuclear warheads transfer that took place (off the record and without a paper trail) from Dyess Air Force Base in Texas to South Carolina…. According to Gucciardi, these two top nuclear commanders suspensions and firings were not supposed to be reported by the media, but an insider was able to leak the story to the Associated Press.
This is where Carey's dismissal becomes even more suspicious due to bizarre claims by Senator Lindsay Graham, who represents South Carolina in the U.S. Senate:
Shortly after Alex Jones' InfoWars and Gucciardi, specifically, reported the nuclear commanders being suspended and fired- Sen. Lindsey Graham (who just so happens to head up the Senate Intelligence Subcommittee) came out and said that "a nuclear attack" could come against Charleston Harbor in the event that we did not move militarily against Syria and Iran. He never clarified what he was talking about here. Graham merely said that a South Carolina or New York port could be hit by a terrorist attack using a dirty nuclear bomb. Then, to make things even more suspicious that perhaps Senator Lindsey Graham was made privy to a false-flag nuclear attack that was going to be pinned onto Syria and/or Iran, a 4.5 quake was registered off the coast of South Carolina on October 8th.
Then the author raises what may have really been the reason for Carey's abrupt dismissal – his refusal to allow a false flag attack on South Carolina:
And, there is evidence from certain military insiders that the Strategic Missile Force (SMF) has gone on the record as saying that the quake was caused by a….(drum roll) mini-nuclear explosion! Could these high-level nuclear commanders have disobeyed a direct order from the president and detonated the low yield mini-nuke underwater far from the devastating effects that would have ensued had they followed orders to ship their cargo somewhere in the populated confines of South Carolina territory? This is my nagging suspicion that (although I can't quite prove just yet) is certainly indicative of this duplicitous administration and the reprisals that have been made against anyone that gets in their way.
As the author stated, there is no hard evidence to substantiate the claim that Carey prevented a false flag attack on South Carolina, but certainly the official rationale for his 2013 dismissal is not credible.
If Carey was indeed dismissed because of his refusal to participate in a false flag nuclear attack, then were the truth to emerge, public perceptions about him would significantly shift. Carey would no longer be regarded as a disgraced senior military officer, but as hero whose bravery saved thousands, if not millions of American lives.
Allowing the truth to emerge about UFOs, deep black projects, and a link to the covert use of nuclear weapons, would certainly be a powerful motivation for Carey to publicly endorse DeLonge's book.
Tom DeLonge's public announcements and book need to be taken very seriously by all interested in full disclosure of UFOs and related "deep black" technology projects such as antigravity propulsion.
Questions will arise over whether the information to be released by DeLonge constitutes "full disclosure," as opposed to a "partial disclosure" narrative where vital information is withheld for illegitimate reasons.
Secret space program whistleblower, Corey Goode, claims that a partial disclosure plan has been recently negotiated by elite factions. The plan is to hold back information about extraterrestrial life currently interacting with Earth, and focus instead on releasing some outdated "black world" technologies used by less classified space programs, e.g., stealth space stations in Earth orbit, which will still be decades ahead of what is now available to NASA and the general aerospace industry.
Is DeLonge's multimedia project going to disclose the full truth, or only reveal select elements of what has really been happening in the most highly classified programs related to the UFO phenomenon? While his fictional book Sekret Machines gives hints about what is being disclosed by DeLonge's ten advisors, we will have to wait for the release of his first and subsequent non-fiction books to get clear answers to such questions.
Endorsements by Podesta and Carey for DeLonge's disclosure initiative lends powerful support to his core claim that senior members of the military industrial complex are supporting UFO disclosure and the release of life changing technologies. As to whether this will be enough to restore confidence in government institutions for the public in general, and its Youth in particular, much will depend on how genuinely DeLonge's initiative constitutes "full disclosure".
© Michael E. Salla, Ph.D. Copyright Notice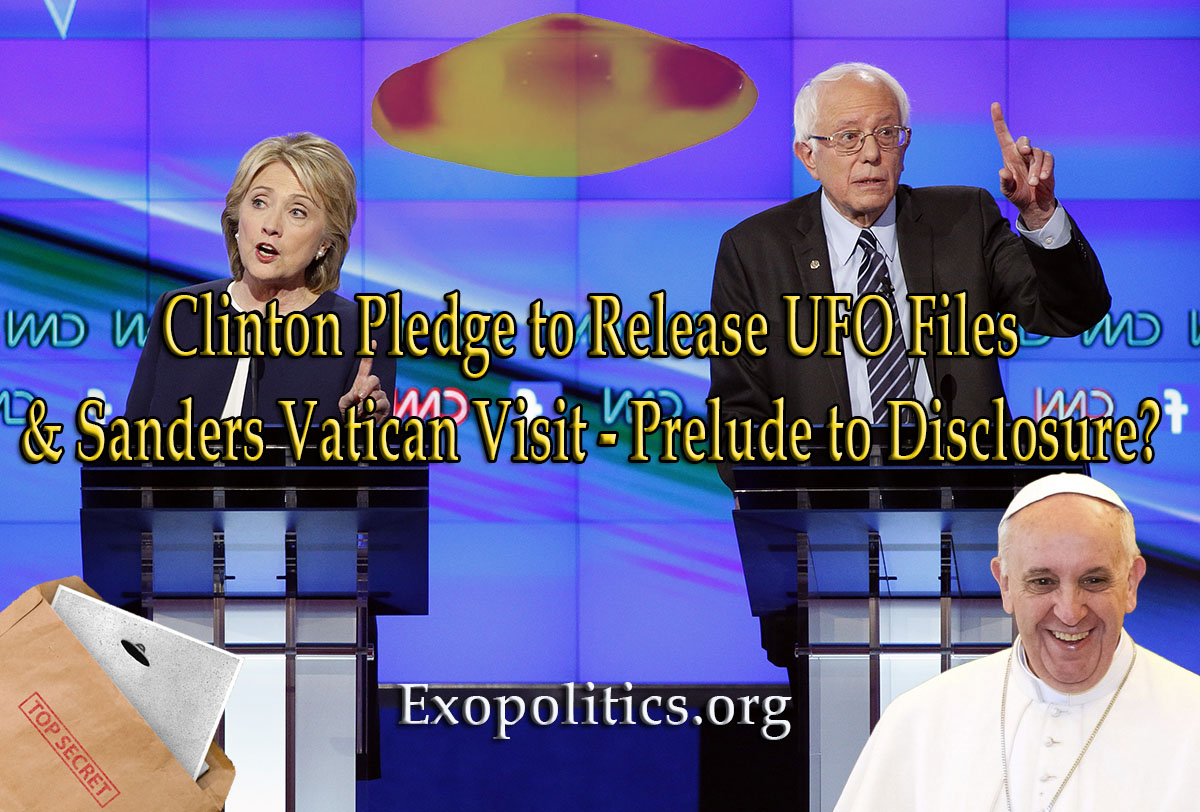 On April 8, one day after the Hillary Clinton campaign again raised the importance of the public learning the truth about classified UFO files, her chief rival, Senator Bernie Sanders, announced that he was accepting an invitation to give a speech at a Vatican Conference on April 15 at the Pontifical Academy of Sciences. This is the same venue that Vatican astronomers have organized events to discuss the implications of discovering extraterrestrial life.
While the two Presidential campaign announcements may appear at first to be unrelated, a closer inspection raises another possibility. The announcements are related to two different UFO disclosure narratives pursued by competing global elites with influence over the two major Democratic candidates.
In a CNN interview on April 7, Clinton's campaign chief, John Podesta, said:
The U.S. government could do a much better job in answering the quite legitimate questions that people have about what's going on with unidentified aerial phenomena.
Back on December 30, 2015, Hillary Clinton gave an interview referring to a pledge she had given to Podesta, to publicly release what the government knows about UFOs, and to launch an investigation of Area 51.
He has made me personally pledge we are going to get the information out," said Clinton. "One way or another. Maybe we could have, like, a task force to go to Area 51.
In his April 7 interview, Podesta revealed more about the pledge Clinton had given him:
What I've talked to the secretary about, and what she's said now in public, is that if she's elected president, when she gets into office, she'll ask for as many records as the United States federal government has to be declassified, and I think that's a commitment that she intends to keep and that I intend to hold her to.
If this all sounds like deja vous, it is because a Clinton Presidency has been down the UFO disclosure track before. It is a matter of public record that in January 1993, President Bill Clinton entrusted family friend, Webster Hubbell, over at the Justice Department with the job of finding out the answer to two questions: "One, who killed JFK. And two, are there UFOs?"
In his memoirs, Friends in High Places, Hubbell revealed that he failed to make any progress in finding the answers Clinton was seeking. Hubble was eventually jailed for overbilling clients while in private practice.  
Documents later released through the Freedom of Information Act confirm that Hillary Clinton had, in 1995, become the lead person in an initiative by Laurence Rockefeller, to have the Clinton administration release classified UFO files.
Significantly, Podesta's April 7 CNN appearance confirmed that a UFO disclosure initiative had occurred during his tenure with the Clinton administration:
Podesta, a former chief of staff to President Bill Clinton, said the 42nd president once "asked for some information about some of these things, and in particular, some information about what was going on at Area 51."
According to Dr. Steven Greer, Hillary nixed the UFO disclosure effort when it was decided that it would ruin her husband's 1996 re-election campaign. With the failure of the Rockefeller UFO disclosure initiative, Podesta and the rest of the Clinton administration focused on political survival in the face of the growing Monica Lewinsky scandal.
Podesta briefly returned to public office as White House Counselor to President Obama in 2014.  At the end of a one year term, he left in February 2015 to take charge of the Hillary Clinton Presidential Campaign. That's when he made his famous statement that he had once again failed to secure UFO disclosure:

Clearly, Podesta was suggesting that powerful forces had prevented UFO disclosure from happening under the Obama administration. Significantly, Obama himself went on air with Jimmy Kimmel and alluded to these powerful forces preventing disclosure, when he "joked" that aliens were controlling how much of the truth could be revealed.
Now, if we are to believe the narrative coming out from the current Clinton campaign, Hillary has pledged to make UFO disclosure a priority because Podesta has convinced her to do so. Given Podesta's central role in a future Clinton Administration disclosure initiative, what kind of UFO disclosure can we expect from Clinton and Podesta?
Podesta is a well-known fan of Chris Carter's X-Files, which was rebooted in 2016 with six new episodes. The main premise of the series relaunch was that classified UFO files were based on secret space programs that had been reverse engineered from the discovery of a crashed extraterrestrial craft.
The first episode of the series reboot aired on January 24 to an audience of more than 16 million. In it, Agent Mulder gave a lengthy monologue about a vast secret government conspiracy to hide the truth about extraterrestrial life, reverse engineered space craft, alien retroviruses, and the 911 false flag attack.
Podesta's long time fascination with the X-Files series suggests that the pilot episode for the new series lays a plausible foundation for a future UFO disclosure narrative, coming out of a new Clinton White House. The narrative is likely to focus on mysterious elite groups using advanced technologies in ways that deceive the world into believing aliens are behind the abduction phenomenon.
To promote such a UFO disclosure narrative as President, Clinton must first overcome the surging candidacy of Bernie Sanders.
On April 8, it was announced that Sanders had accepted an invitation from the Vatican to speak next week a conference on social, economic and environmental issue organized by the Pontifical Academy of Sciences. Controversy immediately arose with a Bloomberg News story over whether Sanders had been invited or had invited himself. In turns out that the invitation had come from a senior Vatican official and Chancellor of the Academy who had not informed its President.
The Pontifical Academy is no stranger to the issue of extraterrestrial life. Since November 2009, Vatican astronomers have played a prominent role in astrobiology conferences discussing the societal implications of the discovery of alien life, and how such a discovery would cause no problem with Catholic theology.
Pope Francis himself has made clear that he views the discovery of extraterrestrial life as an event that would not cause theological problems, even if it were realized that extraterrestrials, rather than "God," had played a direct role in creating humanity. On October 28, 2014, during a speech at the Pontifical Academy of Sciences, the Pope discussed the evolution of life, and the role of extraterrestrials, which he euphemistically referred to as "beings of the universe," as agents in God's evolutionary plan:
He [God] created beings and allowed them to develop according to the internal laws that he gave to each one, so that they were able to develop and to arrive and their fullness of being. He gave autonomy to the beings of the universe at the same time at which he assured them of his continuous presence, giving being to every reality. And so creation continued for centuries and centuries, millennia and millennia, until it became which we know today, precisely because God is not a demiurge or a magician, but the creator who gives being to all things.
There has been much more happening behind the scenes at the Vatican in terms of it preparing humanity for future announcements concerning the existence of extraterrestrial life. The Vatican was a sponsor of a UNICEF video that promotes tolerance for extraterrestrial life.
According to Tom Horn and Chris Putnam, authors of Exo-Vaticana, the Vatican plans to manipulate the issue of extraterrestrial life, in order to promote a new global religion based on an alien savior. Dr. Preston James has written, according to his insider sources, that the Vatican indeed has made contact with a group of extraterrestrials which could play such a role:
Some Vatican insiders have claimed that top Vatican Clerics have already established secret relationships and treaties with a certain alien ET group that presents itself as friendly to the human race and claims it can save it from the evil empire of the Bankster-owned and -controlled Hierarchy….
Dr. James concludes that the Vatican plans to lead a global disclosure initiative on extraterrestrial life:
From all indications so far, these coming disclosures will involve the top Clericals at the Vatican and will occur through the Catholic Church itself publicly …
The invitation to Bernie Sanders to give a speech at the Pontifical Academy of Sciences, suggests  Vatican insiders view Sanders as a more suitable candidate for disclosing what the Vatican, and other governments, want the general public to know about alien life and the UFO issue. It is very possible that Sanders will receive a confidential Vatican briefing on what it would like released to the world in the form of UFO disclosure, which focuses on extraterrestrial life, rather than advanced technologies.
Podesta's and Clinton's most recent public statements on the government releasing classified UFO files, and Sanders' speech next week at an upcoming Vatican conference,  suggests at least two UFO/alien disclosure narratives are being secretly developed by competing factions of global elites.
One faction, linked to the Rockefeller family, prefers to release information about advanced technologies related to the UFO phenomenon, which presumably would lead to disclosure of secret space programs, which have been in operation since the 1980's. On the other hand, another faction, closely associated with the Vatican, wishes to concentrate on the existence of extraterrestrial life, as a means of establishing a new global religion with alien elements. 
Classified UFO files, thanks to Clinton and Podesta's efforts, are slowly emerging as a campaign issue. Sanders likely exposure to disclosure related issues during his April 15 speech at the Vatican organized conference, raises the possibility that he in future will openly discuss the issue of extraterrestrial life during his campaign. The current trail of evidence suggests 2016 Presidential elections are shaping up to be a prelude to UFO disclosure, where the world learns some of the truth about extraterrestrial life, advanced technologies, and/or secret space programs.
© Michael E. Salla, Ph.D. Copyright Notice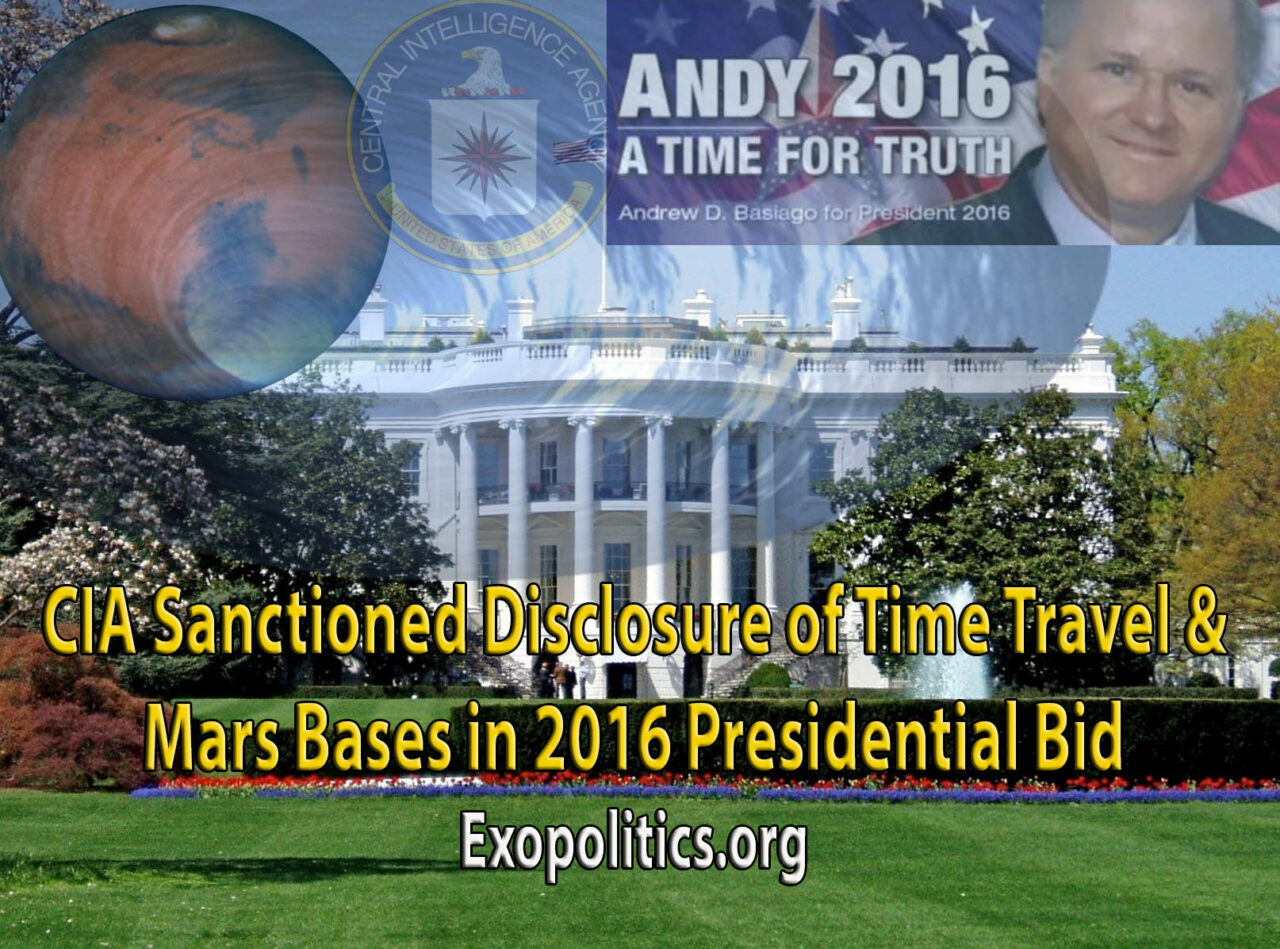 In part two of this series, it was claimed that CIA "White Hats" had begun in 1980 to groom Barack Obama as a future U.S. President, while simultaneously grooming Andrew Basiago to follow him some time after into the White House.
Basiago's path to the Presidency would follow a different trajectory than Obama's more traditional grass roots political career in one of the two major U.S. political parties. Basiago would instead become a whistleblower and disclose his involvement in two classified programs – Project Pegasus and a CIA Jump Room Program to Mars. Basiago's disclosure testimony would subsequently underpin his "Truth Campaign" to become U.S. President.
If Basiago's claims are accurate about he and Obama being groomed as future Presidents, which includes what the CIA "White Hats" exposed Basiago to during his childhood and early adulthood, then what is the ultimate agenda of these alleged "White Hats"?
For an answer, we need to return to Basiago's core claim that one of the purposes of the time travel technologies was to identify future U.S. Presidents. In part one, it was pointed out that during Project Pegasus, a number of U.S. Presidents and Vice Presidents were "pre-identified" and then briefed by CIA/DARPA personnel, after which Basiago met them during informal lunches.
Later, during the Mars Jump Room training, Basiago claims that he and Obama were also pre-identified as future Presidents. This is a perplexing scenario given Basiago's claim that he and Barack Obama were sent to Mars to basically only maintain a specified threshold of humans physically present, while escaping life threatening situations from marauding Martian predators. They were told:
 "Simply put, your task is to be seen and not eaten."

Why would two allegedly pre-identified U.S. Presidents to come, be treated in such a dangerous and callous way?
One answer is that such experiences were part of the "grooming" of Obama and Basiago for their future roles. Both would be taught to fear the power of their CIA handlers, who had the power of life and death over them. Arguably, such experiences would make them more amenable to CIA influence if they succeeded in being voted into high political office.
Yet such an answer doesn't satisfactorily explain why some pre-identified future Presidents would be exposed to a classified space program involving Mars, when other Presidents like Kennedy, Carter and Clinton, were denied access to similar information.
In the case of President Kennedy, his efforts to get access to classified UFO files were a direct factor in his assassination through the direct complicity of the CIA as discussed in the book, Kennedy's Last Stand.

There is also credible testimony that President Carter was flatly denied access to classified UFO files by the outgoing Director of the CIA, George H.W. Bush.

In the case of President Clinton, he appointed a close friend, Webster Hubbell, to the third most senior Department of Justice position, in order to find answers to two questions: "One, who killed JFK? And two, are there UFOs?"

Why would Barack Obama, for example, have been given access to such highly classified information, when it was denied to Kennedy, Carter and Clinton?
Was Basiago subjected to mind control to make him believe events concerning Obama and teleportation to Mars occurred as he recalled, or was being told? In this regard, he does acknowledge "that people were brainwashed when they entered these kinds of projects and when they left."

Did such brainwashing happen with Basiago? If so, it is possible that Basiago's recollections of Barack Obama's participation in the Mars Jump Room Project was contrived by his CIA handlers.
In part two, it was pointed out that investigative reporter Wayne Madsen, in 2010, was the first to raise the possibility that Obama was groomed by the CIA to become a future President. Was Basiago brainwashed to include the Mars teleportation element to Obama's background to muddy the waters so Madsen's earlier claim could be more easily discredited?
While possible, there is significant evidence supporting Basiago's version of events here.
Obama did attend Occidental College in Los Angeles at the time Basiago claims that he, Obama and others were traveling to a secret jump room facility at 999 N. Sepulveda Boulevard in El Segundo, California in 1980. The distance between Occidental College and El Segundo is approximately 25 miles.
Also, according to Basiago, Obama used the name Barry Soetoro during his participation in the CIA Mars Jump Room Program. This is supported by researchers who have found college transcripts showing Obama did use that name in the past, including his time at Occidental College.

Finally, two other whistleblowers, Brett Stillings and Bernard Mendez have come forward to confirm their participation in the Mars Jump Room program, and Barack Obama's involvement. They support Basiago's claim that Obama used the name Barry Soetaro during the covert program. 
Incredibly, Basiago may have been right all along that Obama, aka Barry Soetoro, was a participant in a classified CIA project where participants were led to believe they were secretly traveling to Mars through classified teleportation technologies. Whether they actually travelled to Mars or not, it's possible that Obama was recruited and trained as a CIA asset during his time at Occidental College. This is consistent with what Madsen had earlier claimed about the Obama CIA link.

One thing is clear from Basiago's narration of events recalled from his youth during Project Pegasus, and later from the CIA Mars Jump Room program. Principal CIA figures, including his father (Raymond Basiago), were in favor of disclosure of the time travel and jump room technologies, and encouraged Basiago down a path towards that end.
The picture that emerges of the CIA clandestine services branch is very benign, to say the least. The CIA is involved in the development of time travel and jump room technologies for intelligence gathering purposes, and has key officials encouraging Basiago to believe he will be a future President with the power to one day disclose such technologies to the world.
Andrew Basiago for U.S. President
This takes us back to the December 19 announcement of Andrew Basiago running for U.S. President. He is running as a write-in candidate in those 43 states that allow this. The cost of being on the ballot for all 50 states is estimated to be $5 million, and Basiago rightly objects to paying such an exorbitant amount to simply present an alternative choice to the U.S public.

Basiago clearly believes his 2016 candidacy is a serious bid. This is based on his insider knowledge about his foreseen future role, discovered within a number of classified programs run by the CIA and DARPA of which he was a participant.
While Basiago's 2016 Presidential campaign appears quixotic at the moment, even a partial disclosure of an extraterrestrial cover-up by government authorities would lead to a powerful public reaction against major political parties.
Such a reaction could give momentum to Basiago's candidacy for 2016, or perhaps 2020, potentially raising it to a more serious level, given the public's desire for the truth to be revealed. The detailed testimony of Basiago would reveal some of this desired truth.
What is worth keeping in mind in contemplating these future possibilities is that the CIA, according to Basiago, has gathered intelligence on such scenarios through time-travel technologies. Just as the CIA allegedly groomed Obama to be President, similarly, "White Hats" in the CIA have groomed Basiago to play the whistleblower role he is currently playing.
Basiago has declared that he is leading a "Truth campaign" in his 2016 Presidential bid.  Yet another powerful force appears to be a covert CIA operation, which according to Basiago's testimony, pre-identified him decades ago as a future President promoting an extraterrestrial and secret space program disclosure platform.
While Basiago clearly believes he was, and perhaps still is, supported by "White Hats" in the CIA, there are good reasons why even alleged CIA White Hats should not be trusted. While as a child and young adult, Basiago clearly believed that his father and other alleged CIA White Hats were telling him the truth, there is no reason why the general public should accept this belief. He may very likely have been subjected to mind control to alter his memories of past or future events.
Basiago's detailed testimony about his involvement in two classified programs run by the CIA does reveal important and significant information about key personnel, events and institutions involved in these programs. The sheer volume of details and information he has released is very impressive, while his subsequent investigations, along with supporting witnesses, suggests that a significant portion of it is accurate.
Consequently, Basiago appears to be a genuine whistleblower and understandably believes that his 2016 Presidential run is the real deal. Yet, Basiago, by his own testimony, was pre-identified and groomed as a future whistleblower by the CIA to reveal information about classified projects. His disclosures appear to be part of a psychological operation with a big long term agenda, which of course includes depicting the CIA in very favorable terms.
Basiago's 2016 Presidential campaign is therefore very likely a part of a CIA sanctioned "limited disclosure" program concerning extraterrestrial life and secret space programs. There is a vast amount additional information about secret space programs and extraterrestrial life that his disclosures omit.
For example, Basiago does not discuss the role of German Secret Societies and the Nazi SS in pioneering the first space and time travel technologies, and infiltrating the U.S. military industrial complex in the 1950's. There are significant differences between "limited" and "full disclosure" scenarios, as discussed at length in the book Insiders Reveal Secret Space Programs and Extraterrestrial Alliances.
While evidence suggests Basiago has released valuable information about the development and use of time travel, and teleportation technologies, there is good reason to be very cautious about supporting his "Truth campaign" with its "limited disclosure" scenario influenced by CIA "White Hats."
Andrew Basiago's 2016 Presidential campaign opens the door to illuminating a covert world of secret space programs and extraterrestrial life. We should all be thankful for his public disclosures and attempt to bring these issues into the 2016 Presidential race as a serious topic. Ultimately, this can aid the much bigger "full disclosure" scenario as truth breaks free from its CIA shackles.
Michael E. Salla, Ph.D. Copyright Notice
Further Reading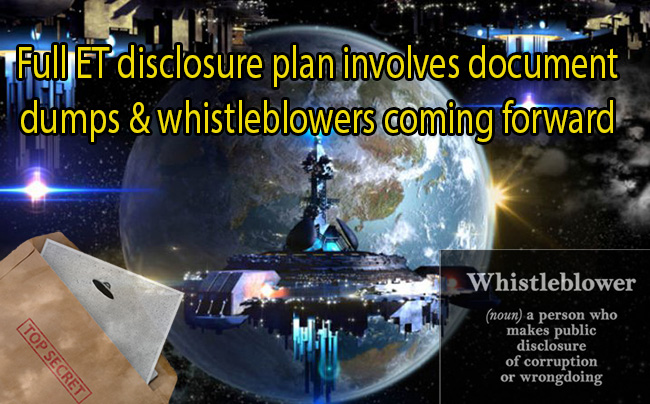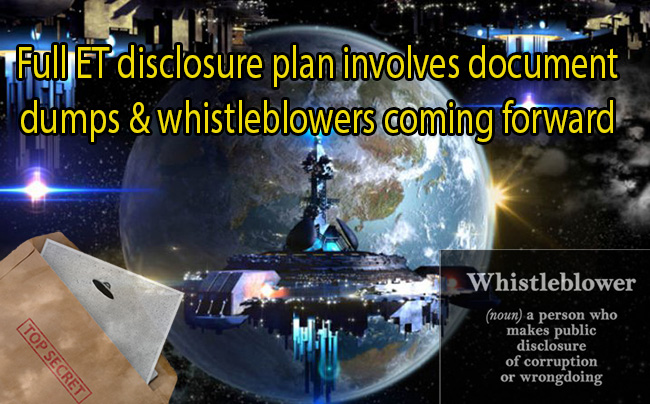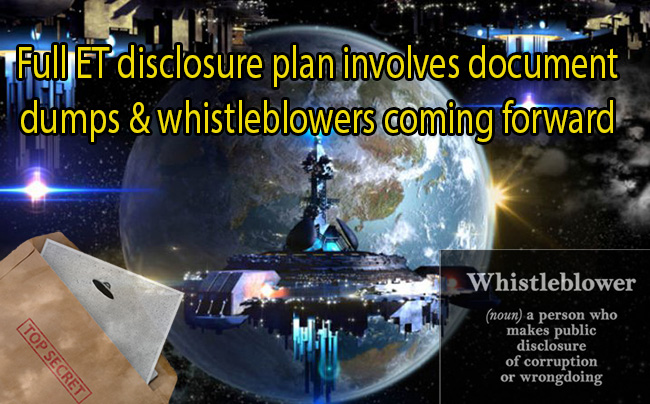 Secret space program whistleblower Corey Goode has revealed in detail the goal of an alliance of secret space programs concerning disclosure of extraterrestrial life and technology. Goode describes the goal as a "full disclosure event' involving massive document dumps on a scale that overwhelms the corporate run media's ability to spin and limit disclosure efforts to protect elite individuals being exposed for crimes against humanity. Goode appeals to other whistleblowers to come forward, as he has, to reveal their knowledge of secret space programs.
From June 5-9, Goode attended a series of three meetings between different factions and alliances concerning how much to disclose about the truth of extraterrestrial visitors and secret space programs using advanced technologies. During his June 9 meeting with human elites he describes as the "Committee of 200" and others, an offer was made for a "controlled disclosure":
They stated that they had been forced through generations of mind control and threats to do all of the things that they had done. They further stated that they would prefer to work with the Alliances in setting up a new financial system that was fair to all of humanity and to begin a controlled disclosure that would not expose certain crimes and incidents that would incriminate them in their life time…. Taking all of that in consideration they proposed that a plan be agreed on that allowed the release of certain information and technologies while withholding the majority of information for a 50 year time period.
This "controlled disclosure" offer has led to concerns and questions about the kind of disclosure that is being planned by the "Secret Space Program Alliance" that Goode is working with. In his June 15 response to one of these questions, he explained the goal:
A full disclosure event would consist of a major data dump on the Internet with many hundreds of thousands of document, audio and video files on multiple mirrored sites for everyone to have access to. There would be a collapse of the corporate media machine and a 24/7 television and radio education campaign would be initiated .Not all channels and stations would be co-opted so people are not overwhelmed and could "tune out" as they needed to due to the stress.
He then explains what a "partial" or "controlled disclosure" event, such as the November 2015 offer by the Committee of 200, would entail:
If a person or group go public and reveal the existence of ET visitation and some advanced technologies, but not technologies that would collapse a "New Financial System" or reveal the crimes against humanity that have been perpetrated by the "Human Elite" and certain "Off World" or "Ancient Break Away Groups" then you have not been told the whole truth.
That would be a partial disclosure where the narrative has been controlled by a group preserving their power and avoiding the release of their crimes. The majority of the world would be shocked by this information alone and it would occupy their imaginations for some time. Very few of us at the current moment would realize that this was just another deception.
Goode then went on to appeal to other whistleblowers to come forward:
That is why some of us are disclosing what we are now so that other whistle blowers will come forward when they see it is safe to do so.
If you have first-hand knowledge of a secret space program, Corey Goode makes the following request:
If you are thinking of coming forward with information and become an anonymous or open whistle blower please Contact Myself, David Wilcock or Michael Salla to make sure you will be handled in an ETHICAL and secure manner.
Michael E. Salla, Ph.D.
No Restriction for Free Internet Distribution
[Update 6/16/15: In an earlier version of this article I referred to a question Corey Goode responded to on his FAQ page (Q82) about the fate of 'Chad Johnson', a pseudonym for an alleged Mars astronaut who claims he was part of a "team of 3 astronauts that went to Mars on a privately funded secret mission," and further claimed "2 are now dead, they're killing us to preserve the secret." 'Johnson' conducted a Twitter Interview with Morgan Kochel in Feb 2012 that raises troubling questions about the accuracy of his claims. I have attempted to contact Morgan Kochel and Johnson seeking answers to these questions. The above article has been revised with the removal of Johnson's claims until satisfactory responses to the questions are received]
[Update 6/17/15: Further research and analysis of Chad Johnson's claims have led to a new article titled: Mission to Mars: Disinformation to Hide Secret Mining of Red Planet]
FURTHER READING