Full ET disclosure plan involves document dumps & whistleblowers coming forward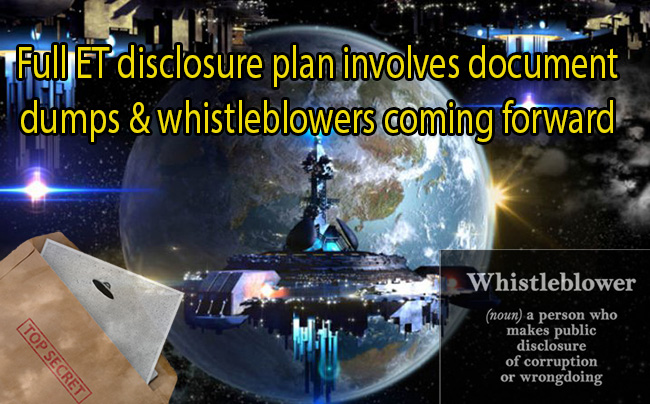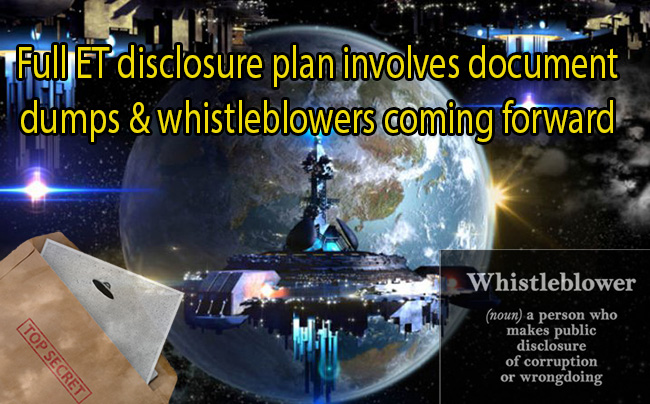 Secret space program whistleblower Corey Goode has revealed in detail the goal of an alliance of secret space programs concerning disclosure of extraterrestrial life and technology. Goode describes the goal as a "full disclosure event' involving massive document dumps on a scale that overwhelms the corporate run media's ability to spin and limit disclosure efforts to protect elite individuals being exposed for crimes against humanity. Goode appeals to other whistleblowers to come forward, as he has, to reveal their knowledge of secret space programs.
From June 5-9, Goode attended a series of three meetings between different factions and alliances concerning how much to disclose about the truth of extraterrestrial visitors and secret space programs using advanced technologies. During his June 9 meeting with human elites he describes as the "Committee of 200" and others, an offer was made for a "controlled disclosure":
They stated that they had been forced through generations of mind control and threats to do all of the things that they had done. They further stated that they would prefer to work with the Alliances in setting up a new financial system that was fair to all of humanity and to begin a controlled disclosure that would not expose certain crimes and incidents that would incriminate them in their life time…. Taking all of that in consideration they proposed that a plan be agreed on that allowed the release of certain information and technologies while withholding the majority of information for a 50 year time period.
This "controlled disclosure" offer has led to concerns and questions about the kind of disclosure that is being planned by the "Secret Space Program Alliance" that Goode is working with. In his June 15 response to one of these questions, he explained the goal:
A full disclosure event would consist of a major data dump on the Internet with many hundreds of thousands of document, audio and video files on multiple mirrored sites for everyone to have access to. There would be a collapse of the corporate media machine and a 24/7 television and radio education campaign would be initiated .Not all channels and stations would be co-opted so people are not overwhelmed and could "tune out" as they needed to due to the stress.
He then explains what a "partial" or "controlled disclosure" event, such as the November 2015 offer by the Committee of 200, would entail:
If a person or group go public and reveal the existence of ET visitation and some advanced technologies, but not technologies that would collapse a "New Financial System" or reveal the crimes against humanity that have been perpetrated by the "Human Elite" and certain "Off World" or "Ancient Break Away Groups" then you have not been told the whole truth.
That would be a partial disclosure where the narrative has been controlled by a group preserving their power and avoiding the release of their crimes. The majority of the world would be shocked by this information alone and it would occupy their imaginations for some time. Very few of us at the current moment would realize that this was just another deception.
Goode then went on to appeal to other whistleblowers to come forward:
That is why some of us are disclosing what we are now so that other whistle blowers will come forward when they see it is safe to do so.
If you have first-hand knowledge of a secret space program, Corey Goode makes the following request:
If you are thinking of coming forward with information and become an anonymous or open whistle blower please Contact Myself, David Wilcock or Michael Salla to make sure you will be handled in an ETHICAL and secure manner.
Michael E. Salla, Ph.D.
No Restriction for Free Internet Distribution
[Update 6/16/15: In an earlier version of this article I referred to a question Corey Goode responded to on his FAQ page (Q82) about the fate of 'Chad Johnson', a pseudonym for an alleged Mars astronaut who claims he was part of a "team of 3 astronauts that went to Mars on a privately funded secret mission," and further claimed "2 are now dead, they're killing us to preserve the secret." 'Johnson' conducted a Twitter Interview with Morgan Kochel in Feb 2012 that raises troubling questions about the accuracy of his claims. I have attempted to contact Morgan Kochel and Johnson seeking answers to these questions. The above article has been revised with the removal of Johnson's claims until satisfactory responses to the questions are received]
[Update 6/17/15: Further research and analysis of Chad Johnson's claims have led to a new article titled: Mission to Mars: Disinformation to Hide Secret Mining of Red Planet]
FURTHER READING
Corey Goode, extraterrestrial disclosure, extraterrestrial life, secret space programs