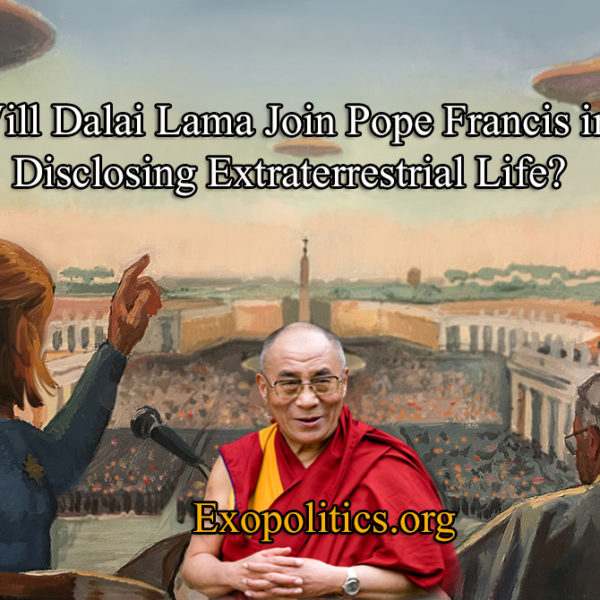 On June 14, 2017, Pope Francis joined the Dalai Lama and other world religious leaders in a joint statement promoting friendship and unity among diverse faiths. The joint statement emerged around the same time as claims began circulating that the Pope was involved in a secret initiative with two other religious leaders to disclose the existence of human looking extraterrestrials.
According to Secret Space Program insider, Corey Goode, he has received briefings from a multiple reliable sources, including Ka Aree, an alleged representative of an Inner Earth civilization, that the Pope and two other religious leaders are planning to appear together publicly alongside a human looking extraterrestrial.
Goode says that Ka Aree gave him two versions of how open contact with extraterrestrials will happen:
V1. Three religious leaders come out and introduce an angelic ET race who bring us a book and a new "esoteric/New Age" type religion based on "Oneness". V2 was almost the same except it was only the Pope standing next to a Nordic announcing the same thing.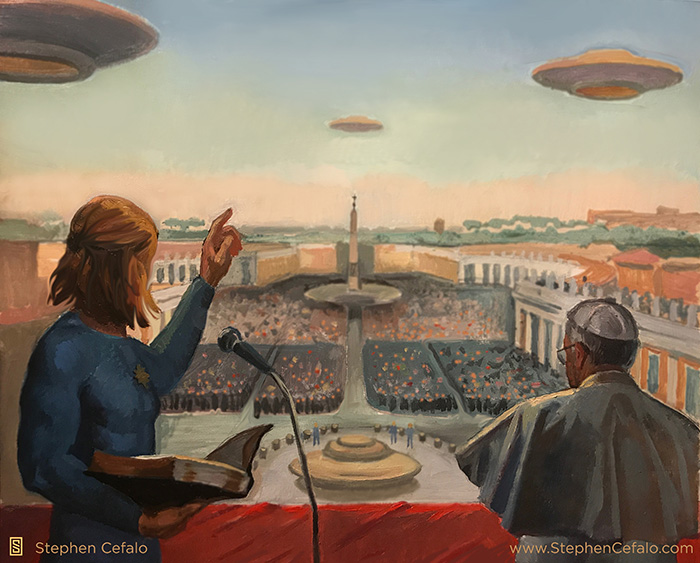 If Goode's information is accurate, it will be the religious community that officially announces the existence of extraterrestrial life. This would in turn open the door for national governments to quickly release any information they wanted to publicly disclose about their relations with the visitors.
An idea of how the US government may present its historic association with such visitors can be found in a leaked 1989 Defense Intelligence Agency document. While its authenticity is disputed, there are firm reasons to believe that it contains much factually accurate information.
There is good reason to believe that the Vatican and the DIA are covertly cooperating in preparing the public for disclosure of the friendly human-looking extraterrestrial visitors.
While Goode did not disclose who the other two religious leaders might be in the planned disclosure initiative, a 2013 lecture from the Dalai Lama strongly hints that he would play a prominent role in such an announcement.
Speaking on the topic of "Universal Responsibility and the Inner Environment" at the University of Portland on May 9, 2013, the Dalai Lama made the following comment:
Eventually, if we receive some visitor from another galaxy come, Look: same human being. Maybe a little different sort of shapes, but basically the same. The furthermore [it is the] same sentient being. Respect them. Look at them. It's the same sentient being. We can immediately shake hands[s] if they have some sort of similar hand there, then we can shake hand[s]. If we put too much emphasis [on] "We are human being[s] on this planet", then someone from the outside comes, a stranger. Always watch for [?]. That creates anxiety, more fear.
The Dalai Lama's emphasis on "sameness" or "oneness" is very significant in terms of understanding the role he would play in shaping world opinion on visiting extraterrestrial life.
If the scenario described to Goode is accurate, then the Pope, alongside the Dalai Lama, and a third religious leader (likely a prominent Muslim leader such as Shawki Allam, the Grand Mufti of Eygpt, who also participated in the Unity and Friendship statement), could well soon disclose to the world the existence of human looking extraterrestrial life.
As to the motivations of the human looking (Nordic) extraterrestrial visitors that the religious community is planning to announce, Goode had the following to say in response to one many questions I put to him about his information back on June 26:
Ka Aree stated that the Nordics have worked with Humanity for a very long time. They have mostly worked quietly in the background, but do pop up in historical documents referenced as "Angels". They would directly interact with certain groups within the Military and Government (including the founding fathers of the United States) as well as with various religious leaders. They have been heavily involved in developing Humanity in a number of ways.
It can be predicted that the June 2017 statement on friendship and unity across religious diversity, along with the Dalai Lama's 2013 comments on respect and friendship for aliens, would be extended to visiting extraterrestrial life.
If the information provided to Goode is accurate, the human looking visitors have secretly played a very significant and benign role in human evolution, and the religious community will likely embrace the information they provide in promoting a new global religion based on oneness.
© Michael E. Salla, Ph.D. Copyright Notice
Further Reading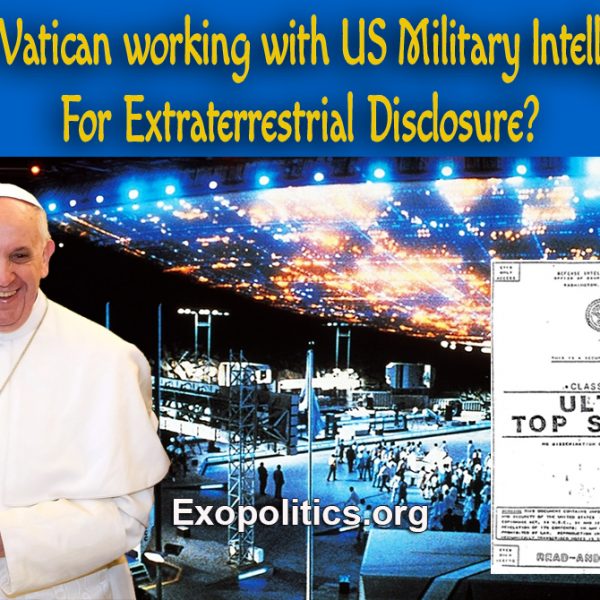 The role of the Vatican in official disclosure of the existence of extraterrestrial life has recently come into renewed focus with two related developments on June 14. The first is an interfaith initiative by multiple world religious leaders, including Pope Francis, to promote friendship and unity across diverse faith communities through a joint statement.
According secret space program whistleblower, Corey Goode, Pope Francis and other world leaders have been contacted by a group of four human-looking extraterrestrial civilizations that are encouraging them to unify as a prelude to the establishment of a new global religion.
The second development was the synchronistic June 14 release of an alleged Majestic-12 Document describing four groups of extraterrestrials known to the military intelligence community, including one that is human-looking and friendly. It states that formal diplomatic relations began with the human-looking group during the Eisenhower administration, and secretly continues to the present day.
When it comes to the role of the Vatican and extraterrestrial life, it is important to point out that the Catholic Church has long played a leading role in secret diplomatic relations with extraterrestrials, dating back at least from the post-World War II era. This has involved high-level cooperation with the U.S. military intelligence community.
In February 1954, Cardinal Francis MacIntyre represented the Catholic Church at the first official meeting with human-looking extraterrestrials [called "Etherians" at the time] that occurred at Edwards Air Force Base. The meeting was described at length by a leading metaphysical teacher at the time, Mead Layne, and is worth repeating in full:
My dear friends: I have just returned from Muroc [Edwards Air Force Base]. The report is true — devastatingly true! I made the journey in company with Franklin Allen of the Hearst papers and Edwin Nourse of Brookings Institute (Truman's erstwhile financial advisor) and Bishop MacIntyre of L.A. (confidential names for the present, please). When we were allowed to enter the restricted section (after about six hours in which we were checked on every possible item, event, incident and aspect of our personal and public lives), I had the distinct feeling that the world had come to an end with fantastic realism. For I have never seen so many human beings in a state of complete collapse and confusion, as they realized that their own world had indeed ended with such finality as to beggar description. The reality of the 'other plane' aeroforms is now and forever removed from the realms of speculation and made a rather painful part of the consciousness of every responsible scientific and political group. During my two days' visit I saw five separate and distinct types of aircraft being studied and handled by our Air Force officials — with the assistance and permission of the Etherians! I have no words to express my reactions. It has finally happened. It is now a matter of history. President Eisenhower, as you may already know, was spirited over to Muroc one night during his visit to Palm Springs recently. And it is my conviction that he will ignore the terrific conflict between the various 'authorities' and go directly to the people via radio and television — if the impasse continues much longer. From what I could gather, an official statement to the country is being prepared for delivery about the middle of May.

Unfortunately, the planned May 1954 disclosure never happened. It would become one of many possible extraterrestrial disclosure announcements that would come and go over the next decades, some of which involved the Vatican in a prominent role, as we will see.
In the United States, disclosure was firmly under the control of the national security establishment who did not view it as helpful to the national interest, which was viewed through the myopic lens of building bigger and more destructive weapons arsenals with the aid of major U.S. military contractors. It is highly doubtful that the Vatican shared these "hard power" goals, given its traditional focus on "soft power" in terms of associating the church with progressive ideas such as social justice, eradicating global poverty, religious tolerance, etc.
Secret diplomatic relations with extraterrestrials continued, according to the recently leaked Majestic 12 Assessment document. A follow-up meeting was held in July 1954, five months after the groundbreaking Edwards AFB meeting. It was here that Eisenhower allegedly established full diplomatic relations with the human-looking extraterrestrial visitors. The MJ-12 document states:
"In so far as no threat, either implied nor expressed and either of a military, civil or societal nature has been forwarded by the visitation of the association of visiting extraterrestrials against the governments and the peoples of these United States of America; and in so far as great and many cultural and technical advances have been derived by such exchange, we hereby grant full, complete diplomatic status and recognition to these individuals from beyond our world. Furthermore, let it be known that we seek to provide shelter, comfort and aid in all their peaceful endeavors so far as these are respective of the laws of our land and the right to self-determination and free will expressed in our national constitution. And until such time as the objectives or methods of either parties in this agreement shall deem otherwise, this bond between our peoples shall remain in effect." [p. E-5-of-6]
The preceding diplomatic treaty was drafted by the directorate of the MAJESTIC-12 operation and a joint committee of extra-terrestrial visitors and representatives of the U.S. Diplomatic Corps, as a statement of intent. It was ratified and signed at Kirtland Air Force Base, Texas on July the eighteenth, 1954 by President Dwight D. Eisenhower and an individual on the behalf of the EBE's. [p. E-6-of-6]
The Majestic document has multiple anomalies, security markings, spelling errors, etc., that has led many UFO researchers to dismiss it as a hoax. Nevertheless, the document has much in it that appears accurate from a historical perspective. This suggests that the document was intended to achieve a specific purpose by releasing factually accurate information together with anomalies that could lead to it being easily dismissed through plausible deniability.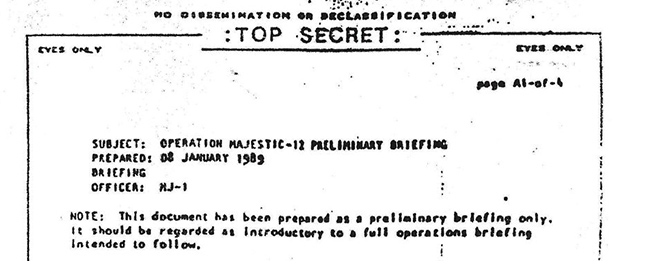 As to what this purpose of the Majestic document is, we need to consider the portion that reviews four types of extraterrestrial life known to the Defense Intelligence Agency in 1989, when the briefing document was allegedly prepared:
There are four basic types of EBEs so-far confirmed. And they are listed here in descending order of their influences on our planet.
A.      Earth-like humanoids. There are several variations more-or-less like ourselves. The majority of these are friendly and are the bulk of our EBE contacts. Most have a high degree of psychic ability and all use science and engineering of an advanced nature.
B.       Small humanoids or "Grays". The Grays, so–called for the hue of their skin possessed by most of this type, are a sort of drone…. They are mostly under the psychic control of the Earth-like humanoids who raise them like pets (or a kind of slave). Assuming the Greys are under benign control, they are harmless.
C.       Non-humaoid EBEs. …. Many of these are dangerous not for organized hostile intentions, but because such creatures do not hold human life as sacred…. Thus far, contact has been minimal with only a handful of unfortunate encounters.
D.      Transmorphic Entities. …. In essence these entities are composed of pure mind energies. … They are said (by other EBEs) to be capable of taking on any physical form that they "channel" their energy … as matter.
What is highly significant is that the document suggests that human-looking extraterrestrials are the most-friendly of the four extraterrestrial groups identified, and are therefore more reliable partners for diplomatic relations and long-term agreements.
The Vatican's history of diplomatic relations with extraterrestrials, conducted secretly while coordinating with the US military, also involved non-official channels. One of these included the famous contactee, George Adamski.
Adamski claims to have been a contactee with a "Nordic" human-looking extraterrestrial group. He regularly briefed Pentagon officials about his contacts that began in 1952. In addition, Adamski says he secretly met with Pope John XXIII in 1963. UFO Researchers such as Desmond Leslie have reviewed Adamski's claims in this regard, and found them to be factually correct.
Apparently, Adamski passed on messages and coordinated one or more secret meetings between Pope John XXIII and the Nordics who wished the Pope to promote a more tolerant and inclusive Catholic religion. This occurred simultaneously with the Pope convening the Second Vatican Council (1962-1965), which is widely acknowledged for modernizing the practice of Catholicism and bringing it into the 20th century.
It is important to keep in mind the significance of this scenario in terms of a reformist Pope being willing to fundamentally alter Catholic practices and theology, as a result of secret diplomatic relations with extraterrestrials.
Decades later, in February 2008, the Catholic Church allegedly played a prominent role in secret United Nations discussions about disclosing the reality of extraterrestrial life. It was claimed that as a result of these discussions, the Catholic Church would lead the way in promoting more openness on the issue of UFOs and extraterrestrial life.
This alleged development at the United Nations coincided with the head of the Vatican Astronomical Observatory, Father Gabriel Funes, giving an interview which was titled, "The Alien is my Brother", which was published by the Vatican's daily newspaper, L'Osservatore Romano on May 13, 2008.
While the existence of the secret UN discussions in 2008 continues to be hotly debated, the timing of the Funes' interview does make it plausible that these events did occur as independent whistleblowers claimed. What boosts the credibility of these whistleblower claims is Goode's recent comments that he was told by his sources that a disclosure initiative did indeed take place in 2008, and the Vatican was a key player.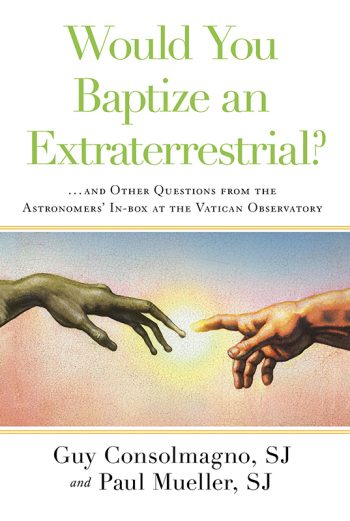 There have been many subsequent developments since 2008 where the Vatican has sponsored Astrobiology conferences, starting from 2009, on the scientific and social implications of extraterrestrial life. Vatican astronomers have also been very active in publicly exploring issues such as "can extraterrestrials be baptized" as exemplified in a 2014 book by Brother Guy Consolmagno titled, Would You Baptize an Extraterrestrial?
All these developments clearly point to the conclusion that prominent officials in the Vatican hierarchy have been laying the foundation for preparing Catholics around the world for startling revelations about extraterrestrial life, and major church reforms that will emerge as a result.
The unprecedented retirement of a sitting Pontiff, Pope Benedict XVI, who was part of a more hardline conservative Catholic Church faction, and his replacement on February 28, 2013 by the more liberal progressive Pope Francis I appears to be part of this covert preparation process.
On October 27, 2014, Pope Francis issued a statement where he referred to extraterrestrials, using the euphemism "beings of the universe", as playing a key role in God's evolutionary plan:
When we read in Genesis the account of creation, we risk imagining God as a magician, with a wand able to make everything. But it is not so…. He created beings and allowed them to develop according to the internal laws that he gave to each one, so that they were able to develop and to arrive at their fullness of being. He gave autonomy to the beings of the universe at the same time at which he assured them of his continuous presence, giving being to every reality. And so creation continued for centuries and centuries, millennia and millennia, until it became which we know today, precisely because God is not a demiurge or a magician, but the creator who gives being to all things. [emphasis added]
Here Pope Francis has laid the foundation for something previously unthinkable to occur in Catholic Church theology. Extraterrestrials may have acted as an intermediary in the evolution of humanity and therefore in the establishment of Christianity and other religious traditions.
This meant that ancient astronaut claims that extraterrestrial visitors had bio-engineered and/or helped human civilizations evolve since ancient times, were views that are now perfectly compatible with Catholic Church theology according to Pope Francis' statement on evolution.
Consequently, it is very feasible that the Vatican is secretly working behind the scenes with one or more extraterrestrial races in laying the groundwork for future disclosures that will facilitate the establishment of a global religion. This will introduce a cosmic perspective based on new information provided by the friendly human-looking extraterrestrials.
The Friendship and Unity statement may therefore be a very tangible prelude to a new global faith emerging in the near future. The almost simultaneous release of the alleged Majestic-12 document on June 14 is very significant in light of its clear endorsement of human-looking extraterrestrials as friends and diplomatic partners.
The timing of the release of the Majestic-12 document suggests a significant degree of "behind the scenes" cooperation between the U.S. military intelligence community and the Vatican in laying the foundation for disclosure and subsequent diplomatic relations with human looking extraterrestrials.
The prospect that Pope Francis and other religious leaders may be collaborating with extraterrestrial visitors to promote a new global religion has predictably led to much concern. Is this something to be welcomed or opposed? Are the extraterrestrials working behind the scenes with religious leaders to be trusted or not? Is this effort to establish a new global religion part of an officially sanctioned effort by the U.S. military intelligence community to disclose some, but not all, information about extraterrestrial life and secret space programs? All these questions are worth serious consideration.
To be continued.
© Michael E. Salla, Ph.D. Copyright Notice
[Update July 21, 2017 – Due to Facebook censorship through its comments plugin, I have installed Disqus which offers a more robust commenting system for readers – unfortunately, prior Facebook comments are no longer visible]
Further Reading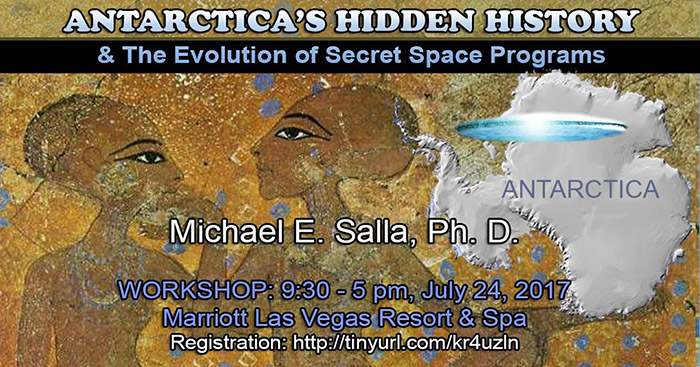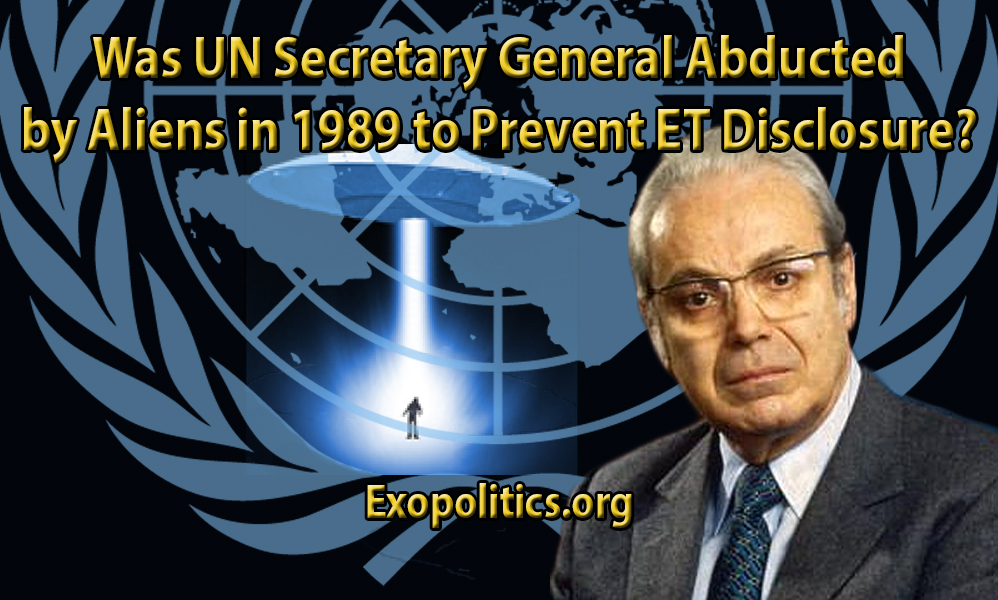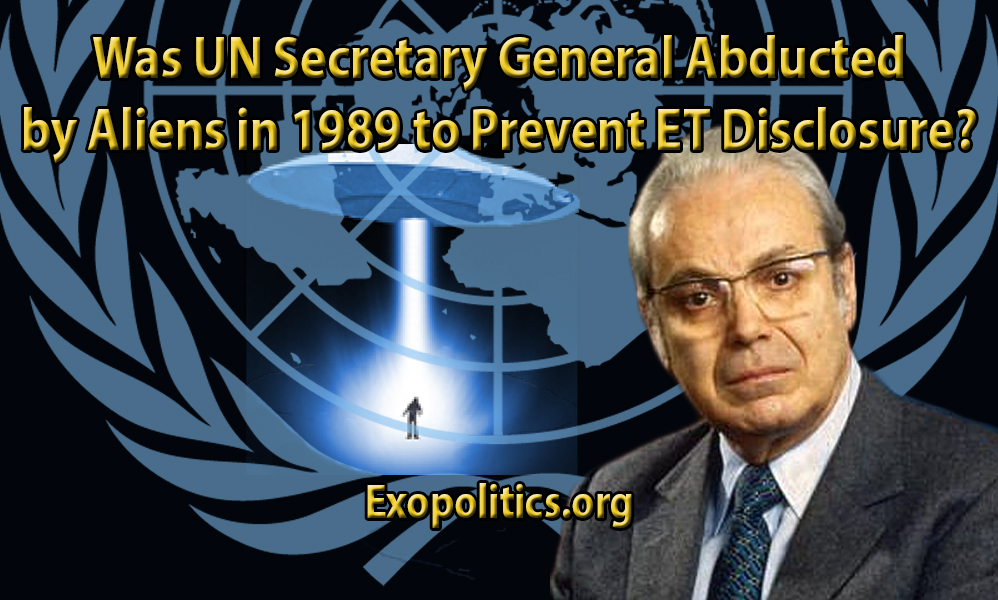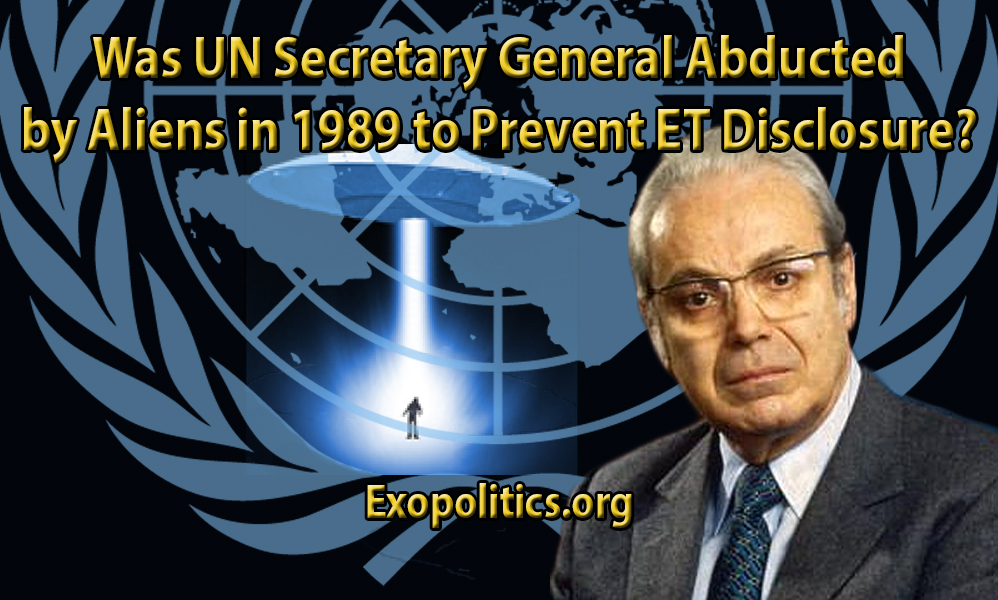 In a November 21 lecture, veteran UFO researcher Dr. Steven Greer made the startling claim that in 1989, the United Nations Secretary General, Javier Perez de Cuellar, was abducted in a false flag alien event. Greer said that the fake abduction was designed to block an initiative by leading world statesmen meeting at the United Nations to disclose the truth about extraterrestrial life and technology to the world.
In his lecture, Greer said that he had spoken with the Crown Prince of Lichtenstein, Hans-Adam, who had revealed to him the startling extraterrestrial disclosure plan being negotiated in 1989 at the United Nations. Prince Hans-Adam was participating in the high level negotiations involving Presidents Ronald Reagan and George H.W. Bush, Mikhail Gorbachev (Secretary General of the USSR), along with other world leaders who were meeting with Perez de Cuellar, as the Cold War was coming to an end.
Greer said that the disclosure plan was aborted at the 11th hour, after Perez de Cuellar was involved in an abduction event where he was forcibly taken to a spacecraft and threatened by extraterrestrials. Greer explained what Prince Hans-Adam had told him:
He said what happened was that Perez de Cuellar … was coming back from a 3 am late night planning session for this event when he was abducted by aliens from his motorcade in Manhattan … Perez de Cuellar was taken somehow out of the motorcade onto an ET craft where he was threatened by the ETs and told: If you disclose this information, we will abduct every world leader involved, including the President of the United States.
Greer went on to say that the event was actually a staged abduction. It involved highly classified corporate programs using bioengineered "Programmed Life Forms" (PLFs) designed to look like real extraterrestrials. He said that the PLFs, which he called "aliens" as opposed to genuine extraterrestrials, were used in many thousands of false flag abduction events to fool the world into believing we were facing an extraterrestrial threat. The PLFs would implant abductees with tracking chips so they could easily be abducted in the future by the corporations involved,
To support his startling claims, Greer supplied documents showing that he was indeed in communications with Prince Hans-Adam, and met with him in New York in July 1994. The letters show that Hans-Adam had agreed with Greer's analysis of the role of transnational corporations in managing the UFO/extraterrestrial phenomenon, but thought Greer had little chance of success in his disclosure efforts.
Greer also supplied whistleblower testimony from William Pawelec, a former military/corporate contractor, who had disclosed that small electronic implant chips had been developed in 1979 for tracking purposes. These could be implanted into people, making them trackable even from an altitude of 120 kilometers. Pawelec said that billions of the chips were made by a division of the Siemens corporation, but they had disappeared. 
Greer also supplied a document from the Strategic Studies Institute located inside the US Army War College, which detailed an elaborate psychological warfare plan to deceive the world about extraterrestrial life by staging false flag alien abductions. The plan envisaged traumatizing abducted individuals sufficiently so that they would be willing accomplices in a future false flag alien invasion scenario.
The documents and whistleblower testimonies Greer cited raise important questions about why the Siemens corporation had manufactured billions of chip implants soon after 1979, which could be used to track individuals. Pawelec testimony is especially significant since implants have been found in many abductees that proved to be electronic tracking devices them.
More recent research on implants has shown that these can be used to remotely influence individuals from satellites using advanced computer systems. A U.S. Patent issued in 2000 reveals that individuals with brain implants can have their thoughts and emotions electronically influenced by satellites remote controlled by advanced computers.
Greer's documents and Pawelec's testimony strongly suggest the existence of a highly classified corporate military program to monitor and remotely influence individuals with implants for psychological warfare purposes. Furthermore, one of the Edward Snowden NSA files, also confirms that UFOs were a key part of covert online operations.
Was Perez de Cuellar subjected to a false flag alien abduction for psychological warfare purposes, as Greer claims?
The crux of Greer's version of events is that Perez de Cuellar was abducted and threatened by the 'aliens' (PLF's impersonating extraterrestrials), after leaving a late night planning session for an upcoming extraterrestrial disclosure plan by the United Nations. Yet there is compelling evidence that Perez de Cuellar was not actually abducted himself, but had witnessed, along with his two bodyguards, an alien abduction of a woman around 3 am on November 30, 1989.
Budd Hopkins, a respected UFO researcher, was the first to investigate the Linda Napolitano (aka Linda Cortile) alien abduction case. Essentially, Napolitano claims that she was floated out of her 12th floor bedroom window by three aliens that appeared in a bluish-white beam of light, projected from a large glowing UFO hovering over her Manhattan apartment complex. She was then taken inside the alien craft and had various experiments conducted on her.
In early February 1991, Hopkins received a letter from two men claiming to be police officers using the first names Richard and Dan, who had seen the Napolitano abduction. Richard and Dan were acting as bodyguards for an unidentified VIP and were in a car two blocks away. They told Hopkins:
There was an oval-shaped object hovering over the top of the apartment building two or three blocks up from where we sat. We didn't know where it came from. It happened too fast. Its lights turned from a bright reddish orange to a whitish blue coming out of the bottom. Green lights rotated round the edge of the saucer. A little girl or woman wearing a white gown sailed out of the window in a fetal position – and then stood in mid-air in this beam of light. I could see three of the ugliest creatures I ever saw. I don't know what they were. They weren't human. Their heads were out of proportion, very large heads with no hair. Those buggers were escorting her into the craft. My partner screamed, 'We have got to get them.' We tried to get out of the car but couldn't. After the woman was escorted in, the oval turned reddish orange again and whisked off.
The third witness had seen the abduction from a ¼ mile away while traveling on the Brooklyn bridge. Up to 23 witnesses have come forward describing various aspects of abduction incidents described by Napolitano.
The VIP was later identified by the two bodyguards as Perez de Cuellar. Hopkins claimed that he was able to get directly in touch with de Cuellar who confirmed to Hopkins that he had seen the abduction. Hopkins says that he met with de Cuellar who insisted on keeping his involvement in the incident confidential, despite Hopkin's efforts to persuade him to go public.
Hopkin's investigation of the Napolitano incident showed that there were four direct witnesses in total, including de Cuellar, to Napolitano's abduction.
So, there was an abduction that de Cuellar had seen, but was he directly involved as Greer was told? According to the two bodyguards, their car had stopped running during the sighting suggesting it was under the influence of the saucer shaped craft.
Also, it was later revealed that one of the bodyguards, Dan, had a lifetime of personal abduction experiences himself and was often paired with Linda Napolitano when they were children. He apparently recognized Napolitano from these childhood incidents, and became obsessive over her.
In one of her sessions with Hopkins, Napolitano revealed a startling development: "she thought somehow she was being used by the aliens to control the men.  She communicated with the men telepathically."  It can be concluded that while in the flying saucer, she was telepathically communicating with Dan and/or Perez de Cuellar on behalf of the aliens.
Later, Dan and Richard revealed they were CIA agents. As these additional details emerged, some investigators then dismissed the Napolitano case as clever disinformation to discredit Hopkins' abduction research.
Details from what Prince Hans-Adam told Greer, indicate Napolitano's abduction had happened at roughly the same time as Perez de Cuellar was himself directly involved in an abduction incident. The most plausible explanation is that de Cuellar had seen Napolitano's abduction, and was perhaps even telepathically influenced, rather than being abducted himself, as Greer was told.
Nevertheless, the latter possibility can't be ruled out entirely given the abduction history of one of his personal bodyguards, and problems experienced with the car around the time the abduction was occurring.
In either case, the Napolitano abduction had a powerful emotional effect on Perez de Cuellar and his bodyguards. It is easy to understand why Perez de Cuellar may have interpreted the abduction incident as a threat not to proceed with the United Nations disclosure plan. This is even more so if de Cuellar was receiving telepathic communications from Napolitano through Dan, on behalf of the aliens. All of this parallels with key elements of what Greer was told by Prince Hans-Adam.
In addition, Greer insisted in his lecture that the incident was a staged alien abduction, rather than a genuine extraterrestrial event. According to Greer, extraterrestrials are not involved in abductions or other hostile actions. In his opinion, extraterrestrials do not conduct overt hostile actions against humanity. If hostile acts occur, this is indicative of a false flag alien event staged by rogue classified programs run by transnational corporations in cooperation with elements of military-intelligence community of the world's major nations.
Greer's conclusion that there are no hostile extraterrestrials interacting with humanity is very controversial, and is refuted by the testimonies of many whistleblowers and experiencers claiming the contrary. Long adhering to his position, in May 2006 Greer launched a rare public rebuke of my exopolitics research for claiming that some extraterrestrial visitors behaved in a hostile manner. My response to him at the time is here.
In the Perez de Cuellar abduction, as related to Greer, the action was overtly hostile in terms of threats being made to abduct other world leaders. Greer concludes that this is evidence of it being a false flag alien event that belongs to the ongoing psychological warfare operations against the world public.
It is plausible that the 1989 abduction was indeed designed to be a threat and warning not to proceed with the United Nations extraterrestrial disclosure plan. As for whether the Napolitano incident was a staged alien abduction or a genuine extraterrestrial event, there is considerable room for debate. It was certainly the opinion of Budd Hopkins, who has done the most work in investigating the case, that it was a genuine extraterrestrial abduction.
Yet Greer does have some compelling documentary evidence that substantiates staged alien abductions as a tool for a broader psychological warfare campaign. One of the goals of which is to condition the world populace to accept a contrived hostile alien threat.
Regardless of the debate over whether the aliens in the Napolitano abduction case were genuine or not, what Greer has done in releasing Prince Hans-Adam's testimony in his November 21 lecture, is that it strongly confirms Hopkin's earlier claims that Perez de Cuellar was directly involved with the Napolitano abduction event. Whether de Cuellar was merely a witness to Napolitano's abduction, was himself abducted, and/or had received telepathic messages from the aliens, more research is required.
The testimony of Prince Hans-Adam, as relayed by Greer, is supported to a significant extent by the impressive evidence accumulated in the Napolitano abduction case. The final conclusion is astounding. A secret 1989 United Nations plan for extraterrestrial disclosure was aborted due to a threat the UN Secretary General Perez de Cuellar received. Either genuine extraterrestrial visitors conducting abductions, or aliens (PLFs) created by a cabal of transnational entities staging false flag alien abductions, did not want humanity to learn the truth about extraterrestrial visitation.
© Michael E. Salla, Ph.D. Copyright Notice
Further Reading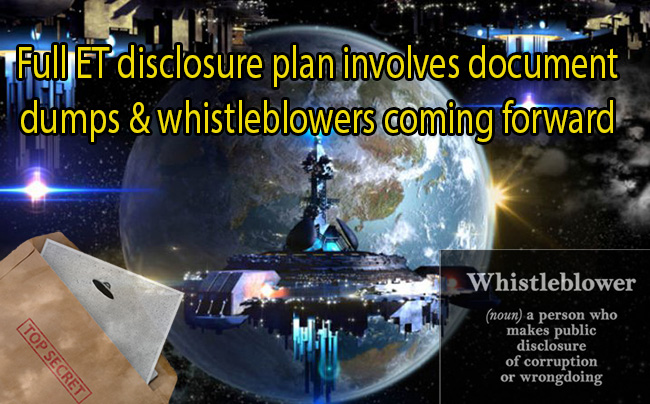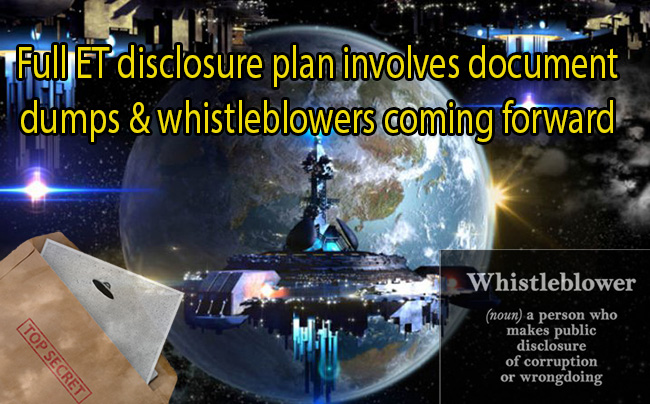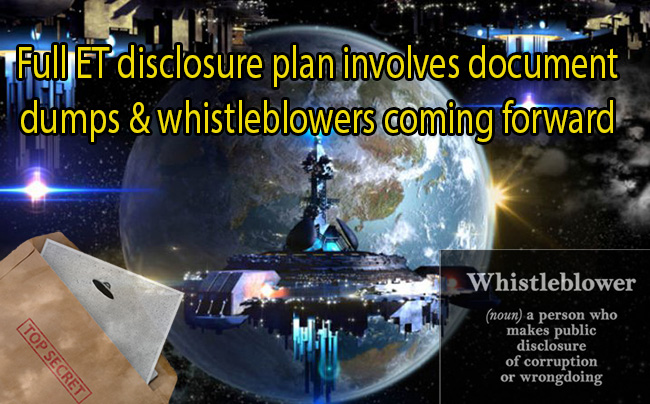 Secret space program whistleblower Corey Goode has revealed in detail the goal of an alliance of secret space programs concerning disclosure of extraterrestrial life and technology. Goode describes the goal as a "full disclosure event' involving massive document dumps on a scale that overwhelms the corporate run media's ability to spin and limit disclosure efforts to protect elite individuals being exposed for crimes against humanity. Goode appeals to other whistleblowers to come forward, as he has, to reveal their knowledge of secret space programs.
From June 5-9, Goode attended a series of three meetings between different factions and alliances concerning how much to disclose about the truth of extraterrestrial visitors and secret space programs using advanced technologies. During his June 9 meeting with human elites he describes as the "Committee of 200" and others, an offer was made for a "controlled disclosure":
They stated that they had been forced through generations of mind control and threats to do all of the things that they had done. They further stated that they would prefer to work with the Alliances in setting up a new financial system that was fair to all of humanity and to begin a controlled disclosure that would not expose certain crimes and incidents that would incriminate them in their life time…. Taking all of that in consideration they proposed that a plan be agreed on that allowed the release of certain information and technologies while withholding the majority of information for a 50 year time period.
This "controlled disclosure" offer has led to concerns and questions about the kind of disclosure that is being planned by the "Secret Space Program Alliance" that Goode is working with. In his June 15 response to one of these questions, he explained the goal:
A full disclosure event would consist of a major data dump on the Internet with many hundreds of thousands of document, audio and video files on multiple mirrored sites for everyone to have access to. There would be a collapse of the corporate media machine and a 24/7 television and radio education campaign would be initiated .Not all channels and stations would be co-opted so people are not overwhelmed and could "tune out" as they needed to due to the stress.
He then explains what a "partial" or "controlled disclosure" event, such as the November 2015 offer by the Committee of 200, would entail:
If a person or group go public and reveal the existence of ET visitation and some advanced technologies, but not technologies that would collapse a "New Financial System" or reveal the crimes against humanity that have been perpetrated by the "Human Elite" and certain "Off World" or "Ancient Break Away Groups" then you have not been told the whole truth.
That would be a partial disclosure where the narrative has been controlled by a group preserving their power and avoiding the release of their crimes. The majority of the world would be shocked by this information alone and it would occupy their imaginations for some time. Very few of us at the current moment would realize that this was just another deception.
Goode then went on to appeal to other whistleblowers to come forward:
That is why some of us are disclosing what we are now so that other whistle blowers will come forward when they see it is safe to do so.
If you have first-hand knowledge of a secret space program, Corey Goode makes the following request:
If you are thinking of coming forward with information and become an anonymous or open whistle blower please Contact Myself, David Wilcock or Michael Salla to make sure you will be handled in an ETHICAL and secure manner.
Michael E. Salla, Ph.D.
No Restriction for Free Internet Distribution
[Update 6/16/15: In an earlier version of this article I referred to a question Corey Goode responded to on his FAQ page (Q82) about the fate of 'Chad Johnson', a pseudonym for an alleged Mars astronaut who claims he was part of a "team of 3 astronauts that went to Mars on a privately funded secret mission," and further claimed "2 are now dead, they're killing us to preserve the secret." 'Johnson' conducted a Twitter Interview with Morgan Kochel in Feb 2012 that raises troubling questions about the accuracy of his claims. I have attempted to contact Morgan Kochel and Johnson seeking answers to these questions. The above article has been revised with the removal of Johnson's claims until satisfactory responses to the questions are received]
[Update 6/17/15: Further research and analysis of Chad Johnson's claims have led to a new article titled: Mission to Mars: Disinformation to Hide Secret Mining of Red Planet]
FURTHER READING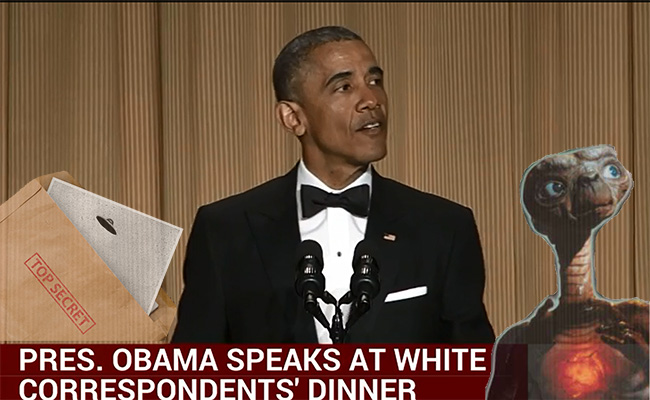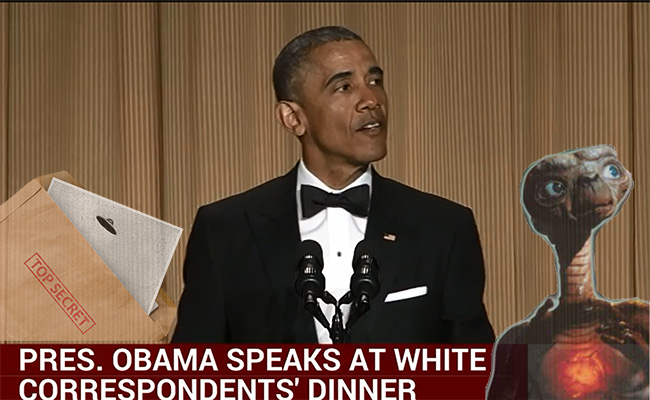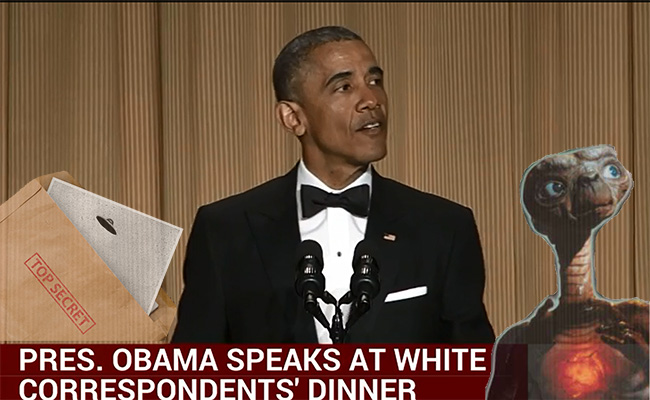 On Saturday night, President Barack Obama gave a joke filled speech at the annual White House Press Correspondents dinner. Fox News covered some of the zingers Obama threw at all and sundry across the partisan political divide. At the top of Obama's top ten jokes, according to CNN, was the President's list of recent executive actions, which he humorously suggested was his (rhymes with) "bucket list" intended as an act of defiance against political opponents to his administration's policies.  Obama signaled that his 'bucket list' of executive actions would grow in the remaining 21 months of his Presidential administration revealing the depth of his frustration against political roadblocks to his policies and legacy.
Obama and one of his former senior advisers, John Podesta, have recently publicly stated that among the administration's political frustrations is a lack of progress on the release of classified UFO files concerning extraterrestrial life and technology. These recent statements signal that among the executive orders Obama is contemplating to help establish his Presidential legacy, is decisive action on extraterrestrial disclosure.
At his Saturday night Press Conference speech, Obama said:
I am determined to make the most of every moment I have left. After the mid-term elections my advisers asked me, "Mr President do you have a bucket list?" I said well, I have something that rhymes with bucket list. Take executive action on immigration? Bucket. New climate regulations? Bucket. It's the right thing to do.
On March 12, Obama revealed on Jimmy Kimmel Live that his and previous Presidential administrations have been prevented from releasing the truth about extraterrestrial life and technology. In response to Kimmel's question about how he would seek to gain access to UFO files and Area 51 if he were president, Obama claimed:
The aliens won't let it happen. You'd reveal all their secrets. They exercise strict control over us.
When Kimmel protested that President Clinton said he had looked into Area 51 and found nothing, Obama replied, "That's what we're instructed to say."
Obama's comments were widely dismissed as a joke by the mainstream media. Ben Hansen, a former FBI special agent, however, conducted a forensic analysis of Obama's body language and speech, and concluded that he was showing great stress in revealing some uncomfortable truths.
It's important to mention that on Feb 13, John Podesta, Obama's counselor for energy policy and the environment tweeted:

Podesta's frustration over the inability of the Obama administration to gain access to classified UFO files was almost certainly shared by President Obama.
Podesta's statement now makes clear the full context of Obama's later space alien comments on Jimmy Kimmel Live. Obama's comment that space aliens "exercise strict control over us" and Presidents are "instructed" on what to say about alien life was no joke. He was making an important admission about how Presidents have been regularly frustrated in their efforts to find the truth about extraterrestrial life and technology.
Not surprisingly, there was a remark during the White House Press Correspondents dinner reminding the audience about Obama's March 12 appearance on Jimmy Kimmel Live. Cecily Strong, the comedian who followed Obama with another humor filled speech before the assembled Press corps, said: "Mr President, thank you so much for taking time away from being on Jimmy Kimmel to be here."
Was Strong simply making a wry comment about the time Obama spent covering a wide range of topics in his Jimmy Kimmy Live appearance, or was she tipping off the audience that such appearances are when Obama humorously reveals his true position on important issues? Her remark was likely coordinated with Obama speech writers who knew what she would say; or even perhaps asked her to insert the remark to allude to the policy significance of his appearance.
As the Obama administration winds down over the next 21 months, the President has publicly stated his intent to move forward with executive actions on important policy issues that he has been frustrated in resolving through the normal legislative process. Podesta's UFO Tweet and Obama's alien comments on Jimmy Kimmel Live, combined with the President's April 24 speech, signal that Obama is contemplating an executive order that facilitates disclosure of classified UFO files concerning extraterrestrial life and technology.
© Michael E. Salla, Ph.D. Copyright Notice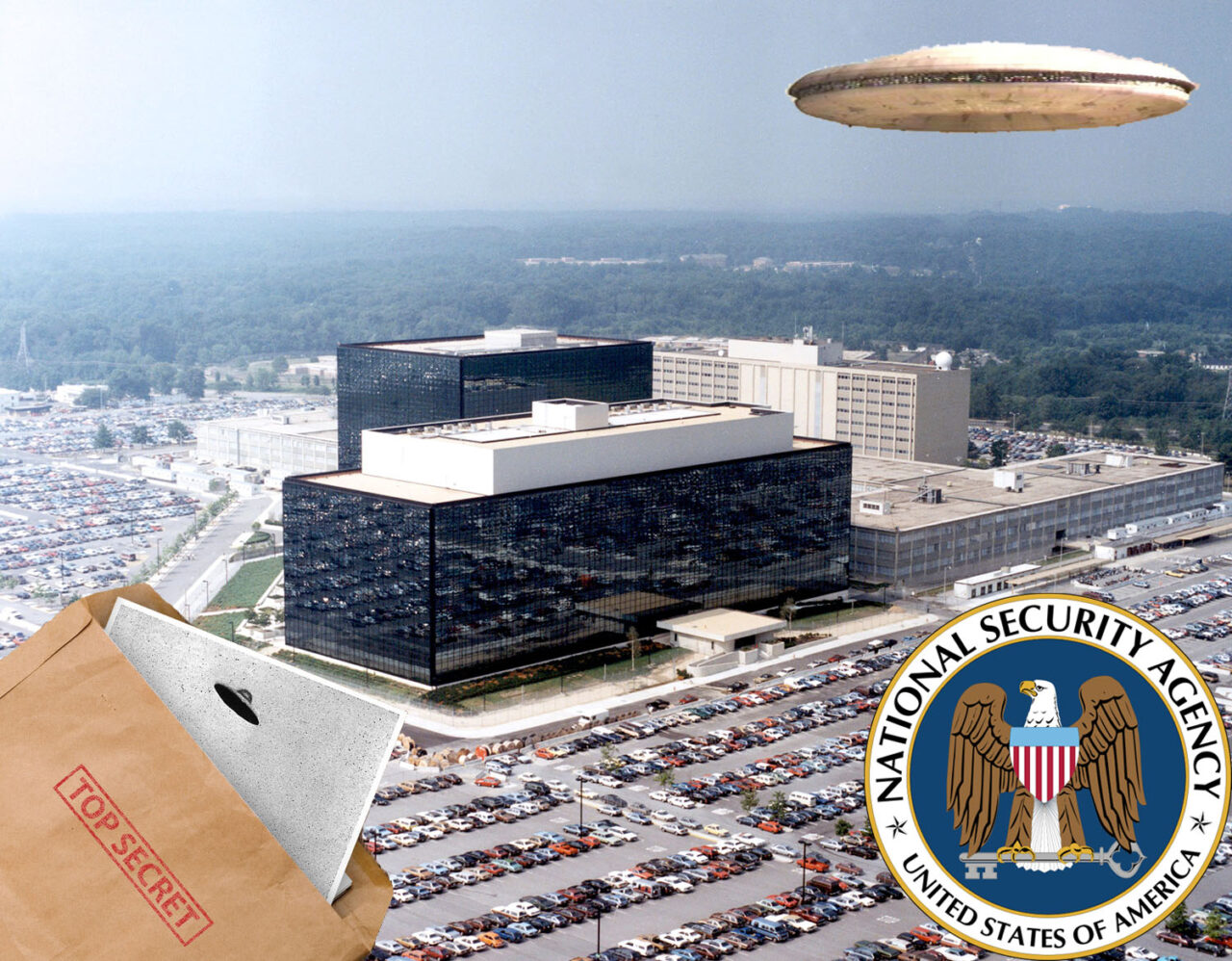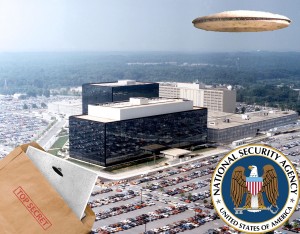 The use of a faked Facebook server by the NSA to spread malware is the latest in a string of leaks from the Edward Snowden cache of NSA files that has led to senior Intelligence officials scrambling for ways to defuse another troubling revelation. As documents continue to emerge at a steady rate, a pattern is now becoming clearer. While much of the general public and international media accept the authenticity of the leaked documents, NSA officials and their national intelligence partners refuse to directly acknowledge their authenticity. Yesterday, according to an article in The Intercept by Ryan Gallagher, one of the journalists working with the Snowden NSA files, public authorities again issued evasive responses not acknowledging any wrong doing. Earlier, on February 24, The Intercept released a document from the NSA's British equivalent that contained slides of UFOs used for training covert operatives in on-line operations. No explanation was given for why and how the UFO images were being used. Was this clear evidence that UFOs were known to be real interplanetary objects, or simply a convenient way of obfuscating other issues being discussed online? This suggests that among NSA files yet to be released, there may be more relating to UFOs. This raises the intriguing possibility that one or more of the upcoming NASA file releases may make public official knowledge of extraterrestrial life, and a cover-up approved by senior national security officials in the U.S. and elsewhere. This would lead to an indefinite period where the existence of alien life becomes widespread public knowledge, while senior officials give evasive responses that neither negate nor confirm the authenticity of the documents in question.
Here is how Gallagher summarized the NSA's response to the latest leak:
In response, the NSA has attempted to quell the backlash by putting out a public statement dismissing what it called "inaccurate" media reports. The agency denied that it was "impersonating U.S. social media or other websites" and said that it had not "infected millions of computers around the world with malware." The statement follows a trend that has repeatedly been seen in the aftermath of major disclosures from documents turned over by NSA whistleblower Edward Snowden, in which the NSA or one of its implicated allies issues a carefully worded non-denial denial that on the face of it seems to refute an allegation but on closer inspection does not refute it at all.
Essentially, the strategy being pursued by the NSA and its partners to leaks identifying its policies and practices is to respond with a "carefully worded non-denial denial." In NSA or its partner responses – intelligence doublespeak to put it simply – there is neither direct acknowledgement nor disavowal of the authenticity of the leaked document. It is then left to the public and mass media to draw their own conclusions and analyses from the documents.
The practice of not acknowledging leaked classified files is not surprising. Senior Intelligence Community officials in the U.S.A. generally take the position that until documents have been officially declassified, viewing or discussing them by any public official is a violation of standard security protocols that could lead to the revocation of one's security clearance and even criminal charges. This creates problems for intelligence community workers who are officially not allowed to read classified material to which they have not been approved for access, even though it is appearing in the mass media.
When it comes to the issue of extraterrestrial life, there are other reasons why public officials would be reticent to publicly acknowledge the authenticity of any leaked NSA files. If a government agency or corporation was to go on the record to being part of a decades long cover-up of extraterrestrial life, then they would be open to class action law suits to parties injured by such a cover up. In particular, individuals that have been directly involved in the UFO abduction phenomenon – hundreds of thousands according to some estimates – could now sue agencies, corporations and officials involved in such activities. The threat of class action law suits is the Sword of Damocles hanging over the head of official extraterrestrial disclosure. That is probably the biggest reason why official disclosure won't be happening any time soon. However, there may still be "public disclosure" in the form of "a non-denial denial" as Gallagher describes the now familiar response by the NSA and its partners to the Snowden document leaks.
Consequently, we may very soon witness the following scenario. Future document releases from the Snowden cache of NSA files, or some other whistleblower source, reveal unambiguously that extraterrestrial life exists and that official agencies have been cooperating in covering this up. The NSA and its partner agencies issue the now familiar response to past leaks that neither acknowledges a document's authenticity nor refutes it. To put it simply, we would have public disclosure of alien life through leaked official documents, yet there would be no "official disclosure" acknowledging this. An intriguing possibility by all means, but certainly something that may well happen, and could last for an indefinite period of time.
© Copyright 2014. Michael E. Salla, Ph.D.
This article is copyright © and should not be added in its entirety on other websites or email lists. Permission is granted to include an extract (e.g., introductory paragraph) of this article on website or email lists with a link to the original.Leaked NSA document confirms online covert deception involves UFOs