Will Dalai Lama Join Pope Francis in Disclosing Extraterrestrial Life?
On June 14, 2017, Pope Francis joined the Dalai Lama and other world religious leaders in a joint statement promoting friendship and unity among diverse faiths. The joint statement emerged around the same time as claims began circulating that the Pope was involved in a secret initiative with two other religious leaders to disclose the existence of human looking extraterrestrials.
According to Secret Space Program insider, Corey Goode, he has received briefings from a multiple reliable sources, including Ka Aree, an alleged representative of an Inner Earth civilization, that the Pope and two other religious leaders are planning to appear together publicly alongside a human looking extraterrestrial.
Goode says that Ka Aree gave him two versions of how open contact with extraterrestrials will happen:
V1. Three religious leaders come out and introduce an angelic ET race who bring us a book and a new "esoteric/New Age" type religion based on "Oneness". V2 was almost the same except it was only the Pope standing next to a Nordic announcing the same thing.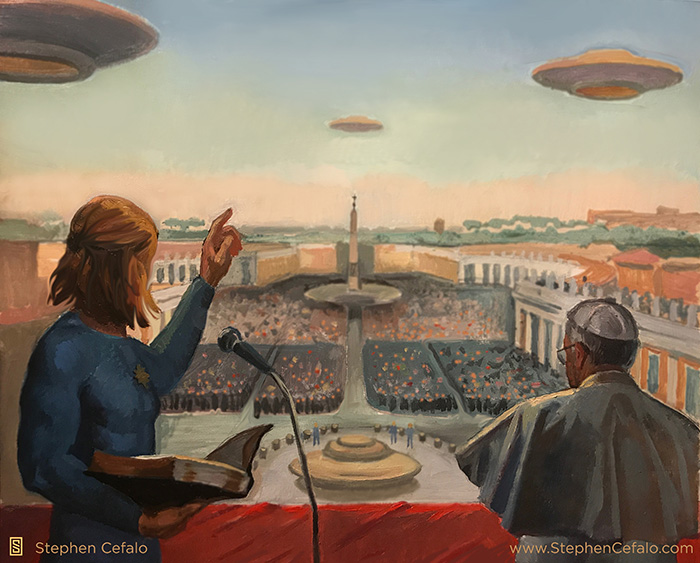 If Goode's information is accurate, it will be the religious community that officially announces the existence of extraterrestrial life. This would in turn open the door for national governments to quickly release any information they wanted to publicly disclose about their relations with the visitors.
An idea of how the US government may present its historic association with such visitors can be found in a leaked 1989 Defense Intelligence Agency document. While its authenticity is disputed, there are firm reasons to believe that it contains much factually accurate information.
There is good reason to believe that the Vatican and the DIA are covertly cooperating in preparing the public for disclosure of the friendly human-looking extraterrestrial visitors.
While Goode did not disclose who the other two religious leaders might be in the planned disclosure initiative, a 2013 lecture from the Dalai Lama strongly hints that he would play a prominent role in such an announcement.
Speaking on the topic of "Universal Responsibility and the Inner Environment" at the University of Portland on May 9, 2013, the Dalai Lama made the following comment:
Eventually, if we receive some visitor from another galaxy come, Look: same human being. Maybe a little different sort of shapes, but basically the same. The furthermore [it is the] same sentient being. Respect them. Look at them. It's the same sentient being. We can immediately shake hands[s] if they have some sort of similar hand there, then we can shake hand[s]. If we put too much emphasis [on] "We are human being[s] on this planet", then someone from the outside comes, a stranger. Always watch for [?]. That creates anxiety, more fear.
The Dalai Lama's emphasis on "sameness" or "oneness" is very significant in terms of understanding the role he would play in shaping world opinion on visiting extraterrestrial life.
If the scenario described to Goode is accurate, then the Pope, alongside the Dalai Lama, and a third religious leader (likely a prominent Muslim leader such as Shawki Allam, the Grand Mufti of Eygpt, who also participated in the Unity and Friendship statement), could well soon disclose to the world the existence of human looking extraterrestrial life.
As to the motivations of the human looking (Nordic) extraterrestrial visitors that the religious community is planning to announce, Goode had the following to say in response to one many questions I put to him about his information back on June 26:
Ka Aree stated that the Nordics have worked with Humanity for a very long time. They have mostly worked quietly in the background, but do pop up in historical documents referenced as "Angels". They would directly interact with certain groups within the Military and Government (including the founding fathers of the United States) as well as with various religious leaders. They have been heavily involved in developing Humanity in a number of ways.
It can be predicted that the June 2017 statement on friendship and unity across religious diversity, along with the Dalai Lama's 2013 comments on respect and friendship for aliens, would be extended to visiting extraterrestrial life.
If the information provided to Goode is accurate, the human looking visitors have secretly played a very significant and benign role in human evolution, and the religious community will likely embrace the information they provide in promoting a new global religion based on oneness.
© Michael E. Salla, Ph.D. Copyright Notice
Further Reading
Dalai Lama, extraterrestrial disclosure, Grand Mufti, Nordics, Pope Francis, Vatican