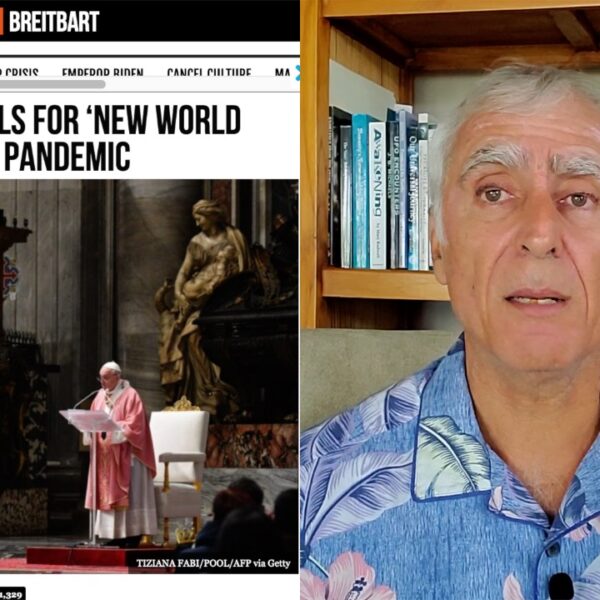 On March 16, a book length interview of Pope Francis was published where he calls for the creation of a New World Order and Great Reset following the Covid-19 Pandemic. He claims that this will allow for a global redistribution of wealth from richer to poorer countries, and solve environmental problems caused by fossil fuels.
The problem with the Pope's bold assertions is that the Vatican has secretly participated in the research and development of advanced technologies, and hidden this from the public sector for well over a century. In this Exopolitics Today podcast, Dr. Michael Salla discusses the secret Vatican involvement in classified research on advanced technologies that could end the fossil fuel industry overnight and solve many environmental problems if fully disclosed.
Podcast available on Rumble and YouTube
Links mentioned in Podcast
Related Exopolitics Articles/Podcasts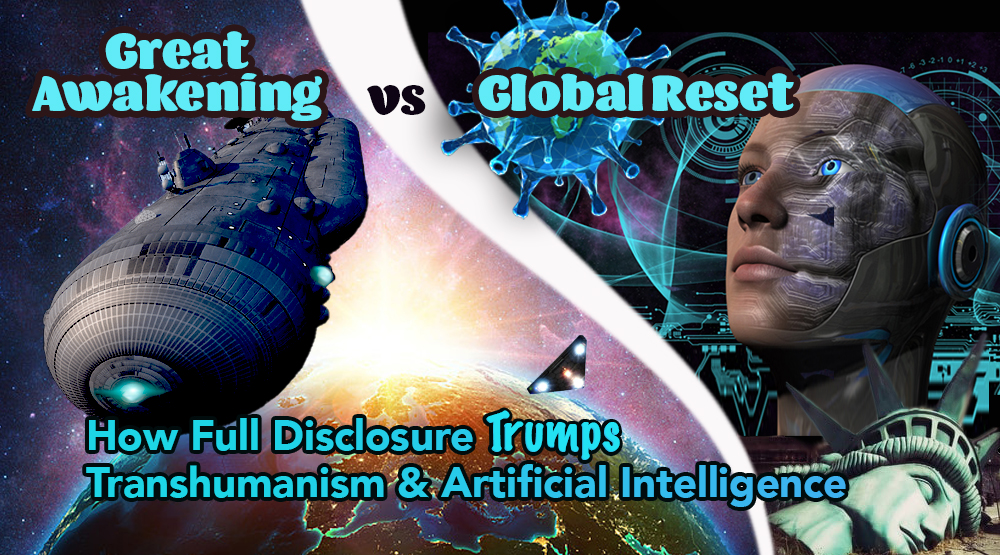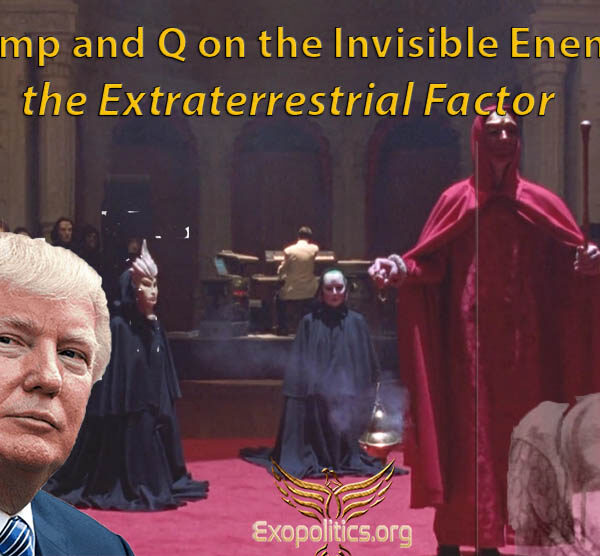 There have been multiple references to an "invisible enemy" by President Donald Trump and Q (aka QAnon), which White Hats in the US military-intelligence community are presently fighting in an "information war". While mainstream news outlets claim Trump is merely referring to COVID-19 as the "invisible enemy" that has afflicted the US and the rest of the planet, what emerges from examining the wider context of his remarks and Q posts is that the real enemy Trump is alluding to is a Deep State which has a non-human dimension that is behind the "plandemic".
Trump's repeated references to the invisible enemy have been noted by mainstream media outlets as merely a rhetorical flourish to combating the COVID-19 virus. For example, Jack Shafer, writing for Politico, said on April 9:
Ever since President Donald Trump made his bootleg turn on coronavirus in mid-March, finally conceding the magnitude of the pandemic, he has attempted to brand the contagion as an "invisible enemy."
Trump first used the phrase in a March 16 coronavirus task force press conference, saying, "No matter where you look, this is something—it's an invisible enemy." Obviously a conscious coinage designed to add Trumpian seasoning to headlines, the president made sure to return to the phrase about a minute later, saying, "I just say this: We have an invisible enemy."
Ever since, Trump has used the expression in letters, remarks, interviews, tweets, video blogs, but especially in the campaign-style pressers about the virus he's been staging almost daily since his turnaround. According to the Factbase database, Trump has exploited the expression at least 44 times in what looks like his effort to anthropomorphize the virus into a sentient thing with evil intentions on mankind.
Is this what Trump is doing with his repeated references to an "invisible enemy" merely alluding to something so small it can't be seen? Or is he referring to an invisible enemy that orchestrated the emergence of COVID-19?
Trump's repeated references to World War II in the lead up to the following quote provides a context suggesting that he is referring to something far more sinister behind the global virus than merely an accidental natural occurrence:
In World War II young people in their teenage years volunteered to fight. They wanted to fight so badly because they loved our country. Workers refused to go home and slept on factory floors to keep assembly lines running…. We must sacrifice together because we are all in this together and we'll come through together. It's the invisible enemy. That's always the toughest enemy: the invisible enemy. But we're going to defeat the invisible enemy. I think we're going to do it even faster than we thought. And it will be a complete victory.
The wider context of Trump's remarks on the invisible enemy point to it as the Deep State, which he and his administration have been battling even before his Presidential inauguration.
The civil war between the Trump Administration and the Deep State is a battle between those wanting to  free humanity from an oppressive group of global controllers that has enslaved humanity through its domination of the mainstream media, and political, financial, cultural and religious institutions for centuries, if not millennia.
Authors such as as Jim Marrs, Rule by Secrecy (2001) and William Bramley, Gods of Eden (1993), have presented compelling evidence exposing the global controllers/Deep State as elite ruling bloodline families that trace their ancestry back to extraterrestrial colonists banished to Earth millennia ago. They both reveal that in humanity's far distant past, extraterrestrials directly ruled over humanity, and then installed human-alien hybrids to rule as proxies as described in historical documents such as Sumer's "King's List "and Manetho's chronicle of pre-dynastic Egyptian rulers.
These hybrid proxy rulers evolved to become the ruling bloodline families that have controlled humanity from behind the scenes using ancient knowledge and technologies handed down from their extraterrestrial overlords – Reptilian entities, according to Marrs and others.
In the 1930s and 1940s, these bloodline families gained access to more recent and powerful extraterrestrial technologies acquired through off-planet visitors attracted to Earth's rapid industrialization, and looming development of atomic weapons.
First, Germany, Italy, and then the US, Britain, Soviet Union/Russia and China all gained access to extraterrestrial technologies that became the most highly classified secrets in their respective military industrial complexes. The advanced technologies were all developed in compartmentalized programs controlled by ruling elites who had no intention of sharing such technologies with the rest of humanity but merely appropriating them for their exclusive use.
In the US, these newly acquired extraterrestrial technologies were used to further the national and global control agendas of the ruling bloodline families. Influential national leaders who did not support the elite control agenda, such as the first US Secretary of Defense, James Forrestal, and President John F. Kennedy, were eliminated in a staged suicide and assassinated in public to warn off other national leaders from resisting the global control agenda implemented by the Deep State.
In Kennedy's Last Stand, I explain how and why both Forrestal and Kennedy, who enjoyed a warm friendship, were killed by the Deep State for their respective efforts to disclose or gain access to classified extraterrestrial technologies, and reveal the principal figures and entities behind their respective assassinations.
Today China has been heavily infiltrated by the Deep State which has compromised its leading scientific and military institutions. It's no accident that the epicenter for the emergence of the COVID-19 virus is China, which the Deep State has been covertly supporting since the Communist Revolution, as I explain in my book, Rise of the Red Dragon and upcoming Webinar series.
This takes us to President Trump, who was recruited by the US military intelligence community in 2015 to help free the US from the power of the Deep State, which I have discussed previously. Trump surrounded himself with both Deep State figures and White Hats to disguise his true intentions.
The contrived efforts by the Deep State to first prevent Trump from being elected, and then removing him from office is well illustrated in the Russia Collusion hoax, the sham investigation of his first National Security Advisor, Lt. General Michael Flynn, and the contrived Ukraine impeachment charges.
As we approach the November 3, 2020 election, the Deep State has finally unleashed its deck of global control cards to prevent Trump from winning re-election. The Covid-19 "plandemic" and civil unrest through a contrived race war are both driven by an incessant mainstream media narrative run by the Deep State to manipulate the general public into giving up their civil liberties. Image of 2020 calendar!
The Deep State has also arranged for major social media platforms to censor citizen journalists and alternative media, which are increasingly viewed as truth tellers by the awakening public who are disgusted by the non-stop fear porn generated by the mainstream media.
This is where Q and the global movement it has spawned becomes important for understanding the "invisible enemy" that is locked in a behind the scenes life and death struggle with the Trump administration.
Most who follow Q accept that it represents a group of individuals connected to the military intelligence community and officials that are closely tied to President Trump. Multiple images provided by Q are originals taken inside Trump's Oval Office and Air Force One corroborating claims that the President is directly involved. Many believe that one of the signatures used by Q, Q+, is Trump himself.
Q, like Trump, has referred to the "invisible enemy" that is attempting to enslave humanity. In a June 29 post (#4545) Q wrote:
If America falls so does the world.
If America falls darkness will soon follow.
Only when we stand together, only when we are united, can we defeat this highly entrenched dark enemy….
We are living in Biblical times.
Children of light vs children of darkness.
United against the Invisible Enemy of all humanity.
Q
Clearly, Q is not referring to the COVID-19 virus, but is instead describing a powerful group of individuals and organizations, the "children of darkness" aka the Deep State.
Q also quotes in its entirety a letter addressed to Trump from the former Papal Nuncio to the US, Archbishop Carlo Maria Vigano that similarly refers to the "Deep State" as an invisible enemy attempting to enslave humanity:
There are faithful Shepherds who care for the flock of Christ, but there are also mercenary infidels who seek to scatter the flock and hand the sheep over to be devoured by ravenous wolves. It is not surprising that these mercenaries are allies of the children of darkness and hate the children of light: just as there is a deep state, there is also a deep church that betrays its duties and forswears its proper commitments before God. Thus the Invisible Enemy, whom good rulers fight against in public affairs, is also fought against by good shepherds in the ecclesiastical sphere… United against the Invisible Enemy of all humanity, I bless you and the First Lady, the beloved American nation, and all men and women of good will.
Vigano equates a demonic "Deep Church" exerting a corrupting influence over honest clergymen wanting to serve humanity, with the Deep State doing the same with official government service.
Significantly, Q has alluded to a Reptilian extraterrestrial influence over the Vatican in an April 3, 2018 post (1002) that contained a meme with a serpent and the question: "If Satanists Took Over the Vatican Would you Notice".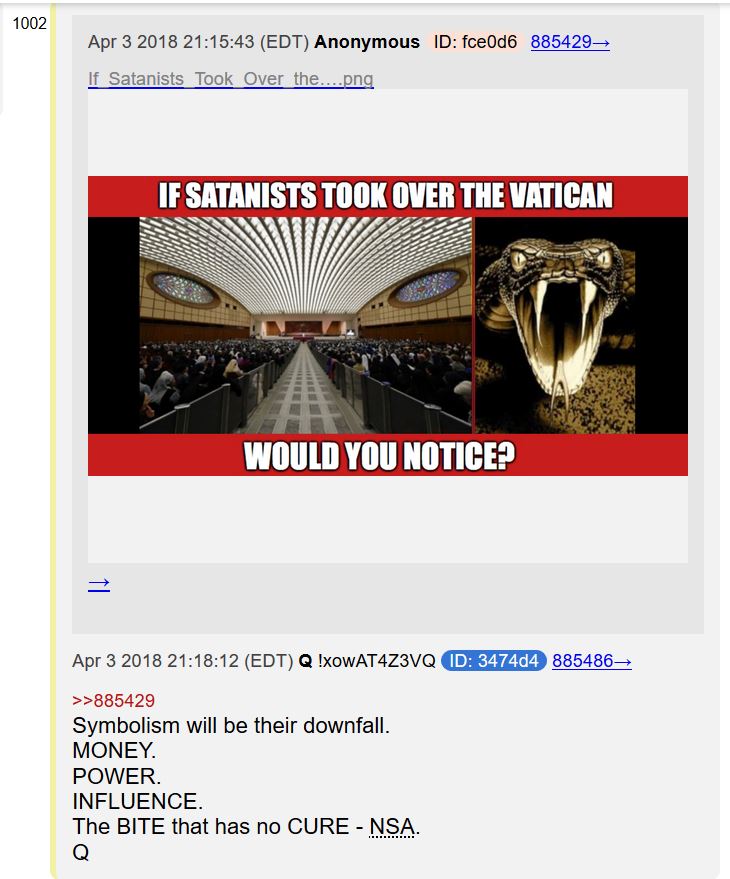 In an article examining Q's post, I explain how the serpent imagery fits in with multiple insider claims of Reptilian extraterrestrials secretly controlling the Vatican.
It's clear from examining President Trump's repeated references to an invisible enemy, and similar references by Q and Archbishop Vigano, that he is referring to the Deep State as the true threat to humanity. An examination of the individuals and groups comprising the Deep State reveals a significant extraterrestrial factor in its origins and operations.
If Trump and White Hats succeed in defeating the Deep State, humanity will have freed itself of an ancient invisible enemy that has manipulated human affairs through contrived global events for centuries if not millennia. We are truly living in biblical times, as Archbishop Vigano asserts, where the children of light are locked in a spiritual war against the children of darkness.
© Michael E. Salla, Ph.D. Copyright Notice
[Note: Audio Version of the above article is available on YouTube]
Further Reading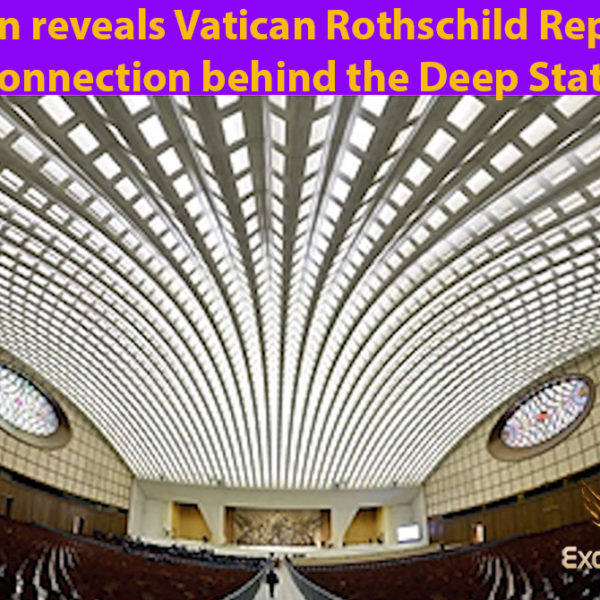 In a recent series of posts, the anonymous whistleblower (group) QAnon made an important connection between the Vatican, Rothschild family, and Reptilian symbolism. Many followers of QAnon, who fall into the camp of Christian patriots, perceive the connection as exposing an other-worldly Satanic influence over the Vatican, the Rothschilds, and other forces making up the Deep State.
Closer analysis, however, suggests that what QAnon is really referring to by the symbolism is a very physical "this-worldly" influence over the Deep State: Reptilian extraterrestrials.
To begin with, I need to point out what has become very clear to those closely following the QAnon posts, which first appeared on October 28, 2017. QAnon represents several military intelligence officials who are leaking sensitive information in a cryptic and coded manner due to the pervasive influence of the Deep State over many institutions of political, financial and cultural power.
QAnon's close relationship with President Donald Trump has been demonstrated in various public ways. This has signaled he supports the QAnon revelations and is very familiar with who is really behind the Deep State attempting to sabotage his Presidency. In regard to Deep State efforts to sabotage the Trump Presidency, I highly recommend reading Dr. Jerome Corsi's book, Killing the Deep State.
We are now ready to take a closer look at what QAnon is saying about the Vatican, Rothschilds and the Reptilian connection.
On April 3, QAnon made the following post where he attached an image posted by another anonymous source asking the question, "If Satanists took over the Vatican would you notice?"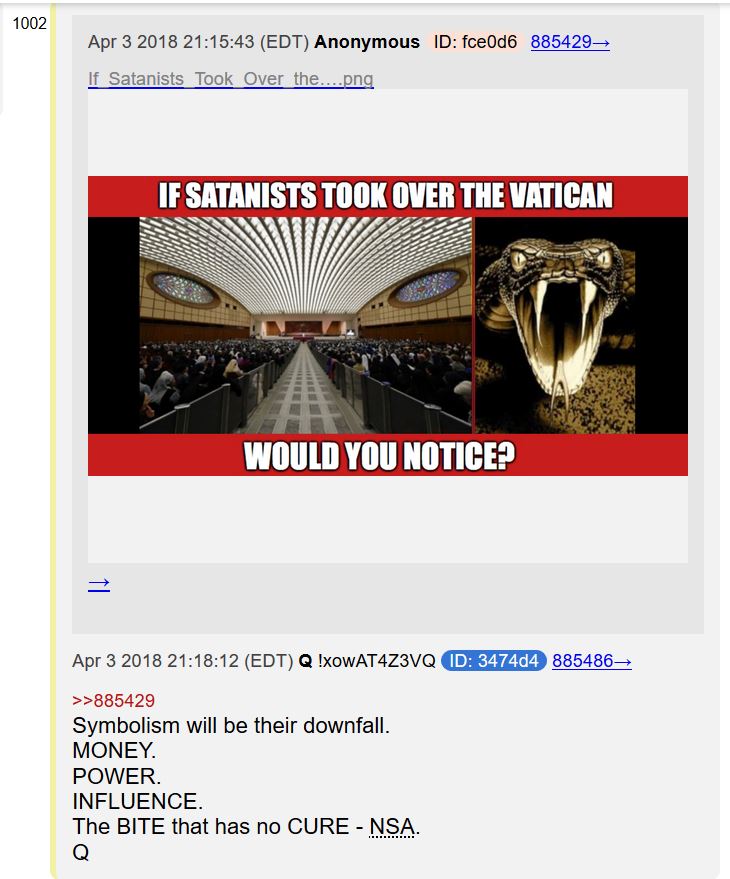 The image was of an auditorium built by the Vatican that was completed in 1971, with a seating capacity of 6,300. Named the Paul VI Audience Hall, it is filled with Reptilian imagery, and clearly alludes to a powerful influence exerted by such beings over the Vatican.
In the following video, the narrator gives five reasons why the Audience Hall's symbolism leads to the conclusion that the Vatican is run by Reptilian beings.
So does the symbolism in the Paul VI Audience Hall really show Reptilian control over the Vatican?
QAnon helps answer such a question by his response to the posted image: "Symbolism will be their downfall, MONEY. POWER, INFLUENCE." By emphasizing symbolism, QAnon is saying that we need to closely examine the Reptilian imagery in the picture in order to really understand who controls the Vatican.
QAnon's reference to "MONEY, POWER, INFLUENCE" points to a nexus of actors that underscore control of the Vatican. This is where another QAnon post becomes helpful in understanding this nexus of actors.
On April 4, QAnon posted the following: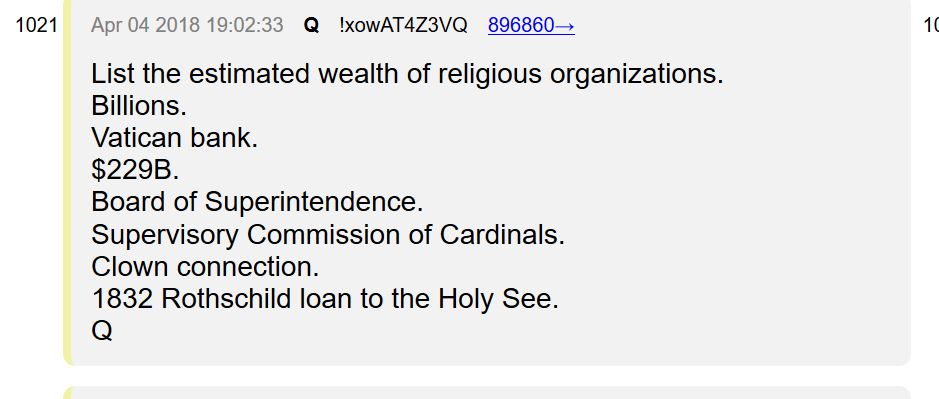 He pointed out that the Vatican Bank (Institute for the Works of Religion) is at the fulcrum point of its financial influence through its shady relationship with the CIA ("Clown connection").
Indeed, this close relationship between the Vatican and the CIA gave rise to Operation Gladio that was targeted against left wing organizations that threatened to tear Italy away from NATO, towards a closer relationship with the Soviet Union. To understand the Vatican's role in Operation Gladio, I highly recommend Paul Williams book, Operation Gladio: The Unholy Alliance between the Vatican, the CIA, and the Mafia.
However, QAnon's most intriguing reference was to the 1832 Rothschild loan. QAnon suggested here that the 1832 loan made the Vatican dependent on Rothschild financing at the time, and this dependence continues into the modern era. This is not surprising since at the time, the Vatican was desperate to maintain its diminishing temporal authority over the remaining territory of the Papal States (754-1870), which was increasingly being challenged by Italian secular nationalists.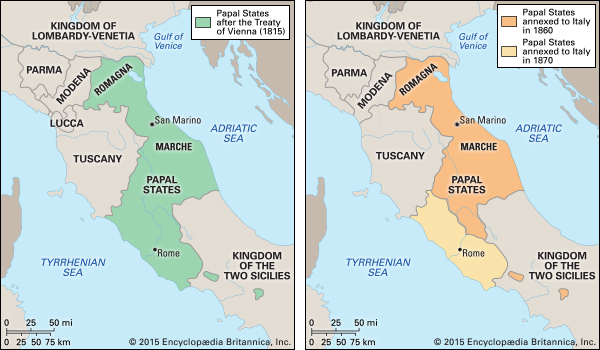 It was this effort to maintain political control over the Papal States that made the Vatican increasingly dependent on the Rothshchilds, who could move their agents into senior positions in the Catholic Church hierarchy. This included the Sovereign Military Order of the Knights of Malta, which continues to be a powerful force that links Rothschild finances with elites drawn from around the world.
QAnon is telling us that the Rothschild family influence is very important for understanding the financial power behind the Deep State, and how the Vatican is a key player in all this. However, there is more to the Rothschild family than simply possessing financial influence over the Vatican.
This is where it becomes very helpful to recount a story told by a former U.S. Air Force doctor, Bill Deagle, M.D., who described in a Project Camelot interview a mysterious encounter he had with a leading member of the Rothschild family, Baron Guy De Rothschild, in 1992:
I woke up in the middle of the night, bolt upright, and I sat up. And I had all the lights on because I'd have to periodically go to the restroom or whatever. I had all the lights on. And this guy was standing in front of me with what I call a $5,000 tuxedo, not a gray hair in his head, mid-50s, slim and trim.
I said: How did you get in here?
And he says: It's wonderful to see you, my son.
I said: You're not my father.
And I looked at this guy, and he looked like French nobility. Right? And I said: Who are you?
He says: I am the Baron Guy de Rothschild, the Pindar.
And I had this really kind of, what I call a check or a kind of a cringe in my spirit. And I knew right away, because I have this gift. Right? Without getting into a big long discussion, I knew right away.
I said: I know who you are. You're the representative of the Luciferic power that controls Earth.
He says: Yes, I am the CEO of Earth, Inc., and I am the man that sits in the 13th chair of the Druidic Council. I want you to be my understudy, and when I transcend I want you to take over my job.
And I said: No, I'm not going to.
He said: We know your bloodlines; we know your genetics; we know everything about you and you're a perfect replacement for me.
And I said: No!
What is interesting here is Rothschild's claim that he was the "Pindar" and was the "CEO of Earth, Inc". This suggests that he is merely running the Earth on behalf of others, but who?
For an answer, we can look to information about the Pindar supplied by British researcher David Icke. Icke wrote about the Pindar in The Biggest Secret after interviewing a former participant in Satanic occult ceremonies, Arizona Wilder. Icke wrote:
Pindar means 'Penis of the Dragon'…  Arizona says that Pindar, like all the reptilians when they shape-shift, has very powerful hypnotic eyes (the 'evil eye' of legend) and at sacrifices the victims face is turned to Pindar at the moment of death for him to steal the person's soul or energy through this 'evil eye' magnetic process…. Pindar attends the major Satanic ceremonies in Europe and then flies to California for the rituals there. [pp. 302-3]
The idea that a high ranking member of the Rothschild family, Guy de Rothschild, was a shape shifting Reptilian, or a hybrid of some kind, will come as to a shock to many who disbelieve that extraterrestrial life is a physical reality on Earth. 
This disbelief will be markedly the case for those coming from a Christian background, who ascribe the Satanic/Luciferian influence on Earth to other-worldly demonic entities associated with Hell, as described in Biblical passages.
However, only last week, Pope Francis declared that there is no Hell! In an interview, he was quoted saying:
They are not punished, those who repent obtain the forgiveness of God and enter the rank of souls who contemplate him, but those who do not repent and cannot therefore be forgiven disappear. There is no hell, there is the disappearance of sinful souls.
While the Vatican immediately tried to walk back the Pope's comments, his intent was very clear. Hell is no mere spiritual dimension where Satan rules and acts as a distant, but disruptive, influence on Earth through his legion of demonic spirits.
The Pope has clarified that Hell is a very physical reality and corresponds to the world created around us by sinful souls participating in Satanic rituals involving human sacrifice and pedophilia. The implication here is that Satan is a very physical being who is present on Earth, and has overlordship of the planet through hybrid intermediaries, such as the Pindar, which collectively make up the Deep State. 
In making his statement about Hell, Pope Francis appeared to be breaking ranks with the Vatican hierarchy, and alluding to the awful truth about covert Reptilian influence over the Catholic Church in a very physical and tangible manner.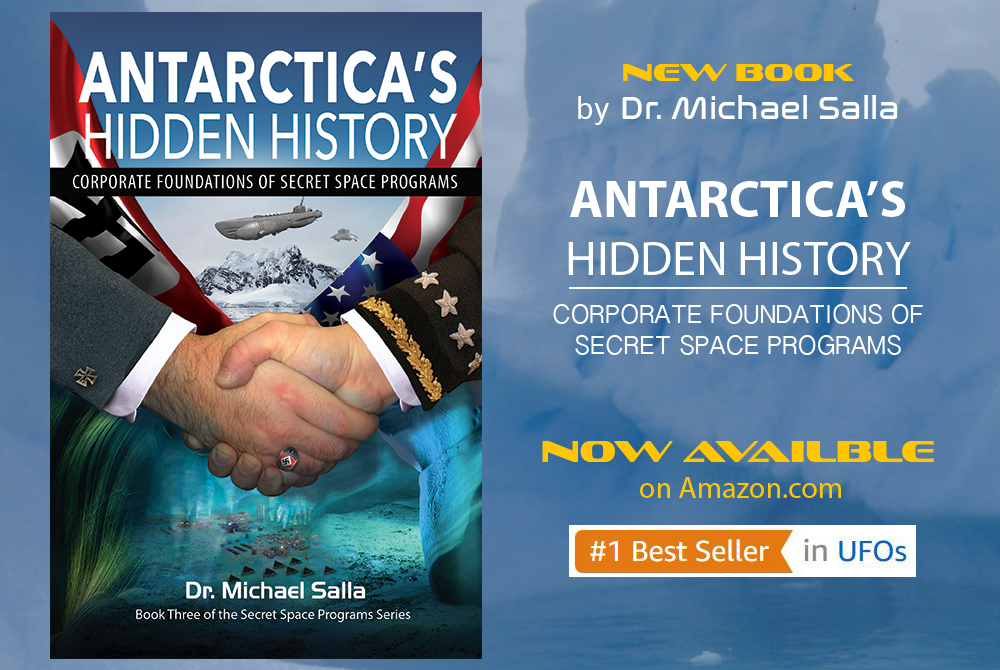 Further evidence of a Reptilian influence over Deep State officials involved in human sacrifice, comes from another former participant and victim in these dark ritualistic events, Cathy O'Brien. Her book, Trance Formation of America, shows the widespread belief of many political elites in secret Reptilian overlords.
In addition, John DeCamp's book, The Franklin Coverup, reveals how pedophilia and human sacrifice is used to compromise upcoming political leaders into a corrupt system in Washington DC.
If we connect all the threads emerging from QAnon's reference to the Vatican, Rothshchilds and Reptilian symbolism, then we reach some very disturbing conclusions.
The Vatican is largely under the influence of Reptilian extraterrestrial entities that have chosen to reveal themselves through symbolism, as found in the Paul VI Audience Hall.
Satan is one or more members of an extraterrestrial Reptilian race that has secretly ruled over humanity for centuries through human or hybrid intermediaries.
The Rothschild family is deeply implicated in this confluence of Satanic forces involving the Vatican and Reptilians, and one of its members plays the role of the Pindar, CEO of Earth, reporting to something like a Reptilian Board of Directors.
QAnon's frequent references to the evil of the Deep State, and allusions to Satan and Satanic practices, is his careful way of referring to Reptilian entities who have historically dominated the Deep State though a subservient clique of political, financial and cultural leaders. These elite figures have been compromised through their participation in rituals involving human sacrifice, as the condition for their elevation to high office.
We now finally have an explanation for why QAnon (U.S. Military Intelligence), despite clear Trump White House support, has to communicate using cryptic and coded language about its ongoing operations to "Drain the Swamp". QAnon is methodically exposing the historic power behind the Deep State – a very physical Reptilian extraterrestrial force – which still has influence through a subservient clique of leaders wishing to ingratiate themselves with their Reptilian overlords.
While many may be skeptical of the above conclusions, it does appear that QAnon believes that the time is ripe for the American Patriot community to be finally awakened to the truth, and therefore become active in exposing what really lies behind the Deep State in order to end its corrosive influence over human affairs.
© Michael E. Salla, Ph.D. Copyright Notice
Further Reading
Audio Version of the Above Article Appears Below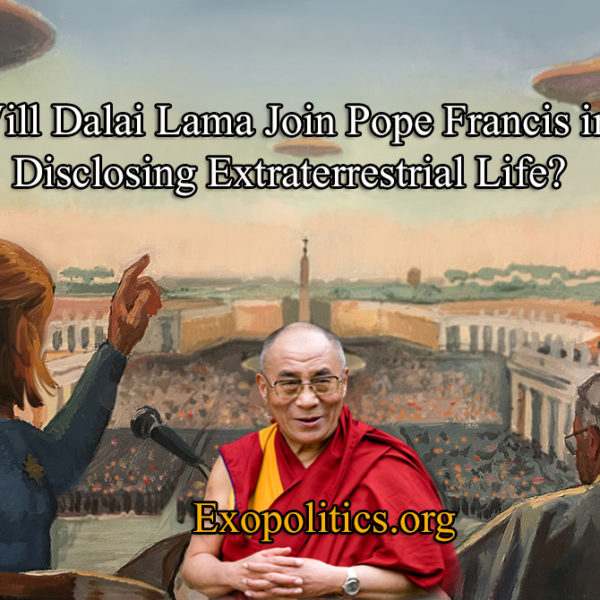 On June 14, 2017, Pope Francis joined the Dalai Lama and other world religious leaders in a joint statement promoting friendship and unity among diverse faiths. The joint statement emerged around the same time as claims began circulating that the Pope was involved in a secret initiative with two other religious leaders to disclose the existence of human looking extraterrestrials.
According to Secret Space Program insider, Corey Goode, he has received briefings from a multiple reliable sources, including Ka Aree, an alleged representative of an Inner Earth civilization, that the Pope and two other religious leaders are planning to appear together publicly alongside a human looking extraterrestrial.
Goode says that Ka Aree gave him two versions of how open contact with extraterrestrials will happen:
V1. Three religious leaders come out and introduce an angelic ET race who bring us a book and a new "esoteric/New Age" type religion based on "Oneness". V2 was almost the same except it was only the Pope standing next to a Nordic announcing the same thing.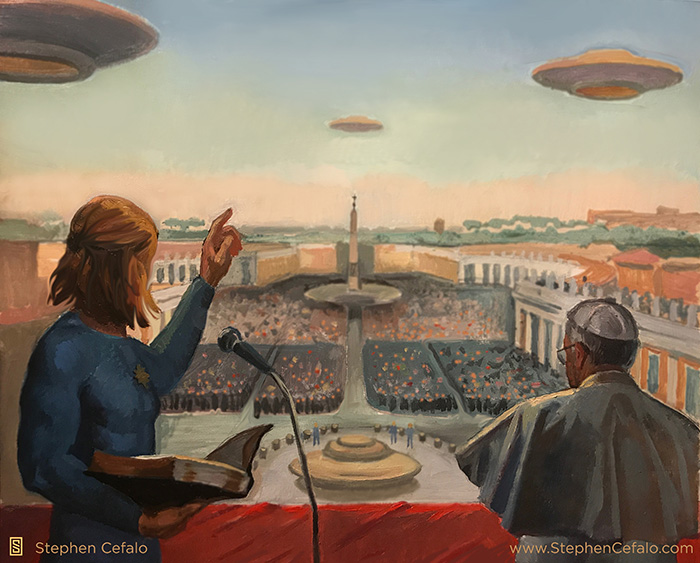 If Goode's information is accurate, it will be the religious community that officially announces the existence of extraterrestrial life. This would in turn open the door for national governments to quickly release any information they wanted to publicly disclose about their relations with the visitors.
An idea of how the US government may present its historic association with such visitors can be found in a leaked 1989 Defense Intelligence Agency document. While its authenticity is disputed, there are firm reasons to believe that it contains much factually accurate information.
There is good reason to believe that the Vatican and the DIA are covertly cooperating in preparing the public for disclosure of the friendly human-looking extraterrestrial visitors.
While Goode did not disclose who the other two religious leaders might be in the planned disclosure initiative, a 2013 lecture from the Dalai Lama strongly hints that he would play a prominent role in such an announcement.
Speaking on the topic of "Universal Responsibility and the Inner Environment" at the University of Portland on May 9, 2013, the Dalai Lama made the following comment:
Eventually, if we receive some visitor from another galaxy come, Look: same human being. Maybe a little different sort of shapes, but basically the same. The furthermore [it is the] same sentient being. Respect them. Look at them. It's the same sentient being. We can immediately shake hands[s] if they have some sort of similar hand there, then we can shake hand[s]. If we put too much emphasis [on] "We are human being[s] on this planet", then someone from the outside comes, a stranger. Always watch for [?]. That creates anxiety, more fear.
The Dalai Lama's emphasis on "sameness" or "oneness" is very significant in terms of understanding the role he would play in shaping world opinion on visiting extraterrestrial life.
If the scenario described to Goode is accurate, then the Pope, alongside the Dalai Lama, and a third religious leader (likely a prominent Muslim leader such as Shawki Allam, the Grand Mufti of Eygpt, who also participated in the Unity and Friendship statement), could well soon disclose to the world the existence of human looking extraterrestrial life.
As to the motivations of the human looking (Nordic) extraterrestrial visitors that the religious community is planning to announce, Goode had the following to say in response to one many questions I put to him about his information back on June 26:
Ka Aree stated that the Nordics have worked with Humanity for a very long time. They have mostly worked quietly in the background, but do pop up in historical documents referenced as "Angels". They would directly interact with certain groups within the Military and Government (including the founding fathers of the United States) as well as with various religious leaders. They have been heavily involved in developing Humanity in a number of ways.
It can be predicted that the June 2017 statement on friendship and unity across religious diversity, along with the Dalai Lama's 2013 comments on respect and friendship for aliens, would be extended to visiting extraterrestrial life.
If the information provided to Goode is accurate, the human looking visitors have secretly played a very significant and benign role in human evolution, and the religious community will likely embrace the information they provide in promoting a new global religion based on oneness.
© Michael E. Salla, Ph.D. Copyright Notice
Further Reading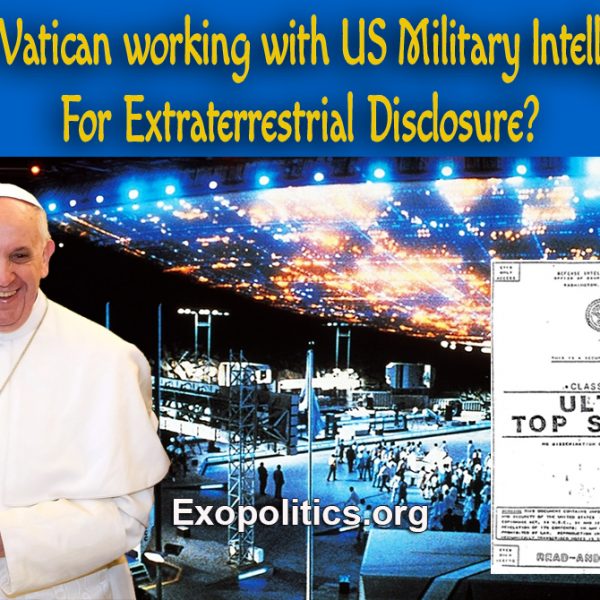 The role of the Vatican in official disclosure of the existence of extraterrestrial life has recently come into renewed focus with two related developments on June 14. The first is an interfaith initiative by multiple world religious leaders, including Pope Francis, to promote friendship and unity across diverse faith communities through a joint statement.
According secret space program whistleblower, Corey Goode, Pope Francis and other world leaders have been contacted by a group of four human-looking extraterrestrial civilizations that are encouraging them to unify as a prelude to the establishment of a new global religion.
The second development was the synchronistic June 14 release of an alleged Majestic-12 Document describing four groups of extraterrestrials known to the military intelligence community, including one that is human-looking and friendly. It states that formal diplomatic relations began with the human-looking group during the Eisenhower administration, and secretly continues to the present day.
When it comes to the role of the Vatican and extraterrestrial life, it is important to point out that the Catholic Church has long played a leading role in secret diplomatic relations with extraterrestrials, dating back at least from the post-World War II era. This has involved high-level cooperation with the U.S. military intelligence community.
In February 1954, Cardinal Francis MacIntyre represented the Catholic Church at the first official meeting with human-looking extraterrestrials [called "Etherians" at the time] that occurred at Edwards Air Force Base. The meeting was described at length by a leading metaphysical teacher at the time, Mead Layne, and is worth repeating in full:
My dear friends: I have just returned from Muroc [Edwards Air Force Base]. The report is true — devastatingly true! I made the journey in company with Franklin Allen of the Hearst papers and Edwin Nourse of Brookings Institute (Truman's erstwhile financial advisor) and Bishop MacIntyre of L.A. (confidential names for the present, please). When we were allowed to enter the restricted section (after about six hours in which we were checked on every possible item, event, incident and aspect of our personal and public lives), I had the distinct feeling that the world had come to an end with fantastic realism. For I have never seen so many human beings in a state of complete collapse and confusion, as they realized that their own world had indeed ended with such finality as to beggar description. The reality of the 'other plane' aeroforms is now and forever removed from the realms of speculation and made a rather painful part of the consciousness of every responsible scientific and political group. During my two days' visit I saw five separate and distinct types of aircraft being studied and handled by our Air Force officials — with the assistance and permission of the Etherians! I have no words to express my reactions. It has finally happened. It is now a matter of history. President Eisenhower, as you may already know, was spirited over to Muroc one night during his visit to Palm Springs recently. And it is my conviction that he will ignore the terrific conflict between the various 'authorities' and go directly to the people via radio and television — if the impasse continues much longer. From what I could gather, an official statement to the country is being prepared for delivery about the middle of May.

Unfortunately, the planned May 1954 disclosure never happened. It would become one of many possible extraterrestrial disclosure announcements that would come and go over the next decades, some of which involved the Vatican in a prominent role, as we will see.
In the United States, disclosure was firmly under the control of the national security establishment who did not view it as helpful to the national interest, which was viewed through the myopic lens of building bigger and more destructive weapons arsenals with the aid of major U.S. military contractors. It is highly doubtful that the Vatican shared these "hard power" goals, given its traditional focus on "soft power" in terms of associating the church with progressive ideas such as social justice, eradicating global poverty, religious tolerance, etc.
Secret diplomatic relations with extraterrestrials continued, according to the recently leaked Majestic 12 Assessment document. A follow-up meeting was held in July 1954, five months after the groundbreaking Edwards AFB meeting. It was here that Eisenhower allegedly established full diplomatic relations with the human-looking extraterrestrial visitors. The MJ-12 document states:
"In so far as no threat, either implied nor expressed and either of a military, civil or societal nature has been forwarded by the visitation of the association of visiting extraterrestrials against the governments and the peoples of these United States of America; and in so far as great and many cultural and technical advances have been derived by such exchange, we hereby grant full, complete diplomatic status and recognition to these individuals from beyond our world. Furthermore, let it be known that we seek to provide shelter, comfort and aid in all their peaceful endeavors so far as these are respective of the laws of our land and the right to self-determination and free will expressed in our national constitution. And until such time as the objectives or methods of either parties in this agreement shall deem otherwise, this bond between our peoples shall remain in effect." [p. E-5-of-6]
The preceding diplomatic treaty was drafted by the directorate of the MAJESTIC-12 operation and a joint committee of extra-terrestrial visitors and representatives of the U.S. Diplomatic Corps, as a statement of intent. It was ratified and signed at Kirtland Air Force Base, Texas on July the eighteenth, 1954 by President Dwight D. Eisenhower and an individual on the behalf of the EBE's. [p. E-6-of-6]
The Majestic document has multiple anomalies, security markings, spelling errors, etc., that has led many UFO researchers to dismiss it as a hoax. Nevertheless, the document has much in it that appears accurate from a historical perspective. This suggests that the document was intended to achieve a specific purpose by releasing factually accurate information together with anomalies that could lead to it being easily dismissed through plausible deniability.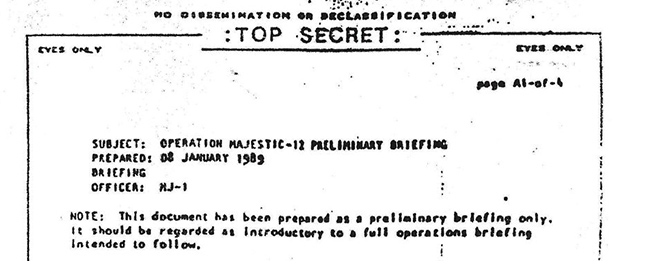 As to what this purpose of the Majestic document is, we need to consider the portion that reviews four types of extraterrestrial life known to the Defense Intelligence Agency in 1989, when the briefing document was allegedly prepared:
There are four basic types of EBEs so-far confirmed. And they are listed here in descending order of their influences on our planet.
A.      Earth-like humanoids. There are several variations more-or-less like ourselves. The majority of these are friendly and are the bulk of our EBE contacts. Most have a high degree of psychic ability and all use science and engineering of an advanced nature.
B.       Small humanoids or "Grays". The Grays, so–called for the hue of their skin possessed by most of this type, are a sort of drone…. They are mostly under the psychic control of the Earth-like humanoids who raise them like pets (or a kind of slave). Assuming the Greys are under benign control, they are harmless.
C.       Non-humaoid EBEs. …. Many of these are dangerous not for organized hostile intentions, but because such creatures do not hold human life as sacred…. Thus far, contact has been minimal with only a handful of unfortunate encounters.
D.      Transmorphic Entities. …. In essence these entities are composed of pure mind energies. … They are said (by other EBEs) to be capable of taking on any physical form that they "channel" their energy … as matter.
What is highly significant is that the document suggests that human-looking extraterrestrials are the most-friendly of the four extraterrestrial groups identified, and are therefore more reliable partners for diplomatic relations and long-term agreements.
The Vatican's history of diplomatic relations with extraterrestrials, conducted secretly while coordinating with the US military, also involved non-official channels. One of these included the famous contactee, George Adamski.
Adamski claims to have been a contactee with a "Nordic" human-looking extraterrestrial group. He regularly briefed Pentagon officials about his contacts that began in 1952. In addition, Adamski says he secretly met with Pope John XXIII in 1963. UFO Researchers such as Desmond Leslie have reviewed Adamski's claims in this regard, and found them to be factually correct.
Apparently, Adamski passed on messages and coordinated one or more secret meetings between Pope John XXIII and the Nordics who wished the Pope to promote a more tolerant and inclusive Catholic religion. This occurred simultaneously with the Pope convening the Second Vatican Council (1962-1965), which is widely acknowledged for modernizing the practice of Catholicism and bringing it into the 20th century.
It is important to keep in mind the significance of this scenario in terms of a reformist Pope being willing to fundamentally alter Catholic practices and theology, as a result of secret diplomatic relations with extraterrestrials.
Decades later, in February 2008, the Catholic Church allegedly played a prominent role in secret United Nations discussions about disclosing the reality of extraterrestrial life. It was claimed that as a result of these discussions, the Catholic Church would lead the way in promoting more openness on the issue of UFOs and extraterrestrial life.
This alleged development at the United Nations coincided with the head of the Vatican Astronomical Observatory, Father Gabriel Funes, giving an interview which was titled, "The Alien is my Brother", which was published by the Vatican's daily newspaper, L'Osservatore Romano on May 13, 2008.
While the existence of the secret UN discussions in 2008 continues to be hotly debated, the timing of the Funes' interview does make it plausible that these events did occur as independent whistleblowers claimed. What boosts the credibility of these whistleblower claims is Goode's recent comments that he was told by his sources that a disclosure initiative did indeed take place in 2008, and the Vatican was a key player.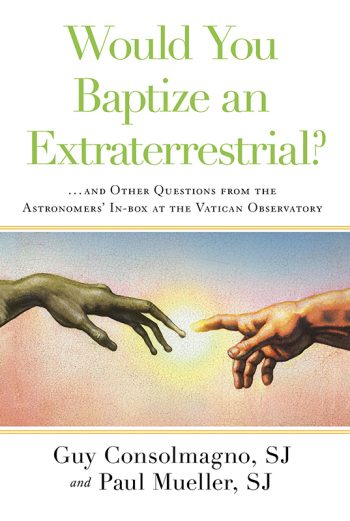 There have been many subsequent developments since 2008 where the Vatican has sponsored Astrobiology conferences, starting from 2009, on the scientific and social implications of extraterrestrial life. Vatican astronomers have also been very active in publicly exploring issues such as "can extraterrestrials be baptized" as exemplified in a 2014 book by Brother Guy Consolmagno titled, Would You Baptize an Extraterrestrial?
All these developments clearly point to the conclusion that prominent officials in the Vatican hierarchy have been laying the foundation for preparing Catholics around the world for startling revelations about extraterrestrial life, and major church reforms that will emerge as a result.
The unprecedented retirement of a sitting Pontiff, Pope Benedict XVI, who was part of a more hardline conservative Catholic Church faction, and his replacement on February 28, 2013 by the more liberal progressive Pope Francis I appears to be part of this covert preparation process.
On October 27, 2014, Pope Francis issued a statement where he referred to extraterrestrials, using the euphemism "beings of the universe", as playing a key role in God's evolutionary plan:
When we read in Genesis the account of creation, we risk imagining God as a magician, with a wand able to make everything. But it is not so…. He created beings and allowed them to develop according to the internal laws that he gave to each one, so that they were able to develop and to arrive at their fullness of being. He gave autonomy to the beings of the universe at the same time at which he assured them of his continuous presence, giving being to every reality. And so creation continued for centuries and centuries, millennia and millennia, until it became which we know today, precisely because God is not a demiurge or a magician, but the creator who gives being to all things. [emphasis added]
Here Pope Francis has laid the foundation for something previously unthinkable to occur in Catholic Church theology. Extraterrestrials may have acted as an intermediary in the evolution of humanity and therefore in the establishment of Christianity and other religious traditions.
This meant that ancient astronaut claims that extraterrestrial visitors had bio-engineered and/or helped human civilizations evolve since ancient times, were views that are now perfectly compatible with Catholic Church theology according to Pope Francis' statement on evolution.
Consequently, it is very feasible that the Vatican is secretly working behind the scenes with one or more extraterrestrial races in laying the groundwork for future disclosures that will facilitate the establishment of a global religion. This will introduce a cosmic perspective based on new information provided by the friendly human-looking extraterrestrials.
The Friendship and Unity statement may therefore be a very tangible prelude to a new global faith emerging in the near future. The almost simultaneous release of the alleged Majestic-12 document on June 14 is very significant in light of its clear endorsement of human-looking extraterrestrials as friends and diplomatic partners.
The timing of the release of the Majestic-12 document suggests a significant degree of "behind the scenes" cooperation between the U.S. military intelligence community and the Vatican in laying the foundation for disclosure and subsequent diplomatic relations with human looking extraterrestrials.
The prospect that Pope Francis and other religious leaders may be collaborating with extraterrestrial visitors to promote a new global religion has predictably led to much concern. Is this something to be welcomed or opposed? Are the extraterrestrials working behind the scenes with religious leaders to be trusted or not? Is this effort to establish a new global religion part of an officially sanctioned effort by the U.S. military intelligence community to disclose some, but not all, information about extraterrestrial life and secret space programs? All these questions are worth serious consideration.
To be continued.
© Michael E. Salla, Ph.D. Copyright Notice
[Update July 21, 2017 – Due to Facebook censorship through its comments plugin, I have installed Disqus which offers a more robust commenting system for readers – unfortunately, prior Facebook comments are no longer visible]
Further Reading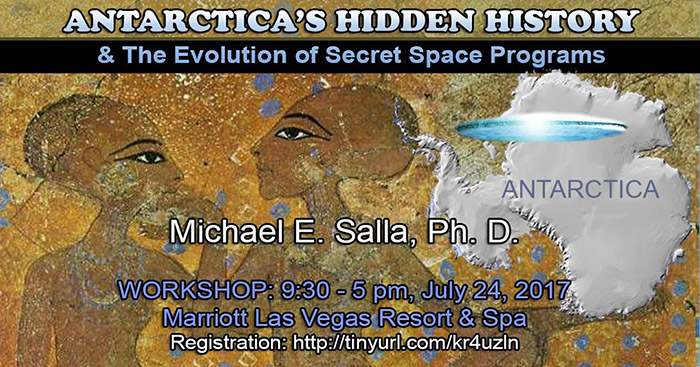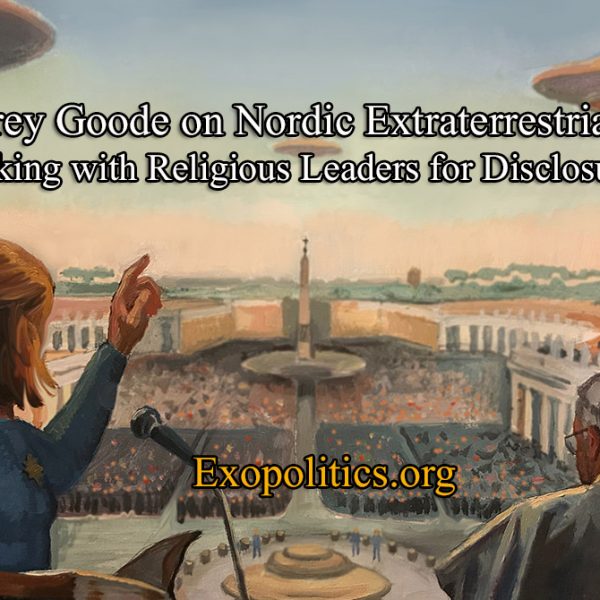 The following answers were received from Corey Goode on June 26 in response to questions I sent to him about information he shared recently in an article about the Vatican being involved in an extraterrestrial disclosure initiative. In his responses, he provides further details about what he has been told by multiple sources about ongoing events involving the Vatican, Nordic extraterrestrials and a US Air Force run secret space program.
For those still questioning the credibility of Goode and his disclosures, I recommend an article published on June 11 where documents and professional references are provided that prove two prominent UFO investigators were conducting a hoax investigation into Goode. The investigators clearly attempted to tarnish Goode's credibility by saying his former career as a well-respected and highly paid Information Technology consultant was wholly contrived, and therefore he is a "pathological liar".
I have to date communicated with three Information Technology experts who have corroborated Goode's professional IT background, and they added that he continues to be highly regarded. In all, five IT professionals have vouched for Goode, four of whom have provided recommendations listed in Goode's LinkedIn account. What this information clearly shows is that Goode was indeed a highly respected IT professional before going public in 2014 with his extraordinary whistleblower claims.
This does not prove any of Goode's remarkable statements about secret space programs, but it does establish his credibility as a whistleblower whose information deserves serious scrutiny. Since coming forward, irreparable damage has been done to his prospects of working in the IT industry again. What follows adds important information about the role of the Vatican and the U.S. Air Force in impending disclosure initiatives involving Nordic (human looking) extraterrestrials.
Questions and Responses
Q1. Can you explain who told you about a group of extraterrestrials working with the Vatican and other religious leaders about alien disclosure?
I had heard this info in various forms for at least the last 6 months. I think I first heard it from Gonzales. Most recently "Sigmund" and his 2 Airmen Escorts have mentioned it as well. On June 15th, while discussing a number of topics Ka Aree mentioned it in the same conversation of the M.[Muhammad] Accords now being ignored by up to 4 Non-Human Groups.
Q2. What do you know of the Nordic extraterrestrials working with the religious community and why does Ka Aree consider them "brothers and sisters in the Confederation?
Ka Aree stated that the Nordics have worked with Humanity for a very long time. They have mostly worked quietly in the background, but do pop up in historical documents referenced as "Angels". They would directly interact with certain groups within the Military and Government (including the founding fathers of the United States) as well as with various religious leaders. They have been heavily involved in developing Humanity in a number of ways.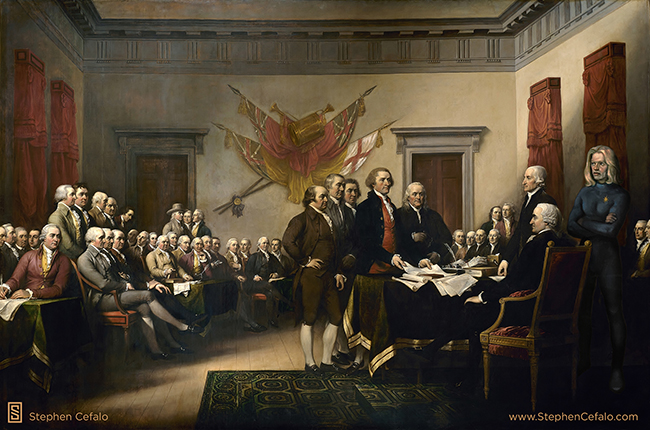 First they (& other races) began to manipulate our DNA to assist in the ability to use speech and to have higher cognitive abilities. Then they developed civilization and base religions with humanity. During this time, Humanity began another important stage of our evolution. The Industrial and Technological Booms were assisted by a number of races including the Nordics. From the beginning these groups were manicuring our consciousness through belief systems and religions.
New belief systems and religions have been crafted by these groups (the Nordics in particular) up until the present day. In fact, The Airforce General we call "Sigmund" had just completed a report prior to his disappearance. In the report he concluded that the experiences I am having are all created and controlled by the Nordics. Further, his report stated that he and his superiors were convinced that this same Nordic group had created the Law of One information as well. He was convinced from the moment I met him that the Nordics were behind this.
The report stated there is no evidence of a NAVY SSP or credible reports from within the Airforce Space Command of there being a barrier around the solar system or a new group of ET's arriving in Planet Sized Spheres.  This is very interesting knowing that Sigmund did indeed make contact with members of the Navy SSP and even arrested and interrogated a few of them. This report was dated in April 2017, just prior to his disappearance. I'm not at all sure that he wrote the report that was filed under his name.
Q3. What were you told about the contents of an extraterrestrial disclosure announcement in terms of why it would become the basis for a new world religion?
After these beings are introduced, they expect the public will have a lot of questions about the ET's. The ET's beliefs and knowledge of the Universe and God would be among the top questions. At this point these beings are expected to share a newly crafted belief system that is based on the ET's true belief system. These beings will be doing this to help Humanity from the ET perspective.
Q4. You say 90% of people will adopt the new religion quickly. Were you told why it would happen so quickly?
It is expected that most will question their belief systems in the first few years of an introduction to ET's. Humanity will understand how little we know and will be reaching out to these new "friends" for assistance and answers. This sets up a situation for the majority of people on the planet to adopt a similar belief system that gets them away from the current division.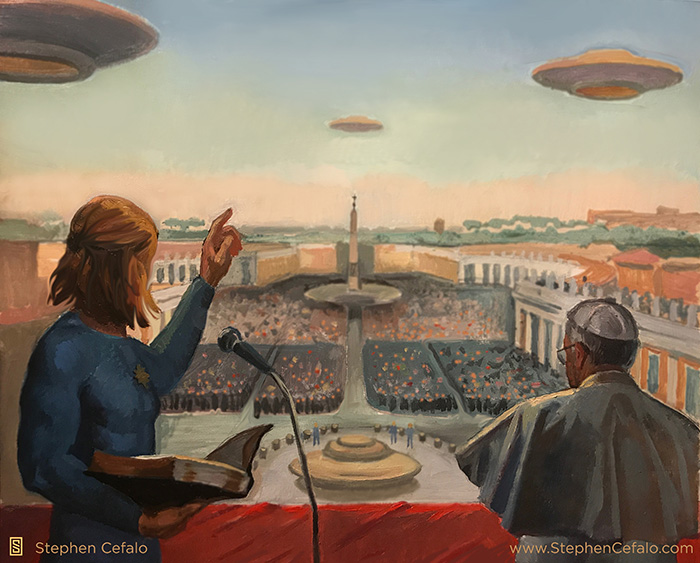 Q5. What do you know of such an extraterrestrial disclosure announcement being preceded by disclosure of a Military Industrial Complex Secret Space Program?
The MIC SSP (Air Force/NSA etc…) have been preparing for the disclosure of their program. I have not heard of them doing this in tandem with an ET announcement other than the Antarctic ruins being disclosed along with more "Ancient Alien" artifacts around the Solar System. This narrative was supposed to first disclose ET's, but only that the ET's were here thousands of years ago only.
The MIC SSP disclosure was originally going to be done among the Project Blue Beam scenario. It has most recently been talked about in the context of revealing an ancient alien presence in our Solar System. The meeting of the ET's could occur after the SSP Disclosure.
If up to 4 groups are no longer abiding by the M. [Muhammad]Accords, then the Powers That Be may not have time to roll out the Antarctica, Ancient Aliens and MIC SSP disclosures first. Things could be drastically sped up if these beings do indeed start communicating with the public in an open way.
Q6. Is the recently leaked Majestic-12 Assessment Briefing Document related to these upcoming announcements?
I cannot verify those documents at the current time. They do have interesting info that is similar to what I had observed. The Nordic race that has the drone ant-like Gray Aliens that do a lot of their physical labor is one example.
Q7 What role is President Donald Trump to play in this sequence of announcements given his recent visit to three major religious centers: Vatican, Saudi Arabia and Israel?
Unknown, from what we have heard Trump is getting some briefings from the Alliance via one of his White House sources. The amount of intel in his current Intel Agency and DOD briefings is very limited by design. It appears he has a small area of operation that he is responsible for and is not privy to the details of other operational domains.
Q8. If Nordic ETs and their allies reveal their existence, and the MIC SSP cooperates, does this mean that the Navy SSP will soon after be revealed or will it continue to be kept secret for some reason?
Unknown, too many variables at this point.
Q9. Do you have an idea of how the four Nordic ET groups plan to circumvent the Muhammad Accords, more physical contacts, dreams, fly overs, etc.?
Nordics plus up to 3 other non Earth-Human types, plan using dreams and altered states to communicate, acclimate the people and prepare them for face to face contact. This may be how disclosure actually occurs, and then the religious leaders need to explain it from a spiritual perspective, in come the new ET friends w/their beliefs etc. This would indeed interrupt the long term roll out that is currently underway. Using Antarctica/Under ocean ruins, Ruins on Mars to sell the ancient aliens only model along with the release of the MIC SSP (Not sure about the Navy SSP).
Exopolitical Analysis
It is highly significant that the disclosure scenario outlined above heavily features human-looking Nordic extraterrestrials. This will certainly allay the fears of some concerned about the influence exercised by non-human groups such as the Draconian Reptilians, whose close relationship with the current power structure (Cabal/Illuminati) has proved to be very harmful to humanity in recent history. There have been two world wars, thousands of smaller scale wars, and the covert influence of the Fourth Reich, all of which can be traced to the Reptilians and their relationship with human elites over the last century.
On the other hand, Corey Goode and others (Alex Collier) have spoken about Nordic and other human-looking extraterrestrial groups running 22 long term genetic experiments involving humanity. While humanity shares similar genetics with our galactic cousins, does this automatically mean we can trust them?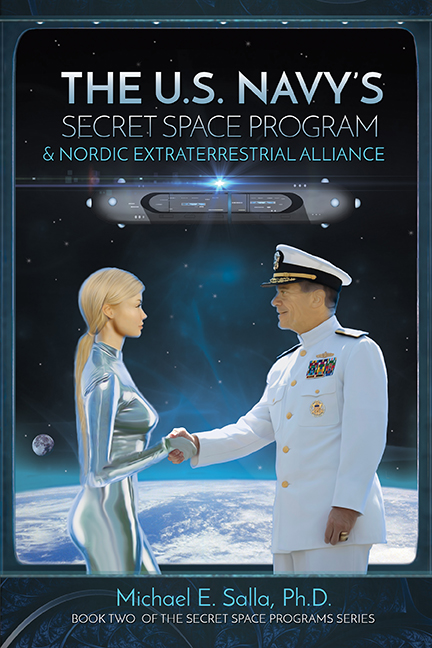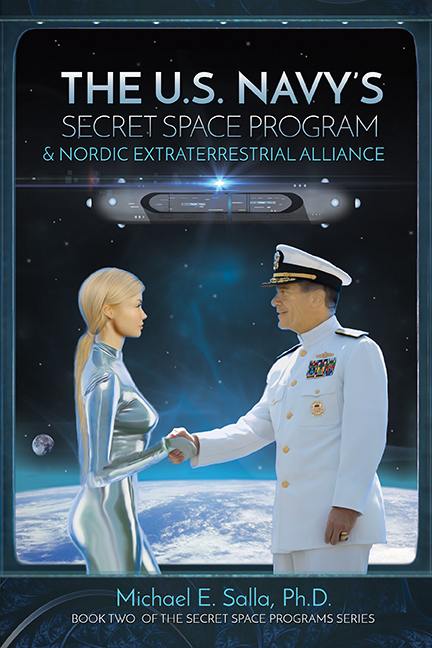 Certainly, from Goode's responses, the MIC SSP does not fully trust the Nordics who they believe are hoodwinking Goode into believing stories about 8-foot tall Blue Avians, and the existence of a Navy run secret space program. This is despite, as Goode points out, the MIC SSP picking up and interrogating other members of the Navy created Solar Warden Program.
Furthermore, what has happened to the high-ranking USAF general, "Sigmund", who allegedly wrote the report claiming that Goode is being controlled by the Nordics. Why his disappearance after a report bearing his name appeared? Does he really agree with its findings?
Nevertheless, at this stage it appears that the USAF/MIC SSP is prepared to run with the Nordic extraterrestrial disclosure scenario described by Goode. This is certainly what the recently leaked MJ-12 document suggests with its favorable description of the role played by Nordics in diplomatic relations:
Earth-like humanoids. There are several variations more-or-less like ourselves. The majority of these are friendly and are the bulk of our EBE contacts. Most have a high degree of psychic ability and all use science and engineering of an advanced nature.
Similarly, the Vatican also appears ready to accept human-looking extraterrestrials who can be accepted as "brothers in Christ", and lay the foundation for a deepening understanding of universal forces and life. This has been exemplified in a series of Vatican related statements dating back to 2008 when Father Gabriel Funes had an interview released titled "The Alien is my brother".
More recently, on June 14, the Vatican succeeded in having a diverse collection of world religious leaders come together in an extraordinary appeal for friendship and unity. This, as described in my June 22 article, "World Religions Unite as Prelude to Extraterrestrial Disclosure", is something to be welcomed.
As such, a new cosmic religion with the Vatican and all other major religious traditions cooperating with Nordic extraterrestrials does appear very plausible. Indeed, the very rapid adoption of up to 90% of humanity into the new faith described by Goode appears very possible. There would certainly be a collapse of traditional belief systems with the open appearance of the Nordics, and the revelation of how much humanity was lied to over the last century by the global elite.
Should the Nordics be trusted however in the impending disclosure scenario described above?
For those that have been following the Corey Goode's disclosures, what emerges from the above information is the minimal role to be played by the Sphere Being Alliance and the Navy's secret space program in the upcoming disclosure scenario. That is a cause for concern. However, that can quickly change, as Goode points out, given the unknown variables involved.
It's worth pointing out that Goode himself is not sure whether the role of Nordics in disclosure will be a positive thing or not. In a follow up to an early draft of this article, he wished to emphasize that he does not support the idea of "Nordics as angels of a new religion people should adopt."
Goode's caution here is well worth heeding. Nordic and other human-looking extraterrestrials need to be regarded as galactic cousins who are once again openly revealing themselves, as they once did in our past as historical records clearly reveal, as the work of Erich Von Daniken has so cogently demonstrated.
In this regard, Goode points out that the Nordics worked with the Founding Fathers in establishing the American Republic, thereby suggesting the Nordics are capable of playing a very constructive role in shaping human history.

In the past, the extraterrestrials were regarded as angels revealing profound information that became the basis of major world religions. Today, after three centuries of secularism in the "Age of Enlightenment", humanity has progressed beyond a distinctly religious world view.
Nevertheless, as the "Friendship and Unity" statement suggests, many billions still embrace diverse religious faiths, and religious leaders can play a positive role in overcoming global differences. A new global religion which emphasizes friendship and unity, and recognizes extraterrestrial life as very real is something to be welcomed.
The role of Nordic extraterrestrials in helping humanity better understand the galactic community and the greater cosmic reality is also to be welcomed. In providing such information they should be regarded as our galactic cousins, rather than angels intent on establishing a new global religion.
While the idea of a new global religion embraced by up to 90% of humanity might concern some, I'm optimistic that the information provided by Nordics will open the door to many hidden truths being revealed, and help humanity rapidly evolve as full partners in the galactic community.
© Michael E. Salla, Ph.D. Copyright Notice
[Many thanks to Stephen Cefalo and the Sphere Being Alliance for permission to use the graphic images of Nordic ETs in this article.]
Addendum – 10 am (PDT) June 27, 2017 – The following questions and answers with Corey Goode were added to help clarify some questions raised by readers to the above article.

Q. Do you have more intel on the four ET groups involved in this initiative that can be shared?
No, only that they are very human like. Of different race types other than Nordic. Ka Aree stated that up to 4 groups, including the Anshar (their race types) were now ignoring the accords. No further details on w/races. The Nordic/Religion thing is also something the programs have discussed so we don't know if it is a cabal op working w/an ET group or what at this point. The info is popping up that the UN is also ready to respond at the same time the religions do. So there is chatter about this and variations of this scenario coming out from several sources. This information has slight variations, depending on who the source was, but after a few correlations I thought it was worth reporting in our most recent briefing.
Q. When you say, "Of different race types other than Nordic", do you mean that one of the groups is Nordics and three not?
As I have mentioned on Cosmic Disclosure, there are a number of non-Earth Human types of beings that get lumped in with the "Nordic ET" label. There is even a 6 fingered "Nordic" looking race that works closely with the Reptilians. We have even had confirmation within the programs that German Breakaway Groups were appearing to people as Nordic ET's. At this point we don't know which group of "Nordic-like ET's" are reported to be considering this type of revelation to humanity while working in concert with various governments, Military organizations and Religious Leaders. This type of thing was indeed planned in 2008, but never occurred. The main point is that this is among the scenarios that are being planned for us. We need to be informed and prepared for how we will react to which ever scenario or combination of scenarios may end up playing out. It is obvious that Project Blue Beam is not viable unless used in concert with the revelation of positive ET friends. This is speculation based on what I have observed and been told.
Up to 4 groups that are Human Like, one of which is Nordic Looking. Some of Ka Aree's people are very Nordic looking as well.

Q. Many have been really hoping that full disclosure would lead to a world without established religious faiths. That seems very naïve to me. What do you think?
It is a bit naive to think people will abandon religion and spiritual belief systems all together when we are programmed to do so. That is the reason the positive ET's, until this point, have not appeared before the pubic. In the past they were worshiped and want us to focus on ourselves instead of outside forces to save them. I think that is all I have to clarify. TY
Further Reading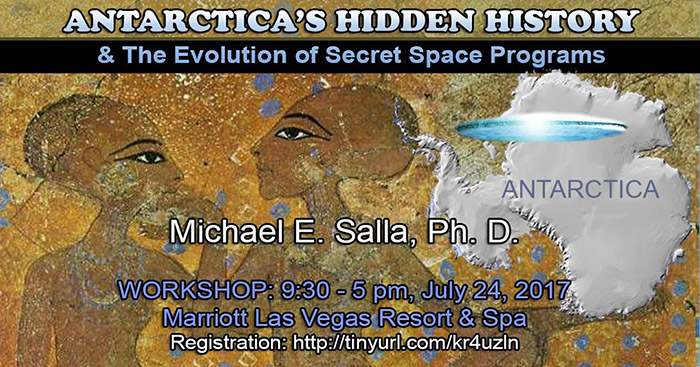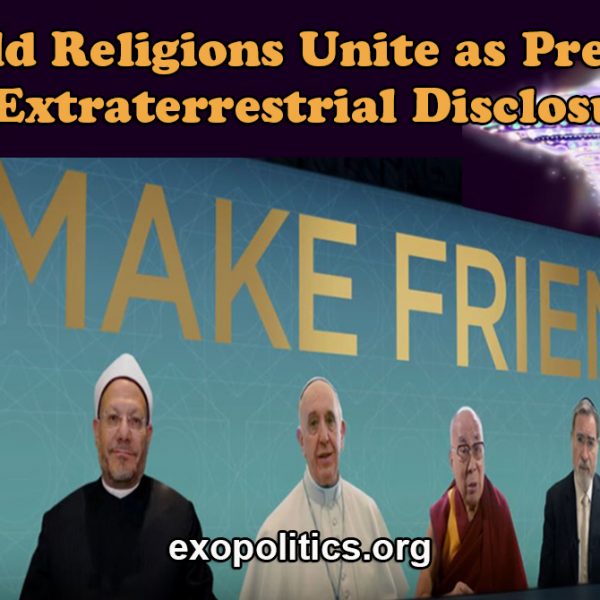 Leaders from a diverse collection of religious communities issued an extraordinary statement for world unity in a video message released last week. The call to world unity is a prelude to disclosure of extraterrestrial life according to independent sources working with secret space program whistleblower, Corey Goode.
The world religious leaders came together on June 14 to make a joint statement through a video calling on people to embrace ideas of friendship and unity, and to overcome negativity and division in society. It is available in 16 languages and features leaders from Buddhism, Hinduism, Christianity, Islam, Judaism and other faiths.
Each of the leaders contributed a personal statement for the exclusive purpose of creating this joint appeal. Ayatollah Al-Milani advises people to make friends with followers of all religions. Patriarch Bartholomew calls on the world to "recognize the beauty of God in every living human being". Pope Francis and Rabbi Abraham Skorka demonstrate how their religious experiences have been enriched by their interfaith friendship. Grand Mufti of Egypt Shawki Allam stresses not to focus on differences between religious groups. The Dalai Lama calls for a deepening of spiritual friendship. Rabbi Jonathan Sacks says "One of the wonderful things about spending time with people completely unlike you is that you discover how much you have in common. The same fears, hopes and concerns." Archbishop of the Church of Sweden Antje Jackelén stresses the importance for society: "This should start a process that will take prejudices away and where new insights and hope is born." The Archbishop of Canterbury adds that "It's not complicated, start with sharing what we all share, which is the pleasure of conversation."

The joint statement by world religious leaders for unity and friendship across diverse faiths is a very important message in its own right. What lends this message added significance is recent information received by Corey Goode from two separate sources concerning the role of a positive group of human-looking extraterrestrials in promoting world unity and disclosure.
On June 15 Goode says that he had an encounter with "Ka Aree", a representative of an inner Earth advanced civilization called the Anshar. She told him that a human looking group of extraterrestrials is working with the Vatican and other religious leaders to bring about disclosure. In a personal skype message on June 21, Goode gave me some background:
Ka Aree stated recently that 4 [extraterrestrial] groups had decided they would no longer abide by the M [Muhammad] Accords. They would begin a slow process of contacting people via dreams and then lead up to more open contact. A "Nordic" looking group is said to be leading this effort.
Goode has earlier described the "Muhammad Accords" as an extraterrestrial treaty negotiated around the seventh century AD, whereby all alien groups agreed to stop openly revealing themselves to humanity and to only work in the background to secretly influence global elites. It should be noted that the "Muhammed Accords" do not directly relate to the Prophet Muhammed (570-632), but were reached during the period when Islam was first established by him.
Goode is essentially saying that four groups of extraterrestrials are now committed to open contact with humanity, and have started the process to make this a reality. World religious leaders have been contacted to act as intermediaries to introduce humanity to the extraterrestrials, and in particular the Nordic race.
I asked Goode about the motivation of the Nordic race leading this initiative and he told me that according to Ka Aree, the extraterrestrials are "Brothers and Sisters of the Confederation". The "Confederation of Planets" is an alliance of mainly human-looking extraterrestrials that inner-Earth civilizations closely work with according to the Law of One book series.
Goode says that he was given by Ka Aree two versions of how open contact would happen:
V1. Three religious leaders come out and introduce an angelic ET race who bring us a book and a new "esoteric/New Age" type religion based on "Oneness". V2 was almost the same except it was only the Pope standing next to a Nordic announcing the same thing.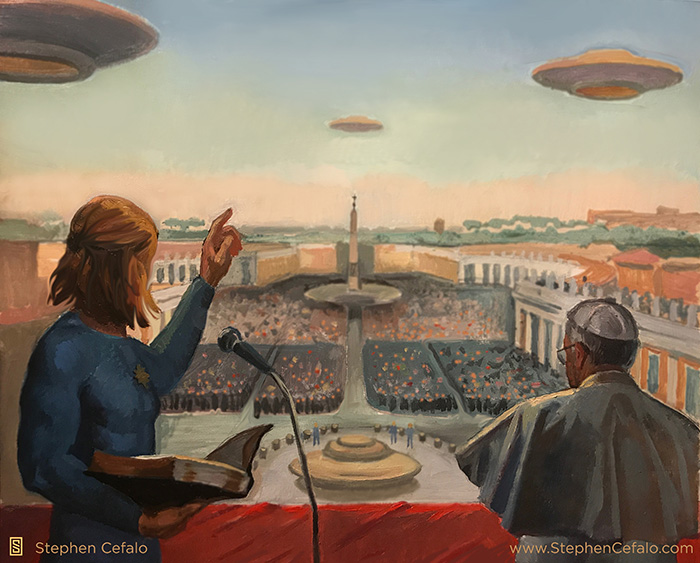 It is very significant that the Vatican has indeed been playing a very prominent role in encouraging its billion plus adherents to view extraterrestrials as potential "brothers in Christ". A number of Vatican astronomers have discussed extraterrestrials in this regard, and the Vatican was linked to a UNICEF video encouraging tolerance of extraterrestrial children.
Goode says that the extraterrestrial disclosure announcement "sounds very imminent", but cautions that this is not the first time such an announcement has been planned by the Vatican, and might still require a few years. He says that an earlier attempt was made in 2008, which coincides with the Vatican's chief astronomer Gabriel Funes making statements about extraterrestrials in an interview titled: "The Alien is my Brother."
Goode said that similar information about Nordic extraterrestrials being involved in a contact initiative with major religious groups had been earlier given to him by two airmen working with a US Air Force run Secret Space Program, which works with prominent members of the intelligence community including the Defense Intelligence Agency.
It is more than coincidental that in the June 13 leak of an alleged Majestic-12 document authored by the Defense Intelligence Agency, prominence is given to human looking extraterrestrials in conducing diplomatic relations with humanity. The document said:
There are several variations more-or-less like ourselves. The majority of these are friendly and are the bulk of our EBE contacts. Most have a high degree of psychic ability and all use science and engineering of an advanced nature.
It is worth emphasizing that this alleged Defense Intelligence Agency document was leaked on virtually the same day of the world religious leaders' unity statement – another coincidence?
While the Majestic document is currently the subject of hot debate, with several UFO researchers calling it a hoax, other prominent researchers such as Dr. Robert Wood and Stanton Friedman believe the document shows no sign of forgery and is worth serious investigation.
In my own research of the document's content, there is much there which is consistent with historical records, and provides an important overview of recent human interaction with extraterrestrials dating back to Nikola Tesla's radio experiments in the late 1800's. This suggests that the document contains genuine information despite anomalies in formatting and classification markings as critics have pointed out.  
According to Goode, the Nordic extraterrestrials outreach with religious leaders is likely to lead to the birth of a new global religion: "It is FULLY expected that over 90% of people of Earth will adopt this new ET Religion without question."
This is likely to lead to some controversy given the work of others such as Chris Putnam and Tom Horn who have been warning against the Vatican's quiet preparations for open contact with extraterrestrials. In their 2013 book, Exo-Vaticana they do not consider the human-looking extraterrestrials who would be revealed in such an announcement by the Vatican as positive at all – they claim them to be demons in disguise.
In a lengthy review of Exo-Vaticana, I wrote about the danger of viewing extraterrestrials in this way using a myopic interpretation of biblical scripture:
Exo-Vaticana is dangerous insofar as Putnam and Horn undergird it with some powerful religious prejudices about the motivations of alien visitors to our world. They claim that biblical scripture is a solid foundation for understanding that aliens are demonic entities who destructively intervened in human history, and are about to return and do so again. In contrast, according to Putnam and Horn, Pope Francis I is preparing to lead the Catholic Church to embrace the returning/visiting aliens as "brothers in Christ" – reflective of the 1950s and 1960s contactee reports of benevolent "space brothers."
Putnam's and Horn's Exovaticana portends a future religious war between those accepting visiting extraterrestrials as "brothers in Christ" and those believing them to be returning demons about to enslave us.
Putnam and Horn's misgivings about welcoming extraterrestrials stems from a profound misunderstanding of the full spectrum of their motivations and activities, which I have described at length in my 2013 book, Galactic Diplomacy: Getting to Yes with ET. Thankfully, the recently leaked Majestic document indicates that military officials are well aware that most alien visitors are friendly, and capable of becoming important allies for humanity's evolution into a galactic society.
It is a very positive development for all humanity that prominent religious leaders made a major statement advocating friendship and unity across religious traditions. The possibility that this is a prelude for the Vatican announcing, in association with other major world religious leaders, the existence of friendly extraterrestrial visitors is something to be welcomed. If Goode's sources are correct, then the June 14 statement for world unity takes us one step closer to disclosure of extraterrestrial life, and ending religious conflict on our planet.
© Michael E. Salla, Ph.D. Copyright Notice
[Many thanks to Stephen Cefalo and the Sphere Being Alliance for creating and giving permission to use the graphic representation of the Pope and the Nordic ET.]
Further Reading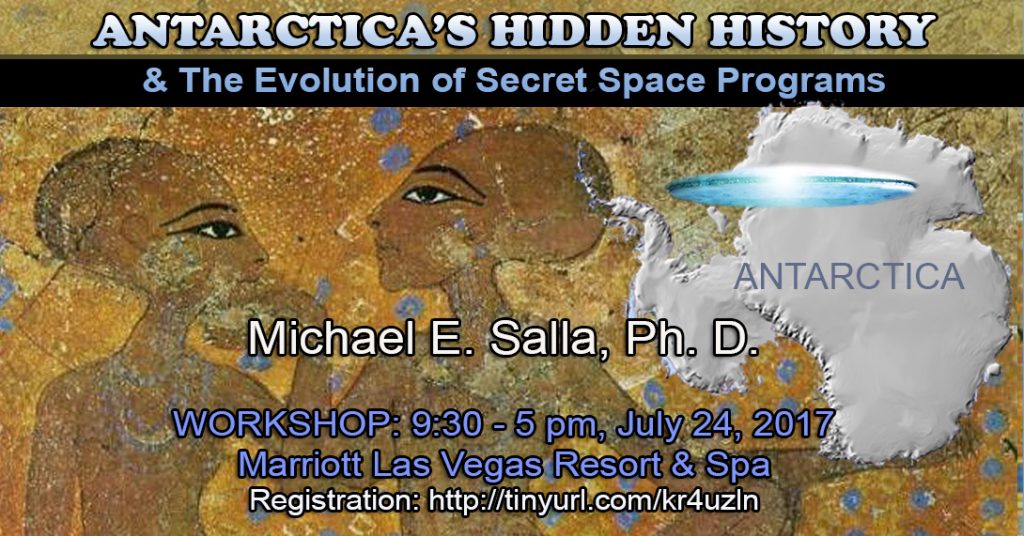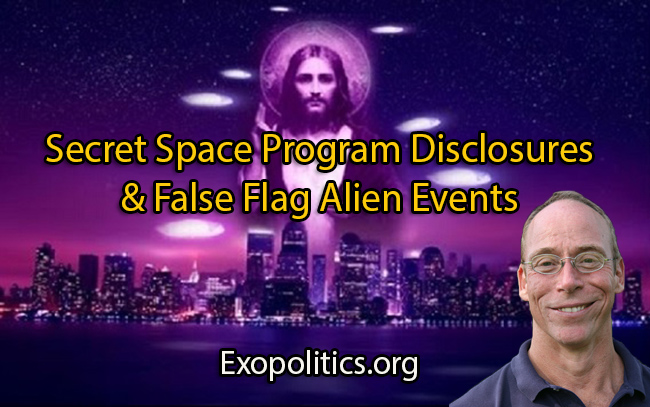 On November 13, Disclosure Project founder Dr. Steven Greer claimed in a lecture that final preparations for a false flag alien invasion were being facilitated by the recent secret space program disclosures of Corey Goode and William Tompkins. Greer claims that both are victims of psychotronic holographic technologies where they have been implanted with scripted memories of evil aliens abusing captive humans.
Part one of this two part series, examined Greer's claims regarding Goode. This article examines what Greer had to say about Tompkins and his information.
A number of researchers into secret space program disclosures, including myself, have found Tompkins testimony and documentation to be the most powerful corroboration yet to emerge for many elements of Goode's earlier disclosures. Consequently, Greer's critique of Tompkins is very significant for assessing the validity of Goode's testimony.
In his November 13 lecture, Greer introduces the concept of "alienism" which he defines as follows:
Alienism, as I'm going to define it tonight, is the proclivity to view anything that is non-human, but an intelligent life-form, as a potential threat, and the threat is directly proportional to how different they either appear or behave from us.
He has the following to say about Tompkins testimony, which in Greer's view, promotes alienism through scripts prepared by military programs that promote the idea of threatening extraterrestrials:
I know that the folks that have been in the military programs connected to Mr. Tompkins and others have an agenda, and I question that agenda has to do with the propagation of fear and to convince the public that there's an existential threat … as Ronald Reagan said at the UN, would unite the world to fight.
Significantly, Greer refers to "military programs connected to Mr. Tompkins," yet provides no details of such a connection. He has no documents or witnesses of his own to corroborate his claim that Tompkins' memories are scripts created by military programs.
Instead he makes a general reference to a USAF intelligence officer, who worked for the Air Force Office of Special Investigations, who has new information about Unacknowledged Special Access Programs that will be released in Greer's forthcoming Unacknowledged documentary.
Greer argues that Tompkins descriptions of benevolent human-looking aliens and malevolent Reptilian-looking aliens conspiring to respectively assist or sabotage US Navy efforts to build a secret space program is a form of alienism:
With many of these people you'll hear that the ones that the look Nordic, shall we say. I've spent three or four hours with Bill Tompkins, the ones that kind of look like us but are pretty, those are GROOD [great/good] the ones that look some other way those are bad ones. Isn't that interstellar racism? … Take a step back. Aren't the good ones always the pretty blond ones with the big breasts…  I find it appalling … are we really going to stay on that cycle of taking racism and turning it into alienism?
Now it's important to note here that Tompkins in his autobiography and subsequent interviews was giving a descriptive account of two different extraterrestrial groups that Navy spies had discovered in relation to Nazi Germany's secret aerospace programs.
The human looking-extraterrestrials operated in a more benign ethical way with civilians, while the Reptilian aliens behaved in a more imperialistic manner, wanting the Nazis to develop space fleets as a mercenary force that could join the Reptilians in deep space conquest.
Tompkins accounts of what the Navy spies were relaying during his covert service from 1942 to 1946, was based on trained intelligence operatives taking special note of the different actors and forces involved in helping the Nazis. The spies then reported this in detailed debriefings, which Tompkins had to relay in briefing documents to different U.S. aerospace corporations.
It's important to note that Tompkins accounts of the aliens are very descriptive as would be expected in an intelligence gathering program, rather than emotional or philosophical accounts of them. Therefore it is mistaken to imply that Tompkins and the Navy spies were implicitly racists, whose deep biases led to them promoting alienism when reporting on different extraterrestrial races involved in Nazi aerospace programs.
In his response to a question about the veracity of the testimonies of Goode and Tompkins, Greer raises the issue of corroboration, and refers to both of their testimonies being contaminated by "seductive and interesting" memory scripts:
What am I skeptical of about things that have come our recently from Bill Tompkins and others [Goode]? A lot! Here's the issue for me. You've got to have multiple points of corroboration, and the bigger the tale the more the proof you got to have. Now what I would say is it that I believe that these men are sharing what they believe to be true. I also know how easy it would be to provide information that is scripted about that, and that is seductive and interesting.
As far as "multiple points of corroboration" of Tompkins testimony is concerned, there are indeed documents and witnesses supporting many aspects of his testimony.
First are the documents that Tompkins has released concerning his claims of serving in a covert Navy Intelligence Program run by Rear Admiral Rico Botta with 29 spies in Nazi Germany learning about two Nazi secret space programs. Tompkins released a copy of two passes signed by Botta authorizing him to take multiple packets to experimental aircraft facilities.
Freedom of Information Act documents have been released that confirm that Botta had indeed signed Tompkins documents, and himself traveled to some of the experimental facilities Tompkins later said he was directed to take the briefing packets to.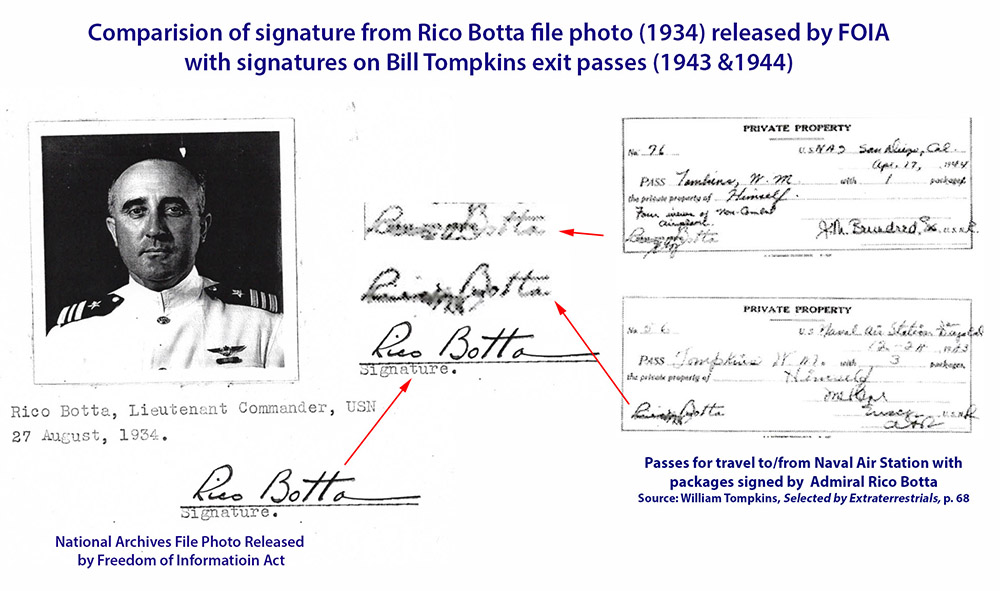 Second, there is Tompkins testimony that while he worked at Douglas Aircraft Company from 1950 to 1963, he was recruited into a top secret think tank called Advanced Design. He was asked to design space battle groups with kilometers-long space craft capable of fulfilling interplanetary missions, which were covertly sent to the Navy. Tompkins has released multiple Douglas documents, and also has a retired Douglas aerospace scientist, Dr. Robert Wood, confirming that Tompkins did work with the people he claims.
Third, after his retirement from the aerospace industry in 1984, Tompkins moved to Medford, Oregon, where he set up a local Navy League Council around 1991, among whose purposes was to conduct "Special Projects" involving extraterrestrial life. Tompkins released a document confirming that the Rogue Valley Council Navy League did indeed conduct "Special Projects" as he claimed.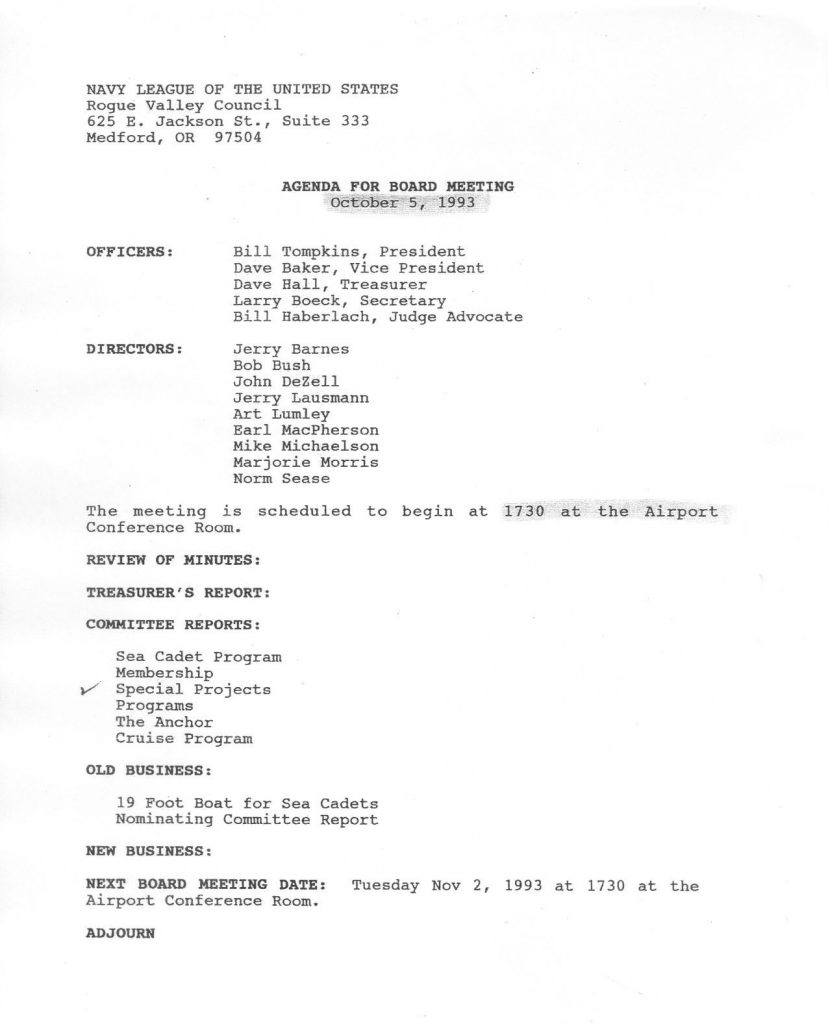 Furthermore two retired Navy officers, Captain Larry Boeck and Commander Art Lumley confirmed in private interviews that Tompkins did often speak about extraterrestrial life at Navy League meetings, and the Special Projects Committee did exist. A third Navy officer, Rear Admiral Larry Marsh, who was active at the time, traveled down from his two naval commands in Seattle, Washington, to Medford in 1991 to officiate at the opening ceremony for Navy League Council created by Tompkins.
Marsh confirmed in a private interview that Tompkins was a very competent organizer in creating the Council, and that the Council was very important to the regular Navy. He finally added that Tompkins was very knowledgeable on topics of interest to the Navy, which was a cryptic way of acknowledging that Tompkins was indeed conducting Special Projects at Medford.
Greer's insistence that "multiple points of corroboration" are required for testimonies such as Tompkins, is more than satisfied by what is known so far about Tompkins in terms of documents and corroborating witnesses.  Greer fails to acknowledge any of the above "multiple points of corroboration" for Tompkins testimony, and instead simply makes the assertion that Tompkins testimony is contaminated by false memory scripts about evil Reptilian aliens and benevolent human looking extraterrestrials with no direct evidence whatsoever.
Greer's critiques of Tompkins and Goode (see part one), fails to be persuasive since he provides no direct evidence in terms of documents or witnesses that specifically identify either of them as having received scripted memories about evil aliens through psychotronic holographic technologies.
More importantly, there is no evidence that Tompkins was ever subjected to any kind of military abduction program where such technologies were used. Greer's arguments to this end are based purely on conjecture. He makes a tenuous connection between military programs known to use psychotronic holographic technologies to induce fearful images of aliens, to Tompkins testimony simply on the grounds that Tompkins discloses the behavior of a predatory species of extraterrestrials known to have covertly operated on Earth since at least World War II.
Without providing concrete evidence, Greer is essentially attempting to discredit a highly credentialed witness for the simple reason that his testimony doesn't fit in with Greer's cosmic world view that the only bad alien is in the human imagination.
The conclusion that emerges is that Greer perceives the testimonies of Goode and Tompkins as threat, not because they give impetus to plans for a false flag alien invasion, but they threaten Greer's "limited disclosure" narrative. Greer's disclosure narrative is based on ideas of repressed antigravity and free energy technologies, benign extraterrestrial contact, abusive military abductions using advanced technologies that are part of a secret military space program, and debunking evidence of secret government/military agreements with predatory alien species.
In contrast, Goode and Tompkins' information amounts to "full disclosure", which goes well beyond Greer's "limited disclosure narrative" insofar as they reveal the history of different agreements between governments and predatory extraterrestrial races going back to the World War II era, the systemic human rights abuses that have emerged due to these agreements, the wide range in behaviors of between 40-60 different extraterrestrial civilizations interacting with surface humanity and hidden inner-Earth civilizations, and finally the existence of multiple secret space programs, some of which operate in deep space with interstellar battle groups.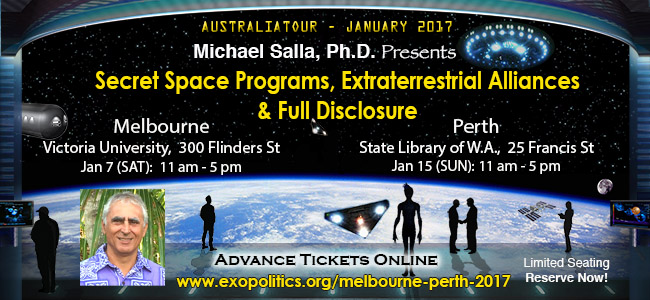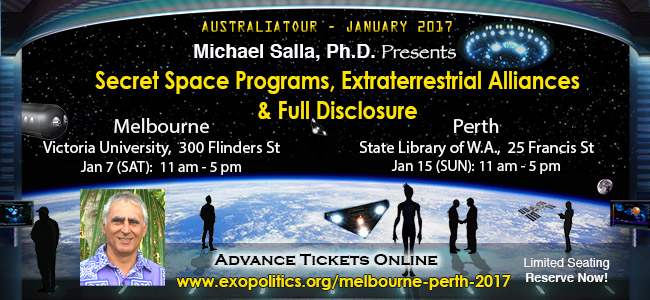 As far as the false flag alien invasion that Greer claims is being unwittingly promoted by Goode and Tompkins, I found the following comment by Goode particularly helpful in understanding current plans for staging a false flag alien event:
Believing that ALL ET's are GOOD is more dangerous than the worry about people's fear of EVIL ET's. This narrative set's up humanity to follow their genetic and social programming to WORSHIP! The Cabal's grand deception plan is no longer to bring about a mass fake alien invasion. That was exposed heavily decades ago and is no longer a viable program to execute. This holographic technology is however still viable to use in smaller "theaters of war". The plan now is to introduce humanity to a "Angelic and Human Like" ET group and have people worship these so-called "angelic ET's" who bring us a "New Cosmic Esoteric World Religion".
Goode's assessment here is consistent with recent statements by Vatican theologians and astronomers that extraterrestrial life may be more ethically evolved than humanity.
This is exemplified in a conversation Greer had with deceased Vatican exorcist, Monsignor Corrado Balducci about the alleged alien threat:
Now when I was at the Vatican having a theological conversation with Monsignor Balducci … [he] was a senior theologian, actually demonologist for the Pope, Pope John Paul, and we were talking about this and he said this is so ridiculous, of course if they were a threat it would all be over, and he said, I love it with classic Italian flourish … he said, "lower than humanity there cannot exist in the universe." It was hilarious. It was a very interesting perspective from this senior theologian.
Greer's relating of the conversation indicated no attempt on his part to correct or challenge Balducci's claim that ALL extraterrestrials in the universe are more ethically evolved than humans. Rather than challenge such an assumption contrary to thousands of witness reports of invasive alien abductions, Greer thought it hilarious and a "very interesting perspective."
Greer's response is not surprising given his transparent bias towards the idea that all extraterrestrials visiting Earth are positive, and more highly evolved than humanity.
More importantly, Greer's conversation with Balducci signifies his alignment with recent Vatican initiatives to promote the idea that extraterrestrials are our "brothers in Christ." In an October 27, 2014 statement by Pope Francis, he said that extraterrestrials can be part of the plans of "God the creator" in the evolutionary process.
As Goode warns, however, the current plan for a false flag alien event has evolved from an invasion scenario, which is no longer tenable, to angelic looking extraterrestrials appearing that help establish a "New Cosmic Esoteric World Religion".
This is precisely what researchers Tom Horn and Chris Horn have been claiming the Catholic Church is preparing for in a future announcement about the existence of extraterrestrial life, and secret plans to incorporate an alien component into its theological orthodoxy. The extraterrestrials would become a cosmic mid-wife helping humanity get closer to God through a "New Cosmic Esoteric World Religion." Predictably, this would lead to the establishment of a priesthood and missionaries that could carry the new message to the stars.
This is how Horn and Putnam describe the Vatican plan for an alien savior to kick start a new global religion:
The investigation you are reading uncovers this clandestine blueprint … and along the way, an astonishing exotheological plan by the Vatican itself for the arrival of an alien savior intelligence …and its connection with Petrus Romanus, the Final Pope. Pope Benedict resigned as this book headed to the printer. By now, the world knows who Petrus Romanus is. But do you know his role for the alien savior? (Exovaticana, pp. 337-38).
Ironically, rather than the testimonies of Goode and Tompkins facilitating a false flag alien invasion as Greer claims in his November 13 lecture, Greer's criticisms and limited disclosure narrative is instead facilitating a false flag alien savior event that would feature extraterrestrials helping humanity in a way that leads to the establishment of a "New Cosmic Esoteric World Religion."
© Michael E. Salla, Ph.D. Copyright Notice
Further Reading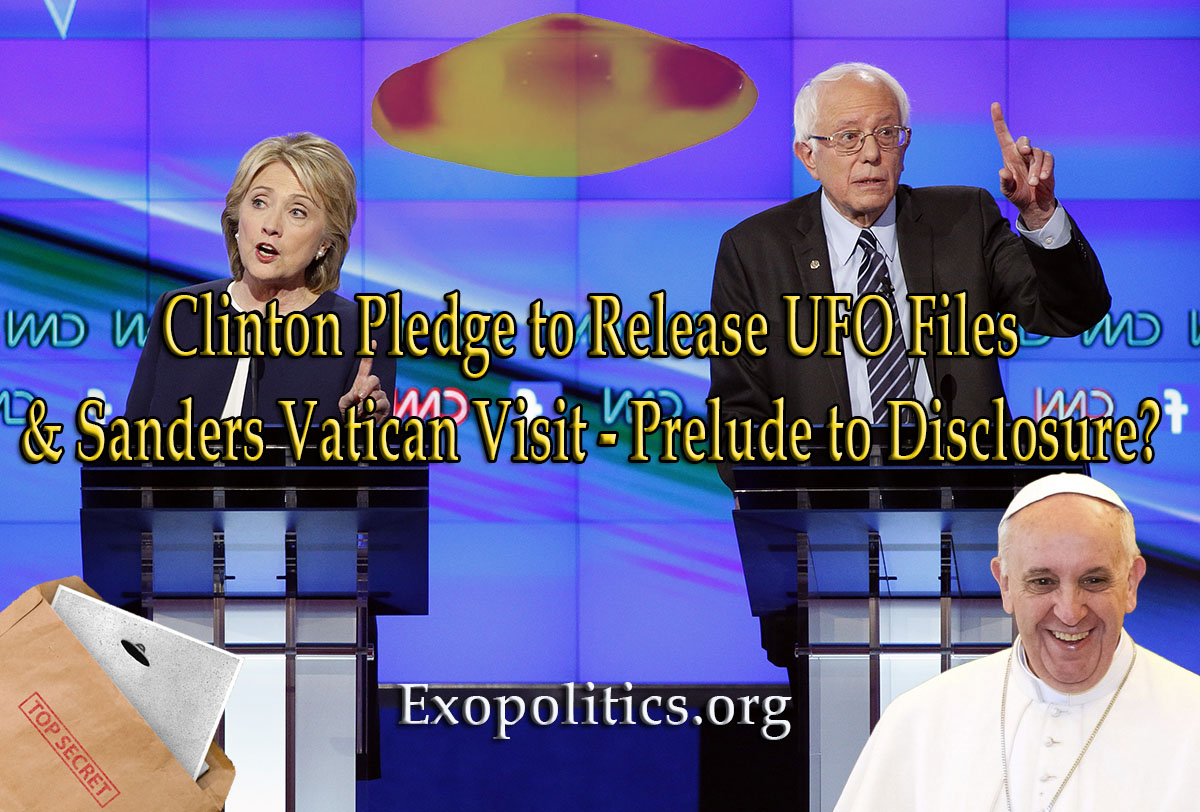 On April 8, one day after the Hillary Clinton campaign again raised the importance of the public learning the truth about classified UFO files, her chief rival, Senator Bernie Sanders, announced that he was accepting an invitation to give a speech at a Vatican Conference on April 15 at the Pontifical Academy of Sciences. This is the same venue that Vatican astronomers have organized events to discuss the implications of discovering extraterrestrial life.
While the two Presidential campaign announcements may appear at first to be unrelated, a closer inspection raises another possibility. The announcements are related to two different UFO disclosure narratives pursued by competing global elites with influence over the two major Democratic candidates.
In a CNN interview on April 7, Clinton's campaign chief, John Podesta, said:
The U.S. government could do a much better job in answering the quite legitimate questions that people have about what's going on with unidentified aerial phenomena.
Back on December 30, 2015, Hillary Clinton gave an interview referring to a pledge she had given to Podesta, to publicly release what the government knows about UFOs, and to launch an investigation of Area 51.
He has made me personally pledge we are going to get the information out," said Clinton. "One way or another. Maybe we could have, like, a task force to go to Area 51.
In his April 7 interview, Podesta revealed more about the pledge Clinton had given him:
What I've talked to the secretary about, and what she's said now in public, is that if she's elected president, when she gets into office, she'll ask for as many records as the United States federal government has to be declassified, and I think that's a commitment that she intends to keep and that I intend to hold her to.
If this all sounds like deja vous, it is because a Clinton Presidency has been down the UFO disclosure track before. It is a matter of public record that in January 1993, President Bill Clinton entrusted family friend, Webster Hubbell, over at the Justice Department with the job of finding out the answer to two questions: "One, who killed JFK. And two, are there UFOs?"
In his memoirs, Friends in High Places, Hubbell revealed that he failed to make any progress in finding the answers Clinton was seeking. Hubble was eventually jailed for overbilling clients while in private practice.  
Documents later released through the Freedom of Information Act confirm that Hillary Clinton had, in 1995, become the lead person in an initiative by Laurence Rockefeller, to have the Clinton administration release classified UFO files.
Significantly, Podesta's April 7 CNN appearance confirmed that a UFO disclosure initiative had occurred during his tenure with the Clinton administration:
Podesta, a former chief of staff to President Bill Clinton, said the 42nd president once "asked for some information about some of these things, and in particular, some information about what was going on at Area 51."
According to Dr. Steven Greer, Hillary nixed the UFO disclosure effort when it was decided that it would ruin her husband's 1996 re-election campaign. With the failure of the Rockefeller UFO disclosure initiative, Podesta and the rest of the Clinton administration focused on political survival in the face of the growing Monica Lewinsky scandal.
Podesta briefly returned to public office as White House Counselor to President Obama in 2014.  At the end of a one year term, he left in February 2015 to take charge of the Hillary Clinton Presidential Campaign. That's when he made his famous statement that he had once again failed to secure UFO disclosure:

Clearly, Podesta was suggesting that powerful forces had prevented UFO disclosure from happening under the Obama administration. Significantly, Obama himself went on air with Jimmy Kimmel and alluded to these powerful forces preventing disclosure, when he "joked" that aliens were controlling how much of the truth could be revealed.
Now, if we are to believe the narrative coming out from the current Clinton campaign, Hillary has pledged to make UFO disclosure a priority because Podesta has convinced her to do so. Given Podesta's central role in a future Clinton Administration disclosure initiative, what kind of UFO disclosure can we expect from Clinton and Podesta?
Podesta is a well-known fan of Chris Carter's X-Files, which was rebooted in 2016 with six new episodes. The main premise of the series relaunch was that classified UFO files were based on secret space programs that had been reverse engineered from the discovery of a crashed extraterrestrial craft.
The first episode of the series reboot aired on January 24 to an audience of more than 16 million. In it, Agent Mulder gave a lengthy monologue about a vast secret government conspiracy to hide the truth about extraterrestrial life, reverse engineered space craft, alien retroviruses, and the 911 false flag attack.
Podesta's long time fascination with the X-Files series suggests that the pilot episode for the new series lays a plausible foundation for a future UFO disclosure narrative, coming out of a new Clinton White House. The narrative is likely to focus on mysterious elite groups using advanced technologies in ways that deceive the world into believing aliens are behind the abduction phenomenon.
To promote such a UFO disclosure narrative as President, Clinton must first overcome the surging candidacy of Bernie Sanders.
On April 8, it was announced that Sanders had accepted an invitation from the Vatican to speak next week a conference on social, economic and environmental issue organized by the Pontifical Academy of Sciences. Controversy immediately arose with a Bloomberg News story over whether Sanders had been invited or had invited himself. In turns out that the invitation had come from a senior Vatican official and Chancellor of the Academy who had not informed its President.
The Pontifical Academy is no stranger to the issue of extraterrestrial life. Since November 2009, Vatican astronomers have played a prominent role in astrobiology conferences discussing the societal implications of the discovery of alien life, and how such a discovery would cause no problem with Catholic theology.
Pope Francis himself has made clear that he views the discovery of extraterrestrial life as an event that would not cause theological problems, even if it were realized that extraterrestrials, rather than "God," had played a direct role in creating humanity. On October 28, 2014, during a speech at the Pontifical Academy of Sciences, the Pope discussed the evolution of life, and the role of extraterrestrials, which he euphemistically referred to as "beings of the universe," as agents in God's evolutionary plan:
He [God] created beings and allowed them to develop according to the internal laws that he gave to each one, so that they were able to develop and to arrive and their fullness of being. He gave autonomy to the beings of the universe at the same time at which he assured them of his continuous presence, giving being to every reality. And so creation continued for centuries and centuries, millennia and millennia, until it became which we know today, precisely because God is not a demiurge or a magician, but the creator who gives being to all things.
There has been much more happening behind the scenes at the Vatican in terms of it preparing humanity for future announcements concerning the existence of extraterrestrial life. The Vatican was a sponsor of a UNICEF video that promotes tolerance for extraterrestrial life.
According to Tom Horn and Chris Putnam, authors of Exo-Vaticana, the Vatican plans to manipulate the issue of extraterrestrial life, in order to promote a new global religion based on an alien savior. Dr. Preston James has written, according to his insider sources, that the Vatican indeed has made contact with a group of extraterrestrials which could play such a role:
Some Vatican insiders have claimed that top Vatican Clerics have already established secret relationships and treaties with a certain alien ET group that presents itself as friendly to the human race and claims it can save it from the evil empire of the Bankster-owned and -controlled Hierarchy….
Dr. James concludes that the Vatican plans to lead a global disclosure initiative on extraterrestrial life:
From all indications so far, these coming disclosures will involve the top Clericals at the Vatican and will occur through the Catholic Church itself publicly …
The invitation to Bernie Sanders to give a speech at the Pontifical Academy of Sciences, suggests  Vatican insiders view Sanders as a more suitable candidate for disclosing what the Vatican, and other governments, want the general public to know about alien life and the UFO issue. It is very possible that Sanders will receive a confidential Vatican briefing on what it would like released to the world in the form of UFO disclosure, which focuses on extraterrestrial life, rather than advanced technologies.
Podesta's and Clinton's most recent public statements on the government releasing classified UFO files, and Sanders' speech next week at an upcoming Vatican conference,  suggests at least two UFO/alien disclosure narratives are being secretly developed by competing factions of global elites.
One faction, linked to the Rockefeller family, prefers to release information about advanced technologies related to the UFO phenomenon, which presumably would lead to disclosure of secret space programs, which have been in operation since the 1980's. On the other hand, another faction, closely associated with the Vatican, wishes to concentrate on the existence of extraterrestrial life, as a means of establishing a new global religion with alien elements. 
Classified UFO files, thanks to Clinton and Podesta's efforts, are slowly emerging as a campaign issue. Sanders likely exposure to disclosure related issues during his April 15 speech at the Vatican organized conference, raises the possibility that he in future will openly discuss the issue of extraterrestrial life during his campaign. The current trail of evidence suggests 2016 Presidential elections are shaping up to be a prelude to UFO disclosure, where the world learns some of the truth about extraterrestrial life, advanced technologies, and/or secret space programs.
© Michael E. Salla, Ph.D. Copyright Notice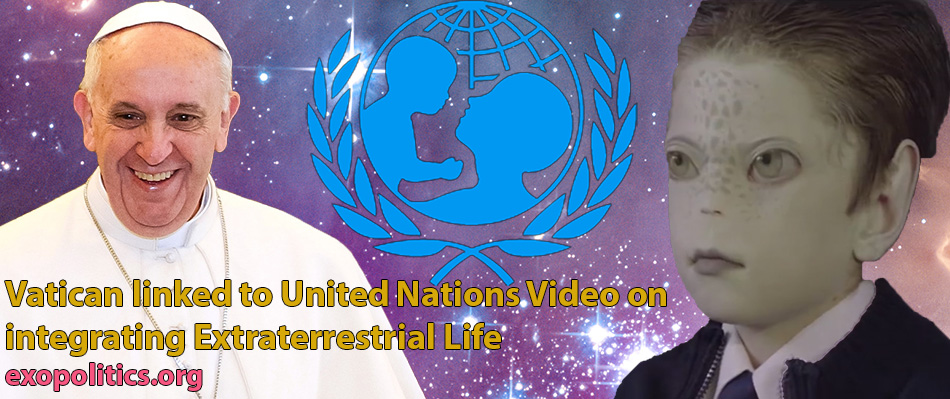 On August 10, the United Nations Children Fund (UNICEF) released a video showing an extraterrestrial child being integrated into a normal human classroom. The video shows the child initially being mocked, and then accepted after he uses advanced psychic abilities to levitate actors in a school play. The video was released in Chile, and has to date generated over seven million views. What earlier alternative media coverage of the video missed is the Vatican's involvement through an organization founded by Pope Francis, which is sponsoring the UNICEF attempt to change the way children are educated. This suggests a direct link between the Vatican and a secret United Nations effort to integrate extraterrestrial life into human society.
Upon the video's release on Facebook, UNICEF Chile announced: "Knowing someone else is a great opportunity to live valuable experiences. Say yes to integration!"
While UNICEF is depicting the video as an effort to have children accept those who are physically different to them, to reduce incidents of violence, the video's use of an alien starchild suggests a far more compelling explanation. The real purpose is to prepare humanity to openly welcome and integrate extraterrestrial life.
An agreement signed in Rome on April 21, 2015 by Pope Francis began a five year period of collaboration between the Vatican created organization "Scholas Occurrentes" and UNICEF:
Scholas and UNICEF will initially cooperate in a series of joint activities worldwide, with the special aim of bringing an end to violence and promoting the connectedness of all young people, making the most of the unique capacities of each person to favor the participation of adolescents and to broaden their access to the tools and information they need to be connected, to communicate and to collaborate.
The alien child video is explicitly aimed at "bringing an end to violence and promoting the connectedness of all young people," as described in the UNICEF agreement with the Vatican's "Scholas Occurrentes" initiative. This is evidence of a direct link between the Vatican and the UNICEF alien video. It is therefore reasonable to conclude that the Vatican is secretly part of the United Nations initiative to prepare humanity to welcome and even integrate extraterrestrial visitors.
This is not that great a surprise. Pope Francis and Vatican astronomers have previously referred to extraterrestrials as capable of being baptized, and accepted as 'brothers in Christ'. In May, 2014, the Pope said he would baptize Martians if they asked.  Months later, in September, Vatican astronomer Guy Consolmagno (a Jesuit like Pope Francis), gave an address at a symposium sponsored by NASA and the Library of Congress, where he discussed baptism of extraterrestrial life.
Shortly after, on Oct 27, 2014, Pope Francis released a statement where he referred to "beings of the universe" (extraterrestrials) as a major part of God's evolutionary plan:
He created beings and allowed them to develop according to the internal laws that he gave to each one, so that they were able to develop and to arrive and their fullness of being. He gave autonomy to the beings of the universe at the same time at which he assured them of his continuous presence, giving being to every reality. And so creation continued for centuries and centuries, millennia and millennia, until it became which we know today, precisely because God is not a demiurge or a magician, but the creator who gives being to all things.
If it was further disclosed that extraterrestrials have historically played an important role in humanity's evolution, then a strong theological justification has been established for integrating them into human society.
Finally, what is important to keep in mind is Pope Francis' upcoming visit to the United Nations headquarters in New York on September 25 to address the General Assembly.  The August 10 release of the alien child video raises the possibility that the Pope will raise the extraterrestrial issue during his United Nations speech.
Prior to the Pope's speech, he will meet with President Obama on September 23, and address a joint session of the United States Congress the next day. All these events coincide with a prediction concerning cosmic energies peaking on September 23, which is also the vernal equinox, and leading to major global changes.
It is very possible that a major Papal speech concerning extraterrestrial life is being coordinated at the highest levels between leaders at the United Nations and the United States. Regardless of what the Pope chooses to disclose during his upcoming U.S. tour, it is very significant that he is linked to a secret United Nations effort to educate humanity on the importance of welcoming and integrating extraterrestrial life into human society.
© Michael E. Salla, Ph.D. Copyright Notice
Further Reading