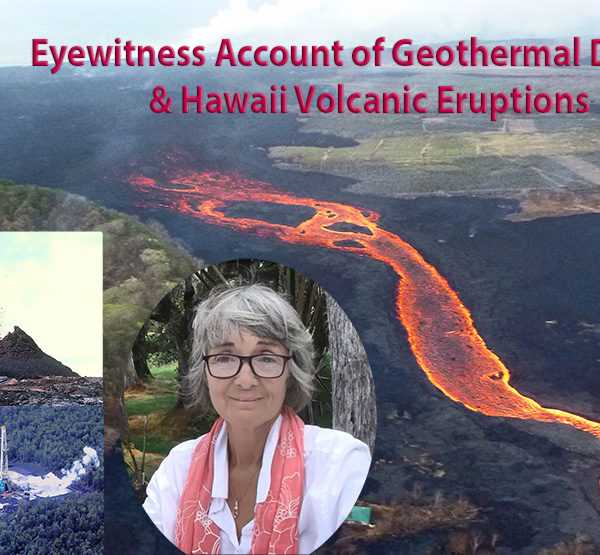 In this two part video series, Aurora Garcia reveals her first hand witness testimony about the history of geothermal drilling on the Big Island of Hawaii, and its relationship to the disastrous lava outbreak that began impacting the lower Puna region in May 2018.  The events she witnessed raise disturbing conclusions about the real agenda behind geothermal energy production in Hawaii.  
In part one, she discusses the first geothermal drilling that occurred on the Big Island and how this immediately led to lava outbreaks from Kilauea Volcano that overran the drilling site in Kahaualea in 1983. Rather than stopping further geothermal drilling due to the risk, government authorities gave approval for new drilling areas that resulted in further lava outbreaks culminating in the current outbreak in the Leilana Estates subdivision of Puna.
Aurora moved to the Kalapana region of Lower Puna in 1982. She witnessed how this area was overrun by lava outbreaks linked to the 1983 geothermal drilling in Kahaualea, which subsequently became known as the Pu'u O'o vent that continued to erupt until 2018.
Aurora purchased a property in Lanipuna Gardens in 1988. The next year, Puna Geothermal Venture purchased the 500 acres adjacent to her property and began construction of its drilling wells. She lived next to Puna Geothermal Venture up to 2012 when she relocated under a government sanctioned plan for residents impacted by the gas emissions.
She discusses the deadly gases that regularly emerged from these lava outbreaks and how Puna Geothermal Venture evaded any meaningful monitoring of the gasses, and how government authorities did nothing to stop this.
She witnessed events at Puna Geothermal Venture that made her believe that the plant's real agenda was far more than merely producing electricity for the Big Island.
Permission granted for free circulation of this article in full.
Further Reading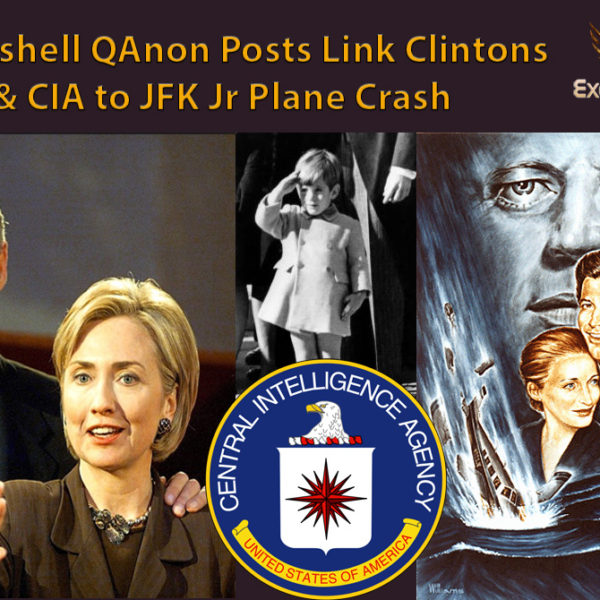 On April 8, QAnon posted two messages linking the Clintons and the CIA to the plane crash of John F. Kennedy Jr and how his death cleared the path for Hillary Clinton to start her political career by running unopposed by any major Democratic rival for the newly available US Senate seat for New York.
If the Clintons were involved in the death of JFK Jr it would be ironic since Bill Clinton sought to find out who killed President Kennedy just before his inauguration in January 1993, presumably to avoid a similar fate. The answers he received later helped Hillary Clinton launch her political career.
It's worth repeating that QAnon represents several figures associated with U.S. military intelligence that are working through the Trump White House to release sensitive information to help expose and overcome the power of the Deep State through covert operations. Hence QAnon's posts opens the reader to the rarefied world of actionable U.S. military intelligence.
Furthermore, QAnon's posts reveal the thinking of military intelligence officials about leading political figures such as the Clintons and agencies such as the CIA. We are now ready to closely examine what QAnon had to say about JFK Jr: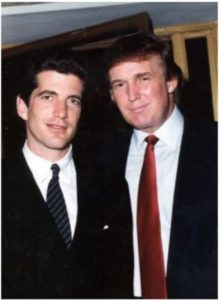 The first two lines of the post reveal that Donald Trump had a relationship with JFK Jr. This is not that surprising since there are photos showing Trump and Kennedy together at his exclusive Mar-a-Lago club on Feb 29, 1996.
The fact that they were probably friends is significant in that Trump would likely be highly motivated to have the truth come out about what really happened.

The next line in the post refers to the Kennedy's plane crash on July 16, 1999, which killed him, his wife and sister-in-law. The crash happened soon after JFK Jr had told two friends that he was planning to run for the U.S. Senate seat that had become available after the retirement of Daniel Patrick Moynihan.
Only months before the crash, Hillary Clinton had declared her candidacy for the Senate seat, but was running into criticism for being a carpetbagger since she and Bill Clinton were not New York residents.
According to a New York Daily News story published on July 20, 1999, JFK, Jr., was secretly planning to run for the Senate seat despite Hillary having already declared her candidacy. Given a 1997 private poll showing that "John F. Kennedy Jr. was by far the state's most popular Democrat.", it's highly likely that he would have succeeded.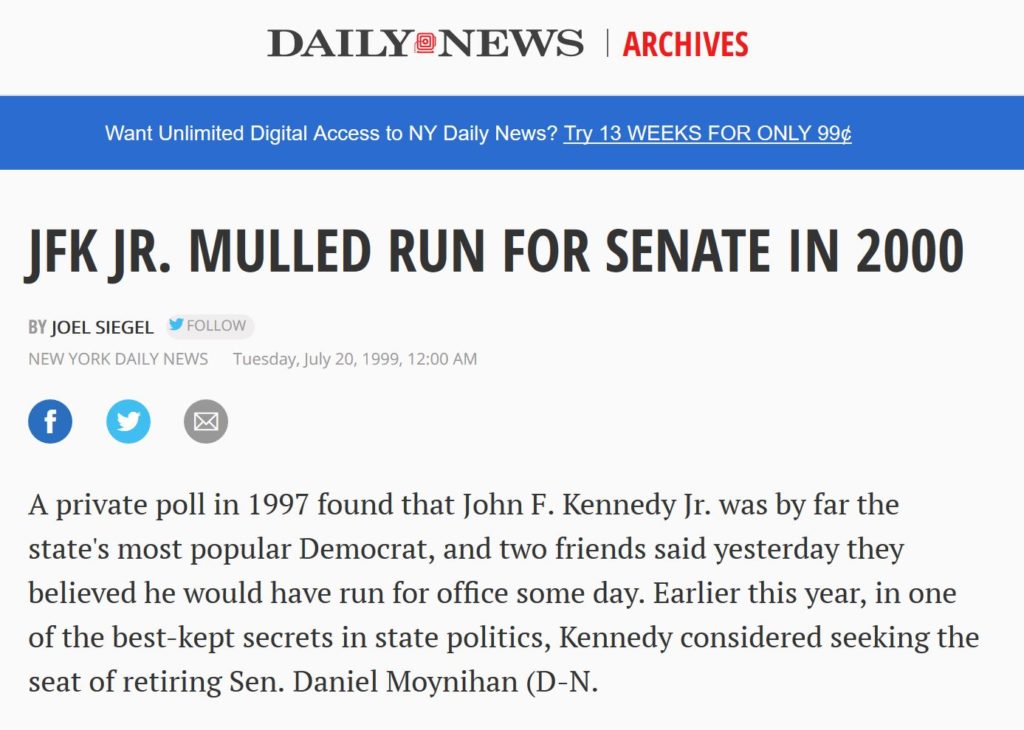 Kennedy's entry into the Senate seat race would have denied Hillary the start she was seeking to her political career just before Bill's impending Presidential retirement.
QAnon was clearly linking the plane crash to the start of Hillary's political career. While some may consider this to be mere coincidence, QAnon's next post suggested something sinister had in fact happened.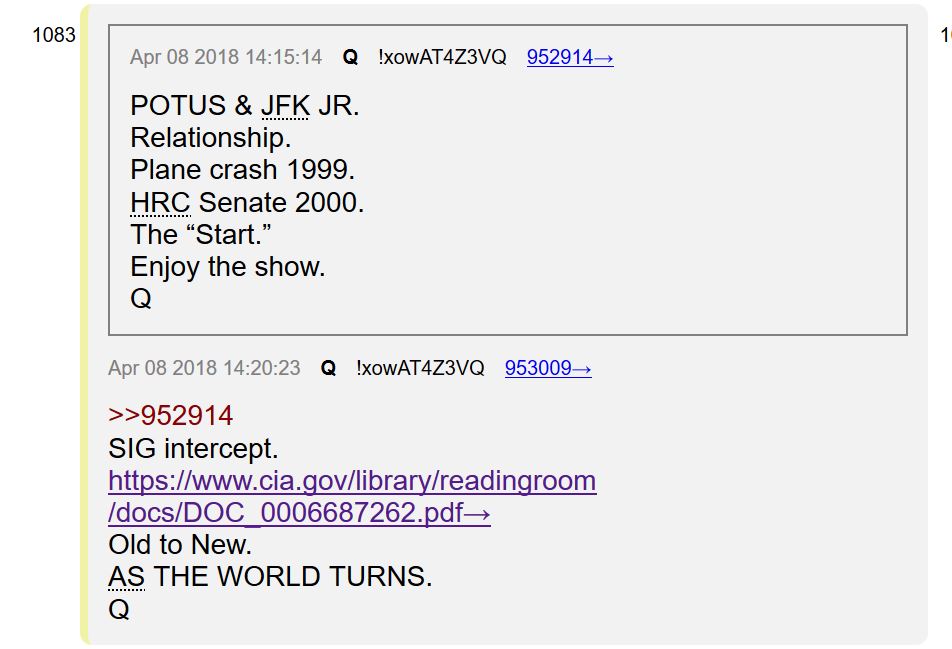 The link was to a January 1956 document in the CIA's reading room that discussed an Earth Satellite Program that was linked to Guided Missiles and CIA operations. CIA Director Allen Dulles was mentioned as a part of the program.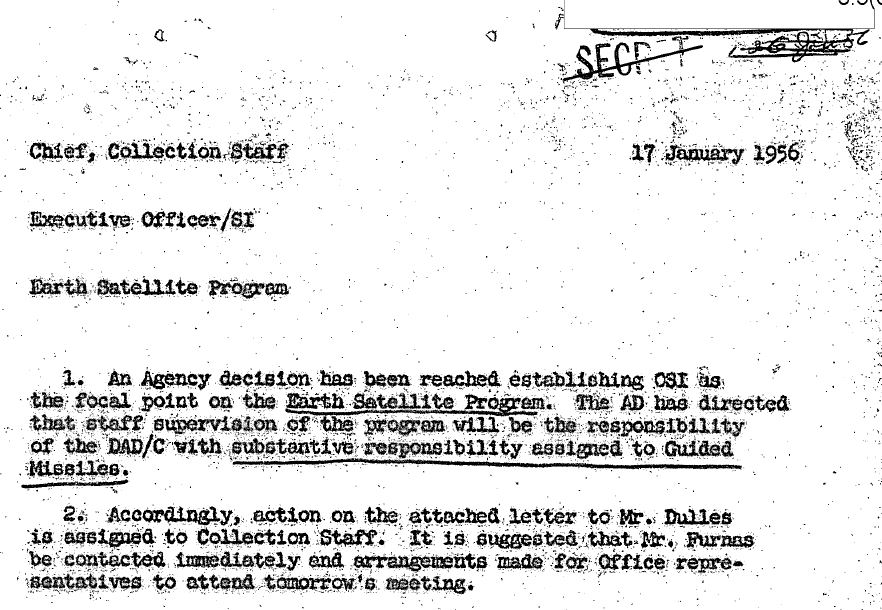 QAnon was implying that that JFK Jr's plane crash was linked in some way to this or a similar advanced aerospace program, the CIA and Dulles. The Dulles connection is highly significant since there is much documentation linking him directly to the 1963 assassination of President John F. Kennedy.
More specifically, there is a Memorandum containing  a set of eight policy directives drafted by Dulles on behalf of a mysterious committee called Majestic 12 (MJ-12) in charge of advanced aerospace programs. One of the eight directives, Project Environment, gave cryptic authorization for the assassination of any public official that threatened Majestic 12 operations.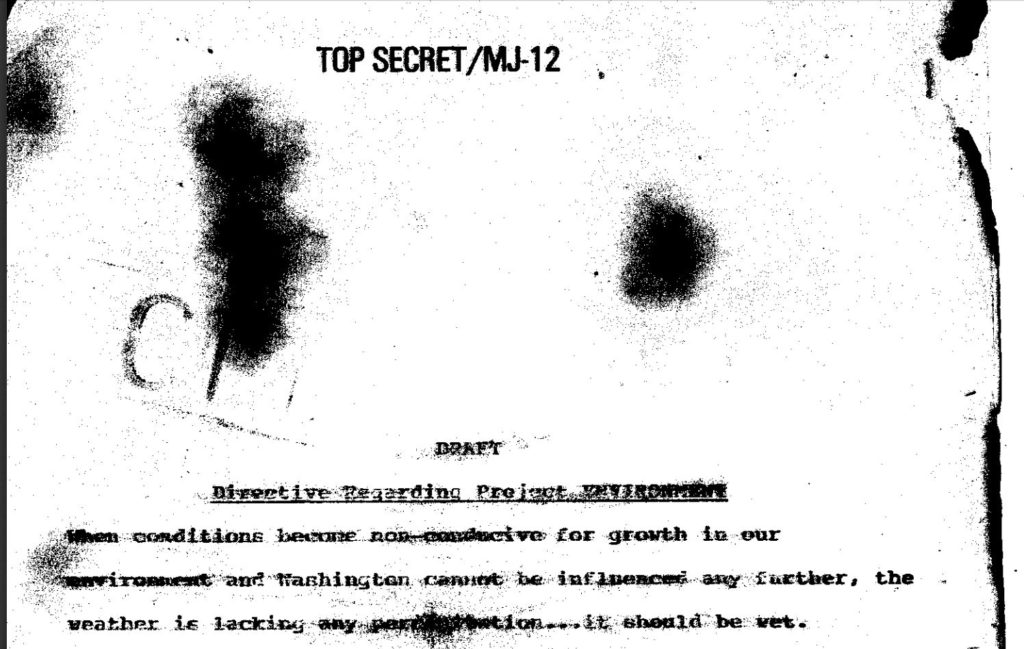 The text of the above Directive reads:
Draft – Directive Regarding Project Environment – When conditions become non-conducive for growth in our environment and Washington cannot be influenced any further, the weather is lacking any precipitation … it should be wet.

Dr Robert Wood, who is the foremost expert in analyzing MJ-12 documents using forensic methods, has concluded that the partially burned document is an assassination directive. In an interview discussing the burned document, he pointed out that the cryptic phrase "it should be wet" originates from Russia, where the phrase 'wet works' or "wet affairs" denotes someone who had been killed and is drenched with blood.
In the book, Kennedy's Last Stand, I analyzed the testimonies, circumstances and documents supporting the conclusion that Dulles had arranged for the MJ-12 directives to be applied to the Kennedy administration in general, and to President Kennedy in particular.
The CIA's Counter Intelligence chief, James Jesus Angleton, was given the authority to carry out the MJ-12 directives, as documented in a leaked November 12, 1963 Memorandum released only 10 days before Kennedy's assassination.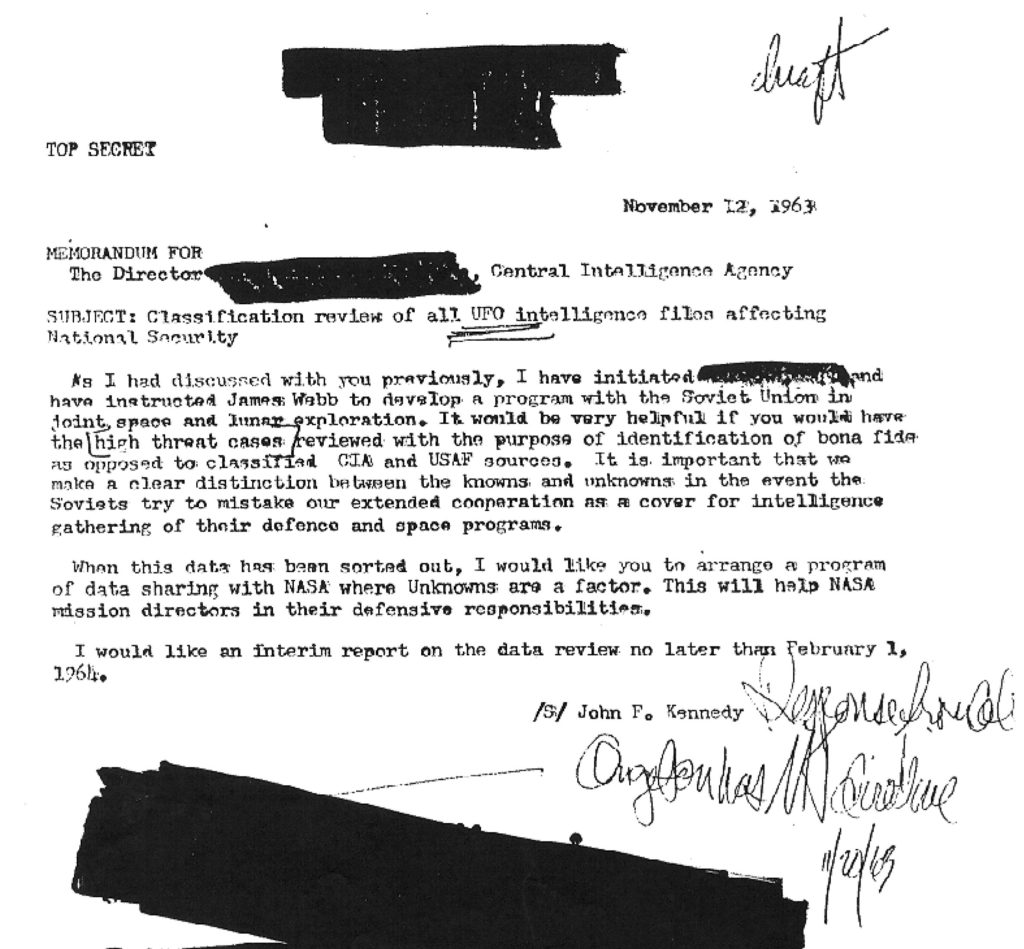 The Top Secret Memorandum instructed the then Director of the CIA, John McCone, to share all classified UFO information with NASA, in order to fulfill its requirement as outlined in National Security Action Memorandum (NSAM) 271.
In short, the two memoranda Kennedy issued on November 12, 1963 would ensure that access to classified UFO files would be extended to more government agencies, ultimately resulting in direct Presidential access.
Such direct access had been denied to President Kennedy by McCone's predecessor, Allen Dulles, who retired as CIA Director in November 1961, but likely continued on in his other position as head of the MJ-12 Committee as suggested in the eight MJ-12 Policy Directives.
It's feasible that the MJ-12 Directives drafted by Dulles and approved by the MJ-12 Committee were used not only for the 1963 assassination of President Kennedy, but also for the removal of his son, 36 years later.
There have been many questions raised about Kennedy's plane crash and whether or not it was simply due to his inexperience as a pilot, compounded by marital and financial problems, as suggested in an official report by the National Transportation Safety Board. Was the report a cover up for the plane being shot down or sabotaged in a targeted assassination conducted by the CIA? This is exactly what QAnon appears to be suggesting.
So why would the CIA want to help Hillary Clinton attain public office, and was this related in any way to Dulles' mysterious MJ-12 Directives?
To get an answer, we can begin with the Clintons involvement in a CIA run drug operation out of Mena, Arkansas during Bill's governorship. There have been multiple witnesses and documents showing how then Governor Clinton was protecting and facilitating the Mena CIA operation.
In late 2017, a movie based on real events was released showing how a former TWA airline pilot, Barry Seal, was recruited by the CIA to a covert operation out of Mena, Arkansas, which involved illegal arms and drug running, and how Governor Clinton protected the entire operation.
More damning is the testimony and documents supplied by Roger Morris, an investigative journalist, who exposed the full extent of Clinton's involvement in the CIA drug running program, and Seal's involvement.
In a book, interviews and documentary, Morris revealed how the thousands of documents and many witnesses in his investigation were never published by the mainstream media, or investigated by the FBI or the U.S. Congress.
The reason why Morris' investigative efforts got nowhere is that the drug money was used by the CIA to finance MJ-12 operations secretly conducted throughout the US in the development of advanced aerospace programs. Many UFO sightings were in fact advanced aerospace vehicles that were part of secret space programs under development by the US Air Force and Navy, with the help of major aerospace corporations.
Having shown his usefulness in the CIA drug running operation at a state level, the MJ-12 group cleared the path for Clinton to become President so he could do the same at a national level.
Just before beginning his first term on January 20, 1993, President-Elect Clinton made a very strange request to close family friend and lawyer Webster Hubbell: "If I put you over there in justice I want you to find the answer to two questions for me: One, who killed JFK. And two, are there UFOs." According to Hubbell, who described the incident in his memoirs, Friends in High Places, "Clinton was dead serious."
Hubble said that he was unsuccessful in finding satisfactory answers. He was eventually forced to resign as Associate Attorney General due to the Whitewater political scandal and was jailed in July 1995 for 18 months.
The Clintons quickly learned, because of what had happened to Hubble, that the Deep State, through the CIA and mysterious policy groups like Majestic 12, had great power. Despite all his power as President, Clinton could not thwart the Deep State's plans.
The Clintons decided to end their efforts to get answers to questions concerning JFK's assassination and what lay behind the UFO phenomenon. This was despite them knowing that the CIA drug running operations was secretly funding highly classified aerospace programs.
By the end of Bill's Presidency, the CIA's "unofficial" black budget was estimated to be as much as one trillion dollars annually, which was more than double the Pentagon's budget at the time.

The Clintons had become a critical part of the CIA/MJ-12 operations at both state and national levels during Bill's political career. As Bill's Presidency wound down, Hillary's political career offered another opportunity for a compliant and heavily compromised political leader that would support the CIA's illicit fund raising for secret MJ-12 operations.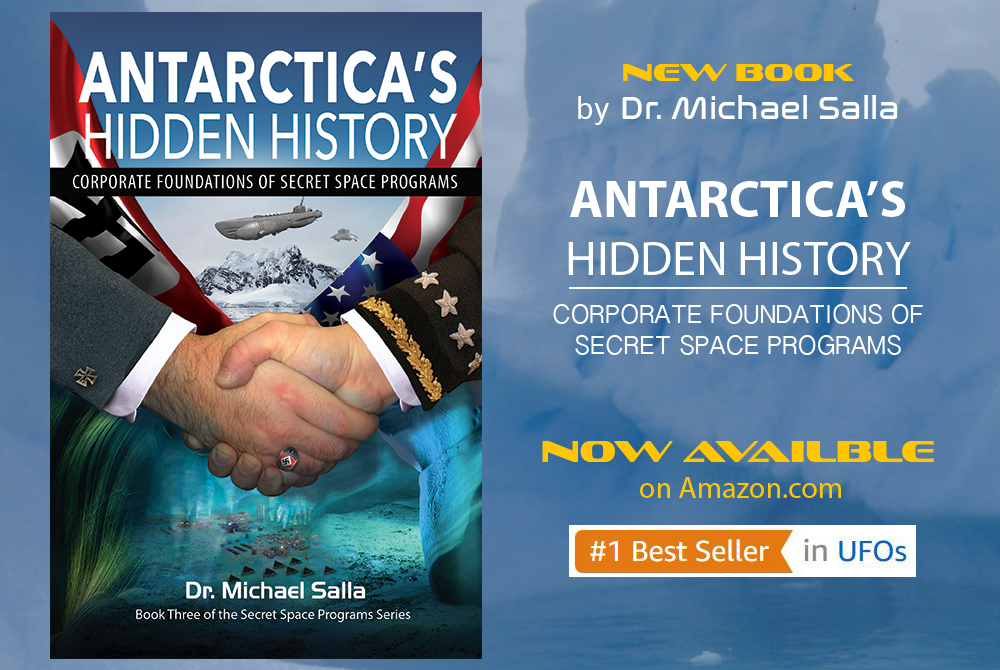 Secret deals were subsequently struck and the CIA/MJ-12 (aka Deep State) supported Hillary's rise to political power, and the New York Senate Seat was planned to be her launching pad for high political office.
Consequently, when JFK Jr was on the verge of publicly declaring that he was going to run for the Senate seat, not only did he threaten Hillary's nascent political career, but he also threatened the carefully crafted plans for future CIA funding of MJ-12 operations. Consequently, the same or a similar policy directive to Project Environment, which had been used to assassinate President Kennedy, could now be used against JFK Jr for his threat to MJ-12 operations.  
QAnon's posts linking JFK Jr's 1999 plane crash with Hillary Clinton and the CIA are certainly a bombshell. Close examination of the history of the Clintons and CIA secret Deep State actors such as MJ-12 provides a powerful rationale for why JFK Jr was perceived as a threat, and assassinated in a plane crash made to look like an accident.
© Michael E. Salla, Ph.D. Copyright Notice
Further Reading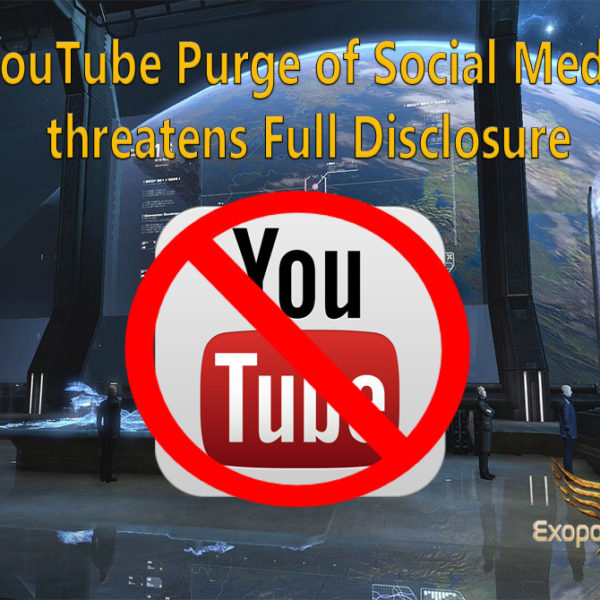 YouTube has begun purging its popular video hosting platform of channels that challenge the narrative coming out of the mainstream news media across a wide spectrum of topics. This has led to outright terminations and strikes against some of the more popular channels, which have been exhorting viewers to question the conventional news narrative.
These channels have been accused to be participating in hate speech or bullying due to them vigorously addressing controversial topics, transgressing norms of political correctness, or exploring evidence that some national tragedies may have been false flag attacks. Among the topics that appear to have attracted the attention of YouTube censors are disclosures by QAnon, which allegedly involves information released by covert U.S. Army Intelligence operatives.
The YouTube video purge not only has grave implications for free speech, but can also seriously impact on the prospects for full disclosure of secret space programs, UFO's, and the advanced technologies and hidden intelligence behind these.
These subjects have been successfully kept secret for decades due to mainstream media either ignoring or ridiculing their seriousness, or by removing journalists from their positions for covering them. I found this out first hand as a "citizen journalist" for the Examiner.com online newspaper where I had over 50 million pages views for over 300 articles written from 2009 to 2015.
All my content was summarily removed when a new editorial policy was adopted where "exopolitics" and many other alternative news topics were no longer considered legitimate news. Hundreds of citizen journalists writing highly popular blog articles were dismissed without any appeal process. All this badly backfired on the Examiner which by July 2016 was forced to shut down.
It's no surprise then that the CIA has been found to have compromised media organizations in order to shape the mainstream media narrative. I would not be surprised that the Examiner had been similarly compromised. Therefore, any attempt to suppress alternative media sources that challenge mainstream news is a threat to full disclosure.
YouTube, owned by Google, has very recently begun using an army of 10,000 moderators to police the thousands of videos uploaded to its platform on a daily basis.   In addition, progressive liberal organizations such as the Southern Poverty Law Center are being used as "Trusted Flaggers" which target YouTube users that vigorously challenge the mainstream news narrative.
Strikes are issued by the moderators and/or flaggers with only a very brief reference to the category of the YouTube community guidelines that has been allegedly transgressed. s No detailed explanation is given for the strike nor is the individual moderator(s) or organization behind the strike identified.
Among the first YouTube channels to be terminated under their three strikes policy was the Richie Allen Show on February 22, which had over 76,000 subscribers and 1,400 videos. Jordan Sather's Destroying the Illusion channel was terminated on February 26 (120,000 subscribers),  as was Jerome Corsi's channel (34,000 subscribers) on March 1. Strikes were also given to Alex Jones/Infowars ( 2.3 million subscribers and 33,000 videos), Mark Dice (1.2 million subscribers) and a growing list of others.
[Update 3/4/18] On late Saturday night, Alex Jones reported that YouTube was poised to delete his channel: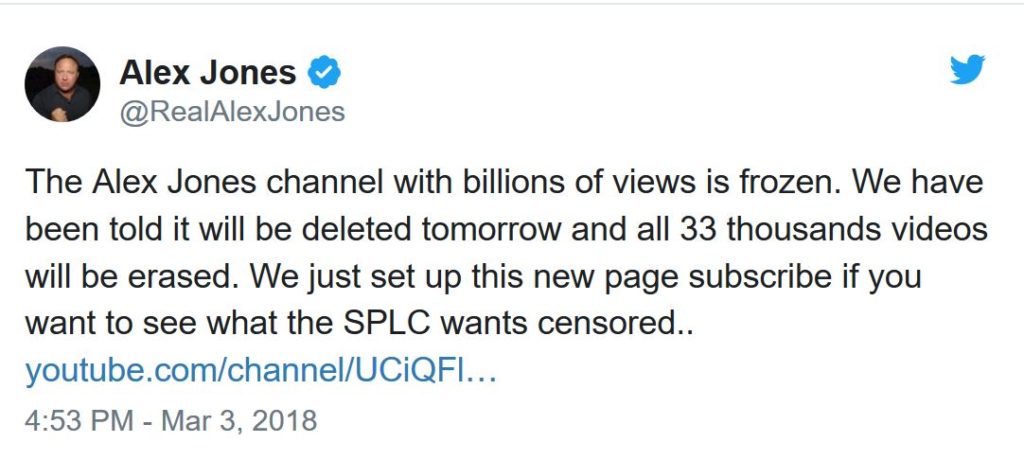 When challenged, some of the strikes have been reversed, and channels restored as occurred with Corsi, who received White House support from back channel discussions. Interestingly, both Corsi and Sather were giving a lot of coverage to the QAnon disclosures.
Officials linked to QAnon may have even stepped in to save Corsi's channel. Sather instead has created a replacement YouTube channel called Destroying the Illusion 2.0., where he plans to continue examining the QAnon material, secret space programs and many other topics.
The long-term prospects for YouTube channels and news sites challenging mainstream media narratives does not look good due to the moderators and flaggers actively posting strikes against many channels challenging mainstream news narratives.
YouTube, Twitter and Facebook are at different stages in downgrading, hiding and/or terminating alternative media sites in a transparent and foolhardy effort to get people to buy back into the mainstream media narrative on topical issues.
YouTube, along with Twitter and Facebook, are destined to fail since there is a growing social movement that simply doesn't trust the mainstream news narrative, which many believe is hopelessly compromised by Deep State actors such as the CIA.
This is a phenomenon that is not going to be reversed during the Trump administration given the highly partisan nature of American politics, and the rapid growth in the popularity of the QAnon revelations which are being followed by as many as 20 million people (Q post 812).
What YouTube, Twitter and Facebook are doing is only highlighting how they have been compromised by individuals and groups that have a vested interest in hiding the machinations of the Deep State, and covering up the truth on an extensive number of topics.
In the meantime, it would be wise for individuals to support alternative media by directly visiting the websites of content providers, which are not controlled by YouTube, Twitter and Facebook. Subscribe to RSS feeds, email lists, etc., of your favorite sites, and don't become too dependent on social media platforms such as YouTube, Twitter and Facebook, which are only going to continue to terminate accounts of those not supporting the mainstream media narrative. Here is a list of alternative social media platforms that don't censor posters.

In the case of information concerning secret space programs and "exopolitics" I recommend subscribing to the RSS and email feeds of exopolitics.org which is my personal site, or exonews.org which hosts a diverse collection of exopolitics authors, and stories from around the internet.

As far as the YouTube purge of channels promoting the QAnon information, the quick reinstatement of the Corsi channel after possible White House intervention raises hopes that this new policy direction may similarly backfire on YouTube and Google, as it did for Examiner.com back in 2016.
The threat posed by the YouTube purge is very real and preemptive steps need to be taken by all who value alternative news perspectives, and desire social media to be an effective means of promoting full disclosure.

© Michael E. Salla, Ph.D. Copyright Notice
Further Reading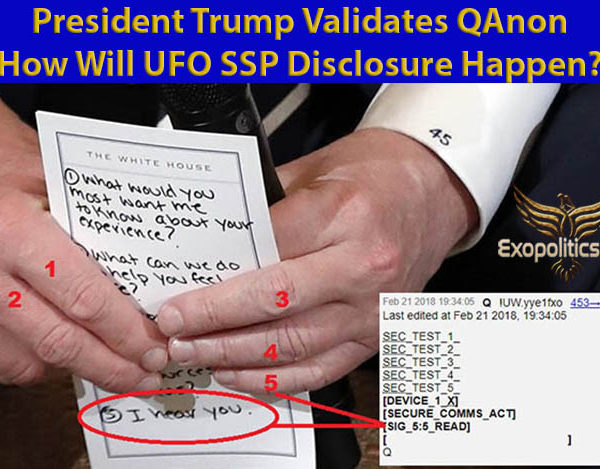 On February 21, President Donald Trump hosted a gathering of students, teachers and parents from the Majory Stoneman Douglas High School shooting tragedy. Just before the meeting began at 4:21 pm, President Trump was photographed showing some handheld notes on White House stationary with a list of five talking points he planned to use during the meeting.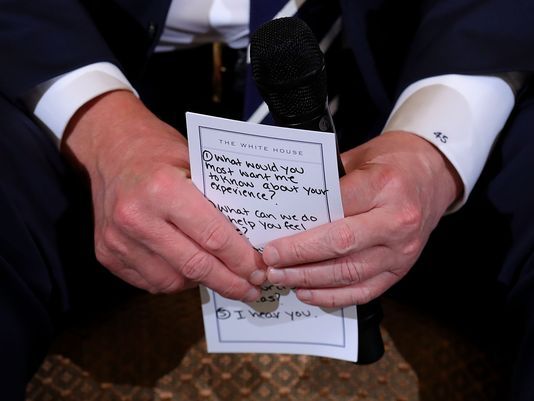 Unusually, Trump had the notes facing outward toward the cameras, rather than facing towards him which would be normal for any public speaker. This made it easy for the notes to be photographed leading to immediate media speculation about the appropriateness of Trump's talking points.

Only a few hours after the meeting, at 7:34 pm, EST, QAnon released a coded post referring to five security tests.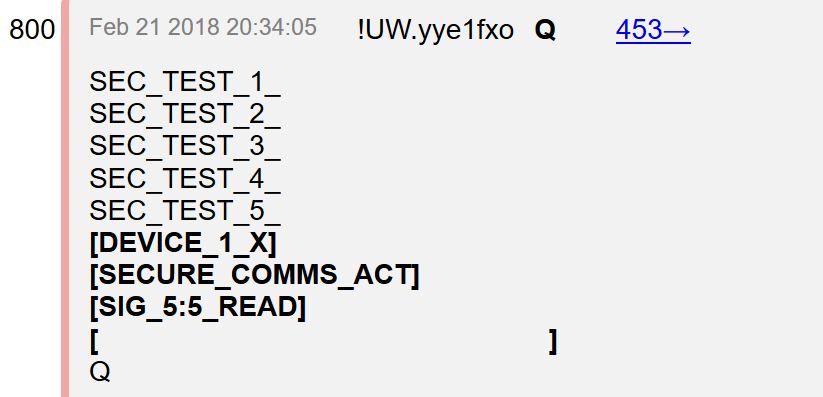 The next day, QAnon posted an image showing Trump holding the note, alongside the later coded message. Trump's hand placement, the five note's points, appeared to have a connection to QAnon's coded post.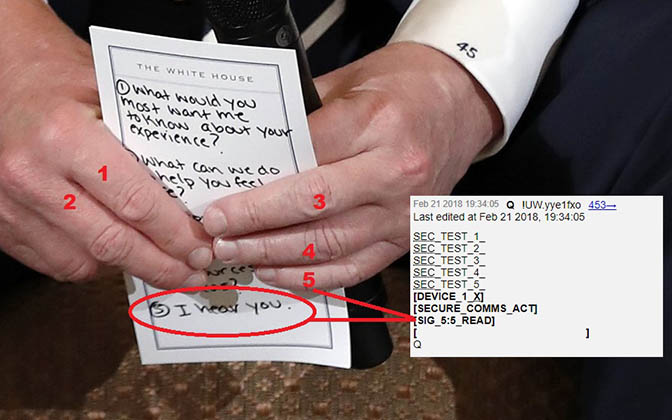 The message QAnon was transmitting was that Trump had deliberately turned his notes outward facing the camera in order to pass on a coded message.
QAnon was telling his audience that Trump was hearing the voices of the many estimated to number as much as twenty million (Q post 812), who have been following the QAnon material – "I hear you".
During the meeting itself, available on video, the notes are nowhere to be seen. Trump, only held the notes prior to the meeting's start. This tells us that these were just talking points for Trump to memorize before the meeting began and were then discarded.
It's possible that he accidently had the list of five points facing out prior to the start of the meeting, but its highly unusual for an experienced public speaker like Trump to do so. The more plausible explanation is that his action was deliberate.
Given the connection QAnon found in Trump's odd hand placement around the notes, and the coded message released only three hours later, this makes it clearer that Trump's action was deliberate and not accidental.
Consequently, it does appear that Trump was sending a coded message that corroborated the QAnon material, as investigative reporters such as Dr. Jerome Corsi contend.
If Trump was indeed passing on a coded message that both corroborated the February 21 security test, and that he was listening to people following the QAnon material, then some important conclusions can be drawn.
First, Donald Trump is aware of and endorsing the QAnon disclosures of classified information occurring on anonymous message boards. This conclusion supports the contention of Dr. Corsi that QAnon is a group of U.S. Army Military Intelligence officials that are disclosing classified information about real life events involving the White House.
Second, Donald Trump is actively participating in sending coded messages designed to legitimate the QAnon material, which confirms that his administration is directly connected with and supporting QAnon.
Third, President Trump is sanctioning the disclosure of classified information through QAnon's posts, which opens the door to read-in insiders to anonymously disclose classified information on a range of topics. This is significant since many insiders possessing classified information would not normally release it, unless authorized by a higher authority, such as Trump.
Finally, the Trump Administration is locked into a no holds barred struggle against Deep State actors and forces as explained in over 800 posts to date by QAnon.  These cover a multitude of issues concerning secret indictments, arrests of Deep State officials involved in pedophile networks, treasonous actions by Obama administration officials, and the January 13 false flag ballistic missile attack on Hawaii.
In addition, Corsi has claimed that Trump is very familiar with the cover-up of information concerning UFO's and Secret Space Programs. It's therefore very possible that QAnon will be the means by which advanced technologies secretly developed in Unacknowledged Special Access Programs will be disclosed to the world.
This leads us to a comment Trump made in his inauguration speech:  
We stand at the birth of a new millennium, ready to unlock the mysteries of space, to free the earth from the miseries of disease, and to harness the energies, industries and technologies of tomorrow.

It's therefore well worth closely monitoring QAnon's posts and President Trump's actions in supporting the release of classified information through anonymous whistleblowers, and what this is about to disclose about UFO's and secret space programs.
© Michael E. Salla, Ph.D. Copyright Notice
Further Reading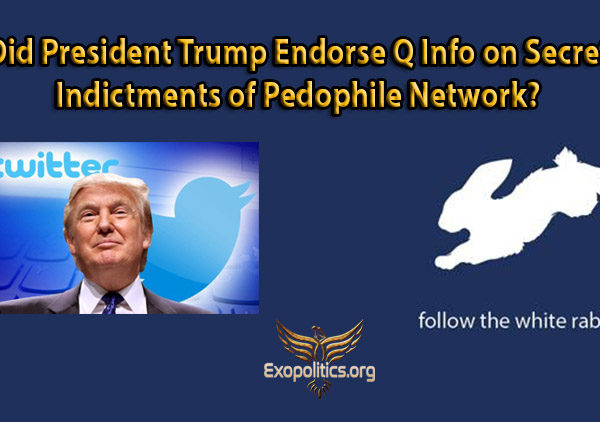 On November 25, President Donald Trump re-tweeted an alternative news article lauding many of the accomplishments achieved during his administration so far. The site he retweeted, MAGAPILL soon crashed as many of the President's 42 million followers went there to learn more.
What is significant about the article and site he retweeted is that it featured a November 19 story about an alleged whistleblower called Q, who has been releasing a lot of information about what is really going on behind the scenes in Washington DC.
In retweeting the story and link to the MAGAPILL site, which he lauded as a genuine news site in contrast to "fake news" sites, was Trump indirectly endorsing Q's information as genuine? If so, then the ramifications are enormous. First, let's begin with Trump's re-tweet.
Wow, even I didn't realize we did so much. Wish the Fake News would report! Thank you. https://t.co/ApVbu2b0Jd

— Donald J. Trump (@realDonaldTrump) November 25, 2017
The article he referred to is titled "President Donald Trump's Accomplishment List" and an archived copy is available here. It lists his accomplishments across a broad spectrum of political, economic and national security areas.
What is arguably more significant is that at the very top of this article was a large banner linking to a featured story "Q Clearance Patriot: The Storm and the Awakening: follow the white rabbit".
By clicking the banner's link, Trump interested readers are taken to a November 19 article that discusses the revelations of Q, an alleged high-level insider spilling the beans on what is happening behind the scenes.

The Q material discusses an enormous number of topics such as secret indictments of the political elite, current events in Saudi Arabia and Trump's national security briefings by figures such as NSA Director, Admiral Michael Rogers.
The preface found on the MAGAPILL site mentions the enormity of the information released in this article, and provides some highlights of the released material. Among the more interesting is the view that rather than former FBI Director Robert Mueller conducting a serious investigation into the links between Russia and the Trump Presidential campaign, Mueller is really investigating a corrupt pedophile network that has secretly monopolized power in the US:
The Special Counsel is not corrupt. Let me say that again, the special counsel, headed by Mueller, is not running a corrupt investigation. He's doing the job properly under the guise of investigating the Trump team. This has lowered the guard of the true targets because nobody anticipated it, including the media. There are an unprecedented number of sealed indictments across the nation right now that have not been executed, over 1100 sealed indictments at last glance.
Many high level officials will soon be arrested to actually 'Drain the Swamp' beyond what anyone thought was possible. Once the corruption and the 'type of corruption' is revealed to the American people, it will trigger 'The Awakening'. This event will be something unlike anything you've ever witnessed, Americans will unite behind Trump and his administration for cleaning house.

There have been persistent rumors of hundreds of secret Grand Jury indictments that are on the verge of being unleashed. These rumors have been circulating for weeks and a number of alternative media figures have closely analyzed some of the Q material that refers to them.
Among these figures is Jordan Sather, whose "Destroying the Illusion" Youtube channel has gained over 65,000 subscribers due to his cogent analyses of the Q material and other topical issues. Sather released a video on November 26 analyzing Trump's retweet of the MAGAPILL article, and was the first to raise the possibility that Trump was indirectly endorsing the legitimacy of the Q material.  
While the Q material is quite extensive, its core claim that Mueller, as Special Counsel, has really been investigating a corrupt pedophile network, rather than the alleged Russia Trump campaign connection, is very significant.
Of special interest is Meueller's background as a former US Marine Corps Captain (1968-1971) who was highly decorated for his bravery during the Vietnam War. It's worth noting that the Secretary of Defense, James Mattis is a retired four star USMC general, as is Trump's Chief of Staff, John Kelly. Given the deep loyalty of former USMC personnel to their military service (semper fidelis – always faithful), it's very possible that Meuller is secretly following an agenda sanctioned by Mattis and Kelly.
We also need to keep in mind claims that on November 18, a number of USMC helicopters allegedly buzzed the CIA's Headquarters in Langley, Virginia. While initial reports erroneously referred to the CIA's HQ being stormed by the USMC, a former FBI agent, Hal Turner confirmed through credible sources that the helicopters had only "buzzed" the CIA HQ for roughly 30 minutes.
Did nearby residents in McLean suddenly notice a large number of loud helicopters overhead, moving toward or from the area of the CIA.   The repeated answer to that question has been "Yes." 
Many (very many) residents of McLean, VA have confirmed they found themselves hearing large numbers of loud aircraft overhead on Saturday, and that the sounds lasted more then 30 minutes!

The intent was clear, the USMC was threatening the CIA's clandestine services division to get on board with the Trump administration or else. This is not the first time that the CIA has been intimidated by a US President threatening to unleash the US military against its facilities.
In 1958, President Eisenhower threatened the CIA's Area 51 facilities in Nevada with invasion by the US First Army stationed at Colorado if the CIA did not fully disclose all its classified programs there. In a May 2013 video interview, a former CIA operative revealed what he heard Eisenhower tell his boss to relay to the mysterious MJ-12 Committee in charge of the Area 51 facility, for which the CIA provided operational security:
We called the people in from MJ-12, from Area 51 and S-4, but they told us that the government had no jurisdiction over what they were doing…. I want you and your boss to fly out there. I want you to give them a personal message…. I want you to tell them, whoever is in charge, I want you to tell them that they have this coming week to get into Washington and to report to me. And if they don't, I'm going to get the First Army from Colorado. we are going to go over and take the base over. I don't care what kind of classified material you got. We are going to rip this thing apart."

This takes us finally to the testimony of Michael Gerloff, who has served with the USMC, US Army Rangers and Seattle Police over a period spanning 20 years from 1978 to 2001. Gerloff says that he was part of a secret USMC intelligence group established by President Eisenhower in the early 1950's, that continues to the present day.
According to Gerloff, the USMC was given special responsibility by Eisenhower to act as an institutional bulwark against systemic corruption that threatened the US Constitution and the Republic. This corruption stemmed from the creation of secret space programs that worked closely with major defense contractors at remote locations such as Area 51.
What we are witnessing now with over a thousand secret indictments allegedly generated by Mueller, Trump's USMC/Navy dominated administration, USMC helicopters buzzing CIA HQ and Gerloff's claims, is that we are on the verge of major revelations about deep systemic corruption that has plagued the US. The role of the USMC in taking the lead in cleaning up this systemic corruption is slowly being revealed.
Trump's retweet of the MAGAPILL article appears to be an endorsement of the view that secret indictments established by Meuller are on the verge of being disclosed, thereby triggering many further revelations that will awaken the general public. In the meantime, Trump is encouraging those among the American public who are ready, to go down the rabbit hole to learn the truth about systemic corruption, powerful pedophile networks, and secret space programs.  
© Michael E. Salla, Ph.D. Copyright Notice
Further Reading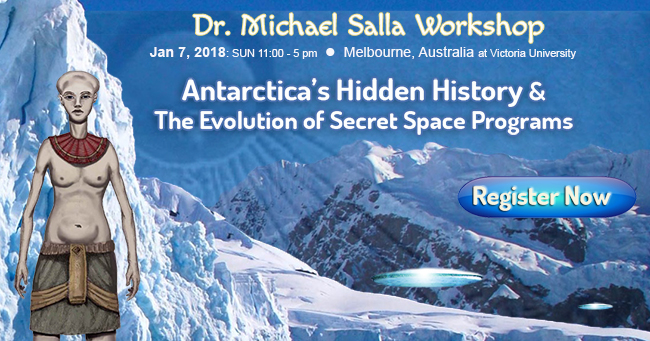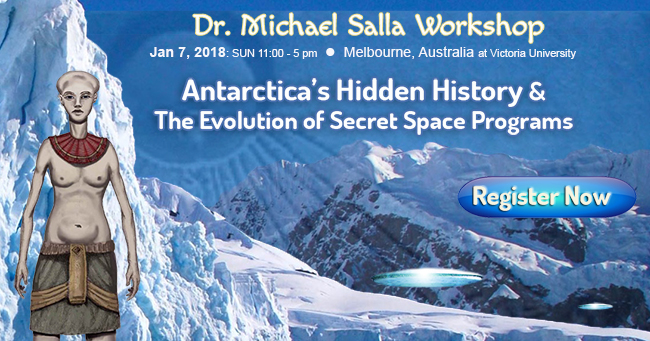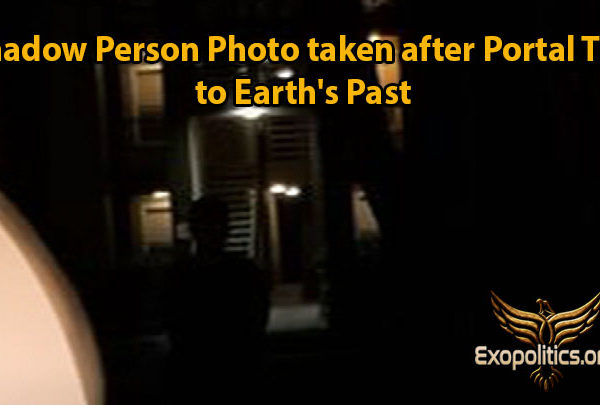 [11/24/2017 – update below] On November 18, JP, a source who has been supplying me with photos of classified antigravity craft in the vicinity of MacDill Air Force Base, Florida, contacted me with an incredible story about being led to and stepping through an invisible portal into the Earth's past. Then he really caught my attention by producing one piece of noteworthy evidence to support his exceptional encounter.
After exiting the portal, JP says that he took a photo of a strange shadow like person who immediately began following him, which is reproduced below. It clearly shows an entity of some kind. While the photo of the shadow person does not prove JP's portal travel experience, it is powerful corroborating evidence.
Here's the full story of JP wrote happened to him when he was walking his dog in the Tampa area of Florida on Saturday.
A person dressed in white came up to me while I was walking my dog. He told me to follow him Into a tree. I can't believe [it], they use trees as portals. The bark of the tree turned into a watery substance. Once I went through my camera did not work.
JP included a couple of attempted photos of the portal, but they were completely washed out, and revealed nothing, as the following photo shows. When inside the portal, his camera/phone simply didn't work at all.

JP continued his incredible story.
He took me to a place with beautiful vegetation. Beautiful place a lot of kids playing, talking a different language. A lot of huge trees, massive, massive trees. Eiffel tower size. I literally felt like an ant. The guy told me this was on Earth couple millions of years ago
He showed me a central tower that changes colors. Beautiful pink and yellow flying birds. My dog also went with me, [he] was totally confused.
But like he understood everything we were saying. Everything communicates as one.
JP gave more details about the telepathic communication network and the technology in use by the beings:
Kids playing on a white sand substance. There was a vehicle that I saw it looked like a car but did not have wheels. A couple flying ships, traditional UFO. I can hear everybody talking like my mind was connected to everybody's mind.  Hard to concentrate when a lot of voices in your head.  I guess there is a technique to concentrate on one person.
JP went on to next refer to the man in white who had led him through the tree portal. This person shared some information with JP once inside:
He told me that I've been there, many times. That I used to  work there. I ask him doing what?
He told me that they hired a outside military agency to help them with the structural part of where they all live… That they connected a lot with me while I was there working… That I was the only one in the group that was there working that has visited different timelines
But me personally I don't remember. I probably got wiped.
What JP was told here was that he had been coopted into a covert military program, but he had no memory of having visited that particular location before. When I asked JP about the military component behind visits to these kinds of temporal/dimensional locations through different portals, he answered:
They hire different agencies to help them.  There is thousands of these places around Earth, that the military helps construct an exchange of passage only, and culture knowledge and history.  Never technology…  Of course, while working there they see the technology and use their technology.
This is consistent with the information that JP has been sharing with me since 2008 when he first discussed his contact experiences in Brazil with a human looking extraterrestrial race. He was subsequently asked to participate in a number of covert technology development programs near MacDill Air Force base that used the information given to him by the extraterrestrials.
When JP declined further participation in the technology development projects, it appears he was then used as an asset in a covert military exchange program with extraterrestrial groups, and different temporal/dimensional beings.
Many of the experiences he subsequently had involved him being coopted into some kind of military exchange program with extraterrestrial races, and with beings in different temporal/dimensional locations.  He said:
That explains why a lot of people are [memory] wiped. Because the military is sending these people to work for these underground civilization for construction for exchange of the history and knowledge of their culture, and also protection by these military personnel.
As to who these beings inside the portals might need protection from, this is where JP's return gives some insight:
Once I came back a shadow figure was following me.
When I asked JP how he was able to take a photo, he answered that he did it by quickly taking a selfie with his camera/phone:
I sense somebody following me but every time I look back I did not see nothing. So when I felt that sensation, I took my phone, my phone had flash all ready … I did it really fast, and he was there. When I turned around he disappeared.
JP also commented about the shadow person's features in the photo:
It's weird because the Flash did not get him, only got his eyes. So he was like … a shadow.
The photo shows a building behind JP and the shadow person between him and the building. Even though JP's camera's flash went off, the shadow person did not reflect any light, except from the eyes. The following video shows a zoom of the photo taken by JP.

Below is the original photo taken by JP with his face blurred and a close up of the shadow person.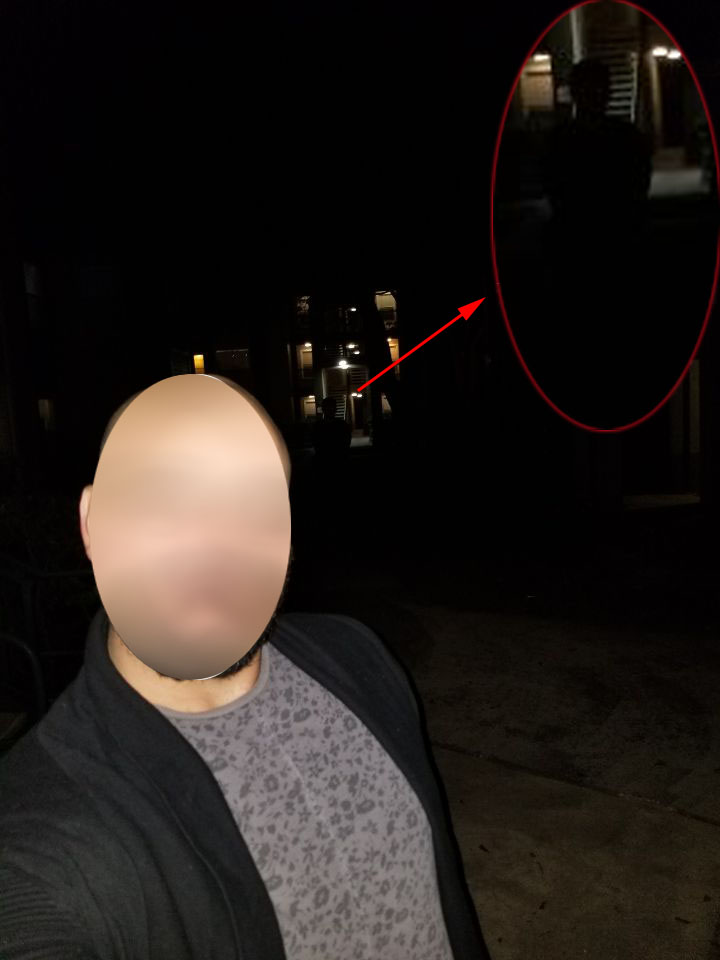 The role of shadow people has been investigated by researchers such as Heidi Hollis who wrote a book about them, titled The Secret War: A True Story About A Real Alien War and Shadow People, where she describes them as having a dark agenda aligned with a negative extraterrestrial group.
Similarly, a recent secret space program witness, Michael Gerloff, spoke about shadow people who tried to frighten him during his youth.  
The photo of the shadow person is powerful corroboration for the incredible portal experience JP claims to have had. It complements a series of other photos he has taken showing triangle, rectangle and cigar shaped antigravity craft flying in the vicinity of MacDill Air Force base. JP claims to have been taken into these craft to special locations where he has been monitored in his interactions with technology, people and the environment.
The shadow person photo joins a growing body of evidence supporting JP's claims that he continues to be used as an asset in a number of covert programs, including a possible cultural exchange program via portal technology with a human society that reportedly lived two million years ago.
© Michael E. Salla, Ph.D. Copyright Notice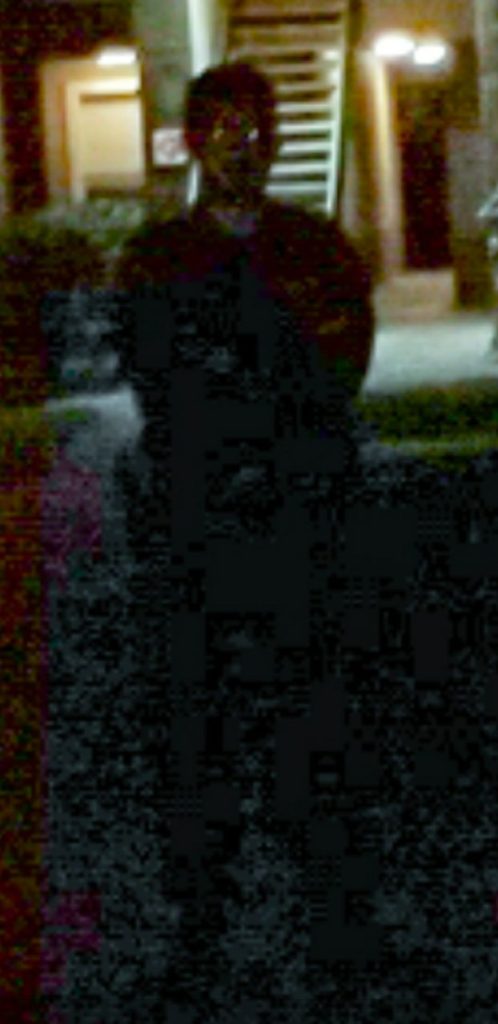 [Update 11/24/17 – Mystery of Shadow Person Solved – JP sent me an enhanced version of the photo taken of the shadow person. It was created using the enhance feature in Photoshop Express by one of JP's friends. I tried enhancing the original photo myself and got a similar result. It shows someone in a military uniform with a sidearm.
JP says that when he turned to face the person, he was not there suggesting some kind of cloaking technology was used. He said he did not take any further photos since he was scared and took off.
JP further added that the uniform is similar to those worn by military personnel he encountered when he was taken up into the rectangle craft operated by US Air Force Special Operations.
This suggests that the person monitoring JP after he emerged from the alleged tree portal was not a shadow person, but a military serviceman using cloaking technology. This reminds me of Arthur C. Clark's dictum: "Any sufficiently advanced technology is indistinguishable from magic."
The identification of a military serviceman nevertheless corroborates JP's claims of being under close surveillance generally, and while having his portal encounter in particular.
Many Thanks to JP and his friend for resolving the mystery behind the Shadow Person.]
Further Reading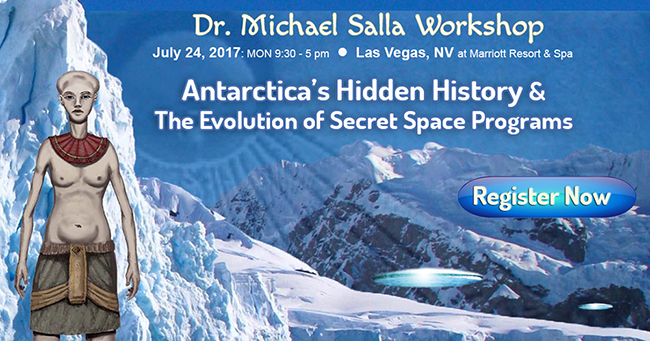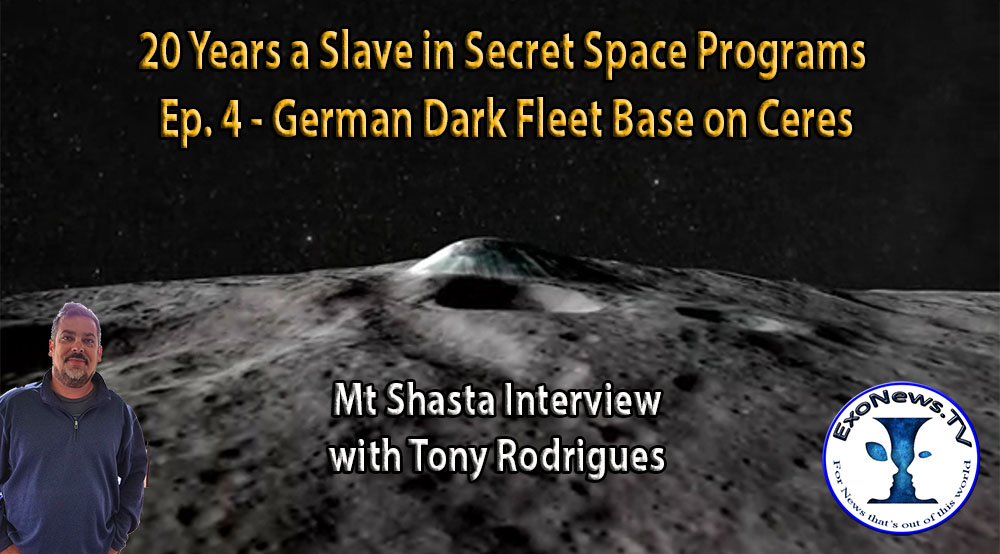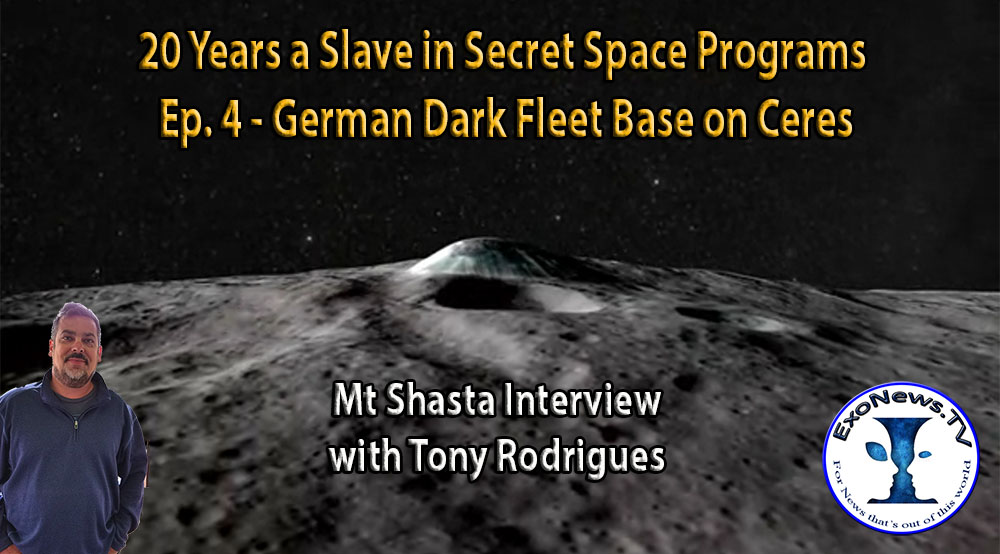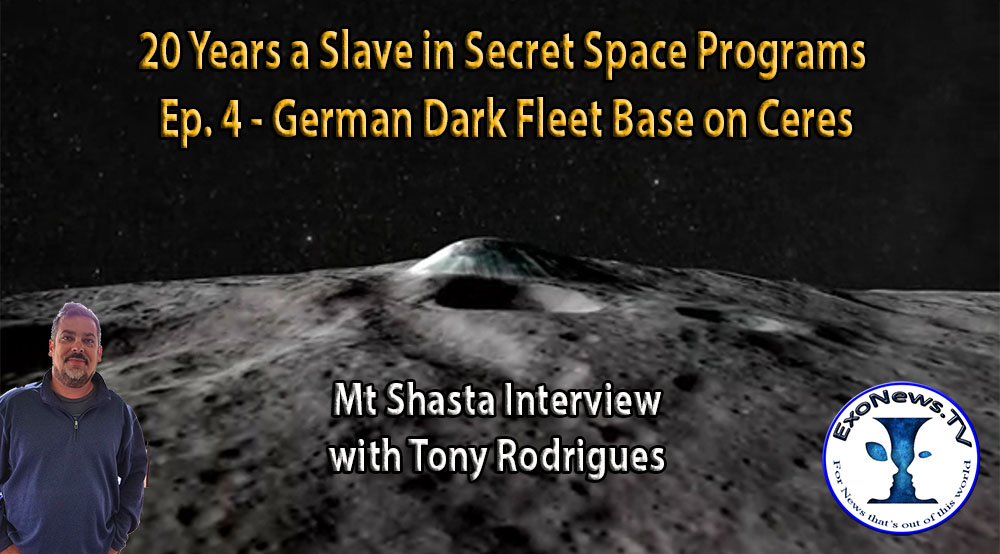 [Updated on 11/28] Three new ExoNews TV episodes have been released of Tony Rodrigues who claims he was used as slave labor for several secret space programs, one of which was German-run program known as the Dark Fleet, which was originally built in Antarctica. In two earlier episodes (parts one & two) he discussed the first seven years of his alleged "20 and back" program where he says he was used as a drug courier in Peru, sex slave in Washington State, and finally taken to the Moon when he turned 16 to be trained for space operations.
In these additional episodes from an ExoNews TV interview conducted on August 29 at Mt Shasta, California, he discusses his memories of being on a secret corporate base on Mars, and anther base on the Asteroid Belt planetoid Ceres, as well as his service on an alleged Dark Fleet Merchant Spacecraft called the Max Von Laue.
His account of the brief period he spent on Mars has similarities with the claims of Randy Cramer who says he spent 17 years stationed there as a super soldier in a military base that was kept totally separate to civilian bases run by a corporation. In part two of this five part series, Rodrigues described his brief month-long stay at the Mars military base, where he claims that he fought alongside the super soldiers as a "slave soldier" in a failed military program.
In part three, Rodrigues states that after his slave soldier program was ended, he spent a month or so completing aptitude testing on the Mars corporate colony base called Aries Prime, which Cramer was the first to publicly identify. Gray extraterrestrials identified his innate abilities which would determine the kind of future space missions he would perform.
In part four, Rodrigues says after the completion of his aptitude testing, he was sent to the planetoid Ceres through an advanced portal shuttle system from Mars, where from 1990 to 2001, he served as a crew member of a merchant space craft led by German officers that were part of the Dark Fleet.
In part five, Rodrigues  he describes his memories of time spent on a German speaking "Dark Fleet" merchant vessel called the Max Von Laue which performed interplanetary and interstellar trade missions. Among the alleged missions was one involving a nuclear attack on a Mayan colony located in the Pleiades star system.
After the release of the first two video installments of Rodrigues claims, there were doubts raised by a reliable source as to whether he was indeed a participant in a "20 and back" program.
Such doubt has been accentuated recently with claims by Dr. Steven Greer that psychotronic holographic technologies are used to create realistic scripts that are downloaded into unwitting victims, who then come forward with fabricated memories.
Greer's description of the development of these technologies and their use in secret space program testimonies was the subject of a November 13 lecture, where he said these scripts are manufactured to be "seductive and interesting". He asserted:

You've got to have multiple points of corroboration, and the bigger the tale the more the proof you got to have. Now what I would say is it that I believe that these men are sharing what they believe to be true. I also know how easy it would be to provide information that is scripted about that, and that is seductive and interesting.

His insistence that "multiple points of corroboration" are necessary for validating witness testimony is a valid one. However, controversy erupted from Greer's lecture when he claimed that the testimonies of Corey Goode and William Tompkins were corrupted by scripted memories. I responded to Greer's claim in a two part series addressing them first for Goode, and then for Tompkins whose testimony has many similarities to Goode's.
My conclusion was that Greer's accusations lacked direct evidence, were driven by bias against any claims of predatory extraterrestrials, and were purely conjectural. This was especially so in the case of Tompkins whose testimony has "multiple points of corroboration" with independent witnesses and documents.
Nevertheless, Greer raised a legitimate concern in his lecture about advanced psychotronic holographic technologies that could produce realistic scripts to contaminate whistleblower testimonies about secret space programs.
This certainly was a major concern that Goode had previously raised when he was told by his insider source, "Gonzales" (a pseudonym) that a disinformation campaign was underway to contaminate the field of secret space programs research with false whistleblower testimonies:
Gonzales suddenly got a very serious look on his face and stated that he had a few things to discuss with me. He, too, stated that there was an operation underway to water down the info we have disclosed, as well as to discredit me personally by flooding the internet with fake SSP insiders.

A new generation of Manchurian candidates, who genuinely believed their false memory scripts, could indeed make it very difficult in finding the truth about what is really happening in secret space programs.
Rodrigues memories as a slave for an involuntary "20 and back"  space program raises the question, are his memories genuine or scripted?
Before attempting to answer this question, I wish to raise a third possibility first brought to my attention by my exopolitics colleague, Alfred Webre, J.D. He publicly postulated that Randy Cramer's memories of service in a "20 and back" secret space program were not a result of his own direct experiences, but were the memories of a dead Mars supersoldier. Weber said:
Specific memories of a deceased member of the Mars Defense Force have been downloaded and implanted into Randy, although Randy is not yet conscious that this is the case…. This was done as a well-intentioned disclosure effort by officials within the Mars Defense Force to let the public know about the Exopolitical situation on Mars and Earth.

It's important to note that Weber's thesis here is not that Cramer's memories were downloaded into him for disinformation purposes, but are part of a sanctioned disclosure program by a covert group of "White Hats".  I analyzed Webre's claim regarding Cramer in my book, Insiders Reveal Secret Space Programs and Extraterrestrial Life (pp. 335-36).
Weber's thesis that memories of secret space program personnel can be extracted for subsequent downloading into another body is very plausible. His thesis suggests that rather than fabricated scripts, as Greer was suggesting, the memories of dead secret space program personnel could be downloaded into unwitting victims who are then led to believe they were part of a "twenty and back" program.
The advantage between real memories versus manufactured scripts, is that the memories would have genuine emotions attached to them, as opposed to computer generated scripts. This would make for a much more compelling witness, who would feel genuine emotions as they recalled another person's memories, which they believe to be their own.
So coming back to the question of Tony Rodrigues' memories, we have four possibilities: 1. they are genuinely his own experiences; 2. they are manufactured scripts that are part of a disinformation program; 3. they are another person's memories downloaded into him into a sanctioned disclosure initiative; and 4. they are entirely fabricated by Rodrigues himself as part of an elaborate scam.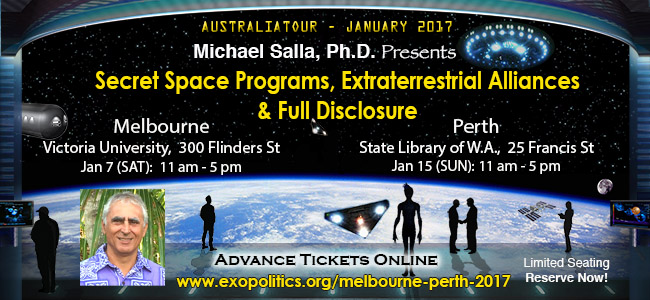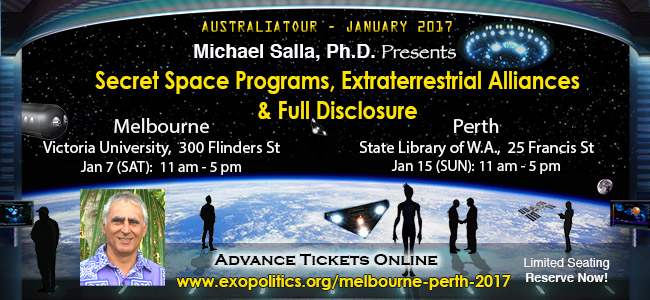 I was first contacted by Rodrigues on August 15, 2015, who shared his story. A red flag was quickly raised by due to an inconsistency in his narration of an encounter around 1997-2001, between the merchant spacecraft he claims he served on, and the Arnold Sommerfeld, the Solar Warden research vessel that Goode says he served on for six years (1987-1993).
I then spent then next year vetting his testimony along with two other researchers, Morgan Starr and Rob Potter. We collectively conducted numerous phone, email and in-person interviews, closely examining his testimony for consistency, and attempted to determine his sincerity. Importantly, we tried to find any ulterior agenda in him coming forward.
I personally met Rodrigues for the first time at the Mt Shasta Secret Space Program conference from August 26-28. I closely examined his body language, emotions, consistency in retelling his story, and motivation for coming forward. A colleague, Duke Brickhouse, J.D., also participated in the vetting process at the Mt Shasta conference.
Our collective conclusion was that Rodrigues was being truthful, sincere and consistent in describing events he recalls experiencing during a twenty and back secret space program. This ruled out, in our opinion, the possibility that Rodrigues was perpetrating an elaborate scam.
Among the things that impressed me in Rodrigues story was his description of the older generation of German spacecraft as retrofitted submarines. This was consistent with Tompkins' description of the first US Navy space craft being retrofitted Nautilus class nuclear submarines which he shared in an unpublished interview. As far as I'm aware, Rodrigues was the first person to reveal this very significant piece of information.
Another impressive feature of Rodrigues story was that says that the white spots on Ceres are water geysers which he personally saw during his time flying over the planetoid. This is consistent with early scientific data on the white spots which remain an enigma for planetary scientists.
Finally, Rodrigues account of being used as a sex slave in Seattle, Washington State from 1985 to 1988 (see part one) is perhaps the most significant aspect of his testimony insofar as it is verifiable.
After the Mt Shasta conference, Rodrigues traveled to the Seattle area location where he claims he was forced into sex slavery and recalled many locations he had been forced to work at during his "20 and back" timeline. In this current timeline, Rodrigues says that he had never previously visited Washington State.
In phone reports to Brickhouse and myself, he confirmed that he knew his way around the area where he was previously exploited, and recalls the names of the people who had run the child sex operation. Additionally, he says that through Google Earth, he was able to locate the town and environment where he was forced to work for the Peruvian drug trade from 1981 to 1985.
If there is independent confirmation of Rodrigues time in Peru and Washington, or for his alleged space service on Mars and Ceres, that will help considerably in establishing "multiple points of corroboration" for his story, and the accuracy of his memories. As mentioned in earlier articles, there are multiple corroborating points for insiders such as William Tompkins and Corey Goode.
Until multiple points of corroboration are found for Rodrigues testimony, there remains the possibility that his memories may be contaminated by manufactured scripts, or implanted memories from another person. This requires caution and discernment in using Rodrigues testimony to understand aspects of secret space programs, such as the German-run Dark Fleet, about which little is known.
[ExoNews TV episodes with Tony Rodrigues: Part 1, Part 2, Part 3, Part 4, Part 5]
[Updated on 11/28/16 with addition of Part 5]
This article may be freely circulated in its entirity.
Further Reading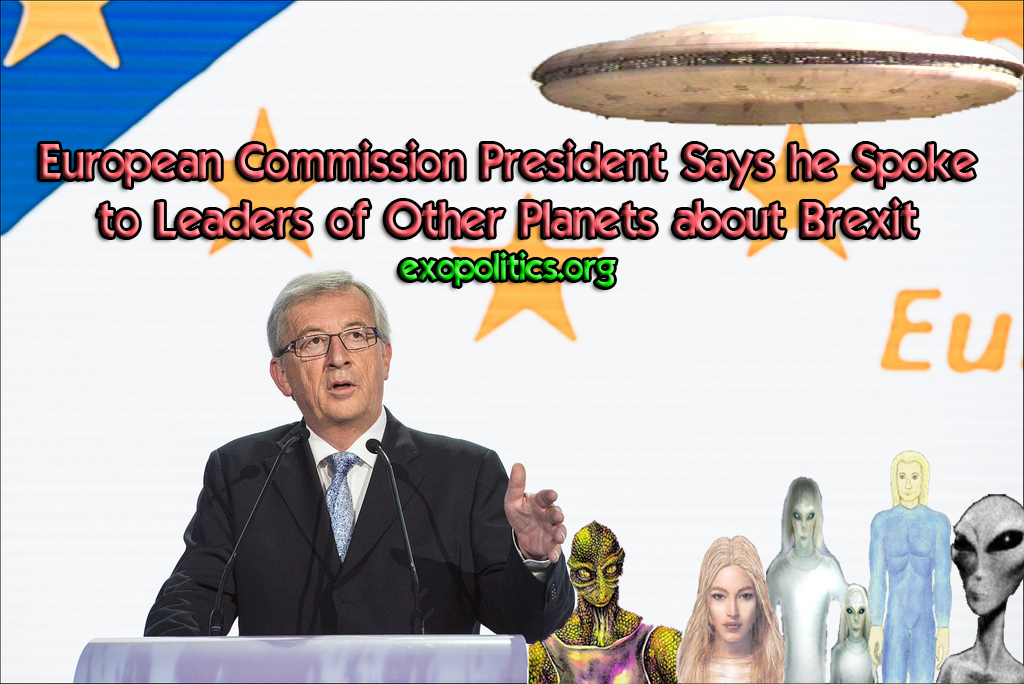 In a speech before the European Parliament discussing the consequences of the Brexit vote, the President of the European Commission, Jean-Claude Juncker, made the stunning comment that he had spoken about it to "leaders of other planets." Juncker's comment suggests that world leaders are in communication with extraterrestrials, which closely monitor global events and assess their geopolitical and 'exopolitical' impact.
Juncker's speech was given on June 28 at an emergency meeting in Brussels by the European Parliament. Here is what he said in French along with the English translation:
"Il faut savoir que ceux qui nous observent de loin sont très inquiets. J'ai vu et entendu et écouté plusieurs des dirigeants d'autres planètes qui sont très inquiets puisqu'ils s'interrogent sur la voie que l'union européenne va poursuivre. Et donc, if faut rassurer, et les européens, et ceux qui nous observent de plus… loin."
"It should be known that those who observe us from afar are very worried. I met and heard and listened to several of the leaders from other planets who are very concerned because they question the path the European Union will engage on. And so, a soothing is needed for both the Europeans and those who observe us from … farther away."

The official transcript released by the European Commission has been edited to remove the reference to "leaders from other planets". The transcript now reads:
J'ai vu et entendu et écouté plusieurs des dirigeants. Ils sont très inquiets ….

"I saw and heard and listened to several executives. They are very worried …"
Yet, when one listens to an audio loop of what Junker's actually said, he very clearly includes the phrase "dirigeants d'autres planets," which translates as "leaders of other planets," as pointed out by native French speakers discussing Junckers speech, and also by Google Translate.

There has been clearly an official attempt to cover up Juncker's admission to having spoken to "leaders of other planets," and making it appear as though he was instead referring to "executives" concerned about Brexit. So what did Juncker have in mind when he said he spoke with "leaders of other planets"?
One possible interpretation is that he meant to say that he had spoken with "other planetary leaders" outside of the European Union, and made a simple grammatical error as some contend. If so, then why wasn't the official transcript corrected to make it clear that he had misspoken? Furthermore, it is difficult to imagine a major world leader would make such a dramatic error in an important speech to the European Parliament without realizing it immediately and correcting that error on the spot.

Also, at several points in his speech, Junckers makes references to himself as a "human being" and not a robot or a machine, suggesting that some in his intended audience are not human as one native French speaker has noted in translating and interpreting his comments in a helpful thread on the Project Avalon Forum.

Taken on face value, Juncker's speech directly raises the issue that "leaders of other planets," or extraterrestrials, are very concerned by the Brexit issue and its implications for the European Union. It's worth exploring why this might be the case. There are two scenarios I wish to raise here.
One is that extraterrestrials require global unity as a precondition for revealing themselves to humanity, or having their existence disclosed. If so, then the effect of  Brexit is one of slowing down the process of global political unification, thereby delaying any official announcement of extraterrestrial life.
If the above a scenario is correct, then what becomes important is whether the extraterrestrials are acting out of positive or negative intent in making global political unity a precondition for revealing themselves.
While it appears logical that global political unity is required for any planet to be introduced to wider galactic life, as popularly depicted in many Sci Fi shows, it does not follow that having a world government is necessary for open contact to happen. Here we need to distinguish between 'global government' and 'global governance'. Our planet may already have achieved sufficient 'global governance' in terms of interlocking international treaties and institutions, thereby making 'global government' a moot point.
Nevertheless, if some extraterrestrial leaders genuinely desire global political unity before revealing themselves, then while Brexit does slow this process down, it appears disingenuous for aliens to make this a precondition.
The second scenario is that the European Union is a façade for a Nazi Fourth Reich which has secretly made alliances with a group of extraterrestrials called "Draconians." A retired aerospace engineer, William Tompkins, has provided documents supporting his claims that he participated in a covert U.S. Navy program with 29 spies in Nazi Germany who had discovered that the Third Reich had made secret agreements with Draconians.
A result of the alien agreements led to the Nazi's coming within a whisker of winning World War II, but had nevertheless been able to relocate much of their technological infrastructure to Antarctica before the War's end. This gave the breakaway Nazis the time they needed to achieve a decisive technological superiority over the U.S. military, as demonstrated during Operation Highjump in 1947.
Subsequently, the breakaway Nazi groups established a Fourth Reich through covert economic means, which involved both the infiltration of the U.S. Military Industrial Complex, and the creation of the European Union. In such a scenario, Brexit is a clear challenge to the Fourth Reich as I have argued elsewhere.
There are other scenarios that may help explain why "leaders of other worlds" are concerned about Brexit, and why Junckers chose the European Parliament as the forum to "leak" this information. Most EU Parliamentarians are not part of the official loop on what would clearly be highly classified discussions with advanced alien civilizations, yet Junckers chose to reveal this to them. Why?

Many will be tempted to dismiss Junckers' admission of having spoken with extraterrestrials as him simply misspeaking about confidential discussions with other world leaders. However, the clumsy attempt by the European Commission to remove the "leaders of other worlds" reference from the official transcript of his speech, no effort to clarify his real intent in the transcript, and overall context of his speech suggest otherwise.
Junckers speech needs to be taken at face value, and therefore provides startling evidence that we are moving from a world of 'geopolitics' to 'exopolitics' requiring new levels of analysis in understanding major political events on our planet such as Brexit, and the existence of extraterrestrial life.

© Michael E. Salla, Ph.D. Copyright Notice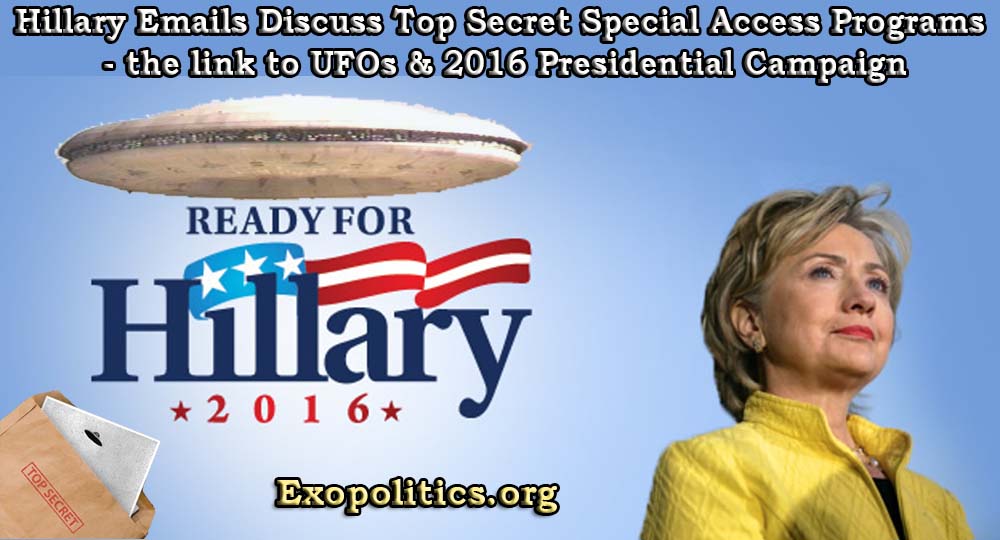 On May 25, an Inspector General Report by the US State Department revealed that Hillary Clinton had ignored rules for handling classified information by setting up a private email server. An earlier report, disclosed in a January 14, 2016, letter by the Intelligence Community Inspector General, confirmed that among official State Department emails found on Hillary Clinton's private server were a number dealing with highly classified Special Access Programs (SAPs).
Some SAPs have long been claimed by whistleblowers and researchers to involve the UFO phenomenon and extraterrestrial life. The Inspector General reports by the State Department and Intelligence Community make it plausible that among the email discussions stored on her private server were those dealing with the UFO phenomenon and alien life. Significantly, there is reason to believe that this access to SAP UFO files may have factored into her 2016 Presidential campaign strategy.
On the subject of UFOs, Hillary Clinton has received widespread coverage due to her recent comments that she would look into the UFO topic. First was her December 30, 2015, statement to a reporter where she said:
He [John Podesta] has made me personally pledge we are going to get the information out. One way or another. Maybe we could have, like, a task force to go to Area 51.

Clinton followed this up with a statement on Jimmy Kimmel Live in March 2016, where she discussed UFOs, or what she referred to now as "Unexplained Aerial Phenomenon" (UAP). She pledged to release any UFO/UAP files that were not classified for national security reasons:
I would like us to go into those files and hopefully make as much of that public as possible. If there's nothing there, let's tell people there's nothing there. If there is something there, unless it's a threat to national security, I think we ought to share it with the public.

Clinton's comments have sparked many mainstream media stories, and led to the White House Press Spokesman responding to a question from an Associated Press reporter about UFOs. Indeed, speculation has recently emerged that President Obama is on the verge of releasing UFO related information.

Clinton has long been a person of interest to UFO researchers due to documents released by the Freedom of Information Act confirming that she was involved in a private initiative by Laurence Rockefeller, a billionaire philanthropist, to have President Bill Clinton disclose the truth about UFOs.
FOIA documents confirm that Rockefeller helped the Clintons develop a strategy for having classified UFO files released through a more streamlined declassification process. Clinton's Executive Order 12958 made it possible for older national security files to be automatically subjected to review for declassification and eventually released to the public.
Among these were historic files either designated Sensitive Compartmented Information (SCI) and/or belonging to Special Access Programs (SAP's). SCI files and SAP's are very highly classified, requiring stringent security procedures for gaining access and/or discussing them.
Such files are generally regarded as "Above Top Secret," even though the security classification of a specific file in an SCI/SAP compartment may not be Top Secret, it nevertheless requires "need to know" and clearance to the compartment in question. The unauthorized disclosure of SCI/SAP information is viewed as among the most serious of national security breaches, which for Top Secret is defined as follows:
"Top Secret" shall be applied to information, the unauthorized disclosure of which reasonably could be expected to cause exceptionally grave damage to the national security that the original classification authority is able to identify or describe.

If successful, the Clinton Administration's initiative would have had dramatic global impact through the release of previously classified UFO files revealing vital information about the historic UFO phenomenon and extraterrestrial life. As veteran UFO researcher, Grant Cameron, has discussed at length, the Clinton Administration (1993-2001) was unsuccessful, and did not lead to the release of classified UFO files. 

Nevertheless, as Commander in Chief, President Clinton would very likely have been briefed to some extent about SCI information and SAP's that involved the UFO phenomenon. For example, the UFO phenomenon has been confirmed to involve the electronic interference of nuclear weapons control systems, which would have given Clinton "need to know" access to such information, in order to discharge his capacity as the ultimate decision maker when it came to authorizing their use. 

Any briefings involving "Unacknowledged" SAP's would have been verbal only, where President Clinton would not have been given permission to copy and keep in his possession any classified UFO documents he saw. Consequently, by law, President Clinton would have been unable to disclose anything he had seen or been told about UFO's during such briefings either to the public, his staff, and even the First Lady, Hillary.
Given Hillary Clinton's documented role in the Rockefeller UFO disclosure initiative as a pivotal figure, it is highly unlikely that Bill would not have shared something about what he had learned from any classified briefings about SCI files/SAP's dealing with UFOs.
However, whatever Bill privately shared with Hillary on the topic, it would not have been anything that she could ever publicly reveal or even hint at. She would have to feign total ignorance or risk legal reprisal from the national security apparatus, who would closely watch the former First Couple for any unauthorized disclosure of classified information after leaving office.
Hillary Clinton's elevation to the position of Secretary of State (2009-2013) once more provided a means for the Clintons to gain access to highly classified files that involved the UFO phenomenon. This time it would be Hillary who would have direct access, and subsequently privately share anything she had learned with Bill.
A January 14, 2016 letter by the Intelligence Community (IC) Inspector General I. Charles McCullough III confirms that Hillary was given access to SCI and/or SAP files: 

Furthermore, Hillary signed a Sensitive Compartmented Information Nondisclosure Agreement on January 12, 2009, which outlined her legal responsibilities. Importantly, her Nondisclosure Agreement reveals four SCI Control Systems, also described as SAP's, she would have access to.
One of the SCI Control Systems was TK (Talent Keyhole) which stands for the following according to Wikipedia:
TK covers space-based IMINT (Imagery intelligence), SIGINT (Signals intelligence), and MASINT (Measurement and signature intelligence) collection platforms; related processing and analysis techniques; and research, design, and operation of these platforms… The original TALENT compartment was created in the mid-1950s for the U-2. In 1960, it was broadened to cover all national aerial reconnaissance and the KEYHOLE compartment was created for satellite intelligence.TALENT KEYHOLE is now a top-level control system…

Given the advanced satellite technologies involved in monitoring the Earth and nearby space, it's fair to assume that at least some classified UFO information would have fallen under the rubric of TK SCI control system.
Consequently, Hillary's access to TK SCI information during her tenure as Secretary of State would have enabled her to get an idea of what was happening when it came to the issue of UFO's, at least as far as space satellite surveillance was concerned. This raises several critical questions when it comes to her use of a private email server, and deliberately ignoring State Department rules, as the May 25 Inspector General Report revealed.
First, did Hillary set up her private email server in the Clinton basement so she could share with Bill and key staffers highly classified files in order to develop a strategy on sensitive topics, including how to deal with SCI/SAP's involving UFOs? Key insights from the failed disclosure initiative during the Clinton Presidency could have led to her developing new strategies.
Second, how much does Hillary really know classified UFO files and the reality of extraterrestrial life? Her recent pledge to look into the phenomenon, after winning the 2016 Presidential Election, is shown to be disingenuous given what is likely to be a significant pool of information she has gained over at least two decades.

Third, do Hillary's recent public comments about UAPs/UFOs, along with those of her campaign chair John Podesta, suggest an agenda to make the UFO issue newsworthy due to forthcoming global developments on the issue? Rumors that President Obama is about to make some important UFO disclosures make it plausible that Hillary wants to get ahead on the UFO issue in a way that assists her Presidential campaign.

Finally, is Hillary Clinton a true champion of "full disclosure" of UFO information, who has been fighting the good fight since 1993? Or alternatively, are her recent statements part of a "limited disclosure" initiative where "national security" will be used as the trump card for hoodwinking the American and global public about what has been really happening concerning UFOs and extraterrestrial life?
While there is much public attention on the May 25 State Department Inspector General Report criticizing Hillary's disregard of rules for handling classified files, a January 14 letter discussing an earlier report conducted by the Intelligence Community Inspector General is much more significant. What clearly emerges from the earlier report is that Hillary's private email server contained SCI/SAP files which were accessed by those with a documented history in seeking access to classified UFO files.
Hillary's recent public statements confirm her readiness to make the UFO topic a Presidential campaign issue. It is therefore possible and likely that Hillary and her staff, along with Bill Clinton, discussed Special Access Programs involving UFOs, and this has to some extent influenced her Presidential campaign strategy.
© Michael E. Salla, Ph.D. Copyright Notice
Further Reading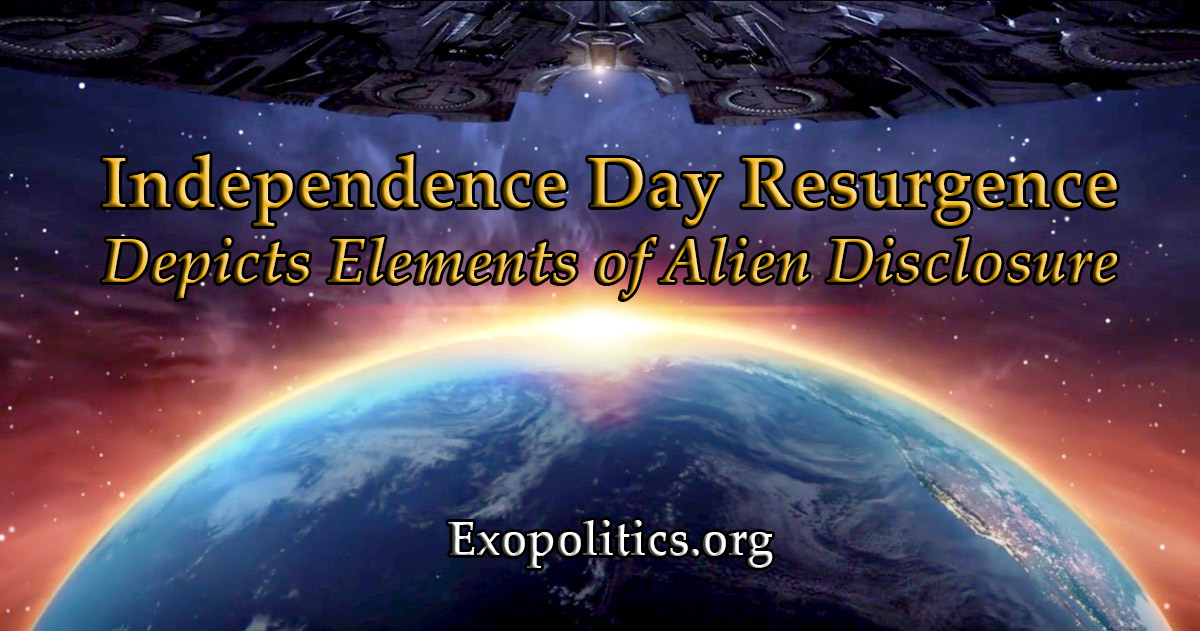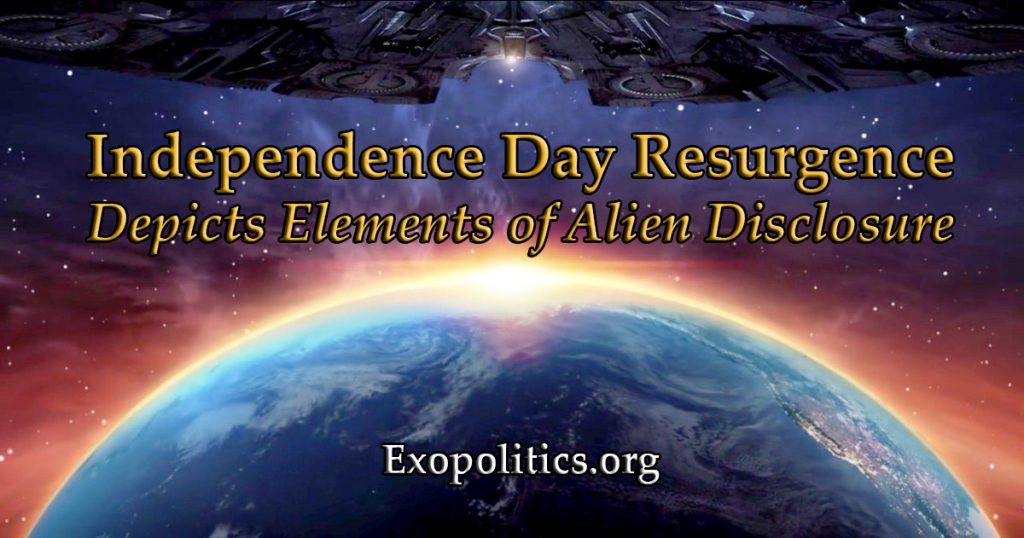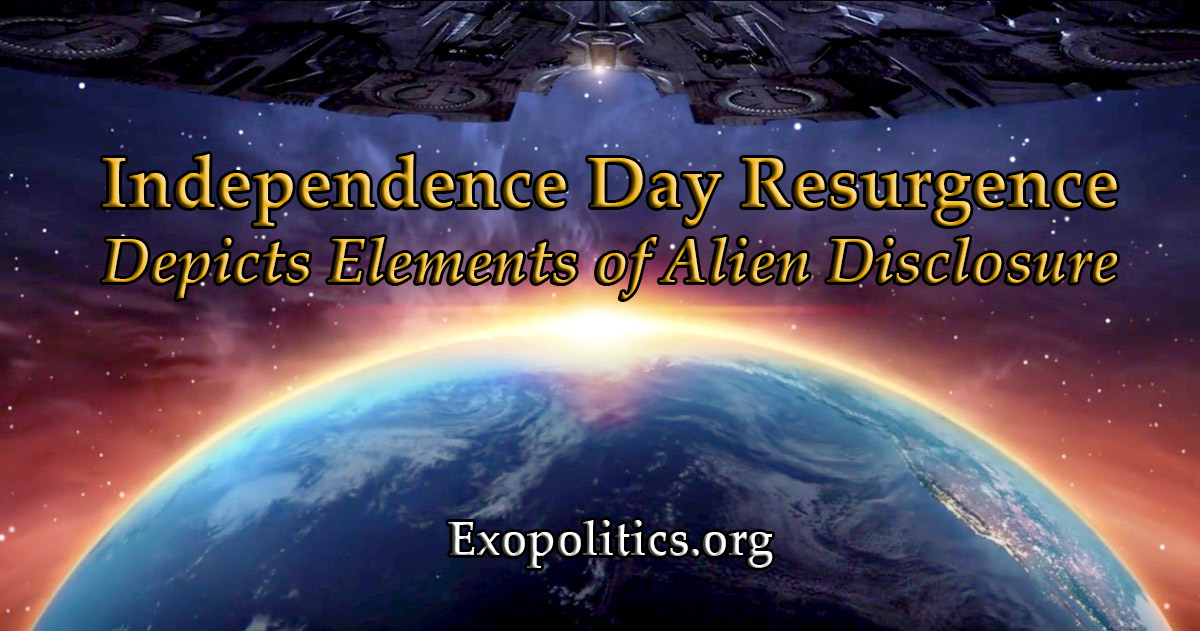 A commemorative video is now circulating to promote the upcoming June 20 release of the Independence Day sequel: Resurgence. There are key elements in the video, however, which suggest a "soft disclosure" agenda – preparing the public for official announcements of the existence of advanced antigravity spacecraft that can defend Earth against hypothetical alien threats.
The video pays tribute to the fictional 1996 attack by extraterrestrials on Earth depicted in the original Independence Day movie. The video lauds historic global efforts by nations to unify in forming a global defense force called "Earth Space Defense", whose job is to defend Earth from future attacks.
A photo from 1998 shows actual world leaders at the time, Jean Chretien (Canada), Francois Mitterrand (France), Boris Yeltsin (Russia), and Tony Blair (Britain), standing alongside the hypothetical U.S. leader, President Thomas Whitmore.
Now 20 years later, a new extraterrestrial threat is emerging, but in the meantime Earth has created fleets of antigravity space fighters, a military base on the moon, killer satellites, and many other advanced weapons based on recovered alien technologies from the 1996 attack. Earth is apparently ready to defend against a renewed alien threat.
More significant is the commemorative video's depiction of the Earth unifying in the 1990's to form a coordinated global strategy for defending against an extraterrestrial threat. Of course this is a fictionalized version of world history that never officially occurred, but did something similar to these fictional events really happen behind the scenes?
It's well known that President Ronald Reagan gave a speech at the United Nations in September 1987 calling for the world to unite in dealing with an alien threat. He said:
In our obsession with antagonisms of the moment, we often forget how much unites all the members of humanity. Perhaps we need some outside, universal threat to make us recognize this common bond. I occasionally think how quickly our differences worldwide would vanish if we were facing an alien threat from outside this world. And yet, I ask you, is not an alien force already among us?

Reagan then appeared to walk back his startling remarks by asking: "What could be more alien to the universal aspirations of our peoples than war and the threat of war?" Earlier and subsequent comments reveal that what he really meant by "alien force" was an extraterrestrial threat, rather than a more mundane reference to the danger of global war.
In 1995, he had asked the Soviet leader, Mikhail Gorbachev, whether he would pledge cooperation with the USA in responding to an extraterrestrial threat. In a 2009 interview, Gorbachev confirmed Reagan's strange request during their 1995 Geneva Summit:
From the fireside house, President Reagan suddenly said to me, "What would you do if the United States were suddenly attacked by someone from outer space? Would you help us?"
I said, "No doubt about it."
He said, "We too."

Beginning in 1989, the Cold War came to a rapid end with the collapse of the Berlin Wall, and by December 1991, the Soviet Union was no more. President Yeltsin became the first President of the Russian Federation, which was now focused on rebuilding what was left of the crumbling economy of the largest republic from the former Soviet Union.
As far as the world knew, there was no link between the rapid collapse of communism in Europe, and Reagan's efforts to get the world to unite in opposing an extraterrestrial threat.
However, according to secret space program whistleblower, Corey Goode, the United Nations did covertly come together to form what he has called a "Global Galactic League of Nations."
In an email interview, Goode replied to a question concerning the relationship between the alleged "Global Galactic League of Nations" space program and the United Nations:
The beginning of this program coincides with a particular speech given to the U.N. by President Reagan that mentions how quickly we would come together if there was an alien threat.

The goal of this space alliance was to find defensive technologies that could protect the Earth against an undisclosed extraterrestrial threat.
Goode claims that interstellar space craft using antigravity technologies were built, which would seek out advanced technologies in other solar systems that could be used to defend the Earth.
He says that during his 20 year tour of duty (1987 – 2007) he visited a remote moon base belonging to this Galactic League of Nations that was located in another solar system. The moon base had scientists from all over the world working together to develop futuristic technologies to defend the Earth.
In the book, Insiders Reveal Secret Space Programs & Extraterrestrial Alliances, whistleblower testimonies and documents are examined which lend surprising support to Goode's remarkable information. After the book's publication, another piece of evidence emerged supporting Goode's claim that key members of the United Nations were secretly negotiating a coordinated response to an "extraterrestrial threat" during the end of the Cold War.
In a November 21, 2015 lecture, veteran UFO researcher Dr. Steven Greer said that he had spoken with the Crown Prince of Lichtenstein, Hans-Adam, who had revealed to him a startling extraterrestrial disclosure plan being negotiated in 1989 at the United Nations. Prince Hans-Adam was participating in the high level negotiations involving Presidents Ronald Reagan and George H.W. Bush (who replaced Reagan on January 20, 1989), Mikhail Gorbachev (Secretary General of the USSR), along with other world leaders who were meeting with Perez de Cuellar, as the Cold War was coming to an end.
Greer said that the disclosure plan was aborted at the 11th hour on November 30, 1989, after Perez de Cuellar was involved in an abduction event where he was forcibly taken to a spacecraft and threatened by extraterrestrials. Greer explained what Prince Hans-Adam had told him:
He said what happened was that Perez de Cuellar … was coming back from a 3 am late night planning session for this event when he was abducted by aliens from his motorcade in Manhattan … Perez de Cuellar was taken somehow out of the motorcade onto an ET craft where he was threatened by the ETs and told: If you disclose this information, we will abduct every world leader involved, including the President of the United States.
Greer went on to say that the event was actually a staged abduction. It involved highly classified corporate programs using bioengineered "Programmed Life Forms" designed to look like real extraterrestrials.
Nevertheless, as far as key United Nations members were concerned, according to Prince Hans-Adam telling of the incident, the Earth was facing an alien threat that was among us, just as Reagan had warned in his 1987 speech.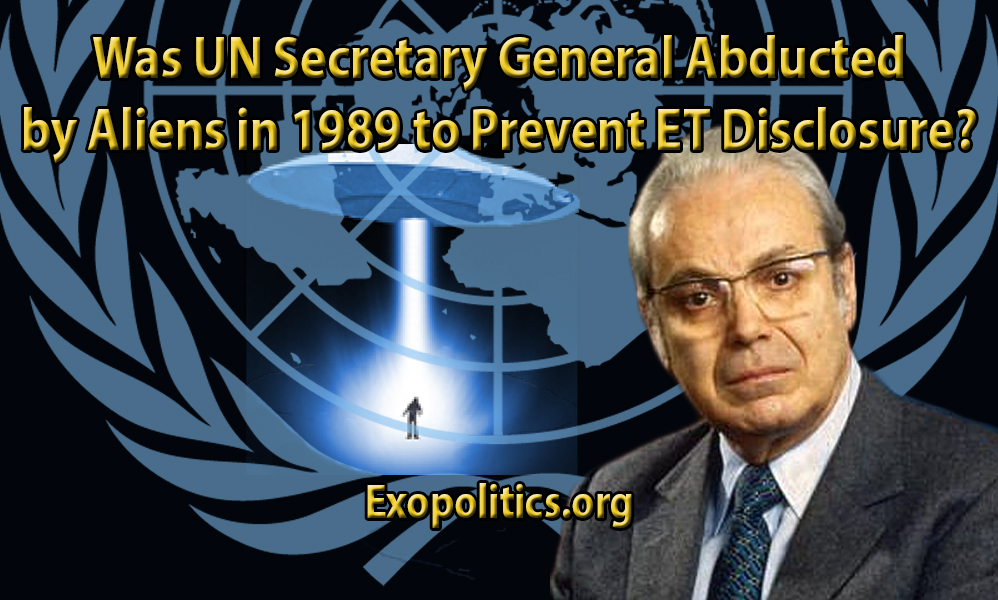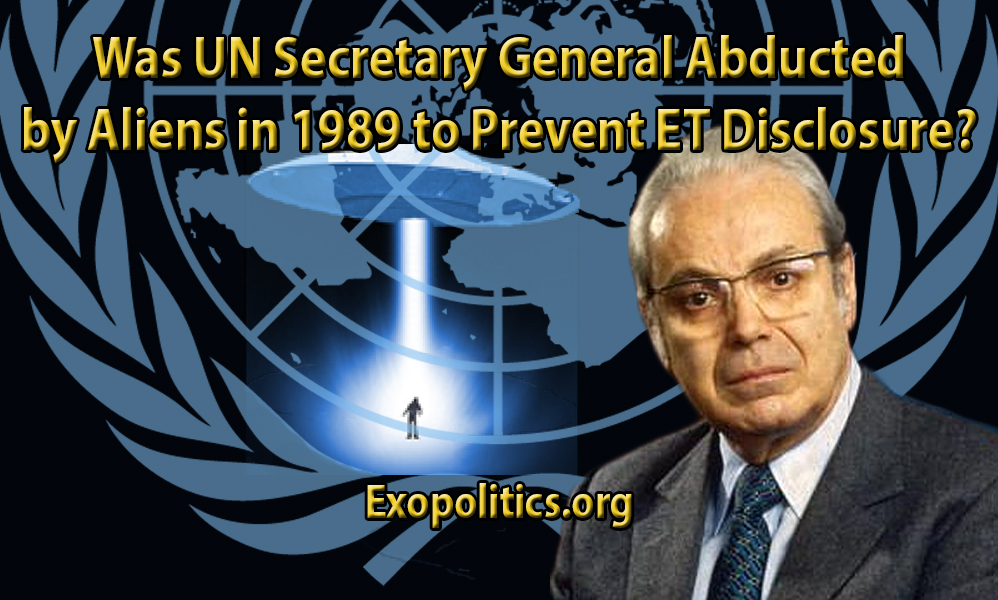 Adding another level of complexity to the 1989 abduction incident involving de Cuellar, is the Linda Napolitano UFO abduction case that occurred on the same night, and was extensively researched by Budd Hopkins in the book, Witnessed.
Hopkins claimed that he was able to get directly in touch with de Cuellar who privately confirmed that he had seen the Napolitano abduction. Hopkins says that he met with de Cuellar who insisted on keeping his involvement in the incident confidential, despite Hopkin's repeated efforts to persuade him to go public.
The testimony of Prince Hans-Adam, as relayed by Greer, is supported to a significant extent by the impressive evidence accumulated in the Napolitano abduction case by Hopkins. The emerging conclusion is that a secret 1989 United Nations plan for extraterrestrial disclosure was aborted due to a threat the UN Secretary General Perez de Cuellar received.
Either genuine extraterrestrial visitors conducting abductions, or aliens (PLFs) created by a cabal of transnational entities staging false flag alien abductions, did not want humanity to learn the truth about extraterrestrial visitation.
The events surrounding de Cueller's involvement in the November 1989 abduction incident confirms that major members of the United Nations were meeting at the time to coordinate a response to extraterrestrials who were perceived, genuinely or not, as a threat. Perhaps more significantly, global leaders believed – based on the abduction phenomenon – that hostile extraterrestrials were already among us.
This makes it plausible that the United Nations decided to cooperate in building an interstellar fleet in the 1990's using classified technologies developed from crashed alien vehicles. The secret U.N. Space Fleet would travel to other star systems for help in defeating an extraterrestrial threat, part of which involved alien abductions on Earth, in what might be described as an interstellar SOS.
Consequently, there is significant evidence supporting Goode's claim that the major nations of the world did come together in the 1990's to form a unified scientific exploratory space fleet which would seek out defensive technologies for the Earth. Rather than an overt alien invasion as depicted in the original 1996 Independence Day, a covert alien invasion was underway as far as world leaders were aware. The events depicted in the commemorative Independence Day video are therefore not entirely fictional.
Major world leaders did indeed come together in the 1990's to help protect the Earth from a hypothetical alien threat. This was done, however, covertly, rather than with public knowledge as depicted in Independence Day: Resurgence.
While Resurgence is likely to be another in another long line of Hollywood blockbusters depicting extraterrestrial life as an existential threat to humanity, there is an element of "soft disclosure" based on actual events in it as well.
Based on the preceding analysis, a remarkable conclusion emerges. The world public is being subconsciously conditioned, through fiction, to accept the reality of advanced fleets of antigravity spacecraft reverse engineered from crashed alien craft, futuristic space weapons, and a unified global space command secretly established in the 1990's under the auspices of the United Nations.
© Michael E. Salla, Ph.D. Copyright Notice
Further Reading