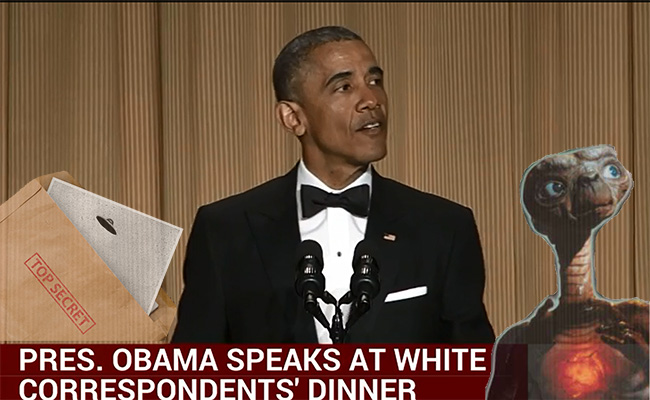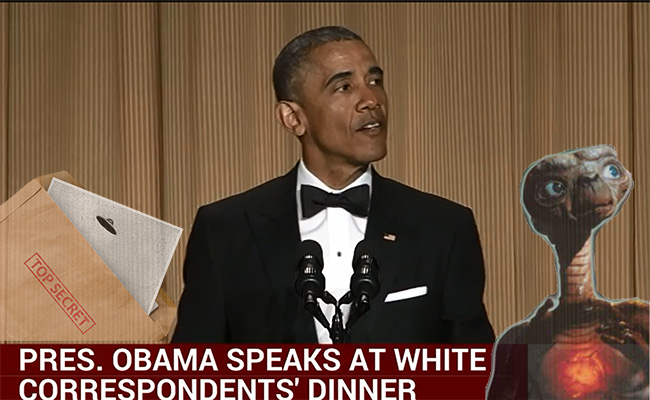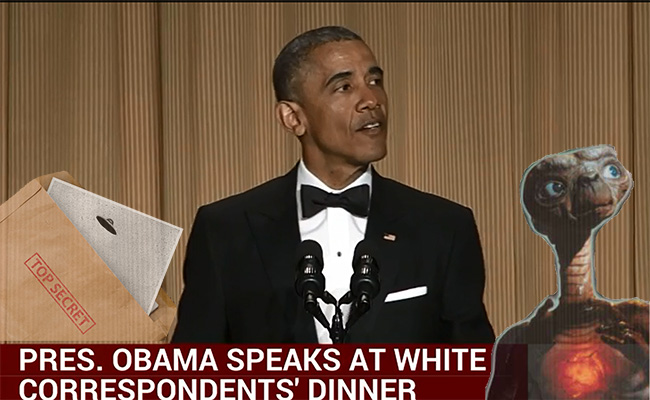 On Saturday night, President Barack Obama gave a joke filled speech at the annual White House Press Correspondents dinner. Fox News covered some of the zingers Obama threw at all and sundry across the partisan political divide. At the top of Obama's top ten jokes, according to CNN, was the President's list of recent executive actions, which he humorously suggested was his (rhymes with) "bucket list" intended as an act of defiance against political opponents to his administration's policies.  Obama signaled that his 'bucket list' of executive actions would grow in the remaining 21 months of his Presidential administration revealing the depth of his frustration against political roadblocks to his policies and legacy.
Obama and one of his former senior advisers, John Podesta, have recently publicly stated that among the administration's political frustrations is a lack of progress on the release of classified UFO files concerning extraterrestrial life and technology. These recent statements signal that among the executive orders Obama is contemplating to help establish his Presidential legacy, is decisive action on extraterrestrial disclosure.
At his Saturday night Press Conference speech, Obama said:
I am determined to make the most of every moment I have left. After the mid-term elections my advisers asked me, "Mr President do you have a bucket list?" I said well, I have something that rhymes with bucket list. Take executive action on immigration? Bucket. New climate regulations? Bucket. It's the right thing to do.
On March 12, Obama revealed on Jimmy Kimmel Live that his and previous Presidential administrations have been prevented from releasing the truth about extraterrestrial life and technology. In response to Kimmel's question about how he would seek to gain access to UFO files and Area 51 if he were president, Obama claimed:
The aliens won't let it happen. You'd reveal all their secrets. They exercise strict control over us.
When Kimmel protested that President Clinton said he had looked into Area 51 and found nothing, Obama replied, "That's what we're instructed to say."
Obama's comments were widely dismissed as a joke by the mainstream media. Ben Hansen, a former FBI special agent, however, conducted a forensic analysis of Obama's body language and speech, and concluded that he was showing great stress in revealing some uncomfortable truths.
It's important to mention that on Feb 13, John Podesta, Obama's counselor for energy policy and the environment tweeted:

Podesta's frustration over the inability of the Obama administration to gain access to classified UFO files was almost certainly shared by President Obama.
Podesta's statement now makes clear the full context of Obama's later space alien comments on Jimmy Kimmel Live. Obama's comment that space aliens "exercise strict control over us" and Presidents are "instructed" on what to say about alien life was no joke. He was making an important admission about how Presidents have been regularly frustrated in their efforts to find the truth about extraterrestrial life and technology.
Not surprisingly, there was a remark during the White House Press Correspondents dinner reminding the audience about Obama's March 12 appearance on Jimmy Kimmel Live. Cecily Strong, the comedian who followed Obama with another humor filled speech before the assembled Press corps, said: "Mr President, thank you so much for taking time away from being on Jimmy Kimmel to be here."
Was Strong simply making a wry comment about the time Obama spent covering a wide range of topics in his Jimmy Kimmy Live appearance, or was she tipping off the audience that such appearances are when Obama humorously reveals his true position on important issues? Her remark was likely coordinated with Obama speech writers who knew what she would say; or even perhaps asked her to insert the remark to allude to the policy significance of his appearance.
As the Obama administration winds down over the next 21 months, the President has publicly stated his intent to move forward with executive actions on important policy issues that he has been frustrated in resolving through the normal legislative process. Podesta's UFO Tweet and Obama's alien comments on Jimmy Kimmel Live, combined with the President's April 24 speech, signal that Obama is contemplating an executive order that facilitates disclosure of classified UFO files concerning extraterrestrial life and technology.
© Michael E. Salla, Ph.D. Copyright Notice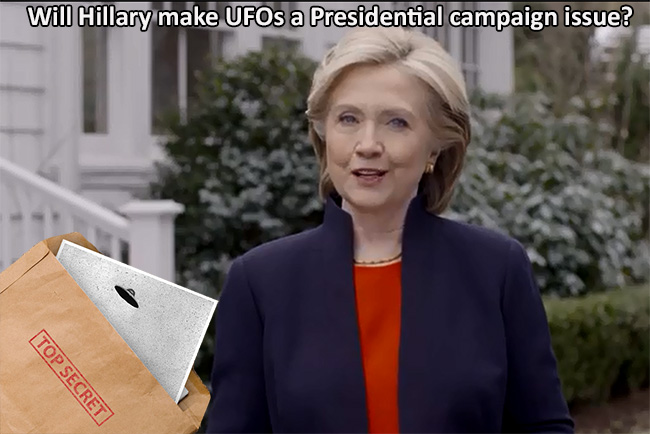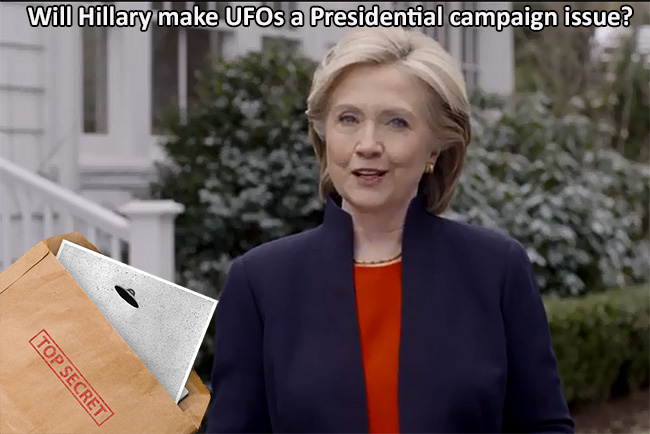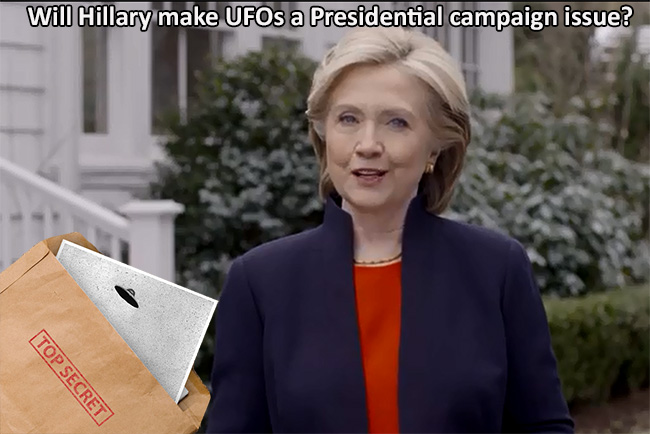 Yesterday Hillary Clinton released a two minute video where she officially announced her candidacy for U.S. President in 2016. The video was quickly analyzed by the New York Times, Fox News and other media outlets for signs of the issues she will make the core of her campaign. One of the issues that wasn't mentioned, but is almost certainly to emerge at some stage in the Presidential campaign is her historic interest in the release of classified UFO files.
Thanks to a recent Mother Jones' article, it is widely known that Hillary Clinton was involved in an initiative during the Clinton Presidency to have classified information about UFOs officially disclosed.   Laurence Rockefeller, the billionaire philanthropist, strongly lobbied the Clintons and gave them an informal briefing about UFOs and extraterrestrial life during a summer vacation in 1995. One of the key figures in the Clinton administration UFO disclosure efforts was John Podesta.
Podesta was Chief of Staff to former President Clinton, a Counselor to President Obama, and is now Hillary's 2016 Campaign Chairman. Clinton and Podesta share a long-term political connection, and also share an interest in having classified UFO files released to the general public. Significantly, the first public notice of Hillary's video announcement was made in a tweet by Podesta.

Podesta created firestorm of media interest on Feb 13 with his twitter announcement that his biggest failure for 2014 was in not securing disclosure of classified UFO files.
Significantly, he made his UFO tweet on his last day working with the Obama administration, before leaving to become the unofficial chairman of Hillary's 2016 Presidential campaign.
Podesta's Feb 13 tweet suggested he had attempted to gain access to UFO files based on his official responsibility as Counselor to the President on the Environment and Energy. Presumably, classified UFO files have great significance in the search for alternative energy sources. Podesta had been informally briefed by UFO disclosure advocate Steven Greer back in Jan 2009 that classified UFO files hold the key to developing new energy technologies.
Podesta's Feb UFO tweet raised obvious questions of whether Obama was aware of or supported Podesta's UFO disclosure efforts. If so, the corollary is what government agency or non-governmental entity could deny access to such classified UFO files? More intriguingly it raised the question of whether a non-human factor could be involved.
A possible answer emerged a month later when Obama appeared on Jimmy Kimmel live. Kimmel said that if were President, he would try to get to the bottom of the "UFO files" and Area 51. Obama replied: "The aliens won't let it happen, You'd reveal all their secrets. They exercise strict control over us."
Most media sources assumed that Obama was joking and his comments were not true. Not so according to former FBI special agent Ben Hansen who conducted a forensic analysis of Obama's body language during the UFO segment. According to Hansen in a video released on YouTube, Obama's body language indicated he had elevated breathing at the time of the UFO questions, and was under stress.
Hansen explains that in such situations it is not unusual to use hyperbole to evade a difficult question whereby the truth is stretched in order to hide it. By using the hyperbole aliens "exercise strict control over us," Obama was in fact revealing that there is some truth to the alien control issue. The implications of Hansen's forensic analysis is striking. Not only do extraterrestrials exist, but they are involved to some extent in controlling U.S. officials!
Furthermore, when Kimmel said that former President Clinton had looked into the UFO issue and Area 51 and had found nothing, Obama replied: "That's what we're instructed to say." Hansen's analysis concluded that Obama was being truthful while appearing to make a joke. The clear implication is that President Clinton knew that extraterrestrial life is real and UFO technologies were being secretly studied in places like Area 51.
If President Clinton learned early on that extraterrestrial life is real, and that the information is being tightly controlled by national security entities and possibly even involved extraterrestrials themselves, then it's almost certain that Hillary also learned the truth.
By hiring John Podesta to be her Campaign Chairman despite his history of public comments about UFOs, Hillary is signaling that she is sympathetic to Podesta's pro-UFO disclosure efforts. Indeed, it may be a factor in why she selected Podesta to be her Campaign Chairman.
Podesta and Clinton may have a strategy for raising the issue of UFOs and extraterrestrial life during the 2016 campaign as something worth serious discussion. At the very least, the campaign will certainly be asked questions about Hillary's prior involvement in a behind-the-scenes effort to declassify UFO files during her husband's administration. The UFO extraterrestrial issue promises to make the 2016 Presidential campaign one unlike anything before it.
© Michael E. Salla, Ph.D. Copyright Notice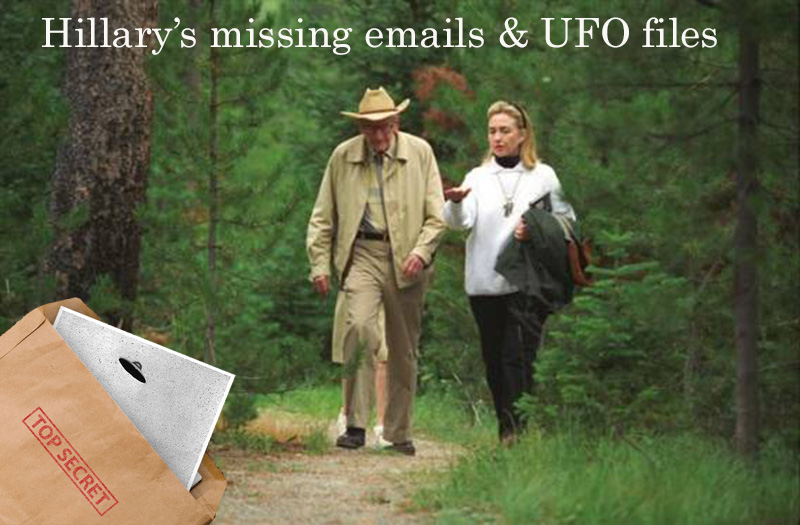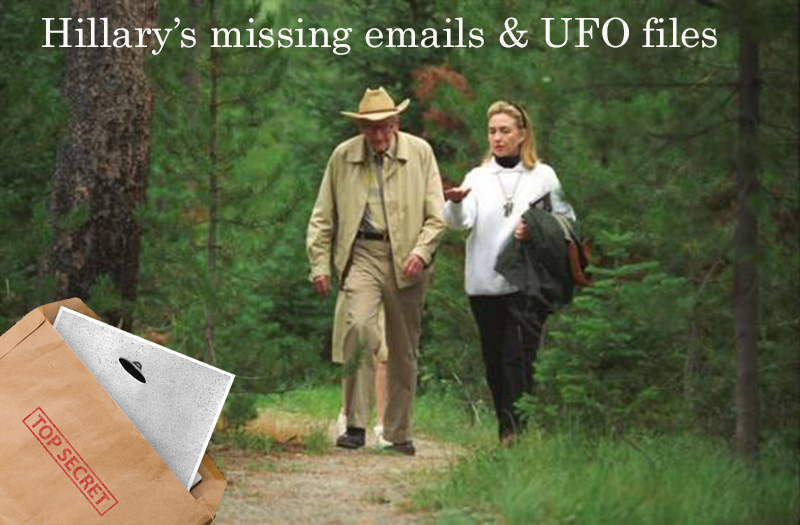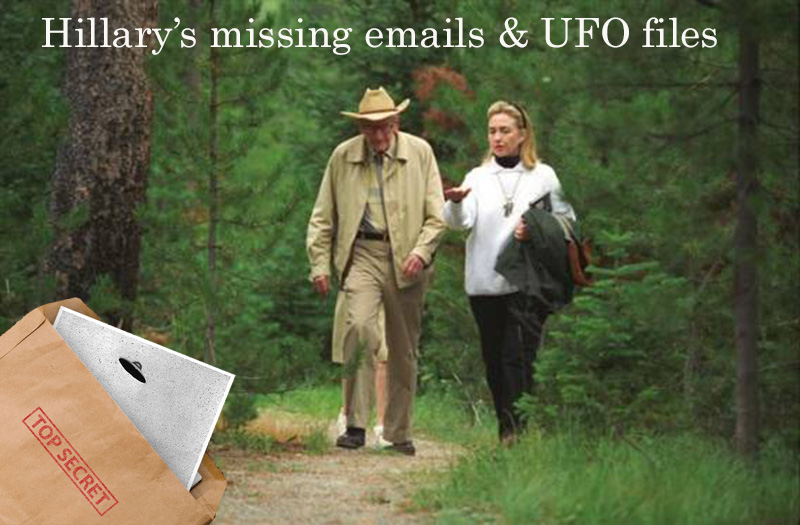 Hillary Clinton's admission at a March 10 Press Conference that she used her private email account for official State Department business has created a firestorm of criticism. Republican critics are asking whether the missing emails have anything to do with the Benghazi incident involving the deaths of State Department personnel. Much of the mainstream media is speculating about the content of 31,830 'personal' emails she claims to have destroyed since they did not involve State Department business. What is not being asked is whether the missing emails involved references to classified UFO files which Hillary had attempted, during the Clinton administration, to gain access to.
Back in August 1995 Hillary was given an informal briefing by billionaire philanthropist Laurence Rockefeller, on the best available UFO evidence. An August 4, 1995, memo by President Clinton's Science Advisor, Dr Jack Gibbons, confirmed that the Clintons would be vacationing with Rockefeller at his Teton Ranch in Wyoming that summer, and they would discuss UFOs:
You will probably see Mr Rockefeller on your vacation in the Tetons. He will want to talk with you about his interest in extrasensory perception, paranormal phenomenon, and UFOs.
In the memo, Gibbons attempted to dissuade the Clintons from pursuing Rockefeller's agenda to disclose classified national security files concerning UFOs:
He knows that we are trying to be helpful in responding to his concerns about UFO's and human potential … but I've made no secret about my conviction that we must not be too diverted from more earthly imperatives.
FOIA documents confirm the key role played by Hillary Clinton in the Clinton administration's interest in UFOs. In a Nov 1, 1995 letter to Clinton's Science advisor, Dr John Gibbons, Rockefeller's attorney, Henry Diamond, revealed that Hillary Clinton was actually involved in helping draft a letter to the President. Another letter by Rockefeller himself to Gibbons on Feb 5, 1996, revealed that the Office of Science and Technology was keeping Hillary Clinton informed about the UFO discussions.
Grant Cameron, the Canadian UFO researcher responsible for requesting the release of the Clinton UFO files through FOIA, confirmed that Hillary Clinton was the Clinton administration's point person for UFO discussions. He wrote: "Hillary time and again spoke of UFOs, UFO sightings, and the concept of the "alien invasion," in her speeches, and in her statements to the press."
It's important to point out that one of the figures involved in the unsuccessful Clinton administration effort to gain access to classified UFO was John Podesta, who ultimately became Bill Clinton's Chief of Staff. Podesta subsequently became co-chair of the Presidential transition team for the Obama administration in 2008/2009 – a position where he played a key role in the selection of White House staff.
More recently, John Podesta admitted that he was involved in a secretive attempt by the Obama White House in 2014 to gain access to classified UFO files from unknown government agencies. On his final day as Counselor to President Obama on Energy and the Environment, Podesta said:
… my biggest failure of 2014: Once again not securing the #disclosure of the UFO files.
Podesta's admission raises three important issues. First. in 2014, a new White House effort to secure disclosure of classified UFO files had been attempted but ultimately failed. Second, there had been earlier unsuccessful efforts by Podesta to secure the release of such files spanning the years of the Clinton, Bush and Obama administrations. Finally, there is an unknown government and/or corporate entity with the power to deny sitting Presidents and their staffs access to classified UFO files.
On the topic of Hillary's 38,830 missing emails, we know that Hillary has had a keen interest in classified UFO files, and was the key figure in the Clinton administration's efforts to have them either declassified or made available to senior White House staff. We also know that the Obama administration was involved in one or more secretive efforts to have classified UFO files released.
As Obama's first Secretary of State, an important question that arises is whether Clinton was involved in any way in a secretive effort to have classified UFO files made available to senior White House officials. Unfortunately, the mainstream media is not asking Hillary whether any of her missing emails involved references to classified UFO files and Obama administration efforts to gain access to them. Perhaps in the next two years as Hillary campaigns for President, along with Podesta who moved from the Obama White House to assist her, she will be more forthcoming about her secretive efforts to gain access to classified UFO files.
© Michael E. Salla, Ph.D. Copyright Notice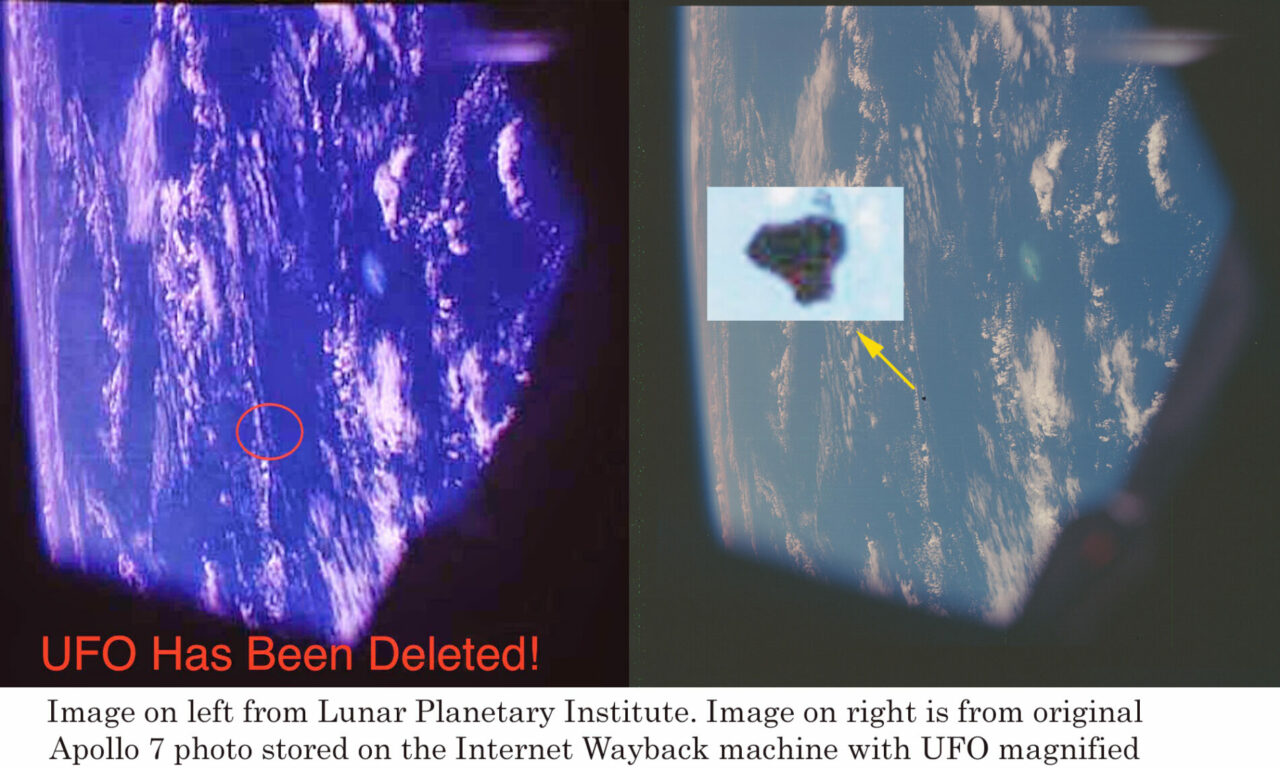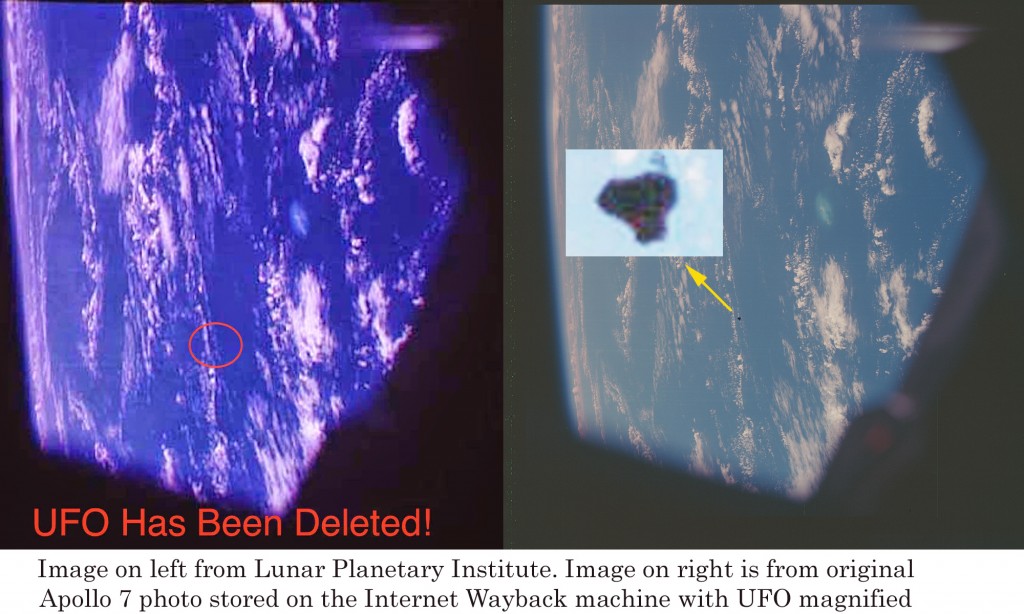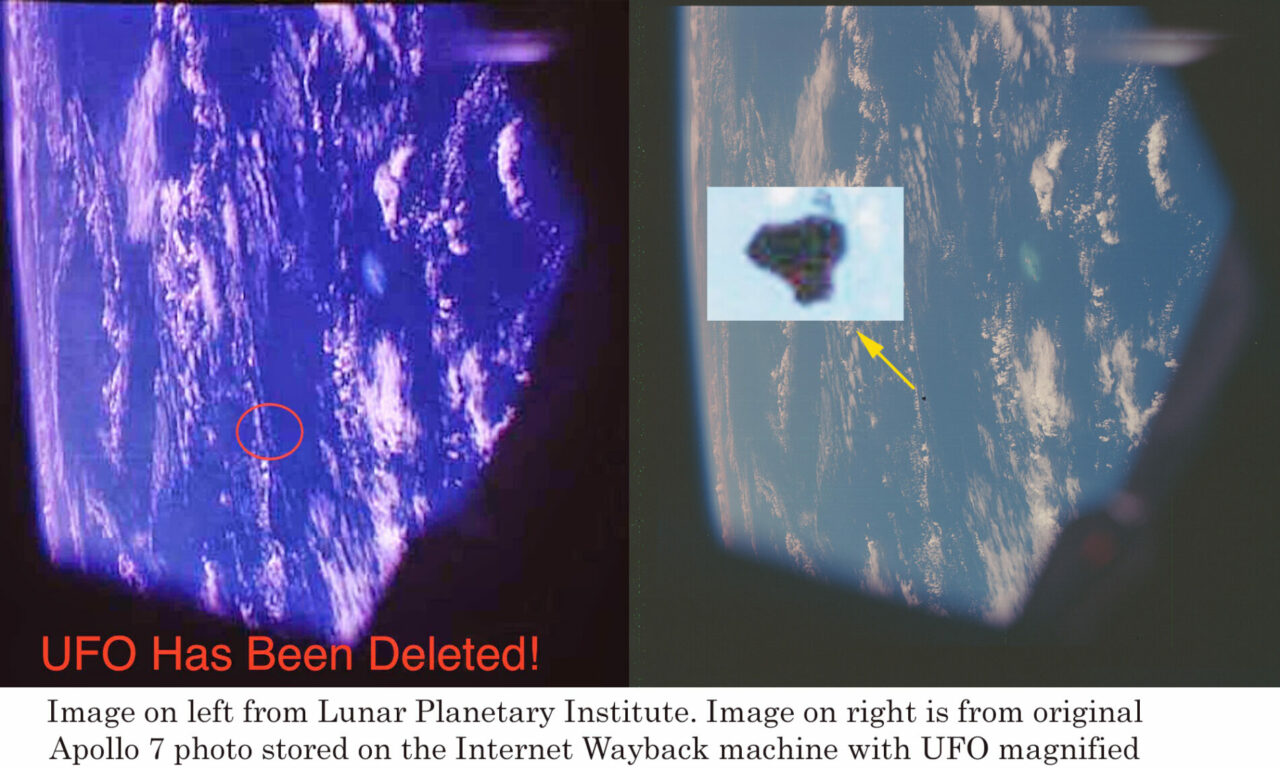 UFO investigators are up in arms after it was discovered that NASA had removed an Apollo 7 photo showing a triangular UFO from its archive, and that the original had been altered on a NASA affiliate website. It was today claimed that NASA is yet again deliberately covering up UFO evidence. Only a day earlier, NASA was accused of covering up evidence of another UFO being filmed by the International Space Station (ISS).
Scott Waring from UFO Sightings, who made the discovery about the missing Apollo 7 photo, says this is another blatant example of NASA deleting or altering data.
I have found that NASA has taken down one individual photo that has an odd shaped UFO. The UFO is in orbit around Earth and has good detail to it. I clicked on the link and it gave me error message. NASA not only deleted the photo above, but also went to their old photo indexes and deleted it from there.
The Apollo 7 photo in question (AS07-07-1738) was originally available on NASA's Gateway to Astronaut Photography of Earth series on the website of the Johnson Space Center. Now all one gets is a 404 error message. Fortunately, the deleted original photo is still available on the Internet Archive Wayback Machine.
When Waring found the same photo (AS07-07-1738) in another NASA affiliate site, the Lunar and Planetary Institute, the UFO had been removed!
The photo below was found at a different site and shows that the UFO is gone. Not only that, but the photo itself has added contrast making everything hard to make out. Deliberate efforts have been put in by NASA to hide this UFO from the public. I just wanted to let the public know, NASA does delete UFOs and here is the proof.
The original Apollo 7 photo was featured in a Youtube video uploaded on April 3, 2013, that zooms in on the UFO which is very clear.
This is not the first time that NASA has been accused of altering UFO data. A former NASA employee, Donna Hare, says that she had a job of airbrushing UFOs out of NASA photos. Donna Hare worked for NASA contractor Philco Ford, had a "Secret" security clearance, and was shown a picture of a UFO flying over the moon's surface captured during an Apollo mission by one of her colleagues. She recalled the following conversation:
I said, is this a UFO? And he's smiling at me and he says, I can't tell you that. I can't tell you that. What I knew he meant was, it was [a UFO] but he couldn't tell me. So I said, what are you going to do with this information? And he said, well, we always have to airbrush them out before we sell them to the public. And I was just amazed that they had a protocol in place for getting rid of UFO pictures on these things…
Hare decided to go public in November 2000 with her whistleblower testimony released through the Disclosure Project.
The evidence is conclusive. NASA has been caught red-handed covering up UFO evidence by deleting and altering original Apollo images. Was NASA trying to hide a classified military spacecraft or is it an extraterrestrial vehicle visiting Earth?
© Michael E. Salla, Ph.D. Copyright Notice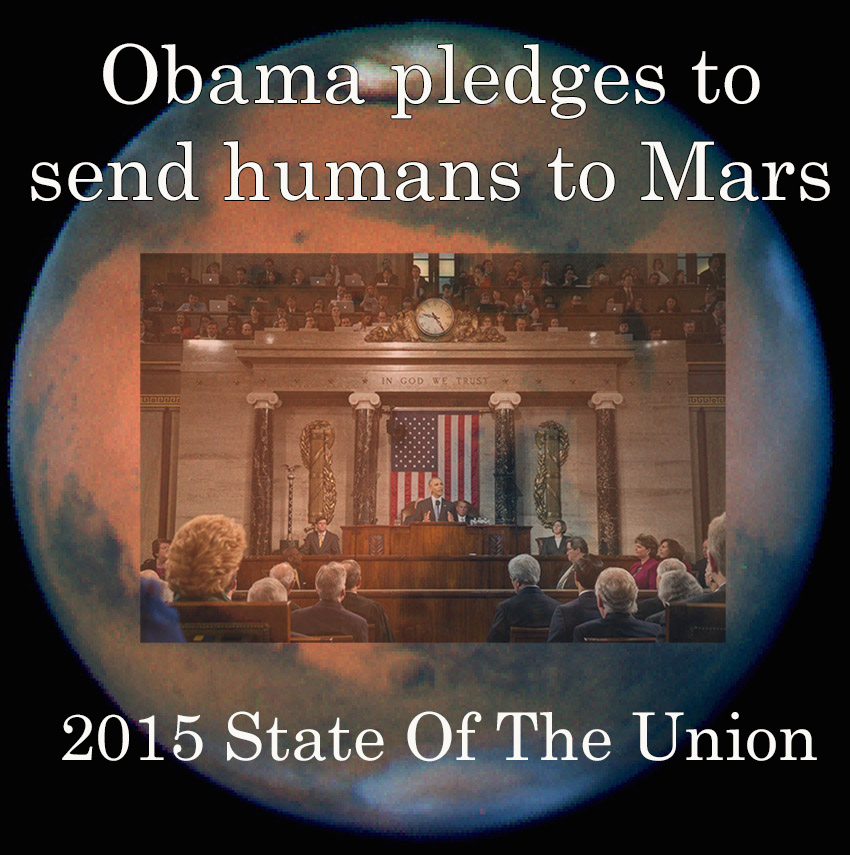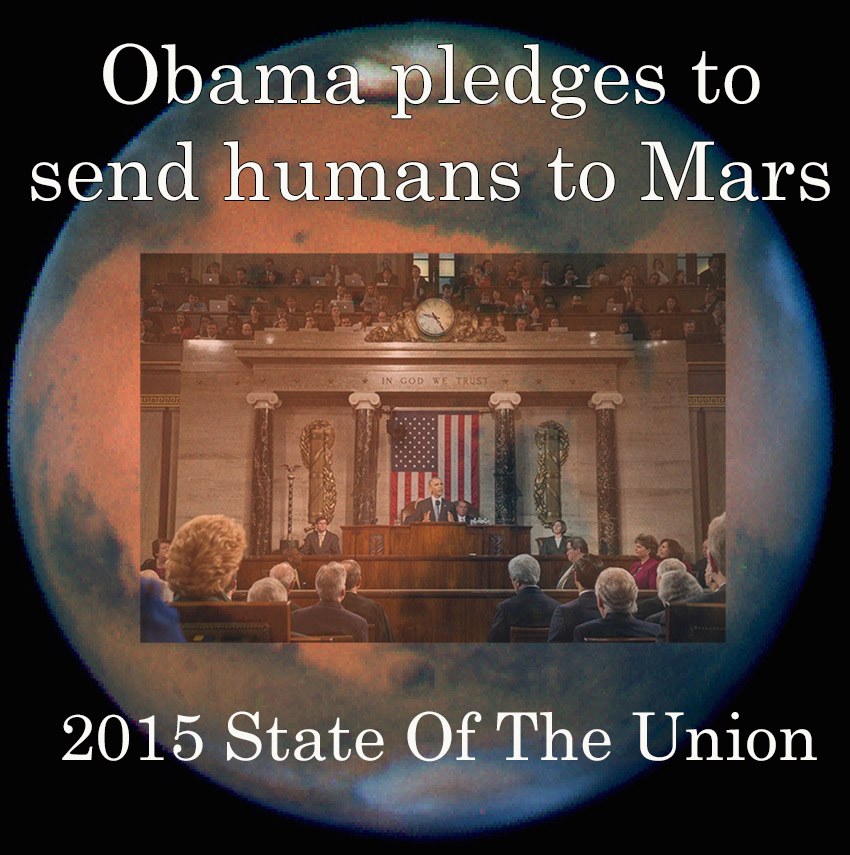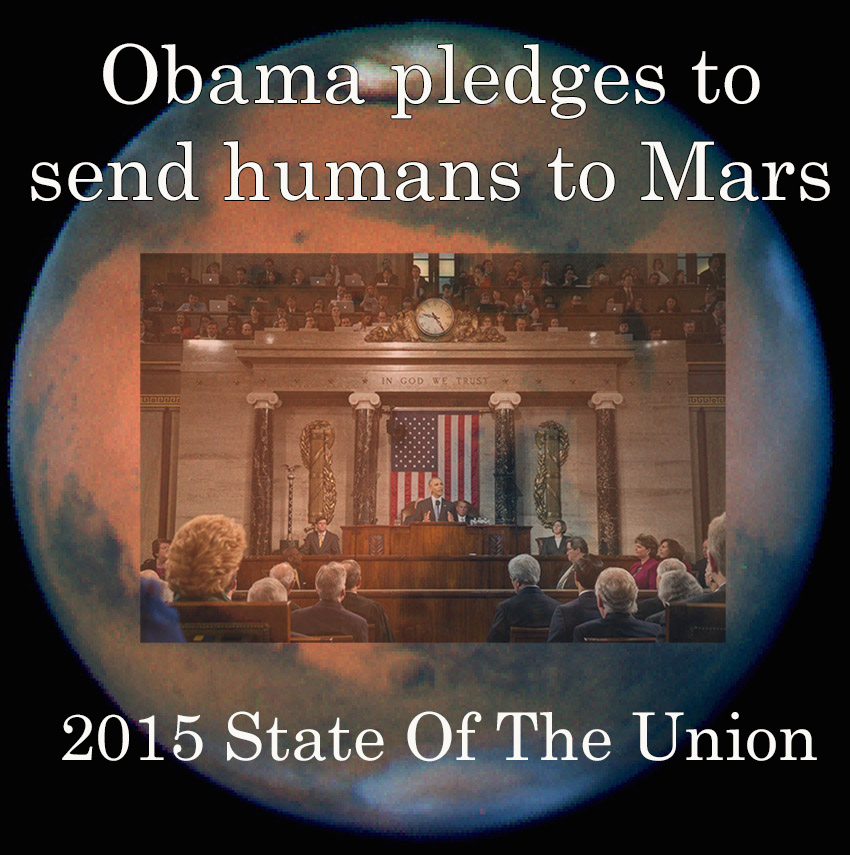 President Obama pledged to land humans on Mars in last night's State of the Union speech. In a show of his commitment he arranged to have astronaut Scott Kelly in the audience.
Kelly is scheduled to spend a year in the International Space Station. Kelly's mission is vital for a future manned mission to Mars given the three years or so for a round trip.
Last month, we launched a new spacecraft as part of a re-energized space program that will send American astronauts to Mars. In two months, to prepare us for those missions, Scott Kelly will begin a year-long stay in space.
Republicans and Democrats all stood to give Kelly a standing ovation after Obama's introduction.
On Dec. 5, 2014, NASA successfully tested its Orion spacecraft which will be used for manned missions to Mars. The Orion will be launched on top of NASA's new heavy lift rocket, the Space Launch System which is scheduled to be ready by 2018. The Space Launch System is planned to become NASA's most powerful rocket launch vehicle ever, surpassing the Saturn V rockets used for the Apollo missions five decades ago.
Back in April 2010, President Obama gave a speech at the Kennedy Space Center where he revealed his plan to get humans to Mars by 2035. "I expect to be around to see it," Obama told NASA employees.
NASA is not the only U.S. organization planning to put humans on Mars. Elon Musk's Space-X is also planning to develop sufficiently powerful rockets and spacecraft for the long trip Mars.
"The reason SpaceX was created was to accelerate development of rocket technology, all for the goal of establishing a self-sustaining, permanent base on Mars," Musk told an audience back in May 2014. Musk plans to develop a Falcon Heavy Lift rocket, the most powerful rocket since the Saturn V that will be used for manned missions to Mars.
If all goes well for NASA and Space X, sometime within the next decade or two, humans will be taken to Mars. The first human landing on Mars will be a historic global event, rivaling the first moon landing. Or will it? Ardent conspiracy theorists argue that humans have already landed on Mars.
Alleged whistleblowers have come forward over the last few years claiming to have traveled to a secret colony on Mars using different classified travel technologies. Among the more recent is 'Captain Kaye', who claims to have spent 17 years on a Mars military base after being taken there by a spacecraft belonging to a classified space fleet.  Another alleged whistleblower, Andrew Basiago, an attorney based in Washington state, claims to have been teleported to a secret Mars base after being recruited into a classified program called Project Pegasus.
Without concrete evidence to support extraordinary claims of a secret human colony already on Mars, there has been heated controversy. Is there a secret space fleet already ferrying humans to Mars; or advanced teleportation technologies for instantaneous travel there?
One thing we can be sure of from the Edward Snowden NSA leaks, intelligence agencies are very skilled in hiding highly classified programs through compartmentalization. Documents confirm that the NSA and its partners train operatives to use covert forms of online deception to lead the public away from the truth.
For President Obama, his immediate challenge is to convince the Republican controlled Congress that putting humans on Mars is a policy worth funding.
© Michael E. Salla, Ph.D. Copyright Notice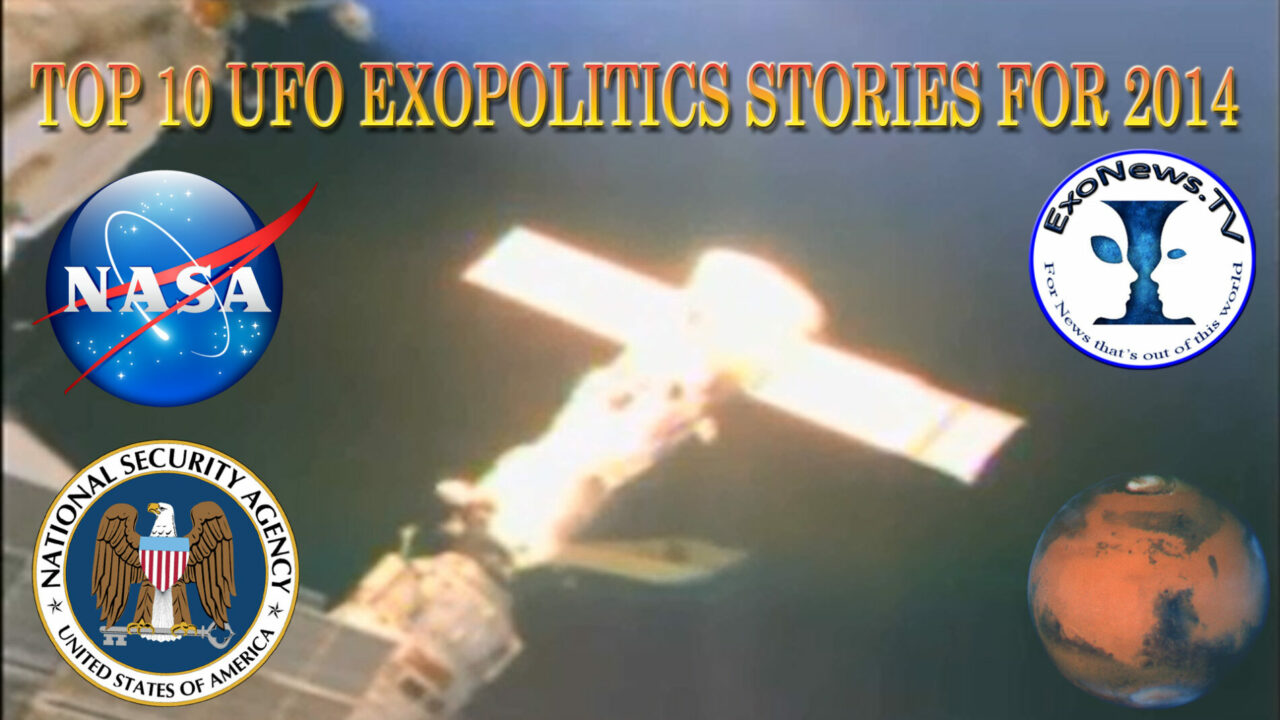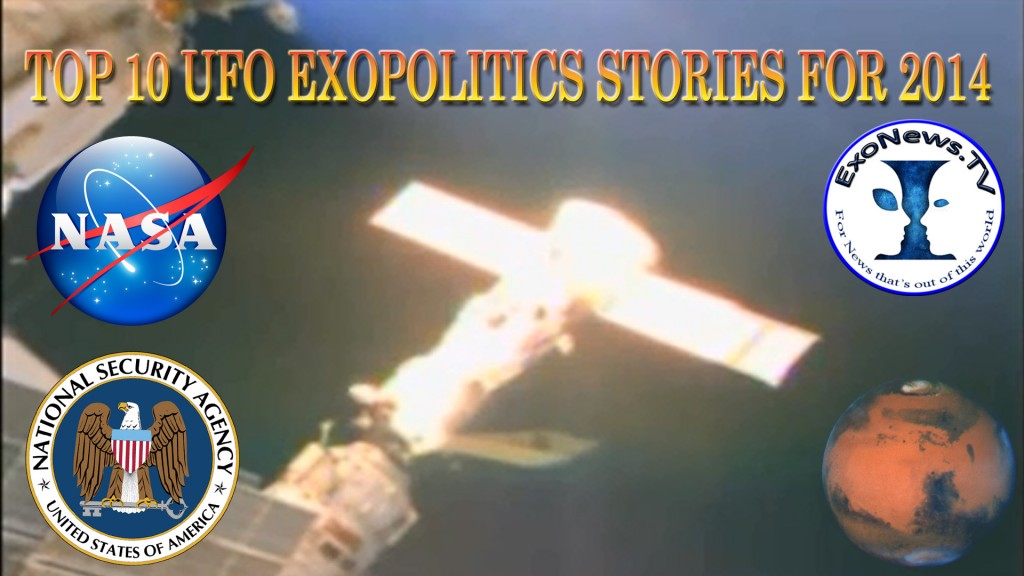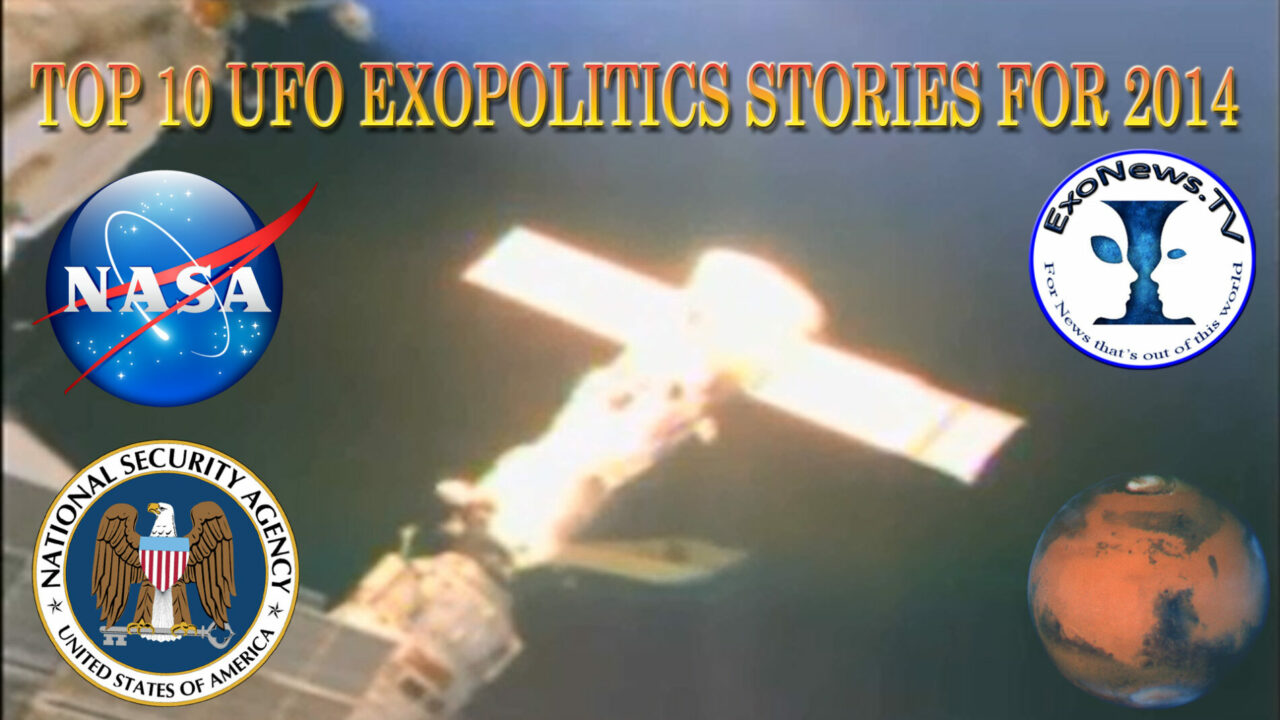 2014 was a big year for the field of exopolitics – the nascent science of understanding the political implications of UFOs and extraterrestrial life. There were many exopolitics developments that figured prominently in news articles and videos from around the world. These developments point to two complementary processes that are likely to continue in 2015 and lead to very different outcomes. The first is a decades-long top secret policy of covering up evidence of extraterrestrial life that appears to be slowly unraveling due to an ongoing disclosure movement. Second, there is an official effort to prepare the general public for the impending discovery of extraterrestrial life. These processes can lead to either a "post-disclosure world" where the alien UFO cover-up has been exposed; or a "post-discovery world" where humanity learns that we are not alone. Here are my top ten exopolitics stories (listed in reverse order) based on a combination of popularity, persuasiveness and significance to either a "post-disclosure" or "post-discovery" world in the near future.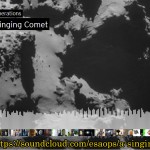 # 10.  On Nov. 11, the European Space Agency (ESA) confirmed that it was receiving a mysterious signal from Comet 67P/Churyumov-Gerasimenko. The ESA described the signal as a "mystery song" and uploaded a recording with the caption: "Hear our comet sing." The confirmation follows months of rumors that the Rosetta mission was originally sent to explore a radio signal from the comet first detected 20 years ago.
#9. On Feb. 24, a leaked NSA document was released that explicitly reveals a clear connection between online covert operations by the "Five Eyes" intelligence community (US, UK, Canada, Australia, and New Zealand) on the UFO issue. Titled, "The Art of Deception: Training for a New Generation of Online Covert Operations," the document is smoking gun evidence that the intelligence community is training its covert operatives to deceive the public on a range of sensitive national security issues including UFOs.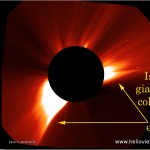 #8. Over a four day period up to Nov. 9, NASA's Solar and Heliospheric Observatory (SOHO) detected a strange area near the sun where solar activity was apparently being absorbed by an invisible object. The immense spherical lens shaped field was claimed to be part of an advanced technology based on the principle of a "Dyson Sphere." NASA's SOHO images appear to be evidence of the sun's energy being absorbed by a gigantic lens shaped solar collector whose approximate size was larger than the sun itself!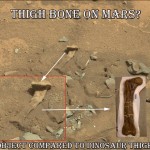 #7. On Aug. 14, the Mars Curiosity Rover photographed an object that appears to be a thigh bone on the Martian surface. When the photo was released by NASA's JPL affiliate a few days later, initial observers claimed that the object was a fossilized bone fragment. The first thigh fossil claims generated much media attention and public controversy with coverage by major media outlets such as the Huffington Post and Britain's Daily Mirror. In an unusually quick response, NASA replied to the growing controversy on August 21 by claiming that the object was a rock. Not so according to a growing number of independent researchers that have uncovered past Curiosity Rover images of what appear to be different life forms on the Mars surface.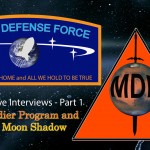 #6. On April 8, an alleged USMC whistleblower came forward to claim that he spent 17 years on Mars serving at a secret military base whose main mission was to protect five civilian space colonies. In exclusive testimony released on ExoNews TV, Randy Cramer, who used the pseudonym, Captain Kaye, said that the Mars Defense Force recruits personnel from different military services. He claims that he was recruited from a covert branch of the U.S. Marine Corps called "Special Section," and also served in a secret space fleet for nearly three years.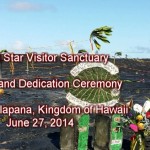 #5. On June 27, the Hawaii Star Visitor Sanctuary was officially launched in a dedication ceremony on the Big Island of Hawaii aimed at welcoming extraterrestrial visitors to Earth. The extraterrestrial sanctuary was first promulgated in a declaration by official representatives of the reinstated Kingdom of Hawaii. The "Declaration for Creating Hawaii Star Visitor Sanctuary" makes it possible for extraterrestrials to land on sovereign land claimed by the reinstated Kingdom of Hawaii.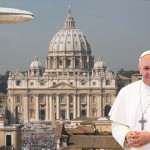 #4. On Oct. 27, Pope Francis I endorsed the view that extraterrestrial life – which he referred to as "beings of the universe" – has evolved in ways that is consistent with the plans of "God the creator." The Pope's statement was a surprising endorsement of the view that the activities of intelligent extraterrestrial life in the universe can be part of a universal plan. Consequently, Pope Francis's statement is preparing the Catholic world for the discovery of extraterrestrial life visiting our world in UFOs may be part of "the plan of the creator."
#3. On Aug. 19, ITAR-TASS reported that Russian scientists have found microbial life on the surface of the International Space Station (ISS). The Russians first detected the microbes over a year ago and confirmed that the organisms can live in zero gravity, extremely low temperatures and with cosmic radiation. Despite the harsh conditions, the scientists reported that the bacteria were thriving on the surface of ISS and could live there for years. The Russian discovery is startling since it confirms that extraterrestrial microbes can flourish in deep space. Read more.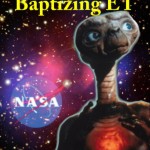 #2. From Sept. 18-19, 2014, NASA and the Library of Congress hosted a symposium on how society can prepare for the discovery of extraterrestrial life. Leading astrobiologists from around the world convened at the Library of Congress in Washington DC., to discuss the latest scientific theories and developments in the search for extraterrestrial life. Presenters discussed the implications from recent scientific breakthroughs in discovering the existence of exoplanets, new theories of the conditions under which extraterrestrial life can flourish, and how to communicate with them. The symposium took the position that the discovery of extraterrestrial life is imminent and the public needs to be prepared.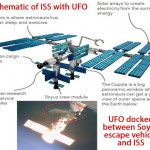 #1. On Jan 29 the live camera feed of the International Space Station (ISS) showed what appeared to be a strange yellow elliptical object docked with the hull of the ISS. The video shows the sleek looking yellow UFO docked at the ISS for just over two minutes with the Earth slowly rotating in the background. The video ends with ISS live feed going into blue screen mode. This suggested that NASA cut the ISS live feed once it was realized that the video of the UFO docked at the ISS was going live to the world. The docking positioning of the UFO suggests that it is not the result of a camera anomaly but a genuine spacecraft of unknown origin. This led to much speculation that the UFO was docked so that extraterrestrials could meet with NASA astronauts as has allegedly occurred in the past.
© Michael E. Salla, Ph.D. Copyright Notice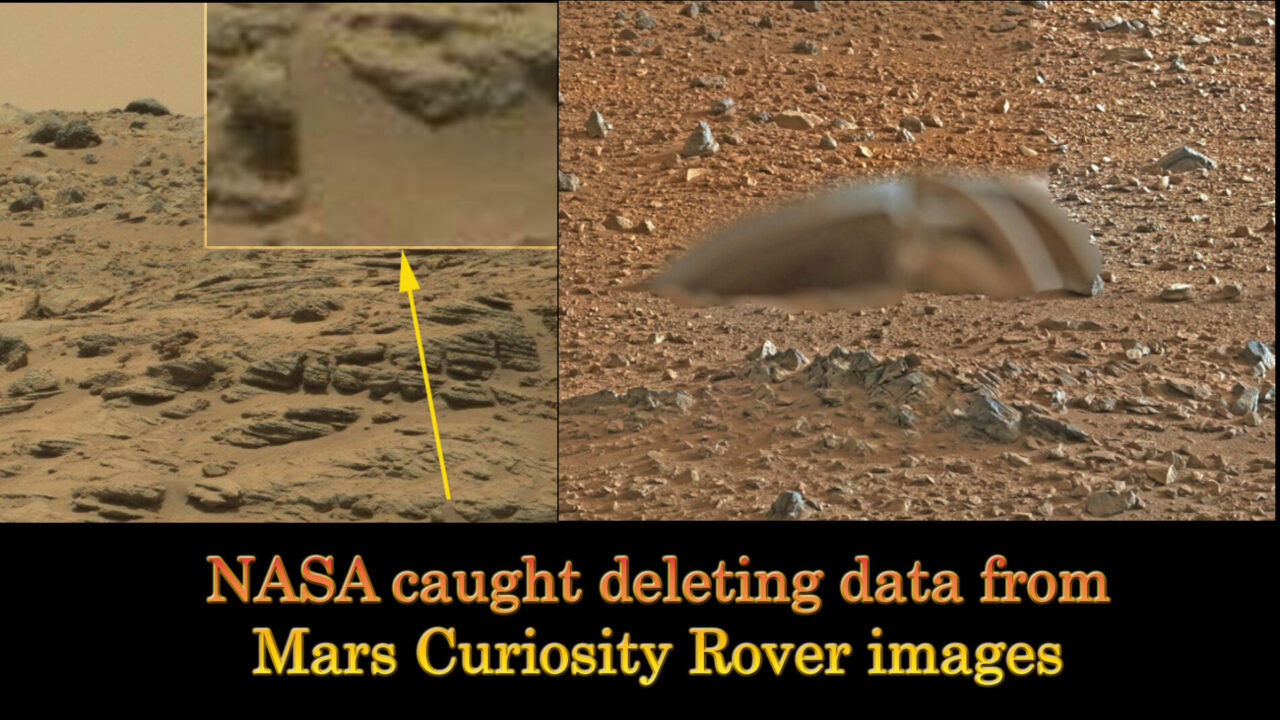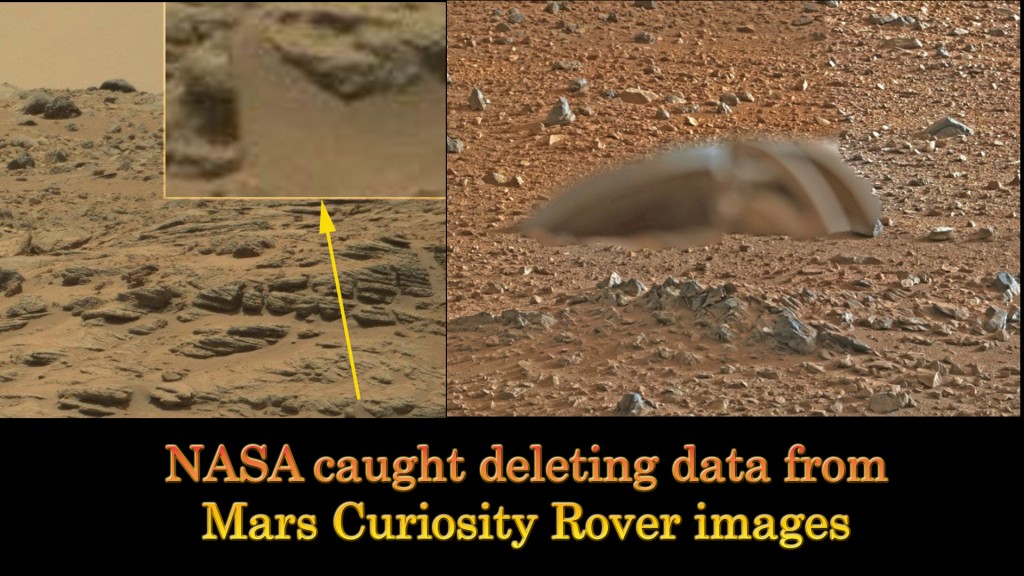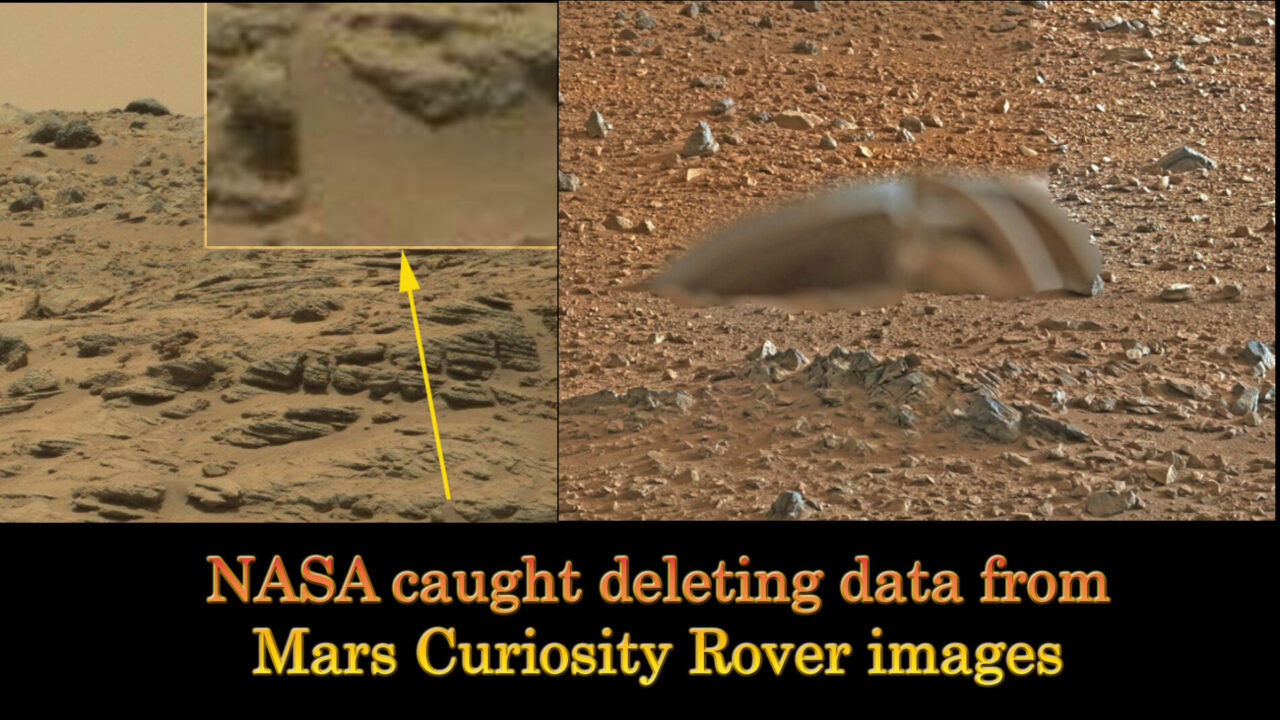 Images from the Mars Curiosity Rover have been digitally altered by NASA's JPL affiliate to cover up objects discovered on Mars. The latest digital alteration was revealed in a November 15 video released on Youtube that showed how an object caught by the Rover had been obscured by removing data to hide something from view. The alteration follows another incident revealed on November 9 of NASA JPL tampering with Rover Curiosity images where an object appears to have been digitally blurred. What is it that NASA doesn't want the public to see on Mars?
The digital alteration involved an object that has a portion of it removed and replaced by surrounding sand. Close image analysis of the altered object in the November 16 video shows how a straight line portion was changed. This created an unnatural looking effect where no shadows appear where they should for the affected object. Whoever had digitally altered the image had done a sloppy job in hiding evidence of their tampering according to the video description:
It has become more and more blatant and in your face what NASA and JPL have been doing to the "Raw Images" being beamed back from the Curiosity Rover on Mars. This is a prime example of how they have been using the blur tool and fake sand to remove artifacts and objects that someone does not want you to see. Whoever worked on this one over at JPL needs to be fired they did a horrible job with the blending of the fake sand.
The digital alteration follows an even more visually striking case of evidence tampering by NASA, this time blurring what appears to be an artificial object. In the second digital alteration (see below), it is clearly seen how an object with straight edges and smooth curves has been blurred using some kind of blurring software. The blurring is easy to see relative to the rest of the environment, and striking evidence of NASA's JPL altering raw visual data to hide what is being discovered on Mars.
NASA is no stranger to accusations that it has deliberately altered or even destroyed images to hide evidence of artificially created objects found by its spacecraft. Donna Hare worked for NASA contractor Philco Ford, had a "Secret" security clearance, and was shown a picture of a UFO flying over the moon's surface captured during an Apollo mission by one of her colleagues. She recalled the following conversation:
I said, is this a UFO? And he's smiling at me and he says, I can't tell you that. I can't tell you that. What I knew he meant was, it was [a UFO] but he couldn't tell me. So I said, what are you going to do with this information? And he said, well, we always have to airbrush them out before we sell them to the public. And I was just amazed that they had a protocol in place for getting rid of UFO pictures on these things…
Hare decided to go public in November 2000 with her whistleblower testimony released through the Disclosure Project.
Other whistleblowers have also come forward to claim that NASA and affiliated government agencies have a policy of destroying or altering photos that reveal artificial structures on the moon or in space. Karl Wolfe, for example, claims that he witnessed NASA, the NSA and the US Air Force cooperating to remove such structures from Apollo and satellite imagery when detected. At a highly classified military facility Wolf says he was shown NASA images by a colleague revealing a base on the far side of the moon:
… he pulled out one of these mosaics and showed this base on the moon, which had geometric shapes – there were towers, there were spherical buildings, there were very tall towers and things that looked somewhat like radar dishes but they were large structures…. I was a little irritated that the government had been lying about all this for years and covering it up.
Yet another whistleblower is Dr Ken Johnston who was a manager of NASA's Data and Photo Control Department. Johnston claims that he also witnessed moon photos showing artificial structures and was asked to destroy the photos. He refused and was fired by NASA.
The two recent November 2014 cases of digital alteration of Mars Curiosity Rover images are is striking examples of a policy by NASA to hide evidence that some of the objects photographed by its spacecraft and probes are artificial in origin, and have been found on the Mars surface. Together with whistleblower claims that NASA has a decades-long policy of photo tampering with objects that appear artificial, it is not too hard to reach a firm conclusion of what NASA and its JPL affiliate is doing with Curiosity Rover images. NASA is not in the business of discovering extraterrestrial life, but is instead hiding such a discovery from the general public.
© Michael E. Salla, Ph.D. Copyright Notice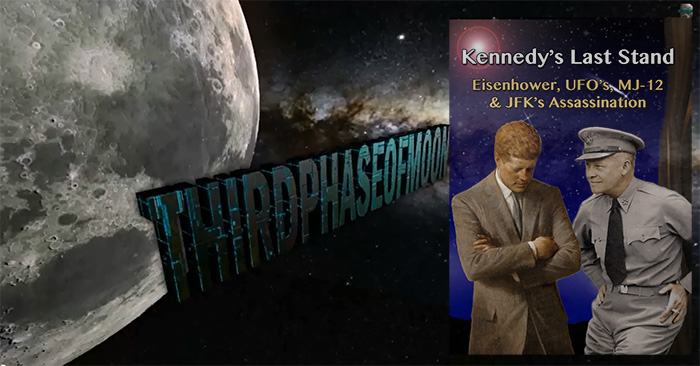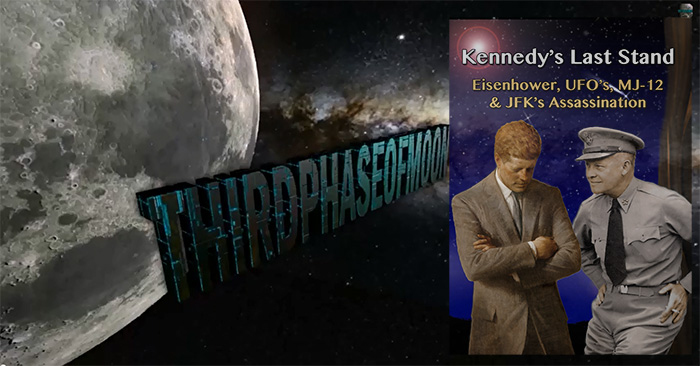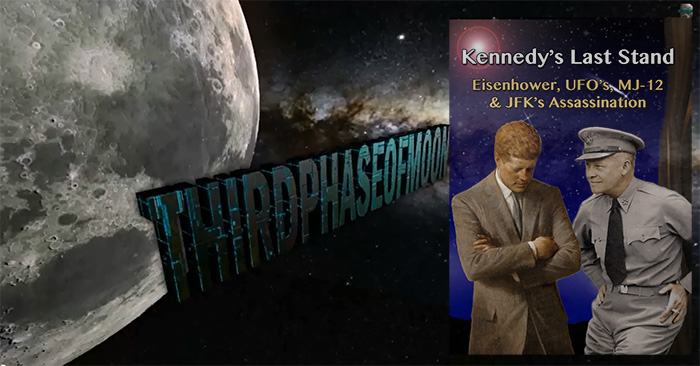 The upcoming 51st anniversary of President Kennedy's assassination and its connection to classified UFO files is discussed in a new video released by Third Phase of Phase on November 6. The video, "UFO Sightings MJ-12: The Presidents Last Stand," proposes the general public is opening up for the first time to the possibility that Kennedy had a genuine interest in UFOs and that this played a role in his assassination. Using historic documents – both those released through the Freedom of Information Act and those leaked unofficially by whistleblowers – it is proposed that Kennedy tried a number of different initiatives to gain access to classified UFO files. With a subscriber base of almost 200,000, the Third Phase of Moon video introduces a radical new perspective on the Kennedy Assassination to the US and world public.
The Third Phase of Moon video uses a combination of new film footage taken on the Big Island of Hawaii with the writer wherein my 2013 book, Kennedy's Last Stand is discussed, and archived footage of a 2009 lecture wherein documents concerning Kennedy's efforts to gain access to classified UFO files are discussed. The video begins by discussing President Kennedy's experiences in Post War Germany where he was a guest of the U.S. Secretary of Navy, James Forrestal, and toured captured Nazi UFO technologies. Kennedy's war time knowledge of UFOs played a key role in his interest in gaining access to classified UFO files closely safeguarded by the CIA's counter intelligence division, and a secretive organization called Majestic-12.
Kennedy's efforts to do an end run against the CIA's refusal to share classified UFO files is discussed, along with his efforts to gain access using his Commander in Chief powers when visiting U.S. military facilities. It is claimed that Kennedy shared some of the UFO secrets he had discovered with Marilyn Monroe. Monroe's estrangement from Kennedy and attempt to reveal his UFO secrets through a planned Press Conference, is claimed to have played a direct role in her August 1962 death.
The Third Phase of Moon video finishes with Kennedy's historic September 20, 1963 initiative announced at the United Nations General Assembly to collaborate with the Soviet Union in joint space and lunar missions. It is proposed that Kennedy's space cooperation initiative was driven by a desire to have classified UFO files shared between the respective bureaucracies of the US and USSR. This would have eventually ensured direct Presidential access to classified UFO files and programs. When it became clear on 12 November 1963 – after Soviet Premier Khrushchev finally accepted Kennedy's space cooperation initiative – that Kennedy might succeed, a secret assassination directive called "Project Environment," was implemented by the head of the CIA's counter intelligence division. Ten days later, President Kennedy was assassinated in Dallas, Texas.
Further Reading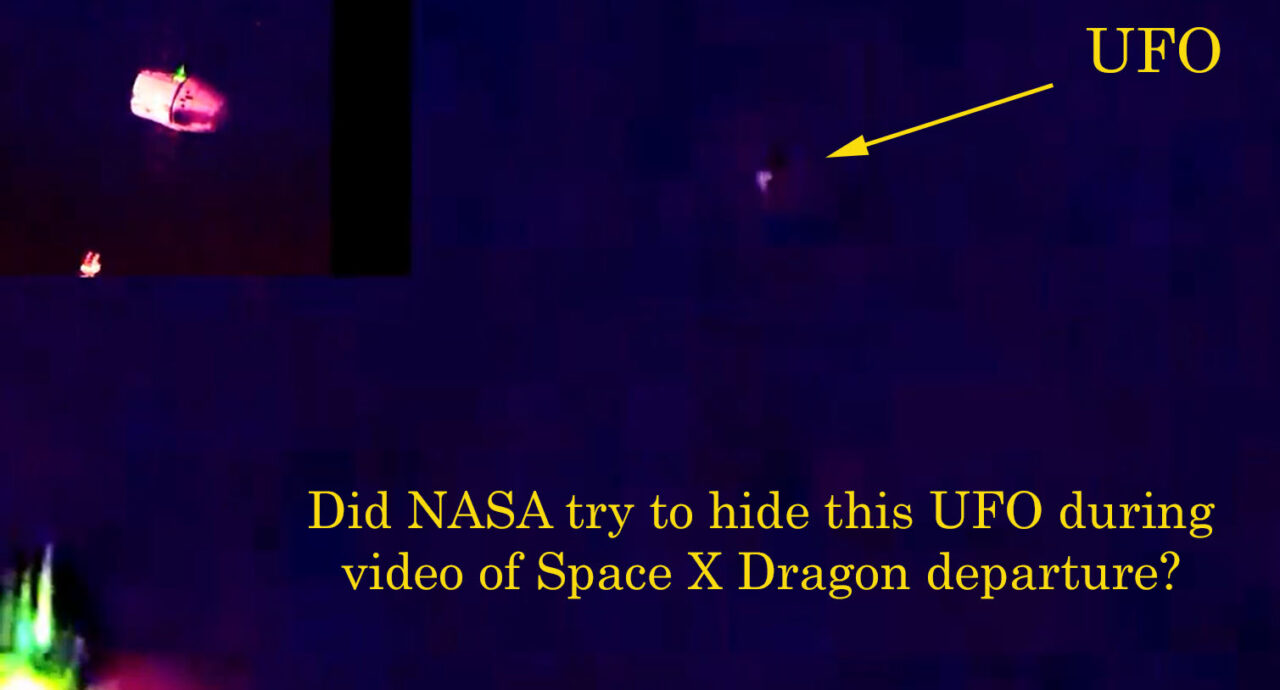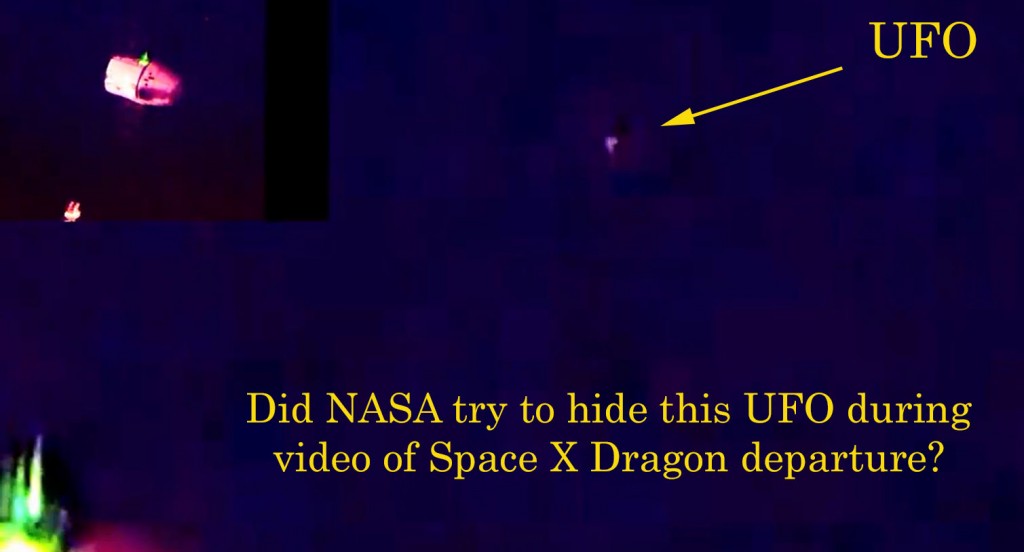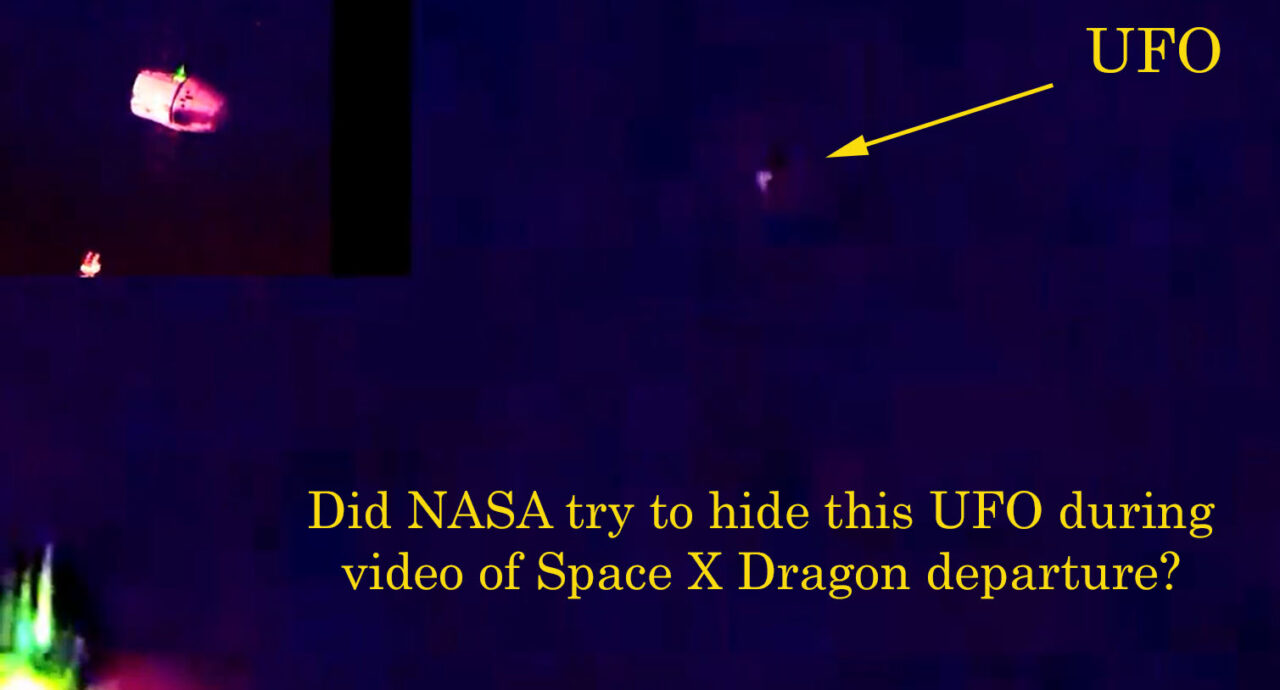 On Saturday morning, October 25, the Space X Dragon detached from the International Space Station (ISS) as it began its return mission to Earth carrying various cargo items. In NASA's video footage of the Dragon departure, uploaded the same day to Youtube, a small luminous UFO is apparently monitoring the detachment and start of Dragon spacecraft's return which conducts three burning maneuvers near the ISS. Video analysis of NASA's coverage of the incident was conducted by Third Phase of Moon that clearly identified the UFO. Furthermore, Third Phase of Moon makes the remarkable claim that NASA deliberately tried to hide the UFO as it monitored Space X Dragon's departure.
In the raw footage of the incident provided by NASA, it is hard to identify the UFO which is a small light just above and to the right of the Dragon spacecraft. According to Third Phase of Moon, this is because NASA zoomed out from the Dragon craft as soon as the UFO appeared nearby. After NASA's raw footage is subjected to video analysis through zooming and light contrasts, the UFO becomes clear. Was NASA's zooming out at the moment the UFO first appeared merely coincidental; or, as Third Phase of Moon claims, a deliberate attempt to cover up the UFO?
The Space X Dragon incident follows only three days after another small luminous UFO appeared near the ISS, this time during a spacewalk by two Russian astronauts. The UFO was very clear and appeared to maneuver near an object jettisoned by the astronauts. A day before, on October 21, two cigar shaped UFOs appeared near the ISS. In another incident on October 7, an elliptical UFO appears nearby another spacewalk by two astronauts.
The October 25 incident suggests that once again, a UFO has been filmed apparently monitoring ISS activities. If NASA was trying to cover up the latest UFO incident, this may be part of a deliberate policy of countering the frequent appearance of UFOs near the ISS that might lead the public to conclude that we are not alone.
© Michael E. Salla, Ph.D. Copyright Notice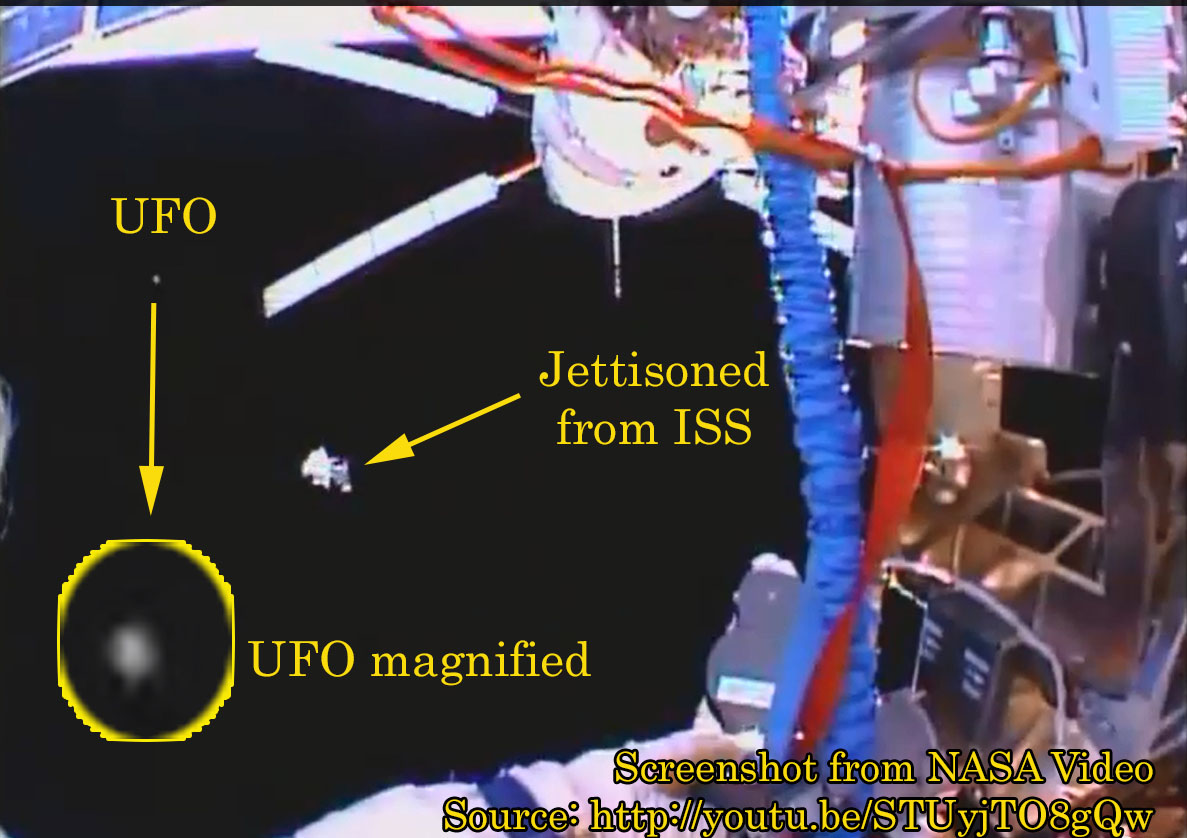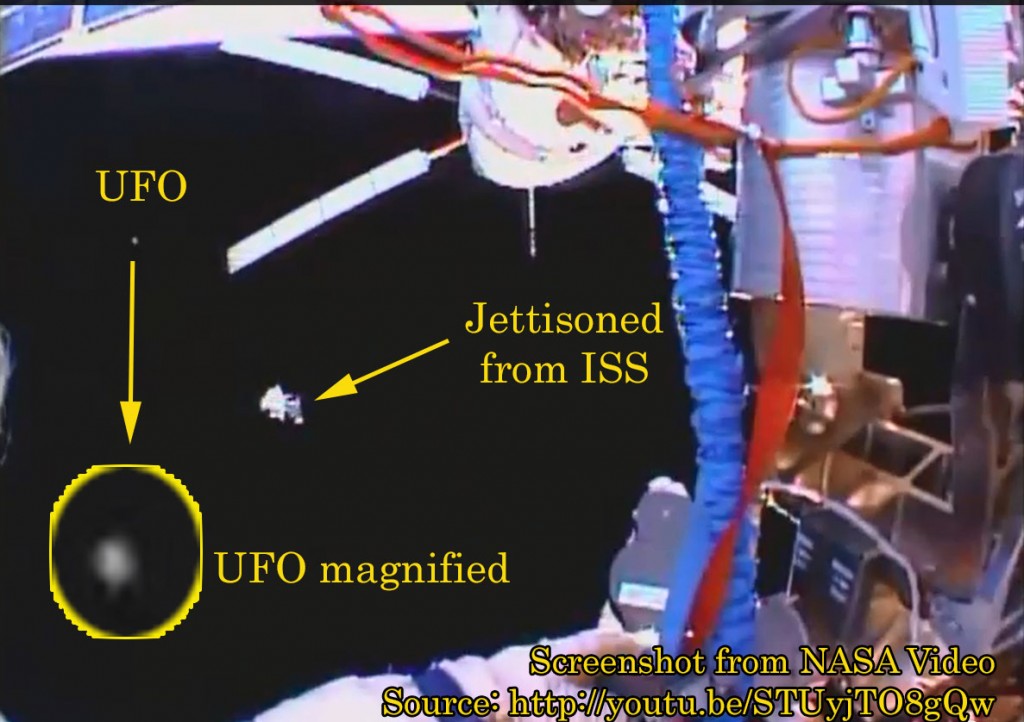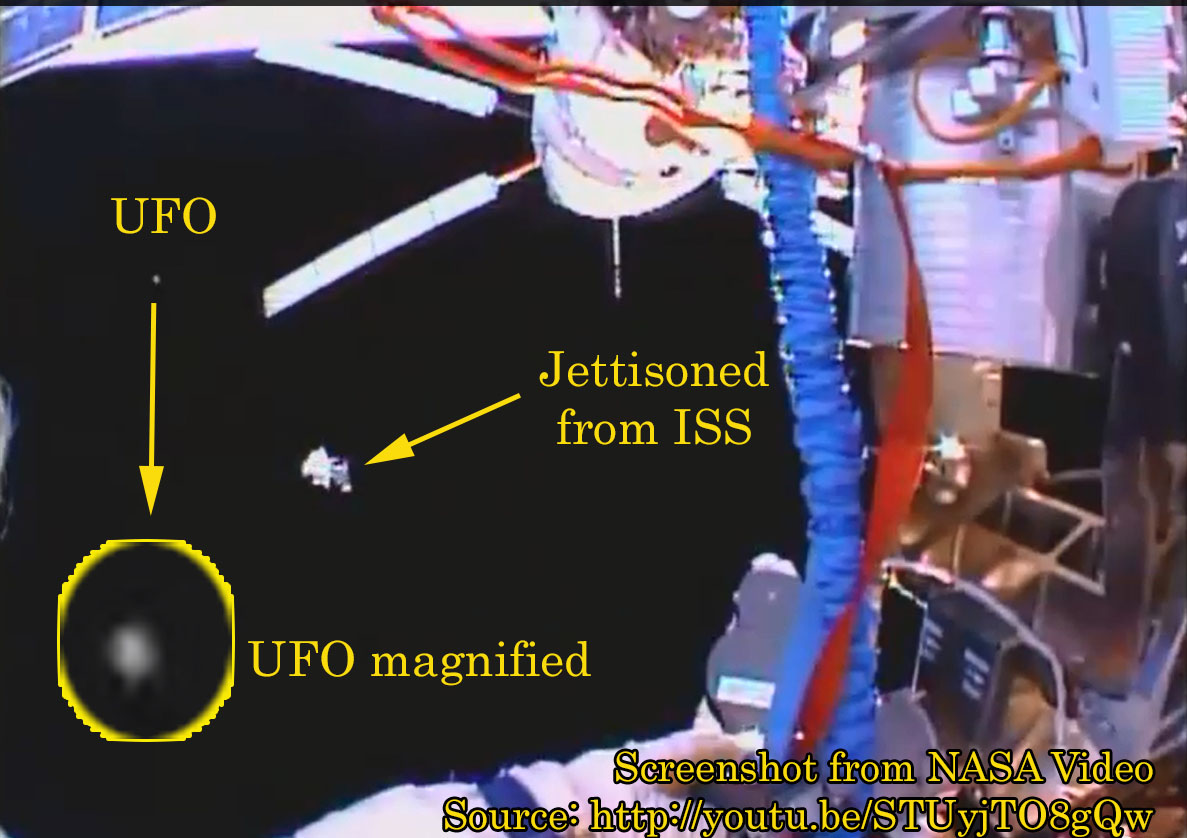 On October 22 during a spacewalk by two Russian astronauts, the International Space Station (ISS) live feed showed a luminescent UFO briefly fly nearby. The astronauts had just jettisoned two parts of the ISS that had been removed, and the live feed showed the objects slowing falling towards the earth. As the second object is jettisoned, the UFO appears and briefly maneuvers near it. The luminescent UFO does not appear to be space debris as it clearly changes direction several times. It appears to be under intelligent control suggesting either a luminescent life form indigenous to outer space, or an extraterrestrial vehicle of some kind.
The first possibility of an extraterrestrial life form that can survive in outer space was suggested in a brief video analysis of the UFO conducted by Third Phase of Moon. It was proposed that the UFO was some kind of insect. The idea of space bugs existing in outer space received a boost on August 19, 2014 after Russians scientists announced the results of a yearlong study of a strange substance that had been obscuring the windows of the ISS that had been collected by astronauts during a prior spacewalk. Russian scientists announced that the substance was a form of sea plankton growing on the windows of the ISS. Flying at an approximate altitude of 200 miles, it is extremely unlikely that sea plankton could be carried so high by air currents. Nevertheless, the sea plankton on the ISS was growing, suggesting that it was a form of plankton indigenous to outer space rather than carried into space from the Earth's surface.
Another possibility is that the luminescent object is an extraterrestrial spacecraft. If so, it would be yet another incident of spacewalking astronauts being monitored by extraterrestrial craft. October 7 was another incident of spacewalking astronauts being captured on the ISS live feed with a UFO nearby that appeared to be observing ISS activities. The UFO was elliptical in shape and stationary relative to the ISS.
The ISS live feed is clear evidence that something other than space debris was briefly captured on video during a spacewalking mission. The video is very suggestive of some form of indigenous space life, or an extraterrestrial vehicle, closely monitoring the ISS and the spacewalking astronauts.
© Michael E. Salla, Ph.D. Copyright Notice