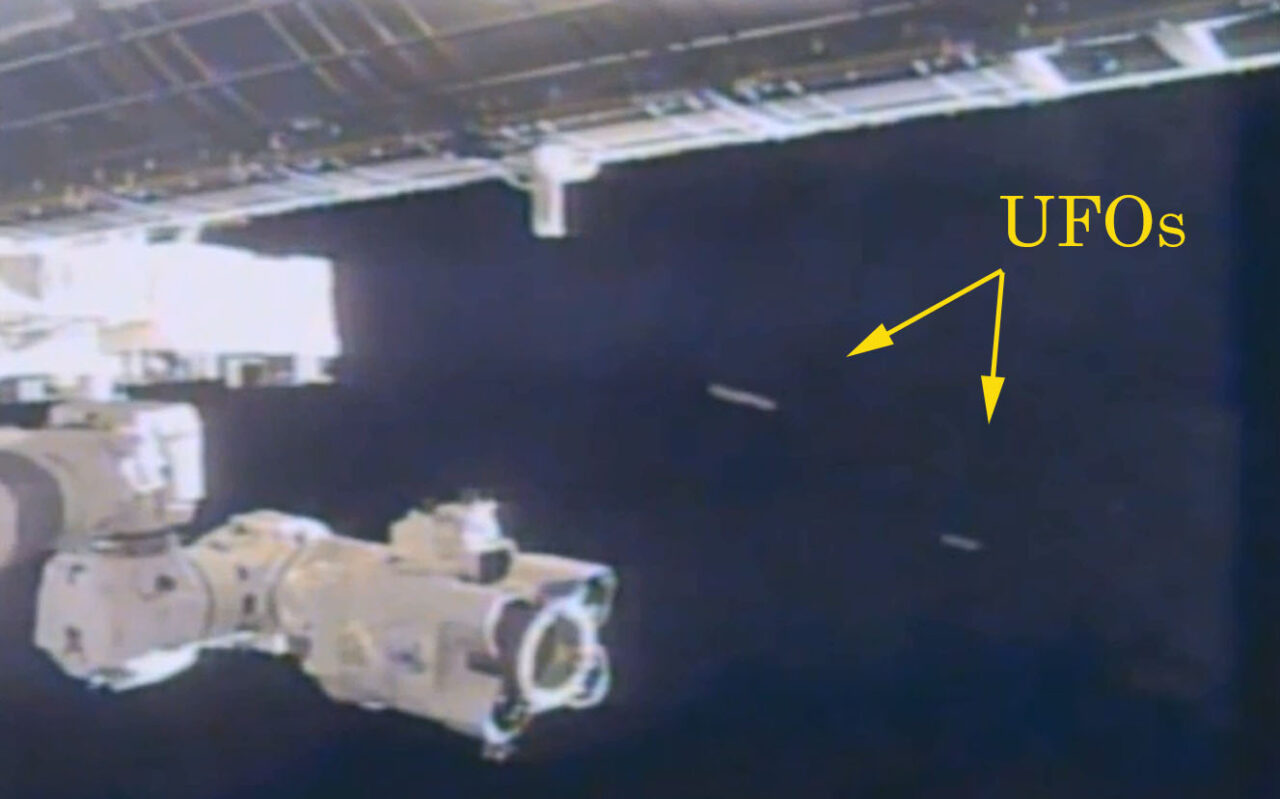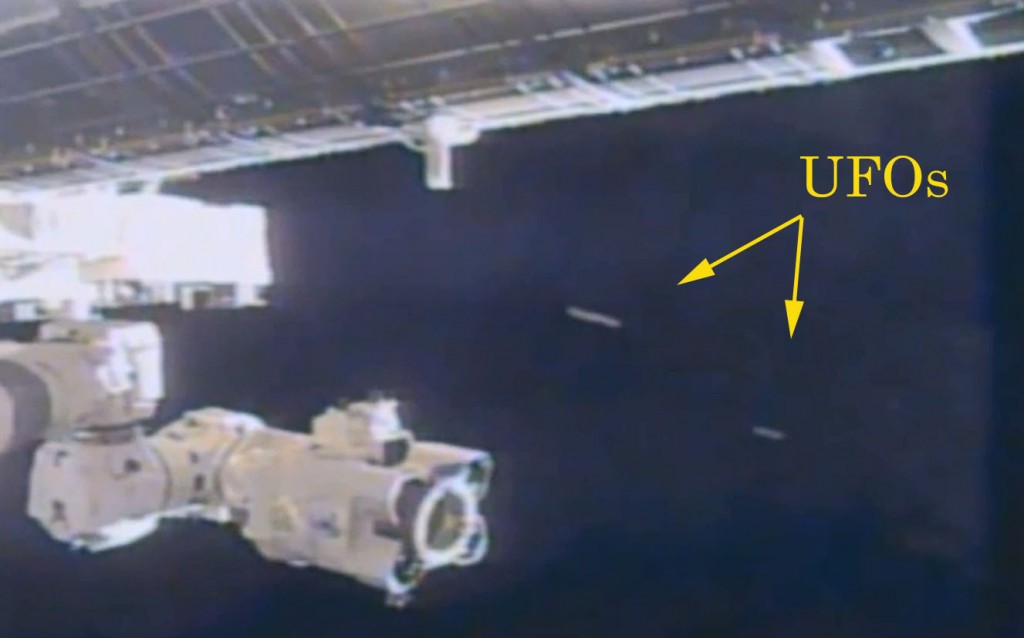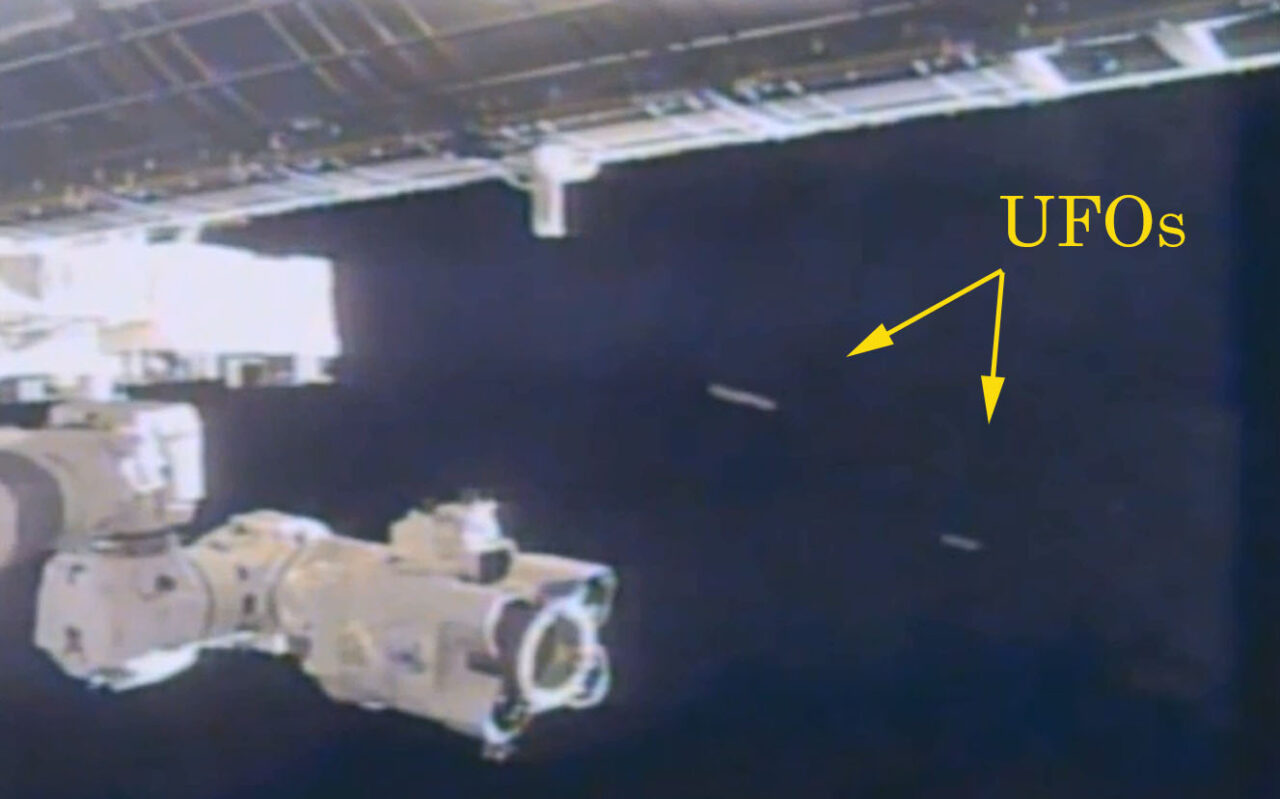 Newly released video from the International Space Station's (ISS) Live Stream shows what appears to be two cigar shaped UFOs near the ISS. The UFOs briefly appear in the video stream before there is a signal interruption. When the live stream resumes the UFOs are gone. The incident was uploaded to Youtube on October 21 and has already begun generating much discussion. It is difficult to estimate the size of the UFOs but previous sightings of similar cigar shaped objects have been estimated to be aircraft carrier sized, big enough to host smaller UFO craft. Leading astronomers and astrobiologists are now telling us that the cosmos is teeming with exoplanets capable of hosting intelligent life, and we need to prepare for its discovery. This leads to the question, are extraterrestrial ships monitoring the ISS?
The latest video incident follows a string of UFOs being captured by the ISS live stream. On October 7, a UFO appeared near two space walking astronauts. The object was also elliptical or cigar shaped, and appeared to be monitoring the ISS. On January 29, 2014 the live stream showed a yellow elliptical UFO that appeared to actually have docked with the ISS. This raised remarkable possibility that the ISS was being visited by unknown astronauts from a classified military program, or even extraterrestrials.
The main objection against past UFO sightings captured on the ISS live camera feed is that these are lensflares caused by the sun or a strong light source nearby as it hits the camera lens. In the live video feed of the two cigar shaped UFOs, there is no significant change in the ambient light as the UFOs slowly appear in the video. If the UFOs were caused by a lensflare, then their appearance would be marked by a clear change in the ambient light. Nor do the UFO appear to be natural phenomena occurring in the Earth's atmosphere or surface.
If the two UFOs are not caused by a lensflare, camera malfunction or other natural phenomena, what are they? The UFOs may be intelligently guided cigar shaped spacecraft that have been reported by military and government whistleblowers to be very large in size.
One possible explanation is that they belong to a secret space fleet. Another explanation is that the UFOs are extraterrestrial in origin. As far back as the early 1950s, cigar shaped UFO have been regularly sighted and photographed. The most famous photographs were taken by George Adamski who filmed smaller scout ships emerging from larger cigar shaped UFOs near the moon. In a related 1952 incident, Adamski and six witnesses claimed to have sighted a large cigar shaped UFO fly overhead. It was soon followed by a smaller "scoutcraft" that landed near Adamski, who met the extraterrestrial pilot.
The International Space Station's live camera feed continues to capture strange nearby objects through its various external camera systems. Some of these objects might be explained away as lens flares or natural phenomena. Not so however for all other incidents that likely include the two cigar shaped UFOs captured  on October 21. If these two UFOs are under intelligent control, they could be spacecraft from a secret space program or from an extraterrestrial intelligence. If extraterrestrials are indeed monitoring the ISS, they may be allowing their spacecraft to be captured on video in a First Contact scenario.
© Michael E. Salla, Ph.D. Copyright Notice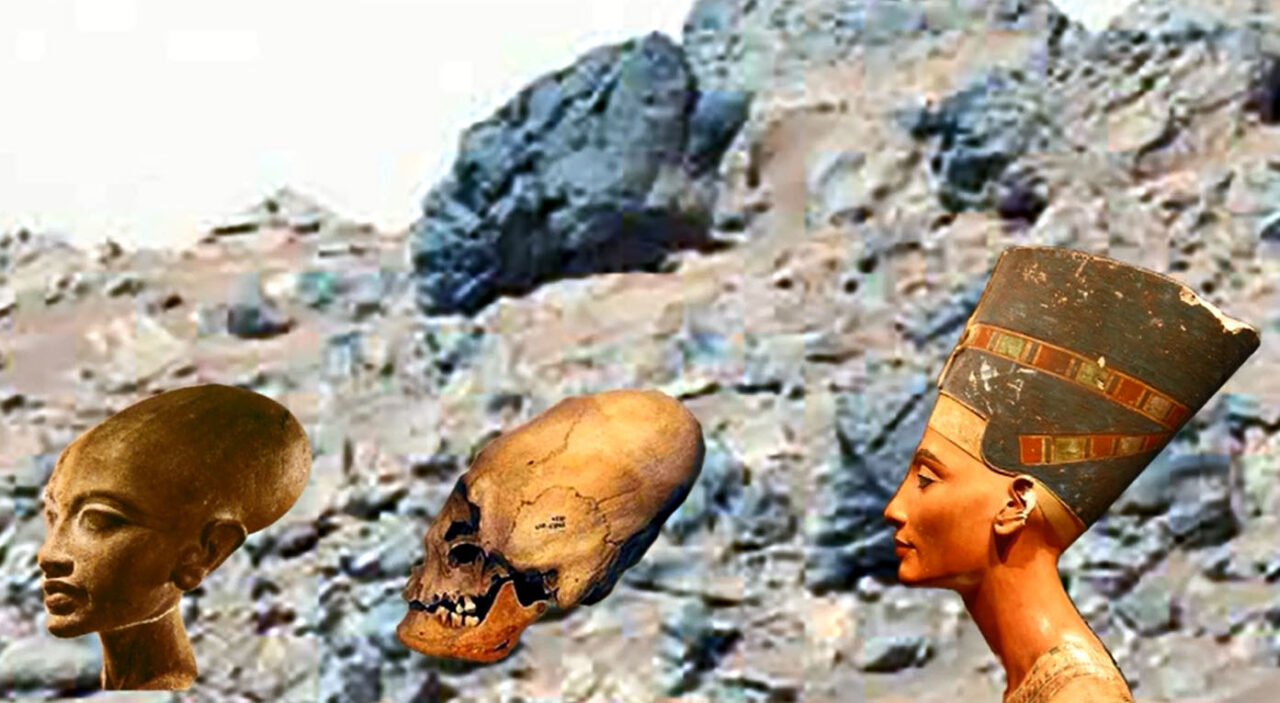 A photograph taken by the Mars Curiosity Rover shows what appears to be an elongated skull on the Martian surface. According to an October 18, 2014, report by UFO Sightings Daily, the curious object is an elongated head similar to those found in ancient Egypt. In a Youtube video, the Martian skull like object is compared to elongated human skulls found in various Egyptian murals and the similarity is striking.
Around the same time the skull like object began to be discussed on the internet, NASA administrator Charles Bolden made a surprising statement about life on Mars in an October 9 interview in London:
People always ask the question 'Why Mars?' Several reasons: One, Mars is very Earth-like, or least used to be Earth-like. It is a planet, a sister planet to Earth. It is the most likely planet in our solar system, um, that had life at one time… may have life now, and we feel can definitely sustain life.
Was this merely a coincidence, or was Bolden preparing the world public for some surprising future announcement regarding life on Mars? Perhaps Martian life once existed, and it was connected to ancient Egypt?
The photograph was taken by Curiosity Rover on September 14, 2014 and was the focus of a video posted a month later. In the video, comparisons with various elongated human skulls depicted in Egyptian murals and statues, the suggestion is that the object is a human skull. If so, then the elongated skull may be evidence of a tangible connection between ancient Egypt and Mars. Both Earth and Mars at one time in their history possessed a human population with elongated skulls that were part of their respective planetary leaders.
Whatever the origin of the mysterious object, it is unlikely that the Curiosity Rover will investigate it more closely due to the standard response by NASA that such fossil like bone fragments are just rocks. For example, in its response to a Mars Rover image of what appeared to be a thigh bone found on Mars, NASA responded that it was nothing more than rock. Former NASA employees, such as Richard Hoover, however disagree. Hoover claims that NASA administrators go to great lengths to cover up the possibility of Martian life, and in one case directed one of the Rover missions to actually destroy evidence of a Martian fossil.
Perhaps NASA's standard response is right, and the skull looking object captured by Curiosity Rover is just a rock. Alternatively, the object may be the elongated skull of a humanoid species that had a historical connection to ancient Egypt. Was NASA Administrator Bolden's October 9 claim of past Martian life purely coincidental in timing, or the start of NASA releasing more of what it really knows about life on Mars?
© Copyright 2014. Michael E. Salla, Ph.D.
Further Reading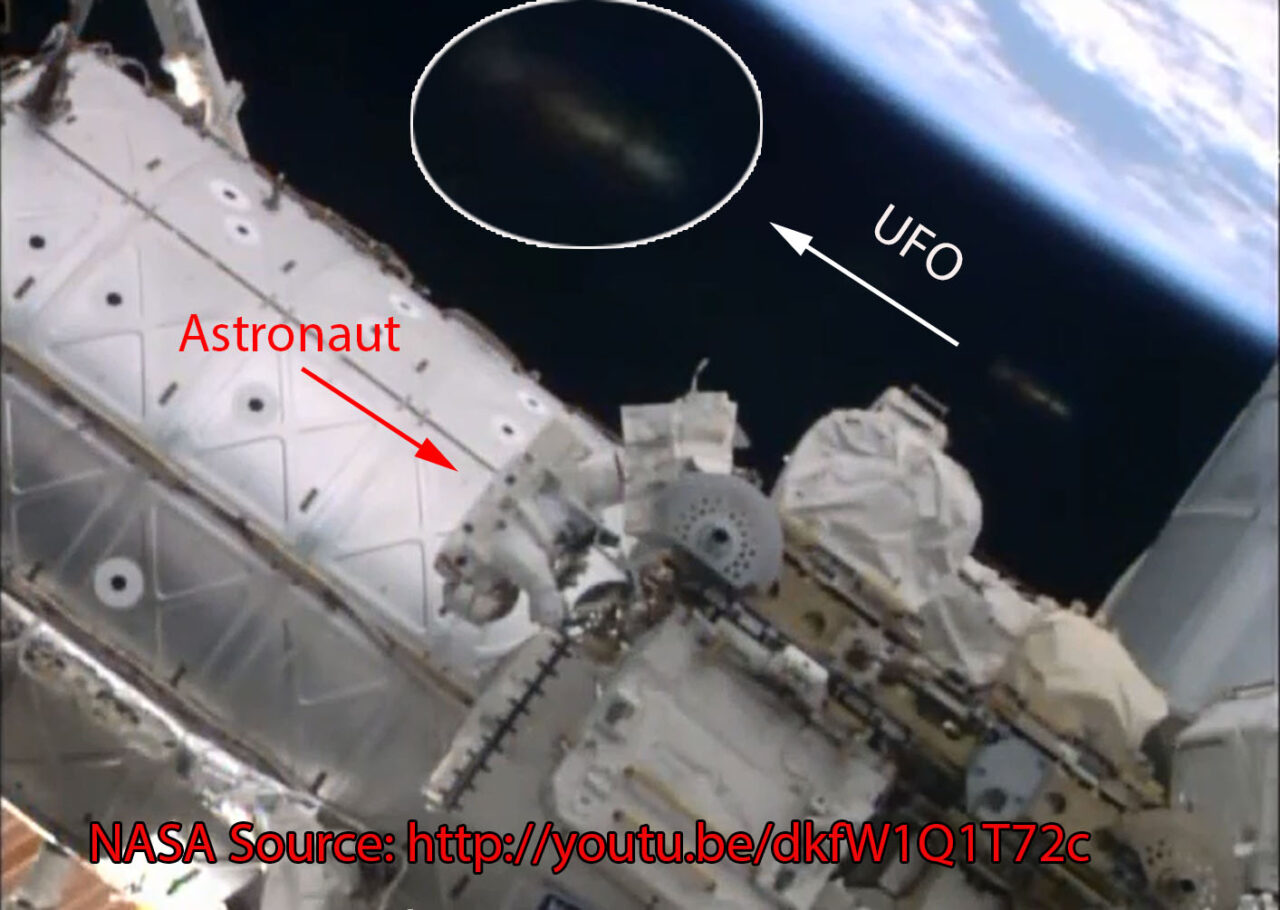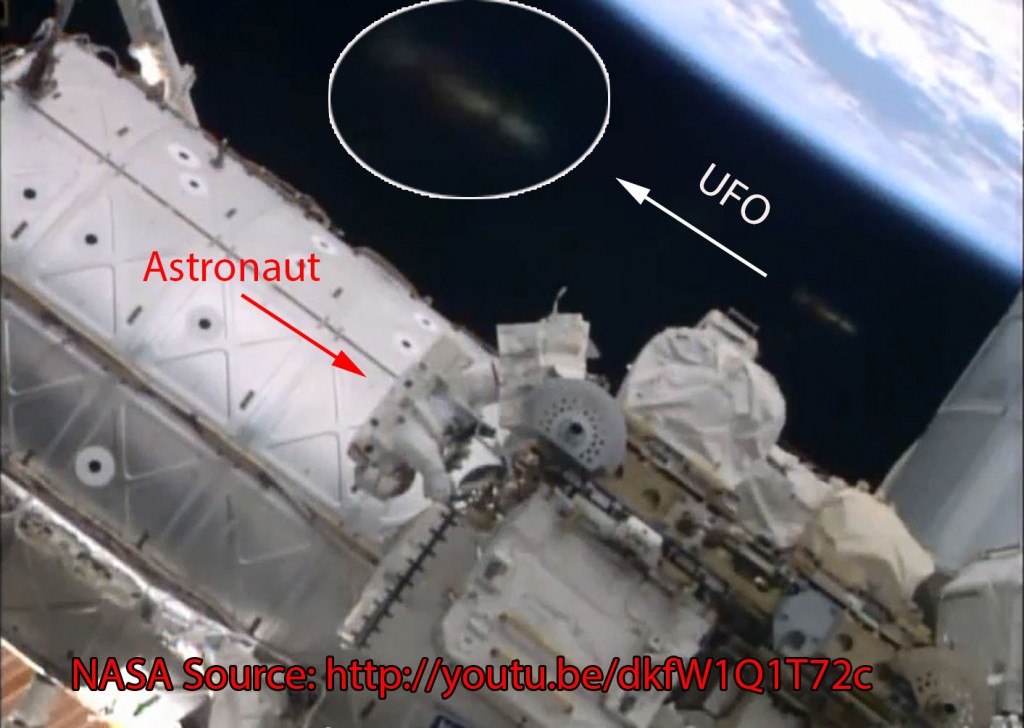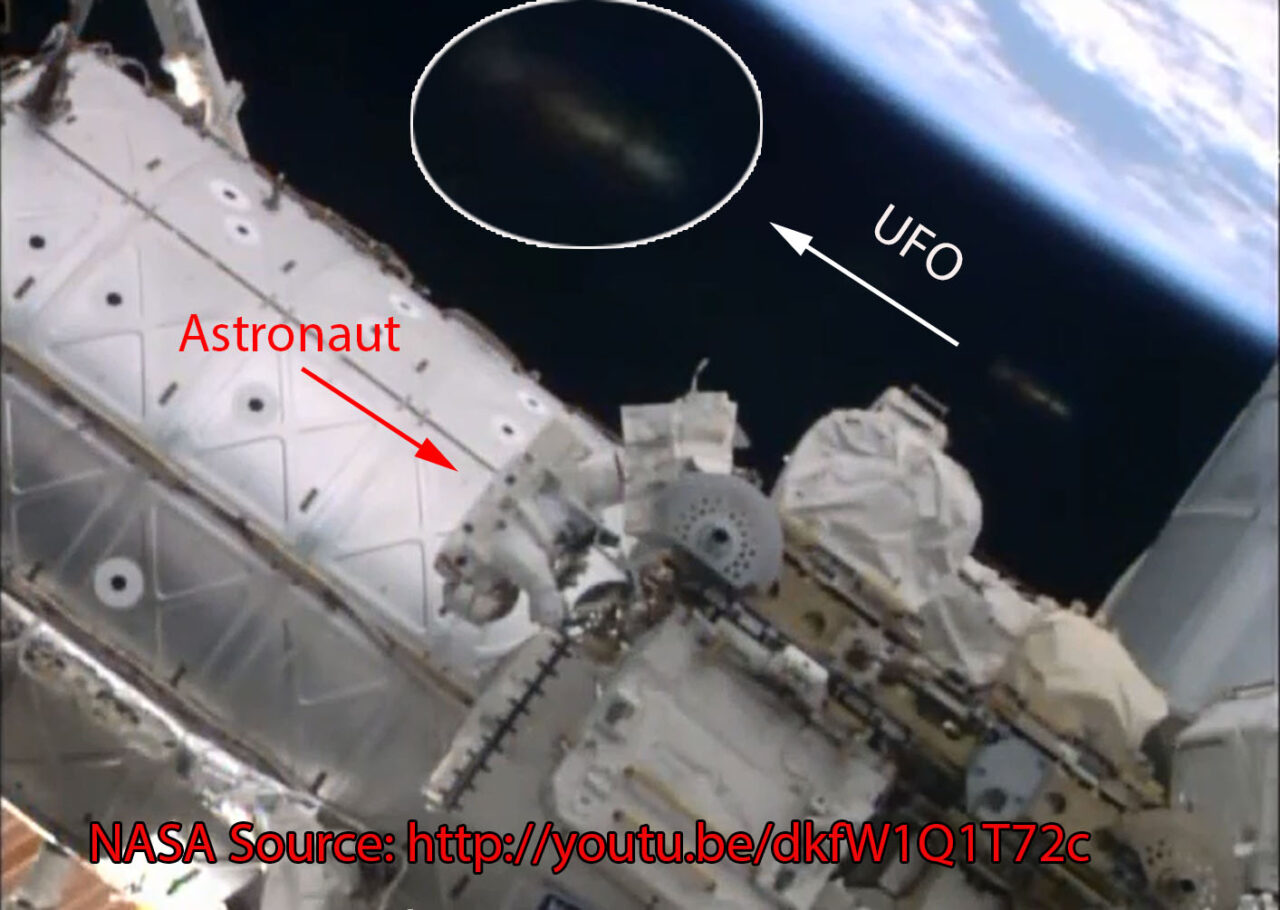 On October 7, the live camera feed from the International Space Station (ISS) captured video of a UFO near by astronauts during a spacewalk. In a Youtube video uploaded today by NASA of the spacewalk, an unknown craft is clearly visible as one of the spacewalking astronauts performs his mission. The UFO appears for 12 seconds beginning at the 1:40 minute mark (see embedded video extract). It has an elliptical metallic shape and is of unknown size. It appears to be close by and monitoring the astronauts.
One possible explanation is that the UFO could be one of two resupply ships currently visiting the ISS. On September 23, a Space X Dragon cargo ship arrived at the ISS. It was followed two days later by the Soyuz TMA-14M carrying three additional crew members. The two craft are respectively scheduled to return to Earth on October 18 and November 10. However, both craft are docked, and not floating near the ISS as the unknown object appears to doing in the October 7 video.
Another explanation is that it could be a lensflare or camera reflection of part of the ISS itself. However, lensflares and reflections typically happen as sunlight or a strong light source reflects off the sides of a camera lens and/or nearby objects. However, there does not appear to be any strong source of light near the astronauts or camera during the video segment when the UFO appears. The even light in the background of the video during the critical period appears to rule out a lensflare/camera reflection explanation.
The video footage follows incidents earlier in 2014 which showed what appeared to be UFOs visiting the ISS. The most revealing occurred on January 29 and involved live video feed of a yellow elliptically shaped UFO that appeared to actually have docked with the ISS. This raised remarkable possibility that the ISS was being visited by unknown astronauts or even extraterrestrials. To date, no satisfactory answer has been given by NASA for the unknown spacecraft captured on video docking with the ISS.
The October 7 incident cannot be video of either the Dragon X or Soyuz spacecraft which are docked. Nor does it appear to be caused by a lensflare/camera reflection. The elliptical shape of the object is consistent with earlier incidents at the ISS involving UFOs close by or even docking with the ISS. Is it possible that once again, a spacecraft of unknown origin has been captured on video visiting the ISS, this time monitoring a spacewalk by two astronauts?
© Michael E. Salla, Ph.D. Copyright Notice
Further Reading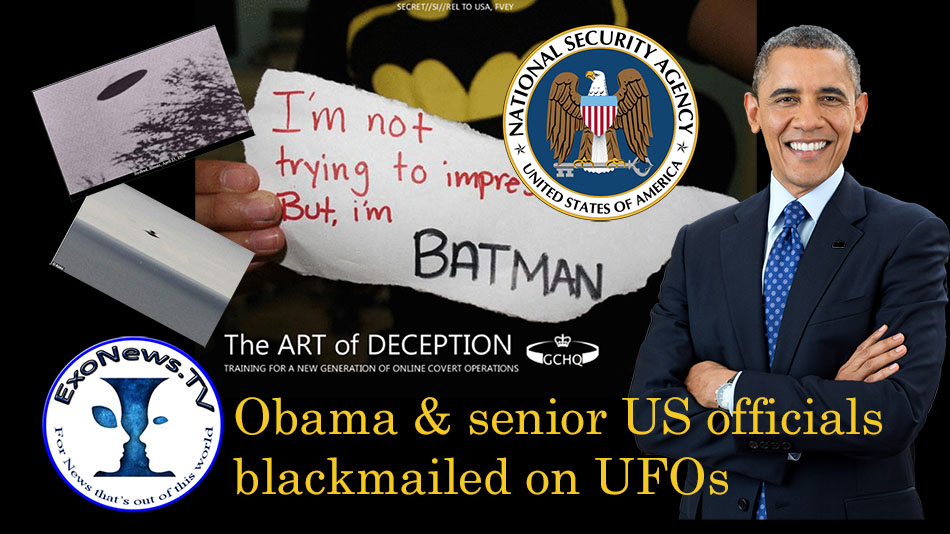 Edward Snowden has released official documents that show the extent of NSA surveillance of foreign political leaders. According to another NSA whistleblower, Russell Tice, the NSA does the same in the U.S. It conducts regular surveillance of senior U.S. officials including military officers, members of Congress, Supreme Court justices and even members of the executive branch. The goal, Tice claims, is to gain sensitive personal material on such senior U.S. officials for the purpose of blackmailing them into supporting policies favorable to the recipients of the NSA surveillance information. One of the policies is maintaining secrecy about UFOs and their extraterrestrial origins.
In December 2005, Tice came forward to publicly reveal how the NSA and the Defense Intelligence Agency were conducing unlawful wiretaps of U.S. citizens. He revealed to various media sources that among the targets were senior U.S. officials:
They went after high-ranking military officers; they went after members of congress — Senate and the House — especially on the intelligence committees and the armed services committees, lawyers, law firms, judges, State Department officials, part of the White House, multinational companies, financial firms, NGOs, civil rights groups …"
In June 2013, Tice was asked about the potential for blackmail of senior U.S. officials from NSA surveillance files:
Collins: Now Russ, the targeting of the people that you just mentioned, top military leaders, members of Congress, … intelligence committees, … and then executive branch appointees. This creates the basis, and the potential for massive blackmail. Tice: Absolutely! And remember we talked about that before, that I was worried that the intelligence community now has sway over what is going on.
While Tice was not widely believed at the time, the Snowden NSA document leaks have confirmed many of his claims.
In a June 2014 interview with the Washington Blog about forthcoming Snowden based stories of NSA surveillance of U.S. citizens, Tice explained that the Snowden documents belong to a database called the Joint Worldwide Intelligence Communications System.
These documents are accessible to all within the NSA with the necessary Top Secret and Sensitive Compartmented Information clearance levels. However, Tice claims that there are more restricted NSA information networks based on higher security levels. He describes two of these as Exceptionally Controlled Information (ECI) and Very Restricted Knowledge (VRK). It is in these more secretive networks that Tice found information concerning the surveillance of senior U.S. officials going back as far as the 1970s and the surveillance of Senator Frank Church who led a Senate investigation of the U.S. intelligence community.
Tice revealed that one of the recipients of the NSA's secret surveillance files of U.S. leaders was former Vice President Dick Cheney:
… the whole thing was being directed and was coming from the vice president's office … Cheney, through his lawyer David Addington…. all "sneaky pete" under the table, in the evening when most NSA employees are gone for the day. This is all being done in the evenings … between like 7 [at night] and midnight.
According to another whistleblower, Derek Hennessy, Cheney had direct knowledge of a secret UFO program based on extraterrestrial technologies at the highly secret S-4 facility at Area 51. Cheney was therefore well placed to use NSA information to find out who among U.S. officials had received information about UFOs and extraterrestrial technologies. He could use this NSA information to blackmail senior U.S. officials in order to maintain UFO secrecy.
Among the U.S. officials that have been monitored and blackmailed, according to Tice, is President Barack Obama who first came under the radar of the NSA when he became a candidate for the U.S. Senate.
In the summer of 2004, one of the papers that I held in my hand was to wiretap a bunch of numbers associated with a forty-some-year-old senator from Illinois …. That's who the NSA went after. That's the President of the United States now.
This helps explains why Obama backtracked on many campaign pledges, including that of the most open and transparent U.S. government in history. Obama's pledges and choice of administration officials fueled speculation that was being prepared to disclose the truth of UFOs and their extraterrestrial origins.
The Art of Deception is a 50 page powerpoint presentation released by Snowden that confirms deception involving UFOs is part of online covert operations maintained by the NSA and its global intelligence partners.  Blackmailing senior U.S. officials into silence would be critical for the success of covert programs aimed at deceiving the public about UFOs. Based on documents released by Snowden and Tice's earlier revelations, one can conclude that President Obama and senior U.S. officials are blackmailed by recipients of NSA surveillance information on a number of issues, including maintaining secrecy about UFOs and extraterrestrial life.
© Michael E. Salla, Ph.D. Copyright Notice
Further Reading: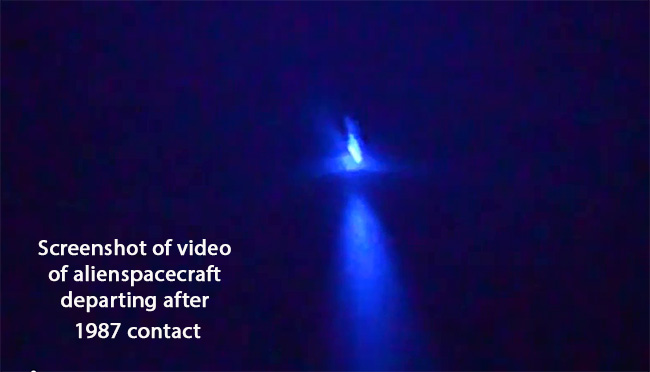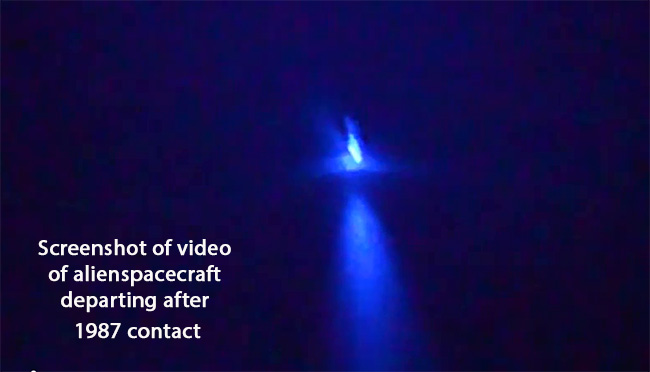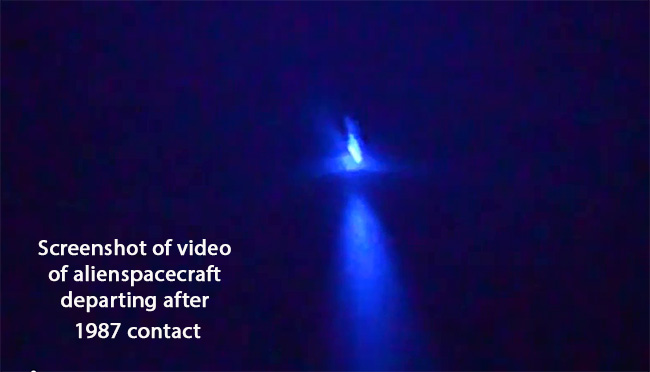 The popular website Third Phase of the Moon yesterday supplied more video footage from one of its viewers who claims to be an extraterrestrial contactee. "Ed", who is yet to reveal his full name, claims that his contacts started in 1976. He said that while he was a young boy he witnessed a UFO with his uncle who was a former lieutenant in the US Army. Ed claims that soon after, he began having contact experiences with aliens in their spacecraft that continue to the present day. What makes Ed's stories of contact different to others is that he has remarkably clear footage supporting his claims.
Yesterday's video footage was recorded in 1987 and shows a UFO taking off during the night. It is emitting a powerful light towards the ground, and is the classic saucer shape. According to Ed, the light was used to both teleport him into the ship, and back to Earth. It was silent as it took off suggesting that the light was not related to any kind of propellant as would be expected from a rocket engine or vertical takeoff aircraft. Ed claims that he travelled back to his truck and then filmed in the direction where the spacecraft was situated, and filmed it as it took off. The approximate size of the spacecraft was approximately 80-120 feet wide, and about 50-80 feet high. He said that the extraterrestrial that communicated with him and that he met on the ship was named "Voss".
Ed has supplied other video footage from his archive that is compelling evidence for his extraordinary claims. One video released on March 26 in particular is a classic flying saucer captured during daylight hours. His videos are fast becoming the most compelling from a US based contactee since the extraordinary George Adamski who thrilled audiences around the world with his stories and photos of alien contact in the 1950s and 1960s. Ed appears sincere in his claims and is currently providing a series of interviews to Blake Cousins founder of Third Phase of the Moon. The latest video supports Ed's main contention that he has been contacted and visited by extraterrestrial visitors since 1976.
© Copyright 2014. Michael E. Salla, Ph.D.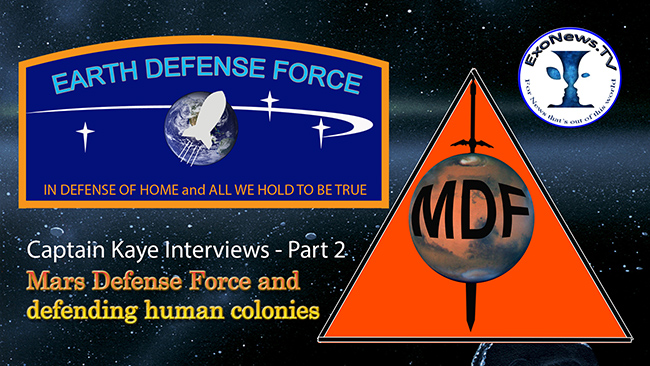 A new whistleblower has come forward to claim that he spent 17 years on Mars serving at a secret military base whose main mission was to protect five civilian space colonies. In exclusive testimony released today on ExoNews TV, the whistleblower, who uses the pseudonym, Captain Kaye, said that the Mars Defense Force recruits personnel from different military services. He claims that he was recruited from a covert branch of the U.S. Marine Corps called "Special Section."
Captain Kaye's testimony reveals that the main human colony on Mars is called Aries Prime which is located inside a crater. Aries Prime serves as the headquarters for the Mars Colony Corporation. According to Captain Kaye, the air is breathable on the surface of Mars, and the temperature could be warm at times.
He claims that there are two indigenous species on Mars, both of which are highly intelligent. One of these was a Reptilian species that was very aggressive in defending its territory. The other was an Insectoid species that was equally capable of protecting its territory. He said that indigenous Martians are not particularly interested in expanding their territory, only maintaining it. Captain Kaye said that as long as the Mars Defense Force and Mars Colony Corporation did not encroach on the territory of the indigenous Martians, there would be stable relations.
After serving 17 years of a 20 year tour of duty, events changed dramatically when virtually all combat personnel from the Mars Defense force were asked to retrieve an extraterrestrial artifact from a cave sacred to the indigenous Reptilians. Captain Kaye described how over 1000 men and women were killed in a subsequent battle and only 28 of his colleagues, including himself, survived.
Captain Kaye is currently seeking documents to verify his incredible experiences, and for now offers his testimony as evidence of a break away human civilization based on Mars. Parts of his testimony is consistent with the claims of other whistleblowers who have previously come forward to reveal secret events on Mars. Michael Relfe, for example, claims that he also was recruited for a 20 year tour of duty that involved covert operations on Mars. Also, Laura Magdalene Eisenhower, the great granddaughter of President Eisenhower, claims that covert efforts were made to recruit her to join a colony on Mars that was headed by famed physicist, Dr Hal Puthoff. Finally, Captain Kaye's claims that Mars has a breathable atmosphere is supported by a number of NASA images revealing small animals on the surface.
To watch the ExoNews TV episode exposing Captain Kaye's Mars experience, click here.
To listen to the audio of Captain Kaye's first hand testimony, click here.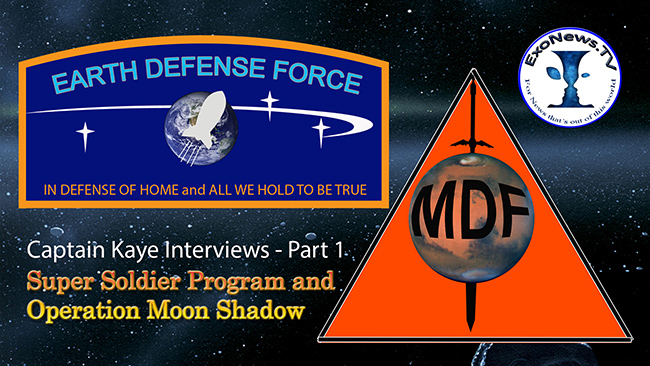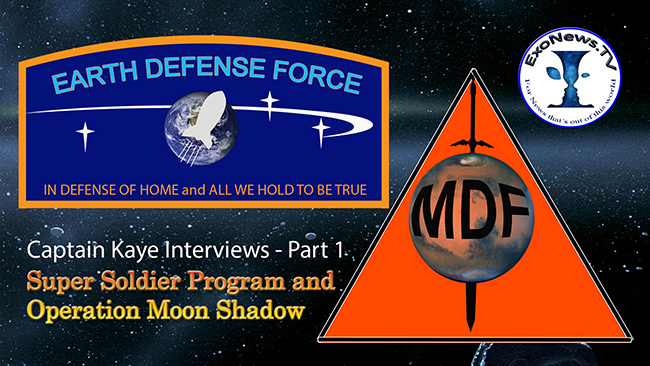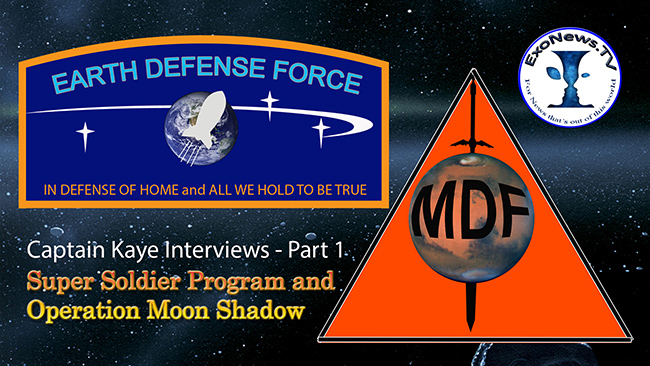 The ExoNews TV episode released today is the first in a five part series about the explosive testimony of Captain K an anonymous whistleblower, who claims he served as a member of an elite Marine Corps unit that provides personnel for a secret military bases on the Moon, Mars and other parts of the solar system. He describes a break away human civilization that operates in outer space. Captain K agreed to give over five hours of video testimony of his experiences which have been recorded via Skype, and will first be released as audio files.
In part one of this series, we learn about Captain Kaye's background where he began having strange experiences with extraterrestrials as far back in his childhood as he could recall. He believes that external intervention in his life, whether by aliens or U.S. military, went as far back as the time of his conception where his DNA was altered.
At five years of age, Captain Kaye was recruited into a covert US Marine Corps training program for super soldiers called Operation Moon Shadow. 300 children, both males and females, were involved in Operation Moon Shadow. Training took place at Marine Corps facilities. He was trained to develop his strength, agility and strategic thinking that would be needed later in his military service for off world missions. He recalled that at age 13, training shifted to include live weapons and working with adult special forces personnel who were both puzzled and impressed by the adolescents they were training with.
To learn more watch the ExoNews TV episode, see video above or click here.
To listen to the full audio of Part 1 of the Captain K testimony see video above or click here.
Suggested by the author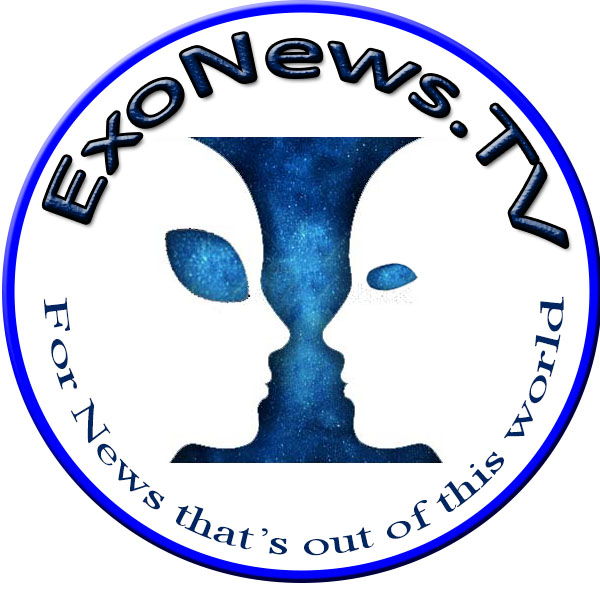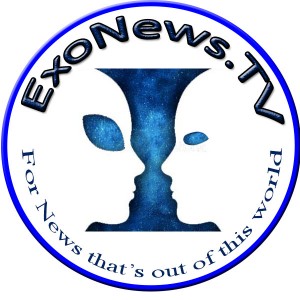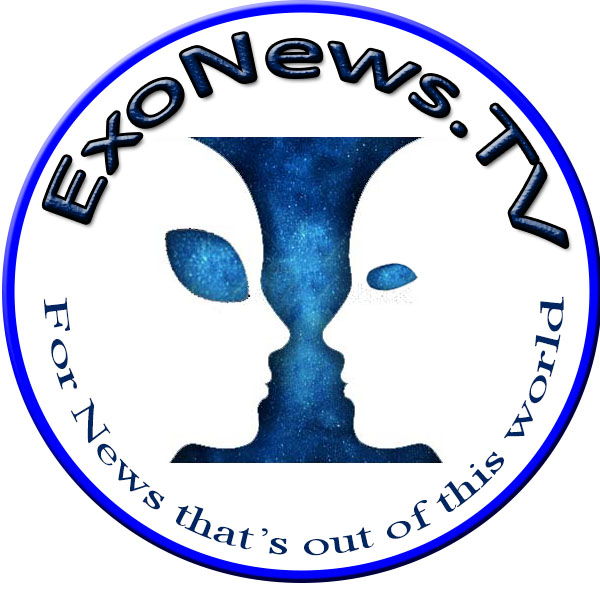 Today marks the official launch of the second season of ExoNews TV that specializes in news concerning extraterrestrial life and technology. The 2014 trailer describes upcomimg stories concerning UFO photos and videos from national space programs, discovery of exoplanets capable of hosting alien life, whistleblower accounts of secret space programs, and public contact with extraterrestrial visitors.
In the weeks ahead ExoNews TV will reveal the latest developments in these exciting areas and more.
Discover how a secret mars colony exists and is protected by a military base monitoring indigenous Martian life,
Find out about the existence of a highly classified space fleet patrolling our solar system using advanced antigravity space craft,
Learn about the official video of the International Space Station being visited by extraterrestrial spacecraft,
Discover how Russian President Putin has an exopolitics agenda to leak the truth about alien life to the world,
Learn about Edward Snowden's release of NSA documents that involve deception about UFOs.
Tune in to watch these and many more breaking ExoNews stories.
To Learn More, visit www.ExoNews.TV