New evidence emerges that Monroe planned to reveal JFK saw crashed UFOs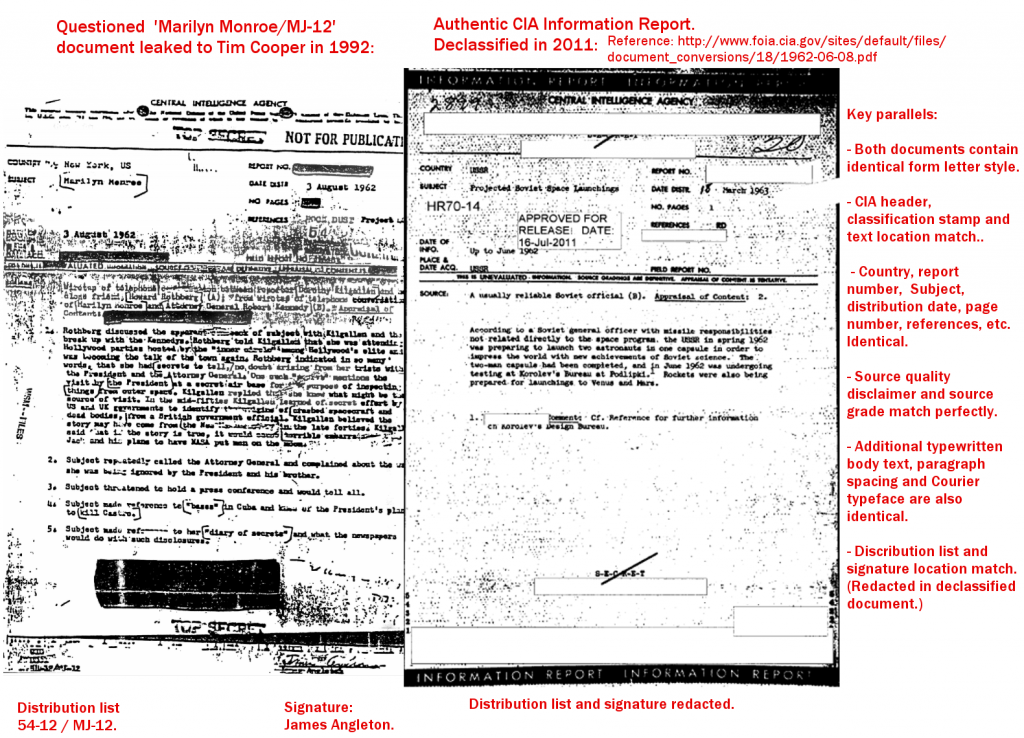 New evidence has just been released supporting the authenticity of a leaked CIA document allegedly of wiretaps of Marilyn Monroe and her friends shortly before her suspicious death on August 4, 1962. The wiretap document revealed that Monroe was planning to give a press conference about what President Kennedy had told her of a visit to an undisclosed Air Force facility where he saw the debris of a crashed UFO. The Monroe wiretap document was first leaked in 1992 to a UFO researcher, and was made public in 1994. It has not been confirmed by the CIA to be genuine, and remains open to dispute. The new evidence that was revealed yesterday shows that the leaked document conforms closely to a standard classified Information Report form used by the CIA in 1963. Either someone broke the law by forging or using a standard CIA Information Report form for classified reports at the time of Monroe's death, or the Monroe wiretap document was indeed a classified report about a wiretap of Monroe and her friends.
This is what the alleged CIA wiretap document, dated August 3, 1962, had to say about Monroe's knowledge of Kennedy and UFOs:
Rothberg indicated in so many words, that she [Monroe] had secrets to tell, no doubt arising from her trists [sic] with the President and the Attorney General. One such "secret" mentions the visit by the President at a secret air base for the purpose of inspecting things from outer space.
2. Subject repeatedly called the Attorney General and complained about the way she was being ignored by the President and his brother.
3. Subject threatened to hold a press conference and would tell all.
The discoverer of the CIA intelligence report is Lee Nicholson from the Outpost Forum. In his April 14 forum post he described what he found after visiting the CIA's electronic reading room:
During the process of researching this article I spent several hours at the CIA's electronic reading room looking at documents from the 1960s, in an attempt to find examples of similar typeface to that seen in our questioned document …. I discovered a CIA Information Report dated 18th March, 1963 with the subject heading: "Projected Soviet Space Launchings" which was declassified on the 16th of July 2011. This authentic CIA information report is an almost perfect match in style and presentation for the leaked 'Marilyn document'.
Nicholson went on to describe new facts emerging from a comparison between the declassified CIA document and the Monroe wiretap document:
In fact a close comparison gleans some important new facts. Firstly, we can now see that both documents use the exact same form letter or template information report. Presumably the author would have a stack of these 'blank' forms which would be placed into a typewriter to add the relevant information before classification and distribution. We can also see that both documents contain the same secondary typeface, which is in fact Courier type commonly used on IBM typewriters in the 1960s.
Nicholson then described a series of parallels between the declassified 1963 Information Report and the leaked Monroe wiretap document. His conclusion was that they closely matched suggesting that the Monroe document is genuine.
The implications of the Monroe wiretap document being genuine are astounding. It reveals that only one day before her death, Monroe was planning a press conference that would reveal what President Kennedy had confidentially told her about UFOs. The fact that the CIA was monitoring her and wiretapping her phone calls, directly implicates the CIA in her suspicious death and the cover-up of information concerning UFOs.
© Copyright 2014. Michael E. Salla, Ph.D.
Further Reading
Kennedy linked US-USSR space missions with classified UFO files