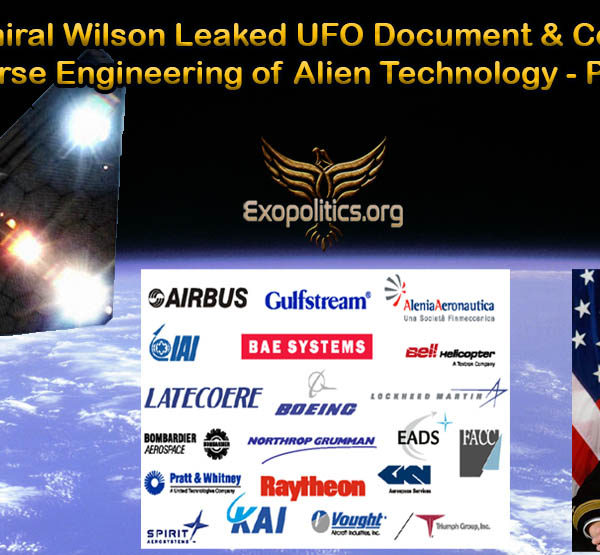 There are several important conclusions from Admiral Thomas Wilson's failed efforts to learn about and gain access to a classified UFO program that involved a clandestine corporate effort to reverse engineering a retrieved extraterrestrial spacecraft as described in the leaked 15 page document received by Canadian UFO research Grant Cameron in November 2018, and uploaded to the internet on April 19, 2019.
First, Wilson's failure to gain access to the classified UFO program described in parts one & two of this series confirms one of Dr. Steven Greer's major contentions that senior military officials are out of the loop when it comes to UFOs, despite the obvious national security implications they carry. The "bigot list" mentioned by Wilson in his conversation with Dr. Eric Davis about who was granted "need to know" access to the program, was dominated by corporate employees, with only a few Pentagon officials being briefed, and no one from the Executive and Legislative branches of government.
This is very surprising given the clear national security implications about UFOs due to the advanced technologies they possess, and the possibility that these could be or had been weaponized by foreign nations. A few years later this was the rationale for the creation of the Advanced Aerospace Threat Identification Program (AATIP) in 2007 with Congressional funding of $22 milliion. Significantly, some of the principal figures involved in the Wilson UFO briefing, e.g., Dr. Eric Davis, were also involved in the AATIP program.
A second conclusion is that corporations have been given an inordinate amount of power when it comes to deciding who gains access to the category of unacknowledged/waived SAPs that involved the study of retrieved extraterrestrial technologies. The corporate "watch committee" described in part two, bluntly turned down Wilson's request for access.
What really surprised Admiral Wilson, however, was that the Pentagon's Senior Review Group running the Special Access Program Oversight Committee (SAPOC) also turned his request for access down, despite him being DIA Deputy Director, and Vice Director for Intelligence (V-J2) for the Joint Chiefs of Staff. All this is very telling about the power of corporations when it comes to who is really in charge of the research and development of extraterrestrial related technologies.
Another conclusion is that Wilson's testimony provides powerful support for the existence of a UFO cabal/control group running extraterrestrial related projects in a way that escapes conventional government and military oversight. Leaked documents going back to September 1947 have referred to this control group as Operation Majestic 12/MAJIC 12/MJ-12.

Admiral Wilson's experiences is telling us that the UFO control group is very real and exercises great power through its ability to restrict "need to know" access to whom it chooses regardless of an official's constitutionally backed duties and positions. While it has long been known that US presidents and members of Congress were routinely cut out of the loop of such UFO related projects, it is was not known that this was occurring to senior Pentagon officials until the 1997 Wilson briefing.
Fourth, who leaked the 15 page document to UFO researcher Grant Cameron in November 2018? Was it one or more "white hats" wanting the disclosure process to move forward by leaking one of the most important UFO documents ever to publicly emerge as contended by UFO historian Richard Dolan describing it as the "UFO leak of the century"? Alternatively, was the leaking part of a limited hangout promoting Tom DeLonge's To The Stars Academy through the involvement of figures such as Dr. Eric Davis as contended by Kerry Cassidy from Project Camelot?
Dolan addressed these questions in a blog post (insert video) published on June 15. He pointed out that Cameron's source for the document is an Australian space/UFO enthusiast, James Rigney. In a Q and A with Dolan, Rigby wrote:
It is unlikely that these documents would ever have found their way to anyone within the UFO community were in not that for the fact that for number of years I was very active in the 'Space' community, belonging to an organization in Australia and making frequent trips to the US to attend conferences and other events. Along the way I was fortunate to make acquaintance in the US with several people in the US who knew of my interest in, knowledge of, and credible approach to the UFO/UAP phenomena, as well as my passive and occasional involvement in the UFO community.
The events that lead me to obtaining the documents were strangely the result of this strange and unlikely intersection between the usually incompatible Space & UFO fields….
Over a period of a couple of years, I gained [the] trust of these people to a point where I was invited to look over some documents, copy what I wanted, and get them into the right hands if I thought that was appropriate. Certainly there was no intrigue or 'smoking gun' type discussions at the time.
Digby was here confirming that the document's original source was an individual connected to the US Space community who provided the document to him a few years ago. There is growing speculation that the leaked 15 page document came from the files of the deceased Apollo astronaut Edgar Mitchell. If so, who gave the document to Mitchell? The most likely source is Dr. Davis given his direct role in recording/summarizing the meeting with Admiral Wilson, but as mentioned in part 1, Davis had no comment on the 15 page document when I contacted him by email.
Tracking the ultimate source for the leaked document is very relevant given present circumstances surrounding topics concerning space and UFOs. The fact that the 15 page document was publicly uploaded on April 19 is significant given recent public interest over Navy pilots reporting UFO incidents, and the creation of a Space Force, as a new branch of the US military, which takes me to my last conclusion.
Finally, the three corporate officials in the "watch committee" that denied access to the classified program, claimed that the reverse engineering of the extraterrestrial vehicle was very slow, and little progress had been made over the years. Were they telling the truth or providing a cover story for successfully reverse engineered extraterrestrial technologies, which had been covertly deployed in a corporate run secret space program that was kept away from the prying eyes of the DIA and Joint Chiefs of Staff?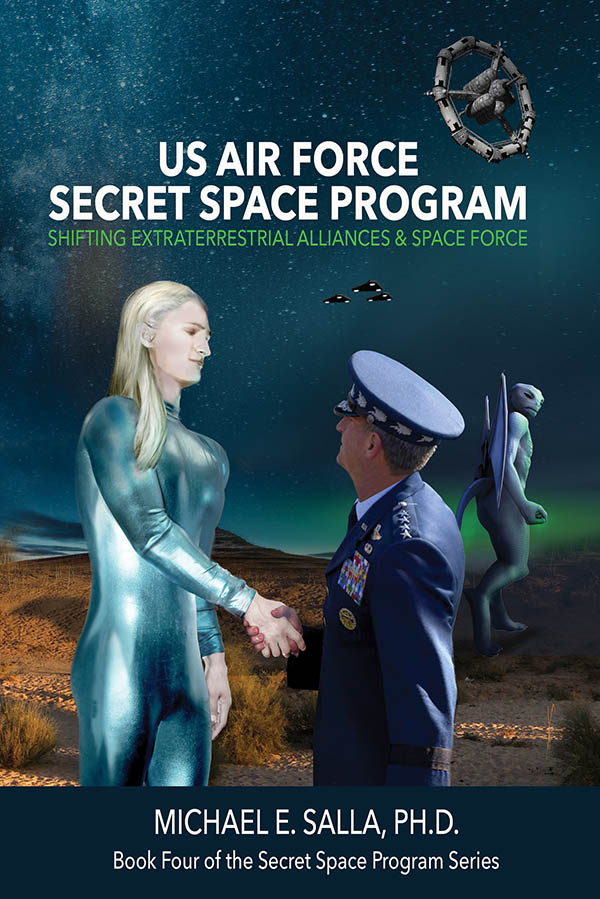 In the US Air Force Secret Space Program, I describe how differently sized and shaped antigravity vehicles were successfully reverse engineered by corporate contractors, including Lockheed Martin's Skunkworks division, and began to be deployed in the 1970s and 1980s by the USAF. This suggests that there are many Unacknowledged SAPs that involve the research, development, and deployment of antigravity spacecraft by different military services and corporate contractors.
There is no indication in the leaked 15-page document over whether Admiral Wilson was aware of secret space programs runs by the USAF and the US Navy. He merely expressed his surprise that the UFO program that Steven Greer and Edgar Mitchell pointed out to him, which he was unaware of, involved a retrieved extraterrestrial spacecraft.
It's quite possible that Wilson was aware of military-run space programs but simply had not been briefed about the specific reverse engineering program that was being run by the corporate contractor for unknown purposes, one of which involved a corporate run secret space program.
It's perhaps not coincidental that the leaked transcript and summary of Admiral Wilson and Dr. Davis 2002 conversation emerges as Space Force is about to be formally launched. The US Congress is poised to pass legislation authorizing the creation of Space Force as a separate branch of the US military under the authority of the Department of the US Air Force.
The emergence of Space Force will ultimately address many of the questions and issues raised by Admiral Wilson's investigation of the corporate reverse engineering program back in 1997, and the secret construction of antigravity spacecraft by multiple corporate contractors for the US military or other unknown customers.
Space Force will also provide a powerful institutional foundation for disclosing many secrets concerning antigravity technology, alien life, the reverse engineering of extraterrestrial technologies, and secret space programs. The leak of the Wilson Davis conversation comes at a propitious time for the disclosure process to move forward, and Space Force is the most likely institutional catalyst for all to be revealed.
© Michael E. Salla, Ph.D. Copyright Notice
[Note: The 15 page leaked Document is available here]
Further Reading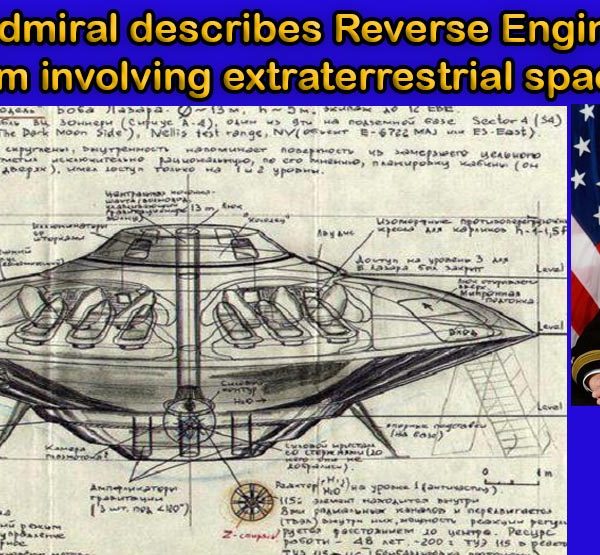 [Cont. from Part 1] In the transcript/summary of a 2002 conversation between Vice Admiral Thomas Wilson and Dr. Eric Davis it was revealed that a crashed extraterrestrial vehicle was being reverse engineered by a major aerospace company. Wilson first learned about the classified UFO program through a National Reconnaissance Office (NRO) document shared with him at a confidential April 10, 1997 meeting with Dr. Steven Greer, Dr. Edgar Mitchell, and Navy Commander Willard Miller.
The recently released transcript describes what Admiral Wilson [TW] told Dr. Davis [EWD] about Wilson's efforts up to June 1997 to learn the truth about the classified UFO program, and the associated reverse engineering effort revealed to him in the April meeting.
EWD: Okay then, what happened in April-June '97?
TW: After parting with Miller (week later, he thinks) – I made calls, knocked on a few doors, talked to people – went on for 45 days (thereabouts) on and off
Suggestion came from Ward (Gen. M. Ward) to go through the records groups files (like an index system) in OUSDAT (Office of the Under Secretary of Defense for Acquisition and Technology)

Ran into Bill Perry in May '97 – talked about this quietly – he suggested the same thing

They told me of a special projects record group not belonging to usual SAP – a special subset of the unacknowledged/carve-outs/waived programs – not belonging to usual SAP divisions as organized in '94 by Perry himself – set apart from rest but buried/covered by conventional SAPs. (Transcript/Summary, pp. 6-7)
Wilson was here referring to different categories of Special Access Programs (SAPs), where the most important – unacknowledged/carve-outs/waived – were hidden behind conventional SAPs.
The method of hiding the most highly classified programs behind less classified ones was verified in one of the NSA documents leaked by Edward Snowden called Sentry Eagle. It graphically depicted how Exceptionally Compartmented Information (ECI – an Intelligence Community classification similar to an Unacknowledged SAP used by the Pentagon) would be hidden behind a Non-ECI Program (similar classification status to a conventional SAP)
Wilson went on to describe the aerospace company that ran the classified reverse engineering effort, without naming it:
EWD: Who was the project contractor or USG agency that runs the program?
TW: An aerospace technology contractor – one of the top ones in US
EWD: Who?
TW: Core secret – can't tell
EWD: Defense contractor?
TW: Yes, the best one of them.
The reference to the "best one of them" firmly points to Lockheed Martin's Skunkworks division which has a long track record of successfully working on cutting edge aerospace programs. For example, Skunkworks former Director, Ben Rich, was fond of ending lectures by declaring: "We now have the technology to take ET home".  
Wilson then explained what happened when he discovered which company was running the classified UFO program and contacted it to gain access:
EWD: What happened with you found contractor?
TW: I made several calls (end of May '97), first to Paul, Mike & Perry to confirm I had right contractor and program manager to talk to.
EWD: They confirm?
TW: Yes.
EWD: Then?
TW: (End of May '97) Made three calls to the program manager – one of them conference call with security director and corporate attorney.
Confusion on their part at to why I was looking for them and what I wanted from them or wanted to know about.
Very testy tone from all of them. [Transcript/Summary, pp. 8-9]
Wilson next explains how he was denied access to the classified UFO program by the three corporate officials (program manager, security director, and attorney):
TW: I told threesome I wanted formal briefing, tour, etc. – was exploiting my regulatory authority as Deputy Director DIA/Assistant Joint Chief of Staff J-2 – Told them my not being briefed was oversight they needed to correct – I demanded!
TW: They needed to discuss this (his demand) so hung up. Got called 2 days later and they said they don't want to talk on phone and arranged for face-to-face meeting at their facility.
EWD: Did you go?
TW: Yes, ten days later (mid-June or so). Flew out there
Met in their conference room in their secure vault

Three of them show up
EWD: 3 guys with whom you had telecon?
TW: Yes, same 3
Security director (NSA-retired, a CI expert)

Program director

Corporate attorney

Called themselves "the watch committee" or gate keepers [Transcript/Summary, p. 10]
Wilson describes how the "watch committee" told him about a prior incident years ago where the present security system was set up after an agreement was reached with the Pentagon's Special Access Programs Oversight Committee (SAPOC), which was overhauled in 1994, very likely due to the incident Wilson was told about. The agreement gave the corporate contractor running certain categories of SAPs the authority to restrict access to UFO related programs from Pentagon officials regardless of their rank and position:
– [TW] Said after that episode a formal agreement was struck with Pentagon people (SAPOC) to prevent this in future – didn't want a repeat
–      Special criteria were established in agreement
A special circumstance that must meet rigorous access criteria set by contractor committee

No USG personnel are to gain access unless they met the criteria – to be administered by contractor committee (program director, attorney, security director) irregardless of the tickets and position USG personnel possess

Literally their way or the highway. [Transcript/Summary p. 11]
The "watch committee" told Admiral Wilson that despite him being Deputy Director of the DIA and Vice Director of Intelligence for the Joint Chiefs of Staff, that he was not on the "bigot list" – those with a "need to know" access – who could be briefed about the UFO program:
TW: They said my tickets were all confirmed and valid, but I was not on the bigot list
My tickets alone were not enough

I didn't meet the special criteria so need to know authorization was not being granted….
TW: Argued more – they wouldn't accept my arguments that they fell under my statutory oversight and regulatory authority as Deputy Director DIA – under purview for my right to have need to know (oversight, audit, justification issues, etc., etc.)
Regulatory and statutory authority as Deputy Director DIA not relevant or pertinent to nature of their program!

Then they pulled out their bigot list to convince me otherwise – several pages long – dated 1990, updated 1993. [Transcript/Summary, pp. 11-12]
The transcription goes on to cover Wilson and Davis' conversation about names on the bigot list, and who in the Pentagon and White House was allowed access:
EWD: Who was on it? Recognize names?
TW: That is core secret.
Willing to say that most were program employees – names and titles (job titles) – civilians – didn't recognize any military personnel – could be there.
EWD: Any politicians?
TW: No
No White House names, no President!

No Congressional people

No Congressional staffers
EDW: Any in Clinton or Bush Sr. Administrations?
TW: No! But handful of names were Pentagon individuals I recognized – few from OUSDAT, one from another department, another at the NSC who is Pentagon SES employee. [Transcript/Summary, p. 12]
Stunningly, Wilson learned that no members of the Legislative (Congress) or Executive (White House) branches of government were briefed about the corporate UFO program. Only a few Pentagon officials were given access. This corroborates what Greer and others have been claiming for decades over the unconstitutional nature of the secrecy system developed for the UFO issue.
Next, the transcript elaborates on how Wilson tried to gain access by identifying the type of program that was underway attempting to link it to his official field of responsibility as Deputy Director DIA:
– [TW] Program Manager said they were
Not any weapons program

Not any intelligence program

Not any special ops or logistics program

Doesn't fit these categories [Transcript/Summary, p. 12]
Finally, Wilson was told that the UFO program was a reverse engineering program of a recovered extraterrestrial vehicle, exactly what Greer, Mitchell, and Miller, had told him at the April 10, 1997 meeting. Importantly, Wilson expressed his surprise thinking that the UFO term was merely a cover for acquired foreign aerospace technology built by the USSR or China:
I asked what they were then

Loud groan from Program Manager

Security Director and attorney say it's okay to say it.
EWD: Say what?
TW: There were a reverse engineering program –
Something recovered years ago in the past

Technological hardware was recovered

So I thought they meant recovered Soviet/Chinese, etc. hardware and reverse engineer it – like a missile or intel platform or aircraft – actually came to meeting expecting to find a sensitive foreign collection and reverse engineering operation – thought "UFOs" used as a cover for that –

So I said that and they said they weren't that either

They had (program manager talking) a craft – an intact craft they believed could fly …

Program manager said they didn't know where it was from [they had some ideas on this] – it was technology that was not of this Earth – not made by man – not by human hands [Transcript/Summary, pp. 12-13]
Wilson next described that he was told the corporation had encountered great difficulty in its reverse engineering efforts:
[TW] Said they were trying to understand and exploit technology: their program was going on for years and years with very slow progress

Agonizingly slow with little or no success – painful lack of collaboration to get help from outside community of experts and facilities to assist effort – must remain isolated and use own facilities and cleared personnel – tough environment to work – about 400-800 (bigot list count) workers varying in number funding or personnel changes. [Transcript/Summary, pp. 12-13]
When Wilson threatened to go to the Special Access Program Oversight Committee (SAPOC) he was told to go ahead by the corporate "watch committee" and was eventually denied access by the Senior Review Group running SAPOC Pentagon committee set up to oversee Special Access Programs:
TW: Before last week of June ('97)
They told me (TW) that they were sustaining the contractor, that I was to immediately drop the matter and let it go – forget about it as I did not have purview over their project, it didn't fall within my oversight, etc.

I became very angry – started yelling when should have kept my mouth shut…

… Senior Review Group chairman said if I didn't follower their suggestion that I would not see Director DIA promotion, get early retirement, lose 1 or 2 stars along the way

Really incredibly angry – upset over this – livid!!!

Why such a big deal over this considering the position of trust I have in the Pentagon – I do have relevant regulatory/statutory authority over their program – that's my position!!! [Transcript/Summary, p. 14] 
The refusal to grant access was the critical moment that Wilson realized that the corporation was being supported by a powerful group linked to the Pentagon to hide the corporation's reverse engineering of an extraterrestrial spacecraft, as an Unacknowledged/waived SAP, hidden within the labyrinth of conventional SAPs conducted by the Pentagon and its corporate contractors.
The refusal was ultimately why Wilson believed that a UFO cabal/ MJ-12 was in charge of UFO related projects, and even senior officials at the DIA and the Joint Chiefs of Staff were out of the loop. This is what he told Commander Miller back in June 1997, who in turn relayed Wilson's conclusions to Steven Greer and Edgar Mitchell who respectively revealed more details over the next two decades.
[Continued in Part 3. Click here for Part 1]
© Michael E. Salla, Ph.D. Copyright Notice
[Note: The 15 page leaked Document is available here]
Further Reading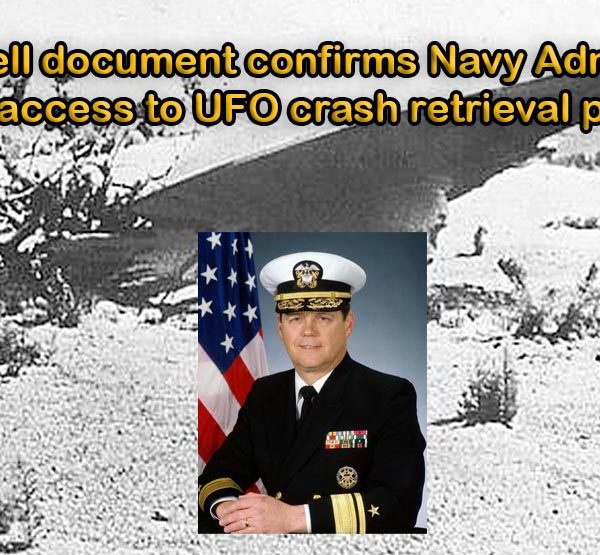 The transcript of a conversation between a US Navy Vice Admiral and a leading scientist discussing a failed attempt to gain access to a highly classified program involving a crashed extraterrestrial craft has been recently released online. The conversation took place on October 16, 2002, and involved the retired Director of the Defense Intelligence Agency, Vice Admiral Thomas Wilson, speaking with Dr. Eric W. Davis, a scientist working on the feasibility of exotic propulsion systems with EarthTech International, an advanced technology think tank established in Austin, Texas.
In the 15 page document comprising the transcript, summary notes and an accompanying letter, Davis describes what Wilson told him about an April 10, 1997 "briefing" where he (Wilson) received information from former Apollo astronaut Dr. Edgar Mitchell and Dr. Steven Greer (founder of the Disclosure Project) about a classified UFO program that they had codeword information about. At the time, Wilson was a Rear Admiral (upper class); Deputy Director of the Defense Intelligence Agency; and Vice Director for Intelligence (VJ2), for the Joint Chiefs of Staff, a position he held from November 1994 to September 1997.
When Wilson inquired into the program's existence from a regulatory body created for Special Access Programs, he learned it involved a corporate Research and Development effort involving a retrieved extraterrestrial craft but was denied access by three corporate officials working for a major US aerospace contractor.
The 1997 briefing was first publicly discussed by Greer and his associate Shari Adamiak only a month after it occurred and was corroborated by Mitchell over a decade later. In a May 1997 interview with Art Bell on Coast to Coast AM Greer said:
Joint Chiefs of staff level fellow that I briefed while I was in Washington about a month ago … After he looked at all this and heard the witness, he turned to us and said: 'Well I have no doubt this is true but I am horrified that I hadn't known about it'…Because of his position. And very, very senior … I can't say who it was but a very, very senior position…And then they begin to come to grips with well: 'Who the hell does know about it, what is going on here?' And then they become frighten[ed].
Years later, Greer released a National Reconnaissance Office (NRO) document containing code words and locations that sparked Wilson's failed attempt to gain access to the classified UFO program. In a workshop Greer explained the NRO document's contents and what happened when Wilson investigated it:
"It's the National Reconnaissance Office document.  …..The reason it's important is not so much for its content… …..  Take note of the distribution list, please. ….. …….'Blue Fire', which is a code name, 1991, Commander's Net, Royal Op's, Cosmic Op's…so, cosmic clearance…you've heard of this? It's not a myth.  It's real.  Maj Op's, MAJI…It's MAJIC Op's.  It goes through a whole bunch of them…Nellis Division, all these code numbers and you get down to some really interesting things. … this secret document went to the admiral [Admiral Tom Wilson] prior to our meeting, and he actually recognized one of these entities and made an inquiry, and it was being run by a contractor.  …..  And the contractor…one of these corporate contractors…when he called them up, he said, 'I'm Admiral Tom Wilson…at that time he was Head of Intelligence for the Joint Chiefs of Staff… I want to be read into this project.'  Guess what happened?  They said, 'Sir, you don't have a need to know.'  This is the guy who's supposed to give the intelligence briefings for the Joint Chiefs of Staff of the United States.  He was told, 'You don't have a need to know'… and Admiral Wilson said, 'Goddamn it, if I don't have a need to know, who does?'  They said, 'Sir, we cannot discuss this with you further' and they hung up and blocked his line.  This all happened before the stand-up meeting I did for [him with] Edgar Mitchell…6th man to walk on the moon…myself, my military adviser, and a few other people met with the Admiral in what's called a 'stand-up' briefing.  I was doing the presenting.  It was supposed to be 45 minutes. 
In 2007 Mitchell began publicly confirming that the briefing had indeed taken place, corroborating what Greer had revealed a decade earlier.
A detailed chronology of articles and interviews referring to the 1997 Wilson briefing is provided by Croatian UFO researcher Giuliano Marinkovic.
The transcript of the 2002 conversation between Wilson and Davis was first discussed in radio interviews by UFO researchers Grant Cameron and Richard Dolan in December 2018. Cameron said he was given the 15 page document, which he shared with Michael W. Hall a former lawyer and Superior Court judge. Hall has given several interviews in March 2019 discussing the document's origins and authenticity.
Cameron, Dolan, and Hall believe the document is authentic, and its consistency with what Greer and Mitchell had earlier revealed does point to this. I contacted Dr. Eric Davis to comment on the document's authenticity, and he replied saying: "I have no comment on this." If the document was a hoax, I see no reason why Dr. Davis would not have said so.
All this leads me to conclude that the document is an authentic transcript of what Dr. Davis and Admiral Wilson discussed back in 2002 about the April 1997 meeting and Wilson's subsequent investigation. The transcript was very recently released online and are available for public viewing.
The transcript, summary notes, and accompanying letter provide compelling documentary support that the 1997 briefing had occurred, exactly as Greer and Mitchell had reported up to two decades earlier. Importantly, the notes substantiate one of Greer's major claims that he was regularly briefing senior officials in the Clinton Administration about the UFO coverup – something many UFO researchers had previously dismissed or ridiculed. 
The transcript provides a fascinating insight into how a US Navy admiral who was Vice Director for Intelligence (VJ2), for the Joint Chiefs of Staff at the time, was denied access by corporate officials to a classified UFO program, which he firmly believed fell under his field of responsibility.
The briefing and unsuccessful investigation did not negatively impact Wilson's career. Two years later, in May 1999, Wilson was promoted to Vice Admiral and became the 13th Director of the Defense Intelligence Agency (DIA), a position he served in until July 2002.
Three months after his retirement, Wilson met with Davis to discuss the 1997 meeting and its aftermath. In the transcript, we learn about Wilson's perspective on what had happened.
Presumably, the recording and transcription of Wilson and Davis' conversation were intended for a small audience at EarthTech International, founded by Dr. Hal Puthoff, which was studying exotic propulsion systems, and releasing feasibility studies of them to interested scientists and journals.
In 2009, Davis and EarthTech included some of these exotic propulsion feasibility studies as Defense Intelligence Reference Documents, two of which were first leaked online in December 2017 by Corey Goode who says a confidential DIA source gave him them.
In the transcript, Davis (EWD) describes how Wilson (TW) began by confirming that the April 1997 meeting did take place and involved Greer, Mitchell, and US Naval Reserve Commander Willard H. Miller, who was Greer's top military advisor.
Miller played a critical role in the various "UFO briefings" Greer gave senior officials and politicians during the Clinton administration:
TW: Confirmed Greer/Miller/Mitchell gave talk in Pentagon Conference room. Adm Mike Crawford, Gen. Pat Hughes (Hughes his boss) were present (others too.) Date April "97. (Ed Mitchell said 4/9/947.) After group broke up, Miller/Wilson talked (privately) 2 hours on UFOs, MJ-12, Roswell, crashed UFOs/alien bodies, etc. TW intrigued – knew about intelligence on US mil/intel UFO close encounters – and foreign gov't encounters. Seen records. Told Miller. [Transcript/Summary p. 1]

Wilson was here acknowledging that the serving Director of the Defense Intelligence Agency, Lt. General Pat Hughes, also sat in on the meeting. After the meeting broke up, Miller and Wilson continued to discuss issues that had been raised:
TW: Yes, Miller asked the question on MJ-12/UFO cabal – crashed UFO. Confirmed he called Miller ca. late June '97 and told that he/Miller was right – there is such an organization in existence. [Transcript/Summary p. 1]
Wilson was here acknowledging that after being informed about the existence of the classified UFO program by Greer and Mitchell in April 1997, he had inquired into the program's existence, and discovered that MJ-12 was real and that there indeed was a UFO cabal running classified operations involving crashed UFOs. This accounted for why Admiral Wilson later failed to gain access to the crashed UFO program, as explained later in Davis' summary notes.
Miller subsequently told Greer and Mitchell about what Wilson had revealed to him in June 1997, after he [Wilson] was denied access to the classified program that Greer and Mitchell had told him about earlier in April. Admiral Wilson [TW] was furious that Miller had told Greer and Mitchel about Wilson's failure to access it, as Davis' [EWD] transcript make clear:
TW: Very furious – very angry about Miller (facial expression tense, angry voice)
Violated personal and professional trust – especially among intelligence colleagues/Navy officers

There's Navy camaraderie among officers – brotherhood

Violated that and confidentiality
EWD: How?
TW: Miller told Greer their conversation
Who knows whom else he and Greer told. 

(EWD note – Miller told Ed Mitchell who only told me in 1999)
The significance of all this is that Admiral Wilson did not want the details of what he learned during his investigation of the classified program that Greer and Mitchell had first brought to his attention becoming public. By telling Greer, Commander Miller had in Wilson's opinion broken trust shared between naval intelligence officers to keep the information confidential. That is why he was so angry.
However, if it were not for Miller taking the risk he had, Greer and the world would probably not have learned the truth of what happened, and how corporate contractors had sidelined Wilson and US naval intelligence over a classified reverse engineering program of a crashed extraterrestrial vehicle.
In part two, I review what Admiral Wilson told Dr. Davis about the classified UFO crash retrieval program and its significance.
© Michael E. Salla, Ph.D. Copyright Notice
[Note: The 15 page leaked Document is available here]
Further Reading