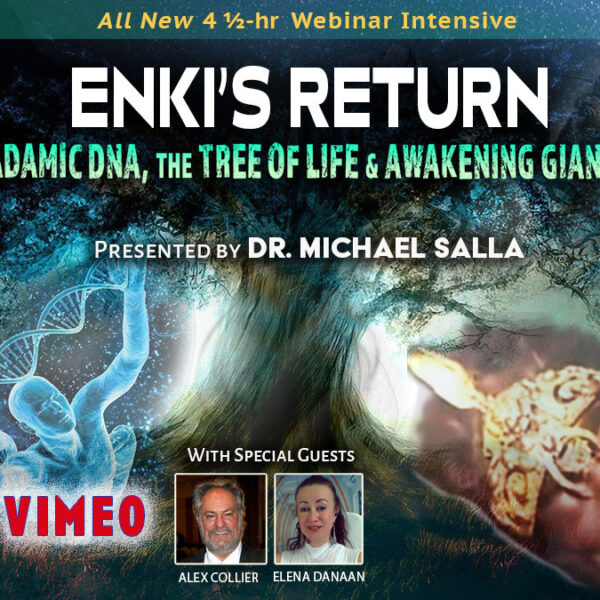 This newly released video features highlights from the "Enki's Return Adamic DNA, the Tree of Life & Awakening Giants" webinar recorded on December 3 with a 2.5 hour presentation by Dr. Michael Salla, and a 2 hour panel discussion & audience Q & A with Alex Collier, Elena Danaan & Dr Salla. For a description of the webinar contents, click here. The full webinar recording is now available on Vimeo.
Webinar highlights available on YouTube, Rumble & Odysee
---
More Webinars by Dr. Michael Salla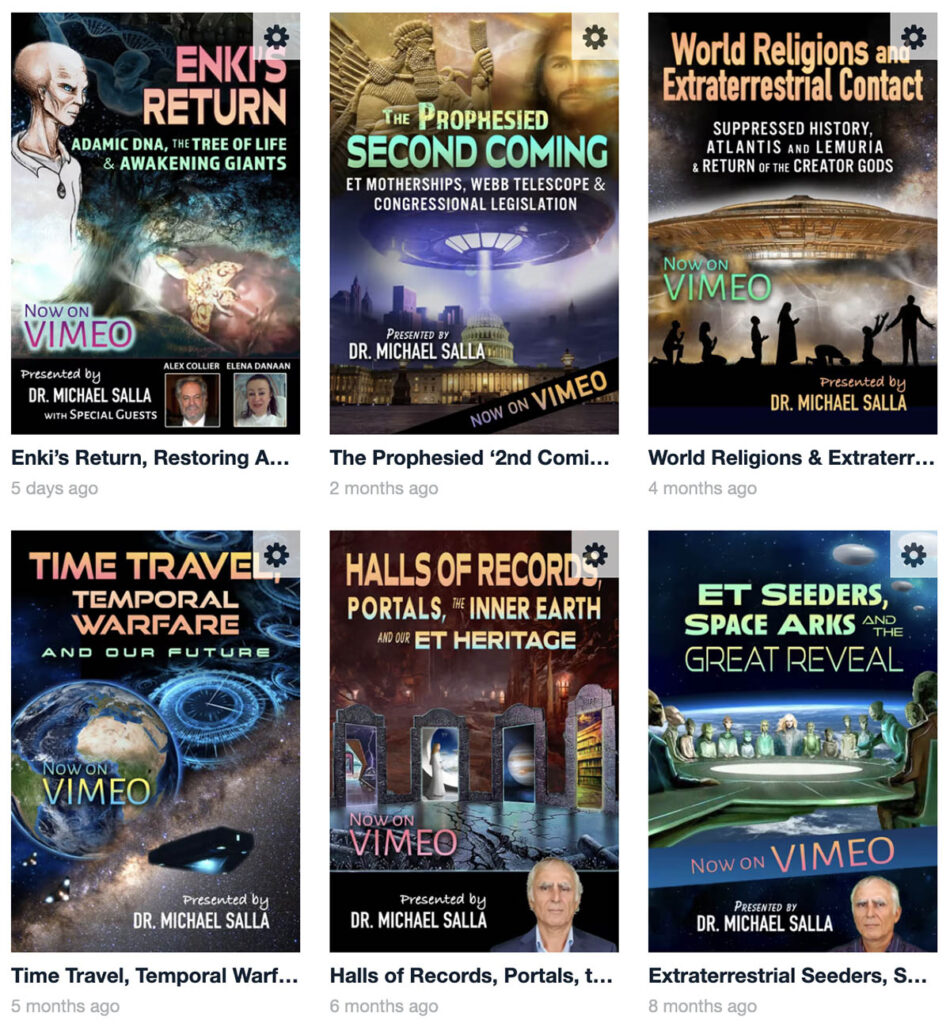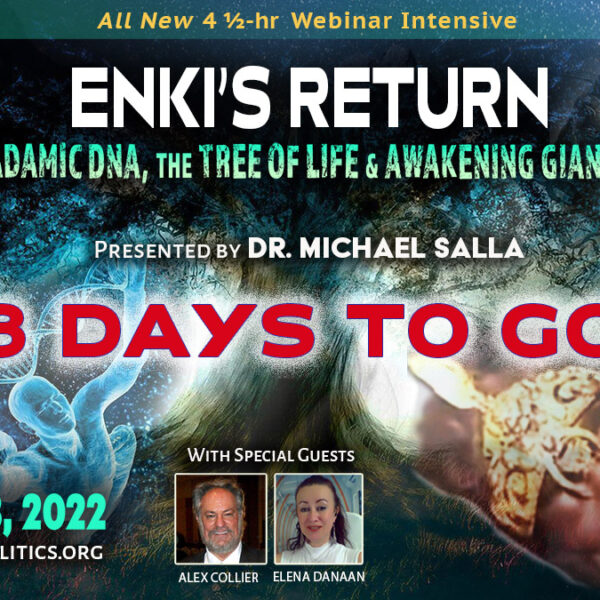 The Great Awakening is upon us; however, it's not just humans waking up because of the most recent political machinations done by Deep State elites. Ancient giants are also waking up after millennia of hibernation, according to multiple sources. The subject of giants is shrouded in mystery and controversy today thanks to the Smithsonian Institute. In the 1800s, there were over one hundred news reports about the discovery of giant skeletons, but the Smithsonian Institute arranged for the skeletons to disappear and for researchers to be silenced. The little we do know about giants comes from historical texts such as the Hebrew Bible, Sumerian cuneiform tablets, and Egyptian glyphs.
The Book of Genesis tells of the creation of giants (aka Nephilim) from the union of Fallen Angels (aka extraterrestrials) with the daughters of man. According to the Bible, the giants soon began corrupting humanity and were so wicked that Yahweh ordered the early Israelites to slaughter them to the last man, woman, and child. Subsequent ethnic genocide campaigns against the Anakites, Amorites, Moabites, etc., were all encouraged by Yahweh's prophets to decimate these tribes of giants. If you believe that the Bible is the literal word of God, then the only good giant is a dead giant—end of story.
Thankfully, we know more of the truth about the giants because of even older Sumerian and Egyptian records. The Sumerian and Egyptian accounts paint a very different picture of the giants. It is important to note here that stories found in many Hebrew texts are merely derivatives of the far older and more authoritative Sumerian cuneiform tablets. These Sumerian texts describe extraterrestrial visitors from another world, the Anunnaki, who were giant in stature.  The Anunnaki decided to create modern homo sapiens from primitive hominids in order to have a worker race to serve them. 
The chief Anunnaki scientist responsible for the genetic experiments was Prince Ea, aka Enki, who created multiple versions of humanity with the assistance of his sister, Ninhursag. It's clear from Sumerian records that different-sized humans were created who varied in intelligence and fertility. Some humans were intended to be workers, others were to be soldiers, a select few would be intermediaries with the Anunnaki, and finally, others would become avatars for the Anunnaki to use while staying on Earth. This explains the variation in the size of giants, since Anunnaki society used social status to determine the size of the human avatar an individual would use while on Earth.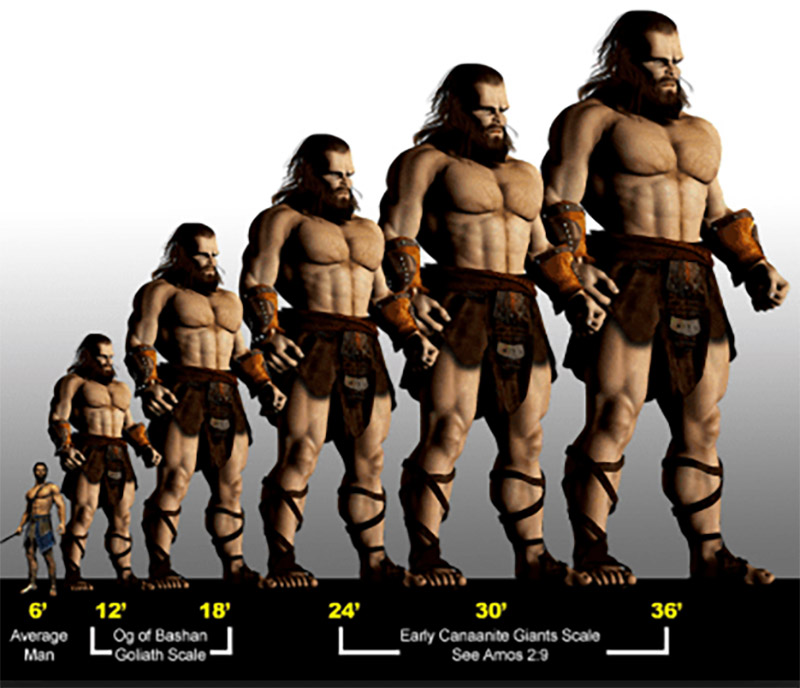 Enki's half-brother, Enlil, orchestrated the great flood around 9600 BC. Enlil believed that humanity had advanced far too quickly and become a big problem for the Anunnaki as overlords, so humanity needed to be radically culled. According to historical texts such as the Atrahasis, Enki objected and prevented a select group of humans from being obliterated, thereby saving his genetic experiment. The Atrahasis tells us that Enlil was enraged by his brother's deed. Consequently, Enki left our solar system taking his core scientific team with him. However, 12 of his trusted colleagues were left behind and went into hibernation to await   humanity's eventual recovery from the flood or Enki's return. Enki's departure made it possible for Enlil's scientists to subsequently manipulate human DNA, and dramatically shorten the human lifespan from a thousand years to under a hundred, as evidenced in Sumer's Kings List, Egyptian records, and the Bible.
This takes us to the modern era: Enki has returned to our solar system, according to multiple credible sources, and his former Anunnaki scientific colleagues are waking up from their stasis chambers. Is this something to be welcomed? Are there other, more unfriendly giants also awakening who pose a genuine threat to humanity? Whatever happened to Enlil and his minions, are they still manipulating human DNA or have they been made to account for their crimes? Has Enki brought back humanity's original Adamic DNA blueprint that will reverse the damage done to human DNA by Enlil and his cronies? Finally, how does the legendary Tree of Life fit into this complex mystery?
To learn more, I encourage you to attend my all new webinar this Saturday, December 3, titled: "Enki's Return, Adamic DNA, The Tree of Life & Awakening Giants". In this webinar, I will give a 2-hour presentation where I analyze the complex history of the Anunnaki, Enki, giants, Adamic DNA, and the Tree of Life. I will be followed by a special panel featuring the legendary Alex Collier and former French archeologist Elena Danaan, both of whom have much to share on these elusive topics. Finally, there will be an opportunity for attendees to participate in a Q&A session. This webinar is the last one of 2022, so don't miss out—register today.
Michael Salla, Ph.D.
Now Available on Vimeo 
Watch Webinar Trailer
---
PAST WEBINARS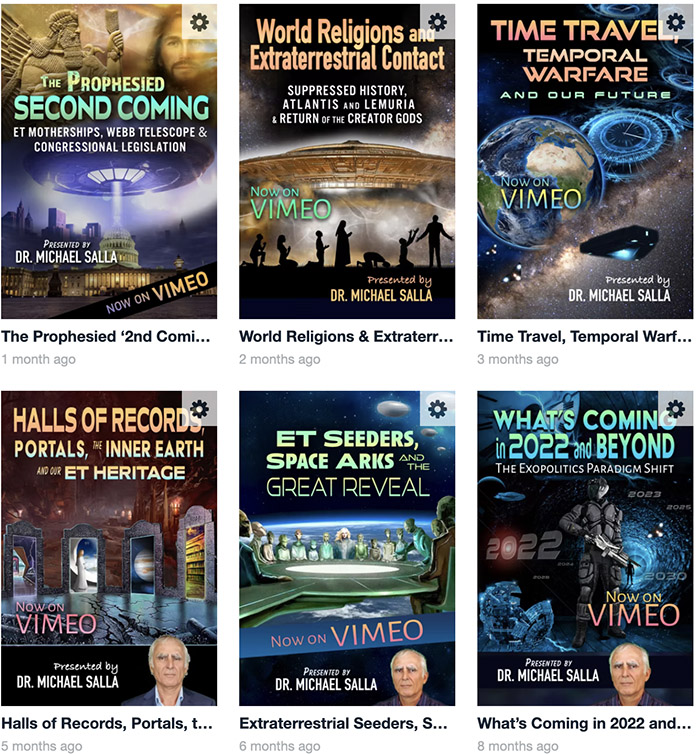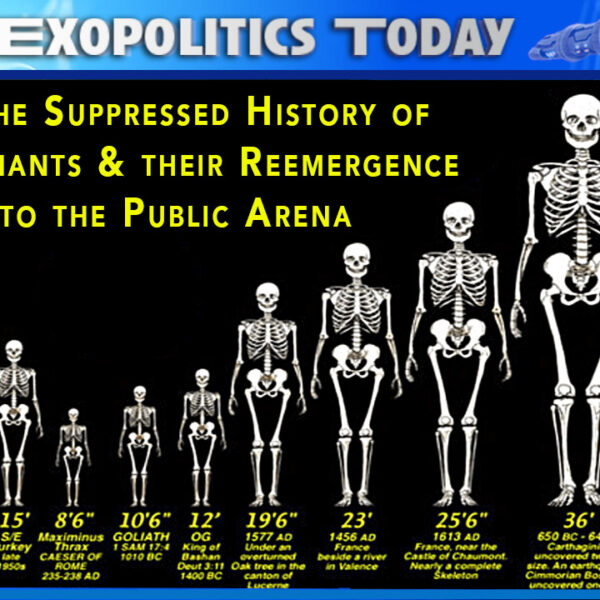 Brad Olsen has researched the topic of giants in his books and extensive travels around the world, searching for out of place artifacts (OOPARTS). He has learned that while the discovery of giant skeletons in burial sites was extensively discussed in newspapers in the late 1800s, the topic was completely covered up soon after the turn of the century. For over a hundred years, organizations such as the Smithsonian Institute quickly took control of burial sites, silenced archeologists, and imposed a shroud of secrecy over the whereabouts of retrieved giant skeletons.
In this Exopolitics Today interview with Dr. Michael Salla, Olsen discusses accounts of giants in the texts of ancient civilizations such as Sumer, the cover-up of modern-day excavations of giant human skeletons, and why the Smithsonian Institute has suppressed the topic. He explains the variation in the size of giants and responds to the idea that extraterrestrial visitors such as the Anunnaki created different-sized giants as avatars for their starseeds.
Finally, Olsen addresses recent claims of living giants being found in stasis chambers around the world, and the possibility of them soon awakening. Importantly, he and Dr. Salla discuss problems raised by human history of hunting and exterminating giants, and the likelihood of giants either trying to reassert control over humanity or helping us enter a new golden age.
Interview available on Rumble, YouTube & Odysee

Audio Podcast on Apple, Spotify, or Google
Brad Olsen's publishing website is cccpublishing.com/
An earlier interview with Brad Olsen discussing his book, Beyond Esoteric is available here.
More info about Dr. Salla's Dec 3 webinar on the Return of Enki and Awakening Giants is available here.

Related articles/interviews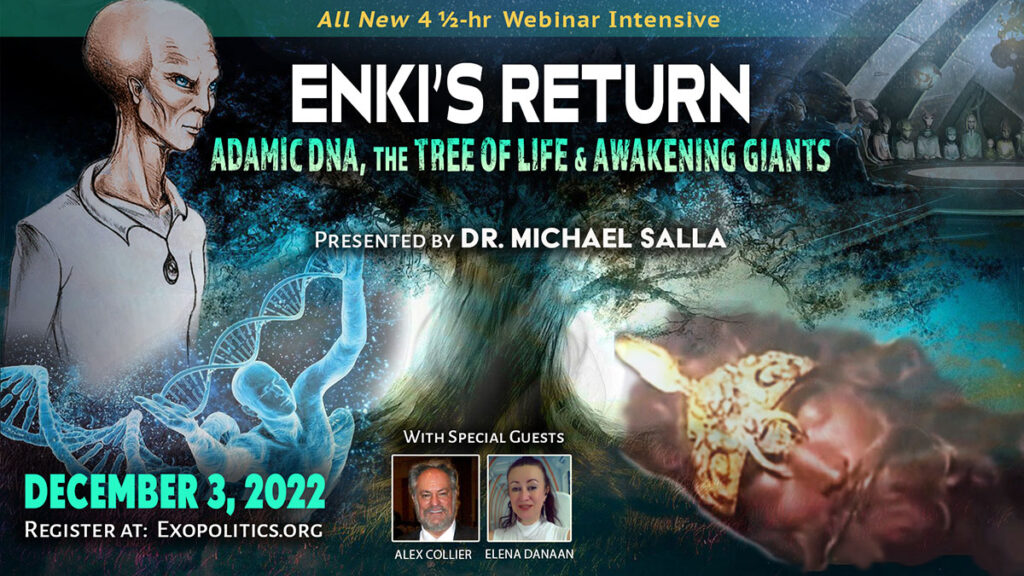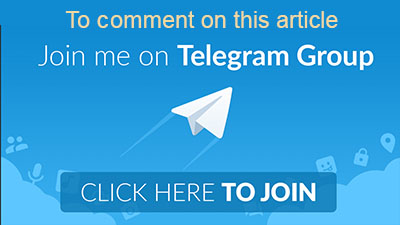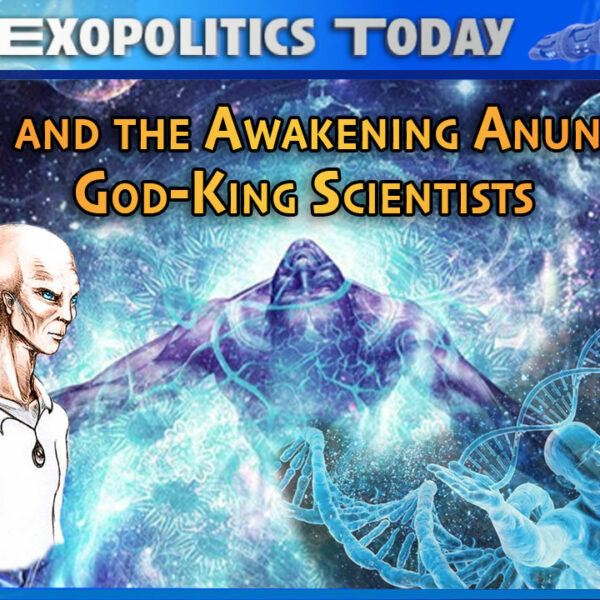 This is the trailer for the upcoming Dec 3, 2022 Webinar titled: Enki's Return, Adamic DNA, the Tree of Life & Awakening Giants. Trailer discusses what is known about ancient genetic experiments on early humans led by the chief Anunnaki scientist, Prince Ea, aka Enki. Enki's genetic upgrades were supported by 12 Anunnaki scientists, who were regarded as god kings by early humans. The Anunnaki scientists decided to go into hibernation when Enki lost a power struggle with a rival Anunnaki faction led by his half-brother Enlil. Recently, Enki has returned and seven of the Anunnaki scientists are awakening, one of whom, Ningishzida, was the custodian of the mythical Tree of Life.
Trailer available on Rumble, YouTube & Odysee

Audio version on Apple, Spotify & Google
Webinar is now available on Vimeo
Many thanks to Jas Marlin for creating this video trailer, and to Angelika Whitecliff for assisting me with the narration.
Michael Salla, Ph.D.
---
Past Webinars now on Vimeo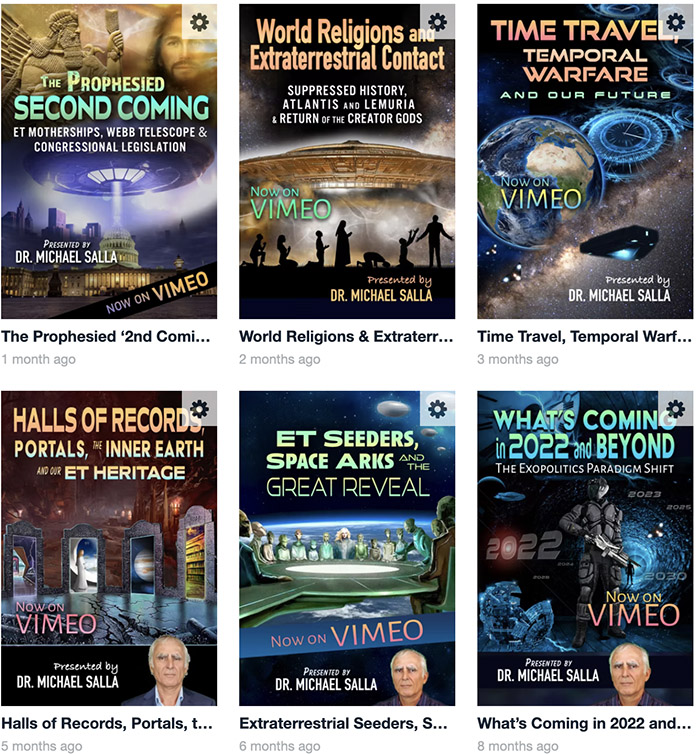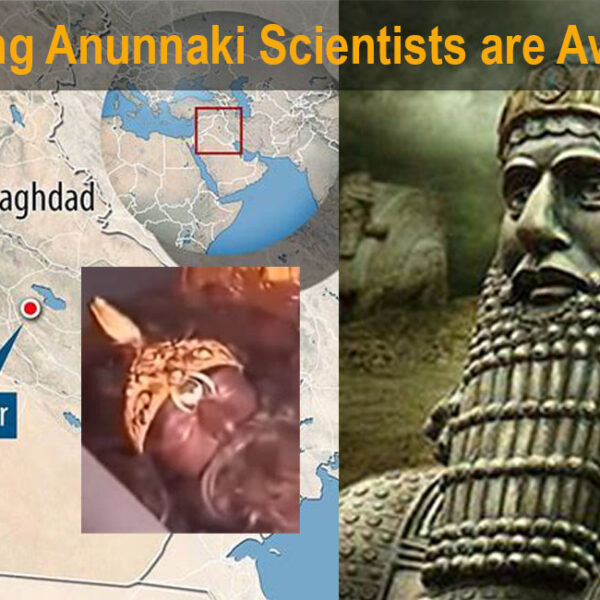 On November 1, my US Army source JP revealed that another giant king in a stasis chamber had been found in Iraq. According to other sources, the giant is one of a group of 12 scientists left by a departing faction of the Anunnaki. JP gave details of the location of the sleeping giant as somewhere under the remains of the Sumerian city of Nippur, which was the ancient capital of the leader of the Anunnaki space fleet, Enlil, and his son Ninurta.
The location of Nippur as one of the places where a sleeping giant could be found was highly significant as it meant some of the ancient Anunnaki space technology was almost certain to be found hidden in the buried ruins. In my previous article discussing JP's update, I mentioned how Thor Han Eredyon had revealed the identity of the giant to Elena Danaan to be Arunna, one of Enlil's children. In order to find out more about Arunna and other sleeping giants, Elena asked Enki (aka Prince Ea) about the identity of the sleeping Anunnaki that had been left behind when he left Earth after the Great Flood (ca 9700 BC).
What follows is Enki's responses to Elena's questions, where he discusses a total of 12 Anunnaki scientists that had been left behind, each possessing unique esoteric knowledge and technology secrets:
[Enki] My crew decided to stay, well, indeed, most of them. Some others decided to leave Earth with me. They wanted to go home. But those who stayed took upon the mission and responsibility to be the Keepers of the Knowledge. Each of them, you see, are key activators for the technology. Not only their body's genetic frequency key is necessary, but it must be coupled with their personal consciousness. You see, consciousness is the key.
[Elena] How many are they, the sleeping Anunnaki in stasis?
[Enki] They were twelve, but four bodies have been destroyed, and one is in the custody of the enemy. Seven remain untouched; four are in the process of activation.
[Elena] Kukulkan is one of the four?
[Enki] Ningishzida, yes.
[Elena] Who are the others?
[Enki] Knowing their names is part of the activation process, so I cannot disclose their real names. You understand? Some are not ready yet.
[Elena] I do understand. Thor Han told me that the one under Nippur is named Arunna. Is that right?
[Enki] How do you know about him?
[Elena] Our friend that is in the Earth's secret military programs told us. He may go on a mission there.
Elena is here referring to JP, who was the first to be given details about a new sleeping giant located in Iraq and had passed on the geographic coordinates of where it was found. JP had previously witnessed a sleeping giant in a Florida cavern who Thor Han identified as Ningishzida, who was also known as Kukulcan, Quetzacoatl, Viracocha, etc.
Ningishzida's activation process got a boost when he was identified at a major Orlando conference with over 900 attendees who participated in an activation ceremony led by an Aztec shaman Quetza Sha.
Elena next brought up the question of technologies that could be found in Nippur, and Enki went on to elaborate on their advanced nature and sophistication:
[Elena] Thor Han said that Arunna is a scientist engineer specializing in spacecraft.
[Enki] The master ship-maker. The technology he is guarding has great power. With the ships are also the core engines and a far greater technology: power energy sources. The containers are still there, but no one on planet Earth knows how to activate them. Terrans are even scared to handle these containers. So they are waiting for the keys to understand how it works. The key is Genome-Consciousness.
[Elena] Can anyone incarnated on Earth, who has the same genetics, activate this technology?
[Enki] How do you think they chose the soldiers and the people for these missions? All have the genome. And you know, otherwise, they couldn't access the places. The frequency shields would stop them.
By "Genome-Consciousness" Enki is referring to individuals such as JP and Radu Cinamar, described in the Transylvania Sunrise book series, who carry the right genetics to both access locations where ancient technologies are hidden, pass through sophisticated protective frequency barriers, and finally activate these ancient technologies. In previous articles, I explained how JP would activate technologies when he entered buried space arks.
Over the last two years, JP has been given more responsibility for missions to hidden space arks and other ancient extraterrestrial technologies. He has been leading missions and instructing others, which corroborates what Enki revealed about those with the right Genome-Consciousness being the keys to finding and activating such advanced ancient technologies.
Similarly, Radu Cinamar has been allowed to go on missions to various ancient technologies associated with a buried Hall of Records in the Bucegi Mountains of Romania, which links to similar halls in Egypt, Tibet, and Iraq. In his books, Cinamar explains how Genome-Consciousness is the key to accessing ancient technologies, which are either extraterrestrial or human in origin.
In response to another question from Elena, Enki next describes the existence of a stargate hidden under Nippur and its centrality to a more extensive network that connected to the rest of the galaxy.
[Elena] Thor Han mentioned a stargate.
[Enki] There, under the Nippur area outside the ancient city, is the main gate that once connected this planet to the network of the great routes of this galaxy. It is deactivated but it is the central key linking all the other gates together. This central portal links minor portals in other ancient places where records and technology are secretly kept.
I first began writing about the Iraq stargate in 2003 and it being the real reason for the Iraq invasion by the Bush administration. Since then, there has been much written about the existence of stargates and efforts to control these by multiple authors.
Enki's responses to Elena Danaan's questions have given many more details about the incredible technologies and information that can be found at the locations where different Anunnaki scientists have been hiding in stasis chambers. According to JP's information, these scientists were giants in physical stature and were regarded as kings by early humans. As the Anunnaki scientists awaken, we will learn more about the technology and knowledge that lay buried with them for millennia and how the release of this will help propel humanity to a new golden age.
Michael Salla, Ph.D.
Many thanks to Elena Danaan for permission to use extracts from her communication with Enki/Prince Ea and her artwork. Her website is: elenadanaan.org

Video version of article available on YouTube, Rumble & Odysee
Audio Podcast on Apple, Spotify, or Google
[Note: I'm very pleased to announce that on December 3, I will be holding my final webinar for 2022. The topic will be Enki's Return, Restoring Adamic DNA, Tree of Life & Awakening Giants. I will go into much more detail about the history of the Anunnaki, what is known of stasis giants, the Tree of Life, and discuss the latest updates with a special panel featuring Elena Danaan and Alex Collier.]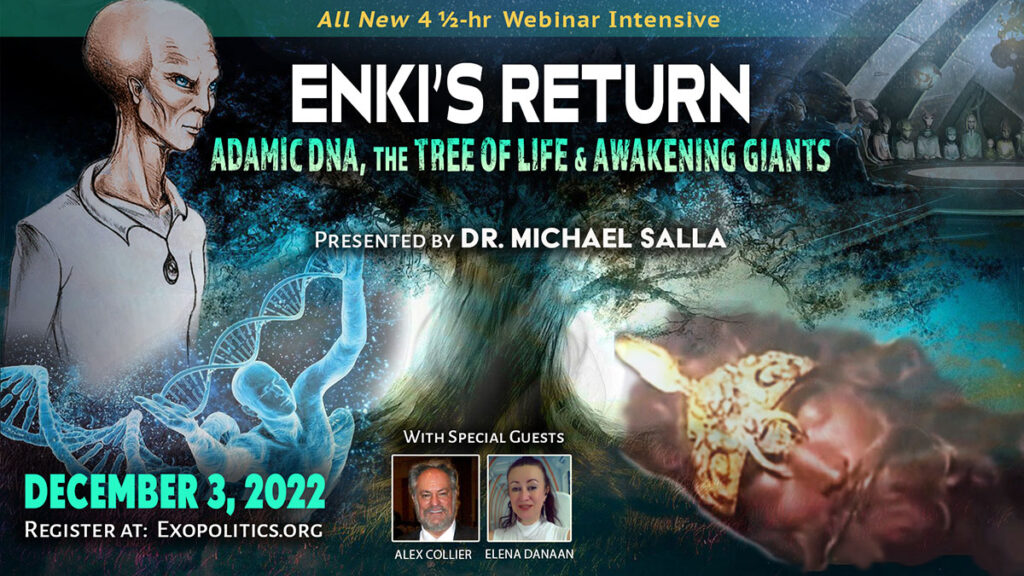 Related Articles/Interviews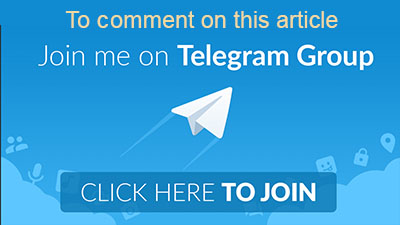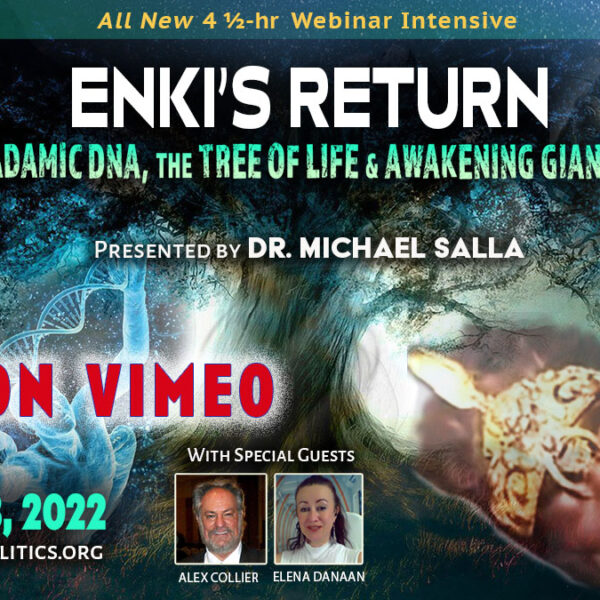 The role of the Anunnaki in creating modern homo sapiens is clearly described in Sumerian cuneiform texts, which outline the principal Anunnaki scientists involved in genetic experiments that spanned millennia. These Anunnaki scientists created two distinct branches of humanity: one was a suitable host for the Anunnaki to incarnate into on Earth and the other branch formed a slave species to be controlled by the former.
Different factions within Anunnaki society held opposing views and argued over the future role of these two branches of humanity, including the extent to which human slaves would be allowed to evolve organically into their fullest potential. The greatest of the Anunnaki scientists, Enki/Prince Ea, lost the power struggle and fled our solar system upon his flagship, the Nibiru, taking with him the secrets of the original Adamic DNA.
As a consequence of Enki's departure during the great flood (associated with the downfall of Atlantis), the human life span began to shorten dramatically by a factor of ten, as recorded in the Bible, the Sumerian King's List, and Egyptian texts.
According to multiple sources, Enki has recently returned and has begun the process of sharing the blueprint for the original Adamic DNA with a Galactic and Earth Alliance that are working behind the scenes to manufacture technologies that will dramatically impact human health and longevity. Soon, we can once again understand a key feature of our lost history, which is the role of a Tree of Life in extending the human life span as well.
At the time of Enki's exodus , Anunnaki scientists, aka giants, were left behind in key locations all over our planet in stasis chambers. One of these giants, Ningishzida, is located underground in Florida and is associated with the original Tree of Life and Mesoamerican deities such as Quetzacoatl, Virachoca, and Kukulkan.
The awakening of Ningishzida and other Anunnaki scientists will lead to the dissemination of many long-forgotten alchemical secrets that can prolong human life and restore health despite millennia of forced genetic degradation done by a powerful faction of Anunnaki associated with Enlil, Marduk, and Ninurta.
In this all new 2 hour presentation, Dr. Michael Salla will:
Identify the role of different leading Anunnaki figures in creating and manipulating modern homo sapiens.

Discuss recent updates about the return of Enki.

Reveal how the Enlil faction of the Anunnaki will be punished for their crimes.

Cover the awakening of different Anunnaki giants from stasis chambers in Florida and elsewhere.

Explain the connection to Mesoamerican myths associated with the return of Quetzacoatl.

Offer the latest updates about the existence of a Tree of Life and so much more!
Includes 'Special Panel' featuring Alex Collier and Elena Danaan (90 min)
Webinar will also include a special panel featuring Alex and Elena discussing the presentation topics in greater depth and sharing their latest intel.
Includes Audience Q & A (60 min)
The panel discussion will be followed by a 60 minute audience Q & A.
Now available on Vimeo

Watch Webinar Trailer
---
PAST WEBINARS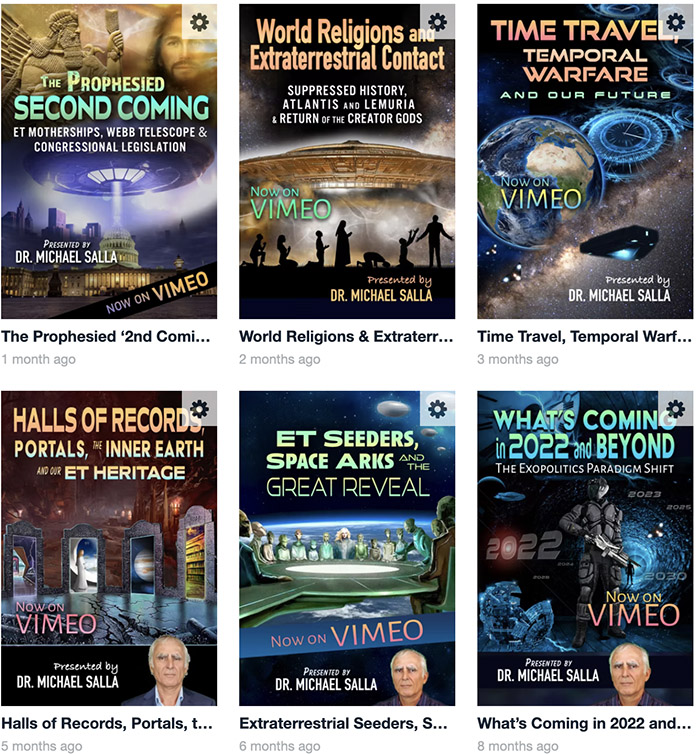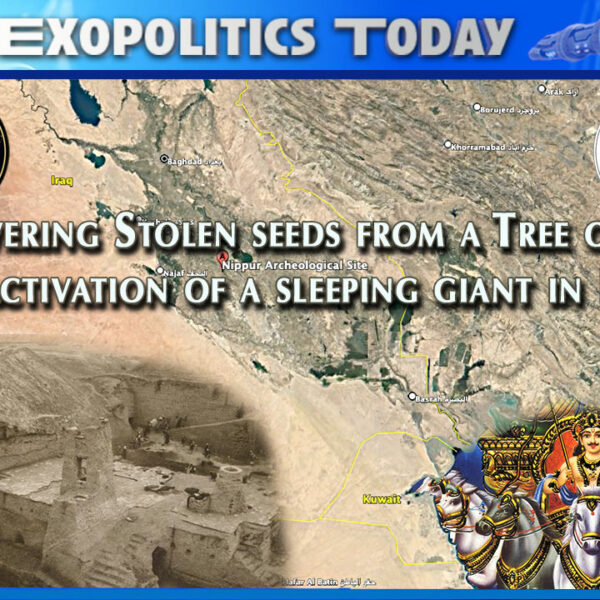 On the evening of November 1, my US Army source JP told me about another giant in a stasis chamber that had been discovered in Iraq who was a king in ancient times. He explained that there was a significant connection with the giant in the stasis chamber found in Florida, who was also a former king, and JP made a further connection to a third sleeping giant in an underwater city in the Bermuda triangle that he visited in during one of his covert missions in late August 2022.
JP also said that the seeds from a Tree of Life located next to the sleeping giant in Florida, later identified as Ningishzida, which had been stolen from US military control and taken to England on the orders of the new British sovereign, King Charles, had been found and would be returned. The seeds, however, needed to be first taken to Iraq for an activation of the newly discovered giant there.
As was discussed in a previous video, the activation process for the giant in the Florida cave had taken place at the recently completed Galactic Spiritual Informers Connection event in Orlando.
What follows is the recording of the conversation I had with JP on November 1 [starts at 1:45] .
After informing Elena Danaan about JP's latest update, I asked her if Thor Han Eredyon from the Galactic Federation of Worlds had any additional information to share about the sleeping Iraq giant. This is what Elena wrote to me:
I asked TH about JP's intel and he replied that he believes that this Iraq giant is another of Enki's scientist team. He said this Iraq "giant" guards the Hall of Records linked to the Bucegi and Tibet, and that there is an Ark there as well, with highly advanced and powerful technology. He employs the term: "quantum holographic" for some of the tech there. The Earth Alliance military has it secured since only recently.
TH added that the war in Iraq was about it. He said that more "giants" should come to our awareness soon but he does not have clearance to disclose precise locations. … Thor Han just added that I need to tell you that this place in Iraq is "the center of the web".  
Thor Han's information corroborates key aspects of what JP was told about the importance of the newly discovered sleeping stasis giant in Iraq.
Significantly, JP was given the geographic coordinates of the sleeping giant in Iraq, which are 32°07′35″N 45°14′0″E. Google maps show that this is adjacent to the ancient Sumerian city of Nippur which was known as a center for the worship of Enlil and his son Ninurta.
This would mean that any technology hidden there would have been among the most sophisticated and advanced possessed by the Anunnaki. The geographic coordinates given to JP corroborates what Thor Han said about the place in Iraq being "the center of the web".
Thor Han revealed in a previous communication that there were a total of seven Anunnaki scientists that went into stasis chambers to await a new cyclic era or the return of their leader, Enki (Prince Ea). It's possible that one of these was previously associated with Enlil or Ninurta, and had defected to Enki's faction thereby choosing to go into a stasis chamber located in the hub of where the most advanced Anunnaki technology was located.
My analysis above was subsequently confirmed by Thor Han who gave the name of the sleeping Iraq giant as "Arunna", and gave the following information about him as relayed through Elena:
Chief engineer for advanced craft technologies, who worked for Enlil at first. He switched side in the end to join Enki's cause and work with him. The technology kept there is very important and much prized. There is also a buried stargate not far. There is a tremendous lot of military presence around this area. Nippur was the center of operations for Enlil during a long period and there was a spaceport there. Some ships are still there.
It does appear that humanity has arrived at a critical historical point where the stasis giants are being activated. The scientific, alchemical and historical knowledge possessed by these Anunnaki scientists is highly likely to make a very significant contribution to humanity's development and integration into the galactic community.
Michael Salla, Ph.D.
Interview Available on YouTube, Rumble & Odysee
Audio Podcast on Apple, Spotify, or Google
[Note: On December 3, I will be holding my final webinar for 2022. The topic will be Enki's Return, Restoring Adamic DNA, Tree of Life & Awakening Giants. I will be going into much more detail about what is known of stasis giants and the tree of life, and discuss the latest updates with a special panel featuring Elena Danaan and Alex Collier. More information is available here]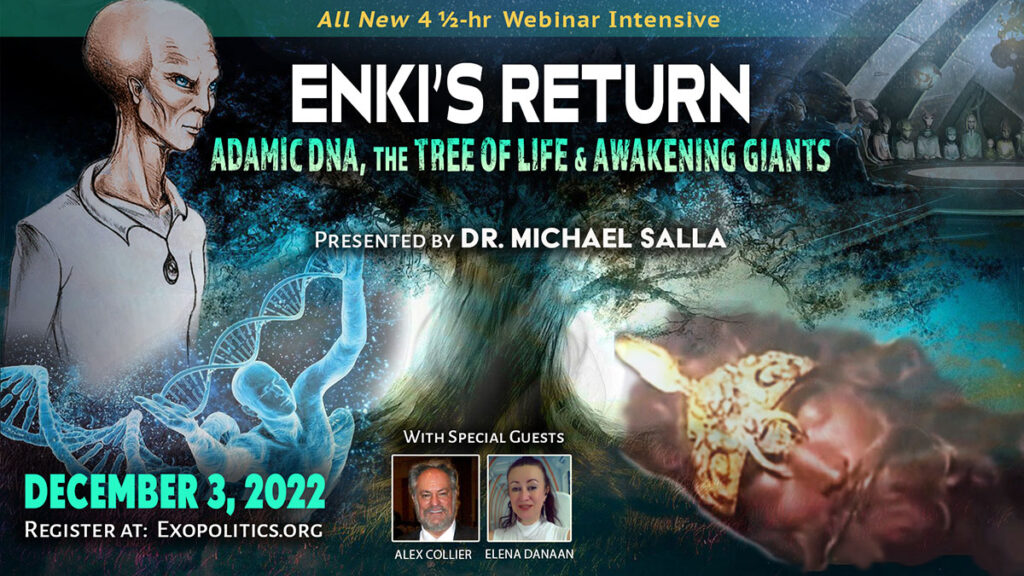 Related Articles/Interviews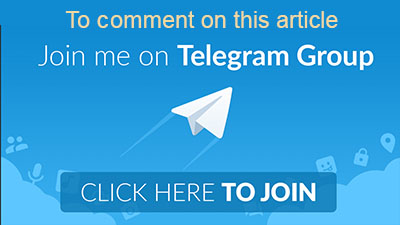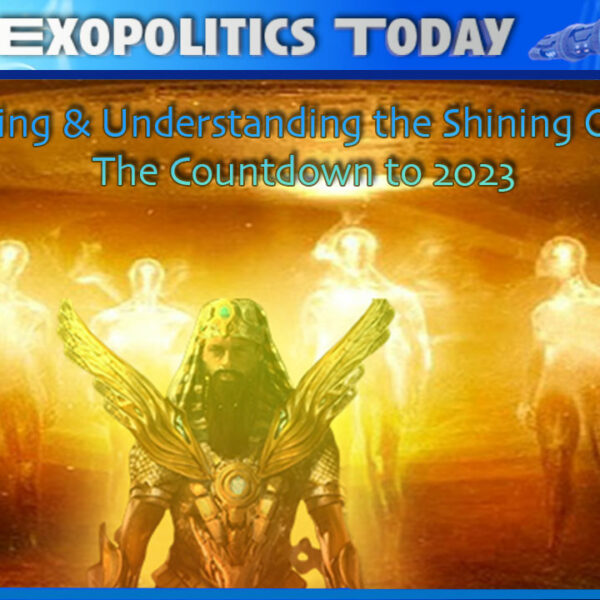 Independent book author, editor and experiencer, Robert Stanley, has had several contact experiences with the Shining Ones dating from 1985 when he first encountered a radiant being who looked remarkably like artistic depictions of Jesus Christ. In one of Robert's subsequent encounters with the Shining Ones he was told about geopolitical events that would occur from 2013 to 2023 due to incoming waves of cosmic energy.
Robert reveals details about the Shining Ones connection to the Anunnaki as discussed in classic Sumerian texts. He describes two major divisions in the Anunnaki ranks. The first was between their top leaders, Enki and Enlil, and the second was between the leadership class and the rebellious Igigi. Robert believes the Igigi are connected to the Deep State and are responsible for many problems affecting humanity today. He also explains the relationship between the Archons and Shining Ones discussed in Gnostic Christian writings.

Interview available on Rumble, YouTube & Odysee

Audio Podcast on Apple, Spotify, or Google
Robert Stanley is the author of Close Encounters in Washington DC (2006) and Covert Encounters in Washington DC (2011). He was the full time editor of Unicus Magazine from 1990 to 1995.'
Related Articles/Podcasts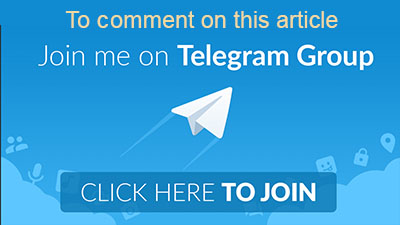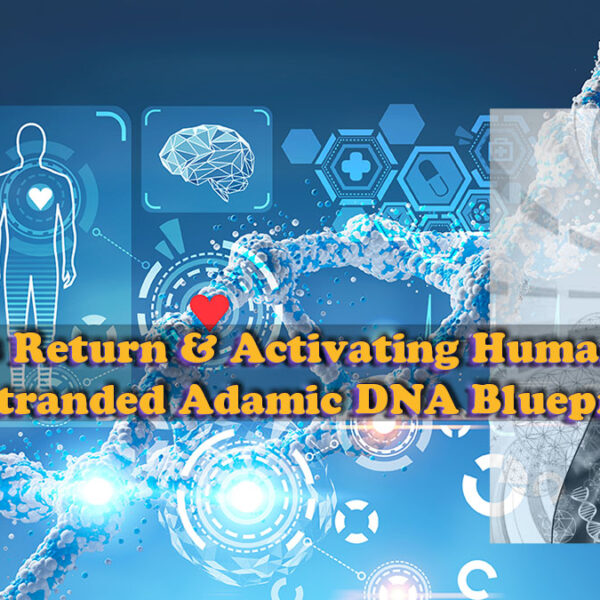 In Elena Danaan's new book, The Seeders (2022), she described meeting the leader of one of the two main Anunnaki factions Prince Ea (aka Enki), who has just returned to our solar system. She was told that he had brought the original Adamic DNA blueprint that could be used to remove harmful genetic alterations inflicted upon unwary humanity by the opposing Enlil faction of the Anunnaki, which had left its minions (aka the Deep State) behind millennia ago to control the Earth's population.
In an interview with the long-time Andromedan contactee, Alex Collier, which was released on October 8, I raised the question about the return of the Enki faction of the Anunnaki and Enki bearing the gift of humanity's original Adamic DNA blueprint. I asked for Alex's perspective as he works with the Andromedans, who are an entirely separate group of extraterrestrials that would have an objective perspective on the operations of both the Galactic Federation of Worlds and the Enki faction of the Anunnaki.
Alex's answers to my questions clarify some of the vital exopolitics issues raised by Enki's alleged gift, which some may suspect to be a Trojan horse for a hidden agenda. To better understand the context of what was being offered, here is what Elena Danaan [ED] wrote about her conversation with Enki in The Seeders:
[Enki] I brought back the Grail.
[ED]The original DNA sequence?
[Enki] Yes, indeed. The chalice of the original, unspoiled Terra Human lineage. The unaltered original genetic sequence. There are more strands in the Terra human genome that need to be reactivated, and the original sequence key will do this when transferred onto the altered pattern. DNA is a currency for it carries the formulas required to replicate other forms of intelligence throughout the Universe. (p. 479).
Enki is here suggesting that the gift he has brought with him, the Grail, will start the activation process for 12-stranded DNA that is inherent in the human genome. Presumably, Enki's gift would activate the 3rd strand of human DNA, which becomes the key to activating the remaining DNA strands. A vital component of this DNA activation process would be restoring human longevity, which religious texts report was originally a thousand years for Adam and his descendants, such as Able, Jarod, Enoch, Lamach, Methuselah, and Noah.
The above short summary gives the proper context for my question to Alex and his response:
MS: In her book, The Seeders, Elena says that she met with Enki and that he said he had a gift for humanity. That he had brought back the original Adamic DNA and that he had passed it on to the Galactic Federation, and they, in turn, had passed it on to the Earth Alliance, and they were building all of these medical technologies that would restore the original 12 stranded Adamic DNA. My question is, does that mean that going back to that original Adamic DNA or realizing that full inherent potential is that going to be through undergoing this kind of medical technology, or can we can we do it just through spiritual consciousness raising means?
AC: That's a difficult question to answer because I do not know how much damage chemically has been done to our DNA with the poisoning of the water supply, the air supply, the food, sound, through music, pharmaceuticals. I don't know. I don't know how much damage the body has experienced or suffered through. I simply do not know, so I don't know how to answer that question. It would only have to be a guess for me and I would prefer not to make a guess
But if he [Enki] gave the Alliance or the Federation, if he gave the Alliance the original blueprint, which was who we were before he made his modifications and who we are after he made the modifications, if they're building technology to do it then they know that spiritually we may not be able to make the job. It could also be Michael that we don't have enough time to spiritually evolve to that level before the change comes. So by getting our physicality to that place already, what it does is it buys us longevity. If nothing else it buys us a great deal of longevity. It will probably add hundreds of years to our lifetime, our life spans so that we can continue to evolve spiritually without the body giving out.
MS: I know that would be one of the big questions people would have if this technology is rolled out by the Earth Alliance and we're assuming here that the Deep state is defeated. The White Hats emerge victorious, they reveal a lot of the truth of what's been happening, and then they roll out this technology and say, okay, by going through this technology, a lot of the junk that's been put in, the poisons that have been created to … limit your abilities, a lot of that can be removed by going through this technological process. So, you would be supportive of that?
AC: Yeah, as long as the equipment didn't say Pfizer or Merc on it. [laughs] Yeah, I would be supportive of that… I mean, there's… other ways to kill us than to go through this whole elaborate thing, you know. So I have to believe that this is all very promising and it's for a much higher purpose. You know humanity has … we just don't understand, you know, our place and our role and our connection to the other dimensions… I get that and a lot of people have a hard time wrapping their heads around that but you know there's truly a place for us. We have value, which is why all these resources are here in our solar system to assist us, but they have to get us to a place where we become self-responsible.
They have to get us to that place because they're not going to babysit … no way…. I believe that there is a majority of the population that will do it. I think that there's a portion of the population or a percentage that simply have been so conditioned to be the victim that they're just not going to make it. They're just not going to make it unless they change that part of themselves of instead of being a victim, taking full responsibility to unconditionally be responsible for oneself without being coerced by some higher authority. [Video Extract begins at 31:18]
Alex's response provides a plausible rationale for why the genetic upgrade proposed by Enki should be regarded as a positive development for humanity. Extending human life by several centuries would certainly give people time to activate the full 12-stranded DNA that lies within us. It's worth recalling that the original Adam and his successors lived for a thousand years, so extending our present life span by several centuries would only be the start of a long restoration process. Extended life spans would enable individuals to become fully informed about the true galactic situation confronting our planet and develop spiritually.
So how are the Galactic Federation of Worlds and the Earth Alliance responding to the Adamic DNA blueprint that Enki has brought as a gift? According to Elena, Thor Han just gave her an update on the Galactic Federation taking possession of the holographic medical technology that will be used in performing genetic upgrades. What follows is a written summary sent to me by Elena, which was expanded upon in a video she released on her YouTube channel on October 9.

Last night I connected to Thor Han and he showed me that he was on the Nibiru ship taking care of an operation of transfer of medical holographic technologies onto a GFW vessel. He was wearing an environmental suit. They were in a cargo bay of the Nibiru ship; I could glimpse the quick vision of a large oval aperture opening onto Space. Thor Han was watching the GFW personnel loading the technologies onboard the GFW vessel. They were about to leave and bring this to Luna, which is developing into a medical hub. I asked TH if he had met Enki, he said no, that he dealt with the Nibiru crew. This made me realize that, of course, Enki is not on his own in this huge spherical ship. There is a whole Anunnaki crew as well.
I have previously discussed the collaboration between the Galactic Federation of Worlds and the Earth Alliance in developing advanced technologies for the defense, transportation, and medical industries that will eventually be released. According to several sources, these technologies are allegedly being mass-produced on retrofitted facilities on the Moon.
The timing of the release of these holographic medical technologies is dependent on the Deep State being removed from power. This raises the question of whether Enki's gift is a Trojan Horse for an unknown agenda, as proposed by some skeptics.
Historical texts such as the Atra Hasis clearly depict Enki as playing the key role in creating modern homo sapiens and being humanity's protector from a rival Anunnaki faction led by Enlil, his half brother, who regarded humans as a threat. In his book, Escaping from Eden, Paul Wallis describes several instances where the Elohim (aka Anunnaki) felt threatened by humanity's potential and took dramatic actions to limit our development, as exemplified in stories of the Great Flood and Tower of Babel. Significantly, Enki was either opposed to or was not involved in these instances of the Anunnaki/Elohim stepping in to stop or impede human development.
Consequently, there is good reason to be optimistic that the medical holographic technology Enki has passed on to the Galactic Federation of Worlds is precisely what Elena Danaan has described in The Seeders, a gift to humanity. Alex Collier's response reveals that the Andromedans have a positive view of Enki and his motivations, and Alex is supportive of such technology being used.
Given the available information, there is reason to be cautiously optimistic about what is transpiring behind the scenes regarding new medical holographic technologies that can restore the original Adamic DNA blueprint. This incredible technology, which will enable the extended human lifespans reported in religious texts, will, at some point in the near future, be offered to humanity by an Earth Alliance cooperating with the Galactic Federation of Worlds and the Enki faction of the Anunnaki.
Will Enki's gift be accepted by everyone? Some will refuse out of fear or ignorance. Others will decline due to their strong belief that the activation of 12-stranded DNA and life extension is possible through epi-genetic and spiritual practices that don't require any technology.
It can be anticipated, however, that a majority of humanity will accept undergoing such a holographic medical process if it is recommended by Earth Alliance leaders, which appears very likely given their active participation in the mass production of such technologies.
In my own case, I'm an agnostic on the need for holographic medical technologies for DNA activation when similar results can be achieved through epi-genetic and spiritual practices. However, I recognize that such an organic non-technological pathway may not be practical for a vast majority of humanity who have led a life of dependency on medical technologies and pharmaceutical products, or whose religious convictions preclude epi-genetic and spiritual practices that can change one's own DNA.
© Michael E. Salla, Ph.D. Copyright Notice
Video Version of article is on YouTube, Rumble & Odysee
Audio Podcast on Apple, Spotify, or Google
Related Articles/Podcasts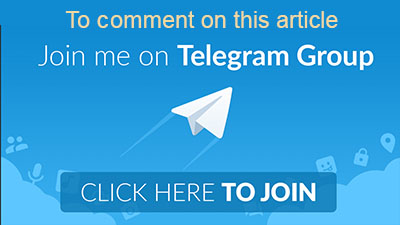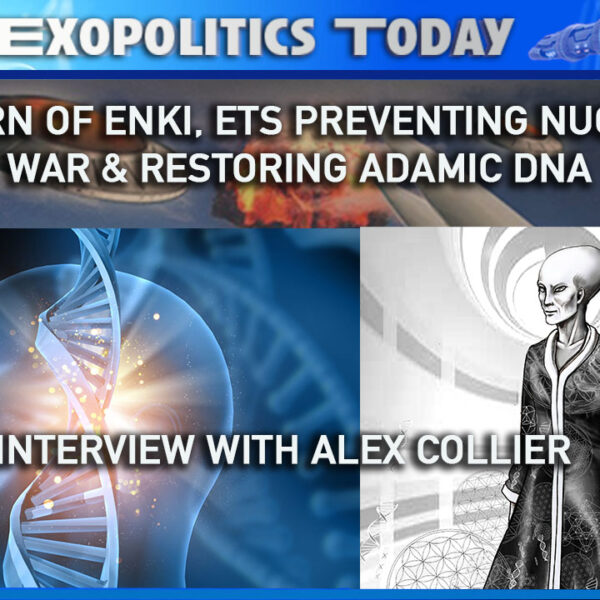 Alex Collier, a long-time Andromedan Contactee, reveals what he knows about the return of Enki, the Anunnaki geneticist who played a leading role in the genetic modification of humanity. Alex explains how the Anunnaki's genetic experiments were the latest in a series of modifications of early humans by up to 22 extraterrestrial civilizations stretching back millions of years in time. He describes some of the races that preceded the Anunnaki's genetic intervention, and why humanity's innate potential was recognized by Enki, but opposed by his half brother and rival, Enlil.
Alex shares his insights about Elena Danaan's claims in her latest book, The Seeders, that Enki has returned with the code of humanity's 12 stranded Adamic DNA. After Enki's departure due to an Anunnaki civil war, humanity's Adamic DNA was corrupted by the victorious Enlil faction, which wanted to degrade surviving humans to a simple slave species. Alex believes that restoration of the Adamic DNA can be achieved through both technological and spiritual means, and that an alliance of extraterrestrials and White Hats will expedite the process.
He also discusses the ongoing war in Ukraine and why extraterrestrials will not allow nuclear weapons to be used in the conflict. A gray area however involves a dirty bomb which could be detonated as part of a false flag operation by the Deep State.
Alex Collier's insights on the Anunnaki, nuclear weapons, the final days of the Deep State, and realization of humanity's galactic potential, are a series of eye opening revelations that outline the incredible future that lies ahead for humanity.
Interview available on Rumble, YouTube & Odysee

Audio Podcast on Apple, Spotify, or Google
Alex Collier's website is alexcollier.org
See also interview with Alex Collier (November 21, 2021) – Alex Collier on the Andromeda Council & Human Liberation
Alex Collier and Dr. Michael Salla will be speakers at the Oct 21-23, Galactic Spiritual Informers Connection: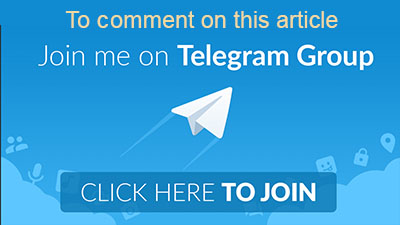 ---