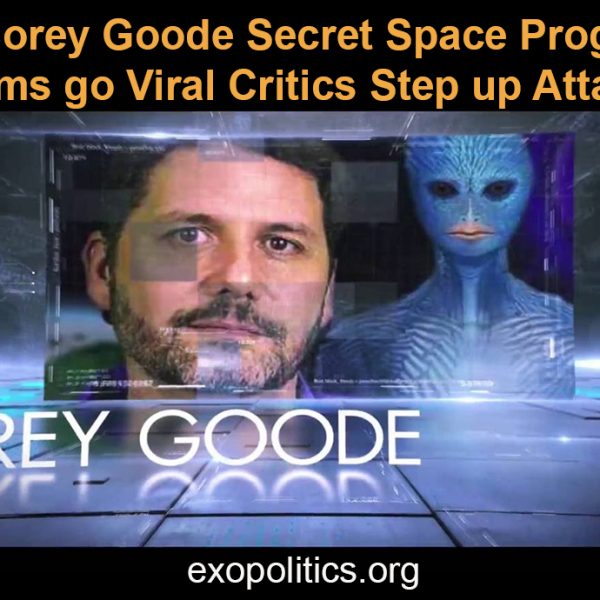 Corey Goode has had a remarkable rise to public prominence since first appearing in late 2014 as a whistleblower offering detailed testimony about his term of service in multiple secret space programs for 20 years. Since July 2015, he has been featured on Gaia TV's weekly Cosmic Disclosure series episodes where he answers questions by the host, David Wilcock, about his past service and his ongoing current experiences as a liaison with a variety of secret space programs, national security leaders and extraterrestrial visitors.
Goode's Facebook page now has over 80,000 followers, his Youtube videos often gain hundreds of thousands of viewers, and his conference presentations meet sold-out crowds where he usually receives standing ovations.  His testimony has been featured in two books, both authored by this writer (see here and here), which became Amazon best sellers.
Goode recently did interviews for the History Channel's popular Ancient Aliens series which reaches millions of mainstream American households. A good percentage of the Ancient Aliens audience are likely to be intrigued by this shy Texan's claims of multiple secret space programs and alien visitation stretching back to the dawn of history.
You would think that the celebrity status Goode has attracted would be manna from heaven for long-suffering UFO researchers marginalized by the mainstream media when it comes to claims about the reality of extraterrestrial visitation, and the secret government/military projects this has spawned.
However, not all are happy about Goode's remarkable rise and the widespread public attention he has gathered with his ground breaking testimony. UFO researchers, wanting to make their field as scientific as possible, have a long history of attacking anyone unable to back up their claims with hard evidence. If I had a dollar for every time Carl Sagan's famous dictum, "extraordinary claims require extraordinary proof" was cited, I would gladly pay up front for the first all-electric flying car now under development.
Rather than name any of Goode's critics, I will summarize their main arguments against him. The first is that he has not submitted one iota of hard evidence for his claims. Two, he is developing a cult of personality where he is milking a gullible public to enrich himself. And, three, he has been disingenuous about his past and the circumstances that led him to become a whistleblower in the first place.
Regarding the first criticism, it would make a UFO or exopolitics researcher's life much easier if whistleblowers or witnesses had hard evidence for what they have seen or experienced. Sometimes, there is hard evidence that whistleblowers can provide.
This is best illustrated in the case of former FAA Division Chief for Accidents and Investigations, John Callahan, who kept documents concerning a large UFO witnessed by the crew of a Japanese 747 aircraft on November 17, 1986. His documents not only corroborated the UFO sighting, but years later helped the pilot get reinstated by the airline that had grounded him for talking to the press.
Unfortunately, it is rare for hard evidence to be available to directly support a whistleblower's testimony. That is especially so when we are talking about Unacknowledged Special Access Programs where possession of hard evidence proving a specific program exists is a crime that can quickly lead to imprisonment for up to 10 years, and other significant penalties.
Nevertheless, there are a variety of research tools available to social scientists wanting to evaluate whistleblower or witnesses testimony. Learning about their motivation for coming forward, the sincerity of their claims, their background, any circumstantial evidence supporting them, and cross comparison with other whistleblowers or witnesses are all helpful tools. I used these research tools in my book, Insiders Reveal Secret Space Programs and Extraterrestrial Alliances (September 2015) examining Goode's claims and concluded he was very credible.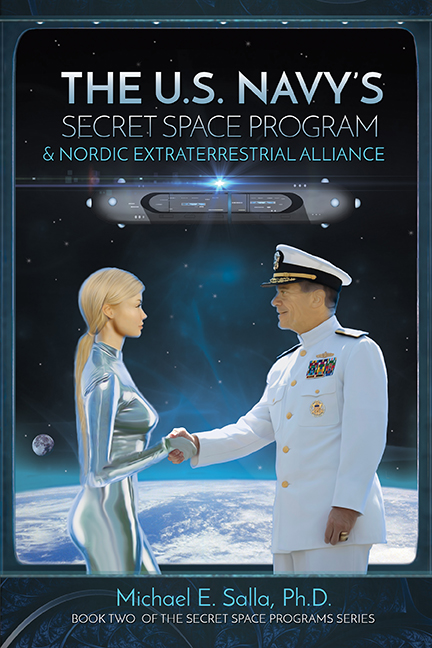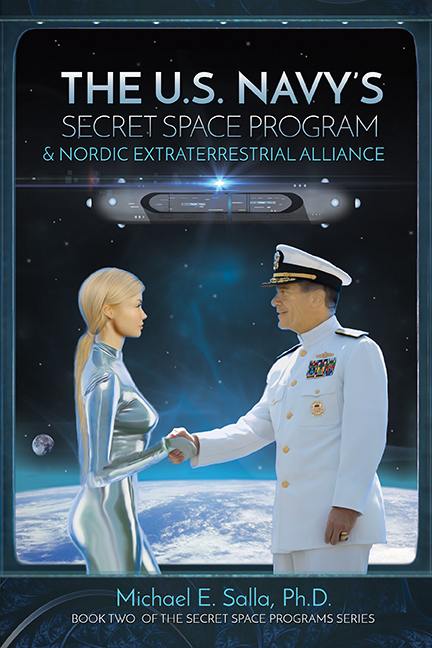 In my latest book, The US Navy's Secret Space Program and Nordic Extraterrestrial Alliance (March 2017), I uncovered much in the documented claims of William Tompkins, a highly credentialed aerospace engineer whose many supporting documents also supported Goode's testimony. In fact, when Tompkins first read my 2015 book about Goode, he was shocked since he thought he would be the first to reveal many of the historic events that were described in his own December 2015 book, Selected by Extraterrestrials.
Regarding the second criticism that Goode is promoting a cult of personality through his newly achieved celebrity status, I have to say that is a very subjective criticism that smacks of jealousy. One of the first things that happens when anyone achieves a major degree of public attention is they naturally attract a team of helpers or an organization to assist them in dealing with the hundreds or thousands of emails, media requests, conference invitations, etc.
When skilled people come on board to help with web design, graphics, video presentations, profile photos, etc., they are motivated to volunteer their services in order to get the core message out. This is especially pertinent to Gaia TV which specializes in Yoga, meditation, and personal transformation, areas that have previously had little to do with conspiracy theories about government coverups of extraterrestrial life and technology.
All of those who have volunteered their services are simply a reflection of the success Goode has had in getting his testimony out to a wide audience that resonate with the transformative message contained in what he is saying, despite its more gruesome aspects such as a galactic slave trade and forced labor.
Others who have been in the UFO and 'exopolitics' fields a lot longer than Goode are bound to be envious of his success, and may even launch public diatribes when they see one of his videos go viral. This is a natural psychological defense mechanism when one feels their own work is being largely ignored by the public.
I've gotten to know Goode very well since April 2015 when I began sharing his email responses to my questions, and have maintained regular contact with him up to the present day. I've found nothing awry with the way Goode is disseminating his testimony in the most effective way possible, so the public can decide for themselves how true it is.
Importantly, he has never asked me for financial compensation for sharing his information, and has only been concerned with ensuring its accuracy, and it being freely available. To this day, all the information Goode directly provides me, often scooping his Cosmic Disclosure interviews, is released on my website for free public perusal. Hopefully, this puts to rest to claims Goode is out to enrich himself, even though he has every right to earn a living from the information he has to share after going public, and thereby negatively impacting his professional career prospects.
This takes me to the third set of criticisms leveled against Goode pertaining to when he was a member of the Project Avalon Forum up until the end of 2015. I read all Goode's posts on the Avalon Forum where he had both supporters and detractors. While he was an active member, he had clear support from the Project Avalon admin team in getting his information out.
That didn't mean that they all believed Goode, but it meant that they thought his testimony touched on important issues, and was worth getting out into the public arena to stimulate public debate. On multiple occasions members were asked to engage in respectful dialogue with him, and avoid ad hominem attacks.
Unfortunately, there was a falling out between Goode and the Project Avalon administration, which to an external observer appeared very similar to an acrimonious divorce.
The Project Avalon administration and members who were previously saying Goode's testimony was important to consider regardless of whether or not one believed him, were now saying he had been disingenuous all along, was scamming the general public, and had ripped off other whistleblower testimony, etc. A wave of ad homimen attacks began that continue to the present day.

Quite a turn-around, and very disappointing for visitors like me who witnessed it all sadly play out in slow motion. I don't want to get into the specifics of the falling out between Project Avalon and Goode since he has responded in detail to the most recent set of criticisms leveled against him.
What I believe is happening is that there are many competent researchers at Project Avalon and in the UFO field more generally who are truly mystified by Goode's popularity, and why his testimony continues to go viral.
Their insistence on hard evidence doesn't seem to slow down the public's appetite for anything Goode has to say as he reveals incredible details about humanity's ancient history, extraterrestrial visitation and secret space programs. This is bound to accelerate once Goode appears on Ancient Aliens with its massive audience base.
More prominent public visibility is going to lead to more supporters, and the inevitable push back by veteran UFO researchers who resent the way Goode is shaping and influence public opinion about UFOs, extraterrestrial life and classified military/corporate projects.
Indeed, a determined few view Goode as an existential threat to the field who has to be stopped before further damage is done. Hence the public attacks are stepping up and becoming more vitriolic.
The simplest answer to Goode's growing popularity is that people who watch videos of his testimony feel deeply that he is being honest and genuine. They are confident in their ability to trust their gut feeling or intuition, and not dependent on hard evidence, which can itself be manipulated. We only need to recall how hard evidence was contrived to support Iraqi weapons of mass destruction that led to the 2003 Iraq War and turmoil ever since.
So Goode will continue to attract many more supporters as Gaia TV continues to expand its 300,000 subscriber base with the success of Cosmic Disclosure, and millions more will soon see him on Ancient Aliens. Goode will also have his detractors demanding hard evidence to substantiate his claims before accepting any of it. Others will trust their gut instincts and spread the word about the truth of what Goode is revealing. Is there a middle ground in what is surely going to be a growing public debate over his revelations?
Currently, there is an effort underway to substantiate Goode's testimony through FOIA document requests, which I am involved in. As documents are received and analyzed, there will hopefully finally be hard evidence that emerges that substantiates some of his core claims. This will enable researchers to gain a better idea of the big picture concerning extraterrestrial visitation and secret space programs, and hopefully finally settle the question over Goode's credibility.
© Michael E. Salla, Ph.D. Copyright Notice
Further Reading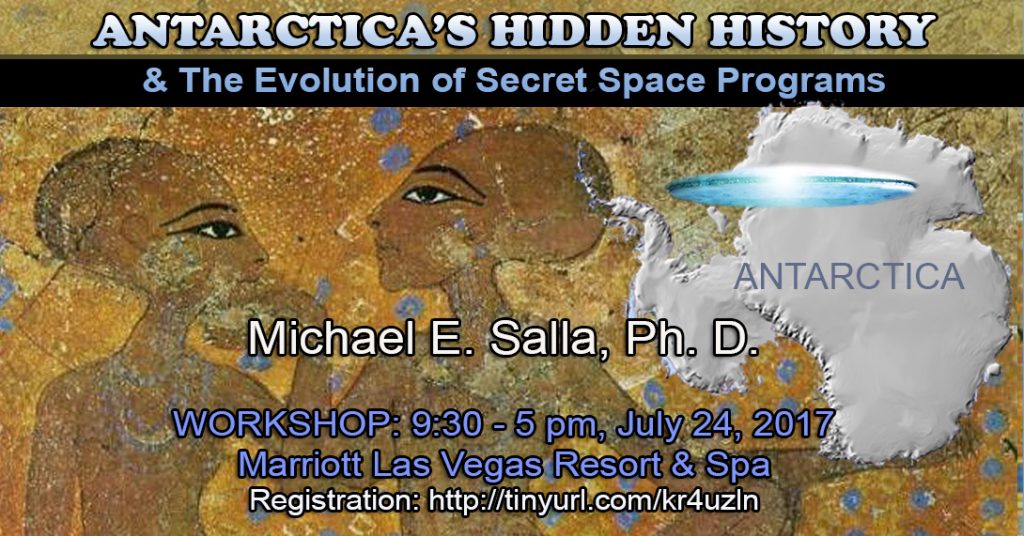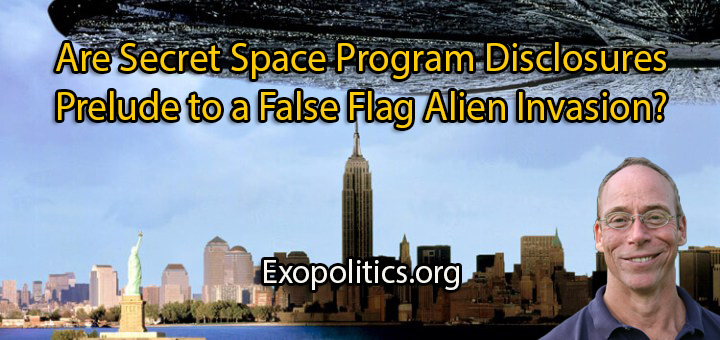 On November 13, Dr. Steven Greer, founder of the Disclosure Project, gave a public lecture where he warned about an impending false flag extraterrestrial event. He said that the final stage of planning for a false flag event that dates back to the 1950's is about to be rolled out, and that recent disclosures about aliens being involved in a galactic slave trade of humans is part of a deception campaign. The goal is to condition humanity into accepting a scenario of evil aliens intent on conquering humanity.
Greer stated that advanced electronic weapons using psychotronic holographic technologies were used in order to produce 'scripted memories' which could be downloaded into individuals. The implanted memories, according to Greer, could be so realistic that the targeted individuals would swear that the experiences were genuine.
Greer says that he was first told about these advanced psychotronic holographic technologies around 1994, by a senior scientist familiar with classified programs. More recently, a retired Lt. Colonel from the Air Force Office of Special Investigations warned that the psychotronic holographic technologies had laid the foundation for the alien false flag event that was imminent.
Greer did not name the Air Force intelligence officer, but said that his testimony was part of the upcoming documentary Unacknowedged, and that the Air Force officer's testimony would be released in full soon after the documentary's release.
Greer's claim of the existence of psychotronic holographic technologies used for psychological warfare operations that began in the 1950's is supported by documentary evidence. It is known that psychological warfare was used as an important means of deceiving the public about the reality of flying saucers and extraterrestrial life.
The 1953 CIA sponsored Robertson Panel release the Durant Report recommending debunking the flying saucer phenomenon by using the mass media in what was the beginning of a psychological warfare program against the general public.
The 1975 Senate Select Committee to Study Government Operations with Respect to Intelligence Activities, chaired by Senator Frank Church, revealed that the CIA's MKUltra experiments dated back to the early 1950's and that various psychological tools were used to implant false memories into targeted individuals. Indeed, the first Manchurian Candidate movie, starring Frank Sinatra was released in 1962 and depicted military personnel being subjected to early brain washing methods in order to create sleeper assassins.
As computer technologies subsequently became more advanced in the classified world, it became possible for very realistic holographic images to be electronically downloaded into people's brains to produce "scripted memories." It is the development and widespread use of such technologies that Greer warns against when it comes to whistleblower and abductee testimonies that describe evil aliens and their alleged nefarious activities.
Greer discusses military abductions (MILAB's) and how sophisticated technologies have been used to give the appearance that aliens are the ones behind the abductions and the various abusive actions used against the victims.
Greer provides as a notable example the November 1989 abduction of the United Nations Secretary General Perez de Cueller during a secret UN initiative to officially disclose the existence of extraterrestrial visitors to the world. Greer, in a November 2015 lecture, says that he was told about the abduction incident by Crown Prince Hans-Adam from Lichtenstein at a meeting they had in 1994:
He said what happened was that Perez de Cuellar … was coming back from a 3 am late night planning session for this event when he was abducted by aliens from his motorcade in Manhattan … Perez de Cuellar was taken somehow out of the motorcade onto an ET craft where he was threatened by the ETs and told: If you disclose this information, we will abduct every world leader involved, including the President of the United States.
According to Greer, the world leaders were allegedly so intimidated by the alien threats that they backed off the disclosure plan.
Greer gives this as an example of how military abductions are used to create staged alien abductions to prejudice not only the general public about extraterrestrial life, but also world leaders. This is where a major problem with Greer's method and analysis of alien abduction events begins to emerge.
I've discussed Greer's analysis of the alleged "staged" alien abduction involving de Cueller in a December 2015 article. What is important to mention here is that Greer's analysis that this was an example of a 'staged alien abduction' based on what he was told by Prince Hans-Adam, is contradicted by multiple witness interviews and correspondence conducted by famed abduction researcher, Budd Hopkins, with key figures in the abduction event.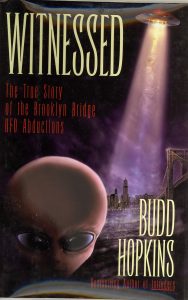 Hopkins book Witness, The True Story of the Brooklyn Bridge UFO Abductions provides abundant witness and documentary evidence that this was a genuine abduction incident witnessed by a world leader and other senior diplomats. He interviewed an extensive number of both witnesses and participants in the abduction, which reveals that some of the individuals involved had been regularly abducted by the aliens since their youth.
Hopkins produced transcripts of interviews and letters by the participants detailing these life-long abductions that culminated in the 1989 incident. His conclusion is that the abduction was a genuine case of extraterrestrials abducting a prominent world leader, who he did not identify in the book but revealed later was de Cueller, with other senior diplomats watching in order to send a warning. He reproduced a portion of a letter from one of the victims to the abduction who was part of the security detail for de Cueller:
It was too coincidental for people such as ourselves to just happen to stumble upon such a sight [UFO abduction]. Remember, there were five important figures with us at the time (Two US Government Officials, two foreign statesmen, one World Leader (de Cueller). Six more of us included as US Government enforcers. If the occupants of the craft wanted to get a message out to the world, they've chosen the right group of people to do it for them.[Witness, p. 263]
Hopkins book validates much of what Greer was told by Prince Hans-Adam that world leaders witnessed and were involved in an alien abduction event in 1989.
However, Greer dismissed the portion of Prince Hans-Adams' testimony that the abduction was conducted by extraterrestrials, by insisting instead that it was a 'staged alien abduction'. Greer based his conclusion solely on his overall analysis of multiple whistleblower reports revealing the existence of false flag alien abductions in general, and of advanced technologies making this possible.
What's vital to point out here is that Greer does not identify one witness or whistleblower referring to the 1989 event being a staged military abduction. The obvious problem here is that Greer offers nothing but his conjecture that the 1989 alien abduction was a staged event.
In contrast, Hopkins spent several years researching his book, which was published in 1996, where he methodically interviewed multiple witnesses and participants that conclusively reveal that the event was a genuine extraterrestrial abduction after all.
The important fact to keep in mind here is that Greer had nearly 20 years to consider Hopkins data on this vitally important case, which he had been privately briefed about in 1994 by Prince Hans-Adam. After all, it involved major world leaders discussing a plan for official disclosure of extraterrestrial life that was aborted at the 11th hour by an alleged alien abduction. Hopkins data could help considerably in determining what had really happened. Instead, Greer decided to ignore Hopkins investigation entirely.
The 1989 abduction incident involving Secretary General de Cueller, is a clear example of where Greer dismisses or doesn't even consider information that runs contrary to his analysis of such abduction events. After all, Hopkins book was published in 1996, which gave Greer plenty of time to analyze Hopkins data and compare it to his analysis of the de Cueller abduction which he publicly discussed in his 2015 lecture.
This is where it is fair to raise the question of whether Greer is an impartial analyst of human extraterrestrial encounters as he claims, or deliberately filters out egregious cases of alien actions on humans, in order to promote his own cosmic world view.
There are other examples of Greer dismissing data that does not fit in with his hypothesis that negative or intrusive alien abductions, are really staged military abductions using advanced classified technologies. I discussed this in a 2006 article where I responded to Greer's critique of my exopolitics research which he had taken the unusual step of publicly publishing.

The conclusion reached in my 2006 response was that Greer is not an impartial analyst of human extraterrestrial encounters, but a firm advocate of the view that all such encounters are positive and beneficial, and that witness reports of encounters to the contrary are in fact a result of staged military abductions.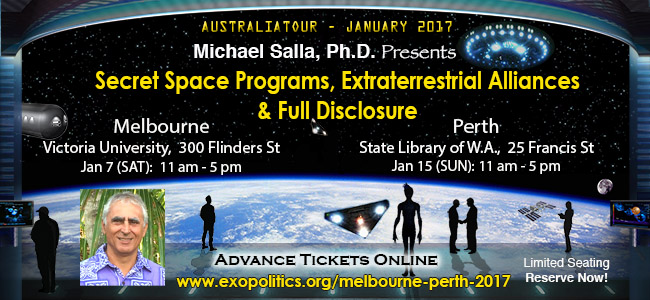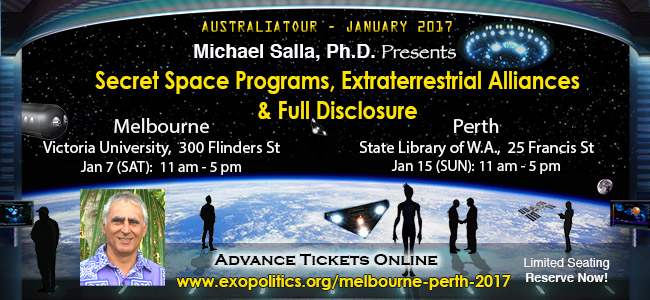 The way in which Greer removes contrary data in his analyses of human extraterrestrial encounters raises legitimate questions over his intellectual honesty, and ultimate agenda. Given his status as a leading figure in the extraterrestrial disclosure community, Greer's questionable approach requires critical scrutiny when it comes to his critique of others offering analyses of human extraterrestrial encounters that differ to his own cosmic world view.
To illustrate the problem here, it is worthwhile examining the next part of Greer's November 13 lecture. He named two individuals that have recently come forward to reveal their knowledge about secret space programs, Corey Goode and William Tompkins. Greer declares both are victims of these psychotronic holographic technologies where they have been given scripted memories of negative human extraterrestrial encounters.
In his lecture, Greer said the following about Goode and what he believes are the scripted memories he was given as a child:
There are some very, very good people out there speaking about information, experiences, that they have had that they do believe to be extraterrestrial… I'm thinking now of a man I haven't met who is a wonderful gentleman from all accounts, a guy named Corey Goode, and is doing the "Full Disclosure Project," and he and I are like hand-in-glove supportive of many things, but some of the things he's recounting like slave trade and slave planets and things that he experienced as a six or seven year old … taken into the military abduction program… I have no doubt that he believes those events were extraterrestrial but … what I want people to understand is that we have to be very careful about our assessment of what's out there in the universe based on people that have been in these programs who … have been victims of this.
Greer goes on to criticize Gaia TV which has provided a highly respected media platform for Goode's testimony to enter the public arena through the Cosmic Disclosure show:
I'm concerned that places like Gaia TV or Conscious Evolution could be given information out there that is being scripted and being provided, unwittingly from these folks… If it is true, let's say that the slave races are out there and the slave planets and the slave ships and all this is going on that you hear in some of the accounts from Corey Goode and others. If that were true and that then is put out … into the public domain, so that millions and eventually billions of people. In the minds of most people out here on the streets that would justify interplanetary war.
Greer went on to point out that while he and Goode agree on a great number of issues concerning global peace, raising consciousness and spiritual evolution, that Goode's testimony about secret space programs and egregious human extraterrestrial encounters are scripted and have no reliable corroborating data points:
Some of the things that are being shared as factual secret space program activities that have no other real good points of corroboration, and which I know given how he was in the military abduction programs, and what they are capable of. Some of the experiences he has had I'm concerned have been scripted, and may not reflect anything actually out there in deep space.
We have finally arrived at the crux of Greer's critique of Goode, his testimony about secret space programs is contaminated by scripted memories introduced into his life during military abductions that began at age six.
It's worth keeping in mind here that Goode acknowledges that from age six he was indeed trained through a military abduction program. When he turned 16 (1986), he says he was then taken to his final training and subsequent service in secret space programs up until 2007. Goode states that he was then age-regressed, sent back in time and had his memories wiped.
Goode says that the memory wiping process was not successful and he retained the bulk of his memories acquired during his "20 and back" program. He then lived the next 20/21 years as a normal civilian as depicted in the following timeline.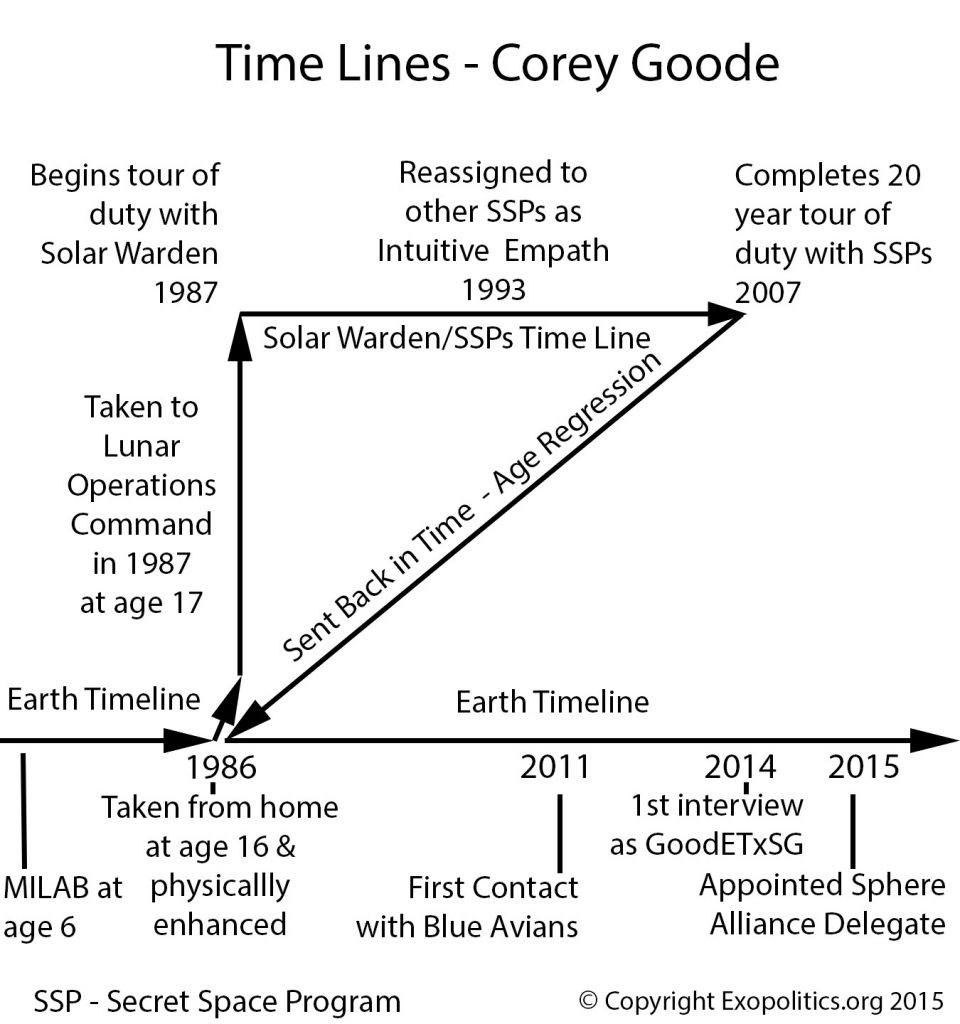 It is important to point out here that Greer's critique that Goode was given scripted memories is consistent with events as Goode described up to age 16 (1986), when he says he recalled his memories of having served for twenty years in secret space programs. After all, how could Goode be sure that the 20 years of memories he now had, after being returned to civilian life, were genuine, or had not been contaminated by the scripted memories Greer was discussing?
By 1986, we know that classified computer technology was very sophisticated and could be used to implant false or 'scripted' memories into people involved in Military Abduction Programs thus making Greer's assessment plausible. There are several reasons, however, as to why Goode's memories of having served for twenty years in secret space programs may be accurate after all.
First, according to Goode, beginning in 2011, he started having contact experiences with a group of extraterrestrials he calls the Blue Avians, which belonged to what he describes the Sphere Being Alliance, and also with personnel belonging to an Ancient Mayan secret space program. It was Goode's reference to this Mayan secret space program that got my attention when I first began investigating his testimony in April 2015 due to my own experience in Mexico City in 2010 which I wrote about here.
Goode says that in March 2015, he was taken to a secret moon based Lunar Operations Command, when he became the official delegate for the Sphere Being Alliance. He then began liaising with officers and personnel from the secret space programs he had previously served on from 1987 to 2007.
Importantly, Goode was stating that in 2015, the leaders of these programs that were part of a "Secret Space Program Alliance Council", confirmed his earlier service. This suggests that Goode's recollections as a 16 year old of having served for twenty years in several secret space programs were genuine, and not a result of scripted memories as Greer is postulating.
Second, there are many aspects of Goode's testimony concerning contemporary exopolitical events that were based on genuine insider information he was receiving about secret space programs. I have written of the extensive circumstantial evidence supporting Goode's testimony in the book, Insiders Reveal Secret Space Programs and Extraterrestrial Alliances.
An example was that Goode's claims of slave labor being exploited on corporate colonies on Mars, which he began discussing in early 2015, was almost the exact scenario discussed later by the British Interplanetary Society at a meeting held in June 2015. The meeting was attended by approximately 30 prominent figures in the British academic community, aerospace industry and even members of the intelligence community.
Finally, there is the testimony of William Tompkins whose information first came out in a December 2015 autobiography. Selected by Extraterrestrials, which corroborated much of what Goode had previously revealed. Tompkins provided extensive documents to support his claims, which have subsequently been corroborated in part by Freedom of Information Act documents and the testimonies of three retired Navy officers. Since Greer also provides a critique of Tompkins secret space programs testimony in his November 2016 lecture, I will examine Tompkins claims and Greer's critique in part two of this series of articles in order to reach a final conclusion regarding Greer's critique of both Goode and Tompkins.
To conclude thus far, it's worth noting that Greer has not provided one document or witness/whistleblower testimony to support his claim that Goode is revealing scripted memories about a galactic slave trade involving abducted humans. Greer's criticism is based solely on his conjectures, which as evidenced in the 1989 Perez de Cueller alien abduction case, are highly questionable. This raises considerable doubt over Greer's core claim in his November 13 lecture that Goode and Tompkin's testimonies about secret space programs and egregious extraterrestrial activities, are a prelude to an impending false flag alien event.
© Michael E. Salla, Ph.D. Copyright Notice
Further Reading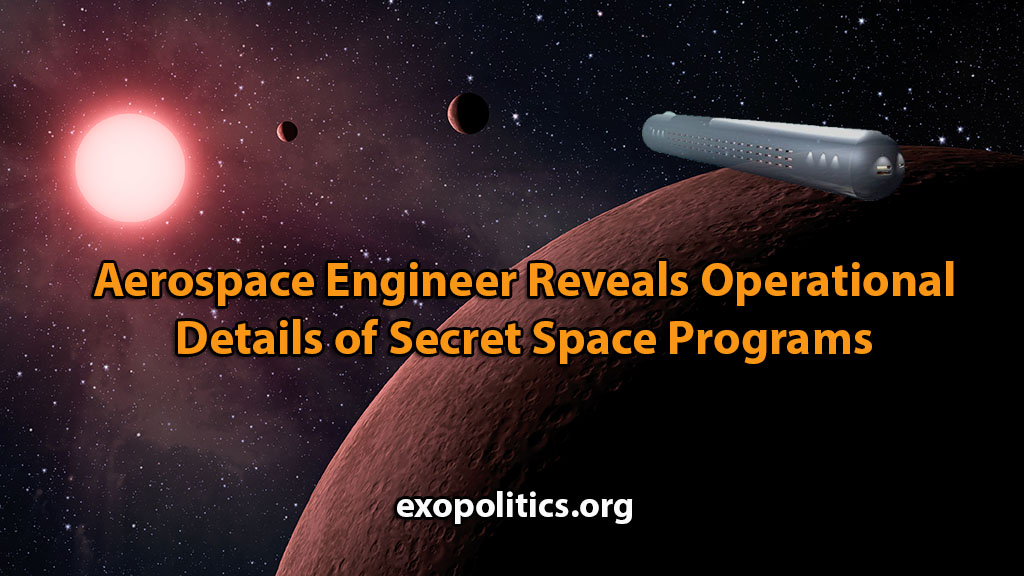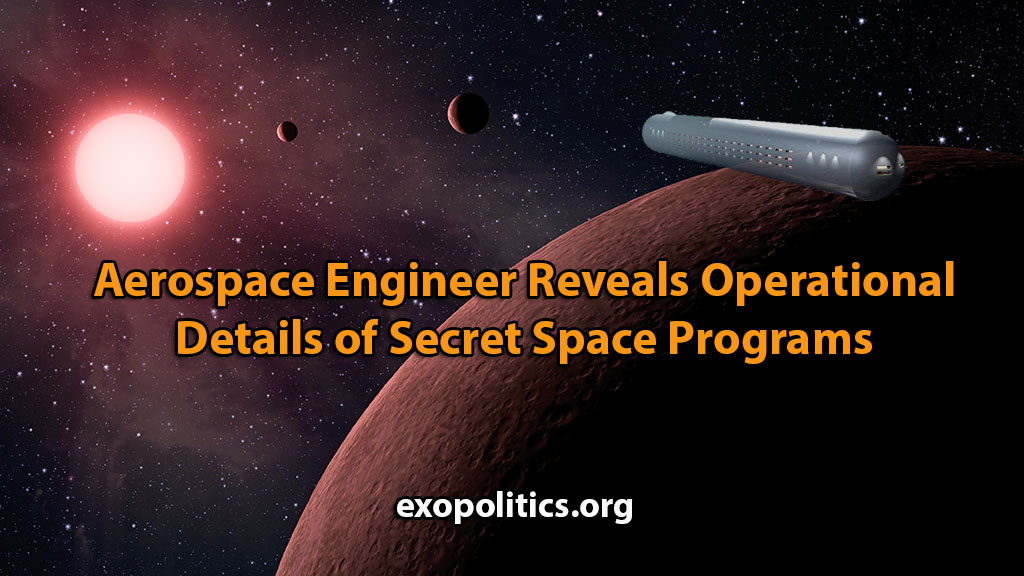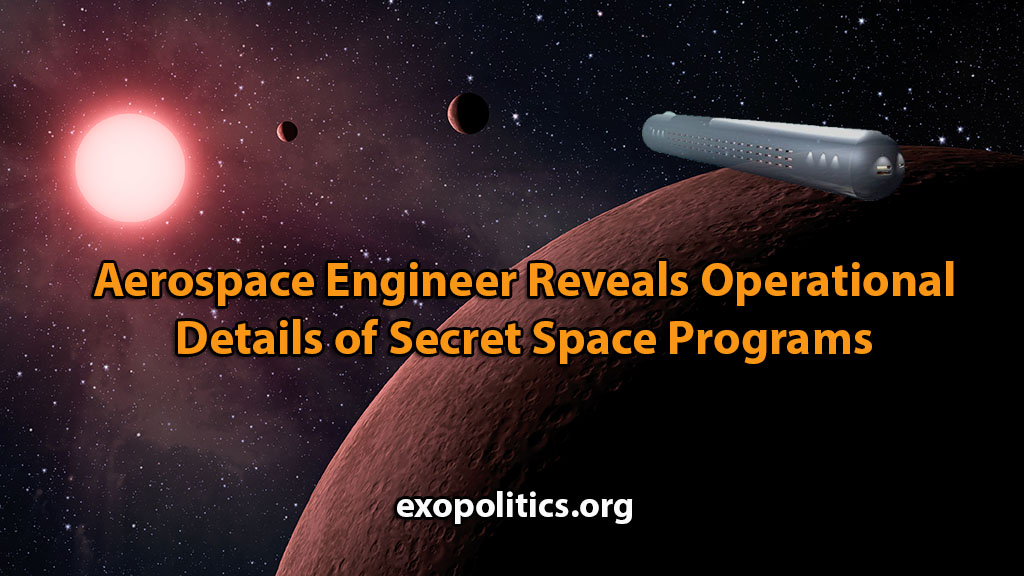 Retired aerospace engineer, William Tompkins, has just given his most detailed account yet about the operations of secret space programs on the September 27 episode of Cosmic Disclosure. Many of Tompkins' revelations corroborate the earlier testimony of the show's primary whistleblower, Corey Goode, who first publicly came forward in late 2014.
Previously, Tompkins has described in his book, Selected by Extraterrestrials, and in subsequent interviews, his involvement in two space programs. First came his assignment in intelligence operations on a German/Nazi led secret space program during the World War II, much of which was relocated to Antarctica. This space program evolved into what Goode later described as the "Dark Fleet."
After the War, Tompkins became directly involved in the development of a U.S. Navy secret space program called "Solar Warden," where he provided the early draft designs for kilometers long spacecraft and non-terrestrial bases, while working at the Douglas Aircraft Company from 1951 to 1963. Solar Warden, according to Tompkins, became operational in the early 1980s.
Tompkins's role in these space programs is supported by a number of documents provided in Selected by Extraterrestrials, and others provided in a March 2016 interview. In addition, FOIA documents have just been made available (to be described in an upcoming article), which confirm key details about Tompkins involvement in a Navy led espionage program aimed at infiltration of Nazi antigravity research projects during World War II.
Tompkins' revelations about the current operations of secret space programs derive from two periods in his life. First is his time at the helm of the Rogue Valley (Medford), Oregon chapter of the U.S. Navy League from 1985 to 1999. During this period, he was given briefings about operations of secret space programs and extraterrestrial life, and shared some of this information through a "Special Projects Committee"; with retired Navy, Marine and USAF officers and their children.
Corroboration for Tompkins' statements about the Navy League Special Projects Committee comes both from related documents and two retired Navy officers who confirmed key aspects of his testimony. Furthermore, Tompkins says that Admiral Hugh Webster, who ran the U.S. Navy League chapter in San Diego and was an executive officer for it nationally, was initially briefed about the Navy's secret space program by Tompkins in 1985. Webster subsequently began a similar operation in San Diego, and became part of the Navy's covert operations.
The second period in which Tompkins learned about the operational details of the Navy's secret space program began in 2000, when he moved to San Diego, giving him more opportunities to work directly with Webster. It was Admiral Webster who gave Tompkins permission to write his autobiography and reveal all he knew about the Navy's secret space program.
Tompkins has further disclosed that he is a participant in the Navy's annual "West" meetings in San Diego, where leading aerospace companies come together to share their research and development findings. Among the purposes of these meetings is the goal of finding the latest technologies that may be of use for the Navy's secret space program.
Tompkins says that he has attended all of these Navy West meetings since the year 2000, and plans to attend again in 2017 because he still has clearance to be present at classified meetings. Tompkins is currently 93, with a sharp mind, excellent memory and still physically healthy. It would be fair to say that he is considered to be a "wise elder" among those running current operations with the Navy's secret space program.
Given Tompkins' background, and continuing involvement with the Navy's Solar Warden program, his statements about its current operations bear special significance.
These are some of the highlights of what he revealed during his Gaia TV interview.
Thousands, thousands, not just a few, thousands of people have joined the Navy here in the United States. They joined the Space Navy. They signed up for a 20-year tour. So these folks, men and women, were given a lot of examinations and a lot of information on what they were going to need.
Many of them went to the Moon, our Moon, and facilities there and got checked out and organized and established where is the best place they're going to go, what their criteria is going to be, what major area they're going to develop, like what class in the university. And then they get sent to a Mars facility for a short time.

Tompkins' comments here are especially noteworthy. They corroborate the testimony of Goode, who asserted that there are thousands of personnel involved in the Navy's secret space program. He and another alleged whistleblower, Randy Cramer, spoke of an operations center on the Moon called Lunar Operations Command, and both claim they were taken there in 1987 for their formal inductions.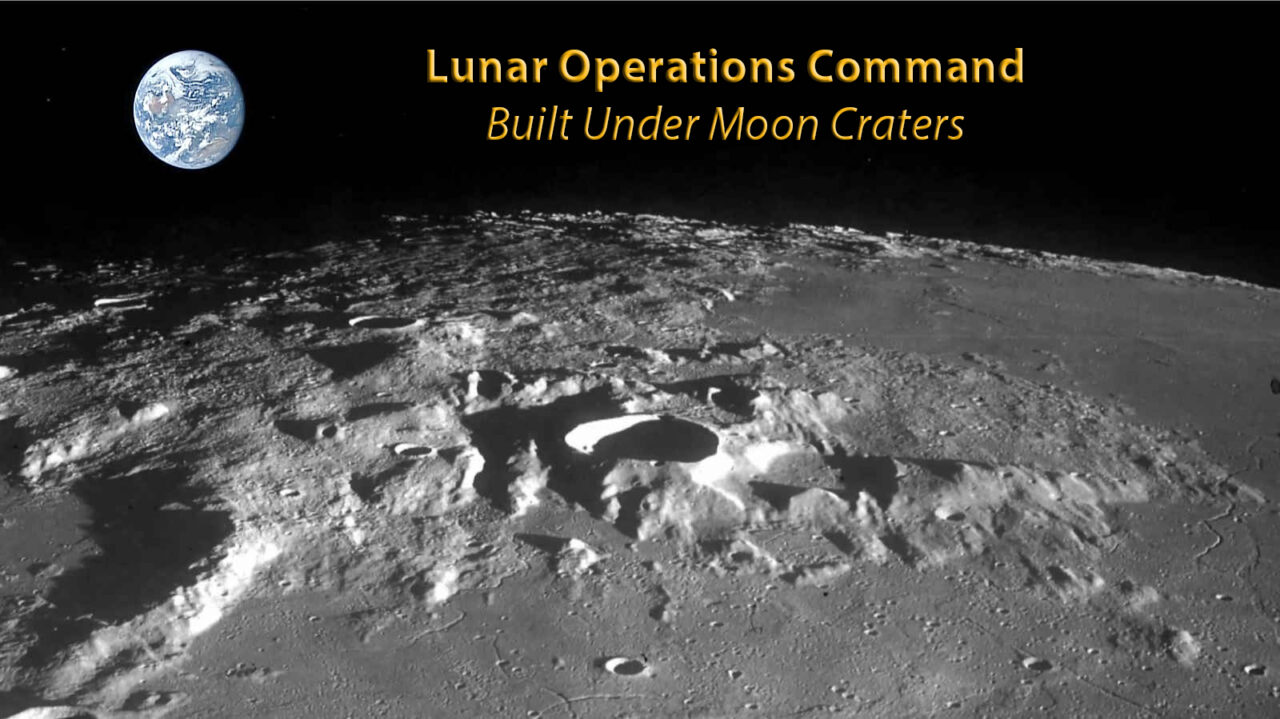 During his interview, Tompkins describes how secret space program personnel are assigned after the induction:
And then they get assigned to a specific base. And they work for a short time in the base before they're assigned a naval cruiser, or a naval attack vehicle, or even a naval spacecraft carrier, which are one, two, and four kilometer long class. And we have eight of those battle groups out there. So there's plenty of room for new people to come aboard….

The above statement corroborates what Goode claims he underwent after his induction at Lunar Operations Center. He was assigned to the research vessel, the Arnold Sommerfeld, where he spent six years performing a number of science and exploratory missions in the solar system.
Tompkins next corroborates Goode and Cramer's claims, along with a third whistleblower, Michael Relfe, about what happened at the end of their 20 and back programs:
So at the end of the 20 years, they have an option for another 20 years. They could go for another 20 years. Or they have the option to come back to Earth where they were born and where they entered the Navy.
And then they make this decision they want to come back. So they age regress. They're now 20 years older than when they joined the Space Navy, okay? And so they take several weeks or several months, and they reverse their age back to 21 when they joined the Navy….
And now, during that several weeks returning, their minds, not painfully, but their minds are played with to where 90.99 [likely meant to say 99.99 percent] of their memory for the last 20 years out in space is removed.

In the book, Insiders Reveal Secret Space Programs and Extraterrestrial Alliances, a chapter is devoted to a comparative study of the testimonies of Goode, Cramer and Relfe. Tompkins' testimony adds a significant level of credibility to what each of these individuals had to say about how they were treated at the end of their secret space program 20 year tours of duty.
Before the close of the interview, Tompkins revealed his knowledge about a corporate run space program that emerged to rival the Navy's Solar Warden program:
But the corporations, at the same time they were doing the military mission programs, they were doing other programs which could possibly allow them to nullify the space programs of the military, like Solar Warden.
And these people, then, utilizing all the advances in space systems, military wise, developed the capability to move off the planet and mine materials on other planets in the solar system and/or continue on out into the galaxy through the 12 closest stars, Alpha Centauri being the first, and mining or extracting materials, or whatever, and making money.
This same group of top corporate people of all these companies that are doing the jobs, that they are getting paid for, were paralleling the space missions for industrialization – making money… We've got corporate operations operating parallel to missions to solar system planets and other stars' planets, doing the same thing.
Tompkins testimony here corroborates what Goode revealed in early 2015; that there is a corporate run space program he called the Interplanetary Corporate Conglomerate. Previously, in April 2014, Cramer claims he was assigned to a Mars military base from 1987 to 2004, to protect five corporate run colonies there he described as the Mars Colony Corporation. Similarly, Relfe says that during his time on Mars, from 1976 to 1996, he was part of a military operation to protect Mars colonies.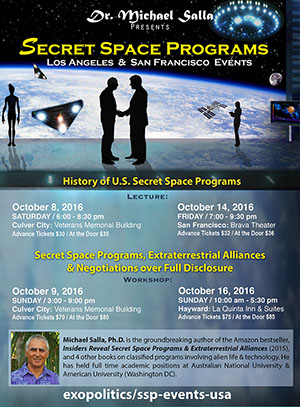 Bill Tompkins' detailed knowledge of current operations of the Navy's secret space program, a corporate run program, and his willingness to now relate this information is a significant development for all who have been closely following his testimony. It is a major scoop for Cosmic Disclosure that Tompkins chose to reveal his knowledge there first, and it certainly helps substantiate the earlier testimony of Goode and others concerning Solar Warden and parallel secret space program operations.
[Note: To watch William Tompkins on Cosmic Disclosure, click here. For transcript click here.]
© Michael E. Salla, Ph.D. Copyright Notice
Announcement: Documents and whistleblowers revealing the creation of antigravity spacecraft belonging U.S. secret space programs, with special reference to the testimony of William Tompkins, will be presented in upcoming lectures and workshops in Los Angeles (Oct 8-9) and San Francisco (Oct 14 & 16) by best-selling Amazon.com author Dr Michael Salla. More info here.
Further Reading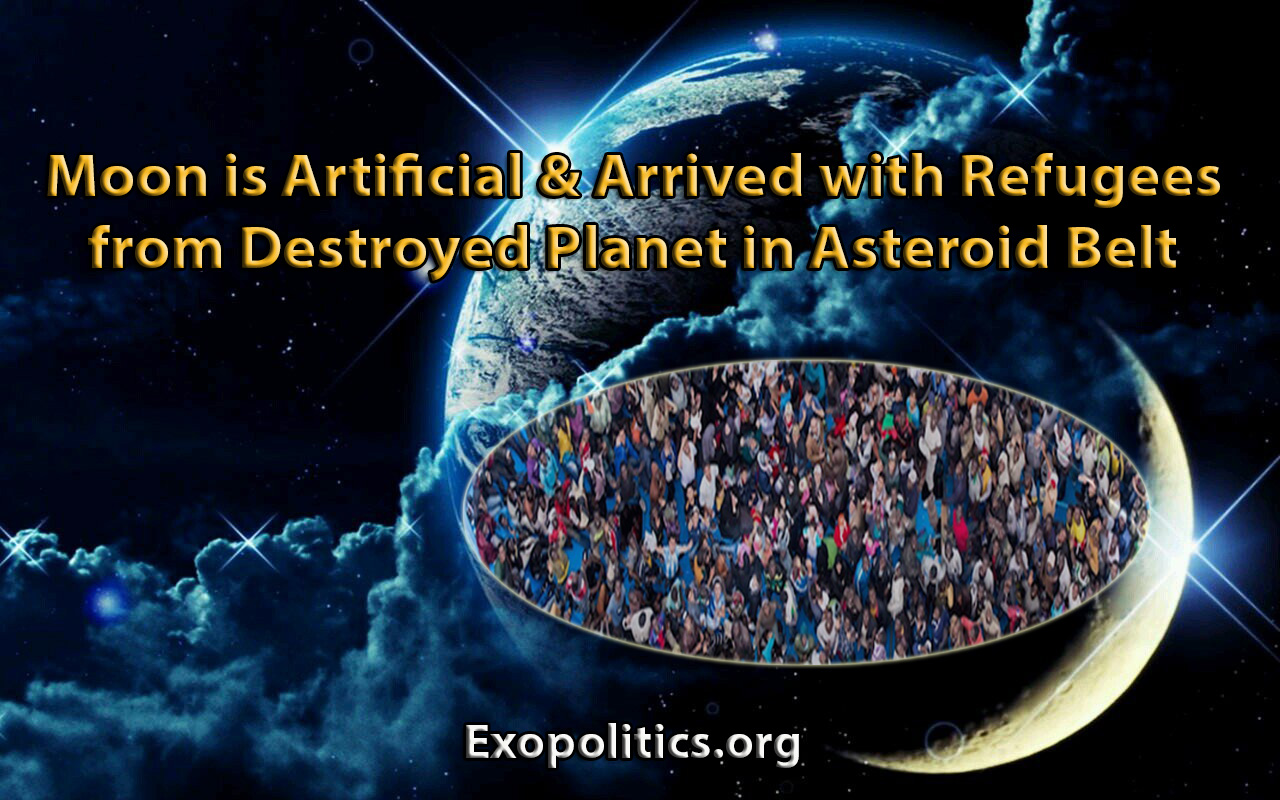 According to secret space program whistleblower Corey Goode, there was once a "Super Earth" in the asteroid belt with human looking giants who were involved in a devastating galactic war that destroyed their planet. Goode claims in yesterday's episode of Cosmic Disclosure that many of the giants fled the destruction via one of their artificially created moons, which was sent into an orbit around the Earth approximately 500,000 years ago.
Goode says that the smart glass pads he read during his 20 year service with different secret space programs from 1987 to 2007 provided two explanations for the moon's artificial nature. One was that it was a hollowed out natural moon, and the second was that it was a giant orbiting space station.
Goode then says that waves of refugees from the Super Earth began arriving on Earth during different stages in the period spanning the former planet's destruction. One of these waves was associated with the arrival of the Moon that was teeming with refugees.
The refugees arrival on Earth created armed conflict with advanced indigenous human groups that had previously escaped into the Earth's interior from cataclysms, and were helping survivors on the surface rebuild society. In previous episodes, Goode says that these breakaway "Inner Earth" groups date as far back as 18 million years, inhabit vast caverns as large as the U.S. state of Texas, and possess advanced space craft.
In addition, different extraterrestrial groups had established colonies on the Earth's surface where long term genetic experiments had begun – 22 according to Goode and the contactee, Alex Collier. The arrival of the different extraterrestrial groups and their genetic manipulation of surface humans had previously created conflict between the Inner Earth civilizations and the extraterrestrial human hybrid colonies on the surface.
The arrival of the Moon with refugees possessing advanced technologies threatened to upset the delicate balance of power that had been achieved on the Earth between the Inner Earth and surface civilizations. There were subsequent military battles between the Inner Earth civilizations, extraterrestrial visitors and the Super Earth refugees on the Moon, according to Goode.
Evidence of these ancient Moon battles can be witnessed today in the form of the remnants of giant crystal domes, huge towers and square structures, which Goode says he directly witnessed while flying over the moon's surface. Support for Goode's astounding claim comes from the research of Richard Hoagland who has conducted extensive digital analysis of much NASA lunar imagery, which he concluded revealed the remnants of giant glass/crystal structures all over the Moon:

Goode's incredible claims about the history of the Moon are part of a two part series of Cosmic Disclosure episodes on a Super Earth that once orbited the sun in the region of the asteroid belt. The previous episode discussed how Mars was also once a moon orbiting the Super Earth.
Mars at the time had sufficient water and oxygen rich atmosphere to host a large population on its surface. The events that led to the Super Earth's destruction also wiped out much of the surface population on Mars, and removed the bulk of its atmosphere according to what Goode read on the smart glass pads. The force of the Super Earth's destruction propelled Mars into its present planetary orbit.
Goode and Wilcock's discussion of the destruction of a Super Earth reveals astonishing historical facts that are very helpful for understanding our real galactic history. So was there a Super Earth that was destroyed in a titanic battle, which resulted in one of its moons being sent into Earth orbit, and another being sent into its present orbit as the planet Mars?
The first major scientist to seriously research the possibility that the asteroid belt is the remains of a former planet is Dr. Thomas Van Flandern, who was the chief astronomer at the U.S. Naval Observatory. He wrote several academic papers on what he described as the Exploded Planet Hypothesis, which suggested that several asteroid belts in our solar system arose from the destruction of planets stretching all the way back to the beginning of the solar system:

Putting all this evidence together, we have strong hints for two original planets near what is now the main asteroid belt: hypothetical "Planet V" and "Planet K". These were probably gas giant planets with moons of significant size, such as Mars, before they exploded. We have hints of two more asteroid belts, probably from the explosions of two more planets ("Planet T" and "Planet X") beyond Neptune. And we have hints for two extra-large gas giant planets, "Planet A" and "Planet B", that exploded back near the solar system beginning.

Van Flandern elaborated on his proposal that Mars was once a moon of a destroyed planet in the asteroid belt:
The above summarizes evidence that Mars was not an original planet, but rather a moon of a now-exploded planet occupying that approximate orbit. Many of these points are the expected consequences of having a massive planet blow up nearby, thereby blasting the facing hemisphere and leaving the shielded hemisphere relatively unscathed. Especially significant in this regard is the fact that half of Mars is saturated with craters, and half is only sparsely cratered. Moreover, the crustal thickness has apparently been augmented over one hemisphere by up to 20 km or so, gradually tapering off near the hemisphere boundaries.

Van Flandern's Exploded Planet Hypothesis lends scientific support to Goode's claims about both the Moon and Mars being two former moons of a Super Earth.
If Goode is correct, then prior to the Moon's arrival approximately 500,000 years ago, the Earth had no moon. Indeed, there is historical evidence that the Moon was a late arrival to the Earth. Immanuel Velikovsky found numerous historical references to pre-lunar cultures on Earth, some of which he described as follows:
The period when the Earth was Moonless is probably the most remote recollection of mankind. Democritus and Anaxagoras taught that there was a time when the Earth was without the Moon. Aristotle wrote that Arcadia in Greece, before being inhabited by the Hellenes, had a population of Pelasgians, and that these aborigines occupied the land already before there was a moon in the sky above the Earth; for this reason they were called Proselenes.
Apollonius of Rhodes mentioned the time "when not all the orbs were yet in the heavens, before the Danai and Deukalion races came into existence, and only the Arcadians lived, of whom it is said that they dwelt on mountains and fed on acorns, before there was a moon."
Plutarch wrote in The Roman Questions: "There were Arcadians of Evander's following, the so-called pre-Lunar people."
Goode's revelations about a Super Earth and the cataclysmic events surrounding its destruction are shocking. If accurate, as the research of Dr. Van Flandern and additional independent evidence suggests so far, then Goode has opened the door to better understanding the real history of our Earth, Moon, Mars and the solar system more generally.
Goode and Wilcock's Cosmic Disclosure series continues to surprise and enlighten as it discloses many aspects of galactic history discovered by secret space programs, which are for the first time allowing much of this information to be released to the general public through Goode and other whistleblowers.
© Michael E. Salla, Ph.D. Copyright Notice
Further Reading



Zecharia Sitchin is widely acknowledged as a pioneer in disseminating the idea that one or more extraterrestrial races have visited Earth in antiquity and assisted the development of human civilizations. His translation of Sumerian cuneiform texts suggesting that an alien race called the "Anunnaki" created humanity has been translated into over 25 languages and sold millions of copies worldwide. The problem, according to the latest revelation by Secret Space Program whistleblower, Corey Goode, is that Sitchin's translations contain contrived information!
Goode made his startling claim about Sitchin's translation in the February 9 episode of his Cosmic Disclosure series of interviews by David Wilcock aired on Gaia TV. It arose out of an account Goode was giving of his meeting with representatives of seven Inner Earth Civilizations back in September 2015. He described being taken to a library created by the oldest of the civilizations, dating as far back as 18 million years in age.
The High Priestess, "Kaaree" (Car-ee), who led Goode on this library tour, showed him different levels of an ancient library hosting a variety of manuscripts, scrolls, tablets and books of various ages. In a section of books, Goode recognized titles authored by Zecharia Sitchin which collectively are known as the Earth Chronicles.
In an earlier episode of Cosmic Disclosure released on February 2, Goode reported being told that the Ancient Sumerians had been helped by the Inner Earth beings who had decided to teach them agriculture and language. This was necessary due to a minor cataclysm that had wiped out surface civilizations. Goode asked how this information meshed with those who believed the Sumerians had been helped by alien visitors, and was told by Kaaree that he would find his answer in the library.
Once in the library, Goode got the answer he sought. During a discussion of a very large ancient dictionary defining terms in the ancient Sumerian language, Kaaree pointed up at Zecharia Sitchin's books, and said:
All of the information in those books is pretty much contrived… You cannot take those books, and you cannot go into an ancient Sumerian tablet, to the tablets and texts, and do translations and get what is said in those books.
She gave as an example the word 'Anunnaki' which Sitchin defined in his first book, The Twelfth Planet, as 'those who from the heavens came." According to Kaaree, the word actually means "royal seed." Her translation of 'Anunnaki' is supported by more conventional Sumerian scholars, as Sitchin critics have previously pointed out.
Goode says that Kaaree told him that Sitchin had been approached by three members of a secret society whose goal was to promote an elite inspired religion based on fictitious extraterrestrial creators. They fed Sitchin their translations of the Sumerian cuneiform texts which he proceeded to release in his Earth Chronicle series books that began in 1976 with publication of The Twelfth Planet.
She said that the writer [Sitchin] had three people that were giving him the narrative to write, and that these three people gave him the narrative that he wrote, that was a very clever infiltration of these, I guess, Illuminati into the ufology esoteric community to make their religion, our, or their religion
Goode then claimed that this contentious information was also known to the Secret Space Programs because he read it in on the "smart glass pads" he was given access to during his covert service from 1987 to 2007. If Goode's revelations are accurate, as my own research so far has found them to be, then this is independent corroboration of Kaaree's claims.
Adding another level of plausibility to the accusation that Sitchin's translations of the Sumerian texts were secretly contrived by others, was an anecdote shared by Wilcock, host of Cosmic Disclosure, during yesterday's episode. Wilcock revealed that a Spanish college friend, who he was unwilling to identify on air, regularly talked with Sitchin who confidentially told him that he was told what to write in his Earth Chronicles books.
Goode's information is certain to be very controversial due to many supporters of Sitchin who believe that more conventional academic translations of Sumerian texts are inaccurate. On the contrary, Goode points out, that many conventional scholars are correct in their interpretations, as illustrated earlier with discussion over the correct translation of the word 'Anunnaki'. He encourages people to research conventional Sumerian translations to determine for themselves the accuracy of Sitchin's translations.
As far as the inner Earth civilization that Kaaree belongs to, it is important to clarify what may appear to be a contradiction in what Kaaree said in regard to Sitchin's translation. In a September 23, 2015 report about his meeting with Kaaree earlier that month, Goode said that the Inner Earth civilizations would often assist surface civilizations after a cataclysm. In such cases, the Inner Earth beings would say they were gods or extraterrestrials from other planes or planets:
They stated that they would emerge from time to time to kick-start the civilization of the survivors who were the most closely related to them in terms of their genetics.
They claimed that these surviving races assumed they were the gods of their own ancient legends. It was decided that they would allow those they were assisting to believe they were gods, in order to keep their subterranean civilizations secret and secure.

Kaaree acknowledged that her civilization had aided the Sumerians with agriculture and language. Presumably, the Inner Earth civilization had also told the Sumerians that they were 'gods'; or at least encouraged the Sumerians to adopt such a belief, which was in alignment with their legends.
This suggests that the translations provided by Sitchin were based on a partial truth, that the Sumerians had been helped by a technologically developed society, the "Anunnaki", who claimed to be gods.
However, Sitchin's translation that the Anunnaki came from the planet Nibiru, and had bio-engineered humanity by splicing their own DNA with early hominids, is contrived information. This appears to be what Kaaree was referring to as an effort by an Illuminati secret society to manufacture an elite-inspired religion involving extraterrestrial creators.
Significantly, Clive Prince and Lynne Picknett authored a book in 2001 called The Stargate Conspiracy, which traced efforts by global elites to manufacture a new religion that would revolve around the idea of extraterrestrial creators.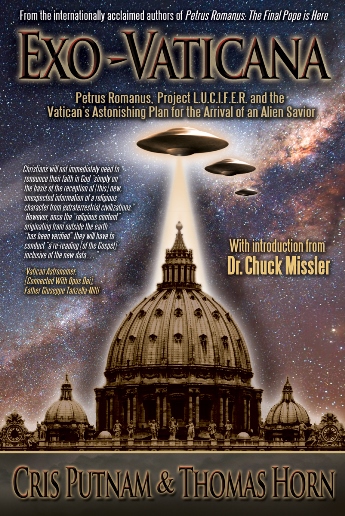 This idea has been further developed by authors such as Tom Horn and Chris Putnam, in their book Exovaticana, in which the Roman Catholic Church is leading a secret effort by Jesuits (the Catholic order to which Pope Francis belongs) to establish a new global religion with extraterrestrials playing a key role in humanity's creation. Indeed, the Pope took a dramatic step in this direction with an October 27, 2014 statement explaining how extraterrestrial activities were part of God's plan.

In my own 2013 book, Galactic Diplomacy, I pointed out that Sitchin's account of a single set of extraterrestrial creators was inconsistent with the evidence that there have been multiple extraterrestrial races blending their genetics with humanity over a long historical period. According to Goode, and "extraterrestrial contactees" such as Alex Collier, there are 22 different alien races that have contributed their DNA to humanity.
The Inner Earth civilizations, however, insist that their own genetics long predate the multiple interventions by visiting extraterrestrials who bio-engineered surface humanity. Kaaree's people date their origins to the time of the "Guardians," a very ancient race of higher dimensional beings that helped establish and/or protect the first human civilizations on Earth.
Presumably, the genetics of the first humans were more compatible with manifesting a higher universal consciousness, referred to in the Law of One material as the Logos or creative principle, in physical form. Consequently, the Inner Earth Civilizations have maintained a strict separation from the genetically mixed, and by implication 'inferior', surface humanity for many millennia.
This greatly contrasts with Collier's claims, in which extraterrestrials from the Andromeda constellation consider our mixed human extraterrestrial DNA as a form of genetic royalty. In a 2000 interview, Collier said:
According to the A's [Andromedans] we are genetic royalty, everyone on this planet and it has nothing to do with where we are on a soul level. People confuse the two. It is like people don't listen as well as they hear. They say we are genetic royalty because we are the subtotal in our genetics of 22 different races. Many different races have been here, over millions and millions of years they have genetically tampered with us and left us and ended up mating while they were here.

The complex situation with the Inner Earth beings appears set to change, however, since a group of five extraterrestrial races Goode describes as the Sphere Being Alliance, appeared in our solar system very recently. The Inner Earth civilizations have recognized members of the Sphere Being Alliance as their Guardians who have returned at a time of great change at the planetary, stellar and galactic levels.
According to a January report by Goode of a face-to-face meeting between the Sphere Being Alliance and representatives of the Inner Earth civilization, which occurred in the Kuiper Belt in late 2015, they were told that they had "not been proper stewards" of the planet. This has led to some of the Inner Earth civilizations reevaluating their policy of strict separation, and considering ways to reveal themselves more to surface humanity, which will in some future time lead to planetary unity.
Goode's accounts of his meeting with Inner Earth civilizations are astounding, and will lead to a great re-evaluation of humanity's ancient origins, and the roles of different extraterrestrial and Inner Earth groups as more evidence emerges to substantiate his claims. As far as exposing Zecharia Sitchin's translations of the Sumerian cuneiform texts as contrived information, Goode is suggesting that there is an implicit warning by the Inner Earth civilization that Sitchin was part of a secret Illuminati effort to create a new elite driven global religion based on extraterrestrial intervention in human affairs.
© Michael E. Salla, Ph.D. Copyright Notice
Further Reading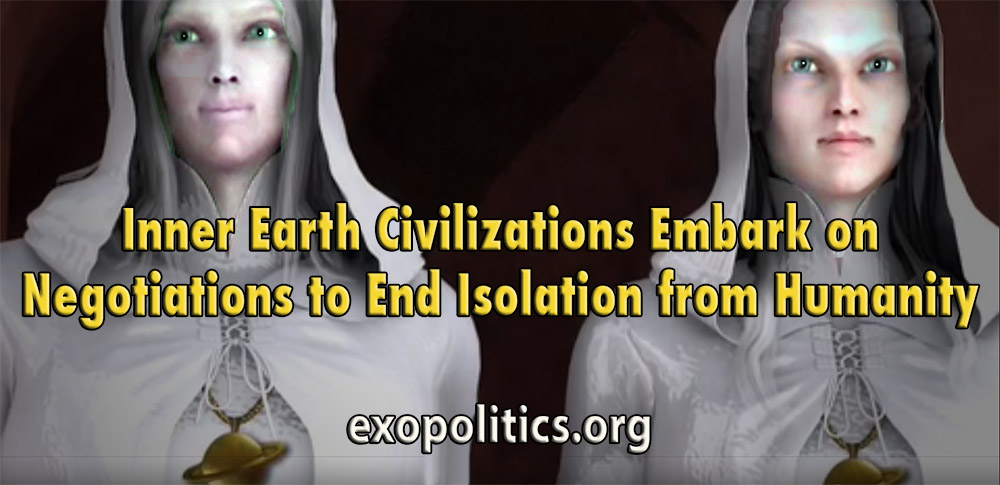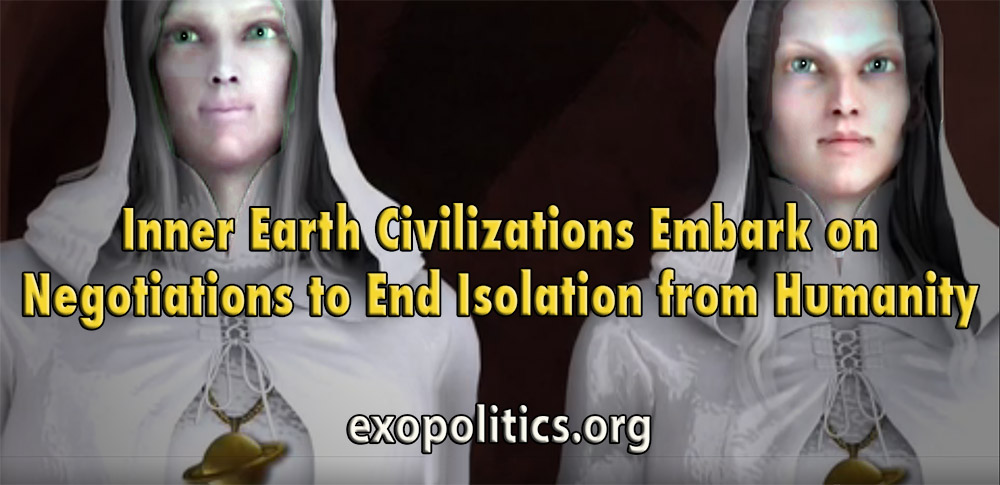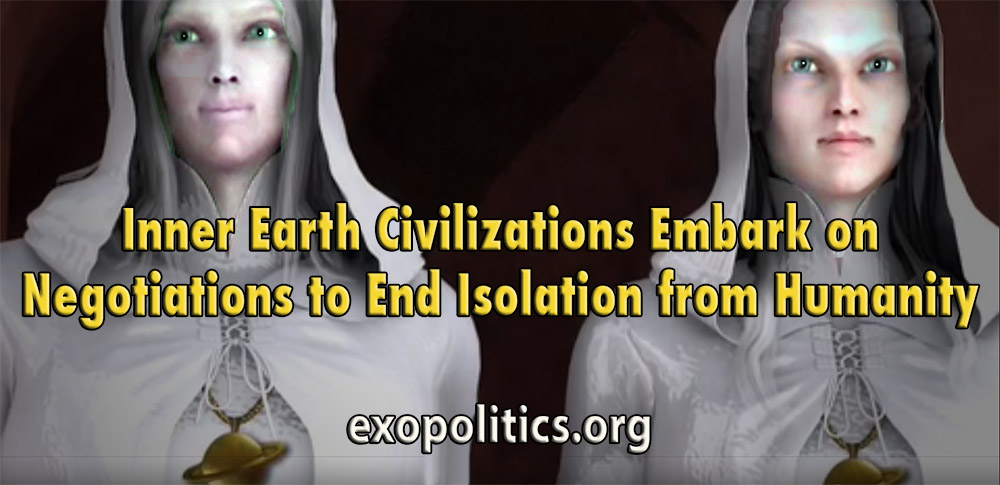 Hidden beneath the Earth's surface are the remnants of ancient human civilizations spanning back in time as much as 18 million years ago. While the Inner Earth people look human enough, they are genetically very different to surface humanity. In the January 12 episode of Cosmic Disclosure, Secret Space Program whistleblower, Corey Goode, elaborates on his earlier revelation that surface humanity is a hybrid mixture of the ancestors of Inner Earth humans, residing on the surface, and various extraterrestrials who visited over the course of millennia.
Back on September 23, 2015, Goode issued a detailed report of his participation in secret negotiations with representatives from an alliance of seven Inner Earth breakaway civilizations. In his report, Goode described the very long history of the Inner Earth people, and their relationship with surface humanity and visiting extraterrestrials.
The Inner Earth beings believe that they are the direct descendants of the "original earth human bloodlines," according to Goode. They developed a very peaceful global culture that used "ancient builder technologies" which were provided by a highly advanced extraterrestrial race called the "Guardians".
Eventually, they fled into the Earth's interior to escape four major catastrophes on the surface. They took the most advanced technologies and knowledge from their civilizations with them to preserve these into the future.
Over the succeeding millennia, the Inner Earth beings would occasionally interact with the survivors of the surface destructions to give them help in rebuilding their civilizations. In Goode's September report, he described how the Inner Earth humans would pretend to be gods or extraterrestrials to those on the surface in order to hide their true origin and location.
The Inner Earth beings have much knowledge about humanity's true history, and have observed the genetic manipulation being done to surface humans over extended periods of time by visiting extraterrestrials. These genetic alterations made people overly aggressive and easily exploitable by visiting extraterrestrials. The relationship between the Inner Earth beings and extraterrestrials, allied with surface human hybrid colonies, has at times descended into violent conflict, as Goode explained in both his September report and the January 12 Cosmic Disclosure episode.
Goode's claim here is supported by various historical texts that describe violent conflicts on the Earth's surface between different human civilizations and the various "gods" (extraterrestrials or Inner Earth beings) that supported one side or another.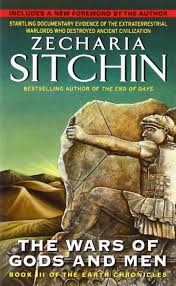 Zecharia Sitchin's book, The Wars of Gods and Men, described Sumerian records of these ancient conflicts. Similarly, the Mahabharata of Vedic India, describes wars between different gods and men.
Goode says that the Inner Earth humans have a political philosophy that is based on preserving their genetic purity which dictates separation from surface humanity. They have even maintained political isolation from each another because they descend from different ancient civilizations, some dating back hundreds of thousands of years, and others into the millions.
Until recently, the isolationist policy of the Inner Earth humans has worked. Change has come, however, with the development of advanced technologies by the Cabal/Illuminati and the Secret Space Programs, which now pose a direct threat to the Inner Earth humans.
This has led to the Inner Earth beings forming an unprecedented alliance between seven of their civilizations. In the January 12 episode of Cosmic Disclosure, Goode describes this alliance and his visit to the Inner Earth, which was also discussed in his September 2015 written report.
A key topic of discussion in the September 2015 meeting was future cooperation between the Inner Earth groups and the Secret Space Program Alliance. This would lead to future disclosures culminating in the announcement of the existence of the Inner Earth groups to the rest of humanity.

Most disturbing is Goode's admission that some of the Inner Earth groups have made and long maintained secret agreements with human elites (Cabal/Illuminati) on the Earth's surface. This has included agreements with German Secret Societies that has led to their development of a highly advanced secret space program in collaboration with the Nazi regime.
These Germans succeeded in establishing bases on the Moon, Mars and even interstellar travel during the 1940's, according to information Goode says he read from smart glass pads he had access to while working on Secret Space Programs.
Goode asserts that the agreements made with the Inner Earth humans were recently broken by the Cabal/Illuminati, whose power base was threatened when their most important ally, an extraterrestrial race called the Draconians, signaled their intent to abandon the Cabal/Illuminati.
In secret negotiations with a Space Program Alliance the Draconians' leader, Goode revealed that a White Royal Draco bargained for safe passage out of the solar system only for himself and his personal entourage. Desperation subsequently gripped the Cabal/Illuminati who sought ways to expand their territory below the Earth's surface, at the expense of the Inner Earth beings.
Goode explains why a highly advanced and powerful new group of extraterrestrial visitors, called the Sphere Being Alliance, are venerated by the Inner Earth beings who regard them as the "Guardians."
The Sphere Being Alliance have appointed Goode to be their main representative, while also working with another individual, Lt Col Gonzales (a pseudonym), who maintains a position in the Secret Space Program Alliance. Both Goode and Gonzales have allegedly participated in secret negotiations with the Inner Earth beings, aimed at convincing them to reveal themselves to all of us.
Goode is expected to release further reports soon about his encounter with the Inner Earth groups detailing their history and interactions with generations past and present on the surface.
If Goode's claims are accurate, then it would help us to understand much about ourselves. Perhaps surface humanity are indeed extraterrestrial hybrids bioengineered to be overly aggressive by succeeding alien visitors. Our Inner Earth brethren, however, may remind us of something dormant in each of us, something that we share in common as human beings, which strengthens our instinct and desire for peace.
Recorded history is a testament to humanity's overly aggressive and warlike behavior. If we are soon to openly meet with representatives from ancient Inner Earth human civilizations that carry with them the knowledge of a long forgotten peaceful global culture, then such a meeting is likely to be deeply transformative and cathartic.
© Michael E. Salla, Ph.D. Copyright Notice
[Update 1/13/16 –The article has been updated to clarify the issue of future disclosure of the Inner Earth Groups to surface humanity as Corey Goode explained in his Sept 2015 Report. ]
Further Reading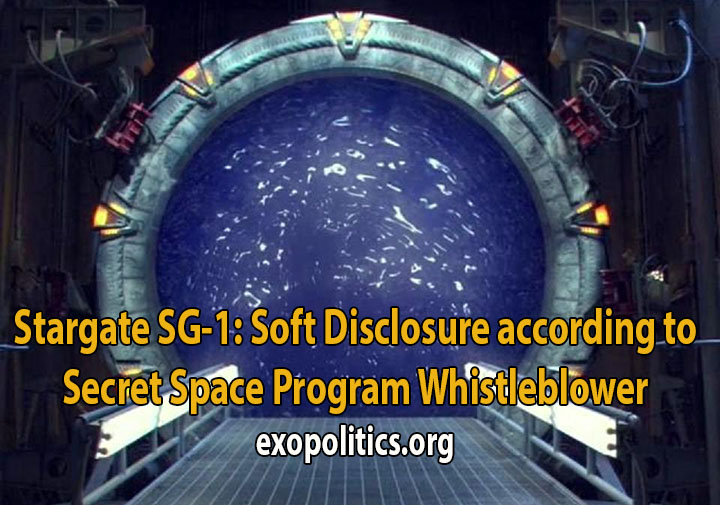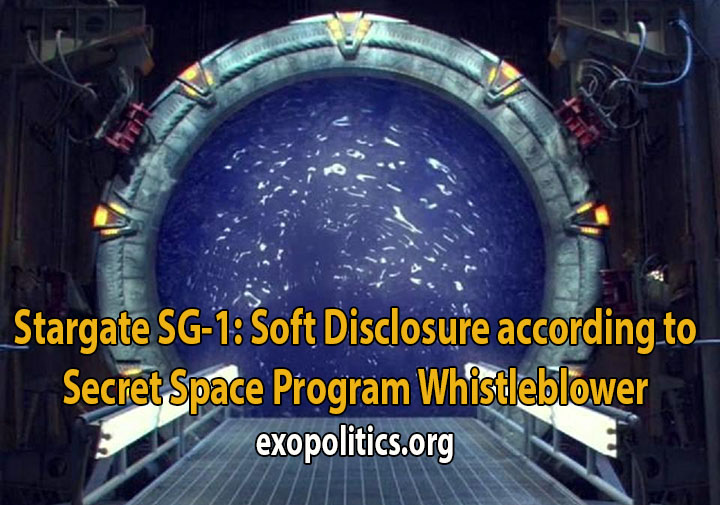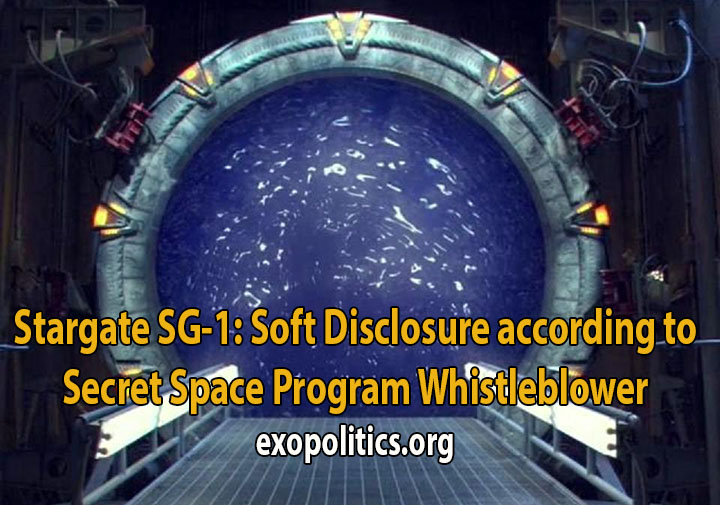 Could the highly popular television series Stargate SG-1 (aired 1997 to 2007) be more science than fiction? Secret space program whistleblower Corey Goode claims it is based on real-life advanced travel technologies found all over the planet, solar system and galaxy.

In the latest Cosmic Disclosure episode, "Portals: The Cosmic Web", Goode responds to questions posed by the host, David Wilcock, about various kinds of travel technologies used by ancient societies and extraterrestrial civilizations. Goode described the difference between various "portal" or "wormhole" technologies that either naturally occurred, or were built by a highly advanced ancient civilization not known even to current extraterrestrial visitors to Earth. This is virtually the same scenario depicted in the Stargate SG-1 series, where stargates are described as being built by a race of beings called "the Ancients."
Goode referred to technologies depicted in the Stargate SG-1 as a fairly accurate illustration of how ring-shaped ancient portals or "stargates" actually look and work. He said that the navigation system is similar to how the internet operates whereby numerical sequences are assigned for individual computers, networks, ISPs and countries. This is the basis for the IP (Internet Protocol) numbers, which are the backbone for navigating the World Wide Web. You can check the IP address of the device you are using to read this article here.
Similarly, Goode says that a series of numerical coordinates based on hyperdimensional mathematics designate different galaxies, solar systems, planets, etc., which becomes the address for a particular portal. This has similarities with the coordinate navigation system depicted in the original Stargate movie (1994) that was then incorporated into the Stargate SG-1 television series.
Goode is not alone in describing such a numerical address system. Wilcock pointed out that another secret space program whistleblower, Henry Deacon (aka Arthur Neumann), also claims that this is the navigation method used for portal travel. Deacon began publicly disclosing his information regarding portals/stargates back in a 2006 interview on Project Camelot.
Goode said that these ancient portals have been found all over the world, and these are highly sought after by covert teams from the U.S. and other countries. Another whistleblower, Dan Burisch, claims that he was part of a covert team that went into Iraq to find its portal technologies. Indeed, Deacon independently confirmed that a stargate had been discovered in Iraq. There was much circumstantial evidence supporting Burisch's and Deacon's claim that the real reason for the U.S. invasion of Iraq was to find ancient portal technologies, as I proposed back in 2003.
In an earlier episode of Cosmic Disclosure, Goode described the sun as a natural portal that is used by spacecraft to enter into or leave our solar system. Elaborating further, he said that solar filaments form torsion fields that create traversable wormholes for portal travel between suns in our galaxy.
The most startling aspect of Goode's testimony is that the natural and ancient portal systems form a "cosmic web" that spans the universe. By jumping from one portal location to another, one can travel incredible distances between galaxies, and across the universe. Goode's claim of a cosmic web of portals was also depicted in the Stargate SG-1 series.
The number of similarities between Goode's account of portal travel with what was depicted in the Stargate SG-1 series raises an intriguing possibility. Was the series part of a "soft disclosure" or "acclimation program" whereby the entertainment industry was used to prepare the public for the truth about portal travel?
It is very plausible that the producers of Stargate SG-1 were given the key ideas that would disclose the highly advanced science used for portal travel, using fiction as a cover. Many episodes of the series depicted how the "stargate/portal" technology was kept secret from the Earth's population, and the ethical problems this caused for USAF personnel.
One episode even featured the USAF's then serving Chief of Staff, General Michael Ryan, who appeared in the Cheyenne Mountain complex which housed the ancient stargate technology.
It is very unusual for a sitting member of the Joint Chiefs of Staff to do a cameo for television, let alone a science fiction show depicting his military service hiding advanced technologies from the public for national security reasons. This Stargate episode clearly implied that very senior officials in the USAF were in favor of "soft disclosure" through the entertainment industry.
There are many more parallels between the Stargate SG-1 series and Corey Goode's revelations about the portal travel system used in secret space programs. He has earlier described full disclosure as an event that will soon occur through massive document dumps. In this latest episode of Cosmic Disclosure, Goode reveals that the general public has been silently prepared for such an event by the "soft disclosure" offered by popular shows such as Stargate SG-1.
© Michael E. Salla, Ph.D. Copyright Notice
[Note: The first two episodes of Cosmic Disclosure are available for free on the Gaia TV website. The first episode is on Youtube. To watch the whole season of Cosmic Disclosure, you need to subscribe to Gaiam TV. If you subscribe using this link, then a portion of your monthly subscription will go towards supporting Corey Goode as he continues his disclosures. His website is here.]
[9/17/15 – Thanks to Chris Breck for providing a screenshot of the credits for Stargate SG-1]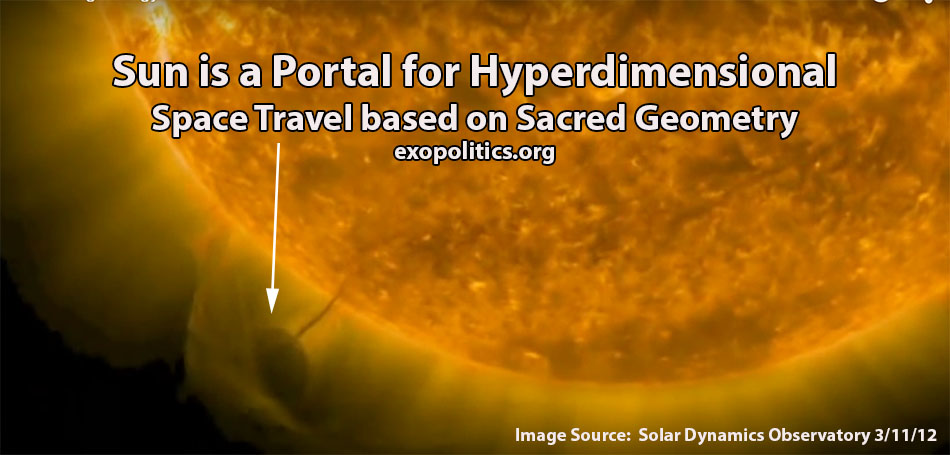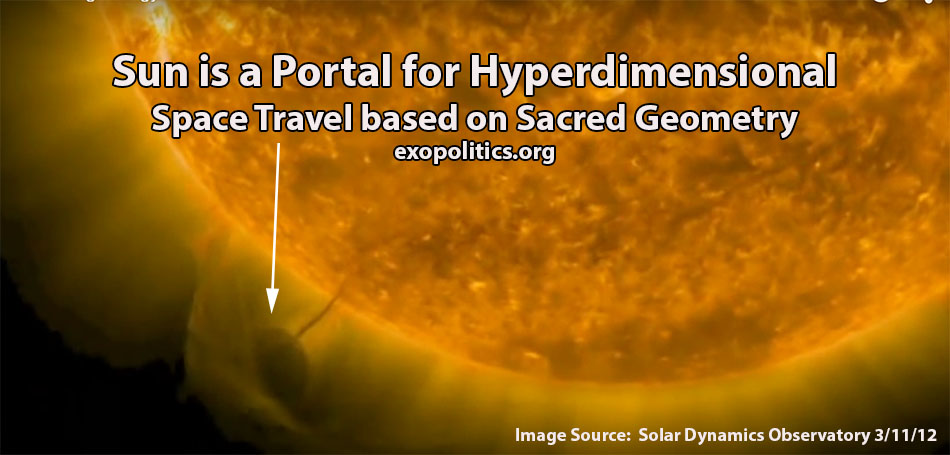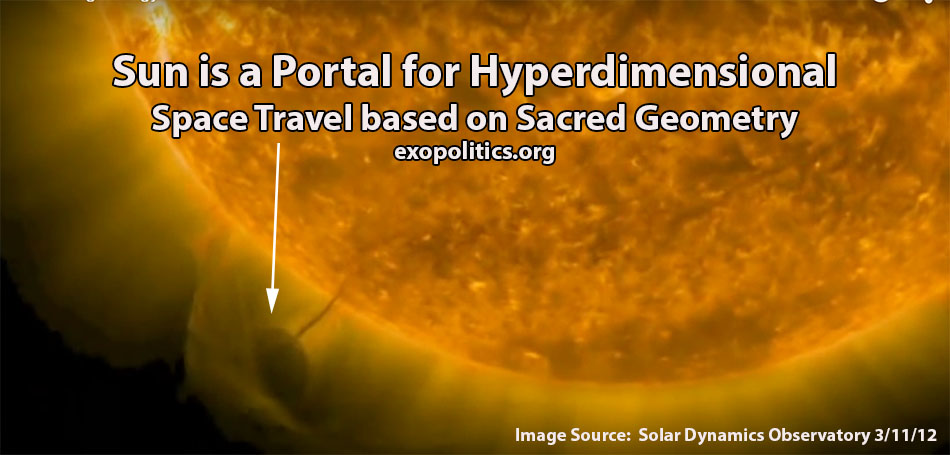 The sun is a portal for spacefaring civilizations using a form of hyperdimensional mathematics based on sacred geometry, according to the latest testimony from secret space program whistleblower Corey Goode. He says that while serving for six years on a scientific research vessel belonging to the Solar Warden Space Program, he witnessed probes being launched into sunspots to study the sun's composition and behavior.
What was discovered would shock the mainstream scientific community that believes the sun is a giant nuclear fusion generator. Instead, the sun was confirmed to be electrical in nature whose plasma outbursts acted as portals for space faring civilizations to move into and out of our solar system.
Goode's revelation was presented in today's episode of Cosmic Disclosure, where he is being interviewed on Gaiam TV by David Wilcock. Goode's revelation supports the electric universe model proposed by a number of alternative scientists that includes Wallace Thornhill and David Talbott, authors of The Electric Universe.
The "electric universe" model is an astronomical model in which the sun and planets are electrically charged celestial objects, which exist in an electric field that is generated by the sun in a radial direction (like the spokes on a bicycle wheel) throughout the solar system. Furthermore, the sun is part of a vast galactic scale electrical grid generated by the Galactic Center, again in a radial direction. Charges flow through these solar and galactic scale electric fields by virtue of the plasma particles that are constantly being released by the sun and the galactic core.
Plasma is the fourth state of matter (solid, liquid, and gas being the first three) and comprises free protons, neutrons, electrons and ions. Plasma is not electrically neutral, but is a superconductor that can carry electrical charges throughout the solar system, and into interstellar and intergalactic space.
According to Goode, probes launched into sunspots showed that these contained spiral plasma filaments (aka solar prominences) that stretched all the way from above the sun's surface to its core. This is contrary to mainstream scientific theory that claims solar prominences only loop from the surface through hundreds of thousands of miles of space.
Furthermore, the solar core is made up of metals such as magnesium and sodium, rather than hydrogen and helium gas that mainstream scientists believe power the nuclear fusion process.
Most remarkable is Goode's claims that the Solar Warden program confirmed that under the right conditions, these solar filaments could be used as stargates or portals whereby extraterrestrial civilizations can enter or leave our solar system. Goode described this solar stargate system as similar to a vast cosmic web that interconnects all suns and galaxies, making it possible to travel vast interstellar and intergalactic distances.
If he is correct, this suggests that among the many thousands of objects identified by observers leaving or entering the sun, according to images extracted from Solar & Heliospheric Observatory and other solar space observatories, some were not merely camera anomalies, but were interstellar space craft. A good example is a large spherical UFO connected to a solar filament observed by the Solar Dynamics Observatory leaving the sun's vicinity on March 11, 2012.
Goode went on to reveal that there is a hyperdimensional mathematical model that links all the suns in our galaxy, which was given to the Solar Warden program by extraterrestrials. He said that this mathematical model uses geometrical patterns similar to the Platonic solids for navigation purposes. Goode's discussion with Wilcock on sacred geometry and how it is fundamental to hyperdimensional space travel is well worth watching.
Goode also discusses "nodes" (natural portals) found all over the world, such as in the Bermuda Triangle, that open and close unpredictably. When activated, these nodes can transport ships and aircraft caught within them through hyperdimensional space to anywhere in the galaxy.
Goode's discussion of the nature of time and consciousness, as it is understood in covert space programs, is eye-opening. It raises the possibility that individuals and collectives can redefine how they experience time. This episode of Cosmic Disclosure is another powerful glimpse into the secret world of space programs, and the mind boggling knowledge and technologies they possess.
© Michael E. Salla, Ph.D. Copyright Notice
[Note: The first two episodes of Cosmic Disclosure are available for free on the Gaia TV website. The first episode is on Youtube. To watch the whole season of Cosmic Disclosure, you need to subscribe to Gaiam TV. If you subscribe using this link, then a portion of your monthly subscription will go towards supporting Corey Goode as he continues his disclosures. His website is here.]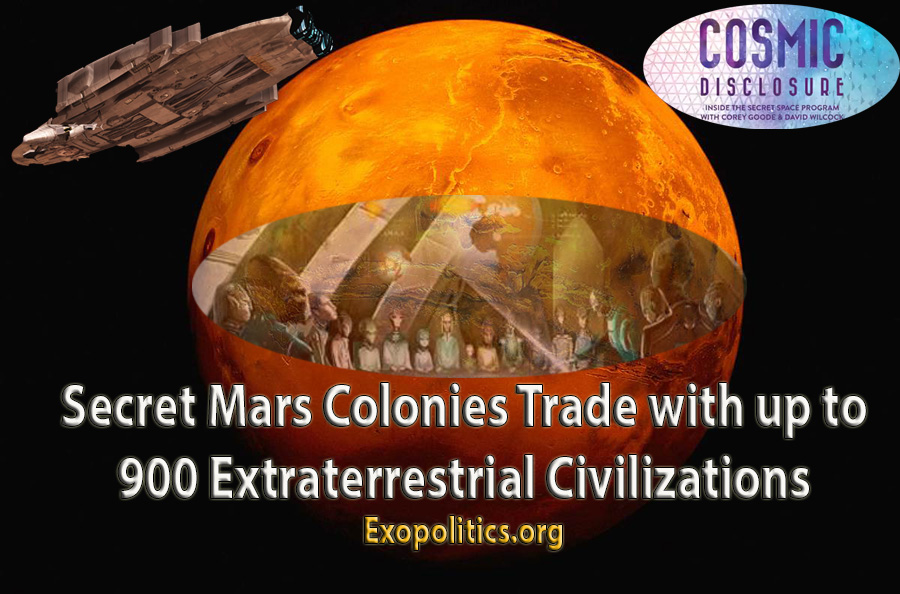 An inspection tour of a secret Mars colony that took place less than two months ago, on June 20, is the focus of episode seven of Gaia TV's Cosmic Disclosure. Secret space program whistleblower, Corey Goode, had earlier released a detailed report of the incident on June 22. In the Cosmic Disclosure interview with David Wilcock, Goode summarizes key aspects of the tour, as well as giving more details about the alleged trading conducted by a secret space program, the Interplanetary Corporate Conglomerate, with up to 900 extraterrestrial civilizations.
Upon arrival at the base located in Mars' southern hemisphere, Goode described seeing a parked dart-shaped space vehicle that belonged to the Interplanetary Corporate Conglomerate (ICC). Goode claims that these vehicles are among the most advanced spacecraft produced by the ICC Space Program. One of the dart-shaped vehicles had been captured by the NASA live stream of the International Space Station. It was docked with the Space Station and the incident has still not been satisfactorily explained by NASA. Goode says that such incidents are staged by a "Secret Space Program Alliance" to help prepare Earth's population for the major disclosures that lie ahead.
Goode also described the underground rail system that used vitrified rock for the walls of the tunnels that criss-crossed between the facilities all across Mars. He described the tunnels as looking like ripple-like glass. Wilcock explained how classified tunnel boring equipment has to pause periodically to create reinforced ring sections, which give the tunnels the rippled look. Underground bases researcher, Richard Sauder, has described how such advanced tunneling equipment works:
Nuclear subterrenes work by melting their way through the rock and soil, actually vitrifying it as they go, and leaving a neat, solidly glass-lined tunnel behind them. The heat is supplied by a compact nuclear reactor that circulates liquid lithium from the reactor core to the tunnel face, where it melts the rock. In the process of melting the rock the lithium loses some of its heat. It is then circulated back along the exterior of the tunneling machine to help cool the vitrified rock as the tunneling machine forces its way forward. The cooled lithium then circulates back to the reactor where the whole cycle starts over. In this way the nuclear subterrene slices through the rock like a nuclear powered, 2,000 degree Fahrenheit (1,100 Celsius) earthworm, boring its way deep underground.
Glass-like tubes have been photographed by NASA's Mars Global Surveyor orbiter, which has led to speculation that they were tunnels of some kind, built by giant worms or some other method. Goode's experiences at the Mars facility makes clear that these glass-like tubes are in fact part of a secret Mars-wide rail transportation network.
One of the most astounding aspects of the inspection tour is the claim that the Interplanetary Corporate Conglomerate (ICC) trades with at least 900 different extraterrestrial civilizations. Goode and Lt Col Gonzales (a pseudonym used by another eyewitness yet to reveal himself) were shown an optical neurological device that was designed to interface with technologies that was very popular on spacecraft. Goode expressed his surprise at how far the ICC has gone in developing advanced technologies that were being requested by a number of extraterrestrial civilizations. Goode's surprise is something that many in the general public are very likely to share upon learning the truth about the different secret space programs, and their interactions with up to 900 extraterrestrial civilizations.
What is especially helpful for those investigating Goode's credibility is being able to compare his recollection of the Mars inspection tour in the Cosmic Disclosure interview, and the report he wrote on June 22. Comparing testimonies is a very familiar technique used by investigators wanting to confirm whether a person is lying or not. That's why police investigators will get witnesses to repeat their recollections again and again. What is especially significant here is that writing and speaking utilize different hemispheres of the brain. While Goode's written report uses more of his analytical left brain functions, the verbal report uses the more intuitive right brain functions. If he was lying or fabricating his story in any way, there would be inconsistencies. I found, however, no inconsistency between the earlier written report and Goode's verbal recollection of the Mars inspection tour. Goode's narration of the incident appears to be a sincere recollection of experiences that genuinely occurred, rather than trying to recall something that had been contrived.
Goode briefly touches upon a number of other issues in his Cosmic Disclosure interview regarding stasis-being giants who were mistakenly thought by global elites (Cabal/Illuminati) to be their returning gods. In addition, he gives more details about NSA documents that were taken by Edward Snowden that have finally been decrypted, and will soon be released in a massive document dump. This is an episode of Cosmic Disclosure that you really don't want to miss!
© Michael E. Salla, Ph.D. Copyright Notice
[Note: The first two episodes of Cosmic Disclosure are available for free on the Gaia TV website. The first episode is on Youtube.  To watch the whole season of Cosmic Disclosure, you need to subscribe to Gaiam TV. If you subscribe using this link, then a portion of your monthly subscription will go towards supporting Corey Goode as he continues his disclosures. His  website is here.]