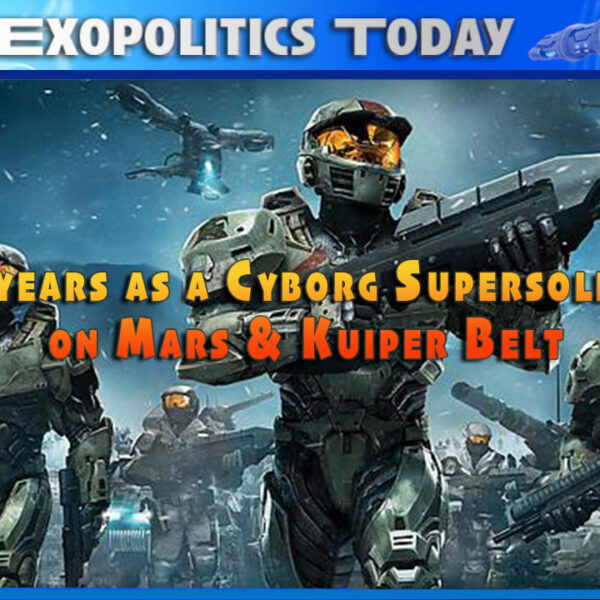 Rebecca Rose claims to have served for 20 years as a cyborg supersoldier first on Mars and later in the outer reaches of our solar system, where she was based on a Kuiper Belt facility run by Draco Reptilians. While Germans associated with the Dark Fleet often visited the Draco run facility, Rebecca says the Germans were little more than minor players in space events occurring in the Kuiper Belt and beyond that were being controlled by the Dracos.
Rebecca shared a number of official documents showing her father's service with both the US Army and Navy, and also in a corporate run classified aerospace program. She believes his involvement in classified aerospace programs was a major factor in her identification and recruitment into a 20 and back service from 1982 to 2002.
Rebecca says she was first taken to the Moon by Gray extraterrestrials as a four year old where she was subjected to many egregious experiments as part of her 'training', which including repeated use of jumpgates between the Moon and Montauk, Long Island. Her participation in the Montauk Project began in 1978 and involved acclimating her biology to jumpgate technology.
In her first interview on Exopolitics Today, Rebecca explains the sequence of events that led to her recruitment, trips to the Moon, Mars, and Kuiper Belt, and how she is regaining memories of her time as a cyborg supersoldier performing psychic reconnaissance and warfare.
Interview available on Rumble, YouTube & Odysee

Audio Podcast on Apple, Spotify, or Google
Rebecca Rose's website is Rebeccarosebarfoot.com
Her YouTube Channel is here.

Related Articles/Interviews
---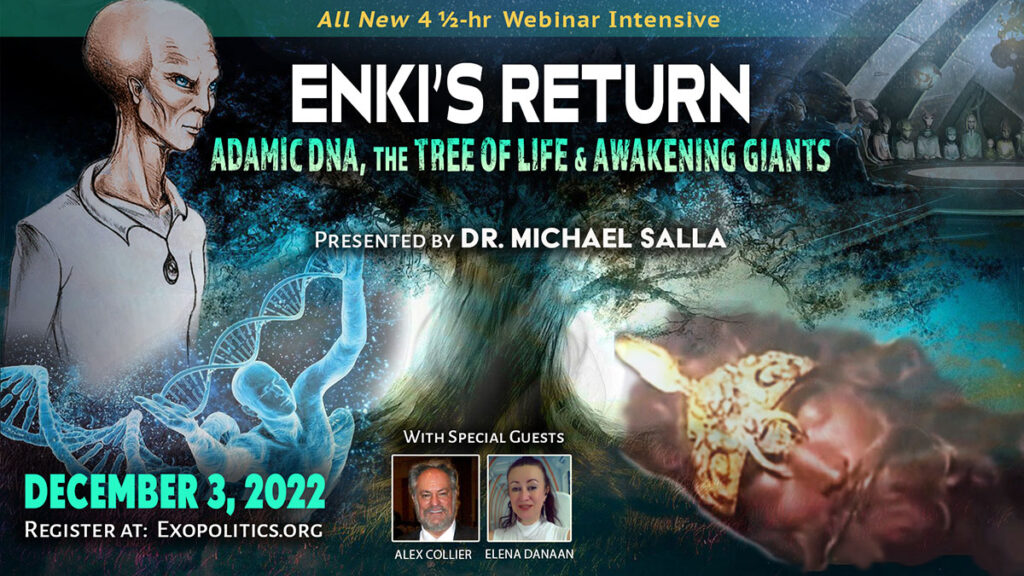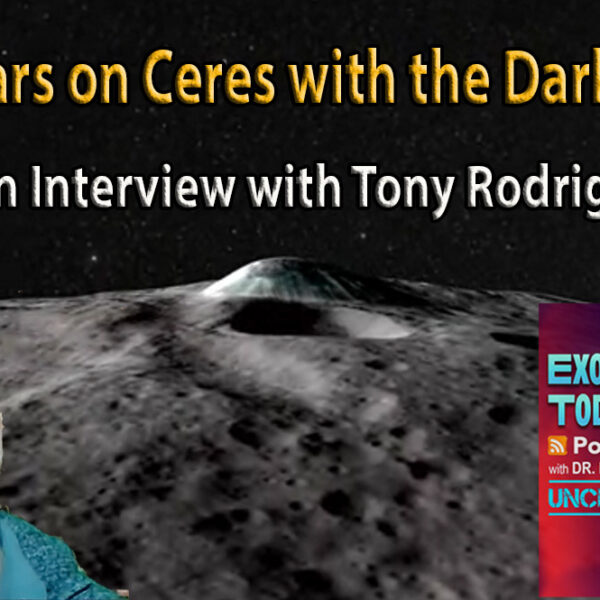 In this Exopolitics Today interview, Tony Rodrigues discusses the 20 years he spent as a slave which included 13 years working on a cargo space vessel based out of the Dark Fleet Ceres Colony. Tony begins by discussing his time in Peru and Seattle, Washington where he was exploited as a psychic and them as a sex slave before being "sold off" to the Dark Fleet. He discusses regular visits to Antarctica which was considered "High Command" by Dark Fleet personnel. He also describes routine visits to the US Navy facility at Diego Garcia where supplies were picked up for Dark Fleet operations. Tony has just released an autobiographical book account of his "20 and back" as a slave used by the Cabal and Dark Fleet.
Premieres Today at 8 am PST / 11 am EST on YouTube & Rumble
Audio Podcast for Apple, Google, Anchor & Spotify available here
Tony Rodrigues book, Ceres Colony Cavalier, is available on Amazon . His website is here.

Earlier Interviews with Tony Rodrigues

---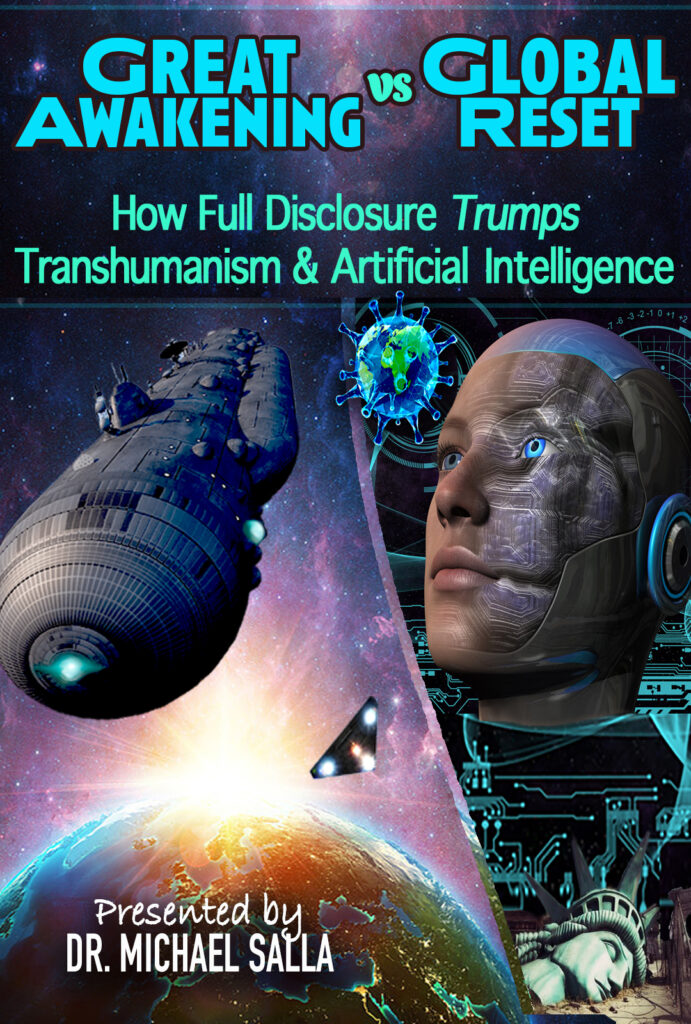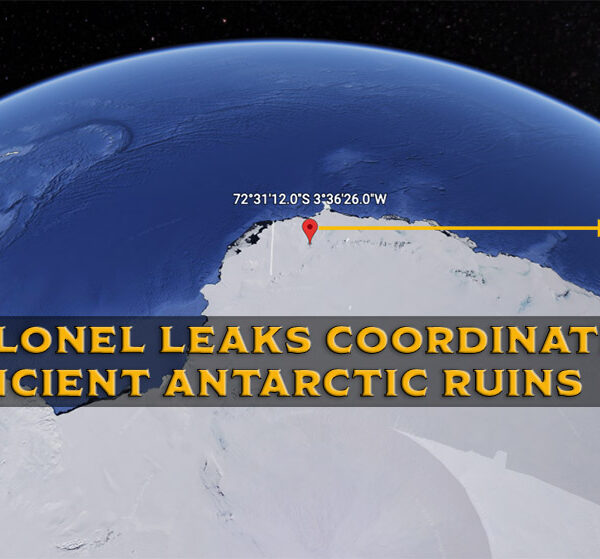 On December 26, 2021, my US Army source, JP, was given a set of geographical coordinates from an unnamed Lt Colonel (USAF) who simply told him to publicly release them. JP had seen the officer at a classified briefing he attended at a military base where he is currently stationed, where he was told about ancient ruins being found on Antarctica, the Moon, Mars, and elsewhere in our solar system.
These were being investigated in joint missions with various Earth nations, including China. JP participated in the Moon mission, which I covered in my previous interview with him, and in an earlier joint mission to Ganymede.
The coordinates given to JP (72°31'12″S 3°36'26″W) appear to show a large building complex located about 150 miles (240 km) from the Antarctic coastline in Queen Maud Land. This is an area that was claimed by Hitler's Third Reich and where an Antarctic Colony, Base 211, was secretly established during World War 2.
The ruins are in an elevated area that is ice-free and appears to have a runway or very long hangars from which aerospace vehicles can take off and land.
It's important to point out that the ruins are many miles away from the two nearby Norwegian bases Troll (72°00′42″S 2°32′06″E) and Tor (71°53′22″S 5°09′34″E). These are the two closest Antarctic research stations to the coordinates given to JP, which shows the structure nearly 8 degrees to the west of Troll, with similar latitude. I've marked the approximate location of the structure in relation to Antarctic Research Stations in the following graphic.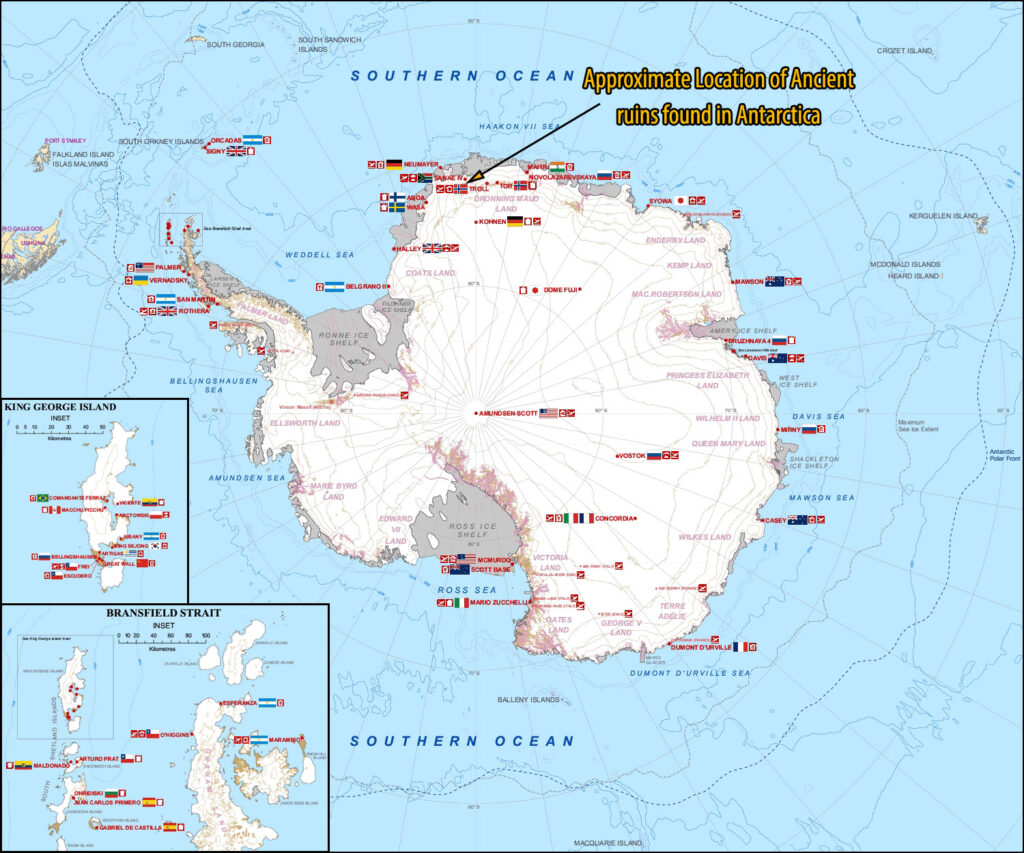 According to JP, the US military is working inside several buildings at the ruins, one of which contains a 'stargate' or a 'portal' that enables instantaneous travel in our solar system. This is JP's skype message to me about the ruins:
These are the ruins where everybody meets up. He is one of the officers.  I only saw him once in the rooms that we do the meetings. Came up to me and said to share the information.   He works in the building where the gates are that takes you to different places in our solar system. [12/26/2021].
Significantly, the USAF Lt Col is said to work in the building where the portal/gate is located. An estimate of the ruin's size, using Google Earth, is roughly 2500 feet (about 830 meters).
JP created a video that shows the structure on Google Earth for the coordinates he was given and compares its size to Machu Picchu (JP's video starts at 3:08 in the audio version of this article).
The location of the ruins suggests that it was found and previously used by the German SSP (Dark Fleet) and was off-limits to the US military. This would have been especially the case if it housed a portal enabling instantaneous travel in our solar system and beyond.
It is possible that the ruins were recently handed over to the US military by China. In previous articles I have examined claims that the German Dark Fleet recently had to evacuate Antarctica due to intervention by an Earth Alliance working with friendly extraterrestrial organizations: the Galactic Federation of Worlds. The Dark Fleet facilities were reportedly handed over to China, which quickly handed them over to US Space Command with the provision that joint scientific research would be conducted at these, as stipulated in agreements reached in July above Jupiter, which I discussed here.
Critics may point to the apparent ruins as merely pixelation due to the low resolution images from the US Geological Survey that Google Earth used for creating the aerial overview. A close examination of the image in comparison to other nearby areas suggests that the object is not due to image pixelation. On Google Earth Pro, a historical review of the coordinates sent by JP show that this is the first time the structure has shown up.
An official graphic from AntarcticGlaciers.org shows that the ice sheet is less than 500 meters thick in the region where the ruins are located. Its location at an elevated ice-free area makes it quite suitable as an airbase that was used by its former occupants—Germans, extraterrestrials, or an ancient civilization.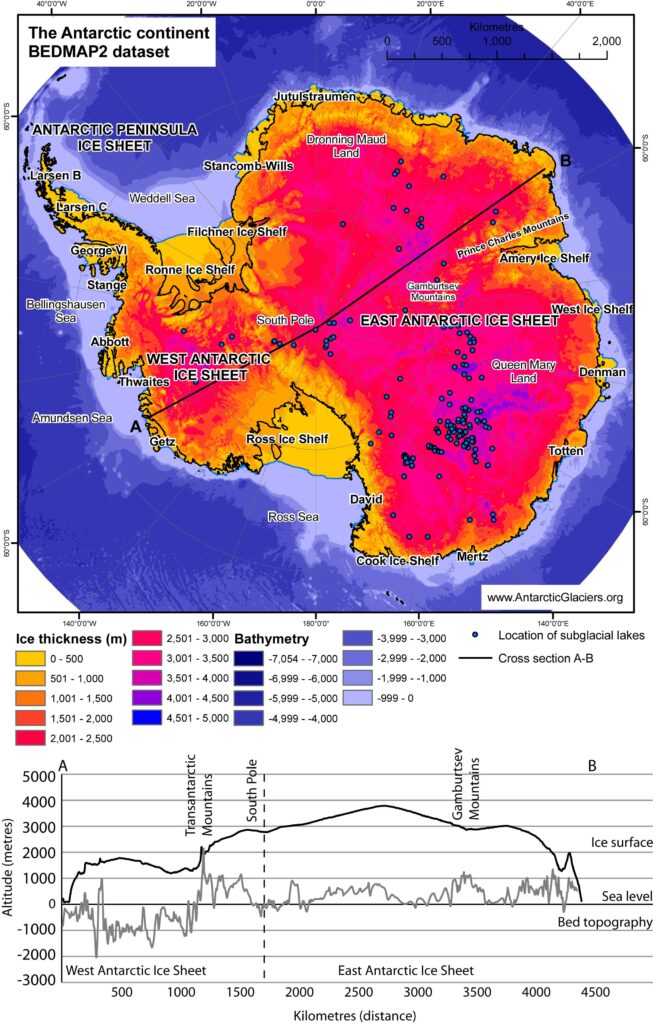 Some may wonder why JP was given the coordinates of these ancient ruins by the USAF officer and told to release it publicly. It is important to point out that in 2017, Air Force operatives, on several occasions, instructed JP on where to look up to the sky to take photographs of flying triangles and rectangles in the vicinity of MacDill Air Force Base. The photos and related articles are available here, here, and more here.
I have high confidence in JP's reliability as a witness and as a conduit of information releases tacitly approved by senior military officials. This leads me to conclude that the structure found in the Google Earth images may well be ancient Antarctic ruins, significantly larger than those found at Machu Pichu, which was previously used by the German Dark Fleet and is now under the control of an Earth Alliance led by US Space Command.
A video version of this article is available on YouTube & Rumble
© Michael E. Salla, Ph.D. Copyright Notice
[Note: on the evening of Dec 31, 2021, JP informed me that he is currently facing disciplinary measures for releasing information about the classified Moon mission into the public arena. There are those in his direct military chain of command that assert the information was not supposed to be publicly released and want to punish him. Despite JP getting into trouble for his releases, and having to do "unpleasant jobs" as punishment, he intends to continue to reveal information, but emphasizes the need for his continued anonymity. He says that he is being protected by a lot of "white hats" that want the information to come out. JP explained to his chain of command that the coordinates given to him about Antarctica are about to be released. He was told by white hats that it was OK to do so. Nevertheless, he will still face disciplinary action for continuing to release this information.]
Related Articles/Podcasts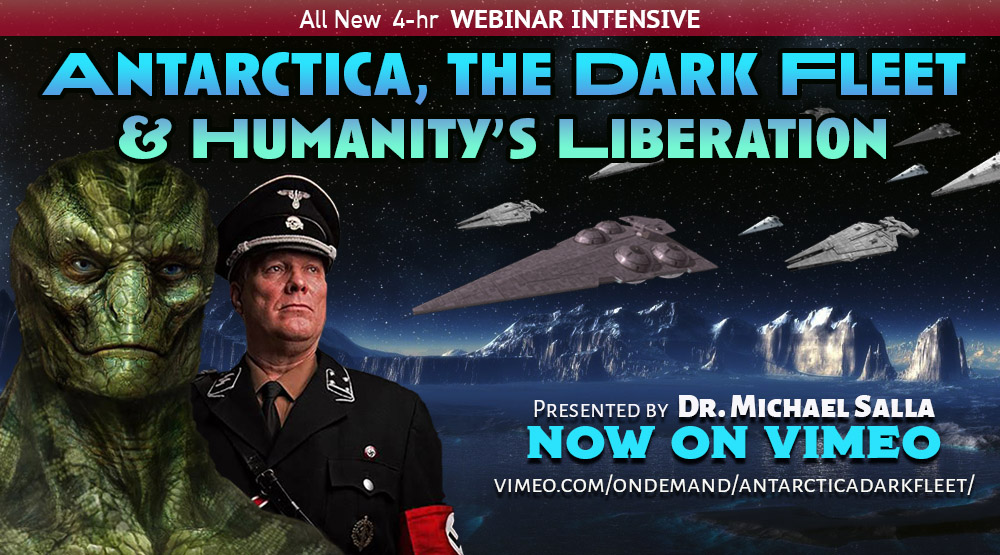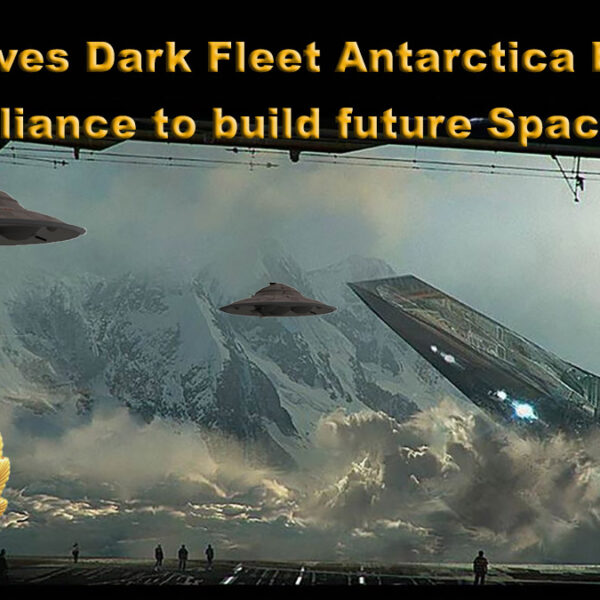 On September 24, I received a new update about recent developments in Antarctica concerning former Dark Fleet bases taken over by China, and how these were being turned over to the Earth Alliance as a result of the Jupiter Agreements. The update was released by Val Nek, from the Galactic Federation of Worlds, through Megan Rose who again relayed the information.
After receiving the report, I asked a series of questions which were relayed back to Val Nek. I received his answers on September 25, and immediately began experiencing severe computer hacking. The cursor on my computer would move independently and I could not use the programs necessary for creating articles and videos despite activating my McAffee anti-virus program, and twice rebooting my computer.
Thankfully, after an hour or two, the problem disappeared. I suspect my computer was hacked and its functions restored after a third party intervened. The incident was a reminder of the importance of the information I was receiving and the need to release it publicly as quickly as possible. Without further ado, here is what Val Nek [VN] reported on Sept 24.
VN: I am happy to report that with many successful missions that the bases in Antarctica are cleared and in control of the [Earth] Alliance. The Alliance has worked alongside members of the Federation to clear the Dark Fleet and its allies from its numerous bases. This is not new information but rather relevant to agreements made with China, what you have called the Artemis Accords.
While China is not currently a party to the Artemis Accords, these are the foundation of the multinational alliance that has been created around the US as the hub. Both China and Russia at first opposed the Accords, but after their popularity led to the Galactic Federation choosing the US as the leader of the 14 spacefaring nations and aerospace corporations present at the July Jupiter meetings, China had to consequently shift its position. This was necessary if China was to receive any advanced aerospace technologies from the Federation, after the Draconian Empire (Ciakharr) and Orion Alliance (Tall Grays) had to leave our Solar System, developments which were covered in previous articles.
China's compliance with the Jupiter Agreements as a condition for receiving new aerospace defense technologies is directly addressed by Val Nek:
As I have previously mentioned, China had limited access to the new space station and other zones as outlined in the Jupiter Agreements. Part of the reason for limited access was also their interest in taking control of the Dark Fleet bases and expanding their space program in this area. As many know, this area has been used by the Dark Fleet and the Ciakahrr Empire for human experimentation, technological manufacturing and also human trafficking.
Val Nek described in an earlier update publicly released on September 8, that a number of planetary defense outposts were being built for global security and surveillance purposes. These defense outposts (large space stations) would use advanced cloaking technologies, and control an impenetrable shield preventing the Draconians and Orions from future infiltration using interdimensional portal technologies.
The Federation was helping the Earth Alliance build the necessary defense technologies in Earth Orbit and on the Moon, to deal with a potential return of our former planetary overlords. If China was to benefit from the defense technologies being shared by the Federation, it was obliged to cooperate, especially when it came to the former Dark Fleet bases in Antarctica that had been used for nefarious purposes.
Val Nek continued:
Our agreements with them [China] were very strict, they must agree to relinquish control of certain areas of these bases and they will have access to the stations built by the Alliance and the corporations. This is important as the Federation's goal is to unify the space programs and countries so that they work together for the good of humanity and one day join membership in the Federation. It is important to note that once a planet or species joins the Federation, they are obligated to work for peace and balance in the universe and are no longer a threat to the rest of the galaxy. China agreed to these terms and is now working alongside the Alliance.
These cooperative principles are fully described in the Galactic Federation's Prime Directive, which was released on September 6, by Val Nek's colleague Thor Han to Elena Danaan. Surprisingly, I found that the fictional Prime Directive developed in the Star Trek series and released in text form in a 1986 book, The Federation, was based on the real Prime Directive that was later released by Thor Han. According to Thor Han, the book authors, Bernard Menke and Rick Stuart, and/or Gene Roddenberry had been given the real Prime Directive.
My analysis of the two prime directives showed they derived from the same source, as explained in an extract from my September 9 Webinar, Our Star Trek Future. The comparison is available on YouTube & Rumble.
Analysis of the Federation's Prime Directive makes clear why China is obliged to cooperate with the US led Earth Alliance if it is to receive advanced defense technologies from the Federation. This led to the handover of Antarctica's former Dark Fleet bases, as Val Nek explains:
I know Dr. Salla will find it very interesting as to what we are using these bases for. I can report that some of the manufacturing for the star fleet will take place here. As your planet and its governments have proven to be very complicated and interesting, it was also necessary for China to agree to our terms due to its availability of certain supplies. To my knowledge, there is much production of many supplies, that are shipped from this country all over Terra. This has proven to also be the case with building the star fleet.
China is working with the Alliance to manufacture these materials and supplies. Much of the human work force from the Dark Fleet have also [been] opted to be employed by these programs in the interest of keeping their jobs. Our ships, the technology to build these ships, is also readily available in Antarctica, which makes it a feasible place to start production of these materials. This is good news and we continue to move forward.
It is now clear that one of the inducements that led to China agreeing to join the US led Earth Alliance was that it would play a key role in building the future planetary defense technologies out of Antarctica bases that were previously owned by the Dark Fleet. China's recent history of becoming the world's manufacturing hub for consumer products, made it a logical choice to do the same in the secretive world of advanced spacecraft construction.
As I discuss in my 2020 book, Rise of the Red Dragon: Origins and Threat of China's Secret Space Program, China has been secretly building large exotically propelled spacecraft in remote locations in order to one day challenge US space dominance.
I asked Val Nek five questions about his update and what follows are his responses.
1 Does he know what happened to the slaves, workers, etc., at the Antarctica bases once the Dark Fleet and Ciakharr left? How many people were involved, thousands, tens of thousands, etc.?
VN: The exact number I cannot say. It was in the tens of thousands, this includes the slaves but also workers as well. Most, if not all, the slaves had been experimented on. This also includes humans, but hybridized species of humans as well. Like the super soldiers from Mars, these people are being cared for by the Alliance in medical facilities. I can also say that hybrids or humans, most have undergone a great deal of mind control, with implants placed in the cerebral cortex. This requires the Federation to assist the Alliance in deactivating the implant and assimilating the brain to its original function. 
The hybrids, of course, require the Federation to intervene since they carry genomes that are unknown to the Terran military and therefore providing medical treatment would not be appropriate. The Alliance and the Federation have the ability to transport medical treatments to these bases to give them proper treatment. What your people call med beds, is the technology, or very similar technology, that is being used. The workers have been given new employment options with the Alliance in these areas. Their help is useful in explaining the facilities and how they operate in some cases. Of course, these people are employed personnel and are not elite workers who directly reported to the Dark Fleet.
In an earlier article, I described some of the human rights abuses that were occurring at these Dark Fleet and Corporate run Antarctica bases. The scale of the human suffering that occurred was massive, but to date no one has been brought to justice for these crimes. Thankfully those victims that survived are being taken care of in Federation facilities.
The Q and A continued:
Can Val Nek say how many Dark Fleet bases were taken over by the Chinese and their approximate locations, e.g., Queen Maud Land, West Antarctica, etc.?
VN: This information I am not at liberty to disclose completely…. I can say between 3-5 bases were handed over to the Alliance and their respective locations I cannot say, but you are welcome to speculate. When we are able to disclose the purpose for these bases, if the time comes, it may help your inquisition.
It's worth separating these three to five former Dark Fleet bases, to the six large industrial bases used by a corporate consortium that built interstellar craft for the Dark Fleet, which Corey Goode said he witnessed back in January 2016 during a visit to Antarctica. The latter are still in the possession of the corporations, which will now play a role in building interstellar capable spacecraft for the Earth Alliance as a later response by Val Nek confirms.
My Q & A with Val Nek continues:
Val Nek referred to certain parts of these former Dark Fleet bases first handed off to China, have now been turned over the Earth Alliance as required by the Jupiter Agreements. Does that mean China still controls other sections of the bases where it can do what it likes under certain limitations?
VN: China does not have complete control over any bases at this time. The agreements are written as such. The goal of the Federation is to ensure that the countries work together and are organized in how they approach their respective space programs. China was reluctant, at first, to relinquish control, as I mentioned previously, they had many self interests. While the United States was chosen to be the leader of these countries and their programs….they are exactly that, leading the space fleet with the intention of unity and peace between the countries of Terra.
China originally claimed some bases in Antarctica, through no legal agreements, and quickly handed them over after the Jupiter Agreements. Many of your countries use their military assets against each other, for land and conquest. The Federation has found this way of doing [things] very interesting, considering the much more hostile threats to planet Terra in the galaxy. We are making change and progress together, moving forward as one planet.
Clearly, Val Nek was referring to the respective leaders of the Earth Alliance being made to recognize the overall strategic situation concerning Earth in the wider Galaxy, and that there was no real alternative to international cooperation to dealing with potential future threats, despite significant political, cultural and economic differences between Earth's major nations.
The next question addressed the fate of corporate bases in Antarctica used to build the Dark Fleet's interstellar craft:
The Dark Fleet worked very closely with a Corporate Consortium that was building many of the large starships for the Dark Fleet. Has this Corporate Conglomerate handed over their facilities to other companies/Earth Alliance, or have they realigned themselves to now build spacecraft for the Earth Alliance?
([Megan Rose] Val Nek is amused by this question)
VN: I cannot disclose this information in the interest of Megan's safety and ongoing operations.
My speculation here is that the corporate consortium (aka Interplanetary Corporate Conglomerate) that built the Dark Fleet, is now using the same facilities to build interstellar craft for the Earth Alliance. After all, corporations are driven by the profit motive and can quickly adapt to the needs of new customers and new conditions. Presumably, the corporate executives implicated in the use of slave labor, genetic experiments or other abuses that occurred when Dark Fleet vessels were being built have been retired and/or brought to justice for their complicity in such crimes. This is a very sensitive issue and it's understandable why Val Nek was hesitant to provide more details for Megan's safety.
My final question and Val Nek's response follows:
To understand the big picture, the mass production of antigravity and advanced health technologies is now happening on the Moon and Antarctica and is to be distributed by the Earth Alliance. Similar facilities on Mars have been destroyed or taken over by the Indigenous Martians while similar ship building facilities on Ceres have been left for its residents to use as they wish. Is there a timetable for when the advanced technologies being mass produced on the Moon and Antarctica will be released to the rest of humanity?
VN: Yes indeed, the indigenous Martians are in the process of taking back control of their planet, the same as planet Terra. I cannot give an exact timetable, as it depends on the corporations and their manufacturing speed, among a few other variables. We have a goal in mind of course, as I have mentioned previously, the corporations chosen have the infrastructure to meet our time requirements and demands. I have also stated previously that there is a time constraint and we wish to accomplish these projects relatively quickly. I can say that most with a logical perspective, considering how large this operation is, would be pleased with the time constraints and goals that we have put in place.
We know from a September 7 update from Val Nek, that the space fleets (Starfleet) being built on the Moon—and now also in Antarctica—combine both indigenous Earth and Galactic Federation defense technologies. Without knowing too much about the classified construction technologies being used on the Moon and Antarctica to build an entirely new generation of spacecraft for the Earth Alliance, we can get an idea of the timeline from estimates of how long it takes to build new generations of nuclear-powered submarines and aircraft carriers.
Recently, Australia reached agreements with the US and the UK to build a new fleet of nuclear powered submarines as part of the new AUKUS Alliance, thereby greatly upsetting France, which was going to build a conventional diesel powered submarine fleet for Australia instead. Production of the first Australian nuclear submarines is expected to take the rest of this decade to complete.
I believe the nuclear submarine building project is a cover for Australia participating in the massive starship construction process that the Earth Alliance has begun. The timetables for the respective launches of Australia's nuclear submarines and the Earth Alliance's "Starfleet" are likely to be similar. This is not accidental. Australia is a vast continent and it would not be surprising if remote locations were to be used to complement what was secretly being built on the Moon and under the ice shelves of Antarctica.
It's also worth pointing out that secret space program insider William Tompkins said that the next generation of Solar Warden space carriers would be ready for deployment in the early 2030s. All this gives us an idea for estimating how long it will take to build new fleets of spacecraft for the Earth Alliance.
However, it can be expected that advanced medical technologies—currently being mass produced on the Moon as discussed in a prior update by Val Nek—can be released much earlier than the completion of the Earth Alliance's future Starfleet. Doing so, would predictably increase public support for the massive spacecraft construction secretly underway on the Moon, Antarctica, and perhaps Australia as well.
I wish to thank Megan Rose for relaying Val Nek's update and answers to my questions. Her website is MeganRoseMedium.com
Note: On October 9, I will hold my final webinar for 2021 on the topic of "Galactic Federations, Councils & Secret Space Programs." The Webinar will conclude with a special panel featuring Megan Rose, Elena Danaan, and myself.
© Michael E. Salla, Ph.D. Copyright Notice
[Podcast Version of this article available on Apple, Google, & Spotify. Video Version is available on YouTube and Rumble]
Related Articles & Podcasts
For a complete list of articles and interviews concerning the Galactic Federation and/or featuring Megan Rose, Elena Danaan and other sources click here.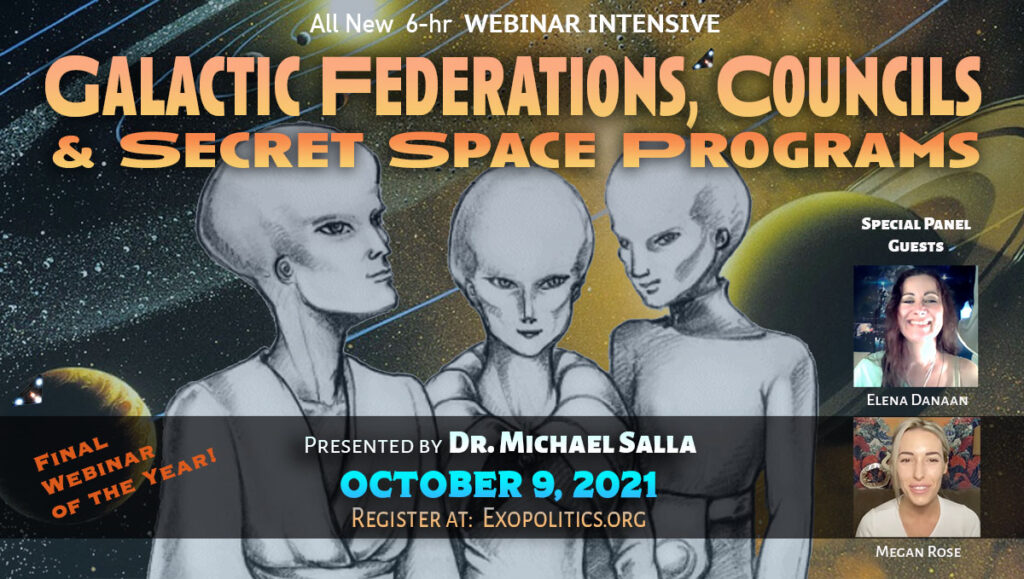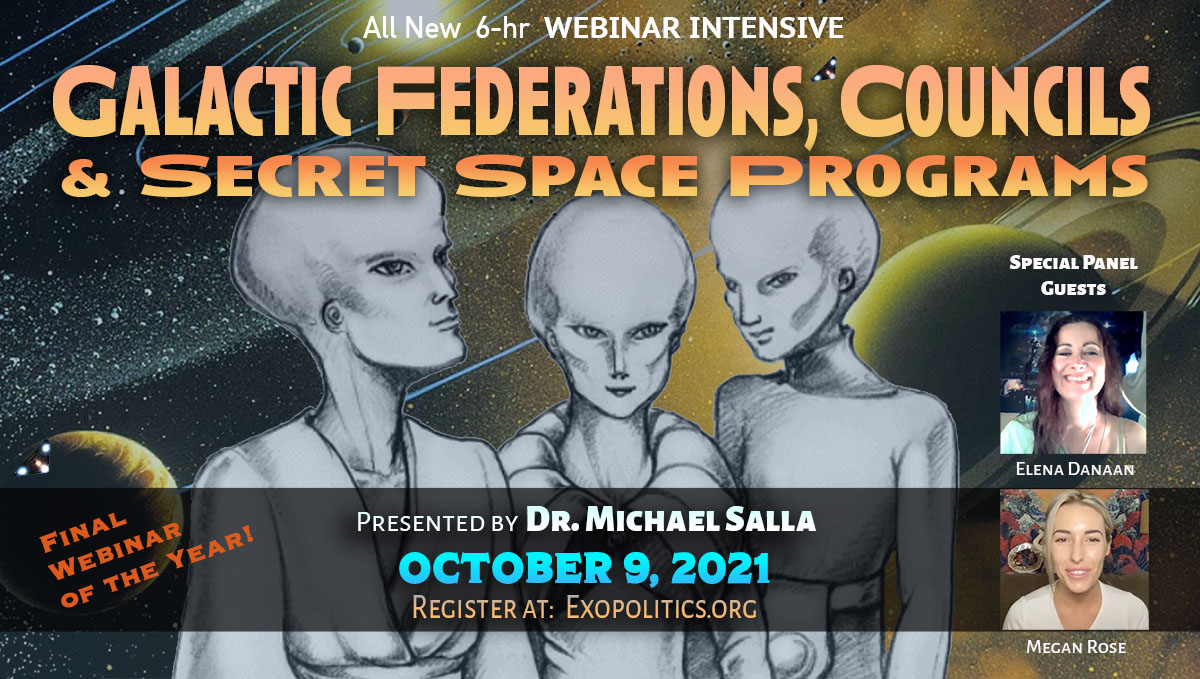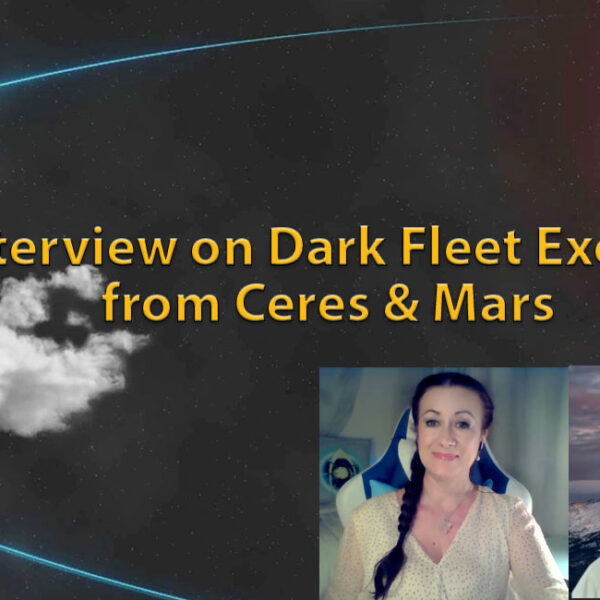 The latest intelligence from the Galactic Federation of Worlds is that the planetoid Ceres, has just been liberated, according to extraterrestrial contactee and former French archeologist, Elena Danaan.  In this Exopolitics Today interview, Elena presents the most recent intel she has received from her primary Federation contact, Thor Han Eredyon about Ceres and Mars. Tony Rodrigues, who claims to have spent approximately 13 years on Ceres as a slave for the Dark Fleet, along with having spent several months on Mars, is also interviewed about his experiences.
Both Elena and Tony are questioned by Dr. Michael Salla about their reactions to the latest updates from the Galactic Federation, and what it means for humanity's expansion into space. Find out how the Galactic Federation works with the Earth Alliance in liberating worlds formerly controlled by the Dark Fleet and their extraterrestrial allies. Learn what happens when a world is liberated from its former overlords, and what expectations the Galactic Federation has for Earth nations in taking control over our solar system. Discover how the Artemis Accords fit into unfolding events in our solar system.
Interview available on YouTube or Rumble
The telepathic messages from Thor Han read out by Elena Danaan during the interview are the following. 
Aug 21 2021
"The fate of the Ceres colony has been debated with great attention, until lately coming together with a common decision, with the Zenae Council and the Earth Alliance.
It was decided that in reason of a large civilian colony, settled for a period of time long enough to officially name them as planetary residents, Ceres would not be evacuated. Instead, we will force the Nachtwaffen military personnel to leave, by means of agreements in the first place, or force if necessary. We firmly believe that Ceres needs to officially become a free world, and it will eventually."
Aug 26 2021
"Mars is free, Deimos is being evacuated."
"The situation on Mars is chaotic at the moment, as the local Martian resistance is rushing to take hold of the underground facilities that have been evacuated. All human personnel was safely sent back to Terra and will be replaced. There is now a situation where the Martians need to comply to the recent agreements reached between their leaders, the Galactic Federation of Worlds, and the new Terran corporations allowed to settle colonies and conduct their scientific and commercial operations. I trust this will go well, for this is a new era of prosperous and empowering cooperation for the Martians' benefit. They just need to calm down now, in this euphoric celebration of their victory."
Elena Danaan's website is available here. Tony Rodrigues' website is here.
Earlier Exopolitics Today Interviews with Elena Danaan

Earlier Interviews with Tony Rodrigues on ExoNewsTV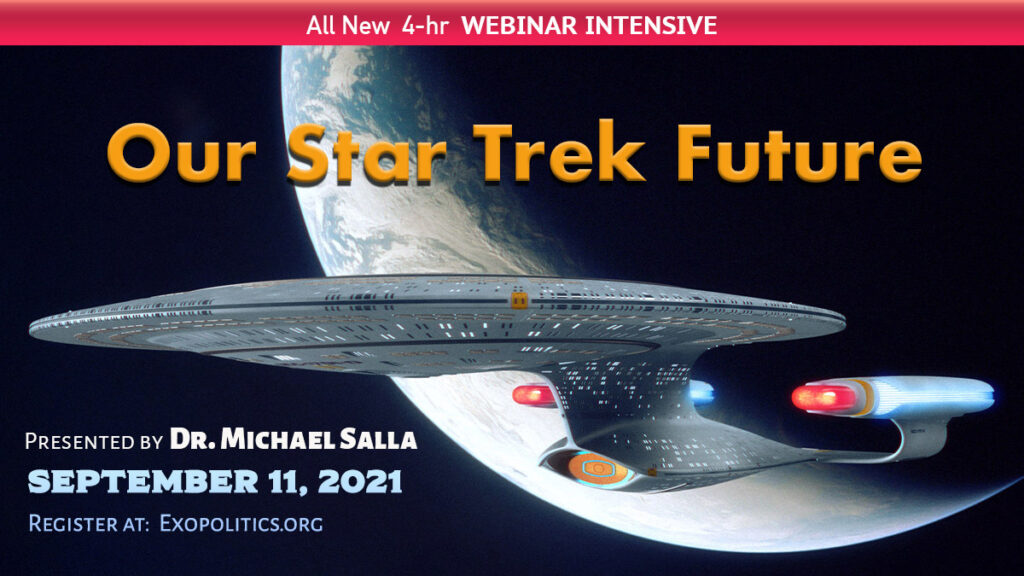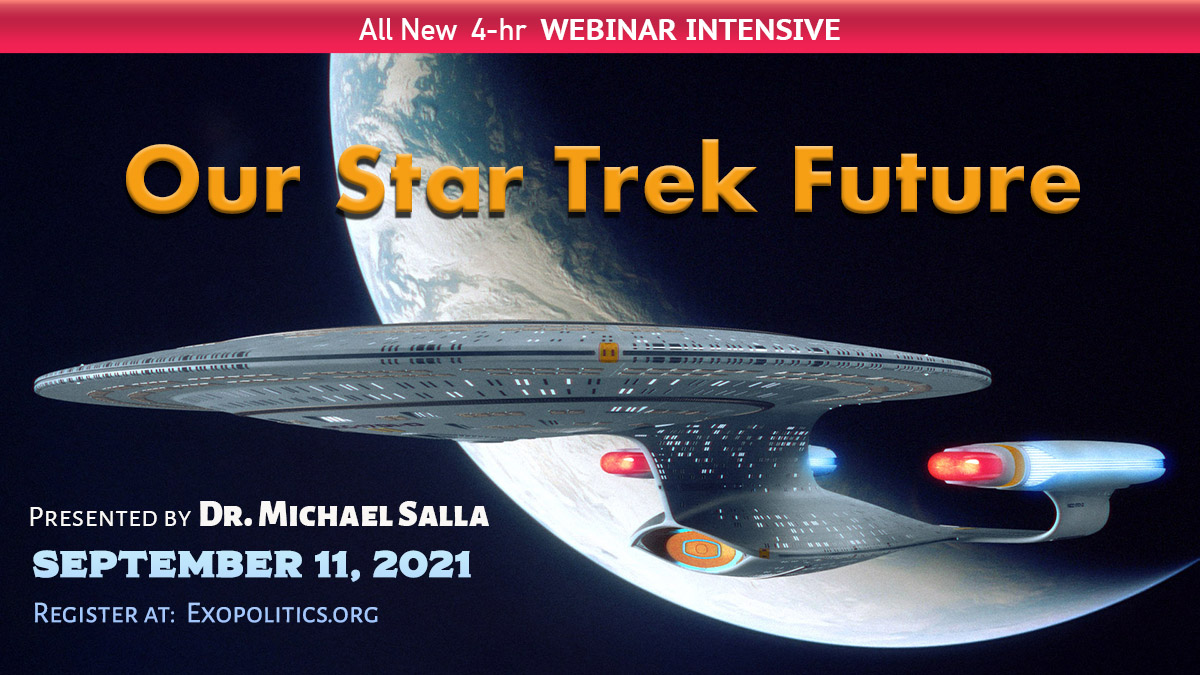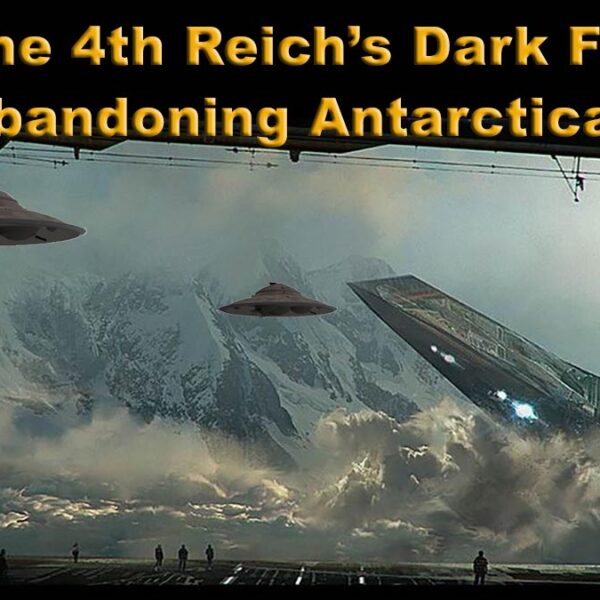 According to Elena Danaan, a former professional French archeologist who claims to be a contactee with the 'Galactic Federation of Worlds', an exodus of a German 4th Reich controlled "Dark Fleet" is currently underway that is creating a power vacuum that different nations are trying to fill by building bases in Antarctica. Her information comes from an extraterrestrial from the Taygeta star system in the Pleiades she identifies as 'Thor Han', and a current resident at the US McMurdo base who goes by the name 'Frank', and whose last name I will keep private.
On June 6, Elena received an email from Frank informing her of an unusually high number of people entering and leaving Antarctica through McMurdo, which is the largest base in Antarctica, and maintains a year-round shipping port through which transport ships arrive with personnel and supplies bound for the US and other national bases.
This is what Frank told Elena in an email that was later forwarded to me:
I want to let you know that the Chinese have 5 bases here already and are setting up 4 more immediately during the absolute worst time of year. There are Chinese everywhere down here and up until a month ago I never saw even one.
Also of note, now Turkey has been sending in troops independently and so are quite a few other countries from Africa & South America all of them want to set up bases here and are bringing in the infrastructure to do so. 
Everybody seems to want to get in on whatever is down here as soon as possible to not be left out. I am more certain than ever now that the mad rush is because there is definitely something here. I noticed more and more German speaking people coming through as well. Numbers have always decreased in the winter time down here not increased.
What immediately got Frank's attention was that a significant number of the personnel leaving Antarctica were German-speaking and they were bound for South America—Argentina in particular. This struck Frank as highly unusual given what Elena and others had said about a German-controlled Dark Fleet in Antarctica that was in an escalating military conflict with an 'Earth Alliance' and the Galactic Federation.
Elena passed on to me Frank's information and contact details, and then communicated with her primary extraterrestrial contact, Thor Han, asking him what was happening in Antarctica. This is her summary of what followed:
I straight away informed Michael Salla and I put them both in contact. On that same evening, I requested a contact with Thor Han, picking his thoughts about this news. Thor Han confirmed that as a consequence of the Dark Fleet being harshly hit by the Alliance and the Federation, the German (4th Reich) presence in Antarctica is abandoning their outpost. He told me that there was an exodus going on, towards colonies out of this solar system, through a portal (jump door as he calls it). He said that the Reptilians based in Antarctica were leaving too.
Thor Han said that some very secret groups in some governments know about the existence of such a portal in the South Pole (and now they want it of course), used to escape to other colonies such as Aldebaran, but he said that even Aldebaran, since they became recently the main Dark Fleet headquarters, is cutting apart from the Antarctica group. Thor Han said that it is in their mentality to cut an "infected limb". There are now formidable resources down there, to be taken, if all these baddies are leaving…
It should be pointed out that Aldebaran was the original stellar location from which Maria Orsic made contact with human-looking 'Nordic' extraterrestrials in the early 1920s. As a result of these communications, the first Vril space-time devices were built that could transport personnel to Aldebaran.
After Hitler came to power in 1933 and coopted the Vril space program, he reached agreements with Draco Reptilian extraterrestrials, and the Nazi SS began building weaponized flying saucer craft for the war effort. Meanwhile, the most advanced aspects of the Vril and Haunebu space programs were relocated to Antarctica to continue developing interplanetary and interstellar craft.  
Consequently, it should come as no great surprise that the Dark Fleet today has a major base in the Aldebaran star system, in addition to bases in our solar system such as Mars and the planetoid Ceres. This is especially if there is a portal from Antarctica to a planet in the Aldebaran star system.
Elena continued her summary of her June 6 communication with Frank as follows:
Of course, I asked Frank this crucial question: as he mentioned noticing an increased presence of German-speaking people at McMurdo, did he think they could come from inland Antarctica, in the intent to leave the continent. If this was verified, it would make tremendous sense. I believe only the high grades are authorized to leave through the portal, and the population of this breakaway civilization had no other option than to leave by regular boats and planes.
And the fact that everyone wants a part of the cake, now that the baddies are fleeing away, could also explain the sudden rush of all these countries to Antarctica. Thor Han also said that the Earth Alliance had been sending military troops to the South Pole since a while now, to help kick the baddies out, and this confirmed also that my friend had noticed these last months a growing activity of US soldiers going to the South Pole.
If Elena's information is correct that the Dark Fleet is conducting an exodus out of Antarctica, then it would not be a great surprise that German-speaking workers would be among the first to leave. Presumably, senior scientific personnel would leave through spacecraft and portals—as Elena described—and low-level scientific and maintenance personnel would leave via conventional means such as transport ships out of McMurdo. This apparently was what Frank was witnessing just as the Antarctic winter was beginning.
On June 8, Frank emailed both Elena and I and wrote:
[A]lthough many foreign countries are pouring in here right now Elena was correct these German folks are all leaving. I want to ask them if they plan to return in the spring but most of them won't even talk to me about anything and carry themselves like I am not good enough to talk to them. Very cold personalities and if they speak English, they won't around me. But I do not see any Germans coming in through McMurdo just leaving.
This is how Elena summarized her communications from Frank in response to Thor Han's message:
We received another message from Frank saying that Thor Han was right, the Germans were all arriving from inland Antarctica and leaving the continent on boats to South America. They were very secretive and wouldn't talk to anyone. This was really happening… The Dark Fleet was being hammered by the Earth Alliance and the Galactic Federation, on Earth, Mars and in this star system, and the Antarctica exodus was the very proof that all of this was real.
In previous articles and interviews, I have discussed Elena's information about the Galactic Federation of Worlds viewing the Earth, Moon and Mars as the epicenters of a future galactic tyranny, and subsequently wanting to liberate their respective populations from negative extraterrestrial influences.
In subsequent updates, Frank has confirmed that the German-speaking people leaving Antarctica were being shipped out to Argentina, and they continued being very secretive about their movement.
My own research on the German breakaway civilization in Antarctica—based on information provided by Corey Goode, Dr. Pete Peterson, William Tompkins, Vladimir Terziski, and others—has shown that a significant German 4th Reich presence was established during World War II, and has been maintained through subsequent agreements with the US and other major nations.
I provide the details on these historic processes, agreements and events in my 2018 book, Antarctica's Hidden History: Corporate Foundations of Secret Space Programs. More recently, in May 2021, I updated my information about the Dark Fleet's history in a four-hour webinar that is now available on Vimeo.
The multinational Antarctic Treaty (1961) was, in fact, a cover for the pacification of Antarctica in order to protect the German breakaway colony from any future military attacks similar to the failed Operation Highjump (1946/1947) and Operation Taberlan (1944-1946) missions launched by the US and United Kingdom.
In the subsequent decades, the German Antarctica bases were greatly expanded with an influx of personnel and resources from the US and other countries that developed very large industrial manufacturing facilities for spacecraft that would be supplied to the "Dark Fleet", a large corporate-run program Goode called the "Interplanetary Corporate Conglomerate" (ICC), and a multinational civilian scientific space program that more recent insiders such as Spartan 1 and 2—interviewed by Linda Moulton Howe—have revealed exists in Antarctica and is run out the National Security Agency (NSA) headquarters in Fort Mead, Maryland.
Unfortunately, many of these 4th Reich/Dark Fleet facilities used slave labor in clear violation of the Antarctic Treaty, which Goode was the first to reveal back in October 2017. In fact, he says that he was briefed about an earlier attempted exodus in May 2016 that was neutralized by a fleet of unknown advanced spacecraft, presumably belonging to the Earth Alliance that battled Dark Fleet/ICC vessels over Antarctica.
It is, therefore, very possible that the German-speaking workers that Frank saw leaving McMurdo in early June 2021 were evacuating the Dark Fleet bases due to recent setbacks. Indeed, their secretive behavior, according to Frank, suggests they were leaving highly classified bases hidden somewhere in the huge Antarctica continent.
In addition to Frank's information, is there any other corroboration for Elena's remarkable revelations of the Dark Fleet leaving Antarctica? There are two distinct bodies of circumstantial evidence that support such an exodus is indeed taking place.
The first is exposure of the Deep State effort to rig the 2020 US Federal elections so as to implement their New World Order, which would have enabled Dark Fleet operations to continue out of Antarctica indefinitely. The 4th Reich's interest in the US presidency and its importance for continued Dark Fleet operations was all but openly revealed when President Obama's then Secretary of State, John Kerry, visited Antarctica at the height of the November 2016 Presidential election.
It has become clear given subsequent events that Kerry's real purpose was to brief the 4th Reich about Trump's looming presidency, and outline the Deep State's master plan to neutralize and eventually remove Trump from power. Consequently, the 4th Reich was a key element in the Deep State orchestrated coup to remove President Donald Trump from power through a rigged election.
The forensic election audit currently taking place in Maricopa County is expected to confirm that widespread election fraud did take place. This will spark further forensic audits in other US counties and states, which will reveal the full extent of what had occurred.
The scale of the US election fraud will not only shock the global public and lead to quick restoration of a Trump administration, but will spark multiple criminal prosecutions of Deep State figures from around the world complicit in the botched election rigging effort.
The looming prosecutions will further identify the COVID-19 pandemic as a key element in the failed coup attempt. Deep State figures in the scientific, political and mainstream media that were involved in creating and perpetuating the pandemic hoax are similarly expected to be exposed and prosecuted. This will only compound the fallout for the 4th Reich once it is determined that it was involved in staging the COVID-19 pandemic as part of a plan to remove Trump.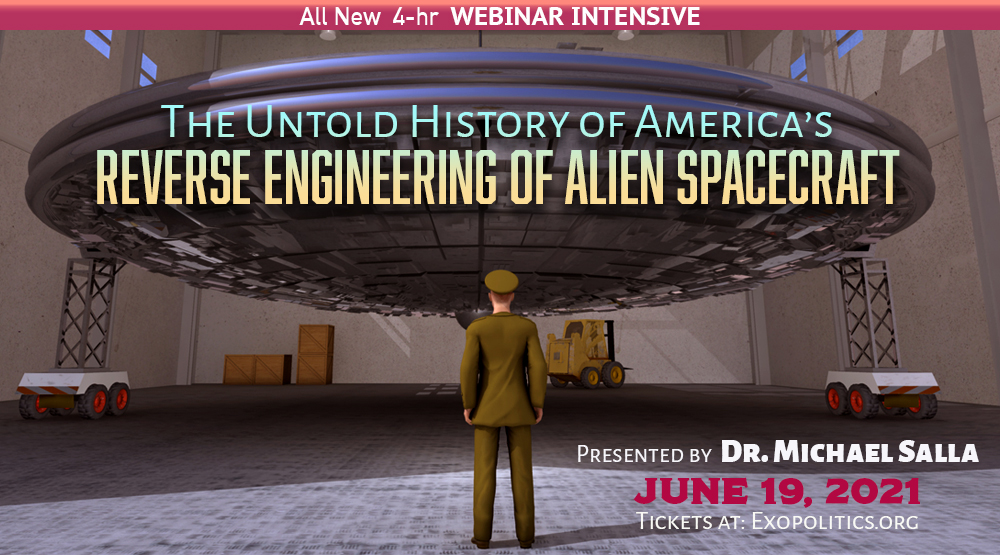 The second political process that is occurring, which Frank identified in the first email cited above, is the recent influx of countries such as China and Turkey into Antarctica. What was very strange was that this was occurring right now, during the onset of winter, the worst time of year. Only a month earlier, there were few Chinese seen at McMurdo, according to Frank, now they were everywhere. Recent mainstream media stories do confirm that both China and Turkey are building new bases in Antarctica, with China aiming to become the dominant presence there.
The sudden influx of personal and resources into Antarctica during the start of the winter months does point to the different countries trying to fill a newly created power vacuum. It would make sense that the 4th Reich is turning over its Dark Fleet assets in Antarctica to countries that are most sympathetic to its political agenda and activities: China, Turkey, and countries from South America and Africa would be suitable candidates.
The information from Frank about events that are currently unfolding in Antarctica is highly unusual and significant. It corroborates the much more startling information from Elena Danaan about a Dark Fleet exodus currently underway in Antarctica. Consequently, my confidence in the accuracy of Elena's information from her Galactic Federation of Worlds contact, Thor Han, has been enhanced from what I have learned from Frank. I will seek further independent corroboration for this incredible information and report on it when it becomes available.
© Michael E. Salla, Ph.D. Copyright Notice 
Note: Podcast Version Available on YouTube & Rumble
Further Reading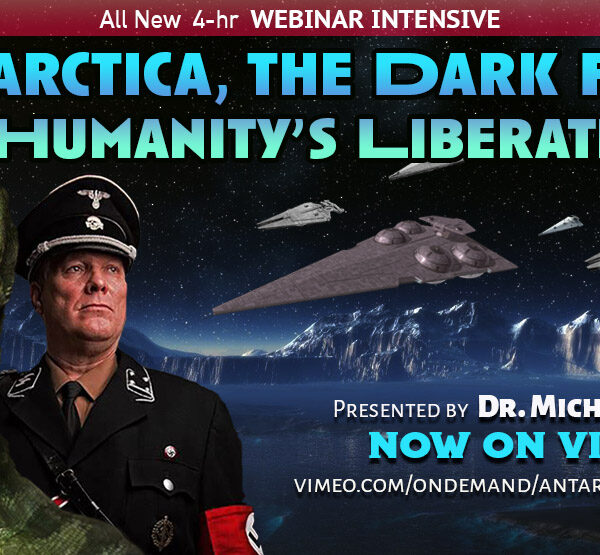 Select highlights from Antarctica, the Dark Fleet & Human Liberation Webinar held on May 22, 2021. Highlights cover Operation Highjump, how the Dark Fleet began overflights of US territory including Washington DC, secret negotiations with Antarctic Germans and different extraterrestrial groups, and more. 
The full webinar recording along with bonus features is now available on Vimeo
Highlights video available on Vimeo, YouTube and Rumble
---
Upcoming Webinar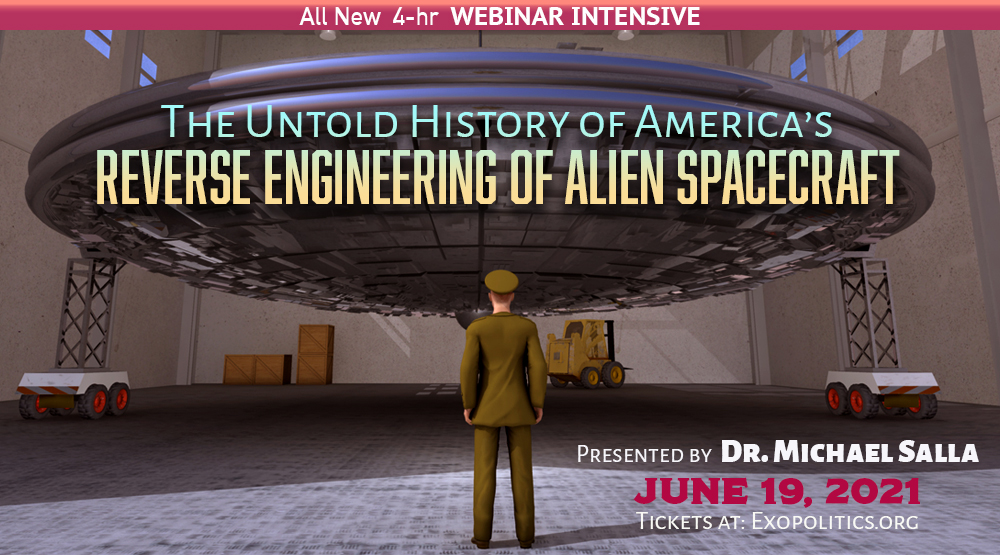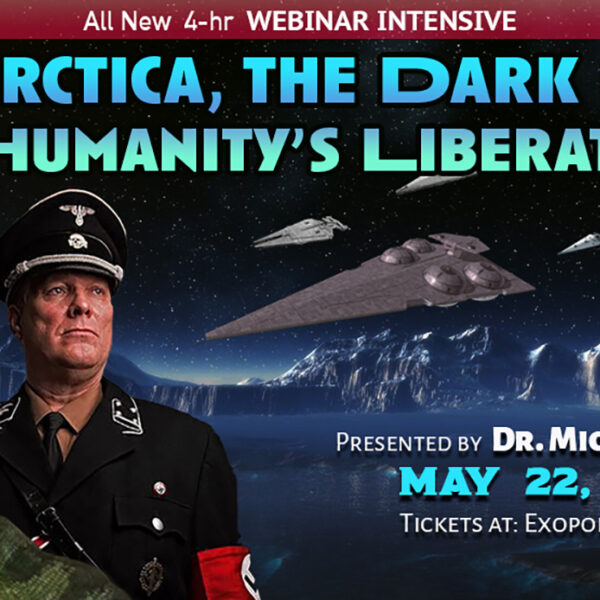 Aloha all, I'm sure many of you have been paying close attention to the numerous mainstream media reports about UFOs sighted near Navy and other US military facilities, which are all going to be covered in a comprehensive June report by the Director of National Intelligence. 60 Minutes just did a segment, the New Yorker published an extensive article, and even former President Obama is weighing in on the UFO topic. It's become very clear that depicting UFOs (aka UAPs) as a major national security threat is the new narrative being pushed by the Deep State, and it's going to escalate big-time next month when the UAP report is delivered to the US Senate Intelligence Committee.
The main element of the emerging "UFOs are a major national security threat" narrative is that policy makers really don't know what the UFOs are. We are being told that Pentagon officials are scrambling to determine what they are too—they could be extraterrestrial, Chinese, or even Russian craft.
The big fake reveal is going to be that the US actually retrieved a downed extraterrestrial craft, but heck, after decades top scientists couldn't figure out its workings. Of course, that's why Bob Lazar's testimony about his time at Area 51's S-4 facility in 1988 is being given such lavish mainstream attention, since he is on the record saying that the technology was way too advanced for the S-4 scientists to understand. But hey, maybe the Chinese or Russians got one and did work out how to reverse engineer it . . . and so . . . the US has a big national security problem!!
Of course, those in the loop know that most UFOs being sighted over the territory of the US and its major allies are actually reverse engineered antigravity spacecraft which were acquired in various ways—UFO crashes, secret agreements, etc.
After more than seven decades of close study and cooperation with different extraterrestrial groups, different national scientific communities, and a breakaway German colony in Antarctica, the US military finally developed its own squadrons of antigravity craft. However, you won't hear that in the coming June Pentagon UFO report, which instead is going to perpetuate a big lie about the origins of UFOs.
This why the topic I chose for my upcoming May 22 webinar deals with the real origin and history behind it all. When the June Pentagon report releases, people shouldn't be fooled again.
Join me and learn what really happened in Antarctica in 1946/1947 when Operation Highjump was sent by the US to find and destroy the underground German Fortress that Admiral Karl Donitz had bragged about during World War II and at his Nuremburg Trial. Richard Byrd's Task Force 68 experienced a crushing military defeat delivered by flying saucer craft belonging to the Nazi's Dark Fleet and their extraterrestrial allies. Soon after, Dark Fleet craft flew over US territory, forcing the Truman and Eisenhower administrations to negotiate—leading to secret agreements in the 1950s that have been renewed ever since.
It's a remarkable story and I plan to cover it in well documented detail in my May 22 Webinar, "Antarctica, the Dark Fleet and Humanity's Liberation." The webinar will be especially helpful for those wanting to know how historical events in Antarctica tie in to emerging "UFOs are a national security threat narrative" being heavily promoted by the major media and Deep State officials. Humanity's Liberation from very negative forces associated with the Dark Fleet needs to begin with a thorough understanding of Antarctica, how it has contributed to our current global situation, and why positive extraterrestrial groups became concerned and are helping us today learn the truth.
I hope you can join me this Saturday for my webinar. It will be broadcast live from my home studio here on the Big Island of Hawaii via Zoom. I promise you an exciting journey through undisclosed historical events in Antarctica, how it all pertains to the official disclosure narrative about to be unleashed in the US, and finally what it all means for humanity's liberation.
Michael Salla, Ph.D.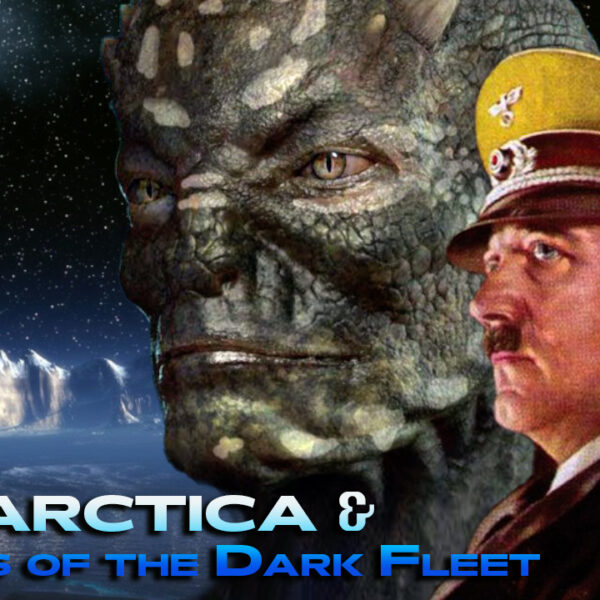 I'm delighted to announce the release of a short film presenting the recent history of Antarctica and how a breakaway German colony established a presence in an extensive underground cavern system, and used it as a base of operations for building a fleet of reverse engineered alien spacecraft. The German "Dark Fleet" has evolved over decades to become a powerful force on Earth and in Deep Space. Learn why the existence of the Dark Fleet is to be exposed as a necessary condition for humanity entering a golden galactic age where we interact with highly advanced extraterrestrial civilizations who share advanced life changing technologies.
Premieres Today at 10 am Pacific, 1 pm East Coast, USA 
 Watch on YouTube, Rumble or Vimeo
I wish to thank my inspired and incredibly talented wife, Angelika Whitecliff, for the many hours she devoted to creating this short film and raising public awareness of these critical issues.
Michael Salla, Ph.D.
Related Articles/Short Films
May 22, 2021 Webinar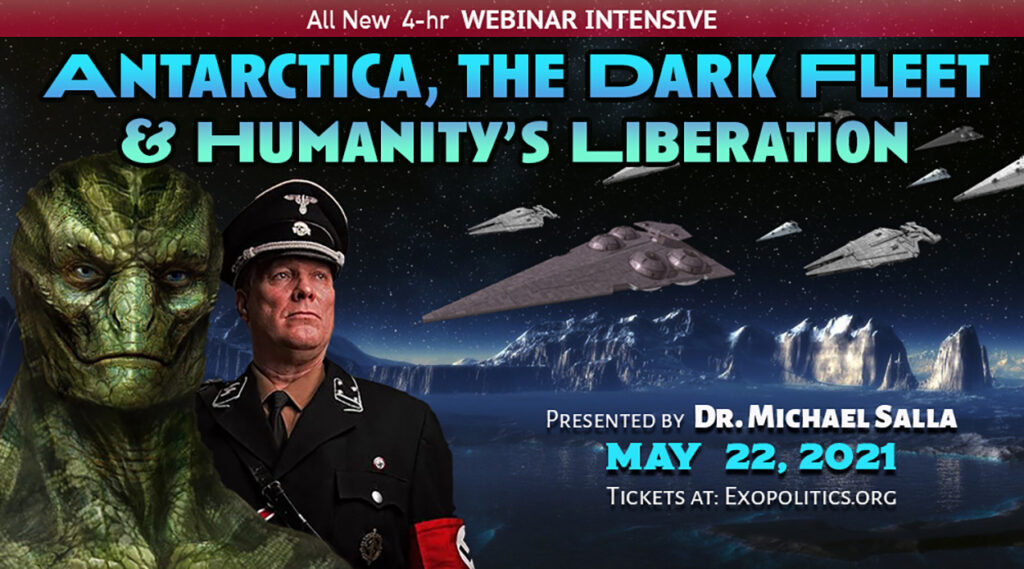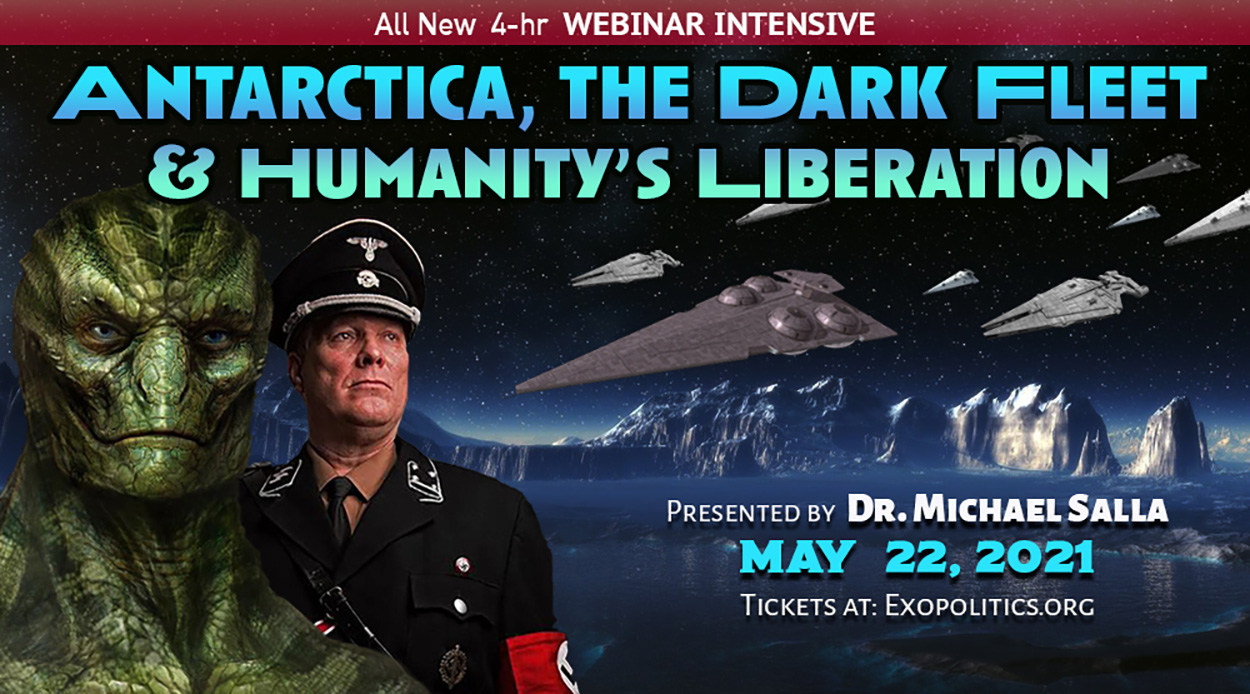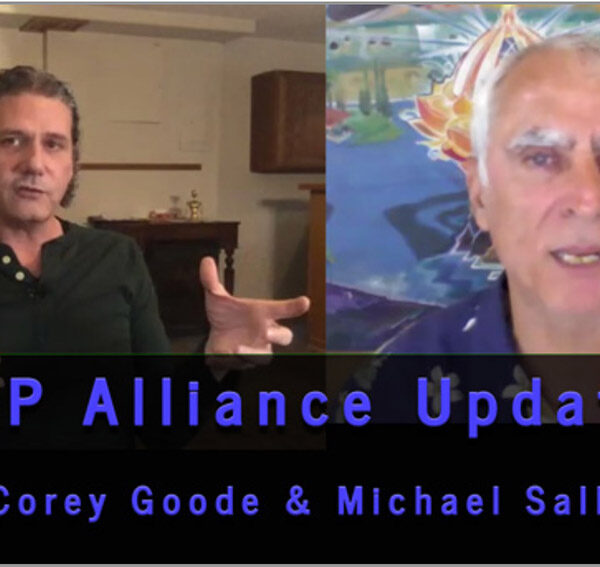 Below is a video featuring an interview with Corey Goode about the latest Secret Space Programs (SSP) Alliance updates. Corey describes being taken on board a Mayan SSP craft where he met with his long time contact, Gonzales, who briefed him on the current situation on the Earth, Moon and Mars, activities of the Dark Fleet, and what is happening outside of our solar system.
The situation in our solar system is one of heavy repression and lockdowns as the Interplanetary Corporate Conglomerate (ICC) is interrogating personnel to find saboteurs and infiltrators from the SSP Alliance. Corey explains that the human workers on Mars are too beaten down and intimidated to offer much resistance to the ICC. He further explains that while Dark Fleet bases on the Moon, Mars and elsewhere in our solar system have been taken over by the ICC—due to a solar system-wide lockdown. However, the Draconian extraterrestrials still continue to operate, and their underground facilities have not been taken out.
The news from outside of our solar system was more encouraging with the Global Galactic League of Nations (GGLN) finding extraterrestrial allies and becoming more autonomous in their operations due to being cut off from our solar system. Corey states that the GGLN has broken away from ICC control, is now actively working with one or more Galactic Federation type organizations, and has fulfilled its Continuity of Species purpose in the event of catastrophic events in our solar system. Corey has previously discussed prospects of a powerful solar flash event taking place in our solar system.  
Overall, the exopolitical situation described by Corey is very tense and precarious, mirroring contemporary global events. I've included below the embedded video of our interview the relevant text of the update Corey sent me.
At the end of the interview, Corey announced the upcoming 'The Ascension Summit' which will be held in Colorado Springs on August 12-15, 2021. More info here.
Finally, I discussed my new book, Space Force: Our Star Trek Future, and upcoming May 22, 2021 Webinar, 'Antarctica, Dark Fleet and Humanity's Liberation,' which goes into detail into the Antarctic origins of the Dark Fleet. More info here.
Michael Salla, Ph.D.
[May 15, 2021 Update – Transcript of Interview is now available – click here]
Edited version of text of Update from Corey Goode via Skype
[Forwarded from SBA – Ascension Works TV (Corey Goode)]
… The SSP Alliance had made progress in spreading information about atrocities within the Military levels of the MIC SSP because of the intel Sigmund provided them prior to leaving their service and going to work for the SSP Alliance. This information had made its way across a few of the SSP's including the Global Galactic League of Nations (GGLN) who we are finding out has recently been working loosely with one of the galactic federations (Of which there are several).
The GGLN is in a position to where they may pull away from the ICC's leadership/control and become independent human colonies/bases of their own (Break Away Civilization). They are well aware of the future solar flash in our solar system and are preparing in case they are to be one of the few remnants of our species (Just in case). The ICC has also been investigating sabotage missions that have crippled many of their deep space missions as well as caused catastrophic damage to some of the facilites that produce technology used in trade with over 900 other ET races.
Because of these operations (By Alliance and people waking up in the programs) the ICC has locked down their facilities in super fascist manner. We have seen a lot of weird debris falling from the skies recently among other things. The LOC and its MIC SSP equivalent on the surface of Earth have been heavily enforcing the flight corridors with lethal force. There has been a major witch hunt for SSP Alliance moles in all of the SSP's by order of the ICC. Much more to come!
More recent interview updates with Corey Goode
More Information about Corey Goode and his online courses are available at CoreyGoode.com
---