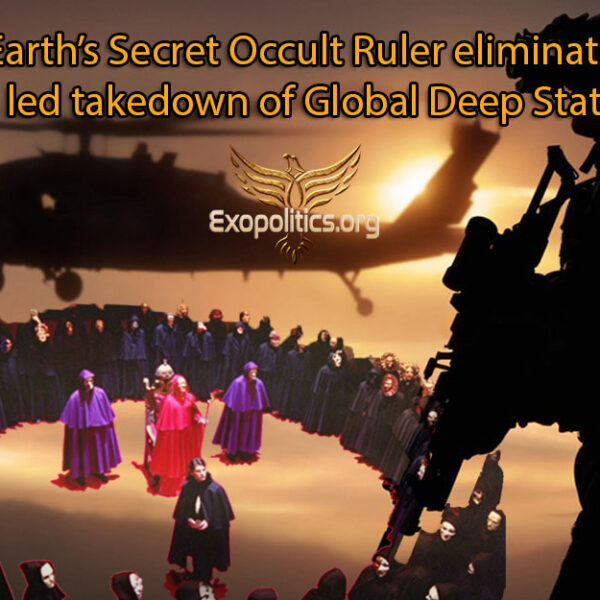 On January 15, it was announced by multiple news sites that Baron Benjamin de Rothschild unexpectedly died of a heart attack at the age of 57 while at his Swiss home. According to best-selling author David Wilcock, Rothschild was the world's "Pindar" – the secret occult ruler of our planet reporting directly to off world extraterrestrial masters.
What makes Wilcock's claim particularly intriguing is that he says that only a day earlier, the US Secretary of State Mike Pompeo gave a coded message through his Twitter account authorizing the final stage of a covert military operation to take down the Deep State around the planet. Wilcock's claims raise intriguing questions about Rothschild's death, his possible role as Earth's Pindar, and a covert US led takedown of Global Deep State.
Rothschild's death was first announced on the Edmond De Rothschild company website and details were provided by Bloomberg news about him:
De Rothschild had been head of the group created by his father since 1997 and worked to simplify its structure after delisting. As of the end of 2019, the group had 173 billion francs ($194 billion) in assets with activities in 15 countries, according to its website.
In his online presentation yesterday, Wilcock discussed arrests taking place around the world of people involved in a coup attempt against the President of the United States. He then linked this takedown operation to the mysterious death of de Rothschild who was the Pindar or leader of the globally orchestrated coup attempt:
Pindar actually is the name of the leader of this group that we've been talking about for so long. It is a name that refers to the Dragon and the male member of the Dragon, that's the name of the leader. So, the Pindar is basically the number one guy. And this number one guy just so happened to have mysteriously passed over on January 16 [15 at age 57. And here you go, that's right, Banker Benjamin de Rothschild … owner of the Group dies age 57. So that is compelling since it's a very young age and a suspicious time to say the least.
To help understand the role of the Pindar in relation to the male heirs of the Rothschild family, it's worth recalling what Dr Bill Deagle, a former US Air Force medical doctor, had to say about a mysterious encounter he had with a leading member of the Rothschild family, Baron Guy de Rothschild, in 1992. In a Project Camelot interview, Deagle said:
I woke up in the middle of the night, bolt upright, and I sat up. And I had all the lights on because I'd have to periodically go to the restroom or whatever. I had all the lights on. And this guy was standing in front of me with what I call a $5,000 tuxedo, not a gray hair in his head, mid-50s, slim and trim.
I said: How did you get in here?
And he says: It's wonderful to see you, my son.
I said: You're not my father.
And I looked at this guy, and he looked like French nobility. Right? And I said: Who are you?
He says: I am the Baron Guy de Rothschild, the Pindar.
And I had this really kind of, what I call a check or a kind of a cringe in my spirit. And I knew right away, because I have this gift. Right? Without getting into a big long discussion, I knew right away.
I said: I know who you are. You're the representative of the Luciferic power that controls Earth.
He says: Yes, I am the CEO of Earth, Inc., and I am the man that sits in the 13th chair of the Druidic Council. I want you to be my understudy, and when I transcend I want you to take over my job.
And I said: No, I'm not going to.
He said: We know your bloodlines; we know your genetics; we know everything about you and you're a perfect replacement for me.
And I said: No!
What is particularly interesting in this exchange is Rothschild's claim of being the "Pindar" and the "CEO of Earth, Inc". These statements suggest that he is merely running the Earth on behalf of others, but who?
For an answer, we can look to information about the Pindar supplied by British researcher David Icke. Icke wrote about the Pindar in The Biggest Secret after interviewing a former participant in Satanic occult ceremonies, Arizona Wilder. Icke wrote:
Pindar means 'Penis of the Dragon'…  Arizona says that Pindar, like all the reptilians when they shape-shift, has very powerful hypnotic eyes (the 'evil eye' of legend) and at sacrifices the victims face is turned to Pindar at the moment of death for him to steal the person's soul or energy through this 'evil eye' magnetic process…. Pindar attends the major Satanic ceremonies in Europe and then flies to California for the rituals there. [pp. 302-3]
Icke's reference to Reptilian extraterrestrials directly connects to the high-ranking member of the Rothschild family who is regularly chosen to be the CEO of Earth Inc., which in turn is controlled by a Reptilian empire that spans countless other planets, according to multiple insiders.
Baron Guy de Rothschild died in 2007 at the age of 98. If Deagle was told the truth in 1992 about Rothschild planning to retire as Pindar, it means that anytime in the period between 1992 and 2007, another male heir of the Rothschild family had replaced him.
Benjamin Rothschild became the head of the Edmund de Rothschild company in 1997. As head of one of the major Rothschild banking and investment groups, it's highly likely that Benjamin succeeded Guy as the Pindar, as claimed by Wilcock.
This is where another of Wilcock's claims becomes highly relevant to contemporary political events. He says he found a solution to a coded message by the mysterious Q military intelligence group that has been subjected to an unprecedented global censorship campaign.
In a post dated June 4, 2020, Q revealed a sequence of six events numbered RED1 to RED6, which refer to events associated with different stages of a covert global military operation to take down the Deep State.   
Q !!Hs1Jq13jV6 ID: 866b8a No.9473673
Jun 4 2020 18:49:59 (EST)
EAM LOYALISTS:
RED1: POTUS twitter removal
RED2: Central communications blackout [continental US]
RED3: CLAS movement PELOSI or PENCE
RED4: Movement of MIL assets [10th Mountain_1st Marine_CPSD_Marine_QVIR] to central locations under guise of citizen riot control.
RED5: NAT MIL COM CEN
RED6: SEC OF DEF _instruct1
USSS
CASTLE_ROCK
Q
The first event RED1, occurred on January 8 with the permanent suspension of President Trump's Twitter account. Wilcock gave a plausible explanation for the sequence of RED2-5 events occurring with the suspension of thousands of alternative social media sites, movement of military personnel into Washington DC and state capitals, etc.
With regard to the final event in the sequence, RED6, Wilcock had a fascinating solution. He said it was a coded message by Secretary Mike Pompeo through a photo of six bottles of Red Wine he displayed in a January 14 Tweet.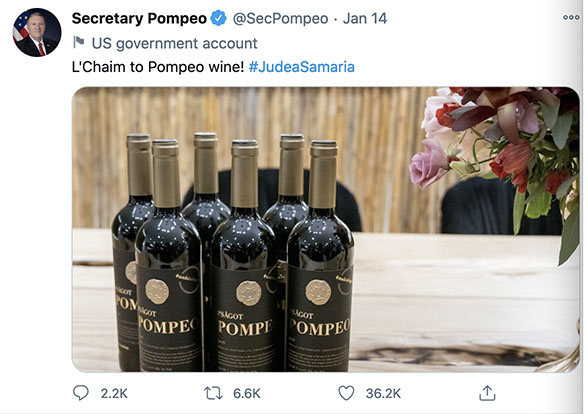 If Wilcock is correct, then Pompeo's Tweet was a coded authorization RED6 for the final stage of a global covert takedown of the Deep State to begin.
The very next day, Baron Benjamin Rothschild was dead. Was this merely a coincidence, or was he a high-level casualty of the global covert takedown of the Deep State now underway as suspected by Wilcock?
We will not have to wait long for an answer as the covert operation is expected to be publicly announced either just before or after President Trump's term of office formally ends on January 20. Wilcock points out that January 19 is National Popcorn Day, which would make for an ironic way to bring to the public's attention a worldwide operation to take down the Deep State in a 2nd American Revolution.
© Michael E. Salla, Ph.D. Copyright Notice
[Note: my next Webinar Exopolitics and the Second American Revolution has been rescheduled for January 30, 2021 – Registration Info here]
Further Reading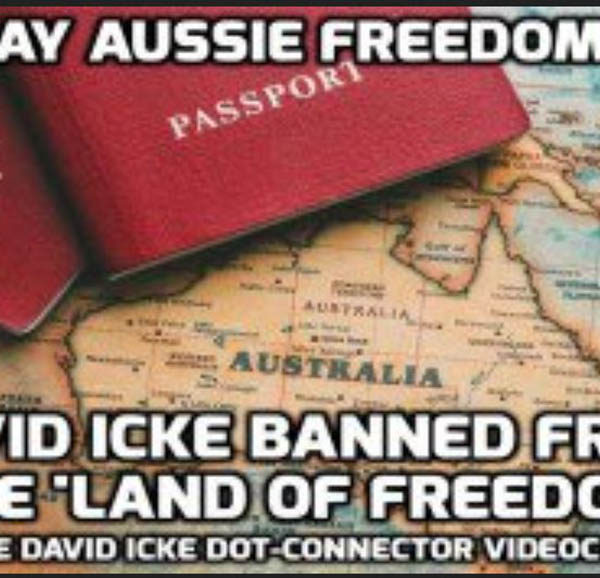 On February 20, 2019, David Icke was banned from entering Australia to start a five city speaking tour. His banning occurred fours hours before his departure from Los Angeles to Melbourne, despite being previously granted a visa in September 2018. He has previously visited Australia 10 times to give lecture tours where he has spoken about a range of geopolitical topics, including the role of Reptilian entities in controlling the planet.
You can read about the reasons given by the Australian Government in this news story here: https://tinyurl.com/y3ux8uwq
For Icke's response see: https://www.davidicke.com/article/522…
As an Australian citizen, I wish to express my strong opposition to this banning and hope Icke succeeds in having the ban overturned ASAP. The following video statement has been created to support Icke's freedom of speech rights and outrage over what the Australian Government has done.
Michael E. Salla, Ph.D. exopolitics.org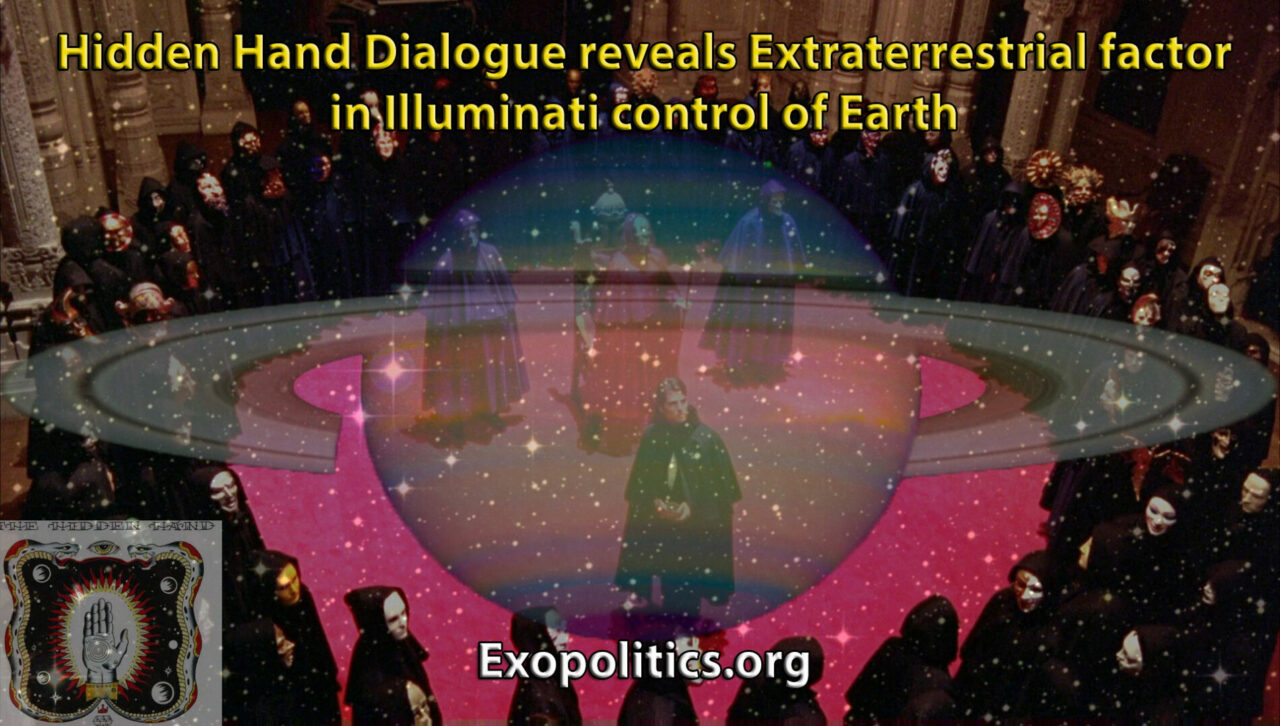 The "Hidden Hand Dialogue" is a set of questions and answers given by a self-described Illuminati insider and members of the Above Top Secret Forum that was recorded in October 2008. The insider responds to questions in a sincere and consistent way, and reveals valuable information about the secret control mechanisms used by an elite group of insiders he calls "The Family".
Among the many insights s/he gives is that the leadership of the family is very much aligned with a group of extraterrestrial visitors. If genuine, the Hidden Hand dialogues provide many answers to how our world is secretly run, how the extraterrestrial question applies to it, and what may happen as we approach what many describe as an "Ascension Event."
The Hidden Hand dialogue is based on the premise that secret elite groups control our planet and have been doing so for millennia. These elite groups have been described as the "Illuminati," the "Incunabula," "Nephilim," etc., in books such as Rule By Secrecy, Gods of Eden, and The Biggest Secret. The basic idea is that a select group of families with distinct bloodlines have accumulated power and pass this on from one generation to another. In fact, this is precisely how the insider (the "Hidden Hand") introduces him- or herself, and describes the group to which he belongs:
I am a generational member of a Ruling Bloodline Family, our Lineage can be traced back beyond antiquity. From the earliest times of your recorded "history", and beyond, our Family has been 'directing' the 'play' from behind the scenes, in one way or another. [Note: all Hidden Hand quotes are cited from here]
The Hidden Hand reveals the number of core bloodlines making up "The Family":
There are 13 'base' or 'core' original bloodlines. Yet there are many many other lines that spring from these, as do rivers from the oceans. If you imagine the 13 Original lines as Primary colour, that can be mixed to create a vast array of other colours, then you will have some comprehension. Again, no competition, just Family.
Hidden Hand describes the structure of the ruling bloodlines as follows:
In the grand scheme of things, the Line is not as important as the House, the House, is not as important as the Family. The Family is all. No matter the House or Line, we are One (truly international) Family. Imagine if you will, a body. A House would represent a vital organ or body part within the Body itself. Each part has an important role to play in the functioning of the whole, and to each of us, the 'whole' has our undivided loyalty. As I say, many lines, (far more than you are aware of), One Family.
So for example, a particular bloodline, the Rothschilds, is part of a House that controls international finances in this global Family.
Of the thirteen base bloodlines, the Hidden Hand says that only three are indigenous to Earth. The rest have off-world origins, the so called Fallen Angels or Nephilim as described in the Book of Enoch. S/he clearly identifies where the most power is found among the thirteen bloodlines:
"I want to be clear on this Bloodline issue. The ones you know, they are of earthly lineage. Yes, they have their place in the Family, but the Real Power lines, do not originate from this planet.
Further clarifying the identity of the most powerful bloodlines, the Hidden Hand says they derive from the "group soul" or entity known as Lucifer:
Our Creator, is the one you refer to as 'Lucifer', "The Light Bearer" and "Bright and Morning Star". Our Creator is not "The Devil" as he has been spuriously portrayed in your bible. Lucifer is what you would call a "Group Soul" or "Social Memory Complex", which has evolved to the level of the Sixth Density…. In appearance, were you to gaze upon Lucifer's fullest expression of our Being, the appearance would be that of a Sun or a "Bright Star". Or, when stepping down into a 3rd Density vibration, we would appear as what you may term an 'Angel' or 'Light Being'.
So while the Family is led by ten extraterrestrial bloodlines, all thirteen bloodlines see themselves as physical manifestations of Lucifer – a highly evolved spiritual being who has taken on the assignment of creating a negative polarity which gives humanity the opportunity to evolve by making better moral choices.
While this admission would lead to fundamentalist Christians describing the Family as devil worshippers, and extraterrestrials as demons, the Hidden Hand is suggesting that Lucifer is performing a form of spiritual service. Importantly, as I discuss later, the Family and its Luciferian power structure, is also a problem for extraterrestrial civilizations. This is how the Hidden Hand justifies why The Family engages in behaviors that many describe as evil:
[W]e need a very high percentage of Negative Polarity, if we are to achieve a Negative Harvest. In other words, we have to be Self-Service-Centred to an extreme degree, in order to become Negatively Harvested. This is why we work so hard to be as Negatively Polarized as we possibly can be.
Put simply, this means that the more highly negative or "evil" the Family is in maintaining its control over the rest of humanity, the more likely that the Family can achieve its ultimate goal. While this appears paradoxical, the Hidden Hand elaborates a complex philosophy as to why this is so.
Understand, that we HAVE to be Negative. That's what we were sent here to be. It is our contract, and it has always been to help you, by providing the "Catalyst" I spoke of earlier.
By "catalyst," the Hidden Hand means performing actions that force the rest of humanity to make important moral choices. He explains further:
[W]e must be as Negatively Polarized as possible. Service to Self in the extreme. Violence, War, Hatred, Greed, Control, Enslavement, Genocide, Torture, Moral Degradation, Prostitution, Drugs, all these things and more, they serve our purpose.
This is how the Family sanctions such highly negative behaviors as ritual human sacrifice, and child abuse as documented by researchers such as John DeCamp. The ultimate goal is to awaken humanity to take actions to stop these negative things from happening.
Stanley Kubrick's final movie, Eyes Wide Shut, revealed the power and rituals of the Illuminati/The Family. Kubrick was found dead shortly after its completion
Basically, the Hidden hand claims that the Family is teaching humanity to be more empathic. For most, empathy is a defining characteristic of our humanity. Not caring for others suffering from deprivation, acts of violence, would make us less than human.
For those belonging to the Family, empathy is something that would hold one back on the path to "negative polarity" which, paradoxically, will help humanity become more empathic. The paradox here is described by the Hidden Hand:
The ultimate paradox in all this, is that in this storyline we are all co-creating together, in order for us to be of the most Service to you, we must be utterly self serving. I do so love our Creator's sense of irony.
In answer to a question about a race of extraterrestrials called "Reptilians" being the real power group on the planet, the Hidden Hand claimed: "We are most certainly NOT Reptilian, and there is nothing remotely reptilian about the True Power Bloodlines." This is an important admission by the Hidden Hand.
While the most powerful elements of the Family are extraterrestrials, the Reptilian species has nothing to do with the real power behind the Family. This is contrary to what authors such as David Icke have been claiming that our world is secretly controlled by Reptilian entities.
What the Hidden Hand is suggesting instead is that there is a Luciferian group soul that is working in our Galaxy that has established power not only on our planet, but on other worlds. Reptilian worlds under the influence of the Family, or Luciferian entity, would be as highly manipulated as our own by off-world bloodlines. In other words, just as the Family has historically manipulated nations of our world into countless wars that increase the power of the Family, so too the Family has played a similar role in fomenting galactic wars.
In short, the Hidden Hand has not only revealed the secret power structure that manipulates life on our planet, but also the power structure that dominates many planets in our galaxy and beyond. This appears uncannily similar to the Star Wars saga where a group of dark spiritual entities called the Sith secretly infiltrate and take over political and spiritual organizations in the Galaxy.
If the Hidden Hand and his Luciferian peers belong to something similar to the Sith, is there a positive counterpart similar to the Jedi Knights? This is how the Hidden Hand describes the modern equivalent of the Jedi Knights – a positive polarity "Family":
There is such a family (or group more accurately), but you cannot see them, and neither are you aware of their existence. They help the planet from a secret "Inner" location, by the Quality of the Energy work they engage in and project outward to you, from the Source.
How accurate and genuine is the Hidden Hand? In terms of some predictions, s/he was way off. E.g.,
San Francisco and Damascus, will be uninhabitable by the end of 2010, possibly even sooner.  There will be raging tsunamis and widespread devastation; and a solar emission in late 2009 early 2010 that will cause major melting of the ice caps, and subsequent drastic rise in sea levels, leaving many (international) metropolitan areas underwater.
These failed predictions suggest that, even if genuine, the Hidden Hand and the Family are not infallible when it comes to predicting and/or controlling world events.
In terms of philosophy, the Hidden Hand dialogue is very consistent with the RA material (Law of One) which is the most widely cited set of channeled materials on the planet. The RA material (1981-1984) was the first to introduce concepts such as negative and positive polarities, densities, a Harvest around 2012, and social memory complexes that are repeatedly cited by the Hidden Hand.
The RA material also revealed that it was possible for a group of entities to spiritually evolve through densities by negative activities. This idea is unique to the RA material, and appears counter intuitive at first, but has a solid philosophical background to it. Importantly, the Hidden Hand cited the RA material as largely accurate, and a solid basis for understanding the metaphysical reality behind how our planet operates.
In terms of agenda, the Hidden Hand says that s/he has been instructed to participate in revealing the truth of Earth's hidden rulers since this is a requirement for the upcoming "Harvest." In the Harvest, all individuals are tested for their core ethical orientation for whether they evolve or not out of our third density existence, into a more refined fourth density.
The End of the Mayan Calendar (December 2012) was widely predicted to be when the Harvest would occur based on the work of authors such as John Major Jenkins. His 2002 book, Galactic Alignment: The Transformation of Consciousness According to Mayan, Egyptian, and Vedic Traditions, predicted that the Mayan Calender's end would coincide with a rare Galactic Alignment  of our solar system with the galactic core.
With what is widely viewed as an "uneventful" passage of 2012, many are now describing a forthcoming "Ascension Event" corresponding with other galactic processes. Among these is Corey Goode, who says that while he served in secret space programs from 1987-2007 he read classified reports about regions of the galaxy with "superwaves" that would eventually be encountered by our solar system.
It turns out that the Secret Space Programs and even some programs on Earth and the Black Ops programs had been studying a region of space that we were entering in the galaxy and some – what they had called "super waves" coming toward our solar system that were clouds of energetic particles. And, they knew that it was going to directly affect our solar system and our sun. And indeed, we have seen changes in the sun and changes in all the planets, occurring since at least that time period, if not, probably before. And this has been a slow change in the background-energy of our solar system. These are vibratory energy-waves that are ebbing and flowing into our solar system.
The superwaves would subsequently impact humanity in ways that could lead to profound changes, for better or worse. The critical factor according to Goode, is how well individuals can raise their consciousness and collectively co-create a better world.For some of these reasons, Goode claims that operatives in the secret space programs were encouraged to study the Ra Material (Law of one). This is consistent with what the Hidden Hand had earlier revealed about the Ra Material.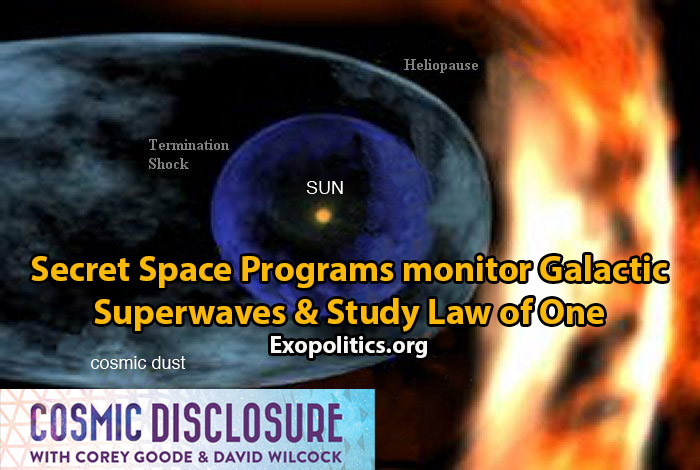 These predicted planetary and galactic changes therefore correspond to an Ascension Event allegedly foreseen as early as the 1980s, when, according to Goode, giant spheres belonging to very advanced extraterrestrial civilizations began entering our solar system.
Consequently, during the predicted "Ascension Event," individuals get to decide what is most important in their lives – the polarities of "service to self" or "service to other". Those in the middle, who haven't yet chosen a polarity, are at real risk during the Harvest according to the Hidden Hand and also in the RA material – which is consistent with Goode's more recent disclosures.
The agenda behind the Hidden Hand's revelation therefore appears to be very plausible given what has been described in the RA material, and more recently by Goode. Most importantly, the agenda may not be exclusive to Earth, but also applies to extraterrestrial worlds where "The Family" has great influence.
So what can one conclude from the Hidden Hand dialogue? In my opinion, it is a genuine revelation by an insider belonging to an organization called "The Family" that has both Earthly human and extraterrestrial membership. The Family has been secretly involved in ruling both the Earth and other planets through highly placed elites in key social and political institutions for centuries, if not millennia.
No one extraterrestrial race is the nexus of negative activities as mistakenly claimed by Icke and others. This includes Stephen Quayle's recent speculations about giants as demons who are being awakened from advanced stasis chambers to take over the planet. If my analysis is correct, then the giants, like any advanced conscious entity, can be subverted by "The Family" to adopt a Luciferian agenda.
The nexus of evil (or negative polarity) therefore comes from a Luciferian entity or group soul that has physically manifested itself in terms of a transnational and transgalactic elite called "The Family." Humanity and extraterrestrial civilizations have similar problems in dealing with "The Family," which has succeeded in attaining power to varying degrees in their respective societies, especially so as we continue to experience planetary and solar changes triggered by cosmic waves associated with a possible Ascension Event.
[NOTE: This is an updated version of an article first published on Nov 7, 2011].