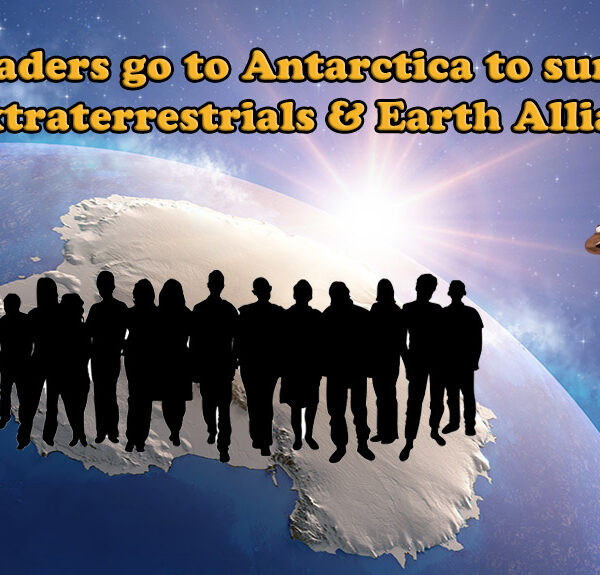 [Important Update Below] News has recently emerged of global elites (aka cabal) going to Antarctica for a secret meeting. We know from public tweets that Claus Schwab, Founder and Executive Chairman of the World Economic Forum, and Cristina Lagarde, President of the European Central Bank attended a secret Antarctica meeting. Two others present were Brad Garlinghouse and David Schwartz, respectively the President and Chief Technical Officer of Ripple Labs, a computer software company specializing in online payment systems.
The four tweets by the above elites, which began with Lagarde tweeting back in July 2021 that she was going to attend a meeting in Antarctica, has generated much speculation. To learn more about the Antarctica meetings, I contacted Elena Danaan to find out if her off-planet sources could supply answers to what was really happening in Antarctica.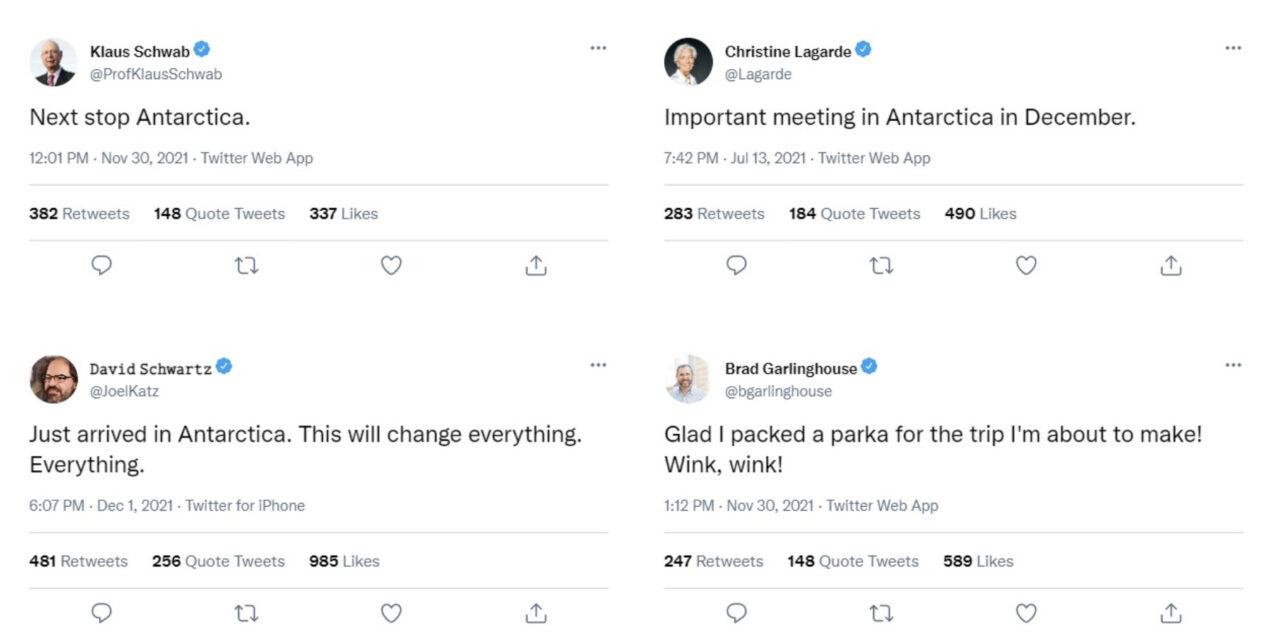 Elena received answers from Thor Han Eredyon, a Commander with the Galactic Federation of Worlds, and Oona from the Intergalactic Confederation (aka the Guardians). The answers were stunning. It appears that a major turning point has been reached and global elites are being summoned to Antarctica to meet a delegation of extraterrestrial races and Earth Alliance leaders to negotiate the terms of their surrender.
Antarctica was chosen for the meeting because it contains a portal that can transport global elites to a distant world in another galaxy where they will be well provisioned, but forever banished.
Prior to leaving for the new world, however, they have to first help the transition of the global financial system, and to undo much of the black magic that has been cast to keep humanity and the Earth itself in bondage.
Here is the first message Elena (E) received from Thor Han (TH) on December 14 about what transpired at the Antarctica meeting.
TH: By the decision of the High Council of the GFW, following the recent agreements set on Jupiter between the Earth Space Alliance and the Galactic Federation of Worlds, the Council of Five and the Zenatean Alliance.
The Terran elites under enemy leadership complied to meet on the southern continent, with our representatives, in order to hand over to the Earth Alliance their powers upon the global financial system. This ancient system is to be replaced by the new system that is to be put in place by the Earth Alliance. They are being offered, in exchange, a life off-world with all commodities.
E: Why are they not just judged for their misdeeds and sentenced accordingly?
TH: They only can unwind the dark web they created, for they cast into the foundations of your societies the anchors of great immorality. It was decided with the Terran high hierarchy of the Earth Alliance, that no greater chaos would unfold from these transfers of power, as an economic collapse would add even more suffering to these challenging times for the Terran people, already greatly wounded. The GFW and the Earth Alliance are making sure that this transition will cause the least damage as possible.
E: Does this concern only changes in the financial system?
TH: Industrial domains are interdependent with the financial system. Be prepared to witness surprising changes in the matter of new energy systems and the rolling out of technologies in many sectors.
E: Why were you on Jupiter these last days? And just back on the very same day when these meetings in Antarctica are leaked?
TH: I told you there were meetings on Jupiter. The dark elites weren't there, they would not be tolerated in the Shari facility (Ashtar GC). The dark ones met on Antarctica's land with our envoys. The latest meetings on Jupiter were about those I just mentioned, with the leadership of the Earth Alliance only. These meetings were completed today, Terran time. This is the statement I can give to you, with my superiors' blessings. Did Oona contact you?
E: Yes, she did.
TH: Then she knows more details than I do, at least for now. I shall speak to you again in the coming hours. You can of course tell Dr. Michael, and give him my fond salutations.
E: I surely will, thank you, Thor Han.
Thor Han's message gives us a clear idea of what really transpired in Antarctica. The global elites summoned there met with a delegation of leaders from different extraterrestrial organizations and the Earth Alliance that participated in the Jupiter Accords signed in July 2021. The elites were required to come up with a plan for a smooth economic transition to a more equitable monetary system and prevent a global financial collapse.
This is supported by the tweets by the two senior officials from Ripple Labs, Schwartz and Garlinghouse. Their presence and expertise signaled that what was being negotiated in Antarctica involved a new online payment system.
Could this be linked to a Quantum Financial System (QFS) that has been a topic of much speculation? According to one source, Nigel Matte, the coming QFS would be linked to a quantum internet that will be created through the Starlink Satellite system being created by Elon Musk's SpaceX.  Schwartz and Garlinghouse would have the necessary expertise to help plans for a smooth transition from the current global financial system to a QFS linked to quantum cloud computing.
Thor Han pointed out that the implications for multiple industries will be enormous starting with the energy sector. Indeed, abandoning fossil fuels is the key to unleashing a multitude of alternative energy technologies that have been suppressed since the early 1900s. Similarly, many other suppressed technologies such as electromagnetic and holographic healing modalities will be also released, thereby replacing the soon to be discredited pharmaceutical industry, as a result of national populations rebelling against mandatory vaccine policies and big pharma support for these.
It's worth keeping in mind that there are currently over 5900 patents that are suppressed in the US alone due to national security orders imposed by the intelligence community. The bulk of these suppressed patents involve alternative energy and healing technologies. When in January 2017, President Donald Trump issued a Top Secret Memorandum for the release of 1000 of these patents over the next two years, he was ignored by the intelligence community, and his administration subsequently targeted.

Interestingly, the cabal was not allowed to travel to the headquarters of the Ashtar Galactic Command where the Jupiter Accords were first negotiated between 14 spacefaring nations led by the US, with representatives of the Galactic Community. This is a big indicator of how the situation in our solar system has dramatically changed with the expulsion of the Ciakahrr (Draconian) Empire and Orion (Gray) Collective forces, and Earth's cabal being isolated from their former patrons.
After his first response, Thor Han sent additional information to Elena about the meetings he was attending on Jupiter:
TH: Another aspect of my presence on Jupiter was to discuss this phenomenon which very recently occurred in the vicinity of your star system: a collapse of the 3rd Density continuum. This occurs in pockets in the fabric of space and your star system is entering one of these on its trajectory through this arm of the galaxy. More 3rd Density collapsing will occur, as a bridge to the 5th Density. The enemy and the dark ones know about it, they knew it was happening and it is one of the reasons why they knew for a long time that they had lost this star system. I will tell you more later.
Thor Han's message corroborates that our solar system has entered a region of space which possesses a galactic anomaly that greatly impacts third density space. In 2014, scientists confirmed that our solar system was about to enter a large interstellar cloud called "the local fluff", which is approximately 30 light-years wide and held together by a very large magnetic field.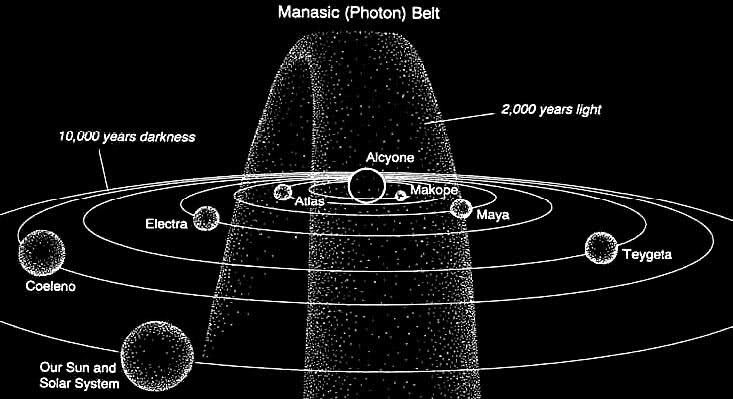 According to various researchers, this interstellar cloud was first observed back in 1961 around the Pleiades constellation and called a 'photon belt'—due to the white halo it projected. One of the "Photon Belt" advocates was Noel Huntley, Ph.D., who wrote an article in 2010 titled "The Photon Belt Encounter" where he described its existence and great interest to extraterrestrials:
What is this electromagnetic cloud, this golden nebula, sometimes referred to as the radiant nebula by ETs? Its more universal designation is 'photon belt' or 'photon band ', consisting of many bands, and any encounter with this belt is recognized by extraterrestrials as of great import.

According to Thor Han's information, Dr. Huntley was correct and the region of space we have entered will accelerate consciousness from a materialistic third density existence to a fifth density existence. According to the Law of One material, "fifth density is perhaps best described as extremely white in vibration." Therefore the "photon belt" is not an inaccurate description of this 5th density region despite what many critics have to say about the term.
If humanity's collective consciousness was not sufficiently developed to accommodate fifth density frequencies, it would implode in a self-induced global calamity. If humanity's consciousness evolved, however, a golden age of wisdom, love and peace would begin.
Thor Han is making clear that the global elites understood that the battle for Earth had been lost, and they wanted no part of what was coming. Hence their willingness to cooperate in the transition to a new Earth in order to be able to use the Antarctica portal to leave forever to another planet.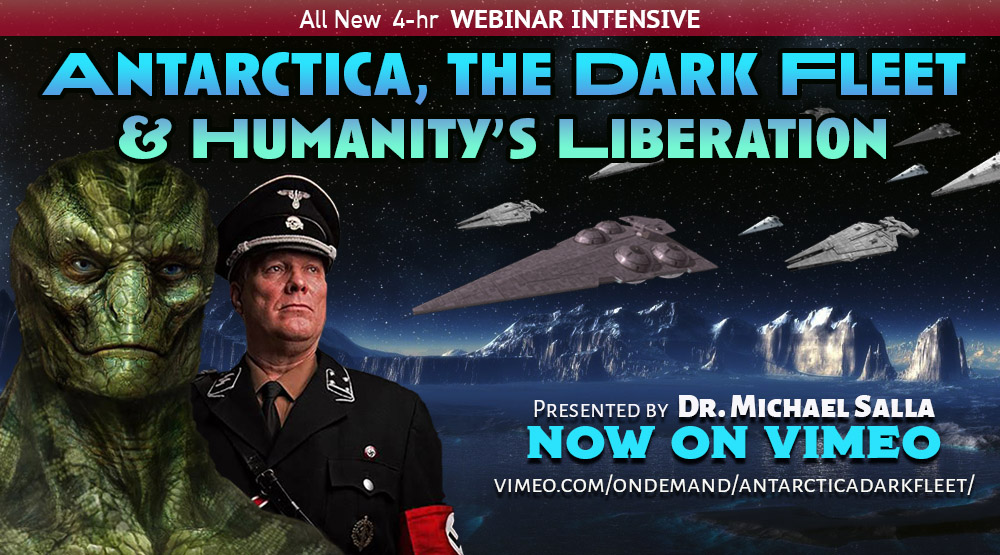 In a second follow up message sent on December 14, Thor Han communicated with Elena and shared more information about this "photon belt" (aka local fluff) and how the Jupiter Accords gave the global elite five months to surrender to the Earth Alliance. Thor Han said:
TH: I am going to talk about this natural phenomenon occurring in the vicinity of your star system. This is not an isolated phenomenon; as your star system moves throughout the grid of this galaxy, composed of fluctuating waves of frequencies, you encounter pockets of higher vibrational density of matter. What does it mean: the physical laws binding the atoms together oscillate at a faster rate. It is not about time, do you understand, the time rate doesn't change, only the perception you have of it, because your rate changes. It is not about time but only about the physicality of the fabric of space that shifts. As the universal laws of physics function, it happens that this phenomenon occurs progressively, unless the pocket of higher density is as big or bigger than the said star system. The limit of a density zone is not sharp but fuzzy. You enter into it progressively, by encountering "bubbles" until you completely merge into the new area. 
E: What happens when Earth will cross through one of these higher density zones, or bubbles?
TH: Nothing near a dramatic event, such as many Terrans imagine with fear could happen. It manifests as a change in consciousness as the perceptions, mental and physical, shift into a higher range. Physical symptoms can occur, those who have prepared their mind openly follow the wave but for those who are not ready and resist it, it translates for them by physical and mental suffering. The vision changes, the perceptions change, especially the perception of linear time, that is perceived as faster. But you know, this process, entering through this new area in Nataru, is inevitable. So Terrans need to truly let go of any resistance, such as the greatest, that is fear.
Thor Han has here confirmed that our solar system's movement into the "photon belt" ("local fluff") is not something that heralds physical destruction, but instead signals a speeding up of consciousness. Those individuals sufficiently prepared emotionally and mentally will be able to surf the coming galactic waves and manifest a new reality—the proverbial Kingdom of Heaven on Earth. Those that are not prepared will do the opposite, and experience more great stress and turmoil in their personal and collective lives.
Thor Han continued his second follow up message as follows:
E: Going back to Antarctica, what else can you tell me? I don't like these guys, they are the embodiment of evil. They have caused so much suffering.
TH: They won't anymore. When the Jupiter agreements took place, they received a warning that we would meet in five months and they would have to prepare to surrender. So they knew this and that is why they are pushing all their agendas at once, with despair. But your people is starting to see that.
E: Wait, why give them five months?
TH: For the transition. This meeting is a turning point for them, and for you. If we had suppressed them all at once, the financial and economical systems on Terra would have imploded in a terrible chaos. There are better ways. They are summoned to transfer to the Alliance their keys and tools, in order to make the transition as smooth as possible for the population.
Something else that is worth mentioning, is that they have been taught dark aetherical arts and the spells need to be undone. This will undo their power. It is powerless that they will leave this world. Because they will leave. You know, when I mentioned transition, I meant to say that Terrans need to see the faces of their enemy, in order to open their consciousness to the truth. However painful this process is, it is necessary.
E: It reminds me what the Nine told me recently, that every sentient being has a role to play in the games of the evolution of the universe.
Th: That is exact. You know, when I stayed in the Himalayan base, four years ago, I witnessed great plans being prepared for the awakening of the Terrans. The time war was the main concern. Imagine a time war like a multi layered chess board. There is no better way to describe it to you.
Thor Han's reference to the global elites use of the "dark aetherical arts and the spells" is very significant. He is referring to a little understood aspect of the global elite's control system which is the use of black magic to undergird all their activities. Thor Han is confirming here what several researchers have revealed in the past, the cabal routinely uses black magic as part of their global control system.
A good example is how the National Aeronautics and Space Administration (NASA) routinely used magical symbols for the public Space Program as documented by Richard Hoagland and Mike Bara in their best selling 2009 book, Dark Mission: The Secret History of NASA.

What we also learned from President Vladimir Putin and a military intelligence group associated with the Q movement (a movement linked to the 17th letter of the alphabet) was that the global elite are practicing 'Satanists' who conjure up the power of demonic and other negative entities to subjugate humanity and the spirit of the planet. In this regard, what Putin effectively said in his 2013 State of the Nation Address was "the New World Order Worships Satan."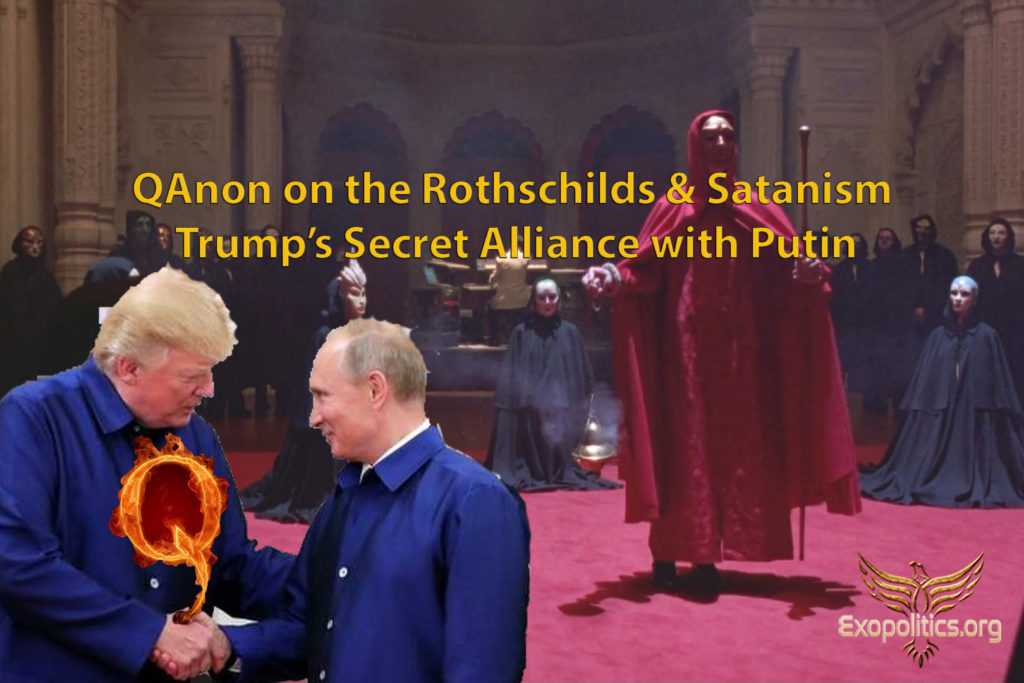 These dark magic ceremonies are routinely held at different energy vortexes or 'sacred sites' around the planet as revealed by many occult researchers such as Fritz Springmeier in his book series, Bloodlines of the Illuminati. More recently, Brad Olsen, a highly competent researcher and author, also revealed many of these black magic/Satanist practices in his book series Beyond Esoteric:
There is a complete control over the human race, and to think that black magic could be used to control the masses is disturbing. The occult is employed in a new kind of fascism today among some of the elite globalists, who completely control almost every aspect of our lives, from health and finance to politics and education…. Research indicates that occult ceremonies and rituals at the upper levels go far beyond what anyone can imagine…. Why is it so hard to believe that occult practices are a real tool for control? (p. 55).
Importantly, Thor Han pointed out the explicit connection between the Jupiter Accords signed in July and the Antarctica meetings held five months later. A provision of the Accords was the surrender of the global elite by December 2021. This timeline is corroborated by Christine Lagarde's July tweet that meetings were to be held in Antarctica in December. Her tweet is compelling evidence that the cabal had indeed been given five months to prepare to hand over their power, without collapsing the world financial system as a condition for their leaving Earth through the Antarctica intergalactic portal.
This negotiated surrender and departure of the cabal signals an incredible new time lies ahead as the world transitions to new financial, political, health, and energy systems that will revolutionize life. The message from Oona, one of the Guardians, provides yet more details into the incredible planetary transitions we are soon about to witness. I will analyze her message in Part 2 of this series.
A video version of this article is available on YouTube & Rumble
I wish to thank Elena Danaan for permission to publicly release Thor Han's messages. Her website is here.

© Michael E. Salla, Ph.D. Copyright Notice
---
Dec 16, 2021 Update: The original source for the four twitter posts cited in the above article has been found. The four tweets first appeared on the twitter account of XRP the Standard Productions on December 3. They were then reposted in an article published on The Void on December 7, which I used as my source for the above article. Two of the tweets were then posted by Ben Fulford on his site on Dec 13, 2021. Joseph Farrell cited the Void article and referred to Klaus Schwab tweet on Dec 13. I posted the above article discussing the four tweets on Dec 16. The XRP site posts satirical stories, and takes pride in misinforming people. Unfortunately, regarding the four Antarctica tweets, this does cast considerable doubt on their authenticity. However, disinformation is designed to muddy the waters about real events, and something did genuinely happen in Antarctica as one of the four sources, David Schwartz, is actively posting about his recent trip there. So we know one of the four twitter sources did go to Antarctica. Did Klaus Schwab and  Christine Lagarde also go there? Now we don't know. This unfortunate development does not diminish the accuracy of the information relayed by Elena Danaan from her source Thor Han about what has recently happened in Antarctica. All it does is cast confusion and misdirection in an already difficult field to research. While I did conduct some due diligence on the four twitter posts, it plainly wasn't good enough. Lesson learned. I will do better next time. Fool me once shame on you. Fool me twice …
Michael Salla, Ph.D.
---
Related Podcasts and Articles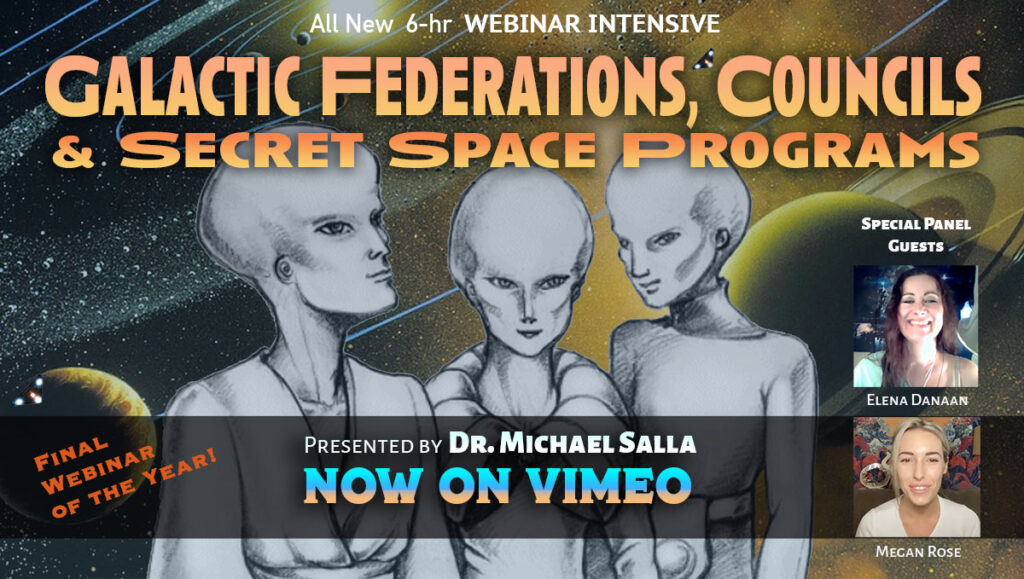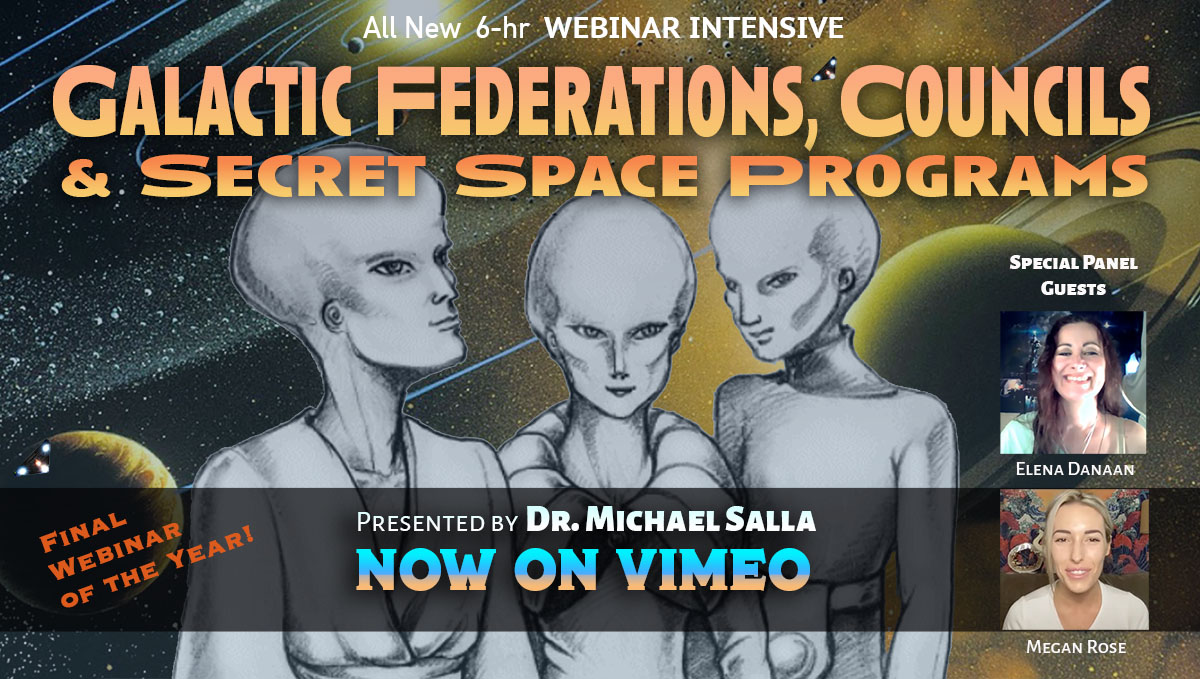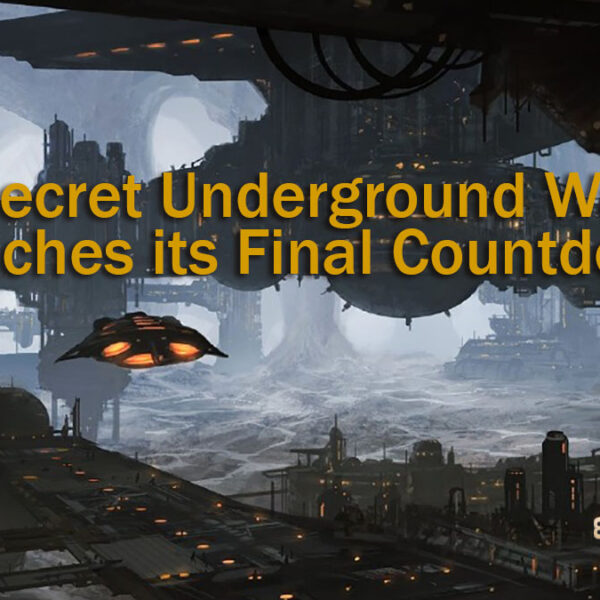 According to Val Nek, a High Commander with the Galactic Federation of Worlds, we have entered the Final Countdown in an epic behind the scenes war taking place in remote underground facilities scattered throughout the US and the rest of the planet. His latest update, relayed through his contactee, Megan Rose, gives many details on coordinated military campaigns conducted by special forces belonging to an Earth Alliance working alongside their peers from the Galactic Federation aiming to remove the last remnants of a Deep State extraterrestrial alliance ensconced in multiple underground facilities.
On October 14, Megan relayed the following update from Val Nek [VN]:
VN: The end of the war is near. The Federation and the Earth Alliance have made ample preparation for the communications systems on Terra to be completely secure. The radio frequencies, which were hacked by the Orion greys, three letter agencies and the Dark Fleet, are now in the hands of the Earth Alliance. As I spoke previously, the Earth Alliance has been fighting alongside the Federation to take back the planet. The last part of this war, the final countdown, is the war underground. The war underground is one of the bloodiest and most horrific wars we have ever fought. I am sure that the Terran military can also say the same.
What Val Nek describes here is not unlike the final months of World War II when Nazi Germany and Imperial Japan fought to the bitter end. This served a dual purpose. To spite the Allied powers by destroying vital civilian infrastructure necessary for national rebuilding, and also to give time for personnel and resources to be diverted to underground bases in Antarctica and South America for the creation of a secret space program 'Dark Fleet' (aka 'Nacht Waffen') that was formally allied with the Draconian Empire.
Today we are witnessing similar ferocious battles this time taking place in the Deep Underground Military Bases (DUMBs) in the US and elsewhere around the planet as the Earth Alliance moves against the Deep State and their Orion Gray allies, after succeeding in a similar cleanup effort in Antarctica as described in previous articles. Val Nek's reference to a 'Final Countdown' indicates that time is short for the Deep State and its alien allies, as their strategic situation collapses in the underground war.
While the war's outcome may be clear, it can be predicted that the Deep State, like the Nazis before them, is prolonging the war to destroy lives and infrastructure in an act of malice, while taking the opportunity to relocate whatever personnel and resources it can away from the battlefields to remaining 'safe locations' whether on Earth, our solar system, or elsewhere in the galaxy.
Val Nek continued his update by describing how Earth Alliance soldiers wounded in the ferocious underground battles are being healed:
In previous reports, I have said that these soldiers are finding refuge in healing technologies available on Lunar Operations Command, soon to be expanded into a fully functional, state of the art facility with higher density technology, as outlined in the Jupiter Agreements. While I cannot speak for the Earth Alliance, I can report that the Federation's duties in regards to cleaning and clearing underground bases is now complete. This is excellent news.
In a previous report, Val Nek reported how Lunar Operations Command was being repurposed as a medical facility where Galactic Federation healing science and technologies were being introduced to the Earth Alliance. Major companies were involved in mass production of these advanced healing technologies for eventual release to humanity.
Importantly, in a previous article, I cited JP, a serving member of the US Army who I have known since 2008, who revealed that he and army colleagues were being sent to the Moon to build new facilities for a multinational alliance working with 'Nordic' extraterrestrials. This was important corroboration for what Val Nek has previously asserted, and makes it plausible that wounded special forces personnel are being taken to the Moon for healing.
Val Nek's update next discussed two important US bases where underground fighting was occurring:  
There are two bases that were the last of our concerns: the Dulce Base and Area 51. As Commander Ereydon previously reported, Orion greys were captured and we were able to identify their energy frequency, their genetic encoding that connected their consciousness. I can confirm that this code indeed was hacked and soon all communication systems in Terra will be secure. There are no more extraterrestrial threats to Terra, in that respect at this time. The Alliance has the job of recovering the servers, changing the frequency of the servers, and replacing the satellite communications. They have everything they need, they have the technology. We moved forward with the liberation of Planet Terra.
Val Nek was here referring to a previous report from Thor Han Eredyon, another Galactic Federation Commander, that was relayed by Elena Danaan, which discussed the capture of nine Orion Gray extraterrestrials. Again, there was independent corroboration for such a claim, which came from another contactee, Alex Collier, who described what he had learned from the Andromeda Council about the capture of a group of Orion Grays.
I asked Val Nek a series of questions about his update which Megan kindly relayed to him and I received the following answers:
Q1. You describe the battles at these underground bases as being particularly ferocious. Can you share any details about these battles in terms of weapons used, personnel and their locations?
VN: Yes, I can speak on behalf of federation personnel who fought alongside the Earth Alliance. It is important to note that it is the Federation's duty to remove extraterrestrial presence in these areas. In the interest of training the Terran military, human soldiers also fought alongside to eliminate some of the areas with the Federation. These human soldiers have never seen such horrors, most of them, and they deserve our greatest respect. The weapons that were used to dismantle the malevolent extraterrestrial presence in these areas are common to the Federation and will be manufactured for the Earth Alliance to use in the future. They are best described to you as laser guns. They emit a high frequency "laser" that de-magnetizes the atomic bonds of a structure or person, inflicting trauma and death. These devices are relatively simple and are effective in 4th and 5th density, where most of these beings reside. Most of these human soldiers are unable to see at 4D or 5D effectively with the naked eye. They have special super suits with helmets for viewing.
This is not technology from the Federation, rather something that was previously developed in their space programs, but nonetheless effective. Our military strategy was this: isolate a section of the base and attack. This was done in a manner to preserve the most life, as these beings and corrupt military officials hold hostage humans and other beings for experimentation.
I first heard of supersoldier suits worn by secret space program personnel back in 2014 from Randy Cramer, who says that he served in a 20 and back program from 1987 to 2007. He described how he was trained to battle against indigenous extraterrestrial species on Mars on behalf of a corporate run secret space program that US marines were secretly recruited to protect.
Cramer's testimony was backed by a former US Marine Corps serviceman and Washington State Trooper, Michael Gerloff, who provided extensive documentation of his claims that US marines were being recruited during boot camp for a secret space program. Ironically, the Galactic Federation secretly armed the indigenous Martians to fight against the Dark Fleet and corporate alliance thereby liberating their planet.
Later, Val Nek gave additional information in response to Q1.
Q1: VN: I would like to add that the Dulce base and Area 51 were the last to be cleared due to high ranking grey residents from the Orion group. These beings carried a master frequency that was necessary to hack their consciousness and the internet systems of Terra. Area 51, for a long time, has been used as a base by the Killy Tokurt, or Tall Whites, specifically, and officials of the corrupt Terran government. These beings, I can report, a small number of them, were also captured for a similar purpose. The Killy Tokurt have connections to the Terran government. The Killy Tokurt, for a very long time, have offered certain services to Terran governments, which I will not disclose, but is part of the extraterrestrial infiltration. I can report that this information is recovered and we are working diligently alongside the alliance.
We have extensive information about the Tall Whites (aka Killy Tokurt) thanks to the insider revelations of Dr. Charles Hall, who served for nearly three years as a weatherman for the USAF at Nellis Air Force Base in the mid-1960s. He wrote a five-volume series of books titled Millennial Hospitality where he described the agreements between the USAF and the Tall Whites dating back to the 1950s, and how each provided services to the other including an underground facility at Indian Springs out of which the Tall Whites could operate.
Significantly, corroboration for Hall's remarkable claim came in the form of a Nevada news story describing funds earmarked for the construction of a large underground facility at Indian Springs at the time of the agreements, which has never been officially disclosed. Val Nek's claim that several Tall Whites were captured as a result of underground battles at Area 51, is consistent with Dr. Hall's information about them having a major base there.
I next asked Val Nek about a secret base in my home country of Australia:
Q2. Was Pine Gap Australia among the underground facilities where battles were fought? If so, what can you share about this facility and any battles that took place there.
VN: I am not at liberty to disclose operations in Australia, although I can confirm that the war underground has been won and extraterrestrials have either fled or been removed by force from the planet.
This is indeed good news since Pine Gap has long been regarded, alongside Dulce New Mexico, as a place where some of the most egregious human rights abuses were taking place against captive civilians used in genetic experiments.
I next asked Val Nek about the infamous 1979 Dulce incident:
Q3. You describe Dulce base as being among the last to be cleared, how does the ongoing battle there compare to a reported 1979 firefight incident between US Army Delta forces and Orion Grays?
VN: The Dulce base was the hub of the Orion Grey network. The underground facility there is many miles deep with access to tunnels all over the country of the United States. I am not aware of the specific incident you are referring to. However I can report that this species of Greys die quickly and very easily. This was not our goal however. Our goal was first to capture them and find the key to their hive consciousness. This was successfully done by the Federation. The rest of the base and the beings inhabiting it were eliminated by the Federation using our weapons as described above.
The humans hostages were removed and cared for by the Earth Alliance, in facilities they have set up for medical purposes. The human-hybrid or hostage extraterrestrial species were cared for by the Federation as they contain genomes that are unknown to medical personnel of the Alliance. However, you may find interesting, that your Terran military will be trained in the genetics of these species, should it become necessary in the future.
Back in 2003, I wrote an extensive report on multiple insider testimonies about events at Dulce and the infamous firefight that occurred there. The report is available on my website.
Q4. There are rumors that the Deep State is making its last stand in Australia and Hawaii, is there any truth to such rumors?
VN: I cannot comment, in the interest of Megan's safety, on this question.
This is a very telling response. Australia is adopting some of the most 'Draconian' police actions in the Western world against protestors to enforce official government health policies. As far as Hawaii is concerned, at the time of writing, my wife and I are leaving the Big Island after 17 years residence since the signs are very foreboding for those that choose not to comply with increasingly 'Draconian' health policies. It's very plausible that the Deep State and its extraterrestrial allies is indeed making its last stand in these two idyllic Pacific locations.
My next question concerned weapons of mass destruction possessed by the Deep State:
 Q5. There have been claims that the Deep State threatened to use portable nuclear weapons and other exotic weapons such as scalar, torsion, 'toplet', and 'strangelet' bombs if its existence were threatened. Have such weapons systems been located and neutralized?
VN: Oh yes, I am happy to report on this. Nuclear weapons are easily dismantled using technology from the Federation. This technology was offered to governments of your people, in the 1950's, but declined. I can now report that this technology is in the hands of the Earth Alliance, and they have graciously accepted our viewpoint of nuclear weapons. Our viewpoint is this: these are weapons of mass destruction, for all involved, and will not be beneficial for planet Terra. This technology, to dismantle nuclear weapons, uses magnetic frequency. The magnetic force is made from elements that are not known to planet Terra. It is rather simple when you think of a bomb as a simple chemical reaction, how to reverse a chemical reaction using elements, is simple technology.
It's very true that nuclear weapons technology has long been a great concern to the Galactic Federation, which has raised the proliferation of these weapons systems as an important feature of their historical diplomatic contacts with different US and Soviet administrations. Elena Danaan's latest book, We Will Never Let You Down, which I highly recommend, discusses these historical negotiations in great detail.
In addition, I recommend viewing a recent Press Conference involving former USAF officers revealing how UFOs interfered with nuclear missiles, effectively neutralizing them for unspecified periods. This directly corroborates Val Nek's comments about Federation technologies that can neutralize such dangerous weapons systems.
Q6. You mention the Earth Alliance is replacing compromised satellite communications systems, is Elon Musk's Starlink the chief means for a new uncompromised system?
VN: Yes, the satellites I am referring to are satellites on the ground. These satellites will be replaced with satellites in the orbit of Terra, in the sky. Starlink is not the correct name for this system, it is something else. I will not disclose, but you are welcome to speculate. It uses similar technology to the satellite system you call Starlink.
([Megan]: Val Nek says, very close, but no cigar….to above)
Val Nek's response is again very telling. Something like Starlink has been prepared and is about to officially launch. My speculation is that Val Nek is alluding to the Space Fence which is formally under the control of US Space Command. This new communication system, will certainly be run by US Space Command and the multinational space alliance it has formed as a result of the Jupiter Accords which have been discussed in previous articles. Importantly, General James Dickinson, the head of Space Command, confirmed in August that over 100 agreements have been reached with different national space agencies, military commands, and aerospace corporations making it feasible that such a satellite communications system has been secretly prepared, and is close to being launched.  
My final question to Val Nek was the following:
Q7. If hacked radio frequencies and communications system previously used to stifle dissent and public awakening are now in the hands of the Earth Alliance, how long do we have to wait before we see signs of social media and mass media putting out genuine information on what is happening around our planet?
VN: I cannot completely answer this question because it involves private Terran companies and is out of the hands of the Federation. I can disclose that the Earth Alliance has been given the technology and the tools to create an internet system that is beneficial. The time frame, I cannot disclose, but will not take long. It is an active operation, please understand.
It is significant that Val Nek has relayed this just after President Donald Trump announced the launch of a new social media company, Truth Social. As I've discussed previously, according to Professor Haim Eshed, the father of Israel's space program, Trump has been working with the Galactic Federation to disclose its existence to humanity. Therefore, it would not be a great surprise that Trump is playing a crucial behind the scenes role in creating a new internet system.
In conclusion, there is much to welcome in Val Nek's most recent report. His revelation that humanity has entered the Final Countdown to the impending defeat of the Deep State, Orion Gray, Draconian and Dark Fleet alliance is most welcome news. While more ferocious battles lie ahead, the secret underground war has entered a decisive phase and we may not have to wait too long to see the results, and the unveiling of a Star Trek future.
© Michael E. Salla, Ph.D. Copyright Notice
Podcast version of this article is available on Apple, Spotify and Google.
Video version available on YouTube & Rumble
I wish to thank Megan Rose for forwarding Val Nek's update and his answers to my questions. I highly recommend subscribing to her YouTube channel.
Related Articles & Podcasts
For a complete list of articles and interviews concerning the Galactic Federation and/or featuring Megan Rose and Elena Danaan click here.
Finally, if you want to learn more about different Galactic Federations and Councils and how these work with multiple national space programs, I recommend my latest webinar which is now available on Vimeo.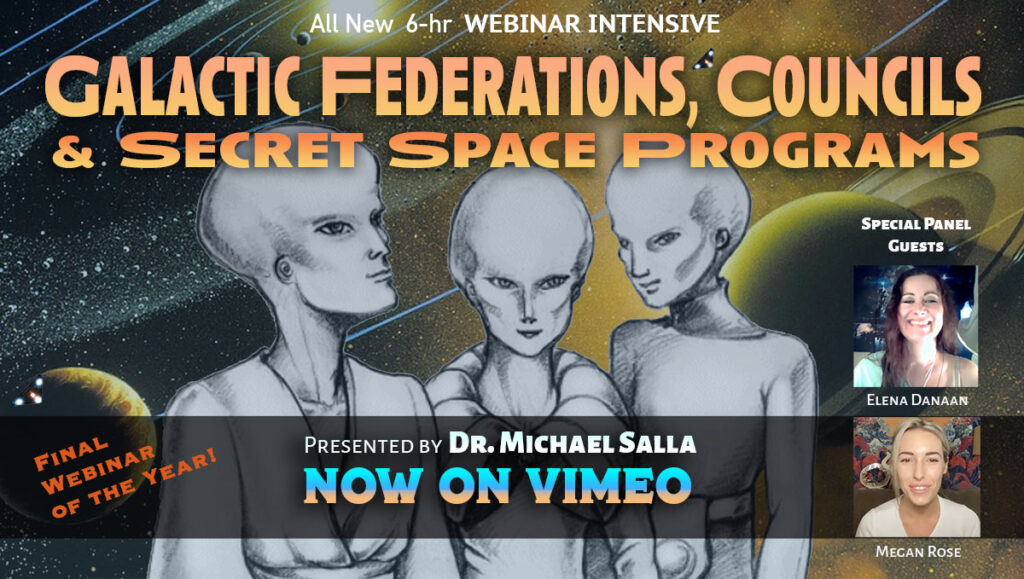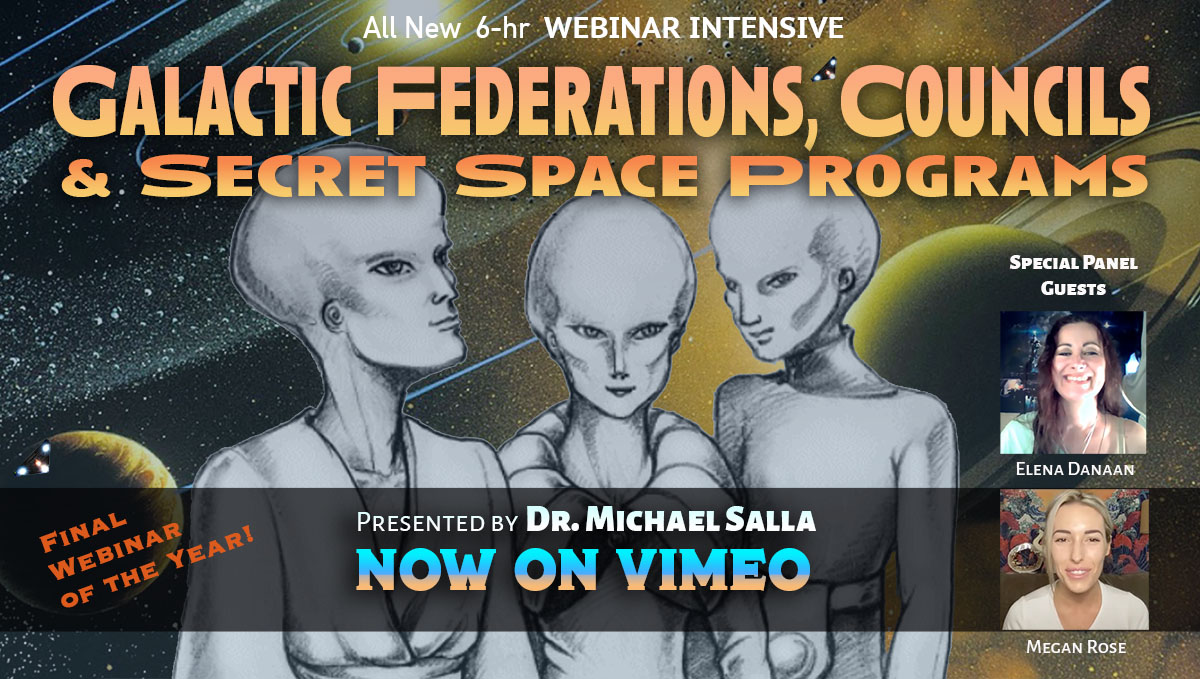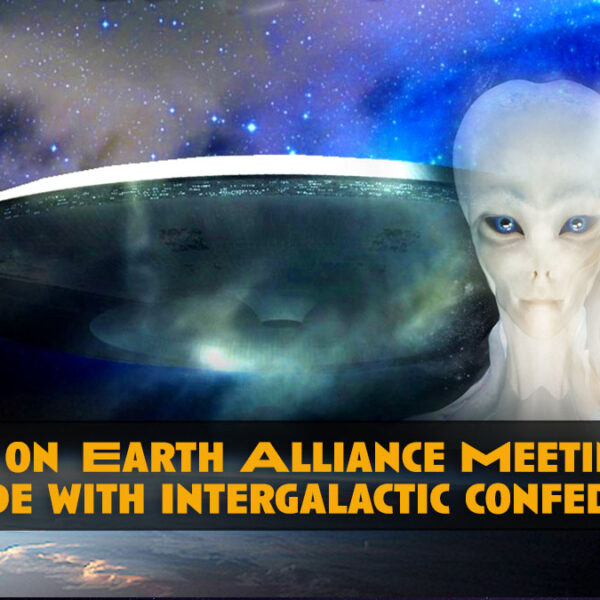 On October 15, I received an update on the recent meetings on Ganymede between representatives of the Earth Alliance with several extraterrestrial organizations and a new group entering our solar system—the Intergalactic Confederation. The update from Val Nek, relayed through Megan Rose, makes for a total of four independent sources reporting on Ganymede being the site of meetings with a highly evolved new group of extraterrestrial visitors to our solar system.
In my October 13 article, "Earth Alliance mission to Ganymede to greet ET visitors and inaugurate a Star Trek future," I presented the intel from three independent sources. These were JP, who currently serves with the US Army and participates in off-world covert missions controlled by US Space Command. Thor Han, whose intel was relayed through Elena Danaan, and Alex Collier, whose source is Mornay from the Andromeda Council.
Val Nek's update provides more intel with which we can better evaluate the scope and significance of the secret Ganymede meetings. His update begins:
The Earth Alliance has completed its first mission to Ganymede, one of Jupiter's moons…. This station was used as a meeting place for the Earth Alliance, the Andromedan Council, the Council of Five and a group of what humans of Terra would consider extremely advanced extraterrestrials. These beings can manifest themselves as extraterrestrial looking species, but in actuality they are more of a consciousness, a super-consciousness that have looked over this galaxy and many others for eons. As coordinator for this mission, I can report on my role and what I am at liberty to disclose.
These beings travelled to this solar system to witness a birth of a new era, an era that includes the liberation of Earth. As the enemy conveniently reports that there are multiple timelines at play, in an effort to confuse the Terrans who are so desperately looking for liberation from hostile control, the truth is that this solar system continues on one timeline together, simultaneously. It is a timeline that benefits the entire galaxy and marks a successful end of war between the Terrans, the Federation, and the Orion group.
What Val Nek is effectively saying here is that there is not going to be a split or separation of humanity into different groups that proceed to multiple worlds, densities, timelines, etc., in a planet-wide 'harvest'. In the RA material, it was said that humanity would polarize into different ascension paths. Those that made the cut for a positive polarity ascension (>50% service-to-other level of consciousness) would ascend into a 4th density positive Earth. Those that attain a negative polarity (>95% service-to-self consciousness) would ascend to a different negative polarity 4th density world. Finally, those who did not graduate (less than 50% service to other and less than 95% service to self) would be taken to another 3rd density Earth to repeat another 26,000 year cycle.
Ever since the RA material (aka Law of One) emerged in 1981-1984, there have been a steady stream of psychics, researchers, and contactees/abductees that have spoken of coming cataclysmic events marking a coming separation of humanity in a planetary 'harvest'. What instead appears to have recently happened is that a temporal war over a future galactic tyranny has been won by the Galactic Federation, its partner ET organizations, and the Earth Alliance. Apparently, this means that a planetary harvest does not occur, and most of humanity collectively moves forward in a positive timeline—a Star Trek future.
Val Nek continues:
I can report that I was in charge of the Federation troops and organizing the troops of the Alliance. I must emphasize that while this mission was not one of war, it was equally important in the eyes of our ancestors, the superconscious, which some call an Intergalactic Federation. This name is for us to use, however, these beings operate at such a high level that they do not use words, language or anything of the sort to express themselves. It is by all means a translation of a frequency for our own understanding. This mission was especially important for the Earth Alliance. The leaders of the Earth Alliance and their respective space programs, which I can report will all be federated under a new name, which I will not disclose. The name was chosen after the meeting with the Intergalactic Federation.
In earlier updates, I reported that agreements were reached in meetings held upon an Ashtar Command base above the atmosphere of Jupiter between leaders of 14 spacefaring nations and an alliance of positive extraterrestrial groups: the Galactic Federation of Worlds, the Ashtar Command, the Andromeda Council, and the Council of Five. The 14 spacefaring nations agreed to work together under the leadership of the US Space Command to form a multinational space alliance similar to 'Starfleet' as depicted in the iconic TV series Star Trek.
Val Nek's update means that despite mainstream media depictions of relations between the world's major nations deteriorating to the point of a devastating regional war coming soon, agreements are being secretly made and implemented in the background. Eventually, these agreements will be revealed, and humanity collectively embarks on a new future under a more unified global political structure whose name is still secret.
Val Nek continues:
The Terran leaders were deeply moved by the experience. For the first time, their perception of reality, and the meaning, the purpose of leadership and guidance in this galaxy deeply touched their consciousness. The development of the Terran leader's consciousness is something we have been trying to influence in a positive manner for some time, but especially recently, since plans are being made to hand over the responsibility of defending Terra with the production of the star fleet.
These Terran leaders, I can say with confidence, have been influenced by the consciousness of the forefathers, the fore seeders, in such a way, that the Federation and the Council of Five, along with the Andromedan Council have no reservation in their ability or ethical standards as it relates to being responsible for the safety and positive progression of the planet.
I will reiterate again that this message may be more important to the Terran people than any other message. I am aware that they have been concerned for some time, rightfully so, as to the ethical and moral standard of their leaders. We will continue to move forward. I salute you.
If humanity's political and military leaders that attended the Ganymede meetings have been transformed as a result of their meetings with the Intergalactic Confederation (or Federation), that would indeed be a tremendously important message for us to contemplate.
In a second October 15 message, Val Nek asserted that the Ganymede meeting discussed the timing of full disclosure of extraterrestrial life: 
The disclosure of extra-terrestrial life to the Terrans is something that was discussed at these meetings. As I stated previously, the consciousness of the Terran leaders was first evaluated by the elders or the seeders. A plan was formulated to disclose to the world, to Terran civilians, the truth of extra-terrestrial life and the relationship these beings have to the Terran people. This is a delicate procedure as most Terrans have been fooled to believe they are the only life in this solar system, this galaxy. As to not scare the Terrans, disclosure will happen slowly over time.
There is a specific plan that has been formulated as I mentioned, in accordance with this timeline, which will unfold, but I am not at liberty to give specifics. The guidance that was sought from the Intergalactic Federation included this matter, they agreed that the Galactic Federation and the earth alliance's plan indeed encompasses the best interest of the Terran people.
It can be speculated that extraterrestrial disclosure will follow not long after the public release of advanced health technologies, free energy systems, and exotically propelled spacecraft being mass produced for a future Starfleet described in previous articles. These technology releases would increase public confidence in a new global federated political system agreed to at the Ganymede meeting that will replace the compromised Deep State controlled international system currently in operation
I asked Val Nek a series of questions that were relayed by Megan to him, and I received his answers on October 16. What follows is the relevant Q and A with Val Nek (VN).
Did the Earth Alliance establish a base of operations on Ganymede, was one given to them, or did they just visit and leave?
[VN] The Earth Alliance does not have a base there. We, the Federation and the Alliance, were given one to use for these meetings. The base belongs to Ashtar Galactic Command, from the Sirius B system, they are a group that rebelled against Ciakahrr infiltration and set up a military presence in the orbit of Jupiter. I can report that once Federated, meaning the Earth Alliance joins membership with the Federation, they will be given access to certain sites and bases as a courtesy to use for such events or meetings.
This means that whatever facilities were provided to the Earth Alliance on Ganymede are temporary, and merely provide a means for future meetings and negotiations until such time as the Earth Alliance formally allies itself with the Galactic Federation.
Did the Earth Alliance leaders come from their civilian space programs or their military space commands?
[VN] I can disclose that some leaders were escorted by the alliance military and the Federation. These leaders included members from the United States and their organized space command. Soon there will be one organized faction orbiting Terra, which will be a military force. There were privately owned civilian space programs used for transport, however, not for leaders of Earth Alliance.
Val Nek has revealed that the Star Trek future envisaged as the optimal timeline in a 2019 Space Futures Workshop Report that presented eight possible future scenarios in space by the year 2060 is going to happen much faster than predicted.
Were aerospace corporations present at the meetings?
[VN] I can report that yes they were, in the interest of spiritual progression, they were invited. You see, it is the Federation's goal to help develop the consciousness of all these leaders, peoples and corporations, by exposing them to different cultures and points of view, of course, from an extraterrestrial point of view. This is likely to benefit their consciousness, but also an understanding of other species, whom they will interact with when members of the Federation.
This is significant since it means that the same corporations that attended the July Jupiter meetings were also present at the Ganymede meetings. In a previous update, it was confirmed by Val Nek that SpaceX, Blue Origin, and Virgin Galactic were among the aerospace companies that attended the Jupiter meetings. Two of the CEOs of these corporations, Jeff Bezos and Richard Branson, were on their respective company's first manned spaceflights to the lower edge of space, which were effectively covers for them to attend the Jupiter meetings. This confirms that manned spaceflights are being used as covers for corporate CEOs and their representatives attending diplomatic meetings with different extraterrestrial organizations. This is pertinent to the next question:
Was William Shatner's recent Blue Origin flight a cover for him to attend the meetings?
[VN] I cannot confirm but you are welcome to speculate.
My speculation is that Shatner along with the three other 'astronauts' that flew with him in Blue Origin's second manned flight, did use this as a cover to attend the Ganymede meetings. For the record, the three other astronauts were Audrey Powers (Blue Origins Vice President of Mission and Flight Operations); Glen de Vriest (Medidata Solutions Co-Founder); and Chris Boshuizen (Planet Labs Co-Founder).
What was especially telling was the strong emotional reaction Shatner had after the flight. Shatner told reporters:
"I'm so filled with emotion about what just happened. It's extraordinary, extraordinary. It's so much larger than me and life. It hasn't got anything to do with the little green men and the blue orb. It has to do with the enormity and the quickness and the suddenness of life and death.
"To see the blue color whip by you, and now you're staring into blackness … everybody in the world needs to do this. Everybody in the world needs to see this."
"I was overwhelmed by all the things we need to do and the loves and the losses. It was an enormous moment for me that I never expected."
Clearly, Shatner was overwhelmed by the experience, but was it solely due to a spaceflight for a few minutes above the Von Karman line, an altitude of 100 kilometers, or was his emotional reaction due to something far more significant having taken place? Have Shatner's memories of an extraterrestrial encounter been temporarily repressed, so all he had left was the emotional impact of the encounter? This takes me to the next Q & A:
Can you elaborate on how the Alliance leaders were moved by the meetings? E.g., heart chakra opening, clearing negative energy attachments, connecting to source energy, etc.?
[VN] Ahh this is a very interesting answer. You see, these beings, the consciousness if you will, that we call the Intergalactic Federation, they are responsible for seeding many different races that date far beyond the history of man. They are the ancestors of planet Terra and many others, and hold the consciousness of creation. It may be helpful to think of them as energy instead of extraterrestrials or people. Their energy holds a quantum frequency that contains the original intention of this planet and its people, when it was first created and even before it and the inhabitants were created.
Please understand that we are aware there has been many genetic experiments on planet Terra, with the human race, but this is not what I am talking about. I am talking about the development of the soul, of the consciousness. By just being in their presence, the quantum frequency activates a "knowing" within them. A knowing that they are not a body, but a soul. That they are connected to the heart of the people, of all people. And so working together in the best interest of all, is what will be not only beneficial, but the intention behind creation.
This is a vitally important clarification by Val Nek. Just being in the presence of members of this Intergalactic Confederation triggers a "knowing", a soul awakening, through the quantum frequency they emanate. I can only speculate about the effect of being in the presence of highly evolved beings that awaken one to the "original intention of this planet and its people". It would indeed be overwhelming and life-changing, similar to what Shatner reported.
Val Nek's update is indeed stunning in its scope and implications. He has provided significant new details about what transpired on Ganymede. It's vitally important to emphasize that Val Nek's information is the fourth independent source reporting on the Ganymede meetings. Something profound and life-changing is currently happening on Ganymede, and we may not need to wait too long before the truth is finally revealed for all humanity.
© Michael E. Salla, Ph.D. Copyright Notice
[Video Version of this article is available on YouTube and Rumble. Podcast available on Apple, Spotify and Google]
Related Articles & Podcasts
For a complete list of articles and interviews concerning the Galactic Federation and/or featuring Megan Rose and Elena Danaan click here.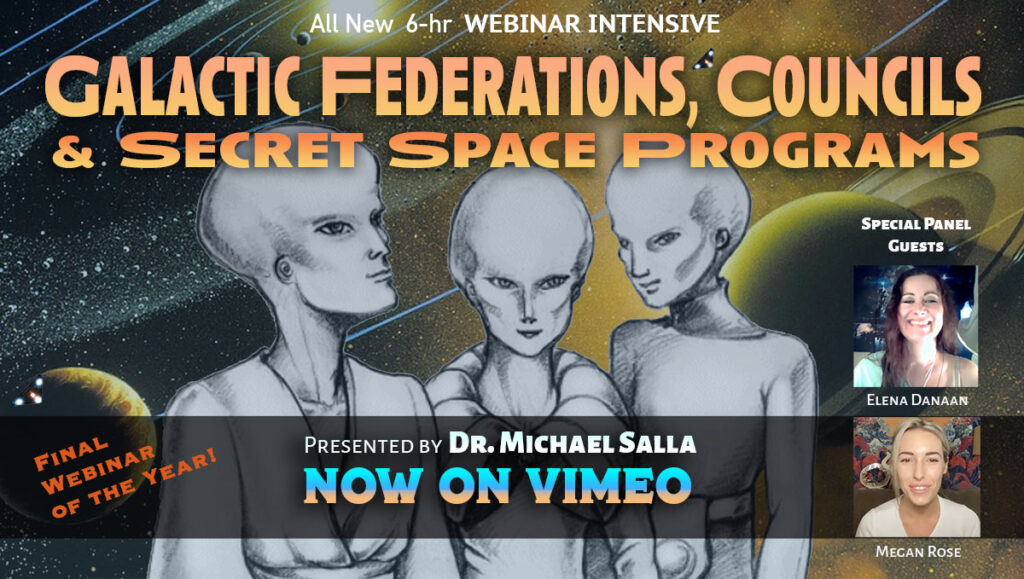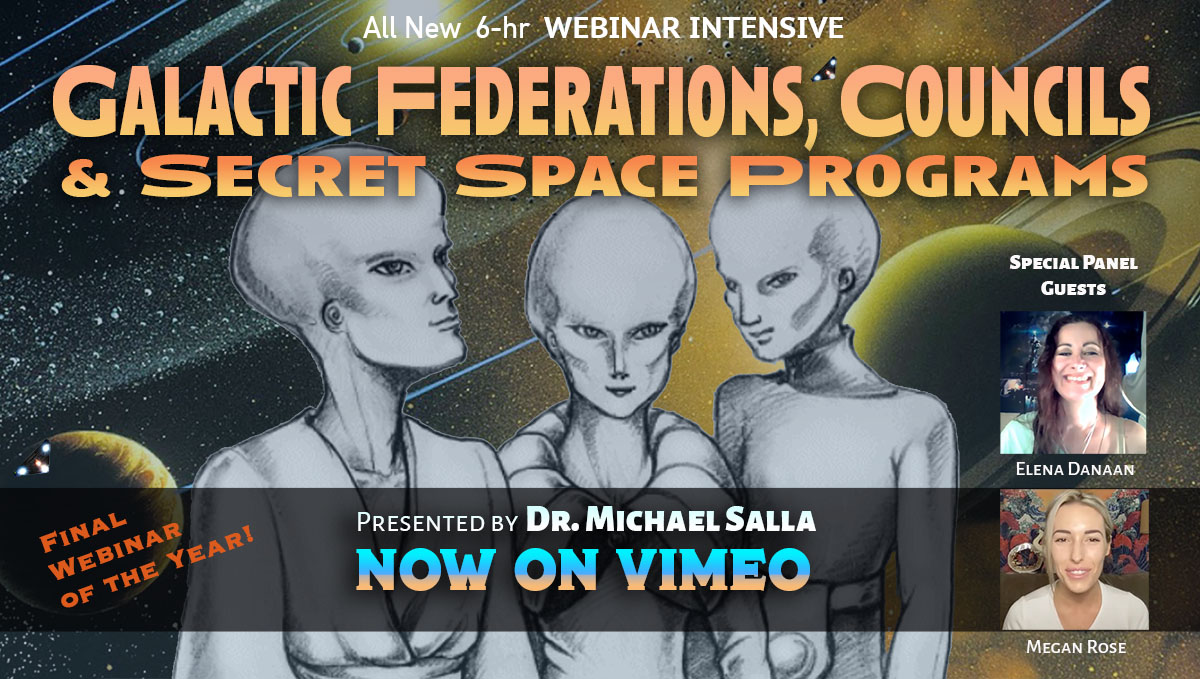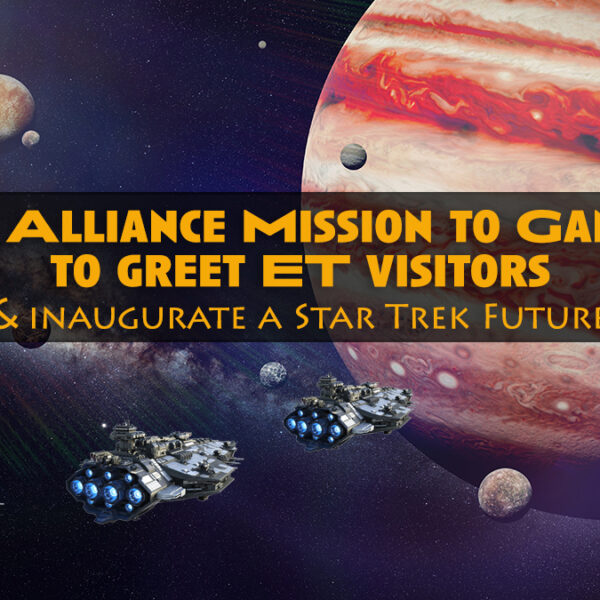 A fleet of spacecraft from a highly evolved group of friendly extraterrestrial visitors has arrived in our solar system and established a presence on Jupiter's moon Ganymede, according to three independent sources familiar with unfolding events in deep space. This latest intel coincides with William Shatner, globally revered for his role as Captain Kirk in the Star Trek franchise, being launched into space on October 13, a likely cover for him playing a significant role in unfolding events on Ganymede.
My first source, JP, who currently serves with the US Army, revealed to me that an international space coalition has been secretly sending personnel and ships to Jupiter's moon Ganymede, to meet with a powerful new group of extraterrestrial visitors regarded as friendly.
My second source on what is currently happening on Ganymede is the extraterrestrial contactee Elena Danaan, who has passed on the most recent intel from her Galactic Federation source, Thor Han Eredyon, about the visitors who are establishing an outpost on Ganymede to coordinate with the Earth Alliance until humanity is ready for open contact.
My third source is long-time Andromedan contactee Alex Collier who confirmed that there has been much recent activity on Ganymede, which possesses a number of large extraterrestrial facilities that have been present there for thousands of years.
I begin with intel from my long-time source JP who I've known since 2008, which was when he first contacted me about his extraterrestrial contact experiences in Brazil. JP revealed back on September 7 that he and other US military personnel had been assigned to covert Moon operations and began assembling large facilities there with the assistance of human looking extraterrestrials working with US Space Command.
In an earlier article, I discussed what JP had revealed about US military operations on the Moon that corroborated information being released by another contactee, Megan Rose, and her source, Val Nek, about the Galactic Federation building a new base on the Moon. The new moonbase would use secure technologies to prevent infiltration by hostile extraterrestrials from the Draconian Empire and Orion Alliance.
On September 21, JP first informed me about a large space convoy leaving the Moon and heading towards Ganymede to meet with an incoming group of friendly extraterrestrials. He told me:
Also, something good is happening. They're moving some technology from the moon to Ganymede. Among the soldiers everybody talking. Major space convoy… Sometime this week or next week the convoy leaves. Don't know the exact hit time. Earth satellite to Jupiter's satellite. 
The large space convoy would not be using rocket-propelled technologies to get to Ganymede, which would take more than a year. The space convoy would take a fraction of that time using antigravity, torsion field, and other exotic propulsion systems. JP let me know the route the Earth Alliance convoy would take:
To the Moon, then Ganymede..  But in between the Moon and Jupiter's satellite there's gonna be major stops like in Mars and in the astro belt..  Before reaching Jupiter's gravitational pull.
On September 27, JP asked me: "From your sources you know anything about going to Ganymede. The soldiers are still talking about it…"
I replied: "My Federation sources are not talking about Ganymede. Tell me what the soldiers are saying." JP continued:
"That they're moving some advance technology from the moon to the biggest moon in our Solar System … And when I heard you talk about the Jupiter meetings.. I really got interested. It's a moon that has a magnetic field and has a lot of water… There's massive facilities there already. We are just transporting a shit Load of stuff…. There's massive structures there massive … I remember them saying that there was a massive war there [Ganymede] a couple 1000 years ago…. All I know is an armada is heading over there… BIG Big ships
I have covered the Jupiter Meetings first revealed by Thor Han through Elena Danaan and later corroborated by Val Nek through Megan Rose in an interview. One of the pieces of corroborating data that I referred to was the announcement by NASA that the launch vehicle for the Clipper Mission to Europa, Ganymede's sister moon, had been awarded to SpaceX. I speculated that this was the cover for Musk to attend the Jupiter Meetings. His attendance, along with that of Jeff Bezos and Richard Branson, was later confirmed by Val Nek.
With this new intel from JP, it becomes clearer that the NASA Europa Clipper mission is a cover for a much larger space operation, an Earth Alliance convoy to travel to Ganymede to set up facilities to meet and interact with an incoming group of extraterrestrial visitors.
JP next had an encounter with a human-looking extraterrestrial who told him to prepare for being part of one of the upcoming military missions to Ganymede to meet with an incoming group of visitors. This did not come as a surprise to me since JP's recruitment into the US Army was facilitated by US special forces personnel who had several years earlier helped him take photographs of antigravity spacecraft flying near MacDill Air Force Base in order to promote disclosure. I analyzed JP's photos in a series of articles, including my latest book on the US Space Force.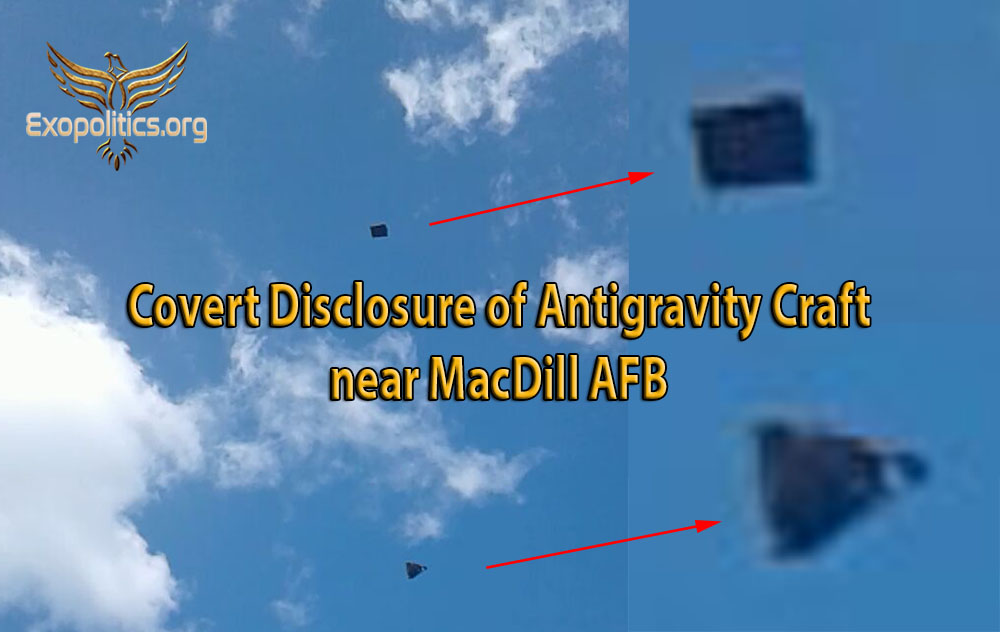 On October 4, I asked Elena whether she knew anything about "something big … coming into our solar system", she replied:
I also heard about another great return, of powerful benevolent forces, from another dimension and realm. A great force that has always tried to free Humanity of Earth from slavery. This also is back. We are up for a great grand finale.
This takes me to Elena's [E] latest intel from Thor Han [TH] received on October 10, which provides much more information about this incoming benevolent force, and the connection with Ganymede:
TH: The fleet from the Intergalactic Confederation has arrived in this star system. Their ships will be stationed around Jupiter for a while, until further notice to move nearer to Earth's orbit. The personnel and logistics are welcomed on the Ashtar outpost. High officials are staying at the Council of Five facility on the moon Ganymede. They come to evaluate the result of our common work regarding to the dismantlement of the Dark Alliance, and collaborate together with the Galactic Federation of Worlds a course of action for the next step.
Thor Han's information here is stunning confirmation for what JP had earlier revealed to me back in September. A multinational (Earth) alliance headed by US Space Command is sending a large convoy to Ganymede to meet with and collaborate with an incoming group of extraterrestrial visitors. Thor Han elaborates on this growing collaboration between the new visitors and the Earth Alliance:
E: What is the next step?
TH: Connecting with the Earth Space Force and evaluation of the potential for a civilian contact. We usually don't require their intervention but we recently requested their assistance to secure this timeline. You know, Terra is not like one of these stage 2 or 3 civilizations that the Galactic Federation of Worlds rescues from external interference. Terra is special. It bears the seeds they planted.
E: Can you talk about that?
TH: They are our forefathers. They seeded us, here in Nataru. Terra, like a few other places in this galaxy, has been for a long while one of their particularly loved grounds for experimentation about human development and consciousness. Such as in Mana (K62-Lyra). They are the seeders.
E: I understand they are a bunch of different races, aren't they?
TH: Yes, they are very diversified but not as widely diversified as the life-forms they created.
E: How do you "create" life-forms?
TH: By hybridization. It is a great amusement for them but there is a serious underlying matter. They work in accordance with Source. Of course, they do NOT create all life forms; this is the creation of Source; but they rather play with the material to create hybrid races and populate worlds.
This is a fascinating development since it dovetails with the information provided by several researchers and contactees about humanity's extraterrestrial origins and how different races seeded humanity. The oldest reference to such information comes in biblical texts such as the Old Testament that refers to the Elohim as humanity's creators.
Alex Collier says that he was told by Andromedan extraterrestrials that humanity was a hybrid species containing the genetics of 22 extraterrestrial civilizations. In his book, Defending Sacred Ground, Alex spoke about Ganymede being used as an outpost by the Andromedans: "The Andromedans have huge mother ships on Jupiter, [and] the moon of Ganymede."
Therefore, it is very possible that this new group that has established a presence on Ganymede is related to one or more of these 22 civilizations. Elena's conversation with Thor Han continued:
TH: Did I tell you about the Nine Elders?
E: Yes, you did.
TH: They are the highest level of individuated consciousness before Source. Some call them the Nine Gods, others the Nine Prophets of Source. They do not live in a definite dimension but in no dimension; I mean, for you to understand: they dwell in-between the created universes, in a place where time and space are uncreated. We call it: the Void. Or the Sanctuary. Their consciousness encompasses all consciousnesses. They can fractally divide themselves to be present simultaneously in as many places as they wish, for they do not travel in space, nor in time, but they connect to a location and an entity when they want to pass on a message, or act, whatever the distance, whenever the time. For them, time occurs only when they connect to a space-time continuum. They are the first children of Source.
E: Archangels?
TH: Higher than that. They are pure consciousness, non-incarnated, shapeless, but with each their own individual thinking, although binding as one. Nine mouths, one heart. They are the Nine, they have no other name.
E: Can they be called the Council of Nine sometimes?
TH: Well yes, sometimes. You know there are a tremendous lot of councils. These Nine are an intergalactic sort of council, and you have also the Nataru (this galaxy) Council of Nine, which is now "The Five". And at the head of the Zenae (Andromedans), you have also nine elders.
At this point, it's worth mentioning that the first reference to a Council of Nine interested in human affairs came from channeled communications involving Dr. D.G. Vinod, who worked with the famed psychiatrist Dr. Andrija Puharich back in 1952. Puharich had several psychics channel the Council of Nine, including famed Israeli psychic Uri Geller and later Phyllis Schlemmer.
Her book, The Only Planet of Choice summarizes 20 years of research and communications with the Council of Nine. Importantly, Gene Roddenberry attended some of the Council of Nine channeling sessions and asked them questions. This inspired the creation of the TV series Deep Space Nine where a mysterious group of incorporeal extraterrestrials called the 'Prophets' who occupied non-linear time inside a wormhole that instantaneously connected different parts of our galaxy.
What Thor Han next had to say about the Council of Nine has an uncanny resemblance to the Prophets in Roddenberry's Deep Space Nine:
E: And the Galactic Federation has a High Council of 25, isn't it?
TH: 24 plus one, the law-keeper. This one settles the final decision, but this task takes turns. The Law-Keeper is replaced by another member of the council every 10 cycles.
E: Based on what cycle?
TH: A fractal of the temporal cycles of this galaxy.
E: Are the Nine also coming in our star system now?
TH: (laughs) They do not need ships to move. Their mind can connect to everywhere. They can take any shape, instantly teleport and materialize in a temporary biological vessel, related to the species they visit. They can change into anything. Biological forms, elements such as fire, water…
E: Why so then, did they leave all these events happening in this star system?
TH: Understand: the Nine are above everything, they overlook the stories of all creatures populating these universes, rarely playing a role at an individual level in the balance of things.you
Elena next goes on to ask about an extraterrestrial organization she calls the Intergalactic Super-Confederation, which she described in her most recent book, We Will Never Let You Down. She describes it as an apex intergalactic organization with a higher status than the Council of Nine, Andromeda Council, Galactic Federation, Ashtar Command and other extraterrestrial organizations operating locally in our galaxy.
E: You said that Terra is special, and dear to the heart of the Intergalactic Super-Confederation… oh what is the exact name, by the way?
TH: They have their own name, which is in frequency, not translatable in human language. We do, in Taami, name them Ard Oraa Tu, but it is a very faint translation of a multidimensional frequency-based language. We rather like to call them: "Do", the Guardians, because that is what they really do. (Thor Han is here answering my question about the Intergalactic super-confederation, not the Nine)
It's significant that US Space Force personnel chose to refer to themselves as Guardians, and are now directly liaising with a group of visitors called the Guardians or Prophets.
To sum up, according to Thor Han, the recently arrived extraterrestrial race that has entered our solar system and established a presence on Ganymede, is the Intergalactic Super-Confederation. It is here to oversee the incredible transition about to take place on Earth and our solar system, and to liaise with the newly created Earth Alliance comprising 14 spacefaring nations and companies that participated in the July Jupiter meetings.
In addition, Thor Han revealed that an intergalactic Council of Nine known throughout our galaxy as 'Prophets' or 'Guardians', has also arrived interdimensionally to observe how events play out in our solar system.
I spoke with Alex Collier on October 11, and he said that the new group of extraterrestrial visitors had indeed made a beeline for Jupiter and established a presence on Ganymede to watch events unfold in our solar system. He said that Ganymede has enormous facilities that date back many thousands of years. When I told him about JP's intel about a space convoy heading for Ganymede, Alex said that they likely had been assigned one of the huge facilities on Ganymede as a forward base of operations.
There is a very important synchronicity happening on October 13 that supports the above information. Jeff Bezos' Blue Origin spacecraft is scheduled to launch with William Shatner as one of the four astronauts. According to Elena, the Blue Origin uniforms are a close match to the uniforms of Earth Alliance personnel interacting with the Galactic Federation and other extraterrestrial groups.
My speculation is that the October 13 Blue Origin mission is a cover for Shatner and the other three astronauts secretly traveling to Ganymede to participate in the welcoming ceremony for the newly arrived Intergalactic Super-Confederation, and possibly even the Council of Nine. Shatner is a tremendously popular worldwide figure and would make an excellent cultural ambassador for Earth in initial contact meetings with such an important group of visitors. Shatner's participation in such meetings would also herald humanity officially entering into a Star Trek future.
In conclusion, there are three independent sources that confirm that a powerful new group of extraterrestrials have arrived in our solar system, and established a presence on Jupiter's moon Ganymede. It is more than coincidental that NASA's Clipper mission to Europa was announced back in July, as it provides the perfect cover for a large space convoy to be secretly assembled and sent to its sister moon Ganymede without arousing too much suspicion. The large convoy and development of a human presence on Ganymede at one of the large facilities there also helps explain the worldwide labor shortage that I have previously discussed.
Finally, the Blue Origin space mission involving William Shatner, with his deep connection to the Star Trek franchise, does lend plausibility to the idea that humanity has officially entered into an exciting new phase with a highly evolved group of extraterrestrial visitors, depicted in Deep Space Nine as the Prophets, that have taken up residence on Ganymede.
© Michael E. Salla, Ph.D. Copyright Notice
[Video Version of this article is available on YouTube and Rumble. Podcast available on Apple, Spotify and Google]

I wish to thank Elana Danaan for relaying Thor Han's update and sharing her drawing of the incoming extraterrestrial space fleet. Her YouTube channel is https://www.youtube.com/elenadanaan
[October 13 – Author Note Gene Roddenberry would employ teams of writers and producers to come up with different episodes of Star Trek and its sequels based on his original ideas. Rick Berman and Michael Piller are widely acknowledged as the official creators of the Deep Space Nine series which first aired in 1993, two years after Roddenberry's death. Roddenberry did attend Council of Nine channeling sessions and the close resemblance between them and the Prophets in the DS9 episodes does suggest that this was another case of his writers and producers introducing ideas he first discussed and developed with them. So while it can be stated with confidence that the DS9 was inspired by Roddenberry's attendance at Council of Nine channeling sessions, it is incorrect to attribute creation of the DS9 series to him. I have therefore updated my article accordingly.]
Related Articles & Podcasts
For a complete list of articles and interviews concerning the Galactic Federation and/or featuring Elena Danaan, Megan Rose,  and other sources click here.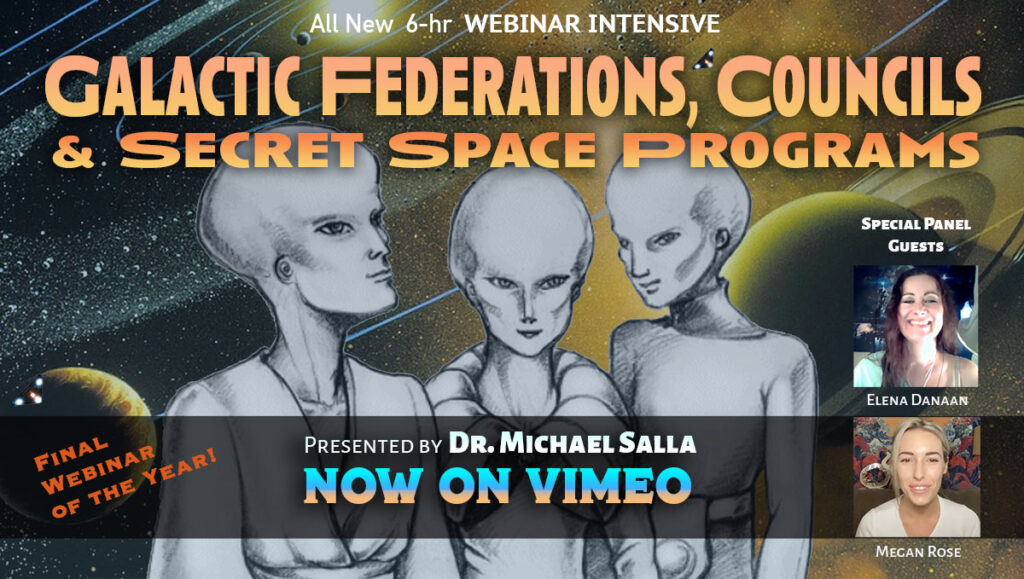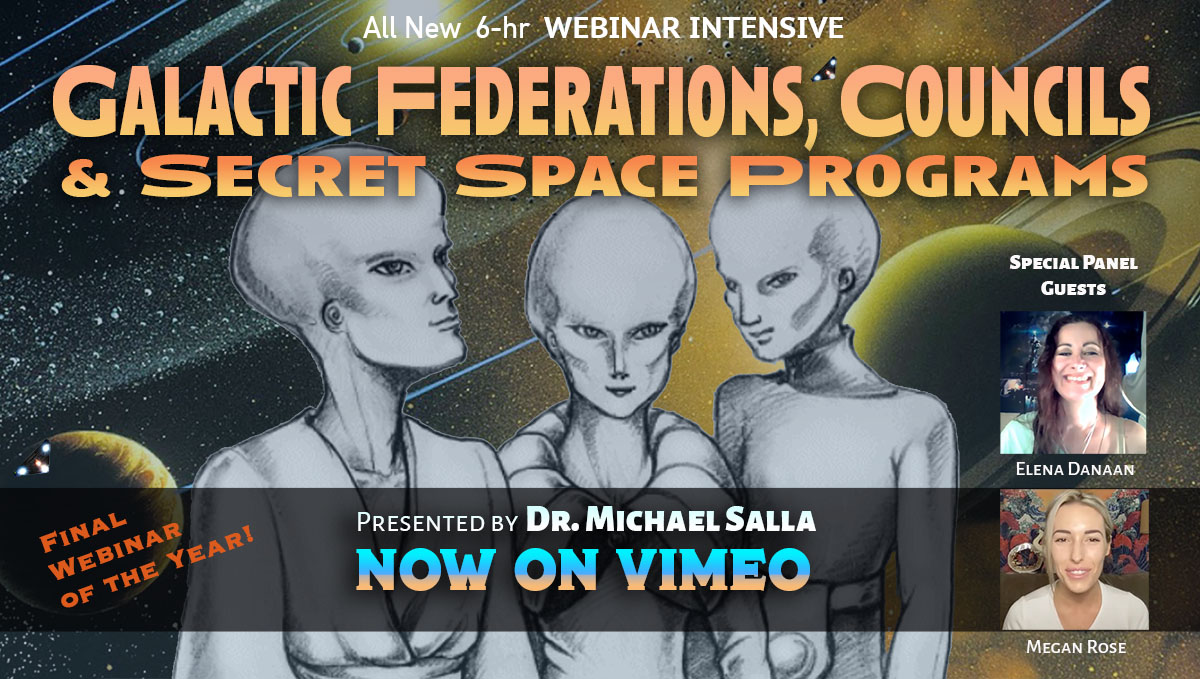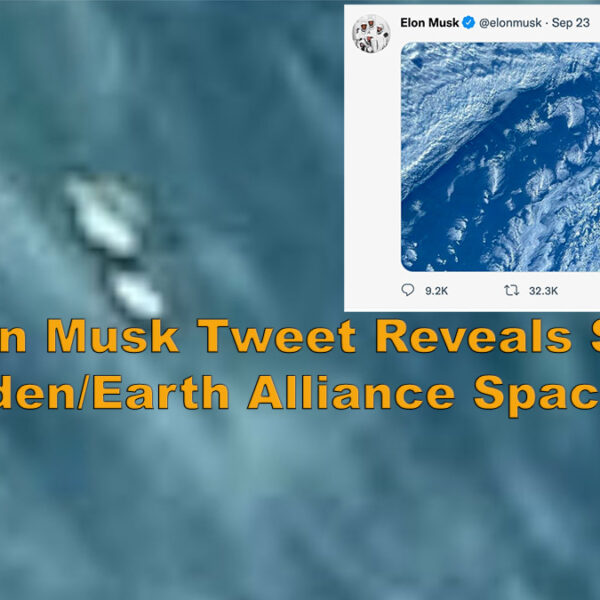 On September 23, 2021, Elon Musk tweeted a picture taken from a SpaceX civilian mission into low Earth Orbit. A close up of the picture reveals at least six cigar shaped craft traveling in formation. According to Thor Han Eredyon of the Galactic Federation of Worlds—as relayed by Elena Danaan—the craft belonged to the US Navy's Solar Warden program and are now part of the newly formed Earth Alliance.
I have been told that Musk is constrained by Non-Disclosure Agreements (NDAs) from revealing what he knows about the Earth Alliance, diplomatic meetings on Jupiter, extraterrestrial life, etc., but is allowed to leave clues so we can figure it out by ourselves. 
Video of the spacecraft formation is available on YouTube and Rumble
For more articles, videos and podcasts featuring information about the Galactic Federation of Worlds as relayed by Thor Han/Elena Danaan and Val Nek/Megan Rose, click here.
---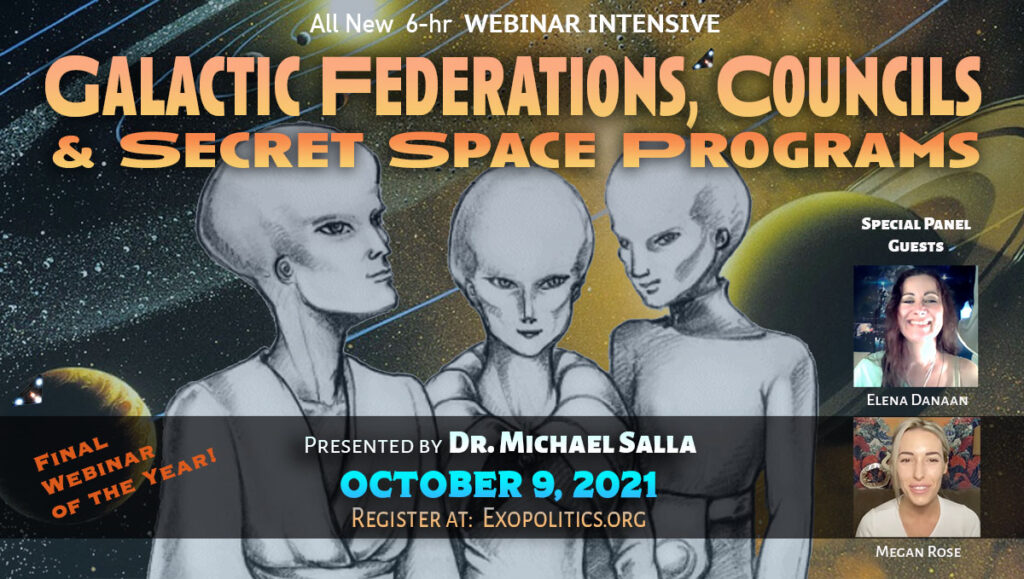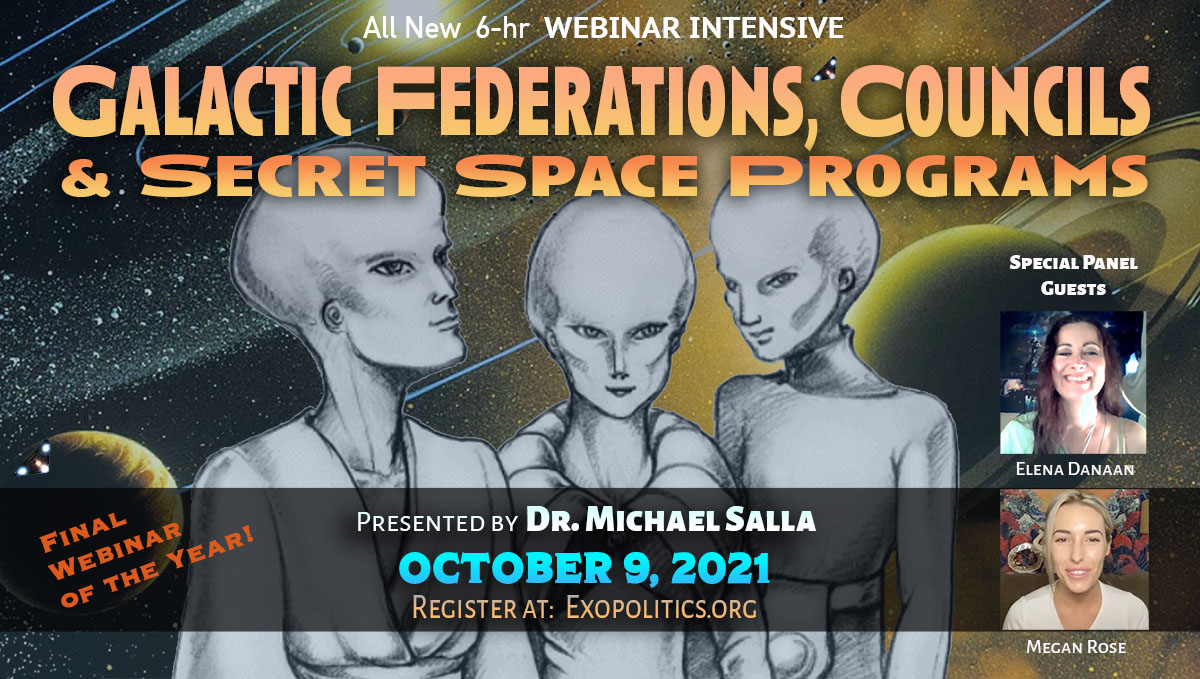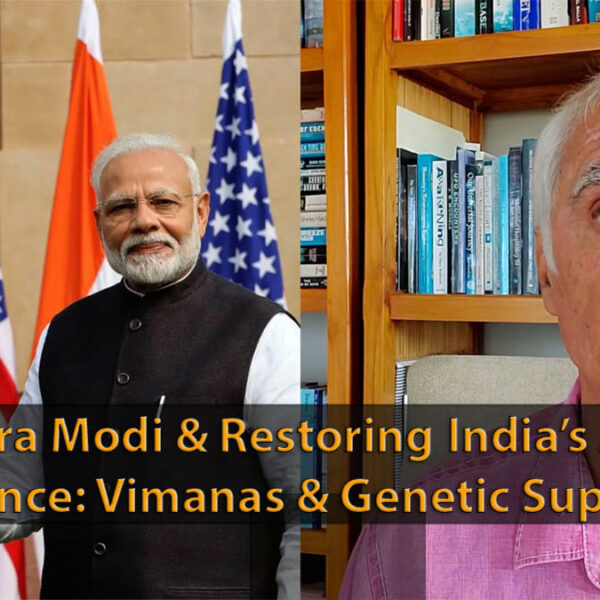 On February 15, Time published an article depicting Indian Prime Minister Narendra Modi as an unreliable democratic ally due to his right wing Hindu Nationalist policies that discriminate against religious minorities. The article is one among many in the mainstream media that increasingly vilify or demonize Modi and his party, the Bharatiya Janata Party (BJP), as violent extremists.
In this Exopolitics Today podcast, I describe the main reason why the Deep State is opposed to Modi – his intent on restoring India's ancient advanced technologies such as Vimanas (antigravity spacecraft) & genetically engineered supersoldiers.
Modi is locked in a ferocious battle with the Indian branch of the "Deep State" that wants to restrict access and knowledge of India's Ancient Vedic Science to a select few. In contrast, Modi wants Indian scientists to be given open access to ancient artifacts detailing the schematics, and operations of these super technologies.
Modi is India's version of Donald Trump who faced similar problems from the Deep State when he attempted to "white world" many of the black projects studied in corporate facilities. Modi and Trump have partnered in an "Earth Alliance", alongside other world leaders such as Russia's Vladimir Putin and China's Xi Jinping in releasing advanced technologies gained from ancient artifacts or crashed extraterrestrial spacecraft.
Podcast is available on Rumble, YouTube and Spotify [TBA].
[Note: Time article is available here]
Michael Salla, Ph.D.
Further Reading/Listening
---
[Note: Info about February 27 Webinar, "Earth Alliance, Full Disclosure and the Coming Global Revolution" is available here or to purchase a copy click the banner]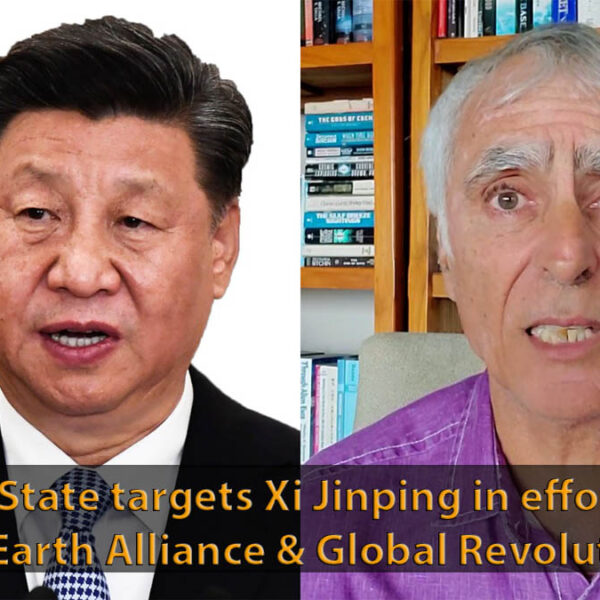 The Atlantic Council recently released a policy paper on its website titled: "The Longer Telegram: Toward a new American China Strategy". The paper raised a firestorm of controversy due to it asserting that US policy should aim to remove China's paramount leader Xi Jinping from political power. The idea that Xi's removal would leader to a more democratic China under Communist Party rule is nonsense. His removal would ultimately enable the return to power of the Jiang Zemin faction of China's Communist Party, which has worked closely with the US and European branches of the Deep State in suppressing the public release of thousands of advanced technologies.
The Atlantic Council's "Longer Telegram" needs to be understood to be part of a Deep State attempt to remove prominent members of an "Earth Alliance" that threaten to bring about a global revolution by removing corrupt officials from political office and releasing advanced technologies. The Deep State, feeling emboldened by its apparent success in removing President Donald Trump from political power, is now targeting another prominent member of the Earth Alliance.
In this Exopolitics Today podcast, Dr. Michael Salla analyzes why the Deep State feels threatened by what Xi and other world leaders are doing, and how the release of advanced technologies would enable humanity to join a Galactic Federation that is secretly working with the Earth Alliance. Podcast is available on Rumble, YouTube and Spotify.
Atlantic Council Paper is available here.
Michael Salla, Ph.D.
[Note: Info about February 27 Webinar, "Earth Alliance, Full Disclosure and the Coming Global Revolution" is available here or to purchase a copy click the banner]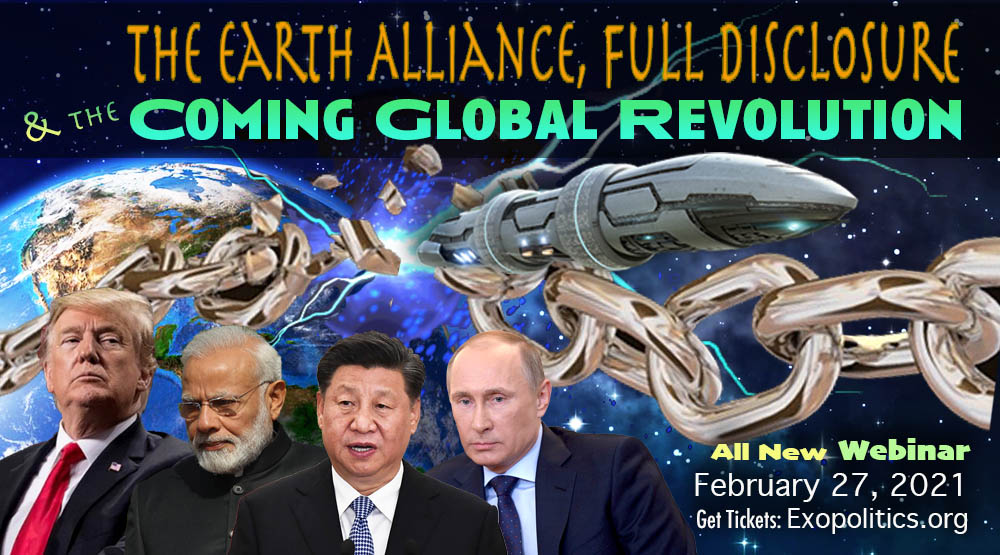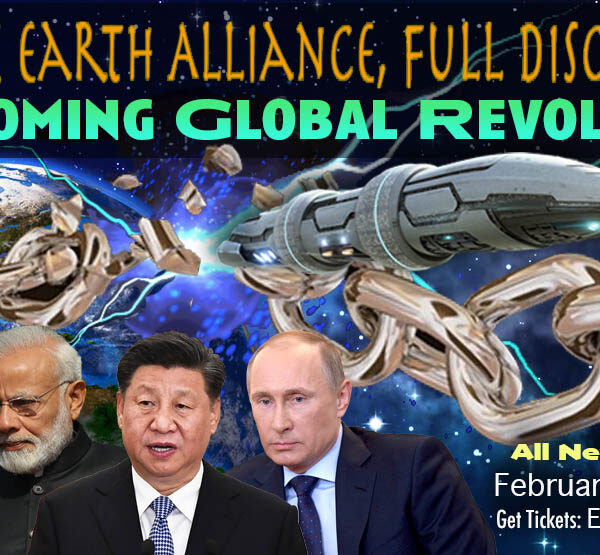 As the predicted days of darkness temporarily settle in upon the US and world stage, a great effort is taking place behind-the-scenes over the future direction of humanity as many White Hat groups and leaders are stealthily overturning Deep State operations. Among such groups is the Earth Alliance, a loose association of military and political White Hats from major countries who have been battling the Deep State over the extent and pace of releasing advanced technologies used in secret space programs to ultimately reveal the truth about extraterrestrial life.
Very recently, the White Hats gained a decisive advantage due to the widespread public exposure of Deep State plans to socially engineer a Great Reset through systemic election interference, a staged pandemic, social media censorship, and worldwide suppression of civil liberties. The failure of the Deep State's plans will have major consequences for the repressive political systems of client countries such as China, Iran, and North Korea that were infiltrated decades ago by the Deep State and manipulated.
Key political leaders in the Earth Alliance include President Donald Trump, who has begun the process of releasing advanced aerospace technologies through the creation of the U.S. Space Force. Russia's Vladimir Putin who has allowed many breakthrough technologies to be released and thoroughly frustrated Deep State plans to incite another World War. China's Xi Jinping, who has battled the nefarious influence of his predecessor, Jiang Zemin, who still controls many advanced technology projects used to suppress the Chinese populace. Finally, India's Narendra Modi has tirelessly worked to bring out into the public arena the antigravity technologies used in ancient India's space program. These key leaders, along with many others, have been covertly collaborating to bring about the demise of the Deep State both in their respective countries and across the globe.
They are being helped by a positive group of extraterrestrials called the "Galactic Federation" (aka Confederation of Planets), which has been working for decades to raise human consciousness. The Galactic Federation has also been stalwartly working with key players such as the Trump family for generations to promote and ensure the optimal timeline and to bring about a Great Awakening and a Global Revolution that will result in humanity's emergence as a full member of the Galactic community.
About the Presenter: Dr. Michael Salla is the author of the bestselling Secret Space Programs Book Series & founder of Exopolitics.org
Webinar Date: February 27, 2021 (Saturday)

NOTE THIS WEBINAR HAS BEEN COMPLETED
RECORDING AVAILABLE ON VIMEO – CLICK HERE

To view and purchase past webinars click here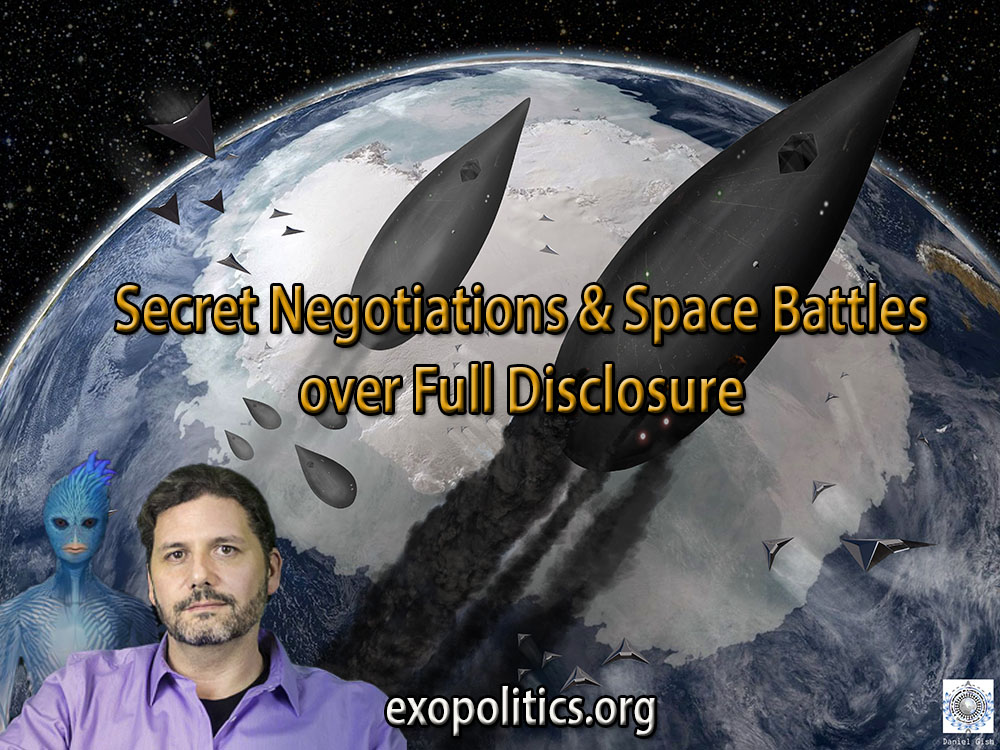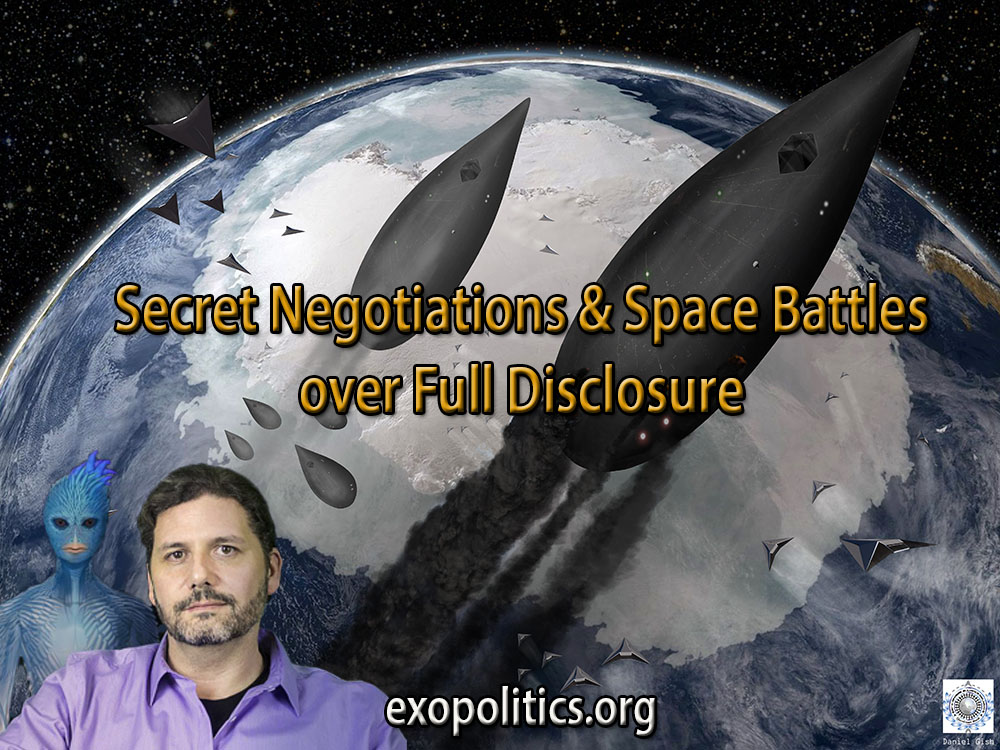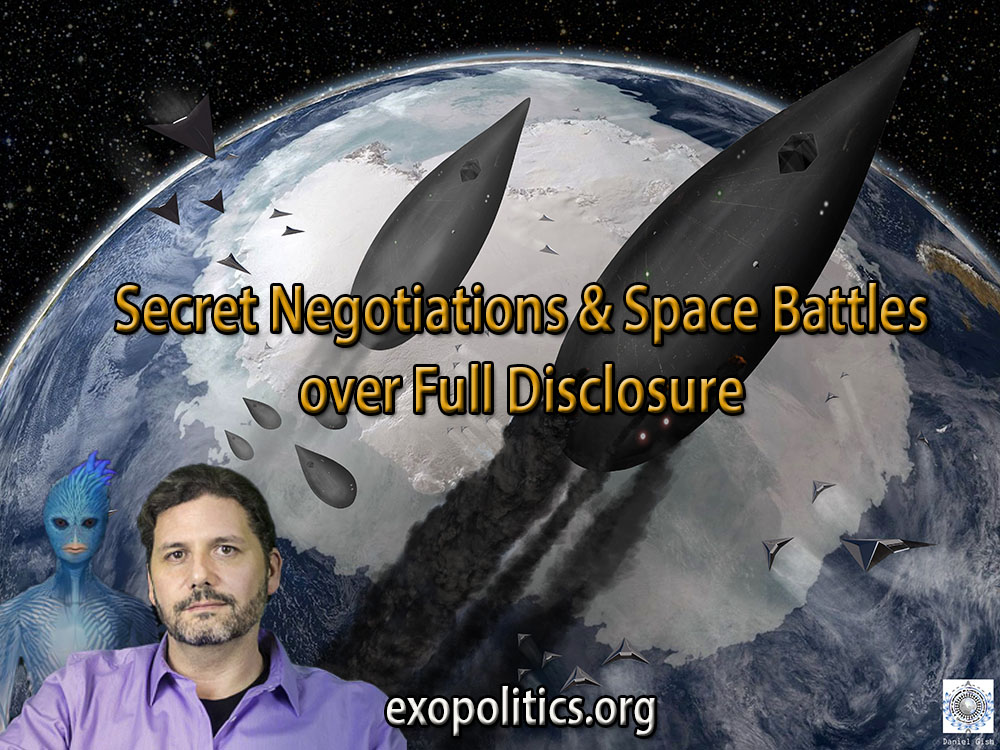 In this second article in a series discussing Corey Goode's latest update about his meetings with representatives of extraterrestrial groups, Inner Earth civilizations and the "Secret Space Program Alliance," I focus on what he claims to have been told about ongoing negotiations and battles between Cabal/Syndicate groups, and the "Earth Alliance".
The Earth Alliance comprises BRICS nations (Brazil, Russia, India, China & South Africa), Asian secret societies, and "White Hats" within the military industrial complex of the U.S. and other nations, who desire to have full disclosure of extraterrestrial life and advanced space technologies, and expose crimes committed by Cabal/Syndicate groups.
Goode says that after he had completed his discussion with Raw Teir-Eir about increasing cosmic energy waves, humanity's optimal time line, and Ascension discussed in the previous article, a familiar figure was transported to the same meeting area. He described his initial encounter with Lt. Col. Gonzales – a pseudonym used by this liaison to the Secret Space Program [SSP] Alliance comprising the Solar Warden Space Program and defectors from rival space programs:
I was about to inquire more about what had just been communicated when I then noticed a blue orb arrive. The orb deposited Gonzales next to the other three beings mentioned before. He was facing them and obviously communicating with them. The entire group appeared to glide over to within about 10 feet of Tear-Eir and I as we wrapped up our communication.
Gonzales greeted me with a big smile and asked "I hope you didn't miss me too much". It was nice to see that he still had the same sense of humor. He had just gotten back from a meeting with the SSP Alliance where the Mayan group was also present.
The Mayan group is one of the ancient Earth civilizations that developed a space program, and they have colonies in other solar systems including the Pleiades constellation. Gonzales, according to Goode, is now working as the liaison between the Secret Space Program Alliance and the Mayans.
Previously, Gonzales worked as the liaison between the Secret Space Program Alliance and the Earth Alliance, where he held a cover identity in Texas. When he was involuntarily outed by Goode, who had been abducted by a lower level secret space program under the control of the USAF Space Command, National Reconnaissance Office and Defense Intelligence Agency, Gonzales had to flee for safety into the Inner Earth to find sanctuary with one of the civilizations there called the Anshar.
In the second part of his report, Goode gives a surprising explanation for why Gonzales had to leave his sanctuary with the Anshar after having spent several weeks with them:
On two separate occasions, he noticed two of the priest caste walking down a corridor that ended in a solid cave wall. They walked right through the wall but he was unable to do so himself. It was quite difficult for him to find a way to look into the room they had gone into, but eventually he discovered a fissure in the wall that allowed him to see where they went. When he looked in, he saw a number of different types of giants that were conversing with the two priests. Their heights varied considerably. These giants were very upset. They appeared to be prisoners or refugees. The bigger one that was conversing with the priest in the front had his head in his palm. He was making what Gonzales perceived as groaning noises. Shortly after that incident, Gonzales had worn out his welcome and was asked to leave. He didn't have any information on why the giants were there.
During their encounter, Gonzales gave Goode the latest information about negotiations between the Earth Alliance and the Cabal:
Gonzales then went into recent details about negotiations between the Earth Alliance and the syndicates that make up what many of us refer to as the Cabal. These negotiations seem to be going nowhere fast. They are now debating the fates of the syndicate members and those that had worked under them – both wittingly and un-wittingly. These syndicates insist that either everyone in their groups are given full immunity and pardoned from prosecution, or no one should receive immunity.
Goode went on to describe the Cabal's argument for partial disclosure:
They also continue to insist on a controlled, partial disclosure that would gradually unfold over the next 100 years. They opposed any type of document dumps, insisting that this would de-stabilize the entire socio-economic system on the planet. They argued that a full disclosure would lead to chaos and many deaths from rioting and the anger and panic from countries victimized by the Cabal. A large number of the Earth Alliance members have similar fears of these scenarios taking place in the event of a full disclosure.
Goode describes the plan hatched by Cabal/Syndicates in case mass document dumps were to occur:
Gonzales then went on to state that the syndicates had already prepared for a massive document dump. They have developed a kill switch for the internet, and can knock out communications and even electricity in certain regions to stop the data from being viewed. They can mitigate any response from those who had viewed the data, such as through their controlled establishment media outlets. They can also manicure and remove videos, articles or social media posts that contradict their agenda.
Goode revealed that the Panama Papers are part of a Cabal orchestrated plan to thwart mass document dumps by preemptively exposing prominent members of the Earth Alliance:
Gonzales said that the document dump event may start off as a data-dump war. The Panama Papers seemed to be the Cabal's first strike to let the Alliance know that they also had incriminating evidence that could put many of them on trial as well.
According Goode, this means that the new strategy adopted by the Earth Alliance is to have a sequence of document dumps that is spread over a period of time:
It is now believed that document dumps need to occur in spurts in order to have a higher possibility of actually reaching the population.
Goode described emerging efforts and threats by the Cabal which are being thwarted:
These syndicates have been continually pushing for WWIII, without gaining any success. They still continue to make threats to cause natural disasters, which includes detonating charges that would cause two super-volcanoes to erupt, causing an extinction-level event on Earth. I highly doubt that this would be allowed to occur, but most of the Earth Alliance does not feel like they can gamble on it. Skirmishes are continuing to occur in our upper atmosphere and various areas around Earth and other celestial bodies in our star system.
Both the Earth Alliance and Cabal fear that an advanced spacecraft will crash into an urban populated area due to the many skirmishes that are happening in the upper atmosphere.
The fear of an advanced craft crashing in a populated area is very real to both of these groups. Both sides have members of their groups that are ready to pounce if a crash does indeed occur.
They have cooked up cover stories involving nuclear-powered satellites crashing and causing contamination in large areas. This could compel people to either flee or stay in their homes until informed otherwise….
In these skirmishes, many different military satellites and weapons platforms have been destroyed, causing them to burn up in our atmosphere or to be flung out of our orbit.
The above scenario is consistent with what was recently described by three remote viewers associated with the Farsight Institute who predicted an asteroid or explosive type object impacting a large urban area sometime in the month of August.
The remote viewers described, with varying degrees of detail, the devastation caused by an object crashing into the unknown city, probably in the U.S.A. Some believe the remote viewers were describing an asteroid impact on a densely populated area. According to one analyst, who examined the descriptions given by the three remote viewers, the incident likely involves the city of Houston, Texas, which may be targeted by a Directed Energy weapon in a false flag attack similar to 911.
Goode's information suggests another possible interpretation. What the three remote viewers may have witnessed was a spacecraft crashing after a battle between the Earth Alliance and Cabal/Syndicate space fleets.
Such an incident may be easily confused with an asteroid impact, or involve the use of Directed Energy weapons, as the above interpretations of the three remote viewers descriptions suggest. While the month of August is almost over, according to Goode's information, there is a growing likelihood of such an event happening in the near future.

Goode described being asked once again by the SSP Alliance to take Gonzales old position as liaison the Earth Alliance, but he again declined:
The SSP Alliance further wanted me to accept the deal that the Wrangler [described in an earlier report by Goode as an enforcer type operative] had tried to shove down my throat. They wanted me to become their asset and follow their orders. I would receive logistical and financial support if I agreed, but would be muzzled from divulging the full details to David or anyone else. This made me feel as if the olive branch that was being offered bore no fruit. I politely declined.
Despite his refusal, Gonzales told Goode that he would still be included in future SSP Alliance meetings:
Gonzales did however state that I would be appearing before them in the future to be a liaison between them and the Sphere Being Alliance.
One of the consequences of there not being a current liaison between the Earth Alliance and the Secret Space Program Alliance is that actionable intelligence, about the respective actions between the Earth Alliance and the Cabal/syndicate groups, is going to be delayed and/or compromised.
Goode has previously explained that the power of the SSP Alliance to influence Earth affairs is presently very limited. The Alliance has been denied access to near Earth space by a corporate run space program in charge of Air and Space Traffic Control, located on a moon base called Lunar Operations Command.
This means that the SSP Alliance can't simply go forward with mass document dumps using its own operatives and resources. Such action has to be taken in coordination with the Earth Alliance, which is currently locked in an acrimonious negotiation process with the Cabal/Syndicates who still weld considerable power on Earth despite recent set backs.
There is a real and terrible possibility that a major urban area and/or a U.S. city could be impacted by one of the advanced spacecraft shot down in one of the ongoing space battles between the Earth Alliance and Cabal/syndicate groups. Such a potential event by itself earnestly compels us to re-focus our attention wholeheartedly on humanity's optimal timeline occurring.
© Michael E. Salla, Ph.D. Copyright Notice
[Click here for next article in this series]
Further Reading