A cigar shaped UFO was videotaped near Orlando Florida on Sept 12, 2019 by my confidential source JP, who I have known since 2008. The video shows a cigar shaped craft that is illuminated during the daylight. It has no apparent wings or tail, and is filmed moving away from JP who is taking the video from inside his car. It is clearly no reflection from inside the car and is not a helicopter or drone.
The YouTube video features my commentary of the original video JP sent along with a zoom of the craft. You can watch the original video along with a zoom version below. Note there has been no enhancements of the original other than the zoom feature used in the final portion of the video.
What follows is a screenshot of the cigar shaped craft in the video, along with a magnified copy as well as an auto-contrasted copy being added for comparative purposes. The zoom and contrast shows that the craft has no wings or tail section, and is emitting no contrail.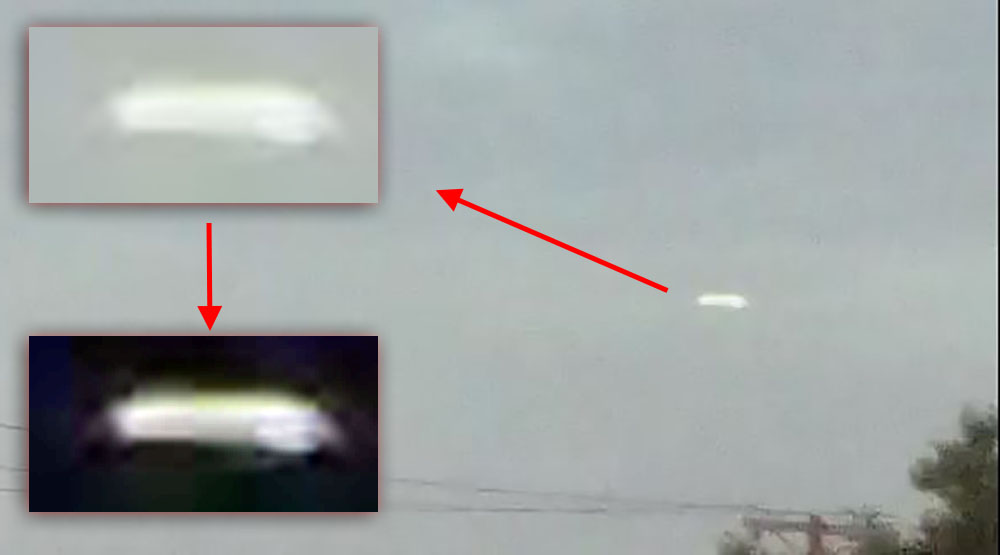 JP has been sending me photos and videos of UFOs he has witnessed near MacDill Air Force Base, Tampa and Orlando, Florida since August 2017. He has photographed flying triangle, rectangle, disk and cigar shaped antigravity craft in the vicinity of military facilities. According to JP's information these facilities are used by a USAF secret space program that is working closely with human-looking "Nordic" extraterrestrials.
According to JP the Nordics operate both cigar and disk shaped craft which he has photographed both near MacDill AFB and in Orlando as I have discussed in previous articles that are available here and here.
You can learn more about JP's photos and videos of antigravity craft belonging to an USAF run SSP along with their human extraterrestrial allies in a series of articles available here.
Michael E. Salla, Ph.D.
Feel free to share this article with original links.
FURTHER READING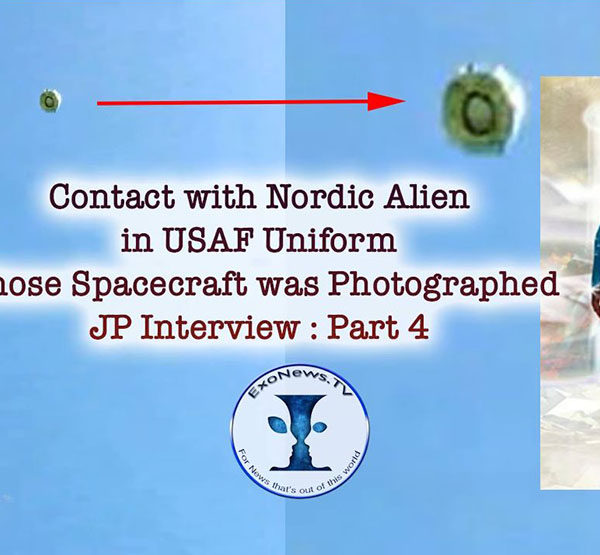 In the final installment of this four part interview series we discuss photos JP took of spacecraft belonging to human looking "Nordic" extraterrestrials over MacDill AFB, Tampa, and also near his new home in Orlando, Florida. He describes an encounter he had with a Nordic in a USAF uniform who says they are helping the Air Force with advanced technology projects. JP described the Nordic's uniform and a distinct patch he wore, before taking photos of the departing craft.
For Part 3 go to: https://youtu.be/6NZgP3ClR0Y
For Part 2 go to: https://youtu.be/LQjU_5FTPq8
For Part 1 go to: https://youtu.be/_6-fz6uRW3c
To learn more about JP and the photos he has taken of antigravity craft go to: http://exopolitics.org/jp-articles-photos-videos/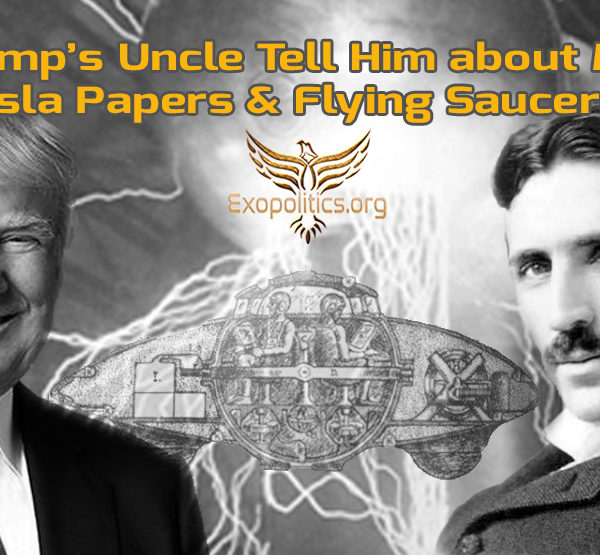 President Donald Trump's uncle, John G. Trump, was a Professor of Electrical Engineering at the Massachusetts Institute of Technology (MIT) from 1936 until his retirement in 1973. It is well known that declassified documents confirm that in January 1943 Professor Trump was called upon by the FBI to evaluate the personal papers of Nikola Tesla just over a week after his death. What is not well known is that there is also a leaked classified document that also connects Professor Trump to another famous event in US history – the crash of a flying saucer at Roswell in 1947.

According to a memorial tribute published by the National Academy of Engineering, John Trump joined MIT to work with Professor Robert J. Van de Graaff, who was a pioneer in "the new field of super-high voltage generation and applications." After gaining a Doctorate under Van de Graaff in 1933, Trump went on to become an assistant professor in 1936, and a full professor in 1952 at MIT.
According to the memorial tribute:
John Trump had two main interests: the insulation of super-high voltages in vacuum and compressed gases and the biological applications of high voltage radiation.
During World War II, Trump worked on microwave radar at MIT's Radiation Lab, where he served as "field services director", and also was posted to the British branch of the Radiation Lab where he worked directly with General Dwight D. Eisenhower: 
In 1944, he was named director of the lab and given the responsibility of working directly with the Eisenhower Military Command. At the liberation of Paris, Trump rode into the city with General Eisenhower and immediately began to set up the Paris branch of the Radiation Lab.
Trump's expertise with high voltages and radiation was widely acknowledged by U.S. authorities, and he also was very familiar with the requirements for working in classified government programs.
In 1943, he played a major role in the examination of Nikola Tesla's personal papers that were acquired by the FBI/Office Alien Property Custodian soon after Tesla's January 13 death. An FBI document included Trump among the scientists and experts investigating Tesla's papers: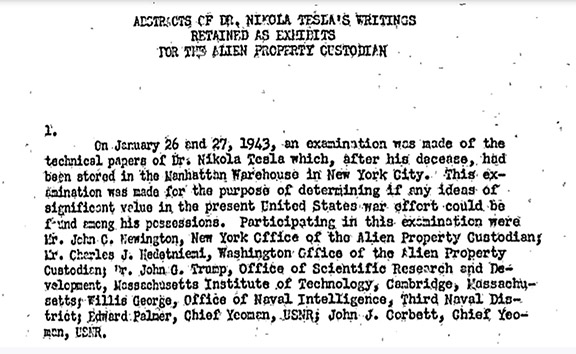 Tesla was the author of over 200 patents granted worldwide, and made numerous claims about building death rays and electrostatic walls of energy that could protect any country from attack.
Among Tesla's inventions was a revolutionary disc shaped aircraft – a flying saucer – which he allegedly filed a patent application for in the early 1900's, but it was not granted on national security grounds. Apparently, Tesla planned for his flying saucer to be remotely powered by a "world wireless system" which he first discussed in a March 5, 1904 paper titled: "The Transmission of Electric Energy Without Wires". Tesla wrote:
Not only was it practicable to send telegraphic messages to any distance without wires, as I recognized long ago, but also to impress upon the entire globe the faint modulations of the human voice, far more still, to transmit power, in unlimited amounts, to any terrestrial distance and almost without loss… 
Tesla went on to describe how his "world wireless system" would be powered by devices similar to his legendary Wardenclyff Tower, which would be eventually capable of generating huge electrostatic charges that surpassed that found in lightning bolts: 
It is difficult to form an adequate idea of the marvelous power of this unique appliance, by the aid of which the globe will be transformed.  The electromagnetic radiations being reduced to an insignificant quantity, and proper conditions of resonance maintained, the circuit acts like an immense pendulum, storing indefinitely the energy of the primary exciting impulses and impressions upon the earth of the primary exciting impulses and impressions upon the earth and its conducting atmosphere uniform harmonic oscillations of intensities which, as actual tests have shown, may be pushed so far as to surpass those attained in the natural displays of static electricity.
Tesla's proposal of building a "world wireless system" that could power any remote device, including his proposed flying saucer, was certainly revolutionary. What is critical here is that his proposal for building devices capable of generating huge electrostatic charges was the precise topic that Professor Trump had specialized in at MIT with his work on Van de Graaff generators!
So did Tesla really design a flying saucer that would be powered by a some kind of Van de Graaff generator?
A New York inventor, Otis Carr, claims that he befriended Tesla in 1937 while Tesla was living at the New Yorker Hotel, and was instructed by Tesla on how to build a flying saucer that would be powered by an electrical generator.
Over a decade later, Carr succeeded in getting a patent for his revolutionary flying saucer craft, which he called an amusement park device in order to get it approved by the US Trade and Patent Office. After raising private funding to build his OTC-XI, he successfully tested his flying saucer in 1961. According to one of Carr's former employees, Ralph Ring, the saucer incorporated high voltage machines for its propulsion and navigation systems.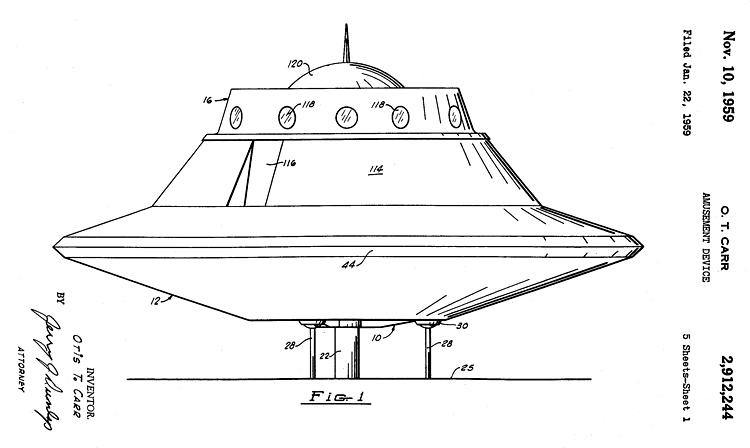 Unfortunately, Ring also told of how Carr's manufacturing facility was raided and closed down by Federal agents on bogus charges of securities fraud.
If Carr and Ring are to be believed, a civilian spacecraft based on Nikola Tesla's ideas and inventions was successfully built and tested in 1961. Were any of Tesla's ideas on building a flying saucer device found in his personal papers after his death?
An article in the New Yorker, described Trump's role in evaluating Tesla's papers:
Trump was involved in radar research for the Allies in the Second World War, and in 1943 the F.B.I. had enough faith in his technical ability and his discretion to call him in when Nikola Tesla died in his room at the New Yorker Hotel, in Manhattan, raising the question of whether enemy agents might have had a chance to learn some of his secrets before the body was found. (One fear was that Tesla was working on a "death ray.") As Margaret Cheney and Robert Uth recount in "Tesla, Master of Lightning,"
Professor Trump examined Tesla's papers and equipment, and wrote a report for the FBI stating nothing of national security significance was found within them:
As a result of this examination, it is my considered opinion that there exist among Dr. Tesla's papers and possessions no scientific notes, descriptions of hitherto unrevealed methods or devices, or actual apparatus which could be of significant value to this country or which constitute a hazard in unfriendly hands. I can therefore see no technical or military reason why further custody of the property should be retained.
Professor Trump went on to give his conclusion about the importance of Tesla's work over the prior 15 years:
It should be no discredit to this distinguished engineer and scientists whose solid contributions to the electrical art were made at the beginning of the present century to report that his thoughts and efforts during at least the past fifteen years were primarily of a speculative, philosophical, and somewhat promotional character – often concerned with the production and wireless transmission of power – but did not include new sound, workable principles or methods for realizing such results.
Trump did not appear to be impressed by Tesla's background or what had been found in the latter's papers when it came to its potential war application.
Given Tesla's claims and what numerous researchers have discovered about his revolutionary ideas, this appears odd. Either Trump found nothing of importance as he reported to the FBI, or he was instructed by higher military authorities to cover up the true significance of Tesla's papers in his report to the FBI.
According to Margaret Cheney, author of Tesla: Man Out of Time, some of Tesla's documents, inventions and patents applications were seized by FBI agents and never released into the public arena. If Cheney is correct, then John Trump did find items of importance among Tesla's collection that were taken and have been kept secret from the public to the present day.
Despite the controversy over what was retrieved from Tesla's collection, it is clear that he worked on developing revolutionary technologies, some of which are relevant to flying saucer propulsion systems. Otis Carr's claims directly connect Tesla to such exotic propulsion technologies.
The relevance of all this is that John Trump was the man the FBI wanted to help them decide whether Tesla's personal papers contained revolutionary technologies that were vital to national security or not. Essentially, the FBI viewed Trump as the expert who could make the necessary recommendations on the revolutionary technologies, some of which concerned flying saucers, which the FBI and the US military was secretly studying from what had been retrieved at Roswell and other crash sites.
A little known historical fact is that Van de Graaff generators, which Professor John Trump specialized in at MIT, were a key component of flying saucer research being secretly conducted in Nazi Germany. According to Vladimir Terziski, an electrical engineer who was a member of the Bulgarian Academy of Sciences before emigrating to the US, Van de Graaff machines were part of the propulsion system for different flying saucer prototypes being developed by Nazi Germany.
Terziski explained that Vril and Haunebu models possessed an electro-gravitics propulsion system called Thule-Tachyonator drives. These were first developed in 1939 by a Nazi SS development unit which incorporated Van de Graaff generators, as learned from SS documents acquired and released by Terziski after the collapse of the Warsaw Pact:
This group developed by 1939 a revolutionary electro-magnetic-gravitic engine which improved Hans Coler's free energy machine into an energy Konverter coupled to a Van De Graaff band generator and Marconi vortex dynamo [a spherical tank of mercury] to create powerful rotating electromagnetic fields that affected gravity and reduced mass. It was designated the Thule … [Tachyonator-7 drive] and was to be installed into a Thule designed disc.
If Trump's expertise on Van de Graaff generators led to him learning about the propulsion systems used in flying saucer research, is there any documentary evidence linking Professor Trump to US government's research and development in this regard?
Indeed, there is. A Majestic document called the "White Hot Report" was given a "High Level of Authenticity" rating by Dr Robert Wood and Ryan Wood, who specialize in researching and authenticating leaked government and military documents given MAJIC and similar level security classifications.
The leaked Majestic document concerns a report by then Major General Nathan Twining about the need to set up a permanent committee to evaluate the Roswell UFO Crash given the many vital national security issues surrounding the visitation of extraterrestrial life and their advanced technologies. The White Hot Report describes a list of scientific institutions involved in the study of such extraterrestrial artifacts. Prominently listed among them is MIT.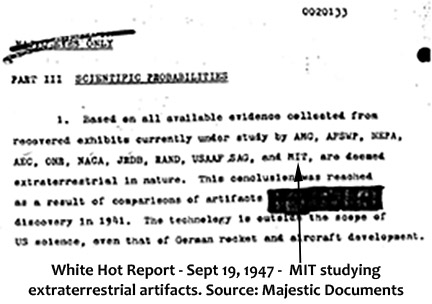 This is a stunning discovery since it directly links the institution where Professor Trump worked, with secret government studies of the Roswell UFO Crash. Given Trump's expertise in high voltage radiation and Van de Graaff generators, his 1943 role in evaluating Tesla's personal papers and work for classified US government programs during World War II, it is reasonable to conclude that Trump was almost certainly among the MIT experts consulted about the revolutionary technologies found at Roswell.
Trump was likely also very familiar with top secret research and development efforts by US authorities to develop flying saucer technologies for a future space program due to his expertise on Van de Graff generators – a vital component of flying saucer propulsion systems.  
The big question is, did Professor Trump pass any of this amazing information to his nephew, Donald?
John Trump died in 1985, at age 78, when Donald was 39, and at the time a successful real estate magnate who was often giving interviews to major media outlets.
Trump first mentioned his uncle in a 1984 New York Times profile where he said that they first began to talk about physics and nuclear disarmament 15 years earlier. Donald was around 23 at the time and had a year earlier (May 1968) graduated from Wharton School of the University of Pennsylvania, with a Bachelor of Science in economics.
The New York Times explained the influence his uncle had on Trump about nuclear disarmament:
[Donald Trump] says that his concern for nuclear holocaust is not one that popped into his mind during any recent made-of-television movie. He says that it has been troubling him since his uncle, a nuclear physicist, began talking to him about it 15 years ago.
At a June 12 2018 press conference, after his meeting with North Korean's leader, Kim Jong-Un, President Trump spoke about his uncle and how he had helped shape his views on the importance of nuclear disarmament:
I used to discuss nuclear with him all the time … He was a great expert, he was a great brilliant genius.
Trump's references to his uncle John, shows how influential he had been in shaping his views on nuclear disarmament and other advanced science topics. Could some of these discussions have covered inventions developed by Nikola Tesla and technologies retrieved from the Roswell UFO crash?
There are two actions taken by Trump during and after his Presidential inauguration that suggest that Tesla's inventions and the Roswell UFO crash were among the subjects he and his uncle had privately discussed.
During his inauguration speech, Trump said:
We stand at the birth of a new millennium, ready to unlock the mysteries of space, to free the earth from the miseries of disease, and to harness the energies, industries and technologies of tomorrow.
Trump is here clearly alluding to some revolutionary technologies that his administration plans to release, which will transform the health, transportation and space industries.
Trump issued a Top Secret Memorandum a day or so after his inauguration speech dealing with such revolutionary technologies, according to secret space program insider Corey Goode whose testimony has featured in the best selling documentary, Above Majestic. Essentially, Trump demanded that the intelligence community revoke their secrecy orders on a thousand of the then 5,680 patent applications that were being held up. He allegedly told them to do so within a two-year period.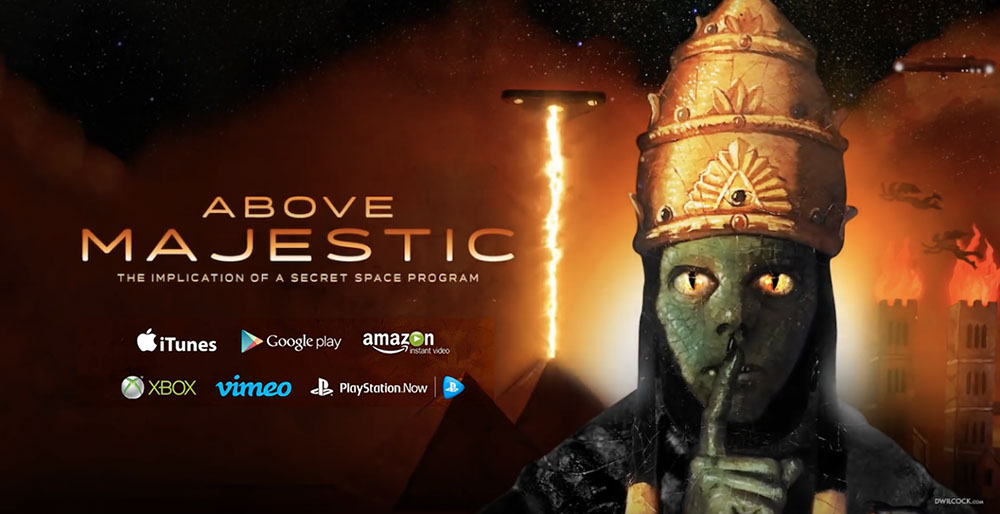 It's quite possible that some of the confiscated Tesla's papers included patent applications that would be among those that had been held up by the intelligence community, and perhaps even include his alleged flying saucer device that would be remotely powered by a worldwide wireless system. According to the Federation of American Scientists, the number of patent applications held up by secrecy orders had increased to 5,784 by the end of 2017.
If Trump had issued such a Memorandum, there is yet no sign it is being put into practice by the intelligence community. This may be due to the intense behind the scenes battle between the Trump administration and the Deep State as I have covered in previous articles.
The second action suggesting his uncle had told him about Tesla's inventions and the Roswell crash concerns President Trump's proposal for a Space Force, despite objections by Congress and even the US military. His proposal may well be driven by his knowledge that flying saucer technologies incorporating high voltage radiation and Van de Graaff machines found at Roswell, which his Uncle John had confidentially told him about, had been secretly developed and built decades ago for one or more secret space programs.
The idea that Trump knows of secret space programs and extraterrestrial life is strengthened by recent posts by the military intelligence group working with his administration, Q Anon, confirming their reality. Most importantly, QAnon was signaling that the Trump administration has a full disclosure agenda.
Trump's desire for a Space Force appears to be part of a plan to wrest control of information concerning secret space programs and extraterrestrial life, away from the Deep State and transnational corporations. If Trump succeeds in his plan to empower the Office of the President of United States to run such highly classified programs, then the revolutionary changes promised in his inauguration speech, may not be too far away at all.
If so, we may ultimately have John Trump to thank for inspiring his nephew at an early age about the existence of life changing health and transportation technologies connected to classified research of flying saucers, some of which originate dates back to the pioneering research of Nikola Tesla conducted over a century ago.
© Michael E. Salla, Ph.D. Copyright Notice
Further Reading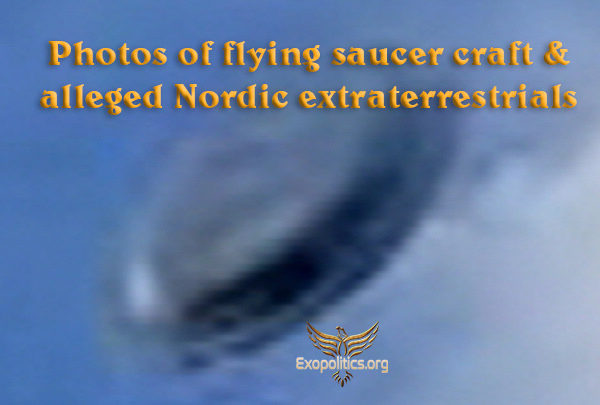 On January 12, a photo was taken of a flying saucer craft with a large rectangular shaped porthole window apparently showing two occupants. According to the photographer, who uses the pseudonym JP to maintain anonymity, the occupants are two Nordic "human looking" extraterrestrials who were telepathically communicating with him.
JP says that he received a telepathic communication while at a residence about 10 outside of Orlando, Florida where he was told to go outside and look up into the sky. This is what he says he was told in the communication:  
Today at 6 o'clock I had an amazing contact… I was getting telepathic messages inside the house.
Asking me if I wanted to see them. So I was negotiating with them if I could take a picture. I told them that this was really important for Disclosure
The voice in my head that I heard was the Nordics that picked me up in Brazil. [Note: I was first contacted by JP in 2008 about his extraterrestrial encounter in Brazil. M.S.]
They are working with the United States Air Force. Doing missions around Antarctica in outer space. Giving a technology to the Air Force that's overwhelming
 That can manipulate any point in the air and open a wormhole to other planets giving coordinates. This technology works in flashes, gives a flash like a lightning [bolt] but no noise
So I go outside and I hear the voice that tells me to look up. I saw them. I was taking but it was not working. My phone was being blacked [out] by some hacker. But I did manage to take some pictures and save it in my phone.
JP provided a sketch of the two alleged Nordics he saw in the spacecraft.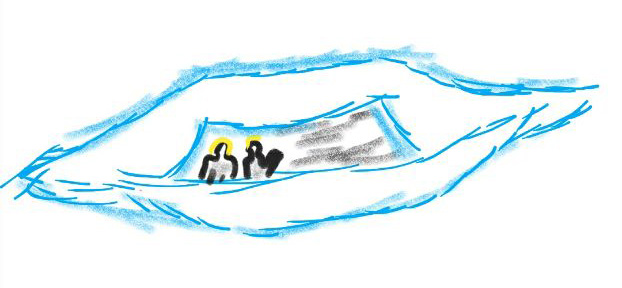 He also supplied three photos of the craft he witnessed which are found in the following video.
The final photo in the sequence appears to validate his claim of witnessing two Nordic extraterrestrials – original photo is available on right.
What's also pertinent in JP's above telepathic communication is the claim that the group of Nordics in the spacecraft captured in the photos is working with the US Air Force, providing different types of technological support.
On September 14, 2017, JP supplied photos of a cigar shaped craft flying near MacDill Air Force base.  He says this craft belongs to extraterrestrials working with USAF Special Operations. JP has also supplied photos of triangle and rectangular antigravity craft flying out of MacDill Air Force Base, some of which have taken him on board.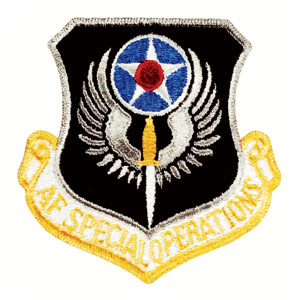 In one incident on October 23, 2017, he recognized the insignia of the military occupants of a rectangular shaped craft as belonging to USAF Special Operations.

JP recently moved from Tampa to Orlando, Florida, and continues to liaise with the special operations community that wish to recruit him due to his relationship with Nordic extraterrestrials who have provided him information about advanced technologies.
The January 12 photos provided by JP is evidentiary support for his alleged contacts and communications with Nordic extraterrestrials, and may be among the few photos capturing the mysterious occupants of alien spacecraft.
© Michael E. Salla, Ph.D. Copyright Notice
[Note: Only hours after sending me the photos of the above craft and its occupants, JP's daughter began experiencing convulsions, turned blue and had to be rushed to hospital with a 103 degree F. temperature. Please send your thoughts and prayers to JP and his family.]
Further Reading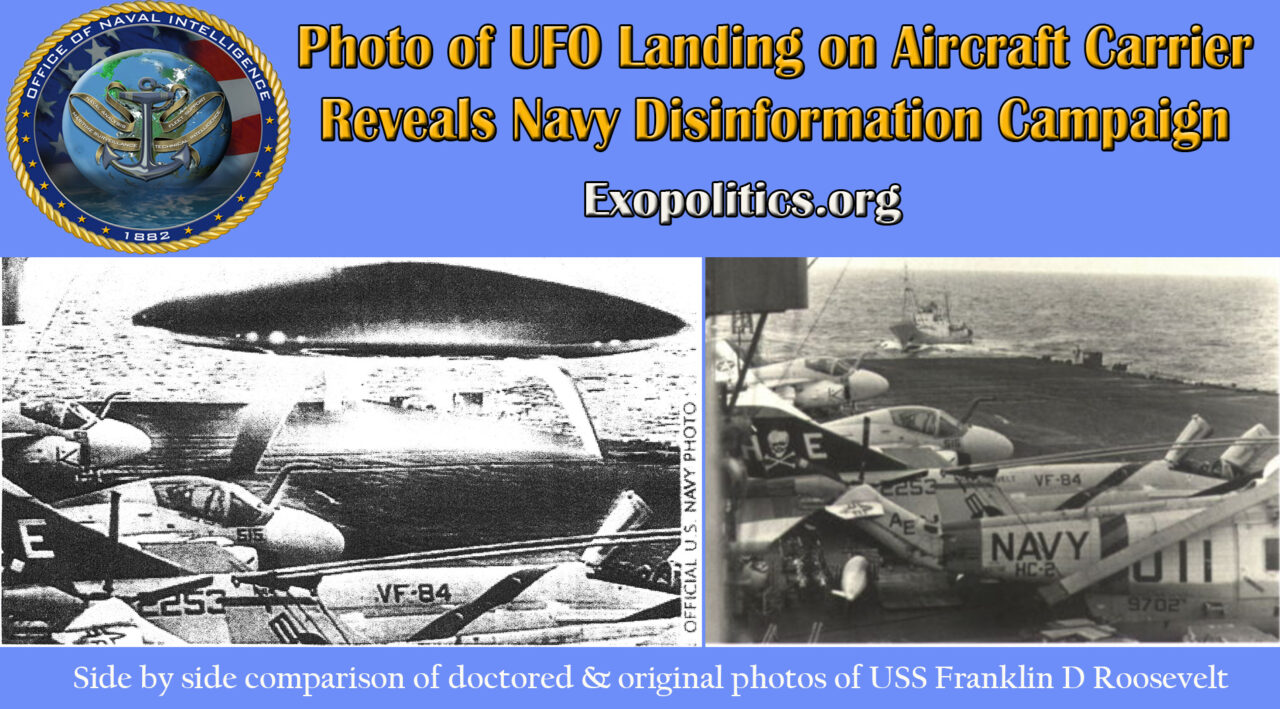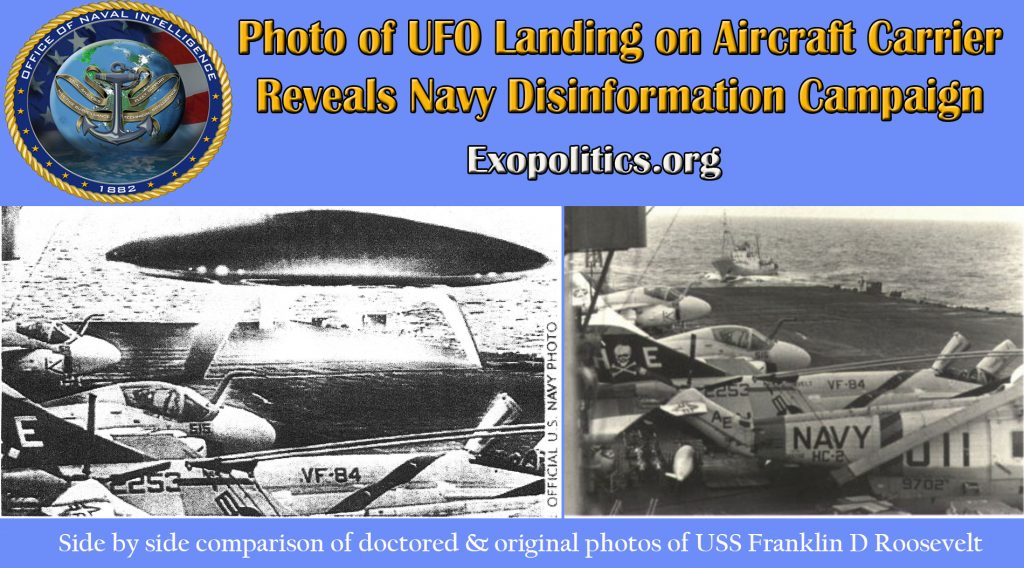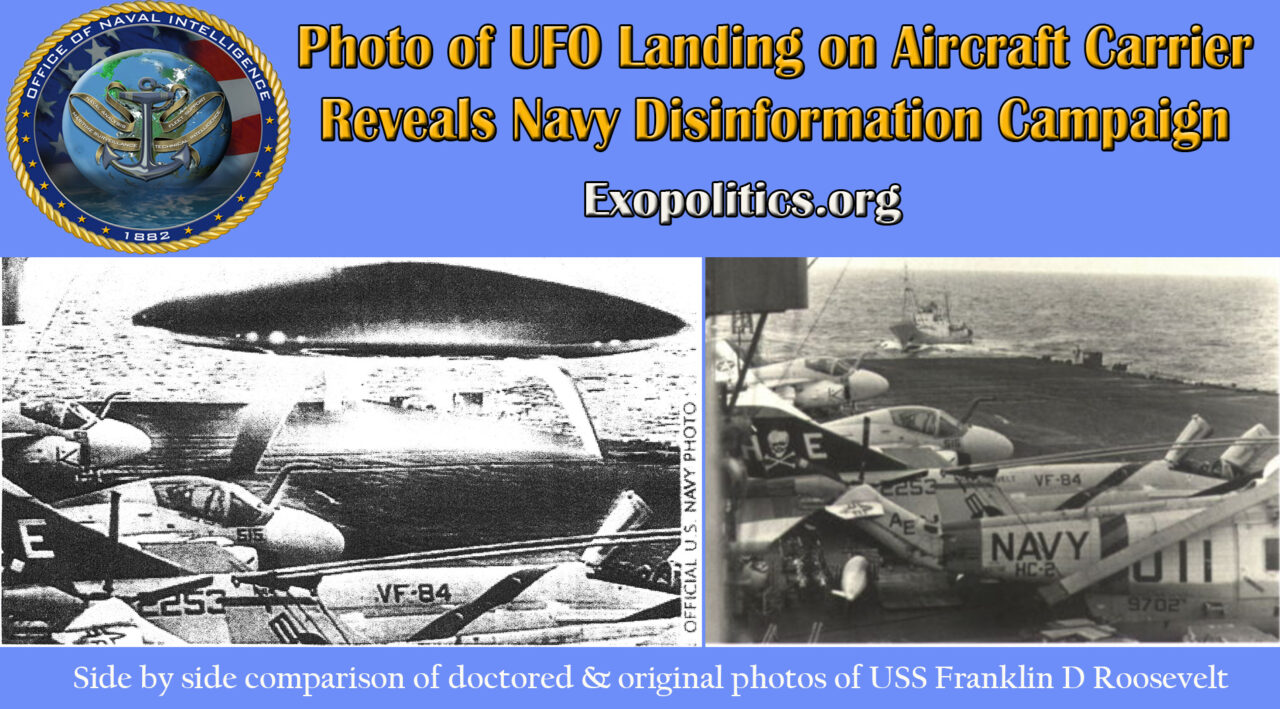 There has been an important breakthrough in the investigation of the authenticity of a photo showing a flying saucer landing on an aircraft carrier that was obtained by Navy Commander Graham Bethune (now deceased), and first publicly released in 2008 by his associate, Frank Chille. Bethune's photo was discussed in a May 4 interview on Rense radio featuring William Tompkins, and was analyzed in an exopolitics article published on May 11.
An official US Air Force photo of the flight deck of the USS Franklin D. Roosevelt from April 1975 closely matches the configuration of aircraft found in Bethune's photo. There is clear evidence that the 1975 photo was altered to produce Bethune's photo. The origin and chain of custody of Bethune's photo suggests it was part of an officially sanctioned Navy disinformation campaign around the issue of flying saucers landing on U.S. aircraft carriers.
First some background. The 1975 USAF photo was released by the U.S. Air Historical Support Office and published in the 2002 book, American Military Aviation: The Indispensible Arm. It shows a Soviet intelligence ship approaching the USS Roosevelt, which was stationed in the Mediterranean Sea at the time.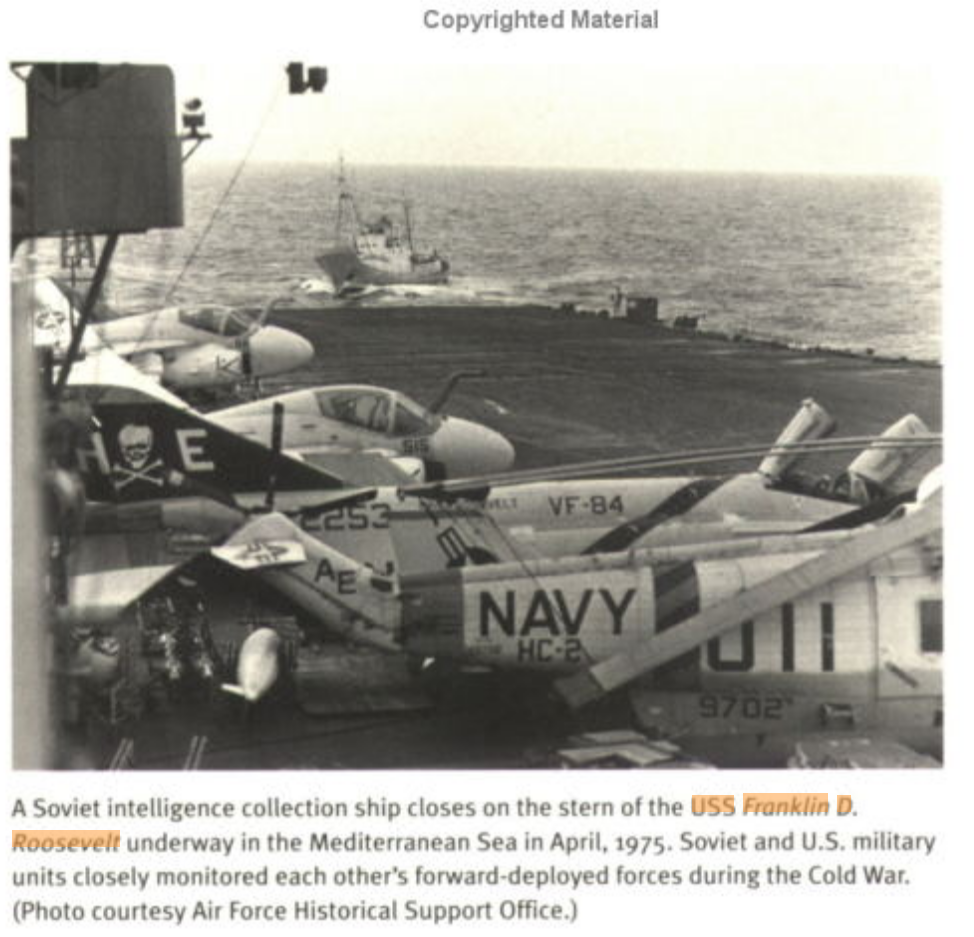 The chronology of the flying saucer landing on the aircraft carrier photo released by Bethune is given by Chille, who says he obtained a copy from Bethune around the year 2000:
Graham had told me that all his photos were hand delivered to him personally by Admiral Delmar Fahrney. I had the distinct impression that I was one of very few whom were ever shown these photos by Graham Bethune. Graham never published any of the photos he had shared with me and he never told me not to share this photo with anyone. Graham did say to me at many meetings that Admiral Fahrney was very aware of the Visitors and the craft they employed. They had ships of all sizes and description and some were enormous in size. [Email 5/13/16]
It's important to emphasize that according to Chille, the photo possessed by Bethune was given to him personally by Rear Admiral Fahrney sometime before that latter's death in 1984, and then later passed on to Chille in 2000. Bethune never publicly released the photo, and passed away on October 30, 2006. Chille publicly released it for the first time in 2008 via the CNN website. Chille later passed on the photo to Major George Filer who released it in one of his Filer Reports on November 2012. Finally, it was released online by Rense for his radio interview with Tompkins on May 4, 2016.

Chille's recollection of the genealogy of Bethune's photo clearly points to the U.S. Navy's involvement in its creation and/or dissemination via Admiral Fahrney.
Fahrney, retired with the rank of Rear Admiral in 1950. He was credited with being the father of "naval air guided missiles":
Rear Admiral Fahrney was "the foremost Navy pioneer for the development of guided missiles. His vision of future weaponry, technical excellence and tireless advocacy formed the basis for the post-World War II Navy missile programs." "Admiral Fahrney's early work in guided missiles and his foresight in planning for future generations of missiles earned for him recognition by many peers as 'the father of naval air guided missiles.'" (circa 1956).
He subsequently became a prominent member of the National Investigations Committee on Aerial Phenomena (NICAP), and was prominent advocate of the "Extraterrestrial Hypothesis" that UFOs were interplanetary vehicles. Fahrney's stature would have meant that whoever he forwarded the alleged photo of a flying saucer landing on an aircraft carrier would have accepted it as genuine.
However, a comparative analysis of the 1975 USAF photo and Bethune's photo leads to a surprising conclusion. Bethune's photo is an altered version of the original USAF photo. The following animated gif which was created by Keanu Bruun shows the key similarities and differences of the two photos.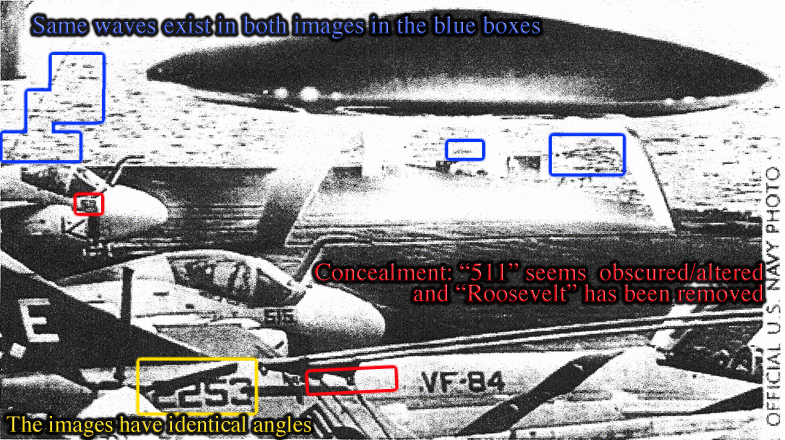 The removal of the word "Roosevelt" from the F-4 Phantom on the deck of the Roosevelt is very clear evidence of photo alteration. The identical wave action in the highlighted sections of the two photos is also very suspicious, and strengthens the case for the 1975 USAF photo being the original used in creating a doctored version.
This raises questions of why was the hoax created, and why was Admiral Fahrney complicit in its dissemination? His Naval and UFO research background suggests that it would take a professional military intelligence organization, such as the Office of Naval Intelligence, to fool him into believing the hoaxed photo was genuine, and anticipate that he would eventually pass it on to others who would leak it into the public arena.
Alternatively, Fahrney and/or Bethune may have been simply following orders to leak the doctored photo into the public arena.
The painstaking work that went into producing this doctored photo sometime between 1975 and 1984, well before Photoshop and other image manipulation software became publicly available, would have required professional photo manipulation expertise. Furthermore, the senior military ranks of the Navy personnel involved suggests there would have needed to be an important national security reason behind the photo's creation.
One justification is that if flying saucers were genuinely landing on aircraft carriers on a regular basis, then over the years many thousands of Naval personnel would have witnessed such occurrences, and could eventually start revealing this to the public. Fahrney may have been told by Naval Intelligence assets, for example, that a flying saucer had indeed landed on the USS Roosevelt in 1975, and that dissemination of a doctored photo was necessary on national security grounds in case the incident was ever revealed by rank and file Naval personnel.
What better way to anticipate and discredit future reports of such encounters than by releasing a doctored photo of one? The hoax could then be easily mistaken as genuine by those familiar with or having direct experience of flying saucer landing on aircraft carriers, and thereby discredit such a phenomenon.
Indeed this appears to have happened with retired aerospace engineer, William Tompkins. In a radio interview with Jeff Rense, he connected Bethune's photo to an incident described in his autobiography, Selected by Extraterrestrials, where a flying saucer piloted by "Nordic extraterrestrials" landed on the USS Coral Sea in the 1950's.
Rense: … the first image that comes up is a large disk-shaped craft with a couple of lights visible. Apparently [it] landed on the deck of an American aircraft carrier. Tell us about that picture, Bill. What's the story? …

Tompkins It's one of quite a number of Nordic extraterrestrial UFOs that have landed on US Navy aircraft carriers.
Tompkins was likely confused by the realistic depiction of the flying saucer in the doctored photo, which led him to believe it was a genuine photo of one of many landing incidents.
One of the leaked Edward Snowden NSA documents confirms that the intelligence agencies of the "Five Eyes" nations – USA, UK, Canada, Australia and New Zealand – are involved in disseminating hoaxes involving UFO images online. The doctored flying saucer landing on the USS Roosevelt is evidence that such an officially sanctioned disinformation effort is being conducted to confuse not only the general public, but also well-meaning senior military officers and even aerospace engineers, over what is genuine or not.
In the case of Bethune's photo, it was through a collaborative effort by private researchers, who were able to identify the original USAF photo used to create the doctored version, which proved essential in bringing this to public attention. While some may be disappointed that Bethune's photo is not hard evidence of a flying saucer landing on an aircraft carrier, it is nevertheless significant that an official Navy disinformation campaign has been found that aims to anticipate and discredit such claims by the dissemination of doctored versions of genuine extraterrestrial encounters.
© Michael E. Salla, Ph.D. Copyright Notice
Further Reading