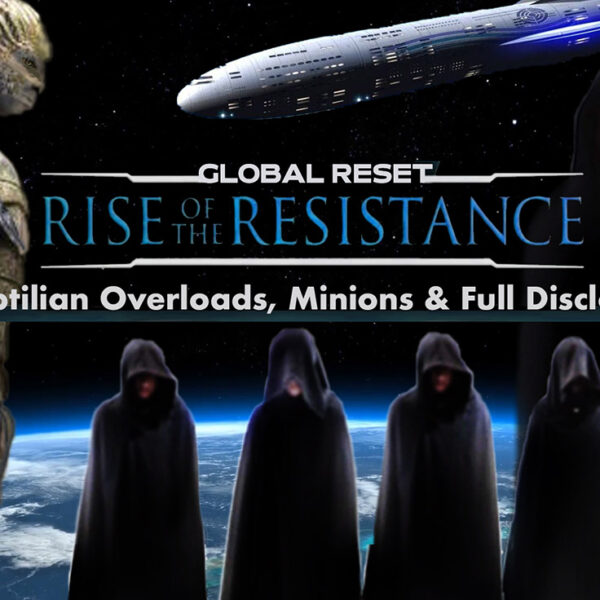 This is an historical overview of how the Earth has been run as a prison planet through secret agreements between the Cabal/Deep State and their Reptilian extraterrestrial overlords. The film introduces modern day plans to engineer wars, poverty, disease and genetic modifications that all contribute to covertly fulfilling these agreements. The recent proposal to create techno-governments in the US State of Nevada is shown to be yet another means by which the Deep State minions of these alien visitors can hide their operations and fulfillment of these agreements.
As more individuals awaken to the contrived nature of modern wars, health crises, and economic collapse, the masses are rising up in open resistance to the Deep State. What will accelerate this Great Awakening is full disclosure of suppressed advanced technologies, secret space programs and a Galactic Federation waiting for humanity to reclaim its galactic heritage.
I wish to thank my incredibly talented and inspired wife, Angelika Whitecliff, for the many hours she devoted to creating this short film and raising public awareness of these critical issues.
Michael Salla, Ph.D.
[Short Film Available on Vimeo, Rumble and YouTube
Related Articles/Podcasts:
---
March 27, 2021 Webinar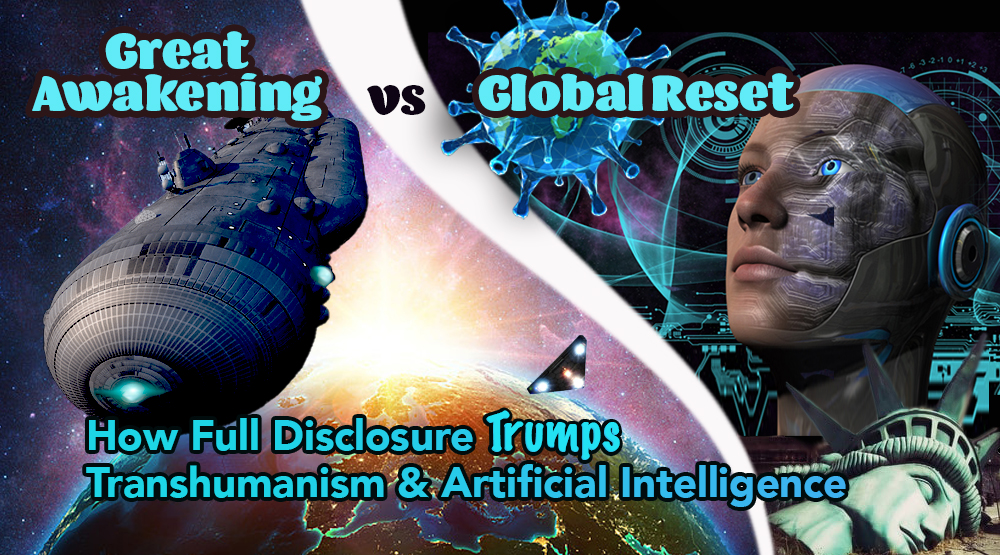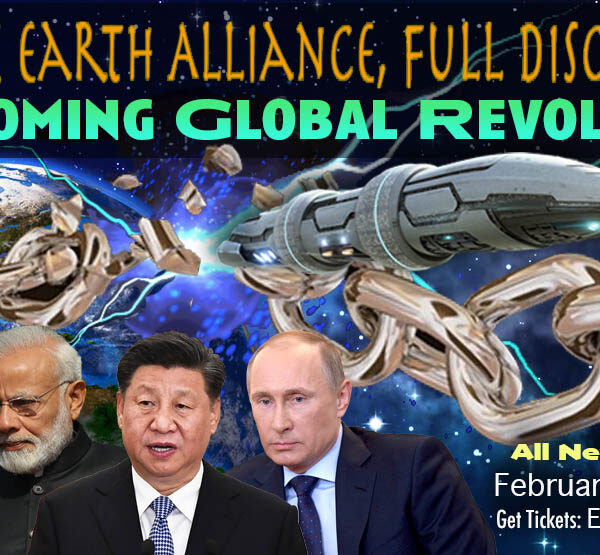 As the predicted days of darkness temporarily settle in upon the US and world stage, a great effort is taking place behind-the-scenes over the future direction of humanity as many White Hat groups and leaders are stealthily overturning Deep State operations. Among such groups is the Earth Alliance, a loose association of military and political White Hats from major countries who have been battling the Deep State over the extent and pace of releasing advanced technologies used in secret space programs to ultimately reveal the truth about extraterrestrial life.
Very recently, the White Hats gained a decisive advantage due to the widespread public exposure of Deep State plans to socially engineer a Great Reset through systemic election interference, a staged pandemic, social media censorship, and worldwide suppression of civil liberties. The failure of the Deep State's plans will have major consequences for the repressive political systems of client countries such as China, Iran, and North Korea that were infiltrated decades ago by the Deep State and manipulated.
Key political leaders in the Earth Alliance include President Donald Trump, who has begun the process of releasing advanced aerospace technologies through the creation of the U.S. Space Force. Russia's Vladimir Putin who has allowed many breakthrough technologies to be released and thoroughly frustrated Deep State plans to incite another World War. China's Xi Jinping, who has battled the nefarious influence of his predecessor, Jiang Zemin, who still controls many advanced technology projects used to suppress the Chinese populace. Finally, India's Narendra Modi has tirelessly worked to bring out into the public arena the antigravity technologies used in ancient India's space program. These key leaders, along with many others, have been covertly collaborating to bring about the demise of the Deep State both in their respective countries and across the globe.
They are being helped by a positive group of extraterrestrials called the "Galactic Federation" (aka Confederation of Planets), which has been working for decades to raise human consciousness. The Galactic Federation has also been stalwartly working with key players such as the Trump family for generations to promote and ensure the optimal timeline and to bring about a Great Awakening and a Global Revolution that will result in humanity's emergence as a full member of the Galactic community.
About the Presenter: Dr. Michael Salla is the author of the bestselling Secret Space Programs Book Series & founder of Exopolitics.org
Webinar Date: February 27, 2021 (Saturday)

NOTE THIS WEBINAR HAS BEEN COMPLETED
RECORDING AVAILABLE ON VIMEO – CLICK HERE

To view and purchase past webinars click here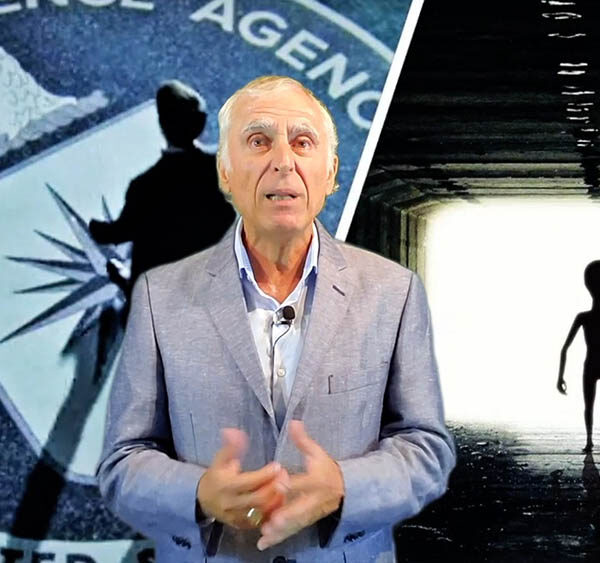 White Hats and the Deep State have competing plans to unveil a very limited disclosure of the truth behind Secret Space Programs and extraterrestrial life. The goal is not so much to inform, but to misinform the general public through a limited hangout that keeps the full truth hidden for decades to come. Learn about these competing agendas and how they contrast with full disclosure.
To purchase a recording of this Webinar click here.

More info here.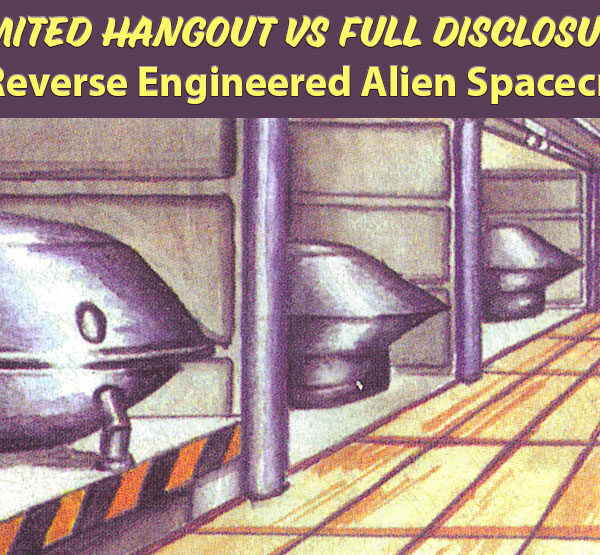 Classified briefings given to staffers and officials from the U.S. Congress and Pentagon by Dr. Eric Davis on UFO/UAP reports have taken on great significance due to a July 23 New York Times story breaking the news that they were being briefed about "off-world vehicles not made on this earth". In part one of this series, I discussed a 2019 interview with Dr. Davis, where he shared his knowledge of Special Access Programs, including a UFO crash retrieval project as providing the best insight into what he revealed in his classified briefings.
In the interview, Davis spoke of the lack of success scientists had in reverse engineering the "off-world vehicles" due to difficulties in understanding the new physics operating in the recovered craft. Of particular note was his belief that the reverse engineering program suffered from a lack of funding, which he explained as follows:
[1:23:43 Y.T.] So here's the thing that you should know is that the crash retrieval program is a very small program. It is not a massive, huge government infrastructure…. It's a very poorly funded program, and it hasn't actually, probably hasn't had money for a while.
Davis' comment aligns with the revelations of Bob Lazar, who says he was recruited in late 1988 for a reverse engineering program at the remote S-4 facility at Area 51 on a flying saucer craft of extraterrestrial origin that was approximately 50 feet in diameter and 20 feet high.
In Dreamland: An Autobiography (2019), Lazar wrote about his surprise over the lack of people working on the highly classified project, called Galileo, compared to similar important projects at Los Alamos National Laboratory:
I did wonder briefly why it was that what seemed to me to be a relatively small group of people were working on a project that had the kinds of implications that this one did. Los Alamos and the project to produce nuclear bombs involved an enormous number of people and resources… For all I knew, there were teams all over the country working on this same project as Barry and I. At least I wanted to believe that. I wasn't so egotistical as to believe that I was one of only a select few working on something so monumentally important as this was. [Dreamland: An Autobiography, p. 58]
Davis and Lazar's comments appear odd given what is known about the "deep black budget" created by the CIA in 1949 to secretly fund extraterrestrial related advanced technology projects. As I have shown in my 2004 Black Budget report, the funding available for such projects is actually massive, exceeding over a trillion dollars annually, greatly exceeding the entire Pentagon budget according to estimates spanning the years 1997-2000.
Clearly, the vast sums were going elsewhere, as Lazar suspected, rather than the reverse engineering project(s) Davis and Lazar were exposing. This raises suspicion that Lazar's project, as well as the one Admiral Thomas Wilson had attempted to learn about (see part one), were in fact red herrings, distractions, designed to misinform UFO researchers and the general public when they learned about them.
What strengthens such a suspicion is what Davis had to say about the reverse engineering program's termination in 1989, the same year Lazar emerged as a whistleblower. This makes it all but certain that Davis was referring to Project Galileo, the very program Lazar had been involved with at the S-4 facility.
According to Davis, the scientists were unable to sufficiently communicate to understand the new physics behind the craft due to the compartmentalization security procedures that were in place:
[1:24:00 Y.T.] I do know that the program was terminated in 1989 for a lack of progress in reverse engineering anything that they had, any of the hardware that they had, and every so often, so many years go by, and they'll try it again. And they just don't succeed because compartmentalization is a killer. Scientists cannot communicate with other scientists to get help.
Davis pointed out that the difficulties experienced by scientists working in the crash retrieval program are common in compartmentalized projects where scientists are prevented from sharing their problems with outside experts who normally are called upon in similar situations in the open-source world:
[ 1:25:44 Y.T.] So this isn't just unique to the crash retrieval program. This type of problem is unique to all the black programs that the DoD has, DHS has, and the military services branches has them, the Department of Energy has their own versions…. The purpose of a black program with a special access program security rap, is you got to limit the information and exposure to the information to as few people as possible in order to produce the maximum security protection against espionage by the enemy. And so that limits who you can work with that also is cleared to know. That limits the amount of experts that you can have working with you.
And gosh, you know, if your small group of experts are stumped, you're screwed, because you basically can't call your buddies or somebody you know, or somebody you know of, who's an expert better than you … a bigger expert on the subject at a university either near you or at a university across the country, you can't call those guys. You can't even read them in because you're not supposed to acknowledge some of these black, most of these black programs, they're not supposed to be acknowledged.
Not coincidentally, Lazar made the same criticism over lack of progress in Project Galileo:
The system under which we operated, how Naval Intelligence (or whatever agency truly guided these efforts) insisted upon compartmentalization and secrecy got in the way of all of us doing our jobs easily and productively. Given that there was a metallurgy group functioning somewhere on the base where Barry and I had worked, you'd think it would be an easy matter to get a company directory, dial that line (these were pre-Internet days so no email) and request the answer to our question. Because all our efforts were so segregated and knowledge not shared, that was impossible for us to do. I can cite a half dozen or more examples of how this inefficient system worked against our efforts to be productive but that one should suffice. (Dreamland: An Autobiography, p. 66).
Consequently, Davis' statement of such programs ending back in 1989 due to a lack of success is consistent with Lazar's revelations. In Lazar's autobiography, he wrote about what he read about setbacks in earlier failed reverse engineering attempts in a briefing document given to him when he arrived at S-4 for his first day of work in January 1989:
Though no dates were given, it was clear to me that the project was not in its infancy. Some references were made to past attempts to understand the nature of the power and propulsion system. Several attempts had been made to reproduce the kind of system that had come into their hands, but with no success…. I next read that a previous attempt to dismantle one of the existent propulsion systems had resulted in an accidental explosion.  (Dreamland: An Autobiography, p. 44)
Ever since Lazar publicly emerged, he has revealed in multiple interviews how the reverse engineering project suffered from funding, had relatively few scientists working on it, and how scientists were handicapped from making breakthroughs due to stifling security constraints.
Lazar's revelations align closely with what Davis revealed in his interview, and what he subsequently shared with the Congressional staffers and Pentagon officials about the failed reverse engineering project.
Once again, both Davis and Lazar's observations appear awry with what others have claimed based on direct eyewitness testimony of reverse engineered flying saucer craft.
For example, one of Dr. Greer's Disclosure Project witnesses, Mark McCandlish said that in 1988, the same year Lazar was recruited to work at S-4, a highly classified airshow featuring three reverse engineered flying saucers was held at Edwards Air Force Base. The three craft were sighted by a patent illustrator, Brad Sorenson, who says that the craft had been built by an unnamed major aerospace company, one that hosted one of the corporate development facilities at Edward's Plant 42.
As professional patent illustrators, both Sorenson and McCandlish are experts in replicating the designs of advanced aerospace craft. McCandlish provided the following illustration of what Sorenson had witnessed.
McCandlish's testimony is consistent with the testimony of other credible witnesses, which I have discussed at length in the U.S. Air Force Secret Space Program (2019). They have spoken of the success of reverse engineering efforts concerning flying saucers and other advanced aerospace technologies going all the way back to the 1950s.
High among the list of credible witnesses is Ben Rich, the former head of Lockheed Martin's Skunkworks, who repeatedly made references to Lockheed having the technology "to take E.T. home." At the end of public lectures, he would famously finish with a slide showing a flying saucer and saying: "We now have the technology to take E.T. home".
His comment always got a big laugh from his audience who were fans of the movie, E.T., but privately Rich shared with colleagues what was really going on in the classified programs that Skunkworks was involved in:
We already have the means to travel among the stars, but these technologies are locked up in black projects and it would take an act of God to ever get them out to benefit humanity…. Anything you can imagine, we already know how to do.
If one accepts the information provided by McCandlish, Rich and others that flying saucer shaped craft have been successfully reverse engineered, built and deployed, where does that leave us with the testimonies provided by Eric Davis and Bob Lazar?
It's quite a stretch to believe Davis' contention, which is corroborated by Lazar's experiences, that reverse engineering efforts effectively stopped in 1989 due to setbacks, difficulties posed by the compartmentalization process, and lack of funding. The alleged lack of funding is patently absurd given the enormous "black budget" that is annually generated by the CIA and funneled into the Pentagon for unacknowledged special access programs.
A more reasonable conclusion is that such reverse engineering efforts were being conducted elsewhere than at Area 51's S-4 facility – as Lazar himself suspected. Unlike S-4, which was more a museum designed to hoodwink visitors into believing flying saucers had been retrieved but were far too advanced to successfully reverse engineer, the real reverse engineering was secretly being conducted elsewhere.
Well-funded corporate aerospace facilities such as Lockheed's Skunkworks division located at Plant 42, Edwards Air Force Base, are among the most likely candidates, especially given what McCandlish, Rich, and others have shared. More recently, testimonial evidence has emerged that the Tic Tac craft sighted by Navy pilots in 2004, were built at Plant 42 on behalf of the U.S. Air Force.
The fact that the New York Times has given prominent coverage of Davis briefing Congressional staffers and Pentagon officials, around the same time that Lazar's testimony is gaining widespread public exposure due to a new film and autobiographical book does raise legitimate questions over whether this is all part of a limited hangout.
Davis and Lazar appear to be unwitting pawns in a sophisticated psychological operation that dates back to at least 1989, which began with Lazar. The purpose of the psyop appears to be very transparent. Deceive the public about the successful reverse engineering of flying saucer and other antigravity aerospace technologies in corporate facilities, and to sidetrack the public into focusing on government-run facilities such as S-4, which were unsuccessful in their reverse engineering efforts.
I will explore the above scenario in-depth in my upcoming August 22 Webinar, "Full Disclosure vs. Limited Hangouts", which will also explore contemporary efforts to portray UFOs as alien threats.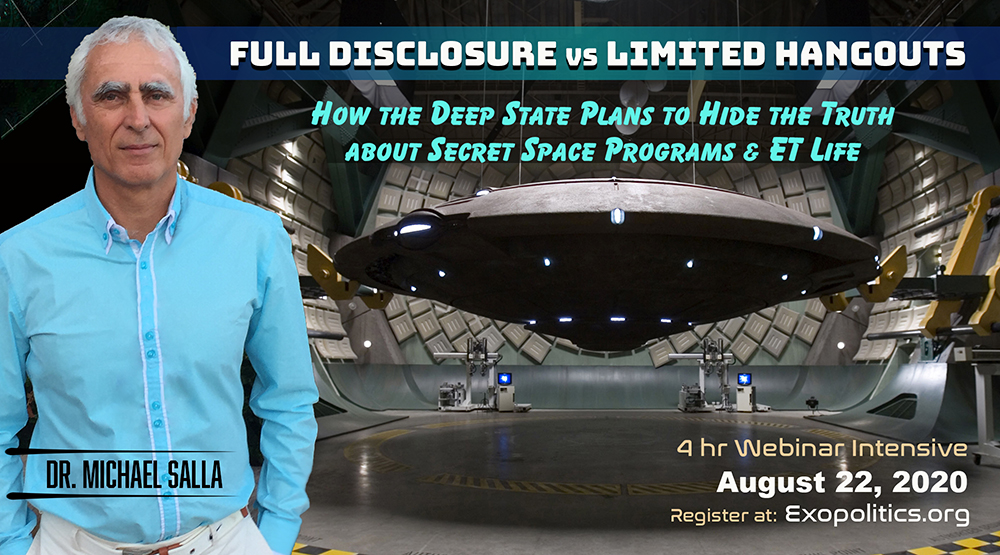 The ultimate goal is to set the stage for a false flag alien event – either an alien invasion as speculated by many in the past; or the even more intriguing possibility, given an increasing series of predicted  global disasters about to occur, of an "alien rescue"!               
To be continued in Part 3. For Part 1 click here.
© Michael E. Salla, Ph.D. Copyright Notice
[Note: an Audio version of this article is available here]
Further Reading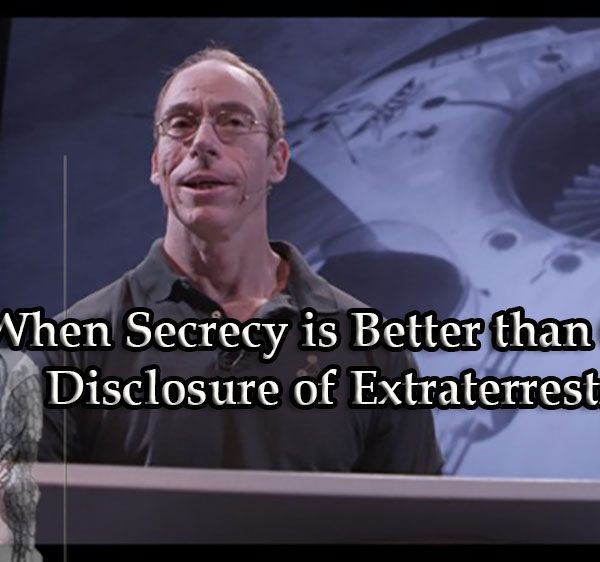 Dr. Steven Greer, a leading figure in the UFO disclosure movement, has just proposed an audacious idea concerning official disclosure of extraterrestrial life. In his expert opinion, acquired over more than 25 years of disclosure advocacy, continued secrecy is better than disclosing the truth about visiting aliens if they are depicted in any other way than peaceful nonviolent beings attempting to advance the evolution of human life on Earth.
In the February 5 installment of Gaia TV's Disclosure series, Greer was interviewed on the topic of the "Architecture of Secrecy" and explained his view about how official disclosure should be handled. He asserted his controversial idea that continued secrecy is better than any disclosure scenario that depicts extraterrestrials as in any way constituting a threat:
My biggest concern is that there's a hijacking of disclosure around a narrative of a threat, of an us versus them scenario. That is the sort of thing that can lead to the worst possible outcome.  I wrote a paper called "When Disclosure Serves Secrecy". Disclosure that would serve the secret agenda is not something that we need. I'd rather have the secrecy continue, frankly. But a disclosure that would be truthful and would be forward looking, and that would have an interplanetary peace initiative, and communication and contact initiative, and that would have the release of these technologies for peaceful energy generation, transportation and what have you, that would transform the planet very quickly  (Video: 9:45)
Greer explicitly referred to Luiz Elizondo and Dr. Hal Puthoff, who are senior figures in Tom DeLonge's To The Stars Academy, as a major part of the threat scenario that is being currently put out into the public arena through the major news media. On that score, I would agree with Greer that the "Advanced Aerospace Threat Identification Program" (AATIP) which was created within the Defense Intelligence Agency in 2007, and headed by Elizondo up to 2017, was unnecessarily framing the UFO issue in terms of it being a threat to national security.
If Greer only limited himself to critiquing depictions of UFOs and all extraterrestrial visitors as a threat, which AATIP appeared to be doing, he would be on solid ground. However, Greer in the Disclosure interview, as well as in past public statements, made it clear that he is against researcher that depict any extraterrestrials, even if only a small percentage, as a threat in any way.
On May 2, 2006, Greer launched an extraordinary public attack on my exopolitics research for having committed the egregious sin of proposing that extraterrestrials could in any way behave similarly to humans in terms of a wide range of motivations. My research dividing extraterrestrials into different motivational categories, e.g., the good, the bad and the indifferent, was lambasted by Greer as fueled by disinformation.
Greer is no doubt correct that elements of the Military Industrial Complex are exaggerating the threat narrative when it comes to UFOs and extraterrestrial visitation, which AATIP appeared to be currently doing and which I acknowledged back in my 2006 response to Greer. In it, however, I also pointed out that Greer's bold assertion that there is no evidence of hostile extraterrestrial behavior, can be easily shown to be wrong by examining multiple sources revealing the egregious behavior of some extraterrestrial visitors.
On July 26, 2010, Greer was confronted by Project Camelot founders, Kerry Cassidy and Bill Ryan, over the same issue, and they presented their own evidentiary sources that some extraterrestrial visitors were behaving unethically and maliciously.
In 2018, Greer attacked two of the insider sources I have cited extensively in my secret space program book series, Corey Goode and William Tompkins, as putting out disinformation about aggressive extraterrestrials, Draconian Reptilians, who are described as a prominent part of the planetary control system. In this case, he speculated that both Goode and Tompkins were implanted with false memories and were unwittingly spreading disinformation.
Again, I responded to Greer by pointing out the abundant evidence refuting his audacious assertion that no extraterrestrials behave in ways that are unethical or malicious. Indeed, I showed how his dismissal of Tompkins claims, in particular, ignored the impressive documentation substantiating his information.
With that brief background on Greer's past public statements on the issue of some, not all, extraterrestrials being unethical and malicious, the context has been set for better understanding the implications of what Greer had to say next in the February 5 interview.
Greer repeated his assertion that continued secrecy is preferable to any official disclosure announcement describing aliens as a threat, even if only partially or a subset of the entire alien visitation scenario:
The disclosure of this subject is the most important announcement in the history of the human race. How it's handled, it has to be handled with great wisdom and great care. If it is handled with the kind of buffoonery and clumsiness that is evolving, or with partial truths, mixed in with disinformation, with frightening scenarios that scare the hell out of the public, I actually prefer the secrecy. (17:34)
What makes Greer's views significant is that he claims to be in touch with members of the oversight group of up to 200 members commonly referred to as the MAJIC committee. Greer asserts that he is providing them with an expert civilian perspective on disclosure, where, incredibly, he appears to be advocating continued secrecy if an official disclosure statement is not framed in the way he prescribes.
In short, what is widely regarded as "full disclosure", where all the facts and evidence of visiting extraterrestrials – good and bad – along with the truth about secret space programs is publicly revealed in an official announcement, is not supported by Greer. On the contrary, he only supports a "limited disclosure" statement where all references to unethical or malicious aliens is sanitized.
It's hard to envisage that a leading figure in the disclosure advocacy movement could support continued secrecy on any grounds, let alone the dubious grounds Greer asserts, which I and others have shown ignores a large body of evidence. As to why Greer is taking such an extreme position, there are a number of explanations that come to mind. One is that he is personally invested in a secret Vatican initiative to establish a "New Cosmic Esoteric World Religion" through a "false flag alien savior event" as described elsewhere. Another is that Greer has been co-opted or compromised by the MAJIC Committee in charge of extraterrestrial related projects and is sabotaging the disclosure movement by imposing unreasonable demands for a future official disclosure announcement.

Greer's position that continued secrecy is better than an official disclosure announcement which contains reference to any extraterrestrial visitors as a threat, is a position that he will find increasingly difficult to defend given the public's growing awareness of all the available evidence of visiting aliens, and the diverse motivations behind their activities. Full disclosure is already well underway through multiple public initiatives  disclosing all aspects of visiting extraterrestrial life and secret space programs, and any effort to filter or curtail such information in ways favored by Greer, are certain to fail.
© Michael E. Salla, Ph.D. Copyright Notice
Further Reading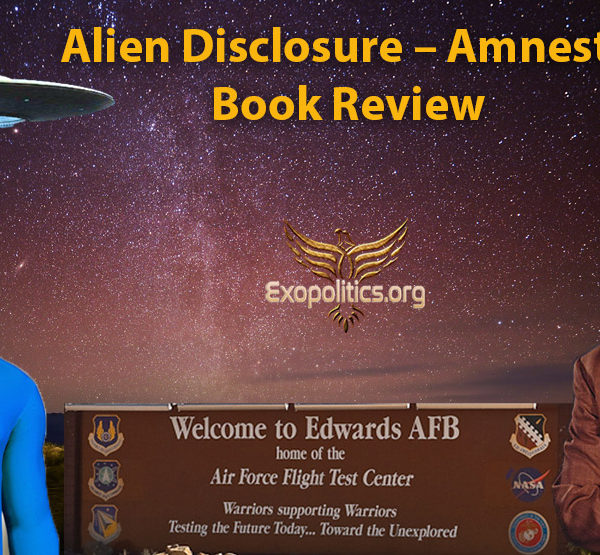 Alien Disclosure is a science fiction book based on a real-life event involving President Dwight Eisenhower meeting with an extraterrestrial delegation in February 1954. The author, Allan Kules, weaves a fascinating story of how a UFO researcher gets his hands on a copy of the film taken of the meeting, evades a secret government effort to capture him, and eventually takes it to the United Nations where it is played thereby disclosing the truth to the world.
The book's plot provides an intriguing example of how full disclosure can be triggered by a positive faction of the secret government providing UFO/exopolitics researchers with leaked documents of real events. This first time this happened occurred in the 1980's and 1990's with the leaked Majestic Documents, and could easily happen again with a Wikileaks type release of UFO/extraterrestrial related documents.
In Alien Disclosure, a positive secret government faction arranges for the Eisenhower film to be given to the hero, James Broadhurst, and this group helps him to evade a negative faction. He was chosen because of his firm belief that amnesty would need to be given to all those involved in maintaining the secrecy system.
While on the run, Broadhurst gets to meet with human looking extraterrestrials that have infiltrated Earth society, who are also behind the full disclosure initiative. He also gets to witness some of the advanced technologies used by the secret government such as teleportation, and is taken for a ride on an extraterrestrial spacecraft.  
What I found especially helpful was the way the negative secret government faction was depicted. The villains were not dehumanized as psychopaths on a rampage of destruction as they carried out illegal orders, but as typical government agents with a highly skewed national security belief system that made them view extraterrestrial disclosure as a genuine threat for human society.
This made it easier to understand why amnesty, based on the Truth and Reconciliation model used by countries such as South Africa, could be used in a full disclosure scenario. Amnesty is going to be a controversial topic as the full enormity of what has been kept secret, and how the secrecy system has been ruthlessly enforced for over seven decades is eventually disclosed.
Kules' book presents the pros and cons of an amnesty policy when it comes to full disclosure, and why amnesty is critical in getting the negative secret government faction to stand down. In our world today, there is little doubt that the advanced technologies possessed by the secret government could cause enormous destruction if unleashed by those backed into a corner with no other option.
Yet, as we are seeing with the QAnon movement, there are over 50,000 sealed indictments that have been issued against Deep State officials. The threat of being subjected to a military trial makes for a big motivator in getting cooperation from them. If QAnon is to be believed, the Deep State is on the verge of collapse, so why would blanket amnesty be necessary for the perpetrators of crimes stretching back decades?
Would a "restorative justice" model based on Truth and Reconciliation be better than a "punitive justice" model in dealing with the complex legal and political issues raised by full disclosure? There are pros and cons with both models.
In the case of the Truth and Reconciliation model used in South Africa, many felt that the truths revealed in the process helped bring closure to the victims and/or their families, while others believed that the perpetrators of atrocious crimes were treated far too leniently, and literally got away with murder.
In the case of the Nuremburg War Crimes, while a few senior Nazi officials were punished, the vast majority escaped punishment since evidence was systematically destroyed, and/or such officials went underground to escape justice.
I believe the answer lies in finding some balance between these two justice models since those responsible for the most egregious crimes should be exposed and punished as occurred at Nuremberg. Yet, it's clear that in the vast majority of cases, where evidence is lacking, a Truth and Reconciliation process has clear advantages. Furthermore, we the victims of such crimes need to move on into a post-disclosure world and forgiveness appears to be an important rite of passage into what lies ahead.

Kules' book offers many insights into how the full disclosure process might play out, and how the world will react to the truth about extraterrestrial visitors, release of advanced technologies, and the exposure of those who brutally enforced the secrecy system.
Alien Agenda is a very entertaining read, with lots of fascinating plot turns, and inspires the imagination to think about how full disclosure will happen – something that is vital to how it all eventually unfolds.
On a personal level, I was gratified to see how my own research on the 1954 Eisenhower extraterrestrial meeting inspired Kules to write his book. The meeting was a formative event in world history that has been largely ignored by UFO researchers. The multiple diplomatic meetings Eisenhower had with alien ambassadors throughout his administration has shaped the nature of U.S. and world politics ever since.
One area that Kules' book didn't cover, is the existence of a German Secret Space Program operating out of Antarctica, which has morphed over the decades with corporate assistance into something quite sinister that operates in parallel with alien contact. Perhaps this is something he will cover later in his Alien Disclosure Trilogy.
I highly recommend Alien Disclosure: Amnesty as a book well worth reading. It is available on Amazon as a paperback and would make an ideal gift for those interested in science fiction, and have an open mind to the truth about extraterrestrial visitation.
© Michael E. Salla, Ph.D. Copyright Notice
Further Reading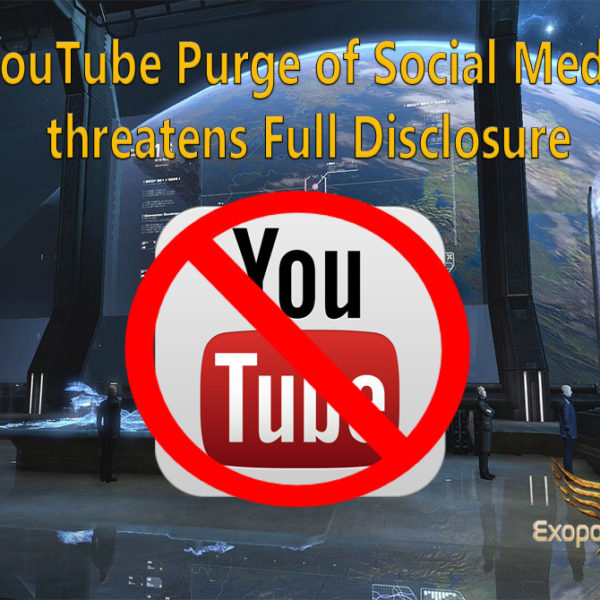 YouTube has begun purging its popular video hosting platform of channels that challenge the narrative coming out of the mainstream news media across a wide spectrum of topics. This has led to outright terminations and strikes against some of the more popular channels, which have been exhorting viewers to question the conventional news narrative.
These channels have been accused to be participating in hate speech or bullying due to them vigorously addressing controversial topics, transgressing norms of political correctness, or exploring evidence that some national tragedies may have been false flag attacks. Among the topics that appear to have attracted the attention of YouTube censors are disclosures by QAnon, which allegedly involves information released by covert U.S. Army Intelligence operatives.
The YouTube video purge not only has grave implications for free speech, but can also seriously impact on the prospects for full disclosure of secret space programs, UFO's, and the advanced technologies and hidden intelligence behind these.
These subjects have been successfully kept secret for decades due to mainstream media either ignoring or ridiculing their seriousness, or by removing journalists from their positions for covering them. I found this out first hand as a "citizen journalist" for the Examiner.com online newspaper where I had over 50 million pages views for over 300 articles written from 2009 to 2015.
All my content was summarily removed when a new editorial policy was adopted where "exopolitics" and many other alternative news topics were no longer considered legitimate news. Hundreds of citizen journalists writing highly popular blog articles were dismissed without any appeal process. All this badly backfired on the Examiner which by July 2016 was forced to shut down.
It's no surprise then that the CIA has been found to have compromised media organizations in order to shape the mainstream media narrative. I would not be surprised that the Examiner had been similarly compromised. Therefore, any attempt to suppress alternative media sources that challenge mainstream news is a threat to full disclosure.
YouTube, owned by Google, has very recently begun using an army of 10,000 moderators to police the thousands of videos uploaded to its platform on a daily basis.   In addition, progressive liberal organizations such as the Southern Poverty Law Center are being used as "Trusted Flaggers" which target YouTube users that vigorously challenge the mainstream news narrative.
Strikes are issued by the moderators and/or flaggers with only a very brief reference to the category of the YouTube community guidelines that has been allegedly transgressed. s No detailed explanation is given for the strike nor is the individual moderator(s) or organization behind the strike identified.
Among the first YouTube channels to be terminated under their three strikes policy was the Richie Allen Show on February 22, which had over 76,000 subscribers and 1,400 videos. Jordan Sather's Destroying the Illusion channel was terminated on February 26 (120,000 subscribers),  as was Jerome Corsi's channel (34,000 subscribers) on March 1. Strikes were also given to Alex Jones/Infowars ( 2.3 million subscribers and 33,000 videos), Mark Dice (1.2 million subscribers) and a growing list of others.
[Update 3/4/18] On late Saturday night, Alex Jones reported that YouTube was poised to delete his channel: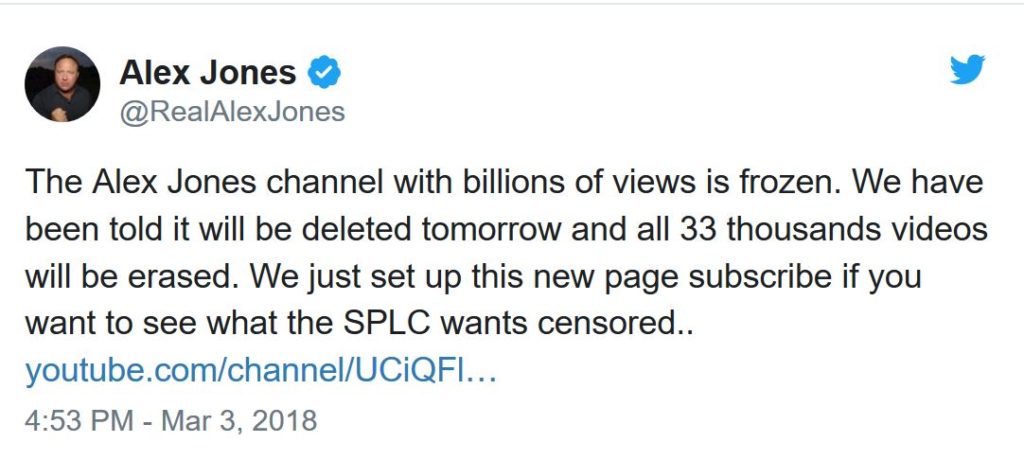 When challenged, some of the strikes have been reversed, and channels restored as occurred with Corsi, who received White House support from back channel discussions. Interestingly, both Corsi and Sather were giving a lot of coverage to the QAnon disclosures.
Officials linked to QAnon may have even stepped in to save Corsi's channel. Sather instead has created a replacement YouTube channel called Destroying the Illusion 2.0., where he plans to continue examining the QAnon material, secret space programs and many other topics.
The long-term prospects for YouTube channels and news sites challenging mainstream media narratives does not look good due to the moderators and flaggers actively posting strikes against many channels challenging mainstream news narratives.
YouTube, Twitter and Facebook are at different stages in downgrading, hiding and/or terminating alternative media sites in a transparent and foolhardy effort to get people to buy back into the mainstream media narrative on topical issues.
YouTube, along with Twitter and Facebook, are destined to fail since there is a growing social movement that simply doesn't trust the mainstream news narrative, which many believe is hopelessly compromised by Deep State actors such as the CIA.
This is a phenomenon that is not going to be reversed during the Trump administration given the highly partisan nature of American politics, and the rapid growth in the popularity of the QAnon revelations which are being followed by as many as 20 million people (Q post 812).
What YouTube, Twitter and Facebook are doing is only highlighting how they have been compromised by individuals and groups that have a vested interest in hiding the machinations of the Deep State, and covering up the truth on an extensive number of topics.
In the meantime, it would be wise for individuals to support alternative media by directly visiting the websites of content providers, which are not controlled by YouTube, Twitter and Facebook. Subscribe to RSS feeds, email lists, etc., of your favorite sites, and don't become too dependent on social media platforms such as YouTube, Twitter and Facebook, which are only going to continue to terminate accounts of those not supporting the mainstream media narrative. Here is a list of alternative social media platforms that don't censor posters.

In the case of information concerning secret space programs and "exopolitics" I recommend subscribing to the RSS and email feeds of exopolitics.org which is my personal site, or exonews.org which hosts a diverse collection of exopolitics authors, and stories from around the internet.

As far as the YouTube purge of channels promoting the QAnon information, the quick reinstatement of the Corsi channel after possible White House intervention raises hopes that this new policy direction may similarly backfire on YouTube and Google, as it did for Examiner.com back in 2016.
The threat posed by the YouTube purge is very real and preemptive steps need to be taken by all who value alternative news perspectives, and desire social media to be an effective means of promoting full disclosure.

© Michael E. Salla, Ph.D. Copyright Notice
Further Reading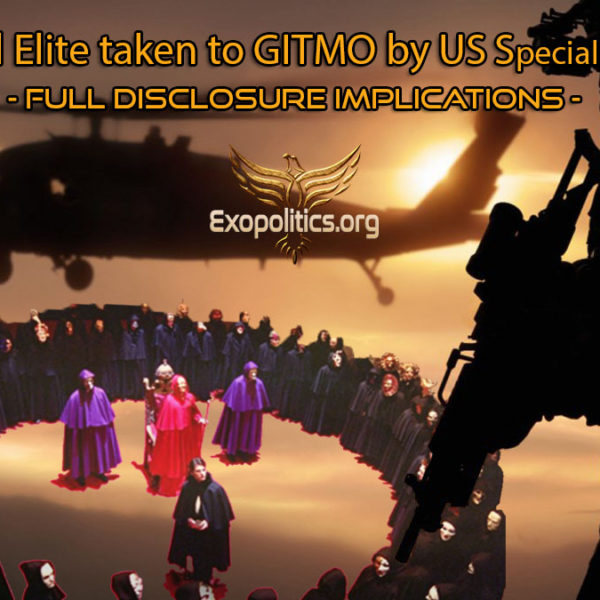 The internet has been buzzing with rumors that high level VIP members of the Deep State (aka Cabal/Illuminati/Global Elite) are being detained for human rights abuses and corruption, and are being taken by U.S. Special Forces to military prison at Guantanamo Bay Naval Base (Gitmo) as a result of thousands of sealed indictments. Multiple sources have been reporting on some of the key VIP figures taken there.
While these are still only rumors, recent events point to their plausibility.  If accurate, these secret investigations, arrests and extractions to Gitmo where they face extended detention and military justice has enormous political implications, and makes possible the release of suppressed information previously withheld by the Deep State.
One source of such rumors comes from David Todeschini, a former USAF veteran who wrote an expose about covert operations during the Vietnam War. He describes what he learned from a reliable FBI source about recent events at Guantanamo in a December 24, 2017 Youtube video, which he summarized as follows:
High-level confidential sources tell this reporter that the U.S. Military prison at Guantanamo Bay has been alerted to expect high-profile prisoners shortly – possibly as a result of over 10,000 Sealed FEDERAL indictments. 1,000 Marines accompanied General Mattis to Gitmo to provide security for "special prisoners".…
Another source for secret extractions to GITMO via sealed indictments is veteran journalist Dr. Jerome Corsi who tweeted:
#QAnon #Qanon8chan Something is happening at GITMO — flight records being shared on Subreddit post CBTS_stream HERE: https://t.co/3CnO7GpczZ Related to @realDonaldTrump executive order regarding confiscation of assets for those involved with human rights abuses

— Jerome Corsi (@jerome_corsi) December 29, 2017
A third source is Brenden Dilley, a radio host running for the US Congress, who received information from another anonymous whistleblower who has a track record for reliability. The whistleblower's information appeared in a December 27 post that was mistakenly attributed to QAnon [see update below for discussion of misattribution to QAnon] The post refers to recent VIP arrivals at Gitmo discussion:

What is worth emphasizing in the above post is that new residents began arriving at Gitmo on December 26, 2017, and more were expected. This was after President Trump had issued his Executive Order on December 21 declaring a "national emergency" in response to human rights abuses and corruption anywhere around the world.

Finally, we have former Forbes Magazine correspondent, Benjamin Fulford, who wrote on January 1, 2018:
In a historic moment of poetic justice, most of the U.S.-based top perpetrators of the fake "war on terror" have now themselves been renditioned to the U.S. Navy camp in Guantanamo Bay, Cuba, Pentagon sources say.  "The Rothschild assets George Soros, Peter Munk, Peter Sutherland, the Bushes, the Podestas, and many others may have been airlifted to Gitmo for military tribunals, as the Department of Defense spends $500M to upgrade the prison and send more military police and Marines," the sources say.

What can be distilled from these independent sources is that high level Deep State members, many of whom are part of a Pedophile Satanic global network, are being detained by U.S. Special Forces and taken to Gitmo where they are to be held indefinitely, while military justice is applied to their cases. In the process, Gitmo's holding facilities are being significantly upgraded with expansions and more guards to accommodate an infusion of VIP prisoners.
Among the first to refer to U.S. Special Forces being used to investigate and detain Deep State figures under the authority of sealed indictments was Secret Space Program whistleblower Corey Goode. He referred to such military investigations back on August 9, 2017 after being briefed by a source he described as retired FBI and career military:
[T]here were teams of US Special Forces that were conducting "domestic surveillance and investigations of a Satanic group that had infiltrated all aspects of government agencies and the military. These Special Forces teams have been in place since the middle of the election cycle…. I was informed that a secret report on how pervasive these infiltrations are is more shocking than what was expected. Strangely, this report also had notes from several secret grand juries that are active right now in D.C.
The report states that the conspiracy involves the majority of powerful people in within the UN, EU, US, State and local (City) power structures. These government organization are completely complicit in what is going on. All the way down to local Post Offices and Police Offices.

More recently, Goode says that his sources have told him that Gitmo is being upgraded to host VIP detainees, and includes wheelchair access for some of them, who are being detained by Special Forces working around the globe He explained in a November 5 communication with best selling author David Wilcock:
Secret Grand Juries were almost totally complete with their investigations when everything changed. They had sealed indictments being prepared when they received a cache of new info that gave them a wider net to cast.
Their investigation has since expanded dramatically. So much about the plans of a coup is known about by the Cabal that I don't know how much longer the Alliance can wait to act and prevent the Cabal from sneaking out of the country.
Some of the really bad ones have already left. Our SF [Special Forces] teams are planning on going in to some of these countries that are hiding these Cabal members and taking them by force.

Are such claims true? In scrutinizing public records what is known fact is that James Mattis, Secretary of Defense, did visit Gitmo on December 21 becoming the first Secretary of Defense to do so since 2002.  It was the same day that Trump issued his "Executive Order Blocking the Property of Persons Involved in Serious Human Rights Abuse or Corruption", where he declared:
I therefore determine that serious human rights abuse and corruption around the world constitute an unusual and extraordinary threat to the national security, foreign policy, and economy of the United States, and I hereby declare a national emergency to deal with that threat.

The timing suggests that this was more than coincidence, and raised a possible link between Mattis' visit and the Executive Order. Such a link is strengthened by an earlier visit to Gitmo in July 2017 by Attorney General Jeff Sessions who called Gitmo:
a "perfectly acceptable" place to detain new terrorist suspects, as opposed to holding them in the US and having his own Justice Department try them in civilian courts.
It is quite feasible that Gitmo would be used to house detainees under Trump's Executive Order. They could be treated similarly to terrorists under the Executive Order's "national emergency" which delegated authority to any US agency capable of enforcing the Order's primary function of cutting off the financial assets of targeted individuals and groups:
Sec. 8. … The Secretary of the Treasury may, consistent with applicable law, redelegate any of these functions to other officers and agencies of the United States. All agencies shall take all appropriate measures within their authority to implement this order.
Consequently, Trump's Executive Order provided a firm legal foundation for U.S. Special Forces to physically detain targeted individuals in the U.S. mainland and anywhere around the planet, and have them relocated to Gitmo when necessary.
Military law rather than US domestic law would apply those detained by U.S. Special Forces acting under the authority of Sealed Indictments and the December 21, Executive Order. This would be powerful leverage that could be used to gain confessions and cooperation from lower level Deep State operatives against their superiors who are being taken to Gitmo.
Another pertinent fact is that Todeschini claims that 1000 marines accompanied Mattis and will remain to provide special security for the VIP prisoners. Similarly, Fulford refers to both Marines and National Guard military police being taken to Gitmo.  
As far as USMC personnel being taken to Gitmo, a Miami Herald news story refers to a proposed upgrade at Gitmo that includes barracks for 848 prison troops to be ready in four years. This is very close to the alleged 1000 marines that Todeschini (and Fulford) claim have been sent there to guard the VIP prisoners.

There is also corroboration for the claim regarding National Guard military police being taken to Gitmo. On December 29, 2017, it was reported that the Arizona National Guard was deploying over four dozen military police to Gitmo for a nine month term.

A Department of Defense Report cited in a May 24, 2016 US Congressional statement, described the peak prison population at Gitmo was 684 prisoners in June of 2003, and this had been reduced to about 80 by 2016. More recent estimates of the Gitmo prison population is roughly 40 Islamic terrorists
The Miami Herald story from August 21, 2017 revealed that the Trump administration was planning to spend up to $500 million on upgrading Gitmo facilities. This included a Navy proposal to build a five bed hospital at a total cost of $250 million.
The fact that a five bed hospital is to be built at such significant cost does suggest that Trump plans to significantly expand the number of prisoners at Gitmo. These would not be suspected Islamic terrorists, however, but VIP prisoners behind international human rights abuses and corruption who will not be allowed medical treatment on the U.S. mainland.
Finally, we arrive at the key claim that thousands of sealed indictments have been prepared which have been used to authorize the detention and extraction of Deep State personnel. The Public Access to Court Electronic Records (PACER) system was scrutinized to confirm the existence of 4289 sealed Federal indictments by November 22, 2017, according to former FBI agent Hal Turner.
More recently, sources claim that this has risen to over 9000 sealed indictments as of December 24, 2017. This figure has not yet been substantiated, but it would be reasonable to conclude that the November figure may have significantly increased during December.
In conclusion, there is compelling evidence to support claims that leading figures from a Deep State international network of VIPs that are involved in child trafficking, human rights abuses, corruption and Satanic rituals are being investigated, detained and extracted to Gitmo via sealed indictments enforced by U.S. Special Forces.
The implications of these unfolding events for disclosure of classified technologies related to secret space programs, Antarctic bases hidden under the ice sheets and extraterrestrial life, all previously suppressed by the Deep State, are profound.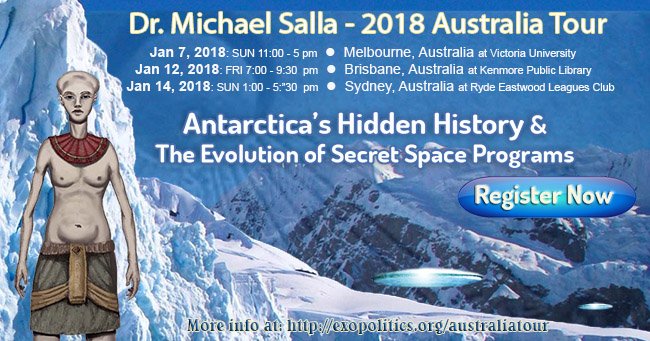 There is grounds for cautious optimism that the prospects of "full disclosure" will substantially increase as more corrupt Deep State officials are taken to Gitmo. Their removal from powerful global leadership positions will help greatly in ending their decades-long policies of denying the rest of humanity the benefits of advanced technologies that will revolutionize life all over the planet.
© Michael E. Salla, Ph.D. Copyright Notice
[Update, Jan 3, 2018: I received the following comment on my Facebook page about an alleged Q post on December 27, 2017. The commenter, Ann Schrock says that it is a misattribution since Q Anon has not posted since Dec 25. She says she transcribed the anonymous source for the December 27 quote and wrote:
"That info came from a 'source' who has/had been feeding Brenden Dilley, who was doing a Periscope on his personal twitter page. I watched and transcribed as I listened. I have no idea if this info is true, I simply wrote what I heard. It is for you to keep in mind…or don't."
Ann Schrock posted additional material which can be read here. While there is reason to believe the Brendan Dilley source is legitimate, the December 27 post was misattributed to QAnon. I have henceforth corrected the article and added this update to clarify the situation. Thanks to Ann Schrock for pointing out the error. M.S.]
Further Reading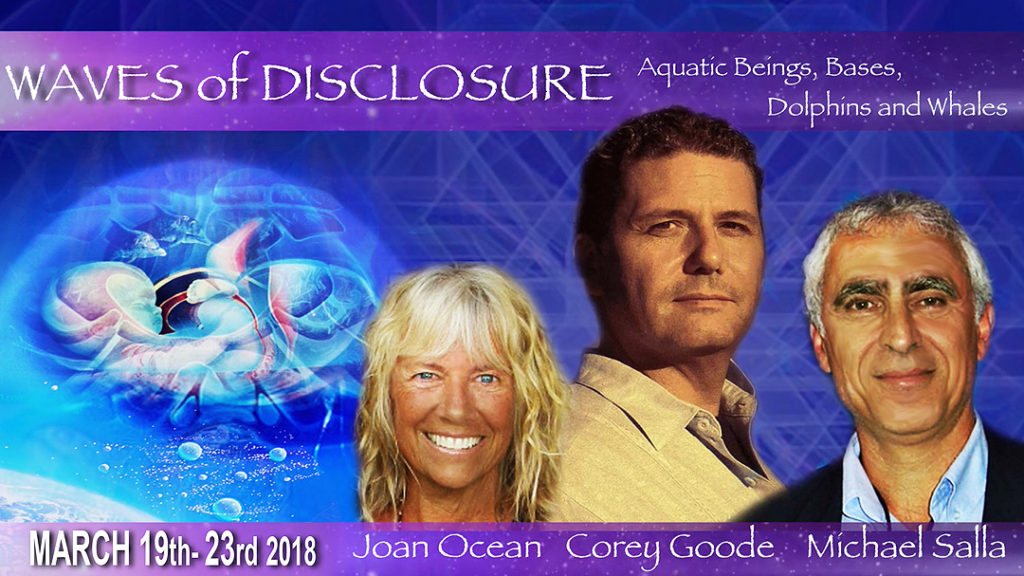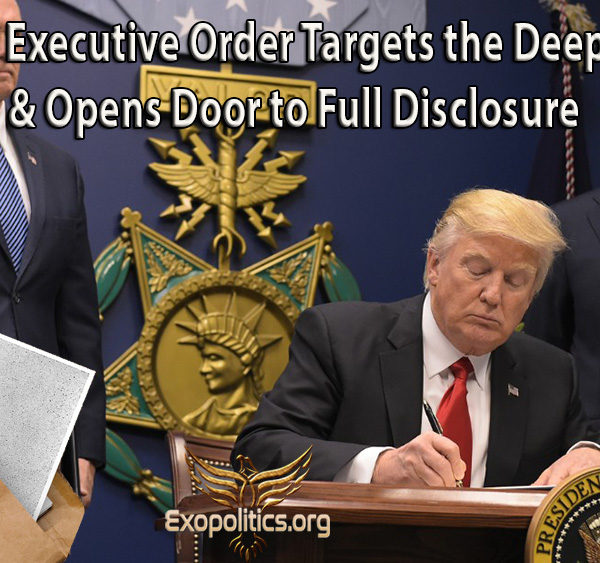 Something very profound happened in the U.S. on December 21 with the passage of President Donald Trump's "Executive Order Blocking the Property of Persons Involved in Serious Human Rights Abuse or Corruption".  The order declared a state of national emergency concerning human rights and corruption, and named specific individuals and organizations that would have their bank accounts and assets frozen regardless of where in the world the abuses had occurred.

While the mainstream media has largely ignored Trump's Executive Order, the alternative media has been paying close attention. Many have noted the Executive Order is far more significant than what it appears to be on the surface. Rather than just freezing the financial resources of foreign citizens linked to the Russian sphere of influence, as it superficially appears to do, it is really targeted at members of the "Deep State" (aka Cabal or Illuminati)  that have been involved in human trafficking, pedophilia and systemic corruption all over the planet.
The language of the Executive Order is very open ended in terms of how international corruption and human rights abuses threaten US national security:
I, DONALD J. TRUMP, President of the United States of America, find that the prevalence and severity of human rights abuse and corruption that have their source, in whole or in substantial part, outside the United States, such as those committed or directed by persons listed in the Annex to this order, have reached such scope and gravity that they threaten the stability of international political and economic systems…The United States seeks to impose tangible and significant consequences on those who commit serious human rights abuse or engage in corruption, as well as to protect the financial system of the United States from abuse by these same persons.
I therefore determine that serious human rights abuse and corruption around the world constitute an unusual and extraordinary threat to the national security, foreign policy, and economy of the United States, and I hereby declare a national emergency to deal with that threat.

Its annex identifies key individuals and organizations, several of whom are clearly associated with Russia. The Executive Order is linked to the Global Magnitsky Human Rights Accountability Act that emerged from the murder of a prominent dissident exposing human rights abuses and corruption in Russia.

This linkage can easily lead readers into falsely believing that the Executive Order is solely intended to target corrupt Russian officials, and corruption and human rights abuses by countries in Russia's sphere of influence.
Yet, as a number of alternative media sources point out, Trump's Executive Order goes well beyond the Russian sphere of influence. It is really targeting the Deep State, and fulfilling his 2016 campaign pledge to "drain the swamp" .

For example, Jim Stone, a freelance journalist, writes:
The executive order is presented as a national emergency up front, right in the beginning. At first it reads like he's going after foreigners which are named directly in an annex at the end. That's not what this is. The first part of the order only cements the second part of the order, to prevent American criminals from running away to foreign countries and being supported by foreigners.
To sum this up:
No swamp critter can accept help from another swamp critter in getting away … Child traffickers and other human rights abuses are covered, the stealing of and misuse of government funds is covered, all items are covered for foreigners and U.S. citizens, any foreigners who have assets in the U.S. that have done anything against the U.S. for the purpose of supporting the American swamp will have those assets seized, anyone in violation of anything in this executive order will have their assets seized… .

An anonymous whistleblower using the pseudonym MegaAnon says that the Executive Order has led to many powerful members of the Deep State waking up with no financial resources.
Guess what? The Swamp's financials FROZE OVER while they all slept last night, y'all.
It's gonna be a LOOOOOONG Christmas break for them… they were all broke before sunrise …
This covers kids/humans, drugs, arms/guns, WMD's/chemicals/Uranium, organs, etc.
Now if you want to know who in our swamp woke up with frozen accounts, foundations, "charities", side businesses and shell orgs/LLC's, etc. dig into the annex list…

The Executive Order and the language it uses really does mark a momentous event. Quite simply, it marks a transfer of political power from the Deep State to the U.S. military in terms of who is really in control of the U.S. Republic.
It's no secret that Donald Trump has surrounded himself with senior military officers who share his desire to "drain the swamp". His Chief of Staff, John Kelly, is a retired four star USMC general; his Secretary of Defense, James Mattis, is also a retired four star USMC general; his National Security Advisor, James McMaster, is an active duty three star US Army general; his head of the National Security Agency, Mike Rogers, is an active duty four star Navy Admiral; the head of the Secret Service, Randolph Alles is a retired two star Marine General; and the list goes on.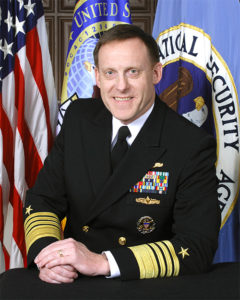 The role of Admiral Mike Rogers is particularly significant since he broke ranks with the US intelligence community back in late 2016 to warn Trump about a Deep State effort to undermine and even prevent him from coming into power by spying on his transition team. While Trump was President-elect, Rogers traveled to Trump Tower on November 17, 2016 to warn him of the Deep State plans.

The next day, the Washington Post reported on a recommendation by the Intelligence Community and Pentagon in October 2016 to sack Rogers. President Obama's Director of National Intelligence, James Clapper, and the Secretary of Defense, Ashton Carter, reportedly were dissatisfied with Rogers performance, including his visit to Trump:
In a move apparently unprecedented for a military officer, Rogers, without notifying superiors, traveled to New York to meet with Trump on Thursday at Trump Tower. That caused consternation at senior levels of the administration, according to the officials, who spoke on the condition of anonymity to discuss internal personnel matters.

CIA Director John Brennon was a key player in the effort to remove Rogers as illustrated by the Washington Post story which is the traditional official news outlet promoting CIA interests. To his credit, President Obama did not take action against Rogers.

Now more than a year after these back stage maneuverings, Rogers remains at the helm of the NSA closely monitoring the global activities of the Deep State and advising Trump and his National Security team.

This has been especially significant when it came to the Central Intelligence Agency which has long been the key U.S. institution in funding and enforcing the will of the Deep State.
In particular, the CIA's Clandestine Services and Counterintelligence divisions were instrumental in creating an unofficial "black budget" for funding highly classified projects and operations ever since the CIA's creation in 1947.
These two branches of the CIA have long been the secret enforcers of Deep State as best illustrated in the Kennedy Assassination. James Jesus Angleton, chief of the CIA's Counterintelligence office, played a direct role, while Richard Helms (Deputy Director of Plans) provided covert support for the operation.

Trump's elevation of former congressman, Mike Pompeo, to become CIA Director was intended to bring the CIA under direct Presidential authority. Pompeo was, however, effectively sidelined from exercizing any real power over the CIA's covert operations. It was Pompeo's more balanced approach to US-Russia relations that earned him the enmity of shadowy CIA groups.

The situation dramatically changed on Saturday November 18, when a number of USMC helicopters flew over the CIA's Headquarters in Langley, Virginia. A former FBI agent, Hal Turner confirmed through credible sources that the helicopters had "buzzed" the CIA HQ for roughly 30 minutes.
The intent was clear, the USMC was threatening the CIA's clandestine services division to get on board with the Trump administration or else. This is not the first time that the CIA has been intimidated by a US President threatening to unleash the US military against it.
In 1958, President Eisenhower threatened the CIA's Area 51 facilities in Nevada with invasion by the US First Army stationed at Colorado if the CIA did not fully disclose all its classified programs there. In a May 2013 video interview, a former CIA operative revealed what he heard Eisenhower tell his boss to relay to the mysterious MJ-12 Committee in charge of the Area 51 facility, for which the CIA provided operational security.
The clearest sign that the CIA is now firmly under Trump's control is President Putin thanking President Trump and Pompeo for thwarting a planned terrorist attack against a prominent St Petersberg cathedral. A December 17 Kremlin Press Release stated:
Vladimir Putin thanked Donald Trump for the information passed on by the United States' Central Intelligence Agency (CIA) that helped detain the terrorists who plotted to set off explosions at Kazan Cathedral in St Petersburg and other public places in the city. The information received from the CIA was enough to locate and detain the criminals.
The Russian President asked the US President to convey his appreciation to the Central Intelligence Agency director and the operatives of US intelligence services who received this information.

It is unprecedented for a Russian Head of State to publicly thank the CIA. The underlying message was clear, the CIA was now under the control of White Hats in the U.S. national security system and Putin was very grateful.
What we are witnessing with Trump's December 21 Executive Order is the final act of a well thought out plan to sideline the Deep State, "drain the swamp" , and reinstate direct Presidential authority over the U.S. national security system. Effectively, we are witnessing a handover of real power from the Deep State to the U.S. military via Donald Trump as Commander in Chief.
What is particularly noteworthy in the Executive Order is that this transfer of power is being done quietly behind the scenes with little mainstream attention. Key figures in the Deep State are finding their global financial resources frozen, and are being secretly detained via sealed indictments that now have worldwide impact due to Trump's Executive Order.
By late November, there were over four thousand sealed federal indictments being tracked by alternative news journalists such as Hal Turner. Many of these are being enforced by Special Operations Command personnel that are going around the planet arresting key Deep State figures.
All this leads to the question, what does all this mean for a seven decades-long suppression of the truth regarding extraterrestrial life and technology, the existence of a breakaway German colony in Antarctica, and the existence of multiple secret space programs?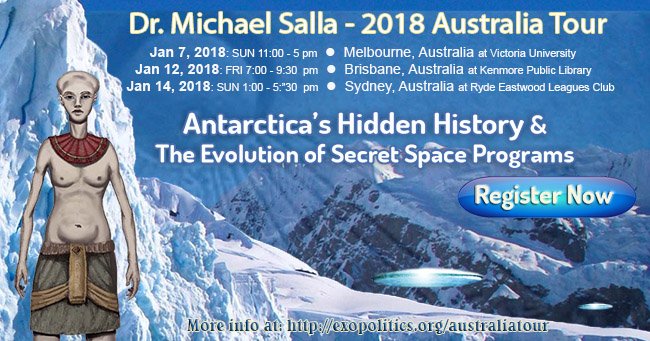 The way in which the Executive Order has been crafted for a specific target, and quietly enforced is that the U.S. military is wanting to keep much of what is occurring off the public radar. The primary reason for doing so is clearly to minimize disruption to the U.S. political system while the transfer of power takes place.
Once the transfer process is complete, we can expect some of the sealed indictments being publicly revealed, and Trump publicly declaring victory in his effort to "drain the swamp". We can expect a lot of unexpected retirements by indicted individuals who are currently making plea deals to escape imprisonment. Individuals involved in the most egregious human rights abuses such as child trafficking, will very likely be publicly exposed and tried.
As the transfer of power process moves forward, we can expect that more of the truth about secret space programs, Antarctica and extraterrestrial life will be disclosed. Based on how the U.S. military is dealing with key figures from the Deep State, it can be predicted that disclosure will take place in a gradual manner that does not disrupt the social fabric of US and stability of the global community.
Disclosure is inevitable, but with the U.S. military now increasingly in charge of the American end of the process, disclosure is likely to happen in a series of gradual steps that culminate in sweeping changes all across the planet as advanced technologies involving zero-point energy, antigravity propulsion and holographic healing are strategically released.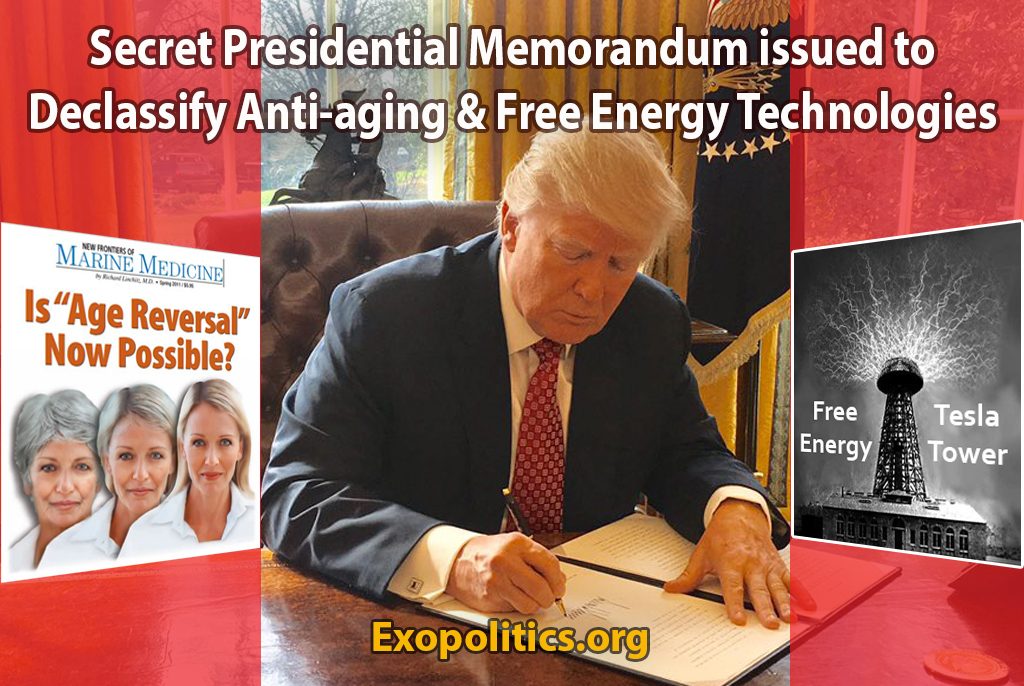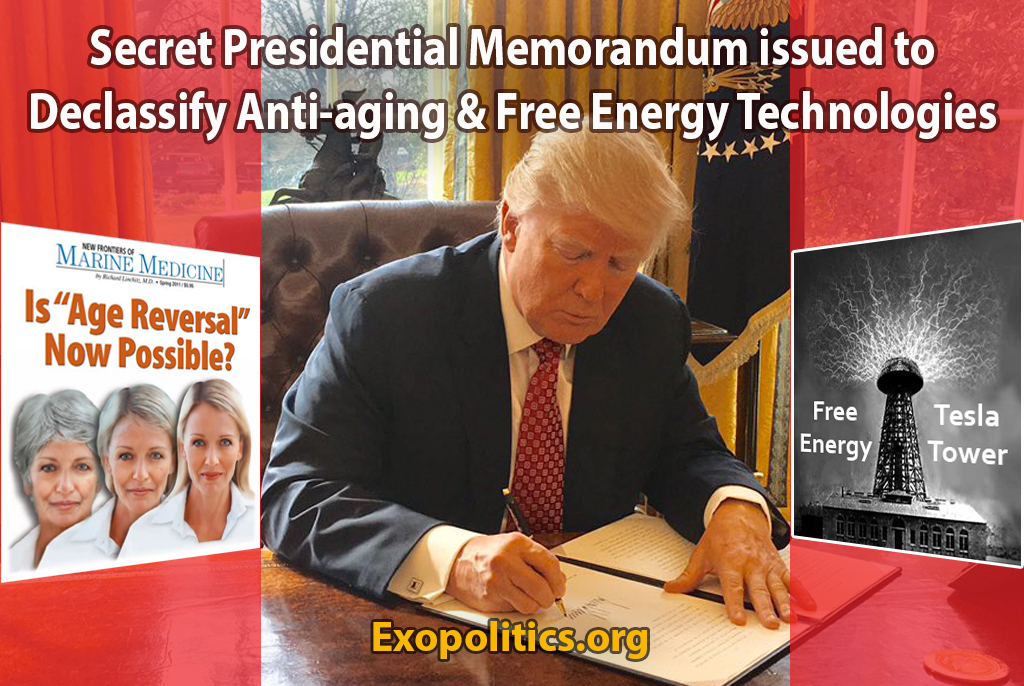 While removal of the Deep State and its corrosive global influence through human rights abuses and corruption is a welcome development, the outsized behind-the-scenes influence of the U.S. military in the Trump administration is a cause for concern in the long term. Predictably, disclosures that will occur throughout the remainder of the Trump administration will promote US national security interests largely defined through a military mindset.
President Eisenhower's greatest lament over the way classified projects involving advanced technologies were being managed in the U.S. was that excessive secrecy cut out the best people from the decision making process. Only full disclosure will prevent a similar problem from arising in the future where a new Deep State emerges, one dominated by military interests, with control over advanced technologies, which it uses to dominate the rest of humanity.
Full disclosure is essential for humanity transitioning from an insular planet dominated either by criminal syndicates or a military mindset, into to a more informed peaceful planetary society worthy of becoming a full member of a galactic community.
© Michael E. Salla, Ph.D. Copyright Notice
Further Reading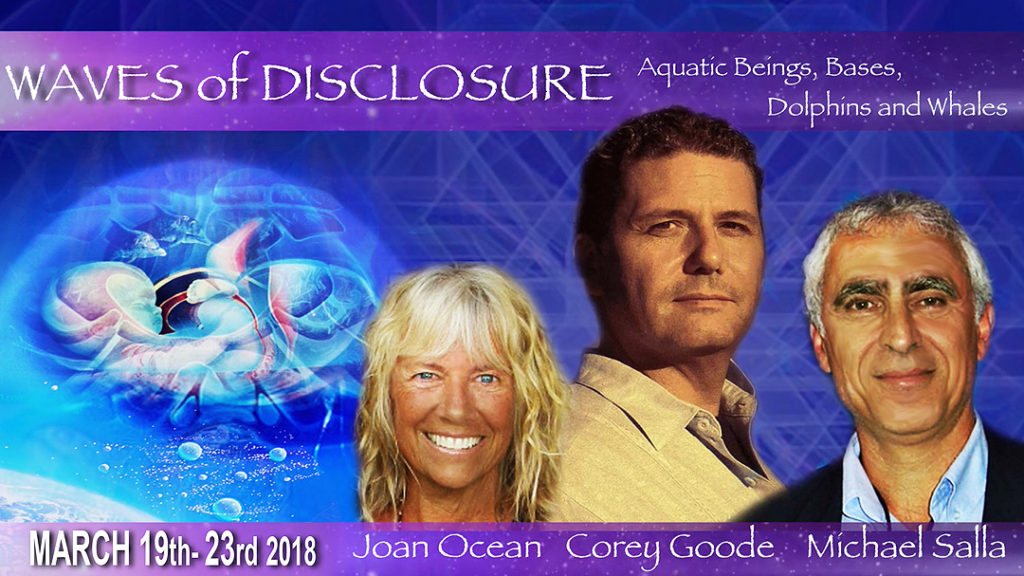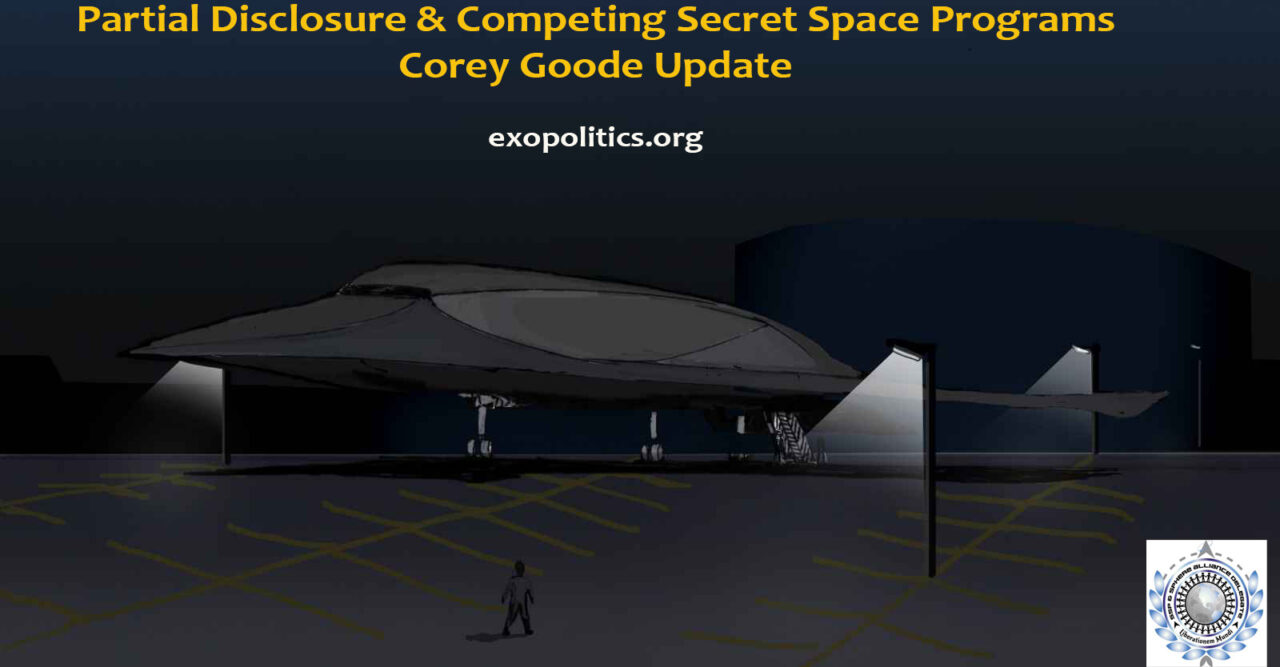 A secret space program run by the U.S. Air Force with the support of the National Security Agency, Defense Intelligence Agency and the National Reconnaissance Office, has concluded that Corey Goode's testimony of multiple secret space programs with interstellar spacecraft using temporal drive technologies is not disinformation. This is among the most recent claims of Goode in a December 11 update about information he recently acquired as a result of his abduction and interrogation by what he describes as a Military Industrial Complex Secret Space Program (MIC-SSP) comprising the above U.S. military intelligence entities.
In a previous abduction incident in late September, Goode described a senior USAF officer in charge of his chemical interrogation who told Goode that they believed he was spreading disinformation from a rogue Special Access Program.

On October 26, Goode was abducted for a third time by this MIC-SSP, which he states is not advanced as the U.S. Navy's "Solar Warden",  and other secret space programs he has previously described in interviews and reports.
He claims that the senior USAF officer in charge of the vehicle he was taken to, which he dubbed "Sigmund", revealed that analysis of data from the two prior abductions has led to the conclusion that Goode is telling the truth after all.
Sigmund said that the tests first confirmed a key aspect of Goode's testimony, which is that he has traveled to off planet locations:
The lab results once again confirmed that I had been in the approximate off-planet locations I had claimed. The MIC space program people do not have any intelligence suggesting I had ever actually visited these locations. I was never a part of their program.
This led to the Sigmund concluding that he was being deliberately misled by his superiors about the existence of more advanced programs to his own:
My tests proved, beyond any shadow of doubt, that there was much more to the secret space program than he knew.
As a high-ranking superior officer, this naturally came as quite a shock to him. He was led to believe that he had access to all relevant compartments of the UFO cover-up.
Goode describes how it is possible that a USAF space program would not be aware of other secret space programs, including the Navy's Solar Warden, despite having craft capable of interplanetary travel in our solar system:
The MIC SSP has at least two large space stations in earth's orbit as well as a number of manned satellites. They are roughly circular in shape and are large space stations with enough facilities for many people to work in various labs and so forth.
The above descriptions suggest something similar to a 1952 design by Dr. Werner Von Braun.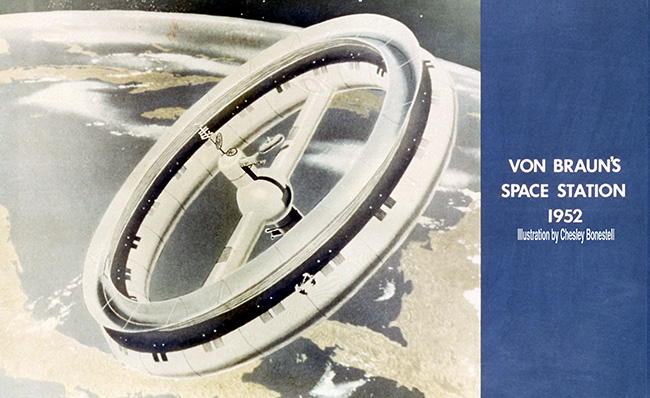 Goode continued to describe other technologies belonging to the MIC SSP:
They are also reported to possess floating aircraft carriers that look exactly the same as what we saw in The Avengers and Captain America: The Winter Soldier.
They have craft that can travel around our solar system, as well as other stealth-looking varieties. This technology makes them feel that if anything else was going on in our solar system, they would be able to see it.
When they see the crafts from other programs, or of any of a number of ET races, they are simply told that these are ours. They are told that they are not on a need-to-know basis about that particular program and not to speak about their sighting with anyone….
The MIC SSP are told that we cannot travel outside our solar system… This is due to gravitational and energetic conditions at the boundary of our heliosphere that any escape impossible with their current technology.
This helps confirm that advanced antigravity craft are revealed through movies such as Captain America: The Winter Soldier in a "soft disclosure" process.
Goode describes the belief system that MIC-SSP holds about extraterrestrial life:
They believe that any ETs have long since come and gone from our solar system, other than time travelers from Earth's own future who have developed the technology to come back and visit us.
They believe that some of these future humans now look like Grays due to evolutionary changes from living underground for thousands of years.
Goode recalled a conversation he had with "Gonzales" (a pseudonym used by a liaison to the Secret Space Program Alliance), who describes the reason why there was no attempt to stop Goode being abducted by MIC SSP:
Gonzales stated that he was sorry he couldn't share some of the details before about why I was being abducted and interrogated. He stated that this was part of an operation that was seeding information into the ranks of this MIC SSP.
Apparently many of them are disillusioned and questioning whether or not they were indeed at the top of the intelligence totem pole as they had been led to believe….
These individuals were now in a state of mind that led many of them to believe that there was much more going on in "the programs" than they had been led to believe.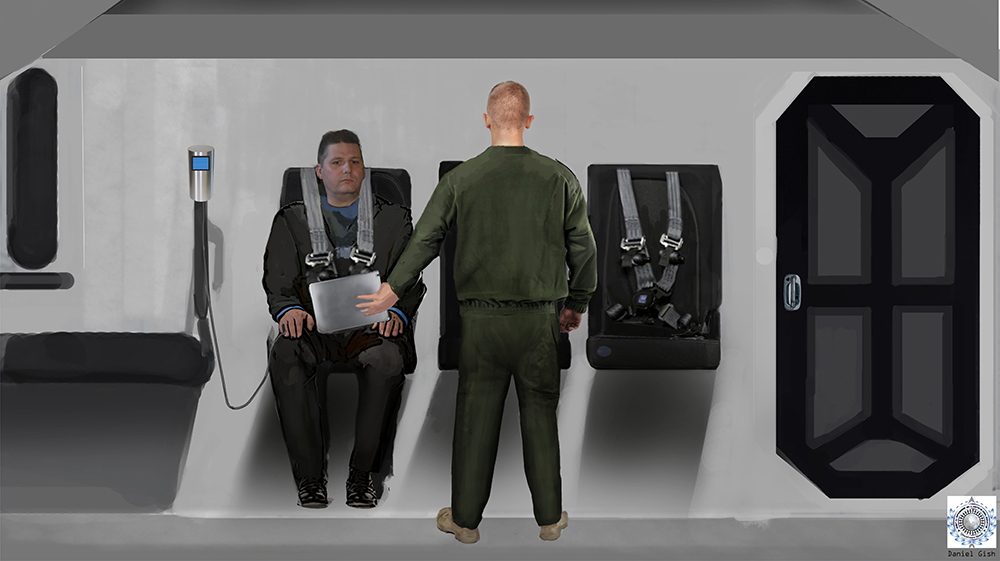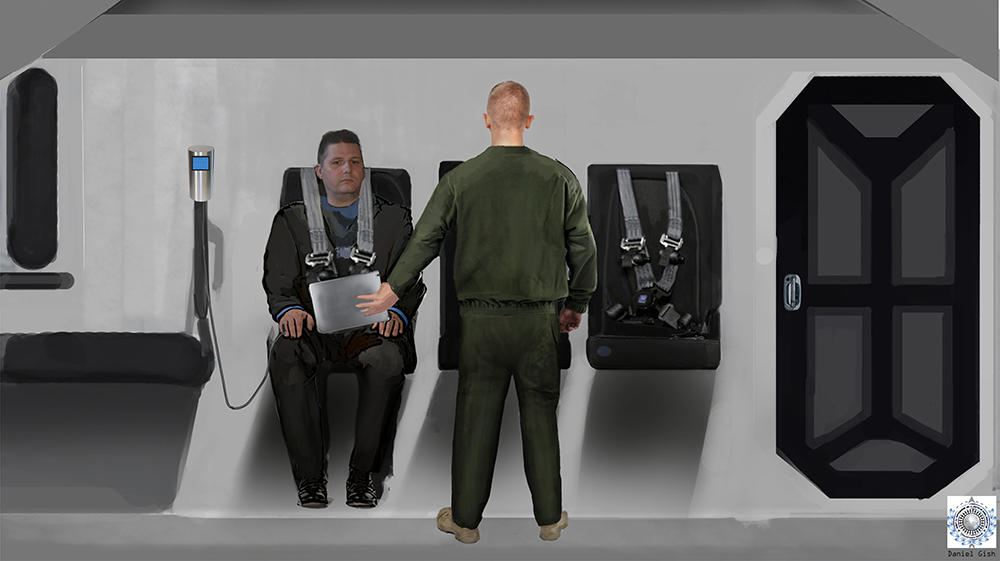 Gonzales revealed that allowing Sigmund to extract the information from Goode about the Solar Warden and other SSPs would lead to Sigmund changing his view that Goode, Gonzales and others were part of an Unacknowledged Special Access Program that had gone rogue and was releasing classified information. This had led to Sigmund and the MIC-SSP hunting operatives of the Secret Space Program Alliance (such as Gonzales) for interrogation:
Sigmund was causing a LOT of problems for the SSP Alliance. He was hunting them down as traitors, pretty much. Once he got this recent info from me, he then turned and has been asking a lot of angry questions from his superiors. So that mission seems to be accomplished for now.
Goode's information here is very significant since it shows how overly compartmentalized the world of unacknowledged Special Access Programs is, where one compartment is not informed about another, even though they are both performing deep space operations.
Importantly, Goode added that his interrogations would have a beneficial in terms of plans for partial disclosure:
He [Gonzales] stated that if this information gets to the right people within the MIC SSP it could hinder the wider plans of doing a partial disclosure of their program.
It has been confirmed through Wikileaks that a partial UFO disclosure initiative was being prepared through rock Star Tom DeLonge, who is being helped by two retired USAF Generals along with senior corporate officials such as the head of Lockheed Martin's Skunkworks. The plan was to release information about the USAF/DIA/NSA/NRO space program with Earth orbiting space stations and antigravity TR-3B spacecraft capable of limited interplanetary operations.
Partial disclosure would be designed to hide the existence of more advanced space programs that use interstellar technologies with temporal drives, and have been implicated in various abuses including human slave trade in space. Partial disclosure would essentially be a "limited hangout" operation to hide the truth by revealing the existence of the less advanced USAF secret space program.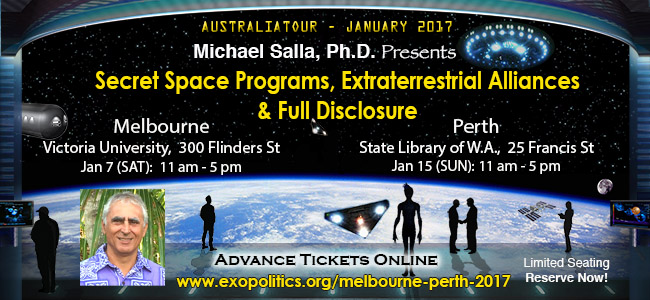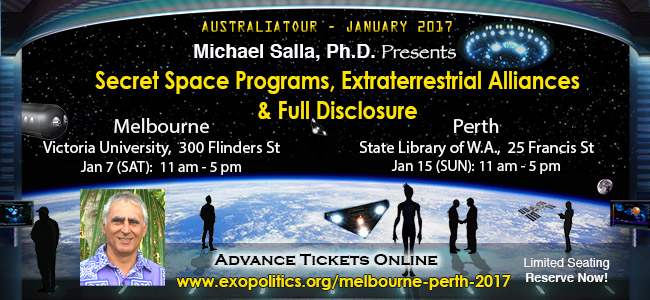 Goode and the Secret Space Program Alliance has been advocating "full disclosure" of all programs and of extraterrestrial life since late 2014. It appears that his military abductions have led to key leaders in the USAF secret space program finally learning the truth about themselves being deceived about the full scope of what is happening in space. This will add to the pressure for full disclosure, and limit the prospects of a limited disclosure narrative being implemented.
© Michael E. Salla, Ph.D. Copyright Notice
Further Reading