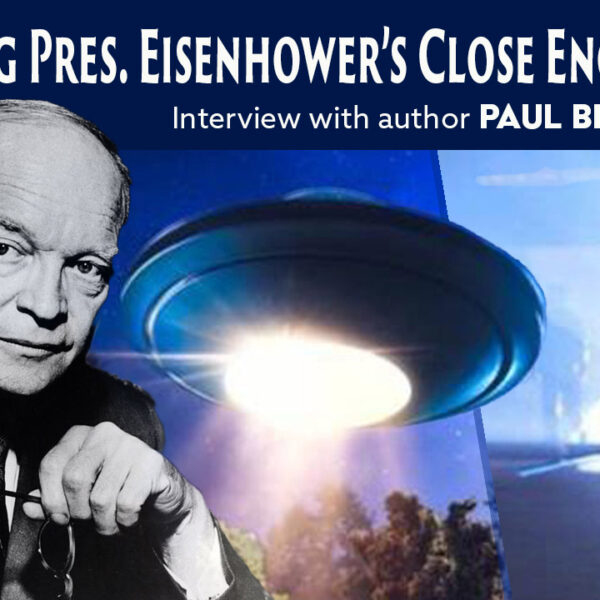 Paul Blake Smith has extensively researched historical records, whistleblower testimony, and documentary evidence that President Dwight D. Eisenhower had multiple close encounters with extraterrestrials. These encounters may have begun as early as 1948/1949 when he was working with the Truman administration, according to Smith's analysis of a leaked 1989 Defense Intelligence Agency document.
In his book, President Eisenhower's Close Encounters (2020), Smith presents an impressive body of evidence that during his Presidency, Eisenhower met with extraterrestrial delegations on at least three occasions at Edwards Air Force Base (Feb 1954); Kirtland AFB (July 1954), and Holloman AFB (Feb 1955), which culminated in secret agreements. In this Exopolitics Today interview, Smith and Dr. Michael Salla discuss these key events and their significance.
Interview available on YouTube & Rumble
Listen to Podcast on Apple, Spotify, or Google
President Eisenhower's Close Encounters is available in paperback, kindle and Audio formats on Amazon
Paul Blake Smith's website is here
Further Reading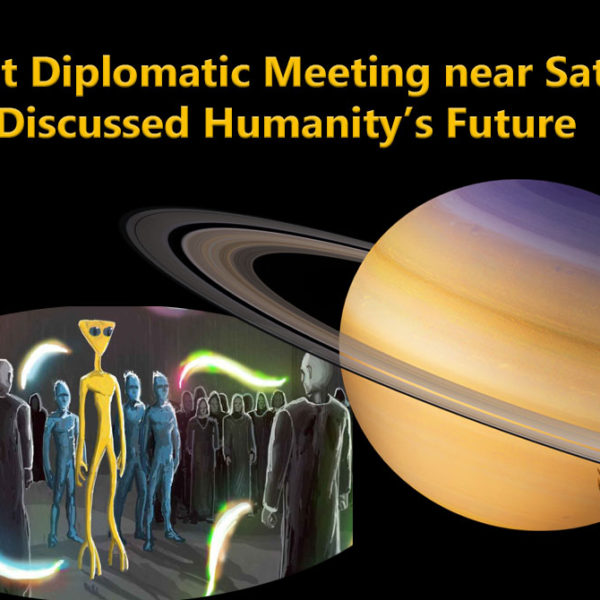 In the three years that Corey Goode has been revealing his stunning information about secret space programs, extraterrestrial civilizations, and diplomatic meetings, there has been a steady build up to some major revelations about humanity's future. It appears that a critical threshold was reached in a December 2017 meeting near the planet Saturn where multiple delegations met to discuss humanity's future in light of the ending of 22 genetic experiments run by multiple human-looking extraterrestrial civilizations.
In a prior article, I discussed Goode's report about an earlier December 16  "Super Federation" meeting he attended near the planet Jupiter involving over 60 human-looking extraterrestrial delegations, where he played the role of spokesperson for the Sphere Being Alliance. This is a group of higher density beings (6th to 9th density consciousness) who have been acting as a kind of Galactic umpire over the last few years to encourage diplomatic solutions to Earth's multiple conflicts involving dozens of competing extraterrestrial groups, Inner Earth civilizations, global elites and secret space programs.
At the Super Federation meeting, Goode said he was told to relay to the assembled extraterrestrial delegations that their long term genetic experiments involving humanity needed to come to an end, and that humanity would be left alone to determine its own future. Despite some initial protests, Goode revealed that this decision was accepted by the Super Federation, making it possible for another diplomatic meeting a few days later (December 19-21, 2017) where the process for creating a new Super Federation governing human affairs would begin.
To some, what has been written so far may sound delusional and many will demand evidence to prove at least part of it before even considering it possible. At the moment, however, there is no hard evidence to substantiate Goode's claims. On the other hand, there is no hard evidence to disprove any of them either, despite determined attempts by some critics to discredit his testimony and credibilty.
In the three years that I have been researching and writing about Goode's incredible assertions, I have found no evidence of deception. Instead, I have found multiple sources corroborating his information from many different perspectives, e.g., whistleblowers/insiders, documents, and contemporary events.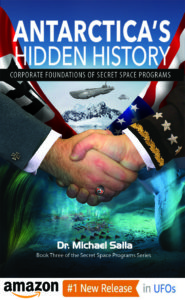 My research has been documented in three books so far, which detail, compare, and analyze his amazing claims. Comprising over 1200 written pages and 1500 references, the clear conclusion reached in the Secret Space Program Series is that Goode is very credible, honest and truthful about the events he has witnessed, and taken part in.
In addition, I have met and communicated with senior military intelligence officials who have likewise accepted Goode's information as accurate, and have quietly assisted him with some very high level national security information. If Goode was perpetuating a hoax, as some of his critics contend, I doubt such high level officials would be helping him.
For those drawn to the Corey Goode information, keeping an open and discerning mind is required to fully understand what he is telling us, and how it is relevant to our lives. Goode's revelations not only inform us about key historical events and political processes that have not been publicly disclosed, but also what the future holds for us.
It's quite clear that Goode has been chosen to play a unique and special role as a witness to extraordinary galactic events and meetings occurring today. He has no other formal role except occasionally acting as a spokesperson for the Sphere Being Alliance when they choose to appear at off-world diplomatic meetings. Where Goode is used to relay information to participants even when the Sphere Being Alliance members are physically present.
This was spectacularly demonstrated at a meeting in March 2015, where afterward Goode described how he appeared on stage along with two members of the Sphere Being Alliance before roughly 120 VIPs and delegates drawn from multiple secret space programs, global elites and private civilian groups at a secret facility on the Moon called Lunar Operations Command. It was this March 2015 meeting that launched Goode into a series of meetings, abductions, and encounters, which subsequently led to the December 2017 meetings that have become the most significant to have occurred so far.
It is Goode's role as delegate for the Sphere Being Alliance, and the status this accords him from the perspective of other groups and forces both on and off-planet, that requires us to keep an open and discerning mind to what he is telling us. Goode is giving us all vital information about events that lie ahead, and we should not be distracted by the noise of competing voices wanting to distract us, intentionally or not, from important galactic developments.
This takes me to the most recent galactic meeting that Goode attended, only a few days after the December 16 Super Federation meeting near Jupiter. He discussed both of these meetings in a January 13 article and his March 27 Cosmic Disclosure interview.

Goode described being taken to a nearly identical temporal anomaly near Saturn by representatives of seven Inner Earth civilizations. The craft that transported him had a total of 40 Inner Earth participants comprising the seven groups.
Intriguingly, Goode says that these Inner Earth beings are descendants of humanity's future selves, a small group of whom time traveled into the distant past to maintain an optimal timeline. They did this to ensure that Draconian Reptilians would not overtly take over the planet, thereby establishing a global tyranny.
Goode says that when he arrived at the Saturn facility, he was met with representatives of 52 civilized worlds from the local cluster of stars in our region of the Milky Way. In his March 27 interview, Goode described the physical appearance of these representatives:
They were all humans of different types, and most of them were not Caucasian. They were different types of olive skin, brown skin, and even a kind of a tan skin. But they were representatives of each of the local 52 stars. And they are all basically our cosmic cousins. They are human beings, just different types.

He pointed out that one of these groups, the famed Olmecs who had mysteriously helped develop human civilization, were in fact extraterrestrial refugees relocated to Earth due to the Draconian control of their home world.

Goode elaborated about this in his March 27 interview:
Many, many, many times on Earth in our history, refugees have been brought from other planetary systems to stay here and live here. And they've lived here for many generations at times. That was the Mayans. But the Olmecs, when there was a major issue going on in their star system, many of them were brought here as refugees to survive here and wait out the issues there. Then they were brought back.

In past interviews, Goode has described his interactions with "Mica", the representative of the Olmec group, who had previously played Goode's role as the Sphere Being Alliance representative for his civilization.
According to Goode, neighboring star systems have experienced similar histories to our own in terms of corrupt global elites secretly allied with a group of extraterrestrials described as Draconian Reptilians. In these adjacent star systems, the Sphere Being Alliance appeared and choose a single individual to be their delegate/spokesperson in the subsequent negotiations and struggle to rid the planet of the corrupt elite control systems that plagued these worlds.
In this regard, Goode said:
Each of them have either been in contact with the Blue Avians or the Triangle-Head being and gone through a similar thing that I have in their planetary system.

Apparently, in all these worlds, the function of the Sphere Being Alliance delegate/witness was to relay what was being observed to the rest of the population. This was a critical aspect in the awakening of each planetary population, and gaining freedom from their corrupt elites and Reptilian overlords.
Well, we were told that we were witnesses, that we were the conduits for each of our collective consciousnesses, that each of our groups was a collective consciousness on our planetary systems that we were on, like here on Earth. The information I was receiving, what I was witnessing, was on behalf of the collective consciousness here in this Solar System.

At this Saturn meeting, Goode says he was chosen once again to play the spokesperson for the Sphere Being Alliance members before the assembled delegates. The three Blue Avians and Golden Triangle beings that were present said they would be leaving our physical reality and would be replaced by another two members of the Sphere Being Alliance, as Goode had previously announced in 2017.
All present at the Saturn meeting were subsequently introduced by Goode to the new Sphere Being Alliance members who "began to give us some cosmic ground rules for going forward."
They would be responsible for assisting humanity in an unprecedented era where it would not be dominated by competing extraterrestrial groups. Essentially, humanity would be fully informed about the truth of their global situation, and would then be able to determine its future free of corrupt elites and extraterrestrial interference.
Of particular interest was the appearance of a group of entities called the "Sentinels" at the Saturn meeting, who are custodians of still functional Ancient Builder Race technologies that are up to two billion years old. Up to approximately 500,000 years ago, according to Goode. Builder Race technologies were used to establish a very powerful protective grid around our local cluster of 53 solar systems (52 + Sol), to keep out aggressive extraterrestrial races until it was destroyed in an internal Solar System wide war.
The Sentinels communicated with the Sphere Being Alliance in a spectacular light show that all participants witnessed. This was very significant since it suggested that the Sentinels would continue their present role, thereby ensuring that Builder Race technologies that continue to operate would only be accessed by individuals whose ethical standards and behavior meet with the high expectations set by the Sphere Being Alliance.
Goode has previously described how "Gonzales", a U.S. Navy Lt Commander, had been turned away by the Sentinels when he approached one of the functional Builder Race installations. The Sentinel told Gonzales that he lacked humility, and a request was subsequently made for Goode to make the same trip later to learn about the installation.
Builder Race technology is particularly relevant to nations with military run secret space programs, such as the U.S. Navy's  Solar Warden, wishing to extend contemporary military concepts such as "full spectrum dominance" into outer space battlefields. It is doubtful that the Sentinels would allow Builder Race technologies to be used in this way for the military benefit of a single nation or planet.
Goode was told that a new, and  more representative, Super Federation would be assembled. Then the newly liberated and now awakened humanity would interact on a more equal basis with the different extraterrestrial groups, and would be joined by representatives from the nearby 52 star systems.
Goode also said that at the December 16 Super Federation meeting had a representative from the "Council of 200" (a corrupt elite control group) seated as the head of the Earth delegation. Presumably, our newly awakened humanity will at some point choose a more representative individual as humanity's spokesperson for Galactic affairs.
It will be very interesting to see what process is adopted by our planet's seven billion inhabitants and/or their political representatives to choose one or more delegates to a newly reconstituted Super Federation. I highly doubt the global populace will accept major nations simply choosing a representative similar to how the United Nations Secretary General is appointed without any kind of grass roots participation.
In addition, the Inner Earth beings will be represented in this expanded Super Federation, presumably opening the door for them to further interact with surface humanity, and publicly reveal themselves in the near future.
As to when all these stunning changes are going to be publicly revealed, Goode has discussed an upcoming series of solar flash events that will act as the trigger for full disclosure and humanity's awakening.
[Continued in Part 3. See Further Reading for Part 1].
© Michael E. Salla, Ph.D. Copyright Notice 
Further Reading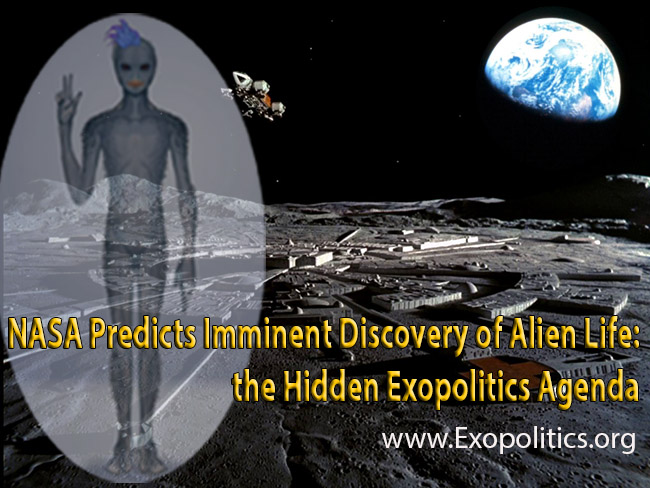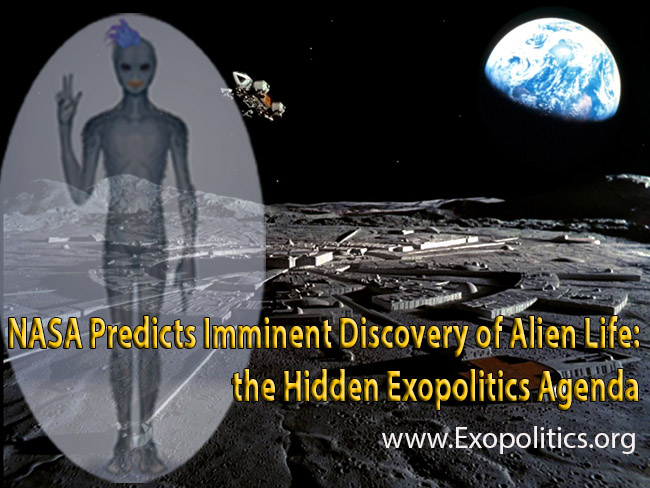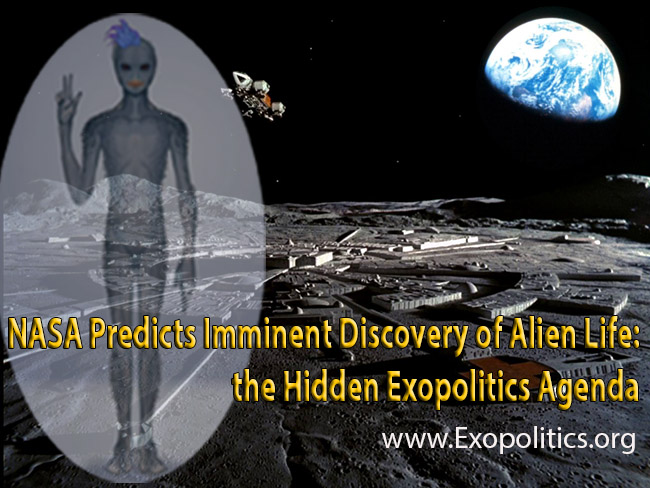 On Tuesday, Dr. John Grunsfeld, head of NASA's Science Mission Directorate told the House Science, Technology and Space Committee that extraterrestrial life is on the verge of being discovered. For many, Grunsfeld's bold prediction was basically a pitch to the House Committee to increase spending levels for NASA's space exploration missions, where recent successes by NASA in discovering water on other planets and moons in our solar system justifies more funding. Was his discovery prediction merely a pitch for more funding based on recent scientific discoveries, or is there a deeper 'exopolitics' agenda at play concerning the imminent disclosure of extraterrestrial life?
Grunsfeld told the House Committee:
Are we alone? Many, many people on planet Earth want to know…. We are on the cusp of being able to answer that question.
The Huffington Post gave a summary of the recent developments concerning the discovery of water in the solar system:
There's evidence of an interior ocean on Pluto. One of Jupiter's moons has a global ocean beneath its crust that could contain more than twice as much water as Earth. There are at least half a dozen of these ocean worlds in our solar system alone — and where there's water, there may be answers about the potential for life across the universe.
In addition, there was the recent discovery of a rocky exoplanet only 60% larger than earth that rotates around a sun similar to our own, in a comparable orbit of 385 days. Scientists said that the likelihood that Kepler has surface water, and therefore the right conditions for life to evolve is very good.
NASA's recent scientific discoveries and bold predictions by Grunsfeld and other NASA officials lead to the conclusion that the public is being prepared for the imminent discovery of extraterrestrial life. Is this merely a result of genuine scientific advances in NASA's ability to better detect the conditions for life in our and other solar system? Or is Grunsfeld's prediction part of a deeper 'exopolitics' agenda driven by developments behind the scenes?
Beginning in early March 2015, there was an alleged meeting on the moon involving up to 70 private individuals along with about 120 officials representing different secret space programs and national governments who heard plans about disclosing the existence of extraterrestrial life. The meeting was addressed by an 8ft tall extraterrestrial called Raw-Teir-Eir who belongs to an alien race called the "Blue Avians" that is part of an alliance called the Sphere Being Alliance. The Sphere Being Alliance is allegedly intent on helping bring about full disclosure of extraterrestrial life.
Two of the individuals that attended that secret moon meeting have revealed themselves to varying extents. Corey Goode, who initially used the pseudonym GoodETxSG when his testimony first emerged in October 2014, publicly revealed himself in early April. The second individual, a military officer who uses the pseudonym Lt Col Gonzales, more recently allowed summaries of two secret space program meetings he attended in June to be released. The summaries were Goode's notes on the oral briefings Gonzales had given to Goode who did not attend the two meetings. Goode gave video testimony of the secret moon meeting held in March that both he and Gonzales attended which is available for free online at Gaia TV.
Goode's and Gonzales' testimonies suggest that public officials at NASA, the European Space Agency and other national space programs have been advised that plans are advancing quickly behind the scenes to disclose to the general public the truth about extraterrestrial life. In order to better prepare the world for the psychological shock of discovering that extraterrestrial life is real and that government institutions have been withholding this for decades, officials such as Grunsfeld are very active in playing up the imminent nature of a discovery of extraterrestrial life. Presentations such as Grunsfeld's at the House Science Committee are a good opportunity to generate media interest in the implications of such a discovery while making it appear as though the only hidden agenda is a pitch for more NASA funding.
If Goode and Gonzales are correct, then there is a deeper exopolitics agenda behind Grunsfeld's announcement. This agenda suggests that any NASA announcement about the discovery of extraterrestrial life is preparation for further disclosures about when alien life was first discovered, when it first made contact with humanity, and why this vital information was kept secret from the public for decades.
© Michael E. Salla, Ph.D. Copyright Notice
Further Reading
[Note: The first two episodes of Cosmic Disclosure are available for free on the Gaia TV website. The first episode is also on Youtube. To watch the whole season of Cosmic Disclosure, you need to subscribe to Gaiam TV. If you subscribe using this link, then a portion of your monthly subscription will go towards supporting Corey Goode as he continues his disclosures. His website is here.]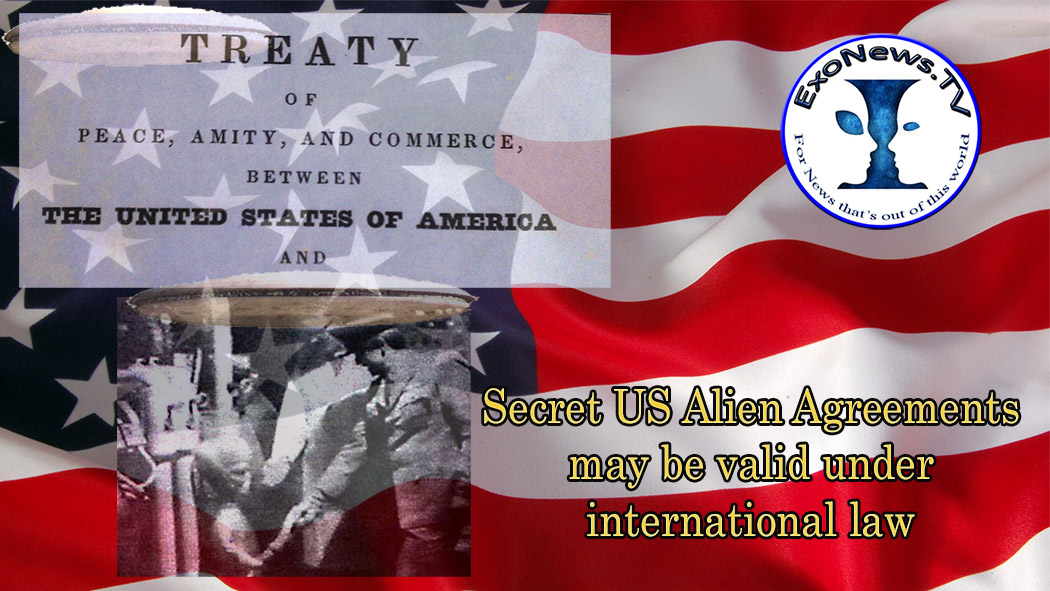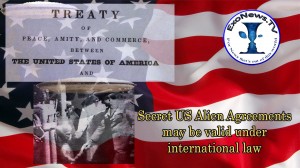 The legitimacy of secret agreements between the U.S. Government and alien civilizations may be valid under both U.S. and international law contrary to widespread public perceptions. This shocking conclusion has emerged from legal research into the status of agreements reached by a sitting US. President with the chief executive officer of a foreign power.
According to whistleblower testimonies that have been documented in the book, Galactic Diplomacy: Getting to Yes with ET, President Dwight Eisenhower met with and reached agreements with representatives of at least two extraterrestrial civilizations. According to Galactic Diplomacy, these secret agreements lacked legitimacy since they were never ratified by the U.S. Senate as required by the U.S. Constitution. Article II.2, of the Constitution requires that any international treaty signed by the Executive branch needs the advice and consent of two thirds of the U.S. Senate:
The President … shall have power, by and with the advice and consent of the Senate, to make treaties, provided two thirds of the Senators present concur.
Consequently, it was reasoned the agreements reached between President Eisenhower and the chief executive of an extraterrestrial delegation were questionable under U.S. law. At best, it was reasoned that they were quasi-legal since they were only signed but not ratified as constitutionally required by Article 2.II:
… this constitutional provision [2.II] has been bypassed by a series of executive orders and congressional actions that make it possible for agreements to be signed and implemented without the consent of two-thirds of the Senate nor with the knowledge of the general public. These extra-constitutional arrangements have dubious legal standing and while these may at most have standing for short periods such as national emergencies, it is extremely doubtful that their legal standing would be sufficient for a semi-permanent arrangement which has existed for almost 60 years. (Galactic Diplomacy, p. 24)
Recent research has however discovered the legal concept and practice of an "executive agreement" that rules out such reasoning.
According to the U.S. State Department website:
international agreements brought into force with respect to the United States on a constitutional basis other than with the advice and consent of the Senate are "international agreements other than treaties" and are often referred to as "executive agreements."
An "executive agreement" makes it possible for a U.S. President to reach an agreement with a foreign power without the advice and consent of the U.S. Senate. Furthermore, under international law, executive agreements are recognized as valid, even if these have been conducted in secrecy. Also, the U.S., Supreme Court has ruled that executive agreements are valid, even if the U.S. Congress is not consulted.
In a case involving an Executive Agreement between President Roosevelt and the Soviet Union (United States v. Belmont 301 U.S. 324 [1937])the Supreme Court ruled in favor of the President's power to sign executive agreements without consulting or gaining the consent of the US Senate. The reasoning for the decision from the perspective of one of Justices was summarized as follows:
The President's act in recognizing the Soviet government, and the accompanying agreements, constituted, said the Justice, an international compact which the President, "as the sole organ" of international relations for the United States, was authorized to enter upon without consulting the Senate. Nor did state laws and policies make any difference in such a situation, for while the supremacy of treaties is established by the Constitution in express terms, yet the same rule holds "in the case of all international compacts and agreements from the very fact that complete power over international affairs is in the National Government and is not and cannot be subject to any curtailment or interference on the part of the several States."
The disturbing conclusion is that executive agreements signed by President Eisenhower and his successors with representatives of an extraterrestrial civilization may be legal under both international and U.S. domestic law. The only caveat is if the executive agreement violates the U.S. Constitution, then the Supreme Court could strike it down. If an executive agreement is highly classified, however, then it is highly unlikely to be brought before the Supreme Court for adjudication. This basically removes the sole known judicial mechanism for striking down an executive agreement signed by a U.S. President.
According to whistleblower testimony, in exchange for President Eisenhower giving aliens the right to establish bases, extract Earth resources and to conduct limited biological research on humans, the U.S. received assistance in studying and reverse engineering alien technologies. Consequently, the U.S. has participated in the development of a secret space fleet that operates in deep space, and conducts diplomatic relations with extraterrestrial civilizations. According to one whistleblower, the secret space fleet is part of an organization called the "Earth Defense Force," while other whistleblowers call it "Solar Warden."
The idea that secret "executive agreements" reached by U.S. Presidents and extraterrestrial civilizations may be constitutional will come as a shock to many. Unfortunately, executive agreements are valid in international law and even recognized by the U.S. Supreme Court. Consequently, there is likely to be an extensive number of secret "executive agreements" reached between the U.S., and perhaps even other governments, with representatives of extraterrestrial civilizations. Urgent action needs to be placed on exposing these agreements to eliminate any wrong doing, and ensure that they comply with the U.S. Constitution, and International law and Human Rights standards.
© Michael E. Salla, Ph.D. Copyright Notice
Further Reading: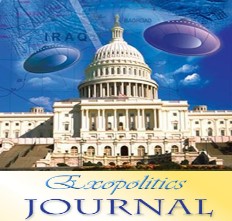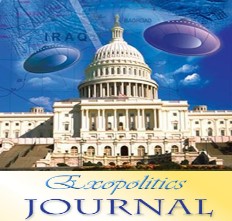 The latest edition of the Exopolitics Journal has just been released, and focuses on what diplomatic relations with extraterrestrial life might look like. With a steady increase in the number of exoplanets that are being confirmed, scientists have concluded it is inevitable that extraterrestrial life will one day be discovered. In the not distant future, it can be predicted that "Galactic Diplomacy" will be as important to the quality of our lives, as is international diplomacy today.
Here is what Manuel Lamiroy, the Co-editor of this special edition of the Exopolitics Journal had to say in his introduction:
This second volume of the fourth edition of the Exopolitics Journal continues with the theme of "Extraterrestrial Contact." This time, the focus is on "Galactic Diplomacy." While "Official Contact" still is the subject of science fiction, Extraterrestrial Contact already is happening, has been happening for a long time, and is ongoing, on a large scale. Indeed, to date, thousands of individuals have had contact experiences, and the indications are that this phenomenon will increase. As such, there is a growing need for galactic diplomacy; not only for official – or "track I" – diplomacy, but also for "Track II" or "Citizen Diplomacy with Extraterrestrials."
This special edition of the Exopolitics Journal contains seven articles along with an introduction. It is available online for free.
You can learn more about what experts and practitioners have to say about Galactic Diplomacy by visiting the Exopolitics Journal at: www.exopoliticsjournal.com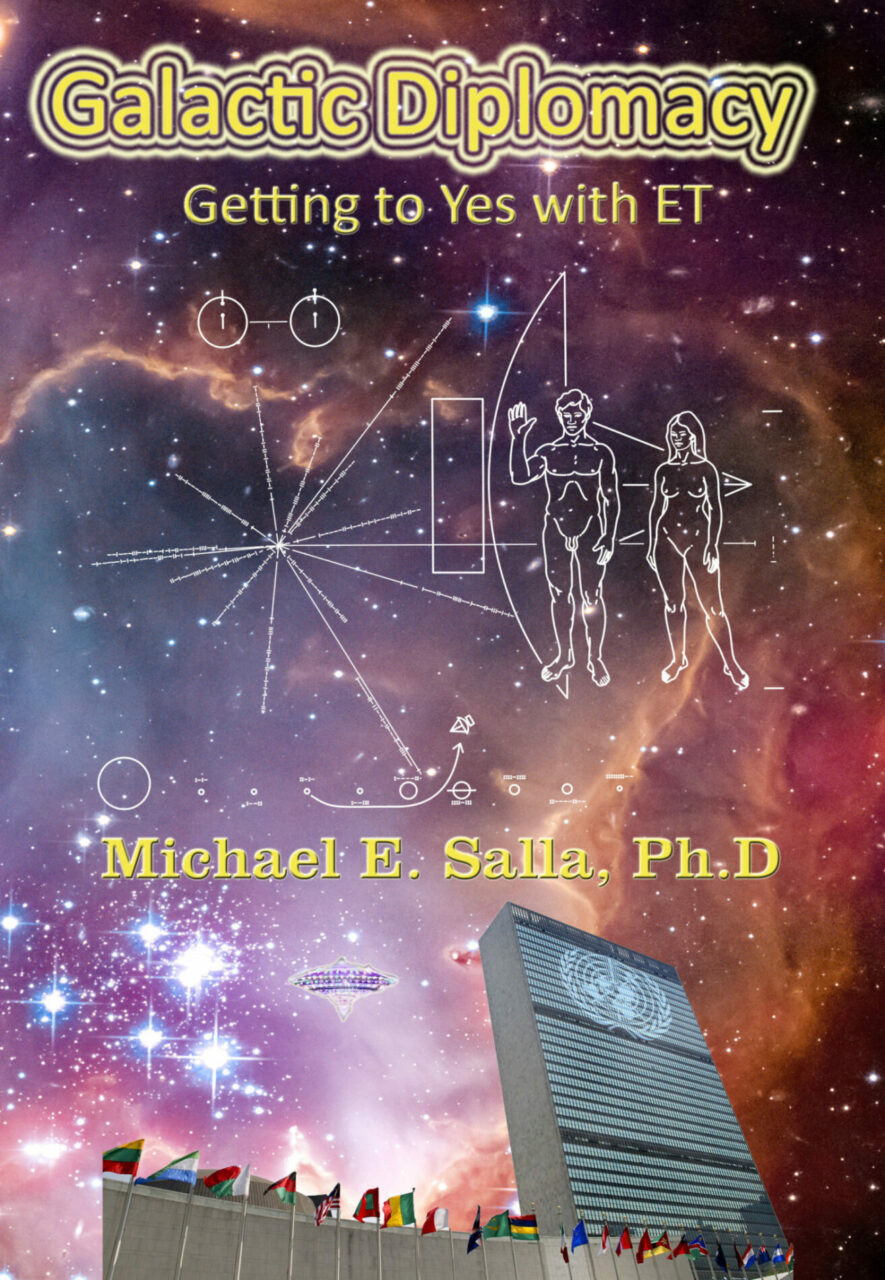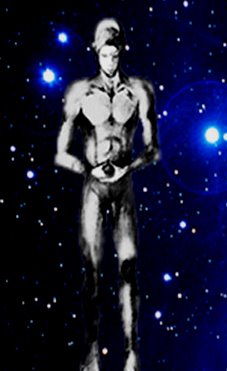 Report on Ricardo González Workshop at Mt Shasta – August 3-4, 2013
On the weekend of August 3-4, 2013 extraterrestrials delivered an important transformative message for humanity through a workshop led by Peruvian contactee Ricardo González at Mt Shasta, California. Extraterrestrials have come in peace and friendship, and are willing to participate in positive exchanges with humanity. They are willing to support citizen based forms of galactic diplomacy that will help humanity join the galactic community.
There were approximately 50-55 people attending the workshop being held at Sand Flat, Mt Shasta. All participants were camping. The language of instruction was Spanish, and English translations were provided on an ad hoc basis. Participants were encouraged to film/photograph whatever they witnessed.
 Ricardo began by discussing his background.  He described his experiences as both involving physical sightings and contacts. He claims his first contact exaperience was in 1996 at Paititi, Peru with an "intraterrestrial" from an ancient underground civilization. In 1997 he had another contact. This involved meeting a tall Nordic extraterrestrial called Antarel at the Chilca Desert, Peru. Ricardo was taken up into a space ship with Antarel in 2001. He most recent contact was on August 26, 2012 at Mt Shasta. Prior to the contact, a large group of approximately 55 had a physical sighting of a vehicle that did not appear to be an aircraft or satellite.
The 2012 physical contact occurred after the larger group completed the workshop on the morning of August 26. Ricardo got a psychographic (automatic writing) request to go back to the campsite and in total a group of 13 once again had a sighting of what appeared to be an extraterrestrial vehicle. This was another "programed sighting" for a specific time (9:00 pm) that Ricardo had advised a few individuals previously so they could be prepared. Ricardo received another psychographic request to go deeper into the forest by himself. The vehicle projected a ray of light or plasma ball that transported  him into a space vehicle for approx 1.5 hrs. When he returned, it seemed that only 15 minutes had elapsed. An English translation of Ricardo's 2012 Contact Report is available here.
After the introductory session for the 2013 workshop, Ricardo took questions. When I asked how the universal law of attraction applied to contact in terms of positively and negatively inclined humans/ETs, Ricardo said that there were three important considerations that applied here in determining the nature of the contact experiences he is involved with.
Intention had to match. Positive intentions attract positively inclined ETs.

Vibration/Frequency had to match. Generally, this involved human participants raising their consciousness at a level that is compatible with the extraterrestrials.

There had to be an invitation.
These appear to me to be solid principles upon which a respectful form of extraterrestrial contact can occur. It requires a lengthy preparation process during which any individual fears would be overcome.
Ricardo did a number of exercizes that helped the group feel comfortable with the possibility of an extraterrestrial sighting or contact. Visualizations were used to achieve this, as well as a silent walk in nature. The environment and energy of Mount Shasta did provide a unique opportunity to prepare for the unusual. Between exercizes Ricardo and other members of the group took photos of UFOs that appeared. Here is one taken by Ricardo during the workshop.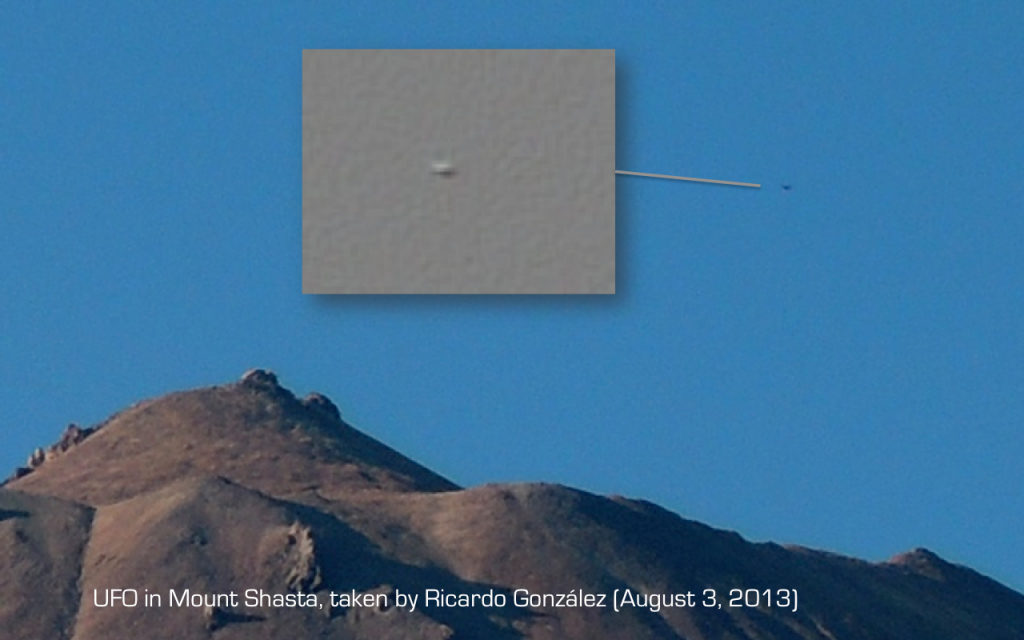 Ricardo claims that when a UFO pulses a bright light in response to an intention/request, that is a characteristic of an extraterrestrial vehicle. That is different to satellites that pulse during rotation when the sun is reflected at a different angle, and are generally dimmer. Aircraft are far easier to identify and are always accompanied by the noise from their jet engines.
Prior to the Saturday evening Sky Watch, Ricardo explained that the group would experience what he calls a "programmed sighting," rather than a spontaneous sighting. A "programmed sighting" involves advance notice of when the extraterrestrial vehicle would appear. In the case of the 2013 Mt Shasta workshop Ricardo had publicly announced a programmed sighting on Chilean TV one month in advance where he also announced that I would be attending. Below is a video showing Ricardo's televised announcement. According to the psychographic communications he received, the sighting would occur between 9-10 pm.
During the sky watch on August 3, Ricardo explained the importance of distinguishing between satellites, aircraft and extraterrestrial vehicles. The latter were brighter and would pulse in response to the groups intentions. The extraterrestrial vehicles came in different sizes according to Ricardo. There are large motherships that ranged in size from several hundred meters to nearly 20 kilometers. There are scoutcraft that were approximately 30 meters in size. There are also probes that were generally two meters in diameter, or could even be smaller, that were unmanned.
At 9 pm, the workshop participants were instructed to begin chanting OM, and to continue the chanting throughout the hour. This was done in order to match the vibration/frequency with potential extraterrestrial visitors.
With the advance preparation and training, workshop participants immediately began identifying the various objects that were sighted. Aircraft were easily identified, as well as satellites that were very distant and dim. One of the objects at around the 9:10 mark appeared to fulfill the characteristics of an extraterrestrial vehicle. It appeared closer to the earth than a satellite, it pulsed a bright light, and its flight trajectory did not appear to be uniform. Unlike aircraft, there was no jet engine noise. It qualified, according to Ricardo's criteria, as a possible extraterrestrial vehicle, though it was not unambiguous. As the 10 pm mark approached, none of the other 30 or so objects seen appeared to be an extraterrestrial vehicle.
At approximately 9:55 Ricardo asked the audience to be receptive to any messages from extraterrestrials. Soon after an object moving in a north easterly direction pulsed a bright red light. It was already near the horizon when it pulsed so it was a fairly short sighting. Ricardo interpreted it as a sign that the group would receive a message.  Ricardo received a message and was beginning to announce it when an object moving from a southerly direction began to glow brightly and gave a very intense pulse.
It was filmed by several participants (two of these are shown in the video below). It was the most unambiguous demonstration of an extraterrestrial vehicle. Ricardo completed reading the message, and as if on cue another object appeared and glowed brightly before delivering another intense pulse of light. It was a second unambiguous demonstration of an extraterrestrial vehicle. Most importantly, it appeared to be confirming the accuracy of the earlier messages received by Ricardo.
Here is the message:
Yes it is us. You were able to verify our presence in this programmed sighting. We have done it this way to offer our support so that you do not lose the strength to keep going on. The contact with us is real. But more important is our profound relationship with you. We have a message for Michael Salla. We desire that the real reason for our presence reaches more people. This is why it is important that he understands our positive contact intentions and our interest in promoting exchanges with your human society. We will be supporting Michael in this task.

The contact has been established. Very important changes are approaching.

Be attentive. Antarel
On the morning of the final day, there was a further exercize from Ricardo using visualizations. There was discussion of the Saturday night evening sighting and the importance the extraterrestrials attach to preparing the population for contact. Farewells and group photos completed the workshop.
Final Comments
The sky watching on the Saturday evening was a remarkable event insofar as there were at least two unambiguous sightings of an extraterrestrial vehicle, with a possible two further more. The latter two of which occurred after Ricardo's final message – were captured on video camera. While the night shots are not very clear, it is evidence of two tangible objects in the sky witnessed by 50+ individuals.
It appeared that the sightings also were timed to fulfill the pre-workshop "programed sighting" announcement by Ricardo made on Chilean TV. It is quite an extraordinary phenomenon that a UFO sighting can be announced a month or more in advance, and occur as predicted for the specified time frame. The "programmed sighting" was successful. Ricardo stressed a relatively rare occurrence for events he is involved with. This event was different insofar as an international extraterrestrial researcher (myself) would be attending.
One important conclusion that can be drawn from the  successful "programmed sighting" from the August 2013 workshop is that it supports Ricardo's claim of physical contact occurring at the previous August 2012 Mt Shasta workshop. Ricardo's report of the 2012 physical contact experience contains valuable information about the intentions and activities of the extraterrestrials he works with.
The personal element of the message received by Ricardo during the 2013 programmed sighting came as a surprise to me. The message reveals the importance extraterrestrials attach to the world learning the truth about their visiting our world in peace and friendship. They desire to promote "positive contact" whereby human participants are helped and uplifted by their experiences with extraterrestrial life. Their willingness to conduct exchanges with human society is a sign of the many ways in which they can help humanity to evolve.
The manner in which the workshop was conducted, and the three requirements outlined by Ricardo for contact (1. Intention, 2. Frequency, and 3. Invitation) do give confidence that they do have positive intentions for humanity. The emphasis the extraterrestrials (whom Ricardo works with) place on the right preparation of workshop participants and respect they show for human free will, does give us confidence to accept their claims.
The feelings evoked by the sightings and the group camradarie made for an unforgettable event. The personal message from the extraterrestrials does reveal that they value peace and friendship with humanity. Importantly, they are willing to work with private citizens in various exchanges that confirm the significance of citizen based forms of galactic diplomacy. These possible citizen based efforts are discussed in my recently published book, Galactic Diplomacy: Getting to Yes with ET. The final conclusion is that extraterrestrials involved with the Mt Shasta sighting from 2013 have a transformative message for humanity that inspires hope for a future where humanity is ready to join the galactic community.
Michael E. Salla, Ph.D.

August 9, 2013
Special thanks to Ricardo González and Giorgio Piacenza for their corrections to earlier versions of this Report.
Further Reading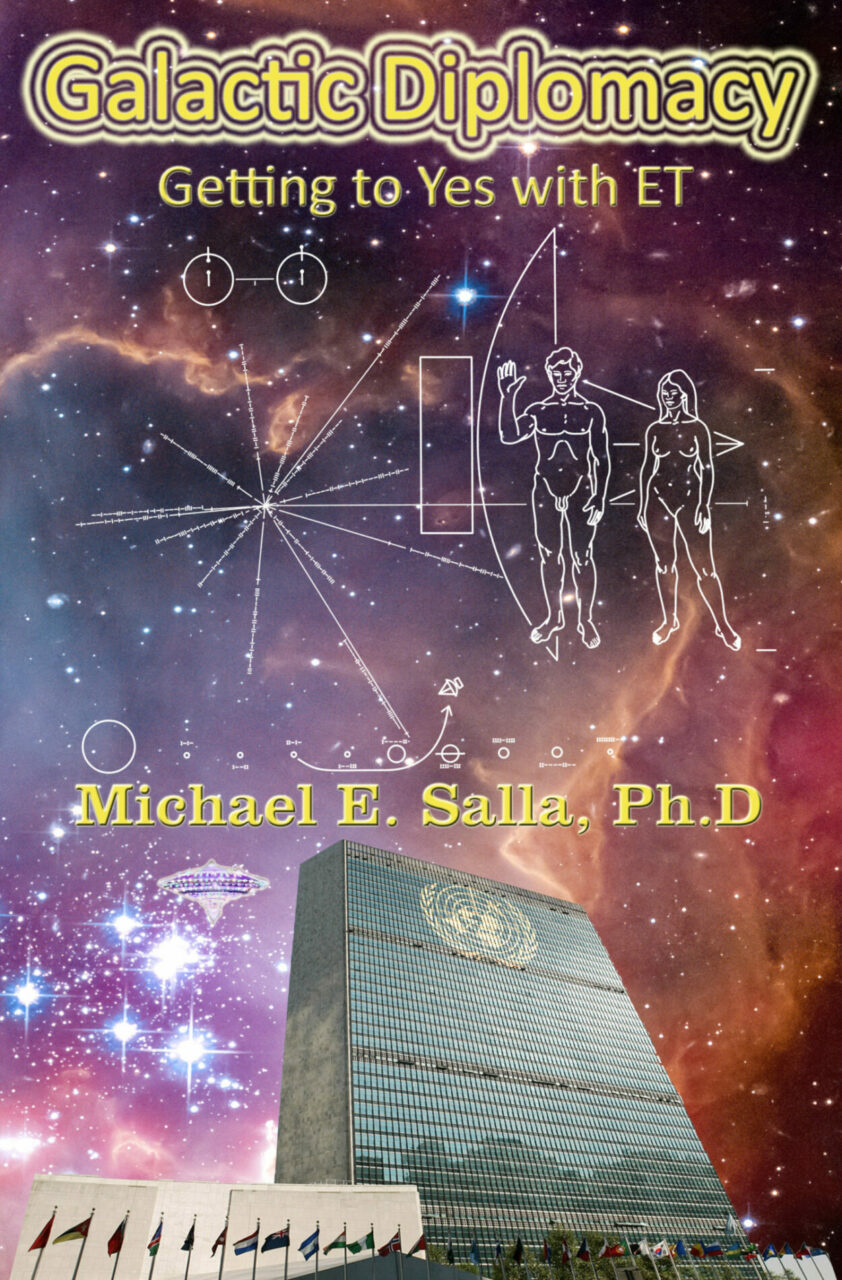 Today June 16, 2013 is the official world wide release date for Galactic Diplomacy Getting to Yes with ET. Happy Father's Day!
Galactic Diplomacy Getting to Yes with ET introduces first hand witness and whistleblower testimonies revealing that the USA, Britain, Russia and other major national governments have been secretly conducting, or known about, diplomatic relations with different extraterrestrial civilizations since at least 1952. Galactic diplomacy (aka exodiplomacy ) with extraterrestrial visitors began with discussions over the development of thermonuclear weapons, the first of which was detonated by the Truman administration in November, 1952. Diplomatic discussions then expanded to include issues such as technology development, alien bases, extraterrestrials living on Earth, human rights, and use of earth resources. In frustration over lack of government transparency with their citizens, some extraterrestrials began contacting private citizens to inform them of the true nature of alien activities on Earth, and relations with governments. The reader will be introduced to the basic principles of international diplomacy and how these apply to different extraterrestrial civilizations visiting Earth. Those desiring to expose secret government activity in diplomatic relations with extraterrestrial life, will be given the necessary information to hold responsible government, military and corporate officials accountable for past policies; and to ensure government transparency in the future. Alternatively, those desiring to become active in citizen diplomacy initiatives, will be given essential information for discerning the motivations and activities of visiting extraterrestrial civilizations. This is indispensable for practicing a citizen based form of galactic diplomacy. This book prepares readers for the grandest adventure of all the journey to galactic citizenship! For an introductory extract from Galactic Diplomacy, click here.
Here is what one reviewer had to say about Galactic Diplomacy:
This book is a comprehensive source for individuals who think that sufficient evidence merits acceptance of the premise that intelligent extraterrestrials are already interacting with humanity and who are already asking what an appropriate, democratic, political response might be (even if an unsupervised shadow government maintains negotiations, exchanges and de facto agreements not only detached from common democratic processes but with the extraterrestrial groups it finds more appropriate. Galactic Diplomacy: Getting to Yes with ET is a seminal book written to offer a leading edge analysis of the nature of different extraterrestrial groups so that mindful citizens willing to represent their vital interests and even those of humanity, the Earth and even of all planetary sentient beings acquire basic, general information to intelligently proceed with a peaceful, track two, complementary, citizen s Galactic Diplomacy. … Galactic Diplomacy: Getting to Yes with ET showed me that it was possible to treat the complex and startling exopolitical situation with fairness, academic distinction and a form of reasonableness that includes an objective analysis and qualitative assessment suitable to a useful, normal and moral human standpoint. It succeeds in presenting a necessarily challenging overview of various unique categories that must be inclusively studied to practice exopolitics and to responsibly launch a new stage in real-world human-ET interacting with a vital and extraordinary political situation. –Giorgio Piacenza Cabrera (to read full review click here)
Galactcic Diplomacy is now available worldwide as a paperback through Amazon.com and as a Kindle Ebook.For a look inside using the Amazon Look Inside feature, click here.
For a special Father's Day Gift get a copy of Galactic Diplomacy: Getting to Yes with ET (2013).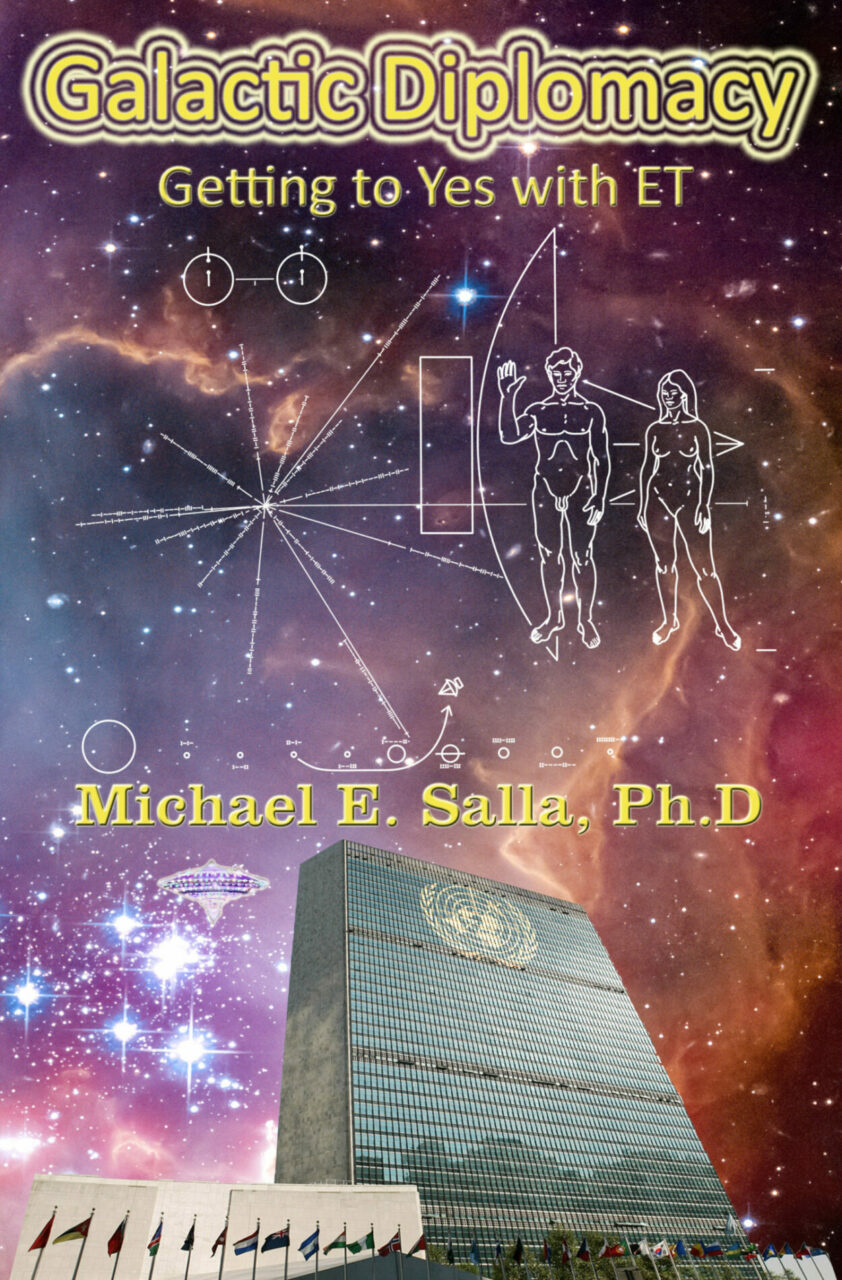 [Update June 16, 2013: Now Available on Amazon as a paperback and in a Kindle edition]
Galactic Diplomacy is a new book that introduces first hand witness and whistleblower testimonies revealing that the USA, Britain, Russia and other major national governments have been secretly conducting, or known about, diplomatic relations with different extraterrestrial civilizations since at least 1952. These testimonies reveal that 'galactic diplomacy' (aka 'exodiplomacy') with extraterrestrial visitors began with discussions over the development of thermonuclear weapons, the first of which was detonated by the Truman administration in November, 1952. Diplomatic discussions then expanded to include issues such as technology development, alien bases, extraterrestrials living on Earth, human rights, and use of earth resources. In frustration over lack of government transparency with their citizens, some extraterrestrials began contacting private citizens to inform them of the true nature of alien activities on Earth, and diplomatic relations with governments.
Extraterrestrial life has been discovered, and senior national security officials have been reticent to disclose this fact not only to their citizens, but to most elected representatives. While the traditional approach among UFO researchers has been to accumulate further evidence to indisputably prove the existence of UFOs and the extraterrestrial hypothesis, after seven decades of officially sanctioned deception, such an approach is no longer suitable. The information age makes available the evidence of visiting extraterrestrial life at any computer terminal around the world. A new approach to the massive evidentiary pool is necessary.
Galactic Diplomacy prepares the reader for the fact that technologically advanced extraterrestrial life exists, and has been visiting our planet since at least the 1940's. This fact has been kept secret by a carefully orchestrated set of policies developed by national security officials with the historic support of a small select group of elected government representatives. These policies are implemented in highly classified compartmentalized programs with strict need-to-know security provisions in place. This means that the vast majority of government, military and corporate officials are simply out of the loop on the extraterrestrial issue.
Not only have select governmental authorities deceived their citizens and peers about extraterrestrial life, but major governments led by the U.S. have secretly entered into direct diplomatic relations with extraterrestrial life. Most disturbing is evidence that some major governments, principally the U.S., have entered into secret agreements with some extraterrestrial groups that have de facto 'treaty' status. Some of these agreements concern the acquisition and development of extraterrestrial technology, and their advanced knowledge, found around the world or in outer space.
"Galactic diplomacy" – which I use as a synonym for "exodiplomacy" – is currently a highly classified national security program where a select group of authorized government, military and corporate officials, are secretly meeting to discuss extraterrestrial life and technology. In some cases, these officials are communicating directly with representatives of extraterrestrial civilizations.
The reader has basically three choices given the startling evidence that galactic diplomacy is secretly occurring. The first is to dismiss testimonial evidence of extraterrestrial life, and tacitly allow select government authorities to indefinitely continue their secret galactic diplomacy. Debunkers typically raise the cliché "extraordinary claims require extraordinary proof," and proceed to establish an extraordinarily high standard for accepting any evidence as admissible on the issue of extraterrestrial life. They then proceed to debunk all evidence for alien visitors to our world on the basis that none of the testimonial evidence reaches the extraordinarily high standards required to prove "extraordinary claims." Yet, truth remains true even when one is unable to prove it. Eyewitness testimony doesn't cease to be evidence simply because a witness or whistleblower can't prove what they saw or experienced.
Exposing governmental agreements concerning or directly involving extraterrestrial life is the second choice before us given the evidence that galactic diplomacy is secretly occurring. Becoming active in a global process to pressure government authorities to disclose all they know about alien life and technology, will be the preferred choice of many once the evidence persuades them.
The third choice is the most proactive. It invites the reader to seriously contemplate becoming active in a citizen based diplomatic outreach with extraterrestrial civilizations visiting our planet. This choice will appeal to many who are disheartened by the depth of deception by select national security authorities over the existence of extraterrestrial life.
Galactic Diplomacy is a book that assists those attracted to the second and third choices over how to react to the exodiplomacy that has been occurring. Those desiring to expose secret governmental activity in diplomatic relations concerning extraterrestrial life, will be given the necessary basic information tools to hold responsible government, military and corporate officials accountable for past policies, and to ensure governmental transparency in the future. Alternatively, those desiring to become active in citizen diplomacy initiatives will be given essential information for discerning the motivations and activities of visiting extraterrestrial civilizations. This is indispensable for practicing a citizen based form of galactic diplomacy.
Getting to Yes is the title of a popular book in the field of conflict resolution that reveals how to conduct negotiations based on recognizing all the parties "needs" or "vital interests", rather than positions. A necessary first step is recognizing the needs of all parties in a negotiation, and having them adequately represented. In "principled negotiations", all parties interests are represented. When it comes to the visitation of extraterrestrial life, testimonial evidence reveals that private citizens are a party whose vital interests in secret negotiations have not been represented at all. This indicates that secret negotiations are "unprincipled" according to the model developed in Getting to Yes.
"Getting to Yes with ET" is consequently not solely diplomatic activity secretly pursued by government, military and corporate entities from around the world, but an inalienable right that belongs to private citizens. Private citizens have a right to have their interests directly represented in any negotiations where their vital interests are involved. In the United States, this is recognized in the Constitution where diplomatic agreements require ratification by the two thirds of the U.S. Senate which directly represents the interests of private citizens. Private citizens have an inherent right in being directly represented and/or participating in any decisions over who among the various extraterrestrial visitors are willing to satisfy our vital interests in any diplomatic agreements. Guaranteeing a direct role of private citizens in any agreements reached with extraterrestrial civilizations will ensure that our vital interests are met, and we properly evolve as a planetary civilization. The choice is up to you. Order your copy of Galactic Diplomacy and prepare yourself for the grandest adventure of all – the journey to galactic citizenship!
Note: This article is an extract from the "Introduction" to Galactic Diplomacy: Getting to Yes with ET (Exopolitics Institute, 2013). Release date on Amazon.com is Father's Day, June 16, advance autographed copies will be shipped by May 30.
Copyright. Michael E. Salla, M.A., Ph.D.