Extraterrestrial Message for Humanity

Report on Ricardo González Workshop at Mt Shasta – August 3-4, 2013
On the weekend of August 3-4, 2013 extraterrestrials delivered an important transformative message for humanity through a workshop led by Peruvian contactee Ricardo González at Mt Shasta, California. Extraterrestrials have come in peace and friendship, and are willing to participate in positive exchanges with humanity. They are willing to support citizen based forms of galactic diplomacy that will help humanity join the galactic community.
There were approximately 50-55 people attending the workshop being held at Sand Flat, Mt Shasta. All participants were camping. The language of instruction was Spanish, and English translations were provided on an ad hoc basis. Participants were encouraged to film/photograph whatever they witnessed.
 Ricardo began by discussing his background.  He described his experiences as both involving physical sightings and contacts. He claims his first contact exaperience was in 1996 at Paititi, Peru with an "intraterrestrial" from an ancient underground civilization. In 1997 he had another contact. This involved meeting a tall Nordic extraterrestrial called Antarel at the Chilca Desert, Peru. Ricardo was taken up into a space ship with Antarel in 2001. He most recent contact was on August 26, 2012 at Mt Shasta. Prior to the contact, a large group of approximately 55 had a physical sighting of a vehicle that did not appear to be an aircraft or satellite.
The 2012 physical contact occurred after the larger group completed the workshop on the morning of August 26. Ricardo got a psychographic (automatic writing) request to go back to the campsite and in total a group of 13 once again had a sighting of what appeared to be an extraterrestrial vehicle. This was another "programed sighting" for a specific time (9:00 pm) that Ricardo had advised a few individuals previously so they could be prepared. Ricardo received another psychographic request to go deeper into the forest by himself. The vehicle projected a ray of light or plasma ball that transported  him into a space vehicle for approx 1.5 hrs. When he returned, it seemed that only 15 minutes had elapsed. An English translation of Ricardo's 2012 Contact Report is available here.
After the introductory session for the 2013 workshop, Ricardo took questions. When I asked how the universal law of attraction applied to contact in terms of positively and negatively inclined humans/ETs, Ricardo said that there were three important considerations that applied here in determining the nature of the contact experiences he is involved with.
Intention had to match. Positive intentions attract positively inclined ETs.

Vibration/Frequency had to match. Generally, this involved human participants raising their consciousness at a level that is compatible with the extraterrestrials.

There had to be an invitation.
These appear to me to be solid principles upon which a respectful form of extraterrestrial contact can occur. It requires a lengthy preparation process during which any individual fears would be overcome.
Ricardo did a number of exercizes that helped the group feel comfortable with the possibility of an extraterrestrial sighting or contact. Visualizations were used to achieve this, as well as a silent walk in nature. The environment and energy of Mount Shasta did provide a unique opportunity to prepare for the unusual. Between exercizes Ricardo and other members of the group took photos of UFOs that appeared. Here is one taken by Ricardo during the workshop.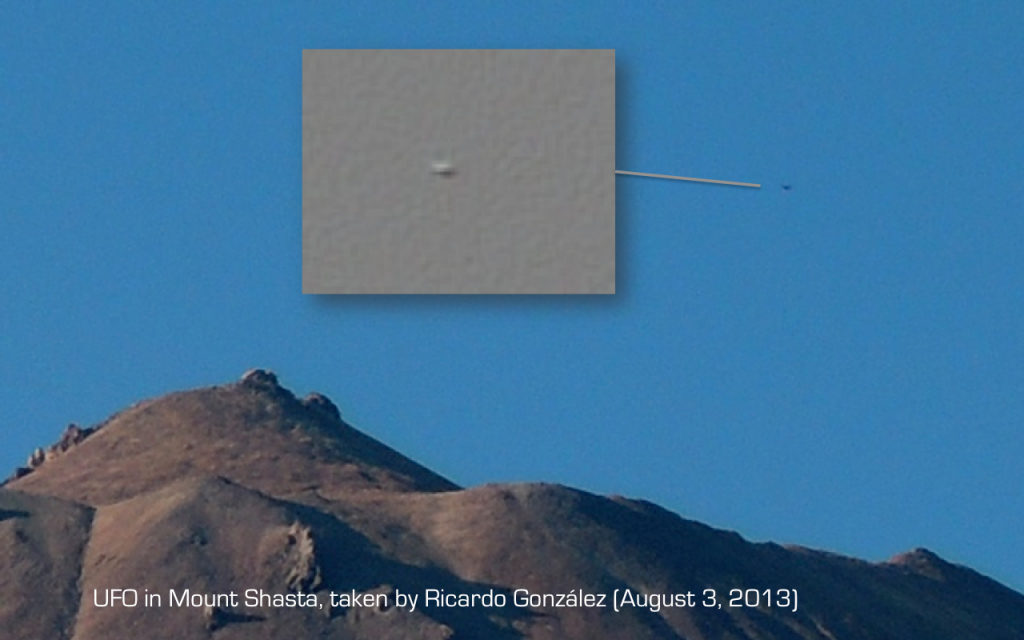 Ricardo claims that when a UFO pulses a bright light in response to an intention/request, that is a characteristic of an extraterrestrial vehicle. That is different to satellites that pulse during rotation when the sun is reflected at a different angle, and are generally dimmer. Aircraft are far easier to identify and are always accompanied by the noise from their jet engines.
Prior to the Saturday evening Sky Watch, Ricardo explained that the group would experience what he calls a "programmed sighting," rather than a spontaneous sighting. A "programmed sighting" involves advance notice of when the extraterrestrial vehicle would appear. In the case of the 2013 Mt Shasta workshop Ricardo had publicly announced a programmed sighting on Chilean TV one month in advance where he also announced that I would be attending. Below is a video showing Ricardo's televised announcement. According to the psychographic communications he received, the sighting would occur between 9-10 pm.
During the sky watch on August 3, Ricardo explained the importance of distinguishing between satellites, aircraft and extraterrestrial vehicles. The latter were brighter and would pulse in response to the groups intentions. The extraterrestrial vehicles came in different sizes according to Ricardo. There are large motherships that ranged in size from several hundred meters to nearly 20 kilometers. There are scoutcraft that were approximately 30 meters in size. There are also probes that were generally two meters in diameter, or could even be smaller, that were unmanned.
At 9 pm, the workshop participants were instructed to begin chanting OM, and to continue the chanting throughout the hour. This was done in order to match the vibration/frequency with potential extraterrestrial visitors.
With the advance preparation and training, workshop participants immediately began identifying the various objects that were sighted. Aircraft were easily identified, as well as satellites that were very distant and dim. One of the objects at around the 9:10 mark appeared to fulfill the characteristics of an extraterrestrial vehicle. It appeared closer to the earth than a satellite, it pulsed a bright light, and its flight trajectory did not appear to be uniform. Unlike aircraft, there was no jet engine noise. It qualified, according to Ricardo's criteria, as a possible extraterrestrial vehicle, though it was not unambiguous. As the 10 pm mark approached, none of the other 30 or so objects seen appeared to be an extraterrestrial vehicle.
At approximately 9:55 Ricardo asked the audience to be receptive to any messages from extraterrestrials. Soon after an object moving in a north easterly direction pulsed a bright red light. It was already near the horizon when it pulsed so it was a fairly short sighting. Ricardo interpreted it as a sign that the group would receive a message.  Ricardo received a message and was beginning to announce it when an object moving from a southerly direction began to glow brightly and gave a very intense pulse.
It was filmed by several participants (two of these are shown in the video below). It was the most unambiguous demonstration of an extraterrestrial vehicle. Ricardo completed reading the message, and as if on cue another object appeared and glowed brightly before delivering another intense pulse of light. It was a second unambiguous demonstration of an extraterrestrial vehicle. Most importantly, it appeared to be confirming the accuracy of the earlier messages received by Ricardo.
Here is the message:
Antarel

Yes it is us. You were able to verify our presence in this programmed sighting. We have done it this way to offer our support so that you do not lose the strength to keep going on. The contact with us is real. But more important is our profound relationship with you. We have a message for Michael Salla. We desire that the real reason for our presence reaches more people. This is why it is important that he understands our positive contact intentions and our interest in promoting exchanges with your human society. We will be supporting Michael in this task.

The contact has been established. Very important changes are approaching.

Be attentive. Antarel
On the morning of the final day, there was a further exercize from Ricardo using visualizations. There was discussion of the Saturday night evening sighting and the importance the extraterrestrials attach to preparing the population for contact. Farewells and group photos completed the workshop.
Final Comments
The sky watching on the Saturday evening was a remarkable event insofar as there were at least two unambiguous sightings of an extraterrestrial vehicle, with a possible two further more. The latter two of which occurred after Ricardo's final message – were captured on video camera. While the night shots are not very clear, it is evidence of two tangible objects in the sky witnessed by 50+ individuals.
It appeared that the sightings also were timed to fulfill the pre-workshop "programed sighting" announcement by Ricardo made on Chilean TV. It is quite an extraordinary phenomenon that a UFO sighting can be announced a month or more in advance, and occur as predicted for the specified time frame. The "programmed sighting" was successful. Ricardo stressed a relatively rare occurrence for events he is involved with. This event was different insofar as an international extraterrestrial researcher (myself) would be attending.
One important conclusion that can be drawn from the  successful "programmed sighting" from the August 2013 workshop is that it supports Ricardo's claim of physical contact occurring at the previous August 2012 Mt Shasta workshop. Ricardo's report of the 2012 physical contact experience contains valuable information about the intentions and activities of the extraterrestrials he works with.
The personal element of the message received by Ricardo during the 2013 programmed sighting came as a surprise to me. The message reveals the importance extraterrestrials attach to the world learning the truth about their visiting our world in peace and friendship. They desire to promote "positive contact" whereby human participants are helped and uplifted by their experiences with extraterrestrial life. Their willingness to conduct exchanges with human society is a sign of the many ways in which they can help humanity to evolve.
The manner in which the workshop was conducted, and the three requirements outlined by Ricardo for contact (1. Intention, 2. Frequency, and 3. Invitation) do give confidence that they do have positive intentions for humanity. The emphasis the extraterrestrials (whom Ricardo works with) place on the right preparation of workshop participants and respect they show for human free will, does give us confidence to accept their claims.
The feelings evoked by the sightings and the group camradarie made for an unforgettable event. The personal message from the extraterrestrials does reveal that they value peace and friendship with humanity. Importantly, they are willing to work with private citizens in various exchanges that confirm the significance of citizen based forms of galactic diplomacy. These possible citizen based efforts are discussed in my recently published book, Galactic Diplomacy: Getting to Yes with ET. The final conclusion is that extraterrestrials involved with the Mt Shasta sighting from 2013 have a transformative message for humanity that inspires hope for a future where humanity is ready to join the galactic community.
Michael E. Salla, Ph.D.

August 9, 2013
Special thanks to Ricardo González and Giorgio Piacenza for their corrections to earlier versions of this Report.
Further Reading
extraterrestrial contact, galactic diplomacy, Ricardo Gonzalez, UFO