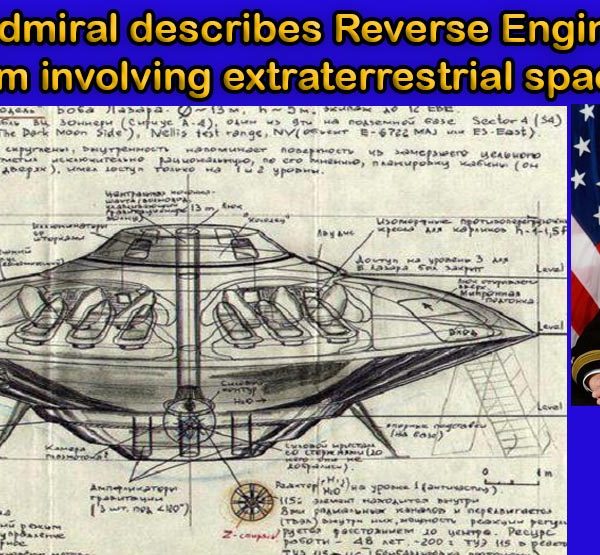 [Cont. from Part 1] In the transcript/summary of a 2002 conversation between Vice Admiral Thomas Wilson and Dr. Eric Davis it was revealed that a crashed extraterrestrial vehicle was being reverse engineered by a major aerospace company. Wilson first learned about the classified UFO program through a National Reconnaissance Office (NRO) document shared with him at a confidential April 10, 1997 meeting with Dr. Steven Greer, Dr. Edgar Mitchell, and Navy Commander Willard Miller.
The recently released transcript describes what Admiral Wilson [TW] told Dr. Davis [EWD] about Wilson's efforts up to June 1997 to learn the truth about the classified UFO program, and the associated reverse engineering effort revealed to him in the April meeting.
EWD: Okay then, what happened in April-June '97?
TW: After parting with Miller (week later, he thinks) – I made calls, knocked on a few doors, talked to people – went on for 45 days (thereabouts) on and off
Suggestion came from Ward (Gen. M. Ward) to go through the records groups files (like an index system) in OUSDAT (Office of the Under Secretary of Defense for Acquisition and Technology)

Ran into Bill Perry in May '97 – talked about this quietly – he suggested the same thing

They told me of a special projects record group not belonging to usual SAP – a special subset of the unacknowledged/carve-outs/waived programs – not belonging to usual SAP divisions as organized in '94 by Perry himself – set apart from rest but buried/covered by conventional SAPs. (Transcript/Summary, pp. 6-7)
Wilson was here referring to different categories of Special Access Programs (SAPs), where the most important – unacknowledged/carve-outs/waived – were hidden behind conventional SAPs.
The method of hiding the most highly classified programs behind less classified ones was verified in one of the NSA documents leaked by Edward Snowden called Sentry Eagle. It graphically depicted how Exceptionally Compartmented Information (ECI – an Intelligence Community classification similar to an Unacknowledged SAP used by the Pentagon) would be hidden behind a Non-ECI Program (similar classification status to a conventional SAP)
Wilson went on to describe the aerospace company that ran the classified reverse engineering effort, without naming it:
EWD: Who was the project contractor or USG agency that runs the program?
TW: An aerospace technology contractor – one of the top ones in US
EWD: Who?
TW: Core secret – can't tell
EWD: Defense contractor?
TW: Yes, the best one of them.
The reference to the "best one of them" firmly points to Lockheed Martin's Skunkworks division which has a long track record of successfully working on cutting edge aerospace programs. For example, Skunkworks former Director, Ben Rich, was fond of ending lectures by declaring: "We now have the technology to take ET home".  
Wilson then explained what happened when he discovered which company was running the classified UFO program and contacted it to gain access:
EWD: What happened with you found contractor?
TW: I made several calls (end of May '97), first to Paul, Mike & Perry to confirm I had right contractor and program manager to talk to.
EWD: They confirm?
TW: Yes.
EWD: Then?
TW: (End of May '97) Made three calls to the program manager – one of them conference call with security director and corporate attorney.
Confusion on their part at to why I was looking for them and what I wanted from them or wanted to know about.
Very testy tone from all of them. [Transcript/Summary, pp. 8-9]
Wilson next explains how he was denied access to the classified UFO program by the three corporate officials (program manager, security director, and attorney):
TW: I told threesome I wanted formal briefing, tour, etc. – was exploiting my regulatory authority as Deputy Director DIA/Assistant Joint Chief of Staff J-2 – Told them my not being briefed was oversight they needed to correct – I demanded!
TW: They needed to discuss this (his demand) so hung up. Got called 2 days later and they said they don't want to talk on phone and arranged for face-to-face meeting at their facility.
EWD: Did you go?
TW: Yes, ten days later (mid-June or so). Flew out there
Met in their conference room in their secure vault

Three of them show up
EWD: 3 guys with whom you had telecon?
TW: Yes, same 3
Security director (NSA-retired, a CI expert)

Program director

Corporate attorney

Called themselves "the watch committee" or gate keepers [Transcript/Summary, p. 10]
Wilson describes how the "watch committee" told him about a prior incident years ago where the present security system was set up after an agreement was reached with the Pentagon's Special Access Programs Oversight Committee (SAPOC), which was overhauled in 1994, very likely due to the incident Wilson was told about. The agreement gave the corporate contractor running certain categories of SAPs the authority to restrict access to UFO related programs from Pentagon officials regardless of their rank and position:
– [TW] Said after that episode a formal agreement was struck with Pentagon people (SAPOC) to prevent this in future – didn't want a repeat
–      Special criteria were established in agreement
A special circumstance that must meet rigorous access criteria set by contractor committee

No USG personnel are to gain access unless they met the criteria – to be administered by contractor committee (program director, attorney, security director) irregardless of the tickets and position USG personnel possess

Literally their way or the highway. [Transcript/Summary p. 11]
The "watch committee" told Admiral Wilson that despite him being Deputy Director of the DIA and Vice Director of Intelligence for the Joint Chiefs of Staff, that he was not on the "bigot list" – those with a "need to know" access – who could be briefed about the UFO program:
TW: They said my tickets were all confirmed and valid, but I was not on the bigot list
My tickets alone were not enough

I didn't meet the special criteria so need to know authorization was not being granted….
TW: Argued more – they wouldn't accept my arguments that they fell under my statutory oversight and regulatory authority as Deputy Director DIA – under purview for my right to have need to know (oversight, audit, justification issues, etc., etc.)
Regulatory and statutory authority as Deputy Director DIA not relevant or pertinent to nature of their program!

Then they pulled out their bigot list to convince me otherwise – several pages long – dated 1990, updated 1993. [Transcript/Summary, pp. 11-12]
The transcription goes on to cover Wilson and Davis' conversation about names on the bigot list, and who in the Pentagon and White House was allowed access:
EWD: Who was on it? Recognize names?
TW: That is core secret.
Willing to say that most were program employees – names and titles (job titles) – civilians – didn't recognize any military personnel – could be there.
EWD: Any politicians?
TW: No
No White House names, no President!

No Congressional people

No Congressional staffers
EDW: Any in Clinton or Bush Sr. Administrations?
TW: No! But handful of names were Pentagon individuals I recognized – few from OUSDAT, one from another department, another at the NSC who is Pentagon SES employee. [Transcript/Summary, p. 12]
Stunningly, Wilson learned that no members of the Legislative (Congress) or Executive (White House) branches of government were briefed about the corporate UFO program. Only a few Pentagon officials were given access. This corroborates what Greer and others have been claiming for decades over the unconstitutional nature of the secrecy system developed for the UFO issue.
Next, the transcript elaborates on how Wilson tried to gain access by identifying the type of program that was underway attempting to link it to his official field of responsibility as Deputy Director DIA:
– [TW] Program Manager said they were
Not any weapons program

Not any intelligence program

Not any special ops or logistics program

Doesn't fit these categories [Transcript/Summary, p. 12]
Finally, Wilson was told that the UFO program was a reverse engineering program of a recovered extraterrestrial vehicle, exactly what Greer, Mitchell, and Miller, had told him at the April 10, 1997 meeting. Importantly, Wilson expressed his surprise thinking that the UFO term was merely a cover for acquired foreign aerospace technology built by the USSR or China:
I asked what they were then

Loud groan from Program Manager

Security Director and attorney say it's okay to say it.
EWD: Say what?
TW: There were a reverse engineering program –
Something recovered years ago in the past

Technological hardware was recovered

So I thought they meant recovered Soviet/Chinese, etc. hardware and reverse engineer it – like a missile or intel platform or aircraft – actually came to meeting expecting to find a sensitive foreign collection and reverse engineering operation – thought "UFOs" used as a cover for that –

So I said that and they said they weren't that either

They had (program manager talking) a craft – an intact craft they believed could fly …

Program manager said they didn't know where it was from [they had some ideas on this] – it was technology that was not of this Earth – not made by man – not by human hands [Transcript/Summary, pp. 12-13]
Wilson next described that he was told the corporation had encountered great difficulty in its reverse engineering efforts:
[TW] Said they were trying to understand and exploit technology: their program was going on for years and years with very slow progress

Agonizingly slow with little or no success – painful lack of collaboration to get help from outside community of experts and facilities to assist effort – must remain isolated and use own facilities and cleared personnel – tough environment to work – about 400-800 (bigot list count) workers varying in number funding or personnel changes. [Transcript/Summary, pp. 12-13]
When Wilson threatened to go to the Special Access Program Oversight Committee (SAPOC) he was told to go ahead by the corporate "watch committee" and was eventually denied access by the Senior Review Group running SAPOC Pentagon committee set up to oversee Special Access Programs:
TW: Before last week of June ('97)
They told me (TW) that they were sustaining the contractor, that I was to immediately drop the matter and let it go – forget about it as I did not have purview over their project, it didn't fall within my oversight, etc.

I became very angry – started yelling when should have kept my mouth shut…

… Senior Review Group chairman said if I didn't follower their suggestion that I would not see Director DIA promotion, get early retirement, lose 1 or 2 stars along the way

Really incredibly angry – upset over this – livid!!!

Why such a big deal over this considering the position of trust I have in the Pentagon – I do have relevant regulatory/statutory authority over their program – that's my position!!! [Transcript/Summary, p. 14] 
The refusal to grant access was the critical moment that Wilson realized that the corporation was being supported by a powerful group linked to the Pentagon to hide the corporation's reverse engineering of an extraterrestrial spacecraft, as an Unacknowledged/waived SAP, hidden within the labyrinth of conventional SAPs conducted by the Pentagon and its corporate contractors.
The refusal was ultimately why Wilson believed that a UFO cabal/ MJ-12 was in charge of UFO related projects, and even senior officials at the DIA and the Joint Chiefs of Staff were out of the loop. This is what he told Commander Miller back in June 1997, who in turn relayed Wilson's conclusions to Steven Greer and Edgar Mitchell who respectively revealed more details over the next two decades.
[Continued in Part 3. Click here for Part 1]
© Michael E. Salla, Ph.D. Copyright Notice
[Note: The 15 page leaked Document is available here]
Further Reading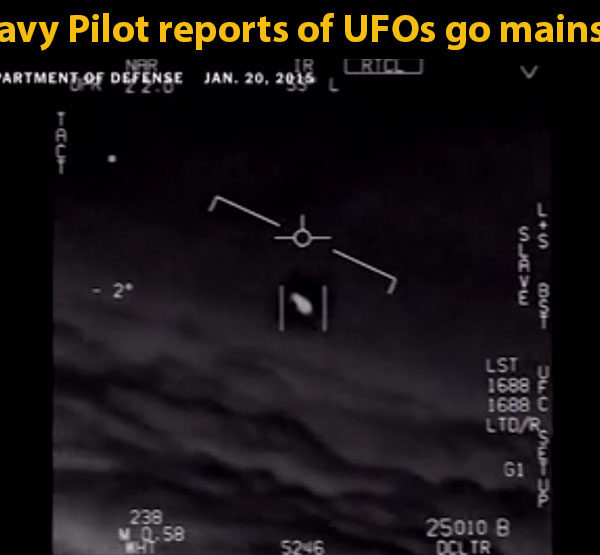 On May 26, 2019, the New York Times published a story about five US Navy pilots reporting UFO sightings in 2014 and 2015 off the coast of Florida. The story cites their descriptions of unknown craft that could fly at hypersonic speeds and hover over the ocean. Their reports were handed off to the Pentagon's Advanced Aerial Threat Identification Program (AATIP).
The five Navy pilots were interviewed by the New York Times reporters about the UFO sightings that occurred while they were conducting training maneuvers off the aircraft carrier Theodore Roosevelt before deployment to the Middle East. The Times reporters said that due to the 2014 and 2015 sightings, that the Navy upgraded its classified guidance for how pilots are to report UFOs, which now are officially referred to as Unexplained Aerial Phenomena (UAP).
A video was included of one of the UFO incidents where the pilots could be heard exclaiming: "Wow, what is that, man? Look at it fly!" The video had been released over a year earlier and was the subject of a March 12, 2018, Fox News interview with Luis Elizondo, the former Pentagon official, who headed AATIP from its 2007 up to 2017 when he retired in protest over the lack of support the program was receiving.
In the Times story, the pilots made clear that no known piloted aircraft could perform the UFO's complex aerial maneuvers:
What was strange, the pilots said, was that the video showed objects accelerating to hypersonic speed, making sudden stops and instantaneous turns — something beyond the physical limits of a human crew.
They speculated that the UFOs might be part of a highly advanced drone program that raised several safety issues due to the possibility of a midair collision. They refused to speculate further about the UFO's origins. Earlier in April 2019, the Navy issued new guidelines for reporting UFO sightings, and cited safety concerns as a factor for the need to improve the reporting process.
There are several important takeaways from this latest New York Times story that follows a December 16, 2017 story that analyzed similar sightings reported by Navy pilots back in 2004.
The first is that the US Navy is allowing its pilots to go on the public record about UFO sightings that have national security implications. This has effectively reversed a decades-long military policy dating back to 1954 called JANAP 146(C), which forbade military and civilian pilots discussing UFO sightings that were deemed to have national security implications. JANAP 146 referred to possible prosecution under Espionage Laws for unauthorized transmission of UFO sightings reported by military and civilian pilots that fell under the official reporting mechanism established by JANAP. 

The second takeaway is that the Pentagon is allowing official military surveillance video to be leaked to the public about a phenomenon which on the surface appears unknown, at least to the pilots witnessing them. It is more than likely, however, that the phenomenon is very well known to the military hierarchy who have sanctioned the leaking of the videos, which it needs to be emphasized are official Navy videos whose unauthorized disclosure carries severe penalties as JANAP 146 makes clear.
Third, the fact that the New York Times has released the story is sending a clear signal to other mainstream media sources that it is OK to discuss UFO sightings and their national security implications. We can, therefore, expect many more mainstream media stories about UFOs/UAPs in the near future as evidenced by multiple news sources immediately reporting on the Times story.
What can be concluded about the mainstream media's newfound enthusiasm to discuss pilot reports of UFO?
It's important to emphasize that there is no way the Pentagon would reverse its decades-long policy (JANAP 146) unless it was convinced that it could adequately explain the national security implications of UFO sightings. It's more than likely the video leaks and pilot interviews are part of an official disclosure process of advanced aerospace technologies that are well known to US military leaders.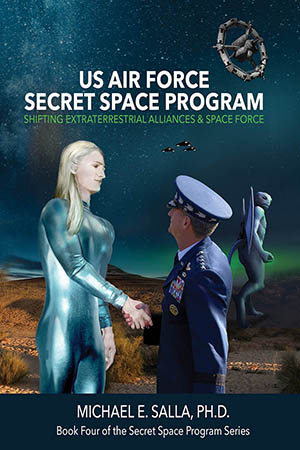 The Pentagon is slowly educating the public about advanced technologies it has secretly developed. There is abundant and compelling evidence that both the USAF and US Navy have developed secret space programs that utilize the kind of advanced aerospace technologies witnessed by the Navy pilots in the 2014/2015 and 2004 incidents.
It is most likely, however, that the US Air Force's arsenal of advanced aerospace technologies will be the first secret space program that is to be revealed given the abundance of evidence proving its existence as I have documented in the US Air Force Secret Space Program. While the Navy program focused on deep space operations, the Air Force focused on near Earth operations and its craft deployed technologies that will be easier to explain as human engineered.

It will help the unfolding UFO disclosure narrative greatly if US Navy pilots are bewildered by the advanced technologies they are witnessing, thereby pointing to such technologies belonging to another military service. This will deflect attention away from the Navy SSP to the Air Force's SSP.

It's becoming very clear that the Pentagon has decided to move forward with preparing the general public for future announcements of advanced aerospace technologies that have been secretly developed in highly classified programs. This will be used to explain the origins of many UFO sightings over the decades, including those witnessed by military pilots that were studied by AATIP. I for one, don't believe all UFO sightings can be explained as terrestrially developed advanced technologies, but certainly a great many are.
The advanced aerospace technologies secretly developed by the Air Force, as I explain in the US Air Force Secret Space Program, will be gradually disclosed with the official launch of Space Force, which is part of a long term strategic plan to eventually disclose and merge all advanced aerospace technologies developed by different branches of the US military.  In the meantime, to get more information about AATIP and multiple military pilot reports of UFOs since 2007, you can tune in this Friday to the official launch of the History Channel's, "Unidentified: Inside America's UFO Investigation".

© Michael E. Salla, Ph.D. Copyright Notice
Further Reading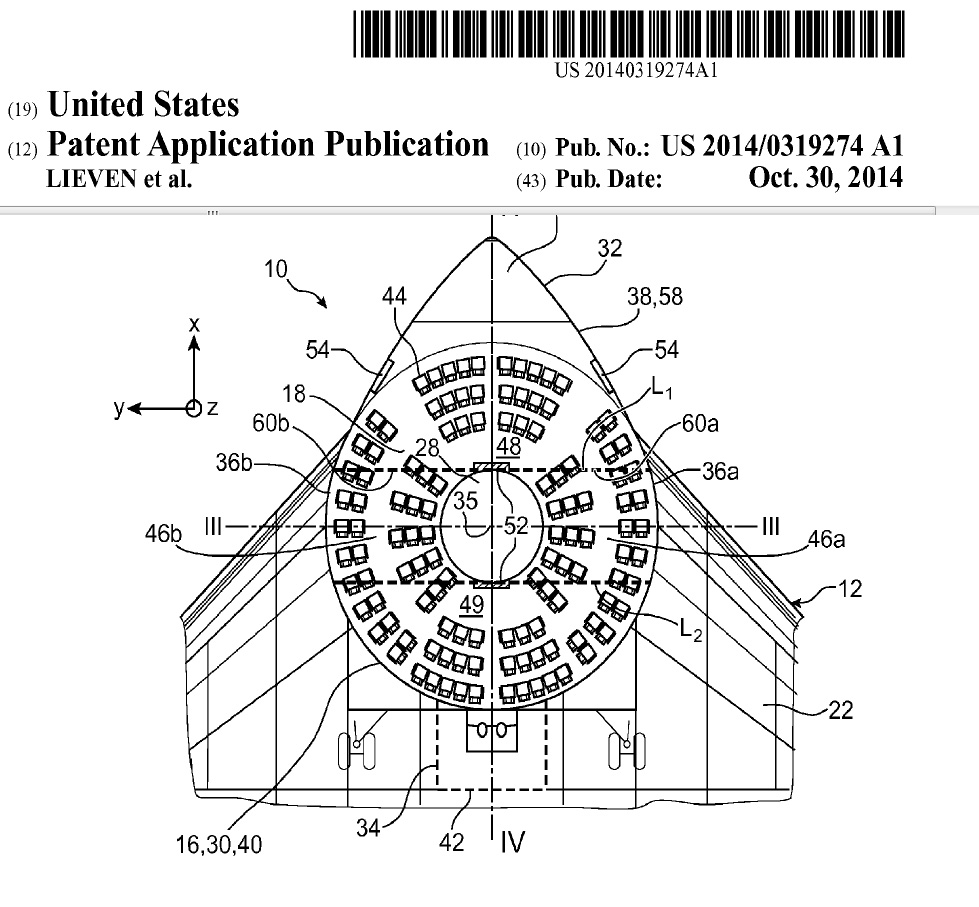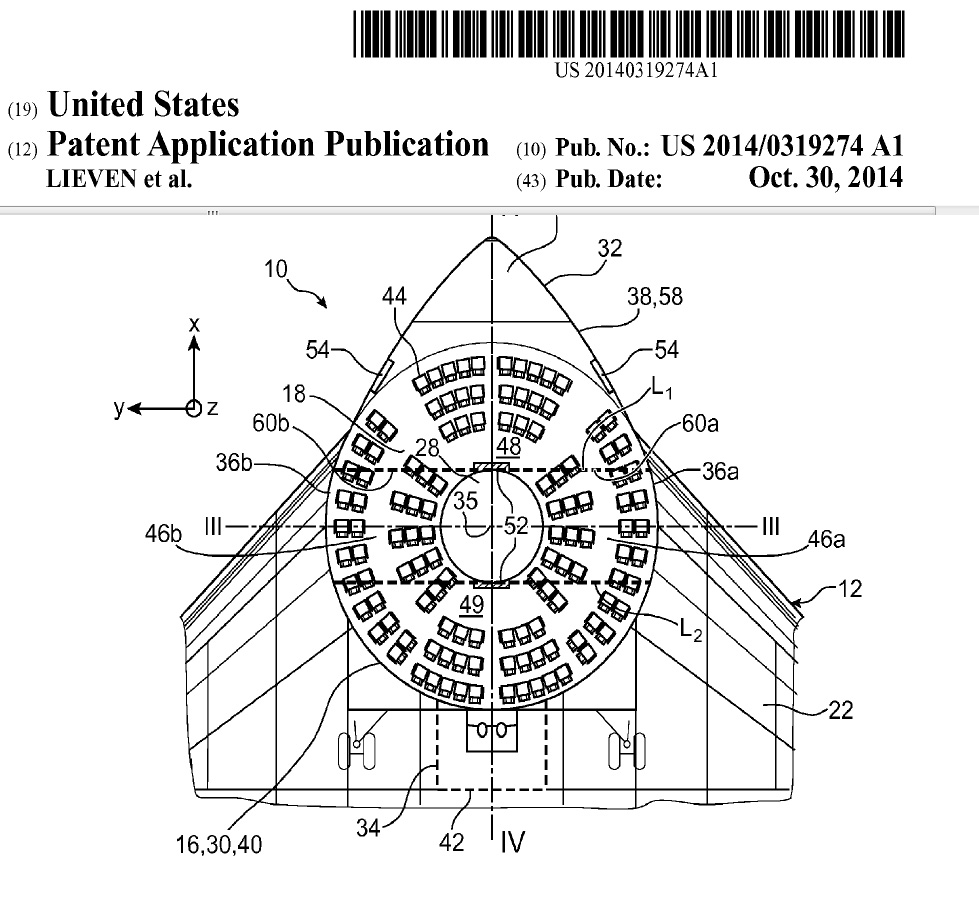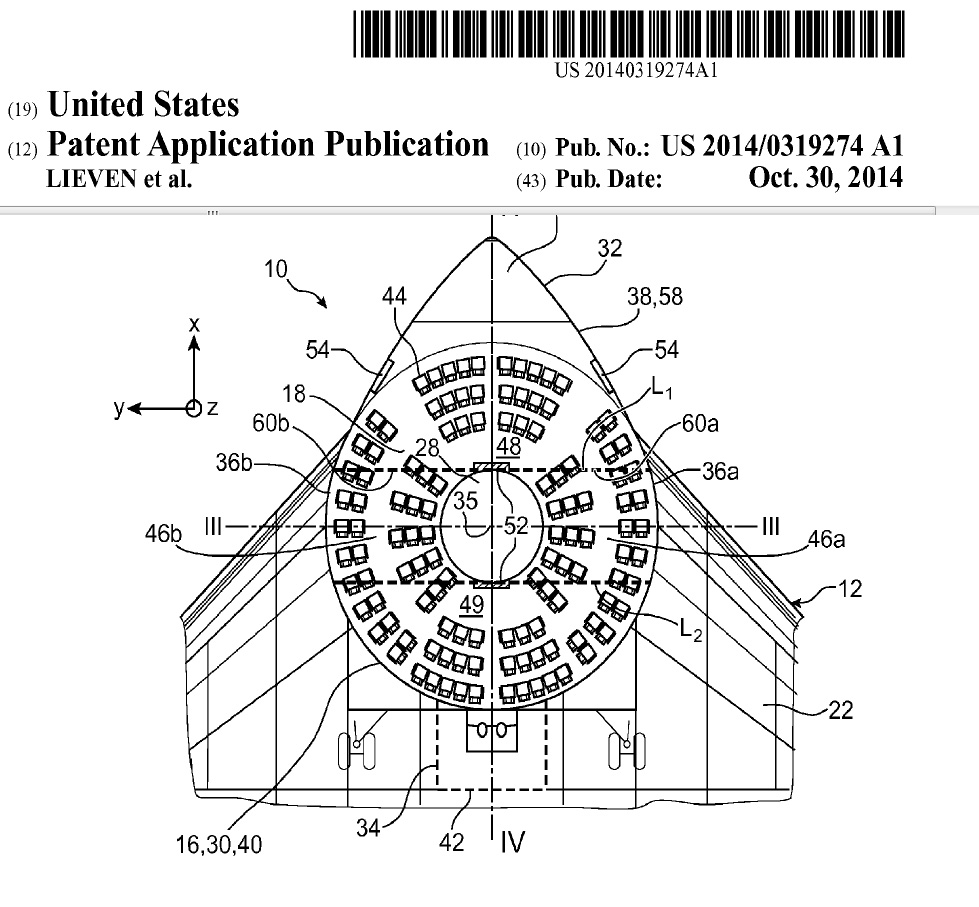 Airbus has filed a new patent for a UFO-like airplane that looks like something right out of a Sci Fi movie. RT today described the radical Airbus design as a "bagel plane" where passengers sit in a ring. The Financial Times, which was the first to announce the new design in a November 16 story, reported that the UFO-like shape addresses key structural problems faced by aircraft engineers for cylindrical designs. Will the new Airbus design use a traditional propulsion system such as aviation fuel that is currently the standard for civilian aircraft? The UFO-like design makes more sense if Airbus was preparing for an innovative future propulsion system for the aviation industry – antigravity!
The Airbus Patent application says that the design attempts to address the structural problems created by cylindrical shaped aircraft with have to deal with huge air pressures at the front and back:
The present invention proposes an aircraft wherein the structure delimiting passenger cabin extends over 360 degrees around a space defined outside structure. The invention allows structure to be more resistant to loads induced by the cabin pressurization, while allowing to reduce or even to avoid the need for a sealed bottom ….
Avoiding "a sealed bottom" leads to one of the most radical differences with conventional aircraft as the Financial Times describes regarding the "flying doughnut": "Diagrams in the patent application show passengers entering the aircraft through steps leading up to doors arranged around the hole in the doughnut's middle."
Aviation experts are skeptical that the UFO-like design is feasible. Loren Thompson from the Lexington Institute told the Financial Times: "I've never seen anyone suggest anything like this in a heavier-than-air system," Thompson's skepticism is understandable given current fuel propulsion systems for the aviation industry. So is there an alternative propulsion system that might make the Airbus design feasible?
Classified antigravity technologies have been secretly developed by military-corporate entities, but kept from the public realm for over six decades. It was revealed in 1992, for example, that the B-2 Bomber used electrostatic charges on its leading wings and exhaust.  According to aerospace experts, this was confirmation that the B-2 used electrogravitic principles based on the Biefeld-Brown Effect.  The Biefeld-Brown Effect is based on the research of Thomas Townsend Brown who in 1928 gained a patent for his practical application of how high voltage electrostatic charges can reduce the weight of objects. The B-2 bomber employs sufficiently high voltages to significantly reduce its weight. This enables the B-2 and other classified antigravity vehicles to display flight characteristics that appear to defy conventional laws of physics.
In 2002, an internal Boeing project called "Gravity Research for Advanced Space Propulsion" (GRASP) was disclosed to the aerospace industry. A GRASP briefing document obtained by Jane's Defense Weekly stated Boeing's position: "If gravity modification is real, it will alter the entire aerospace business."
According to a 2008 book by Dr Paul LaViolette, Secrets of Antigravity Technology, Boeing completed a separate classified study for the U.S. military of electrogravitic propulsion before October 2007. Boeing was rebuffed in its efforts to have such technology declassified and released into the public sector. The Airbus patent for a UFO-like "flying bagel" is the future of the aviation industry once antigravity technologies are declassified into the public arena. Perhaps on the insiders track, Airbus knows something we don't, and is getting ready for a future when "flying bagels" fill the skies!
© Michael E. Salla, Ph.D. Copyright Notice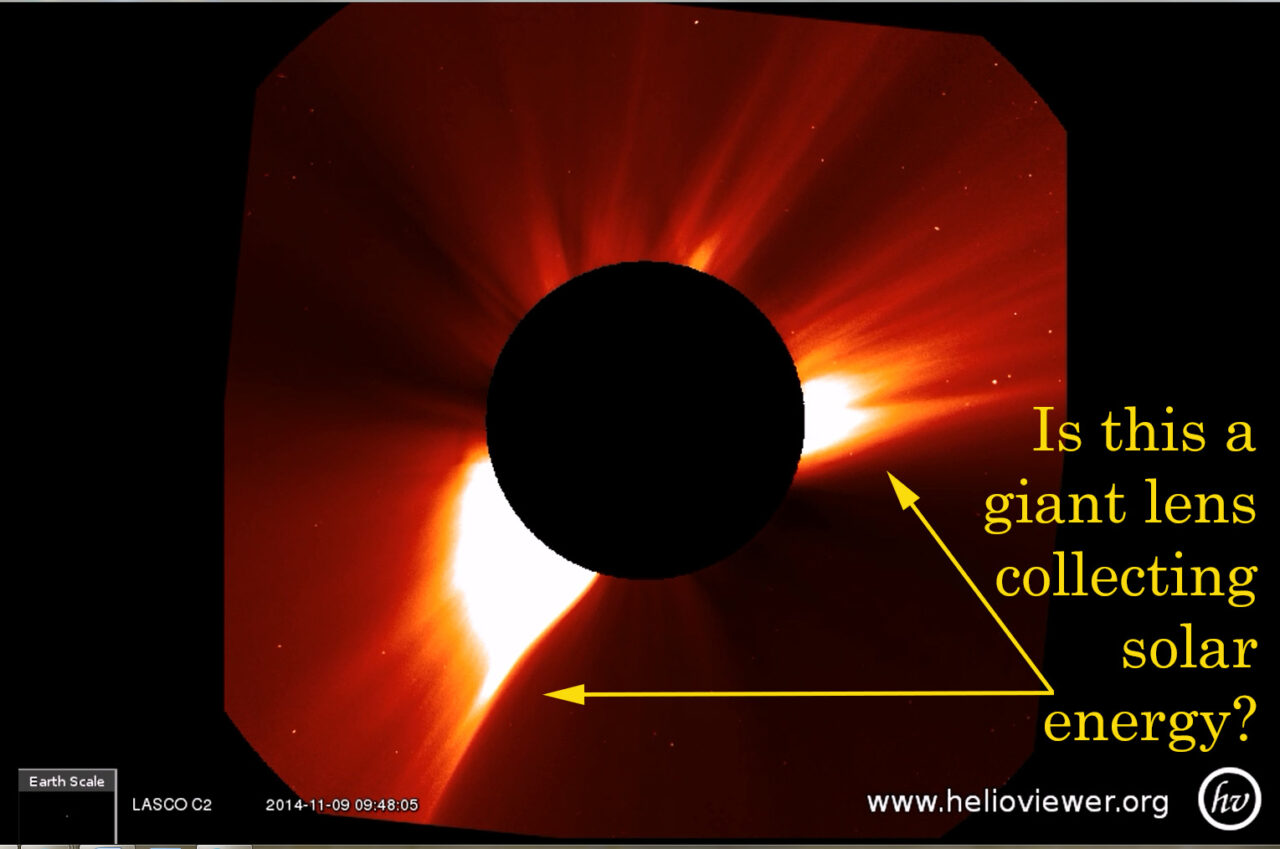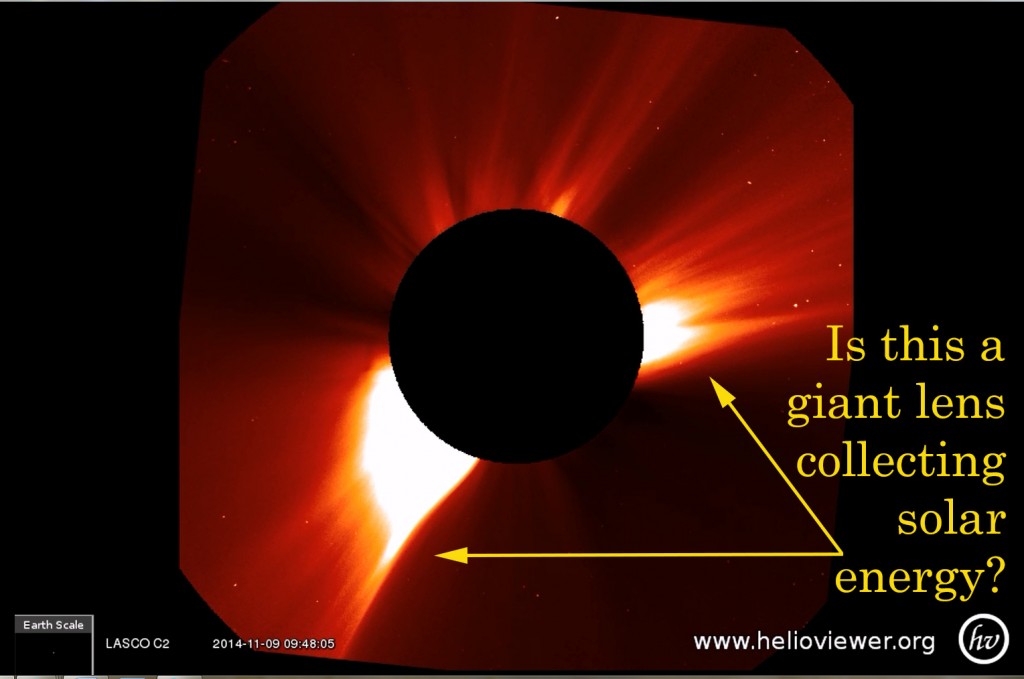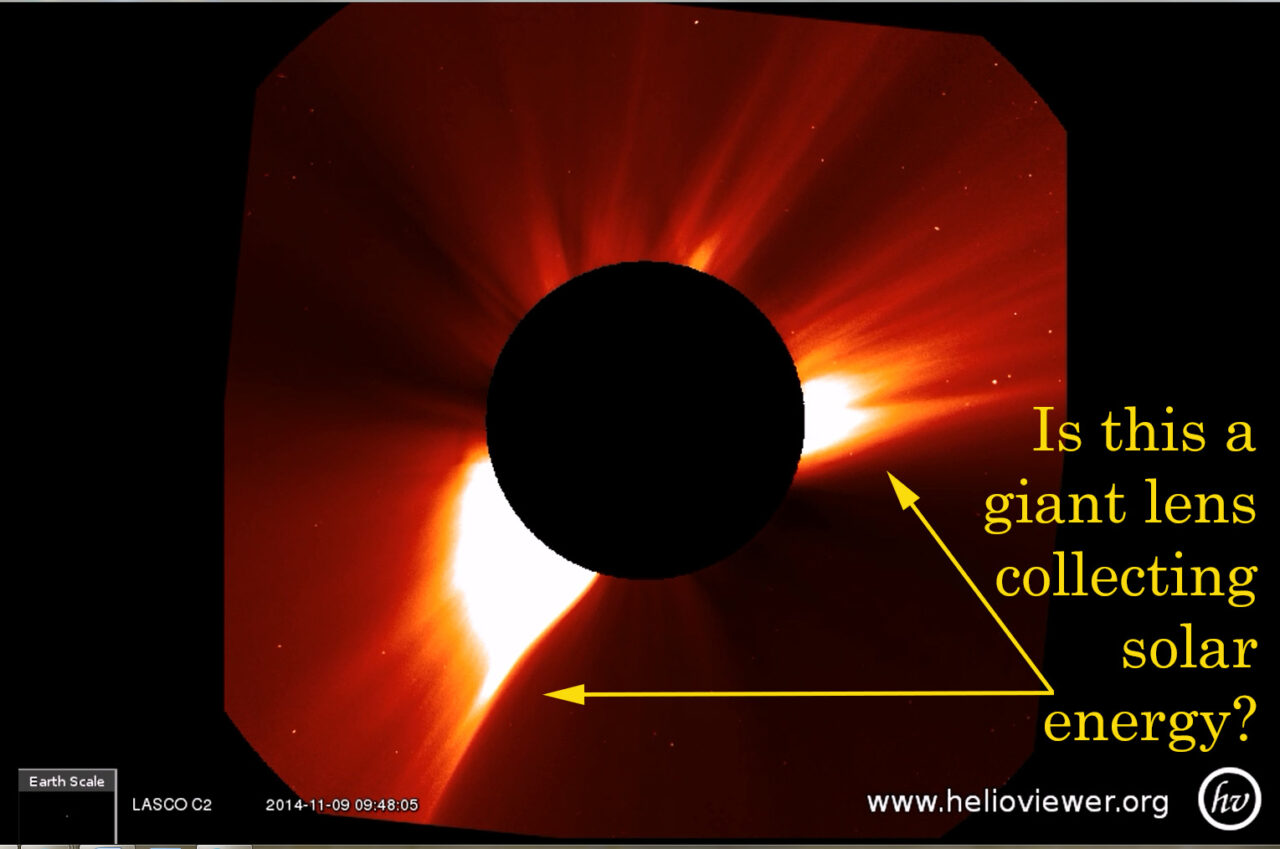 Over a four day period up to November 9, NASA's Solar and Heliospheric Observatory (SOHO) detected a strange area near the sun where solar activity was apparently being deflected or absorbed by an invisible object. According to two independent solar researchers in videos uploaded to Youtube on November 9 (see here and here), the affected area was due to a giant shield created by a UFO to protect itself from the sun's energy. An alternative explanation is that the immense spherical lens shaped field was part of an advanced technology based on the principle of a "Dyson Sphere." NASA's SOHO images appear to be evidence of the sun's energy being absorbed by a gigantic lens shaped solar collector whose approximate size is a mind staggering five times the sun's diameter!
The solar images used to identify the alleged "UFO shield"or solar collector can be publicly downloaded from SOHO's Large Angle and Spectrometric Coronagraph (LASCO). Video data from the LASCO C2 (orange) and C3 (blue) reveals that from November 6-9, an area to the lower right of the sun appears to not have any solar activity while areas around the rest of the sun do so. Either the sun's energy is being deflected back from the region by a "UFO shield" or absorbed by a giant lens of tremendous size – dwarfing the sun in comparison. The sheer size of the affected area, suggests that the hemispheric object was designed to absorb solar energy towards, rather than deflecting it away from, a UFO at the center of the hemisphere. A close inspection of the LASCO C2 (orange) film footage, in particular, suggests the sun's activity is actually being absorbed, rather than deflected, by a giant hemispheric lens of some kind.
The idea of an invisible giant hemispheric shaped solar collector is consistent with the development of a new generation of solar panel collectors that are spherical in design and use glass. One of these is called the "Rawlemon Spherical Solar Energy Generator" which is described as follows:
… the Rawlemon design uses a spherical lens to concentrate sunlight on a small photovoltaic panel and combines this with a dual-axis pivot that tracks the movement of the sun. According to the designer the transparent sphere is able collect and concentrate diffuse where traditional devices cannot and as well as providing an efficiency boost, they can be used in far more locations than their flat, fixed counterparts. It's also claimed that by concentrating the sun's light in one area, the Rawlemon design reduces the solar cell surface required to just 1 percent of that required by a traditional panel.
Could something similar to the "Rawlemon Generator" be designed on a much larger scale for collecting solar energy by an advanced extraterrestrial civilization?
According to Freeman Dyson, a celebrated astrophysicist, a Type II extraterrestrial civilization would have the advanced technology to harness solar activity on a grand scale. A Dyson sphere, for example, could be constructed around a sun to collect solar energy in ways similar to how humanity harnesses hydro power, through water channels and dams. While a Dyson Sphere is theorized to be big enough to encircle a sun, similar principles could be used for a giant "Rawlemon Generator" type solar collector where a spherical glass lens could be pointed towards a sun. This can be best described as a "Dyson Lens."
In an earlier live NASA streaming incident from August 2014 involving the STEREO A satellite, a UFO with an apparent spherical lens trailing behind it, is moving past the orbit of Venus. The UFO appears to be using the lens, which is approximately four times the diameter of Venus, to absorb the sun's energy over a six day period from August 3 – 9.  The August incident provides stunning video evidence of what appears to be a "Dyson Lens" being used by a UFO belonging to a Type II extraterrestrial civilization. It supports the evidence that the object captured by SOHO over the August 6-9 period is in fact a highly advanced solar collector as much as five times the sun's diameter.
Over the last decade, live streaming from NASA and other national space agencies has provided remarkable evidence that we are not alone in the universe. UFOs have been regularly photographed and filmed in close proximity to the International Space Station, Moon, Mars and other celestial bodies, Rarely, however, has live streaming video captured evidence that answers the question, how advanced is the technology used by UFOs? Do we now have compelling data to answer this question? Is the answer much more than we ever bargained for, and preparing us to think in much bigger terms with our future inevitably leading to contact?
© Michael E. Salla, Ph.D. Copyright Notice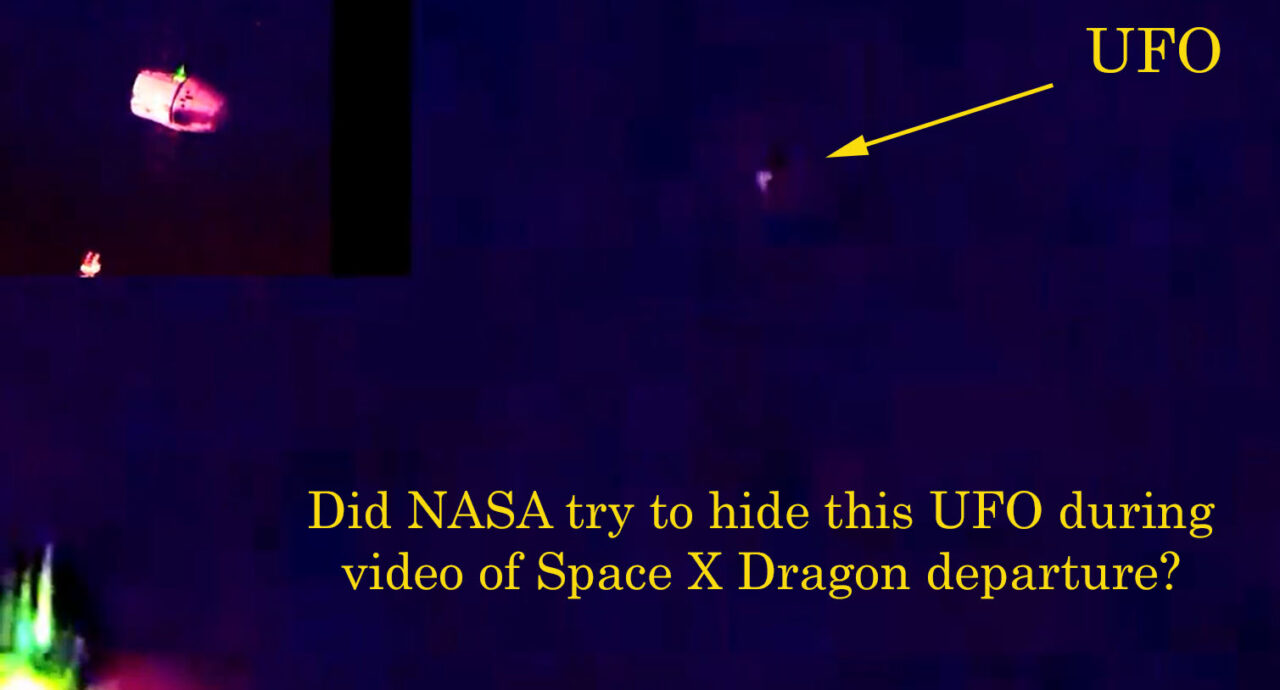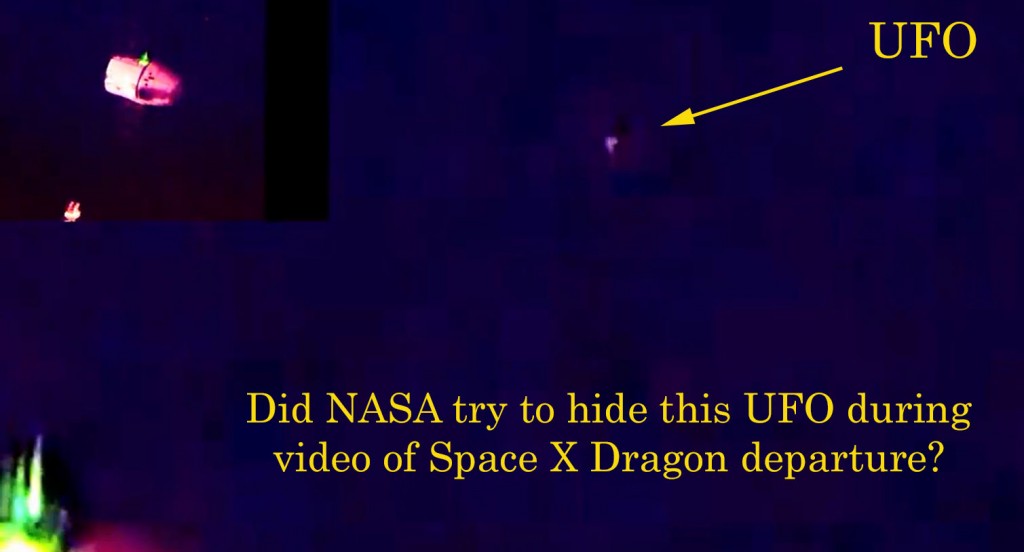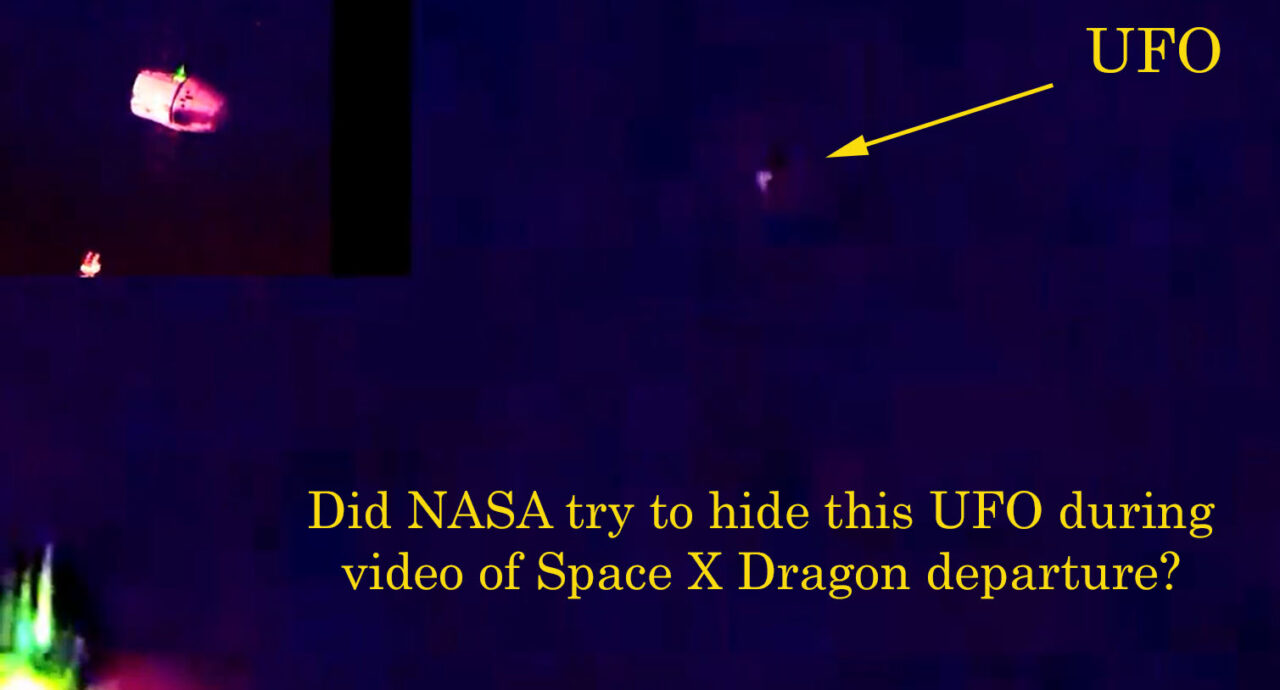 On Saturday morning, October 25, the Space X Dragon detached from the International Space Station (ISS) as it began its return mission to Earth carrying various cargo items. In NASA's video footage of the Dragon departure, uploaded the same day to Youtube, a small luminous UFO is apparently monitoring the detachment and start of Dragon spacecraft's return which conducts three burning maneuvers near the ISS. Video analysis of NASA's coverage of the incident was conducted by Third Phase of Moon that clearly identified the UFO. Furthermore, Third Phase of Moon makes the remarkable claim that NASA deliberately tried to hide the UFO as it monitored Space X Dragon's departure.
In the raw footage of the incident provided by NASA, it is hard to identify the UFO which is a small light just above and to the right of the Dragon spacecraft. According to Third Phase of Moon, this is because NASA zoomed out from the Dragon craft as soon as the UFO appeared nearby. After NASA's raw footage is subjected to video analysis through zooming and light contrasts, the UFO becomes clear. Was NASA's zooming out at the moment the UFO first appeared merely coincidental; or, as Third Phase of Moon claims, a deliberate attempt to cover up the UFO?
The Space X Dragon incident follows only three days after another small luminous UFO appeared near the ISS, this time during a spacewalk by two Russian astronauts. The UFO was very clear and appeared to maneuver near an object jettisoned by the astronauts. A day before, on October 21, two cigar shaped UFOs appeared near the ISS. In another incident on October 7, an elliptical UFO appears nearby another spacewalk by two astronauts.
The October 25 incident suggests that once again, a UFO has been filmed apparently monitoring ISS activities. If NASA was trying to cover up the latest UFO incident, this may be part of a deliberate policy of countering the frequent appearance of UFOs near the ISS that might lead the public to conclude that we are not alone.
© Michael E. Salla, Ph.D. Copyright Notice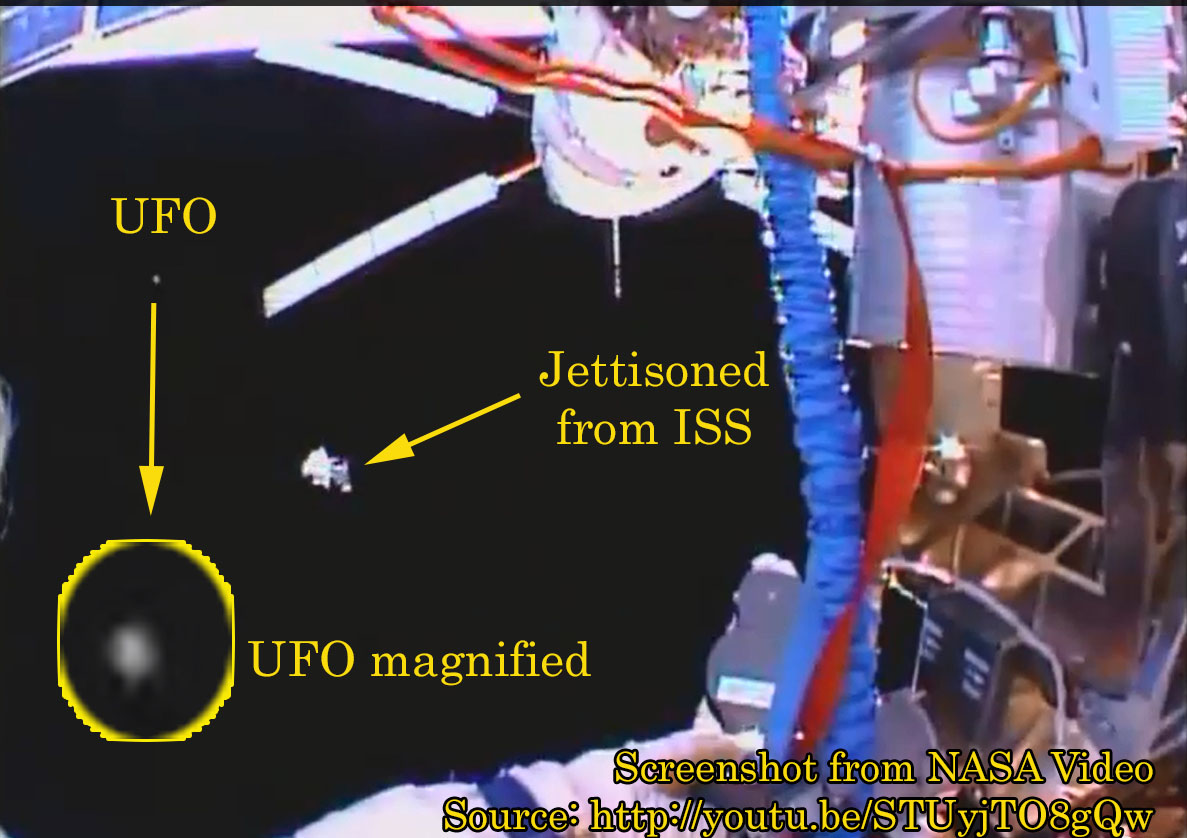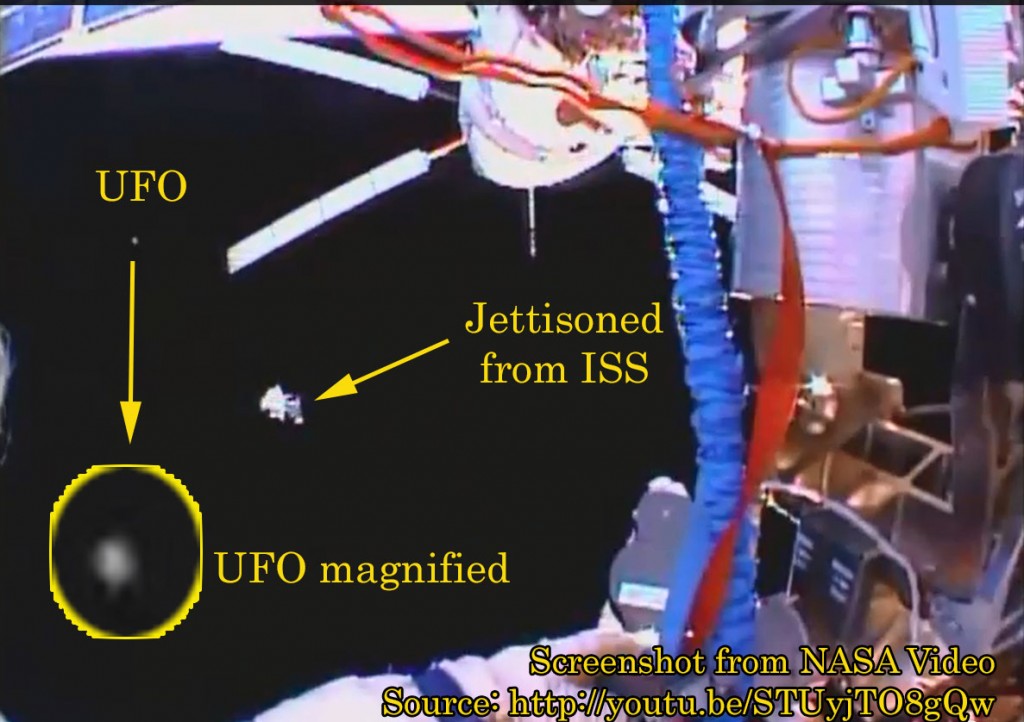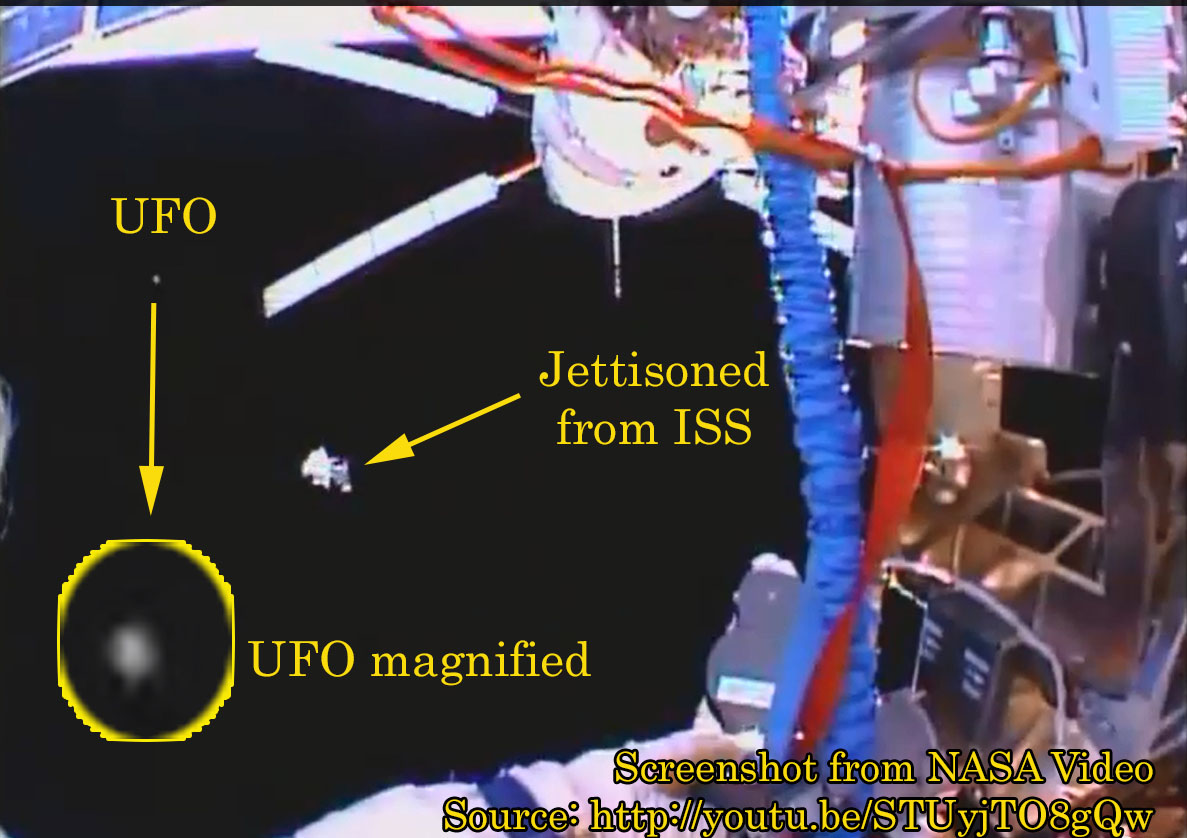 On October 22 during a spacewalk by two Russian astronauts, the International Space Station (ISS) live feed showed a luminescent UFO briefly fly nearby. The astronauts had just jettisoned two parts of the ISS that had been removed, and the live feed showed the objects slowing falling towards the earth. As the second object is jettisoned, the UFO appears and briefly maneuvers near it. The luminescent UFO does not appear to be space debris as it clearly changes direction several times. It appears to be under intelligent control suggesting either a luminescent life form indigenous to outer space, or an extraterrestrial vehicle of some kind.
The first possibility of an extraterrestrial life form that can survive in outer space was suggested in a brief video analysis of the UFO conducted by Third Phase of Moon. It was proposed that the UFO was some kind of insect. The idea of space bugs existing in outer space received a boost on August 19, 2014 after Russians scientists announced the results of a yearlong study of a strange substance that had been obscuring the windows of the ISS that had been collected by astronauts during a prior spacewalk. Russian scientists announced that the substance was a form of sea plankton growing on the windows of the ISS. Flying at an approximate altitude of 200 miles, it is extremely unlikely that sea plankton could be carried so high by air currents. Nevertheless, the sea plankton on the ISS was growing, suggesting that it was a form of plankton indigenous to outer space rather than carried into space from the Earth's surface.
Another possibility is that the luminescent object is an extraterrestrial spacecraft. If so, it would be yet another incident of spacewalking astronauts being monitored by extraterrestrial craft. October 7 was another incident of spacewalking astronauts being captured on the ISS live feed with a UFO nearby that appeared to be observing ISS activities. The UFO was elliptical in shape and stationary relative to the ISS.
The ISS live feed is clear evidence that something other than space debris was briefly captured on video during a spacewalking mission. The video is very suggestive of some form of indigenous space life, or an extraterrestrial vehicle, closely monitoring the ISS and the spacewalking astronauts.
© Michael E. Salla, Ph.D. Copyright Notice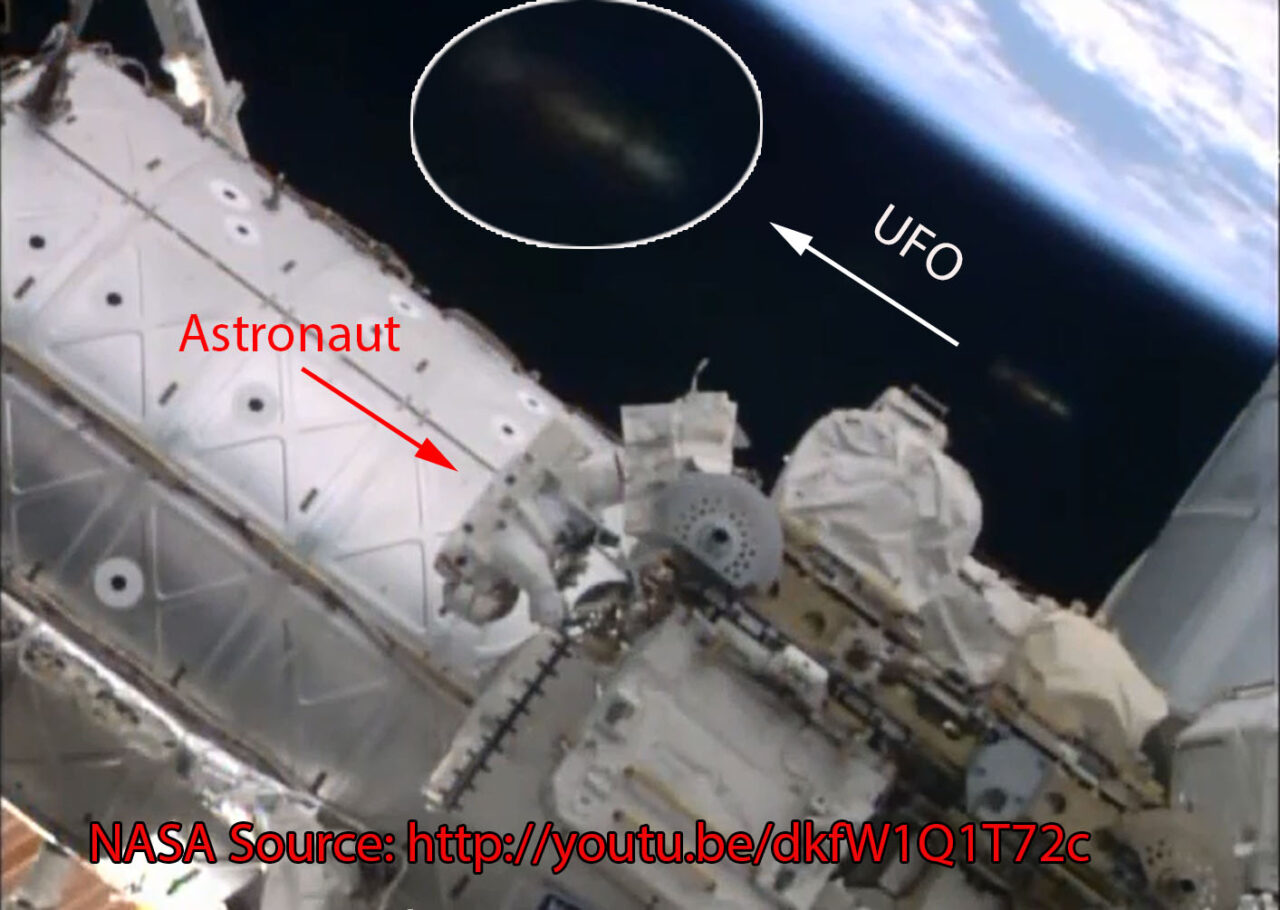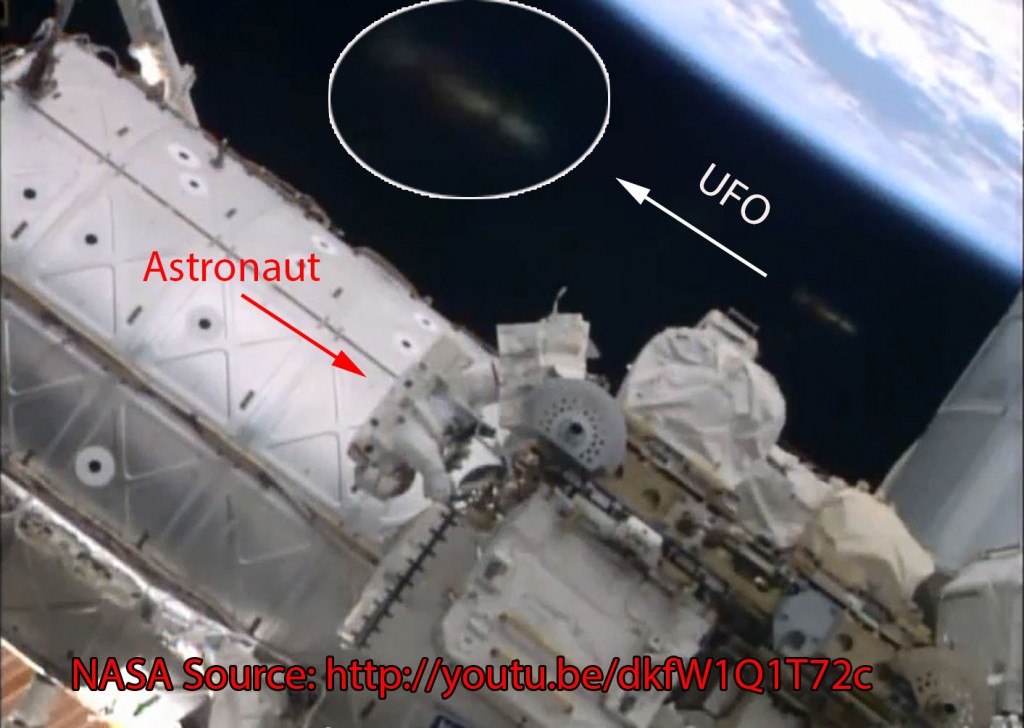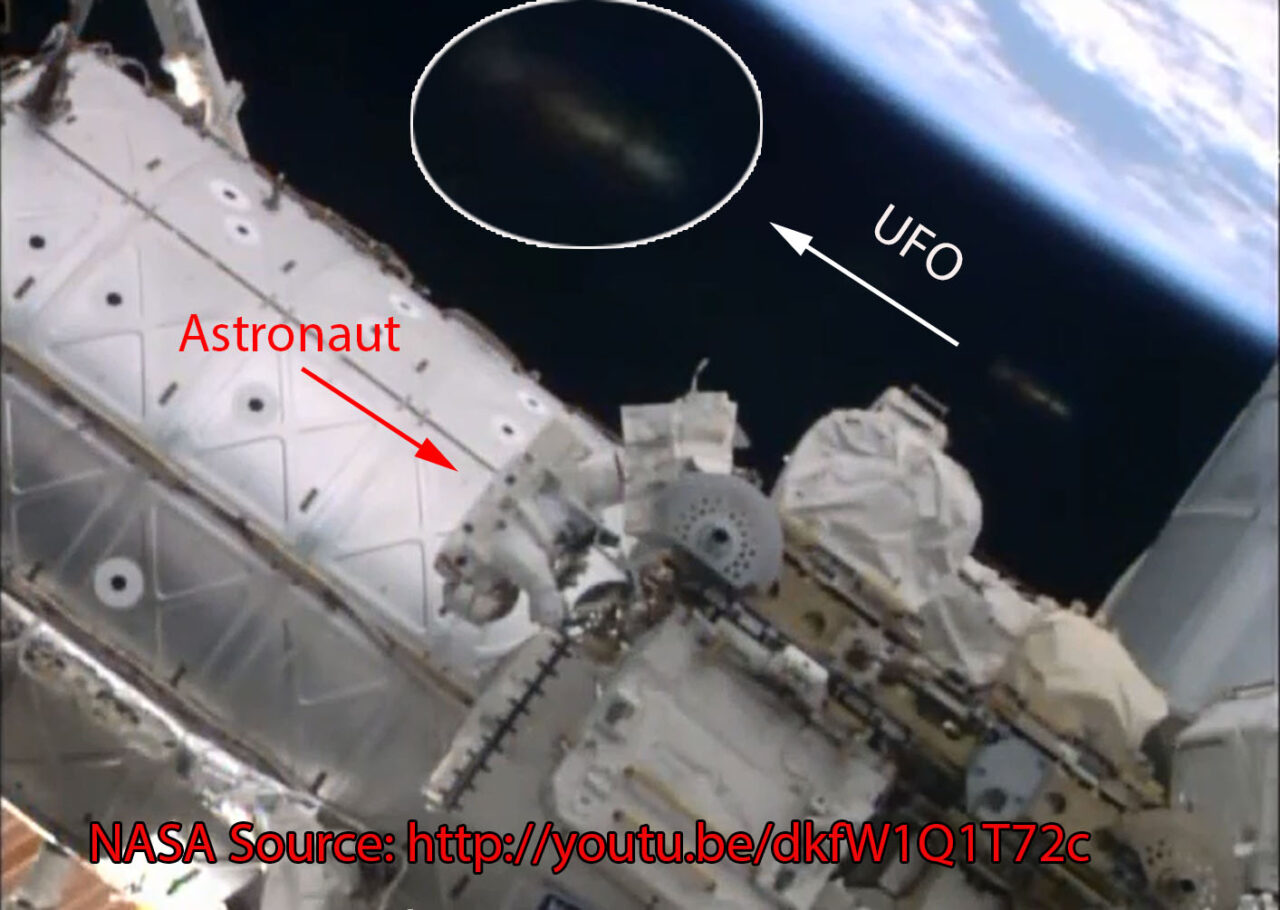 On October 7, the live camera feed from the International Space Station (ISS) captured video of a UFO near by astronauts during a spacewalk. In a Youtube video uploaded today by NASA of the spacewalk, an unknown craft is clearly visible as one of the spacewalking astronauts performs his mission. The UFO appears for 12 seconds beginning at the 1:40 minute mark (see embedded video extract). It has an elliptical metallic shape and is of unknown size. It appears to be close by and monitoring the astronauts.
One possible explanation is that the UFO could be one of two resupply ships currently visiting the ISS. On September 23, a Space X Dragon cargo ship arrived at the ISS. It was followed two days later by the Soyuz TMA-14M carrying three additional crew members. The two craft are respectively scheduled to return to Earth on October 18 and November 10. However, both craft are docked, and not floating near the ISS as the unknown object appears to doing in the October 7 video.
Another explanation is that it could be a lensflare or camera reflection of part of the ISS itself. However, lensflares and reflections typically happen as sunlight or a strong light source reflects off the sides of a camera lens and/or nearby objects. However, there does not appear to be any strong source of light near the astronauts or camera during the video segment when the UFO appears. The even light in the background of the video during the critical period appears to rule out a lensflare/camera reflection explanation.
The video footage follows incidents earlier in 2014 which showed what appeared to be UFOs visiting the ISS. The most revealing occurred on January 29 and involved live video feed of a yellow elliptically shaped UFO that appeared to actually have docked with the ISS. This raised remarkable possibility that the ISS was being visited by unknown astronauts or even extraterrestrials. To date, no satisfactory answer has been given by NASA for the unknown spacecraft captured on video docking with the ISS.
The October 7 incident cannot be video of either the Dragon X or Soyuz spacecraft which are docked. Nor does it appear to be caused by a lensflare/camera reflection. The elliptical shape of the object is consistent with earlier incidents at the ISS involving UFOs close by or even docking with the ISS. Is it possible that once again, a spacecraft of unknown origin has been captured on video visiting the ISS, this time monitoring a spacewalk by two astronauts?
© Michael E. Salla, Ph.D. Copyright Notice
Further Reading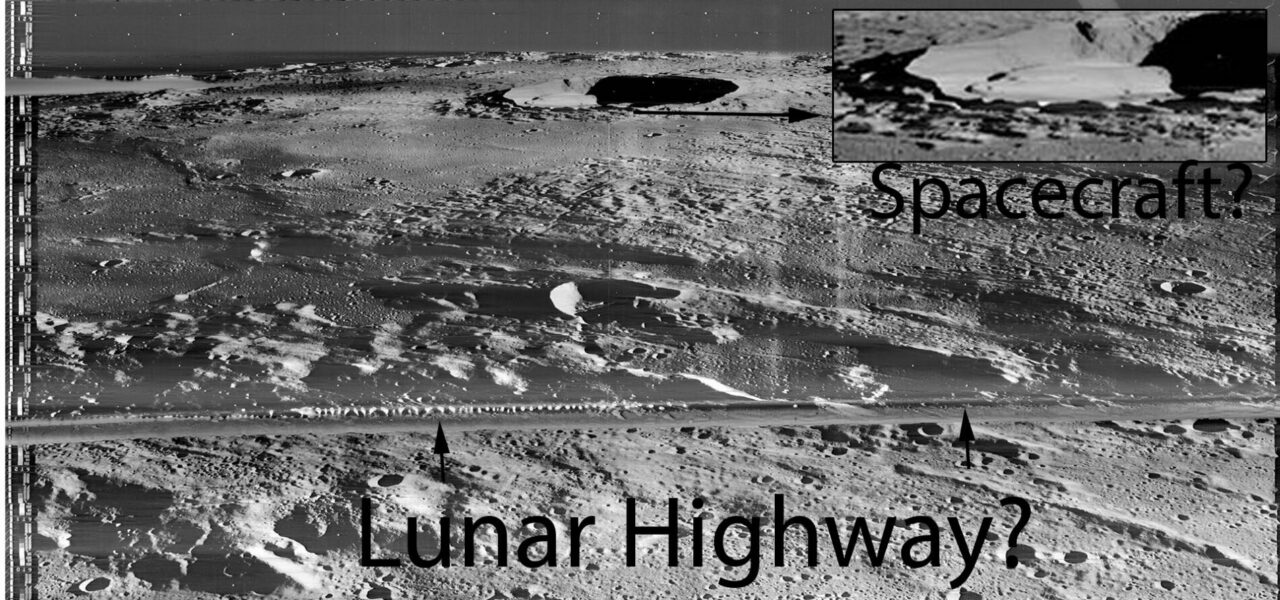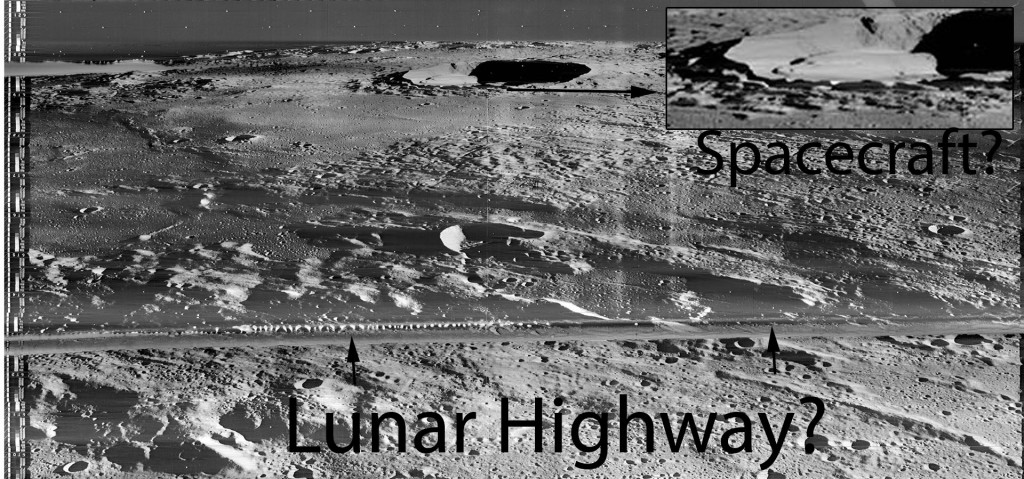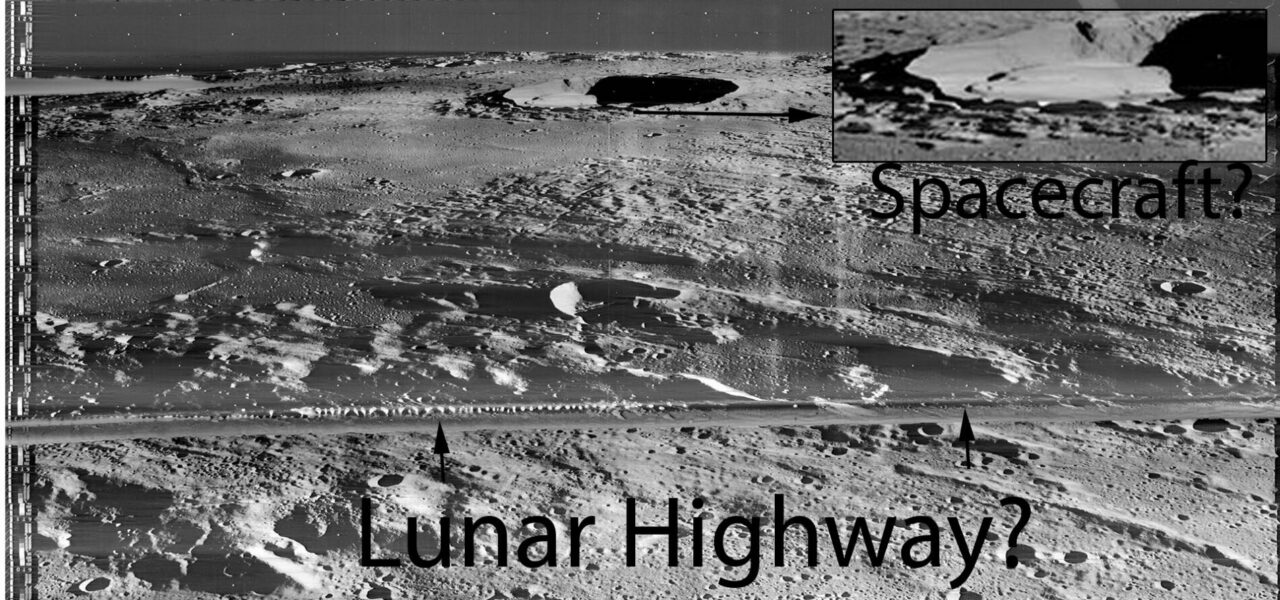 A 1968 photo taken during a Lunar Orbiter mission to the moon shows what appears to be a spacecraft that is at least 10 miles (16 km) long resting inside the Crater Manlius. The photo was the subject of a Youtube video that was released on October 4 that shows various close ups and light contrasts of the apparent spacecraft. Most of the object is well illuminated by the sun, but the rest is in the shadows of the crater which is approximately 20 miles (34 km) in diameter, What appears to be a spacecraft cockpit is in shadows. According to an October 5 blog post on UFO Sightings Daily, the object is a UFO that was being secretly studied by NASA, and the real target for upcoming Apollo moon missions.
The apparent spacecraft was photographed by Lunar Orbiter III (frame 3073) that was sent in 1967 to map the moon for future Apollo missions. Prior to its October 2014 "rediscovery," the UFO in the photo was discovered in October 2007 and discussed on an online forum where the consensus was that it was a spacecraft of some kind.
One possible explanation of the object is that it is an optical illusion based on a depression in the crater, rather than a large spacecraft resting on the crater's surface. The contours of the object as it meets the shadow cast by the sun from the crater's rim, however, appears to rule out such an explanation.
What is perhaps even more solid evidence of something artificial on the moon's surface in the same Lunar Orbiter photo is what appears to be the remains of a road that is approximately 60 miles (100 km) long on the moon's surface. The apparent road is surprisingly straight and covers the entire width of the Orbiter photo suggesting it is even longer. This suggests that it is not a natural depression on the lunar surface. Even more surprisingly, the roadway was not discussed in either the Youtube video or the UFO Sightings Daily blogpost.
The object captured by the Lunar Orbiter III does appear to be a huge spacecraft that is at least 10 miles long resting on the surface of the Crater Manlius, rather than an optical illusion from a depression in the crater. A possibility of artificial structures on the moon that is harder to dismiss is what appears to be the remains of an ancient lunar highway that is at least 60 miles long.
© Michael E. Salla, Ph.D. Copyright Notice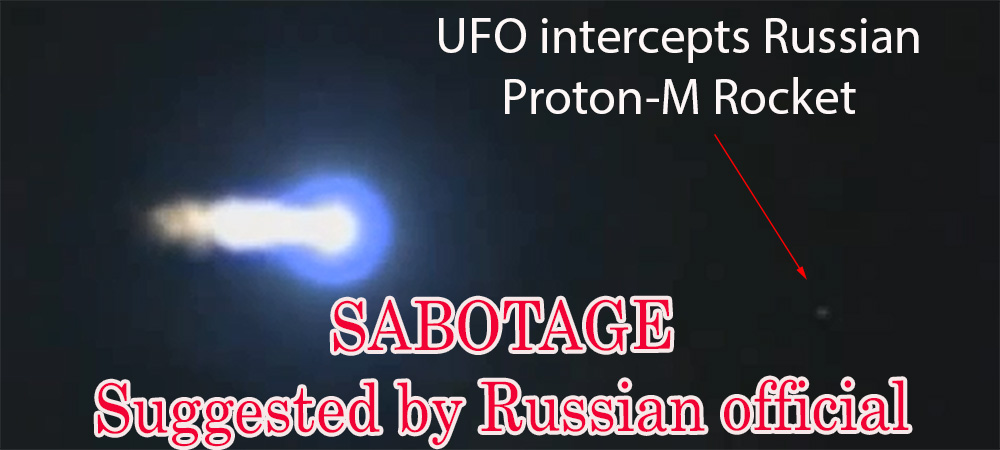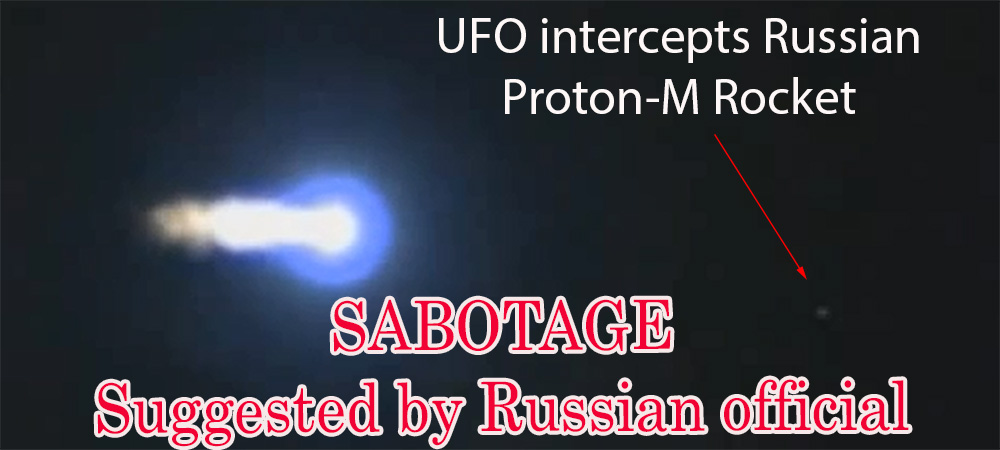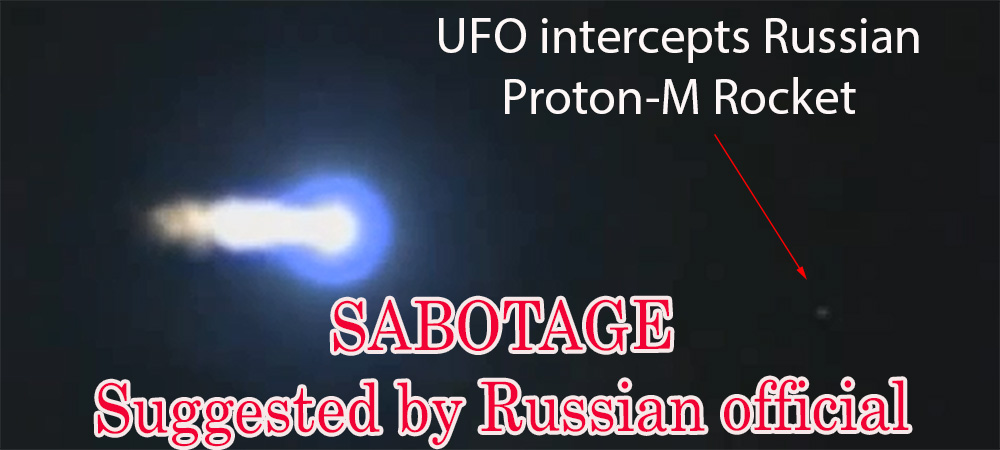 On Thursday morning,
RT News reported
that Russia's chief investigator into the cause of the May 16 Proton-M rocket crash raised the possibility that sabotage was involved. Aleksandr Danilyuk, who chairs the inter-departmental commission investigating the crash, said:
All variants are being analyzed in detail. As of today the most likely version involves the failure of a bearing unit in the turbine pump assembly. But, I repeat, all versions are under consideration. The sabotage version has not been ruled out.
Given video evidence extracted from the Russian Space Program that a UFO intercepted and apparently caused the third stage malfunction that led to the rocket's destruction, Danilyuk appeared to be suggesting that a UFO did indeed "sabotage" the rocket.
In a related development, UFO debris was collected by Chinese government officials shortly after the Proton-M rocket crash. Initial media coverage suggested it was remains of the rocket but Russian scientists insisted that the rocket would have largely disintegrated before impacting the earth. This raised the possibility that the strange spherical objects retrieved in China may be the remnants of the UFO that intercepted the Proton-M rocket. Presently, Chinese authorities are investigating the spherical objects.
Danilyuk's public admission earned a rare public rebuke by Russia's deputy Prime Minister, Dmitry Rogozin, who said in a statement released today shortly after RT's earlier report:
The Roscosmos commission which has been investigating the accident should first complete its work and submit the results of the investigation to the government before "tormenting" the society with new versions of the accident.
Was the public spat between senior Russian officials merely due to an overzealous space investigator overstepping his authority, or was he spilling the beans on a belligerent action conducted by a foreign power against the Russian Federation?
Video footage of the crash clearly shows the trajectory of what appears to be a UFO that intercepts the rocket about 40 seconds before the deployment of the sophisticated communications satellite. Despite video evidence of something intercepting the rocket, official reports on the rocket's demise focused on a possible malfunction of the rocket's engines. Danilyuk's public admission has placed the spotlight on the intercepting UFO as the possible source of "sabotage."
Danilyuk's admission that sabotage was a possible cause of the rocket's failure is significant given video footage of an intercepting UFO. If a UFO did "sabotage" the rocket, why would the Russian Deputy Prime Minister be so quick to slap down such speculation? Perhaps he is being cautious and wants to defuse public speculation about sinister forces acting against the Russian Federation. Alternatively, the public spat may be a way for the Russian government to indirectly confirm that a belligerent foreign power possesses UFO technologies that was used to intercept and destroy a Russian rocket.
© Michael E. Salla, Ph.D. Copyright Notice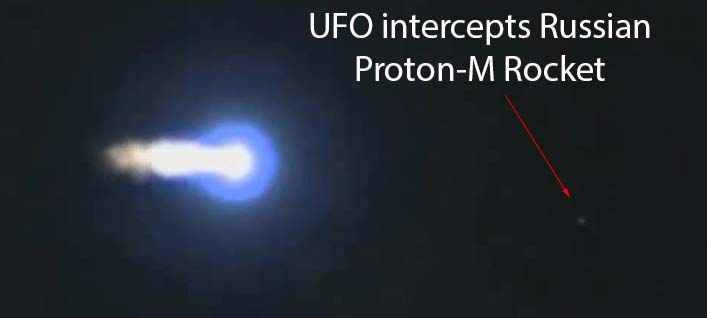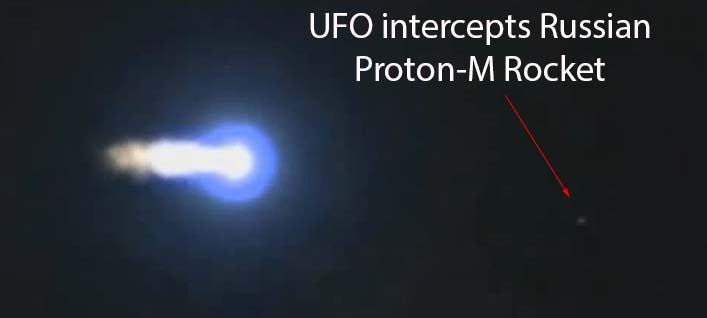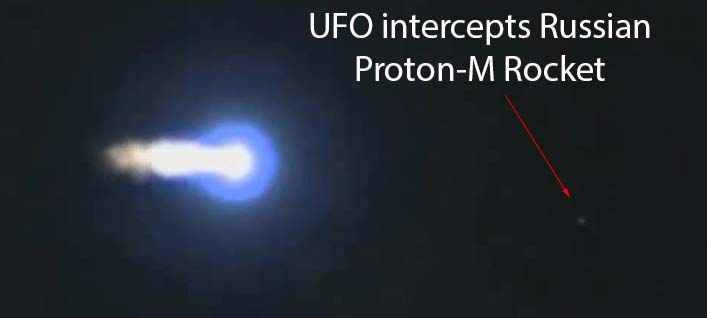 A Russian Proton-M rocket has crashed approximately nine minutes after launch from Baikonur, Kazahkstan on Friday, May 16 (local time). The rocket was carrying Russia's most sophisticated communications satellite, the Express-AM4R which was designed to provide internet access to remote Russian territories. According to the Russian space agency, Roscosmos, there was a problem with the third stage of the engine that may have caused the crash. Video analysis of the Proton-M rocket showed another possible reason. Forty seconds before the third stage was scheduled to deploy the satellite, a UFO is seen intercepting the rocket and then leaves just as the third stage of the rocket begins to malfunction. The video is evidence that a UFO caused the destruction of the Russian rocket.
In reporting the crash RT news was able to get a report from the head of Roscosmos, Oleg Ostapenko who said:
"The exact cause is hard to establish immediately, we will be studying the telemetry. Preliminary information points to an emergency pressure drop in a steering engine of the third stage of the rocket."
Live video of the rocket as it reaches an altitude of 150km shows a small ball of light streaking across the sky. The UFO intercepts the rocket and leaves just as the rocket's third stage begins to behave erratically. The conclusion that emerges from the recorded video is that the UFO intercepted and caused the Russian rocket to malfunction just before the satellite was to separate and deploy.
This is not the first time that a UFO has intercepted and apparently destroyed a rocket carrying a sensitive payload. Another incident occurred at Big Sur California in 1964. Professor Robert Jacobs then served as a Lieutenant with the U.S. Air Force and was stationed at Vandenberg Air Force base. He was responsible for filming the test of a ballistic missile capable of carrying nuclear warheads. He described the incident as follows:
[W]e were testing ballistic missiles that were to deliver nuclear weapons on target… my duty [was] to supervise the instrumentation photography of every missile that went down in that western test range… and into the frame came something else…. So this thing [UFO] fires a beam of light at the warhead, hits it and then it [the UFO] moves to the other side and fires another beam of light, then moves again and fires another beam of light, then goes down and fires another beam of light, and then flies out the way it came in. And the warhead tumbles out of space.
Jacobs went on to describe the height and speed of the UFO that intercepted and disrupted the ballistic missile launch:
The object, the points of light that we saw, the warhead and so forth, were traveling through subspace about 60 miles straight up. And they were going somewhere in the neighborhood of 11,000 to 14,000 miles an hour when this UFO caught up to them, flew in, flew around them, and flew back out.
Significantly, the incident has striking similarities with the UFO that intercepted and apparently caused the Russian Proton Rocket to malfunction and explode. Both interceptions occurred at altitudes of 100km or more, and speeds of 16,000 km/hr or more. In the mid-1960's there was no known terrestrial technology that could intercept and maneuver around ballistic missiles in the manner described by Jacobs. By 2014, however, such technology may be in the hands of several nations or corporations that participate in a highly classified space program, and could use it to destroy rockets from any major nation. Evidence of a highly classified space program using propulsion technologies far in advance of conventional rocket technologies is extensive.
While video evidence clearly suggests that a UFO did intercept and disrupt the third stage of the Russian Proton-M Rocket, it is not clear to whom the UFO belongs. One thing is certain, whoever launched the UFO conducted an act of aggression against the Russian Federation. At a time of great international tension over the Ukraine conflict, the question that arises is, is some mysterious entity with advanced UFO technology stoking international tensions by provoking Russia into taking punitive military actions against perceived antagonists?
© Michael E. Salla, Ph.D. Copyright Notice
Further Reading