Chief Russian Investigator suggests (UFO) sabotage caused rocket failure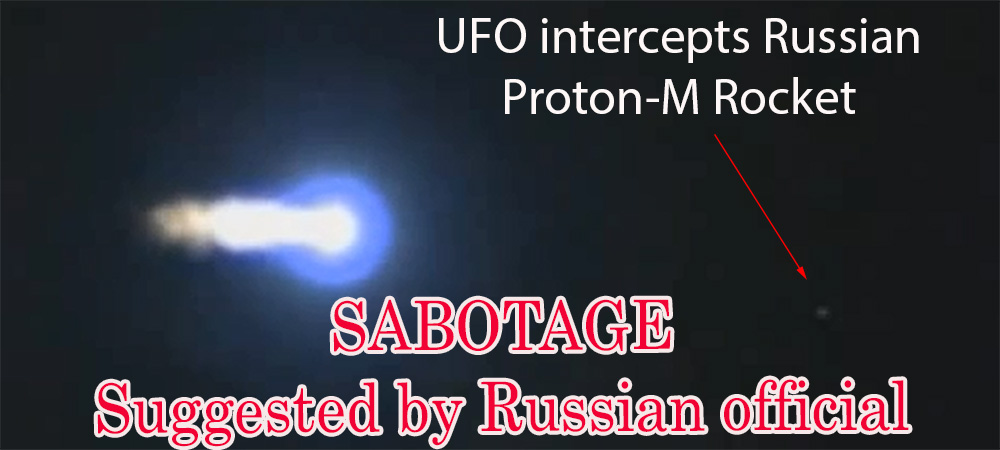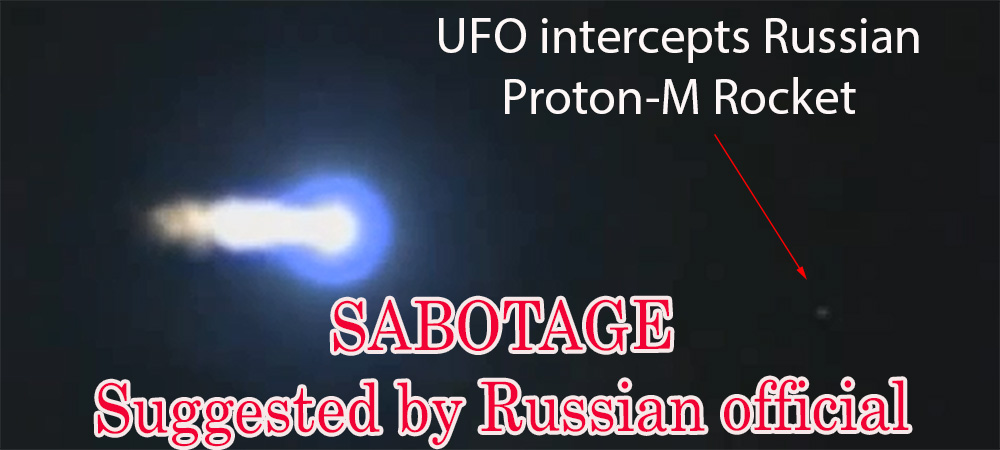 On Thursday morning,
RT News reported
that Russia's chief investigator into the cause of the May 16 Proton-M rocket crash raised the possibility that sabotage was involved. Aleksandr Danilyuk, who chairs the inter-departmental commission investigating the crash, said:
All variants are being analyzed in detail. As of today the most likely version involves the failure of a bearing unit in the turbine pump assembly. But, I repeat, all versions are under consideration. The sabotage version has not been ruled out.
Given video evidence extracted from the Russian Space Program that a UFO intercepted and apparently caused the third stage malfunction that led to the rocket's destruction, Danilyuk appeared to be suggesting that a UFO did indeed "sabotage" the rocket.
In a related development, UFO debris was collected by Chinese government officials shortly after the Proton-M rocket crash. Initial media coverage suggested it was remains of the rocket but Russian scientists insisted that the rocket would have largely disintegrated before impacting the earth. This raised the possibility that the strange spherical objects retrieved in China may be the remnants of the UFO that intercepted the Proton-M rocket. Presently, Chinese authorities are investigating the spherical objects.
Danilyuk's public admission earned a rare public rebuke by Russia's deputy Prime Minister, Dmitry Rogozin, who said in a statement released today shortly after RT's earlier report:
The Roscosmos commission which has been investigating the accident should first complete its work and submit the results of the investigation to the government before "tormenting" the society with new versions of the accident.
Was the public spat between senior Russian officials merely due to an overzealous space investigator overstepping his authority, or was he spilling the beans on a belligerent action conducted by a foreign power against the Russian Federation?
Video footage of the crash clearly shows the trajectory of what appears to be a UFO that intercepts the rocket about 40 seconds before the deployment of the sophisticated communications satellite. Despite video evidence of something intercepting the rocket, official reports on the rocket's demise focused on a possible malfunction of the rocket's engines. Danilyuk's public admission has placed the spotlight on the intercepting UFO as the possible source of "sabotage."
Danilyuk's admission that sabotage was a possible cause of the rocket's failure is significant given video footage of an intercepting UFO. If a UFO did "sabotage" the rocket, why would the Russian Deputy Prime Minister be so quick to slap down such speculation? Perhaps he is being cautious and wants to defuse public speculation about sinister forces acting against the Russian Federation. Alternatively, the public spat may be a way for the Russian government to indirectly confirm that a belligerent foreign power possesses UFO technologies that was used to intercept and destroy a Russian rocket.
© Michael E. Salla, Ph.D. Copyright Notice