US to create Exopolitics Department to run alien affairs according to insiders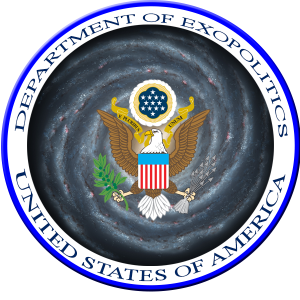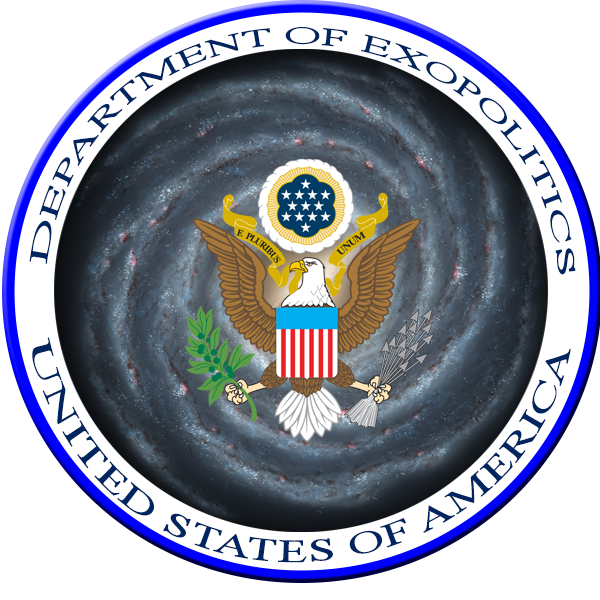 According to well-informed sources the US Government is set to announce a new department or office that would run extraterrestrial affairs. Today, in his latest installment in the popular Veterans Today website about an undeclared space war, Dr Preston James argues that an internal decision is about to be reached by a secret "exopolitics" committee that manages extraterrestrial affairs. They are on the verge of deciding that the time has arrived to go public – full disclosure of an extraterrestrial presence. The Secret Committee is called Majestic 12 or MJ-12 according to Dr James, and it is about to approve the creation of a formal Department or Office of Exopolitics. Its job would be to formally conduct relations with extraterrestrial life in the same way that the Department of State manages US relations with international governments. Dr James claims several "esteemed" individuals are under consideration to run the first Department/Office of Exopolitics.
Dr James begins with reports he has received from unnamed sources about the deliberations of the secret exopolitics committee called MJ-12 that has run extraterrestrial affairs since 1947. He writes that the decision to go public is being driven largely by younger members:
"some reports have suggested that there has been a deep internal split in this group, with younger members pushing hard for complete USG public disclosure followed by the setting up of an official USG Department of Exopolitics".
James claims that several "esteemed individuals" have already been considered to run the proposed "office:"
USG is now in the process of setting up an official Office for Exopolitics and considering several esteemed individuals from which to choose a director to run this new office.
There is a major difference between creating a new government Office versus a new Department. There are a variety of bureaucratic models that could be used in creating a government entity to formally conduct exopolitics – relations with extraterrestrial visitors. Here are the three that stand out as the most obvious choices.
First, some existing government departments would argue that exopolitics is merely an extension of their current activities and therefore should be located entirely within their department. For example, the U.S. Department of State could argue that US government relations with alien civilizations is an extension of its current role of managing relations with international governments. Therefore an "Office for Exopolitics" should be set up within the Department of State in the same way in which the "Office for Civil Rights" is located within the Department of Education. The main advantage here is that an "Office of Exopolitics" could be expected to harmonize with ongoing diplomatic relations at an international level. Main disadvantage is that other government departments and agencies could argue that key areas of relations with extraterrestrial visitors fall under their responsibilities, e.g., Department of Defense, Department of Energy, NASA, etc.
A second bureaucratic model would be to set up an "Exopolitics Office" that directly reports to the US President such as in the case of "The Office of Science and Technology Policy" whose mandate is:
advises the president on the effects of science and technology on domestic and international affairs. It also develops, coordinates, and implements science and technology policies and budgets.
The main advantage here is that the US President, for the first time since Presidents Truman and Eisenhower would be directly involved in setting policy on extraterrestrial visitors. Main disadvantage is that relations with extraterrestrial visitors is too important an issue to add to an already overburdened President whose responsibilities are diverted to many government priorities.
A third bureaucratic model would be to create a Department or Agency for Exopolitics that would be a fully independent entity with its own bureaucracy and headed by a Secretary or Director that would be given Cabinet status within the Obama administration. This model has many advantages since it could coordinate policies on a wide range of issues, diplomatic relations, defense, science and technology, energy, health, etc. that involve extraterrestrial life and technology. The main disadvantage is that other more established government departments might compete with and undermine the new Exopolitics Department/Agency in terms of policy and influence over extraterrestrial affairs.
There is no precedent for setting up a Department or Office of Exopolitics in the world. While the United Nations passed Decision 33/426 in 1978 authorizing the creation of a UN Agency to monitor reports of UFOs and extraterrestrial life, the decision was never implemented by member states. The only bureaucratic history that is known with any degree of reliability is that the Majestic 12 committee that originally constituted a de facto Office of Exopolitics was initially set up as a covert program within the US National Security Council system. Here is a description of MJ-12's reconstitution during the Eisenhower administration:
The most significant institutional reorganization as far as political management of the ET presence was concerned was expanding and formalizing MJ-12 as an autonomous institution fully authorized by executive order to deliberate upon and make policy decisions on the ET presence. MJ-12 became formally embedded in the Covert Operations Committee of the National Security Council – Committee 5412, named after National Security Council Edict 5412. MJ-12's earlier existence as an ad hoc committee appointed by executive authority, was now transformed into a permanent sub-committee institutionally embedded within the most secret of all the National Security Council's committees. Evidence from whistleblower testimonies suggest that Truman's ad hoc committee, MJ-12, was reorganized so as to now comprise two layers. The outermost layer was a group of up to 40 individuals who would form a Study Group (hence the names PI-40 and Special Studies Group also attributed to MJ-12) whose function was to provide specialized studies and policy recommendations concerning ET issues for a smaller decision making group (MJ-12) that would actually make official policy recommendations for implementation after gaining executive approval by Eisenhower.
Initially hidden within the National Security Council system, the MJ-12/Office of Exopolitics has morphed over time into a quasi-governmental entity with significant corporate involvement, and a distinct international element.
According to Dr James' undisclosed sources:
[Y]ounger members of MJ-12 want complete public disclosure as soon as possible, within 2013 and have actually been providing leaks for over twenty years, helping Hollywood writers and producers by supplying information so that movies can be made and the public can be conditioned in small baby steps to accept the idea of alien visitation.
How credible is Dr James and his unnamed sources? Veterans Today is a highly respected website which has key individuals in its editorial board with deep connections to the world of military intelligence. Dr James is a board certified psychologist with 35 years experience in marriage/family therapy, and claims many contacts with those in military intelligence. His professional background and military intelligence connections suggest his sources are worth taking seriously.
If Dr James' sources are correct then not only can we expect a formal government disclosure of extraterrestrial life in the near future, but the creation of a US Government Office or Department of Exopolitics to follow soon after. The Director/Secretary of such an Office/Department could be vetted by Congress to determine their suitability in managing the most important policies confronting humanity in the 21st century.
Creating an Exopolitics Office or Department, would be a tremendous step forward in bringing transparency and accountability to how relations with extraterrestrial visitors are being run by elements of the US government, and internationally. For the first time, American citizens would be informed of how covert elements of their government is managing the issue of extraterrestrial life and technology, and will have a voice in how policies are developed and implemented.
© Copyright 2013. Michael E. Salla, Ph.D.. exopolitics.org
This article is copyright © and should not be added in its entirety on other websites or email lists. Permission is granted to include an extract (e.g., introductory paragraph) of this article on websites and email lists with a link to the original.
Further Reading
Department of Exopolitics, exopolitics. US Government, US State Department