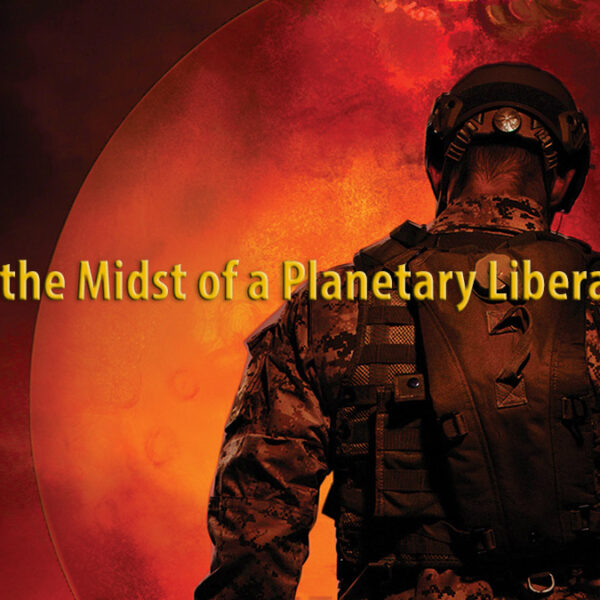 On April 30, Elena Danaan, a former professional archeologist whose claims of contact with extraterrestrials from the Galactic Federation of Worlds have gained widespread attention, delivered a bombshell report about an ongoing series of military raids on Mars that aim to destroy the bases of a rival extraterrestrial alliance: the Draconian Empire and the Orion Collective. These extraterrestrial bases were created to suppress the indigenous Mars population; manage the operations of human colonists associated with a German breakaway group called the Dark Fleet (aka Nacht Waffen); and oversee major Earth corporations that have relocated to Mars.
According to Elena, the Galactic Federation has begun helping liberate Mars from the influence of the Draconians and Orions by supporting indigenous Martians with supplies, weapons, and tactical information. The Federation has also been assisting a local resistance movement that exists in the human colonies that have been established on Mars.
While providing logistical and tactical support to local resistance forces, the Galactic Federation has been using its advanced technologies to incapacitate Reptilian and Orion extraterrestrials, thereby enabling the Martian resistance to strike against their extraterrestrial overlords and human minions.
In order to better understand Elena's report, I thought it would be helpful to provide a brief background on Mars and its recent history in terms of covert human colonization and historic resistance by an indigenous Martian population.
The colonization of Mars began in the 1950s when the Draconian and Orion Alliance helped the breakaway German colony that had established bases in Antarctica and the Moon establish the first German bases on Mars, using advanced Haunebu flying saucer craft that initially made up the Dark Fleet.
As a result of agreements between the Eisenhower admiexnistration and the German Antarctica Colony (aka Fourth Reich), the Dark Fleet's bases on Mars were significantly expanded. Most importantly, the US military provided the Dark Fleet with nuclear weapons that were used against the indigenous Martian population comprising local Reptilians, Insectoids, and other less evolved species that resisted the German colonial expansion and the Draconian and Orion incursions.  
With the famous brain drain of the 1960s and 1970s, launched under the cover of the US Apollo Program, the Dark Fleet presence on Mars grew substantially. Millions of people–many of whom were taken from Earth under false pretenses—expanded the German colonies and created new ones in conjunction with major Earth corporations.
These new corporate-run colonies have been called the Interplanetary Corporate Conglomerate and they are run by a 'superboard' comprising retired or serving CEOs from major corporations. The relocation program to Mars has apparently been greatly accelerated over the last few months as the Deep State is on the verge of a major collapse on Earth. This has led to a major exodus by compromised officials, as discussed in my previous article commenting on Elena's information.
With the help of the Draconian and Orion Alliance, the Mars colonies became so technologically advanced that they eventually were trading with up to 900 extraterrestrial civilizations.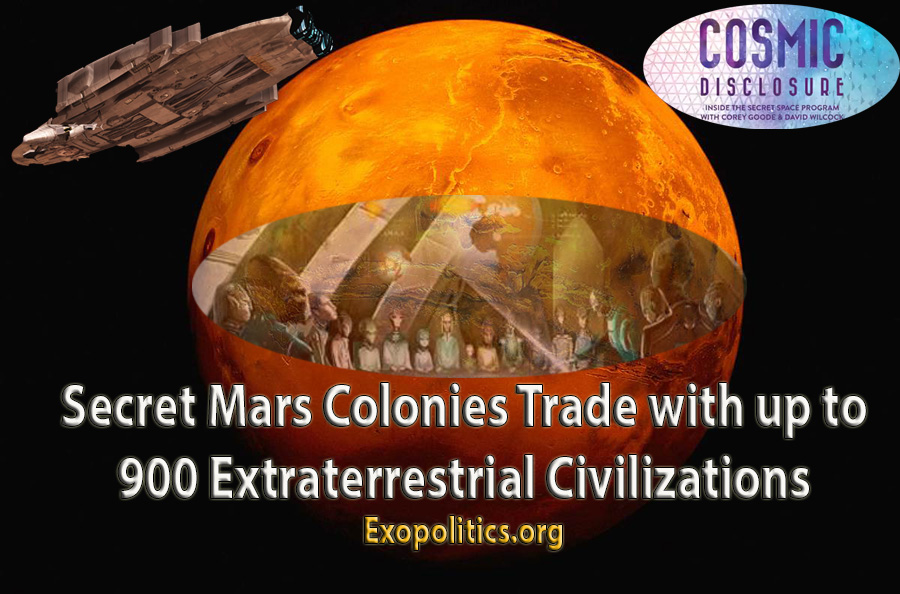 The Mars colonies were equipping mercenary forces recruited from all major countries on Earth to join the Dark Fleet for distinct periods of service. The infusion of personnel, equipment, and resources enabled the Dark Fleet to expand its operations significantly.
Soon the Dark Fleet had powerful fleets of spacecraft with well-armed troops that could fight alongside, or on behalf of, Reptilian and Orion extraterrestrials in interstellar wars of conquest. This meant that the bulk of the Dark Fleet's operational forces, at any one time, would be located outside of our solar system. This brief background provides the necessary context to better understand Elena's stunning report.
What follows is my transcript of her report which was delivered verbally and is available on YouTube. Elena's report begins:
April 30, 2021, the date of the situation [report] on Mars given by Commander Thor Han Eredyon from the Galactic Federation of Worlds. Raids from the Galactic Federation are continuing by a series of Mars raids on the Reptilian facilities. The Martian resistance has been armed and enforced and helped by the Federation and they are fighting the Reptilian occupants and all their allies, and in their allies, there is also an outpost for the Dark Fleet in Mars as well, but not only, there are earth militaries there belonging to other corporations. There is a lot of corporations on Mars that sought refuge there and that had moved, relocated recently because it was starting to smell bad on earth. The alliance was starting to win over them by all their work in the DUMBs (the military's underground). So now what's happening on Mars, still attacks from the Galactic Federation. The Ciakahrrs are totally pissed off.
Elena is here pointing out that the Galactic Federation is helping the Martian resistance, comprising humans, local Reptilians, and other indigenous groups, against the Draco Reptilians (led by the Ciakahrrs) their Orion partners, and the Dark Fleet. It's important to keep in mind here that there are two Reptilian groups involved in the fighting—on both sides of the conflict, just as humans are fighting on both sides.
Her report continues:
The thing is that the Federation is working at isolating and then treading piece by piece [in battle strategy]. They are not, the Galaxy Federation is not able to face in full combat, complete, all their fleet face-to-face with the Ciakahrr Empire and Orion group. They're not powerful enough. So what they do is use strategy.
Importantly, Elena is here pointing out that as far as the overall number of space battle groups and personnel are concerned, the Draconian and Orion Alliance are vastly superior, thereby forcing the Galactic Federation to use stealth and covert operations to achieve their goals. This is well illustrated by the Federation's strategy of assisting local Mars resistance groups and incapacitating Draconian and Orion personnel through various means.
Startling corroboration for Elena's information about the respective sizes of the Federation and their Draconian/Orion opponents comes from a recent remote viewing session by the Farsight Institute. In the sessions, the remote viewers observed that the Galactic Federation of Worlds is no match, numerically speaking, with their Draco Reptilian and Orion opponents. Stealth and covert operations are thereby the mainstays of how the Federation deals with a hostile planetary situation such as that on Earth and Mars.
Elena went on to say:
I am not always authorized to tell you what I know from Thor Han, but this I can tell. They have forced all the elites and the heads of the Terran bad military to leave the planet, not to declare war on the planet, you know, and damage a lot of things and kill civilians. They didn't want that, so the plan was going well, and all the dark elites were just coming at the surface, you know, and then most of them have relocated on Mars. The heads of corporations and also the corporations that own the satellites in orbit of Earth, the harmful satellites, it was to be activated to work with the [micro]chipping of the population, even goes beyond that but not talking about that here.
Here Elena is reporting on the exodus to Mars due to the Galactic Federation neutralizing all attempts at fostering a US civil war, major false flag events, and a Third World War. This means that the Deep State agenda on Earth is collapsing, and elites don't want to remain here to face justice for their many crimes.
Elena continues her report:
What's happening on Mars is that the Reptilians are panicking. They are asking assistance from the Dark Fleet. Everyone is cut from each other. The Dark Fleet has been hammered by the Federation, hammered, they're still there but very, very damaged. There has been a lot of attacks and fights on the outposts of the Dark Fleet in this solar system. So, they're not anymore able to help the Reptilians in combat against the Federation. They've withdrawn, they say no, we can't do that at the moment.
So, the deal in the past with the Reptilians with mutual assistance, well, it's not working anymore. So, the Reptilians are turning their attention away, and they are turning their attention away trying to contact the Dark Fleet that is out of the solar system and notably the Aldebaran branch.
Previous reports about defections from the Dark Fleet in our Solar System due to a system-wide quarantine, the creation of a Secret Space Program Alliance, and an Earth Alliance, as first reported by Corey Goode. The Draconians, Orions, and Dark Fleet, were cut off from their main assets. Apparently, the Dark Fleet has insufficient resources to assist their Draco Reptilian overlords at this time.
Elena next reveals some important information about how the Galactic Federation strategy of generating high frequencies is neutralizing opposition:
What the Galactic Federation is doing as well is broadcasting very high frequencies on Mars as they do on Earth to raise the frequency. And what happens when you raise the frequency and bombard with high frequency? They use also the Sun, they use everything they can to bombard the solar system with high, high frequency. What it does, it awakens the people who need to be awakened. So, it disables the enemy, disables, although strife on the lower frequencies, and they are doing that on Earth, and they're doing that on Mars, as they have done in many other places. So, the Reptilians are being numbed, and they lose a bit of their aggressivity, and it pisses them off even more.
She is here revealing that by transmitting or amplifying high-frequency energies sweeping into our solar system, the Deep State has been unsuccessfully attempting to block on Earth through chemtrails, genetic modification vaccines and inflammatory media broadcasts—the Draco and Orion personnel on Mars are becoming more passive and awakened. This has led to the Mars resistance becoming more successful, thereby replicating recent events on Earth. The result is that Ciakahrr and Orion leaders are becoming desperate and frustrated.
Elena next explains the connection to the Andromeda Council:
But you know they are pissed off against the Federation, but who they're pissed off more than anything is the Andromeda Council because the Andromeda Council had foreseen this happening a long time ago. And it's because of the Andromeda Council that we are fighting back with the help of the Federation, and it's absolutely wonderful and we're winning.
Here Elena is repeating what was told to Alex Collier back in the early 1990s, that the Andromeda Council had foreseen that the Earth, Moon and Mars would be the seed of galactic tyranny that would emerge 350 years in the future. The Andromeda Council brought this to the attention of the Galactic Federation, which then began intervening in Earth affairs.
This means that what we are witnessing at the moment on Mars, Moon, and the Earth is part of a "Temporal War" that pits the Galactic Federation and the Andromeda Council against the Draconian Empire and their Orion partners. While the Draco and Orion alliance has superior firepower and personnel, the Federation and the Andromedans have superior intelligence and covert operations.
This is crucial to know since it traces much of what is currently happening to the establishment of the German breakaway colony in Antarctica as the seed point of this Temporal War. I will discuss this Temporal War in more detail in my May 22 webinar: "Antarctica, Dark Fleet, and Humanity's Liberation."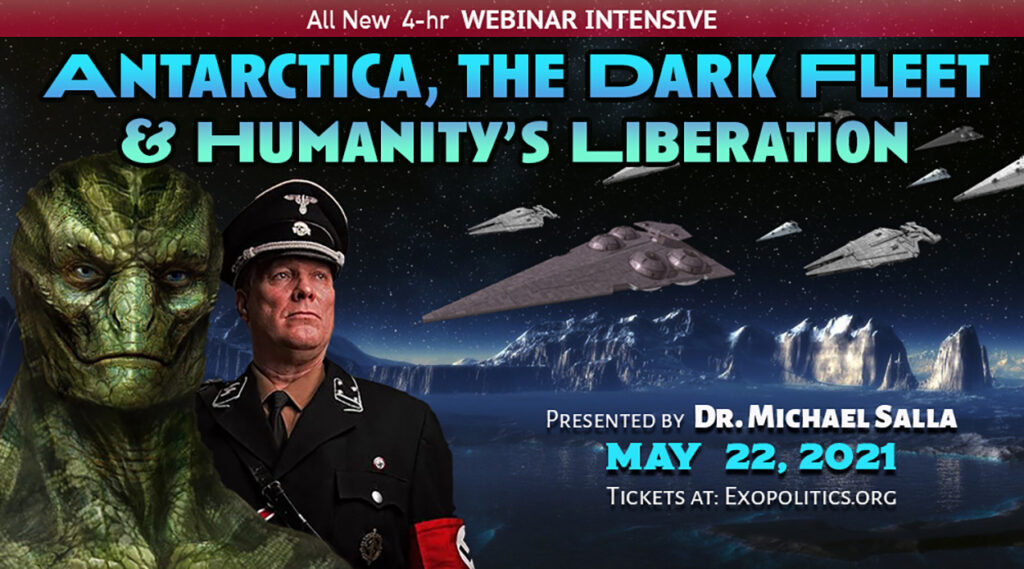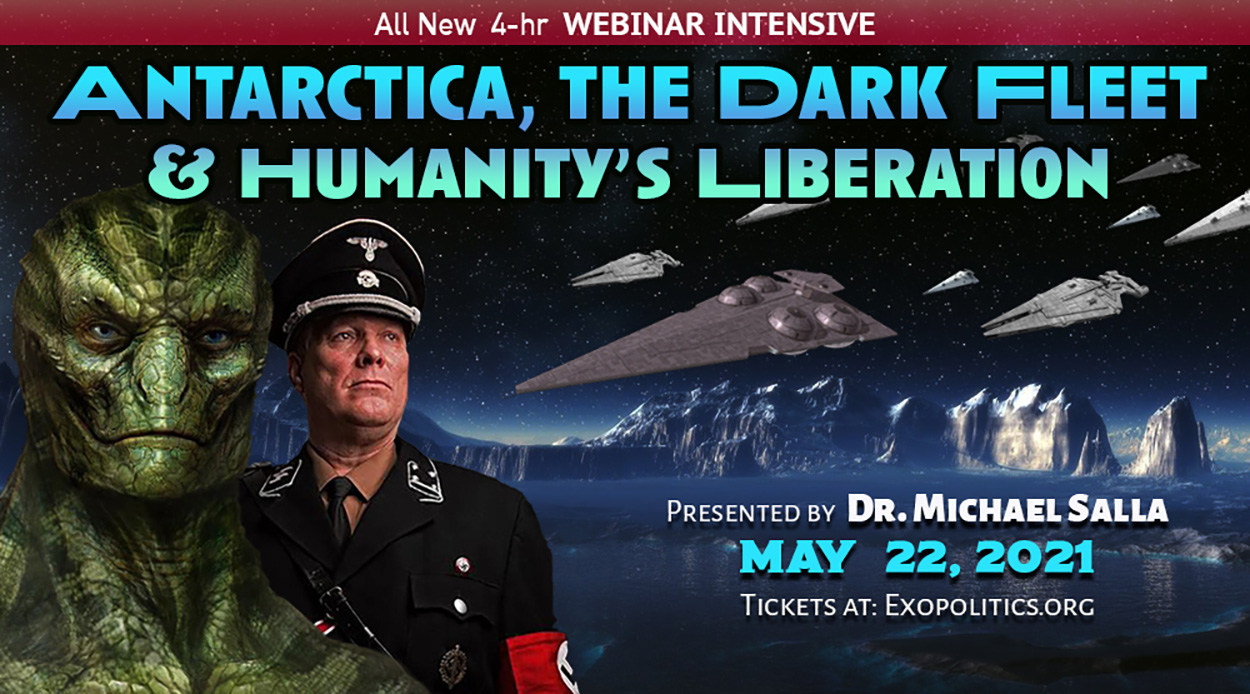 Elena next explains what is happening to the human colonists on Mars trapped in the current fighting:
You know the Galactic Federation couldn't attack before because they were waiting for all the elites to be on Mars. So, Mars is being raided, it's unfortunately horrible fights on the surface. I feel a bit for the earth people, the colony there. They think they are cut from earth, but the Federation in this operation is doing their best to rescue these people, and you know that they don't have this policy of killing. They first ask if they want to surrender or if they want to be evacuated. If they refuse, there is a fight.
It's important to emphasize that the fighting is being led by local Mars resistance forces, not the Galactic Federation. In an email exchange, I asked whether the recent uptick in marsquakes that are being monitored by NASA are related to the raids on Mars. The two largest marsquakes happened at the end of March 2021, in the region called Cerberus Fossae. Here is what Elena said Thor Han told her about the connection between the raids and marsquakes:
I just caught him, he [Thor Han] quickly replied that all underground activities are performed by the Martian local resistance and not by the Galactic Federation. He said there are beings endemic to Mars, who are able to burrow in the ground and are quite powerful. These beings are not very evolved in consciousness, a bit like big animals, but they are employed by the local reptilian resistance to attack enemy underground facilities. He said this has been happening for the last four years, with an increase in activity for two years, quite regularly and often on the same spots.
The Galactic Federation has been providing them with weaponry to enforce them. They are working conjointly, although the Martian resistance sometimes likes to make decisions for themselves. The actions of the Galactic Federation are not on the ground but above. They are also broadcasting high frequencies to numb the enemy. So yes, he confirmed these marsquakes are the product of regular and repeated attacks from the local underground resistance. 
This is very revealing since it confirms that the Galactic Federation strategy of assisting planets awaken and resist oppression by the Draconian/Orion alliance is permissible under universal rules of engagement. A key part of this liberation strategy is to help a planet's population raise their frequency levels, as Elena explains in her report:
So that's what is happening at the moment. I think it's going to get even worse in combat, but we need, you know, we need to hear the ground crew on earth we need to do our job, which is to raise our frequencies. The Galactic Federation, Council of Five, the Andromeda Council they are bombarding the whole system with high frequency. So, we need to do our job as well as raise our frequency. That's the only way that we can be immune to mind control and Reptilians and Greys, and also to be stronger than them. Because I'm going to tell you something, OK, we're way more powerful than we think we are. That's a fact. I always tell you that, but also we are, we have such a potential that all the ETs that are working around us they know that, and they know that one day we will be even able to teach them because the potential we have is absolutely amazing. We are like royalty, you know, something like this, so don't lose hope.
Elena is here stating something that had earlier been revealed by Alex Collier, who the Andromeda Council told that humanity was made up from the genetics of 22 extraterrestrial civilizations. Two decades later, Corey Goode would independently confirm that there were 22 genetic experiments conducted by between 40-60 alien groups over the last 500,000 years.
Elena finishes her report by explaining that the events transpiring on Earth have great galactic significance:
It's going to get confusing more and more, but we all know the work of our allies the Galactic Federation of Worlds, and it is a privilege to be alive in these times. We have chosen to be here now and from our actions depends the fate of not only all species but of this entire Galaxy because the seeds of darkness are being destroyed at the moment now.
So, this is it, and Thor Han asked me to say that for those who know him, do not worry for him, he's been leading the first raids with his co-workers, officers, but now is staying on the station and doing the job he is best at, after being a pilot, organizing missions. This is his new job and looking after me because I'm important, I give you updates, and I help you, and he needs to be available and look after me also, and give me information.
So we love you all and we are very proud of you, you are not alone. Raise your frequency, refusing fear, refusing manipulation, refusing conclusion and you will see if you trust everything will be alright. Fight with the truth, fight with love, fight with Peace.
Elena's final point about the role she is playing in transmitting information from Thor Han is vitally important. Through Thor Han and her other Galactic Federation contacts, she is a conduit for real-time intelligence reports from the Galactic Federation of Worlds.
It cannot be underestimated how important it is for the full disclosure  community to receive real-time intelligence reports from the Galactic Federation since we will not be told the truth by governments, the mainstream media, nor the Deep State. Nor will White Hats within the military intelligence community ever reveal the whole truth of what is happening in exopolitical affairs since they have their own agendas.
At best, knowledgeable insiders such as Professor Haim Eshed, the founder of Israel's space program, will confirm in an informal manner the existence of the Galactic Federation and its cooperation with different governments, and the existence of joint US extraterrestrials bases on Mars. These revelations are done in a casual way that maintains plausible deniability and without revealing too many details.  
As far as I have been able to assess from my own exøpolitical investigations and research of Elena's information, it is coherent and consistent with the revelations of many other insiders that I have discussed in my Secret Space Programs book series.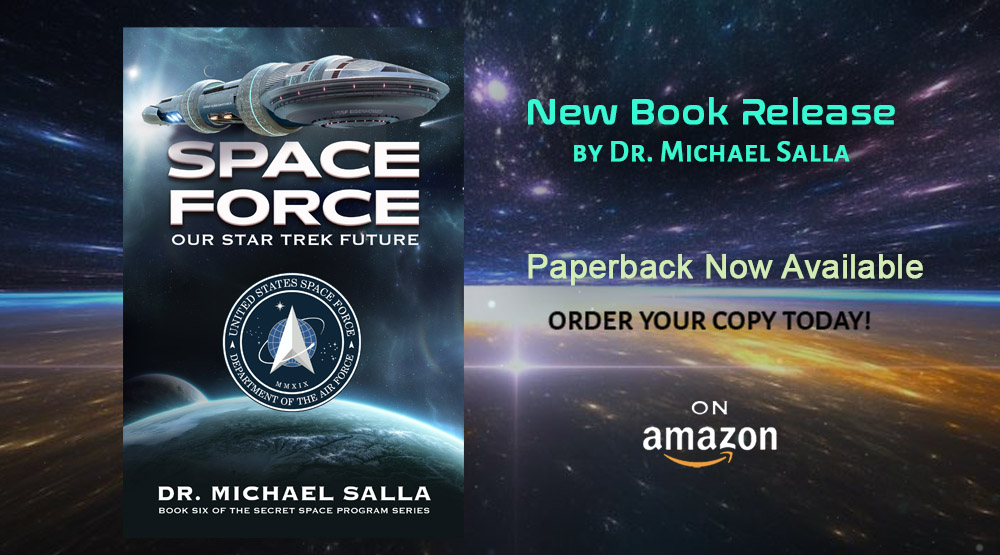 More recently, the Farsight Institute has released its own findings about multiple remote viewing targets, which I have discussed (here and here), the results of which independently corroborate many of Elena's revelations.
Another independent means of corroborating Elena's data is matching the locations of marsquakes with the places where local Mars resistance forces have raided the bases of the Ciakharr-Orion-Corporate-Dark Fleet alliance on Mars. As more scientific data on marsquakes becomes publicly available, it will become possible to confirm Elena's information, and I will release the results of my own investigations.   
In conclusion, I am very confident about the reliability and accuracy of Elena Danaan's information, and so far have found it to be a powerful revelation of a planetary liberation war currently happening on Mars that is supported, to varying degrees, by multiple independent sources.
© Michael E. Salla, Ph.D. Copyright Notice 
Interviews with Elena Danaan
Related Articles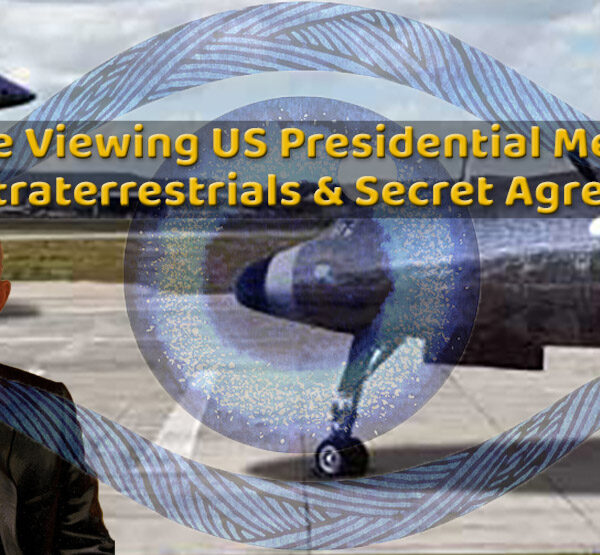 One of the least understand processes in the modern history of UFOs are secret meetings held between US Presidents and extraterrestrial visitors, and subsequent agreements that emerged from them. A number of insiders and eyewitnesses have come forward over the years to share their knowledge of these highly classified events, which continue to remain secret to this day and are hotly disputed among UFO researchers.
To this body of testimonial evidence that such meetings and agreements did occur, we can now add recent remote viewing sessions conducted by the Farsight Institute using a scientifically rigorous protocol. The data provided by Farsight gives us an independent means of evaluating the earlier body of testimonies concerning US Presidents meeting with and striking deals with extraterrestrials. Before discussing the recent Farsight remote viewing sessions on "Presidential Meetings with Extraterrestrials," I need to explain what was already known from multiple sources about such meetings
The first references to US presidents meeting with extraterrestrials came from a letter dated April 16, 1954, that was written by a highly respected metaphysical leader, Gerald Light, less than two months after President Eisenhower reportedly met with an extraterrestrial delegation at Edwards Air Force Base. Light's letter described his first-hand account of the meeting and the events that transpired after a delegation of human-looking extraterrestrials arrived in a flying saucer craft.
Light described expectations that the public would be told the truth by the Eisenhower administration, but a high-level cover-up was implemented instead. Unfortunately, there was no independent corroboration of the momentous meeting that Light says he witnessed. Consequently, Light's account was quickly dismissed, ridiculed, and forgotten by the general public.
Over the subsequent decades, anonymous whistleblowers would occasionally come forward to be interviewed by an intrepid journalist or brave UFO researchers, such as Timothy Good, who included the information in their newspaper articles or books. Good's 1991 book, Alien Contact, was among the first to release details of the Eisenhower extraterrestrial meeting. Very few individuals were willing to go on the record and face the scrutiny, ridicule, and risks associated with going public on such a highly classified topic.
Also, in 1991, a former top-level US Navy intelligence briefer, William Cooper, released his highly controversial book, Behold a Pale Horse, where he revealed some of the contents of official files he witnessed describing President Eisenhower meeting with different delegations of extraterrestrials at Edwards AFB and other locations in the 1954-1955 time period. Cooper said that the first delegation failed to reach an agreement with Eisenhower's administration but warned him of a second extraterrestrial group that would soon make contact. Eisenhower was told this latter group would be more willing to reach an agreement but prove to be treacherous, and take the planet down a very dark path.
Cooper said an agreement was eventually reached that permitted a limited number of alien abductions, but these increased exponentially as a result of the permission being given (see my January 2004 article).
Beginning in 2007 first-hand testimony emerged from a number of witnesses that had been present at Holloman AFB in February 1955, showing conclusively for the first time that a second meeting had indeed occurred. UFO researcher Art Campbell collected a number of these insider accounts of what transpired, along with documents corroborating their testimonies. In short, President Eisenhower was seen entering into a flying saucer that had landed, but few details emerged about what was discussed and the occupants of the craft.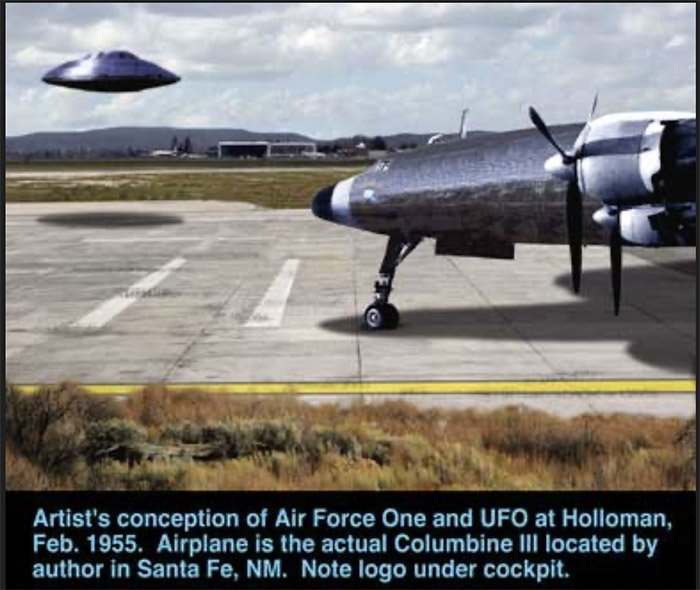 With the remote viewing data recently provided by Dr. Courtney Brown and his team of remote viewers, an independent means of corroborating such insider accounts is now available for the first time. Furthermore, a rare glimpse is provided into these highly classified meetings between US Presidents and extraterrestrials, and what was agreed to.
As explained in my previous article on the Farsight Institute's remote viewing protocols, all sessions are conducted under "blind conditions." The remote viewer is simply told to view a target, e.g., "Target X", without being given any details. Only the individual setting up the sessions, Dr. Brown, is aware of the target. Here are the two targets that were given to the five remote viewers that participated in the sessions.
Target 1: The first meeting between a US President and extraterrestrials from the Galactic Federation of Worlds during the 20th Century.
Target 2:
Part A: The highest level meeting between a US President and/or his representatives and Reptilian extraterrestrials and/or their representatives during the 20th Century.
Part B: The first meeting between a US President and/or his representatives and extraterrestrials from the Orion System during the 20th Century.
While there were significant differences among the remote viewers about particular details of the scenes they were witnessing, the broad picture they described had remarkable coherence. This is one of the stunning aspects of multiple remote viewing sessions of blind targets by highly trained and competent remote viewers. It is easy to understand why the US Intelligence Community has used remote viewing for decades to complement intel gathered by other traditional sources: human (HUMINT), electronic (ELINT), photographic (IMINT), etc.
In the case of Targets 1 and 2, the remote viewers were able to independently confirm that high-level human representatives (Eisenhower administration) met with different groups of extraterrestrials that arrived in spacecraft to remote locations where meetings took place. The extraterrestrials came from competing alliances; some were human-looking (Galactic Federation of Worlds), while others were Reptilians (Draco Empire) or allied with them (Orion Collective).
Some of the negotiations went badly (Galactic Federation), while others led to deals being struck (Draco and Orion). The successful extraterrestrial groups gave technologies in exchange for human genetics or being allowed to establish bases on Earth.
The human leader (Eisenhower) eventually felt great regret for giving away something valuable (humans) for what he recognized as technology trinkets. On the other hand, the extraterrestrials who secured an agreement (Draco and Orion) felt they had achieved a significant victory over their enemies (Galactic Federation).
This suggested that the human side (US) was negotiating from a position of weakness since they did not view any of the different extraterrestrial groups as enemies but as neutral bidders in a negotiation. In contrast, the Reptilian-allied extraterrestrials saw the (Earth) human side as naïve natural enemies to be manipulated and exploited while feigning technological support.  
After watching the remote viewers' observations, it needs to be appreciated they spoke in general terms about human and non-human subjects meeting and interacting in different locations, without naming specific groups or locations. It is only when Dr. Brown analyzes their data in relation to the two targets he had set for the sessions, that a clearer picture emerges of what had happened.

Here's how Dr. Brown summarized the remote viewing data:
You see, there was a meeting, not just one meeting, but a few meetings. The meetings were between various extraterrestrial groups and one or more US presidents and their representatives. The ETs were not all of one mind. They all wanted something. Some seemed to want to warn humanity not to strike a deal with other ET groups. Everyone wanted an alliance of some sort. But US leadership also wanted something, stuff.
Indeed, human leadership seemed desperate to strike a deal, and that desperation led to a deal that many now regret profoundly. This is one of the reasons for the continued secrecy. The deal was so bad that current human leadership is afraid to talk about it. So from the ET side, and the human leadership side, the silence continues.
What is remarkable here is that the remote viewing data corroborates much of what insiders have been revealing about secret meetings between the Eisenhower administration and extraterrestrials dating from 1954. The initial meeting with representatives from the Galactic Federation did not result in agreements, but subsequent discussions with the Reptilian and Orion alliances did.
The warnings from the first group of extraterrestrials (Galactic Federation) were disregarded, and the agreements reached with the second group (Draco and Orion alliance) came to be regretted by President Eisenhower.
It is known that President Eisenhower was very unhappy with the way the extraterrestrial issue was being managed by the Majestic-12 Group (MJ-12). While President Truman had created MJ-12 in September 1947, Eisenhower gave it much more power following the recommendations of national security advisors such as Nelson Rockefeller.
Video Introduction to Upcoming Webinar
Eisenhower expressed his disappointment privately to trusted military aides and even threatened to invade Area 51's S-4 facility where extraterrestrial technologies were being stored and studied by MJ-12 personnel. Advanced extraterrestrial technologies were being reverse engineered with limited success, as confirmed by Bob Lazar in 1989. Meanwhile, increasing numbers of people were being abducted by aliens and subjected to genetic experiments.
Eisenhower's realization that the deal with the extraterrestrials was a bad one led to his famous farewell address about the dangers of the Military Industrial Complex and warning President Kennedy about the MJ-12 Group.
Nevertheless, the agreements persist to this day, as evidenced by Dan Sherman, a former US Air Force electronic communications expert (1982-1994) who in 1998 revealed in his book, Above Black: Project Preserve Destiny, that the NSA had trained him to communicate with Gray extraterrestrials who reported on the abductions they were performing. When Sherman realized that there was a secret agreement between extraterrestrials and the US government that permitted abductions, he decided to resign and left the Air Force in disgust.
The agreements go far beyond merely allowing human subjects to be abducted for genetic experiments. According to multiple insider reports, the agreements also extend to soldiers being sent on missions to battle against Reptilian extraterrestrials with little chance of success, and millions disappearing annually into a slave trade that involves individuals being sent into remote deep underground bases (DUMBs) or off-planet locations (Moon and Mars) with no prospect of return.
All this makes it easier to appreciate Dr. Brown's conclusion that human political leaders are afraid to reveal the different agreements reached with extraterrestrials. The public reaction to learning the truth would be utter disgust and an immediate demand to terminate such agreements. The anticipated public response is very high among the factors that perpetuate the secrecy system that still remains in place decades after the initial agreements were first reached and periodically renewed in total secrecy, without the public learning anything about the agreements and their hidden provisions.
Dr. Brown's remote viewing sessions on "Presidential Meetings with Extraterrestrials" provide a valuable corroborating source of evidence that such meetings did in fact occur, and have resulted in agreements with manipulative extraterrestrial groups that continue to plague humanity's evolution and development. In the meantime, the extraterrestrial group (Galactic Federation) that was spurned by US officials in the 1950s, has been quietly waiting for the day that the earlier oppressive agreements would be publicly exposed, and be replaced by more equitable arrangements.
As humanity undergoes its Great Awakening and learns of the many dark activities of the Deep State and its allies, it will be important to include full disclosure of these secret agreements. Most critically, we need to befriend the Galactic Federation of Worlds whose representatives first warned us of the dangers of agreements with the Orion and Draconian extraterrestrial alliance, and have played an important behind the scenes role in assisting humanity's Great Awakening.
© Michael E. Salla, Ph.D. Copyright Notice 
[Note: Videos featuring remote viewing of Presidential Meetings with Extraterrestrials are available at Farsight Institute]
[Further Note: Video version of above article available on YouTube & Rumble]
Further Reading

---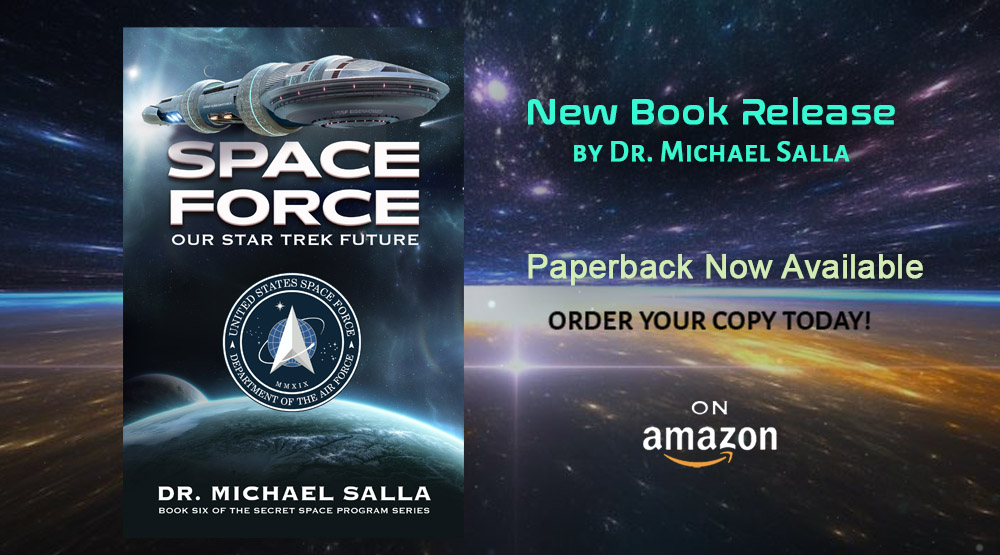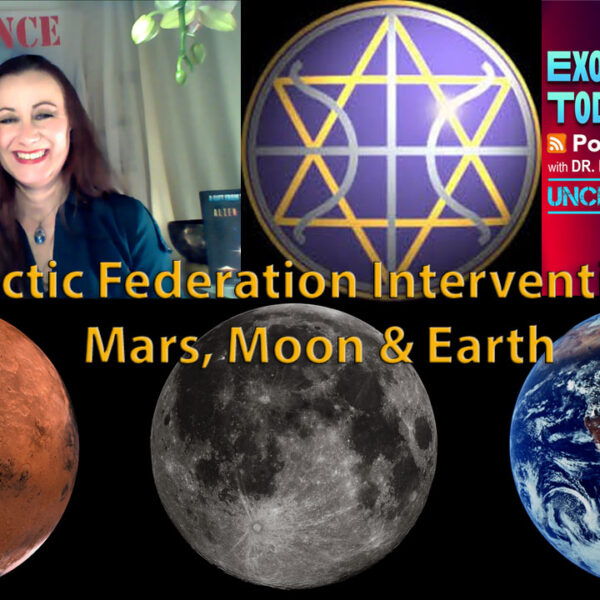 In this third interview on Exopolitics Today with Dr. Michael Salla, Elena Danaan discusses Galactic Federation operations against repressive extraterrestrial races on Mars, the Moon and Earth. Elena describes a Galactic Federation military intervention against Draconian (Ciakar) Reptilian and Tall Gray bases on Mars that she telepathically witnessed through her primary ET contact, Thor Han. She further explains how the Galactic Federation is able to intervene against advanced technologies built by the Deep State with the help of repressive alien groups designed to control and manipulate humanity. Finally, Elena discusses some spiritual techniques people can use to protect themselves against negative alien groups and how to raise one's frequency and consciousness.
Available on Rumble and YouTube
Earlier Exopolitics Today Interviews with Elena Danaan
Further Reading/Podcasts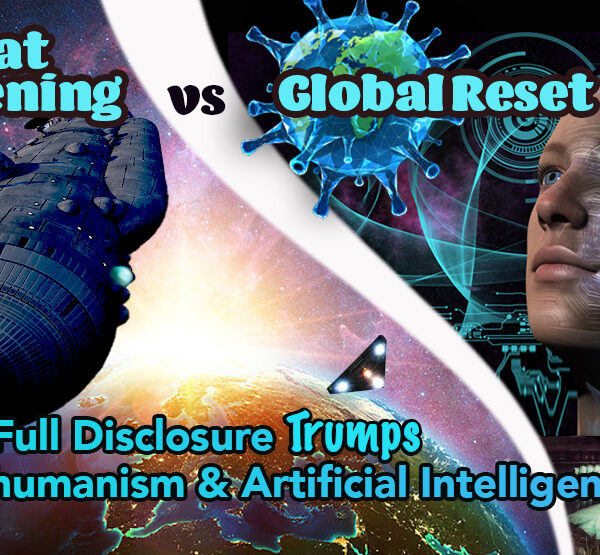 Aloha all, I've just finished my powerpoint presentation for tomorrow's Webinar Intensive on the Great Awakening vs the Global Reset. It will be an information packed Intensive with nearly 140 slides detailing the history and exopolitical processes behind the "Global Reset", or what the World Economic Forum wants to call the "Great Reset" – there's really nothing great about what is being planned!
What makes my presentation different to many others critical of the "Global Reset" is my exopolitical analysis. After more than 30 years teaching, researching and writing about international conflict, I've learned that it is only through an understanding of the hidden involvement of extraterrestrial life that one can make sense of what really happening behind the scenes. Without an exopolitical analysis, it's like trying to understand the complexities of world politics from the perspective of local government personalities and issues.
So, what is it about the hidden history and involvement of extraterrestrial life that brings clarity to the ideas of a Great Awakening and a Global Reset? First of all, we need to understand that multiple secret agreements have been made between those making up the Cabal or Deep State with their extraterrestrial overlords. These agreements involve the creation of wars, poverty, and famine in order to fulfil the conditions of the agreements, but without the rest of the population learning about what is truly happening. Countless millions have mysteriously disappeared and been used for a myriad of purposes by their extraterrestrial abductors.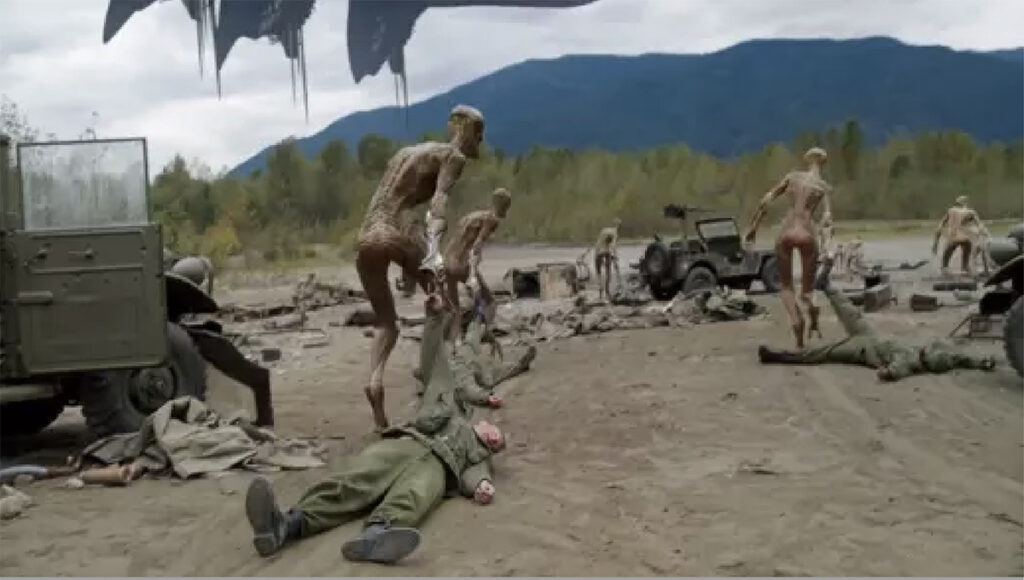 This is where the Global Reset comes in. The "new normal" that the World Economic Forum and global leaders want to establish is really all about controlling the flow of information so that people do not revolt over policies that increasingly eliminate human freedoms, constitutional rights, and meaningful political participation. But it doesn't stop there.
The establishment of a 5G satellite global communications network, the development of corporate controlled smart cities, the rollout of DNA altering vaccines, and the widespread introduction of brain implant technologies are all key elements of what lies ahead. As the "Internet of Things" is rolled out, humans will be among the "Things" that are constantly monitored, influenced and controlled by the Artificial Intelligence computer systems that are being developed all over the world.
 
Transhumanism will lead to enhanced human performance in all sectors of life, but it's the military application that will stand out for several reasons. Technologically enhanced supersoldiers will be developed to fight future battles. Transhuman cyborgs will not only battle against one another and AI robots, but also be secretly used to fight against visiting extraterrestrials. This is a key aspect of the agreements that have been reached, which I will discuss at length in my Webinar.
Those refusing to accept the brain implants, "the normies", will be increasingly ostracized from the smart cities that are already being integrated into existing cities, with others being built from the ground up as the US State of Nevada has proposed. Whether one tries to escape such a dystopian future by going to a remote rural location or choosing to live in decaying metropolitan areas for cheap housing, the prospects are bleak. The Hunger Games movie series is a glimpse into the dystopian future that lies ahead if we don't take action now against the Global Reset.
 
That's where the Great Awakening comes in. Hundreds of millions of people have been awakened by recent political, health and societal events. Whether it's from Wikileaks revelations, Q drops, COVID-19 policies, DNA altering vaccines, the introduction of 5G transmission towers and satellite systems, social media censorship, or rigged elections, more and more people are seeking answers and awakening to the reality of corrupt global political, financial, legal, medical and media systems. People are rising up and resisting all over the world, but will they be successful?
 
What is essential for success in resisting the Global Reset is the full disclosure of suppressed technologies and extraterrestrial life. Understanding how and why global elites have hidden and suppressed the emergence of such technologies is critical. What would you say if I told you that a critical requirement for joining a benevolent Galactic Federation of Worlds is the widespread sharing of advanced technologies?
Up until recently, I believed the Deep State's suppression of advanced technologies was to protect the fossil fuel and pharmaceutical industries in order to maintain the Deep State's profit margins, and to suppress the evolution of human consciousness.
 
However, there was a critical factor I was missing. By suppressing the release of advanced technologies, keeping secret the existence of secret space programs, and interfering with the evolution of human consciousness, the Deep State had found a way to prevent the Galactic Federation from intervening in human affairs and helping expose the truth about how our world has been run and managed for millennia.
Most importantly, the Galactic Federation is here to warn us of a future galactic tyranny that had been traced back to present day Earth, and they arrived decades ago to help military and government White Hats, the Earth Alliance, and planetary population, stop it.
If you are not among the more than 70,000 that have watched the short film introducing the Webinar Intensive, you can watch it either on YouTube or Rumble.
 
To learn more, I recommend you join me in my Webinar tomorrow. It will be broadcast live from my home studio here on the Big Island of Hawaii via Zoom, and I promise you an exciting experience that will give you a fresh perspective on what's happening and offer some fresh hope for the future.
 
Michael Salla, Ph.D.
Webinar Completed
Length 4-hours
Recorded March 27, 2021

Now Available on Vimeo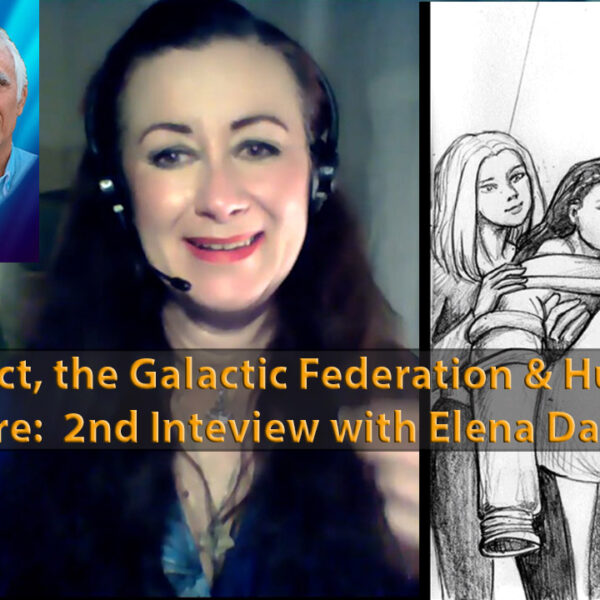 In our 2nd interview, Elena Danaan recounts her personal contact experiences, the most dramatic of which involved an abduction at age nine by five gray aliens. In the midst of two medical procedures involving implants, she was rescued by two human looking extraterrestrials using laser weapons. In the interview, Elena explains how her rescuers repurposed one of the implants so they could subsequently remain in telepathic communications. Elena learned that her rescuers belong to a Galactic Federation of Worlds that is helping Earth's Great Awakening.
Elena explains how the Galactic Federation first became interested in Earth after it was advised by another extraterrestrial political organization, the Andromeda Council, that a future galactic tyranny could be traced back to Earth in the present era. This matches the testimony of Alex Collier who said, around 1991, that the sudden appearance of a galactic tyranny about 350 years in our future could be traced back to the Earth, Moon and Mars. In Defending Sacred Ground, Alex wrote:
Now, in our galaxy there are many councils. I don't know everything about all those councils, but I do know about the Andromedan council, which is a group of beings from 139 different star systems that come together and discuss what is going on in the galaxy. It is not a political body. What they have been recently discussing is the tyranny in our future, 357 years from now, because that affects everybody.
Apparently what they have done, through time travel, is that they have been able to figure out where the significant shift in energy occurred that causes the tyranny 357 years in our future. They have traced it back to our solar system, and they have been able to further track it down to Earth, Earth's moon and Mars. Those three places. (Defending Sacred Ground, p. 10)
Elena recounts how President Eisenhower was betrayed by the Majestic-12 Group which made an agreement with Gray aliens without his permission. This matches insider accounts that Eisenhower was on the verge of ordering the US Army to take over the Area 51 S-4 facility controlled by the MJ-12 Group in 1958 for their failure to fully brief him on their activities.
She also discussed how the Galactic Federation has been working with an Earth Alliance, and the four countries most active in this cooperation are Russia, USA, France and Israel. In addition, she corroborated Prof Haim Eshed's recent claims that President Trump was actively collaborating with the Galactic Federation.
Elena further explains how in November 2018, she was advised by one of her alien rescuers, Thor Han Eredyon, that in two years, the Earth would enter a very dangerous phase, but at the end of it humanity would be liberated from the dark forces that have controlled it for centuries. This brings us to contemporary political events and multiple insider accounts that claim White Hats have set the stage for a series of earth shattering announcements.
Watch this fascinating interview for a glimpse into how different extraterrestrial factions are battling one another to steer humanity's destiny.
Michael Salla, Ph.D.
Available on Rumble and YouTube
Note: The first Interview with Elena Danaan is available here.
Related Articles/Podcasts: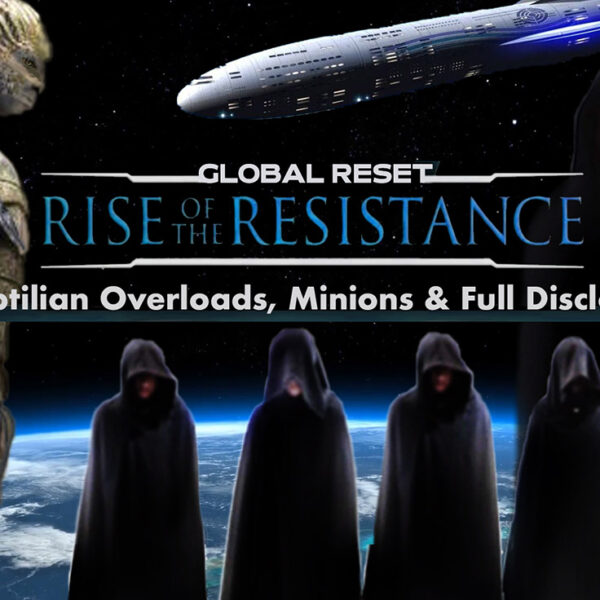 This is an historical overview of how the Earth has been run as a prison planet through secret agreements between the Cabal/Deep State and their Reptilian extraterrestrial overlords. The film introduces modern day plans to engineer wars, poverty, disease and genetic modifications that all contribute to covertly fulfilling these agreements. The recent proposal to create techno-governments in the US State of Nevada is shown to be yet another means by which the Deep State minions of these alien visitors can hide their operations and fulfillment of these agreements.
As more individuals awaken to the contrived nature of modern wars, health crises, and economic collapse, the masses are rising up in open resistance to the Deep State. What will accelerate this Great Awakening is full disclosure of suppressed advanced technologies, secret space programs and a Galactic Federation waiting for humanity to reclaim its galactic heritage.
I wish to thank my incredibly talented and inspired wife, Angelika Whitecliff, for the many hours she devoted to creating this short film and raising public awareness of these critical issues.
Michael Salla, Ph.D.
[Short Film Available on Vimeo, Rumble and YouTube
Related Articles/Podcasts:
---
March 27, 2021 Webinar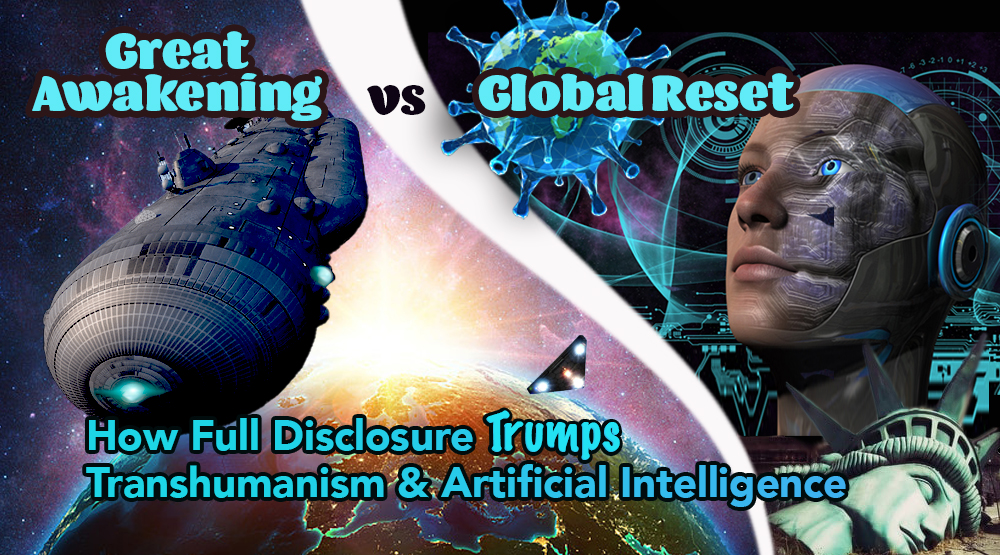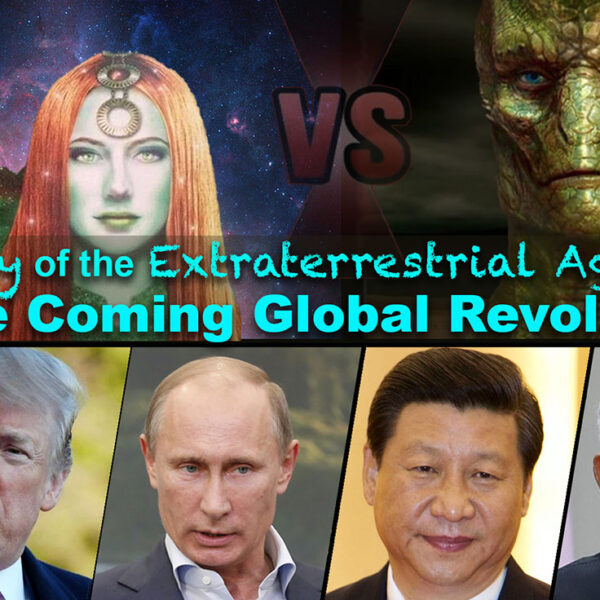 This short film presents the history of extraterrestrial intervention on Earth, and how competing factions have warred over humanity's destiny. Learn how Earth became a prison planet under the control of a negative group of extraterrestrials and their human proxies ( aka the Cabal/Deep State) that have historically manufactured poverty, disease and war. Discover what lies ahead as positive extraterrestrials work with an Earth Alliance of international leaders from major nations to free our planet, and usher in a new age of prosperity, freedom and becoming part of a Galactic Federation.
Available on Rumble and YouTube
Grateful thanks to Angelika Whitecliff for creating and producing this Short Film
---
Feb 27, 2021 Webinar Intensive: The Earth Alliance, Full Disclosure & the Coming Global Revolution – Now on Vimeo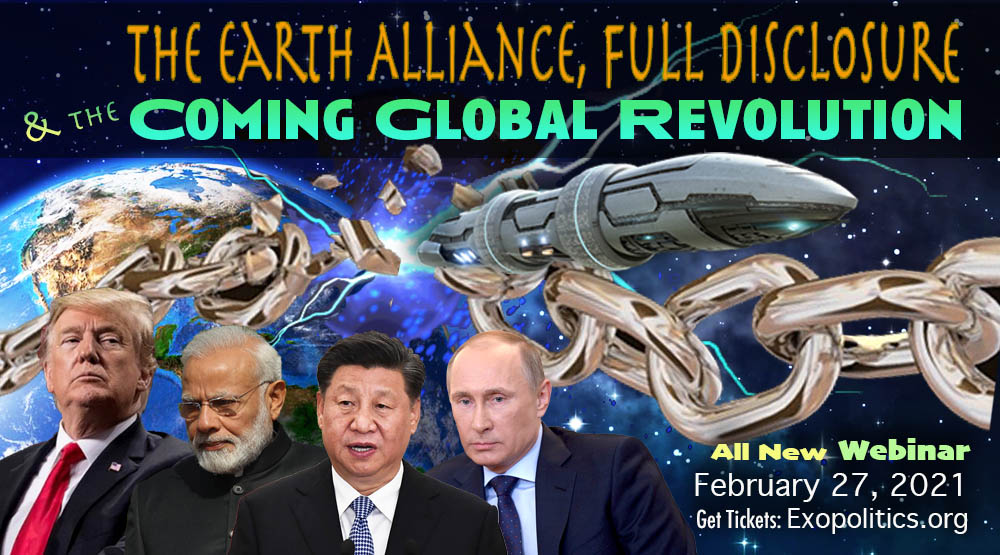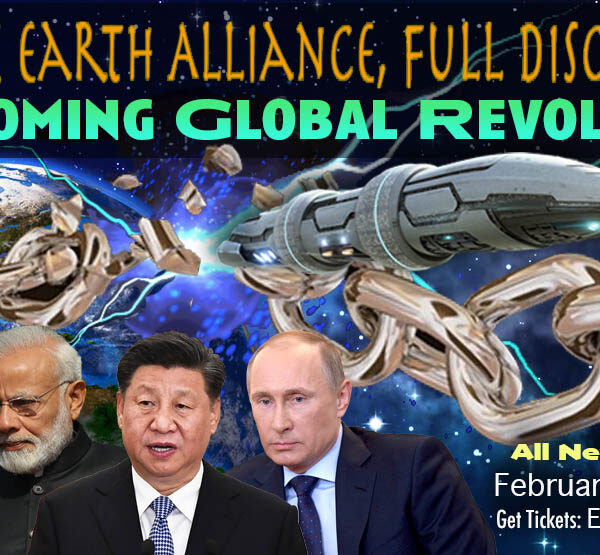 As the predicted days of darkness temporarily settle in upon the US and world stage, a great effort is taking place behind-the-scenes over the future direction of humanity as many White Hat groups and leaders are stealthily overturning Deep State operations. Among such groups is the Earth Alliance, a loose association of military and political White Hats from major countries who have been battling the Deep State over the extent and pace of releasing advanced technologies used in secret space programs to ultimately reveal the truth about extraterrestrial life.
Very recently, the White Hats gained a decisive advantage due to the widespread public exposure of Deep State plans to socially engineer a Great Reset through systemic election interference, a staged pandemic, social media censorship, and worldwide suppression of civil liberties. The failure of the Deep State's plans will have major consequences for the repressive political systems of client countries such as China, Iran, and North Korea that were infiltrated decades ago by the Deep State and manipulated.
Key political leaders in the Earth Alliance include President Donald Trump, who has begun the process of releasing advanced aerospace technologies through the creation of the U.S. Space Force. Russia's Vladimir Putin who has allowed many breakthrough technologies to be released and thoroughly frustrated Deep State plans to incite another World War. China's Xi Jinping, who has battled the nefarious influence of his predecessor, Jiang Zemin, who still controls many advanced technology projects used to suppress the Chinese populace. Finally, India's Narendra Modi has tirelessly worked to bring out into the public arena the antigravity technologies used in ancient India's space program. These key leaders, along with many others, have been covertly collaborating to bring about the demise of the Deep State both in their respective countries and across the globe.
They are being helped by a positive group of extraterrestrials called the "Galactic Federation" (aka Confederation of Planets), which has been working for decades to raise human consciousness. The Galactic Federation has also been stalwartly working with key players such as the Trump family for generations to promote and ensure the optimal timeline and to bring about a Great Awakening and a Global Revolution that will result in humanity's emergence as a full member of the Galactic community.
About the Presenter: Dr. Michael Salla is the author of the bestselling Secret Space Programs Book Series & founder of Exopolitics.org
Webinar Date: February 27, 2021 (Saturday)

NOTE THIS WEBINAR HAS BEEN COMPLETED
RECORDING AVAILABLE ON VIMEO – CLICK HERE

To view and purchase past webinars click here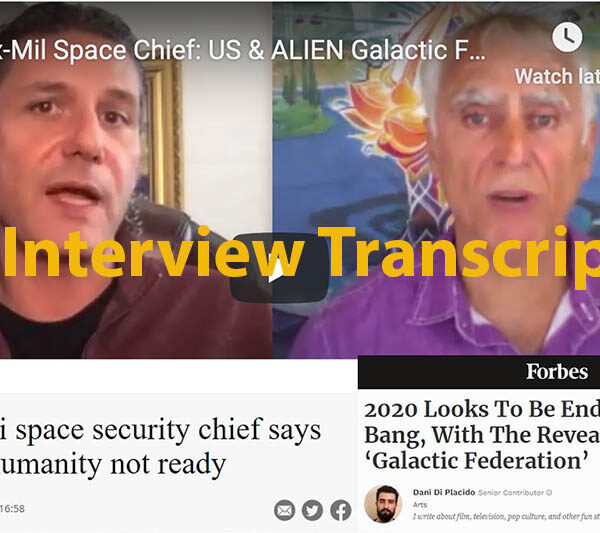 Transcript of Interview on "Israeli Ex-Mil Space Chief: US & ALIEN Galactic Federation Deal (Human Experiments) & Mars Base" with Dr Michael Salla and Corey Goode
December 10, 2020
Source – YouTube: https://youtu.be/c7OwPpc4cLA
* * * * * * * *
Corey Goode: Hello. Thank you for joining the Sphere Being Alliance YouTube channel. Today I'm talking with Dr. Salla about some rather exciting articles that have appeared on even mainstream media. And it's been trending on Twitter. You see it all over Facebook.
It's regarding the Israeli "spy", as they're calling him, who announced that United States had signed an agreement with an extraterrestrial federation and that we had a joint base on Mars.
Welcome, Michael, Dr. Salla. How are you doing today?
Dr.  Michael Salla: I'm good, Corey. I'm glad to be here and it's really great with this breaking news from this Israeli scientist. I mean, he's really very senior. For him to come out and share what he has been saying is really confirmation about the sort of things you've been talking about for a few years now.
Now we're getting it from a person that headed Israel's defense program for spy satellites for 30 years.
Corey: Yeah, you being the researcher that you are, you dug into him and researched him, I'm sure. And can you kind of give us a little bit of a summary of why we should pay attention to this person?
FORMER ISRAELI SPACE SECURITY CHIEF'S STORY
Dr. Salla: Okay. All right. Well, he has a PhD in aeronautical engineering and he was sponsored by the Israel's Defense Forces. And he was put in charge of the Space Research Institute at Technion, which is a technical university in Israel and that's the place where they actually run Israel's spy satellites.
So this guy ran that for 30 years after having served in the Israeli Defense Forces for a number of years.
So from 1981 up until . . . it was about 30 years, until 2010 when he retired, he ran this institute and the satellite program, which for Israel is really doing a lot of their espionage or this space surveillance.
And because of that, that meant he got to work closely with the National Reconnaissance Office (NRO) and the CIA because the CIA runs the National Reconnaissance Office in conjunction with the Pentagon.
And so that means that the kind of programs that the NRO and the CIA have been doing for years in terms of space surveillance they have cooperated with Israel.
And so this is the person who headed the Israeli side of the spy satellite system.
He personally was in charge when 20 satellites went up.
And so that's the cover. I mean, that's really the sort of thing that Israel's Defense Forces and the Mossad does to kind of like give them information about real world intelligence in the Middle East.
But what he's just revealed through these interviews, which are part of a book that's just come out, is actually that it was much more than just satellites up there that they were working with the Americans and that there was the joint extraterrestrial agreement.
So big news. So that's where I wanted to kind of get your feedback on what you know about the NRO being involved in this kind of like liaison with extraterrestrials on behalf of the U.S. government.
SUPER FEDERATION OF GENETIC FARMERS
Corey: Yeah, the NRO and the DIA, I believe, had assets that are similar to what this person's describing. And them talking about the federation, we have to remember, you know, I had talked earlier about this Galactic Super Federation.
And the Super Federation was kind of like a ruling body or place where people came together to present their experiments – the progress of their experiments – see the progress of others and to kind of . . . It's a kind of governing body.
There are other small federations that are made up of different groups that are allied that are coming together in this Super Federation.
So it sounds very much to me like the genetic farmer races that I had described that, basically, the Deep State, or the super shadow government, had made deals like I had described with some of these extraterrestrial groups that were here supposedly monitoring us but also tinkering with our genetics.
Let's say someone signed a deal in the 1940s. Like I've described before, these ETs have the ability to travel in time as easily as they travel in space.
So if they just happen to show up here in, let's say, 1940, and it's the first time they've been in our system, they could conceivably then travel all the way back in time and start tinkering with our timeline and genetics, and they could actually be our ancient aliens.
It's a hard thing to wrap your mind around.
Time is something that they can jump around in and play with very easily.
So what's happening is not only a galactic type of thing, it's a temporal occurrence as well.
DIFFERENT GALACTIC FEDERATIONS
Dr. Salla: So that's one of the things that is important is what he's talking about when he mentions the "Galactic Federation".
Is he talking about this group of extraterrestrials that have made these agreements with the Deep State and doing all these kinds of genetic experiments, and that they are kind of like, as you said, "genetic farmers"?
Or is he talking about a different group? I mean, maybe you can kind of elaborate between what he's talking about, this Galactic Federation making agreements with the US, the Deep State, for genetic engineering and overseeing our planet, with the human-looking extraterrestrials that most people associate as the good guys. They call them the "Galactic Confederation" or the . . . even the Sphere Being Alliance.
Because I remember at one point you talked about the Sphere Being Alliance being part of a galactic federation or confederation.
So are we talking about different alliance groups here?
Corey: Yeah, many different groups. You hear "Galactic Federation" a lot. Well, that could apply to many different groups, like, you know, the Sphere Being Alliance. They're a part of this, like, a galactic watcher kind of group that are overwatching higher-density realms and also looking after the lower-density realms to make sure everything's being done according to Cosmic Law. These are like 6th, 7th density beings – very evolved beings.
And then you go down to 4th and 5th density beings and those include anything from the Reptilians to these tall Nordic races, different types of beings that we lump into what we call the "Grays".
There's a whole assortment of these other types of beings that . . . Insectoids. Insectoids are extremely into genetics. That's . . . All of their technology is genetic manipulation. And even the ships they fly in.
And they're a part of these little federations together. They work with Reptilians sometimes and they have agreements of convenience as well, because some of them have genetic spiritual timeline agendas that conflict with other people in this Super Federation.
And they sabotage each other's experiments at times. That's one of the reasons that they have this Super Federation is to help manage that and prevent chaos in all of these different systems because if chaos occurs, no one wins because the objective is Ascension or evolution on a genetic level and also a consciousness level.
SUPER FEDERATION IS BEING RECONSTITUTED
Dr. Salla: Okay, so the Super Federation of these human-looking groups that you went to, that was part of your job description, . . . And more recently you said that you also went up there as that Super Federation was reconstituted.
That's kind of like a superior body or a separate body to this "Galactic Federation" that Professor Eshed's talking about, that he was knowledgeable of.
Corey: I believe so because the Super Federation is more like a governing body where they all come together like in a big congress-type of situation.
And then they kind of act like their own little states with their own agendas while not attending the meeting. But they have agreements that they come together and enforce instead of [having] open warfare in the skies, you know, ships coming in destroying small civilizations to destroy their genetic lineage so theirs will prosper or spreading diseases, all of that type of thing.
They try to manage that in a way that's going to benefit all of the different groups.
Eventually the group being worked on is supposed to take over like we are supposed to be doing.
Humanity is supposed to be taking over our own experiment.
And as I reported years ago at one of the last meetings I went to, the ET federation [Super Federation] had basically been told they're disbanding and that humanity was taking over their own evolution as far as genetics and consciousness, you know, religion, consciousness, all of that. It wasn't going to be manipulated by outside forces anymore for the first time.
So we're going through the process of having that fully handed over to us.
So I think that we're getting to the point to where they're going to be willing to share their existence, the ETs that we're talking about, openly pretty soon.
They definitely want to acclimate us and don't want it to happen on our timetable.
Dr. Salla: So that's pretty consistent with what Professor Eshed said that the Galactic Federation are looking at revealing themselves and that we haven't quite reached the point yet of being ready for them.
Do you think this is all consistent with what you learned about: the reconstituting of the Super Federation that you knew of and now humanity is in charge? Are we talking about the same process or are these parallel processes?
Corey: It sounds like the same process and in a way parallel processes.
BASES ON MARS
He mentions that humans are working with some of these extraterrestrials on bases on Mars, but we know that we have bases that ETs have built that they are "sharing" with humans on the Moon and Mars and other places up to a smaller degree. But these are pretty significant bases.
The fact that a mainstream person like the one that we're talking about would talk about humans and ETs sharing a base on Mars, that just opens up the conversation for the public on all the information you and I've been sharing the last five or more years.
Dr. Salla: Exactly. Yes. He actually did say American astronauts are up there working with extraterrestrials. So that's really acknowledging that there's a Secret Space Program with bases on Mars and that this Secret Space Program is conducting joint experiments with extraterrestrials. Mars is one of the places where this is all being done. And that he was privy to this knowledge in his official capacity.
And that matches with my ongoing research showing how the NRO and the CIA, along with the NSA, have been part of this kind of like Deep State-organized Secret Space Program.
And I think he would know about that because he was handling the Israeli side of it, because the Mossad and Israel's Defense Force and their Space Institute handling their spy satellites, all of that was all part of this kind of overall coordination between the Israelis and the Americans for not only conducting spy or espionage over the Middle East but also monitoring Deep State traffic and obviously keeping up to speed with what the extraterrestrials are doing.
ACCLIMATION PROCESS
Corey: Yes, and I believe this is all a part of an acclimation process. We've had Fox News and other media showing the Tic Tac UFO, talking about some of the programs that we had to investigate extraterrestrials and covered it in a serious way.
Now we have a fairly high-ranking credible person from one of our allied countries that is making even larger statements that's going to open up the conversation, because how many people in the mainstream saw that and after they chuckled a little bit, they went through and they read it and they were highlighting "Galactic Federation" and Googling it, and then all of these other little keywords, and then they're finding their way to our work, our community, where we're releasing this information.
This has gone somewhat viral and it's really an opportunity for the powers-that-be to start seeding our consciousness, but it's an opportunity for us to jump in on the PR around it and show everybody that there's a lot more information to be found.
POSSIBLE DISTRACTION PROGRAM
Dr. Salla: Right. So, one of the questions I think a lot of people have is: Is this genuinely part of the Disclosure Process of the Awakening Process? Or is this a distraction to kind of like get people's attention away from the political turmoil in the US and how things are unraveling here?
Corey: I had been warning for years that right when we get to the point where we see that everything's about to be exposed about the Cabal, what's been going on on the planet, that I expected a big announcement about Antarctica or ETs or the Secret Space Program to occur.
So because of the time we're in, it could be a distraction, but at the same time, it could also be just a part of this drip, drip disclosure that they have that they've been planning to release information over a long period of time.
You're starting to see news articles about "time travel is possible". They're seeding our consciousness with that because when we learn about the technology that the space program or Space Force and other groups are using now, there are too many temporal anomalies that occur when you're observing the operation of these craft for you not to have that programming. You need to have your mind expanded a little bit to understand that this time travel stuff is real, and this is kind of how it works.
And then, "Oh, these craft that we release, you notice how they flutter from here to there and it looks like they're in two places at once? Well, you know, that has to do with some of the temporal effects that occur", and it will sink in a lot easier to the mass consciousness.
Dr. Salla: Right. Okay. Because I know that's a concern some people have that this is all a distraction, but I think it's really just also a part of the awakening process as the Deep State loses control as it has to play all its cards.
You know, this is one of the big cards it's been holding back for decades now, and now it's being played. And maybe part of the rationale is a distraction from the other stuff going on, but at the same time, you know, I think we can take this as a kind of gift in a way to help awaken humanity to the big picture, because I've always thought as more and more people start to look to space and look for answers to a lot of questions – UFOs, what's happening on the other planets, and so forth, Secret Space Programs that . . . our consciousness is going to expand.
It's just inevitable when you start to think outside of our planetary sphere, consciousness expands.
So that's a good thing even if the Deep State is trying to roll this out as part of a distraction. It's still a positive thing.
DISCLOSURES FROM THE ENTERTAINMENT INDUSTRY
Corey: Yes. Yeah, I agree.
Another thing we need to watch is the entertainment industry. A lot of these disclosures . . . just prepping our mind is going to occur in movies, television shows, video games to slowly kind of ease us into what they are about to reveal.
So, I think, what's going to come out in Hollywood in the next five years is going to be, you know, really interesting to observe. Because we're talking, you know . . . We have galactic federations we're talking about in the news, time travel.
The consciousness of humanity has been seeded already for more, and they can bring in a lot of interesting concepts through science fiction and other methods.
So I think keeping our eyes on the media is going to help us kind of foresee what's about to come, because usually you can watch their moves, and the moves they make will kind of give away their timing of what they're planning on doing next.
THE KARDASHEV SCALE
Dr. Salla: Uh huh. So I wanted to ask you about one of the things that Professor Eshed said that I thought was really interesting, and maybe you've talked about it in the past, but I didn't quite . . . maybe I didn't appreciate it at the time, but he said that the Galactic Federation was on the verge of revealing itself through the Trump Administration, or that Trump was getting ready to reveal its existence.
But then it said, "No, hold on. Humanity isn't quite there yet. Technologically, we aren't at that sufficient level.
So it brings up this whole question of Type 1, Type 2, Type 3 civilizations, the Kardashev Scale. And as far as I know, the Breakaway Civilization with all the advanced tech is probably Type 1.1 or Type 1.2, or something like that, whereas we are using open source scientific data, you know . . .
Michio Kaku said that we are at 0.7%. So we're not yet a Type 1 civilization globally, yet.
So the Galactic Federation said, well, we need to be closer to a Type 1 civilization before they reveal themselves.
Is that part of the normal process for extraterrestrials making open contact that society has to be closer to a Type 1 status?
Corey: Not that I observed, and it doesn't make a whole lot of sense to me to be honest. If we were just one live news announcement away from being a Type 1 civilization, well, they just have to reveal it to us.
So the technology is there. We have the technology to go and visit these ETs at their home planet under our own volition.
A CHANGE OF CONSCIOUSNESS IS CONNECTED TO THE BUILDUP OF THE SOLAR EVENT
So I think more of what needs to catch up is the consciousness. And right now we're . . . in the United States, look we're on the verge of an open civil war. There's been a shadow civil war for at least four years.
Look at all these different countries, there's turmoil everywhere.
The ETs know that this is all part of the buildup to the Solar Event that as the cosmic energy and feedback from the Sun through the Cosmic Web builds up, it begins to affect our consciousness and everyone starts having End-Time Madness, you know, and having to deal with their own BS.
And it builds up and builds up until the Sun has this micro nova, and then it sort of resets.
And everyone after that time are all connected in a way that we've never been really connected before.
That, I believe, is more of the change that they are waiting for us to make.
We already have the Type 1 civilization technologies and we are manufacturing them, actually trading them, to other solar systems.
So, I really think that . . . Now, maybe technologically we don't have an understanding of the current laws of physics, the electroplasmic physics, the way the universe works and the way consciousness ties in. That is a technology in a way.
But as far as a physical technology as in space travel, manipulating energy and matter, we have a lot of those abilities now.
Dr. Salla: Right. Okay. So then from the perspective of extraterrestrials monitoring our planet, you know, they look at our planet, and even though we have a Breakaway Civilization hoarding a lot of these advanced technologies, they're not going to say, "Well, that planet is like type 0.7 or something or . . . They are going to judge us from the advanced technologies that are being used even if it's just by a small elite group ensconced in these classified programs that the extraterrestrials will look at all of that and say, "Well, technologically, this planet is at a Type 1 status already."
It's just that most people on the planet's surface don't have access to those technologies because they are being hoarded by the Deep State.
So what Professor Eshed said that the Galactic Federation is waiting for us to catch up, you think that's kind of like disinformation? Is that just a new agenda? Is he pushing an agenda?
MANY ET GROUPS ARE AMORAL
Corey: You know, I mean, that could be his understanding based on what they were saying in the programs. But over all it has to make you wonder: Are these ETs the amoral ones that I had talked about, or are they the angelic ones?
Well, if they're waiting for us to . . . I mean, it just doesn't sound like they're interacting with us in a way of angelic beings.
Now, a lot of these beings in these galactic federations, I'm not saying they're negative, but they're amoral. They're coming down kind of like scientists doing a clinical study and they're not getting emotionally attached to it.
They come in, they pick you up, give you an injection, check you out, make some notes, put you down, just like we would a lab rat.
But the lab rat, his perspective, is, "Hey, this being's picking me up, jabbing me, holding me in this area against my will."
It's not going to see this ET as being a positive being.
But a lot of the ETs in this Galactic Federation that do all these genetic experiments see themselves as sort of like amoral scientists.
AGREEMENTS WITH ETs FOR GENETIC EXPERIMENTATION
Dr. Salla: And that's one of the things he pointed out in his interview that these experiments that are happening are between the U.S. and the extraterrestrials as part of these agreements.
He didn't actually specify how many agreements there are and all of that, but as far as I know, the first agreement happened in 1955 at Holloman Air Force Base where Eisenhower secretly met with representatives of . . . either it was the German Antarctic Program or extraterrestrials or a combination of the two. That's kind of like still not clear.
But that's the first set of agreements that I know of.
Corey: Yeah, there are definitely agreements prior to that. If you remember, my grandfather, who during World War II was a conscientious objector, went into this program to where they were giving them viruses and wartime diseases and then coming up with treatments.
Well, I'm told that this experiment also entailed that the viruses they were giving them had little things that turned on and turned off genes in their body and then affected their offspring, going down to my dad, then me.
So this was genetic manipulation before genes were ever really announced in, I think, the 50s.
NORDIC ET GROUPS
So how were they knowing how to edit your DNA using a virus in the 1940s? Well, it's because they were working with a Nordic group. And this Nordic group was working with them to implement these genetic changes to help create assets to fight against the negative ETs that they considered negative.
So this goes back to the 40s, to the 30s.
There have been . . . The United States when it was founded . . . there were discussions . . . some of the founding fathers discussed that there were "unearthly beings" that were involved.
I would say that there would have to have possibly been an agreement even back that far.
Dr. Salla: Well, that's really interesting that the Nordics were helping the U.S. with some of their genetic experiments in the 40s.
Corey: The "20-and-Back Program" came from the Nordic race. They came and they told us: "Well, the way the mechanics of your Solar System works, there's like a 20-year kind of little bandwidth that you can use to exploit to create time temporal bubbles that you can bring people from all different times into and work on problems."
And they had done it in many different solar systems, but in each solar system it's a different time period. It might be a 10-year-and-Back – a 10-year loop that they are able to exploit.
And I was told it had to do with Saturn, something with Saturn, in our Solar System, that Saturn was our chronos planet.
NORDICS AND SOLAR WARDEN, AND THE REPTILIANS AND THE DARK FLEET
Dr. Salla: Right. So the 20-and-Back Program really began in the U.S. with the Nordic races helping secretly, I guess, the Navy develop the Solar Warden Program.
Whereas the Reptilians helping the Germans in Nazi Germany and in Antarctica. I mean, they wouldn't need a 20-and-Back Program, or maybe they did. Maybe they piggybacked on it, but I assume that they didn't need it to begin with, but the U.S. did because it was all being done secretly.
Corey: Yeah, the Germans were exploiting that as well.
Dr. Salla: Uh-huh.
Corey: Dark Fleet was using 20-and-Back as well.
Dr. Salla: Okay. So how would the Dark Fleet . . . have been doing it, or the Germans? Were they kind of like doing it, the 20-and-Back, with their own citizens or after agreements were reached with the U.S., they were taking a lot of U.S. citizens and making them work in the Dark Fleet for 20 years and then putting them back, or military people?
Corey: Well, in the beginning, the Germans were using it on a much smaller scale than what the Americans were doing. They weren't using it in earnest until like around the same time that Solar Warden was.
Dark Fleet was kind of working all around us and kind of given free reign. And they were still pulling assets from Earth. They were working on the Lunar Operations Command at times. They were integrated into everything.
So they were getting assets to and from the Dark Fleet using the 20-and-Back as well.
INTERPLANETARY CORPORATE CONGLOMERATE
Dr. Salla: Uh-huh. Interesting. Well, I thought it was really interesting that Professor Eshed kind of identified Mars as the place for this joint U.S.-extraterrestrial base.
Is that kind of like referring to, say, a base that's run by the Deep State, run by, say, whether we're talking about the Dark Fleet, we're talking about Interplanetary Corporate Conglomerate, that they are taking Americans up there and they're kind of like using them to automatically prepare them for deep space operations or doing research and development?
Corey: Yeah, you have corporate bases – almost all of them Interplanetary Corporate Conglomerate bases. There are some that are just Dark Fleet.
But the ones that he's discussing are the ones that are built and controlled by ETs, and they have given us access to the facilities, and we go and work there alongside them.
Dr. Salla: Okay. All right. So, when we're talking about a place like Mars, we're talking about bases that are either controlled by the Dark Fleet, Interplanetary Corporate Conglomerate or extraterrestrials, and Americans are taken there for different things.
But we're not talking about any bases on Mars that at the moment come under the jurisdictional sovereignty of, say, the American government.
Corey: You know, there could be small little bases that have been built, especially since I was involved, that are related to the programs that ended up aggregating into the Space Force, some of the military-industrial complex ones, but those typically are smaller, more modular sort of bases that are more in line with what we're used to seeing depicted in the 60s and 70s in NASA art, more of those types of bases.
And the larger bases that are just completely built out like cities are usually going to be Interplanetary Corporate Conglomerate.
And a lot of the bases that even the military groups use are kind of staffed out, built out and staffed, by the corporate groups anyway.
So there could be a military base that you would consider just for, let's say, the Solar Warden group. Well, that base was most likely built by Interplanetary Corporate Conglomerate assets and, most likely, there's at least some management going on inside that base that involves the Interplanetary Corporate Conglomerate even though it's officially a Solar Warden base.
They're all just kind of . . . The tentacles go everywhere.
JOINT BASE ON MARS
Dr. Salla: Uh-huh. Okay. So, why do you think Professor Eshed mentioned Mars having these joint bases? Does that mean that we're going to start to learn very soon about what's really going on in Mars that there's multiple things going on over there?
I guess that's going to blow people's minds especially the mainstream when they start learning that there are these secret bases up there already that are running.
I mean, people like Elon Musk are talking about sending up their starship, you know, taking three months to get to Mars using methane rockets to take people over there.
He's talking about 2024 maybe the first one going. But does that all now just become kind of like moot because Eshed's revealed that there bases already there and American astronauts are already there.
So they're obviously getting there. They're not using methane rockets to get there. They're using anti-gravity craft.
So does this mean that what Musk is doing, and kind of Mars exploration, that all of that's going to be supercharged as the information comes out that this advanced tech exists?
Corey: What I think is that for years to come we will still be building out this more conventional space technology because there's going to be a gap. They'll let us know . . . I mean, they let us know about the Stealth Bomber, but how many of you have flown in one?
We found out about that in the 1980s.
So just because technology is disclosed to us doesn't mean that you or I are going to be flying around in it.
And if we want to access space and access to certain areas of space, civilians are going to have to still keep building out this technology until it is opened up. It's not going to be opened up immediately.
But, yeah, it's going to probably be pretty frustrating for . . . But, you know, I think it would kind of wipe out a trip to Mars in a conventional rocket if they do announce, "Hey, we're already there. We already have colonies there and we can get back and forth very quickly."
Why invest in a trip there? So I think it would take the wind out of their sails.
Dr. Salla: Right. I imagine someone like Elon Musk that maybe he would have been very dismissive of this whole Secret Space Program genre then all of a sudden he comes across this Israeli scientist working or having worked at this top Israeli space institute who is talking about this stuff and secret bases.
I mean, mustn't someone like Musk shift from that position or all this is just BS conspiracy theory. Holy cow! It's real. This Secret Space Program stuff does have legs to it.
Corey: Yeah. Yeah. I mean, I think it's becoming more and more apparent that there's a Secret Space Program. It's becoming more and more apparent that extraterrestrials exist. And it's just below the surface now in the mainstream.
Hopefully, with more announcements like this and work that we're doing, we will be able to bring it out into the mainstream.
I'm working on doing that on a number of different levels, and the work that we've been doing is going to be seen as very important, I believe, in the next few years.
HOW LONG WILL IT TAKE SPACEX TO USE ANTI-GRAVITY INSTEAD OF ROCKETS?
Dr. Salla: Right. So what do you think of the likelihood that someone like Elon Musk can do a quick turnaround rather than . . . because he's built up his SpaceX industry and they're now doing rocket launches for NASA and for Space Force and for the NRO that Musk is doing this now.
As he learns more about this do you think he at some point will be briefed? Because imagine when he does receive an official briefing that he'll say, "Well, yeah, why am I going to waste my time with methane or kerosene rockets when there's this anti-gravity stuff?"
And with the Tesla car, he's already been a pioneer in shifting us from fossil fuels to electric cars.
So couldn't he do the same thing with rockets?
Corey: Yeah, and I believe that he's working so closely with NASA now.
Once Space Force announces certain technologies, that's going to slide right over to NASA, and NASA is immediately going to start using these technologies.
And NASA is going to use civilian contractors still to do these new technologies.
So Elon Musk could very well already be prepared to make that shift as far as we know.
From what I've been told, there are people that have worked around his organization that know quite a bit. And how much they're sharing with him, I don't know, but he at least has access to people that could give him this information.
Dr. Salla: I know he's working very closely with Space Force. He's given talks with them and he's sending up satellites for Space Force.
But I know the Secretary of the Air Force, Barbara Barrett, has actually gone on the record to say that the Air Force needs to declassify a lot more technology.
So, some of the anti-gravity stuff could be slated for release soon. I know that Space Force is in this kind of 18-month setup period ending in May of 2021 that they've officially set up. And so they're ready to go from there. Right now, they're still consolidating and getting everything sorted out.
But by May 2021, I anticipate that they're probably going to start getting briefings, or start getting the technologies, that Lockheed, Skunkworks and Phantomworks, Boeing, and whatever Northrop is building. They're going to start getting briefings on this advanced technology that has been secretly built.
And Space Force is going to say, "Yeah, we want some of those and we're going to deploy them," and then things start to open up.
And maybe that's why 2024 was set by President Trump as the target date for the return to the Moon because he anticipated or maybe his administration or people within it were planning to release this tech before then so that we have manned missions to the Moon again by 2024, because it wasn't going to happen with the constellation rocket, that's for sure, because that's a white elephant.
People are asking, "How could America get back to the Moon by 2024?"
Corey: Yeah, using existing technology that's secret.
Dr. Salla: Right.
NEW TECHNOLOGIES TO BE RELEASED
Corey: So, yeah, I think that in the next four years, from what I was told about Space Force, was: Yes, they were going to start releasing these technologies. It's going to be done very similarly to how the stealth planes were done. We're going to . . .
Around air bases, people are going to see white orbs that disappear and then a triangle is there or another type of craft, and then they'll see it descending down into an air base in Germany or somewhere else.
People will get some video and pictures of it. It'll be on the Internet for a while. People will talk about: "Oh, I saw an orb and I saw a triangle at this location."
And then it'll start coming more and more into the consciousness. And then just like they did with the Stealth Bomber and fighter, you'll see one flying in plain view. It'll be on the news. They'll talk about this new wonderful technology and how it's really . . . It just makes sense if you think about it, you know, how this technology works. It's just amazing that it wasn't . . . it hadn't come out before.
It's going to be done in a really exciting kind of way.
I've been told it was going to be done kind of slowly going over the next four years if Trump had a next administration.
WHO WILL BE WORKING WITH ETs IN THE FUTURE?
Dr. Salla: So just kind of shifting tracks back to this kind of like reorganized Super Federation that's going to take charge of Earth affairs, what do you know is going to happen from the perspective of the ETs or the Galactic Federation or this Super Federation, or what was a Super Federation?
Who's liaising with the ETs now? Who's doing the talks, and where are we heading?
Corey: It's still all of the same people. Deep State people are still in contact with ET groups. The ETs will work with whoever's in control and try to work to get other people in control.
These same negative ET groups that we would call the Reptilians are still down here interacting with the Deep State. They're obviously losing more and more power or . . . people are waking up to their power more and more every day.
We also still have Nordic groups, Anshar-type groups, different types of ETs that are coming in trying to assist us in a positive way.
And then we also have many, many other ET groups that just want us to get our act together so they can engage with commerce and exchange of culture, because it's pretty open out there, and we're in a little bubble right now, and there are a lot of these civilizations that would like to interact with us and get to know us better.
PRESIDENT TRUMP'S RECENT PERSONNEL CHANGES
Dr. Salla: One of the things that President Trump did recently was he sacked 11 members of the Defense Policy Board, and that included people like Henry Kissinger, Madeleine Albright, Gary Roughead, the former Chief of Naval Operations.
So it looked like he was trying to change something pretty major that was . . . They had a lot of influence behind the scenes.
And I know Henry Kissinger, as far as I can tell, he's been involved in the whole Deep State, extraterrestrial, global management system for decades now.
So by Trump sacking these people, is he really trying to shake things up, maybe open up negotiations with more positive extraterrestrials groups, saying, "Hey, these Reptilians" or these negative groups, "they don't have as much power as they once did. So, come to me and let's make some deal."
Corey: You know, there could be that aspect to it because of some of the people like Henry Kissinger, who we know are directly involved with Reptilians and other groups.
The briefings I had received was that this was more about taking away what they call "Deep State control" of the Department of Defense and certain Special Forces groups that were being misused by this think tank or however you want to describe it, and that they moved the control of Special Forces back over directly to the Secretary of Defense.
I think it had to do more with also getting in a position to where the DoD wasn't going to block some of the efforts he may take as next steps if he doesn't win in the Supreme Court with the election stuff, which I really don't want to get into on this video too much.
Dr. Salla: Yes. Yes.
Corey: I think it had more to do with that scenario.
THE PUBLIC WILL BE INCREASINGLY HUNGRY FOR INFORMATION
Dr. Salla: Okay. So, overall then, this development with Professor Eshed, I know it's going to really have a big impact on working professionals who are now going to take a second look at all of this literature.
So I think it's going to kind of like increase demand for people like yourself and myself who have been doing this kind of research and disclosure.
So, what do you think lies ahead?
Corey: Well, I think that what you said times a thousand when it comes to this information. It's going to be . . . The public is going to be hungry for it.
We have more and more of this information coming out. I mean, we have just people in their everyday life that are seeing things that don't make sense that are going on in the world, and that certain conspiracies bear a little bit of merit.
So they're starting to look at these so-called "conspiracy theories", you know, conspiracy theory about aliens genetically manipulating the planet. I mean, come on, you know. For the mainstream, that's crazy.
But now, look at . . . The information's out there.
So, yeah, like I said, I think our information right now in Hollywood, these topics are extremely popular, esoteric, you know, in general.
SALLA HAS FIVE BOOKS PUBLISHED ON THE SECRET SPACE PROGRAM
There are many other ways like, you know, I think when this information comes out, you know, your books . . . How many do you have? Five now, or is it more on the Secret Space Program?
Dr. Salla: Five on the Secret Space Program series. [I have] another one in the pipeline.
Corey: Yeah, and those books may become required reading in universities or at least quoted from heavily at some point, you know.
People will start searching these terms, keywords, and more and more people are going to start coming to our work, and I already see it.
I'm seeing subscribers growing, more emails coming in from people that have seen me on, like, Jenny McCarthy or somewhere else more mainstream and not niche.
So interest is growing and I think that the information that we've been putting out there is going to be some of the most popular information around here within a few years.
Dr. Salla: Right. I'm enjoying it at the moment, you know, in terms of just connecting all the dots, all of these Secret Space Program revelations that you've been doing and others have been revealing for a few years now.
And now with these official acknowledgments and a lot of the documentation that's coming out, I think that's just going to be really exciting for anyone that's trying to put together the big puzzles.
So, yeah, and that for me has always been interesting is, like, you know, what is the big picture? How do all of the pieces of the puzzle fit together?
And now we're able to fit together the pieces of the puzzle a lot more.
WE MAY HAVE A STAR TREK FUTURE
I'm doing that now with my next book which is focusing on Space Force. I'm just going to do a whole book on Space Force: How it was set up and why it's threatening the Deep State, and how it connects to kind of like Starfleet, because that's one of the things that I think . . . well, Roddenberry's vision of a Star Trek future. You've talked about that too a few times. The military wants the Star Trek future.
So, I was really amazed to see that in 2019 there was something called the Space Futures Workshop that was organized by Air Force Space Command, and that's the predecessor to the Space Force.
And I was really amazed to see that they came up with eight scenarios and their preferred scenario was the Star Trek future. And I thought that was really interesting that why would they choose that?
Corey: Look at the symbol they chose.
Dr. Salla: Yeah. And this was before Space Force was set up that they actually . . . Its predecessor was saying that their preferred option for the future was a Star Trek future and then you have Space Force set up. You have the logos and all of the connections with Star Trek as it was envisaged.
To me it's almost like back in the past in the '50s and '60s someone used time travel technologies and saw, "Okay, in the future we're going to have something called Starfleet. So let's start seeding the mass consciousness with that." And Roddenberry was briefed.
And I talked about that in the Navy Secret Space Program book that Roddenberry was briefed.
PEOPLE'S EXPERIENCES IN THE "20-AND-BACK PROGRAM" CAN BLEED BACK INTO HUMAN CONSCIOUSNESS
Corey: Let me blow your mind even more. The 20-and-Backs, all of the temporal travel that's going on, you have to visualize it this way.
This is just picking dates out of the air.
Let's say in 2036, Space Force develops the technology to travel back in time. Well, they're traveling back in time and working with people back in the 30s, 40s, 50s, 60s, pulling them up into 20-and-Backs, working with them in these temporal groups.
So that information, like the people going up and working in these 20-and-Backs and working off planet for Space Force that's actually in the future are . . . this is going into their consciousness. So it kind of bleeds out in different ways.
So I think that there is a huge temporal part of this puzzle that a lot of people really aren't paying enough attention to.
And when all of this does come out, it's going to blow even the minds of people in ufology that have been covering . . . "I know about 58 different ET groups." "I know about spacecraft that can fly between here and the Moon in a matter of minutes." And they think they've got a good understanding.
But when all of it does come out, the temporal aspect of it is going to be the mind-blowing part.
COULD THE CREATOR OF STAR TREK HAVE BEEN IN A "20-AND-BACK PROGRAM"?
Dr. Salla: Right. So this pulling people out of historical epochs, the 1920s, '30s, '40s, and pushing them into this 20-year-and-Back Program, that whatever in the 2030s, 2040s, whatever, and after 20 years they get pushed back, well, that raises the question, "Could Gene Roddenberry have been in a 20-and-Back in the Dark Fleet of the future?"
Corey: Yeah, that's my question too.
Dr. Salla: Okay. Well, that's an interesting one.
Corey: Or he was influenced by someone who was.
Dr. Salla: Well, I know he was actually directly influenced by Leslie Stevens, who was the director of "The Outer Limits". "The Outer Limits" was run by Leslie Stevens and he ran that from '64 to '66, [1963-1965] I think was the last season.
And Gene Roddenberry sat in on the second season of "The Outer Limits".
Now, in the Navy Secret Space Program book, I actually talk about Leslie Steven's father, who was the vice admiral. He was the guy that worked directly with Rico Botta in setting up the Navy Secret Space Program.
So the son of Admiral Stevens was the guy that introduced – inspired or introduced – Gene Roddenberry to a lot of these ideas.
So it's quite possible that maybe Leslie Stevens was one of these people pulled out and served in the 20-and-Back Program because Leslie Stevens didn't just influence Gene Roddenberry with Star Trek, he also influenced Glenn Larson who came up with the "Battlestar Galactica" series originally in the, what was it, the '70s.
Corey: Wow! "Battlestar Galactica" plays into the whole AI threat.
Dr. Salla: Exactly. So, that would make sense that Leslie Stevens was most probably part of the 20-and-Back Program because his father was working for the Navy as a vice admiral. His father was actually head of a joint intelligence organization set up by the Pentagon.
So Leslie Stevens, the Vice Admiral, was in charge of that.
So if there was a 20-and-Back Program, and that people in the US military back in the '40s and '50s were aware of that and saying, "Okay, you can take this guy or that guy."
That maybe they said, "Okay, take my son, Leslie Stevens. Put him back and put him in the 20-and-Back Program in the future."
And then Leslie Stevens does the soft disclosure, because, you know, "The Outer Limits", if you look at the episodes of that, I think they ran for two seasons, but there's a lot of episodes in there talking about the different advanced technologies that were being used.
Like there's one episode called, "OBIT . . .", what is it, "Outer Band Individuation Teletracer", which is all about tracking people at any time through their resonant frequencies and find out what they're doing.
And this is an "Outer Limits" episode. So this is advanced tech that was being developed at the time.
So, Leslie Stevens was kind of like seeding the mass consciousness with these advanced technologies, inspiring Roddenberry to do something on a Galactic Confederation on planets in the future, Starfleet, then Glenn Larsen and "Battlestar Galactica".
So, yeah, I'd say this was probably how it was done.
Corey: You make an interesting argument.
UPCOMING EVENTS AND ACTIVITIES
Dr. Salla: Yeah, wow!
So what can we expect from you in the future?
Corey: Ah, well, let's see. I've got a lot of things going on. The graphic novel is finally on track to finish. It's turning out very amazing. It's going to go on pre-sale again here very soon.
You can get it at www.disclosurecomics.com – get on the mailing list. I mean, it'll go live very soon.
And I do believe that this comic, this graphic novel, is going to be a major collector's item, especially the pre-edition, the pre-release edition, because we're taking this as a storyboard into Hollywood.
We have interest here and there on bringing this to a movie or a series.
We're definitely not going to have a problem getting a docu-series of some sort going on on a channel somewhere that will be seen by many, many millions more people, which will bring people more to our community.
So we have that going down. My online course, "The Blue Avians and the Law of One", is going to start on January 9.
You can find all of this at www.ascensionworks.tv and you can also find my old course there.
And hopefully next year, www.ascensionworks.tv is going to launch. It's going to . . . I'm working with Mike Waskosky quite a bit on it. We're hoping to make it a new sort of social media platform as well as a place to come and watch videos like a Netflix or something like that.
We have a lot of people interested in doing shows for us, so it looks very good there.
I think those are the Number One things that are happening with me.
Maybe some of the people that are watching this video, because of this viral story that's going around, it kind of sucks somebody new into this video, and they hear us talking about you wrote five books on the Secret Space Program. Where can they find out more information about those?
Dr. Salla: Okay. Well, they can go to my website: www.exopolitics.org or they can go to Amazon. Just type in my name or just type in "Secret Space Programs". That comes up.
So there is a Secret Space Program series on Amazon that they can learn about.
So, yeah, just come to the website.
And, you know, I'm working on this Volume 6 in the series, and that's tentatively titled, "The Space Force and The Rise of Starfleet". I'm very excited that I'm getting close to finishing the first draft of that. So it will be ready sometime around March and April of next year.
And I'm going to be doing with John DeSouza and Laura Eisenhower with "Portal to Ascension" in January. I think it's the first Saturday in January or something like that. I don't have the date in front of me, but we're going to be doing a kind of second Exopolitics and Ascension online webinar. [Note: Here is the link to the webinar: https://portaltoascension.org/event/ascension-exo-disclosure-2021 ]
So that'll be something where hopefully there's more clarity about what's going on at the moment. But definitely, everything is pretty exciting.
And I'm going to be doing more webinars starting at the end of January and go right throughout 2021.
Corey: Very cool. Yeah, the webinars are a lot of fun. They're a lot of fun and the community seems to love them.
Dr. Salla: Yeah. I love that you can go really deep into an issue and not get so caught up in time management. It's like you have enough time to really kind of look at all of the facets of an issue.
MONOLITHS APPEARING AROUND THE GLOBE
Corey: Yeah. Well, before we wind this down, I wanted to ask you: Have you been paying attention to all of the weird monoliths popping up everywhere?
Dr. Salla: Yeah. I thought that was interesting. Someone seems to be . . . I think it was an artist because someone from the Leak Project went out there and took a look at one of these monoliths, and they saw rivets and all of that. So it was definitely a human artist who put it together.
So maybe it's just an artist kind of like trying to attract people's attention. But, like, totally, whether it's just a human artist . . . I think it is just a human artist – I think it still . . . archetypally . . . it helps waken people up.
Corey: It DOES help waken people up. It does, but I just had the feeling from the beginning that it was some sort of like mass marketing gimmick campaign kind of thing.
But they started popping up in different countries and different states. There's been a number of them now. It's coordinated in some way, but it'll be interesting to see why they're doing this, but it's definitely peaking a lot of curiosity.
Dr. Salla: Definitely.
WRAP UP
Corey: Awesome. Well, you know, I think that covers everything that we wanted to discuss. It was pretty exciting when this group of news articles came out discussing this Galactic Federation and joint human-ET bases on Mars.
It's very exciting for us, especially, because we've been talking about it for years, and we're starting to see more and more come out publicly from both of our information, and I think it's gratifying but at the same time we're looking for more, right?
Dr. Salla: Exactly. But it certainly is nice to have that official acknowledgment, and I know in your case you've been getting a lot of flak. You have a lot of people out there trying to shoot you down, but I think that's probably because you're like right over the target and your testimony is now going to get a lot more attention.
So, I'm very glad to be working with you and putting all this information out.
Corey: Yeah, I appreciate it. You know, the Alliance has been talking to me lately about after all of these events occur, it's time to start educating the populace. They've spoken to me about being involved in releasing media that would discuss the history of humanity.
And I look forward to being involved in that someday. And I know you and others in this community will be involved as well.
I really appreciate all the work that you've been doing over the last five years. You've been a very pragmatic person, not an emotional person. You've been a good loyal friend and you're doing really great work when it comes to the Secret Space Program and introducing this topic to people. I mean, you're a professor. You're releasing this information in a non-sensational way. And I think what you're doing is really important and I just wanted to say I appreciate the work that you're doing.
Dr. Salla: Well, thank you, Corey. I'm looking forward to what the future brings to both of us.
Corey: It's going to be exciting. It's going to be exciting.
Okay. So I thank everyone for joining us here on the Sphere Being Alliance channel [available here]. Please click the Like button right now and subscribe.
A lot more videos will be coming out here in the near future. I'm talking to someone about the financial reset and some of the NESARA, GESARA, I guess you call it, stuff going on – in Asia, mass quantities of gold, a new financial system that rumor's have been going on [about] for years.
I've been speaking for the last year with some people that are involved on a high level and I think we're about ready to do a video with them.
I've been invited to go to Indonesia and the UAE to videotape certain things that they claim exist. And my fingers are crossed that it's legitimate, but, you know, time will tell.
So please subscribe immediately, and I look forward to bringing more content to you in the near future. Thank you.
---
Transcribed by Sam Ritchie
More interviews and articles featuring Corey Goode are available here.
Related article on Prof Haim Eshed's revelation is available here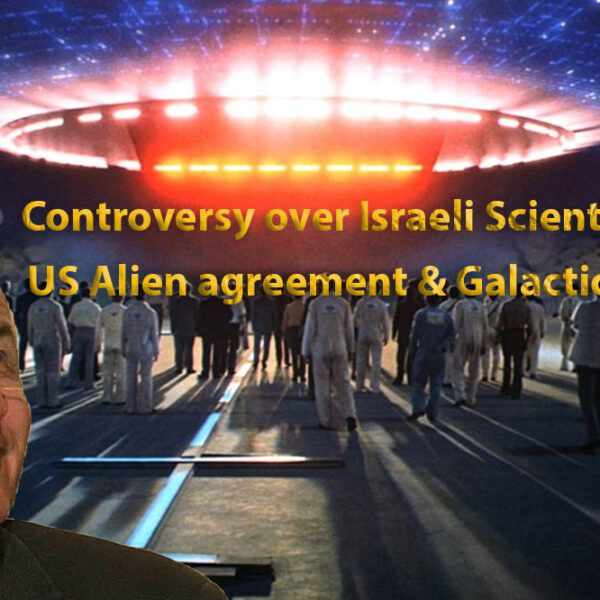 On December 4, Professor Haim Eshed generated worldwide headlines when in an interview published by the Israeli national newspaper, Yedioth Aharonot, he revealed the existence of a secret US agreement with extraterrestrials, the existence of a joint US alien base on Mars, and a Galactic Federation monitoring human affairs. Reactions to the Professor's startling revelations varied from those taking the comments as a major breakthrough on disclosure of extraterrestrial life, to many claiming he either had lost his mind or his words were distorted during the translation process.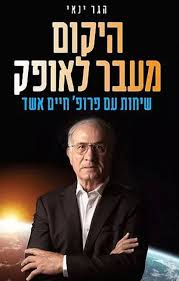 It's important to point out that Eshed gave the interview to promote his recent book, published in Hebrew, titled The Universe Beyond the Horizon conversations with Professor Haim Eshed. This is where one controversy arises since he appeared to say much more in his interview than what he told in his book.
Here's the crux of what the Professor had to say according to an extract of the interview, translated into English, that was published by The Jewish Press on December 5, which set off the worldwide controversy:
The UFOs have asked not to publish that they are here, humanity is not ready yet. Trump was on the verge of revealing, but the aliens in the Galactic Federation are saying: Wait, let people calm down first. They don't want to start mass hysteria. They want to first make us sane and understanding. They have been waiting for humanity to evolve and reach a stage where we will generally understand what space and spaceships are.
There's an agreement between the US government and the aliens. They signed a contract with us to do experiments here. They, too, are researching and trying to understand the whole fabric of the universe, and they want us as helpers.
There's an underground base in the depths of Mars, where their representatives are, and also our American astronauts.
Anticipating that some would conclude that he had lost his mind in making such comments, the Professor, who is also a former Brigadier General in the Israel Defense Force (IDF),  added for good measure:
If I had come up with what I'm saying today five years ago, I would have been hospitalized. Wherever I've gone with this in academia, they've said: the man has lost his mind. Today they're already talking differently.
I have nothing to lose. I've received my degrees and awards, I am respected in universities abroad, where the trend is also changing.
Support for Professor Eshed's continued sanity comes from former colleagues such as the current head of the Israel Space Agency, Dr.  Isaac Ben-Israel (also a former IDF general), who says that Eshed "has been talking about aliens for decades, and it never compromised his academic integrity."
Ben-Israel's admission is vitally important since it shows that Eshed's beliefs about alleged alien contacts and joint agreements with the US have evolved over decades during much of his professional life, and not a post-career flight of fancy as contended by some.
Other former colleagues such Dr. Dan Blumberg, the current head of the Earth and Planetary Image Facility at Ben Gurion University, says that the extraterrestrial topic is an important one that Eshed is more than qualified to cover authoritatively, but not as appears in the original Yedioth article:
I know Haim Eshed well, and have enormous respect for him. It's a viable and legitimate discussion, but it has been taken to a completely bizarre place by the article.
Blumberg's position is similar to many in that Eshed's views were either mistranslated or embellished in the original December 4 article. But were they?
What's important to keep in mind in finding an answer is that the Yedioth Aharonot interview follows the traditional question and answer format, interspersed with the interviewer's commentary. The commentary sections involve the interviewer applying Eshed's views to contemporary developments, which might raise the possibility of mistranslation or embellishment. However, these commentaries are followed by the professor's own words in answering a succession of questions about UFOs, extraterrestrial life and secret agreements, all done in the Hebrew language.
I did a Google Translate of the Yedioth Aharonot interview into English and found Eshed's responses to questions where he addressed the issues of US alien agreements, a US base on Mars, and a Galactic Federation monitoring human events. I was able to confirm that his responses, through Google Translate, closely matched what was written in the Jewish Press story, and other Israeli news outlets, such as The Jerusalem Post and The Times of Israel, in their English language articles.
While I'm not proficient in the Hebrew language, nor does Google Translate do justice to what Eshed is saying, there is nevertheless consistency in the quotes attributed to him, by these three independent Israeli news stories, with the translation of the Professor's own words by Google Translate.

Each Israeli source discussed the radical implications of what was said rather than raise problems of embellishment or translation. Clearly, the writers for each Israeli source read the original Yedioth Aharonot interview to get the gist of what Eshed was saying in his own words.
What was subsequently published in Israeli news sources are therefore  accurate translations of what Professor Eshed actually said rather than embellishments or distortions as suggested by leading UFO researchers such as Britain's Nick Pope. He told NBC News: "Either this is some sort of practical joke or publicity stunt to help sell his book, perhaps with something having been lost in translation, or someone in the know is breaking ranks".  
Having eliminated translation or embellishment problems, then is Eshed "breaking ranks" and revealing long-held secrets as Pope suggests?
For an answer, we need to consider Eshed's background, as revealed by Wikipedia and other sources. In 1969, Eshed was sent to the US by the Israel Defense Force's (IDF) Intelligence Division to gain a Ph.D. in aeronautical engineering. Upon his return, he headed the IDF's research and development department in the Intelligence Corps. By 1979, as Lt. Colonel in the IDF, he began to work on a detailed proposal for the establishment of a satellite program that could be used for space reconnaissance of the Middle East.
In 1981, Eshed retired from active military service and became a full-time professor at the Israel Institute of Technology, aka Technion, Israel's oldest and top-ranked University. He subsequently played key roles in founding and leading the Israel Space Agency (1983) and the Technion's (Asher) Space Research Institute (1984). Eshed managed Israel's satellite projects, including its highly classified spy satellites responsible for monitoring the Middle East region for possible national security threats such as Iran's secret construction of nuclear weapons facilities.
There are two phases during his military and civilian career that Eshed would have acquired access to information concerning extraterrestrial life and technology. The first phase involved his military service with the IDF, where Eshed worked with "Unit 81", the secret technology unit of the Israeli Military Intelligence Directorate. It is the Israeli equivalent of the Pentagon's Defense Advanced Research Projects Agency and the CIA's Directorate of Science and Technology.
It's highly likely that Eshed, at some time during US Israeli collaborations on breakthrough technologies, would have learned about multiple highly classified DARPA/CIA programs conducted during the 1970s. One of these very likely included a joint US extraterrestrial base on Mars reported by various insiders associated with the Montauk Project (1971-1983).
Decades later, Laura Eisenhower, the great granddaughter of President Eisenhower, says that she was subjected to a recruitment effort for a secret US base on Mars, but declined despite great pressure exerted on her.
Consequently, it is likely that it is through joint US Israeli collaboration on breakthrough technologies while he was associated with Unit 81 during his military service that Eshed first learned about a secret US base on Mars and extraterrestrial agreements.
During his subsequent "civilian career" (1981-2010), Eshed no doubt continued to work closely with his peers from DARPA and the CIA on breakthrough technologies, while he focused on space surveillance technologies for the IDF.
Up to his retirement in October 2010, Professor Eshed had been responsible for the launch of 20 Israeli satellites during his nearly 30-year career at the Space Research Institute and the Israel Space Agency.
During his command of Israel's spy satellite program, he now worked closely with US peers from the National Reconnaissance Office (NRO), which runs spy satellites and is jointly run by the Pentagon and the CIA. It's during joint intelligence sharing between the NRO, CIA, and the Pentagon's National Security Agency (NSA), with the IDF, Israel Space Agency, and the Space Research Institute that Eshed presumably learned a lot more about highly classified US programs concerning UFOs and extraterrestrial life that he first learned about while working for Unit 81.
According to Dan Sherman, a 12-year veteran with the US Air Force (1982-1994), the NSA ran an electronic communications program ("Project Preserve Destiny") with extraterrestrials that relayed details about abducted humans that were returned to their pick-up locations unharmed and with memories wiped. Sherman's testimony matches what Prof. Eshed and others have said about US extraterrestrial agreements and genetic experiments.
As for Eshed's revelations about a Galactic Federation monitoring human affairs and deciding that humanity is not yet ready for open contact, this is clearly a highly controversial claim. There have been many claims of an extraterrestrial Federation, Confederation, or Alliance monitoring human affairs and regulating multiple alien visitors' activities to our world.
The earliest reference goes back to 1952 when the famed contactee, George Van Tassel, claimed to be in communication with the "Ashtar Command," which was deemed to be part of a wider Galactic Federation, that requested the US abandon research into thermonuclear weapons. The Galactic Federation/Ashtar Command was involved in a failed diplomatic outreach that occurred on February 20, 1954, when President Eisenhower met with its representatives at Edwards Air Force base to discuss thermonuclear weapons testing. The extraterrestrial representatives further warned Eisenhower about unscrupulous alien groups that would soon make contact to make deals.
There has been over the subsequent decades a steady succession of contactees, insiders and channelers that have spoken or written about a Galactic Federation regulating human affairs. Eshed's reference to the Galactic Federation adds credence to the legitimacy of such claims. Indeed, the subject of Galactic Diplomacy, which is the title of my 2013 book, has been given a healthy shot of credibility.
In a December 10 interview published on YouTube, I spoke with Corey Goode, a secret space program insider, about Professor Eshed's claims concerning a Galactic Federation. Goode elaborated upon the different federations that he was aware of or that he interacted with during his SSP service and off planet contact experiences.
As for Eshed's claim that the Galactic Federation asserts humanity is not yet ready for open contact due to our lack of technological development, there are a few ways to interpret this. One may be that our overall technological level of development needs to be closer to a Type 1 status civilization according to the Kardashev scale. This is where the majority of humanity's energy needs come from planet-wide energy generating systems. This would require humanity moving away from non-renewable fossil fuel sources to electromagnetic or other planet-wide energy systems.
Another interpretation is that the current global situation by which advanced technology is controlled by the Deep State and withheld from the rest of humanity needs to be dealt with before open contact can occur. In other words, the power of the Deep State needs to be removed or significantly curtailed before humanity is ready for contact. After all, why would a benign Galactic Federation want to admit a planetary member that is schizophrenic and corrupted by a hidden Deep State that contemptuously manipulates the rest of humanity?
In conclusion, Professor Eshed's revelations have brought to the mainstream media's attention information drawn from highly classified extraterrestrial related projects that have been earlier revealed by many brave insiders, witnesses, and contactees who were widely ridiculed and debunked for their disclosure efforts. It's hard to debunk someone with Professor Eshed's background and stature when he raises such controversial topics.
While there may be controversy over Eshed's startling comments, this is not due to erroneous translations, embellishments, or him losing his mind. Instead, humanity is being told to wake up to truths about extraterrestrial life and secret agreements with the visitors that have been ignored and widely ridiculed for decades.
Many scientists, academics, and space professionals are in deep denial that they could have been fooled about such monumental issues during their distinguished careers. Professor Eshed's revelations are a big wake up call. He is asking if we personally and collectively are ready for open contact with extraterrestrial life and a Galactic Federation.
© Michael E. Salla, Ph.D. Copyright Notice
[Note: Audio version of this article is available on YouTube and Spotify]
[Google Translate of the Yedioth Aharonot interview. Another version is here]
Further Reading