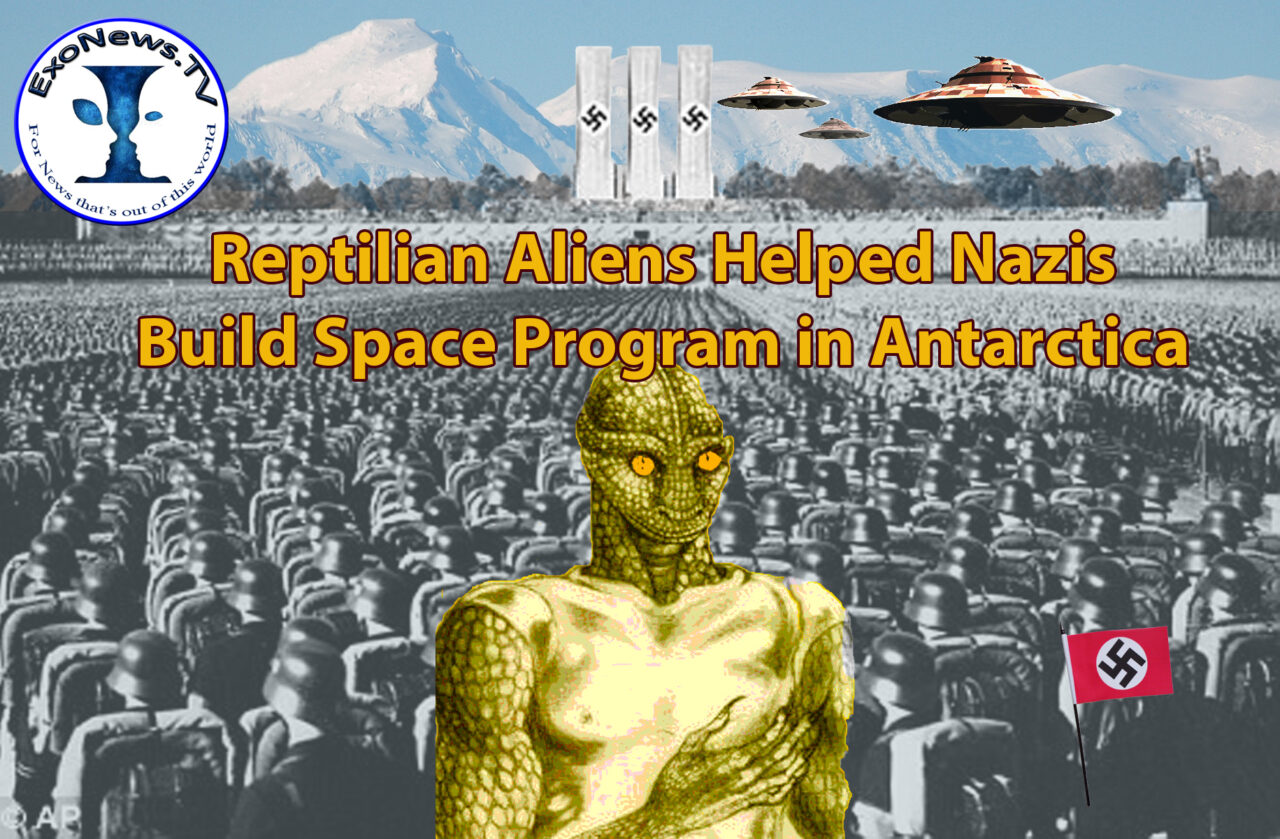 In the run up to World War II, German secret societies and the Nazi SS were guided to three large caverns in Antarctica by Reptilian extraterrestrials, according to former U.S. Navy intelligence operative William Tompkins. In his latest ExoNews TV interview, released today, Tompkins describes how the Reptilians helped the Germans/Nazis build underground bases in remote Antarctic caverns, which were located next to even larger caverns controlled by the Reptilians.
According to Tompkins, the U.S. Navy learned of the existence of these secret Antarctic bases from their spies embedded in Nazi Germany, who found that the Nazis/Germans used these remote bases to launch space missions to the Moon, other planets in our solar system, and, most remarkably, to distant interstellar locations.
Tompkins says that the Germans began moving equipment and supplies to Antarctica as early as 1913, which coincides historically with the Second German Antarctic Expedition from 1911-1913. This period also coincides with the increasing role of German secret societies in exploring remote global locations for occult knowledge.
The movement of equipment accelerated in the lead up to World War II. In his interview, Tompkins cites 1934 as the beginning of this acceleration, even though historical records point to 1938 as the launch of the Third German Antarctic Expedition:
The move from Germany to Antarctica was in operation from 1934 way before the war started. In fact some of the stuff went down in 1913.
In last week's ExoNews TV episode, Tompkins revealed that secret agreements had been reached between Hitler's regime and Draconian Reptilians. In this week's episode he discussed one of the major elements of this agreement:
Large portions of equipment were sent down there. But right next to them were three tremendous size caverns which the Reptilians had. Not Grays, but Reptilians. Germany got two more, about a tenth the size of the big Reptilians [cavern]. They were able to … [go] down, usually by submarine. They built these flat submarines, these regular class, so they could ship all this stuff down.
Tompkins remarkable information is consistent with Grand Admiral Karl Dönitz who referred on three occasions to an impregnable fortress being built for Hitler in a remote location using Germany's advanced submarine fleet. In 1943, Donitz is reported to have stated: 
… the German submarine fleet is proud of having built for the Führer, in another part of the world, a Shangri-La on land, an impregnable fortress.

The second occasion was in 1944, when he revealed how plans were in place to relocate Hitler so he could launch a new effort for his thousand-year Reich:
The German Navy will have to accomplish a great task in the future. The German Navy knows all hiding places in the oceans and therefore it will be very easy to bring the Führer to a safe place should the necessity arise and in which he will have the opportunity to work out his final plans.

Finally, Dönitz's remarks at his Nuremberg war crime trial clearly suggest that it was Antarctica where Germany's most advanced technologies had been secretly relocated by his submarine fleet. At the trial he boasted of "an invulnerable fortress, a paradise-like oasis in the middle of eternal ice."

Donitz's remarks were made plausible in 1966 by cartographer and artist Heinrich C. Berann for the National Geographic Society. In Berann's depiction of an ice-free Antarctica, he shows underwater passageways that run throughout the Antarctic continent. This provided a plausible way in which submarines could travel under the ice for considerable distances to Nazi Germany's "invulnerable fortress".

Donitz's claims are further supported by documents provided by an alleged German submarine crewman after the war, which described the instructions for U-Boat Captains to reach the Antarctica bases through the hidden passage ways. Below is an image of the document with the translated instructions.
In today's interview, Tompkins describes simultaneous flying saucer programs that had been developed by the Nazis. One was in Germany, while the second was in Antarctica. In his response to a question about where Germany's antigravity craft were being built, he said:
They built the prototypes in Germany. They built pre-protype, something which is ready for production, in Antarctica. They put this stuff in production in the countries all over Germany [Occupied Europe], and they continued to build similar vehicles in Antarctica.
Tompkins then shares one of the most astonishing secrets gained by the Navy spies embedded in Germany. With the help of the Reptilians, the Nazi's Antarctica program had successfully launched manned missions to the Moon, planets, and even other star systems.
Now the question was asked whether did we ever get to the Moon? You see it was in some way, it was well known that the Germans had a number of vehicles that flew out and came back. One of the first ones, they got into trouble, they crashed and the whole group died. But that was almost all coming from Antarctica. Way before, four years before, the war ended, they were always moving all of this stuff out. And so the flights, almost everything came from Antarctica with the same people. … I don't know if it was true or not, but it was stated by some of those fellows [Navy spies] that they had gone to other stars and come back.
Tompkins remarkable claims corroborate the testimony of secret space program whistleblower, Corey Goode, who claims that from 1987 to 2007, he had access to smart glass pads, which described the successful Nazi space program that operated out of Antarctica.
Goode said the Antarctica program was controlled by German secret societies rather than the Nazi SS:
As explained, the Nazi remnants that were made up mostly of Secret Societies that created a "Break Away Civilization," kept the most advanced technology secret from even their highest Military and Political leaders, setup enclaves in South America and Antarctica. The locations in Antarctica were some ancient civilization ruins that had remained occupied by certain groups in thermal area's that cause area's similar to lava tubes and domes under the glaciers.

Goode goes on to corroborate Tompkins claim that the Nazi bases were built adjacent to caverns controlled by another advanced civilization, the Reptilians:
There was an underground and under glacier city complex that was already occupied and setup in a couple of locations and the NAZI's renovated an area that was mostly crushed above the surface but had plenty of room under the domed ice, thermal underground energy and caverns (accessible via U-boat under the ice flows and openings that made it ideal for a hidden multipurpose base) that were perfect for them to secretly build out during the entire Second World War

What makes Tompkins claims difficult to dismiss are documents he has published in his book, Selected by Extraterrestrials, supporting his main claim that he participated in a covert Navy Intelligence program that disseminated Germany's advanced aerospace secrets to selected U.S. aerospace companies, think tanks and universities.
Furthermore, documents, and statements by Admiral Donitz, support Tompkins claims that Nazi Germany had succeeded in locating and building underground facilities under the Antarctic continent. The long route under the Antarctic ice sheets, which the German submarine fleet allegedly took to reach these hidden caverns, gives credence to Tompkins claims that Reptilian extraterrestrials had provided the Nazis with the information necessary to locate the hidden Antarctic caverns, and the under-ice passage ways to reach them.
In the next episode of ExoNews TV, we will hear from William Tompkins how the Nazis used slave labor in their hidden Antarctic bases, and that the Italian government had also developed a flying saucer program headed by the famous inventor, Gugliemo Marconi that was secretly operating out of hidden South American locations.
© Michael E. Salla, Ph.D.
Permission to Circulate in Full 
William Tompkin's autobiography. Selected by Extraterrestrials is available at Amazon.com
Further Reading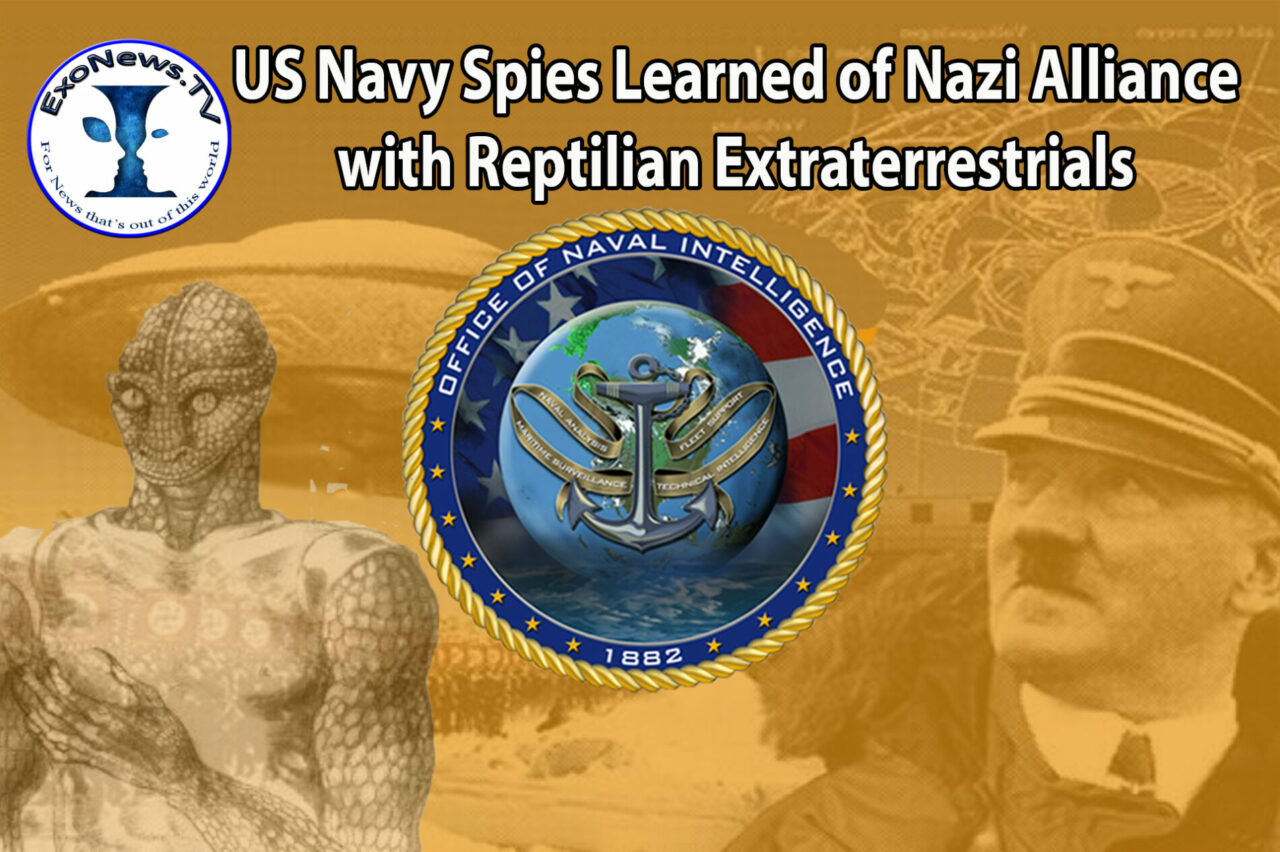 What follows is the transcript of William Tompkins responding to questions on the second ExoNews TV episode (see above) presenting his testimony.
Interview Date: February 25, 2016
Location: San Diego, California
Published on ExoNews TV – 4/4/16.
Interview Key:
WT: William Tompkins
RW- Dr. Robert Wood
MS – Dr. Michael Salla
[For introductory comments and video analysis click here]
MS – In an exclusive interview with ExoNews TV conducted in San Diego on February 25, Tompkins for the first time publicly revealed the role of Reptilian extraterrestrials in Nazi projects. The following interview extract features Tompkins answering questions from Dr. Robert Wood and myself.
WT – The fact that the Germans were given this information from the Reptilians. They set up the program, they designed the program to support Germany, and they are giving Germany the UFOs.
RW – Was this an alleged fact in any of the briefings you delivered?
WT – Yes….
MS – How did the Navy spies learn about the [Reptilian] extraterrestrials helping the Nazis? Did they see Reptilians, did they read briefing documents, or did they hear chatter among the German scientists about the Reptilians, how did they learn about that?
WT – OK, the SS had many separate classified meetings, get-togethers, whatever. They formed an organization, a little bit like signing this thing over here when we first started talking [Memorandum of Understanding]… The SS then interprets this into a whole series of programs, and this then is disseminated through their specific military communication, whether it's a major effort, or something that's off on the side. All of this is documented and put together.
Now in addition to that, they had, if you want to call them, "consultants", who are Reptilian consultants assisting on all of these different things that it takes to design and build these spacecraft carriers, and propulsion systems. So this is an extremely well developed program and documented like crazy. Getting copies of the documents was hard for them, hard for our spies. This was an open program in the upper level of the SS.
RW: It was compartmentalized.
WT: It was completely compartmentalized. It was well known there. People who had to do the work, had no knowledge at all of what it was for. They had to go do it, and so I guess it's a little bit like a company that has the engineers do their effort, and then supplies are gained. You get all the supplies to build it, and then you have people build it. Only the very tip of the top have the knowledge of what this thing is even for. So that guy is working with a Reptilian. His group is working with Reptilians. They are doing, making sure that the engineering is engineered in a way to accomplish this thrust effort or this propulsion system.
MS: So the Navy spies reported back on what they had seen, or whatever documents they had retrieved, and that this was their conclusion that agreements had been reached with Reptilians, and Reptilians were acting as consultants with some of the Nazi SS compartmented programs.
WT: Even more than that. One of the packages that I got had a statement type thing. I don't know how he got a hold of it. It was not the original agreement between the two countries, the extraterrestrials and Germany, but it alluded to this. You don't have many of those around. There was this tremendous program to, which the operatives got into, where there were university type facilities where hundreds of thousands, of even Russian girls, were brought into these facilities. Certain groups of the troops would get them pregnant, and this program was then to come out with massive numbers, the reason I'm saying this is because it takes a long time to have a baby, and so you are not planning to win the war next week, but that part of their program was set up and structured to parallel a Reptilian battle group program to go to other star systems' planets, and do the same thing that Germany was going to do to Europe, and to this planet.
Which is, in other words, it wasn't just taking over the United States and killing some Jewish people …
RW: They were going to do it again throughout the galaxy?
WT: Holy cats the thing went way beyond that [world conquest]. Again, what we just said about this was the tip of the iceberg of what they were doing. Already Reptilians were doing it to other stars' planets all over this area of the Galaxy…. These young kids, the operatives, they couldn't believe half of what they brought back, what was going on. But some of them were really good people, and they knew how to get into places and listen to what's going on, and finding what that guy he had talked to, or he heard, and going to so and so, because yes they were doing that over there. It goes to two countries away from an occupied country with a facility, a massive thing going,
And another part of it, they were even building boiler plate steel UFOs, 200 foot, 250 foot boiler plate steel, which is insane. But that group took the information that was given to them, and they didn't even figure out it should not be steel, but the propulsion unit floated it up, just like it was a feather, and they were on a learning curve that you could do these things all over using standard mathematical, or standard technical terms of the way you would normally do it.
Thousands of engineering groups were working different aspects to all of this. Some of them had the vehicles, others they gave them a vehicle to reverse engineer, so they could become familiar with everything from the inside out. And so different people, different organizations could handle these different matters. It was a massive program. The mission was to take over the planet, kill off all of the ones that were a problem, and the rest of them make slaves out of them. Everybody on your planet, then second phase was to leave the planet with large squadrons of UFOs, after you've got them all built, and do the same thing to other stars' planets. That's the German will [plan?]…
END TRANSCRIPT
---
Previous ExoNews TV Interviews with William Tompkins
Navy Disseminated Nazi Antigravity Secrets to Leading U.S. Companies & Think Tanks (for transcript click here, for introductory article click here )
Related Books
William Tompkins autobiography, Selected by Extraterrestrials, is available at Amazon.com
Michael Salla's Insiders Reveal Secret Space Programs and Extraterrestrial Life is available at Amazon.com
Copyright: Permission to freely distribute on Internet. Permission required for print & audiovisual reproduction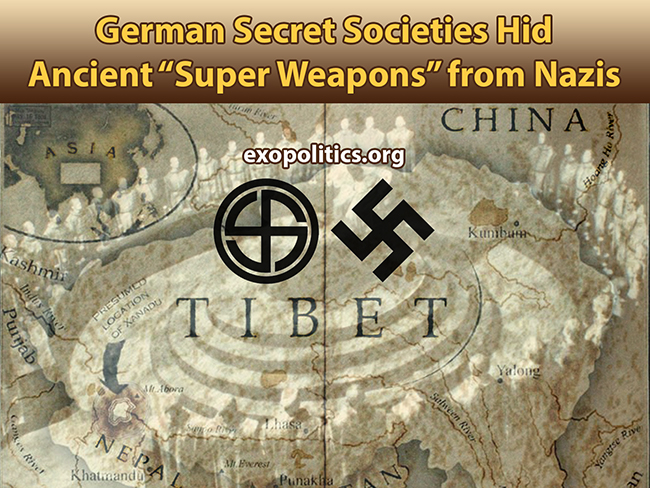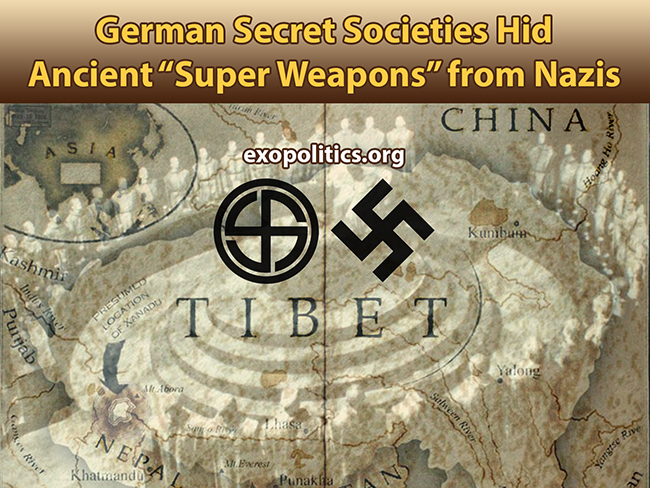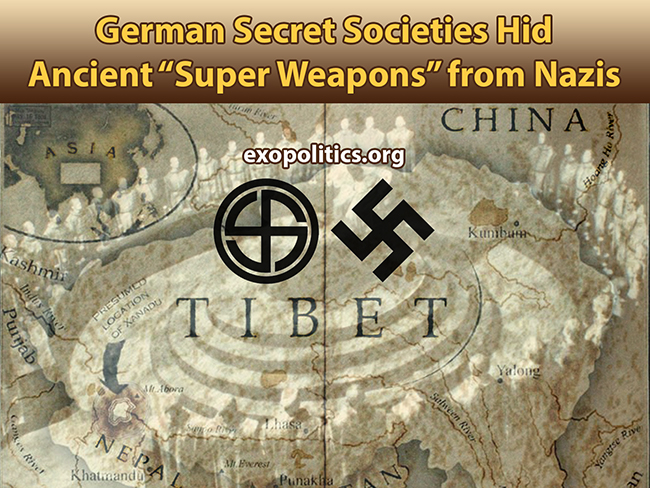 Adolf Hitler's control over Nazi Germany was strictly limited when it came to developing super weapons from highly advanced technologies found by secret societies, which explored the world to locate and develop technologies that could easily have changed the course of the Second World War.
In the latest episode of Cosmic Disclosure, secret space program whistleblower, Corey Goode, describes more of what he read on "smart glass pads" containing classified information he was given access to during his 20 year service. He discloses extensive world-wide expeditions conducted by German secret societies to find advanced technologies built either by ancient human civilizations or by extraterrestrial visitors.
Goode claims that knowledge of these advanced technologies was concentrated in the Himalayan regions of India, China and Tibet. German secret societies, and later the Nazi SS, sent expeditions to these regions where they found ancient scrolls and books, and relocated these back to Germany along with some of the local monks and scribes who could interpret them.
These expeditions began immediately after the First World War, and peaked in the 1930's when Hitler's Nazi Party came to power, according to Goode. He describes the Thule, Vril and "Black Sun" as the main German secret societies involved in these expeditions.  
While there is extensive literature about the role of the Thule Society in Hitler's rise to power, there is less known about the Vril and "Black Sun" (German Schwarze Sonne) societies. The Thule Society was created on August 17, 1918, and the Vril Society formed soon after as an off-shoot. The latter was formed by female mediums who used their psychic skills for communication with ancient subterranean or extraterrestrial civilizations.
In his book, The Black Sun: Montauk's Nazi-Tibetan Connection, Peter Moon describes that Black Sun society as comprising leading figures from Heinrich Himmler's SS.

According to Goode, the Black Sun society cooperated closely with the Thule, Vril and other secret societies in forming the breakaway German faction in Antarctica and South America. The implication is that while the Black Sun society was formally linked to Himmler's SS, its primary loyalty was to the Thule, Vril and other secret societies.  
This leads to a fascinating conclusion. Himmler believed that the SS Black Sun society had successfully infiltrated the German secret societies, and would share  the secrets of the latter's advanced space and technology programs underway in Antarctica and South America. This led to Himmler's and Hitler's firm belief that superweapons would eventually be developed and released in time to win the war. Instead, a decision had probably been made by the Thule, Vril and other secret societies to sacrifice Hitler's Nazi regime, and the Black Sun did not pass on the technologies.  
In the book, Insiders Reveal Secret Space Programs and Extraterrestrial Alliances, evidence is presented that the first antigravity space craft were built by the Vril Society with the support of wealthy Thule Society members, and later official Nazi support. Evidence is presented that Vril flying saucer prototypes were actually found in Germany and relocated to the U.S.
Contrary to conventional historical scholarship that Hitler was Nazi Germany's absolute ruler, Goode paints a very different picture based on what he read on "smart glass pads". Real power was concentrated in the hands of the German secret societies who decided what technologies would be released for the Nazi war effort.
As the Second World War unfolded with increasing Nazi defeats, Goode claims that the German secret societies were not interested in helping Hitler reverse the tide of the war:

I think that there were [some] technologies acquired and integrated into their breakaway secret space program that they were developing. But they were developing this for their own [purposes] when it came down to it, they didn't care about [Germany winning] World War II, the motherland, [or] using this technology to defeat the United States and the enemies they were engaged in war with.
While Nazi Germany did pursue advanced weapons programs based on what Himmler's SS had discovered, the most advanced technologies were kept from Hitler and taken to remote locations in South America and Antarctica.
In these remote locations, well away from the widespread destruction occurring in Europe, the German secret societies were free to develop a parallel technology program to that being desperately pursued by the Nazi SS. The secret societies built highly advanced space craft and weapons technologies, and kept these well away from Hitler's knowledge or control.
From 1939, when the first Antarctica base was officially established by Nazi Germany, secret societies repatriated the most talented scientists to build a breakaway German faction. Goode describes three bases built at locations that had earlier been used by an ancient subterranean civilization that were helping the German secret societies. The building program continued throughout the war, and accelerated with the looming defeat of Nazi Germany.
When Admiral Byrd reached Antarctica in January 1947, he encountered the breakaway German secret societies, whose technologies were far more advanced than those possessed by Himmler's SS, which had just been defeated. The U.S. Navy suffered a stunning defeat at the hands of the breakaway German faction.
There is solid historical evidence supporting Goode's incredible claims. It is known that the Nazi SS had a research group called the Ahnenerbe (German for "inherited from the forefathers") that did indeed conduct expeditions to Tibet, Peru and elsewhere in search of ancient knowledge and technologies. The Nazi SS Ahnenerbe could well have been the research umbrella for the German secret societies described by Goode.
Also, it is known that the Thule Society was the sponsor of the German Worker's Party that was the predecessor to the Nazi Party. Thule Society beliefs about the development of morally, intellectually and physically superior human beings (German Ubermensch) were incorporated as key principles in the development of Nazi ideology. Thule elites chose Hitler to lead the nascent Nazi Party because they believed they could easily control him.

Conventional historians tell us that Hitler turned on his former sponsors, and took absolute power and banned secret societies. Instead, according to Goode, Hitler was never more than a puppet of the German secret societies who decided what information and advanced technologies they would release to him as he pursued his militaristic policies.
The most recent episode of Cosmic Disclosure adds more details about the advanced technologies found and developed by German secret societies that were earlier disclosed by Goode in a previous episode and an email interview. More historical evidence supporting Goode's incredible claims can be found in Insiders Reveal Secret Space Programs and Extraterrestrial Alliances.
Goode's disclosures lead to an astonishing conclusion. German secret societies exploited Hitler's Nazi regime by persuading it to provide resources for building the technological infrastructure for a breakaway German space program in Antarctica and South America.
The German secret societies promised to share advanced technologies that would allow Hitler to conquer Europe. Instead, they deceived Hitler, and allowed the collapse of Nazi Germany.
Perhaps most disturbingly, Goode claims that the German secret societies ultimately joined forces with U.S. based secret societies, and proceeded to infiltrate the U.S. military industrial complex. The result has been the development of many advanced spacecraft under the control of German secret societies and their U.S. allies, which Goode refers to as the "Dark Fleet" – a secret space program based on Nazi principles drawn from the Thule Society.

In the last few years, according to Goode, other secret space programs have united to thwart and expose the historical activities of the Dark Fleet and its allies. As more disclosures take place, humanity will find itself informed about and eventually freed from long standing manipulation by secret societies using advanced technologies to limit human potential.
© Michael E. Salla, Ph.D. Copyright Notice
Further Reading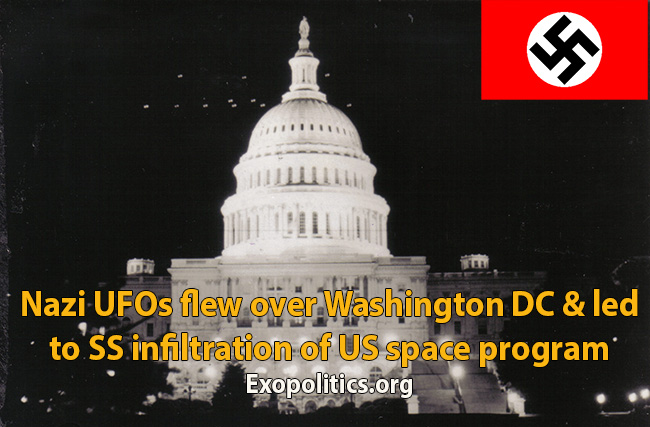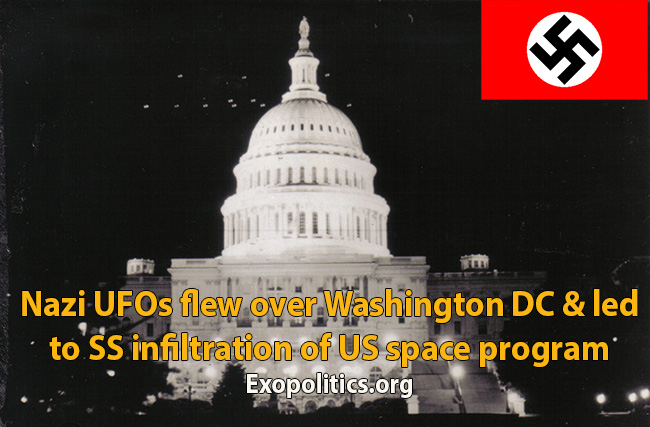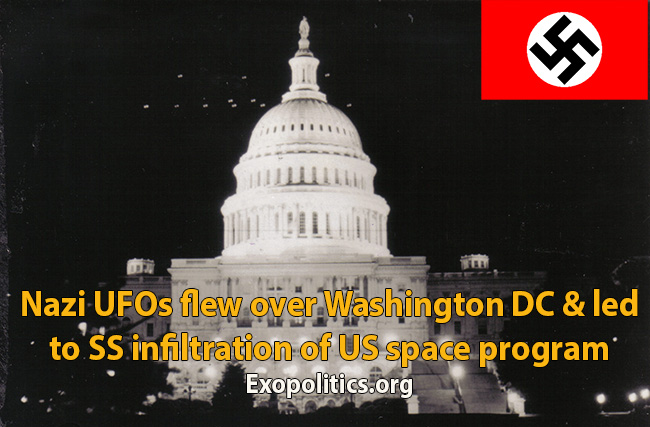 A second whistleblower has come forward to claim that Nazi flying saucers flew over Washington D.C. and other major U.S. cities in the early 1950s. These events allegedly led to secret negotiations with a surviving Nazi SS breakaway group based in Antarctica, and agreements resulting in their infiltration of a secret U.S. space program.
Clark McClelland had a 34 year career working for NASA and its aerospace contractors from 1958 to 1992, before his security clearance was not renewed due to his ongoing research into UFOs. McClelland spent much time working with Operation Paperclip Nazi scientists, and learned directly from them how the Nazi SS had survived the war, had built advanced spacecraft in Antarctica, and infiltrated the U.S. space program. McClelland's remarkable testimony has just been released and corroborates the earlier disclosure of secret space program whistleblower Corey Goode, who made similar claims in May 2015.
The fleets of flying saucers seen over Washington DC on successive weekends in July 1952 have been among the best documented UFO cases ever. Thousands of witnesses, along with numerous photographs, radar trackings, and pilots all reported flying saucers over the nation's capital on three successive weekends. Major Donald Keyhoe and other leading UFO researchers of the era thought the Washington flap was the best evidence yet of extraterrestrials visiting Earth.
The U.S. Air Force held a press conference on July 29, 1952 and Major General John Samford said that it was all due to a "temperature inversion". Even President Truman became involved when he called on Project Bluebook for a report and was given the official Air Force explanation. Much of the media and general public were confused by the official Air Force explanation, but dutifully ignored the issue out of, 'wink wink', national security concerns. For over sixty years, the secret of who really flew over Washington DC and other major U.S. cities in 1952 has been withheld from the general public.
Now, two independent whistleblowers have recently emerged with another explanation that challenges the prevailing view of history. The Nazi SS had not been obliterated in World War II, as everyone had been told after the advance of allied armies into Berlin and the May 8, 1945 capitulation of the rump German government led by Admiral Karl Donitz. Instead, the Nazi SS had been successful in establishing remote bases of operations in Antarctica and South America to continue the secret development of flying saucer technologies, which in 1952 began overflights of major U.S. cities to intimidate the Truman administration into capitulating into Nazi SS demands.
In May 2015, Goode described how the Nazis had overflown the U.S. capitol in 1952 with their superior technologies, and pressured the Truman and Eisenhower administrations into negotiating a secret agreement:
… after the failed Operation High Jump Mission, the Operation Paperclip Scientists were asked to negotiate meetings… The NAZI's used this to their advantage in some very public sorties over Washington D.C. and highly Secret Atomic Warfare Bases to mention a few. Eisenhower finally relented and signed a treaty with them … "NAZI Occult Societies" therefore infiltrated every single high tech corporation and position of power inside the now "Joint Break Away Civilization/Program". They have been involved in all western space programs and projects ever since.
Goode's controversial claims have just been corroborated by McClelland. In the August 3 instalment of his book, The Stargate Chronicles, McClelland writes:
The over flights of advance very swift crafts over Washington, DC were these German advanced aircraft that totally out flew American advanced crafts. On July 12, 1952, President Truman observed several of the UFOs and was completely amazed by their capabilities of outmaneuvering the USAF and US Navy advanced Jet fighter, the F-4D. USA jets sent up to bring one down. None could fly the speed of the German Saucers.
McClelland also corroborated Goode's claim that the Nazi SS had infiltrated the U.S. space program through Operation Paperclip scientists, and continued to intimidate German scientists at the Kennedy Space Center (KSC) well into the 1960s:
Some of the German engineers and technicians I met at KSC were all aware that a few of the German S.S. were working at Cape Canaveral and the Kennedy Space Center that arrived with Project Paper Clip with Dr. Von Braun in 1946. … These S.S. were as feared at KSC as they were in the German Army during WWII.
McClelland's testimony is compelling support for Goode's controversial claims of a Nazi breakaway civilization using advanced flying saucer technologies. Given the public documentation that McClelland has offered to support his whistleblower testimony, it is now far more difficult to dismiss his and Goode's remarkable claims, which are examined more closely in the upcoming book, Insiders Reveal Secret Space Programs and Extraterrestrial Alliances. If McClelland and Goode are accurate, then world history will have to be rewritten as the truth finally emerges about who was really in control of those flying saucers over Washington DC in July 1952.
© Michael E. Salla, Ph.D. Copyright Notice
FURTHER READING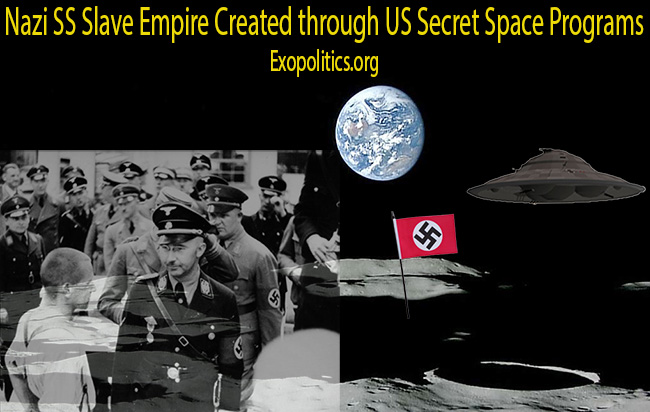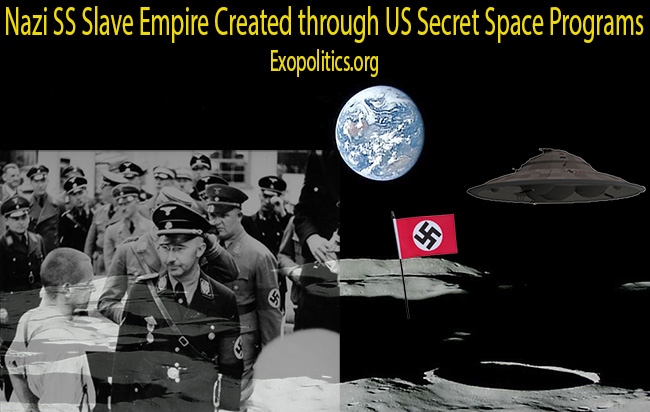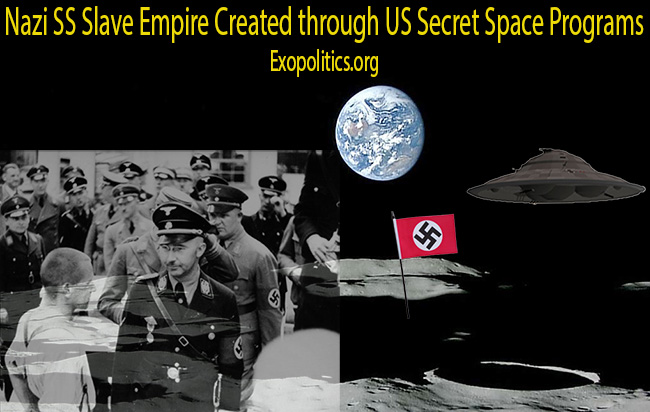 During the Second World War, the Nazi SS ruthlessly pursued its dream of creating a parallel industrial empire that would use millions of slaves to build super weapons of war and space travel. As the war approached its fateful climax, the Nazi SS devoted its rapidly dwindling resources to relocating what it could of its industrial infrastructure to secret bases in South America and Antarctica with the hope of one day achieving its dream.
According to a Corey Goode, who claims to have worked on several secret space programs for 20 years, the Nazis SS used their new bases to continue building advanced weapons and space craft. Goode revealed that the surviving Nazis progressed very quickly and were able to defeat Admiral Byrd's Operation Highjump, a 1947 punitive Naval expedition designed to locate and destroy the secret Nazi SS Antarctic base(s). Only a few years later, in the early 1950s, the Nazis pressured the Truman and Eisenhower administrations to sign secret agreements. Nazi assets then infiltrated and took over much of the U.S. military industrial complex, and an emerging corporate run space program that Goode described as the Interplanetary Corporate Conglomerate (ICC).
It's worth first examining how a key ideological principle from the Nazi SS, the use of slave labor, was likely continued by a Nazi infiltrated U.S. Military Industrial Complex in both deep underground military bases, and corporate run elements of a secret space program.
After his release from Spandau Prison in 1966, Albert Speer, Nazi Germany's Armaments Minister, wrote a book about the parallel industrial infrastructure developed by Himmler's SS to build super weapons that would win the war. In Infiltration: How Heinrich Himmler Schemed to Build an SS Industrial Empire, Speer describes how he had been ordered to support Himmler's SS in building its parallel industrial empire that used millions of slaves for building super weapons in huge underground construction facilities.
Some 14.6 million slaves working to carry out Hitler's and Himmler's construction plans: a human lifetime later, this seems like a sheer pipe dream. But we must not forget that between 1942 and 1945, Sauckel [Nazi Head of Labor Deployment] managed to deport 7,652,000 people from the occupied territories to Germany in order to use them for German industry. (Infiltration, 302)
Not only would the SS use millions of slaves to win the war, but planned to continue to use slaves in peacetime to prepare for a final conflict with the USA.
This vision of a "peacetime Reich" was thus based on the existence of millions of permanent slaves, who were neither political opponents nor so-called "racial enemies." Because of economic necessity, they would be kept in camps all their lives – with "women in brothels." This empire of slaves, which was to stretch all the way to the Urals, would be the basic energy source of a Europe that had to prepare to conquer the greatest enemy: the United States of America. (Infiltration, 302)
While it is widely accepted that Nazi Germany was defeated with its formal surrender on May 8, 1945, and the Nazis failed to conquer the U.S., Corey Goode claims that this is only partly true. In the immediate decade after WWII, the Nazis succeeded in taking over the U.S. through a silent coup:
During the 1950's and after they [NAZI's] had successfully infiltrated and subverted the Military Industrial Complex and major Corporate heads they had effectively won control of the direction of not only the Break Away Civilization Programs but also the mainstream government and financial system. It was a very effective and silent coup that gutted what was once the American Republic and turned it too into a Corporate Entity with each of us being "Assets" with our very own serial numbers. This plan was in action far before World War One by various secret societies who controlled the financial system and as many know financed both sides of the wars.
Through their advanced weapons systems, the Nazis were able to develop spacecraft far in advance of anything possessed by the U.S., and even established a base on the Moon. The Nazi Moon base eventually expanded to become what is now known to secret space program operatives as Lunar Operations Command (LOC). Also, according to Goode, the 1952 Washington UFO flyovers, were actually advanced Nazi spacecraft that intimidated the Truman administration sufficiently into negotiating with Nazi operatives that had been brought to the US under Operation Paperclip.
When both Truman and Eisenhower signed treaties with the NAZI Break Away Civilization/Societies it was then that the already well placed Operation Paperclip Operatives (in Military, Corporate Industry, Intelligence and established Secret and Public Space Programs) easily slid into more powerful and influential positions over the massive industrial complex of the USA that they coveted to expand their operations in space and form what would later become the ICC (as well as were involved in setting up all of the other Space Programs). So they did not lose the Lunar Base, they infiltrated the groups that put a massive effort into expanding it into the massive complex that it is now.
Goode has responded to questions about how ICC run secret bases on the Earth, Moon, Mars and elsewhere, use slave labor – a key ideological principle adopted from the Nazi SS.
What we know from Speer's books, is that Nazi Germany's SS had plans to continue using slave labor even after winning the Second World War. It planned to continue building super weapons in vast underground facilities using an "empire of slaves" in an effort to eventually conquer the US. What Goode tells us is that the while the Nazi SS did not conquer the U.S. through military means during WWII, it did so through a silent coup in the 1950s where it infiltrated and took over major elements of the U.S. military industrial complex. Consequently, in a number of deep underground military bases on Earth, and secret bases on the Moon, Mars and beyond, an "empire of slaves" is used to build new generations of advanced weapons and spacecraft for a corporate secret space program run by remnants of the Nazi SS.
© Michael E. Salla, Ph.D. Copyright Notice
FURTHER READING