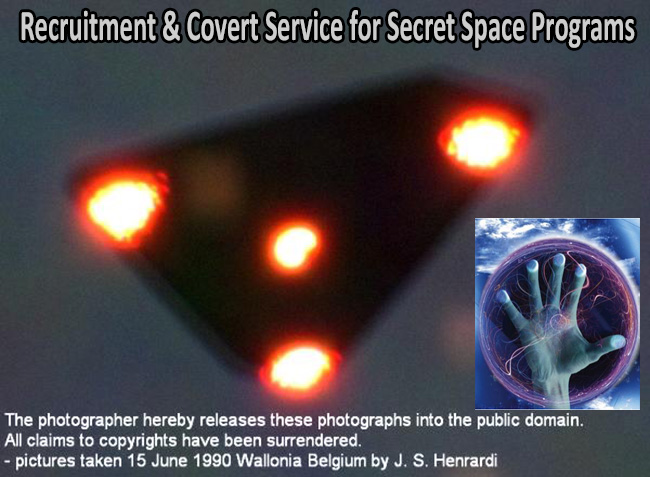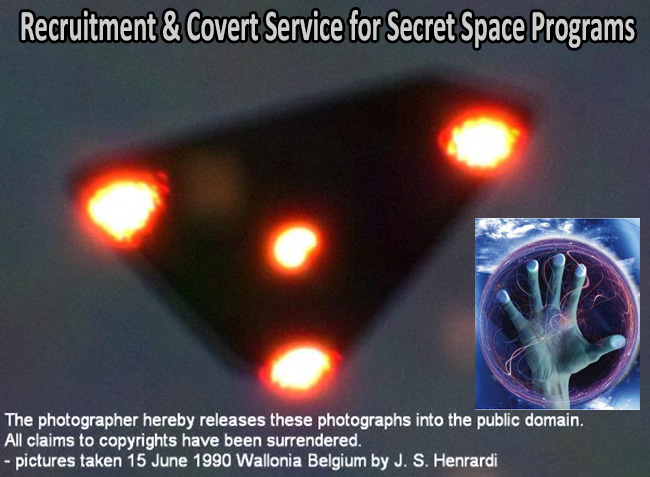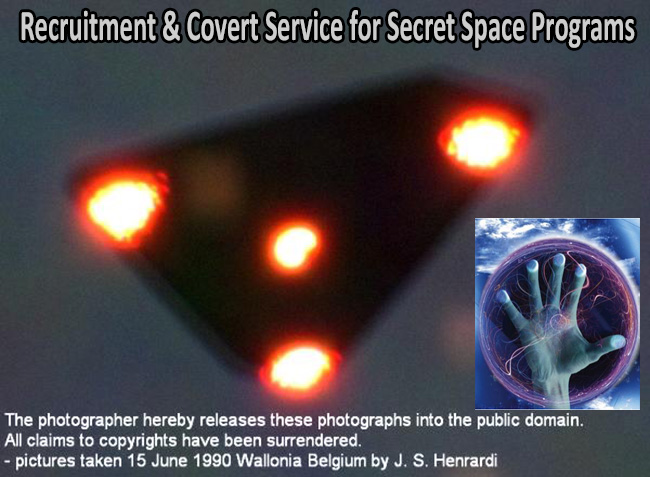 Corey (aka GoodETxSG) recently has emerged as a new source of information on multiple secret space programs and breakaway civilizations from Earth. In an earlier article I summarized his public testimony revealed through two internet forums and public presentations by David Wilcock on the nature of these covert programs. In a later article released on April 7, I presented Corey's responses to a series of questions I emailed him. His answers revealed a remarkable degree of complexity in terms of the number of participants, programs and extraterrestrial alliances related to five secret space programs run by various military, government and corporate entities from our contemporary time period alone.
I sent Corey a further list of questions on April 12 to clarify more aspects of complex dynamics he has outlined in his email responses to me, and questions he is responding to an internet forum called "The One Truth." Corey kindly replied to my additional questions promptly with great detail and at some length. Consequently, the questions and Corey's responses are divided into two parts.
In part one, I ask Corey about his recruitment, the conditions of his covert service in several secret space programs, and his return to civilian life. After the Q & A, I offer a comparative analysis between Corey's testimony and the testimony of Randy Cramer (aka Capt Kaye) concerning their respective experiences with secret space programs, and whether or not they support the veracity of each other's testimony.
Michael E. Salla, Ph.D.
---
Questions for Corey/GoodETxSG – April 12, 2015 [responses received April 13]
Q1. Which agency/program first identified you with Intuitive Empath abilities and began training you for eventual recruitment into a SSP?
I was identified as an "Intuitive Empath" extremely early on in the MILAB Programs. I was no older than 6 Years Old when I first heard this term used in relationship to myself. Quite a lot of Standardized Testing, Psychological Testing, Physical Testing, Psychic Testing and various types of "Scenario Testing" were used to identify my natural "Talents" and "Other Abilities" that could be "Enhanced". I am sure it was at that early time that these "People" (Mostly Sociopaths) that ran these "Programs" began to see the patterns in our dossiers that would determine if we would be further trained to be "Drafted" into the "Secret Space Programs", the "Secret Earth Government Syndicates/Groups, Specialized Military Forces or "Other Programs". I do not know at what point I was identified as a candidate for the SSP Programs or the "Earth Delegate IE Support Roles". It is clear that children with special abilities such as "Star Seeds" were actively sought out. They often used the "Standardized Testing" in the Public School Systems to help them identify these children.
 Q2. What can you tell us about your formal training? When did it begin and how did your parents respond?
My parents do not seem to have known. They are a very secretive type of family anyway with one side of the family that refuses to answer any in-depth questions about our detailed family history or lineage for doing family lineage tracing. I have not discussed this with them as they are very strict conservative Christians (now in later life, not so much back then at all.). When the Videos with my Full Name and Location is released I fully expect quite a negative reaction. Let's just say there will never be a "Normal" Family Christmas or Thanksgiving Dinner again. I also fully expect there to be some sort of "Intervention" to occur where I think I have been invited over for lunch after Church and see my entire family with serious looks on their faces, the Pastor of our local Church and a Psychiatrist (This is no joke).
The training began with both "Night Time Pickups" from my home and also when I was about in Elementary School being taken from school in white vans and transported to the local Air Force Base (Carswell Air force Base at the time, Now Naval Air Station Joint Reserve Base Fort Worth) or very often closed down shopping centers or large corporate types of buildings closer to where we lived. The school pickup's were sporadic and would be from 2 days a week and quite often to sometimes there would be weeks with no "Field Trips" what so ever. There were normally the same 300 or so children, children of various ages present depending on where the training occurred or what type of training was occurring. At the end of every "Training Session" there was always a "Chemical Debriefing" where you were given a shot, you went over your training for that session and then went through a process to be "Blank-slated" and have "Screen Memories" implanted to replace the ones that were removed and to cover any missing time that would cause problems with the "Screen Memories" and your subconscious (which often occurred and played out in dreams).
Q3. Please explain how you graduated from your IE training?
There was no "Graduation Ceremony". There was just the training and then the work. Most of the "IE" training was "On The Job" or in "Simulations". There was a lot of effort put into "Enhancing" already natural "IE" abilities, Remote Viewing/Remote Influencing Training with the use of "Chemicals" and "Technology". When you were going through training you were not just being trained for one identified skill set. There was a lot of redundancy training, weapons and tactical training among other types of survival, communications and technical training.
There were also several types of technologies used for training. There was a "Virtual Reality" [VR] training that was so "REAL" that you could not tell the difference or that you were "In" or "Out" of a session (This technology was used for many other things as well). A lot of psychological profiling was also done in these "VR" environments where you would be ordered to "Kill" or do other "Unmentionable Things" to people or animals (to "See" how far you would go ethically). There was also combat training done in these "VR" environments. One of the tests towards the end was for you to be able to discern whether you were in a simulation or not. There was "in the field" training as well and the training locations were recreated in the "VR" environments. There were also "Data Download" technologies where years of training and "Book Learning" could be directly downloaded into your brain.
 Q4. Please tell us the age you began your initial 20 year tour of duty, what year that was and anything you recall about the contract/non-disclosure agreement you signed?
 I was told up front that I would sign non-disclosure agreements and then serve 20 Years away from Earth, I would have no contact or information of what was occurring on the planet, that at the end of my tour I would be "Age Regressed" and "Blank-slated" and returned to the time when I left. I was told that for doing this very important mission that I would have a very easy life upon returning, and would have a job for life making over 6 figures with a great retirement package and would live out the rest of my life in happy ignorant bliss. None of the above was delivered on.
I technically served almost 21 Years as I was brought in at 16/1986 for a short term program assignment prior to being handed over to the facility on the LOC where I was then physically enhanced. I was somewhat short and looked very young and this was advantageous for them in this first program assignment because they wanted me to be underestimated. When I was 17 and assigned to the SSP I really began my time in. As previously stated I was assigned to a Research Vessel for a little over 6 Years before being transferred to some other projects that were at times "Dark" and difficult to do.
 Q5. Please explain what happened at the end of your 20 year tour of duty in terms of age regression, time-regression and being reintroduced to Earth?
I hadn't served on board a "Vessel" for some time but had been assigned to other SSP Projects. There was a ceremony with other SSP's that I had never seen and then a very long debriefing under the influence of a chemical that was injected. They then did medical tests and "Labs" while I was read a lot of information from a standard form by a person that seemed to have it half memorized. They reminded me of an "Oath" and "Non-disclosure" as well as my duty to those I served with and the importance of the mission. I then was asked to sign some paperwork and was moved down a level to another medical area I had never seen. I was then sedated and restrained for the "Age Regression" process (It was very important that we remain perfectly motionless). I was then returned to my home where I was picked up "20 Years" earlier at almost the same time I left. I was extremely confused, exhausted and ran a fever and remember that I stayed home and in bed sick for a couple of days. I then returned to my "Normal" life of finishing up High School etc… I did have a growth spurt in the summer between my Junior and Senior Year that Blew My Class Mates that I grew up with AWAY! I not only caught up with but was now a bit taller than kids that were almost a head taller than me the year before. I was 6'1" when I graduated High School.
 Q6. Please explain how age-regression technology works, and its relationship to time-regression technology?
 The "Age" regression occurred while under sedation and when we came out we were also at that point "Time regressed". I was not conscious during this process and only remember going into the room and laying on the table where card board like panels were put up around me and I was heavily restrained (as I was being sedated) so I could not move at all as well as sedated during the process. We had to be kept perfectly still/motionless during the "Process". That is all I recall.
 Q7. You have described in the forums that the blank-slate, mind-wipe technology was not always successful, and did not work on you. What was the policy of the SSP in such cases? Would they still honor contracts, take additional precautions in returning people to Earth?
The "Blank-Slating" protocols and technologies have changed over the years to now using mainly technology. During my time they were primarily using "Chemically Induced" with Technology assisting the process as well as "Human intervention" using various types of developed hypnotically suggested "screen memories" and "Triggers" in case those screen memories began to slip. They found out early on that people that were trained heavily in the more "Esoteric" programs and who were certain "Personality Types" had a natural resistance to the process. They also finally figured out that NOT ALL MEMORIES were contained in the brain like a hard drive. They learned that many memories were contained in the "Energetic Field" (Soul) of a person and as they learned more about how people remembered "Past Lives" they realized this was a problem. When you had people that were trained in the "Esoteric" and had a strong connection to their "Higher Self" and didn't ONLY identify with their "Ego" erasing memories and replacing them became problematic. The only thing they could do is "REAB" (Re-abduct) the individuals from time to time and blank-slate them again, when that proved "Fruitless" they just had to either "Terminate" the individuals or if they were of further use in the future keep them under close surveillance. When things became very obvious that the individuals had "Full" or "Partial Recall" they would usually bring them back in on some level to the "Projects". EVERYONE was promised all kinds of things that none of the SSP Groups EVER intended on honoring. There were NO 100% College Tuitions, There were NO easy lives of 6 figure incomes and ridiculous retirement benefits… Nothing that was promised was delivered.
 Q8. After your return to Earth after your 20 years' service to relive 20 years now as a normal civilian, how much could you recall of the first time-line involving your SSP service? Some or all of the memories? Did the memories return first through dreams, intuitive flashes, or just a knowing that they were real? Did you take any special measures to activate/regain your memories, e.g., accepting them as genuine, etc.?
I always remembered my "MILAB" experiences and some heavily fragmented SSP experiences from the very beginning (I never "Recovered" them through regression or other processes). Because they were so disturbing I tried to file them away for years and live a normal life with a family. I would have military people tell me on occasions that "You know you were in Project * don't you?" I would deny it and would not want to admit it because not only did I know what all the programs entailed (experiences) I didn't want to have the "MILAB Label" and the "Stigma" that came along with it (so I tried the "outward denial" thing for a while).
With the amount of flashback dreams I was having at night and calling out in my sleep my wife knew something was going on. At the time she was not "Awake" enough for me to even begin to discuss this stuff with her in detail. This has changed over the last couple of years though and has been very helpful. I had all of these memories and access to them but something was keeping me from putting them together in a contiguous way. It was like the data was completely fragmented on my hard drive and I was able to put together about 70% but when I tried to speak about them out loud I couldn't. I was guided at one point to Remote View my "Light Body" and accidentally located an "Entity" who called himself the "Gate Keeper". Eventually being from a Christian background I used the name of "Jesus" to cast him out as well as other "Entity Attachments" that the "People" in the MILAB Programs and "Off World Beings" working with them had placed in me (using them as "Tools"). At this point I was then able to fully access all of my memories and speak aloud about them all with Christine (who recorded the first two "Interviews" with me on YouTube).
I also ended up having a detached retina about a year before this "Entity Detachment". When I went in to have it fixed it took 3 surgeries to fix it correctly and I was told that what I had was no different than "Astronauts Eye" in its later stages. After the last surgery while in the recovery room I started talking to the nurses and doctor about all kinds of bizarre things from the Space Programs (it freaked them out and it was a very uncomfortable follow up appointment). This was in early 2013.
At that point I had Full Recall of the most upsetting and heinous parts of the programs that I had worked in. I became so depressed that my wife was worried about me. I was then contacted by my SSP Contact and told I would be getting help. This "Help" was from a "South American Ancient Breakaway Civilization" (mentioned as "Mayan SSP" below [see Part 2]) that was extremely advanced. They worked with me and stated there was no productive reason for me to have all of the evil and horrible memories of what I had taken part in and they went through a process of "Disassociating" those memories from my "soul complex" on a case by case basis under my free will. I still have memories of what they were about but not the horrible emotional attachments or some of the vivid details that were tied to the acts. This allowed me to be productive again and to forgive myself for the things that I had taken part in. It also allowed me to move forward and take part in further contact with the Blue Avians that they had initiated with me a briefly a couple of years prior. After that point things bloomed to where they are today.
 Q9. Was there any kind of temporal constraints in terms of not being able to remember events that would occur in the future from the perspective of your new time-line as a private civilian? E.g., you would not be able to recall events that occurred in the year 2000 in your SSP time-line, while you were in the year 1999 of the civilian time-line?
I think I see where you are going with this. I have had the same conversations with David Wilcock. There was no chance of coming back with stock market data, lottery numbers or sports scores from all the big games through the year 2006 (though I am certain the Elite have done this). We were not "Blank Slated" on a regular basis. However OPSEC measures were in place. There were no communications from Earth (no one knew you were gone), No News Reports, No phone calls, no emails (didn't exist "On Earth" when we "Left"), No Internet. We were totally isolated in our own "Reality Bubbles". We didn't even have photos of family hanging anywhere. We accepted a new existence outside of the space/time of Earth. So at the end of the "Tour" there was no compromising information. We ALL knew we were to be "Blank-Slated", Time-Regressed to our prior state and supposedly "Well Compensated" for it with "6 Figure Jobs" and "Full Rides to College"….
 [Continued in Part 2.]
Corey/GoodETxSG
Twitter: @BlueAvians
---
Comparative Analysis: Corey/GoodETxSG & Randy Cramer/Capt Kaye
I found many points of similarity between the testimonies of Corey/GoodETxSG and Randy Cramer/Captain Kaye who also claims to have also served with a secret space program.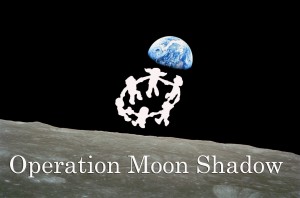 Both claim to have been identified as gifted children and secretly trained in groups of approximately 300 children in a covert program. Randy called the child program he was recruited into Operation Moon Shadow, It was run by the USMC s.s. that Randy claims did not use trauma based mind control unlike other programs. Corey's program did use trauma based mind control which left a lasting legacy until its effects were finally removed with the assistance a SSP associated with an ancient 'Mayan' civilization. In Part 2, he reveals that the mind control program was called Operation Bluebird.
Both Corey and Randy claim that the children regularly had mind control techniques used on them to forget their time away from home, without their fundamentalist Christian parents necessarily noticing anything awry. Time travel technology was used to ensure that each time they were taken for training, they were returned back to the time they were taken to prevent any disruptions in their normal lives and routines.
Both claim that a part of their childhood training involved training with live weapons, special operations tactics, etc., far beyond the capabilities of normal children. Randy explained that he regularly trained with adults in Special Forces who quickly learned their error in underestimating the physical abilities of the Operation Moon Shadow children.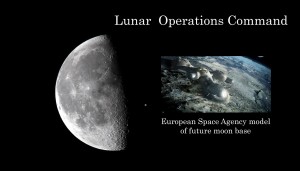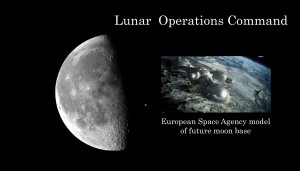 Both claimed that upon 'graduation' from their respective covert training programs, they were taken to Lunar Operations Command (LOC) on the far side of the Moon. Randy says that was where he signed his service contract, before being taken to Mars. Corey says that he first completed a "short term program assignment" before being taken to LOC for physical enhancement and deployment in the secret space program.
Both claim that their childhood training programs lasted similar periods of time. Randy says he recruited when 5 and trained for 12 years before his first deployment at age 17 in 1987. Corey says his training began when he was 6 and that when he turned 16 in 1986, he began his short assignment. He was then taken to LOC in 1987 after he turned 17. I find it significant that both Randy and Corey were taken to LOC in 1987 to begin their respective services with Secret Space Programs (SSP).
Both say that they signed contracts for 20 year tour of duties. At the completion of the tours, Corey and Randy were both told they would be age and time-regressed back to the time of their departures at ages 16 and 17 to continue their civilian lives with no interruption.
Randy says that he lost all his memories due to the blank-slate and mind-control technologies being used on him before being returned to civilian life. Over a 20 year period from 1987-2007 Randy underwent hypnotherapy, deep meditation, etc., to regain his memories of both his training and service with the SSP. He says he had recovered most of his memories in 2007, and continued to recall his memories up to the time of his full recall in early 2014. Similarly, Corey says that blank-slate technologies were also used on him, but unlike Randy, the technologies did not remove any of his memories of his childhood training. Corey added that he also retained about 70% of his memories of his service with the SSPs when he returned to civilian life, and the rest gradually emerged later. Therefore there is an important different between Randy's and Corey's memories of their respective services with SSPs. For Randy these are recovered memories, for Corey these are memories never lost.
[Sidenote: I spoke with Randy by phone on April 10 and told him about Corey being another SSP whistleblower. He was not surprised to learn that Corey had retained all his memories given his work/abilities as an Intuitive Empath. According to Randy, individuals with exceptional psionic abilities can better withstand the blank-slate technologies and chemicals used to wipe out memories.]
Corey says that he was given promises of lucrative jobs and university scholarships by the SSP that recruited him for his 20 year tour of duty that were not kept. Similarly, Randy was not given any benefits from his 20 years tour of duty which is a major bone of contention and why he has been contacting congressmen for redress of his grievance. It's highly likely that such promises are made but not kept in order to motivate covert personnel to enlist, and to later keep them without the necessary resources, careers or reputations that could challenge the secrecy system of the SSPs. It's likely that other former SSP personnel have similar grievances which suggests more are likely to come forward for redress.
Corey emphasized that during his 20 year tour of duty, that there were strict regulations preventing any kind of contact with families, people from Earth, or watching Earth related news transmissions, etc. Basically there was a total communications blackout regarding any information related to Earth. This is identical to what Randy says happened for him during his tour of duty with both the Mars Defense Force and Earth Defense Force. He says that this strict communications blackout with Earth applied even to senior officials in the SSP.
The points of similarities in the testimonies between Randy and Corey are striking. Randy was the first to go public with his 'full testimony' in April 2014 in a five part series of interviews I conducted with him that were released through ExoNewsTV. Corey first went public with his testimony in Sept 2014 when he was interviewed by Christine on behalf of the Project Avalon forum founder Bill Ryan. Part 1 of the interview was published in Oct 2014 on YouTube, part 2 was later published after some delay and is available here.
In July 2014, Corey made a post on the Project Avalon Forum about the Capt Kaye (Randy) information. He said:
Cpt. Kaye has some good info in these interviews, they are a must listen to for people interested in the various Secret Space Programs.
Corey was clearly aware of Randy's testimony before he went public two months later. Corey's comment that Randy's info was a "must listen" suggests that he was confirming the legitimacy of aspects of Randy's testimony rather than using it as a base for concocting a similar story.
This is verified in thread started earlier by Corey on March 3, 2014 on the Project Avalon Forum titled: "U.S. Has 8 Cigar Shaped UFOs In Space Fleet Used For "Solar Warden," Program To Protect Solar System"
In Corey's second post on the thread he writes:
The space fleet is real and there are hundreds of thousands of people involved in various levels (Compartmentalized of course, but they aren't stupid) that know what they are a part of."
In subsequent posts on the thread, Corey gradually reveals more and more of his personal knowledge about SSPs, and then finally went public as a result of Christine's video interview being released.
Analysis of Corey's posts on Project Avalon make clear that he was speaking from deep familiarity with the SSPs, rather than concocting the information from Capt Kaye's testimony that was released in April 2014, AFTER, Corey's initial posts about the SSPs in March. Randy did not know of Corey at all until I informed him on April 10, 2015.
In conclusion, the similarities between the Corey GoodETxSG and Capt Kaye testimonies suggest that they went through similar training and work conditions in their respective deployments in different SSPs. Given the independence of each set of testimonies, and no evidence of any cross-contamination, it's fair to conclude that the similarities support the veracity of each other's testimony. This leads to the conclusion that they likely are sincerely and accurately revealing their respective experiences with different SSPs, over an almost identical time frame.
© Michael E. Salla, Ph.D. Copyright Notice
Further Reading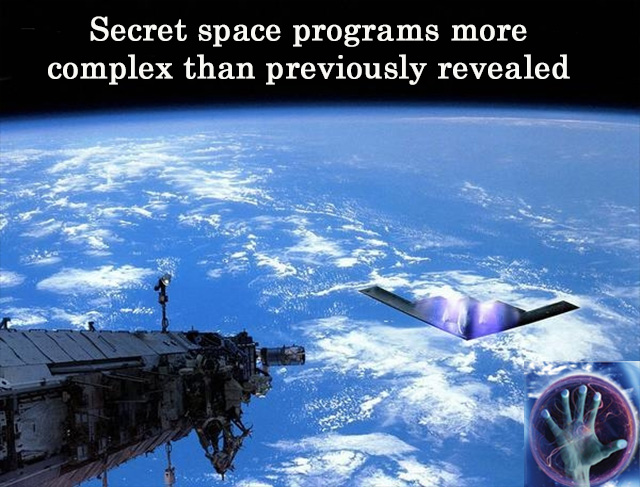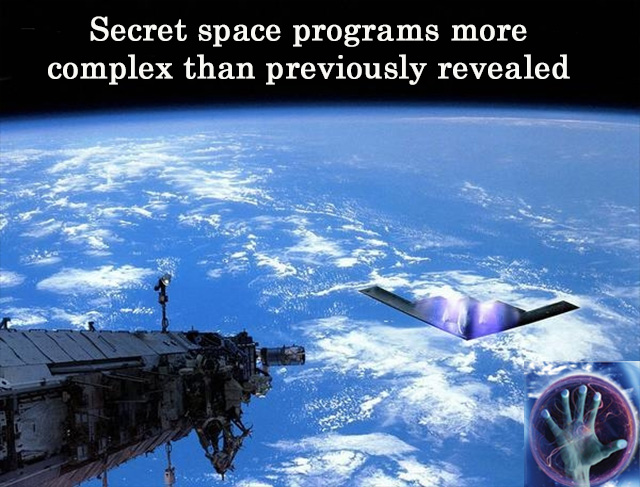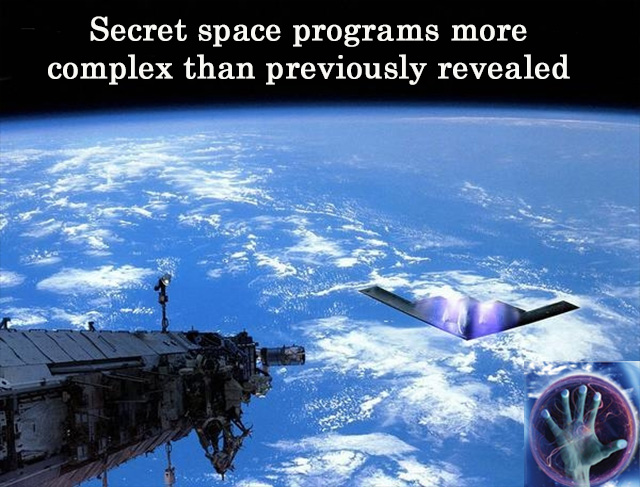 According to a new whistleblower claiming to have worked with multiple secret space programs, the complexity of programs, technologies and their dynamic interrelations is far greater than anything previously revealed. The overall scope of information "Corey" (aka GoodETxSG/Luke), is revealing on these secret space programs appears destined to dwarf anything released by prior whistleblowers. Already according to David Wilcock, who has spent 22 years researching whistleblower testimony on extraterrestrial life and the secret space program(s), Corey "knew almost as much as all the others had told me combined."
In an earlier article, I gave a summary of the information "Corey" has released through his website, internet forums and interviews with David Wilcock. In order to better understand and assess Corey's controversial claims since writing the summary article, I sent him a set of questions by email on April 4 seeking clarification on various secret space program issues raised in continued discussions on internet forums. He kindly responded to the questions revealing more intriguing details and insights on these increasingly complex issues.
Among Corey's core claims is that the oldest of up to five rival secret space programs to emerge in the modern era, "Solar Warden", contains more dated technologies but has a greater dedication to humanity's long term interests. Those in charge of Solar Warden have decided to leak information about the existence of secret space programs by, for example, allowing their spacecraft to be photographed by the International Space Station.
These pro-disclosure actions along with "service-to-other" activities has made the Solar Warden program the most suitable candidate for a powerful new group of highly evolved extraterrestrials that has allegedly entered into our solar system which has significantly changed the dynamic between rival space programs, and their respective relations with visiting extraterrestrial civilizations and older ancient human space programs.
The "Sphere Alliance," according to Corey, directly deals only with the Solar Warden program among the five "modern" space programs; and is seeking to assist humanity in a series of conferences whereby private citizens meet secret space program representatives in a secure environment. The second of these exodiplomacy conferences occurred on April 5 according to Corey, the details of which he says he will soon announce.
As described in my earlier summary article, there is no concrete evidence substantiating Corey's controversial testimony. His responsiveness to people's questions, attention to detail and consistency helps raise confidence in the veracity of his claims. I have found his willingness to promptly respond to people's questions, including my own, a clear sign of his sincerity. More importantly, his decision to have his identity revealed in upcoming video interviews with David Wilcock suggests he is willing to stand great public scrutiny at great personal and professional cost. Wilcock recently explained his own rigorous screening efforts regarding Corey's testimony and that he found nothing awry. Wilcock went as far concluding the he "can personally vouch for the authenticity of his [Corey's] information." That's quite an endorsement from someone who has for over two decades been working with an extensive number of whistleblowers and researchers.
Given Corey's claim that he was age and time-regressed in his earlier service with the secret space program, it's unlikely that any hard evidence or documentation will be found to corroborate his prior covert space service. However, his more recent claims of being physically taken to conferences organized by the Sphere Alliance can be verified if other attendees step forward. So far none of the alleged 70 other private individuals attending the first confernece have come forward. That may change, especially as more conference events are held.
The complexity of the narrative Corey has developed about Earth's secret space program(s) and breakaway civilization(s) appeals to some, but raises red flags for others. A common psychological warfare tool is to mix lots of false information with genuine information to hide the truth in plain sight. Indeed, Gordon Duff, founder of the popular website Veterans Today, claims that as much as 40% of the information released about the secret space program, is disinformation designed to protect sources and methods.
Is Corey's testimony part of an elaborate psychological warfare operation; or is he revealing the truth about genuine unfolding events involving multiple secret space programs and extraterrestrial visitors? Those that have met and communicated with Corey are impressed by his sincerity and willingness to expose himself to criticism by stepping forward. The information Corey has released so far is consistent with what other whisteblowers have revealed as Wilcock has concluded. The level of information that Corey has released certainly has the potential of transforming life as we know it on the planet. Will his information stand the test of public scrutiny as his identity is revealed and due diligence is conducted on his claims? Hopefully the following email exchange will help the reader begin their own journey in assessing the veracity of Corey's claims.
© Michael E. Salla, Ph.D. Copyright Notice
___
Questions for Corey/GoodETxSG – 4/4/2015
Q1. You say there are five secret space programs developed by our current human civilization, and that the oldest of them, Solar Warden, was approached by the Blue Avians/Sphere Alliance. Can you describe why Solar Warden was chosen as a more suitable partner?
A majority of the "Solar Warden" factions had already been involved in a "Shadow Civil War" or "Shadow Cold War" with the other "SSP Groups" for some time. They had been "accidentally" appearing in front of "NASA ISS Live Feeds" as well as causing "other" incidents to allow people to see their technologies. There is a strict schedule of "When and Where to BE" in various parts of our Sol System to prevent the satellites of various nations and corporations from accidentally capturing telemetry of classified technology. The Solar Warden Group was the more "Aging" of the SSP Groups with much of their fleet being produced in the 1980's and 1990's with continuous upgrades. They had shown a willingness to take a stand in a "David vs Goliath" type battle that was selfless and one that showed the cloth they were cut from. They also had broken off alliances with more negative oriented off-world beings. They had allied themselves with some more positive off-world beings and a group that was an Ancient Earth Breakaway that had made some changes in a positive direction. Even though these Non-Solar Warden Allies were considered "Good Guys" the Sphere Alliance stated that they had their own agendas and as much as they wanted to help Humanity they were still considered "Service-To-Self". There was a lot of frustration prior to the Sphere Alliance making contact with Solar Warden. The Sphere Alliance had began to arrive (or at least their "Spheres" had began to arrive") in the late 1990's and cloaking. No matter who tried to communicate or hail them there was absolutely no response. They to this day refuse to interact with any of the beings or Human groups that are "Service-To-Self" directly and use an "intermediary" to communicate between these two groups.
Q2. In what way is Solar Warden more capable of representing humanity's interests in negotiations with the Sphere Alliance?
As stated above they had already formed an infrastructure for an "SSP Alliance" and were already engaged in a "Stealth Cold War" or "Stealth Civil War" with the "Cabal" controlled groups that vastly outnumbered and out-gunned them. This was an incredible show of valor and service to others even though their agenda or operational plans to achieve that agenda was more of a warlike or violent nature. There is something else to note. The Cabal Groups who look for certain children to bring into "MILAB" programs are looking for "Star Seeds" who have gifts that can be corrupted and used for "The Dark Side". Many of these "Star Seeds" on Earth and in the "SSP's" are beginning to realize that they are "Alive Here Now, During This Time for a Reason"… a Mission… This too has something to do with it IMHO. When I was contacted by the Blue Avians I was "Told" that the "Cabal" groups were incredibly worried about what the "Star Seeds" may contribute in a movement against them. They have put people and programs out there to locate and try to "Target Star Seeds" to traumatize them, cause "Entity Attachments" (discussed further down) and to derail them from any missions they may have on this Planet and Time line.
Q3. Does the U.S. Navy play a major role in Solar Warden's operations and world view? Alex Collier claims that the Navy is more aligned with Constitutional values than the other military services, especially the USAF. Do you agree?
Most of how the Navy, Air Force and militaries of other nations play into the SSP's are from an Earthly based support role. An example would be the Air Force Space Command's old (soon to be replaced) Space Fence program. Those there were briefed and told they were at the top of the "Intel Totem Pole" and that yes, there were a certain amount of Aliens but what they were tracking were ALL ADVANCED US CRAFT. So, if you were to meet one they would argue until they were red in the face that all that is flying in space is secret government projects. Many that aren't read in to there being any aliens at all are told "You are at the top of the Intelligence Totem Pole and there are No Aliens", they believe it and will argue with you until they are ready to come to blows that there are NO ALIENS! This is one of the most compartmentalized and complicated subjects as you will see below than most researchers EVER DREAMED! Those who are asking "Did Roswell Really Happen" or "Are there 4 or 58 Alien Groups Visiting Us" are barely on a kindergarten level of what is really going on. This is far more pervasive and woven into the fabric of our daily lives than we realize as well. There is a constant ridicule and denial of any and all material related to ET's as a secret U.S. Policy that has been in place since the early 1950's. Intel groups have mastered infiltration of disclosure groups, causing infighting or leading people into situations where they can become blackmailed or compromised. Usually they just have to plant a seed or two and let "Human Nature" take its course. It has been a very effective program to prevent researchers and disclosure groups from making an real progress. I will explain more about how more and more of the SSP Personnel are people who were brought up inside secret programs since they were children (MILAB's) and then later "drafted" into the Secret Space Programs and Secret Earth Government Syndicates and Sub-Programs.
Q4. Randy Cramer says that the US Marine Corps special section was created by a secret executive order by President Eisenhower as a kind of institutional safeguard in case any of the space programs went rogue. Do you have any information about this?
There is a definite "Military Faction" to the Secret Space Programs. Most of the "Military" or "Security" Forces were Mixed Military Forces (MMF). The majority of people who served in these various security and military forces did not come from, nor were they associated with any of the military forces that are common to us here on Earth. They were mostly MILAB Program "Members" (Milarty Abduction/MILAB usually taken into programs "around" the age of 6 years old). I have a listing of various MILAB Project Names on my website. Commonly what occurred was as "Training" progressed your "Talents" and Psychological Proclivities were assessed and you were then "Herded" into "Sup-Programs" where you were developed into what they saw as a best fit for their future needs. Those who made it through to the end were usually "drafted" into a number of other "Black Programs" including the various Secret Space Programs and programs working within organizations on Earth that I have referred to as "Secret Earth Governments" and their "syndicates". Those who were deemed to be "cut from a soldiers cloth" would be trained and enhanced in some ways to fulfill that task. This is when the Military Trained MILAB's were splintered off into the various SSP's, Secret Earth Governments or their syndicates as well as even integrated into the U.S., UK, CA and AU Specialized Military Forces.
I had access to quite a lot of information about the Truman and Eisenhower Administrations and their policies that created the "Break Away Civilizations" we have now through the Military Industrial Complex (through the "Smart Glass Pads"). There was mention of both U.S. Army and Marine Companies that were trained and used more than once to threaten what became the Interplanetary Corporate Conglomerates (ICC SSP) to open up their facilities and information to "Federal Oversight". This however ended later on after the ICC Groups gained enough power to take control over the Corporate U.S. Government and in time most of the Pentagon and Civilian Intelligence Agencies. There was no direct reference to this U.S. Marine Corp Group in any of the "documentation".
Q5. You have endorsed Richard Boylan's claim that the secret space program contains at least eight cigar shaped craft the length of two football fields – about 200 meters. Have you ever travelled on any of these craft? Are they the space equivalent of an aircraft carrier? How many smaller craft do they hold?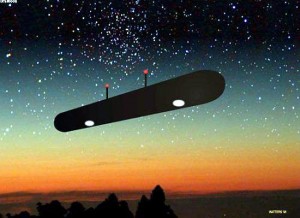 I used an article that was based on his information before I had fully "Come Out" while posting on an Internet Forum. There was some very credible information in that article that I referenced. There were however more than eight carrier Craft that were "Cigar" shaped and some were in the range of a "Mile Long". There were many different "Sizes" and "Classes" of Vessels and Craft in the Solar Warden Fleet alone. I have briefly been on board one of these carriers but have not traveled on them. I was assigned to a Research Vessel of a smaller size that was "Triple Hulled".
Q6. What national personnel manned the cigar shaped craft? Americans, French, Russians, Chinese, etc.?
These were mostly American personnel, there were a number of UK, Canadian and Australian personnel serving on board as well. I was only assigned to the Research Vehicle (where there were German and some Chinese Scientist) which was not a "Military Vessel" and had quite a different atmosphere. The "Security Personnel" were present but were under the authority of the more Civilian and Scientific Minded Personnel (Security referred to as "Egg Heads" in a derogatory manor). While we were off the vessel however the security personnel were in charge and made sure to take advantage of those opportunities. The security personnel considered the assignments to these research vessels as a light duty and boring assignment and would also refer to the research vessels as "Hot Dogs" in a derogatory way because of the Main Hull "Cigar Shape" and the partial triple hulls I guess somewhat made the Vessel look like a Hot Dog to them. I was only assigned to the research vessel [ASSR "ISRV"– (Auxiliary Specialized Space Research) Interstellar-Class Vessel, Arnold Sommerfeld] for a little over 6 years before being transferred to a few other programs that wanted to make use of the Training I had received and also my experience with dealing with a large number of "Off World Beings" while assigned as an "Intuitive Empath" (IE) in a support role to the Earth delegates that "Rotated" in to the "Human Like ET/ED" Federation Conferences that various Secret Earth Government and SSP Leadership types were honored to be a part of. The Secret Space programs continued to evolve over the 20 years I was assigned ("20 & Back"). Towards the end there were of course personnel from other countries brought in and of course were probably personnel already involved that I just didn't run into or have a "need to know" about.
Q7. Did you ever come across the terms "USSS Nautilus", "Earth Defense Force," or "Mars Colony Corporation," in your experiences/knowledge of cigar shaped craft?
"Nautilus" in my understanding was a "Class" of "Early Interstellar-Class Vessels". I only saw "USSS" used in documentation that had to do with "Personnel Assignments" and "Personnel Transfers". Otherwise I did not see any of the SSP groups refer to their vessels with a "USSS" Designation.
Q8. How do these eight cigar shaped craft compare against the TR-3B which is allegedly 200 meters in width? Which holds more personnel?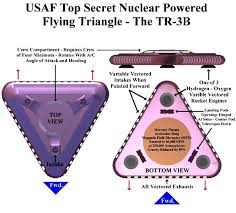 As stated there were more than 8 of the "Cigar" shaped carrier class and other class of vessels of various sizes and classifications. They were designed to carry various type of "craft" that many think of as the TR-3B. These "Cigar" shaped Carriers were designed to carry a large compliment of crew for extended periods of time and travel to "other Star Systems" (though Solar Warden was "mostly" kept to just inside our Sol System and the "Local Star Cluster" on rare occasions). The TR-3B is considered extremely outdated technology and in many cases has been gifted as "hand me down" craft to "Elites" within the Secret Earth Governments and their Syndicates as something akin to "Company Jets". There are so many newer technologies that are of the same general shape as the TR-3B (& models that came after) that it would blow people's minds. Most of them have completely "Modular" cabin's that the Pilots can fly and dock into the fuselage of the craft they will be piloting. Most of them are "Triangle" or "Chevron" shaped to some degree as well as the "Manta" shaped craft. For combat however, they have moved more and more to "drones" which a single pilot can control several of during sorties. I have always seen these craft controlled by "Neurological Interfaces" with the pilots (going all the way back to the 1980's). I have not seen any craft piloted by "Fly by Wire" or "Stick and Throttle" means. There is no way to compensate for the extreme speeds and changes of direction with "Eye Hand Coordination".
Q9. Do these eight cigar shaped craft all belong to Solar Warden, or are they distributed among all five independent space programs belong to our current human civilization?
Yes, these older "Cigar" shaped Vessels were "Solar Warden Assets". The other SSP's ended up acquiring ALL of the newer and cooler technological "Toys" and the ICC-SSP always kept the most advanced and best for themselves. The ICC-SSP is a HUGE INDUSTRY that has a HUGE INFRASTRUCTURE in Space that produces extremely high technology for not only "Human Breakaway Civilizations" but also "Civilizations from other star systems". There is a huge "Barter System" that is used "Out There" and the ICC-SSP has traded some very "Unsettling Things and even been involved in Human Trafficking/Trading" to acquire "New Technologies" to then engineer and produce for our Break Away Civilizations as well as for trading under treaties with other civilizations. (I mention in the interview with David Wilcock, some of Earths most precious "Missing" Art has been traded off and is hanging on a wall or sitting on a floor in another Solar System right now as wild as that sounds!). These people have no boundaries that they are not willing to cross to obtain more and more technologies and "ET Specimens" (Biological Specimens) for their research and interstellar commerce.
Q10. You say that one of the space programs is a corporate conglomerate that runs like a fascist dictatorship that deceives personnel into signing on with false promises of a utopian like off-world working conditions. What else can you share about the corporate conglomerate in its off-world operations?
See above for more details that you may want to move to this section/question. This ICC-SSP has also in addition to the above information been steadily recruiting "Talent" from here on Earth. They have often shown hopeful recruits pamphlets and videos of high tech cities (usually elite subterranean cities that are located here on Earth) and told that they are going to live like "The Jetsons" and will be contributing to man kind developing technology to be released in the near future or in some cases told that the Earth is going to be hit with a "Solar Cataclysm" or "Pole Shift" that will wipe out all life. That "They are Special" (so many people are made to feel "Special" in these programs!) and so is their family. That they are being given an opportunity to save the human race (And their families) by moving to a Colony on Mars or else where to use their skills (usually their spouse has a needed skill as well) and their children will be raised and educated to become the builders of a new civilization and rebuild Earth. Those who believe what they are told and take their families to these colonies find quite a different environment when they arrive. They are met on the tarmac by Security Forces who escort their family to a 8×10 room (for their entire family, wife and kids) and the reality of their decision sets in. They are then given their "Assigned Work Duties", as is their "Spouse". They are informed that their children will be raised in a system (much like MILAB's described above) where they will be educated and then provided a position in the community that best suits them and that when their children "Come of Age" they will be setup in "Arranged Marriages". At this point they are stuck, they are slave labor and prisoners. I was told that when these "Colonies" were first established that they were done so in a fascist way to prevent any possible repeat of the "13 Colonies Rebellion" on Earth referring to the "colonies that became the United States". These ICC-SSP groups are also very much involved in "Human Trafficking" and use these poor people as a commodity to trade off to various races for various purposes (That I will not go into) for trade and commerce of high technology and biological materials. (Note: I do not want to be insensitive to those who have loved ones who are missing persons, I do not want to feed the fear porn machine either. I stayed away from this topic with David Wilcock in the video recordings for that reason. It is a very sensitive topic and I want to respect those who have loved ones missing. Human trafficking is a horrible thing that is not focused on enough for the horrible things that surround what is involved in it on Earth. I am not cooping this horrible subject for my own purposes I assure you.).
Q11. Are companies like Lockeheed, Northrup Gruman, Boeing heavily involved in the corporate space program, or more the traditional military run Solar Warden program?
There are what are called "Super Boards" or "Super Commitees". Usually what happens is that ALL of these very well known Government contracting corporations that we know of (and some we do not) have a standing board member that will "Retire" and roll off their corporate board and then join one of the ICC-SSP Corporate Boards (Super Commitees). They are then out of the limelight and still have their "Corporate Pull and Connections". Solar Warden was indeed a heavily Navy program in the beginning with Air Force involvement later on. Even though most of the "Rank and File" come from within the MILAB Recruiting Systems the "Brass" has been connected to the Military (some very much Constitutional supporters and believers in their "Oaths"). In recent "SSP Allied Conferences I have attended I have noticed a change. Many of the "Brass" are now the MILAB Types who have worked their way up the ranks. There are also quite a few new "Defector Groups" from some of the other programs no involved. Things have evolved in the Solar Warden SSP as I am sure they have in the other SSP's… Unfortunately in the case of the ICC-SSP and the "Dark Fleet-SSP" they have become more and more negative because of their "Off World Alliances".
Q12. G. Marconi allegedly was involved in creating an independent corporate run high tech enclave in South America just prior to WW2, do you know anything about Marconi's alleged program and Nikola Tesla's alleged involvement?
As many know the Secret Earth Governments and their Syndicates (many call the "Cabal" and "Illuminati") have had complete control of the financial system of Earth for many hundreds of years. As many know these same groups were financing both sides of WWII (and EVERY War before and since) for various reasons to support their agendas. After WWII much of South America was pretty much bought by the NAZI's who setup enclaves, bases and even cities through out South America and even a couple huge bases in Antarctica. During this time just about anything of interest in the field of high technology in the regards to your question was coopted by the NAZI's either overtly or covertly.
Q13. What can you tell us about the third secret space program belonging to our current civilization? It appears that is run by the cabal, who are they and how is it run? Is this space program more under the control of regressive extraterrestrials, satanic forces, or AI?
This is a very complicated question and answer. I have gone into heavy details on it on both my website and the forums I post to. There are multiple Secret Space Programs that are connected directly to our current era "Break Away Civilization". There are more than a hand full of Secret Space Programs that are directly connected to Ancient Earth Civilizations that developed their own "Break Away Civilizations" before those civilizations perished (some of these Ancient SSP Breakaway's have presented themselves as "Gods" to Humanity in less developed time periods and have most recently presented themselves as "ALIENS" from "This or That Star System" to People they are contacting Currently on Our Planet. They tried this with the various "Current Era SSP's" but it did not work for very long.
There are elements of Secret Earth Governments and their Syndicates as well as Ancient Breakaway SSP's that are aligned with not only several different groups of "Off World Groups of Beings" but who have also become what we have termed as "AI Prophets" and are working on a somewhat integrated but independent Agenda of bringing the "ET/ED AI" into Control of the Technologically dependent world they have helped create. This "ET/ED AI" which they consider to be far more capable of "Ruling Humanity" has been a scourge across multiple Galaxies and destroyed hundreds of advanced civilizations far more advanced and wiser than our own. This is considered by the Other SSP's and even other Federation ET's as an Imminent Threat. The security protocols in place to guard against the AI Threat are quite intrusive at times and are taken very seriously. There are some of the more negative oriented ET/ED Groups that not only have "Entity Attachments" themselves but also use these "Ethereal/Negative Spiritual Entities" as "Tools" to attach to Humans to manipulate their behavior.
These "Entities" use both the ET/ED's and Humans as "Hosts" and extract "Loosh" Energy from their victims by creating Fear, Anger, Depression, Anxiety and any number of other lower vibrational emotions. This looshe energy is shared with the host in a symbiotic relationship. The Blue Avians have stated that when the new waves of higher vibrational energies come through our Sol System that these "Negative Entities" will no longer be able to exist here and will be forced back to "The Outer Realms Where They Came From" (Exactly what the "BA's" Stated). This will leave their former hosts writhing in withdrawls like a "Heroin Addict" who has gone off of their addicted substance "Cold Turkey". It will be extremely unpleasant for these individuals to go through.
The various Secret Space Programs of our current era and break away civilization are all aligned with different (some times multiple) groups of off world groups. This is completely independent of the problem on Earth of the Secret Earth Governments and their Syndicates that the "Earth Alliance" has done so well in combating over a protracted amount of time. With the arrival of the Sphere Beings the "Religious Fanatics" of the Secret Earth Governments first thought that "Their Gods Had Returned". This was soon to become very much of a disappointment to them. This has also been a very unsettling time for the "SSP Alliance" who have since late December gone from a "Shadow Civil War" into an "Open Shooting War". The Sphere Beings have been delivering a "Message" that many of them have called a "Hippy Love and Peace" message in the middle of a war. The message of becoming "More Loving", "Service To Others", and to "Focus on Raising Our Vibrations and Consciousness" and to practice "Forgiveness to Release Karma" is not what many of the battle hardened "SSP Alliance" members were wanting to hear. The Sphere Beings Quarantine around both the Earth and the Entire Solar System has also further complicated things for some of the "Off World Beings" and the plans of the "Secret Earth Government Elite" who had planned on "Not Being Here" when all of this went down. They are all stuck here for the "Duration" by these new arrivals who have been termed by the "SSP Alliance" as "The Sphere Alliance" (Who are 6th, 7th, 8th & 9th Density Beings/Civilizations). The 3/4tth and 4/5th Density "Custodian God's" AKA "Custodian ET/ED Beings" that had been in control of this Solar System for MANY Thousands of years have absolutely no recourse against these "New Arrivals". Their agenda's have been thwarted and they are now locked inside this Solar System with us until these "Events" pay out. These will certainly be interesting times indeed for those of us who are at various stages of being awake as well as the masses who are firmly asleep.
[NOTE: In a follow up email sent on April 6, Corey/GoodETxSG helped clarify the number of secret space programs belonging to the current era – there are five not three as I previously thought he had described. These are as follows]
1. Solar Warden – Established early and is the most aging fleet (though it has gone through many upgrades over the decades). They have a R&D/Scientific focused fleet and a Military Offensive/Defensive focused fleet that is mainly focused on policing the Solar System and surrounding Star Clusters and keeping track of "Intruders" and Visitors" as well as locate and remove unauthorized "Visitors" on the Earth and other planetary bodies. Their program name describes their function pretty well.
2. Interplanetary Corporate Conglomerate (ICC) – Focused mainly on development and aquisition of technology by any means. Develop and Produce Technology for Commerce with Earth and Off World Groups in a Barter System and left nothing off the table that they were willing to trade. Very powerful, very classified, and Always had all of the latest technology and "Toys" at their disposal.
3. Dark Fleet – Worked almost entirely outside the Sol System, Very Military (Offensive), Extremely Classified above the others and were large fleets (similar looking Carrier Craft that looked like the Star Wars Wedge Shaped craft in the movies). They worked along side the Draco Alliance and are speculated to fight along side them in their affairs in other systems.
4. "NATO TYPE SSP" – Recently in Alliance Conferences they were referred to as the "League of Nations Program." Apparently this was the one where I arrived and all of the people were relaxed in another Sol System and were from MANY different countries. There were literally more flags on their shoulders than I could identify (countries like Estonia etc…). This group was based almost entirely outside of the Sol System and was a relatively newer SSP that was created for all countries to participate in, have exchange of information and technology and to encourage the countries to keep silent on the SSP Programs.
5. Various Special Access Program SSP's that were small, usually had the newer technology, very secretive and worked for some of the Secret Earth Governments, Syndicates and World Military Forces (there could be several independent groups in this category).
…
Corey "GoodETxSG" aka "Luke"
Web Site:www.SphereBeingAlliance.com
Blog: http://goodetxsg-secretspaceprogram.blogspot.com/
Twitter: @BlueAvians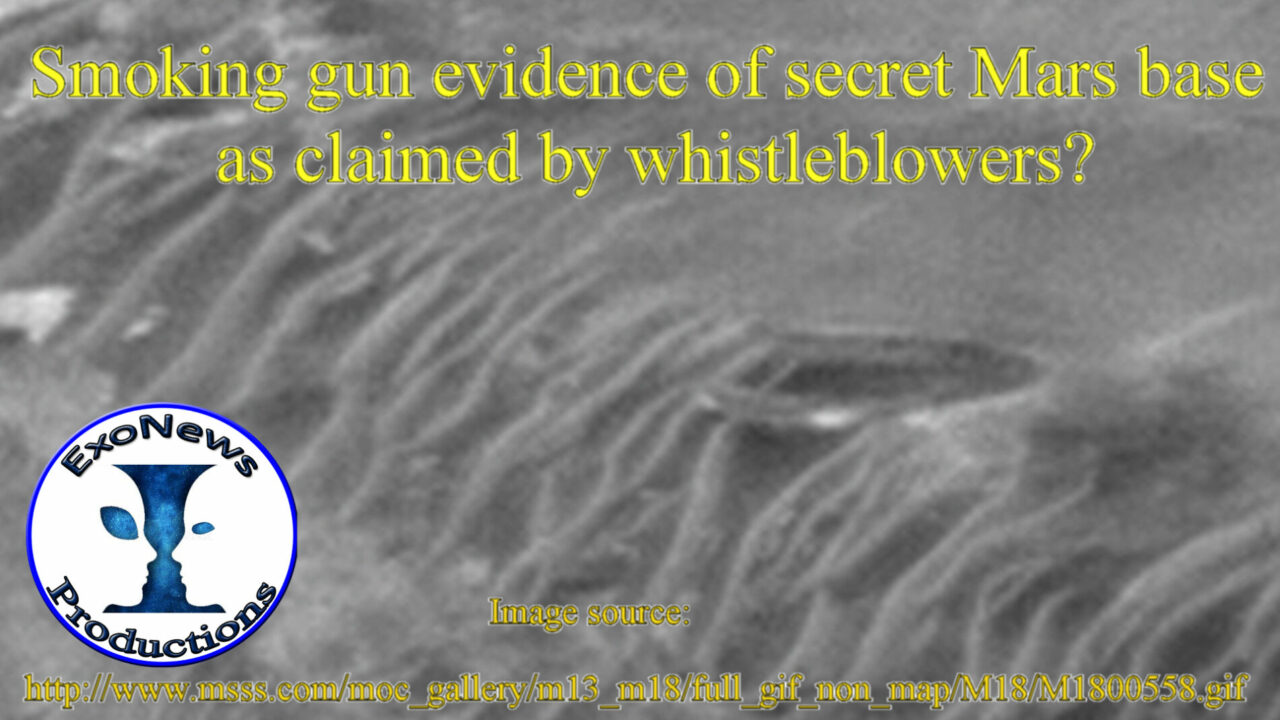 A Mars Global Surveyor image shows an artificial object on Mars that appears to be a base overlooking a canyon. The image was taken by the Mars Orbiter Camera sometime in the period from March-Aug 2000. The image was the subject of a Youtube video released on March 27 where it was described as a flying saucer shaped space craft. Scott Waring from UFO Sightings Daily also studied the image and today in a post claimed the object is a giant UFO disk. The position of the artificial object overlooking a canyon suggests another more likely explanation – a secret observation post on Mars belong to a base.
The image can be found on the Malin Space Science Systems website which designed the camera used by NASA's Mars Global Surveyor Orbiter. All Orbiter images through to Sept 2005 can be found on the Malin website which is affiliated with NASA. The image with the artificial object is located on its M13 through M18 page dating from March 2000 – August 2000
The object is symmetrical with what appear to be observation windows. According to Waring, these are windows from a UFO, however, a flying saucer craft left on the surface of Mars would over time be subjected either to damage from atmospheric conditions, or from its initial impact. The structure does not appear to be damaged at all, and shows no telltale signs of atmospheric wear and tear. The object has a smooth contour with polished edges. This suggests the structure is currently in use. Its position overlooking a canyon raises the strong possibility that it is an observation post belonging to or attached to a nearby base. If so, then the image is startling evidence of a secret base found on Mars. The obvious question that arises is who does it belong to?
A number of whistleblowers have come forward to reveal their experiences regarding secret bases on Mars. Randy Cramer (aka Captain Kaye) claims he spent 17 years on a secret military base on Mars protecting five corporate run bases called the Mars Colony Corporation. He claims that he served with the Mars Defense Force and protected the civilian bases from Martian indigenous life forms. Cramer says that Mars has a thin breathable atmosphere that is capable of sustaining indigenous life – two of which are capable of attacking the civilian colonies.
More recently, another whistleblower using the acronym GoodETxSG has stepped forward claiming to have served with up to three separate secret space programs run by covert multinational alliances and/or corporate conglomerates with bases on the Moon, Mars and elsewhere in the solar system. He further claims that between 5-7 secret space programs exist that are affiliated with ancient Earth civilizations. GoodETxSG says that Mars has a thin breathable atmosphere with indigenous life forms, and secret military and corporate installations.
The 2000 Mars Global Surveyor image is hard evidence of an artificial structure found on the Mars. The most likely explanation is that it is part of a base belonging to a secret space program. The image supports whistleblower claims of secret space programs operating in deep space, with bases on various celestial bodies in our solar system.
© Michael E. Salla, Ph.D. Copyright Notice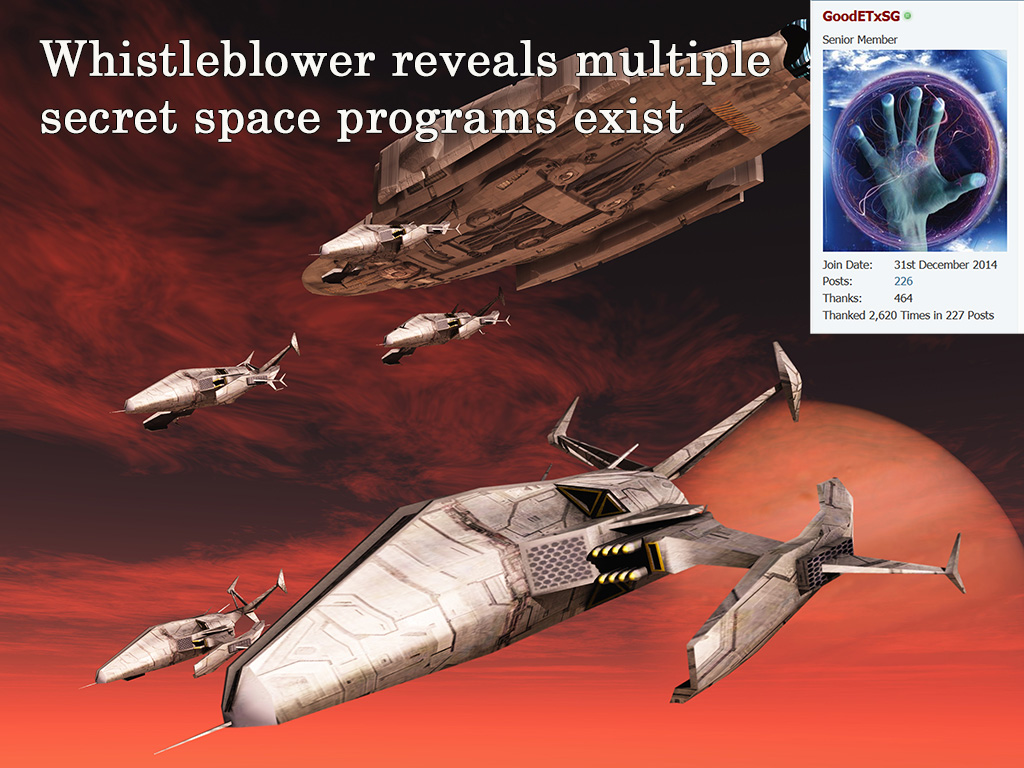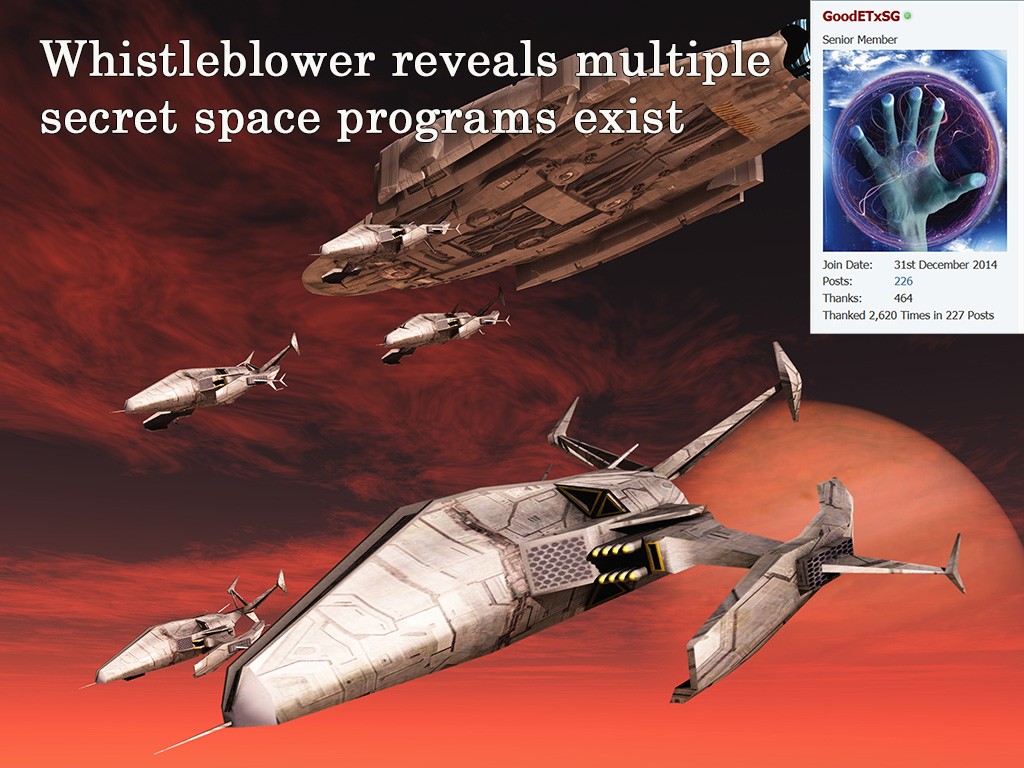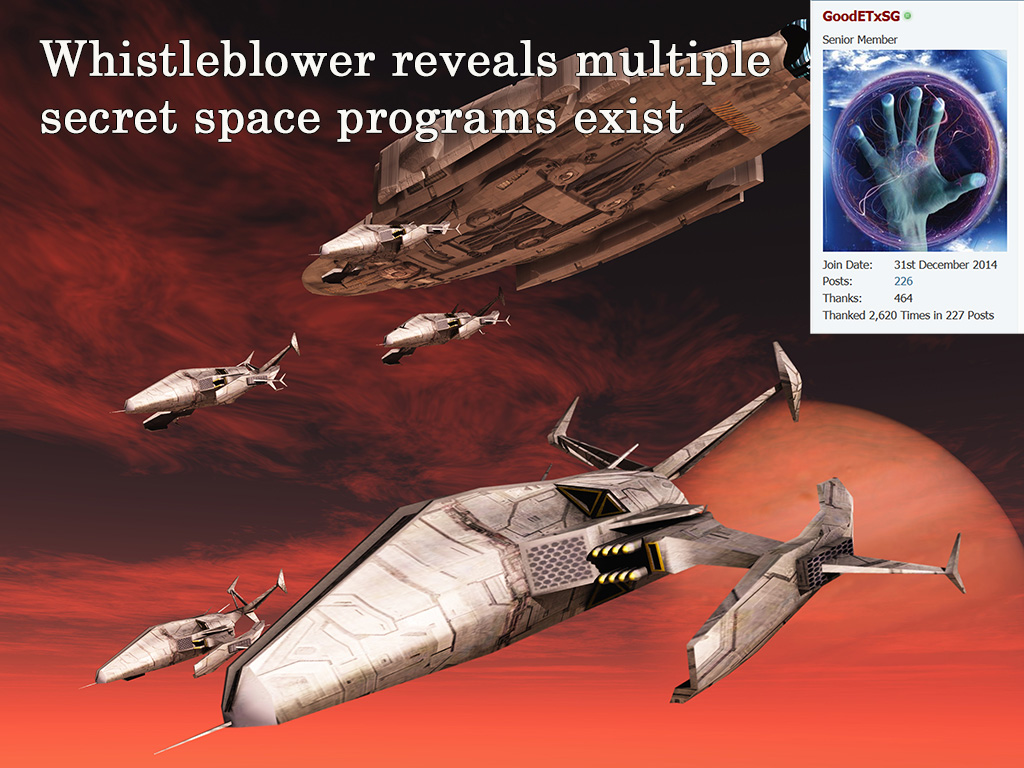 A new whistleblower has appeared who is creating quite a stir in the UFO and exopolitics communities due to his claims of having worked with a number of secret space programs; and, more recently, having become a contactee with a powerful new group of extraterrestrials that have entered our solar system.
Using the online pseudonym GoodETxSG, the whistleblower (who announced yesterday that his first name is Corey and that he will soon end his anonymity) has described in interviews and posts on two major online forums his former covert background with a number of secret space programs run by various military, corporate and earlier human civilizations. He says that contrary to widespread perceptions in the UFO research community of a single secret space program belonging to a breakaway civilization, that there are in fact up to ten breakaway civilizations indigenous to Earth.
Each of these breakaway civilizations, according to GoodETxSG/Corey has their own secret space program. He says that there are currently three major secret space programs belonging to various national and international entities on Earth. One of these is a large corporate entity similar to what was described in the movie Avatar. The other two are multinational covert space programs that are similar to NATO in their manner of operations and activities. In addition, he says that there are between 5-7 secret space programs belonging to earlier breakaway civilizations on Earth including Nazi Germany, and another dating as far back as an astounding 500,000 years ago!
Adding another level of complexity to what is really happening with the various secret space programs, GoodETxSG says that off-world extraterrestrial civilizations interact or collaborate with one or more of these secret space programs. In a comment responding to the claims of another alleged whistleblower from a secret space program, Randy Cramer (aka Captain Kaye), GoodETxSG summarized the complex situation:
There are many who have been a part of the 3 Separate Secret Space Programs that are independent of the Secret Earth Governments (One of which is a powerful Interplanetary Corporate Conglomerate that owns most of the Mars Bases). There are also 5-7 "Ancient Earth Break Away Civilizations" that have Bases here on Earth. All of the groups mentioned above are "Allied" with various and different "Off World Entities' and "UN Type Federations" both with the "Human Like ET's" and the "Non-Human ET's" (All with DIFFERENT AGENDA's). There is also a "Shadow Civil War" going on among some of these Secret Space Programs and their "Off World Allies" to end control of the Secret Earth Governments using the "Babylonian Money Magic Slave System" to control Earth Humanity.
A significant point concerning security in GoodETxSG's postings is that concerning the threat posed by artificial intelligence. According GoodETxSG, artificial intelligence (AI) has been developed by multiple extraterrestrial civilizations that have created synthetic AI humanoids, only to have them turn against their creators in a manner similar to what was depicted in the remake of the television series, Battlestar Galactica. Consequently, all secret space programs have created security procedures to identify individuals displaying evidence of AI influence.
 As a last resort, individuals trained as intuitive empaths were employed to identify AI influence as well as any form of deception. This was the main job that GoodETxSG says he performed during his 20 year tour of duty.
More recently, GoodETxSG claims that up to 100 spherical ships have entered our solar system possessing technology far in advance to anything used by the different secret space programs and their respective extraterrestrial allies. GoodETxSG says that extraterrestrials from this "Sphere Alliance," have been physically contacting him and other private individuals to disclose information about major new events that will profoundly change life on Earth. He says that this Sphere Alliance is assisting humanity in breaking free of the control exerted by powerful elite organizations on Earth, what he calls the "Babylonian Money Magic Slave System."
GoodETxSG's claims that he and 70 other private citizens were recently taken to a secret space location for an "Alliance Conference" where along with about 120 others representing the different secret space programs, the "Sphere Alliance" revealed some of their plans. Among the extraterrestrials from this alliance who interacted with the conference delegates, according to GoodETxSG is a "Blue Avian" race up to 8 feet tall, and a taller 10 foot thin golden brown being with triangular head and blue eyes. The Sphere Alliance apparently is intent on helping bring about full disclosure of extraterrestrial life.
GoodETxSG has been sharing his information with David Wilcock who apparently vetted GoodETxSG with other confidential sources and found him to be credible. Wilcock has subsequently incorporated GoodETxSG's testimony into a number of public presentations attempting to outline the full complexity of issues concerning secret space programs and visiting extraterrestrial life. Wilcock is a major proponent of the idea that extraterrestrial disclosure is imminent due to the collapse of the elite control system that has been in place for centuries. He accepts GoodETxSG's information as validation for his optimistic pro-disclosure position. Before offering my own evaluation of GoodETxSG's claims, it's good to review what is known about his recent public activities.
GoodETxSG first became widely known because of two audio interviews he did that were initially promoted through the Project Avalon forum in Oct 2014.  He previously had been a long time member of Project Avalon where he had shared personal information, but not his covert background in various secret space programs. That changed in Sept 2014 when he consented to do an informal sit down conversation with a Project Avalon member on behalf of the forum's founder Bill Ryan. The conversation was intended to be used solely for Ryan's personal research but GoodETxSG was persuaded to have it published on Project Avalon with the proviso that all steps would be taken to keep his identity anonymous. While this introduced a wide audience to GoodETxSG's experiences with different secret space programs, this ultimately led to his identity being exposed on the forum, and ultimately a break with Ryan and Project Avalon. Currently GoodETxSG's is posting on a new forum, "The One Truth," where he is answering questions and informing members of new developments.  He also has a website which has much of the information he has shared on the two forums.
How credible is GoodETxSG? According to Wilcock, GoodETxSG's testimony is consistent with multiple other insider sources discussing secret space program and extraterrestrial life. In my own database of whistleblowers, contactees, leaked documents and breaking news on the secret space program(s), I have found nothing awry in GoodETxSG's claims. His claim of separate space programs is consistent with Randy Cramer's claims that he served with the Earth Defense Force (a multinational alliance) for 17 years on Mars to defend five civilian bases belonging to the Mars Colony Corporation. In his alleged 17 years on Mars, Cramer claims he never once ventured into the Mars Colony Corporation facilities, even for R & R. That appeared strange to me when I first heard of it. That degree of formal separation between military and corporate bases on Mars, however, supports GoodETxSG's claims of separate space programs.
GoodETxSG claims that he served a 20 year tour of service with the secret space program(s) before being age-regressed back to a time shortly after his duty began. Essentially this allowed him to live a 20 year time-span twice. Also, his memories were wiped or "blank-slated" and GoodETxSG, now a civilian, was encouraged not to rejoin any military service in case that triggered memory recall of his prior 20 year service. This is consistent with the claims of Michael Relfe (The Mars Record)  and Randy Cramer (Earth Defense Force) who say they went through a similar security process.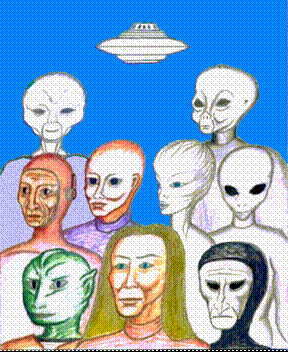 Furthermore, GoodET discusses 22 ET races that have genetically intervened with the human genome. They comprise a UN Type Federation of "Off World" beings interested in humanity. This is consistent with the testimony of the 'contactee' Alex Collier who claims that extraterrestrials from Andromeda had revealed to him that a total of 22 extraterrestrials races provided the genetic material for humanity:
In a nut shell, we are a composite of a lot of different races, 22 to be exact.  It is a physiological fact that there are 22 different body types on the planet. And that is the result of the extraterrestrial races.
While there has been no concrete evidence offered to corroborate the testimony of GoodETxSG, his claims are consistent with those of other whistleblowers and/or contactees on a number of significant issues. It's clear from anyone viewing the extensive postings and commentary by GoodETxSG, that he sincerely believes that his claims are based on truthful events and experiences. Nevertheless, it is always possible for an individual to sincerely pass on implanted memories as truthful testimony even though they have been fabricated to serve the agenda of one or more shadowy intelligence corporate organizations,
In the original 1962 film, Manchurian Candidate, mind controlled military personnel were given false memories and programmed to act in ways that served the interests of shadowy entities behind the scenes. Project MKUltra was exposed to be a real CIA mind control program by the 1976 Church Senate Committee that targeted thousands of individuals. Mind control through the use of false implanted memories would over the decades have become even more sophisticated with the development of more powerful computers. It's possible or even likely that implanted memories have been used for those that have previously served in secret space programs and undergone a blank slate mind control experience when reverting to civilian life. This would enable former covert space operatives, now working as private civilians, to continue to be of use in any psychological warfare operations against the US or world public. It's important to point out that the Edward Snowden NSA document leaks confirm that online covert operatives have indeed been used to subvert the public about the UFO issue.
Different mind control techniques used on former secret space program personnel does not mean that ALL recovered memories are false or compromised. Individuals may be programmed to release genuine information along with disinformation as a means of an agency fulfilling an agenda that evolves with time. It's also possible that former secret space program personal have been able to successfully remove most if not all implanted memories or mind programming. It's worth mentioning that in the cases of Michael Relfe and Randy Cramer, both underwent years of extensive deprogramming to remove signs of mind control, and get to the truth of their experiences.
At this stage, it's vital to separate GoodETxSG's claims of 20 years service with multiple space programs with his more recent claims of being an extraterrestrial contactee. Importantly, the latter experiences from his public statements so far, provide information about current off-world events that can be corroborated by others attending the alleged "Sphere Alliance" conferences. If 70 private individuals attended the same event, it can be expected that some will soon also go public and offer their versions of what happened. Significantly, there does not appear to be any mind control involved in GoodETxSG's claimed contact experiences. If confirmed by others stepping forward, his contactee experiences will support the validity of his claimed earlier experiences with secret space programs.
Researchers need to be very cautious when examining testimony of whistleblowers that have been subjected to mind control as a standard security measure during their alleged service in one or more secret space programs. GoodETxSG/Corey may very well be one of the most significant whistleblowers ever to come forward with his claims of twenty years service with multiple secret space programs if confirmation can be found. His current revelations about an alien "Sphere Alliance" may be even more significant if events transpire as he suggests, and also offer a means of confirming his alleged prior covert service. At the moment it's important to keep an open mind while remaining cautious when examining the full extent of GoodETxSG's/Corey's claims concerning multiple secret space programs, and their reactions to a powerful new group of visiting extraterrestrials supportive of full disclosure.
© Michael E. Salla, Ph.D. Copyright Notice
Reagan records & Space Command antigravity fleet
Whistleblower reveals serving for 3 years on secret space fleet
Artistic Recreation of Extraterrestrial Visiting Space Shuttle released by former Space Craft Operator
ExoNews TV: Whistleblower claims he served 17 years at secret Mars military base
Mars whistleblower reveals more of his covert military service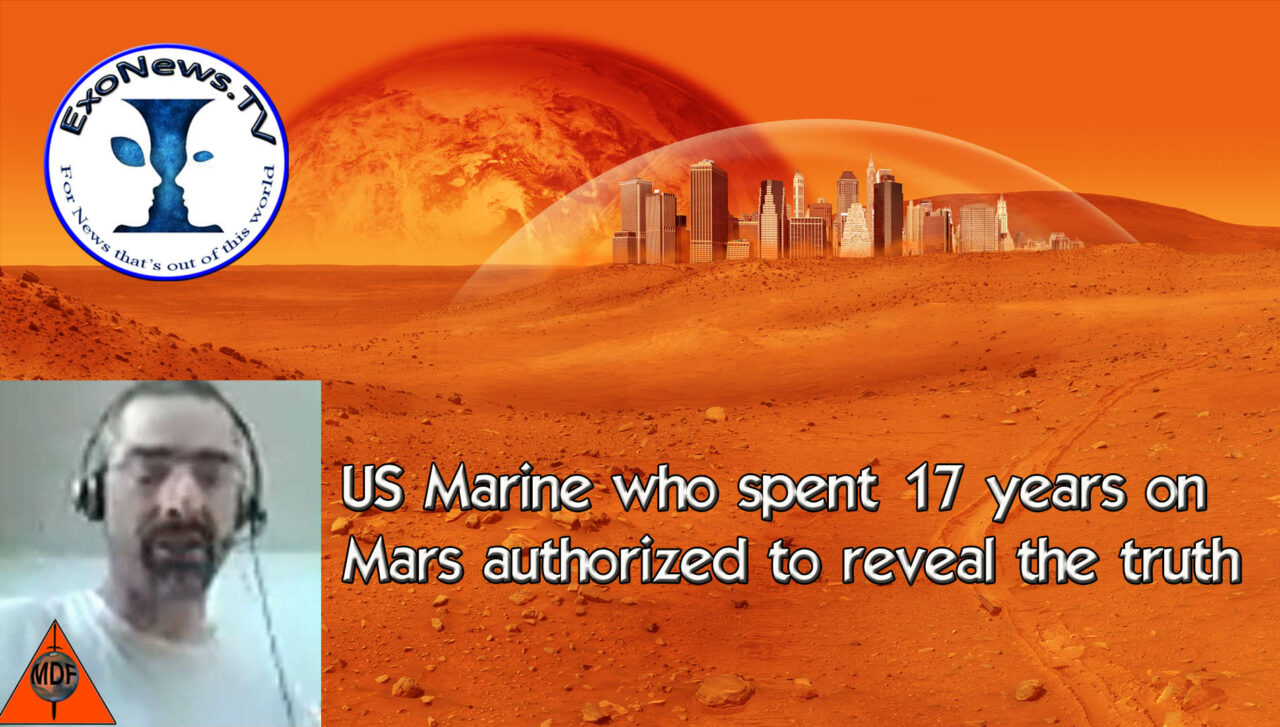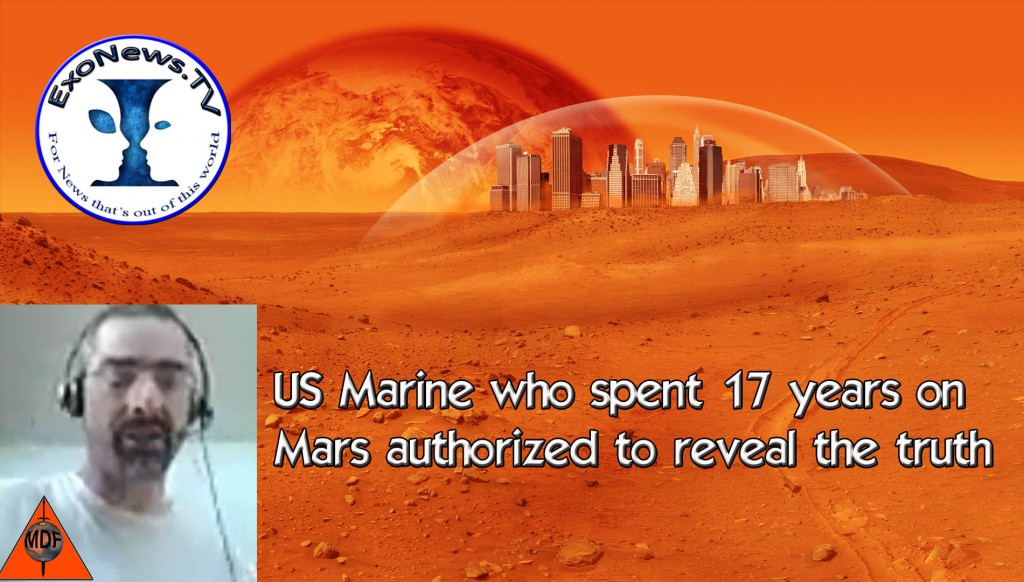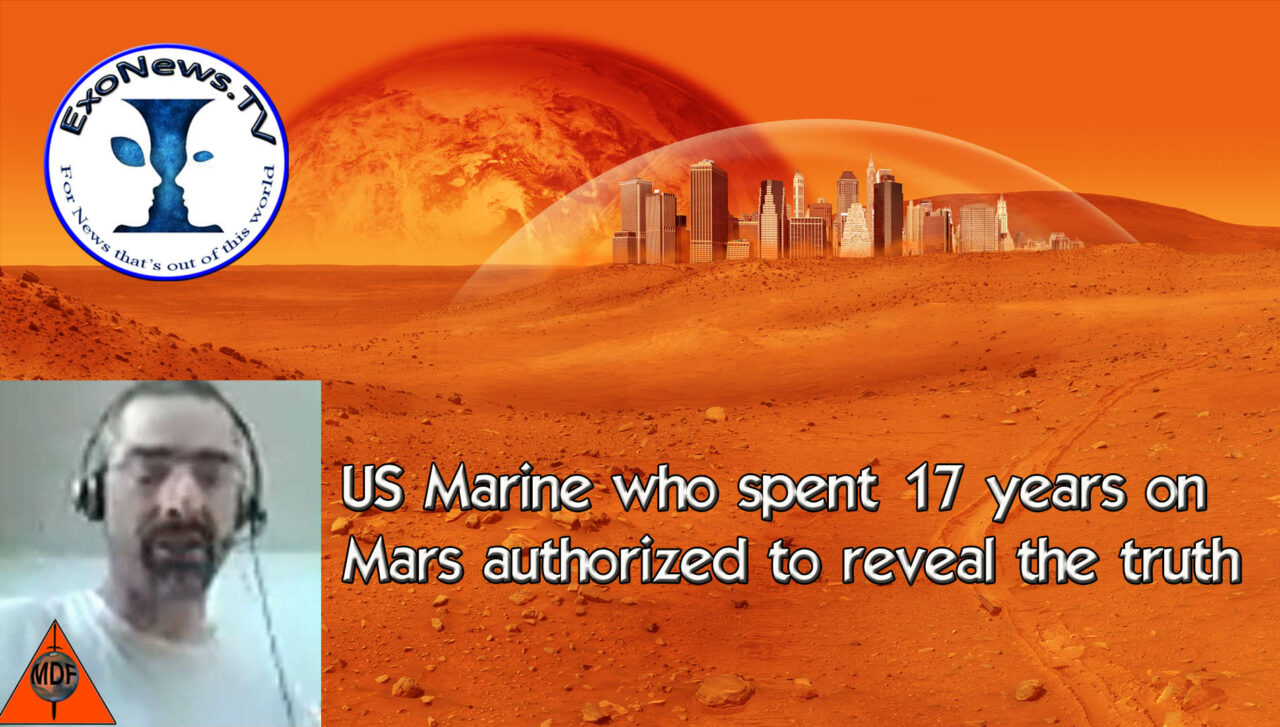 Randy Cramer (aka Captain Kaye, USMC s.s.) who claims to have spent 17 years on Mars and three years serving on a secret space fleet has just released his first newsletter. It has his responses to a number of questions from the general public sent to him by email or Facebook. For those that have followed the Captain Kaye material, there will be fascinating details on issues covered more generally in earlier interviews/articles. Below are some of the highlights from his newsletter and their significance.
The most pertinent information in my opinion is that Randy is still acting under direct orders from his military superiors – a brigadier general and colonel serving in a covert branch of the U.S. Marine Corps called "special section." This was covered in my last skype interview with him. In the newsletter he says:
Col. Jamieson put me in touch with a man identifying himself as Brigadier General Smythe. General Smythe gave me a fairly long-winded explanation about the "soulless pricks" (his words) on "the Committee" that he was supposed to answer to, and the serious disagreements by USMC s.s. brass with said Committee. Without elaborating, I was satisfied with his explanation of the situation on his end. When he personally gave me the go-ahead (he said, and I quote, "I'm giving you the go-ahead to go public with everything you know…"), I asked, "Everything?" and he said, "EVERYTHING!", and then we had a deal. As long as I had the assurance that my direct chain of command was behind me and that I had no restrictions on truthful content, I knew it was for real – and that HE was for real. No one – not even an enemy – would want me to do that, or tell me to do that. He even said I could use his name, which I just did, to let the people who need to know, that I answer to him, and only to him… and if they didn't like it, they could take it up with him, or the CMC.
One of the issues covered during his interviews was that the mind control techniques used on him and other Marine Corps s.s. recruits was not trauma based as was common with other covert programs. Here Randy gives more details on the two different types of mind control used by covert military services:
The techniques used to make me have been described to me as a "with-the-grain" style of programming as opposed to most "against-the-grain" styles of programming that try to force Super Soldiers to kill anything, anytime, anywhere – and as human animals, most of us just aren't made that way, so we resist – and the main function then becomes 'suppressing' the urge to resist. Rather than creating the best Super Soldier you can, you only create the most compliant. The "with-the-grain" style programming doesn't try to create something that kills on command, but, rather, it creates a deep seated instinct to protect its tribe and its territory when threatened. So, as long as you can explain the threat credibly, the soldier will use all of its strength and cunning to destroy any that would harm those it's genetically predisposed to protect.
Randy comments on the nature of compartmentalized projects and the power acquired by project directors. This is pretty consistent with what other whistleblowers have revealed about covert programs that have increasingly become rogue operations:
It would appear that what was once a fairly cohesive effort by a handful of covert programs to deal with the ET/exobiological/technological issues, is no longer cohesive, and nor is it just a hand full. It seems that it has degraded into a feudal style conflict where every 'Deep Black' program director who has a measure of control in the larger equation is refusing to share data, while trying to steal and acquire everyone else's data – while trying to keep his/her sub-programs hidden so they cannot be stolen. Alliances are made and broken. All high technology is just used to spy and steal from each other with the hope that whoever wins the 'Deep Black race' will get to rewrite all the rules and make the world in their image; because, quite simply, there will be NO ONE to stop them from doing so with all the competition eliminated, or left in the dust.
In his response to a question about his arrival on Mars, Randy says that his first experience was stepping out into the open which is breathable. Other Mars whistleblowers have said similar things and of course there are many Mars Rover images of animals roaming the surface of Mars. Randy's testimony is more evidence that NASA is lying that the atmosphere is 96% CO2 with trace amounts (0.15%) of O2. His account of the transfer station sounds like the kind of open air conditions one finds in landing at many small airports.
We touched down at Aries Primus, HQ of the MCC (Mars Colony Corporation) and the MDF (Mars Defense Force). To my surprise, we walked down the gangplank and right out into the Martian air. The air was thin and cool, but the sun was beating down enough to feel it. Even though it's dimmer, the sun can still be quite hot and bright in the direct light. We walked, in a line, to personnel with scanners in their hands who would scan your transfer packet, and then direct you to whichever shuttle pad was to take you to your duty station.
I boarded a small shuttle that looked like a soda can that had been through hell and back. It was long and narrow, and had two rows of seats against the side walls facing each other. You could fit about 32 people (plus, two flight crew) inside. It was a noisy and rough ride, and when I got out, we were in the motor pool/main hangar of Forward Station Zebra: my new home for the next 17 years.
When asked about the moon landing by Neil Armstrong and Buzz Aldrin, Randy commented about how the moon program was a cover and that many were surprised Armstrong didn't say more before his death. One likely reason is that Armstrong received death threats against him and his family if he revealed to others before his death:
… we know the covert program was on the moon in the Fifties, and on Mars in the Sixties – but only a few people knew that. To everyone else, the NASA program was all there was. Several astronauts of the Mercury program had said they thought they were just "spam in a can", and that the real deal must be in some deeper program. A lot of us thought Neil Armstrong might do a deathbed confession, but he went to the grave with what he knew.
Finally, Randy claims that President Eisenhower created the US Marine Corps special section in 1953 as a counterweight to the MJ-12 Group. That makes a lot of sense given the long history of the Marines and Eisenhower's suspicions about the growing power of MJ-12 that culminated in his 1958 threat to invade area 51/S4:
President Eisenhower ('Ike') created USMC s.s. because he didn't trust "those MJ-12 boys", and he wanted a military unit (disciplined and oath driven, not like intelligence community people), and he wanted them to be marines because he wanted them to have the highest ethical and moral fiber. So they recruited their first officer class from the Navy and the Marine Corps, before they created their own officer academy, because Sailors and Marines have a shipmate and teammate mentality. We all work together, or we all go down with the ship – essentially. This distinction has a ripple effect that makes Navy and Marine command structure TOTALLY different from Army or Air Force, which is where the main corruption comes from: greedy conquerors (fucking Legionnaires) – mix that with the T2 eugenicists, and you have a global nightmare the Nazis only envisioned in their wettest dreams.
Randy's newsletter has much more fascinating information in it and is well worth reading.
For the moment, there hasn't been much in the way of direct confirmation of Randy's claims other than whistleblowers such as Andy Basiago, J.D., corroborating some of the details he revealed about bases on Mars:
After careful analysis, I have concluded that the Mars testimony of Captain Randy Cramer is truthful. I am convinced that Randy is "the real deal."
More needs to be done in that regard and perhaps that's where Randy's superiors in the chain of command can help him, if they really desire disclosure to move forward quickly. Nevertheless, Randy's revelations about Mars and the secret space fleet are certainly something to deeply consider as we move inexorably towards a world where some truths about extraterrestrial life are finally revealed, but other elements of the cover up are likely to continue in rogue covert programs.
© Michael E. Salla, Ph.D. Copyright Notice
Further Reading
To Learn More: