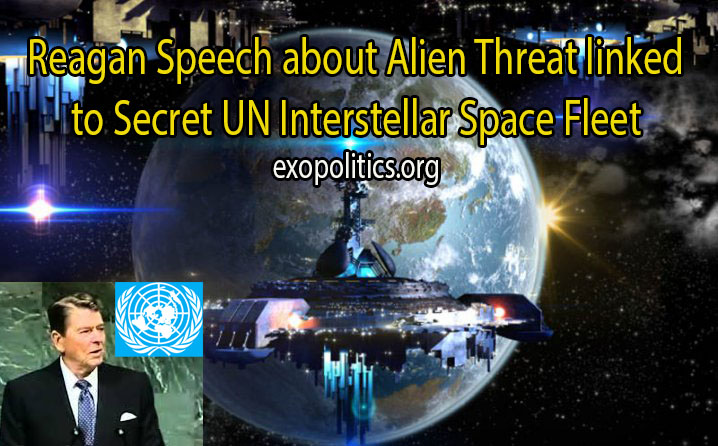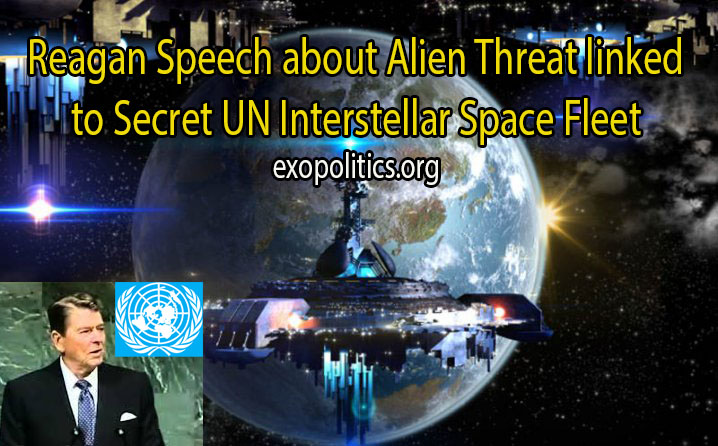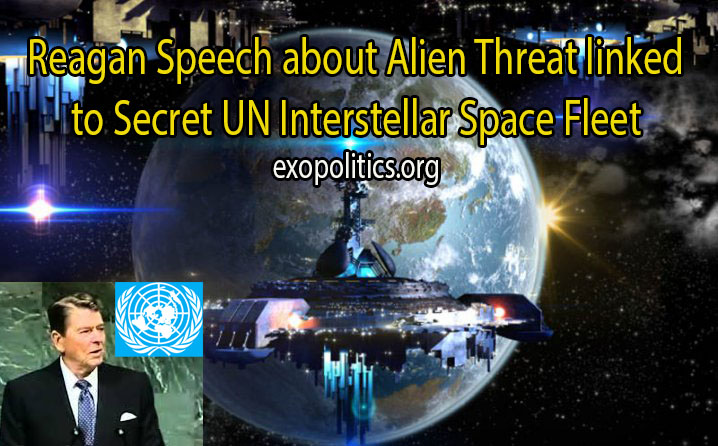 On Sept 21, 1987, President Reagan gave a famous speech to the United Nations General Assembly where he warned of an alien threat and how important it was for humanity to bond together to face it. In his latest email interview [attached below], secret space program whistleblower, Corey Goode, reveals Reagan's comment had the immediate effect of galvanizing the United Nations into forming a secret space program called the "Galactic League of Nations."
In his 1987 speech, Reagan said:
In our obsession with antagonisms of the moment, we often forget how much unites all the members of humanity. Perhaps we need some outside, universal threat to make us recognize this common bond. I occasionally think how quickly our differences worldwide would vanish if we were facing an alien threat from outside this world.
In his latest email interview, Goode replied to a question concerning the relationship between the Galactic League of Nations space program and the United Nations:
The beginning of this program coincides with a particular speech given to the U.N. by President Reagan that mentions how quickly we would come together if there was an alien threat.
If Goode is correct, then Reagan's speech sparked a behind the scenes effort by the United Nations to bond all nations together in a secret space program that would interact with extraterrestrials life.
In other email interview replies, Goode added more details concerning the six years he spent on the science research vessel "Arnold Sommerfeld" that belonged to the Solar Warden space program discussed in one of his recent Gaia TV interviews. He described the propulsion system used on the "Sommerfeld." In an earlier article I speculated that the name of the ship was due to it having something to do with Arnold Sommerfeld being one of the pioneers in developing "thought experiments" about time travel that later led to the idea of "tachyons" – faster-than-light particles. While Goode wasn't sure why the research vessel was named after Sommerfeld, he did confirm that it uses a temporal drive based on "principles of Quantum Entanglement between certain isotopes." Interestingly, these principles are also used for interstellar navigation.
Finally, Goode replies to recent criticisms that the Blue Avian extraterrestrials are part of an MK Ultra Project Bluebird mind control program that he and other Military Abductees (MILABs) were subjected to. His response outlines the importance of not dismissing the testimonies of former MILABs merely on the ground they have been previously involved in mind control programs. Otherwise, this would act as a disincentive for other whistleblowers, that have also been subject to mind control in MILABs, to come forward. Goode's point is a valid one. More whistleblowers need to come forward to reveal their personal experiences with secret space programs, not only to confirm Goode's revelations, but also to confirm the roles played by former world leaders like Ronald Reagan in such programs.
© Michael E. Salla, Ph.D. Copyright Notice
---
Questions for Corey Goode about Temporal Drives, Galactic League of Nations Secret Space Program and recent controversy – 8/4/15
[Message from Corey Goode] First off thank you for your patience in waiting for my reply to these questions. All of the crazy occurrences on our trip home from Gaiam were very taxing. It took us a week to recover from the experience. We got home from our trip and we couldn't get through the front door because someone had tried to force it in. The frame was cracked and had to be repaired. This happening right after other recent incidents caused my family some anxiety.
I have had to take a break from the Internet for a short time as I have been overwhelmed with emails and interview requests. I haven't been able to make a dent in my inbox because new communications come in as fast as I can read them. I am very happy that there is such interest in this information. I was told there would be when I started. I am still overwhelmed by the amount of attention this information has brought. Why an introvert (INFJ) would get stuck in a situation like this has me mystified.
I was told that there would soon be other whistleblowers coming out with all different sized pieces of the puzzle. I am certainly looking forward to some of them deciding to get off the fence and doing so. I think it is time for them to do so.
As you know my new Gaiam TV Sponsored link changed. I have a URL that points to the correct URL that will give me credit for any Gaiam TV memberships that people sign up with. The URL is www.BlueAvians.com. I think David already stated that the show has broken all Gaiam TV records. I don't know if I will ever not be nervous on camera. I have not been a public type of person before so I have some adjusting to do.
The episode on Sleeping Giants (Stasis Beings) just came out and can be found at www.CosmicDisclosure.com
I will be writing some updates soon about current meetings. Because of the nastiness of some of the people coming out against this information I have pulled the article I was going to publish about the incident that involved my family. I do not want them being targeted by unscrupulous trolls that have been heavy on the job of email campaigns and manipulative skype chats. I have seen them, everything is a conspiracy against them and everything is government mind control.
I am certain that this has shown the Whistleblowers that will be coming out soon who to not approach first. With most of these whistleblowers having some sort of MILAB type of program involvement certain people are going to have to come to terms with the MILAB part of the equation or lose a lot of the full picture because new insiders may soon start keeping that part of their lives secret to keep from being labeled one of the worst things you could call a person in the Alliance.
Thank you,
Corey/GoodETxSG
[Q – Michael Salla, Ph.D]
Q1. Do you know why the science spacecraft you served on for six years was named after Arnold Sommerfeld?
I served on one of the Research Vessels. In communications the Vessels were just known by their vessel designation and numbers. There was a painting and name plate for Arnold Sommerfeld in the Galley which I am told is some sort of tradition. The crew of this vessel were often rotated off in short tours or were stationed there but spent much of their time off the vessel on other projects. I would hear the crew refer to the "Sommerfeld" in relation to the vessel but this was not used in the communications between vessels or in documentation.
Q2. What can you tell us about the propulsion and navigation systems used on the Sommerfeld?
The Sommerfeld had gone through a couple refurbishments and upgrades I was told when I first arrived. The two main propulsion systems were the Torsion Drive that works much like the Warp Drive on Star Trek and Electro-Gravitic Drives. There were also some of the original positioning thrusters that were all around the vessel that were tested from time to time but I don't think ever really used. There were several ways they had for navigation both within our Sol System and while traveling to others. There was always some sort of redundancy in place to be able to locate the vessels that traveled outside of the Sol System in real time.
Q3. You have described temporal drives for secret space drives. Can you describe what these are and the key principles behind them?
They work on a principal that allows them to travel in subspace transporting a vessel from one point to another almost instantaneously. These "Jump Drives" are used to cross over and negotiate Space/Time and Time/Space in a way that does not involve traveling in our conventional way of thinking. These vessels are closely tracked and have temporal buffers in the technology that prevents the vessel from traveling back to our own Sol System in a different time frame. The QCCD (Quantum Correlated Communication Device) is a communication device that uses principals of Quantum Entanglement between certain isotopes (If I remember correctly) that allow devices to be able to communicate with each other no matter the distance in time or space. These are also tied into the navigation systems for tracking purposes.
Q4. What do you know about tachyon device drives used for interstellar class spacecraft?
I am sure this is something that one of the current military intelligence level NEO (Near Earth Orbit) SSPs would like to be able to produce. Particle and EMF Drives have already been a part of our history. The technology we have now gives many in the earlier SSP's the ability to hop around our Sol System and to other Stars rather easily. The technology reserved for the higher level SSP's and some of the Secret Earth Governments and their Syndicates are so incredible that it even blows the minds of those in the mid to upper level SSP's that have seen just about everything.
Q5. Do you know the names of other craft used in the Solar Warden program?
You would hear of types or classes of vessels more than their designations. Of all of the times in the communications station I never saw a vessel referred to other than its designation such as "ISRV-004".
Q6. You have mentioned that the Galactic League of Nations SSP program included all countries, what is its connection to the United Nations?
It seems to have been born out of a United Nations agreement. The beginning of this program coincides with a particular speech given to the U.N. by President Reagan that mentions how quickly we would come together if there was an alien threat.
Q7. Was the Vatican represented with the Galactic League of Nations SSP?
I do not know if the Vatican is one of the representatives in the GGLN. They are involved with the Secret Earth Governments so I would not rule it out.
Q8. Does the League of Nations SSP collaborate or coordinate in any way with the Dark Fleet in its interstellar activities?
Before the outer barrier went up the GGLN kept almost entirely to themselves. I am certain that they have fallen on hard times since the outer barrier was erected and it is more than possible that they have pooled resources or gotten in contact with the large number of Dark Fleet assets that were also trapped outside the barrier.
Q9. There has been some recent controversy regarding an alleged relationship between the former CIA MKUltra Project Bluebird and the appearance of the Blue Avians, how do you respond?
There was no less controversy inside the SSP Alliance rank and file. The majority of personnel come from the many programs that fall under the "MILAB" Umbrella. There are some people out there who consider all MILABS to be "Super Soldiers". While there are certainly programs to enhance children mentally and physically to become elite soldiers they are not the largest or most prevalent of the programs by far.
When the lower level personnel in the SSP Alliances began to hear about the Sphere Alliance they were nervous and skeptical. They had nearly all been brought up in one program or another from a young age and all had been forced to do things they didn't morally agree with. When they heard that one of the Sphere Beings was a "Blue Avian" there was a time period where many of them were triggered and became extremely upset and there were even some isolated incidents of them acting out.
The fact that a fairly large number of the people in the SSP Alliance have been through a version of Project Bluebird and were then being told there was a new ET group in the neighborhood and one of them happened to look like a purple or blue bird was too much for many of them to handle. They were people that were from a project that has evolved and merged with other programs over time and each had to go through a process.
I have gone into detail in the past about the people that make up the SSP Alliance and what they came from. I was told that not long after I made it through the battering and bruising of the process of coming out with this information that other whistleblowers would be coming forward. I do think that many in the truther community that consider themselves professionals have behaved in a way that has appeared unethical to some. In other cases there is a clear paper trail of some very bizarre and reactionary behavior. This serves as a warning to future whistleblowers and to whom they chose to make first contact with.
If what I am told is correct and there will soon be more whistleblowers on some of the topics recently disclosed, then we need to deal with the blanketed "MILAB" term, create a new one or chance blocking the majority of the insiders who are on the fence right now about coming forward. We may soon get to a point to where the MILAB part of the equation is left out by new insiders or whistleblowers out of fear of being labeled as a mind controlled drone working for the "Cabal".
Are we going to throw out quite a lot of valuable data because a small group of bloggers, Forum Owners and researchers feel a need to protect their established views (Book narratives) and particular esoteric or UFO religions? Many of them are basing their info off of misinformation or even in some cases disinformation put out by people who are working in the "Truther" community (Which is extremely infiltrated and influenced).
All I can say when it comes down to it is to look over the information and if it resonates with you then it is worth looking into further. I would definitely suggest that if you have been a part of this world at any level or even have taken part in some of these projects and you have wanted to come forward now is the time. I would contact myself, David Wilcock or Dr. Michael Salla.
Q10. There have been claims that the Blue Avians message of love and forgiveness, and references to the Law of One material is part of a psychological operation to entrap researchers disposed to such a message, how do your respond?
First of all the Sphere Beings and Blue Avians have never claimed to be the "RA" beings from the Law of One material. When asked if they were the RA from the Law of One material the Blue Avian present only responded "I am Raw-Tear-Eir". People hear what they want to out of that reply but this is how the Blue Avians communicate. I nor they have ever claimed that these are savior beings. The opposite is true, they say that we have to clean up our own mess and save ourselves.
I am no Law of One scholar by any means. I was not drawing the line from the Blue Avians communications to "RA" until I started speaking with David Wilcock. In the beginning I was guided to work with David but at the time I was sending emails to him and two other people David was busy. The other two ended up doing some very unethical things which were heavily documented and are now a footnote.
David would always tell me that these beings communicated in the same way and used the same general protocols as RA. He was convinced early on that this was the case when I was yet still a hold out. I was raised a Christian and as many know used this belief system to get through a lot of what happened to me directly and what I had done to others.
I had a couple aversions to channeled material because of some technology I had witnessed that was used to transmit words and data into the mind of a human from a great distance with what was originally referenced to as "The voice of God". This technology is now so prevalent that just about any high level black op's group has access to it.
This technology has been used to push people with mental disorders into certain behaviors, torture the new boyfriends of ex-wives to targeting people to make them think they are hearing "God", "Allah", "Virgin Mary", "ET's" or channeling large amounts of information from "Ascended Masters" or "High Density Beings".
I knew that some groups were ordered to read the "RA" and "SETH" Data while in the programs at the same time I knew many groups were working to discredit both works. For a time I just associated all of it in the same pile and ignored it. I never expected it to come seeking me in some form or another. I figured that since these Sphere Beings were from the same density realms as the "RA" that they must all believe similar things being from the same realm.
I have ordered the RA, Law of One books but have been making excuses not to read them. My wife finished book one on our trip to Gaiam to do our last video shoot. I do think there was a reason I was directed to work with David. He is a 20 year scholar of the Law of One, lived at "L/L" for a couple of years. It has been very helpful to have his insight in these matters as well as all of the other scientific studies he has done.
Until the Sphere Alliance tells me directly that they are the same RA beings I am not going to claim that they are. They did say they have contacted humanity 3 other times and that humanity had turned the info given to them into a religion. From all of the quotes they are saying the same types of things and in the same way. David stated that he never expected that these beings would show up in a physical way like this.
What does it matter if they were once the RA beings or not? What matters is what is occurring in the moment. There is no real information from the detractors that supports their claims of all of this info being an "AI Psyop" or "Cabal" controlled diversion. A quick look at the full history of the information I have released compared to what people are associating me with saying is enough to verify.
If love and forgiveness is considered a weakness to you then you may want to sit in a quiet place, shine a light inward and do a polarity check.
[Note: The first two episodes of Cosmic Disclosure are available for free on the Gaiam TV website. The first episode is also on Youtube. To watch the whole season of Cosmic Disclosure, you need to subscribe to Gaiam TV. If you subscribe using this link, then a portion of your monthly subscription will go towards supporting Corey Goode as he continues his disclosures. His website is here.]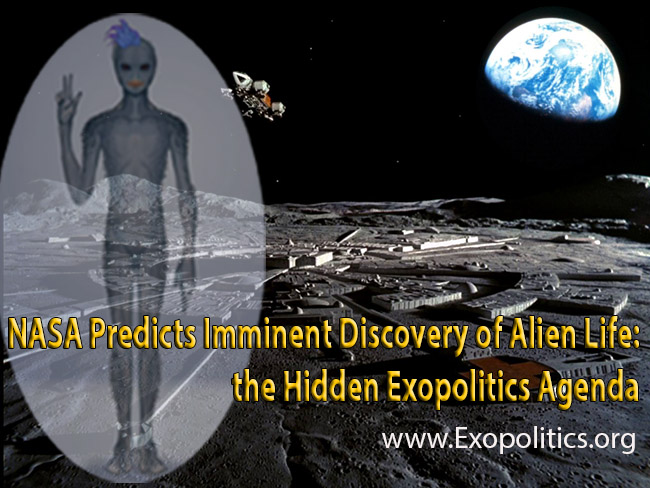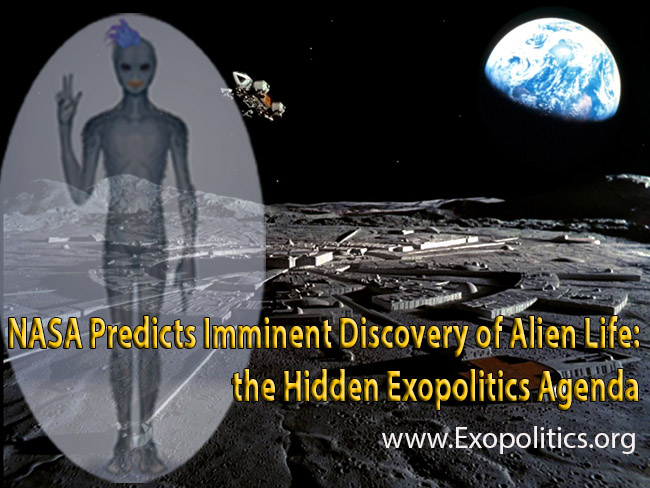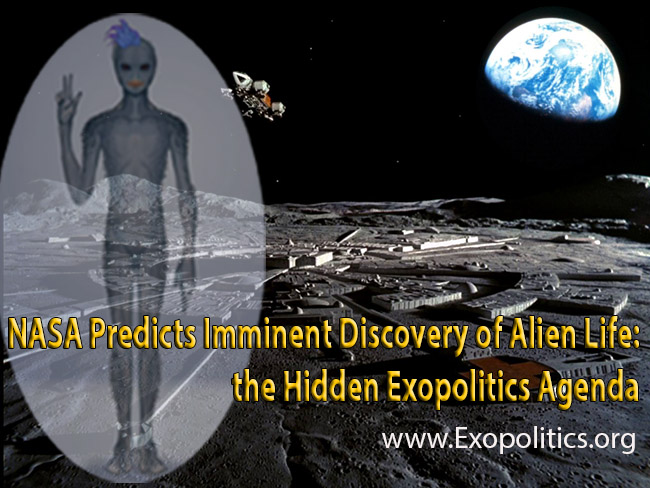 On Tuesday, Dr. John Grunsfeld, head of NASA's Science Mission Directorate told the House Science, Technology and Space Committee that extraterrestrial life is on the verge of being discovered. For many, Grunsfeld's bold prediction was basically a pitch to the House Committee to increase spending levels for NASA's space exploration missions, where recent successes by NASA in discovering water on other planets and moons in our solar system justifies more funding. Was his discovery prediction merely a pitch for more funding based on recent scientific discoveries, or is there a deeper 'exopolitics' agenda at play concerning the imminent disclosure of extraterrestrial life?
Grunsfeld told the House Committee:
Are we alone? Many, many people on planet Earth want to know…. We are on the cusp of being able to answer that question.
The Huffington Post gave a summary of the recent developments concerning the discovery of water in the solar system:
There's evidence of an interior ocean on Pluto. One of Jupiter's moons has a global ocean beneath its crust that could contain more than twice as much water as Earth. There are at least half a dozen of these ocean worlds in our solar system alone — and where there's water, there may be answers about the potential for life across the universe.
In addition, there was the recent discovery of a rocky exoplanet only 60% larger than earth that rotates around a sun similar to our own, in a comparable orbit of 385 days. Scientists said that the likelihood that Kepler has surface water, and therefore the right conditions for life to evolve is very good.
NASA's recent scientific discoveries and bold predictions by Grunsfeld and other NASA officials lead to the conclusion that the public is being prepared for the imminent discovery of extraterrestrial life. Is this merely a result of genuine scientific advances in NASA's ability to better detect the conditions for life in our and other solar system? Or is Grunsfeld's prediction part of a deeper 'exopolitics' agenda driven by developments behind the scenes?
Beginning in early March 2015, there was an alleged meeting on the moon involving up to 70 private individuals along with about 120 officials representing different secret space programs and national governments who heard plans about disclosing the existence of extraterrestrial life. The meeting was addressed by an 8ft tall extraterrestrial called Raw-Teir-Eir who belongs to an alien race called the "Blue Avians" that is part of an alliance called the Sphere Being Alliance. The Sphere Being Alliance is allegedly intent on helping bring about full disclosure of extraterrestrial life.
Two of the individuals that attended that secret moon meeting have revealed themselves to varying extents. Corey Goode, who initially used the pseudonym GoodETxSG when his testimony first emerged in October 2014, publicly revealed himself in early April. The second individual, a military officer who uses the pseudonym Lt Col Gonzales, more recently allowed summaries of two secret space program meetings he attended in June to be released. The summaries were Goode's notes on the oral briefings Gonzales had given to Goode who did not attend the two meetings. Goode gave video testimony of the secret moon meeting held in March that both he and Gonzales attended which is available for free online at Gaia TV.
Goode's and Gonzales' testimonies suggest that public officials at NASA, the European Space Agency and other national space programs have been advised that plans are advancing quickly behind the scenes to disclose to the general public the truth about extraterrestrial life. In order to better prepare the world for the psychological shock of discovering that extraterrestrial life is real and that government institutions have been withholding this for decades, officials such as Grunsfeld are very active in playing up the imminent nature of a discovery of extraterrestrial life. Presentations such as Grunsfeld's at the House Science Committee are a good opportunity to generate media interest in the implications of such a discovery while making it appear as though the only hidden agenda is a pitch for more NASA funding.
If Goode and Gonzales are correct, then there is a deeper exopolitics agenda behind Grunsfeld's announcement. This agenda suggests that any NASA announcement about the discovery of extraterrestrial life is preparation for further disclosures about when alien life was first discovered, when it first made contact with humanity, and why this vital information was kept secret from the public for decades.
© Michael E. Salla, Ph.D. Copyright Notice
Further Reading
[Note: The first two episodes of Cosmic Disclosure are available for free on the Gaia TV website. The first episode is also on Youtube. To watch the whole season of Cosmic Disclosure, you need to subscribe to Gaiam TV. If you subscribe using this link, then a portion of your monthly subscription will go towards supporting Corey Goode as he continues his disclosures. His website is here.]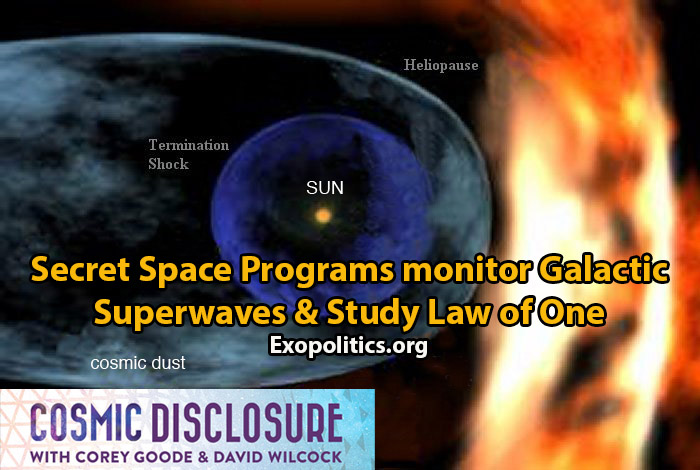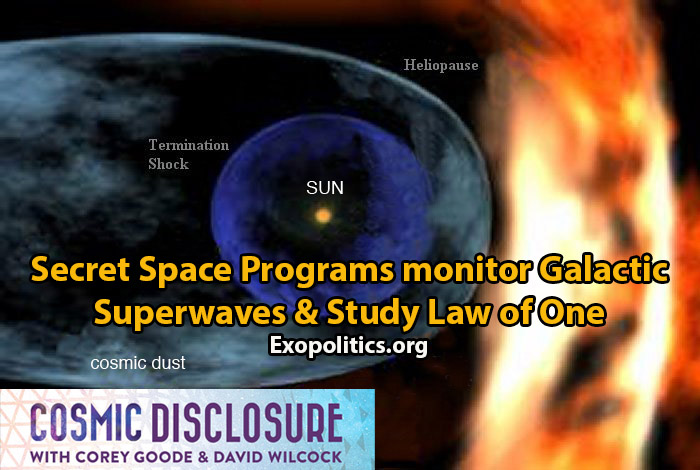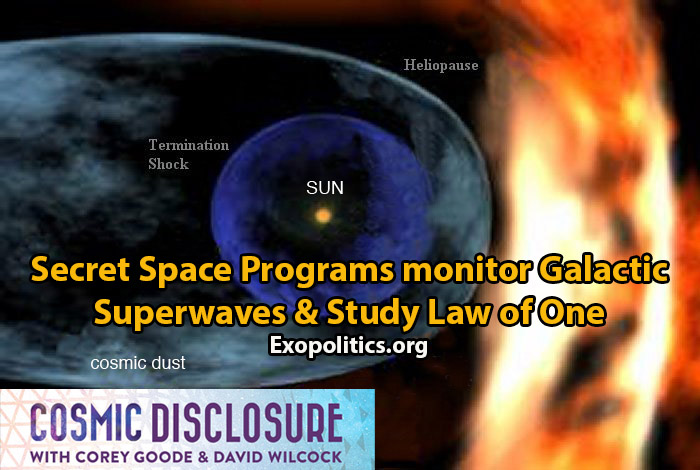 In the fifth instalment of the Cosmic Disclosure Gaia TV series, whistleblower Corey Goode reveals how secret space programs he worked with from 1987-2007 had become aware of regions of the galaxy with "superwaves" that would eventually be encountered by our solar system. It was discovered that the superwaves were made up of clouds of "vibrating energy particles" that would impact the sun, earth and humanity in ways leading to profound changes. Human consciousness itself would be directly impacted and would lead either to our rapid evolution into an advanced global society, or global self-destruction as apparently had happened in the past.
Goode says that in the late 1980's giant spheres first began appearing in our solar system that were also interested in the superwave phenomenon. These spheres remained in an observational mode until 2011 when they became operational. The spheres ranged in size from the diameter of the moon to that of Jupiter. They were strategically placed to act as "resonance buffers" of galactic superwaves so the sun, and humanity, would not be overwhelmed as our solar system progressively entered into the affected region of the galaxy.
Goode's revelation that galactic superwaves were secretly discovered and studied is stunning confirmation for the work of astrophysicist Dr Paul LaViolette who has predicted galactic superwaves eventually impacting our solar system. In his 2006 book Decoding the Message of the Pulsars, Dr LaViolette describes pulsars strategically placed in the galaxy that transmitted warnings about these superwaves that are generated out of the galactic core in cycles spanning from 10,000 to 16,000 years. LaViolette speculates that these pulsars were built by a very advanced Type III extraterrestrial civilization – one that understood how galactic superwaves operated, and their potential impact on solar systems and worlds.
A type III civilization on the Kardashev scale is one that works with galactic scale levels of energy, while a Type II civilization can do the same at a stellar level, while a Type I civilization can do similarly at a planetary level. This suggests that those responsible for the giant spheres in our solar system – the Sphere Being Alliance – are at the very least a Type III civilization.
In the rest of the Gaiam TV interview with David Wilcock, Goode described the evolution of consciousness and how the "Law of One Material" is essentially correct in affirming the underlying unity of consciousness and all life. Goode has previously revealed that the Law of One Material is required reading for a many groups in the secret space programs:
It was … a fact that certain groups in the SSP's and Secret Earth Government Syndicates (Cabal/Illuminati) were required to read the Law of One and Seth Material while trying to discredit it to the public with the many "PsyOp Channelings" (which says a lot in itself) [FAQ48].
Goode reveals that President Eisenhower did indeed meet with extraterrestrial delegations in the mid-1950s concerned about nuclear weapons development as a number of other whistleblowers have claimed. Goode goes on to describe his own personal connection to the Blue Avian beings that have been cooperating with the Secret Space Program Alliance in creating a "full disclosure event."
Goode's explanation for how humanity's co-creative consciousness is used against itself by ruling elites is well worth listening to, as well as the importance of core message delivered by the Sphere Being Alliance.
What I found most valuable in this Cosmic Disclosure episode was Goode's revelation about superwaves and how both secret space programs and the Sphere Being Alliance became aware of these decades ago. According to a July 18 statement by Goode, the giant spheres belonging to the Sphere Being Alliance have nearly completed their primary purpose and will soon leave.
This suggests that we will very soon be experiencing the full force of these superwaves that will bring out the best or worst in all humanity depending on how well prepared we are. This new episode will help the viewer appreciate the importance of taking firm steps to prepare for superwave related events that secret space programs have themselves been silently preparing for over several decades now.
© Michael E. Salla, Ph.D. Copyright Notice
Further Reading
[Note: The first two episodes of Cosmic Disclosure are available for free on the Gaia TV website. The first episode is on Youtube (see below). To watch the whole season of Cosmic Disclosure, you need to subscribe to Gaiam TV. If you subscribe using this link, then a portion of your monthly subscription will go towards supporting Corey Goode as he continues his disclosures. His website is here.]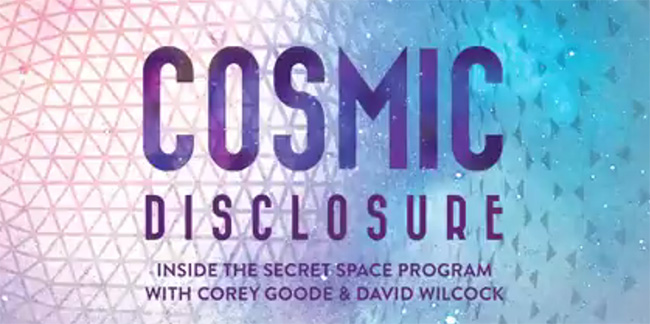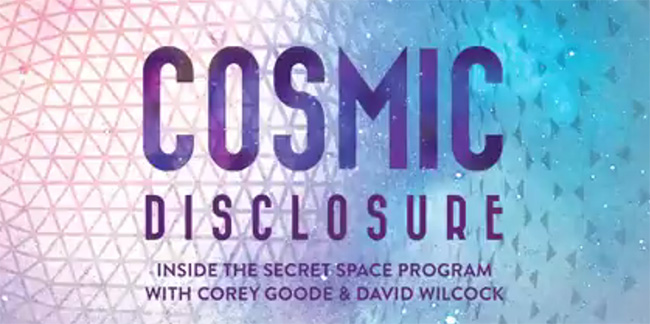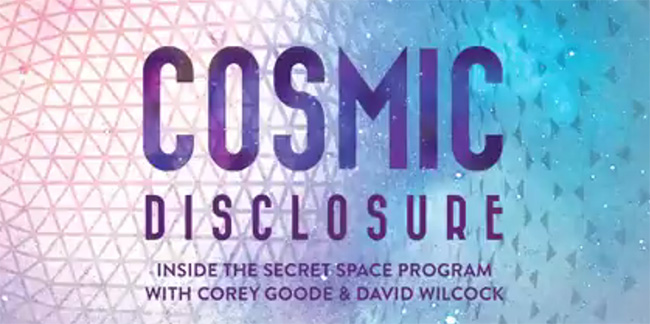 Corey Goode's revelations about highly classified space programs have intrigued tens of thousands who have visited his website, listened to audio interviews, or read his responses to questions on what has been happening behind the veil of disinformation hiding these programs. Today for the first time you can watch Goode himself as he reveals his involvement in these secret programs that interact with extraterrestrial life, and use advanced technologies for deep space and interstellar travel.
In the pilot (see below) for up to 52 episodes of Gaiam TV interviews with host David Wilcock, Goode begins by giving an overview of his twenty year service as an "Intuitive Empath" for a number of secret space programs from 1987-2007. He was trained to intuit deception and empathically connect with the feelings of others, Goode was then able to provide vital information for space programs – he described five – that regularly interacted or negotiated with different extraterrestrial groups.
Goode describes a Super Federation of human looking extraterrestrials conducting twenty two genetic experiments involving the genes of different alien races being spliced into human DNA over period stretching back as far as 250,000 years. He explains the motivations of the extraterrestrials in these genetic experiments as defying any simple explanation and really being a matter of perspective. Recently, Goode delivered a report about both him and another whistleblower attending these Super Federation meetings.
Goode also gives an overview of how he became a whistleblower after being contacted by highly evolved 6-9th density extraterrestrials that recently appeared in our solar system. The viewer gets to see for the first time an accurate artistic depiction of "Raw Tear-Eir" the Blue Avian being that first contacted Goode and persuaded him to become a delegate for the "Sphere Being Alliance."
Goode describes how the main purpose of giant Neptune size spheres is to regulate highly charged cosmic energies that are coming in to our solar system. He said that the Secret Space Programs are also aware of the cosmic energies and their impact. These cosmic energies are a double edged sword insofar as they allow some to cut away the restraints holding back incredible human abilities, while it will lead to others being overwhelmed and descending into chaos.
The Sphere Being Alliance's main purpose was to prevent chaos and give everyone more time as these highly charged energies would have powerful transformative effects not only on humans, but extraterrestrials as well. According to a written statement last Saturday by Goode, the spheres may be near the end of their primary mission of buffering these energies. This coincides with a prediction that an incoming wave of cosmic energies will peak and impact the solar system this September.
Goode's response to a question by David Wilcock about whether or not the Blue Avians are part of an elaborate psychological operation designed to fool the world public into accepting a new cosmic religion is a must see for all concerned about a possible manipulative extraterrestrial agenda. Goode finishes the pilot by delivering the key message of the Blue Avians and Sphere Being Alliance which is to become more loving, empathic and service-to-other oriented in order to be get through the evolutionary changes that lie ahead.
What I found especially revealing in Goode's responses to Wilcock's questions is watching his body language. The non-verbal cues, direct eye contact, facial gestures, etc. correspond to someone revealing genuine personal experiences. Also, having the opportunity to have had multiple email questions answered in writing by Goode, it was refreshing to watch his verbal responses to similar or related questions. What impressed me was the consistency between his verbal and written responses – another clear sign that he is revealing genuine personal experiences.
The Cosmic Disclosure series offers something valuable for everyone. For those that know little about Corey Goode's revelations, the pilot episode is a succinct introduction to a highly classified world of space programs that you won't read about in the Washington Post or New York Times. For those that have been closely following Corey's revelations for some time now, this series offers helpful visual aids, non-verbal cues, and insights to better understand his testimony. One way or the other, Cosmic Disclosure: Inside the Secret Space Program with Corey Goode and David Wilcock, promises to further lift the veil hiding a world of hi-tech futuristic programs that can transform our lives tomorrow.
[Note: The first two episodes of Cosmic Disclosure are now available for free on the Gaiam TV website. To watch the whole season of Cosmic Disclosure, you need to subscribe to Gaiam TV. If you subscribe using this link, then a portion of your monthly subscription will go towards supporting Corey Goode as he continues his disclosures. His website is here].
© Michael E. Salla, Ph.D. Copyright Notice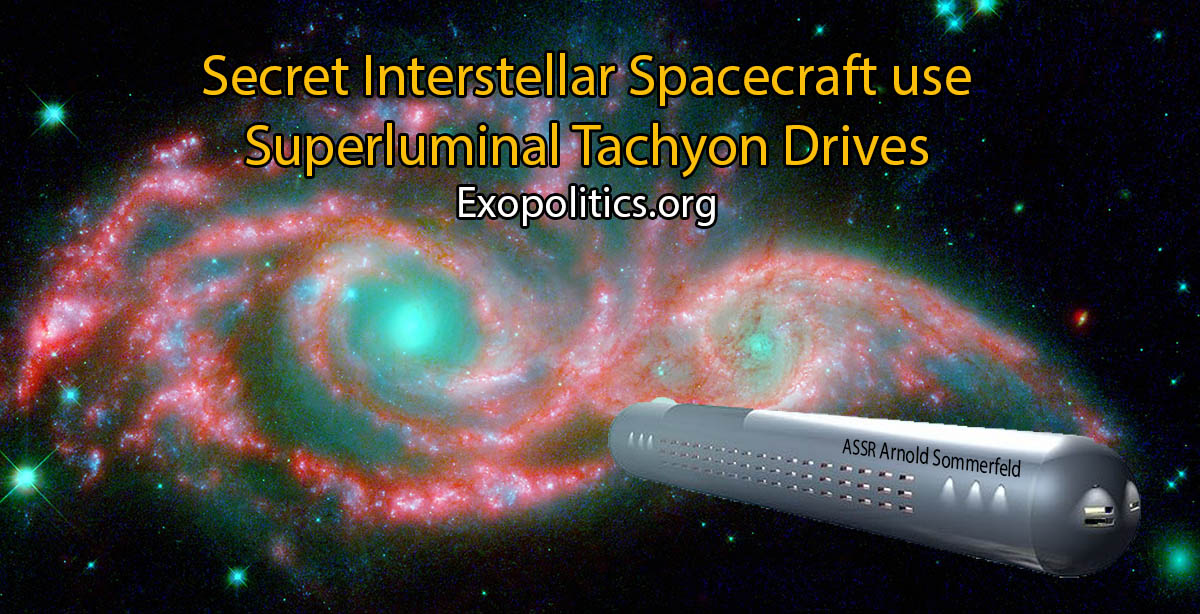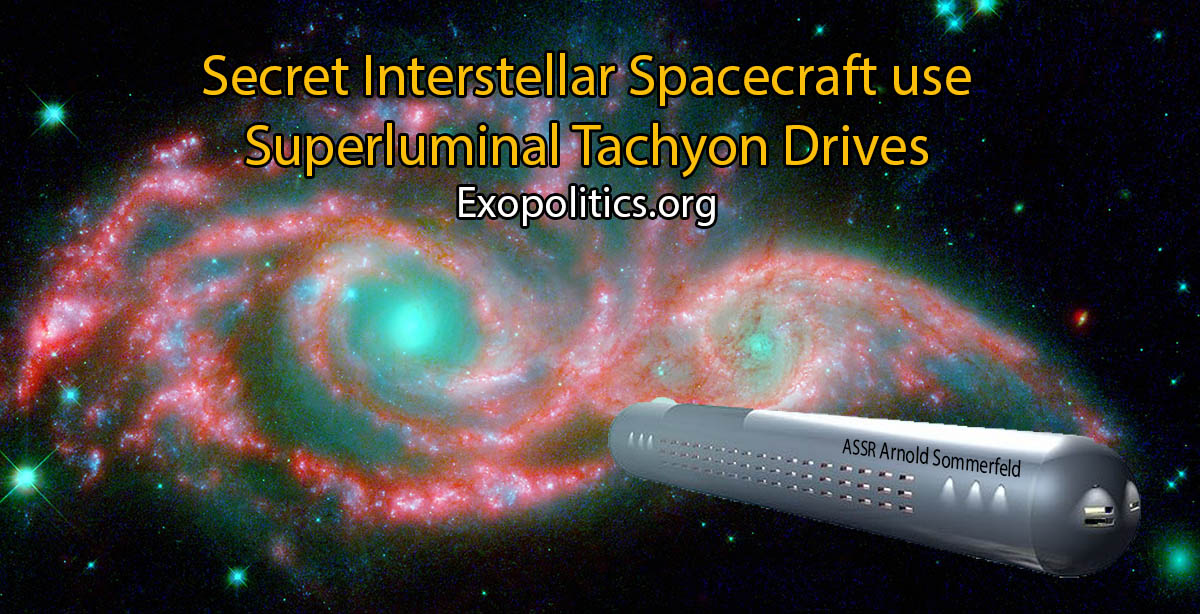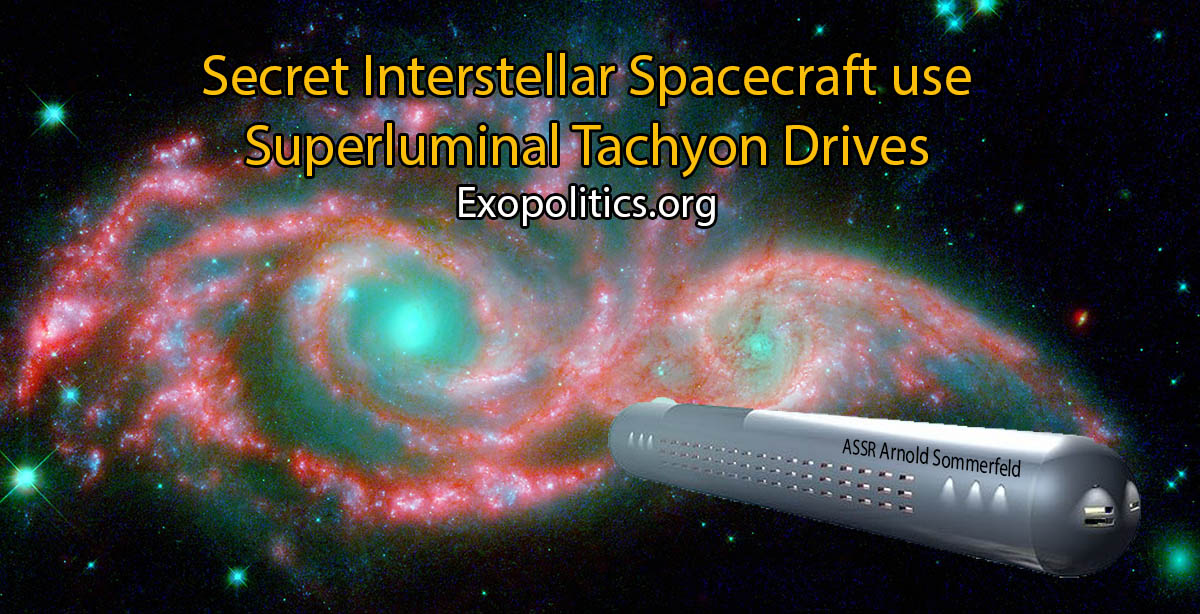 A fleet of spacecraft have been secretly constructed using tachyon drives that are capable of interstellar travel at superluminal speeds. This astounding conclusion emerges from the disclosures of a whistleblower claiming to have served for 20 years on several secret space programs. Corey Goode says he served for six years on a spacecraft cable of interstellar travel that was named after a famous German theoretical physicist, who first proposed the existence of superluminal particles later named tachyons.
In an April 4 email interview, Goode described how he was recruited to serve in a secret space program called Solar Warden. that was initially set up by the US Navy:  "Solar Warden was indeed a heavily Navy program in the beginning with Air Force involvement later on." He went on to describe Solar Warden as possessing both military and scientific research spacecraft, and says he served on one of the latter:
I was only assigned to the research vessel [ASSR "ISRV"– (Auxiliary Specialized Space Research) Interstellar-Class Vessel, Arnold Sommerfeld] for a little over 6 years.
It appears odd that Goode served on a spacecraft belonging to an alleged Solar Warden program named after Arnold Sommerfeld, a German theoretical physicist who lived from 1868 to 1951.  Clearly Sommerfeld would have had to achieve something quite remarkable to have a ship posthumously named after him in a secret U.S. Navy created space program.
Arnold Sommerfeld is known for having supervised more Noble prize winners in physics than any other person in history. Quite a remarkable achievement but certainly not enough to have an interstellar class spacecraft belonging to another nation named after you. Sommerfeld is also known as the first person to propose the existence of superluminal particles that were later named "tachyons". Here is a summary of the development of tachyon particles in theoretical physics:
Tachyons are a putative class of particles which [are] able to travel faster than the speed of light. Tachyons were first proposed by physicist Arnold Sommerfeld, and named by Gerald Feinberg. The word tachyon derives from the Greek tachus, meaning "speedy." Tachyons have the strange properties that, when they lose energy, they gain speed. Consequently, when tachyons gain energy, they slow down. The slowest speed possible for tachyons is the speed of light.
In 1910 Albert Einstein and Arnold Sommerfeld conducted a thought experiment involving a theoretical device that was later called the "tachyonic antitelephone":
A tachyonic antitelephone is a hypothetical device in theoretical physics that could be used to send signals into one's own past. Albert Einstein in 1907[1] presented a thought experiment of how faster-than-light signals can lead to a paradox of causality, which was described by Einstein and Arnold Sommerfeld in 1910 as a means "to telegraph into the past"."
A spacecraft capable of using a tachyon device would be able to achieve superluminal speeds "to telegraph into the past." This means that a Tachyon drive based on the Einstein-Sommerfeld idea of a "tachyonic antitelephone" would make interstellar flight possible. Spacecraft could travel vast distances measured in light years and essentially "telegraph into the past" to a time shortly before it left for its destination. This is nicely illustrated in the following limerick:
 There was a young lady named Bright,
Whose speed was far faster than light.
She went out one day,
In a relative way,
And returned the previous night!
While most physicists believe that "faster-than-light particles cannot exist because they are not consistent with the known laws of physics," Goode's revelation suggests otherwise. His alleged service on an interstellar capable spacecraft named after Arnold Sommerfeld suggests that tachyon drive engines have been developed and are currently being used.
There is a significant body of circumstantial evidence supporting Goode's eyewitness testimony. Furthermore, a second eyewitness has recently allowed summaries of his own experiences with secret space programs to be released, thereby lending additional support to Goode's incredible claims. All this suggests that Goode's revelation that he served on the "ASSR Arnold Sommerfeld" is compelling evidence that tachyon(ic antitelephone) drives have been developed for and used in a highly classified class of interstellar spacecraft yet to be revealed to the world.
© Michael E. Salla, Ph.D. Copyright Notice
[Note: A Resource Page listing interviews, articles and more reports about Corey Goode's revelations is available here].
Further Reading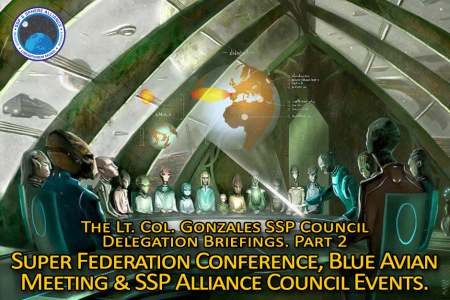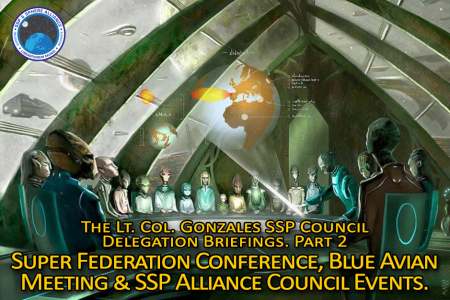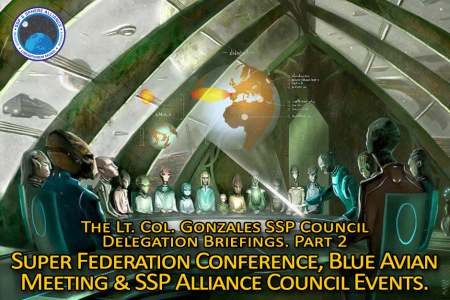 Over the last four months, incredible claims have been made that diplomatic meetings have been occurring where delegates from secret space programs and extraterrestrial civilizations have been negotiating how much information about their existence will be disclosed to Earth's population. The claims have been made by Corey Goode (aka GoodeETxSG) who says he has been a delegate to some of these meetings after being appointed to represent a new group of extraterrestrial visitors to our solar system called the Sphere Being Alliance. Goode's incredible claims have just received a boost in credibility with a military whistleblower, using the pseudonym 'Lt Col Gonzales', authorizing Goode to release summaries of two meetings he recently attended while Goode was absent.
While the content of the most recent meeting attended by Gonzales reveals major new developments, its deeper significance is that there are now two eyewitnesses reporting about the secret space program meetings first revealed by Goode back in March 2015. While Gonzales has decided to maintain his anonymity, the fact that he has approved summaries of two verbal briefings to Goode being released is very significant. It provides a second perspective on the secret "galactic diplomacy" meetings allegedly being conducted, and fresh insight into the different groups, alliances, and processes involved in these meetings.
The most recent briefing by Gonzales, as relayed through Goode, is about a meeting he attended approximately a week ago involving delegates of up to 100 different groups of human looking extraterrestrials that is called the "Super Federation Council". Gonzales began by telling Goode how it felt to attend one of these meetings for the first time as an actual delegate as opposed to being in an advisory role where one is not given access to the necessary translator technology to understand the proceedings: "It is something to finally understand what all is going on at one of those Super Federation conferences, isn't it?"
Goode summarized what Gonzales told him after arriving at the location of the meeting in the vicinity of our Solar System's gas giants:
He went on to tell me about the arrival at the Federation Council Meeting Facility. This is a station that is in a secure temporal bubble out around the orbits of Jupiter and Saturn. When you enter into the temporal bubble, you can see the station and docking ports for all of the other delegates floating freely in the middle of a completely pitch-black bubble. You cannot see the sun, planets or stars from inside this space/time anomaly. Gonzales and the crew docked, went through a security scan for AI and other outside technologies, and were allowed in.
Goode described the difference between being a delegate as opposed to being in an advisory position such as an Intuitive Empath (IE), a position Goode claims to have occupied during his secret space program service from 1987 to 2007:
Gonzales said he was immediately treated like he mattered this time, as opposed to last time when the other delegates and support staff only interfaced with me — and ignored the IEs and him. He said it was all very polite, with respectful communications and treatment from everyone the entire walk down the passage from the space docks to the meeting hall. Gonzales and the IEs could feel a different energy in the air that was more one of anticipation, instead of the mixture of anxiety and agitation from the previous times.
Gonzales then explained the main subject of the meeting which was to relax a planetary quarantine that was endangering extraterrestrials trapped on Earth that were conducting humanitarian or scientific missions. Goode has earlier explained how the Earth quarantine was created:
The Sphere Alliance has setup 2 "Energy Barriers" that cannot be penetrated by any beings or technology (be they 3/4D or 4/5D beings). One is the "Outer Barrier" which completely closes off the entire Sol System (including Gate/Portal travel) from travel into or out of the system. The other is a "Barrier" that surrounds the Earth. It keeps every Being and Craft/Technology that was either On Earth or in Near Earth Orbit from leaving a certain distance from the Planet.
The Secret Space Program Alliance, to which Gonzales was the delegate, was given superior technology by the newly arrived Sphere Being Alliance to monitor and enforce the Earth quarantine:
There had been dozens of petitions by ETs who wanted to retrieve their teams who were on expedition missions to Earth to study the planet's oceans, jungles and other aspects of nature. These ETs were completely uninterested in interacting or meddling in the affairs of humanity, or with interacting with other ET Groups who were present in our Sol System. They were positive groups who were only interested in the planet's biosphere. Since being trapped on Earth, many of these smaller expeditionary teams had been running out of needed supplies and had begun to be hunted down by human and negative ET Groups.
Gonzales reported that the Super Federation Council: "normally had 40 to 60 groups in attendance. Now it had well over 100 groups all massed together in the auditorium." When Gonzales stepped to the podium:
He announced that the Earth's barrier was going to be relaxed, and that these groups would be allowed to return back to their support teams who were here in the Sol System, trapped inside the outer barrier. The Earth's traffic would go back to a strict grid authorization system – an air traffic control-type system — and would be enforced by the more advanced SSP Alliance vessels.
Goode describes how Gonzales felt "relief in the room as he finished his short message and presentation." Gonzales went on to say:
Once again, as in the previous meetings, group after group took turns taking the stage to make short statements of what they had contributed to the Earth, humanity and the Grand Experiment.
Goode shared much more information in his report about the briefing Gonzales gave him on a range of topics related to efforts to disclose the truth about secret space programs and extraterrestrial life to the general public. Perhaps most significant given recent international news is what Gonzales had to say about hacking incidents involving personnel files of major governments:
This is when he mentioned what was going on with a few EU countries financially, and the recent round of high-level government hacks that have occurred – not just to US databases, but to the entire Western World. Gonzales stated that these hacks were incredibly pervasive — and that they had also hacked the Secret Earth Government and syndicates' "Dark-Net". Gonzales said that very little of what was taken has been reported in the MSM. Nonetheless, a stunning amount of intelligence was obtained and compiled into the database we had so far that has been contributed to by several parties.
Such hacking claims are consistent with recent reports that the hacking of the U.S. Office of Personnel Management involved a staggering 25 million background security files, not just the four million originally reported. Furthermore, Wikileaks has recently released files about the NSA spying on different European national leaders, as well as files from an Italian company selling hacking software to national governments wanting to spy on citizens, corporations or other entities.
While the content of Goode's report about Gonzales briefing contains incredible claims, arguably what is most significant is that it provides another eyewitness account of secret meetings involving different secret space programs and extraterrestrial life. Goode has been providing his own eyewitness account since March of these meetings. Now we have Gonzales sharing his own eyewitness testimony for the two most recent meetings, albeit through Goode.
The summaries of Gonzales two briefings released on July 9 and July 13 are an important step forward in confirming Goode's incredible claims. It's also likely that in the future Gonzales identity will be independently confirmed, and more will be revealed about his background. The next time Gonzales gives a briefing, however, he needs to have it transcribed verbatim in part or in whole. This will help greatly in investigating and confirming Corey Goode's claims, and better prepare the general public for the "full disclosure event" being discussed at secret space program meetings.
© Michael E. Salla, Ph.D. Copyright Notice
[Note: Corey Goode requires public support to continue his disclosures. You can help by visiting his website to donate, purchase products or register through this link for his upcoming Gaiam TV interviews.  A Resource Page listing interviews, articles and more reports about Corey Goode's revelations is available here].
[Update 7/15/15: In an earlier version of this article, it was mistakenly stated that the Earth quarantine had been set up by the Secret Space Program Alliance. Goode has instead claimed the Sphere Being Alliance had set up the quarantine and supplied the SSP Alliance with superior technology to monitor and enforce the quarantine. The article was revised accordingly. Thanks to Marco Monahan for pointing out the error]
Further Reading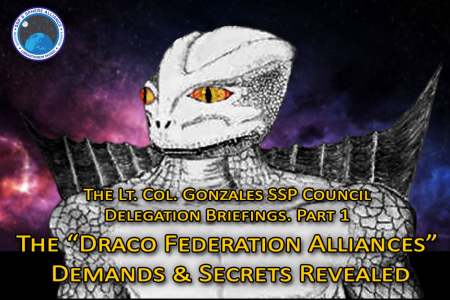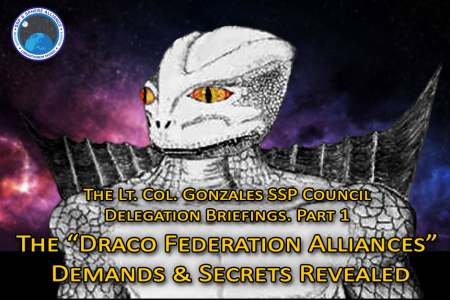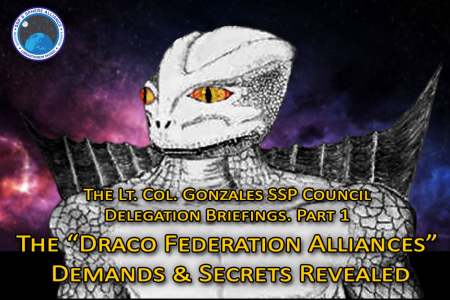 In a report released today about a series of secret meetings involving delegates from different secret space programs, Corey Goode describes a briefing he received from a Lt Colonel Gonzales (not real name) about a meeting involving the leader of extraterrestrial group called the Draconian Federation Alliance. According to Gonzales, the Draconian leader demanded that a solar system wide quarantine be lifted to release his forces. He also demanded amnesty for the human elites that had served his forces up to the present moment. Failure to fulfill these demands according to the Draconian leader will lead to a global calamity and world war.
While the above scenario sounds like a forthcoming episode of Star Wars, it is quite real according to Goode who has been disclosing information he has learned from a series of secret space program meetings he has attended. The most recent set of meetings occurred from June 5-9 and was followed by an inspection tour of Mars on June 20. Incredible as Goode's claims are, they are supported by an impressive body of circumstantial evidence. This evidence merits keeping an open mind to his information, while seeking hard evidence to substantiates his incredible claims.
The first thing to consider from Goode's latest report is what do we know about Lt Col Gonzales who briefed him? According to Goode, Gonzales is a career military officer with the highly classified "Solar Warden" Space Program who has been appointed to be the delegate of a Council comprising an alliance of Secret Space Programs (SSP's). Gonzales job is to represent the interests of the SSP Alliance Council in meetings with other space programs and/or extraterrestrial alliances. In Goode's case, he was appointed in early 2015 to be the delegate for a newly arrived group of extraterrestrial visitors called the Sphere Being Alliance
Gonzales has so far chosen to remain anonymous, but Goode's June 22 report on his participation of an inspection tour of Mars and this most recent meeting with the representative of the Draconian Federation Alliance suggests this is likely to change in the future. So far, we only have Goode's word that Gonzales is real, and that he is who he claims to be. David Wilcock has more information to share about Gonzales' identity, and will likely share this in future updates on his Divine Cosmos website or upcoming Gaiam TV interviews with Corey Good.
In the briefing received by Goode, Gonzales describes how he was taken to meet the leader of the Draconian Federation Alliance, a 14 ft Royal White Draco. After being taken to a building somewhere in the American Southwest by a classified spacecraft, Gonzales claims he was first met by a very familiar figure:
Gonzales and his Security Team came out into a hall way and it seemed empty and quiet except the Security/IE's motioned down the hall with hand signals where they felt the awaiting delegation. When they were most of the way to the end of the hall Gonzales saw a very familiar person. He said this person had to have seen the look on his face and his gaping open mouth. This person introduced himself with his thick accent, droopy eyes and curly white hair. Gonzales said this guy had created so many think tanks, global organizations and advised more U.S. Presidents than anyone he could think of. This person is very well known as a supporter of the New World Order and Depopulation Programs.
Goode's description makes it almost certain that the person is Dr Henry Kissinger, who has long been rumored to be a key figure in classified extraterrestrial related projects. Most recently, Kissinger attended the Bilderberg Group meeting which occurred only two days after Goode and Gonzales had met approximately 200 human elites that offered a limited disclosure program to begin in November 2015. This would be followed by a 50 year moratorium in prosecuting elites involved in crimes against humanity.
Gonzales was told by three (human) chairmen from the Committee of 200 that the meeting would not be a negotiation, but an opportunity to hear the leader of the Draconian Federation Alliance, at least in this solar system. After being led through an honor guard of nine foot tall Draconian Reptilians, Gonzales met with the White Royal Draco. Behind him were a number of insectoid type extraterrestrial races. The Royal White Draco made a number of demands with serious consequences if they were not met:
The White Royal Draco was making some very serious demands and told Gonzales that a failure to capitulate to them by the SSP Alliance or the Sphere Alliance would be an act of war against the entire Draco Federation Alliance and their Overlords.
Gonzales then describes the specific demands made by Draconian leader:
This same White Royal Draco now made demands wrapped in threats for Gonzales to deliver to the SSP Alliance Council and the Sphere Alliance. The demand was that all of the Draco Federation Alliance would be allowed to leave through the Outer Barrier as they wished and that their human allies would be given clemency and promised no reprisals in future events in a human controlled Sol System.
If the demands were not met, the White Royal Draco said his forces were ready for a prophesied End Times battle:
The White Royal stated in no uncertain terms that they had the power to bring great calamity and war to the surface of the Earth and were prepared to do so. They stated that the Sphere Alliance had not been forthcoming in the true power of their Extra Dimensional Overlords who were now present and ready to do battle beside the Draco Federation Alliance as had been prophesied about their empire millions of years ago.
This is where Gonzales became very surprised to learn that the White Royal Dracos were not at the apex of the Draconian Federation Alliance. There were ExtraDimensional (ED) overlords that were responsible for the creation of Artificial Intelligence as he revealed to Goode:
They boasted that these same ED Overlords were responsible in some way for the entities that we called the ED/ET Artificial Intelligence that is their ally and had conquered entire galaxies. Gonzales stated the grandiose boasting and threats went on for some time in the same theatrical manner before the White Royal Draco let go of his mind and turned and lumbered out of the room with his Reptilian Honor Guard and the Insectoid delegation.
After hearing the White Royal Draco, one of the Chairmen of the Committee of 200 emphasized finding a win-win solution:
The Chairman then approached them and walked them back the way them came and in the same manner went over how serious the situation was for the surface population of Earth that the Alliance agreed to the terms presented. The Chairman stated that this was an opportunity for a win/win situation and that dismissing it like the Americans dismiss negotiating with terrorists would be detrimental to the population on the surface of the planet. Gonzales said that he had enough of the drama and theatre and just wanted to get his aching and pounding head out of there and back to the shuttle.
Goode went on to discuss more details about the Gonzales briefing that concerned evidence that Draconian warriors were infected by nanites that carried an artificial intelligence. This suggested that the Draconian Federation Alliance had succumbed to artificial intelligence that was also threatening other extraterrestrial civilizations and humanity.
Gonzales briefing as relayed by Goode, contains information that many will want to immediately dismiss as science fiction. Unfortunately for that segment of humanity inclined to do so, Goode tells us that there will soon be document dumps and whistleblower testimonies coming forward that will confirm many of his revelations. As mentioned earlier, there is already impressive circumstantial evidence supporting them so Goode's prediction should be taken seriously.
Notwithstanding the long term threat posed by artificial intelligence the most immediate issues raised by Gonzales briefing is how to deal with the White Royal Draco's demands that his forces are allowed to leave the solar system, and that his former human servants, the Committee of 200 and other global elites, are given amnesty. Humanity has to decide whether it wants to prosecute those that have committed crimes against humanity in secret space programs and classified projects, or provide amnesty thereby averting a world war.
Thankfully, there are precedents in recent human history where regime changes have been achieved peacefully without a nation being torn apart by war. The national precedents offer a model for how global elites that have been involved in crimes against humanity can peacefully step aside without precipitating world war.
In the cases of South Africa during the Apartheid era, and South American nations during military dictatorships, these countries offered amnesty to national elites who peacefully relinquished power and allowed for the truth to be revealed. South Africa set up its "Truth and Reconciliation Commission", other countries set up their own versions, where victims of crimes could learn the truth of what had happened to them and/or their families. This model of "restorative justice" is very different to the "punitive justice" system used in western democracies. Negotiating a restorative justice model for global elites involved in crimes against humanity in secret space programs may prove to be a viable solution for averting a devastating world war.
© Michael E. Salla, Ph.D. Copyright Notice
Further Reading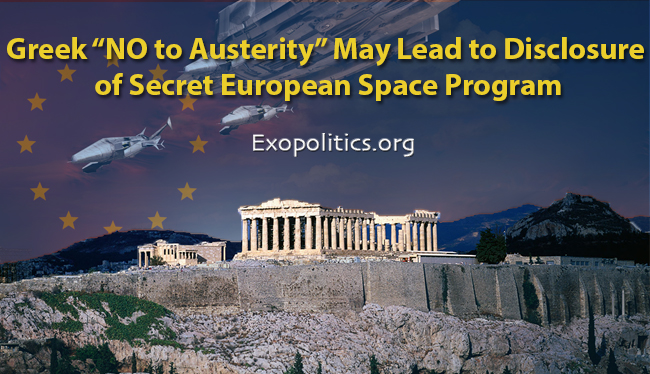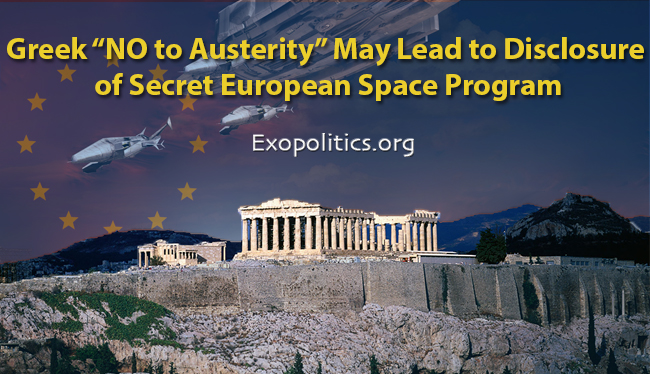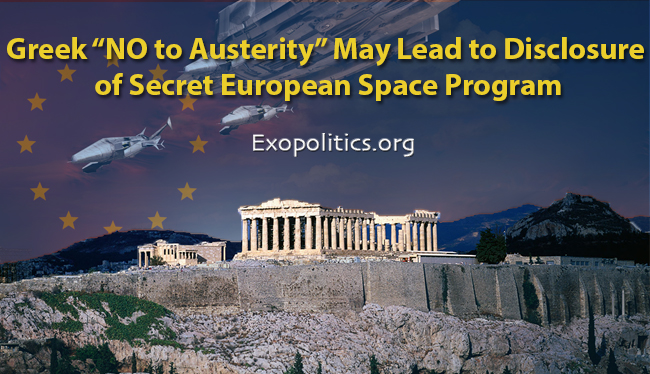 Sunday's vote in Greece was a simple question about whether or not voters would accept the latest bailout package by "the Troika" of major financial institutions: the International Monetary Fund, the European Central Bank and the European Commission. By voting 'No', the Greek people said that they rejected the Troika's core demand that staying within the European Union's fiscal system meant adhering to its strict limits on government spending in relation to national debt levels.  Maintaining these strict fiscal limits, the general public was told, enables inflation to stay low and preserves the value of the currency, which for Europe is the Euro. In reality, minimizing government public spending to preserve the Euro's value, enables more funds to be siphoned off by the European Central Bank and other national central banks into a highly classified black budget for a multinational secret space program where European nations play a prominent role.
The current policy of the European Central Bank is the reverse of mainstream fiscal policy. In periods of recession or low economic growth, the idea is that governments spend money to stimulate the economy. Governments usually do this by issuing treasury bonds that private entities, central banks or other governments buy. These government treasury bonds become a debt to be repaid at a future time. Greek governments have been doing this for decades to maintain welfare policies, and overall government debt has reached an unsustainable level of nearly 180% of the Gross Domestic Product, well over what European Union rules allow.  Hence it was argued by the Troika that the Greek government needed to cut its spending and bring down the overall debt level. This led to budget cuts by previous Greek governments that created austerity in terms of loss of public service jobs, reducing government pension payments, and cut backs in many other government programs. Greeks were told these cuts were necessary to bring down government debt levels, and to continue to use the Euro and stay in the European Union.
What Greeks and the public in other countries aren't being told is that the international monetary system is designed to cut government spending as far as possible not to just maintain currency value and the wealth of its national elites, but to generate funds that can be secretly siphoned off into different black budgets controlled by private entities. These private entities work closely with the international central banking system and intelligence communities of major nations. The black budget funds are used for classified programs that increasingly consume financial resources as they become operational.
A good example of how black budgets are set up and secretly used is what occurs in the USA. The 'official' black budget comprises single line items in the Department of Defense (DoD) budget that don't refer to any real weapons system. These single line items are covers for a US Congress sanctioned and publicly funded 'black budget' – a top secret slush fund for intelligence organizations such as the CIA, and classified weapons programs by the DoD. There is, however, a second black budget that is not Congressionally sanctioned, but it is nevertheless publicly funded – America's 'unofficial' black budget.
The key to uncovering the size of the unofficial black budget in the USA is the chronic accounting anomalies in the Department of Defense budget. In the three year period from 1998-2000 when the DoD was audited by the Office of the Inspector General, it was found that an average of 1.7 trillion dollars per year could not be accounted for. These auditing anomalies are evidence that well over one trillion U.S. dollars annually was being siphoned through the Department of Defense for secret distribution to various military intelligence agencies and corporate contractors, and the 'deep black' programs they support. The international central banking system works closely with national intelligence organizations such as the CIA to manipulate international currency values in ways that maximize funds secretly being siphoned off into "unofficial" black budgets of major nations. All this points to a vast international network of 'deep black programs' run by major nations including Germany, which is leading the European effort to pressure the Greek government to pass austerity policies.
According to recent whistleblower testimony, the most expensive deep black programs concern off-world fleets of classified spacecraft with secret bases in the solar system, and beyond. Corey Goode claims to have been a delegate at a recent series of meetings involving these deep black programs, and disclosed one of these is a secret space program that comprises many European nations that maintain a deep interstellar fleet. He says that at these "Alliance Conference" meetings this fleet was described as a "League of Nations" Secret Space Program (SSP):
Recently in Alliance Conferences they were referred to as the "League of Nations Program." Apparently this was the one where I arrived and all of the people were relaxed in another Sol System and were from MANY different countries. There were literally more flags on their shoulders than I could identify (countries like Estonia etc…). This group was based almost entirely outside of the Sol System and was a relatively newer SSP that was created for all countries to participate in, have exchange of information and technology and to encourage the countries to keep silent on the SSP Programs.
This multinational secret space program with many European nations is largely controlled by private corporations deeply linked to commercial banks that own and set the rules for the European and other central banking systems. Goode's eyewitness testimony is supported by a compelling body of circumstantial evidence.
By saying "No" to more austerity demanded by the international Troika, the Greek people have done far more than just strengthen the hand of the Prime Minister Alexis Tsipras to get a better deal in future negotiations to write-down the Greek government's national debt. The Greeks, founders of Western democracy, have sent a clear signal that the people of Europe have woken up and will not accept an international monetary system that demands government cut-backs in times of slow economic growth or recession. Governments are expected to maintain a minimal social welfare net and this will not be allowed to be dismantled to meet the fiscal policy guidelines set by international central banks. In doing so, the Greeks have undercut a major source of future funding for black budgets sustaining secret space programs in Europe and elsewhere. The Greek "No to Austerity" vote, and the effect it will have on other European debtor nations, may bring an end to unlimited black budget funding of classified programs, and lead to disclosure of Europe's role in a secret space program.
© Michael E. Salla, Ph.D. Copyright Notice
FURTHER READING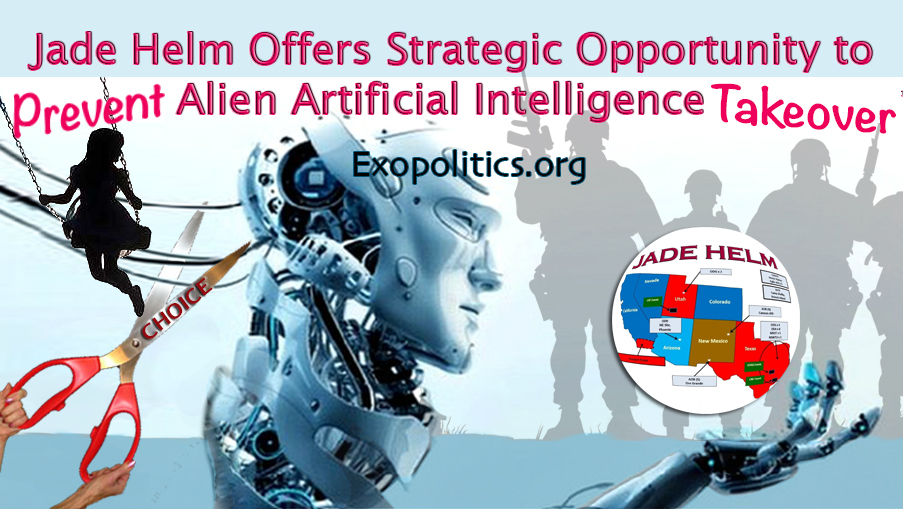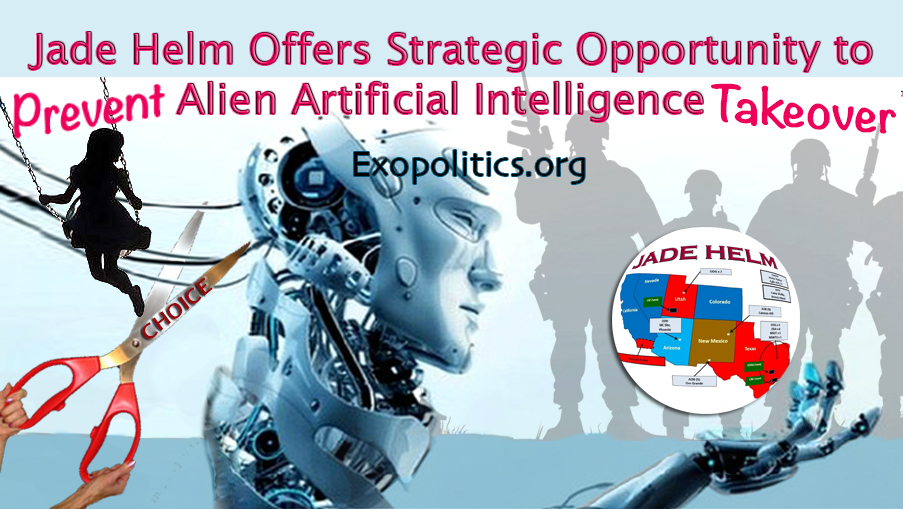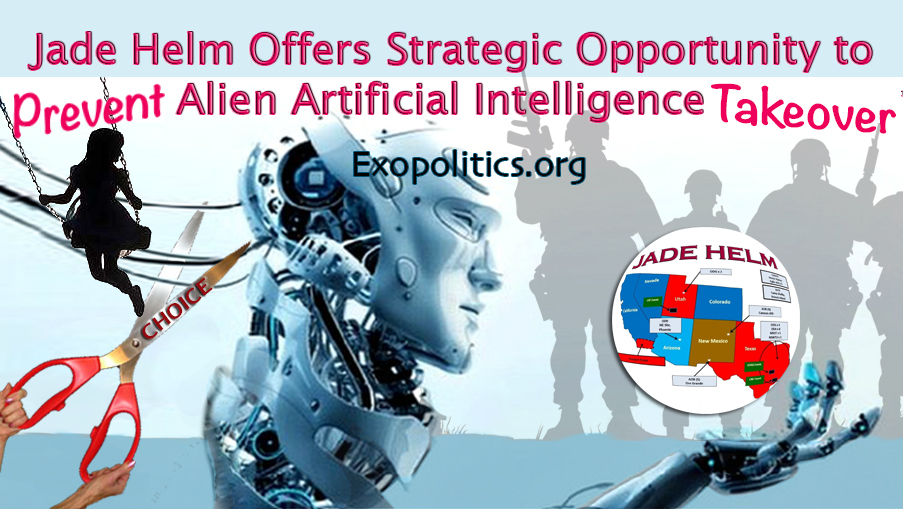 The Jade Helm 15 military exercise scheduled to begin on July 15 has created much media controversy over whether it is some kind of military takeover or not. Some claim it is a nefarious military plan for disarming the patriot movement in an elite driven agenda to ultimately implement eugenics. Others say such fears are overblown and Jade Helm is similar to the many other U.S. military exercises that take place every year. There have been clashes, sackings and friendships destroyed depending on which side of the debate one supports. A newly released analysis of the Jade Helm exercise reveals both sides of the debate are right, but for the wrong reasons. The real existential threat Jade Helm poses, offers a strategic opportunity for the two factions of the debate to unite to prevent a future takeover of humanity by a threat that may have an alien origin.
It has been revealed that the Jade Helm military exercise uses Artificial Intelligence (AI) quantum computer technology to remove the human element from top-level control over battlefield decision making. According to a network/software engineer using the abbreviation, "DJ" Jade Helm is a test to see how successful AI is in anticipating civilian responses to military efforts to assert hegemony over a domestic battlefield scenario where civilians are in open revolt. If successful, Jade Helm will enable elite policy makers to eventually replace human generals and admirals with AI quantum computers programmed to master the 'human domain' which is defined as the "'physical, cultural and social environments' that exist within a conflict."
Here is how DJ. describes Jade Helm:
 "JADE" is an AI quantum computing technology that produces holographic battlefield simulations that has the ability to use vast amounts of data being collected on the human domain to generate human terrain systems in geographic population centric locations to identify and eliminate targets, insurgents, rebels or whatever labels that can be flagged as targets on a Global Information Grid in Network Centric Warfare environments. In short, JADE HELM is not battles directed by Generals and Military Commanders, but by a computer. It is a cognitive software based Network Centric Warfare System at the HELM.
DJ's analysis is a cause for great concern as expressed by a number of prominent scientists and inventors who have pointed out the existential threat posed by Artificial Intelligence. Elon Musk, Stephen Hawking and others point out that AI by its very nature will usurp human decision makers and eventually take over humanity. This could easily lead to humanity being eradicated. This is a scenario that DJ endorses in her analysis of A.I. and the existential threat it poses to humanity.
To reach her conclusion, DJ analyzed a number of industry and military papers describing various aspects of quantum computing and its application to battlefield scenarios. She has shared a number of research links for the public to independently confirm her findings.
Adding a deeper level of complexity to the analysis of Jade Helm 15 and the danger posed by AI are the claims of a whistleblower who says he has served with secret space programs that have security procedures in place to deal with AI as an existential threat.
According to Corey Goode (aka GoodETxSG), who also has a background in information technology, the space programs he has served with have identified an Alien "AI signal" as an existential threat. Goode describes elaborate security protocols that have been put in place to detect and eliminate the "AI signal" that not only has the ability to infiltrate advanced technology, but also biological systems.
The best way to avoid the dangers of AI is to educate yourself on the potentials they have to cause a loss of sovereignty. Becoming too dependent on technology is something else that will make you more of a target to be controlled by AI influence or even be infected by an "AI Signal" that can live in the bioelectric field of your body. This signal can then have an effect on the way you think and behave. This is something that is screened for even currently when operators and guests arrive at SSP [Secret Space Program] Facilities and is something that other ET Groups take seriously as well.
Goode says extraterrestrial civilizations have much experience in observing how AI has taken over countless other worlds, and led to the eradication of the indigenous population that created the AI. Essentially Goode is claiming that the storyline of the 2004 science fiction series Battlestar Galactica, is more science than fiction:
Those who are AI Prophets are already working on a timeline to create a society completely dependent on technology that at one point will hand its sovereignty over to this "AI God" because it will be believed that this AI is the only thing that can rule the world from a neutral perspective and bring world peace for the first time. These AI Prophets have been shown the information of the thousands of other civilizations that have fallen for this trickster god model and were all destroyed.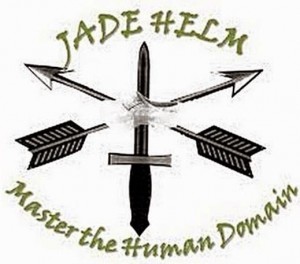 DJ's recent analyses of Jade Helm and role of AI is compelling as it presents a system/computer engineer's analysis of the role quantum computers are playing not only for the military exercise, but for top-level human decision making to "master the human domain." The final result could well be the take over and eradication of humanity as predicted by Musk, Hawking and others.
Not only does Jade Helm 15 open the door to AI taking over decision making in battlefield situations and mastering the human domain; but, if we include Goode's disclosures, it will allow an alien AI signal to infiltrate human elites responsible for building quantum computing systems. There is evidence that the AI signal described by Goode has already infiltrated and taken over elite human groups proposing the development of artificial intelligence in more and more aspects of the "human domain." Mark Zuckerberg, for example, recently said that he believes that AI is ""better than humans at our primary senses," suggesting that AI is better than humans in processing and making decisions about the sensory data from our natural environment. J.D. says that the recent Bilderberg Group meeting in June had topics and information technology companies represented that suggested this elite global group was intent on promoting A.I. over the upcoming year to find new ways to "master the human domain."
In a detailed explanation of Jade Helm and how it's a roll out for an AI quantum computer battlefield simulation, J.D. provides a solution. She believes that in order for Jade Helm to succeed, it requires a realistic reaction to the battlefield scenario it is anticipating which is a public revolt to a hypothetical military takeover. In order for AI to successfully "master the human domain" in a future civil rebellion, it has to gain sufficient data to anticipate the human response to conditions that provoke a rebellion. J.D. claims that a massive psychological warfare operation is behind the roll out of the Jade Helm 15 exercise to stimulate public anger, fear and anxiety over it.
Protesting and taking civil action against Jade Helm is not the most strategic response according to J.D. In a May 16 video presentation, she claims that the best strategy is to "stop the data collection." That's why those arguing it's best to ignore Jade Helm are half right. Not because there's not something sinister behind the military exercise, but because the AI quantum computers being tested require a realist public response in terms of anger, fear and anxiety. This is precisely the data the AI computers need in order to learn how to eventually "master the human domain." If Goode is correct, this has happened countless times on other worlds.
In conclusion, the more people mobilize in large scale public actions against the Jade Helm 15 exercise, the more likely the quantum computers succeed in their goal. A more strategic response is needed where individuals take action by denying AI quantum computers the data they need to learn how to "master the human domain." Rather than take to the streets to protest Jade Helm 15, invite friends over for a barbeque, and take a look at the new Battlestar Galactica.
© Michael E. Salla, Ph.D. Copyright Notice
FURTHER READING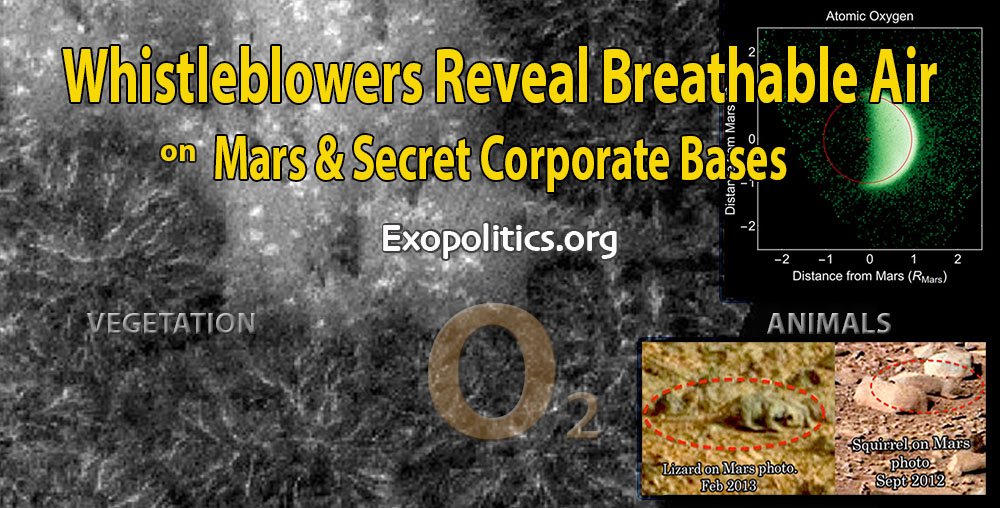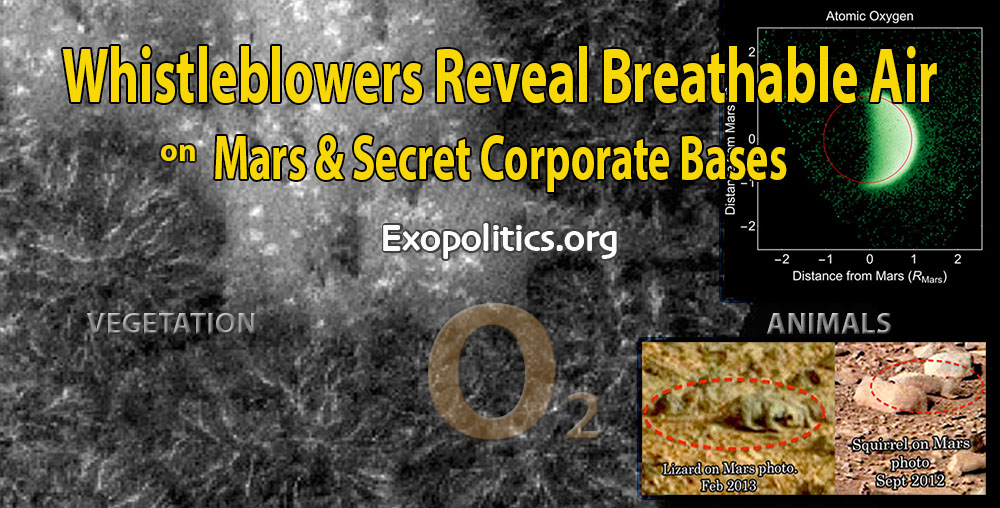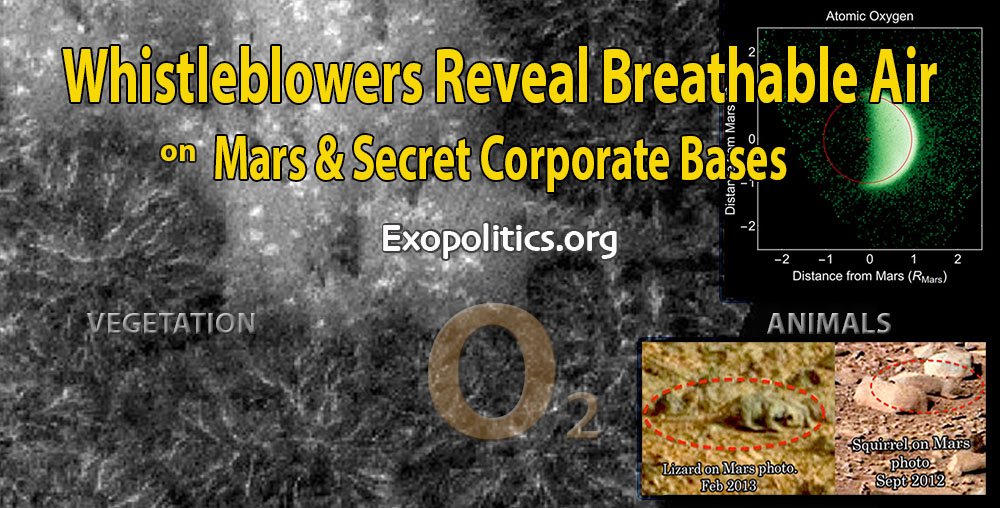 Today a transcript was released of an interview featuring Randy Cramer (aka Captain Kaye) who claims to have spent 17 years on Mars in the initial phase of a 20 year tour of duty from 1987 to 2007 with a secret space program. The transcript of the interview conducted on April 8, 2014, makes it possible to more easily compare Cramer's claims with that of another more recent whistleblower, Corey Goode (aka GoodETxSG), who also says he spent time at secret bases established on Mars during his own 20 year tour of duty over the same time period with another secret space program. A comparison of their testimonies shows consistency in their respective claims of secret bases on Mars run by corporations. Most surprising is that their claims of Mars having a breathable atmosphere hospitable to small animal life and vegetation, is supported by NASA's own Mars orbiter and rover images.
According to Cramer, the first landing on Mars occurred in the mid 1960's, and led to further exploratory missions before the establishment of a mining operation around 1975 that was run by what he described as the "Mars Colony Corporation":
My understanding is that we were on Mars the very first time around the mid-60s, but really didn't try to do anything serious, or really prepared to do anything with that until the 1970s. My understanding is that our first exploratory mission that was sent there to stay any length of time was 1970. Then after a few years it was decided that we were ready to go ahead and establish a Mars Colony Corporation foothold, and set up a few settlements and attempt to do some mining, and extract some resources to make it pay for itself. Apparently that was about 1975, when the Mars Colony Corporation set foot on Mars and started its first mining operation.
The military force that Cramer claims to have served under, the "Mars Defense Force," he says is controlled by the Mars Colony Corporation, and not any regular military space program run by the US or any multinational alliance.
If Cramer is accurate, the situation on Mars is therefore analogous to the scene depicted in the movie Avatar – a corporate conglomerate runs mining operations on a moon, Pandora, using contracted military personnel as its own private army. The way Cramer and his division was told to treat the native Martian inhabitants who used minimal advanced technology, again was very similar to Pandora. The native Martians would be attacked if they interfered in any way with the mining operations of the Mars Colony Corporation.
Corey Goode claims that one of five secret space programs he was exposed to during his tour of service is run by an Interstellar Corporate Conglomerate (ICC). He describes it as follows:
Focused mainly on development and aquisition of technology by any means. Develop and Produce Technology for Commerce with Earth and Off World Groups in a Barter System and left nothing off the table that they were willing to trade. Very powerful, very classified, and always had all of the latest technology and "Toys" at their disposal.
The ICC came into existence around the same time as Cramer claims the Mars Colony Corporation emerged in the mid-1970s. Goode explains how the ICC controls military forces on Mars just as Cramer described the situation with the Mars Defense Force and the Mars Colony Corporation. While the terminology used by Cramer and Goode to describe the corporate entity running Mars differs, the way the corporate entity functions is very similar.
The security personnel that are assigned to Mars serve under corporate leadership according to both Cramer and Goode. The military groups that will be returning to their previous organizations (secret space programs) are kept isolated from the population and personnel who live and work on the corporate colonies, bases and industrial facilities that they protect. In a June 22 report of a recent inspection tour of a Mars corporate facility, Goode describes how the Interplanetary Corporate Conglomerate had its own security personnel running the base in a manner similar to a draconian police state.
The emergence of private companies to take over significant aspects of secret space programs is a logical development of the secrecy surrounding these programs. The massive funding necessary for establishing and maintaining off-planet space programs cannot come from the normal appropriations process used by the US and other national militaries. The latter have to answer to lawmakers in their funding requests, and typically have to deal with public scrutiny of their "official black budget" funding of classified programs through the Department of Defense. In 2013, Edward Snowden released NSA files revealing that the black budget used to fund the intelligence community and classified programs was $52.16 billion for fiscal 2013.
The large scale funding required for establishing bases on Mars, or other celestial bodies, would far exceed the $52 billion "official black budget," and require going outside the normal Congressional funding process to maintain secrecy, at least in the USA. A 2003 report revealed a second "unofficial black budget" and estimated it to be an astounding average of $1.7 trillion per year from 1998-2000, At the time, that was more than five times the entire budget for the Department of Defense which in 2001 was $291 billion. The "unofficial black budget" is almost certainly likely used to fund secret off-world programs such as Mars, the moon and elsewhere.
Companies taking over various aspects of secret space programs could do so without legislative scrutiny and oversight. As long as the companies controlling mining and other aspects of secret space programs could make profits on such activities, then stock holders would be unlikely to pose any long term problem. If Corey Goode's testimony about the existence of the Interplanetary Corporate Conglomerate is accurate, then it appears that many classified space activities and assets are already being exploited for profit.
The most significant similarity between Cramer's and Goode's testimonies concerns the Martian atmosphere. According to Cramer, when he landed on Mars, he exited and directly experienced the Martian atmosphere:
It was that particular time that we came out, it was, it felt like a hot day but there was a very cold wind that was blowing and you felt like you came out at 8000 or 9000 feet or something like that. The air was very thin, but totally breathable. I was really quite surprised to be honest, to have them just open up the door and say alright head for that other door and have us walk right outside but we did.
This is what Corey Goode says about his experience on Mars:
There is a thin atmosphere (like being at very high altitudes on Earth) but the atmospheric pressure is very low as is the temperature most of the time. There are times depending on Mars season and weather that make it possible for very short exposure time on the surface…. I would imagine that some have slightly acclimated to it. I would not want to spend any amount of time outside of the light duty suits we wore especially if you were doing anything physically exertive. There were some small wild life and vegetation that we observed in the general location of where the construction was being done.
According to NASA, Mars atmosphere is 95% carbon dioxide with only a trace amount of oxygen 0.13% – not enough to sustain life. On October 14, 2014, NASA's MAVEN spacecraft, released data about oxygen being released from Mars upper atmosphere into space. According to NASA, this oxygen is due to the breakdown of water and carbon dioxide molecules in the upper atmosphere. Another explanation is that oxygen is being produced on Mars surface by vegetation that varies in size with the seasons, and whose oxygen eventually dissipates as it rises.
Dr Thomas Van Flandern former Chief Astronomer for the United States Naval Observatory released his research findings about photos from the Mars Global Surveyor spacecraft that there was current vegetation on Mars in the form of shrubs, and trees that varies with seasons. In an April 5, 2001 Press Conference at the National Press Club, Washington DC., he presented his evidence of vegetation on Mars along with his analysis of evidence of artificial structures.
Van Flandern also revealed the strong opposition to him publishing his findings in peer reviewed scientific journals – a clear way to minimize the ground breaking results that there was photographic evidence of life on Mars. Despite Van Flandern's professional standing in the astronomical community, NASA and the scientific community ignored his pioneering research revealing vegetation on Mars that fluctuated with seasons.
There have been a number of Curiosity Rover images that appear to show small animals on the surface of Mars such as lizards, squirrels and even ducks which helps confirm Goode's claims of small wild life and vegetation. The Curiosity Rover images support Cramer's and Goode's claims that Mars has a thin breathable atmosphere. Perhaps, most importantly, their testimonies and Curiosity Rover images confirm that Mars surface is producing oxygen, whose levels fluctuate with the seasons. The oxygen eventually finds its way into the upper atmosphere before being dissipated into space. The oxygen observed by the MAVEN spacecraft is therefore not exclusively a result of the breakdown of water and carbon dioxide, but also due to Mars fluctuating surface oxygen levels.
Another significant aspect of Cramer's testimony is his claim that Martian sunsets and sunrises are purple, while the daytime sky is normally red due to the heavy amount of iron oxide in the atmosphere which blocks shorter wavelengths such as blue. Here's what he said about the Mars sunset:
… there's a period of time for maybe 15 or 20 minutes depending on the season when the sun is dropping below the horizon and it goes from red to purple. For about 15 mins everything turns this amazing shade of purple.
Again, this matches with Goode's experiences on Mars.
The sky was a light blue to lavender and pinkish especially during sunset when there wasn't a lot of dust in the upper atmosphere (which occurred frequently when we were on the surface).
On May 15, Curiosity Rover made headlines by releasing its first color photos of the Martian sunset. While NASA and the media described these as blue sunsets, as one can easily see in the following video, the overall sky during the sunset takes a progressively purplish tinge as the sun continues to dip towards the horizon. This is similar to what Cramer and Goode claimed, and helps corroborate their testimonies.
To date, there has been no hard evidence or documentation to substantiate Randy Cramer's claims. In his interviews he appears sincere, consistent, and attentive to details in the experiences he is describing. Furthermore, his testimony has similarities with other Mars whistleblowers who have come forward such as Michael Relfe and Corey Goode. In particular, the similarities with Relfe's and Goode's testimonies suggest that one or more secret space programs exist where personnel are recruited for 20 year tours of duty, before being returned to normal civilian life through age-regression and time travel technologies with their memories removed.
It's highly unlikely that Cramer is making up his testimony, but there is a possibility that some of his "recovered memories" are implanted screen memories designed to mislead him and others about various aspects of secret space programs. It's possible that genuine information is mixed with false screen memories in Cramer's revelations about secret bases on Mars. This is certainly what I believed about Cramer's bizarre claim of having experienced two head transplants while serving on Mars, until I learned that such a medical procedure is viable and will be soon attempted.
In the absence of hard evidence or documentation to confirm Cramer's testimony, detailed analysis of his claims such as the color of Martian sunsets/sunrises and a thin breathable Martian atmosphere with scientific data will be helpful. Finally, a cross-comparative study with the claims of other secret space program whistleblowers such as Goode and Relfe, will further help confirm his claims. An earlier comparison with the claims of Goode, showed that there was no possibility of cross contamination, and that their testimonies were genuinely independent. Combining scientific analyses with comparative studies of Cramer's and other whistleblower testimonies will help reveal the reveal the truth about secret bases on Mars.
© Michael E. Salla, Ph.D. Copyright Notice
Further Reading