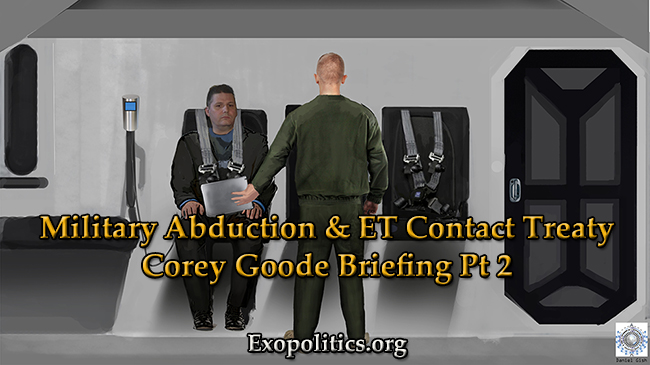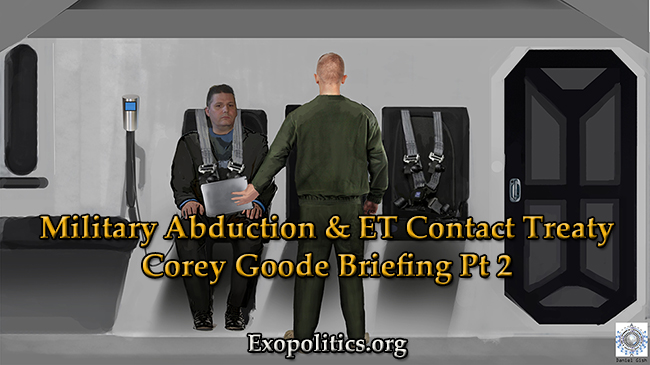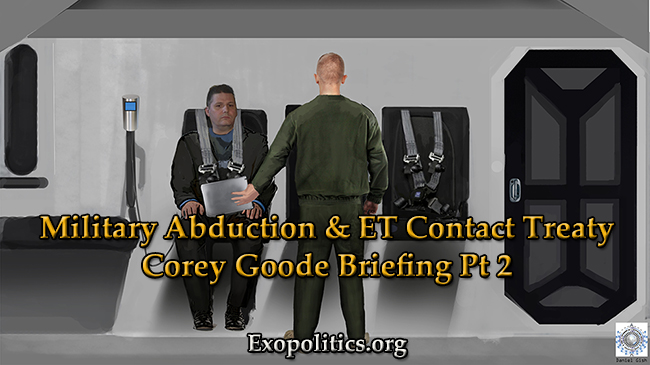 [Continued from Part 1] At the same time the Soviet Union had deployed Cosmospheres in the 1970's that competed with the National Reconnaissance Office and USAF for domination of the space around Earth, the U.S. Navy was developing its own secret space program called Solar Warden, which used huge cigar shaped spacecraft equipped with antigravity and temporal technology for distant off world operations.
Former aerospace engineer, William Tompkins, has disclosed that he provided the initial designs for these kilometer long secret space craft in a secret think tank at Douglas Aircraft Company in the 1950's. According to both Corey Goode and Tompkins, Solar Warden became operational in the 1980's and was highly compartmentalized, and therefore unknown to most USAF Space Command/NRO/Defense Intelligence Agency (DIA) personnel who were told the vehicles in deep space or remote locations like Antarctica they were monitoring were merely prototype craft being tested.
Goode additionally explains that most NRO/USAF Space Command/DIA personnel are unaware of the Secret Space Program Alliance (an alliance between the Solar Warden program and defectors from other secret space programs), whose operations Goode has been disclosing since late 2014.
Apparently, some of the intelligence released by Goode over the last 18 months about secret space programs, was accurate enough to come to the attention of the "lower level secret space program," as he described it, run by the NRO/USAF/DIA. Subsequently, he was subjected to a military abduction by one or more of these agencies, which he briefly described in his May 14 update:
Military abductions conducted by operatives of one or more unacknowledged programs occur. Chemical interrogation tactics are implemented. Body fluid and hair samples were taken, words and phrases were read off of a tablet to attempt to ascertain if I was a current asset of a known UNSAP [Unacknowledged Special Access Program].
While briefing me on June 15, Goode stated that he experienced a total of three different military abductions on a spacecraft that was clearly less advanced than those belonging to the SSP Alliance. The abductions happened during the period from January to February 2016.
I asked Goode why he wasn't protected by the "Sphere Being Alliance" (advanced extraterrestrials belonging to a Type III civilization), since they had previously intervened during an alleged incident on Mars that he described in a report back in June 2015.
Goode said that the Sphere Being Alliance will only intervene when his safety is in serious jeopardy, and not at other times since there are lessons to be learned for all involved. In the case of "negative experiences", he says, these might have a larger purpose such as completing operational goals.
I also asked him why the SSP Alliance, which has superior technologies and clearances, couldn't just tell the lower level SSP's to back off, and not abduct Alliance operatives. Goode said that just before the time of his military abductions the ability of the SSP Alliance to conduct operations on Earth had been stopped, since they were denied clearance by the air and space traffic control at the Lunar Operations Center (LOC), as described in Part 1. 
Goode's interrogators could not find any information about him in their databases which is not surprising given the level of compartmentalization involved in the different classified programs. He said that all his records were scrubbed upon returning to civilian life in 1986 after being age regressed and sent back in time after he completed his 20 year tour of duty in 2007.

During one of Goode's interrogations, attempts were made to brainwash him into believing that extraterrestrials weren't real and that the "higher level space programs" he was discussing – Solar Warden, Interplanetary Corporate Conglomerate and Dark Fleet – did not exist.
During an interrogation, he also said that chemicals were used to get him to involuntarily reveal three high level operatives working within the Secret Space Program (SSP) Alliance:
A tablet with a camera was held in front of my face and academy type military photos were shown to me. The camera monitored my eyes and marked a photograph when it was detected that I recognized the person. This incident caused the outing of 3 high ranking SSP Alliance individuals and caused a further rift between myself, Gonzales and the SSP Alliance. Because of the chemical interrogation and the attempted blank slating of my memories of the incidents, I didn't remember the full details until I was informed later of the security breach.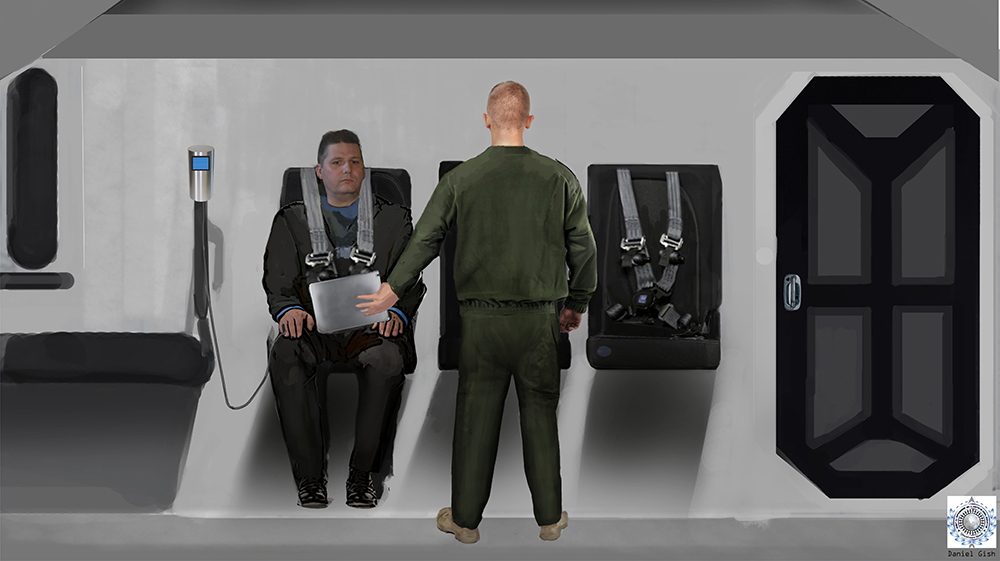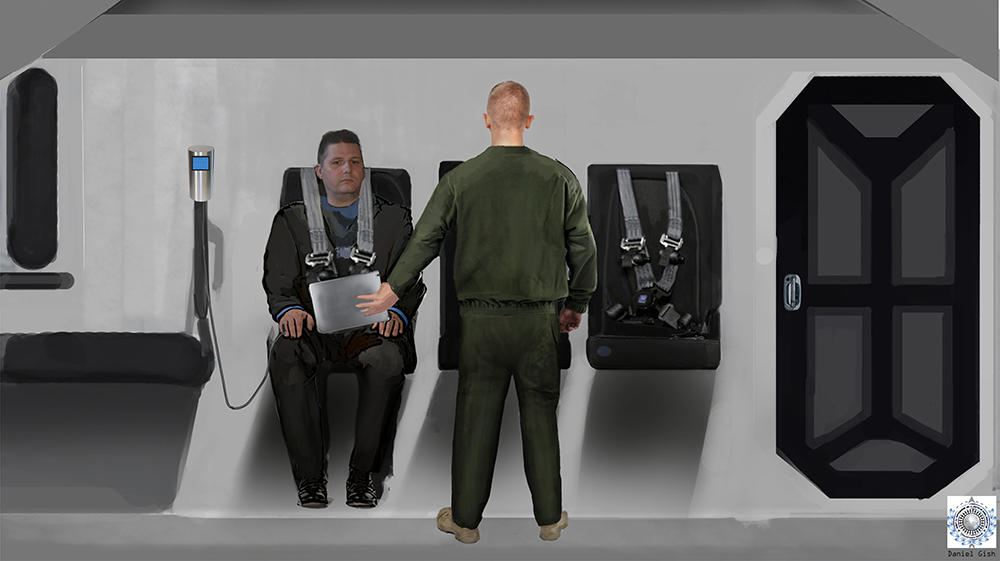 Artistic depiction of Goode under chemical interrogation where he involuntarily outs SSP operatives
One of the outed SSP Alliance individuals has subsequently dissappeared, another has been captured by the "lower level SSP", and the third was Gonzales – Goode's primary contact with the SSP Alliance.
Due to his involuntary 'outing' by Goode, Gonzales had to leave his civilian "cover" identity in Texas, and quickly found refuge with one of the Inner Earth civilizations called the 'Anshar', which he and Goode had previously met with on several occasions.
In particular, Goode had formed a special bond with an Anshar high priestess called "Kaaree", with whom he experienced a mind-meld back in September 2015:
Gonzales had been staying with the Anshar for weeks with no explanation. I was receiving briefings from both Gonzales and Kaaree during this timeframe.
Next, Goode refers to the period immediately after Gonzales was outed, sometime in March 2016. Goode, describing one of the locations where Gonzales traveled to during his stay with the Anshar:
One of these briefings included information about a couple of recent trips that Gonzales and Kaaree made to an "Outpost" of working "Ancient Builder Race" technology, below the surface of Venus. Gonzales was turned away by the beings that inhabited that outpost. They then traveled to a temporal anomaly and embassy type space station in the vicinity of Saturn that I had attended Super Federation meetings at in the vicinity of Jupiter. There were no craft or occupants on this station other than the same beings encountered at the Venus outpost. Gonzales was turned away from there too. Later, Kaaree informed me that Gonzales had worked to make sure I was disinvited from these two trips. It was soon after this that I found out that Gonzales was one of the 3 people that was revealed during my chemical interrogation.
Goode says that the reason Gonzales had been turned away from the Venus outpost was because he [Goode] was not present. It is likely the "Venusians" were aware that Goode had been appointed delegate to the Sphere Being Alliance, and viewed his absence as awry.
Then Goode went on to explain what happened when he was taken to Venus, around May 13:
Kaaree takes me to visit the Working Ancient Builder Race Outpost on Venus. We arrive and are met by a giant, long narrow craft that had a blast shield over the windows of what would be the bridge of their craft. We sat there for about 20 minutes before Kaaree told me we had been turned back. As I looked I could see several other of these large narrow craft around Venus, with their noses pointed down toward the surface and the rear of the vessels pointing away from the planet into space. While waiting, Kaaree and I spoke about a few individuals, as well as how concerned the Anshar are with people actively reaching out for them mentally yet receiving contact from other beings.

The final information Goode shared relates to the Anshar. He says that they have requested a change to a treaty between all major extraterrestrial groups and Inner Earth Civilizations concerning open contact with humanity:
The reason the Anshar requested the meeting to make changes to the treaty is that they were considering a more active role with the surface populations. They are keeping an eye on the highly programmed nature of humanity and our response to knowing the Anshar exist. They have been troubled by some of the signs they have seen and some of their group has raised these concerns in their recent council meetings.
Back on May 14, Goode described a forthcoming meeting (since held) between different extraterrestrial and Inner Earth groups for a new treaty:
Kaaree informed me that Gonzales had informed her that the Anshar request for a meeting over requested ratifications to a treaty that was agreed to by all of the major ET players in the Solar System including those we would consider negative. This meeting is said to be occurring imminently.
In his June 15 briefing to me, Goode explained that the current treaty is referred to as the "Muhammad Accords" since it dates back to the time of the Prophet Muhammad (570-632 AD). Further Goode added that prior to the "Muhammad Accords," extraterrestrials and Inner Earth civilizations openly interacted with surface humanity.
It was decided that in order for surface humanity to evolve, open contact would end, and that extraterrestrials and Inner Earth civilizations would no longer openly intervene in human affairs.
Goode then said that the meeting referred to by Kaaree had been held, and the request for a new treaty had been opposed by the Draconian Federation – the dominant Reptilian extraterrestrial species in our galaxy, and other "Saurian" or Reptilian groups. According to Goode, both he and Gonzales had in mid-2015 met with the leader of the Draconian Federation in our sector of the Galaxy, a 14 foot Royal White Draco, as part of ongoing negotiations over full disclosure.

Due to the need for consensus among all the adherents to the original treaty, there consequently would not be a new treaty at this point. Kaaree said this was unlikely to be the end of the matter, but more likely the first step in a drawn out negotiation process.
Goode stated that he last met Raw Teir Eir on June 10, and was told that incoming cosmic energies are dramatically ramping up energy levels for the sun, solar system and the entire planet. People and groups are being easily triggered, which helps explains the elite exodus to Antarctica described in Part One, and upsurge of violent extremism around the planet.

While some may be greatly concerned over the possibility of a solar kill shot as predicted by remote viewers such as Major Ed Dames, it's important to emphasize that this is merely one of many possible futures.
Previously Goode has said that according to Raw Teir Eir, the future and the kind of disclosure humanity is going to experience, will be determined by the collective consciousness and how well we react to unfolding events around us.
Goode has summarized the optimal response to an uncertain future in what describes as "the Message":
Every day focus on becoming more "Service To Others" oriented. Focus on being more "Loving" and "Focus on raising your Vibrational and Consciousness Level" and to learn to "Forgive Yourself and Others" (thus "Releasing Karma"). This will change the Vibration of the Planet, the "Shared Consciousness of Humanity" and "Change Humanity One Person at a time" (even if that "One Person" is yourself.).

At a time of great change where global elites are finding refugee in remote locations amidst uncertainty over what the future holds for them, and extraterrestrials debate over whether to openly make contact, the choice is ours over what the future holds for us. We must remember the power of love and forgiveness in opening up positive possibilities for us all, including that of a peaceful full disclosure of the SSPs and extraterrestrial alliances that can greatly expand and enrich human destiny.
Special Note: I wish to thank Corey Goode and associated artists for kindly supplying the graphics illustrating his June 15 personal briefing.
 © Michael E. Salla, Ph.D. Copyright Notice
Further Reading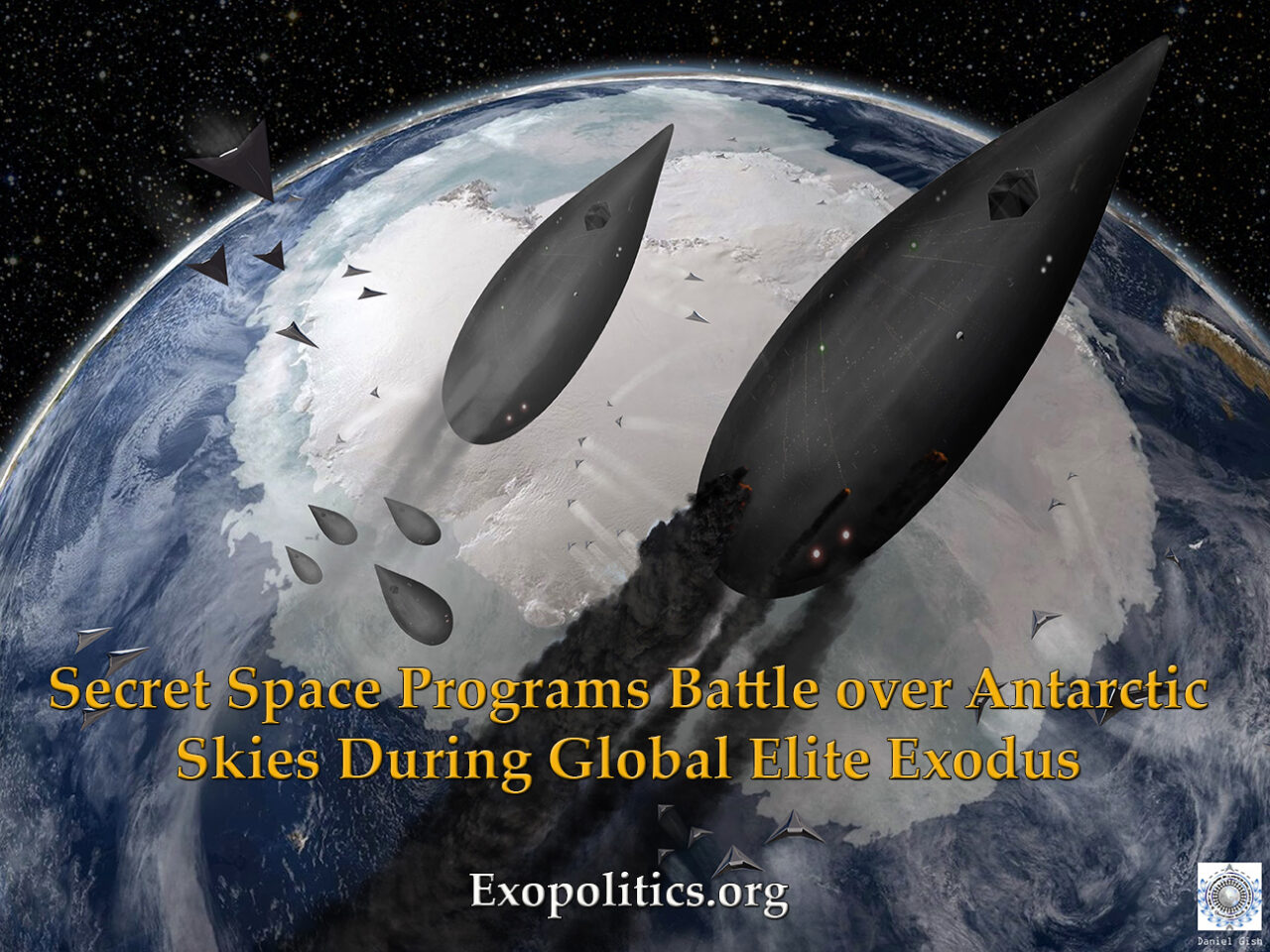 On June 15, I received an informal "briefing" by secret space program whistleblower, Corey Goode, about recent events that include an aerial battle over Antarctica involving various syndicate groups (Cabal/Illuminati) that had over the last six months fled there, and also the current status of negotiations involving different extraterrestrial and "Inner Earth" civilizations over "open contact" with humanity.
What follows will appear fantastic to those new to Goode's revelations, which he has been releasing over the last 18 months. A detailed resource page has been created listing most of Goode's interviews, reports, videos, along with articles about him.
My own detailed investigation of Goode was released in the book, Insiders Reveal Secret Space Programs and Extraterrestrial Alliances (Sept 2015). My conclusion was that Goode is genuine, and so I consider his June 15 'briefing" to be a very significant disclosure of recent events involving secret space programs that have transpired over the last few months.
Goode released a short update of recent events in bullet point form on May 14. In his June 15 briefing with me, he gave more details about this update, answered questions about what had occurred, and provided artist depictions of some of the events he was describing.
The May 14 update by Goode described an exodus of elite groups to South America and Antarctica:
Reports came in for approximately 6 months that high level syndicate groups were moving huge amounts of personal items and supplies to South American underground bases most noted in Brazil. More recent reports stated actual family members and high ranking syndicate members were pouring into these underground bases like ants before a storm.
Goode elaborated in his June 15 briefing that what the syndicate groups (global elites/Cabal/Illuminati) feared was huge solar storms predicted to hit the Earth. The so-called "solar killshot" long predicted by the remote viewer, Ed Dames, was imminent according to him in an interview on March 21, 2016.

The syndicate groups could not easily leave the Earth for refuge on off-planet locations due to a recent lockdown on airspace on and around Earth by what Goode describes as the "lower level SSP" comprising the National Reconnaissance Office (NRO), USAF Space Command, etc. The latter had deployed technology establishing an "Earth Defense Grid" coordinated from an "air (and space) traffic control" established on the Moon (Lunar Operations Command – LOC).
He said the LOC is currently controlled by the Interplanetary Corporate Conglomerate which is coordinating with the lower level SSP's. The latter were instructed not to clear SSP Alliance flights into Earth's air space.

The syndicate groups chose to flee instead to Antarctica/South America where underground locations provided some safety. The following graphic illustrates one of the six industrial areas under the Antarctic ice near the Ross Sea with parked spacecraft.The fumes coming out of the ground is from abundant thermal energy used as a power source.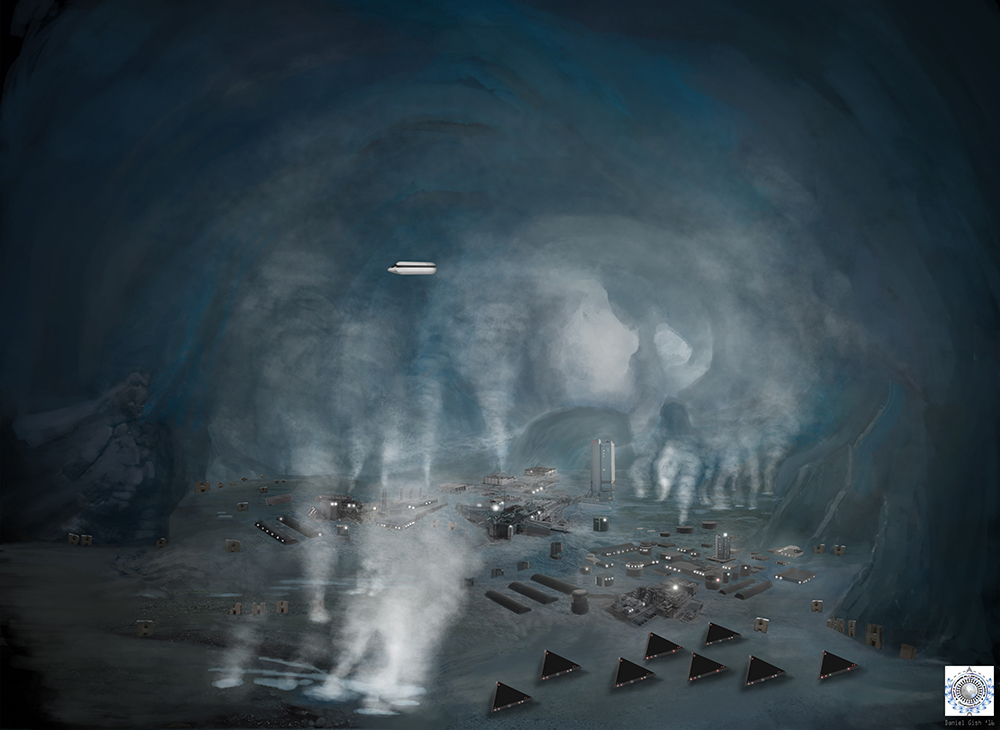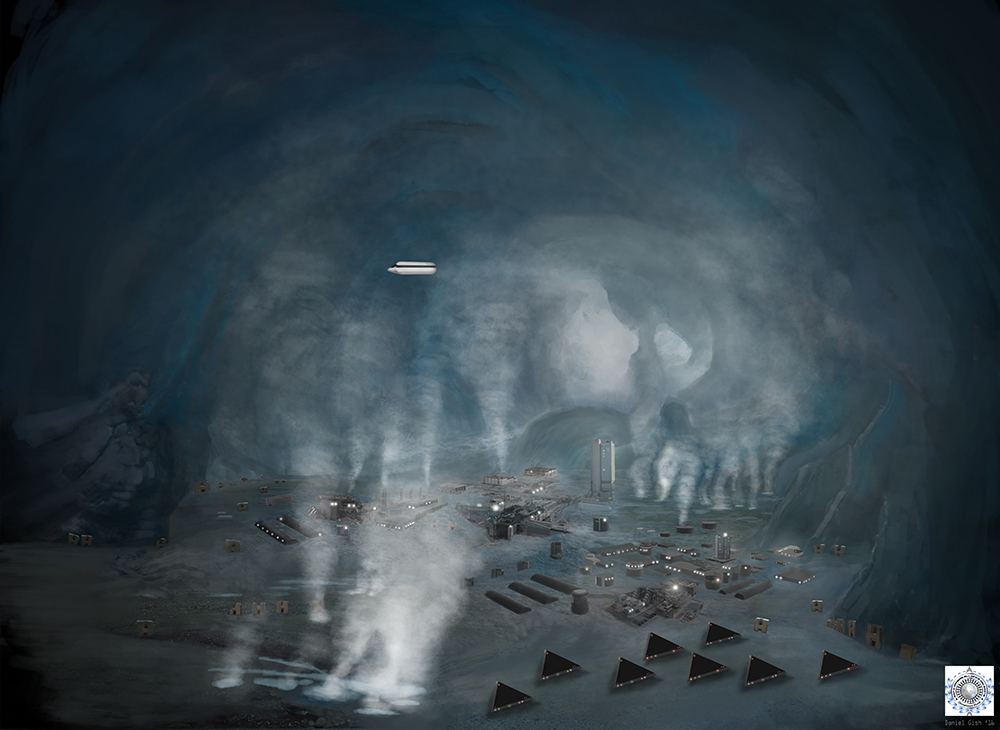 Coincidently, President Obama visited Bariloche, Argentina on March 24, which had become the unofficial headquarters of the "Fourth Reich" when Adolf Hitler fled there after World War II. The Nazi U-boat historian, Harry Cooper, found credible sources establishing Bariloche as Hitler's refuge in his book, Hitler in Argentina.
In February 1960, President Eisenhower traveled to Bariloche where he negotiated the Joint Declaration of Bariloche with the Argentinian President concerning Peace and Freedom in the Americas. The real topic of negotiations, however, allegedly concerned deals which would further put the U.S. Military Industrial Complex firmly under the control of the Fourth Reich.

This alliance led to the emergence of the Interplanetary Corporate Conglomerate (ICC), one of the secret space programs revealed by Goode, which was now in charge of the Nazi bases in Antarctica. Therefore it is more than likely that President Obama's visit to Bariloche, was to finalize new deals with the ICC/Nazis, which would facilitate their desire to move large number of people and cargo to safe locations in South America and Antarctica.
Goode's May 14 update went on to describe huge submarines used to transport people and cargo to Antarctica as revealed to him by a "Lt. Col. Gonzales," who has worked closely with Goode over the last year in secret negotiations and meetings involving different space programs and extraterrestrial alliances:
Gonzales later confirmed that these people and supplies were in many cases being transported to Antarctica via "Black Submarines" that were "EM Driven" and the "size of container ships". The water filled subterranean rift systems are so incredibly enormous that they have no trouble on their journey. Furthermore, the reports stated that the rift caverns had been modified into massive arched tunnels in ancient times.
Goode supplied various artist depictions of one of the doorways into the vast water filled tunnel systems throughout South America and Antarctica used by the elites that extend all the way from Mexico, through South America, and down into Antarctica.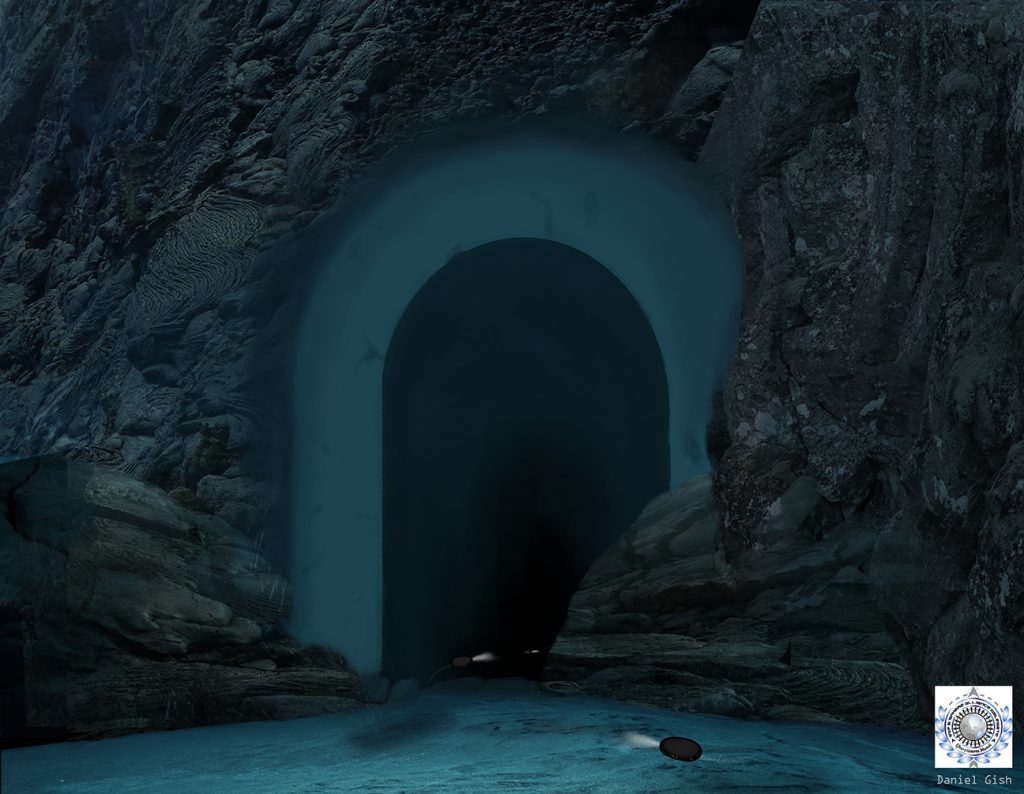 He said that there were six large industrial complexes located in the Western Antarctic region. The two largest complexes were city-sized and about two miles wide.
He provided an illustration for the location of these bases that he was personally taken to visit by the "Anshar" between April 27-30. Goode has previously described the Anshar as the oldest of the Inner Earth civilizations that he has met in secret negotiations – alleged dating as far back as 18 million years.
Further, he stated that he saw the secret Antarctic cities while traveling on an Anshar space craft that flew about 60 feet above the surface of the ocean directly into what looked like an Antarctic ice cliff, but which in reality was a hologram hiding the entrance to one of these cities. Goode saw large buildings, and two huge black submarines used to transport people and cargo to Antarctica being unloaded by giant cranes.
These large industrial complexes had first been established in the 1930's by Nazi Germany, according to Goode, and subsequently expanded in the 1950's and after agreements had been reached with the Eisenhower administration and the U.S. Military Industrial Complex. Currently, these six Antarctica bases are used by the Interplanetary Corporate Conglomerate, one of the secret space programs identified by Goode.
He then described in his May 14 update, a battle that had taken place over Antarctica:
One of the most interesting things that came out of this briefing [by Gonzales now safely located at a secret Kuiper Belt base] was that there had recently been reports of 6 large cruisers (teardrop shaped) were in the process of leaving the atmosphere after breaking the surface of the ocean near the coast of Antarctica. Dozens of "Unknown Chevron Craft" swarmed these cruisers and attacked the leading two craft causing massive and shocking damage. The cruisers broke off their attempts to leave orbit returning to below the surface of the ocean where they came from.
Goode has provided an illustration of the battle that took place. He told me that the teardrop shaped cruisers belonged to the syndicate groups who were aligned with the "Dark Fleet" – a space program first established in Antarctica by Nazi Germany/German Secret Societies – which later allied itself with the U.S. Military Industrial Complex.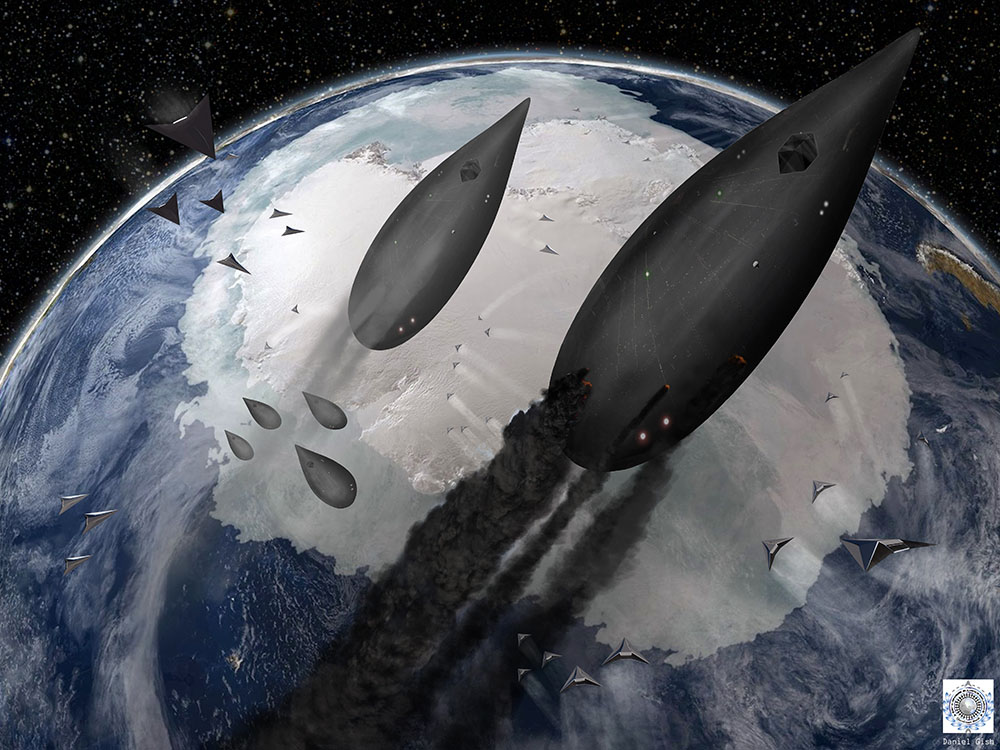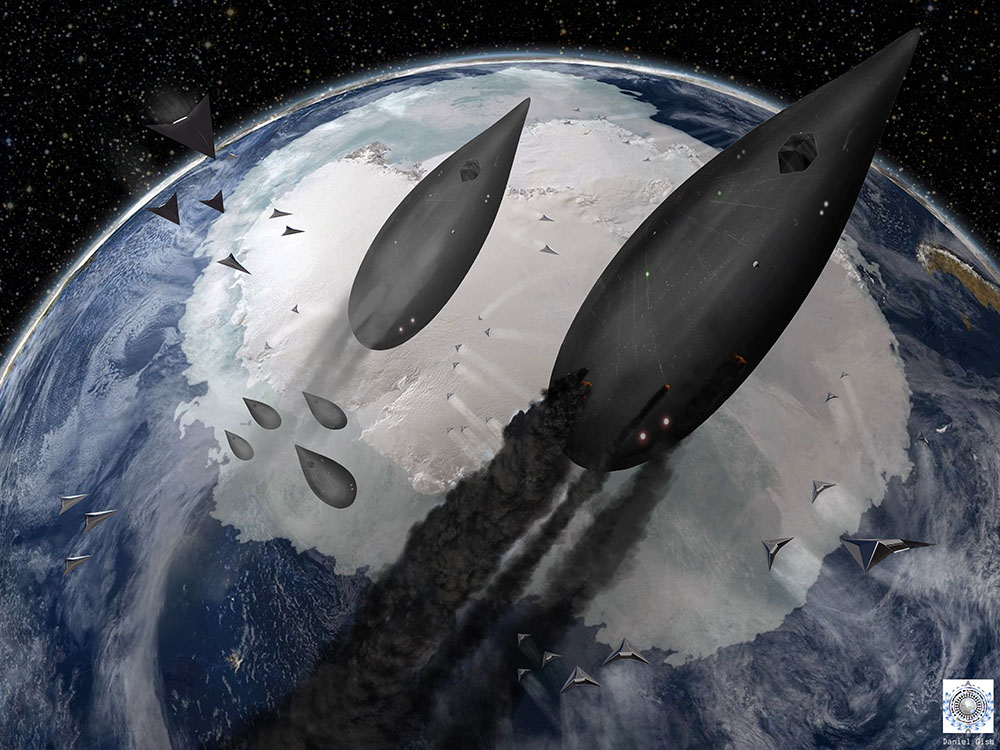 He added that the SSP Alliance were not sure who the chevron shaped spacecraft belonged to, but the speculation was that they were linked to the "Earth Alliance," a consortium of "White Hats" from various national militaries working closely with the BRICS nations.
According to Goode, the Antarctic battle was not an isolated incident:
There has been a major uptick in conflicts just outside and within our atmosphere between craft of various groups that have involved the shoot down of a number of craft.
Gonzales reported dozens of underground/ocean conflicts that have involved the use of exotic weapons as well as an uptick in the use of weather modification weapons by both the various syndicates and elements of the Earth Alliance.
Events in Antarctica were being monitored closely by different nations and/or space programs. Goode described huge spherical craft over Antarctica that appeared to be conducting surveillance operations:
Reports came in for approximately 6 weeks detailing "huge spherical craft" in geostationary orbit above the continent of Antarctica. These reports came from 5 different sources and described the spheres as being huge, metallic, shiny with one row of portholes going around the sphere. One speculated that these craft were of Russian origin.
Goode then explained that the craft were operating over large areas of the Southern Hemisphere, including Australia.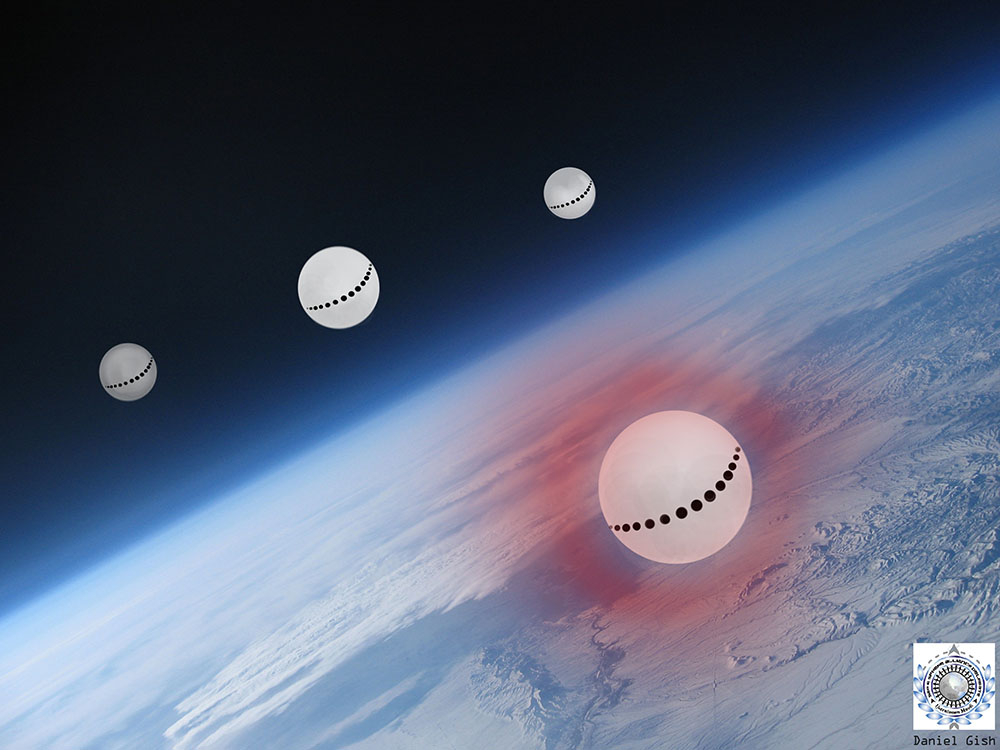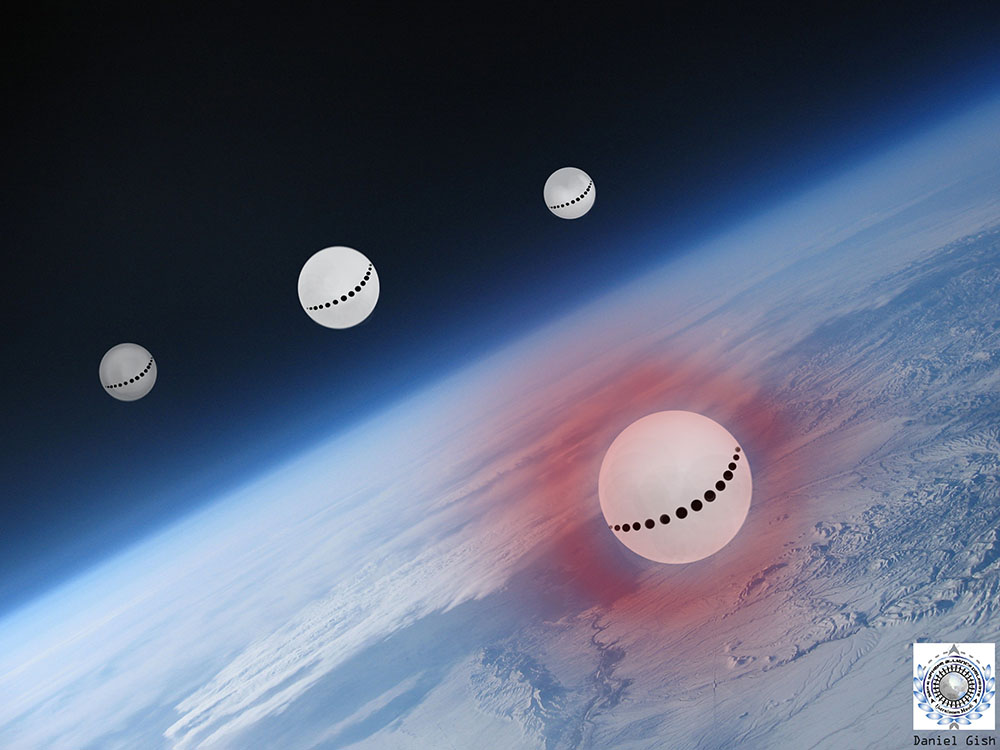 It's possible that the craft are related to the "Cosmospheres" allegedly developed by the Soviet Union, which are described at length in the Peter Beter audio files. Beter was the General Counsel of the Export-Import Bank (1961-67), and had high level sources who confided to him what was happening behind the scenes in space up to the early 1980's.
The Cosmospheres established Soviet weapons dominance in near Earth orbit, where they had military skirmishes with craft belonging to the USAF Space Command and NRO, which according to Goode, operate to about 400 miles above the Earth, and occasionally sent their most advanced craft to the Moon.  
It is therefore very likely that the large spherical objects observing the Antarctic space battles were indeed Cosmospheres now under the control of President Putin and the Russian Federation. It is feasible that they provided intelligence used by the chevron shaped spacecraft that intercepted and turned back the larger teardrop shaped craft leaving with their likely global elite passengers.

Click here for Part II.
Special Note: I wish to thank Corey Goode and associated artists for kindly supplying the graphics illustrating his June 15 personal briefing.
[Update: 6/17/16. The article was revised to clarify that the Lunar Operations Center, under control of the ICCP, had denied clearance for SSP Alliance flights to Earth.]
 © Michael E. Salla, Ph.D. Copyright Notice
Further Reading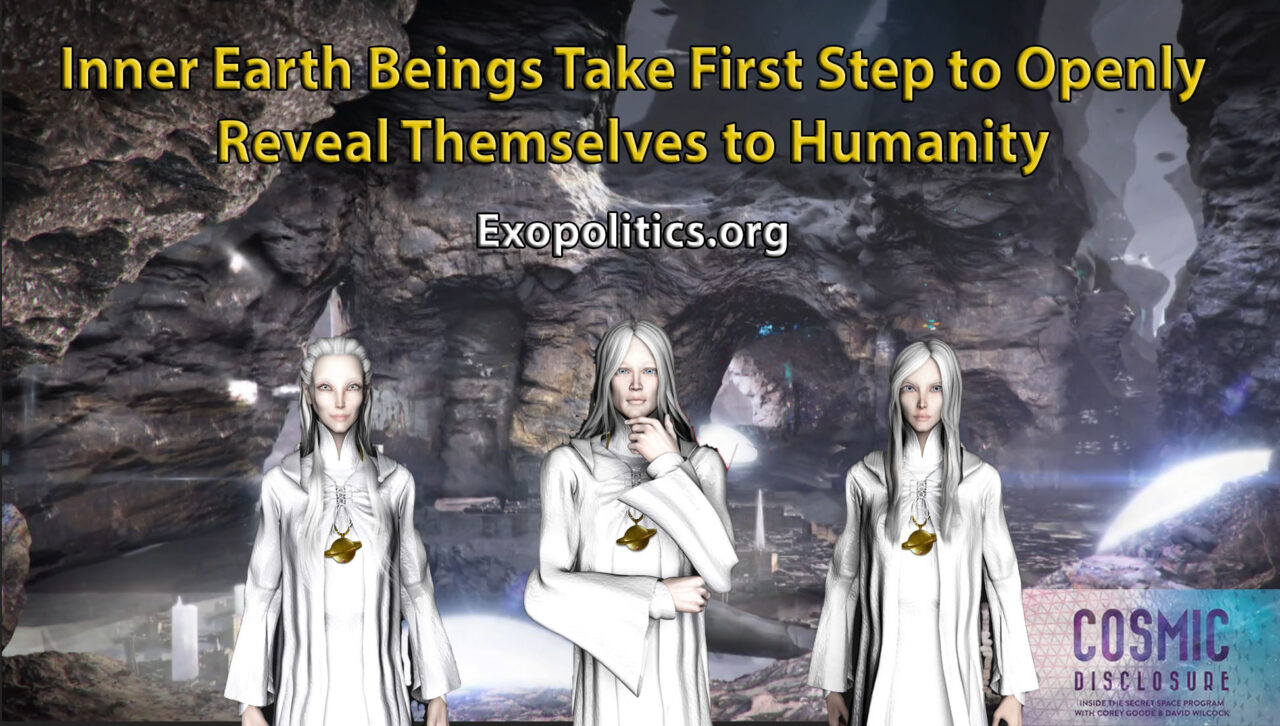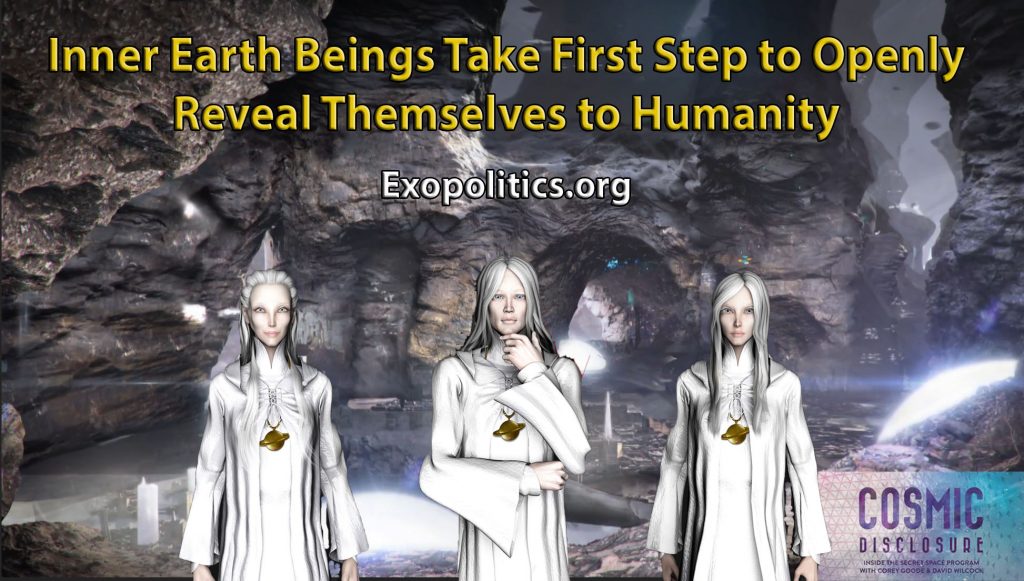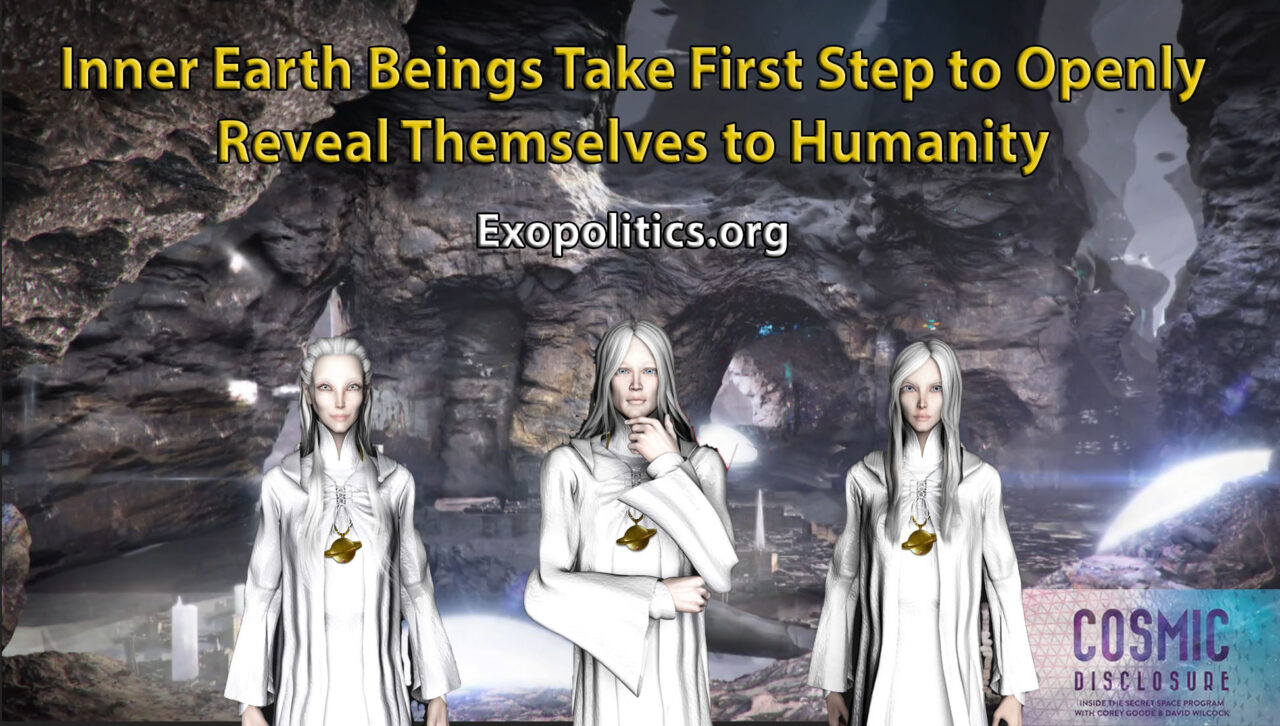 Several ancient civilizations hidden in the subterranean regions of Earth have taken the first steps towards revealing themselves to surface humanity, according to secret space program whistleblower, Corey Goode. In the April 26 episode of Cosmic Disclosure, Goode provided more detailed information about an encounter with Inner Earth civilizations, which he initially described in a January 14 update on his website.

Goode began by citing his early January 2016 visit to a futuristic underground city belonging to an Inner Earth civilization, and for the first time he identified them as the "Anshar," who have existed a staggering 18 million years. Goode said he could feel the excitement among the city's inhabitants over the news that their leaders had decided to change an established policy of strict separation, and make preparations to openly reveal themselves to surface humanity.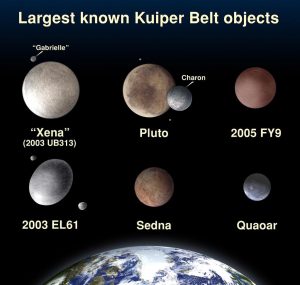 The changed policy, Goode stated, emerged out of a December 2015 meeting held at a secret base in the Kuiper Asteroid Belt, where representatives of an alliance of seven Inner Earth civilizations met with a representative of the Sphere Being Alliance.
On previous occasions, Goode has described the Sphere Being Alliance as sixth to ninth density beings – Type III civilizations according to the Kardashev scale – which have transformed relations between different secret space programs and extraterrestrial civilizations operating in our and adjacent solar systems.
In addition to creating a "frequency fence" or quarantine around the Solar System, the Sphere Being Alliance has helped a more ethically principled "Secret Space Program Alliance" achieve technological parity with less ethical space programs and extraterrestrial groups.
All the Inner Earth civilizations revere the Sphere Being Alliance as a very ancient race, described as "the Builders," who were responsible for creating the first civilizations on Earth and elsewhere in our Solar System. Goode has also previously described Ancient Builder technologies as being dispersed all over the Earth and the solar system. These mysterious technologies are highly sought after by different extraterrestrial groups.
For many millennia, if not millions of years, the Sphere Being Alliance has apparently not made contact with the Inner Earth civilizations, but has chosen to do so now. Their only condition appears to be that they have appointed Goode to be their intermediary with the Inner Earth civilizations, as well as with all other groups.
Therefore, Goode was present at the Kuiper Belt meeting to witness the Sphere Being Alliance representative, a 10 foot tall triangle headed being, telepathically chastise the Inner Earth civilizations who in the former's opinion had "not been proper stewards" of the planet. Goode provided a graphic of the encounter which shows the meeting as it occurred at the secret Kuiper Belt base.
The Inner Earth beings were confused and anxious over what they had been told, according to Goode. He speculated that the Inner Earth representatives had been informed that their long time policy of deceiving surface humanity about their existence, and maintaining a strict policy of separation had not been appropriate to their role as planetary custodians.
Apparently, this led to great concern over the merits of revealing themselves to surface humanity, who are considered dangerous and unpredictable. This consequently led to a split among the seven civilizations, who had briefly formed an Inner Earth Alliance as Goode described in his September 23, 2015 report.

Three of the civilizations subsequently decided to break away from the Alliance and maintain their separation policy. They would do so by stepping up their counter-intelligence (deception) operations with surface humans in order to remain hidden.
The other four civilizations in turn decided to follow the advice of the Sphere Being Alliance and take active steps to start revealing themselves to humanity.
One of the first resulting steps taken was to stop falsely telling human 'channelers', who they had established telepathic communications with, that they were extraterrestrials. The new policy meant revealing that they were actually humans from the Earth's interior.
Coincidentally, on January 17, 2016, three days after Goode's initial report on his Inner Earth visit, a popular channeler of the "Galactic Federation" and "Ashtar Command", Greg Giles, released an update on having been deceived about channeling extraterrestrials as he first believed. Instead, he says he had discovered that he was being fooled by a military group using "Voice of God" technology.
The so-called 'channeled messages' I received claiming to be from my soul family from the stars were in fact simple radio waves sent by U.S. government agents, allegedly from the military industrial complex, working in concert with volunteers, many of which are secret society members who help propagate enormous numbers of hoaxed news stories of UFOs and related space news, building a backdrop for a PSYOPS program that lures science and spirituality-minded individuals such as myself into their web. [see update below]

While Giles' discovery that his telepathic contacts were not who they claimed to be preceded the January Kuiper Belt meeting, it nevertheless illustrates the ramifications of the kind of deception previously conducted by the seven Inner Earth Civilizations. Presumably, this would change in the future, at least for some of these civilizations, in how they respectively conduct themselves with surface humanity.
It's worth pointing out that there have been a number of individuals who have claimed to have physically met with or been in telepathic communications with Inner Earth civilizations. These include well known South American contactees such as Ricardo Gonzales and Luis Fernando Mostajo, who I have personally met and communicated with for nearly a decade now.

I have attended some of their seminars and have concluded that they are both very credible, and indeed in contact with representatives of both extraterrestrial and Inner Earth beings as they claim.
In addition, there are channelers such as Dianne Robbins who claims to have met with and telepathically communicated with Inner Earth beings such as Adama from Telos. 

Goode has not commented on any other contactees or channelers who may or may not be in contact with Inner Earth civilizations. Presumably, with the changes described by Goode; cases of physical contact or telepathic communications with Inner Earth civilizations like the Anshar may rise in number quite quickly.
Goode believes that direct contact between surface humanity and Inner Earth beings is likely to occur before extraterrestrial races start to openly make contact. This appears to be a very logical way to proceed.
In my book, Insiders Reveal Secret Space Programs and Extraterrestrials, I have provided extensive documentation, supporting whistleblower testimonies, and circumstantial evidence that leads to the conclusion that Goode is being truthful in his ground breaking disclosures.
More recently, Goode's revelations have been confirmed by a former Navy Intelligence operative during World War II, and four decade veteran of the aerospace industry, William Tompkins. Consequently, I have no reason to doubt the accuracy of Goode's latest revelations about meetings with representatives of Inner Earth civilizations, and the new policies that have been implemented in accord with recent developments.
It is entirely understandable that there is considerable trepidation by some of the Inner Earth groups over the dangerous and warlike policies of national elites running affairs on the surface of our planet. Thankfully, as the internet facilitates the rest of humanity awakening to the truth about secret space programs and extraterrestrial life, we will be better able to make national and global elites accountable for their policies.
Most importantly, it is unlikely that aggressive policies at a national or global level will be permitted once the rest of humanity learns the truth about the extent of deception that has been perpetrated upon it. We can, therefore, have great confidence that as Inner Earth civilizations reveal themselves, they will be warmly greeted by the vast majority of humanity and not subjected to war-like policies by unrestrained national elites.
"Inner Earth Update" on Cosmic Disclosure available here
[Update 4/27/16 – Greg Giles 1/17/2016 statement cited above, was preceded by earlier messages dating back to 2012 where he first publicly acknowledged that his channeling had been compromised. Consequently, his January message was an update and not new information for those that had earlier followed his channeling. The above article has been revised accordingly]
© Michael E. Salla, Ph.D. Copyright Notice
Further Reading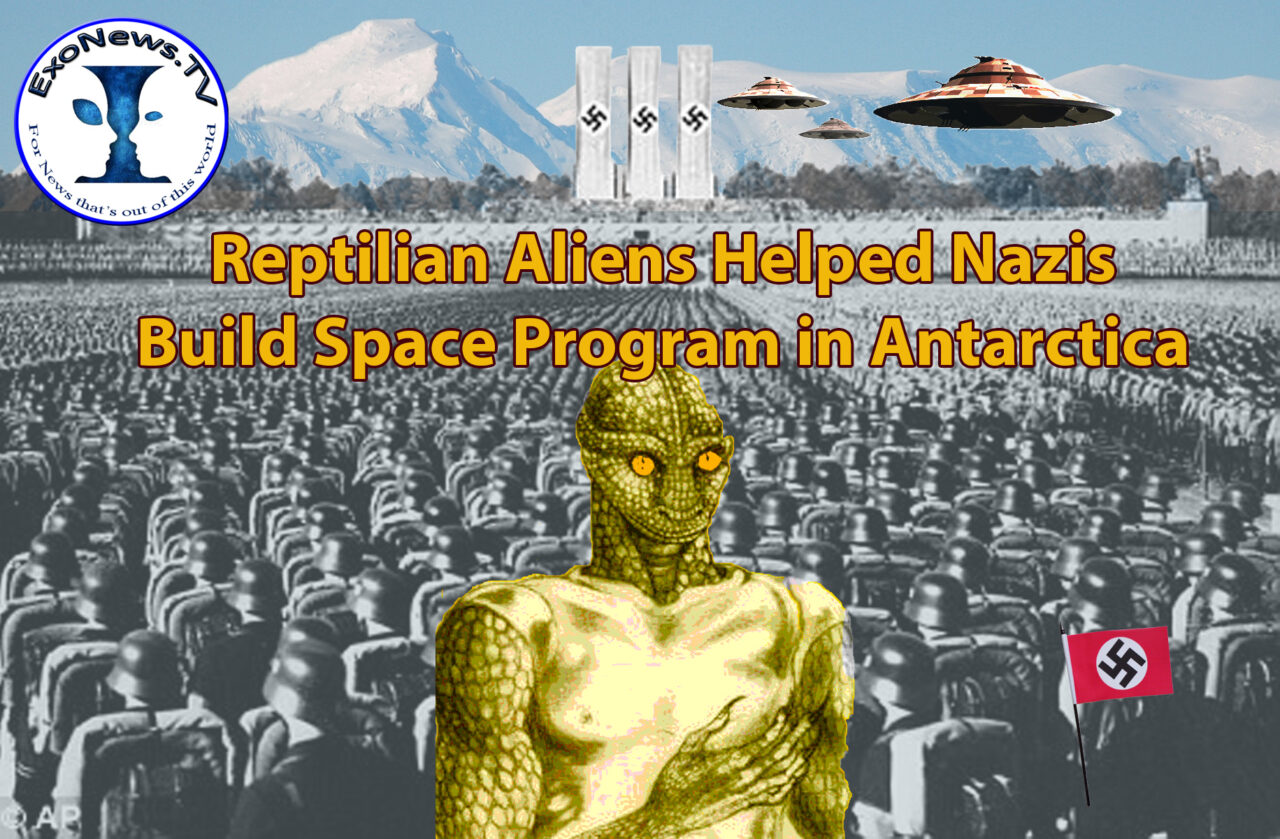 What follows is the transcript of William Tompkins responding to questions on the third ExoNews TV episode (see above) presenting his testimony.
Interview Date: February 25, 2016
Location: San Diego, California
Published on ExoNews TV – 4/14/16
Interview Key:
WT: William Tompkins
RW- Dr. Robert Wood
MS – Dr. Michael Salla
[For introduction and analysis of Tompkins Testimony click here]
…
MS – The following interview extract features Tompkins answering questions from Dr. Robert Wood and myself on Germany's Space program in Antarctica. …
Did the Navy Spies talk about the Nazis landing on the Moon, landing on Mars?
WT – The operatives found this data and they bring it back to the Admiral's secret office at the top of the building. You can see the building from when you land over at North Island. These fellows were all over the occupied areas in Germany, and they found all of this equipment. They found the program for extended life. That wasn't really an extended life. It was a life program that the extraterrestrials were already doing.
RW – Did the Nazis have this technology?
WT – Yes, it was no big deal at all….
The move from Germany to Antarctica was in operation from 1934 [Note: The Third German Antarctic Expedition occurred in 1938-1939] way before the war started. In fact some of the stuff went down in 1913 [Note: The Second German Antarctic Expedition was from 1911-1913]. Large portions of equipment went sent down there. But right next to them were three tremendous size caverns which the Reptilians had. Not Grays, but Reptilians. Germany got two more, about a tenth the size of the big Reptilians [cavern]. They were able to … [go] down, usually by submarine. They built these flat submarines, these regular class, so they could ship all this stuff down. Here they were shipping stuff down, right after the turn of the century.
Whether they had convinced themselves that they didn't care or they weren't interested in the war, whatever it was, like the Vril Society, they had almost 90 percent of everything that it takes to build extraterrestrial vehicles, whether they were saucers or cigars.
They had that down to Antarctica by 1932. Some of it was going down. Not the main programs, but they had copies of everything that was necessary to build these. They were building these, in production, all over the occupied countries. The production facilities were [using] slave labor… The German population didn't know anything about this. It was all classified.
RW – Were the UFOs [built] in Germany or down in Antarctica?
WT – The people in Germany knew nothing about it. In Antarctica they knew everything.
RW – Where were the UFOs, the craft, being built? In Germany?
WT – They built the prototypes in Germany. They built pre-protype, something which is ready for production, in Antarctica. They put this stuff in production in the countries all over Germany [Occupied Europe], and they continued to build similar vehicles in Antarctica…
Now the question was asked whether did we ever get to the Moon? You see it was in some way, it was well known that the Germans had a number of vehicles that flew out and came back. One of the first ones, they got into trouble, they crashed and the whole group died. But that was almost all coming from Antarctica. Way before, four years before, the war ended, they were always moving all of this stuff out. And so the flights, almost everything came from Antarctica with the same people.
MS – So during the war years, from Antarctica the Germans were basically launching these craft, the Moon was one of many destinations they tried [reaching].
WT – Yes, I don't know if it was true or not, but it was stated by some of those fellows [Navy spies] that they had gone to other stars and come back.
MS – So that would be corroboration that the so called Andromeda Device which was based on some principle of teleportation actually was viable that they were able to use the Andromeda Device to get to other star systems like Alderbaran, and come back?
WT – Yes …
MS – In the next episode of ExoNews TV, we will hear from William Tompkins how the Nazis used slave labor in their hidden Antarctic bases, and that the Italian government had also developed a flying saucer program headed by the famous inventor, Gugliemo Marconi that was secretly operating out of hidden South American locations.
END TRANSCRIPT

---
Previous ExoNews TV Interviews with William Tompkins
US Navy Spies Learned of Nazi Alliance with Reptilian Extraterrestrials during WWII (for transcript click here, for introductory article click here )
Navy Disseminated Nazi Antigravity Secrets to Leading U.S. Companies & Think Tanks (for transcript click here, for introductory article click here )
Related Books
William Tompkins autobiography, Selected by Extraterrestrials, is available at Amazon.com
Michael Salla's Insiders Reveal Secret Space Programs and Extraterrestrial Life is available at Amazon.com
Copyright: Permission to freely distribute on Internet. Permission required for print & audiovisual reproduction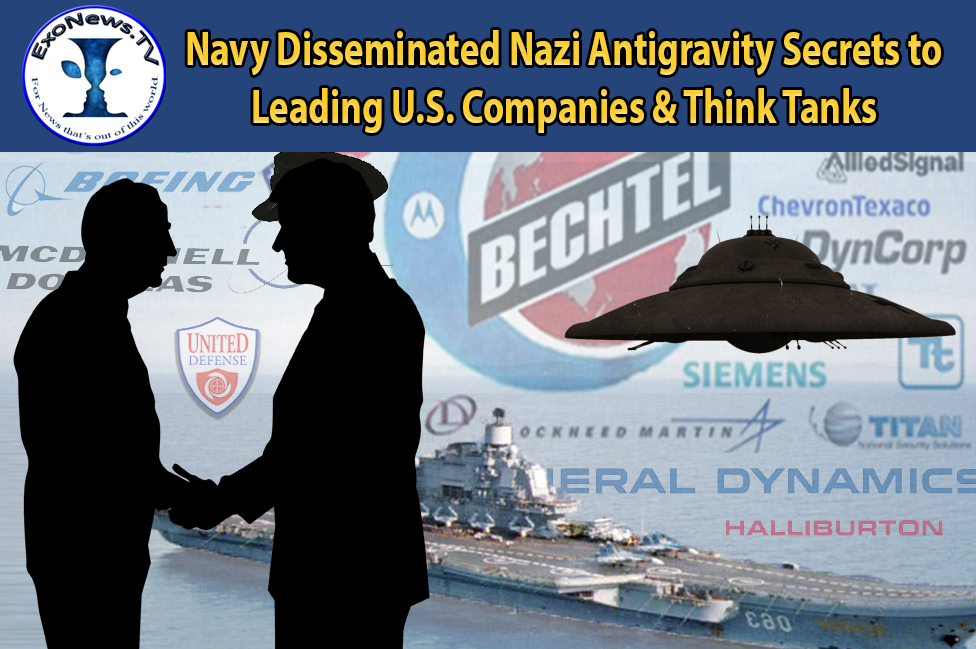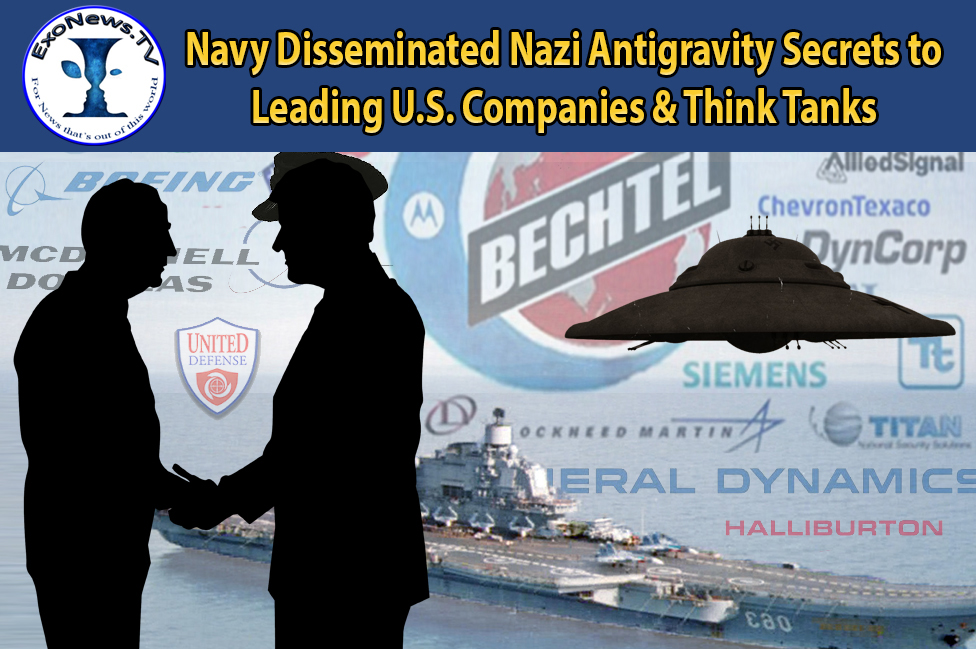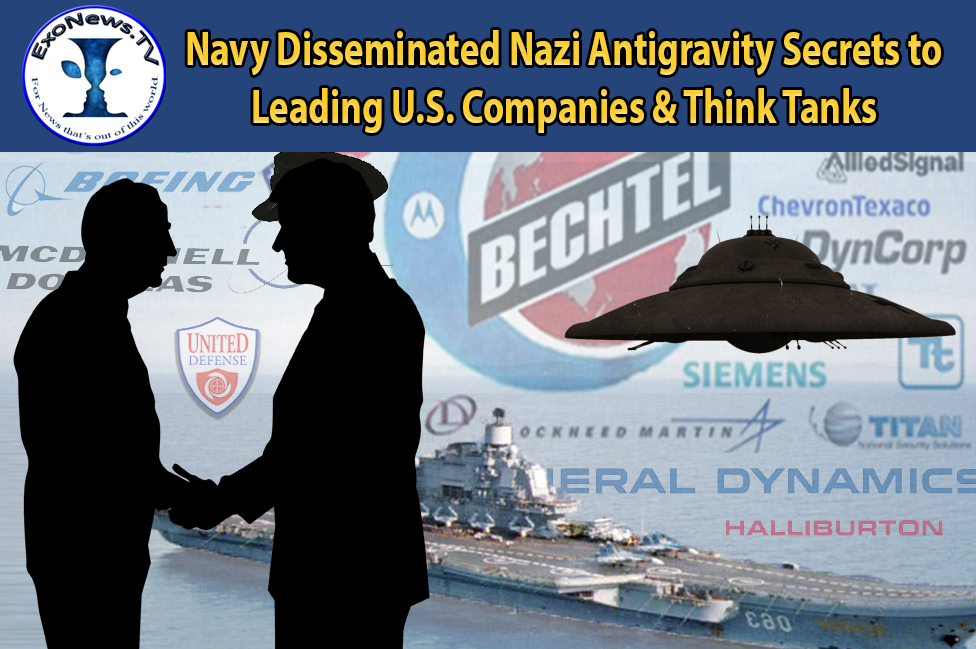 In this exclusive ExoNews TV interview series we hear directly from William Tompkins' about his work for U.S. Naval Intelligence during the Second World War. He reveals that he was directly involved in debriefings by Navy Spies embedded in Nazi Germany's most advanced aerospace projects – some of which involved antigravity flying saucers that were capable of space flight.
Tompkins job was to design intelligence briefing packets based on the Navy spies debriefings, and to then deliver these packages to leading U.S. aerospace corporations, think tanks and universities for study and evaluation.
Tompkins describes how from 1942 to 1945, he participated in over a thousand debriefings of U.S. Navy spies, who had been embedded in leading Nazi Germany aerospace corporations involved in building flying saucers. Disseminating this vital intelligence information to various U.S. aerospace corporations and universities was Tompkins primary responsibility.
Tompkins said that he served under Admiral Rick Obatta who was in charge of intelligence operations out of the Naval Air Station at San Diego, and three Navy captains who were specialists in different areas of Naval aircraft design, engineering, and procurement. In the interview, he describes some of the circumstances of the debriefings that he participated in.
The following interview extract features Tompkins answering questions from Dr. Robert Wood and I on the information he gained from the Navy operatives, the different corporations and thinks tanks he travelled to, and some of the aerospace technologies that were being secretly developed by the Nazis during the War.
Tompkins begins the interview by describing the small office where the debriefings of the Navy spies took place at Naval Air Station, San Diego.
© Michael E. Salla, Ph.D.
Permission to Circulate in Full
William Tompkin's autobiography. Selected by Extraterrestrials is available at Amazon.com
Further Reading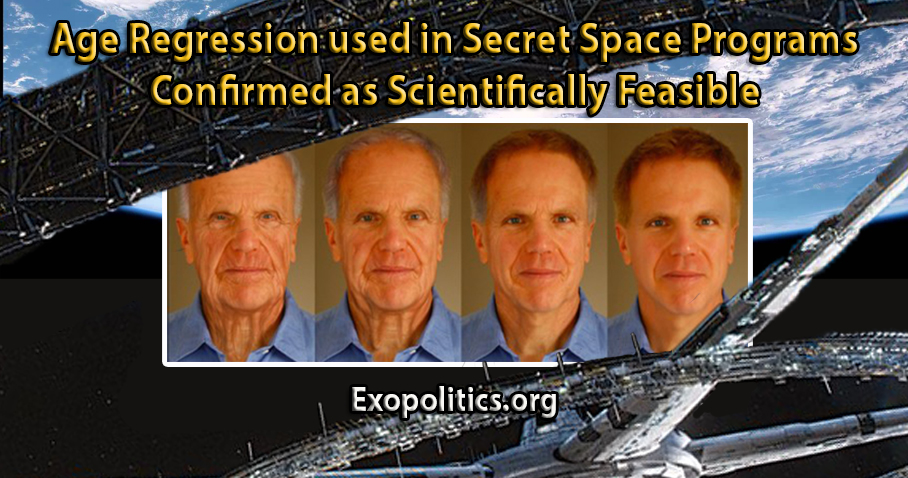 Due to recent breakthroughs in genetic research, the claims of three whistleblowers, who say they underwent an age-regression process in secret space programs, have become that much more plausible. The whistleblowers, Corey Goode, Randy Cramer and Michael Relfe, all say that they were age-regressed to become 20 years younger at the end of their respective tours of duty in secret space programs.
Recently, geneticists have identified the genes that control the aging process, and in stunning experiments, the results of which have been released in peer reviewed scientific journals, have demonstrated that they were able to reverse the aging process to varying degrees of success.
The results of these experiments make it plausible that the three whistleblowers did indeed undergo an age-regression process using classified medical technologies in secret space programs, as they claimed.
The lead genetic scientist in the publicly announced age reversal studies is Dr. David Sinclair, who discussed in an interview the results of his genetic experiments first conducted on mice:
We've discovered genes that control how the body fights against ageing and these genes, if you turn them on just the right way, they can have very powerful effects, even reversing ageing – at least in mice so far…  We fed them a molecule that's called NMN and this reversed ageing completely within just a week of treatment in the muscle, and now we're looking to reverse all aspects of ageing if possible.
He explained how this process could also be done safely for humans:
We've gone from mice into early human studies actually. There have been some clinical trials around the world, and we're hoping in the next few years to know if this will actually work in people as well … They show that the molecules that extend lifespan in mice are safe in people.
Professor Sinclair went on to say in his interview that drugs based on the nicotinamide mononucleotide (NMN) molecule could be successfully developed "to restore youthfulness in human cells."
Sinclair's view that NMN based drugs will eventually be developed for safe use by humans is stunning in its implications. He may well be in the midst of developing the fabled elixir of life, which accounts for him quickly being elevated into the world's 100 most influential people according to Time Magazine.
It's important to point out that Sinclair's pioneering genetic research is open source and unclassified. This means that is very likely, if not almost certain, that classified research in the field of age reversal/regression technology is far more advanced than anything achieved by Sinclair and his peers.
In several private interviews with William Tompkins, a former U.S. Naval Intelligence operative who subsequently worked with leading aerospace contractors for more than four decades, he revealed that he worked on a classified study developed by the company, TRW, on age regression drugs from 1967-1971.
Tompkins said that he first came across the development of age-regression technologies when he participated in the debriefings of U.S. Navy spies, from 1942 to 1945, at the Naval Air Station, San Diego. These spies revealed the existence of age-regression studies that were then secretly underway in Nazi Germany.
At the time, Tompkins job was to distribute briefing packets to U.S. companies and think tanks with expertise in the areas used by the Nazis for developing their breakthrough technologies. Tompkins said that the Massachusetts Institute of Technology (MIT) was among the academic research centers delivered briefing packets by him. Therefore it is possible that scientists at MIT have been aware of the Nazi age-regression studies since 1942!
Significantly, Sinclair's breakthrough in age-regression studies was achieved while he was a post-doctoral fellow at MIT under Dr. Leonard Guarente at M.I.T.  Was this merely coincidence, or was Sinclair helped or encouraged while at MIT to develop the insights into the age reversal potential of genetic manipulation?
Recently, Tompkins has privately disclosed to me that classified "age-regression" drugs have been developed. He says these drugs have been used for some time in the "20 year and back" tours of duty in secret space programs. This is consistent with the age-regression process described by Goode, Cramer and Relfe, which involved medication administered to them over a two week period where they were physically immobilized.
Even more recently, Tompkins says the drugs have been refined so that they can be used for more extensive age-regression periods. For example, reversing a 90 year old back to where s/he has the physical body of a 27 year old is now possible. Tompkins says that there is a covert U.S. Navy sanctioned disclosure process underway to release these age-regression technologies into the public sector. It is, therefore, possible that Sinclair's research may have been stimulated by this covert Navy initiative during his time at MIT.
At the very least, Sinclair's pioneering age-reversal experiments and identification of the NMN molecule that can be used for developing "age-regression" drugs means that the claims of Goode, Cramer and Relfe no longer appear so outlandish, and are indeed scientifically feasible.
© Michael E. Salla, Ph.D. Copyright Notice
Further Reading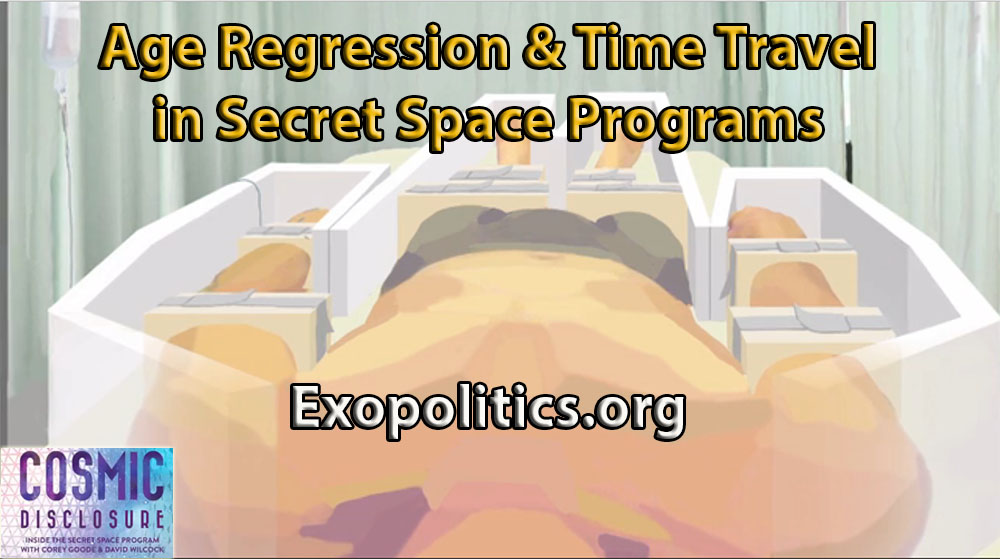 In yesterday's episode of Cosmic Disclosure, Corey Goode described the age regression and time travel technologies used for his "20 [years] and back" tour of duty in several secret space programs. He comprehensively detailed the process used as a standard operating procedure for the many thousands recruited into these programs, and then returned back to 'normal' civilian or military life at the time of their initial recruitment, with their memories wiped.
This is not the first time Goode has discussed the physical age regression and time travel used in the secret space programs. In my email interview with him published on April 14, 2015, he first publicly described at length the standard operating procedure used for the "20 and back" tours of duty."
His account was compared with another alleged secret space program whistleblower, Randy Cramer, who explained an almost identical age regression and time travel process to Goode's. Cramer, like Goode, claims the processing happened to him in 2007 at a secret base on the Moon, called Lunar Operations Command.
In the highly popular Insiders Reveal Secret Space Programs and Extraterrestrial Alliances, Goode's and Cramer's testimonies are compared with another whistleblower, Michael Relfe, who was the first to claim having an experience of a "20 and back" tour of duty with a secret space program. Relfe described serving from 1976 to 1996, before being age regressed and time traveled back. His testimony first publicly appeared in 2000 in the two volume book, The Mars Records.
Goode's account of the age regression and time travel process for the "20 and back" program in the March 22 episode of Cosmic Disclosure offers additional information to what has been previously described by him and other whistleblowers. His most recent testimony is therefore very helpful in better understanding what appears to be the standard operating procedure used in secret space programs.
Goode described the process at the end of a 20 year service term, they were first debriefed, made to sign non-disclosure agreements, and given assurances that they would be looked after once they returned. They were also promised many benefits such as scholarships, financial reimbursements, etc. Goode said that none of these promises made to him were kept. This is identical to the claims made by Relfe and Cramer regarding what they were promised before undergoing the age regression process.
Goode described how he was physically immobilized for two weeks, while a variety of pharmaceutical products were used on him. The Cosmic Disclosure episode provided an artistic depiction of how he looked while he was in this immobilized state. At the end of the two weeks, Goode described waking up feeling groggy, but now being 20 years younger.
Significantly, when he awoke, his physical environment was completely different since he had been time traveled back 20 years, to when he first began his secret space program service. He describes then being again debriefed, having his memories wiped for the first time, and finally he had screen memories put in place. Goode was then transported back to only a few minutes after he was first taken in 1986, just before his 17th birthday.
Goode said that people recruited to the "20 and back" tours of duty were either civilians as in his case, or serving members of the U.S. military, who have been covertly recruited during their normal military service. This is consistent with Relfe's claim that in 1976 he enlisted in the U.S. Navy, and was then covertly recruited into a secret space program.
Upon his return, after serving out his "20 and back" tour of duty, Relfe says that he next completed his six year service in the Navy, and was honorably discharged in 1982. Relfe has documentation to confirm his military service, but has not yet released this into the public arena.
Goode described how upon his own return in 1986, from his "20 and back" service, he first woke up as a sixteen year old feeling confused, and then after several weeks, started regaining the bulk of his memories.
Goode says that he was among a small group of people who the blank slating technologies simply didn't work on, despite repeated efforts. In our April 2015 interview, he elaborated on why he decided to withhold telling others about his memories due to the chaos this would cause him, and the likely intervention of those covertly monitoring him. He described how others who regained their memories would either be re-abducted and put through the blank slating process again, intimidated into keeping silent, or eliminated.  
Goode says that for many others, who have completed the standard "20 and back" tours and subsequently undergone the blank slating process, they start to regain all of their memories after 20 years in "normal life" has elapsed.  It is very significant here that both Relfe and Cramer, experienced "total recall" after 20 years had passed since their secret space program service.
At this stage, it is worth asking what evidence exists to support Goode's incredible claims about the existence of age regression technologies used for "20 and back" tours of duty? So far, we have the independent whistleblower testimony of two others, Relfe and Cramer, who claim that they experienced an almost identical process.  
In Insiders Reveal Secret Space Programs, I analyze their respective claims and conclude that there is no cross contamination of their testimonies, and that each is offering a truly independent account of what they recall had happened to them during their 20 year tours of duty. While their testimonies are compelling, and help to corroborate Goode's recollections, it is fair to say that conclusive evidence has still not been found.
However, this situation appears to be changing with the emergence of the latest whistleblower testimony of William Tompkins, who has provided documentation to support his participation in a variety of U.S. Navy and aerospace corporate projects related to secret space programs. His book, Selected by Extraterrestrials, provides some of Tompkins documentation to back up his incredible claims.
Significantly, in my private interviews with Tompkins, he has described the development of age regression technologies by one of the aerospace companies he worked with. Tompkins says that while he worked with TRW from 1967 to 1971, they began developing age regression technologies based on information gained from Nordic extraterrestrial groups that were helping in the development of the U.S. Navy's Solar Warden space program.
Tompkins said he assisted TRW in developing age regression technologies, using his expertise in systems engineering to help coordinate the different groups and departments covertly involved in the project. Tompkins described these technologies as pharmaceutical in nature, which is consistent with the testimonies of Goode, Cramer and Relfe who state they underwent multiple injections of pharmaceutical products.
Tompkins is presently writing about his experiences at TRW and its involvement in the development of age regression technologies in what will be the second volume of his autobiography. Significantly, TRW was taken over by Northrup Grumman in 2002, which is the corporation, according to Tompkins, primarily involved in building secret space carriers and battle groups today.
Importantly, Northrup Grumman is now also involved in developing the age regression technologies for personnel recruited into secret space programs. According to Tompkins, age regression will be among a select group of technologies, including free energy and antigravity, which are planned to be publicly disclosed in the next few years due to a U.S. Navy sanctioned disclosure initiative dating back to 2001, if not earlier.
Corey Goode's latest Cosmic Disclosure episode is a detailed exposé of a range of technologies used for "20 and back" tours of duties. The corroborating support of both Relfe and Cramer's prior whistleblower testimony reveals the standard operating procedure used for the application of age regression technology in secret space programs. Finally, Tompkins' testimony casts significant light on the historical research and development of age regression technology, and of covert plans to soon release this previously highly classified information into the public arena.
© Michael E. Salla, Ph.D. Copyright Notice
Further Reading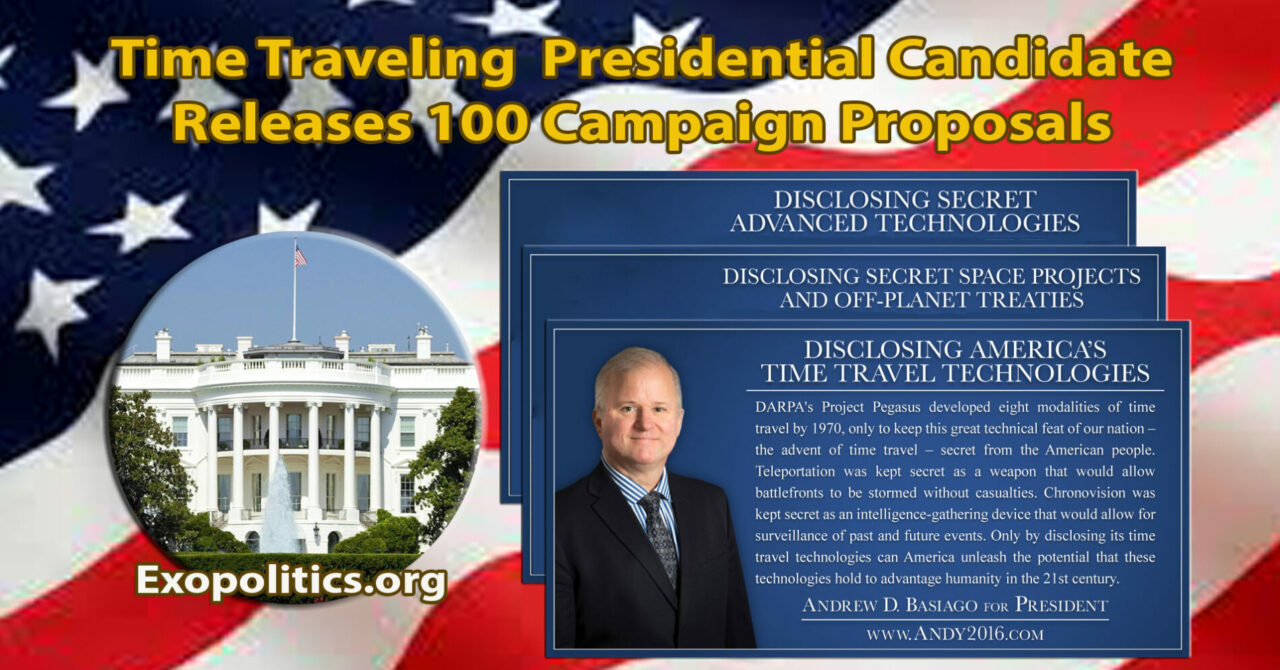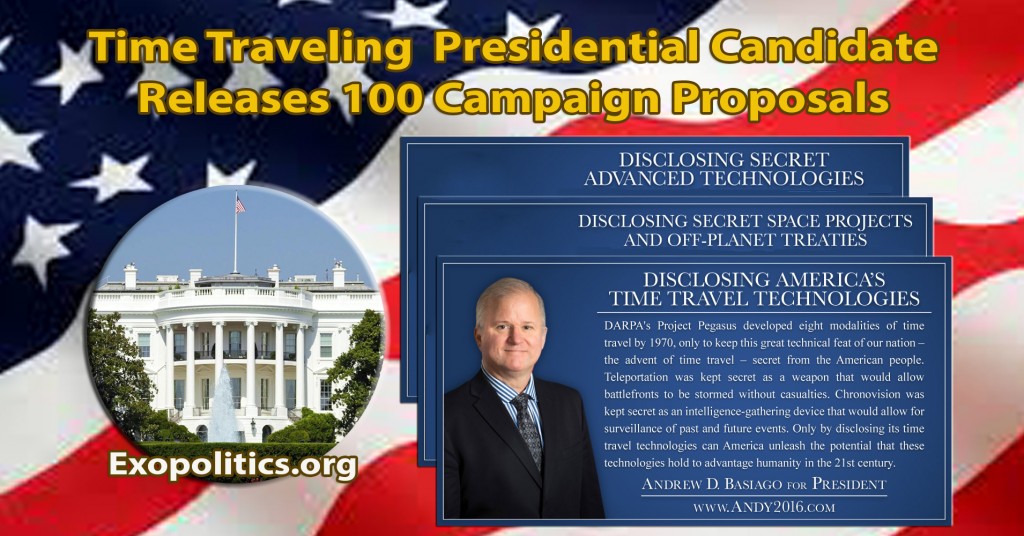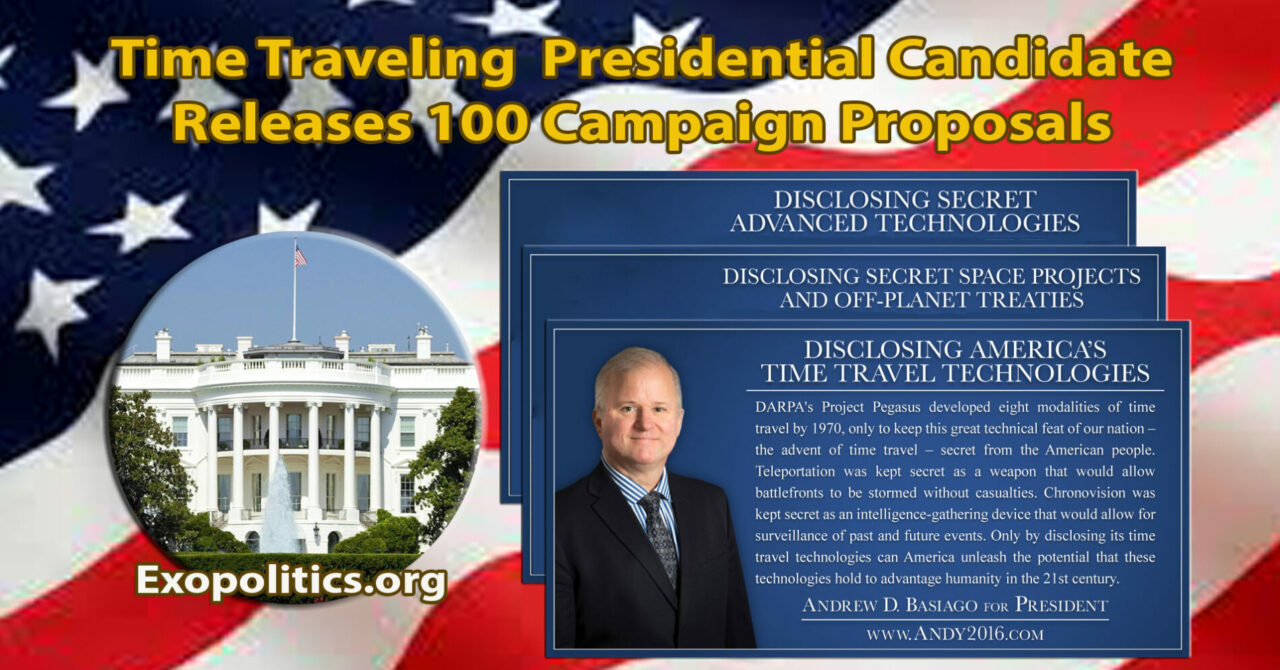 Andrew Basiago, who claims to have participated in two DARPA/CIA classified programs involving time travel and teleportation to Mars, has released 100 proposals on highly alternative issues for his 2016 Write-In Presidential campaign. In putting forth a policy platform based on his alleged experiences, he is offering a template for a future post-disclosure Presidential campaign to include public policy debates over the uses of highly advanced technologies and the existence of extraterrestrial life.
Basiago's proposals contain many positive and progressive insights regarding classified programs that deserve widespread public support. His proposals concerning the disclosure of extraterrestrial life, classified technologies, secret space programs and the truth about Bush administration foreknowledge of the 911 attacks, make for refreshing reading given the more mundane public policy proposals of mainstream political candidates.
It is therefore worthwhile to examine a few of his key proposals in light of what other independent whistleblower sources and documents have revealed about classified space programs and exotic travel technologies.
First, it is important to point out that there are many who are still not convinced that Basiago is a genuine whistleblower and/or is part of a sophisticated psychological operation by the CIA and other agencies. In a series of articles (see here, here and here) investigating documentary and other whistleblower testimonies, I found impressive evidence to support his key claims of being a participant in two CIA/DARPA run classified programs.
My main reservation was that Basiagio, by his own admission, is part of a CIA sanctioned disclosure initiative to reveal classified time travel, teleportation and space program activities. His "grooming" as a predicted future President by CIA 'White Hats', who included his deceased father, Raymond Basiago, raises specific concerns about his 2016, and future, Presidential campaigns.
In particular, does Basiago's perspective about the CIA's historic role in classified advanced technology programs reflect an agenda to skew public perception in order to preserve the CIA's existence in a post-disclosure world? By focusing on our volatile world's intrinsic need for the CIA's intelligence gathering using classified technology programs, he believes this makes it indispensable and worth reforming as a "super-university," despite its nefarious history in covert operations and the abuses that occurred, as his following proposal advocates.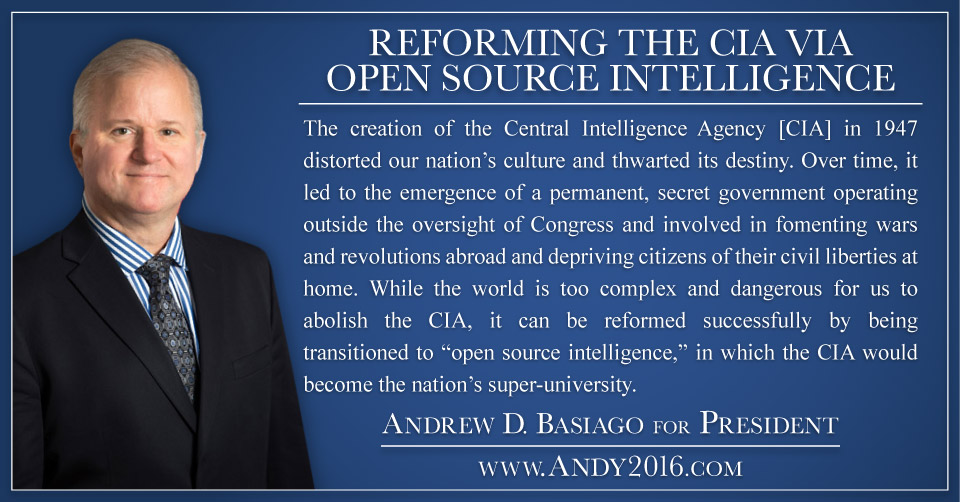 I have to disagree with Basiago. A more suitable policy would be to abolish the covert operations branch of the CIA (National Clandestine Service) and have its functions taken over by the U.S. military. Military officers, who swear allegiance to the U.S. Constitution, are more likely to maintain constitutional principles in covert operations than CIA operatives. The latter have participated in illicit activities including the drug trade, as documented by Garry Webb in his book, Dark Alliance.
Basiago's major contention is that the CIA used time travel technologies for intelligence gathering purposes in a variety of scenarios, including predicting and influencing future Presidents. In this regard Basiago proposes: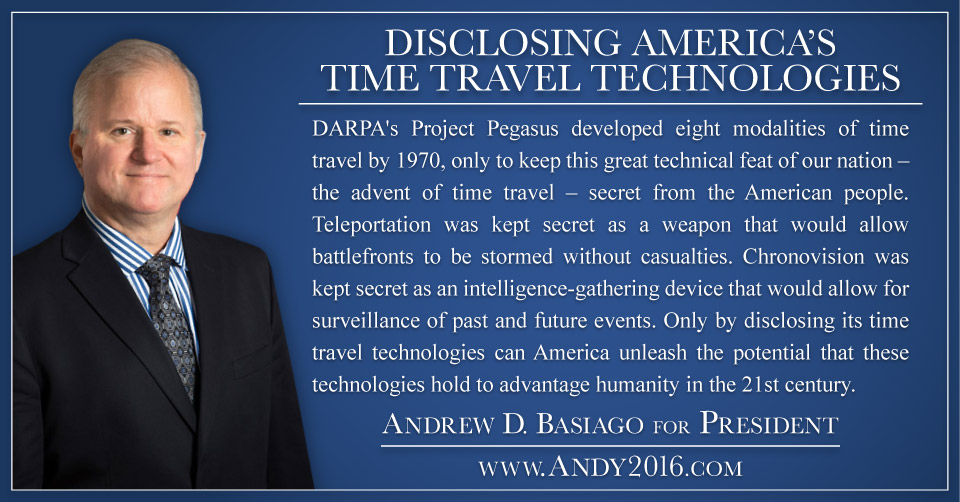 Basiago's proposal to disclose classified time travel technologies has much merit, and could lead to many benefits. In particular, his description of "Chronovision" technology – based on holographic interaction with possible future events – would bring in a predictive element into ordinary people's lives that could help them make better career and personal choices. On the other hand, such technology could also be easily abused by a police state that decides to use it as a tool for law enforcement; to preemptively act against perpetrators of predicted crimes as depicted in the popular movie, The Minority Report.
Another of Basiago's proposals elaborates on teleportation technologies. He says: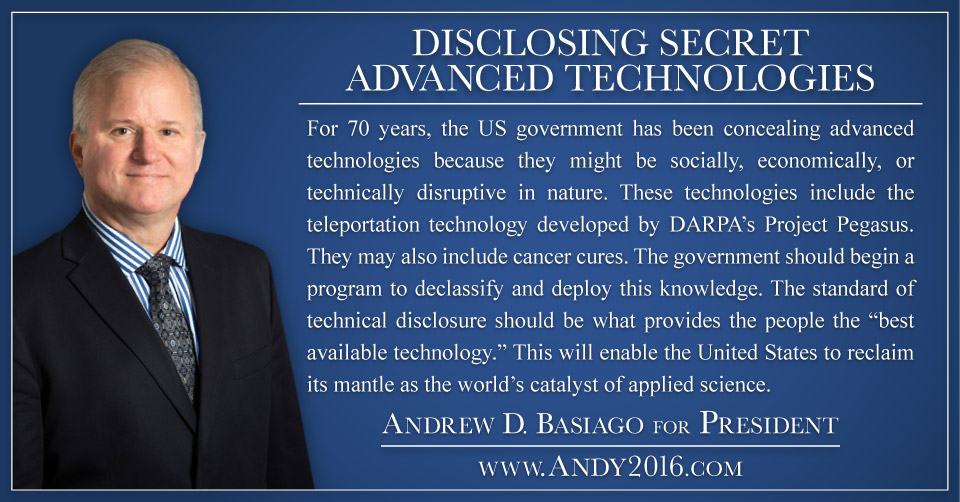 Basiago dates these secret teleportation technologies to the 1940's, more specifically to the 1943 Philadelphia Experiment. This is consistent with other whistleblower and researcher claims regarding how the U.S. Navy accidentally discovered teleportation allegedly during the development of a radar invisibility program.
In Basiago's version of the historical development of teleportation technology, it was too dangerous to develop at the time and was shelved until better understood. It was roughly 25 years later that teleportation was operationalized as a safe means of transportation for personnel in classified programs.
Basiago claims that the breakthrough in developing teleportation technology for operational purposes came through the Ralph M. Parsons company that cooperated with the Advanced Research Projects Agency (later renamed DARPA) and the CIA. In an affidavit, he asserted that in 1967-68, teleportation became "fully operational in the secret realms of the US defense-technical community." Basiago says that in 1967-68, he was the first American child to be teleported when his father, Raymond, inducted him into the Project Pegasus program.
According to Basiago, Mars soon became an important teleportation destination, and this allowed the development of colonies there whose existence ought to be disclosed as his following proposal advocates: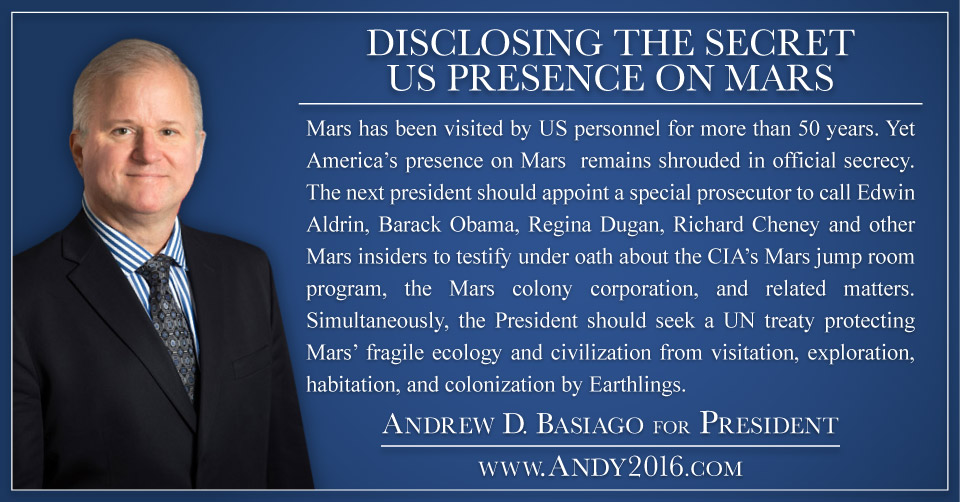 Basiago cites, as independent support for the development of teleportation as a means of space travel used in classified programs, the testimony of Michael Relfe. Relfe has claimed that in 1976, he was teleported to Mars in a 20 year and back program, which was documented in the two volume book, The Mars Records. Later, in 1980, Basiago claims that he was part of a CIA run teleportation program to Mars. Basically, Basiago's version of teleportation technology as an operational program dates to 1967/68 when Project Pegasus began.
More recently, other whistleblowers have emerged that provide an alternative historical version of the development of teleportation technology and its operational use for traveling to Mars and elsewhere. Corey Goode claims that teleportation was first developed by scientists working for the Nazi SS and/or German Secret Societies during the Second World War. Subsequently, from hidden bases in Antarctica and South America, the Nazis used teleportation technologies to travel to the Moon, Mars and other distant locations.

Goode described in some detail how the Germans relied heavily on the use of teleportation for transporting equipment before it could be safely used for personnel. After secret agreements had been reached between the Eisenhower Administration and the Nazi/German Secret Societies in the 1950's, Goode describes extensive cooperation in the colonization of Mars through teleportation:
It wasn't until the '50s that they were able to start transporting people consistently without them suffering. I believe they called it temporal dementia. People would teleport intact from here to Mars. They would look fine, but then after a number of days, they would suffer some sort of dementia, they would call temporal dementia. And the Germans did a lot of work in this field that helped us figure out how to do this properly– them working alongside their ET allies.
Another more recent whistleblower, William Tompkins, publicly emerged in December 2015 with impressive documents to support his claims that Nazi Germany had achieved numerous technological breakthroughs. In a February 25 interview with the writer, Tompkins revealed that these breakthroughs included the development and use of teleportation technology.
Tompkins learned of Germany's scientific achievements through Navy spies embedded in advanced technology programs run by the Nazis during World War II. In his book, Selected by Extraterrestrials, Tompkins describes his attendance at debriefings of the spies at the Naval Air Station in San Diego from 1942 to 1945. Tompkins job was to subsequently disseminate the information in these debriefings to any U.S. industries, and think tanks capable of understanding and reverse engineering these Nazi programs.
If we accept Goode and Tompkins testimonies as accurate, then teleportation technology was successfully developed and operationalized in the 1940's by the Nazi regime, 25 years before the onset of the CIA/DARPA run Project Pegasus program in 1967-1968. Getting the history right when it comes to the successful development and use of teleportation technology becomes relevant when another of Basiago's proposals is examined. He says: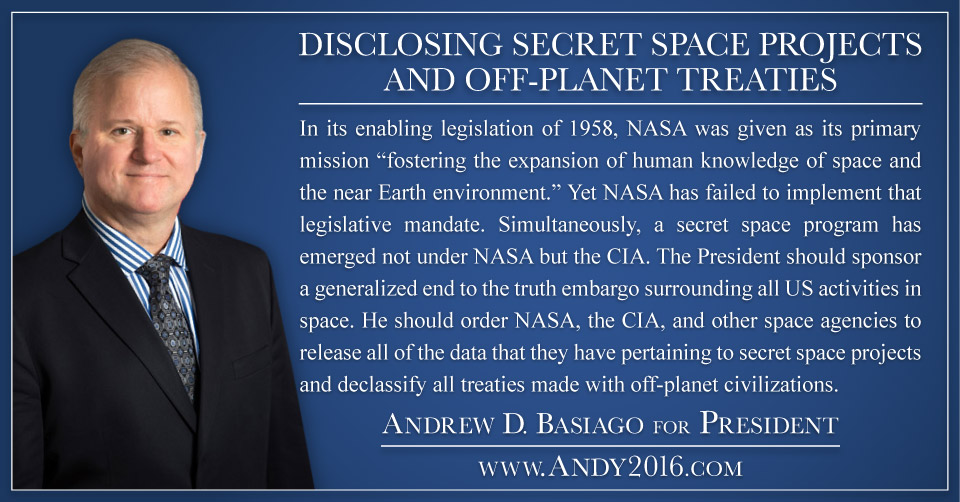 Here, Basiago is claiming that the CIA's classified development and use of teleportation technology for off-planet travel occurred at the same time that NASA began operations in the 1960's. He is suggesting that the real "secret space program" is run by the CIA and not NASA.
This claim raises a number of problems when it comes to genuine "Disclosure of Secret Space Projects" as Basiago's above proposal is asserting. According to Goode and Tompkins, the era of secret space programs began with the Nazis/German Secret Societies in the 1930's/1940's, and then involved different branches of the U.S. military setting out to replicate these German technological achievements.
According to Goode, the U.S. Military Industrial Complex began cooperating with the German Breakaway space program in the 1950's. In a similar vein, Tompkins says the Douglas Aircraft Company and other corporations and think tanks began working in the 1950's on antigravity space craft, while being fully aware of the rival secret German space program operating out of Antarctica and South America.
Indeed, Tompkins describes in his book, Selected by Extraterrestrials, how the Nazis were sabotaging the Apollo program. Support for Tompkin's claim comes from another veteran aerospace whistleblower, Clark McClelland, who says he personally witnessed Nazi SS general Hans Kammler at the Kennedy Space Center, and that Operation Paperclip scientists were being intimidated by the Nazi SS even during the 1960's!
Despite Nazi infiltration and sabotage, the first U.S. Navy space battle groups would finally be deployed in the mid-1980's according to Goode and Tompkins. They each say the Navy's secret space program was called Solar Warden. Prior to the deployment of the Navy space battle groups, the Navy and U.S.A.F had successfully developed antigravity prototype spacecraft that could achieve short range space missions.
It is very likely that Basiago was simply not briefed about the real history of secret space programs and the role of the Nazis/German Secret Societies in pioneering teleportation and antigravity space craft, and of the U.S. military industrial complex playing catch up ever since World War II.
It is very concerning, however, that Basiago is making a case that the CIA was running the real "secret space program" via teleportation technologies since 1960's. The truth is much more likely that the CIA program was an intelligence gathering operation that was also a useful cover for secret space programs associated either with the Nazi/German breakaway space program, or the Solar Warden program being developed by the U.S. Navy.
Basiago's run for President evokes mixed responses from the UFO and exopolitical community. There are legitimate concerns about the role of CIA in grooming Basiago to run as a predicted future President, as allegedly also occurred with Barack Obama. This raises the possibility that Basiago's experiences have been shaped over a long term period in a very sophisticated psychological operation designed to make him an advocate of a disclosure agenda supported by CIA 'White Hats'.
On the other hand, Basiago is very sincere, educationally highly qualified, and an articulate spokesperson for the Disclosure movement, who very likely has genuinely been involved in classified CIA/DARPA programs for close to 50 years. Andrew Basiago's 100 proposals for his 2016 Presidential campaign, therefore, deserve serious scrutiny and debate by all seeking the truth about the history of advanced time travel and teleportation technologies, and the origins of secret space programs.
Michael E. Salla, Ph.D. Copyright Notice
Further Reading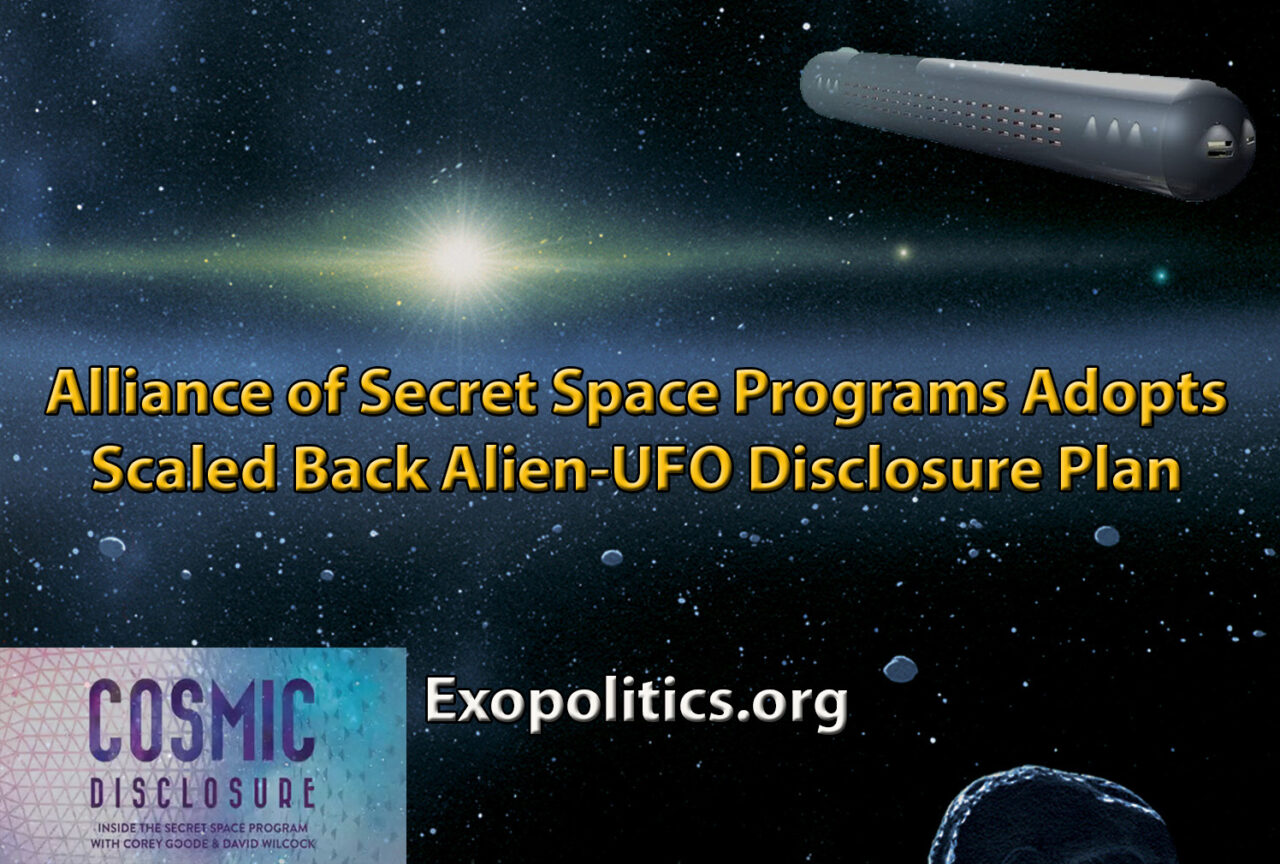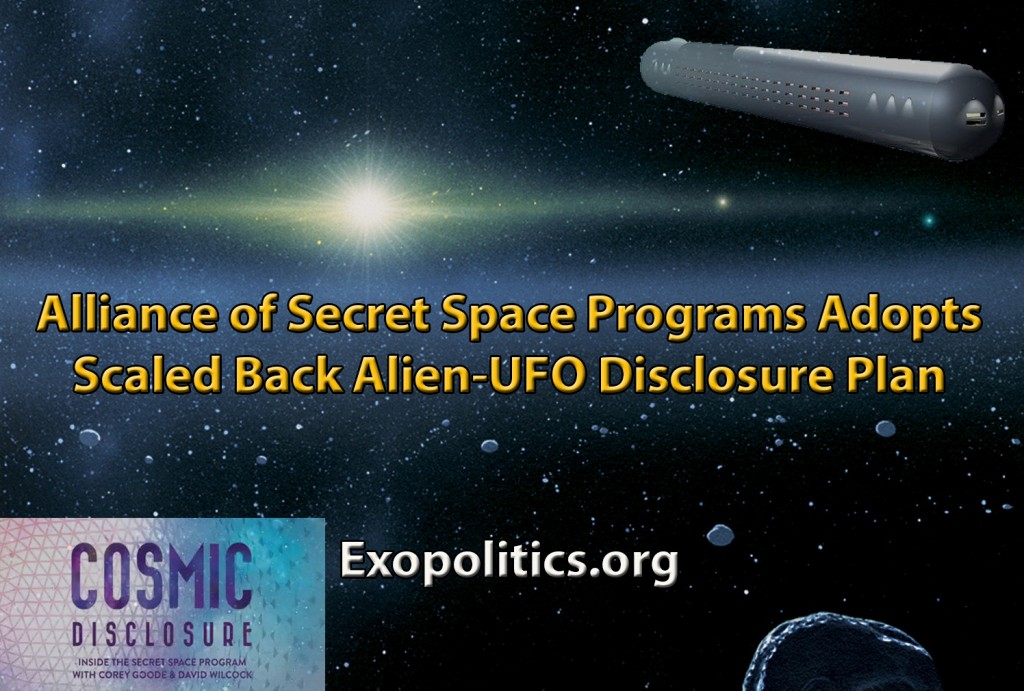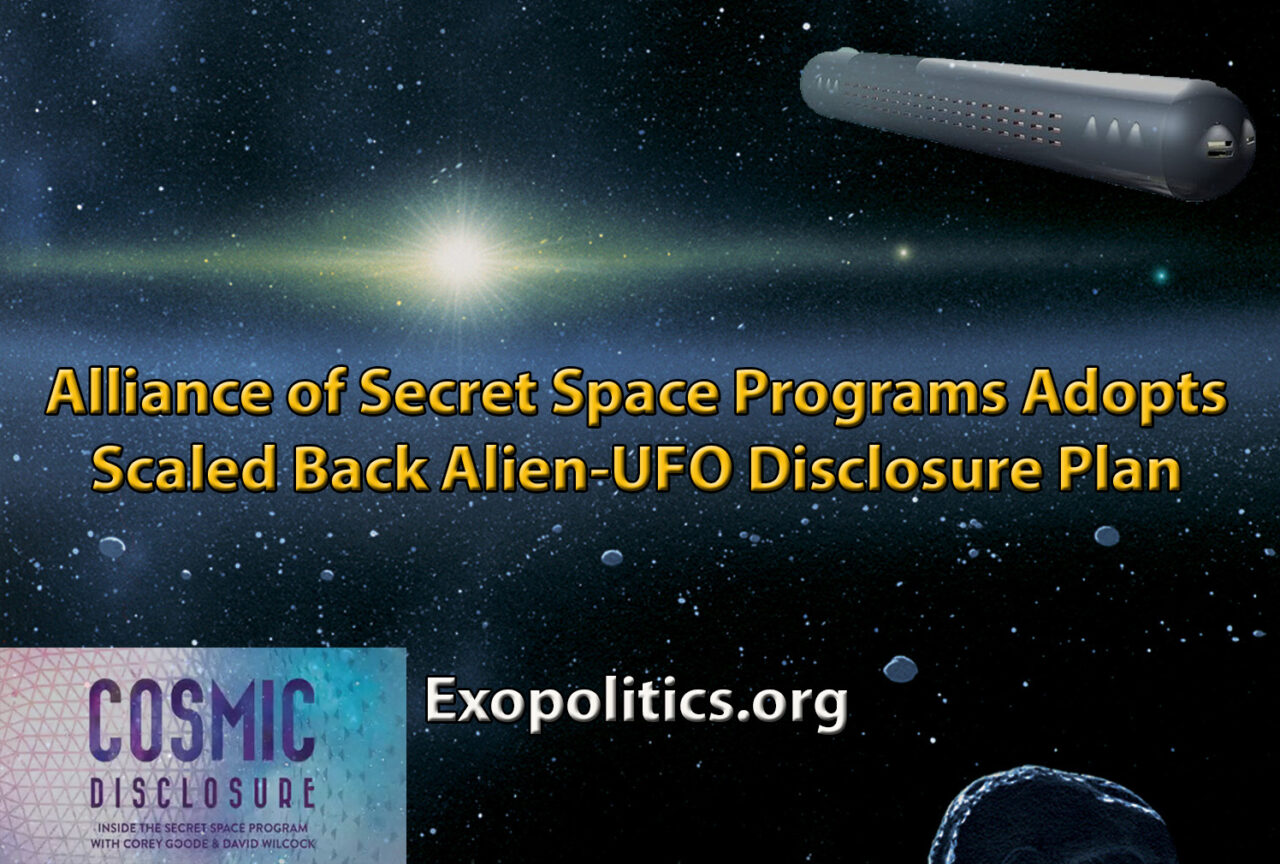 In today's episode of Cosmic Disclosure, whistleblower Corey Goode describes the discussions and dynamics of a meeting he claims to have attended at a hidden space base in the Kuiper Asteroid Belt where a plan for disclosing the existence of extraterrestrial life and secret space programs was being decided. If Goode's stunning revelations are accurate, as available evidence so far suggests, then humanity is beginning to witness a highly cordinated disclosure process, only recently approved by select clandestine organizations.
Goode claims that he was taken to the base for the purpose of debriefing a Secret Space Programs (SSP) Alliance Council meeting about his September 2015 visit to an ancient Inner Earth library. In earlier Cosmic Disclosure episodes, Goode revealed that he was taken to the Inner Earth library by a High Priestess called "Kaaree" who pointed out some of its contents along with some startling revelations.
Among these was that Zecharia Sitchin had used contrived information in his Earth Chronicles series of books. This did not appear to be a surprise to the SSP Alliance Council, presumably because they had access to the same data base found on the smart glass pads from which Goode says he first learned about Sitchin's fabricated information during his space program service from 1987 to 2007.
According to Goode, the SSP Alliance Council comprises representatives from the Solar Warden program along with defectors from rival space programs, previously described by him as the Dark Fleet, Interplanetary Corporate Conglomerate and smaller Space Access Programs possessing off-planet travel technologies.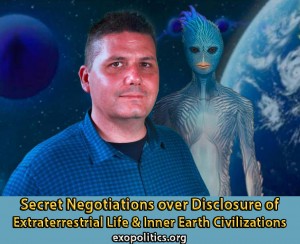 There were approximately 60 Council members in attendance during Goode's debriefing, a number of whom are antagonistic to Goode's continued involvement as a delegate for the Sphere Being Alliance of extraterrestrials, who appointed him to that position in March 2015. Some Council members believed Goode was leveraging his role with the Sphere Begin Alliance to gain greater influence over Council deliberations.
The SSP Alliance Council has been conducting secret negotiations with an "Earth Alliance", over the extent to which a large cache of documents should be released that reveals the existence of secret space programs and extraterrestrials, the history of Cabal/Illuminati policies in controlling such information, and crimes committed by the Cabal/Illuminati.
He described the Earth Alliance as comprising many dozens of international entities opposed to the Cabal/Illuminati. These include Asian secret societies, small militias, and groups with access to hidden treasures and information. Many of these entities have strong connections to major BRICS countries, such as China, whose interests they wish to promote.
Goode pointed out that while the SSP Alliance Council and the Earth Alliance have the same goal – full disclosure and release of advanced technologies – they have very different agendas over how to achieve this aim. Many in the Earth Alliance want to spread out disclosure of the truth over a 100 year period, and in the meantime allow China and other Eastern nations to become the new hubs of international business and high finance.
He pointed out that while the Earth Alliance and the SSP Alliance represent the full spectrum of humanity, they have been deeply fragmented in negotiations over what should be done to disclose the truth to the rest of humanity. Many in the Earth Alliance believe it would be irresponsible and foolish to move forward with a massive document dump, which would overwhelm the populace.
Another issue discussed was that the Earth Alliance has been infiltrated by Cabal/Illuminati operatives who have been given access to all of the documents that have been prepared for dumping into the public arena at some point. This was of a cause of great concern for the SSP Alliance Council, who believed that it would enable the Cabal/Illuminati to devise ways to neutralize the impact of such documents at the time of their eventual release. Goode said that the Cabal/Illuminati has taken steps to prevent another Snowden-like release of documents to the mass media.
He described how one possible solution to the roadblocks over full disclosure, such as the SSP Alliance de-cloaking large ships over the Earth, was not viable. Goode explained that a planetary defense grid was still under control of the Cabal/Illuminati, and they would shoot the SSP ships out of the sky.
At this time it is hard fathoming how full disclosure through massive document dumps can be achieved in the current scenario as described by Goode. Earlier, he stated that a global event, such as an economic collapse, was needed as a catalyst before full disclosure could occur. That may be, but the ability of the Cabal/Illuminati to infiltrate opposition groups along with its control over the mass media suggests that the optimal conditions may not occur, as once anticipated by the SSP Alliance Council.
This is especially true if the demands of the BRICS nations are met, thereby leading to a global financial reset that provides some relief to the world populace, while maintaining major elements of the current international economic order. Earth Alliance Groups, representing BRICS interests, have been opposed to a quick release of all the documents the SSP Alliance Council has accumulated.
More recently, after the earlier taping of the Feb 23 episode, Goode has publicly revealed that a decision has indeed been reached to move forward with a partial disclosure plan. He says that whistleblowers are currently being groomed to come forward to give their testimonies, and release supporting documents.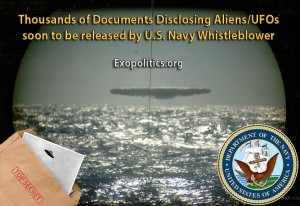 This has been exemplified very recently by a new whistleblower coming forward who has given a detailed report to the MUFON organization backed up by an extensive collection of documents from his/her time serving with the U.S. Navy. MUFON is expected to release a report soon with their evaluation of the whistleblower's testimony and documents.
In December 2015, William Tompkins (now 92) released his autobiography detailing his involvement in a secret U.S. Navy effort to build a fleet of spacecraft that would eventually be called Solar Warden. Tompkin's testimony is bolstered by many documents which he has released with the support of key officials in the U.S. Navy familiar with the Solar Warden space program.
Tompkins, and the yet to be revealed navy whistleblower who gave his report to MUFON, are harbingers of what we can expect from more whistleblowers who will come forward with documentation and covert backing by the U.S. Navy, and clandestine organizations revealed by Goode, such as the SSP Alliance Council and Earth Alliance, to disclose what they know about extraterrestrial life and secret space programs.
© Michael E. Salla, Ph.D. Copyright Notice
Further Reading
Click here for Feb 23 Cosmic Disclosure episode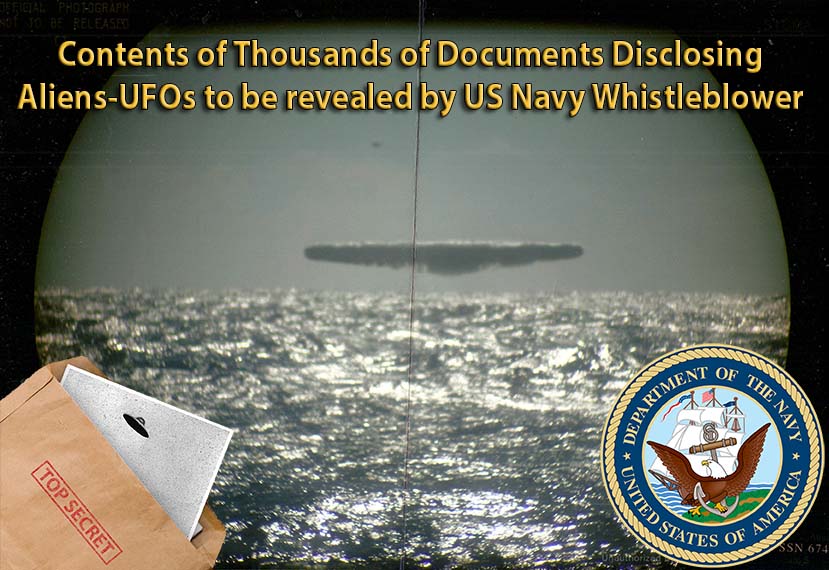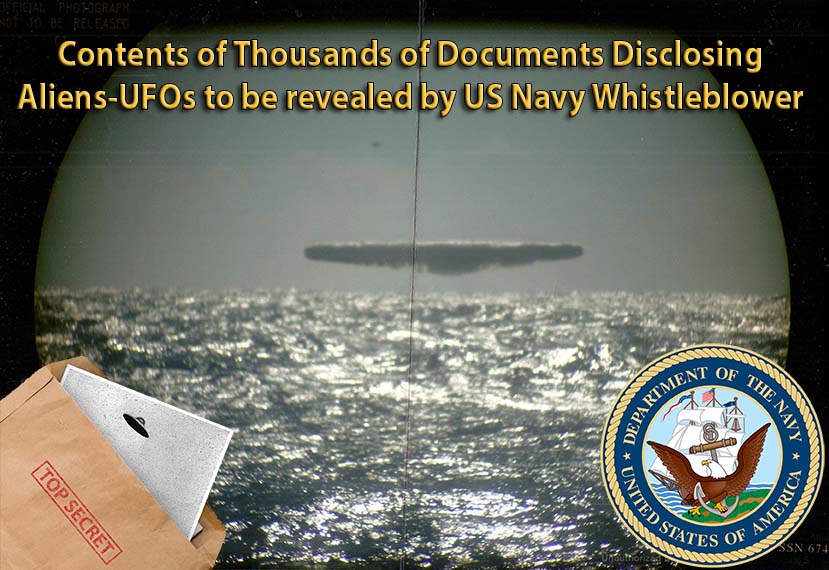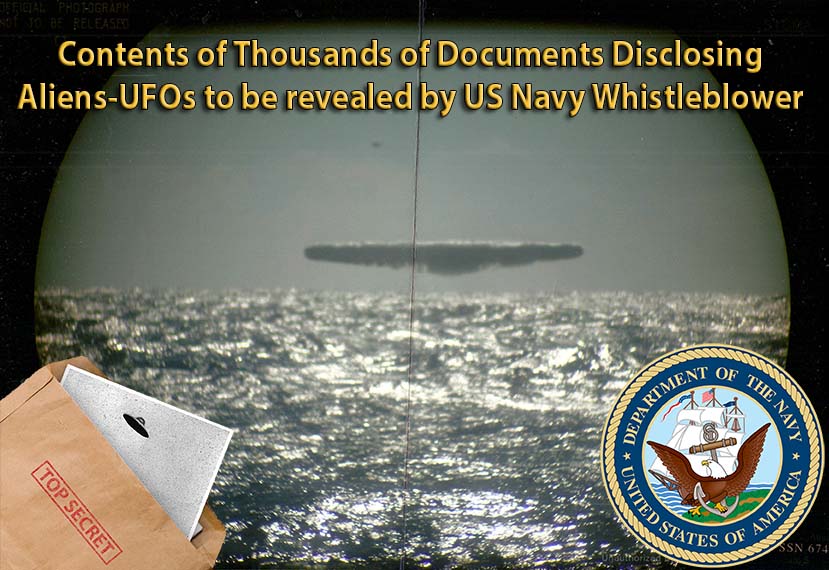 On February 15, Britain's Express newspaper announced that a new whistleblower is soon to reveal the contents of thousands of documents concerning extraterrestrial life. Nick Pope, a former government official that led an investigation by Britain's Ministry of Defense into UFO files for three years, has declared that the whistleblower is a genuine insider.
The Express described the whistleblower as a third-class petty officer with the U.S. Navy who worked for three years (1986-1989) at the Naval Telecommunications Center within the former Naval Air Station at Moffet Field, near San Francisco, where he gained access to the documents.
The whistleblower, according to the Express, filed a report with the Mutual UFO Network on February 13 claiming he wants to promote "disclosure". He was quoted as saying:
I'm not reporting a UFO sighting rather a UFO related experience. I have copies of my security clearances. I personally handled, viewed and delivered thousands of documents involving UFO/ET Projects. My secrecy agreement with the US Government expired in October 2014. 

The Express story continued:
"He said that UFO/ET were real [sic] and that hopefully disclosure would happen in my lifetime since he was in his early 60s at the time." In the report he said: "I was required to deliver TS Code word designation COSMIC to SRI, ESL/SYLVANIA, LOCKHEED SKUNKWORKS, TRW, RATHEON, BERKELEY LABS, LAWRENCE LIVERMORE LABS, and other think tanks throughout Silicon valley."
The whistleblower's background has important similarities with another recent whistleblower, William Tompkins, who also claims he worked with the U.S. Navy as a courier of highly classified information concerning extraterrestrial life and technology to major aerospace industries and think tanks from 1942 to 1945.
After this, Tompkins worked with a number of leading aerospace companies from 1947, which included Northrup, Lockheed, Douglas Aircraft Corporation, TRW, and General Dynamics. Tompkins has included a number of documents in his autobiography, Selected by Extraterrestrials. They reveal his work in designing kilometer long spacecraft in the 1950s and 1960s. These were eventually built and deployed by the U.S. Navy as space battle fleets in the 1980s.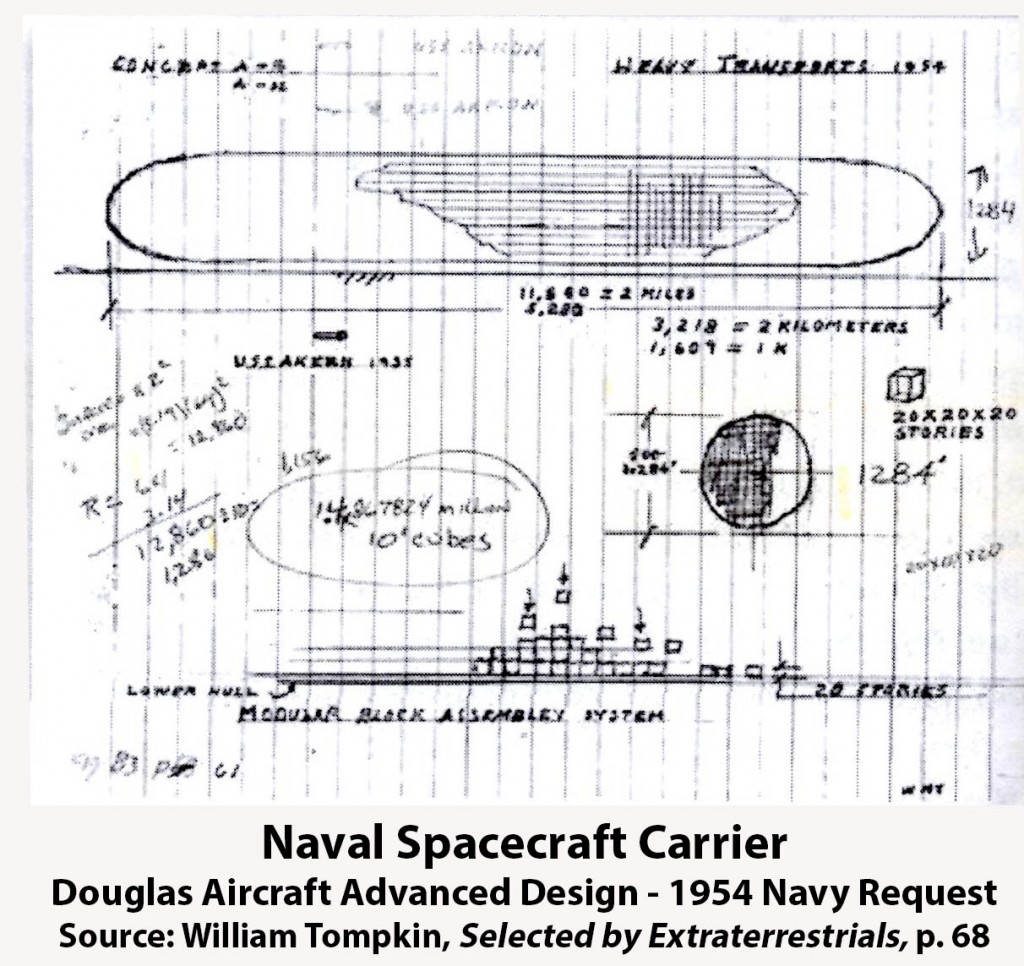 Tompkins is working on the next edition to his autobiography where he will release more of the documents he accumulated during his military and corporate career that support his claims of U.S. Navy and corporate involvement in extraterrestrial/UFO projects.  
Could the release of the contents of thousands of documents seen by the new whistleblower mark the start of the long anticipated document dumps Secret Space Program whistleblower Corey Goode has been discussing since mid-2015?
On June 15, Goode wrote:
A full disclosure event would consist of a major data dump on the Internet with many hundreds of thousands of document, audio and video files on multiple mirrored sites for everyone to have access to. There would be a collapse of the corporate media machine and a 24/7 television and radio education campaign would be initiated. Not all channels and stations would be co-opted so people are not overwhelmed and could "tune out" as they needed to due to the stress.

As originally envisaged, the document dumps would reveal all the truth about secret space programs and extraterrestrial alliances, and this would lead to war crimes trials and major global changes. A catalyzing event, such as global economic collapse, was argued by a Secret Space Program Alliance to be necessary for the document dumps plan to move forward.
In a previous article published on January 1, I wrote about recent meetings by elite groups which indicated that negotiations were secretly underway to prevent the catalyzing event from occurring:
A catalyzing event such as economic collapse, as Goode was told, could be prevented by a new financial system being put in place to reform the current financial system. Thus, China and other BRICS nations could come forward to rescue the tottering international financial system in exchange for a variety of benefits.

This has led to Goode's current report that a decision has been made by an alliance of global elites and secret space program groups that the massive document dumps will not be going ahead after all. A more limited disclosure plan has been agreed upon, which will spread out the document releases over an extended period to allow the public to better acclimate to the disturbing information they contain.
In this regard, Goode wrote yesterday:
I was told heavily credentialed people who have worked in the lower Military/Intelligence Secret Space Program are being prepped and coached to be whistleblowers and provide the public with the "truth". This same group had a direct message sent to me that I should back off of the full disclosure narrative as it is "irresponsible to the public".

Regarding the yet to be disclosed documents awaiting release by the new whistleblower, it will be important to evaluate these documents in terms of how accurately they detail the U.S. Navy's involvement in extraterrestrial/UFO related projects. This will be seminal when it comes to revelations concerning the existence of secret space programs that Goode and other whistleblowers have previously disclosed, which are investigated in Insiders Reveal Secret Space Programs and Extraterrestrial Life.
Tompkins testimony, as discussed in a series of articles, provides an important basis for evaluating the new whistleblower's claims and documents. This will help determine whether the new whistleblower's testimony is part of a partial disclosure plan intended to cover up crimes in space, or a genuine disclosure initiative designed to acclimate the general public to what lies ahead.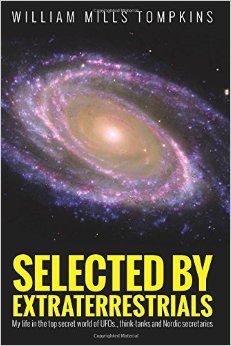 As to whether Tompkins testimony itself is part of a full or partial disclosure plan, it's important to point out that Tompkins received the go ahead to begin writing his autobiography in 2001 by Admiral Hugh Webster, a former Corporate Director of the U.S. Navy League. In 2009, Tompkins began collaborating with Dr. Robert Wood, a retired 43 year veteran with McDonnell Douglas, who was so impressed by Tompkins information and documents that he eventually became the book's editor.
Selected by Extraterrestrials was only recently released in December 2015, but its 14 year gestation means that it long predates elite negotiations over full and partial disclosure, some of which Goode claims to have attended beginning in March 2015. The 2001 approval by Admiral Webster suggests that Tompkins revelations are part of a U.S. Navy sanctioned disclosure plan that has been in place for some time, but is now moving into high gear.
Consequently, the February 13 report to MUFON by another U.S. Navy whistleblower suggests that the Navy is encouraging former personnel to openly blow the whistle on top secret projects involving extraterrestrial life and UFOs by coming forward, and revealing the contents of documents that substantiate their testimonies.
Update: 3/2/16. The above article has been revised since the anonymous Navy whistleblower in the original Express story was claiming that he was prepared to reveal the contents of thousands of documents seen, not the documents themselves.  A follow up story by the Express helped clarify what documents the whistleblower was going to release, which were his personal security clearances and related military service documents. Apologies for the error in the original version of this article. 
© Michael E. Salla, Ph.D. Copyright Notice
Further Reading