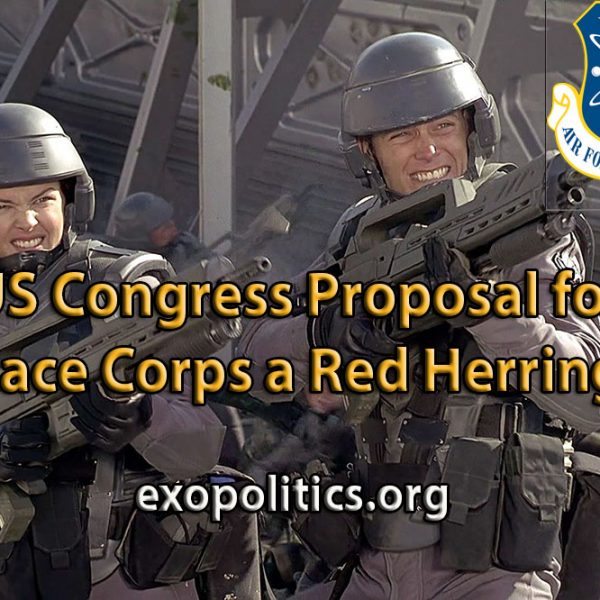 The US House of Representatives passed a bill on July 14 that includes a proposal for the establishment of a Space Corps to be formed out of existing US Air Force space operations. The proposal suggests that the Space Corps have a relationship to the US Air Force that parallels the current US Navy relationship with the Marine Corps.
What makes the proposal interesting is that it is being opposed by the US Air Force and the White House, both believe such a separation is unnecessary. According to Air Force Chief of Staff, General David Goldfein:
If you're saying the words separate and space in the same sentence, I would offer, you're moving in the wrong direction.

Similarly, the White House released a statement saying "the creation of a separate Space Corps … is premature at this time."
Why is Congress attempting to push through a radical restructuring of USAF over the objections of senior military officials?
For an answer, we can examine the possibility that the USAF runs a second tier secret space program, and that the "real" or "first tier" space program is run by the US Navy. Indeed, this is precisely what was indicated by British hacker, Gary McKinnon, who found a list of "non-terrestrial officers" and "fleet to fleet" transfers.
The language found on the hacked Pentagon documents is clearly suggestive of a US Navy led secret space program. Does the Navy have space fleets where such transfers are a regular occurrence for its "non-terrestrial officers"?
Such a possibility has been solidified by a number of alleged secret space program whistleblowers, which began with Michael Relfe in 2000, Randy Cramer in 2014, and Corey Goode in 2015. All three, to varying degrees, refer to a Navy led "Space Corps", which has existed since at least 1976.
Furthermore, all three claim to have served in "20 and back" programs based on age-regression and time travel technologies, without any direct evidence to support their incredible claims. The lack of direct evidence has predictably led to many skeptics deeming such claims outlandish, "inherently unverifiable", and calling for them to be dismissed from serious consideration.
The emergence of William Tompkins' book in December 2015, Selected by Extraterrestrials, provided something these three alleged whistleblowers have lacked – verifiable documents pointing to the existence of a Navy-led secret space program. Tompkins' extensive documentation has been analyzed at length in the 2017 book, The US Navy's Secret Space Program and Nordic Extraterrestrial Alliance.

Tompkins' material affirms that a Navy led "20 and back" secret space program exists and does use highly advanced age-regression technologies which he helped pioneer when working at the aerospace company TRW (now part of Northrup Grumman) from 1967 to 1971. He says that beginning in the late 1970's the first working Navy prototype spacecraft were deployed.
By the early 1980's, space battle groups were formed comprising space carriers, destroyers and related support craft, some of which were several kilometers in length. Eventually, eight space battle groups were formed that essentially replicated the integrated command structure of a modern aircraft carrier battle group.
Tompkins' testimony and documents, along with Relfe, Cramer and Goode's testimonies, provides an answer to what McKinnon says he saw in terms of "fleet to fleet transfers". Furthermore, McKinnon's "non-terrestrial officers" would refer to Navy personnel that are actively serving under "20 and back" or similar programs.
If the above testimonies are accepted, then it is quite clear that a Navy-led Space Corps has been in operation for over four decades. More precisely, there are "space marines" currently serving in space, performing similar duties to what marines have been doing under the banner of the Department of the Navy for over two centuries.
We are now in a position to properly assess the House of Representatives proposal for a Space Corps. The proposal suggests that the USAF is the lead military service when it comes to space operations. However, if we accept the testimony of Tompkins, McKinnon, Goode, etc., then it is clear that it is the US Navy that is the lead military service in space operations.
By Congress proposing a USAF led Space Corps, something that the Air Force leadership opposes, what effectively is happening is that the general public is being encouraged to follow a manufactured debate – a red herring. The idea is to mislead the public into believing that the USAF is the lead military service in space affairs, and that a "Space Corps" does not presently exist.
This is diametrically opposed to what Tompkins, McKinnon, Goode, etc., have revealed. Therefore, it is fair to conclude that the proposal to form a US Space Corps as a separate military service under the USAF is little more than a red herring aimed at distracting the public from what is really happening in deep space. The real intent behind the Congress proposing such a Space Corps may be to condition the general public to accept a future "limited disclosure" of a USAF space program, while hiding the truth about the far more advanced Navy program.
© Michael E. Salla, Ph.D. Copyright Notice
Further Reading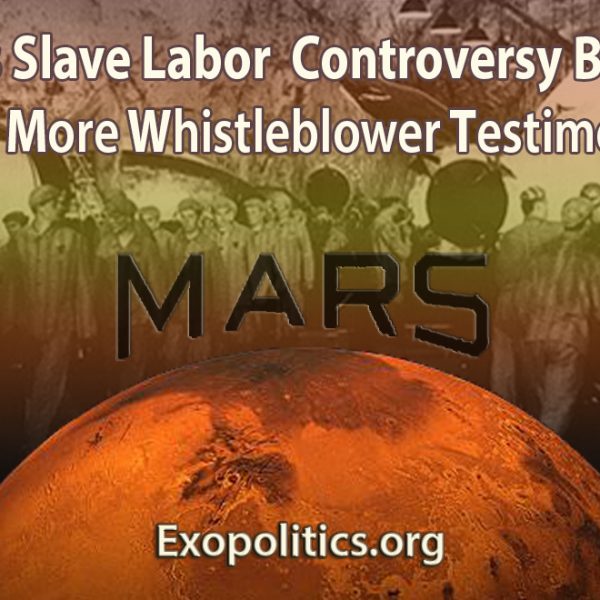 Robert David Steele, a former official for both the CIA and US Marine Corps Intelligence, made global headlines when he was interviewed by Alex Jones on June 29, and said that according to his confidential sources, there are slave colonies on Mars using individuals who had been kidnapped from Earth as children. Steele pointed out that the children were taken to Mars via "a 20 year ride", the purpose of which was to ensure they were adults who could be put to work upon arrival.
The idea of slave colonies on Mars was first discussed in Alternative 3, a "fiction based on fact" book authored by a former British journalist, Leslie Watkins, which was published in 1978. He had investigated the extraordinary claims that had been first presented in Alternative 3, an episode of a British television documentary series called Science Report, which aired on June 20, 1977.
The Alternative 3 television show described how the deterioration of global environmental conditions had led to the major powers, US and USSR, secretly collaborating behind the scenes to ensure survival of the human species. To this end, the US and USSR had secretly established colonies on Mars in the early 1970's and were populating it by whatever means possible.
The show was declared to be a hoax intended for release on April Fool's day, but many viewers thought otherwise. This included Watkins whose investigation uncovered more information that led him to writing the book, Alternative 3.
Watkins says that he met with a deep throat source called "Trojan" who supplied alleged documents revealing that the existence of Mars colonies was very real, and people were being secretly taken there, some by force and kidnapping.
For obvious reasons, we cannot reveal the identity of Trojan. Nor can we give any hint about his function or status in the operation. We are completely satisfied, however, that his credentials are authentic and that, in breaking his oath of silence, he is prompted by the most honourable of motives. He stands in relation to the Alternative 3 conspiracy in much the same position as the anonymous informant 'Deep Throat' occupied in the Watergate affair. [Kindle Locations 269-272].
Watkins described two categories of people being taken to Mars according to Trojan:
These professionals, we have now established, have been classifying people selected for the Alternative 3 operation into two categories: those who are picked as individuals and those who merely form part of a 'batch consignment.' There have been several 'batch consignments' and it is the treatment meted out to most of these men and women which provides the greatest cause for outrage. [Kindle Locations 300-303].
Watkins describes how people taken as part of a "batch consignment" to Mars become a pool of slave labor. He gave as an example a small group of 20 individuals who were forcibly taken there:
Most of the missing 20 were described as being 'hippy types' although there were some older people among them. People of this calibre, we have now discovered, have been what is known as 'scientifically adjusted' to fit them for a new role as a slave species.  Watkins, Leslie (2015-12-14T22:58:59). ALTERNATIVE 3: The 1978 Cult Sci-Fi Classic Republished with New Material (Kindle Locations 352-354].
In the foreword to the 2015 republished version of his book, Watkins' son, Graham, provided statistics to help substantiate Watkins' claim of kidnapped children being taken to Mars in large numbers:
In 2010, 692,941 people were reported missing in the USA alone – 531, 928 under the age of 18 and it must be realised that, if any were destined for Mars, 'catching 'em young' would make sense. The extra working years they had ahead of them more than justified the costs of getting them in the right condition. [Kindle Locations 49-52].
The next researcher to discuss a base on Mars that may have involved slave labor was William Cooper who had served on the intelligence briefing team of the Commander in Chief of the Pacific Fleet from 1970 to 1973. He was given an honorable discharge in 1975, after a 14 year military career with both the US Air Force and Navy.
Cooper said that he had access to U.S. Navy intelligence files and based on what he had seen was able to confirm in a 1989 paper that Alternative 3 was very real, and that a joint US-USSR space program had been set up to ensure continuity of Government. Cooper said that May 22, 1962 was the date of the first US/USSR landing on Mars, but said he was unable to confirm or deny that batch assignments of human slaves were occurring!
Also in 1989, an electrics contractor, Al Bielek, came forward to allege that he and another individual (Duncan Cameron) were taken to Mars through a jump room or teleportation device located at Montauk, Long Island, New York. In interviews, Bielek confirmed the accuracy of the Alternative 3 scenario involving the establishment of bases on the surface of Mars for a continuity of species program involving the US and possibly the USSR.
Bielek said he and Cameron were sent by teleportation technology into ancient bases in the interior of Mars on multiple occasions. He described these bases as approximately 20,000 years, built by human looking extraterrestrials and long ago deserted.
Bielek discusses how missing children were used in the Montauk experiments as test subjects. Some of the children were given away as slaves to some extraterrestrial groups. This suggested slave labor was in widespread usage in secret space programs, just as the Alternative 3 book claimed.
The next significant researcher to discuss slave labor being used on Mars was a Bulgarian engineer, Vladimir Terziski, who had gained access to many intelligence documents released during the collapse of communism in Eastern Europe. During this time, many former Warsaw Pact intelligence officials sold classified documents to make ends meet during a difficult transition period from communism to capitalist societies.
In the early 1990's, Terziski began giving lectures in the US in which he shared the contents of Nazi SS files that referred to Germany's secret space program in occupied Europe and Antarctica. Terziski described how in 1942 the most advanced aerospace technologies were relocated to Antarctica, leaving behind the less developed turbo-jet flying saucer prototypes that had failed to be weaponized for the war effort.
Terziski shared what he learned about Nazi Germany's secret missions to the Moon and Mars, including the large Haunebu III spacecraft that made the first trip to Mars in April 1945, and was followed by other missions that eventually established German colonies on Mars.
Terziski refers to slave labor eventually being taken to Mars, just as the Germans had earlier taken thousands of slave laborers to their Antarctica redoubt. Indeed, it was out of Antarctica that the German secret space program reached its fullest potential and the Fourth Reich became a powerful covert force in global affairs.
The scenario described by Terziski is very different to that described in Alternative 3. Those responsible for slave labor on Mars were a German breakaway group operating out of Antarctica, rather than the US/USSR kidnapping people in a feverish attempt to establish a Mars colony out of fear of imminent planetary devastation on Earth.
If Terziski's account is accurate, then Alternative 3 was designed to reveal part of the truth about slave labor on Mars, but hide the existence of a German breakaway civilization using flying saucer technologies with bases on the Moon, Mars and elsewhere in our solar system.
It's also possible that the situations described in the Alternative 3 book and Terziski were occurring simultaneously. This would mean that a highly advanced German space program was the first to establish a foothold on Mars in the 1940's, and was followed two decades later by a joint US/USSR program. Both of these space programs used slave labor, but the German program was presumably the older and more advanced program.
Bielek was followed over a decade later by others making similar claims of being teleported to Mars in secret space program run by US entities. The list includes Michael Relfe (2000), Arthur Neumann (2006), Andy Basiago (2010) and William "Brett" Stillings (2011).
None of these individuals say they witnessed or were exploited as slave labor on Mars. All reported working at or seeing bases on Mars, but none witnessed a German presence.
It was another whistleblower, Corey Goode, in early 2015 who started describing slave labor on Mars that he had directly witnessed during a "20 and back" program from 1987 to 2007 on several occasions when he visited Martian facilities to conduct repairs.

Goode says that he took part in an inspection tour of Mars on June 20,, 2015 where he saw evidence of abusive treatment of workers who were treated as slave labor. This coincided with meetings conducted by the British Interplanetary Society discussing such a situation, and the passage of legislation by the US Congress which effectively gave legal protection to companies and officials involved in off-planet slave labor until 2022.
According to Goode, the slave labor practices used on Martian bases was a carry-over from the earlier German colonies. He says that as a result of secret agreements between the Eisenhower administration and the Germans in Antarctica, the German Mars facilities were transformed into a joint venture led by leading German companies associated with the Fourth Reich, that worked closely with US corporations who provided personnel and resources.
These transnational corporate off-planet projects would in time evolve into what Goode describes as the "Interplanetary Corporate Conglomerate". The U.S. military would covertly supply personnel to the corporate conglomerate on Mars and elsewhere, similar to how Special Forces personnel are contracted out the CIA for clandestine operations.
The possibility that corporations are deeply involved in secret space programs that use millions of people as slave labor was boosted by the testimony of William Pawelec, a computer operations and programming expert who gave permission for a video interview only to be released after his death – it was posthumously published on December 14, 2010.
Pawelec was involved in the development of RFID tracking chips that could be used to protect children from kidnapping as he described in his video interview:
At the time in the security industry, a lot of us had a lot of concerns about tracking and locating people that had been kidnapped. Particularly what was going on in Europe at the time where we were having NATO officers, even the Prime Minister of Italy, kidnapped … These people were drained [of information] or they were brutalized or both… One of the goals of the industry was to develop technology that would allow us to track these people or locate them quickly.
Pawelec described how the Siemens Corporation, a company that used slave labor in Nazi Germany for its weapons programs, produced billions of RFID tracking chips in the early 1980's. Siemens set up a Silicon Valley front-company to produce these tracking chips in a manner designed to hide their true purpose – tracking slave labor used in secret space programs by the Interplanetary Corporate Conglomerate, of which Siemens is a very prominent member.
This finally brings us back to Steele's statement about slave labor on Mars where three confidential sources revealed to him that this really exists, and that children are kidnapped with the intent of eventually being taken to Mars as slave labor. Steele's information helps corroborate the growing body of research and testimonies which suggests that a flourishing off-planet slave trade exists.
Steele is currently exposing global pedophilia rings that exploit children in schemes used to entrap high level officials so they can be easily controlled by the "Deep State", or what others describe as the Cabal or Illuminati. It should therefore not come as a great surprise that such exploitation also extends out into deep space and is run by an "Interplanetary Corporate Conglomerate", as Goode contends.
Secret bases on Mars and elsewhere exploit millions of children and adults as forced labor. Exposing such programs, and corporations such as Siemens involved in them, is a major step in stopping such injustices, bringing the perpetrators to justice, and beginning the process of compensating the many victims of these crimes in space.
© Michael E. Salla, Ph.D. Copyright Notice
Further Reading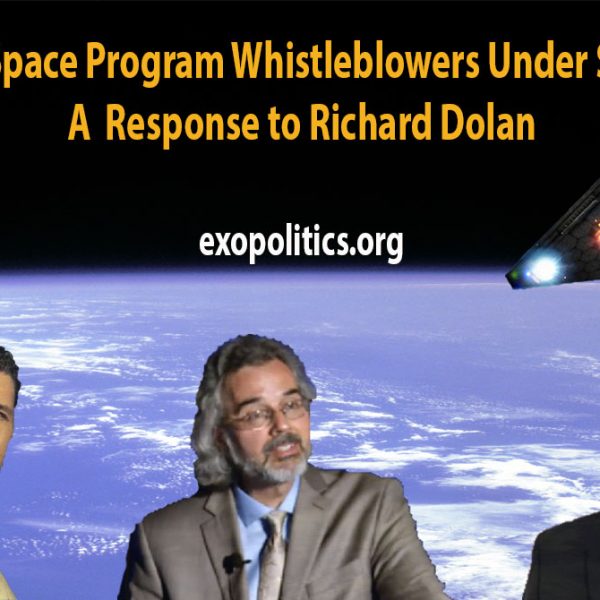 On July 16, leading UFO historian, Richard Dolan, released an article setting out his views about how to assess individuals who have claimed to have direct knowledge and experience concerning secret space programs. He explains his sympathy for the view that such programs exist, and that people have been through these programs where they have or want to come forward with what they know.
However, he describes his general skeptism about individuals who not only claim to be whistleblowers with detailed knowledge about secret space programs, but who also achieve a certain degree of public acceptance, while providing no evidence in support of their claims:
But when it comes to significant claims being made–really big claims that are not only radical on their own merits but which transform the field (and bring fame and money to those making them), then we clearly need a higher standard than "he seems like a good guy with a detailed story so I believe him."

Richard views such individuals as wittingly or unwittingly muddying the waters, making it increasingly difficult for independent researchers seeking to ascertain the truth about these programs.
He describes three whistleblowers in particular who have come forward and gained a level of public attention with their incredible claims:
Some of the most prominent of these people include Andrew Basiago, Randy Kramer, and Corey Goode. These three individuals have each claimed to have gone to Mars for extended periods of time. That's explosive enough, of course, but they have also stated that they have engaged in time travel.
Richard points out that the lack of evidence means that we need to take the whistleblowers word for it, which can be a dangerous thing for researchers:
Again, I must emphasize that none of these whistleblowers has made a claim that an independent investigator can confirm. Everything is based on trust. Believing such stories without genuine evidence takes us down a dangerous road within an already treacherous field that is constantly in the crosshairs of a skeptical establishment.
He is here attempting to steer what he perceives to be the middle path between a highly critical group of skeptics and debunkers claiming such whistleblowers are, at best, delusional or at worst pathological liars, and supporters accepting whatever the whistleblowers have to say on trust alone.
Richard refers to a series of emails he received encouraging him to come out against Goode in particular, who has recently been subjected to sustained criticism from Bill Ryan and Daniel Liszt (aka Dark Journalist) in a series of interviews. Ryan and Liszt have been a focal point for an internet campaign to discredit Goode as a pathological liar.
I have responded to their alleged impartial investigation of Goode elsewhere in terms of how they ignore documents and expert testimonies that validate Goode's claims about his two-decades long background in the Information Technology industry. By ignoring Goode's verifiable background, both investigators have deliberately attempted to cast doubt on his credibility by asserting that he came forward purely for monetary gain, as opposed to genuine whistleblower' desire to reveal the truth about official wrong doing even at the cost of a once lucrative career.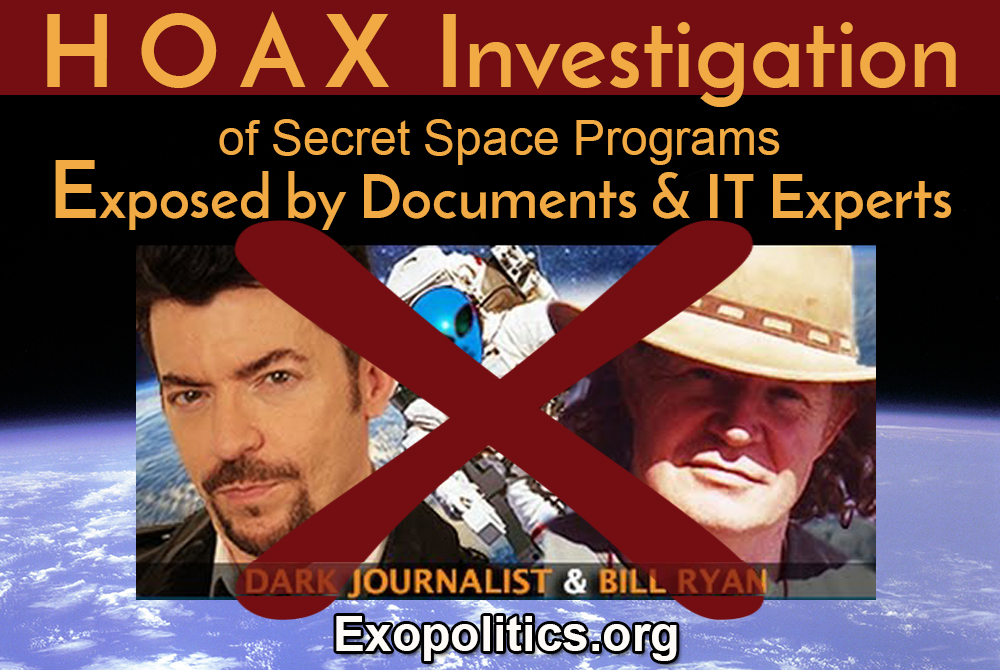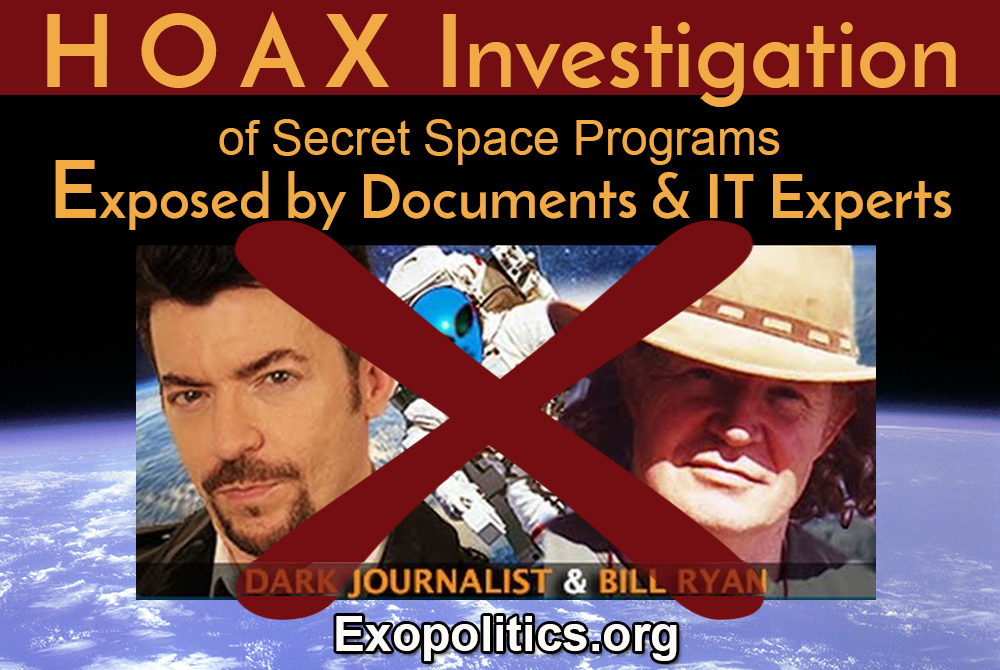 I have reached out to Richard to share my assessment of Ryan and Listz's hoax investigation, and included a link to the documents and experts I contacted and who corroborated Goode's background. Richard has not replied, which I find surprising. Surely the willful obfuscation of a whistleblower's background deserves public scrutiny and rebuke when investigators have acted inappropriately!
Yet apparently, Mr Dolan doesn't agree. He doesn't bring up any problems with Ryan and Liszt's investigation of Goode in his post, but he does mention a problem with me. Apparently I have a trust issue:
I've known Michael for over a decade, and have had several long conversations with him. What I say here I have said to him personally: I believe he has done genuine and good research on a number of matters, but has a tendency to be too trusting. From my perspective, it's always been like that. There are people who love his work, and there are haters. I am neither, but am always looking for information I can use. Sometimes I get good information and insights from his work and so I find him worthwhile to listen to, even if I don't approve of his quickness to jump to conclusions.
I find Richard's assessment that I have a "tendency to be too trusting" unsurprising since it reflects my contrary view of his tendency to be too dismissive of those sincerely and honestly stating their experiences. They may well be telling the truth about extraordinary experiences, but are dismissed simply because they don't provide sufficient evidence to satisfy whatever standard he and other UFO researchers arbitrarily set.
To me, it has always been far more dangerous to exclude witness testimony simply because they don't provide sufficient evidence to some arbitrarily defined standard, as opposed to seriously investigating it based on their sincerity, honesty and often sacrifice in coming forward.
It's wrong to assume that an investigator "trusts" a whistleblower simply because he or she consider them sincere and thus worthy of serious investigation. I have found the above three whistleblowers sincere and worthy of serious investigation. That doesn't translate into trust, however, which is a different thing altogether.
Richard Dolan and I agree that the entire subject matter of UFOs, extraterrestrial life and secret space programs is very highly classified, and that security measures have been implemented to perpetuate this. Indeed, the Edward Snowden document release confirms that the intelligence community in the five Echelon countries (USA, Britain, Canada, Australia and New Zealand) does perform covert online activities to sow confusion in the UFO field.
Richard believes that it stands to reason that the Deep State (aka Cabal/Illuminati) would attempt to muddy the waters by arranging for hoaxers, mind-control victims, assets, etc., to come in with false testimonies and disinformation. On this we agree, but it also stands to reason that there would be a lot of effort put in as well to discredit genuine whistleblowers, experiencers, etc., by the Deep State and its assets.
Why only focus on one aspect of what the Deep State is doing? After all, in the case of Corey Goode, I've found clear evidence of an underhanded attempt to smear him, where two investigators, Ryan and Liszt, have ignored documents and expert witnesses corroborating his work history, and claims in this regard. Couldn't Ryan and Liszt be Deep State operatives who have been activated to discredit Goode?
Richard then takes on the case of William Tompkins, who unlike Goode, Basiago and Cramer, has numerous documents and experts supporting key aspects of his testimony. He says:
Bill Tompkins is an interesting case. He is in his 90s, and recently wrote a book entitled Selected by Extraterrestrials, which details his life and claims about having participated in the Navy's top secret program to create a secret space fleet. Unlike the other alleged whistleblowers, Tompkins has a career that has been confirmed: he did work at Douglas Aircraft for many years and has very impressive credentials. That counts for something. I should add that Dr. Salla and Dr. Bob Wood have both done a great deal of work to investigate and confirm Tompkins' background and found what they believe is at least some corroboration to Tompkins' claims.
Indeed, Dr. Wood and I have found many documents and independent third parties supporting Tompkins' testimony. I spoke with three retired Navy officers, who all vouched for Tompkins bona fides and aspects of his testimony which I detailed in my book The US Navy's Secret Space Program and in earlier articles.
Despite this abundant pool of evidence which has been publicly available for some time now, Richard Dolan remains on the fence about Tompkins:
Even so, I have my doubts about Mr. Tompkins. It's not widely known, but I had the opportunity to be his publisher. After I learned about his credentials from Bob Wood, but before I read his manuscript, I had agreed in principle that I would publish it. But after reading the manuscript, I had to decline. I found the tone of this book to be perfectly designed to bring disrepute to the field and I wanted nothing to do with it. I found a number of obvious errors in the book and what seemed to me examples of self-aggrandisement that didn't sit well with me. I wished Tompkins well and that was that. I haven't made my final judgment on Tompkins, and perhaps I never will. If evidence can be brought forth to substantiate his key claims, then I will look at it.
Tompkins' tone, draft book errors and self-aggrandisement were red flags to Dolan so he backed off. That's fair enough for any publisher assessing a potential book, however, these are not things that would exclude Tompkins from being truthful in his recollections of events and people as he best recalls.
After all, Tompkins is 94 and was part of historic process which has culminated in the present state of affairs concerning secret space programs. I personally gave Richard a copy of my US Navy Secret Space Program book in which I lay out the evidence as I have so far been able to find.
Richard finishes his article by saying:
I remain willing to engage in a civil discourse with Corey, Andrew, Bill Tompkins, Michael Salla, or anyone else who has made claims. In a sense, I understand their position, since I know what it's like to speak to staunch skeptics about the UFO subject. However, in any sort of engagement I have with such people, they must realize that the onus is on them to provide their evidence. That is what I do regarding UFOs. A story that is inherently unverifiable just doesn't count, nor does it help if some other random person seemingly supports the story. Words alone aren't good enough. Nothing can be taken at face value.
I am happy to engage in a civil discourse with Richard about the issues he has raised in his article and what I have pointed out in this reply. I consider him as someone with the kind of intellectual rigor and forthrightness that makes a public debate on these issues something valuable for all readers.
In finishing, I do have to express my disagreement with his conclusion that a story that is "inherently unverifiable just doesn't count". Just think of the implications of eyewitness testimony to crimes being dismissed because there is no evidence they provide, or means of investigating the veracity of their claims, which may appear incredible given the present level of technological awareness in open source society.
Wouldn't that play into the hands of criminal syndicates with the power to remove and manipulate incriminating evidence? My conclusion is that this is precisely what is happening when it comes to learning the truth about secret space programs, the groups running these operate very similarly to criminal syndicates under the cover of national security.
All testimonies count. We can learn a lot by both exposing those out to hoax us or who act out of delusion, as well genuinely investigating those telling us the truth as best as they recollect. Throwing the baby out with the bathwater is precisely what the Deep State wants us to do when it comes to assessing incredible whistleblower claims about secret space programs.
© Michael E. Salla, Ph.D. Copyright Notice
Further Reading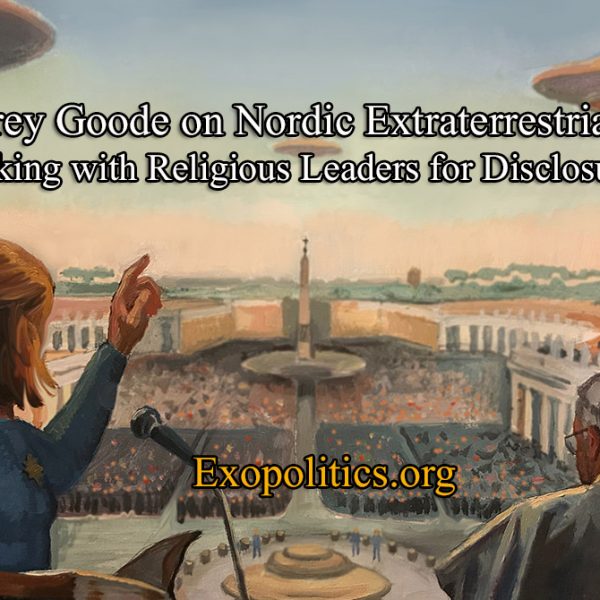 The following answers were received from Corey Goode on June 26 in response to questions I sent to him about information he shared recently in an article about the Vatican being involved in an extraterrestrial disclosure initiative. In his responses, he provides further details about what he has been told by multiple sources about ongoing events involving the Vatican, Nordic extraterrestrials and a US Air Force run secret space program.
For those still questioning the credibility of Goode and his disclosures, I recommend an article published on June 11 where documents and professional references are provided that prove two prominent UFO investigators were conducting a hoax investigation into Goode. The investigators clearly attempted to tarnish Goode's credibility by saying his former career as a well-respected and highly paid Information Technology consultant was wholly contrived, and therefore he is a "pathological liar".
I have to date communicated with three Information Technology experts who have corroborated Goode's professional IT background, and they added that he continues to be highly regarded. In all, five IT professionals have vouched for Goode, four of whom have provided recommendations listed in Goode's LinkedIn account. What this information clearly shows is that Goode was indeed a highly respected IT professional before going public in 2014 with his extraordinary whistleblower claims.
This does not prove any of Goode's remarkable statements about secret space programs, but it does establish his credibility as a whistleblower whose information deserves serious scrutiny. Since coming forward, irreparable damage has been done to his prospects of working in the IT industry again. What follows adds important information about the role of the Vatican and the U.S. Air Force in impending disclosure initiatives involving Nordic (human looking) extraterrestrials.
Questions and Responses
Q1. Can you explain who told you about a group of extraterrestrials working with the Vatican and other religious leaders about alien disclosure?
I had heard this info in various forms for at least the last 6 months. I think I first heard it from Gonzales. Most recently "Sigmund" and his 2 Airmen Escorts have mentioned it as well. On June 15th, while discussing a number of topics Ka Aree mentioned it in the same conversation of the M.[Muhammad] Accords now being ignored by up to 4 Non-Human Groups.
Q2. What do you know of the Nordic extraterrestrials working with the religious community and why does Ka Aree consider them "brothers and sisters in the Confederation?
Ka Aree stated that the Nordics have worked with Humanity for a very long time. They have mostly worked quietly in the background, but do pop up in historical documents referenced as "Angels". They would directly interact with certain groups within the Military and Government (including the founding fathers of the United States) as well as with various religious leaders. They have been heavily involved in developing Humanity in a number of ways.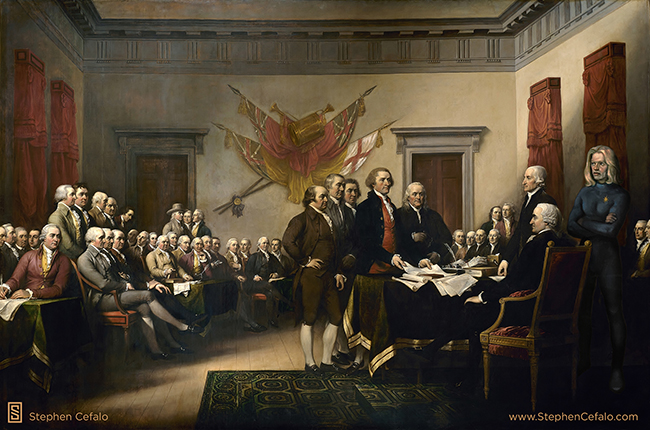 First they (& other races) began to manipulate our DNA to assist in the ability to use speech and to have higher cognitive abilities. Then they developed civilization and base religions with humanity. During this time, Humanity began another important stage of our evolution. The Industrial and Technological Booms were assisted by a number of races including the Nordics. From the beginning these groups were manicuring our consciousness through belief systems and religions.
New belief systems and religions have been crafted by these groups (the Nordics in particular) up until the present day. In fact, The Airforce General we call "Sigmund" had just completed a report prior to his disappearance. In the report he concluded that the experiences I am having are all created and controlled by the Nordics. Further, his report stated that he and his superiors were convinced that this same Nordic group had created the Law of One information as well. He was convinced from the moment I met him that the Nordics were behind this.
The report stated there is no evidence of a NAVY SSP or credible reports from within the Airforce Space Command of there being a barrier around the solar system or a new group of ET's arriving in Planet Sized Spheres.  This is very interesting knowing that Sigmund did indeed make contact with members of the Navy SSP and even arrested and interrogated a few of them. This report was dated in April 2017, just prior to his disappearance. I'm not at all sure that he wrote the report that was filed under his name.
Q3. What were you told about the contents of an extraterrestrial disclosure announcement in terms of why it would become the basis for a new world religion?
After these beings are introduced, they expect the public will have a lot of questions about the ET's. The ET's beliefs and knowledge of the Universe and God would be among the top questions. At this point these beings are expected to share a newly crafted belief system that is based on the ET's true belief system. These beings will be doing this to help Humanity from the ET perspective.
Q4. You say 90% of people will adopt the new religion quickly. Were you told why it would happen so quickly?
It is expected that most will question their belief systems in the first few years of an introduction to ET's. Humanity will understand how little we know and will be reaching out to these new "friends" for assistance and answers. This sets up a situation for the majority of people on the planet to adopt a similar belief system that gets them away from the current division.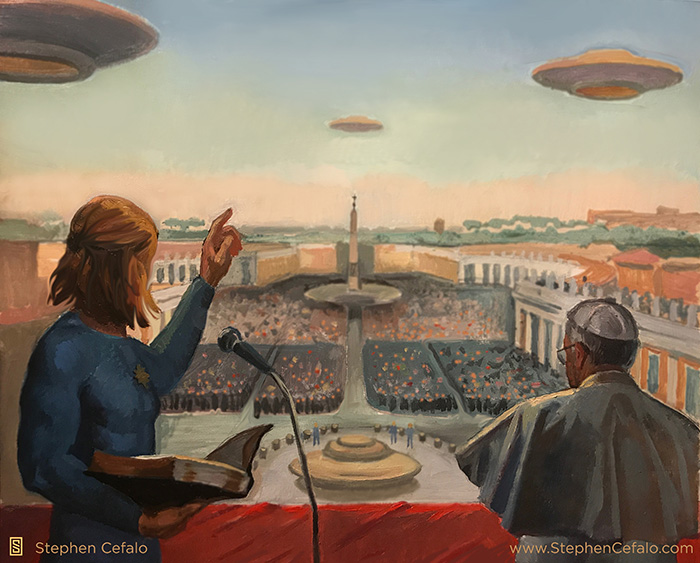 Q5. What do you know of such an extraterrestrial disclosure announcement being preceded by disclosure of a Military Industrial Complex Secret Space Program?
The MIC SSP (Air Force/NSA etc…) have been preparing for the disclosure of their program. I have not heard of them doing this in tandem with an ET announcement other than the Antarctic ruins being disclosed along with more "Ancient Alien" artifacts around the Solar System. This narrative was supposed to first disclose ET's, but only that the ET's were here thousands of years ago only.
The MIC SSP disclosure was originally going to be done among the Project Blue Beam scenario. It has most recently been talked about in the context of revealing an ancient alien presence in our Solar System. The meeting of the ET's could occur after the SSP Disclosure.
If up to 4 groups are no longer abiding by the M. [Muhammad]Accords, then the Powers That Be may not have time to roll out the Antarctica, Ancient Aliens and MIC SSP disclosures first. Things could be drastically sped up if these beings do indeed start communicating with the public in an open way.
Q6. Is the recently leaked Majestic-12 Assessment Briefing Document related to these upcoming announcements?
I cannot verify those documents at the current time. They do have interesting info that is similar to what I had observed. The Nordic race that has the drone ant-like Gray Aliens that do a lot of their physical labor is one example.
Q7 What role is President Donald Trump to play in this sequence of announcements given his recent visit to three major religious centers: Vatican, Saudi Arabia and Israel?
Unknown, from what we have heard Trump is getting some briefings from the Alliance via one of his White House sources. The amount of intel in his current Intel Agency and DOD briefings is very limited by design. It appears he has a small area of operation that he is responsible for and is not privy to the details of other operational domains.
Q8. If Nordic ETs and their allies reveal their existence, and the MIC SSP cooperates, does this mean that the Navy SSP will soon after be revealed or will it continue to be kept secret for some reason?
Unknown, too many variables at this point.
Q9. Do you have an idea of how the four Nordic ET groups plan to circumvent the Muhammad Accords, more physical contacts, dreams, fly overs, etc.?
Nordics plus up to 3 other non Earth-Human types, plan using dreams and altered states to communicate, acclimate the people and prepare them for face to face contact. This may be how disclosure actually occurs, and then the religious leaders need to explain it from a spiritual perspective, in come the new ET friends w/their beliefs etc. This would indeed interrupt the long term roll out that is currently underway. Using Antarctica/Under ocean ruins, Ruins on Mars to sell the ancient aliens only model along with the release of the MIC SSP (Not sure about the Navy SSP).
Exopolitical Analysis
It is highly significant that the disclosure scenario outlined above heavily features human-looking Nordic extraterrestrials. This will certainly allay the fears of some concerned about the influence exercised by non-human groups such as the Draconian Reptilians, whose close relationship with the current power structure (Cabal/Illuminati) has proved to be very harmful to humanity in recent history. There have been two world wars, thousands of smaller scale wars, and the covert influence of the Fourth Reich, all of which can be traced to the Reptilians and their relationship with human elites over the last century.
On the other hand, Corey Goode and others (Alex Collier) have spoken about Nordic and other human-looking extraterrestrial groups running 22 long term genetic experiments involving humanity. While humanity shares similar genetics with our galactic cousins, does this automatically mean we can trust them?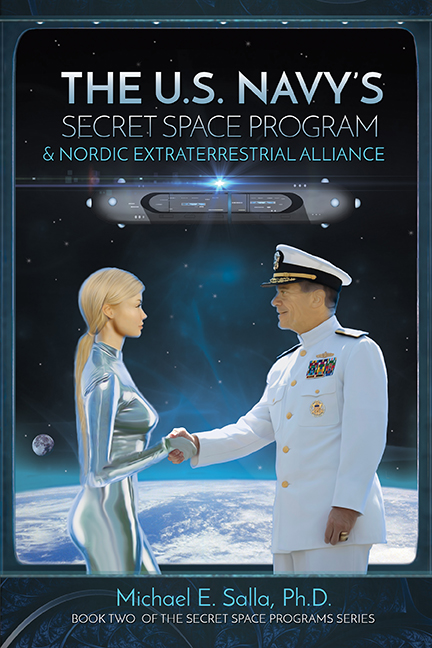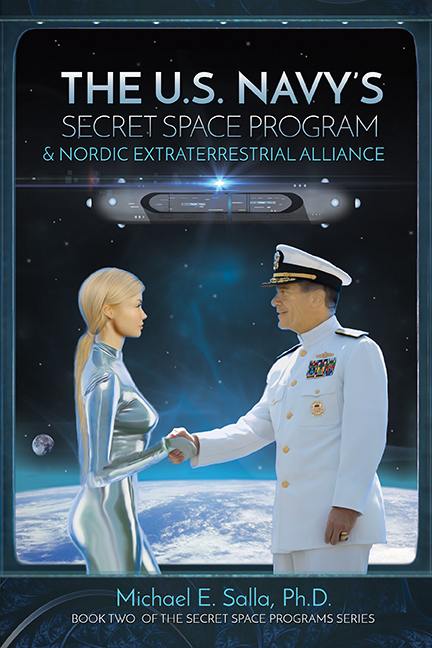 Certainly, from Goode's responses, the MIC SSP does not fully trust the Nordics who they believe are hoodwinking Goode into believing stories about 8-foot tall Blue Avians, and the existence of a Navy run secret space program. This is despite, as Goode points out, the MIC SSP picking up and interrogating other members of the Navy created Solar Warden Program.
Furthermore, what has happened to the high-ranking USAF general, "Sigmund", who allegedly wrote the report claiming that Goode is being controlled by the Nordics. Why his disappearance after a report bearing his name appeared? Does he really agree with its findings?
Nevertheless, at this stage it appears that the USAF/MIC SSP is prepared to run with the Nordic extraterrestrial disclosure scenario described by Goode. This is certainly what the recently leaked MJ-12 document suggests with its favorable description of the role played by Nordics in diplomatic relations:
Earth-like humanoids. There are several variations more-or-less like ourselves. The majority of these are friendly and are the bulk of our EBE contacts. Most have a high degree of psychic ability and all use science and engineering of an advanced nature.
Similarly, the Vatican also appears ready to accept human-looking extraterrestrials who can be accepted as "brothers in Christ", and lay the foundation for a deepening understanding of universal forces and life. This has been exemplified in a series of Vatican related statements dating back to 2008 when Father Gabriel Funes had an interview released titled "The Alien is my brother".
More recently, on June 14, the Vatican succeeded in having a diverse collection of world religious leaders come together in an extraordinary appeal for friendship and unity. This, as described in my June 22 article, "World Religions Unite as Prelude to Extraterrestrial Disclosure", is something to be welcomed.
As such, a new cosmic religion with the Vatican and all other major religious traditions cooperating with Nordic extraterrestrials does appear very plausible. Indeed, the very rapid adoption of up to 90% of humanity into the new faith described by Goode appears very possible. There would certainly be a collapse of traditional belief systems with the open appearance of the Nordics, and the revelation of how much humanity was lied to over the last century by the global elite.
Should the Nordics be trusted however in the impending disclosure scenario described above?
For those that have been following the Corey Goode's disclosures, what emerges from the above information is the minimal role to be played by the Sphere Being Alliance and the Navy's secret space program in the upcoming disclosure scenario. That is a cause for concern. However, that can quickly change, as Goode points out, given the unknown variables involved.
It's worth pointing out that Goode himself is not sure whether the role of Nordics in disclosure will be a positive thing or not. In a follow up to an early draft of this article, he wished to emphasize that he does not support the idea of "Nordics as angels of a new religion people should adopt."
Goode's caution here is well worth heeding. Nordic and other human-looking extraterrestrials need to be regarded as galactic cousins who are once again openly revealing themselves, as they once did in our past as historical records clearly reveal, as the work of Erich Von Daniken has so cogently demonstrated.
In this regard, Goode points out that the Nordics worked with the Founding Fathers in establishing the American Republic, thereby suggesting the Nordics are capable of playing a very constructive role in shaping human history.

In the past, the extraterrestrials were regarded as angels revealing profound information that became the basis of major world religions. Today, after three centuries of secularism in the "Age of Enlightenment", humanity has progressed beyond a distinctly religious world view.
Nevertheless, as the "Friendship and Unity" statement suggests, many billions still embrace diverse religious faiths, and religious leaders can play a positive role in overcoming global differences. A new global religion which emphasizes friendship and unity, and recognizes extraterrestrial life as very real is something to be welcomed.
The role of Nordic extraterrestrials in helping humanity better understand the galactic community and the greater cosmic reality is also to be welcomed. In providing such information they should be regarded as our galactic cousins, rather than angels intent on establishing a new global religion.
While the idea of a new global religion embraced by up to 90% of humanity might concern some, I'm optimistic that the information provided by Nordics will open the door to many hidden truths being revealed, and help humanity rapidly evolve as full partners in the galactic community.
© Michael E. Salla, Ph.D. Copyright Notice
[Many thanks to Stephen Cefalo and the Sphere Being Alliance for permission to use the graphic images of Nordic ETs in this article.]
Addendum – 10 am (PDT) June 27, 2017 – The following questions and answers with Corey Goode were added to help clarify some questions raised by readers to the above article.

Q. Do you have more intel on the four ET groups involved in this initiative that can be shared?
No, only that they are very human like. Of different race types other than Nordic. Ka Aree stated that up to 4 groups, including the Anshar (their race types) were now ignoring the accords. No further details on w/races. The Nordic/Religion thing is also something the programs have discussed so we don't know if it is a cabal op working w/an ET group or what at this point. The info is popping up that the UN is also ready to respond at the same time the religions do. So there is chatter about this and variations of this scenario coming out from several sources. This information has slight variations, depending on who the source was, but after a few correlations I thought it was worth reporting in our most recent briefing.
Q. When you say, "Of different race types other than Nordic", do you mean that one of the groups is Nordics and three not?
As I have mentioned on Cosmic Disclosure, there are a number of non-Earth Human types of beings that get lumped in with the "Nordic ET" label. There is even a 6 fingered "Nordic" looking race that works closely with the Reptilians. We have even had confirmation within the programs that German Breakaway Groups were appearing to people as Nordic ET's. At this point we don't know which group of "Nordic-like ET's" are reported to be considering this type of revelation to humanity while working in concert with various governments, Military organizations and Religious Leaders. This type of thing was indeed planned in 2008, but never occurred. The main point is that this is among the scenarios that are being planned for us. We need to be informed and prepared for how we will react to which ever scenario or combination of scenarios may end up playing out. It is obvious that Project Blue Beam is not viable unless used in concert with the revelation of positive ET friends. This is speculation based on what I have observed and been told.
Up to 4 groups that are Human Like, one of which is Nordic Looking. Some of Ka Aree's people are very Nordic looking as well.

Q. Many have been really hoping that full disclosure would lead to a world without established religious faiths. That seems very naïve to me. What do you think?
It is a bit naive to think people will abandon religion and spiritual belief systems all together when we are programmed to do so. That is the reason the positive ET's, until this point, have not appeared before the pubic. In the past they were worshiped and want us to focus on ourselves instead of outside forces to save them. I think that is all I have to clarify. TY
Further Reading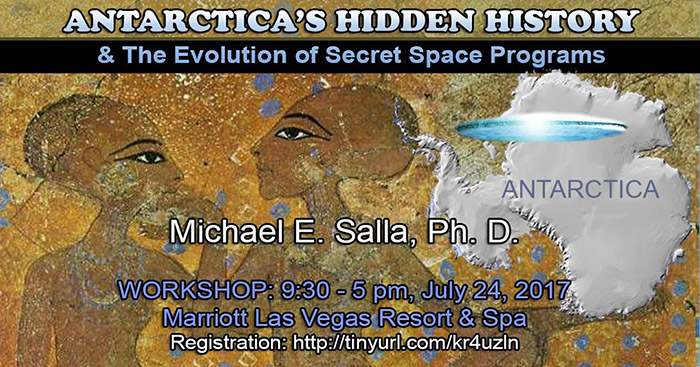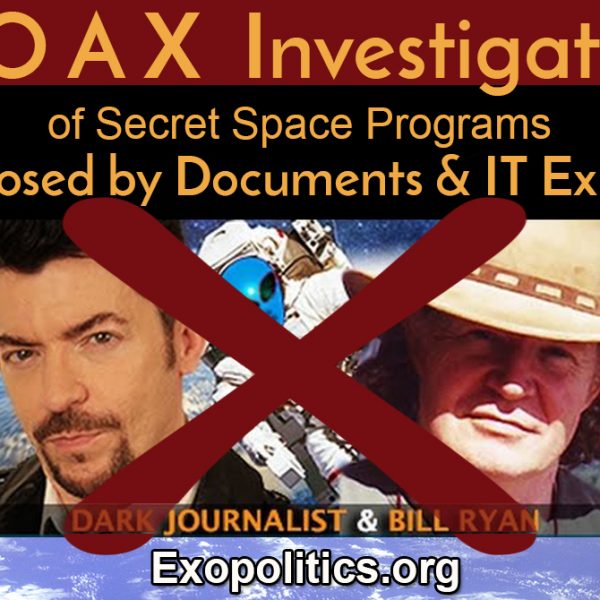 Daniel Liszt, founder of the Dark Journalist website, has published eight videos to date that have been highly critical of Corey Goode's claims of being a secret space program whistleblower, and having been chosen as a delegate for a group of extraterrestrials he calls the Sphere Being Alliance. Liszt's "impartial" investigation questions the credibility of Goode as a witness, and promotes the view that Goode is a pathological liar that has contrived his testimony.
Documents and expert witness statements included in this article is conclusive evidence proving Goode's professional background in the Information Technology (IT) industry, and his credibility as an IT consultant prior to his emergence as a whistleblower in 2014. Liszt's exclusion of these documents and failure to obtain any professional IT recommendations in his "impartial" investigation cast considerable doubt on his claim of being an investigative journalist seeking the truth about Goode's testimony.
In the first four videos of his series, Liszt presents and endorses the views of Project Avalon Founder, Bill Ryan, that Goode fabricated his background as an Information Technology (IT) consultant who earned a six figure salary during his career. According to Ryan and Liszt, Goode's claims that he was deprived of a well-paying IT career after being involuntarily outed as a secret space program whistleblower in 2014/2015 is contrived.
In particular, Ryan asserts that Goode was not an IT expert, and cites several sources in his three part interview with Liszt supporting his conclusion. In his initial article that gained Liszt's interest and support, Ryan wrote:
Ilie Pandia (who, like Paul, knows a LOT of technical, geeky stuff about computers and the net) then looked closely at some of his statements, and raised a flag that there was absolutely NO WAY he was an 'IT expert' as he had claimed. That simply wasn't true. This was the first time we'd realized there was a definite, proven, problem, and that Corey had been lying about his expertise. (Claims about expertise can of course only be refuted by someone who really is an expert.)

Ryan's italicized last sentence is very revealing. He refers to two individuals, presumably Project Avalon forum members who know "a LOT of technical, geeky stuff about computers and the net," who pass judgement on Goode's alleged IT expertise. There is a major assumption here by Ryan that his two sources are bona fide IT experts – which is not shown to be the case – and since they find problems with Goode's statements, Ryan reaches the conclusion that Goode had been lying about his IT expertise.
This immediately raises the question of fact checking whether there are documents and IT experts who can corroborate Goode's claims of working in the industry. As we will find out, Ryan ignores evidence suggesting this, as does Liszt who does not bother to investigate such evidence in his "impartial investigation" into Goode.
Finally, Ryan furthermore reached the conclusion that Goode, who was unemployed and on medication at the time of two interviews with Ryan's ex-wife, Christine Anderson, in 2014, was desperate for funds and wholly contrived his whistleblower testimony to raise money from a gullible public.
Liszt accepted all of Ryan's conclusions without any qualification, and gave them his imprimatur as a major revelation after completing his interview series with Ryan using sensational headlines such as "Bill Ryan Exposes Corey Goode: The Facts!" and "Secret Space Psyops: Celebrity Whistleblowers!" Liszt has since gone on to publish four more videos attacking some of Goode's key supporters and volunteers. In his eight part video series to date, Liszt presents himself as a bona fide journalist conducting an impartial investigation into Goode's claims in order to learn the truth.
Liszt asserts that his series exposes a major deception that is being conducted on the UFO community by Goode and supporters who wish to undermine legitimate research into the existence of secret space programs:
The secret space program narrative is being contaminated by what looks like a psychological operation meant to discredit this worthy research.

Liszt's video series has certainly gained much attention since his supporters and many viewers believe he is conducting an impartial investigation into Goode's SSP claims. However, there are major problems with Liszt's investigation in terms of available public documentation that refute key claims made by Ryan that Goode contrived his background as an IT consultant earning a six figure salary.
In reviewing documents and recommendations available on Goode's LinkedIn page, one reaches a very different conclusion to that reached by Ryan, who consulted two alleged IT savvy individuals. Liszt then uncritically accepted this information as fact.
The available documents show that Goode did indeed work in the IT industry as a consultant, that he was highly regarded in the industry as an expert who was given several awards. Importantly, his resume shows professional appointments and skills that would qualify him for the six figure salaries that Goode claims to have earned from his IT consulting career.
What is extraordinary in reviewing Liszt's eight videos is that he did not once refer to any of these documents, nor did he approach any of the companies that Goode claims to have worked for, which are clearly listed in his resume that is available online. Nor did Liszt attempt to contact independent third parties, IT experts, who publicly recommended Goode for work in the IT industry.
This is despite the fact that Ryan himself refers in his initial critique about the importance of consulting IT experts in assessing Goode's claims. Even though Ryan referred to two sources to refute Goode's claims, Liszt did not deem it worthy of exploring whether they were indeed IT experts, as Ryan assumes, and whether or not there were genuine experts supporting Goode's competence as an IT consultant.

Furthermore and most critically, Liszt did not contact Goode for clarification on his IT background in order to properly assess this vital aspect of Goode's work history, and his credibility, given Ryan's claim that Goode was "lying about his expertise".

This lack of basic investigatory rigor into Goode's work history and qualifications casts serious questions on Liszt's impartiality and professional integrity in investigating Goode's claims. Liszt's acceptance of Ryan's conclusion that Goode is a "pathological liar" on multiple issues, which includes his work history, appears to be an a prior assumption Liszt has adopted that underlies his entire investigatory series.
At this stage it is important to review documents and recommendations by third parties that are all publicly available for independent review when it comes to Goode's career as an IT consultant.

His resume shows a series of positions he has held as an IT consultant for various companies up to late 2013. For example, from July to Oct 2013, he worked at Darling International Inc., in Irving Texas as a "Systems Engineer, Microsoft (vmWare, Citrix & VEEAM)".
Immediately prior, from April to June 2013, Goode worked at Hilton Worldwide as a consultant in Citrix and other computer systems. He gained the position through Robert Half Technology which is a recruiter in the IT sector with approximately 5000 to 10,000 employees.

Goode's resume goes on to detail his IT work history all to way back to 1995, when from August to January 1998, he worked on the Help Desk of Stream International in the Dallas/Fort Worth Area giving Microsoft Support.
Goode has supplied documents showing the acknowledgements he received in various jobs. These include AmerisourceBergen Speciality Group where he worked from March 2006 to July 2008 in Frisco, Texas. His main responsibility was "Application Support Engineer," where he says he "Maintained the Web Server environment & troubleshoot Application issues via log files, configuration files, SQL queries & IIS & Server Configuration\Event monitoring tools."

Goode supplied the following document which is a June 7, 2007 letter of recognition for his first year of service from Dale Danilewitz, the Chief Information Officer at AmerisourceBergen. Regarding Goode's IT work, Danilewitz says in his typed letter: "Your work has contributed significantly to the success of AmericsourceBergen Speciality Group, and we are pleased to have you as a member of our team"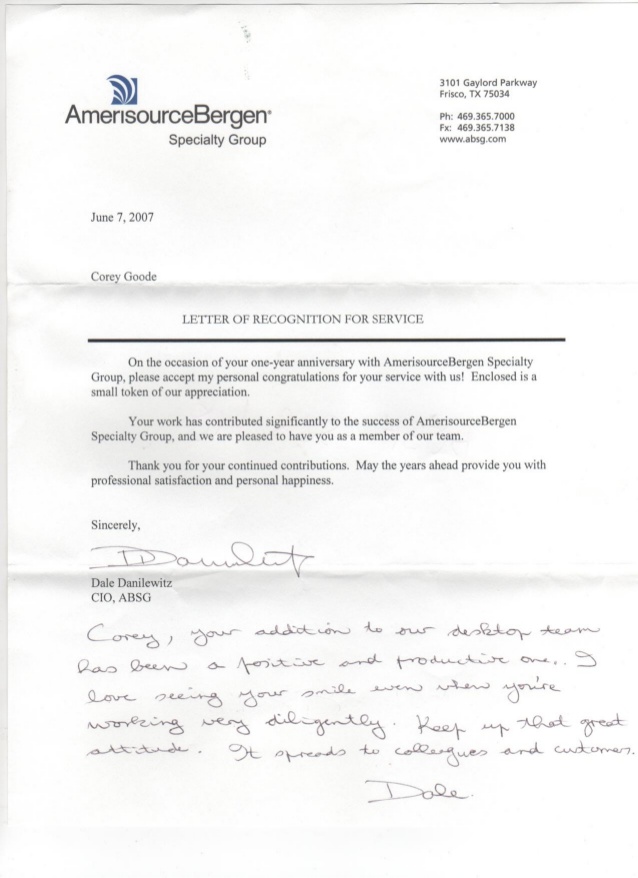 In his handwritten note at the bottom of the letter, Danilewitz writes: "Corey, your addition to our desktop team has been a positive and productive one." Here Danilewitz is acknowledging Corey's work as an IT specialist on the firm's "desktop team".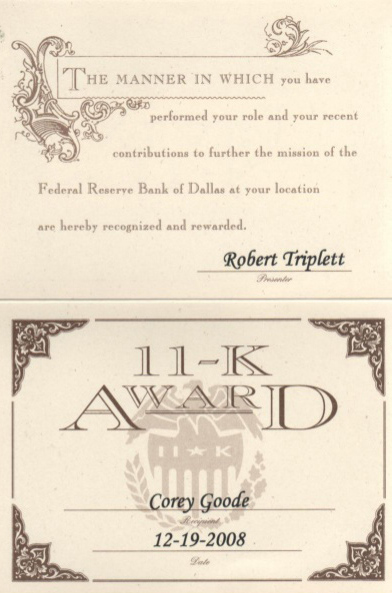 Goode also worked from July 2008 to March 2009 at the Federal Reserve Bank of Dallas as "Team Lead/Sr. Desktop Support III/Network Security." On December 19, 2008, he received an 11-K Award from the Federal Reserve for his "contributions to further the mission of the Federal Reserve Bank of Dallas at your location are hereby recognized and rewarded."The presenter of the aware was Robert Triplett, who is currently the Senior Vice President of the Federal Reserve Bank of Dallas.

In addition to the above documents, Goode's LinkedIn page also includes professional recommendations from former work colleagues who commented on his IT consulting expertise.
Among these is James Fomby who worked with Goode for over a year at Santander Consumer USA from April 2011 to April 2012. Fomby has a Bachelor of Computer Science degree from Southeastern Oklahoma State University, and since graduation in 1993, he has worked in the IT industry.
Fomby wrote the following professional recommendation which is found on Goode's LinkedIn page:

On June 11, 2017, I was able to communicate with Fomby by LinkedIn and he confirmed the accuracy of the recommendation he had written for Goode. When I asked about the salary Goode would have earned at the time, Fomby directed me to a website listing industry standard salaries for the position Goode held.


This is significant since it makes plausible Goode's claim that as an IT consultant filling temporary positions as detailed in his resume, he was later, by 2013, earning a six figure salary, in cumulative terms.
Other professional recommendations include Vic Blazier who is a Senior Consultant for Federal at VMware, and worked with Goode in May 2013 when Goode was consulting for a five month period at Hilton Worldwide. Blazier has the following to say about Goode as found on Goode's LinkedIn page:

Another independent IT expert, Glenn Mason worked with Blazier, and got to assess Goode's skills after looking at his resume and speaking with him personally. Mason wrote:

Yet, another IT expert who commented on Goode's IT background and expertise is Sam Zhong who said:

As the preceding documents and four professional recommendations make clear, Goode did work as an IT consultant who was highly regarded by his peers, and earned industry standard fees for his short term consultancy work at large corporations. This means that Ryan's claim, based on him speaking with two individuals who know "a LOT of technical, geeky stuff about computers and the net", that Goode lied about his IT background is demonstrably wrong.  

Importantly, Goode's wife Stacy provides important background details about his work history and experiences, especially in 2013, when he began recovering traumatic memories from his secret space program experiences. She describes in graphic detail the injury, surgery and recovery that Goode was in the midst of when he gave his first interview to Ryan's ex-wife Christine in 2014.
Significantly, Stacy confirms that Corey was earning a six figure salary through his IT consultancy work before his injury. This clearly supports his contention of earning a six figure salary before he stopped working in late 2013 due to a detached retina eye injury. This is all consistent with industry level salaries for positions held by Goode, which have been confirmed by documents and IT experts.
In a passing reference to Stacy's testimony in his most recent video, Liszt is very dismissive, and doesn't consider her information relevant to determining the truth about Goode's claims at all. As the preceding documents and recommendations suggest, however, her information is very relevant since it shows that Goode was a successful IT consultant up to late 2013, before going through surgery and recovering in 2014.
Stacy's testimony supports Corey's claim that when he was publicly outed in 2014/2015, his work prospects in the IT industry were severely impacted, since a Google search would reveal his controversial whistleblower testimony.
By willfully ignoring public documentation and not contacting independent third party experts with direct knowledge about Goode's IT background, both Daniel Lizst and Bill Ryan have publicly injured Goode's reputation as a credible person due to his former background in the IT industry earning a significant salary, and being widely respected by other IT consultants.
This appears to have been done on design in order delegitimize Goode's whistleblower testimony about secret space programs and being an extraterrestrial delegate. Goode's claims in this regard are certainly controversial, and people are entitled to request hard evidence to support them. However, in claiming to be conducting an impartial investigation, whereby documents and independent third parties which are vital to Goode's credibility are ignored, Liszt and Ryan are demonstrating a clear intent to delegitimize Goode's credibility.
Rather than Goode being part of a "psychological operation" to manipulate the general public over legitimate research into Secret Space Programs, Liszt has demonstrated by his actions that his "impartial investigation" is the deception being conducted here.
On a more personal note, from March 1989 to 1993, I was a Ph.D. candidate in the Department of Government, University of Queensland, Australia. I vividly recall often sitting in on meetings and presentations involving my academic peers from the School of Journalism. I learned first-hand from experts about Journalist ethics and integrity.
Liszt boldly claims: "As a journalist, my own objective is the truth." I can say that from a purely professional perspective, what Liszt has done in his alleged investigation of Goode, as far as his IT work history is concerned, holds little journalistic integrity. It amounts to a hoax investigation or psyop, similar to what Liszt was accusing Goode of conducting. This raises serious doubts about the validity of additional issues Liszt later raises concerning Goode's testimony and key supporters in his eight part series.
UFO researchers would do well to apprise themselves of proper journalist investigatory techniques before jumping to rash conclusions about cases such as Corey Goode, and accepting at face value the bona fides of alleged journalists such as Liszt, whose real objective is anything but finding the truth about secret space programs.  
© Michael E. Salla, Ph.D. Copyright Notice
Further Reading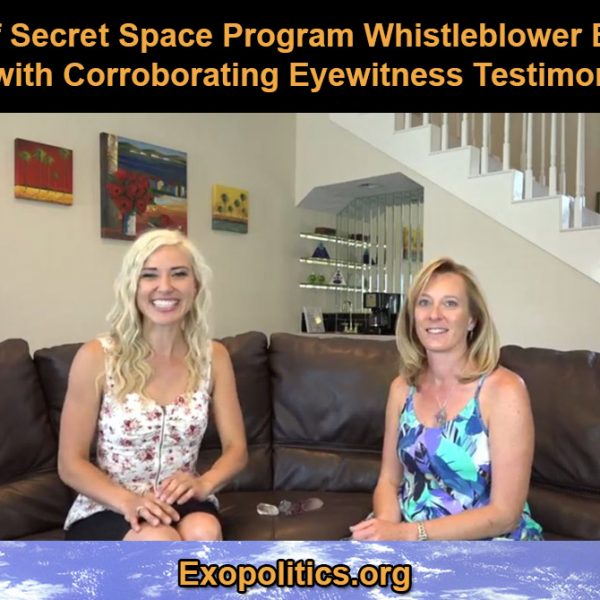 Corey Goode's wife Stacy has stepped forward to give her first public interview where she describes her own personal experiences pertaining to Corey's claims of having served in multiple secret space programs. Her testimony is very significant since it provides an eyewitness account of events that directly relate to Corey's claims of having served on up to three "20 and back programs" with multiple secret space programs.
In the interview released today by Teresa Yanaros on her Divine Frequency Youtube channel, Stacy discusses how she first met Corey in 1990, and the events that led to their marriage in 1993. In an early hint of what lay ahead, she vividly describes a UFO incident she saw with Corey along with other witnesses, including a pilot who confirmed the UFOs were not aircraft.
Stacy revealed that Corey told her early in their marriage about remembering having served on a "20 and back" secret space program. This is significant since Corey has said that when he was returned back in time from 2007 to 1986, and age regressed back to 16 years of age, that he remembered most of his experiences with the Solar Warden program that had been established by the U.S. Navy.
Stacy says that after their marriage Corey went on to establish himself in the Information Technology (IT) industry where he eventually was earning well over $100,000 a year. This corroborates Corey's testimony that he was very successful in his IT career before going public with his claims. His resume is available online and lists many companies where he worked as an IT expert, which can be confirmed by investigators.
Stacy described how in 2013 the "normal life" they had established for themselves and their two children dramatically changed. Corey had an accident where he experienced a detached retina that required surgery. After the surgery procedure, Corey experienced "total recall" where in addition to his "20 and back" service with the Navy's Solar Warden program, he recalled two more "20 and back" terms of duty with space programs that had much darker agendas.
Corey's memories were very traumatic, as he recalled the terrible things he had been forced to do in an "intercept and interrogate program" involving extraterrestrial visitors. Stacy says that the recovered memories so traumatized Corey that he became suicidal.
That is when Corey says he had his encounter with personnel from a Mayan Secret Space Program who helped heal him from the memories. Stacy describes in detail the night when the encounter happened at their duplex Texas home. She walked into the meeting Corey was having and saw it. She described throwing up her hands and saying, "I am not seeing this, I do not want to see this," then turned around and left.
The next morning, recalling something strange had happened that night, she asked Corey about it. He told her about the incident, and she then remembered what had happened. Stacy's eyewitness account of seeing the Mayan Secret Space program personnel helping Corey is very significant since it shows that Corey is not hallucinating or making up his stories of encounters with the Mayans, secret space program personnel and extraterrestrial visitors.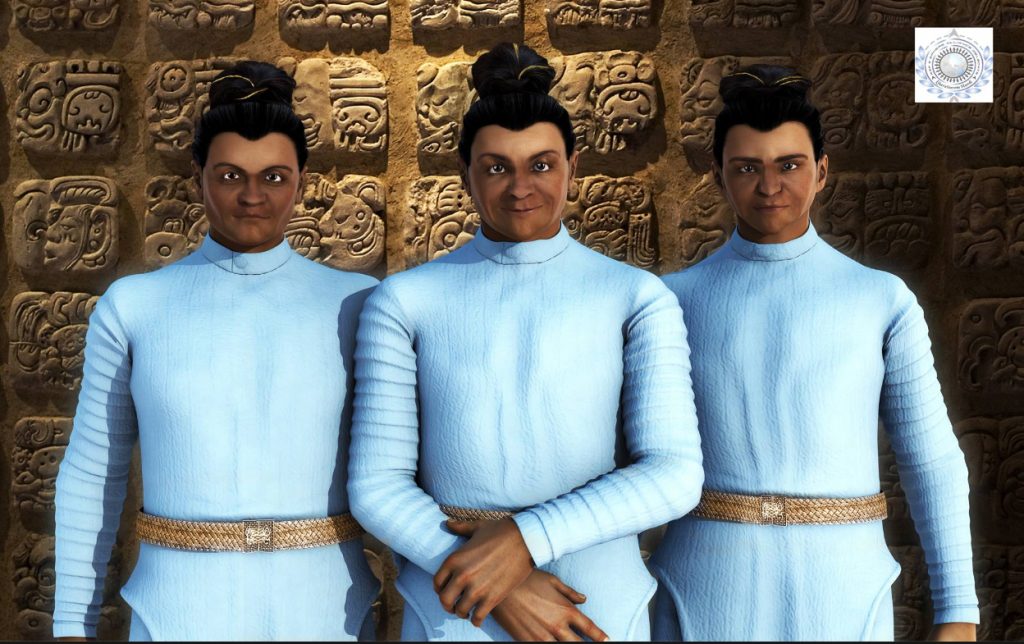 Stacy went on to describe physical evidence she encountered of spacecraft landing in her Texas backyard and abducting/taking Corey. She says she saw physical evidence of a craft of some kind landing which had landing pads that formed a triangular shape, and footprints leading up and from where the craft had landed.
Stacy's eyewitness account of physical evidence showing a craft of some kind landing in her backyard corroborates Corey claims of being regularly abducted/taken by a US Air Force Secret Space program investigating his claims of serving in a "20 and back program" with an alleged US Navy program called Solar Warden.
Stacy Goode's eyewitness testimony is very important for all investigating the secret space program claims of Corey Goode since it is very credible and admissible in a court of law. Her direct experiences is evidence that Corey is not contriving his stories and that he was thrust into the public limelight after being unwillingly outed by others who did not respect his wishes for anonymity.
I have been investigating Corey Goode's disclosures since March 2015, and in all that time have found no credible evidence that he is fabricating his claims. On the contrary, I find him very consistent, honest and a credible eyewitness of extraordinary events whose testimony is supported by leaked documents, multiple whistleblower testimony and circumstantial evidence, as I have detailed in two books (see here and here). Stacy's eyewitness testimony needs to be seriously considered by all still unsure about the veracity of Goode's secret space program claims.
© Michael E. Salla, Ph.D. Copyright Notice
Further Reading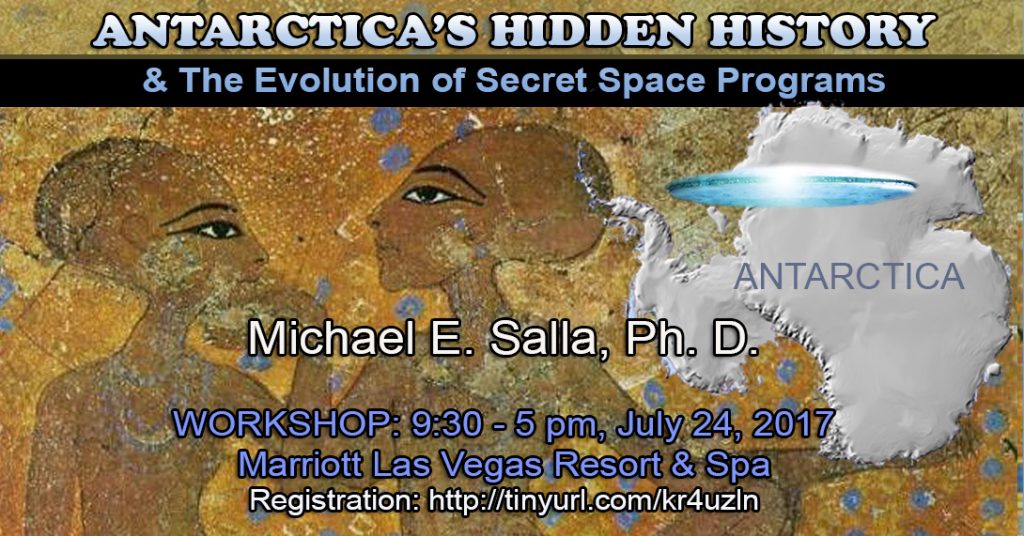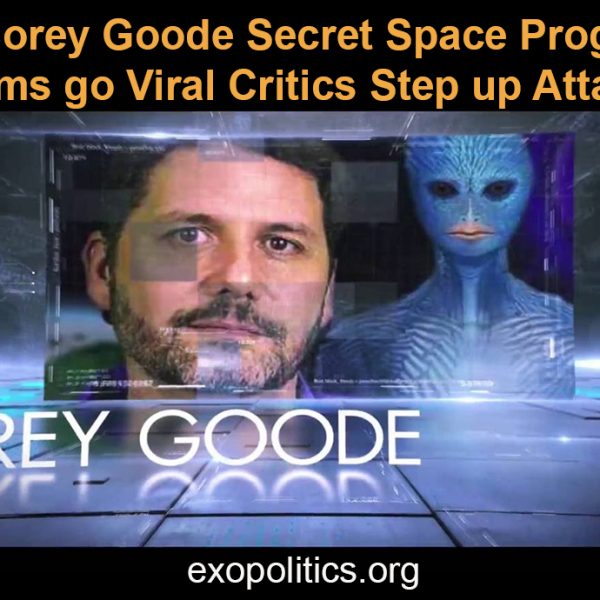 Corey Goode has had a remarkable rise to public prominence since first appearing in late 2014 as a whistleblower offering detailed testimony about his term of service in multiple secret space programs for 20 years. Since July 2015, he has been featured on Gaia TV's weekly Cosmic Disclosure series episodes where he answers questions by the host, David Wilcock, about his past service and his ongoing current experiences as a liaison with a variety of secret space programs, national security leaders and extraterrestrial visitors.
Goode's Facebook page now has over 80,000 followers, his Youtube videos often gain hundreds of thousands of viewers, and his conference presentations meet sold-out crowds where he usually receives standing ovations.  His testimony has been featured in two books, both authored by this writer (see here and here), which became Amazon best sellers.
Goode recently did interviews for the History Channel's popular Ancient Aliens series which reaches millions of mainstream American households. A good percentage of the Ancient Aliens audience are likely to be intrigued by this shy Texan's claims of multiple secret space programs and alien visitation stretching back to the dawn of history.
You would think that the celebrity status Goode has attracted would be manna from heaven for long-suffering UFO researchers marginalized by the mainstream media when it comes to claims about the reality of extraterrestrial visitation, and the secret government/military projects this has spawned.
However, not all are happy about Goode's remarkable rise and the widespread public attention he has gathered with his ground breaking testimony. UFO researchers, wanting to make their field as scientific as possible, have a long history of attacking anyone unable to back up their claims with hard evidence. If I had a dollar for every time Carl Sagan's famous dictum, "extraordinary claims require extraordinary proof" was cited, I would gladly pay up front for the first all-electric flying car now under development.
Rather than name any of Goode's critics, I will summarize their main arguments against him. The first is that he has not submitted one iota of hard evidence for his claims. Two, he is developing a cult of personality where he is milking a gullible public to enrich himself. And, three, he has been disingenuous about his past and the circumstances that led him to become a whistleblower in the first place.
Regarding the first criticism, it would make a UFO or exopolitics researcher's life much easier if whistleblowers or witnesses had hard evidence for what they have seen or experienced. Sometimes, there is hard evidence that whistleblowers can provide.
This is best illustrated in the case of former FAA Division Chief for Accidents and Investigations, John Callahan, who kept documents concerning a large UFO witnessed by the crew of a Japanese 747 aircraft on November 17, 1986. His documents not only corroborated the UFO sighting, but years later helped the pilot get reinstated by the airline that had grounded him for talking to the press.
Unfortunately, it is rare for hard evidence to be available to directly support a whistleblower's testimony. That is especially so when we are talking about Unacknowledged Special Access Programs where possession of hard evidence proving a specific program exists is a crime that can quickly lead to imprisonment for up to 10 years, and other significant penalties.
Nevertheless, there are a variety of research tools available to social scientists wanting to evaluate whistleblower or witnesses testimony. Learning about their motivation for coming forward, the sincerity of their claims, their background, any circumstantial evidence supporting them, and cross comparison with other whistleblowers or witnesses are all helpful tools. I used these research tools in my book, Insiders Reveal Secret Space Programs and Extraterrestrial Alliances (September 2015) examining Goode's claims and concluded he was very credible.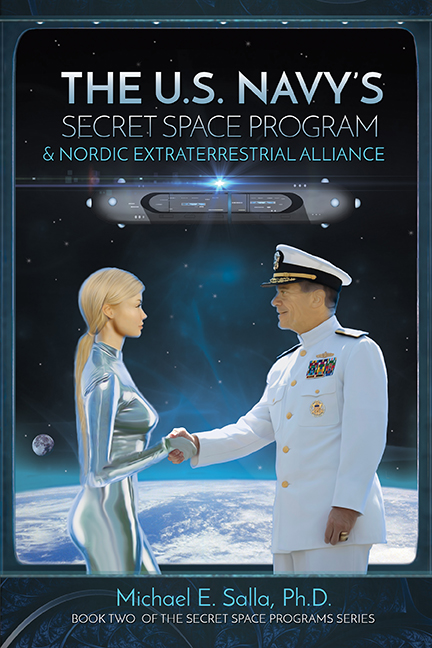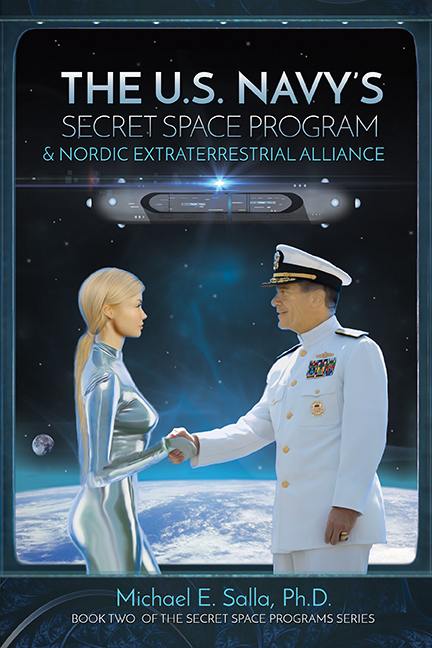 In my latest book, The US Navy's Secret Space Program and Nordic Extraterrestrial Alliance (March 2017), I uncovered much in the documented claims of William Tompkins, a highly credentialed aerospace engineer whose many supporting documents also supported Goode's testimony. In fact, when Tompkins first read my 2015 book about Goode, he was shocked since he thought he would be the first to reveal many of the historic events that were described in his own December 2015 book, Selected by Extraterrestrials.
Regarding the second criticism that Goode is promoting a cult of personality through his newly achieved celebrity status, I have to say that is a very subjective criticism that smacks of jealousy. One of the first things that happens when anyone achieves a major degree of public attention is they naturally attract a team of helpers or an organization to assist them in dealing with the hundreds or thousands of emails, media requests, conference invitations, etc.
When skilled people come on board to help with web design, graphics, video presentations, profile photos, etc., they are motivated to volunteer their services in order to get the core message out. This is especially pertinent to Gaia TV which specializes in Yoga, meditation, and personal transformation, areas that have previously had little to do with conspiracy theories about government coverups of extraterrestrial life and technology.
All of those who have volunteered their services are simply a reflection of the success Goode has had in getting his testimony out to a wide audience that resonate with the transformative message contained in what he is saying, despite its more gruesome aspects such as a galactic slave trade and forced labor.
Others who have been in the UFO and 'exopolitics' fields a lot longer than Goode are bound to be envious of his success, and may even launch public diatribes when they see one of his videos go viral. This is a natural psychological defense mechanism when one feels their own work is being largely ignored by the public.
I've gotten to know Goode very well since April 2015 when I began sharing his email responses to my questions, and have maintained regular contact with him up to the present day. I've found nothing awry with the way Goode is disseminating his testimony in the most effective way possible, so the public can decide for themselves how true it is.
Importantly, he has never asked me for financial compensation for sharing his information, and has only been concerned with ensuring its accuracy, and it being freely available. To this day, all the information Goode directly provides me, often scooping his Cosmic Disclosure interviews, is released on my website for free public perusal. Hopefully, this puts to rest to claims Goode is out to enrich himself, even though he has every right to earn a living from the information he has to share after going public, and thereby negatively impacting his professional career prospects.
This takes me to the third set of criticisms leveled against Goode pertaining to when he was a member of the Project Avalon Forum up until the end of 2015. I read all Goode's posts on the Avalon Forum where he had both supporters and detractors. While he was an active member, he had clear support from the Project Avalon admin team in getting his information out.
That didn't mean that they all believed Goode, but it meant that they thought his testimony touched on important issues, and was worth getting out into the public arena to stimulate public debate. On multiple occasions members were asked to engage in respectful dialogue with him, and avoid ad hominem attacks.
Unfortunately, there was a falling out between Goode and the Project Avalon administration, which to an external observer appeared very similar to an acrimonious divorce.
The Project Avalon administration and members who were previously saying Goode's testimony was important to consider regardless of whether or not one believed him, were now saying he had been disingenuous all along, was scamming the general public, and had ripped off other whistleblower testimony, etc. A wave of ad homimen attacks began that continue to the present day.

Quite a turn-around, and very disappointing for visitors like me who witnessed it all sadly play out in slow motion. I don't want to get into the specifics of the falling out between Project Avalon and Goode since he has responded in detail to the most recent set of criticisms leveled against him.
What I believe is happening is that there are many competent researchers at Project Avalon and in the UFO field more generally who are truly mystified by Goode's popularity, and why his testimony continues to go viral.
Their insistence on hard evidence doesn't seem to slow down the public's appetite for anything Goode has to say as he reveals incredible details about humanity's ancient history, extraterrestrial visitation and secret space programs. This is bound to accelerate once Goode appears on Ancient Aliens with its massive audience base.
More prominent public visibility is going to lead to more supporters, and the inevitable push back by veteran UFO researchers who resent the way Goode is shaping and influence public opinion about UFOs, extraterrestrial life and classified military/corporate projects.
Indeed, a determined few view Goode as an existential threat to the field who has to be stopped before further damage is done. Hence the public attacks are stepping up and becoming more vitriolic.
The simplest answer to Goode's growing popularity is that people who watch videos of his testimony feel deeply that he is being honest and genuine. They are confident in their ability to trust their gut feeling or intuition, and not dependent on hard evidence, which can itself be manipulated. We only need to recall how hard evidence was contrived to support Iraqi weapons of mass destruction that led to the 2003 Iraq War and turmoil ever since.
So Goode will continue to attract many more supporters as Gaia TV continues to expand its 300,000 subscriber base with the success of Cosmic Disclosure, and millions more will soon see him on Ancient Aliens. Goode will also have his detractors demanding hard evidence to substantiate his claims before accepting any of it. Others will trust their gut instincts and spread the word about the truth of what Goode is revealing. Is there a middle ground in what is surely going to be a growing public debate over his revelations?
Currently, there is an effort underway to substantiate Goode's testimony through FOIA document requests, which I am involved in. As documents are received and analyzed, there will hopefully finally be hard evidence that emerges that substantiates some of his core claims. This will enable researchers to gain a better idea of the big picture concerning extraterrestrial visitation and secret space programs, and hopefully finally settle the question over Goode's credibility.
© Michael E. Salla, Ph.D. Copyright Notice
Further Reading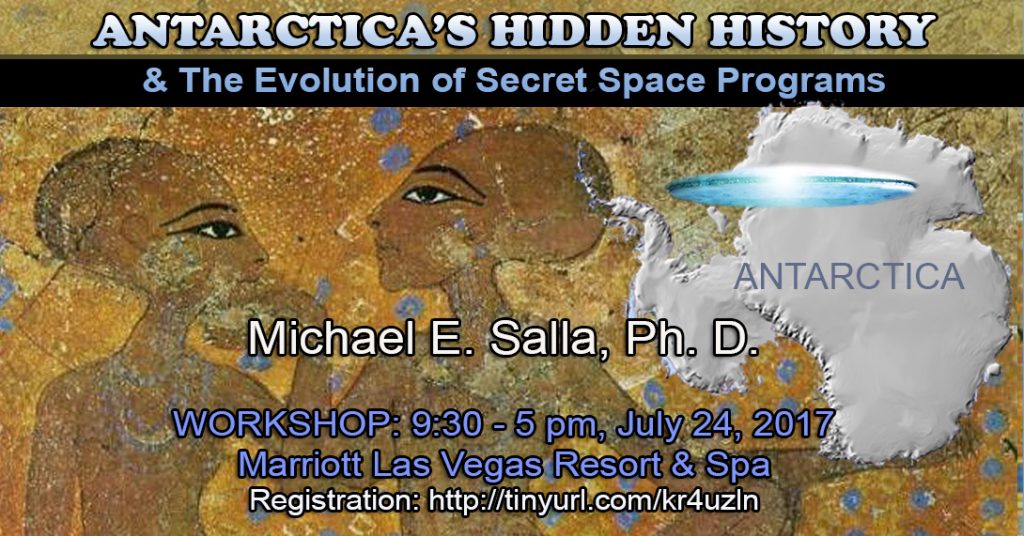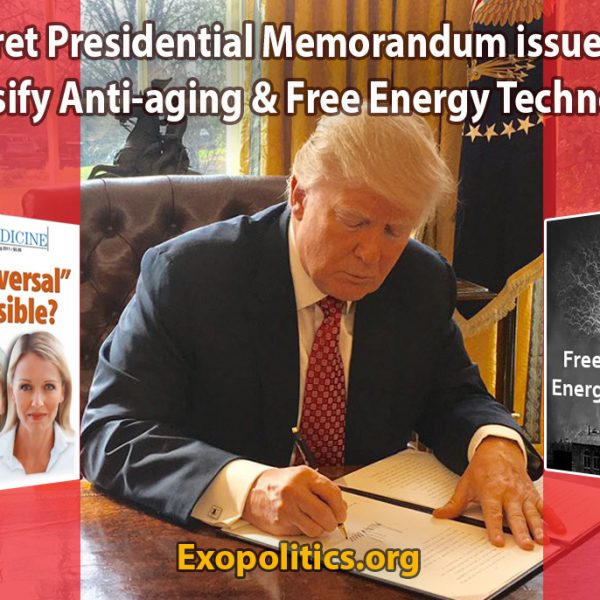 According to secret space program whistleblower, Corey Goode, President Donald Trump issued a highly classified Memorandum soon after his January 20th inauguration ordering the release of group of classified patents concerning anti-aging and health, along with free energy technologies. The Top Secret Memorandum was sent to the Department of Defense and the Intelligence Community, and due to its classification status it will not be accessible to major media for reporting.
The information received from Goode comes from a senior official in an interagency secret space program comprising the USAF, NRO, NSA, DIA which he describes as the Military Industrial Complex Secret Space Program (MIC-SSP). The official, whom he calls "Sigmund", is investigating Goode's claims and conducting an "information exchange" with Goode in the process (see Part One).
On March 16, Goode briefed me about his ongoing meetings with Sigmund and/or his two subordinates. The information provided by Goode was originally slated for release in an article, "Endgame III", as the sequel to the popular Endgame II article and video. However due to the urgency of releasing this information without delay, it was passed on to me to get it out now.
In one of his "meetings" with Sigmund (and/or his subordinates) in late January, Goode was told about Trump issuing a Presidential Memorandum to declassify over 1000 patents from a pool of over 5000. Most of the 1000 patents deal with anti-aging and health technologies, yet some deal with material science and biochemistry and a few involve free energy inventions.
These technologies are widely used in a number of secret space programs, and the patents dealing with these have been repressed under national security orders. The USPTO has issued Federal Regulations that govern when patents are classified on the grounds of national security, and subsequently withheld from the general public:
[W]henever the publication or disclosure of an invention by the publication of an application or by the granting of a patent is, in the opinion of the head of an interested Government agency, determined to be detrimental to national security, the  Commissioner for Patents at the United States Patent and Trademark Office (USPTO) must issue a secrecy order and withhold the grant of a patent for such period as the national interest requires. A patent will not be issued on the application as long as the secrecy order is in force. If a secrecy order is applied to an international application, the application will not be forwarded to the International Bureau as long as the secrecy order is in force.

When a Department of Defense entity or a member of the Intelligence Community consider a patent to be a threat to national security, then the Patents Commissioner will issue a secrecy order preventing the patent from being publicly released.
The current number of patents that have been classified are approximately 5700 according to the U.S. Patent and Trademark Office (USPTO), which matches the information given to Goode by Sigmund.
As the above table shows, the number of secret patents that are declassified each year has averaged roughly 0.5 percent annually.
Goode learned that the Pentagon and Intelligence agencies told Trump it would take 10 years to release them, but Trump told them to get it done within two to three years.
Evidence for Trump taking the bold step of declassifying secret patents as quickly as possible can be found in his inauguration speech. Towards the end of his speech, Trump uttered one sentence that contained his most developed vision of the future for America and its citizenry, which would result from the kind of declassification Memorandum Goode was told about. Trump said:
We stand at the birth of a new millennium, ready to unlock the mysteries of space, to free the earth from the miseries of disease, and to harness the energies, industries and technologies of tomorrow.
If Trump succeeds in having over 1000 of these declassified over the next two to three years, it would represent 20% of the total. This would be a staggering average yearly increase of up to 2000 percent over previous years.
Trump's Secret Memorandum to the Department of Defense and the Intelligence Community is aimed at ultimately having the Patents Commissioner, who is currently Drew Hirshfeld, lift the secrecy orders issued by his predecessors on the 1000 patents marked for declassification.

Furthermore, monitoring the USPTO's records of Secrecy Orders Rescinded for 2017, will offer a concrete means of verifying that Trump did indeed issue such a memorandum.
According to Goode, most of the secret patents ordered to be declassified deal with anti-aging and health. In particular, he said that telomere technology is very advanced in classified projects, and can enable healthy cell reproduction without aging and disease.
This is consistent with the claims of retired aerospace engineer, William Tompkins, who says that in early 2016, he was told by Navy officials that anti-aging technologies would be released in a two year period.
Tompkins was involved in the original corporate development of anti-aging technologies during his time as a systems engineer at TRW from 1967 to 1971. These technologies were subsequently used in secret space programs, which routinely use personnel for "20 year and back" programs that Goode and other whistleblowers claim they were subjected to.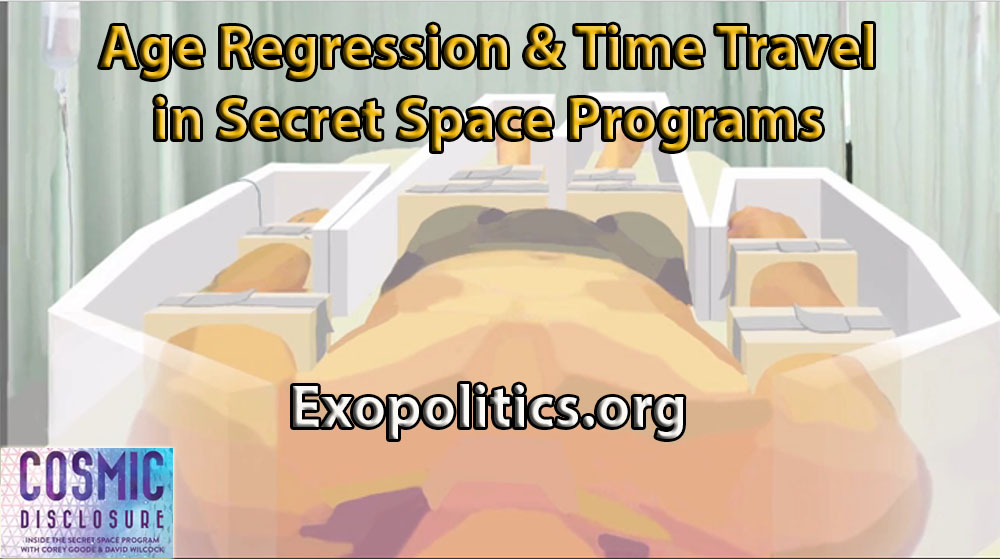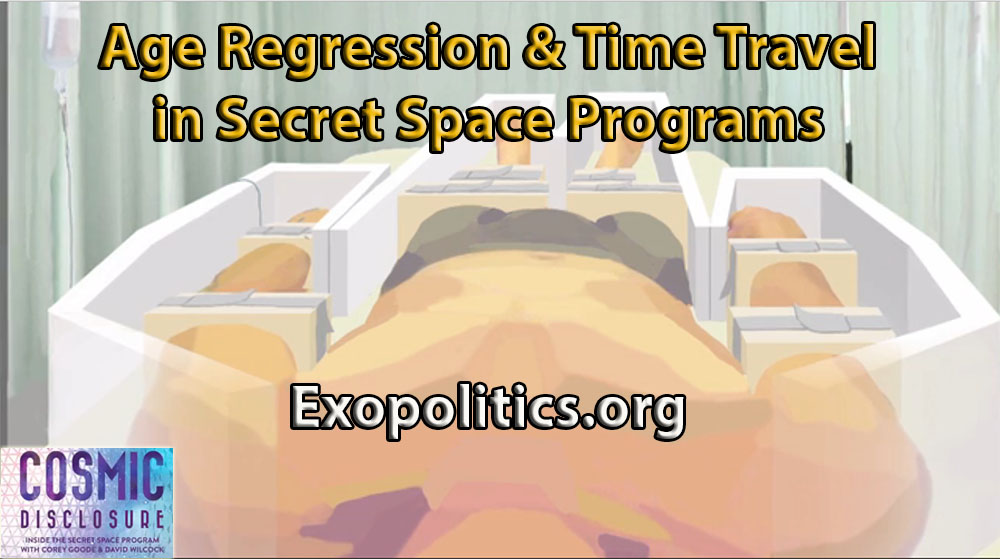 The patents for these technologies developed at TRW are likely part of the 1000 patents marked for declassification under Trump's Memorandum. Furthermore, Tompkins identified the San Diego headquarters of the Scripps Research Institute as being heavily involved in the study of anti-aging technologies, and it will be a major player in releasing these classified technologies to the public.

Support for Goode and Tompkins' testimony regarding classified anti-aging technologies comes from geneticists who have recently publicly identified the genes that control the aging process. In stunning experiments, the results of which have been released in peer reviewed scientific journals, geneticists have demonstrated that they were able to reverse the aging process to varying degrees of success.
The lead genetic scientist in publicly announced age reversal studies is Dr. David Sinclair, who discussed in a November 2014 interview the results of his genetic experiments first conducted on mice:
We've discovered genes that control how the body fights against ageing and these genes, if you turn them on just the right way, they can have very powerful effects, even reversing ageing – at least in mice so far…  We fed them a molecule that's called NMN and this reversed ageing completely within just a week of treatment in the muscle, and now we're looking to reverse all aspects of ageing if possible.

Declassifying anti-aging patents would revolutionize the medical and health industry, which have already made significant inroads into understanding and reversing the aging process.
Another industry that would be revolutionized by Trump's Secret Memorandum is the energy sector. Declassifying free energy inventions would revolutionize the automotive and aviation industries, and make it easier for private industries such as SpaceX to develop far more efficient and advanced space propulsion technologies.
Most importantly, the release of free energy inventions will effectively end the power and influence of the oil industry. In a surprising case of synchronicity, one of the oil lobby's biggest supporters, David Rockefeller, died on March 20 at the age of 101. Rockefeller was notably known for his staunch support of maintaining the secrecy status quo.

The importance of Trump's Memorandum to the Pentagon and Intelligence Community to declassify secret patents cannot be underestimated due to the revolutionary changes it would usher in. Opposition to such changes helps explain the rumors that Trump would not be allowed to take the office of the President despite the 2016 election result.
According to the information received by Goode from Sigmund, Trump was going to be assassinated before or during his Presidential Inauguration. However, the Pentagon in response threatened to launch an open military coup if Trump was assassinated.
The CIA, NSA and Department of Homeland Security (DHS) in particular were warned that they would be surrounded by U.S. military personnel, and that top CIA, NSA, and DHS leaders would end up being arrested for facilitating the assassination.
Goode estimates that approximately 80% of the personnel in these civilian intelligence agencies are Cabal (Deep State) controlled, while approximately 50% of the FBI is under "White Hat" control. He was told that these agencies refuse to give the same briefings as given to President Reagan (see Part 1) about the MIC SSP, and the handful of alien groups known to them.
The impending declassification of over a thousand secret patents will clearly help Trump succeed in revitalizing the U.S. manufacturing industry, and providing millions of jobs. It appears that the release of these patents is timed to coincide with impending disclosures regarding discoveries in Antarctica, where advanced technologies have allegedly been discovered, and which will also have a revolutionary impact on a number of major industries.
Continued in Part 3. Click here for Part 1.

Many Thanks to Corey Goode for his corrections and suggestions to an earlier version of this article.

© Michael E. Salla, Ph.D. Copyright Notice
Further Reading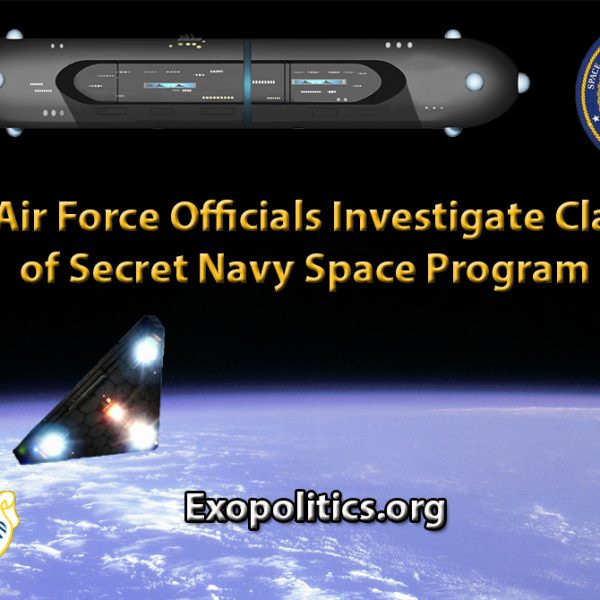 Officials from a highly classified U.S. Air Force space program that operates a space surveillance system around the Earth, are seriously investigating whistleblower claims, especially those stating that the U.S. Navy has secretly developed a parallel space program with kilometers-long craft belonging to eight battle groups capable of deep space operations.
According to secret space program whistleblower, Corey Goode, a senior official from the Air Force program who he calls "Sigmund", has been conducting "information exchanges" with Goode to learn about the alleged Navy space program and rumors of it cooperating with Nordic and other extraterrestrial groups,
Previously, Goode reported that he first encountered Sigmund in a series of military abductions that began in January 2016, when a triangular shaped antigravity spacecraft landed near his Texas home, and two Air Force personnel from the vehicle forcibly took him into the craft. Goode was subsequently interrogated and chemicals were injected into him to force him to reveal the source of his information.
After publicly emerging in March 2015, Goode's claims had come to the attention of a highly classified Air Force Space Program, which closely cooperates with other U.S. military entities such as the National Reconnaissance Office, the National Security Agency and the Defense Intelligence Agency. Goode calls this interagency collaboration the Military Industrial Complex Secret Space Program (MIC SSP).
The MIC SSP is entirely separate to a more advanced Navy Space Program known as "Solar Warden", which Goode says he served in during a "twenty year and back" tour of duty from 1987 to 2007. In previous reports, Goode has discussed at length the activities of Solar Warden and its interactions with visiting extraterrestrial civilizations.
During the initial abductions, Sigmund was trying to ascertain the source of Goode's information which had revealed highly classified information about the MIC SSP. In earlier reports, Goode also described how Sigmund and his subordinates chemically forced Goode to out several operatives working for the Solar Warden program.
The nature of Sigmund's interrogations of Goode began to significantly change when Sigmund determined that Goode's information was, at least in part, accurate, and that he was not part of a disinformation program belonging to a rogue element of the MIC SSP.
Sigmund subsequently began an "information exchange" with Goode that first occurred in "meetings" during the latter part of 2016. Goode was given information about Antarctica and the intense power struggle within the U.S. national security system involving the 2016 Presidential election. Goode wrote a report about one of these information exchanges that was published on December 11, 2016.
On March 16, Goode gave me a detailed four hour briefing about his ongoing meetings with Sigmund and/or his two subordinates from the MIC SSP, which occur on a regular basis to the present day. The information provided by Goode was originally going to be released in "Endgame 3", and was passed on to me in order to get the information out.

The scope of the information revealed by Goode is breathtaking in its national security implications for the U.S. and the rest of the planet. Consequently, this summary will be the first in a series of articles describing the information Goode has acquired through his "information exchanges" with Sigmund and/or his subordinates, and the latest activities participated in by Goode.
The overall context for the "information exchanges", according to Goode, was Sigmund's  anger over the fact that his MIC SSP was out of the loop concerning activities in deep space involving extraterrestrial life and technology. The possible existence of a more powerful Navy program operating in deep space, with technologies far more advanced than anything possessed by the MIC SSP, was of particular concern to Sigmund.
Sigmund's MIC SSP is primarily confined to near Earth operations (500 miles altitude) utilizing at least two operational space stations capable of hosting several hundred personnel, and several squadrons of TR-3B's that service the stations. This is consistent with a briefing President Ronald Reagan received in 1985, and later published in The Reagan Diaries, where he was told that the U.S. has the capacity to place 300 astronauts in space.
Lunch with 5 top space scientists. It was fascinating. Space truly is the last frontier and some of the developments there in astronomy etc. are like science fiction, except they are real. I learned that our shuttle capacity is such that we could orbit 300 people [p.334].
Reagan had been briefed about the MIC SSP and was greatly impressed by its capabilities.
In addition, Goode says that the MIC SSP maintains small bases on the moon and Mars but these are secondary in relationship to its primary mission of near-Earth surveillance and operations.
Goode says that Sigmund and MIC SSP personnel were all told that they were "the tip of the spear" when it came to the deployment of advanced military technologies in space, but had now learned that they were just the "f…ing Coast Guard"!

Sigmund's fury over lies told to him and other MIC SSP personnel led to angry confrontations with his superiors. This further resulted in Sigmund initiating a serious investigation into Goode's claims, along with those more recently provided by William Tompkins through interviews and his book Selected by Extraterrestrials, which specifically details the U.S. Navy Space Program and its cooperation with Nordic extraterrestrials.
Significantly, according to Goode, Sigmund is now conducting a similar type of investigation to my own recently completed one, done for my March 2017 book, The US Navy's Secret Space Program and Nordic Extraterrestrial Alliance. Sigmund's investigation also involves historical document searches, along with interviewing Navy personnel that have potential knowledge of a Navy Space Program that was secretly constructed in parallel with the creation of the MIC SSP.
After eliminating a number of possible sources for Goode's impressive body of information, Sigmund has now reached the conclusion that there are two remaining explanations for what Goode's revelations. The first is that a visiting group of "Nordic extraterrestrials", known to the MIC SSP, is manipulating Goode through mind control and feeding him accurate information for an unknown agenda.
The second is that Goode is genuinely associated with a Navy-run secret space program, which is part of a "Secret Space Program Alliance", and he is also working with a visiting group of extraterrestrials called the Sphere Being Alliance.
Sigmund began his information exchanges with Goode in part to further investigate Goode's claims, thus helping to determine which of the two explanations would prove to be more accurate.
Sigmund has also been concerned that plans for a "limited disclosure" of the MIC SSP would only reveal part of the truth about deep space activities involving lesser classified compartments of the U.S. military, and that the truth needed to be determined and exposed in order to maintain morale in the various programs. Was the MIC SSP the "tip of the spear" as they had been told, or "the f…ing Coast Guard" as Sigmund now feared?
This becomes especially relevant to Tom DeLonge's Sekret Machines initiative that began in early 2016 as an effort backed by 10 senior military and corporate officials. In late 2016 Wikileaks released emails that confirmed DeLonge's claims, and outed two of the ten officials involved in his initiative.
DeLonge and his advisory group genuinely believe that their disclosure of a US Air Force run space program comprising antigravity TR-3B vehicles, will usher in a new age of space exploration. These TR-3B squadrons operate out of Area 51, classified space ports on the island of Diego Garcia and a secret location in Antarctica, which according to Sigmund is also a major R & D facility.
[Update] In a March 20 post on his Facebook page, Goode explained more about this Antarctica base: 

Some of the Military and Corporate (Lockeed etc…) R&D facilities are bases that are VERY similar but much larger than Camp Freedom that was built in Iceland [Greenland] in the 50's under Project Iceworm. The space-port is an expanded former NAZI installation. The NAZI's have had several bases built across the SE and E regions of Antarctica. The reason Sigmund brought it all up is because I used the video of Project Iceworm in my CLE presentation. LOTS more going on in Antarctica that is not related to the ancient ruins. The development and testing of weapons platforms is forbidden under the international treaties of Antarctica. Also, to be noted. Many of the early bases on the Moon and Mars have been built in a similar manner. CG.
There has been widespread support among USAF and corporate officials for DeLonge's effort. That is no longer the case according to Goode. Sigmund now believes that efforts like DeLonge's are only a form of "limited disclosure", which would indefinitely perpetuate an information gap between the MIC SSP and the Solar Warden/Secret Space Program Alliance.
Consequently, the once uniform Air Force support for DeLonge's disclosure initiative is losing support. Essentially, the MIC SSP wants to get to the bottom of it all before anything about the MIC SSP is released to the public.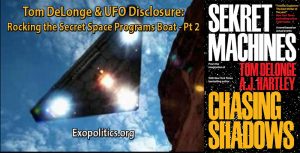 Goode says that Sigmund has been organizing meetings where he has provided briefings for select VIPs from the aerospace community. Leading engineers, scientists, industrialists and others have listened to Goode's information to see if any of it rings true for them.
The meetings have been arranged by Sigmund, and his subordinates would facilitate Goode's travel when necessary, and provide the security. Goode says that he has now given a series of briefings to 28 VIPs at similar secret meetings with between one to eight participants.
One of these meetings involved three people attending a conference being held at a hotel where Goode was staying in late January 2017. I stayed at this same hotel at the time, and Goode gave me a briefing about his visit to Antarctica in early January, which I then published on exopolitics.org.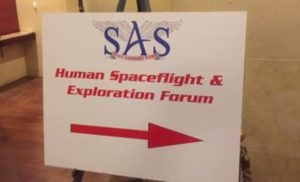 The conference was the "Human Spaceflight and Exploration Forum" organized by Special Aerospace Services  . Goode says that during his briefing presentation to the three VIPs who were Forum participants, one of the attendees got up and left in disbelief over such a secret space program existing.
The remaining two VIPs stayed to the end of the briefing, but their bemused expressions suggested that they didn't believe a word of what Goode was saying.
Goode says that in all briefings he has given, one or more of the participants have similarly stood up and left in disbelief, while the remaining VIPs largely maintained quizzical expressions. Consequently, Sigmund has recently paused the VIP briefing sessions since they have not had either the desired effect of informing the VIPs about a possible Navy space program, nor have they uncovered any further information that could help Sigmund in his investigation.
During our March 16 conversation, I pointed out to Goode the irony of his situation. The very same thing had happened to William Tompkins during World War II when he was tasked to deliver briefing packets containing information about a Nazi flying saucer program that used antigravity technologies and that the Nazi program was aided by a Reptilian extraterrestrial race.
Tompkins said that on many occasions when he delivered his briefing packets (from Naval Air Station San Diego) to the different aircraft company experimental test facilities, think tanks and university departments, the lead scientists and engineers would dismiss the information as impossible. According to Tompkins, he had to constantly battle the closed minded skeptism of those who had been trained to accept conventional scientific laws as inviolable.
Despite the VIP briefing sessions coming to an end, Goode says that his "meetings" with Sigmund and/or his subordinates continue to the present day. In these meetings, Goode has received significant information about the Trump Presidential Administration and official events to disclose the truth about suppressed technologies. This is evidenced by a secret Memorandum issued by Trump soon after taking office on January 20, 2017, to declassify secret patents involving health and free energy technologies.
Many Thanks to Corey Goode for his corrections and suggestions to an earlier version of this article, and for permission to use images which were created by a team of artists working with the Sphere Being Alliance and Cosmic Disclosure.

© Michael E. Salla, Ph.D. Copyright Notice
Further Reading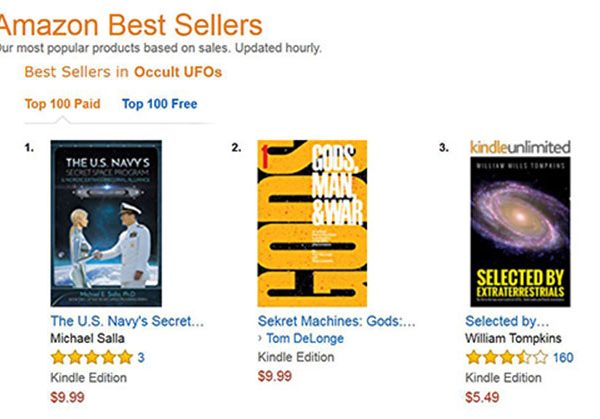 On March 5, three Secret Space Program books were at the top of the Amazon Best Seller lists for the UFO category. Two of the books, deal with a highly secretive program run by the US Navy, while the other deals with the US Air Force's better known program run out of Area 51.
The current number 1 is The US Navy's Secret Space Program and Nordic Extraterrestrial Alliance just released on March 1 that focuses on the testimony of retired aerospace engineer William Tompkins. The book uses extensive documentation to validate his claim of being directly involved in a US Navy espionage program with 29 Navy spies embedded in Nazi Germany's top aerospace programs. He also revealed the existence of a Navy research study program at its premier China Lake facility to learn about antigravity technologies which were found after the February 1942 Los Angeles Air Raid.
Tompkins later worked with several aviation companies to help the Navy design and build massive space battle groups out of its highly classified facilities hidden under the Wasatch Mountains in Utah.The book examines the historic role played by a Nordic group of extraterrestrials in helping the development of antigravity technologies first in pre-war Germany, and later in the USA in a secret alliance with the Navy.
The number two listed Amazon book is authored by Tom DeLonge and Peter Levenda and is titled Sekret Machines: Volume 1 of Gods Man and War. It is the non-fiction companion of the 2016 fiction book, Sekret Machines: Chasing Shadows, which discussed a US Air Force run secret space program. It becomes available on March 7 and will focus on evidence of historical visitation by extraterrestrials or "Gods" provided to DeLonge by a team of 10 advisors drawn from the US military and aerospace corporations. The book's Amazon description says: "Sekret Machines: GODS will take you on an eye-opening journey that transcends speculation and is based on unprecedented access to officials at the highest levels of government, military and industrial agencies who have provided insights and assistance never before experienced by any researchers in this controversial field."
The number three top selling Amazon book is authored by William Tompkins, and edited by Dr. Robert Wood (who also wrote the Foreword to the above US Navy's Secret Space Program book), and is titled Selected by Extraterrestrials: My life in the top secret world of UFOs, think-tanks and Nordic secretaries. It is the first volume of his autobiography where he reveals his involvement in the Navy's espionage program and work with Douglas Aircraft Company and TRW to design antigravity spacecraft. Most remarkable is Tompkins' claim of having worked with Nordic extraterrestrials secretly embedded in top aviation companies who covertly helped engineers and scientists achieve the technical know how to build large antigravity craft. Tompkins provides extensive documentation to support his amazing claims.
It is noteworthy that an additional two books about secret space programs (Insiders Reveal Secret Space Programs and The Ascension Mysteries) make the top six Amazon best seller list in the UFO category (see following March 5 screenshot). Both focus on the remarkable testimony of Corey Goode, and include other witnesses and whistleblowers disclosing their knowledge about these highly classified military and corporate run programs.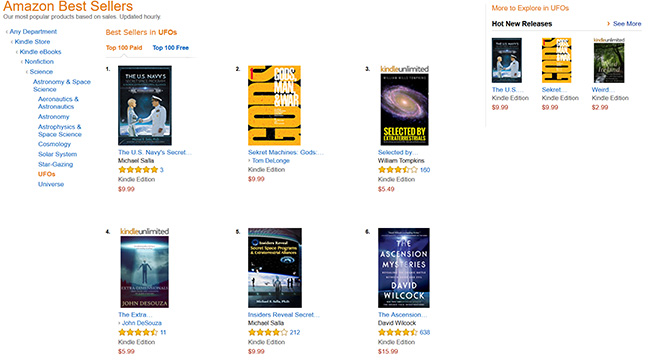 The fact that three secret space program books currently top the Amazon best seller list for the UFO category is a testament to the rapidly growing interest among the general public for information about such programs. It's very clear that people are embracing the evidence that many UFO sightings are related to highly classified technology projects that have been developed in top military and corporate scientific facilities, without the public learning the truth about their development, and the link to extraterrestrial visitation. Now, thanks to a growing number of whistleblowers, witnesses and "White Hats" in the military and corporate world, the truth is being fully disclosed to the world.
Michael E. Salla, Ph.D.
Article is available for free internet distribution.