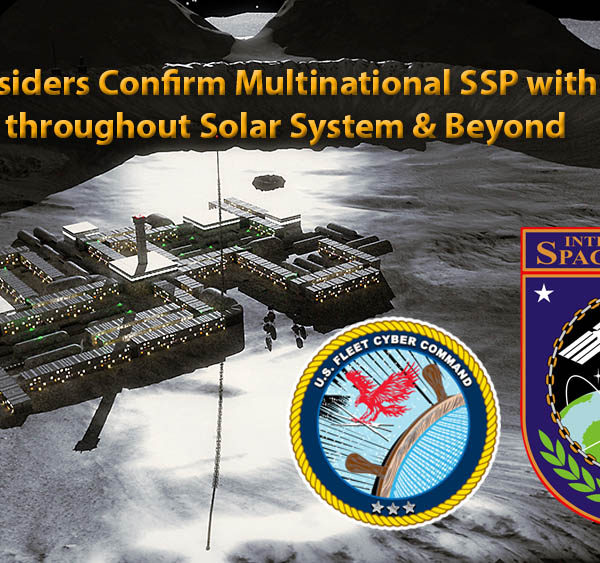 In the third instalment of a remarkable Earthfiles Youtube series on Antarctica, Emmy Award Winning Investigative Journalist, Linda Moulton Howe, has released more stunning video testimony from two anonymous Navy insiders/whistleblowers about a multinational coalition that has a secret space program with bases in Antarctica, on the Moon, Mars and even beyond our solar system.
In accord with their wishes, Howe has not disclosed their identities and has instead used the pseudonyms Spartan 1 and 2, and featured backlighting and voice altering technologies in their interviews. Howe has confirmed through official documentation they have supplied her that Spartan 1 served as a US Navy Seal from 1984 to 2004, when he retired with the rank of Commander. Spartan 2 served with the US Marine Corps (which falls under the Department of the Navy) and as an intelligence specialist from 1992 to 2016.  
Spartan 1 claims he visited Antarctica in August 2003 where he witnessed a large octagon shaped structure buried 50 feet under the Beardmore Glacier, which extended down deep into the interior of Antarctica, as discussed in part 1 of Howe's series.
Spartan 2 appeared for the first time in part 2, and discussed covert activities run out of the 8th floor of the NSA headquarters in Fort Meade, home of US Cybercommand, both of which are involved in running the space operations of a multinational alliance and the interstellar trade it conducts.
One of these multinational missions involved a trip to the interstellar object Oumuamua, which was discovered to be an ancient derelict spacecraft, as discussed in my previous article.
Spartan 1 described a secret base on the far side of the Moon used by a multinational alliance:
From my understanding, it's both above and below ground. It's a multi-structured facility that goes deep into the planet's [Moon's] crust. [Timestamp 6:16]
Spartan 2 also explained what he knew of the Moon base:  
I was told that the dark [far] side of the Moon there's not just above ground structures, there's also an operation going. They're building a mothership up there. They're mining materials. [Timestamp 9:02]
He went on to assert that there are 2500 individuals working on the Moon on such operations, statements Spartan 1 agreed with.
The moon base statements by both Spartan 1 and 2 suggest that neither has actually visited the Moon base themselves, but they know about it from documentation, briefings and/or through a first-hand source they encountered during classified missions or intelligence work.
Spartan 2 has repeatedly referred to his primary contact as a senior official in U.S. Cyber Command called Kim (or Ken) who has briefed him on the classified operations of the multinational space force.
In response to questions about when the building of the Moon base began and which countries were using it, Spartan 1 responded:
It goes back to the coalition, it's been happening for years. A lot of the times when stuff was going up, and we were told it was going up to the International Space Station, it wasn't. It was going up to this moon… I would have to say it's a multinational group… Great Britain, France, Germany, United States, Canada [Timestamp 7:04]

There were 15 countries that signed the International Space Station Intergovernmental Agreement on January 29, 1998. In addition to those named by Spartan 1, other nations that signed the founding documents are: Russia,  Norway, Spain, Sweden, Italy, the Netherlands, Brazil, Denmark, Japan, and Belgium.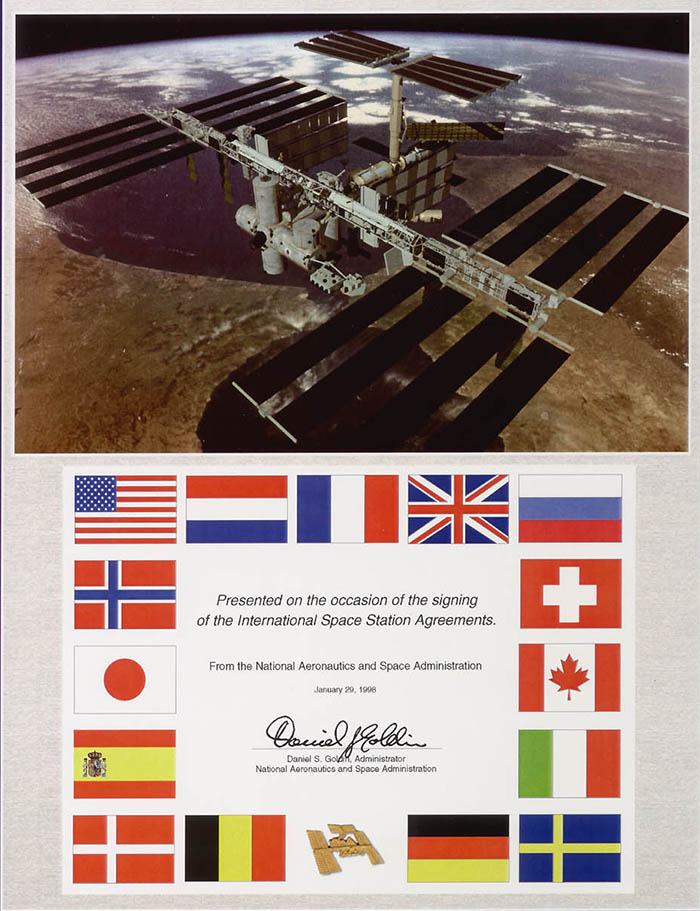 In part 2 of Howe's video series, Spartan 2 said that the multinational collation has had "a space fleet in existence for the last 25 years" [Timestamp 9:01] This dates back to 1994,  just four years before the formal signing of the agreement establishing the International Space Station, and just three years after the formal dissolution of the Warsaw Pact and the Soviet Union.
Remarkably, this corroborates what secret space program insider Corey Goode has been publicly asserting since 2015. He was the first to reveal the existence of a multinational alliance that operates interstellar missions. Goode called this multinational alliance the "Global Galactic League of Nations", and he claims to have visited one of their interstellar bases on an exomoon during his 20 year and back service (1987-2007).

An entire chapter in my 2015 book, Insiders Reveal Secret Space Programs and Extraterrestrial Alliances analyzed Goode's claims about the multinational alliance, its operations, and how it was formed as result of a covert agreement reached that ended the Cold War.
Spartan 1 went on to explain the activities occurring at the secret moon base:
I think they're training, and as far as where they go…. I know it's many light years away. [Timestamp 8:02]

His statement that operations are conducted "many light years away" is very significant given Goode's earlier claims of having visited an Exomoon in an unknown solar system run by the multinational alliance.
The testimonies of Spartan 1 and 2 furthermore corroborates what Goode and other secret space program insiders have been saying about a secret base on the Moon called Lunar Operations Command (LOC). Goode says he has been taken multiple times to the LOC, and in January 2018 was given an extensive tour of much of the facility that exists deep underground. 

Also, Spartan 1 and 2 discussed portals, or stargate technology found in Antarctica. One of these portals is located in the vicinity of the Wilkes Land magnetic anomaly, which Spartan 1 elaborated on:
What I've heard is that it's a portal. A portal takes you from one structure to another vessel outside of our atmosphere. Like an invisible elevator. This particular portal was underground inside a structure… It had a frame. It had hieroglyphics… The frame of this portal acted like a wormhole from point A to point B. [Timestamp 15:45]

He described the portal as very similar to the surface of a Moon Pool, where rather than moving through it into water, one walks through the vertically aligned portal. He described it as follows: "I'm sure you've seen the movie Stargate…. Exactly same thing except the frame is square." [Timestamp 17:48].
Similarly, Emery Smith, a former US Air Force Surgical Assistant, says that he performed portal missions for a multinational corporate alliance, and described the portals as rectangle shaped.
Spartan 1 and 2 also discussed coming Earth changes and the widespread destruction this is expected to create, and how the multinational coalition has created many staging posts around the planet in case of an emergency situation requiring the immediate planetary evacuation of personnel and resources, not unlike that depicted in the movie, 2012.
The dire scenario described by Spartan 1 and 2 is similar to earlier revelations of Goode and others who disclosed foreknowledge possessed by secret space program leaders about a coming Solar Flash event and/or pole shifts, both geomagnetic and geophysical.  
Many of the revelations of Spartan 1 and 2 corroborate earlier claims by Goode, William Tompkins, Pete Peterson, Emery Smith and other insiders who have bravely come forward to share their knowledge of secret space programs and the role of Antarctica in these operations.
The testimonies of Spartan 1 and 2 shed a lot of light on the multinational coalition behind these secret space programs, which can be traced to signatories of major international treaties such as the Antarctic Treaty and the International Space Station Intergovernmental Agreement.
In Antarctica's Hidden History (2018), evidence was presented that the signing of the Antarctic Treaty was used as a cover for secret agreements reached between the Eisenhower administration and a breakaway German nationalist group in Antarctica. This led to the start of extensive cooperation between US and European companies, especially German companies linked to the breakaway Antarctic group.
Both Spartan 1 and 2's testimonies corroborate that such a coalition had indeed been established and that Antarctica was a hub for its subsequent operations, which culminated decades later with the emergence of a multinational space fleet emerging from the end of the Cold War and the signing of the International Space Station Intergovernmental Agreement.
Linda Moulton Howe's interview series of Spartan 1 and 2 cast is vitally important in understanding the major nations and governmental agencies involved in secret space programs, off-world activity and what may lie in the future for our planet itself.
© Michael E. Salla, Ph.D. Copyright Notice
Further Reading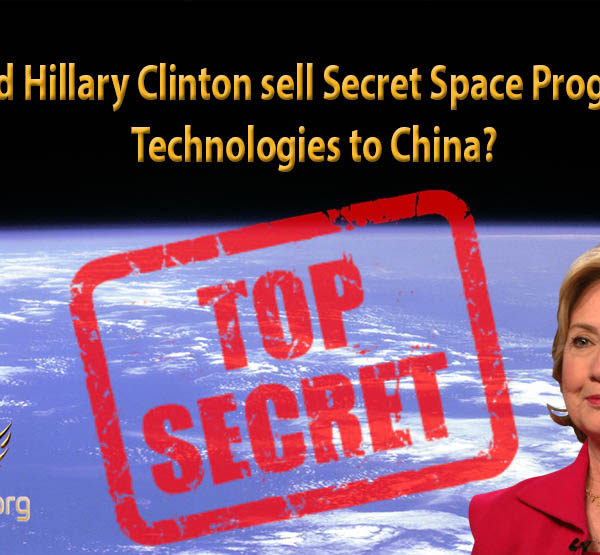 The anonymous group Q (aka QAnon), which has strong ties to the Trump administration and U.S. military intelligence, claims that former Secretary of State, Hillary Clinton, orchestrated a pay-to-play scheme where classified information was uploaded to her private servers, which were deliberately left susceptible to hacking from foreign entities. Among these entities was China which used the classified material from Special Access Programs and Sensitive Compartmented Information found on the Clinton servers to learn about advanced technologies deployed by the U.S. military in space.
There is documentary evidence that Clinton was granted access to classified information on space technologies, and this was a topic covered in her emails discussing a range of issues including a possible UFO disclosure initiative. According to the information provided by Q, Clinton's ultimate goal was to sell classified information that would allow China to bridge the technological gap with a secret space program run by the U.S. Air Force, rather than genuinely disclosing the truth behind the UFO phenomenon.
Q has posted multiple times on Clinton selling America's technological secrets to China during the period between January 21, 2009 and February 1, 2013 when she was US Secretary of State, and had access to advanced technology secrets including spy satellites and other space assets.
The most recent post was today, March 13 (post #3045). It is worth breaking down the post to distill what Q is communicating about Clinton's access to Special Access Programs (SAPs) and Sensitive Compartmented Information [SCI]. Q communicates information by raising leading questions, which the reader is expected to research and answer using previous information reveald by Q:
HOW DID HRC [Clinton] OBTAIN SAP (SPECIAL ACCESS PROGRAMS) ON HER PERSONAL SERVER(S)?
ACCESS TO SAP/SCI IS RECORDED IN A LOCAL ACCESS REGISTER OR IN A COMPUTER DATABASE —- WHERE ARE THE RECORDS?
IDEN OF 'SPECIFIC' SAP/SCI ON THE SERVER PROVIDES A TARGET (ROADMAP) TO REVIEW ACCESS LOGS TO THAT SPECIFIC PROGRAM?
WHAT PROCESS AND/OR SEC CLEARANCE WOULD BE REQ TO WALK-AWAY [TERMINAL_CLEAR] W/ SAP/SCI MATERIAL 'ELECTRONICALLY'?
Q is here explaining that Clinton made special arrangements within the Department of State in order to gain access to SAP/SCI material outside of normal security protocols. Her bypassing of established security protocols for digital information made it possible for foreign entities to hack into her private servers to gain access to the classified material according to Q:
Did a Foreign State gain access to the server?
Did a Foreign State gain access to the SAP/SCI material on the server?
https://thehill.com/policy/national-security/404192-fbi-denies-trump-claim-that-china-hacked-clintons-private-email
The link is to an article by The Hill debunking an August 28 tweet by President Donald Trump that China had hacked into Clinton's private server.
Hillary Clinton's Emails, many of which are Classified Information, got hacked by China. Next move better be by the FBI & DOJ or, after all of their other missteps (Comey, McCabe, Strzok, Page, Ohr, FISA, Dirty Dossier etc.), their credibility will be forever gone!

— Donald J. Trump (@realDonaldTrump) August 29, 2018
The point Q is making by linking to the article by The Hill, which Q regards as a prominent part of the fake news establishment, is to identify China as the "Foreign State" that had gained "access to the SAP/SCI material on the server", just as Trump had tweeted.
In an earlier September 4, 2018 post (#2077), Q makes it crystal clear that China had hacked into the Clinton servers, and this was part of a pay-to-play scheme:
Ex 1 – 'Being Afraid'
Does HRC care about you?
If she cared about protecting you…
Would she sell out America's secrets and Uranium to China/Russia [Ex 1]?

In yet another post, on February 22, 2018, Q says that Clinton [HRC] was operating with the CIA [Clowns] in selling technological secrets to China: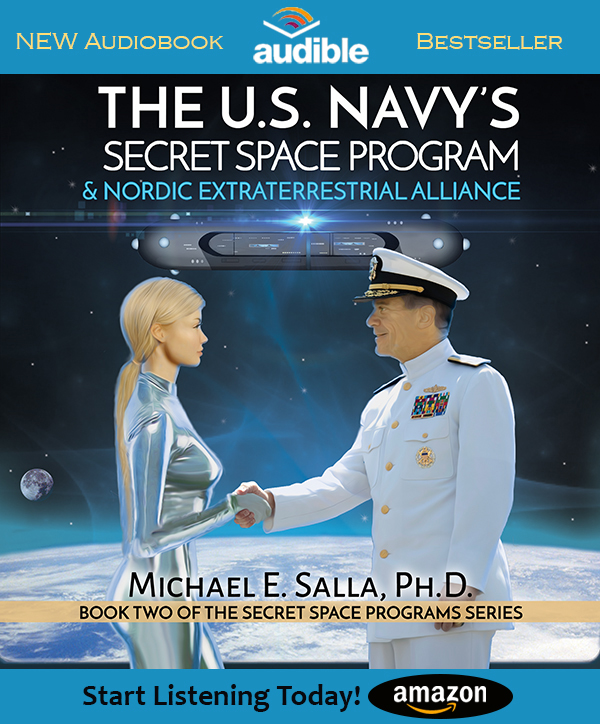 Clowns revealed in China/other.
2010.
[187]
Sold intel?
HRC open source server?
[Missing emails]
[CrowdStrike]
Granted access.
Betrayed.
Only the tip.
This will be made public [soon].
Q
Basically, Q is revealing that Clinton's scheme of selling advanced technology secrets through susceptible private servers was sanctioned by the Deep State, which was betraying the US national interest.
It was determined by the Inspector General for the Intelligence Community, Charles McCullough, that included among the emails sent and stored on Clinton's private servers was classified information concerning Special Access Programs (SAPs). In a letter dated January 14, 2016, Charles McCullough wrote:
To date, I have received two sworn declarations from one [intelligence community] element. These declarations cover several dozen emails containing classified information determined by the IC element to be at the CONFIDENTIAL, SECRET, and TOP SECRET/SAP levels. According to the declarant, these documents contain information derived from classified IC element sources.

Fox News, which was the first comment on McCullough's letter, described its significance:
Intelligence from a "special access program," or SAP, is even more sensitive than that designated as "top secret" – as were two emails identified last summer in a random sample pulled from Clinton's private server she used as secretary of state. Access to a SAP is restricted to those with a "need-to-know" because exposure of the intelligence would likely reveal the source, putting a method of intelligence collection — or a human asset — at risk. Currently, some 1,340 emails designated "classified" have been found on Clinton's server, though the Democratic presidential candidate insists the information was not classified at the time.

It's worth emphasizing that the SAP information was found in only random sample of the Clinton emails, suggesting a great many more lay among the 1,340 classified emails that were sent and stored on the Clinton private server.
Declassified Freedom of Information Act documents confirm that Clinton has had an interest in UFOs dating back to 1995, and that during the 2016 election campaign, she and her campaign chief, John Podesta, had raised the UFO issue on several occasions. For example, on December 30, 2015, she said:
He [John Podesta] has made me personally pledge we are going to get the information out. One way or another. Maybe we could have, like, a task force to go to Area 51.
Clinton followed this up with a statement on Jimmy Kimmel Live in March 2016, where she discussed UFOs, or what she referred to now as "Unexplained Aerial Phenomenon" (UAP). She pledged to release any UFO/UAP files that were not classified for national security reasons:
I would like us to go into those files and hopefully make as much of that public as possible. If there's nothing there, let's tell people there's nothing there. If there is something there, unless it's a threat to national security, I think we ought to share it with the public.
Documents leaked by Wikileaks confirm that the Clinton and Podesta were doing more than simply making comments in support of declassifying UFO/UAP information. Podesta was involved in meetings discussing the testimony of Major General William McCasland and other insiders about their knowledge of the UFO topic, and strategizing over how the Clinton campaign could support a disclosure initiative to release this information to the US public.
Given her historical interest in UFOs and publicly disclosing this information, it is all but certain that some of Clinton's emails discussing the UFO topic were stored on her private server, and this encroached on SAP/SCI material concerning advanced space technologies.
According to Q, the SAP/SCI information sold by Clinton was covertly raising slush funds for the Deep State (Eye of Ra) as revealed in a December 22, 2017 post [#228]:
2011 Shuttle Program terminated by Hussein [Obama].
US loses space dominance.
http://www.foxnews.com/opinion/2017/08/09/obama-administration-knew-about-north-koreas-miniaturized-nukes.html
IRAN Nuke deal.
NK Nuke/Missile Tech.
SpaceX.
NASA Tech to ?
HRC SAPs (private server).
Connected.
$$$,$$$,$$$.00 (pockets).
EYE OF RA.
Left eye [marker].
Symbolism.
EVIL.
STUPID.
JUSTICE.
Q  

Significantly, Q was referring to North Korea as a recipient of NASA's technology secrets and mentioned Elon Musk's Space X as playing a role. Presumably, the Deep State was helping North Korea develop its ballistic missile capabilities with the latest rocket technologies developed by NASA and, incredibly, Space X.
To learn more about the kind of SAP information Clinton was including in her emails, we can turn to a Sensitive Compartmented Information [SCI] Nondisclosure Agreement she signed on January 12, 2009, which outlined her legal responsibilities. Importantly, her Nondisclosure Agreement reveals four SCI control systems (which cover material from multiple SAP's) she would have access to.
Among the four SCI control systems accessed by Clinton was Talent Keyhole (TK) which is described as a "top-level control system" involving a number of surveillance platforms in very high altitudes and space:
TK covers space-based IMINT (Imagery intelligence), SIGINT (Signals intelligence), and MASINT (Measurement and signature intelligence) collection platforms; related processing and analysis techniques; and research, design, and operation of these platforms… The original TALENT compartment was created in the mid-1950s for the U-2. In 1960, it was broadened to cover all national aerial reconnaissance (to later include SR-71 sourced imagery) and the KEYHOLE compartment was created for satellite intelligence. [Source: Wikipedia]
Put simply, Talent Keyhole is surveillance data gained from America's most highly classified space platforms, which allegedly only involves data from spy satellites the U.S. Air Force and its partners in the military intelligence community (National Reconnaissance Office, National Security Agency and Defense Intelligence Agency) has sent into space.
In reality, however, the USAF and its partners have secretly developed and deployed far more advanced technologies in space as acknowledged by Q in a post dated September 19, 2018 (2224) where they answered several questions raised on the 8chan forum:
Q,

Did NASA fake the moon landings? Have we been to the moon since then? Are there secret space programs? Is this why the Space Force was created?
False, moon landings are real.
Programs exist that are outside of public domain.
Q
Q was here acknowledging that secret space programs are real and the information is classified at a very high level "outside of public domain". This refers to Special Access Programs that are associated with the Talent Keyhole control system that Clinton was granted "need to know" access to.

According to my research into secret space programs, the USAF has deployed manned space stations, along with orbital weapons platforms incorporating destructive technologies such as "Rods of Gods" and "Directed Energy Weapons".
These are all part of a USAF run secret space program, which operates advanced antigravity craft from sensitive facilities such as Nevada's Area 51, the Utah Test and Training Range, Kirtland Air Force Base in New Mexico, and Florida's McDill Air Force Base, home of Special Operations Command. 
In late 2017, different shaped antigravity platforms such as flying triangles, rectangles and cylindrical craft were photographed near McDill AFB in a disclosure initiative being conducted by USAF Special Operations, which encouraged a local resident to take the photos for public dissemination.

The conclusion that can be drawn from Q's posts is that included among the SAP/SCI material that Clinton was storing on her servers, was Talent Keyhole level information about the surveillance capabilities of the USAF run secret space program. This highly sensitive information appears to have been sold off in an illicit intelligence market to major U.S. rivals such as China and North Korea with the support of the Deep State and the CIA.
It is possible that Clinton's interest in UFO disclosure, was used as a cover to discuss Talent Keyhole material in emails that would be saved on her private servers, and eventually accessed by Chinese and other foreign hackers.
From the documents and evidence that has been made public so far, it is clear that Clinton had SAP/SCI material on her private servers, and this included Talent Keyhole level material which she had been granted "need to know" access. This makes Q's claims that Clinton was selling off America's advanced technology secrets to China and North Korea very plausible.
Consequently, the possibility that Clinton was part of a Deep State/CIA plan to funnel technological secrets, including information about a USAF run secret space program, to China, North Korea and other foreign entities, demands a serious investigation.
Indeed, some of the more than 80,000 sealed cases that have been identified in PACER judicial records, may involve charges of treason against Deep State officials involved in selling off America's advanced technology secrets.
It can be hoped that as more information is released in anticipated criminal/military trials that Q contends are imminent, that these provide the opportunity for official disclosure of a USAF secret space program, and the release of advanced technologies that would greatly benefit the general public.
© Michael E. Salla, Ph.D. Copyright Notice
Further Reading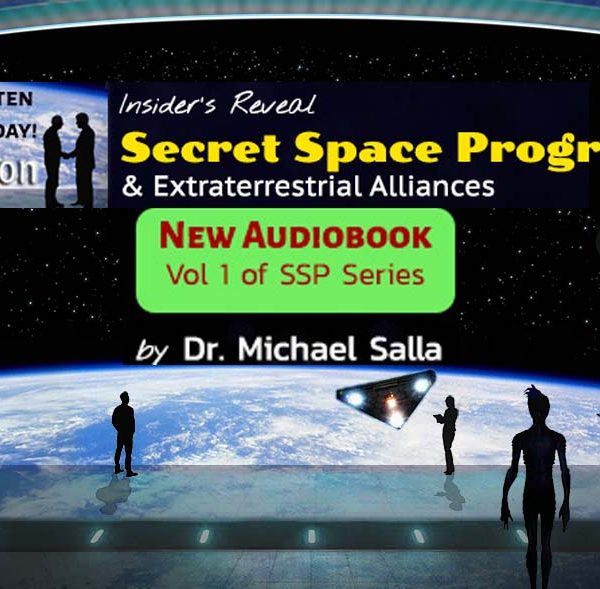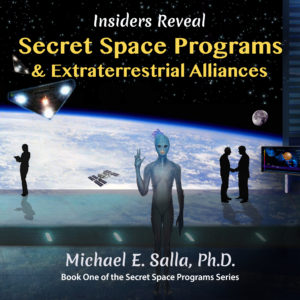 The Amazon bestselling book that launched the Secret Space Program Series by Dr. Michael Salla is finally available as an audiobook. Get it here!
Classified space programs have been an integral part of a complex jigsaw puzzle concerning UFOs, extraterrestrial life, ancient civilizations and advanced aerospace technologies, which have long defied any coherent understanding. Now finally, we have something to put all the pieces together with the disclosures of secret space program whistleblower, Corey Goode. A detailed investigation of Goode's and other insider testimonies reveals the big picture of a parallel world of secret space programs and extraterrestrial alliances. 
Learn from this audiobook: how the Vril/Nazi flying saucer programs in the 1930s gave birth to the 'Dark Fleet'; how Operation Paperclip scientists both helped and hindered the development of the US Navy's 'Solar Warden'; how the MJ-12 Group was behind the creation of the 'Interplanetary Corporate Conglomerate'; and how Ronald Reagan was instrumental in the creation of the 'Global Galactic League of Nations' space program. Finally, learn how the Sphere Being Alliance and other extraterrestrials interact with these programs. The full disclosure of secret space programs and extraterrestrial alliances will unshackle the chains of deception holding humanity back from reaching its highest potential as galactic citizens. 
The audiobook includes an added preface and afterword not found in the Paperback and Kindle editions.
Available on Audible.com and Amazon.com.
Corey Goode, producer of the bestselling Above Majestic documentary, released a major update on November 17 concerning a new insider that he has privately met and vetted. The insider is a retired surgeon with 30 years experience in a major branch of the US military, and used the pseudonym "Bones" after revealing his true identity. Goode says that after he met Bones about a year ago, he subsequently put Bones in touch with his other insider sources, including "Sigmund", another pseudonym used by former senior officer in a USAF run secret space program.
Sigmund first met Goode in early 2016, when he was leading interrogations of Goode's information, which included classified information about the USAF program, which Goode calls the Military Industrial Complex Secret Space Program (MIC-SSP). Sigmund eventually had to go on the run from the Cabal/Deep State after confirming Goode's claims of a far more technologically advanced Navy run space program, Solar Warden. Sigmund eventually began working with the Secret Space Program (SSP) Alliance – a broad alliance of defectors from rival secret space programs and Solar Warden – who rescued him.
According to Goode, Bones passed on two hard drives with numerous digital files to Sigmund revealing details of the "Dark Fleet", which is a German run secret space program that originated out of their hidden Antarctica bases and alliance with a group of Reptilians called Dracos.

After agreements were reached between the Germans and the Eisenhower Administration in the 1950's, the Germans were able to infiltrate all aspects of the US military industrial complex as Goode has previously explained.
After the treaty was signed and the joint Secret Space Programs began in earnest, things quickly got out of hand and the Nazi Break Away group won the race to infiltrate and take over the other side. They soon controlled every aspect of the U.S. from the Financial System, The Military Industrial Complex, and soon after, all three branches of the government itself.
Goode summarized what Bones told him regarding the classified name of the Dark Fleet which has still not been publicly revealed:
When I asked him which program he was involved in, he looked me straight in the eyes and told me the actual classified program name. He then said, "I think you have been referring to this program as 'DARK FLEET'." I was shocked to hear the actual name of this program dropped so freely.
After arranging a meeting between Sigmund and Bones where the latter handed over digital files on the two hard drives, Goode described what Sigmund told him in an early morning meeting on November 17, 2018 at Lunar Operations Command, a former German moon base now controlled by the MIC-SSP:
We sat there as Sigmund talked about the new intelligence they had received about the Dark Fleet.
He went on to give a nearly 3-hour summary on what was found on the two hard drives that Bones had given them. Sigmund was visibly excited and stated 'We have everything! Their infrastructure, their lists of assets going back 80 years and where they are located. We now know of Dark Fleet bases in over a dozen different star systems as well as on the Earth and have the joint agreements and battle plans that the DARK FLEET had signed with the Draco's and an insectoid race as well as non-aggression pacts with other ET Groups."
I asked Goode today why Sigmund was able to travel safely to Lunar Operations Command (LOC) when the Cabal/Deep State was after him through their own space program that Goode has called the Interplanetary Corporate Conglomerate (ICC), which controls the LOC. He replied:
It is a joint facility and control is with ICC but different programs think classified ppl from their own projects run everything. You have levels of SSP coming in and out. They timeshare the assets at the LOC's.  Only middle brass ever see's the ppl that run the bases and the ppl that cycle in or are lower SSP's only have access to the middle brass, etc
Goode went on to state that the digital files Bones gave to Sigmund had enabled the SSP Alliance, working in tandem with the Earth Alliance (a consortium of White Hats in every major nation on the planet) to identify all Dark Fleet operatives, and subject them to sealed indictments and future arrests.
Sigmund stated that they now had everything they needed to intercept Dark Fleet assets on every continent on Earth. They have now identified every Dark Fleet agent and double agent on the planet and how they have infiltrated the ICC and MIC SSP Programs. He was confident that they now had enough information to pass to the Earth Alliance for future indictments.
Among the more than 60,000 sealed cases currently found in judicial records, the vast majority involve indictments, which will lead to arrests when unsealed. Some of the looming arrests, according to Goode, involve Dark Fleet assets.
It's furthermore worth pointing out that the Executive Order issued by Donald Trump on December 21, 2017 allows the confiscation of property of all those involved in human rights abuses and international corruption. This has allowed Trump's military backed government to systematically strip the Dark Fleet/Deep State of their financial assets, which were used to control the planet.
What's particularly noteworthy is Goode's claim that all Dark Fleet assets in the solar system and even adjacent start systems, will be confiscated and handed over to White Hats who will ensure that these are eventually used for the benefit of all humanity. He wrote:
The SSP Alliance is also confident that they now have actionable intelligence on every ICC, Dark Fleet, Solar Warden and Intergalactic League of Nations base and asset in the galaxy and are ready once the action begins. I am told this will assure that the entire extraplanetary infrastructure that has been built in secret will be available for use by a new system that has been outlined. This is a post-disclosure plan that a minority in the Earth Alliance has put a lot of planning into.
Essentially, Goode is here stating that the new system will be something along the lines of "Star Fleet" in the Star Trek series, whose creator Gene Rodenberry had been secretly briefed about the Navy's secret space program.
Finally, Goode said that the SSP and Earth Alliance plan to use him for future disclosure dumps:
He [Sigmund] went on to say that they are gathering information to release through me at a future date. I was told that after this information was compiled it would then be given to me to disclose in a way that is beneficial to the SSP Alliance. I was also informed that at about the same time that I am cleared to drop the Dark Fleet information that I should also be cleared to release the information from my meeting at the LOC Alpha, Bravo & Charley and the tour of ancient alien ruins within the Moon itself.
Some of the information will be disclosed in documentaries similar to Above Majestic: The Implications of a Secret Space Program, which the SSP Alliance believes is an excellent way of disclosing the truth.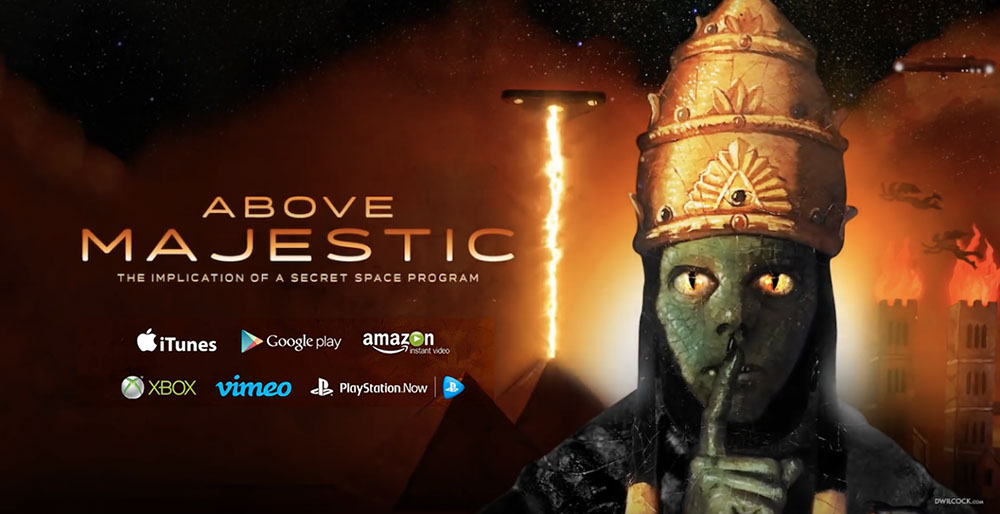 Most importantly, the SSP Alliance is committed to full disclosure and wants to make a partial disclosure impossible:
The SSP Alliance plan is unchanged, they plan to make a partial disclosure impossible and find a way to Full Disclosure thus delivering the entire 'SSP Infrastructure' to all of humanity on equal terms.  
Goode shared with me additional information today explaining that Bones is not alone in sharing information about the Dark Fleet:
BONES & 5 of his team of leakers, all between the ages of 68-82 were brought into protective custody by the SSP Alliance not long after the meeting where Bones handed over the 2 drives…. They had tons of videos of old timers giving death bed confessions and testimony on what they did in DF. I am told it is very detailed and disturbing stuff.
He also pointed out that the Dark Fleet (DF) and the ICC are concerned over the prospects of more defections as this information is revealed, and people are subject to sealed indictments and their financial assets confiscated:
[T]he ICC and DF know we received this intel and are very worried. This intel release was approved because it would cause more of them to defect as there is a rumor that more and more of the DF assets have defected from the DF but have not joined SSP Alliance, it is speculated that they are trying to go rogue with their own program and assets that is totally broken away from our solar systems infrastructure
At this stage some will ask whether there is any documentary evidence supporting any of Goode's incredible claims, especially his assertion that he will be used as a conduit for future document releases?
Actually, there is. Goode was the person who first released two Unclassified for Official Use Only Defense Intelligence Reference Documents (DIRD), which were commissioned in 2007 by the forerunner to the Advanced Aerospace Threat Identification Program. The two documents are titled "Traversable Wormholes, Stargates, and Negative Energy" and "Warp Drive, Dark Energy, and the Manipulation of Extra Dimensions", the first was authored by Dr. Eric Davis, and the second co-authored by Dr. Richard Obousy and Davis.
In fact, Dr Davis confirmed the authenticity of the documents released by Goode, in a June 24, 2018 appearance on Coast to Coast radio, where he said:
… that 2 or 3 of these papers had been "leaked" onto the Internet, by "someone on the beltway." The beltway is a highway that encircles Washington. A reference to "inside the beltway" means matters of importance to US government officials; lobbyists; and government contractors.
While most UFO researchers are reluctant to discuss Goode's role in releasing the DIRD documents, and instead point to less controversial sources such as Tom DeLonge's To The Stars Academy, and George Knapp's, iTeam, the fact is that out of 38 DIRD documents known to have been written, only three to date have been publicly released – two by Goode, and one by Knapp's iTeam.
What Goode's public release of the two DIRD papers conclusively show is that he does have high level access to genuine insiders with documents they have been authorized to release through him. This helps raise confidence in the accuracy of what Goode has revealed about Bones and Sigmund regarding the Dark Fleet, and the prospects for full disclosure through future document releases similar to the DIRD articles, and documentaries such as Above Majestic.
© Michael E. Salla, Ph.D. Copyright Notice
[Many thanks to Corey Goode for his suggestions in improving an earlier draft of this article, and answering questions about his November 17 update.]
Further Reading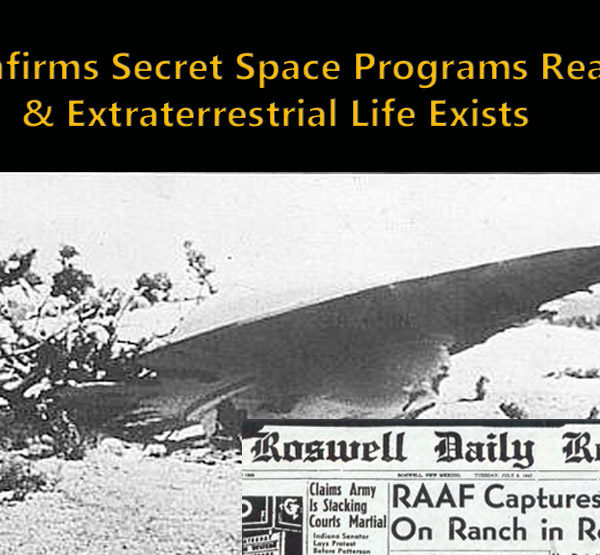 On September 19, Q Anon dropped two bombshell posts affirming the existence of secret space programs and extraterrestrial life. The two posts open a big door for the millions who have been following the Q information, to learn about secret space programs and extraterrestrial life, and how these have been hidden from the general public.
In the first post, Q responds to questions about whether extraterrestrial life exists and whether the Roswell UFO crash really happened, and replies as follows: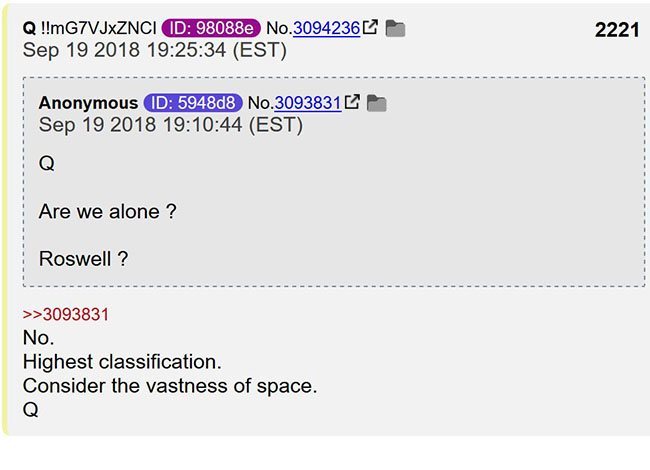 Q's response makes clear that we are not alone and that the truth about the Roswell flying saucer crash has the "highest classification".  The response is significant since it affirms what a senior official with the Canadian Government's Department of Communications reported back in 1950 when he inquired about the Roswell crash among senior U.S. government scientists.
Wilbert Smith's official report was eventually released through the Freedom of Information Act:
The matter is the most highly classified subject in the United States government, rating higher even than the H-bomb.
Perhaps anticipating skepticism, Q further advocates that readers consider the vastness of space to realize that our galaxy, and the universe more generally, is certain to be teeming with life, some of which has technologically evolved sufficiently to travel through our galaxy and visit the Earth as occurred with the Roswell incident.
In the second bombshell post from September 19, Q responded to a number of questions about secret space programs, and replied: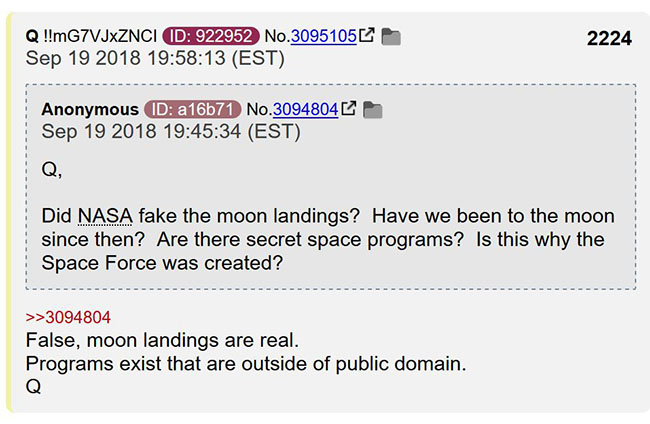 In stating that the "moon landings are real" Q is refuting conspiracy theories that the moon landings were hoaxed. This removes an impediment to the general public learning the truth about what has been really happening on the moon subsequent to the Apollo moon landings.
In the next statement, Q affirms the existence of space programs that "are outside of public domain". This means that Q wants readers to understand that the information on these non-public domain" space programs is highly classified and restricted to those with need to know access.
Furthermore, Q is alerting readers to the fact that much information about these secret space programs is found in the private corporate domain, and not necessarily in the hands of the US government and the military services.
Two insiders, Emery Smith and Corey Goode have recently spoken about how corporations are in charge of secret space related programs run out of military installations such as Kirtland Air Force Base. In the book, Antarctica's Hidden History and the Corporate Foundations of Secret Space Programs, the historical genesis of corporate control over space programs is described in detail.
While Q did not explicitly refer to President Donald Trump's Space Force initiative, it can be inferred from Q's reply that this is related to the existence of secret space programs.
This is the first time that Q has explicitly referred to secret space programs. Previously, Q posts have alluded to a secret space program being involved in intercepting a ballistic missile attack on Hawaii.
It can be expected that Q will reveal much more as the general public becomes open to the possibility that the truth about secret space programs and extraterrestrial life has been hidden, and the Space Force initiative becomes a means of wresting control away from corporations and put back into Presidential Executive control.
© Michael E. Salla, Ph.D. Copyright Notice
Further Reading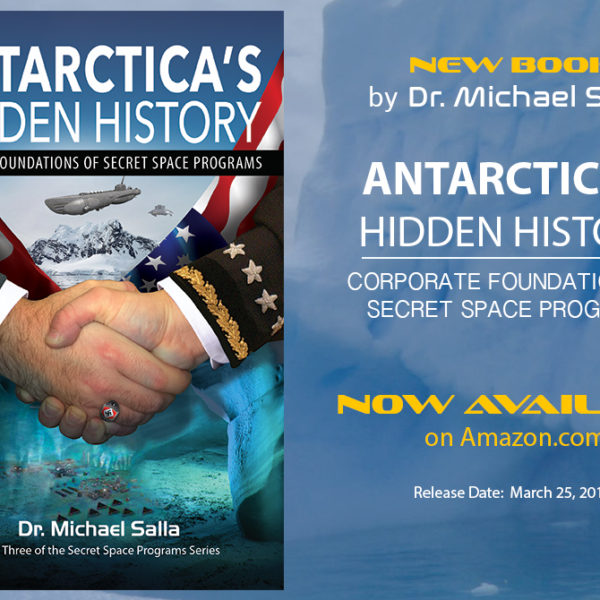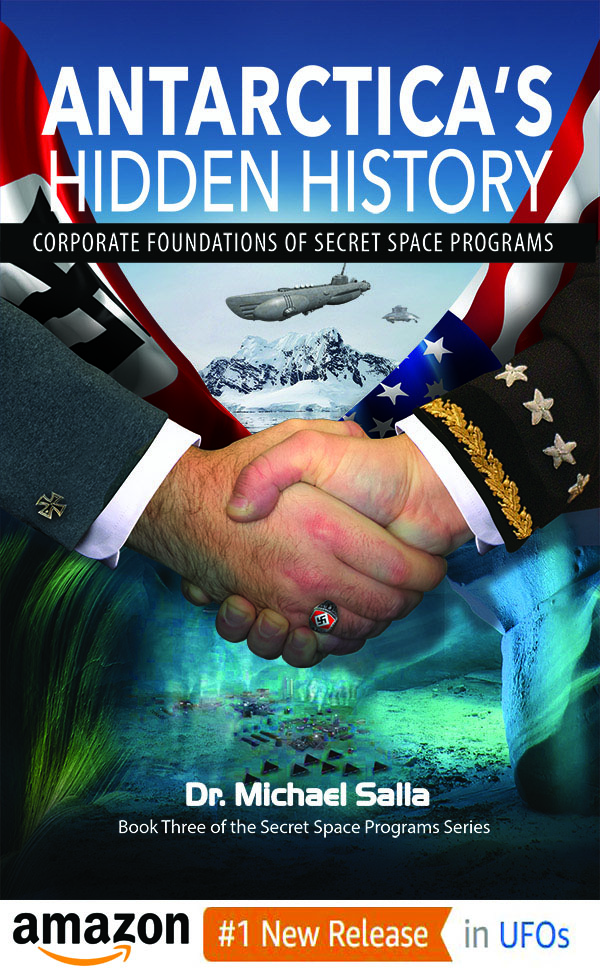 Antarctica is a land about to be exposed over its well-guarded secrets and ancient hidden mysteries …
In 1955, as a result of a secret agreement reached between the Eisenhower Administration and a German breakaway group in Antarctica, a transnational corporate space program began to emerge. The secret infusion of personnel and resources from US military contractors into Antarctica allowed this transnational corporate program to steadily grow into a major space power, which would eventually surpass and eclipse the secret space programs run by the US Navy, Air Force, and the classified space programs of other nations.
Whistleblower claims substantiate that many of the classified programs conducted there violate the 1961 Antarctic Treaty, and constitute "crimes against humanity" due to the abuse of a captive slave labor force. Dr. Michael Salla daringly exposes the major corporations involved in these illegal programs, and how the truth is hidden from company shareholders and the public. Today, Antarctica's secrets are slowly being revealed by the increasing volcanic activity that is melting the massive ice shelves, exposing ancient artifacts and crashed extraterrestrial spacecraft.
Full disclosure of Antarctica's history, and current events involving multiple space programs and transnational corporations, will vitally aid in transforming our planet, and prepare humanity for the major geological events that lie ahead as the melting ice unveils all that has previously been hidden.
About the Author: Dr Michael Salla is a former university professor in international relations, and is the author of Insiders Reveal Secret Space Programs and Extraterrestrial Alliances (Book 1 in Secret Space Program Series, 2015), and The US Navy's Secret Space Program and Nordic Extraterrestrial Alliance (Book 2 in the Series) both of which became #1 Amazon Best Sellers. He is also the author/editor of nine other books dealing with 'Exopolitics', International Conflict, U.S. Foreign Policy  and Global Peace.
Antarctica's Hidden History: Corporate Foundations of Secret Space Program is 452 pages in length, and is Book 3 in the Secret Space Programs Series.
Order your autographed paperback edition from Exopolitics.org– Cost $24.95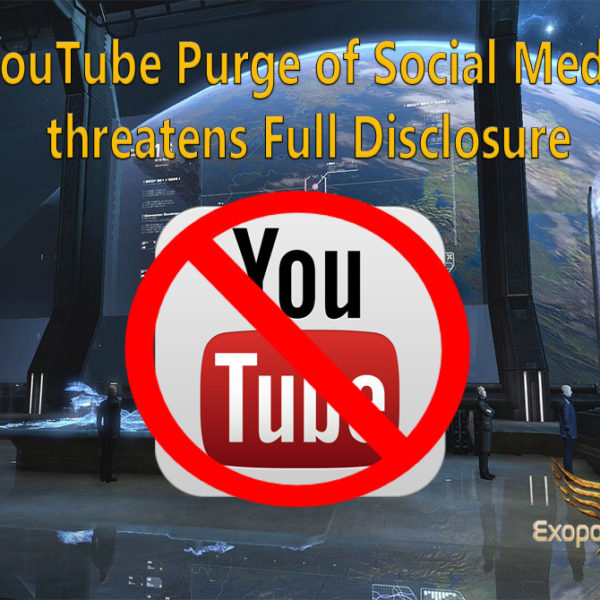 YouTube has begun purging its popular video hosting platform of channels that challenge the narrative coming out of the mainstream news media across a wide spectrum of topics. This has led to outright terminations and strikes against some of the more popular channels, which have been exhorting viewers to question the conventional news narrative.
These channels have been accused to be participating in hate speech or bullying due to them vigorously addressing controversial topics, transgressing norms of political correctness, or exploring evidence that some national tragedies may have been false flag attacks. Among the topics that appear to have attracted the attention of YouTube censors are disclosures by QAnon, which allegedly involves information released by covert U.S. Army Intelligence operatives.
The YouTube video purge not only has grave implications for free speech, but can also seriously impact on the prospects for full disclosure of secret space programs, UFO's, and the advanced technologies and hidden intelligence behind these.
These subjects have been successfully kept secret for decades due to mainstream media either ignoring or ridiculing their seriousness, or by removing journalists from their positions for covering them. I found this out first hand as a "citizen journalist" for the Examiner.com online newspaper where I had over 50 million pages views for over 300 articles written from 2009 to 2015.
All my content was summarily removed when a new editorial policy was adopted where "exopolitics" and many other alternative news topics were no longer considered legitimate news. Hundreds of citizen journalists writing highly popular blog articles were dismissed without any appeal process. All this badly backfired on the Examiner which by July 2016 was forced to shut down.
It's no surprise then that the CIA has been found to have compromised media organizations in order to shape the mainstream media narrative. I would not be surprised that the Examiner had been similarly compromised. Therefore, any attempt to suppress alternative media sources that challenge mainstream news is a threat to full disclosure.
YouTube, owned by Google, has very recently begun using an army of 10,000 moderators to police the thousands of videos uploaded to its platform on a daily basis.   In addition, progressive liberal organizations such as the Southern Poverty Law Center are being used as "Trusted Flaggers" which target YouTube users that vigorously challenge the mainstream news narrative.
Strikes are issued by the moderators and/or flaggers with only a very brief reference to the category of the YouTube community guidelines that has been allegedly transgressed. s No detailed explanation is given for the strike nor is the individual moderator(s) or organization behind the strike identified.
Among the first YouTube channels to be terminated under their three strikes policy was the Richie Allen Show on February 22, which had over 76,000 subscribers and 1,400 videos. Jordan Sather's Destroying the Illusion channel was terminated on February 26 (120,000 subscribers),  as was Jerome Corsi's channel (34,000 subscribers) on March 1. Strikes were also given to Alex Jones/Infowars ( 2.3 million subscribers and 33,000 videos), Mark Dice (1.2 million subscribers) and a growing list of others.
[Update 3/4/18] On late Saturday night, Alex Jones reported that YouTube was poised to delete his channel: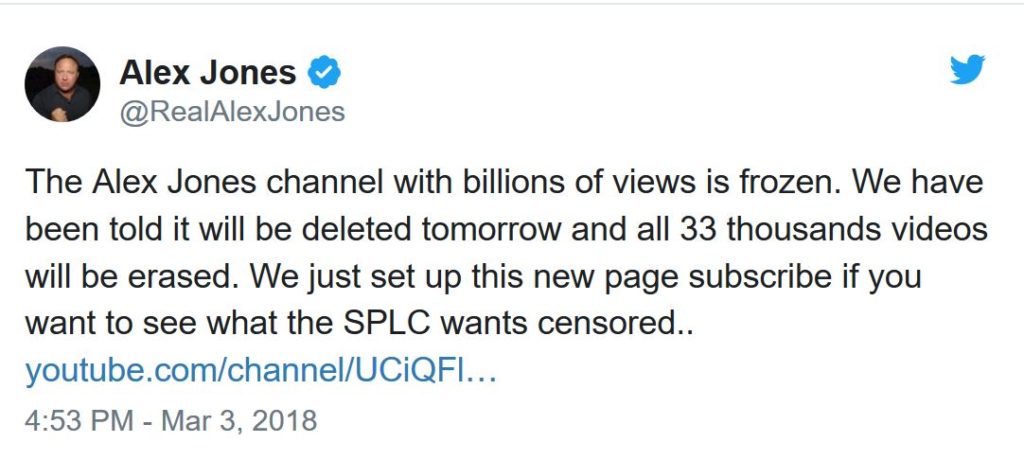 When challenged, some of the strikes have been reversed, and channels restored as occurred with Corsi, who received White House support from back channel discussions. Interestingly, both Corsi and Sather were giving a lot of coverage to the QAnon disclosures.
Officials linked to QAnon may have even stepped in to save Corsi's channel. Sather instead has created a replacement YouTube channel called Destroying the Illusion 2.0., where he plans to continue examining the QAnon material, secret space programs and many other topics.
The long-term prospects for YouTube channels and news sites challenging mainstream media narratives does not look good due to the moderators and flaggers actively posting strikes against many channels challenging mainstream news narratives.
YouTube, Twitter and Facebook are at different stages in downgrading, hiding and/or terminating alternative media sites in a transparent and foolhardy effort to get people to buy back into the mainstream media narrative on topical issues.
YouTube, along with Twitter and Facebook, are destined to fail since there is a growing social movement that simply doesn't trust the mainstream news narrative, which many believe is hopelessly compromised by Deep State actors such as the CIA.
This is a phenomenon that is not going to be reversed during the Trump administration given the highly partisan nature of American politics, and the rapid growth in the popularity of the QAnon revelations which are being followed by as many as 20 million people (Q post 812).
What YouTube, Twitter and Facebook are doing is only highlighting how they have been compromised by individuals and groups that have a vested interest in hiding the machinations of the Deep State, and covering up the truth on an extensive number of topics.
In the meantime, it would be wise for individuals to support alternative media by directly visiting the websites of content providers, which are not controlled by YouTube, Twitter and Facebook. Subscribe to RSS feeds, email lists, etc., of your favorite sites, and don't become too dependent on social media platforms such as YouTube, Twitter and Facebook, which are only going to continue to terminate accounts of those not supporting the mainstream media narrative. Here is a list of alternative social media platforms that don't censor posters.

In the case of information concerning secret space programs and "exopolitics" I recommend subscribing to the RSS and email feeds of exopolitics.org which is my personal site, or exonews.org which hosts a diverse collection of exopolitics authors, and stories from around the internet.

As far as the YouTube purge of channels promoting the QAnon information, the quick reinstatement of the Corsi channel after possible White House intervention raises hopes that this new policy direction may similarly backfire on YouTube and Google, as it did for Examiner.com back in 2016.
The threat posed by the YouTube purge is very real and preemptive steps need to be taken by all who value alternative news perspectives, and desire social media to be an effective means of promoting full disclosure.

© Michael E. Salla, Ph.D. Copyright Notice
Further Reading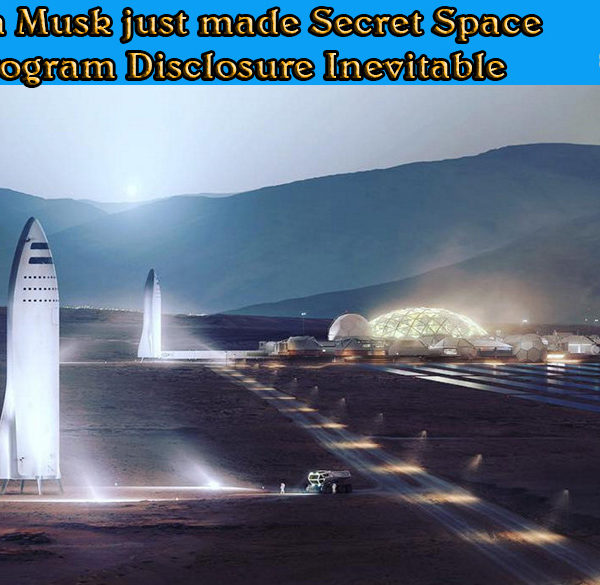 Today at the International Astronautical Congress in Australia, Elon Musk unveiled his plans for the "Big F*cking Rocket" (BFR) which will be the means of turning humanity into a spacefaring civilization. He aims to cannibalize his fleet of Space X rockets and reentry capsules to create a fleet of BFR rockets capable of cutting the travel time between major cities on earth to less than an hour, and making possible the establishment of human colonies on the Moon and Mars.
His BFR rocket will use huge tanks of super-cooled liquid oxygen as the propulsive force. He plans to first build BFR rockets to cut travel time between major cities on Earth to under an hour. The flight time between New York and Shanghai, 7000 miles (11,265km) apart, would be 39 minutes.
Using revenue from his profitable satellite business, and future revenue from rocket travel between major cities, Musk aims to fund his more ambitious plans for colonies on the Moon and Mars. He set 2022 as the target date for his first BFR rockets to Mars.

What makes Musk's vision of humanity becoming a spacefaring civilization remarkable is that it uses conventional rocket technologies to achieve his goals in less than a decade. Given his proven track record in building a profitable commercial space company from scratch, there's little doubt that he can succeed in his goal.
Importantly, he stresses that his plans for BFR will make it possible for everyone to fly into space in short trips between major cities for the equivalent "a full fare economy in an aircraft". This will revolutionize the aviation industry, and will certainly get the attention of Boeing, Airbus and other major aviation companies.
This raises the question of how does Musk's plans for the BFR impact on disclosure of secret space programs using classified antigravity and torsion field technologies as reported by multiple insiders and whistleblowers? The most powerful impact is that it will allow many people to actualize their dream of space flight.
Even if limited for most to a short terrestrial trip, from say New York to Shanghai, Musk's plan breaks the glass ceiling on who can become a spacefaring astronaut. A big part of the reason why secret space programs where able to develop without the knowledge of much of the planet's population was that space travel was beyond the reach of the common person.
Rumors of antigravity and torsion field propulsion technologies just didn't inspire people to investigate since most assumed that space was for the select few, and not for the uninitiated many. Musk's BFR changes that perception forever.
Now everyone can dream of becoming a spacefaring astronaut, and the technologies that can facilitate that more quickly and safely will now get on people's radar. Rumors of secret space programs run by the US Air Force, US Navy, multinational corporations, etc., will get people to take claims of suppressed technologies very seriously.
The testimony of insiders and whistleblowers with knowledge of secret space programs will attract people's attention, leading to further important leaks by sympathetic elements within the military industrial complex. This is exemplified in a recent series of triangle shaped UFOs being photographed near MacDill Air Force Base.
These mysterious craft which appeared just before Hurricane Irma hit the Tampa Bay region, were capable of maneuvers only possible for craft using antigravity and torsion field technologies, which overcome the law of inertia.
People will take such reports and sightings more seriously reasoning that if antigravity and torsion field technologies have been safely developed for secret space programs, then why not have national governments take steps to declassify these for the nascent commercial spacefaring industry open to all?
Make no mistake, Musk's effort to turn humanity into a spacefaring civilization using conventional rocket technologies, will accelerate the disclosure process. His bold vision for BFR rockets to cut travel time between Earth's major cities to under an hour and for interplanetary travel with bases on the Moon and Mars, makes disclosure of secret space programs inevitable.
© Michael E. Salla, Ph.D. Copyright Notice
Further Reading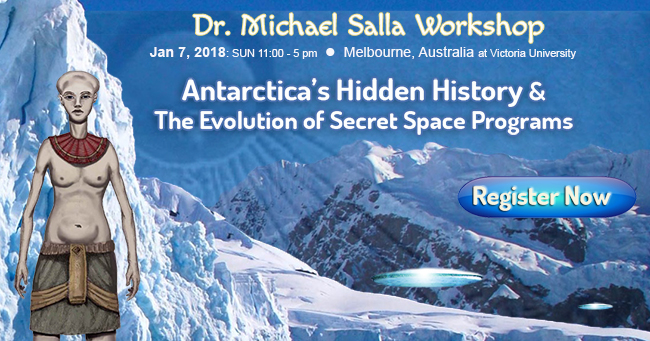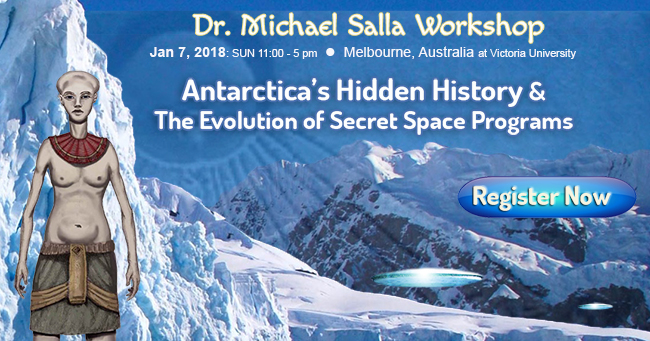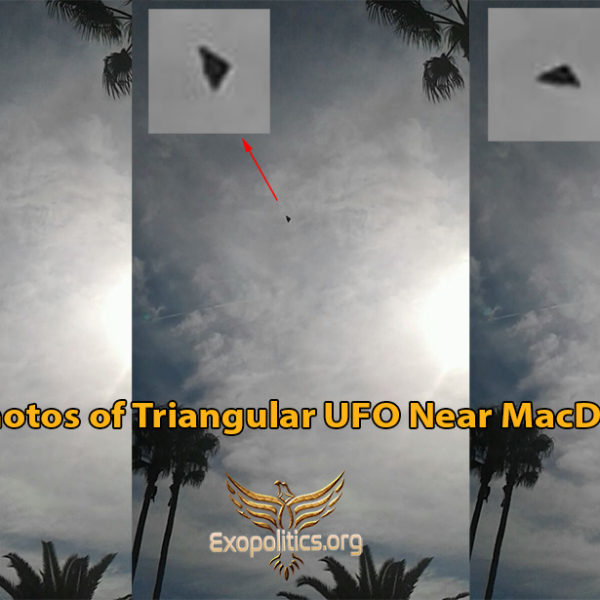 Three more photos of a triangular UFO taken near MacDill Air Force Base were today sent to me for analysis. The photos were taken around 9:50 am, on September 4, about 10 miles from MacDill, which is the home of US Special Operations Command. The photographer, JP (a pseudonym) says that he took the photos over a three second period, and observed the craft for about 9 seconds in total.
During this time period, the craft hovered and slowly moved towards the right. JP then says that the craft disappeared, in a right to left fashion. This indicates that the triangular craft either used cloaking technology that would move from one end to the other end of the craft, or had entered a larger cloaked vehicle.
The three photos appear to show a different type of triangular craft to that photographed by JP on August 31 in a series of six photos. The August 31 craft appeared to have large fin of some kind before powering up with a circular type propulsion system, and shooting away into the upper atmosphere.
My analysis suggested that this was likely a variation of the TR-3B craft based on the revelations of Edgar Fouche, a former employee at Area 51.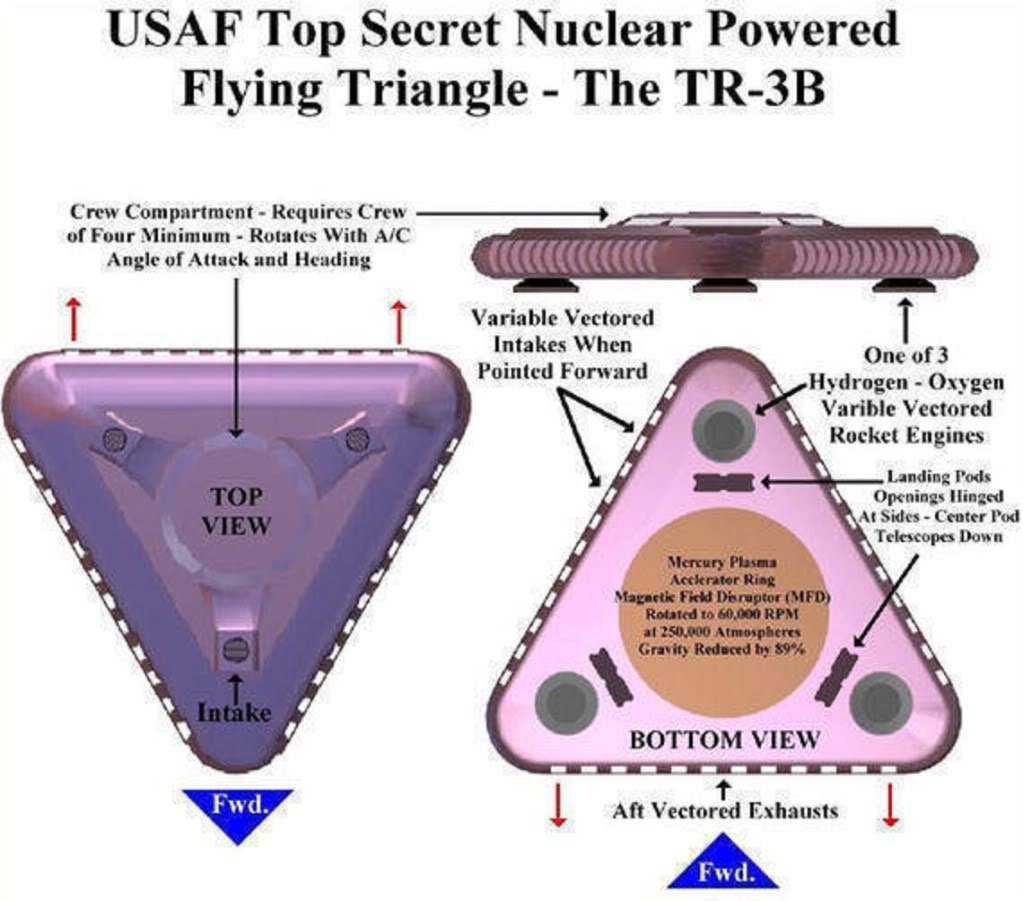 The September 4 craft disappeared using some kind of cloaking technology. JP, who claims to have been subjected to multiple military abductions in covert spacecraft, believes the photographed craft is similar to those that have taken him in the past.
As discussed in my previous article, I have known JP for nine years and can vouch for the authenticity of these photos and his credibility as a witness. While there are variations in appearance and behavior of the craft photographed on August 31 and September 4, it does appear that they are part of a Secret Space Program operating out of MacDill AFB.
© Michael E. Salla, Ph.D. Copyright Notice
[Update 9/20/17 – Questions have been raised about the authenticity of the composite pictures I have created using the original photos provided to me by JP. The composite photos were created using Adobe Photoshop where I added text and did a close up of the UFO that was inserted at the top of each of the three originals. There has been no photoshop manipulation of the objects themselves, which can be seen by viewing the originals which are available below. Click images to enlarge.
Further Reading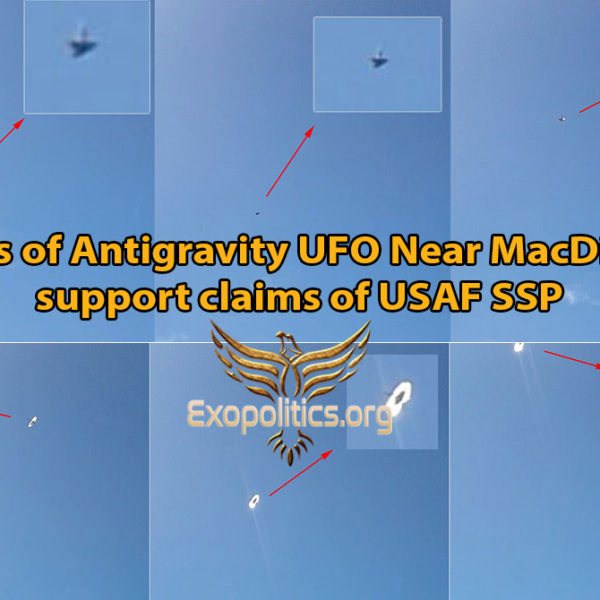 Yesterday, I received a series of six photos of a triangular shaped UFO taken near MacDill Air Force Base, Tampa, Florida. The photos were captured at approximately 8 am on August 31, by JP (pseudonym), someone I have been communicating with since 2008. These are not photoshopped or created by CGI, but genuine photos of a UFO that informed analysis suggests has design and technology characteristics similar to the TR-3B that is part of a USAF secret space air wing operating out of MacDill.
I spoke with JP after he had claimed to have had contact experiences with a group of Nordic extraterrestrials in Brazil and contacted me about them in early 2008. He said that he had many ideas for advanced technology downloaded into him, and began designing and building some of them.
He had no previous technical background and views himself as a budding musician. Subsequently, he was approached by operatives from one or more military agencies who wanted him to work with them in building these devices.
I gave JP advice on dealing with the sensitive situation he was in — given that the alleged extraterrestrials wanted him to build free energy and other technologies helpful to humanity, but the covert operatives would be unlikely to allow this.
JP claims that after a period of working with covert operatives in building several devices, he decided to stop. His extraterrestrial contacts continued, and he next began experiencing multiple military abductions.
Privately, JP has shared many of his ongoing experiences with me. According to JP, he has a "friend" at MacDill AFB who claims to be part of the USAF Secret Space Program (SSP), and has passed along sensitive information to him. I believe this friend is JP's handler, and/or someone feeding him information for public dissemination.
MacDill AFB is the home of US Central Command and US Special Operations Command. It is a hub of multiple commands and specialized air units that makes it a very viable candidate for a USAF secret space program facility.
I am in the process of evaluating JP's MacDill contact since the prospect of disinformation is very real, and I have delayed publicly discussing JP's case while assessing how genuine his experiences are. I am confident that JP is being encouraged to come forward with his knowledge about ET's and some elements of the USAF secret space program.
The photos he has been supplying me have been steadily improving in quality, and so I feel it is now appropriate to begin publicly releasing and discussing some of JP's experiences and information.
JP wishes to remain anonymous given he has a wife and young family, and I have communicated with his wife by phone. She has had great difficulty in accepting JP's experiences but acknowledges their reality and significance for him.
The six photos help establish JP's credibility as a witness to extraordinary events. What they show is a triangular shaped craft that powers up with a circular energy pulse. The powering up is consistent with what we know from whistleblowers such as Edgar Fouche who describes how the TR-3B operates using highly pressured mercury based plasma at high temperatures rotating around a circular ring at 60k RPM or more.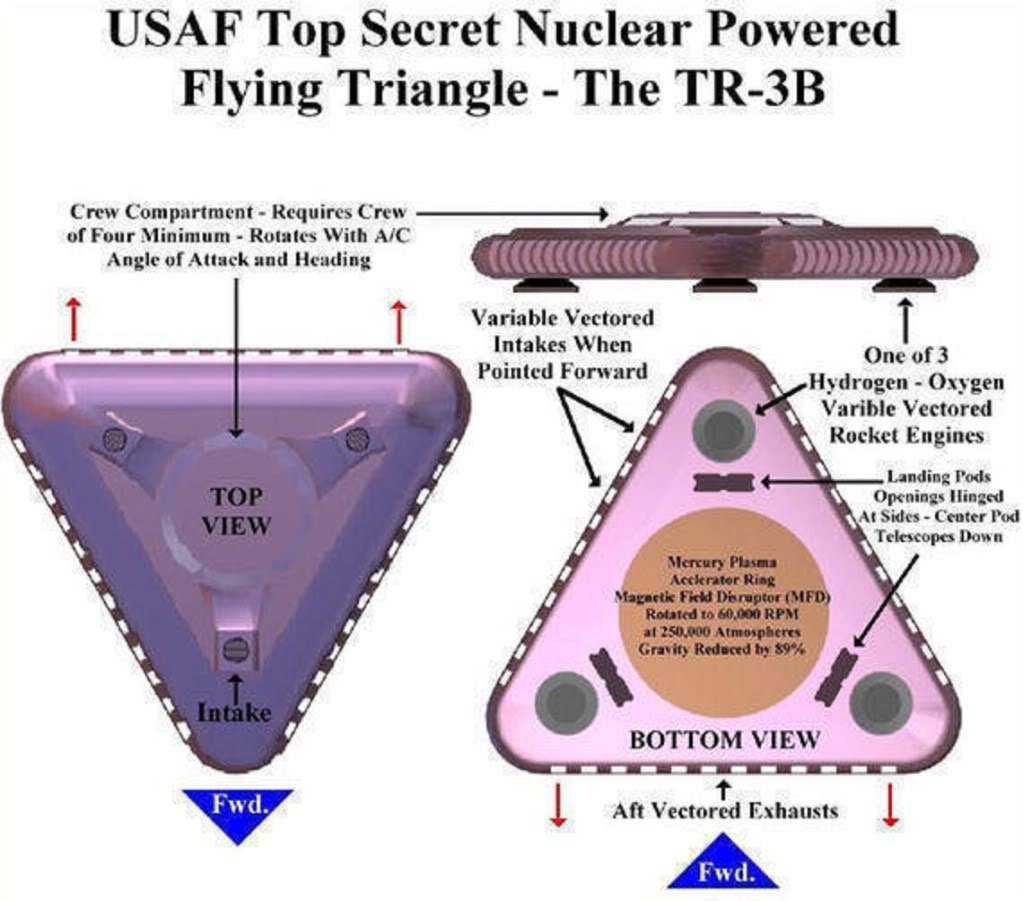 Graphic: Courtesy of Edgar Fouche
Significantly, the six successive photos by JP show a triangular craft near MacDill AFB "powering up" after JP started taking photos. The way in which the craft moved and the energy pulse it created suggests it is not an airplane, but an antigravity craft similar to a TR-3B, as described by Fouche.
This is what JP wrote me in his Skype communication on August 31:
an amazing experience today I felt the urge of looking up and snapping a couple pictures of clouds, beautiful evidence spectacular I saw a Triangle UFO ship flying left to right, I guess it noticed that I saw it, it stopped it generated some sort of bright energy ring then it shot up to space into the blue Sky, nice technology … if I did get picked up I don't remember…
I've created two composites of the six photos he sent me. The first composite shows the first three photos of a triangular shaped craft, that could be simply a plane of some kind. The third in the sequence shows the beginning of the power up described by JP.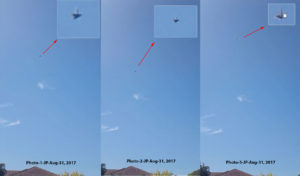 It is the next composite showing a circular ring of energy appearing around the craft that indicates it is an antigravity craft of some kind powered by a glowing circular plasma ring similar to what a TR-3B generates for propulsion. JP described the crafts movements as darting around, becoming stationary, and finally shooting up. These are distinct characteristics of the maneuverability of antigravity craft, not conventional airplanes or military fighter jets.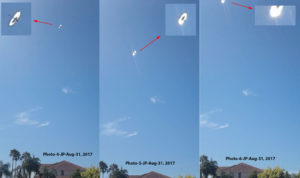 JP also sent a google satellite image of the approximate area where he took the six photos, very close to MacDill AFB. During previous conversations, JP had described being abducted by triangular and oval shaped craft that are part of a USAF SSP, and having his memories wiped in some cases, but not always.
Over the nine years that I have been interviewing JP, his information has been very puzzling. I believe that he is a genuine extraterrestrial contactee who is being closely monitored, and handled by the military intelligence community.
I have found no clear pattern to his experiences and abductions, and he himself is not clear about why these things have been happening to him. It's possible that he has been fed misinformation by the military intelligence community to both confuse him, and anyone interested in researching JP's case.
Nevertheless, given the compelling quality of the photos he has recently provided, I believe his information deserves public scrutiny. My conclusion is that his military intelligence handlers are encouraging him to come forward by allowing him to take such photos, thereby helping establish the truth about a USAF run secret space program possessing antigravity craft used in covert operations around the world and off-planet.
© Michael E. Salla, Ph.D. Copyright Notice
[Update 9/20/17 – Questions have been raised about the authenticity of the  two composite pictures I created using the original six photos provided to me by JP. The two composite photos were created using Adobe Photoshop where I added text and did a close up of the UFO that was inserted at the top of each of the three originals. There has been no photoshop manipulation of the objects themselves, which can be seen by viewing the originals which are available below.Click images to enlarge

Further Reading